This post contains affiliate links, and I will be compensated if you make a purchase after clicking on my links.
Rottweilers are among some of the most loyal and energetic dog breeds out there, with a bad rap for being too aggressive because they have a bit of extra energy that they don't have anywhere to expel. Toys play an important role in solving that issue, but what are the best toys for Rottweilers?
The best toys for Rottweiler dogs are usually ones that are durable given how most Rotties end up being really aggressive chewers.
They're also physically engaging, allowing your furry friend to get it all out of his system while having the time of his life.
However, there are times where you'll need to diversify because physical exertion can only get them so far.
They need some mental stimulation, too, whether it's challenging them to evolve their problem-solving skills, curb some more destructive instincts, or simply to help them cope with separation anxiety when you're not around for a few hours.
A lot of toys cover these areas, sure, but not a lot of them are well suited for a Rottweiler or else they have some flaw or another, which makes them inadequate.
But, I've got you covered as I've gone through both Chewy and Amazon to find some of the best toy options out there that tick some, if not all of the boxes in one way or another.
Read on to find out what they are as well as some of the more frequently asked questions about Rottweilers and their toys.
11 Best Toys For Rottweilers
Mammoth Cottonblend 3 Knot Dog Rope Toy
Key Benefits:
Very durable

Made from 100% natural cotton

Great as a physical-exercise and teeth-cleaning tool

Comes in five different sizes

Cheap, but ensures a fun time any time it's used
Cons:
The toy aspect can easily be replaced with similar looking objects

First on the list is a classic in any dog toy arsenal – a tug toy, and this one comes from Mammoth.
A simple, three-knotted rope made from 100% all-natural cotton, it's a great way to share some playtime with your doggo in a two-player activity.
That said, your Rottie will give you a run for your money, so try not to go too easy on him.
Outside of tug of war, the rope's cotton fibers provide great dental health benefits in removing tartar and plaque when your doggo gnaws on it for extended periods of time like a chew toy.
There are five varying sizes on offer, but it's best to go for the larger ones so you and your canine companion have some wiggle room on where to grab before you start tugging.
It's colorful, too, making it a little more visually attractive.
As far as pricing goes, it's as cheap as it gets. After all, it is just quality-knotted rope, but sometimes the simplest toys make for the best ones.
Nylabone Power Chew Double Bone
Key Benefits:
Made from durable nylon

Great for cleaning plaque and tartar with the nubs and ridges strewn across the surface of the dog toy

Veterinarian recommended

Dog friendly, easy to approach design
Cons:
A bit on the pricier side compared to the other products on this list

No personalization options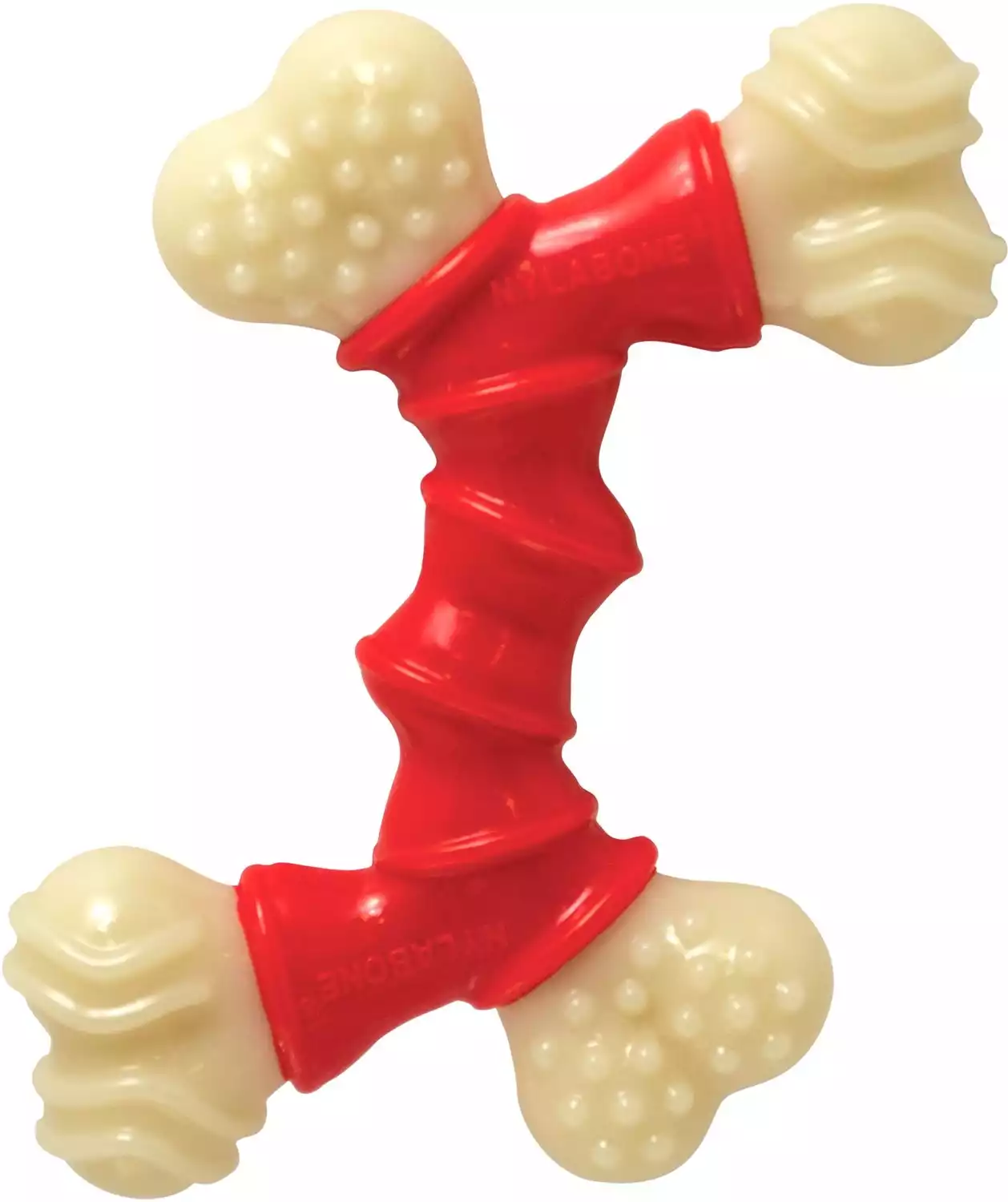 Speaking of dental benefits, this next one was practically made for that – the Nylabone Power Chew.
This is considered to be one of the best chew toys with an enticing bacon flavor that'll keep your doggy occupied for a good while gnawing away on it.
And, don't worry – it'll last through even the most powerful of jaws because it's made from incredibly durable nylon.
It's shaped in a way that any angle of approach will ensure that your dog gets a good bite in, meaning there's no struggling whatsoever.
The main draw, however, are the nubs and ridges along the surface that help remove any tartar and plaque that may have accumulated on your dog's teeth while he chews on his new toy.
If given to a Rottweiler puppy, it can be a great tool in helping him learn temperance and avoid destructive chewing behavior.
Given all of these great benefits, measures taken for dog safety, and ease of use, the Nylabone Power Chew also comes recommended by many veterinarians nationwide.
The chew toy doesn't have any alternate personalization options, though, but this is understandable given that it's meant to simulate a dog bone.
As far as cost is concerned, it is one of the more expensive chew toys out there, but given everything that it offers and how long it tends to last, it's worth it if you have a dog that has a tendency to tear through furniture if left alone for too long.
Starmark Treat Dispensing Chew Ball
Key Benefits:
Made of high-quality, durable plastic

Good, even for the most aggressive of chewers

Entertaining and calming design

Made to be used with Interlocking Treats, but works with other appropriately-sized kibble as well

Fully dishwasher safe

No latex, phthalates, parabens, or vinyl

Buy 2, get 1 free
Cons:
Price may not be worth it for some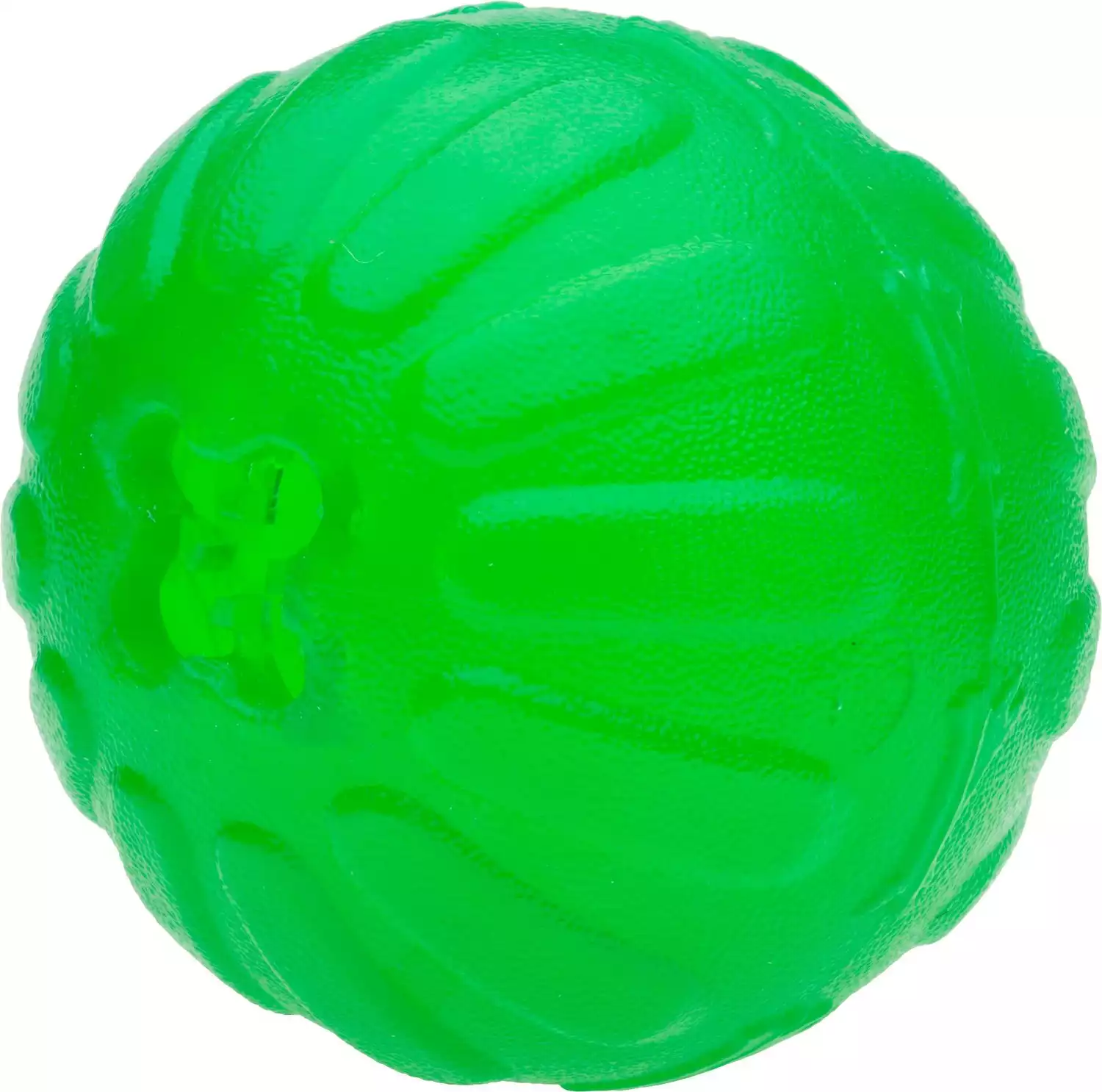 Here's one of my personal favorites – the Starmark Treat Dispensing Ball.
Why? Because it provides physical entertainment and makes your dog think a little in order to get to his prize, engaging every part of him in the activity.
It's great at keeping your dog's focus occupied for a good while, making it a solid choice for dealing with separation anxiety, and much like other durable chew toys, it helps promote less destructive behavior in your canine companion.
The ball itself is of a very distinct and vibrant color, which is likely to catch your Rottie's attention in the first place, but it's also made from high-quality plastic that can take on even the toughest of large-breed dogs without breaking apart.
Another great benefit is that it's not just a ball – it has slots on its sides where you can put in any dog food or dog treat that your pet favors like kibble, jerky bits, or even peanut butter – or you could use the Interlocking Treats, the ones that Starmark themselves recommend.
And, yes – I did say peanut butter or any similar substance because the ball is dishwasher safe, making it real easy to clean regardless of where it ends up or what ends up getting inside it.
Naturally, the toy is non-toxic, meaning there's no risk of getting the aforementioned food or treats contaminated with some harmful chemicals.
There are three sizes to choose from, albeit I always recommend getting the biggest option that you can in order to keep a large dog like the Rottweiler interested for a longer period of time.
As far as the cost goes, it's cheap-ish – cheaper than its competitors with a similar gimmick, but still in the average price range when considering all toys.
Some people do feel like the ball may be too simple and not worth the investment, but honestly, I'd say it's great for what it is. I know that my dog has never complained, and neither have I, but you can decide for yourself.
Chuckit! Classic Launcher Dog Toy
Key Benefits:
Made of durable, lightweight plastic

Helps extend the length of your ball throws greatly

Comes with its own ball that perfectly fits the throwing arm

Quite affordable compared to other products on this list

Made in the U.S.

Access to various balls in order to customize your dog's fetch gameplay
Cons:
Doesn't innovate on much outside of the balls, so it won't really make much of a difference to your dog as much as it will to you

Only really good for more active dogs

Now, for my actual favorite – something I wish I had when I was younger for general use, not just to have more fun with my dog – the Chuckit! Ball Launcher.
The concept is real simple – a tool that serves as an extension of your arm to pick up balls with, and get a longer distance on your throws, turning your arm into a tennis ball trebuchet, with the added benefit of letting you avoid touching slobbery balls.
It definitely makes games of fetch more interesting for both you and your doggo, especially if you have a really big space available to get the most out of it.
The tool itself is made from durable and lightweight plastic, meaning that it'll definitely last you a while, and it comes with its own ball, though it also fits any standard-sized tennis ball.
Plus, it's fully made in the U.S. for all you folks who like supporting local businesses.
However, those aren't the only balls that are available as Chuckit! has several other ball options that they sell separately in case you want to spice things up a little, like balls of different colors, glow-in-the-dark balls, or extremely bouncy ones.
Getting one of them alone will increase the amount of variation in your fetch sessions by quite a bit, not to mention when paired up with this ball launcher.
The launcher does come in various different sizes to help you accommodate for the amount of extra power you wish to add to your throws.
Price-wise, it's pretty darn cheap when buying the launcher alone. If you want to opt for the extra ball, it'll add a few more bucks to the pile, but I wholeheartedly recommend you doing so as you certainly won't regret it.
Just make sure you have a big enough space at your disposal like a field or a dog park in order to fully utilize all of the launcher's benefits.
KONG Classic Flyer Dog Toy
Key Benefits:
Made from durable KONG rubber

Surprisingly flexible and accurate on the throw

Two different size options

Reasonably priced
Cons:
Not aesthetically pleasing

Takes a bit more effort to throw due to the construction material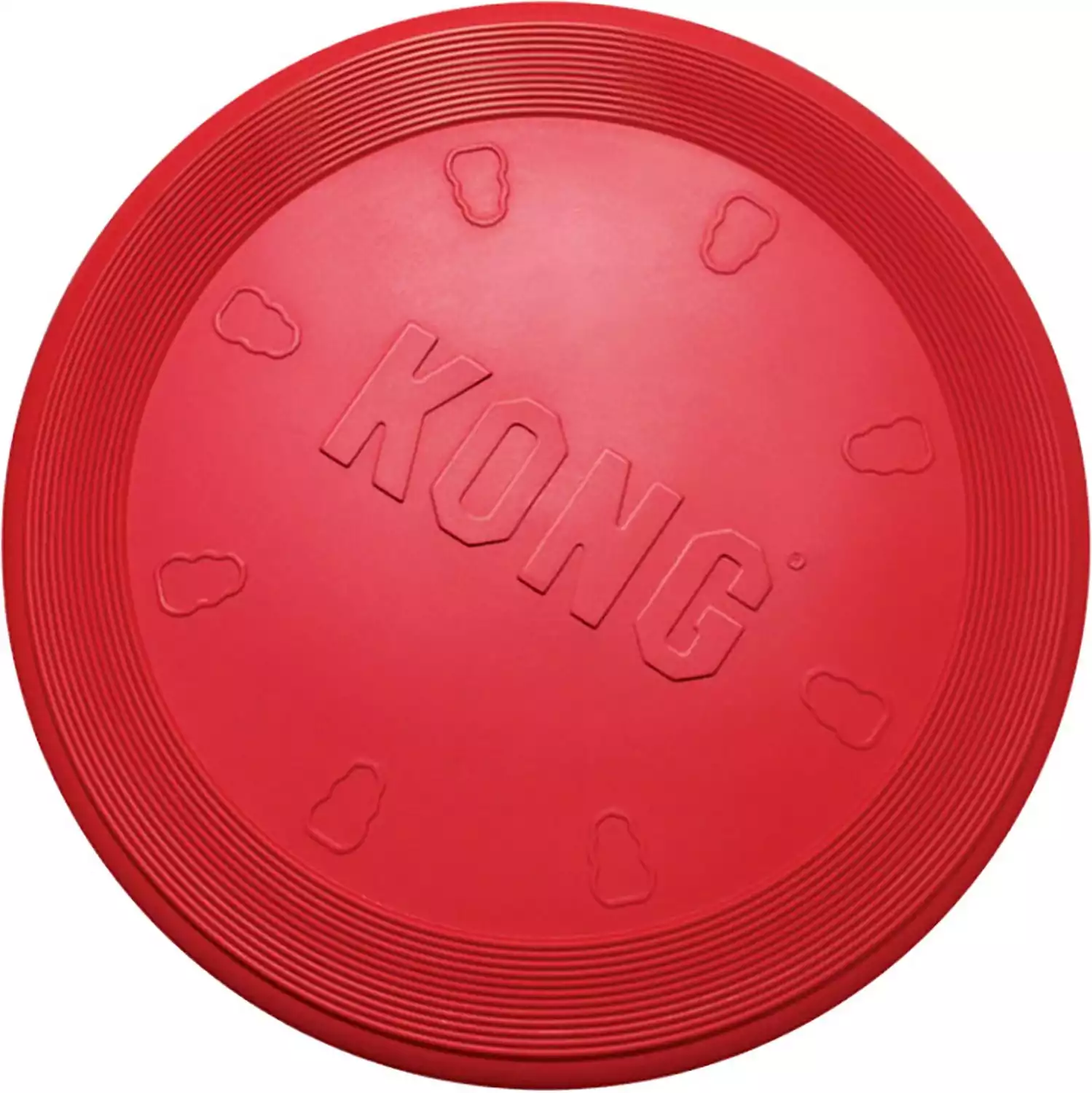 Of course, it wouldn't be a list of best toys for Rottweiler dogs or any species if we didn't mention the stereotypical classic – the frisbee.
This one is especially great for large, adult dogs with a powerful jaw as the people over at KONG are known to make some real sturdy ones.
It uses the patented KONG rubber as construction material, which is both highly durable and very soft so your furry friend doesn't damage his teeth when biting it.
The rubber does add more weight to the frisbee than the more standard, plasticky ones, but you can still get a good bit of distance out of it regardless – just be careful where you fling it as it does pack a punch.
Regardless of its durability, though, there are no indestructible dog toys, so try not to leave the frisbee alone with your dog as it's not intended as a chew toy, and he's likely to damage it given enough time, rendering it unusable.
There are two different size variations for those considering getting the smaller one for a smaller dog breed, but bigger is better when Rotties are concerned.
When looking at pricing, it's pretty alright in terms of frisbees.
It does look a bit basic, but I'm sure your dog won't really mind as long as he has something to chase after and get a workout in.
Outward Hound Hide A Squirrel Squeaky Puzzle Plush
Key Benefits:
Cute and interesting design

Helps train your dog's natural hunter-gatherer instinct

Offered in four different sizes

The stuffed squirrels can be used as sleeping buddies for your dog

Affordable pricing
Cons:
The fun only lasts as long as your dog's interest in the toy lasts

Smaller sizes come with fewer squirrels to play with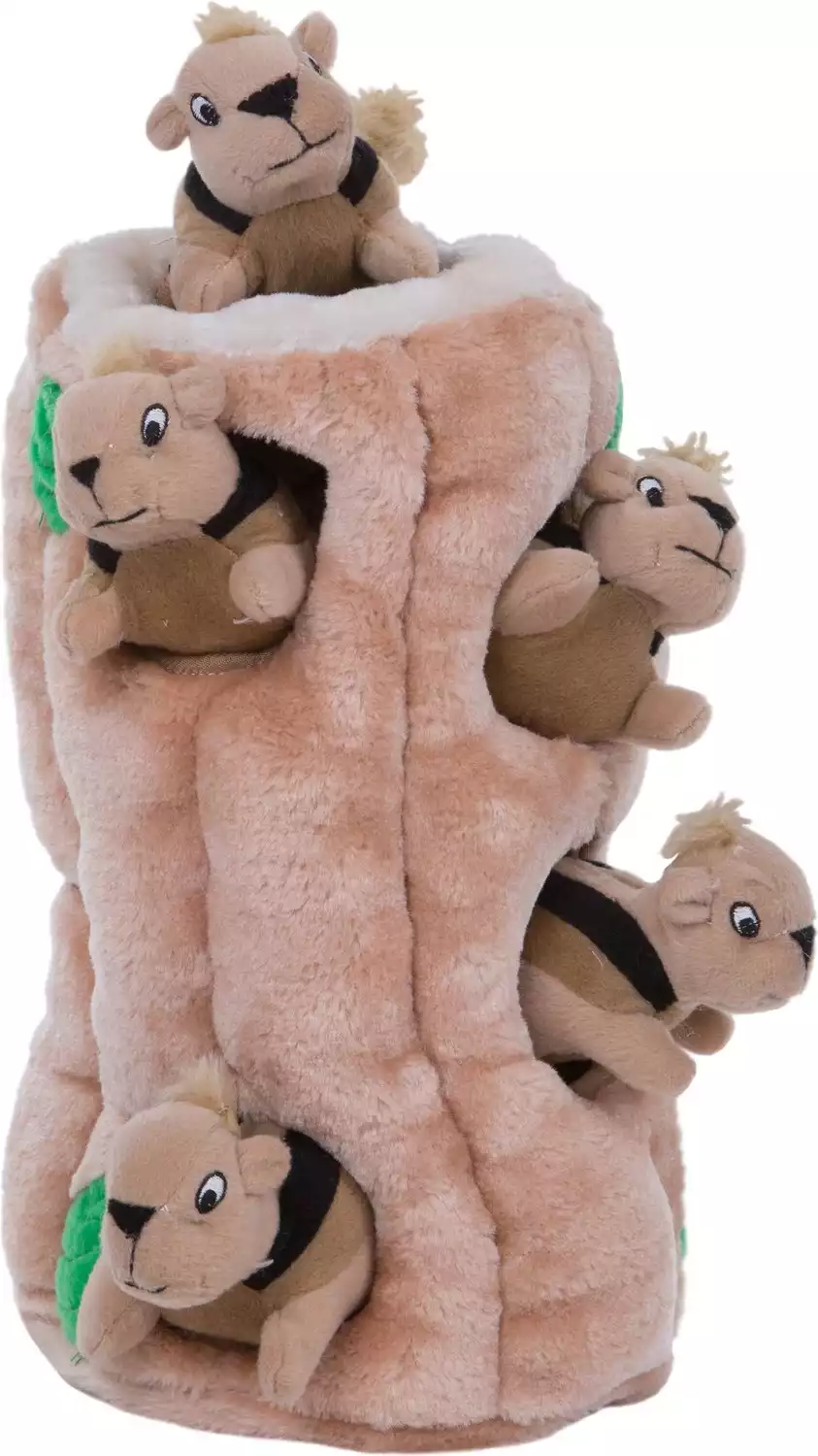 If you're looking for some more mentally stimulating toys that promote interactive play, the Outward Hound one seems to be a really popular one among dog owners nationwide.
This interactive toy serves as a puzzle for your canine companion, which involves a tree trunk and a varying number of squeaky squirrel toys.
You grab the plush toys and stuff them in the various holes along the trunk, then let your big boy loose so he can get to and find all of them.
It may seem simple, but it does help nurture your dog's natural hunting instincts, and makes him work for his entertainment, making the reward all the sweeter and more rewarding.
There are four different sizes to choose from, each coming with a varying number of squirrels, which is a bit of a downside to it, but it's not as big of a concern as it's made out to be.
As far as pricing goes, it's pretty fair given the material provided, though I do wish that the number of squirrels was the same with every size option.
KONG Classic Dog Toy
Key Benefits:
Made from all-natural rubber, with a strong bounce

Puppy version makes for a great teething option

Helps deal with destructive habits

Has a hollow end to stuff treats into

Made in the United States

Comes in six different sizes

Has a number of different color options depending on the level of softness

Relatively cheap
Cons:
Small parts can come off after extensive wear and tear, which may present a choking hazard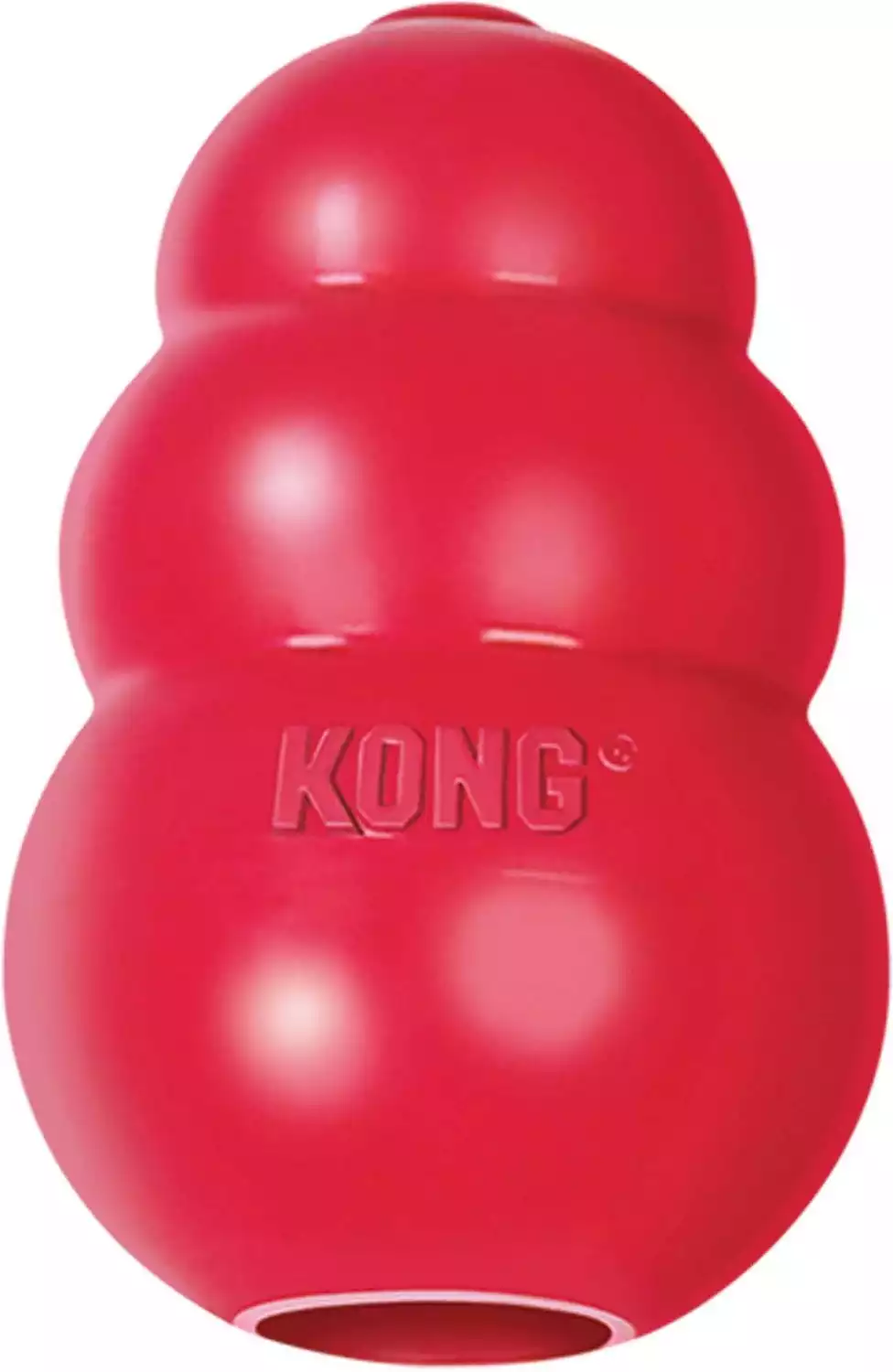 Another KONG toy makes the list – a classic in every sense of the word.
Made from extremely durable natural rubber, this soft toy is a fantastic addition to any doggo's arsenal of entertainment. It even bounces quite well, too, so it's a decent option for a game of fetch every now and then.
While the materials for making the toy come from all over the world, the product is manufactured here in the states.
Best known for its iconic shape, it's easy to bite into and gnaw on for long periods of time, allowing your canine to adopt less destructive behavior and help him deal with separation anxiety. It can withstand even the toughest of chewers.
The softer, puppy variant is a fantastic choice for teething in order to help dull teething pains.
It comes with a hollowed out center, too, if you want to provide some extra engagement for your Rottie, and give him a treat or two. Just stuff it with his favorite dog food, kibble, or otherwise and watch him go to town with his tongue trying to get it all out of there.
KONG does offer its very own Stuff'N Easy treat option, but most anything can fit in there with ease.
Sure, it's simple, but this simple product is a great help with dog training, whether it's for a particular trick, obedience training, or otherwise.
Vets are also known to utilize it to help calm a dog down during a checkup so they certainly give their seal of approval on its effectiveness.
It even comes in six different sizes to accommodate dog breeds of all shapes and sizes, and the price is about average.
One thing I'd recommend is avoiding the KONG extreme option, even if your dog is an aggressive chewer, because it's simply too hard for any dog to find enjoyment in toying around with it.
And, do be aware that the toy isn't indestructible – some small parts may start coming off after extensive wear, so only have your Rottie play with it while being supervised as those small parts could become choking hazards.
Goughnuts Durable Dog Pull Toy
Key Benefits:
U.S.-made product

Made from high-quality, FDA-approved, durable rubber

Designed for safety for both participating parties

Two different size options that can withstand the force of a 70 and a 120 lb. dog, respectively

Four color options to choose from in terms of added customization

Lifetime replacement guarantee in case your dog damages the toy
Cons:
Pretty expensive for a tug toy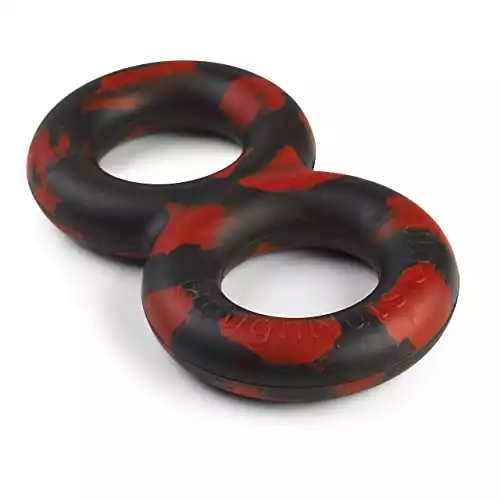 Here's a popular Amazon product for once – the Goughnuts Pull Toy.
Goughnuts is a U.S. brand that prides itself on using only the highest quality, FDA-approved rubber in the manufacture of its products, and this is no different with this neat little toy.
The material that they use is extremely durable, and can withstand the powerful jaws of dogs up to 120 lbs of weight, give or take a few pounds.
But, the big draw with this item is that it's designed with safety in mind, shaped like the number 8 to give two clear grab spaces for the two involved parties in the tug of war.
This way, you can avoid accidental jaw bites from your doggo if things get too exciting and he has to struggle to keep his grip on the toy.
It comes in two different sizes that cater to two different dog types; the medium (also known as the original size) that can handle dogs up to around 70 lbs, and the large or maxx size, designed to withstand the 120 pounders without breaking easily.
That's not all, though, as they offer four different color options for you to choose from and further personalize this lovely dog toy.
The price could be a bit lower, though, as it's quite expensive for a simple tug toy, but it does come with a lifetime guarantee in case the toy gets damaged, so it's not a bad investment if your furry friend is a notoriously aggressive chewer.
ZippyPaws Skinny Peltz
Key Benefits:
Three cute and colorful animal designs

Plush squeaky toys made from durable synthetic fabric and fleece, with no stuffing

Each toy contains two squeakers to catch your dog's attention when squeezed

Very affordable price-wise
Cons:
The squeaker can become a choking hazard if it finds itself outside of the toy from wear or other factors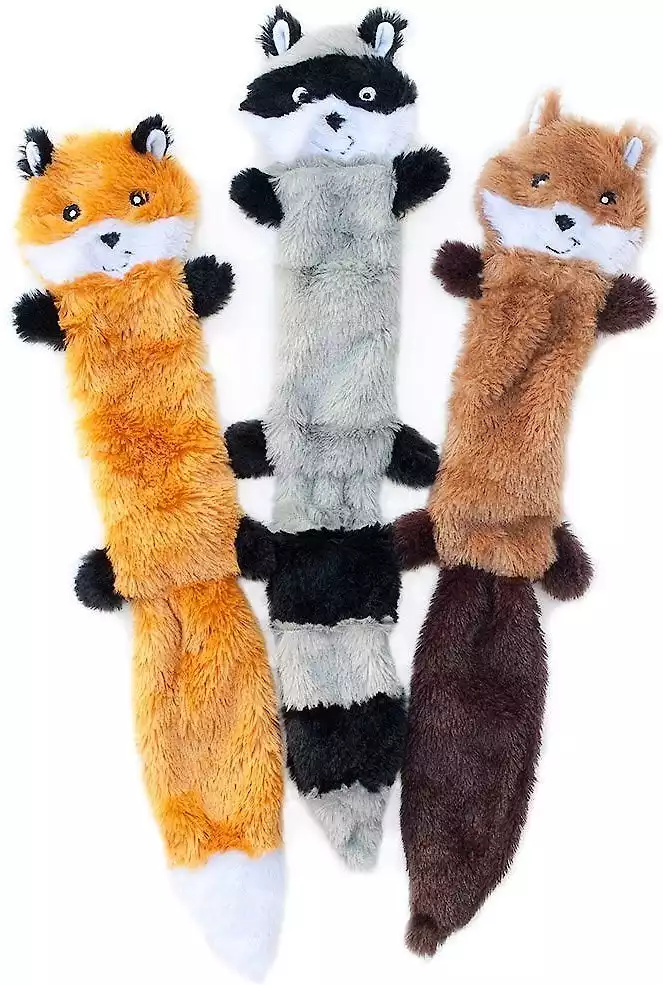 For dogs that desire a friend to keep them company when you're not around, you can't go wrong with ZippyPaws skinny peltz.
A plush toy with no stuffing to prevent messes in case it gets punctured, the Skinny Peltz is a set of three different animal pelts that are sure to win over your Rottweiler's heart.
They're colorful, affordable, and sure to help push that separation anxiety away if your doggo ends up getting attached to his new plush bed buddy.
The toys are made from a mix of fleece and synthetic fabrics, making them quite durable even against heavy chewers.
The two squeakers inside will always make sure to turn your doggo's attention to them, though, do be careful that they don't get torn out as they could pose a choking hazard for your Rottie.
The Peltz won't give your dog much in terms of physical activity, but it'll definitely help with his emotional state if he's known to be clingy.
The price is a total steal, too, and giving these a try won't hurt your overall Rottweiler entertainment budget at all.
Here's a neat little oddball to throw into the mix – a flying saucer treat dispenser toy.
While it's no different than the treat dispenser balls in terms of function, the shape may just end up making it a little more interesting to fiddle around with as your dear doggo tries to get his reward out of this neat toy.
Manufactured in the U.S. with all-natural rubber, it's a safe and durable option for your Rottie to mess around with, and its unique shape lends itself well to unpredictable bounce patterns in case you decide to use it for games of fetch.
You can easily fill it with any of your Rottweiler's favorite treats and foods before you decide to throw it – just don't go for anything too wet if you're going to toss it unless you want to leave a mess in its trajectory.
There's only really one size, but it's the one that's best suited for large dog breeds like the Rottweiler, so you should be fine in that regard.
The price is pretty cheap, too, and shouldn't impact your budget that much.
There aren't any customization options, however, which I'm sure is a big bummer for some of you out there, but it's tinted a very nice blue color, which may appeal to some dog owners out there.
And, while the rubber is durable, it doesn't do well against heavy chewers. If you have one, you may want to consider a sturdier option.
JW Pet Hol-ee Roller Dog Toy
Key Benefits:
Made from all-natural rubber

Double molded

Innovative honeycomb wireframe ball design

Hollowed out to allow storage of treats inside

Has a bit of a bounce to it

Five size options to choose from

Three different colors available

Affordable pickup
Cons:
Doesn't fare too well against the most aggressive chewers if used for longer periods of time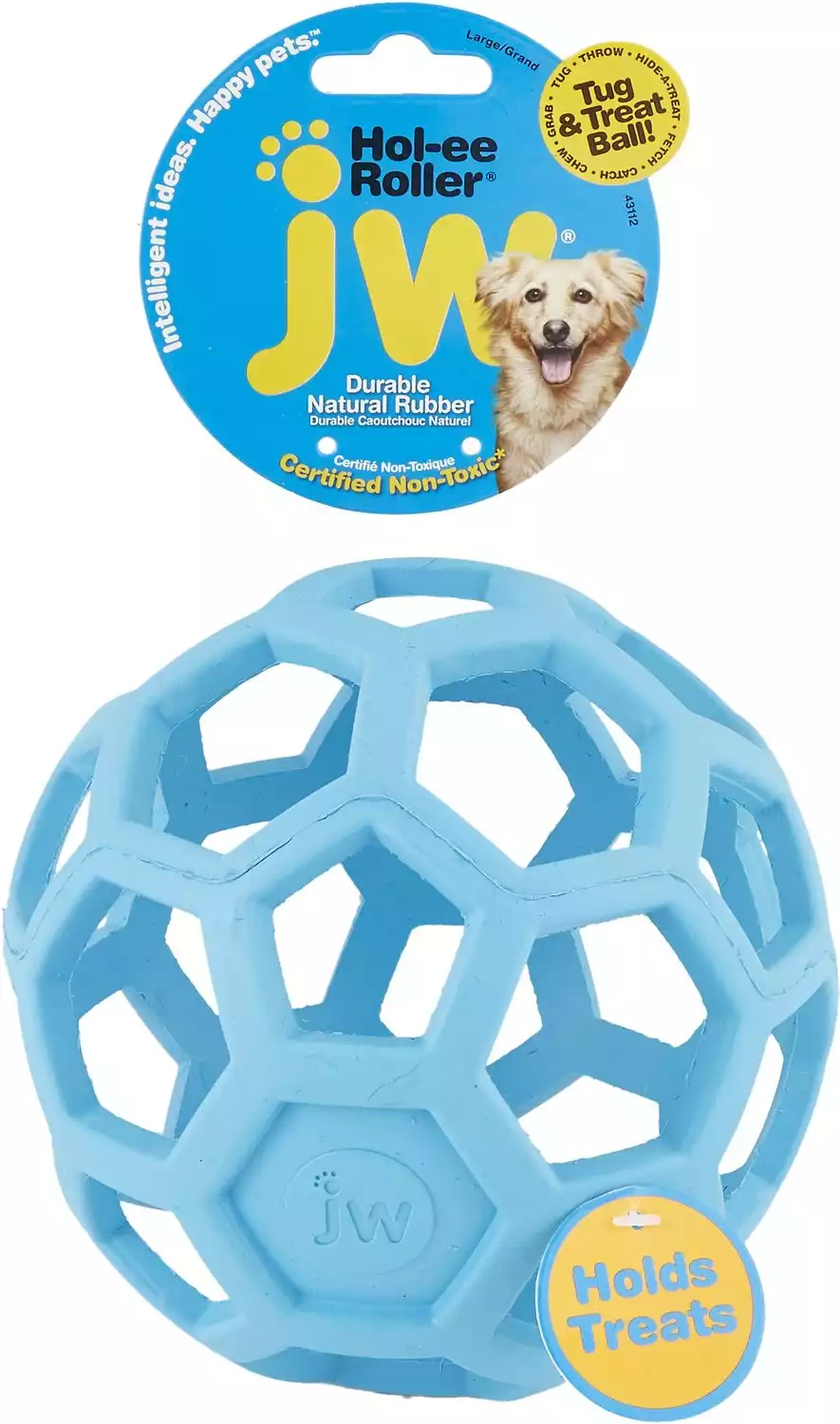 The final entry this time around is a toy that can work as both a fetch toy and a chew toy.
Sure, many others can do the same, but this toy is nicely hollowed out in a honeycomb wireframe style that lets you stuff it with treats.
This gives your doggo an extra incentive to go after it when you throw it or simply let him roll it around as he tries to get his treats free.
It even has a nice bounce to it since it's made from all-natural rubber, with a double mold, which also allows it to last a good while.
All of this is sure to provide your canine companion with hours of entertainment.
The toy is entirely non-toxic, too, as all toys should be, especially ones that incentivize being used alongside food and treats.
It's offered in five different sizes from mini to jumbo so you can scale it to what you believe your dog will enjoy the best.
I'd personally recommend the large as the jumbo may be a bit too big, but you know your doggo better than I do so it's best you make that decision yourself.
The Hol-ee Roller also comes in three different colors to help you further personalize it to better fit the style of your dog's toy stash.
As far as costs go, it's cheaper than most other options on the market, and it's good value for your dollar given all of its positive quirks.
The only real downside is that it can have some trouble against the most aggressive of chewers, but it should mostly be fine.
Before You Buy: What To Look For In A Dog Toy For A Rottweiler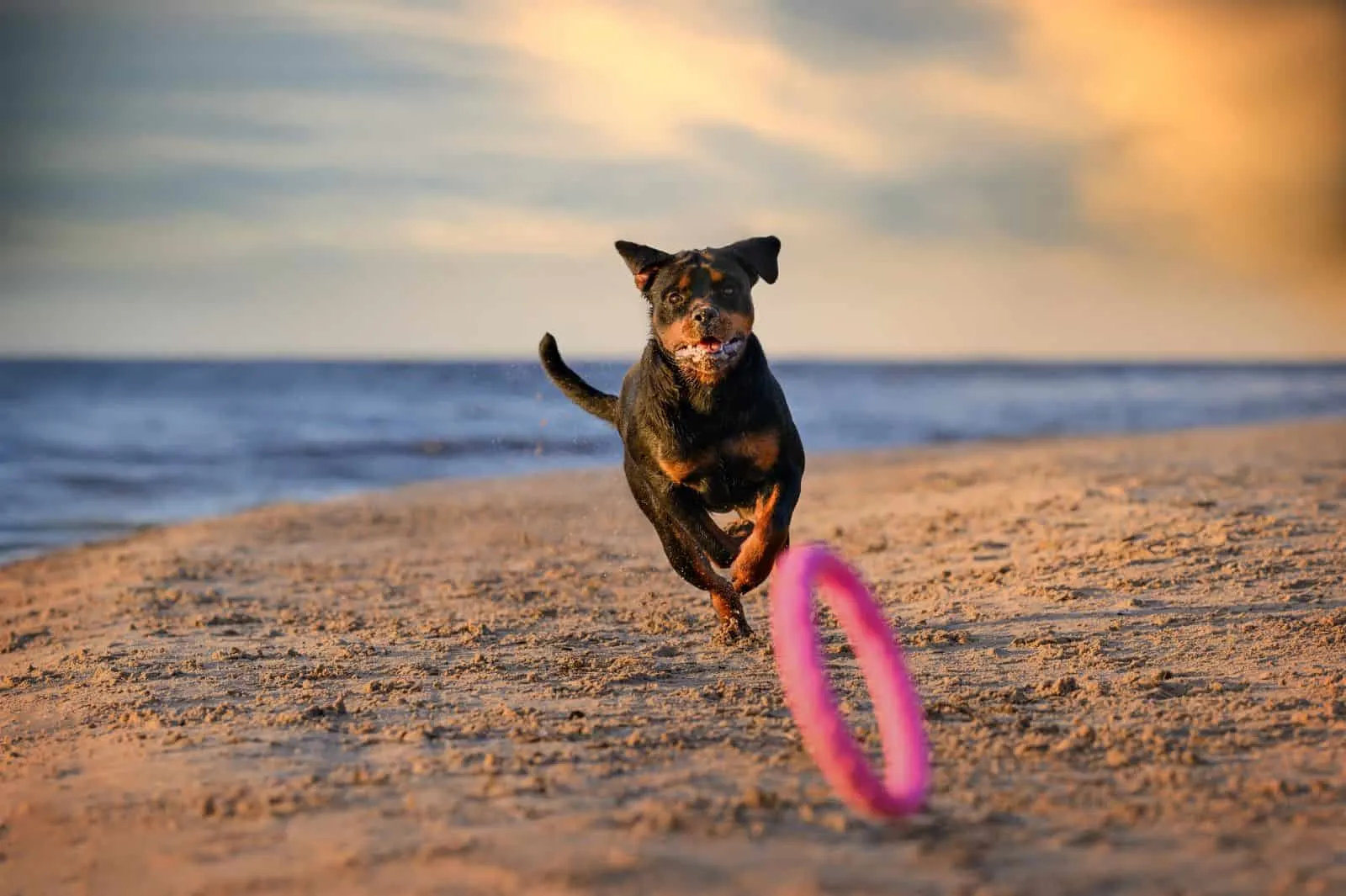 If you're still feeling indecisive after we've gone through the list, or if none of these strike your fancy and you want to go looking for the right toy for your big dog, here are some key aspects to look out for:
Durability
Rottweilers have very powerful jaws, and most are known to be heavy chewers, so finding a tough toy that can measure up to that is ideal since it'll prolong its lifespan and your canine's enjoyment, and save you some money in the long run.
Physically Stimulating
A toy that promotes active play, whether it's a game of tug of war or fetch or hide and seek, is always welcomed for any large-dog breed (Rottweiler included) as they need to get that energy out of their system.
Mentally Stimulating
On the other hand, you'll also want to look for a toy that keeps your doggo's mental gears turning – ones that will sharpen his intuition and his problem-solving skills. Treat dispenser toys or puzzle toys usually fit this best.
Toys That Reduce Stress
A branch of the mental stimulation tidbit, these toys are meant to help dogs deal with separation anxiety, help reduce destructive behavior, and even act as a level of emotional support if a plush friend is in question.
The best options for this are usually dog chew toys, or more durable treats like antlers, yak chews, and the like.
Non-toxic
If you're getting your dog a toy, you don't want it to be treated with some bad chemicals as you would likely be putting treats in some of them, which can only spell disaster, not to mention how often your dog will chew on his toys.
Make sure every toy you get is non-toxic to your doggo's health before you even consider buying.
The Right Size
A good number of products may seem great at first glance, but then it turns out that their sizes are either all wrong or they simply don't have anything big enough that fits your Rottie's dimensions.
Affordable Price
While not as crucial as the other ones, many people do live on a tight budget where every penny counts. You want something that's both high in quality and reasonably priced in order to keep your budget from suffering too big of a loss.
FAQs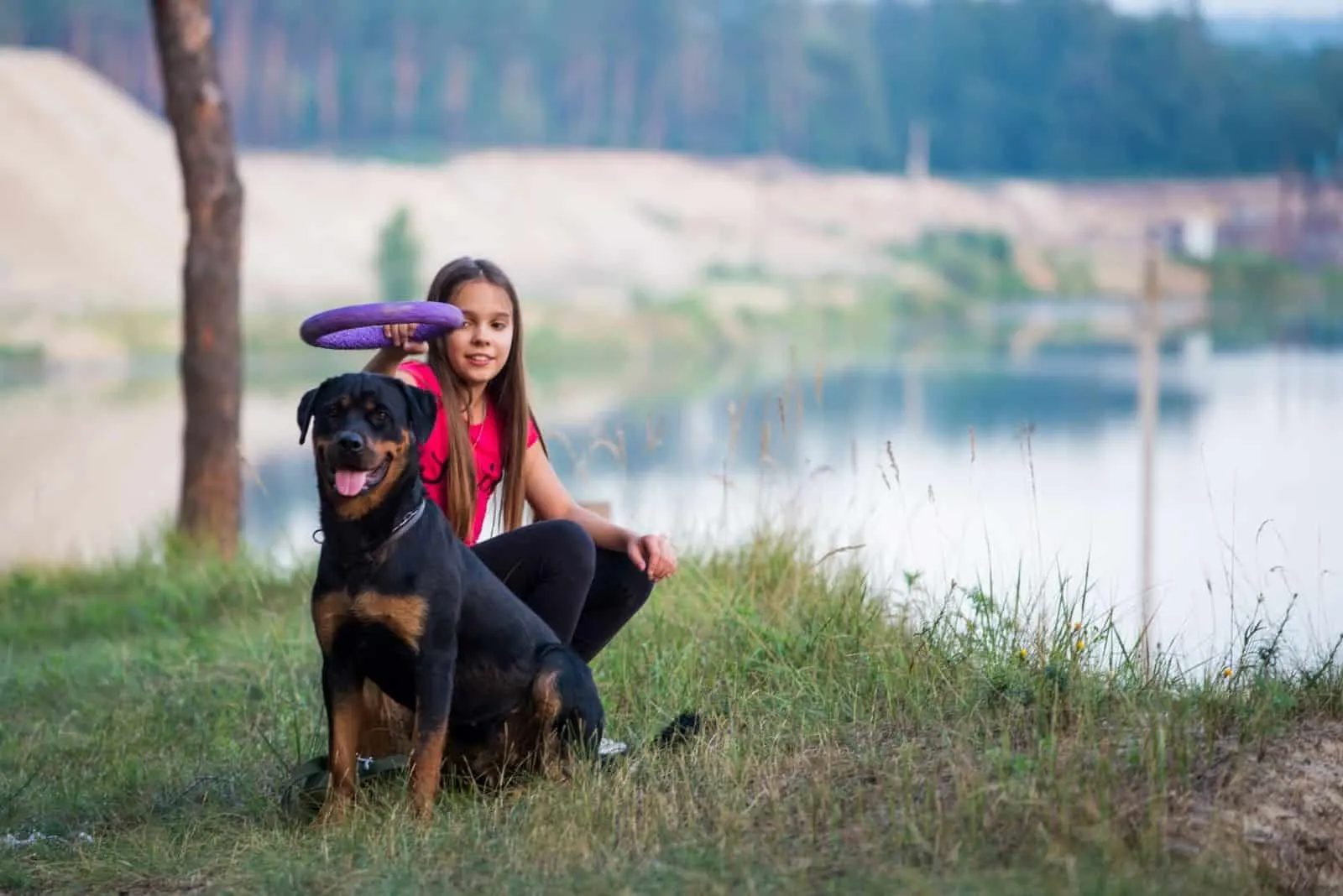 What Is The Best Toy For A Rottweiler?
Honestly, the more boxes a toy can tick, the better, and I believe that Starmark ticks enough of them to be considered the best dog toy.
It's not reliant on the amount of space you have available, it gives your dog both physical and mental stimulation, and it's both durable and affordable.
It covers many types of toys all in one simple ball that's an invaluable piece of your dog's toy collection.
Are Rottweilers Aggressive Chewers?
Of course, they are – most of them anyway as there are always exceptions to the rule. They're big and imposing, which is why people take them to be security and guard dogs in the first place.
Their bite is very likely to shred through most standard toys unless they're made to last, which is saddening since a Rottie may lose his favorite toy like that on accident.
Thankfully, this can be reigned in somewhat by tempering that destructive behavior through good chew toys.
How Much Attention Do Rottweilers Need?
This depends on how well you train them. The average is expected to be about four to six hours, give or take, but nothing more than that.
Toys can only keep his mind occupied for so long, and discipline only goes so far until all of that obedience training starts to degrade.
Always make sure that there's at least one person around every few hours to not make your doggo feel too lonely.
Why Does My Rottweiler Destroy His Toys?
He likely doesn't do it intentionally unless he's being neglected. Most of the time, he just doesn't know his own strength and it happens by accident.
No toy is really indestructible after all, which is why it's always recommended to get more durable toys that are more resistant to the bites of heavy chewers – they'll at least last him longer.
How Many Toys Should I Get My Rottweiler?
My personal rule is as many as you can, though, probably not the best one to follow up on. I'd say get at least a few options that cover multiple bases.
Definitely have several options for physical exertion, and maybe one or two for mental stimulation like a puzzle toy and an emotional support toy.
Oh, and make sure they're durable so he doesn't lose them instantly.
In Conclusion
The best toys for Rottweiler dogs need to stimulate the mind and help get rid of excess physical energy in fun ways, but most of all, they need to be durable enough to withstand the powerful jaws of your furry friend.
There's no fun to be had if the source of it is destroyed after all, so make sure your doggy is always well stocked up on his favorite toys, and also make sure to get a few that involve both you and your canine companion because it's not as fun for him if you're not around.
Whatever your choice may be, I'm sure you'll find what suits both you and your doggo the best. Until next time.
RELATED LINKS:
What Are Rottweiler Aggression Signs And What Can Cause Them
Top 17 Rottweiler Breeders In Florida
Rottweiler Growth Chart: The Ultimate Guide To Your Rottie's Growth
Are Rottweilers Good With Kids? Should You Get A Rottie?
Everything You Wanted To Know About Female Rottweilers
American Rottweiler vs German Rottweiler: What's the difference?
Are Rottweilers Dangerous? The Surprising Truth About Rotties!