This post contains affiliate links, and I will be compensated if you make a purchase after clicking on my links.
Rottweilers are big, burly, and very territorial dogs, especially when it comes to protecting their owners' home.
That discipline and training deserves a treat, among all the other things your Rottie does for you, but what are the best treats out there for Rottweilers?
The best treat for a Rottweiler has a base of some meat protein (whether it's beef or chicken, it doesn't matter as long as it's present).
Of course, there are exceptions to the rule with every dog, just like with humans, as some may prefer some other form of meat, or may opt for a meat-free option, seeing as it's not meant to be a full meal and the protein can be left to the dog food itself.
Really, it all depends on what your dog responds to the best, and that can fit into your budget.
It needs to be something not too caloric that can be given out multiple times a day, especially if you're doing dog training and want to use it as a reward.
The problem is that nowadays, there's just way too many choices in everything, including dog treats.
But, as always, I choose to go through the effort of looking up online marketplaces like Chewy and Amazon for what appear to be their best product options, and I list them here to make it easier for you – saving you time and clicks alongside a detailed explanation.
So, read on if you want to find out what the best treats for Rottweilers are.
6 Best Treats For Rottweilers
I wanted to start this off with a bit of an unusual one – elk antlers.
This may seem like a bit of a weird treat, but large-breed dogs love having something more durable to chew on, and elk antlers are one of the more humane ways to get such a healthy and enjoyable product.
And, it's completely U.S.-made and sourced from Bozeman, Montana.
It's completely natural with no artificial flavors, coloring, or preservatives, and it also has a natural whiteness to it. No formaldehyde or bleach was used at all.
And, while it's not exactly beef or chicken, the bone still has a lot of good protein in it to help supplement dietary needs, while also keeping your Rottie busy with a new chewable that helps keep his teeth free of plaque, and subsequently, tartar.
The other thing worth noting for these types of treats is that they last longer, and most of them have a good amount of phosphorus and calcium on them, which are ideal for small- and large-breed puppies alike.
After all, they're essential nutrients in fostering bone growth, and this can serve as a good supplemental source atop the usual puppy food you give your furry friend.
One more great quality is that unlike the bones you may get from a butcher, these are completely clean, and also free of any odor.
But, even so, I don't recommend letting your dog get on any piece of furniture with it since his slobber may have a different opinion on the cleanliness part.
Though, while it's great in the feature department, price-wise, it's a good bit more than standard dog treats or even kibble for Rottweilers. Sure, it's long-lasting, but some dogs can chew straight through that stuff in a very short amount of time.
On to the more traditional stuff – bite-sized treats with a more meaty protein source, beef.
Another all-American product fully sourced from our nation's cattle with a little bit extra.
Juicier than most other options and rich in its own flavor, the Blue Bits beef treat is a delight for every doggo of all sizes out there.
Taste aside, this treat also contains flaxseed – a great, natural source of Omega-3 and Omega-6 fatty acids, which are key in keeping a dog's sensitive skin healthy, and his fur lustrous.
For those who are still working with pups, these also have DHA, a key ingredient in developing cognitive skills for adult dogs and puppers alike; however, it's a lot more crucial for the latter.
This makes the Blue Buffalo bits an excellent choice for puppy training if you need to supplement DHA for your canine companion.
The treat is completely grain-free, meaning there are no common allergen grains in the mix like corn, soy, or wheat for all the dogs out there with sensitive stomachs.
This delectable treat is only four calories per piece, so you can use it at your leisure, and hand it out to your dog whenever you feel like he deserves it – reward or not.
Just make sure not to overdo it and feed him an entire bag's full at once.
While not as immediate of a danger as it is for smaller dog breeds, obesity is a danger for all dogs. The only difference is that in larger dogs, like the Rottweiler, it shows later on in life with catastrophic results.
Listen to what your dog's nutritionist or veterinarian says and stick to that regiment.
Price-wise, it's pretty okay compared to standard pet food treats as you get quite a bit of dollar value on the product.
Those of you who have dogs with lactose intolerance or a general milk allergy may take some offense to the Blue Buffalo bits as they do contain milk, in which case, I recommend skipping it for a similar product.
Two different flavor options for training pups all packed in a bundle.
Both of them are made nice and soft, and are made of nice, high-quality ingredients like a variety of fruits and veggies, and select meats, which are grain-free and contain absolutely no artificial dyes or flavors.
The shape and texture are well suited for training small Rottweiler puppies as well as keeping their teeth nice and clean.
That's not even mentioning the nutrients like DHA and antioxidants for improving cognition in young dogs, along with omega-3 fatty acids for a softer, more lustrous coat and better skin health overall.
The treats aren't all that expensive either, so you will be saving a good bit of money on this bundle deal if you want to bring some variety into that puppy Rottweiler diet.
While somewhat of an unusual treat, trust me when I say that these things make for fantastic treat options.
They're like dog jerky.
These ones in particular come from humanely raised, free-range cattle all the way over in São Paulo, Brazil, with no GMOs or any other harmful chemical supplements that may transfer over to your dog as a hazardous element.
The cow ears have high protein and low fat content, making them a real good candidate for the Best Treat for Rottweilers Award.
One important nutrient found within is chondroitin – a key player in improving joint health in dogs, and often missing from a dog's diet.
It, however, is crucial in prolonging a healthy lifestyle in larger dog breeds like the Rottie as joint issues are one of the main problems with large, adult dogs nowadays.
The cartilage of the ears serves as a great way to help fight plaque and tartar as the active chewing serves as a light brushing option for your pooch.
The pricing is incredibly affordable considering the durability of an ear, making them a delight among the Rottweiler pet owner community at large.
That said, I do advise caution when giving this to your dog as it may still present a choking hazard depending on how your dog approaches it, so do be present for the entirety of the treat chewing process.
This is a very nice and milky option for your doggo, and certainly a unique one – it is almost like taffy.
Made from protein-rich cow and yak milk, these yak chews provide a luxury experience to your canine companion.
Aside from those, there's the presence of flaxseed as a source of omega-3 fatty acids in order to help keep your dog's skin healthy and less prone to irritation, and his fur shiny.
The chew is low in fat and rich in flavors that your Rottie has likely never experienced with treats or with his wet and dry dog food, which will make his first time a memorable one.
It's also free of any grains and gluten, too, making it a safe option for doggos with a more sensitive immune system.
But, all of these benefits must come with a downside, and here, it's the price tag, which is quite a lot more compared to a lot of other options out there, but it is a premium option after all.
If you can afford it, then more power to you, but otherwise, I'd recommend these as special treats for – say, birthdays, really big achievements, or when you really want to surprise your furry best friend.
The final entry on this list comes from True Acre Foods, in the form of dental chew sticks.
While they may seem like the standard stuff, these ones carry one special addition that works surprisingly well in dogs, and that's mint, helping provide fresher breath in dogs after use.
But, in order to be a good dental chew, True Acre went a step further and removed all traces of sugar in their ingredient list without replacing it with artificial sweeteners, colors, preservatives, or flavors in general.
The dental sticks have a neat six-pointed star shape to them as well.
While it has become somewhat standard nowadays, it's one of the most effective ones out there for helping fight tartar and plaque, ensuring that no matter the bite angle, those teeth will get cleaned.
Price-wise, it's pretty affordable, though that affordability does come with brittleness as these things are very easy to break.
Though, that downside can be a good thing if you want to break the chew into smaller bits to prolong the use of one 32-piece bag even more.
Before You Buy: Everything You Need To Know
As you can see, there's a large variety of different treats on offer – some that I've not even mentioned like rawhide or marrow roast.
However, different options serve different purposes, and there's always the possibility that some of these products may not align best with that – but, that's okay.
That's why I always offer to help you out by making these lists, as well as giving you an idea of what the best treats for Rottweilers might be.
Here are a few things of note:
All-natural Ingredients
It always helps to have natural ingredients as the main building block for the best dog foods and treats out there, as options laced with all sorts of harmful chemicals and artificial nonsense is usually lower-quality and harmful to your dogs.
Meat As The Main Protein
While not as important with treats as it would be with dog food, having meat as the forefront of a snack means your dog is more likely to enjoy it.
That said, there are some veggie treats and similar options that can have an even better flavor – it mainly depends on your dog's preferences, and seeing as treats aren't the main source of your dog's nutrients, you can experiment with this to see what sticks.
Low Calorie-Per-Treat Amount
This one is more tied to dog training treat options rather than the others. Low calories mean you can feed them more often to your dog, rewarding him for good behavior and overall success.
If you're looking for something to just be a source of junk food for your dog, then you can disregard this note.
If you can help it, though, do try and avoid treats with fillers in them as they're just empty calories that won't do your dog much good despite not being all that harmful otherwise.
Nutritious
The final, but equally important thing is that treats should still provide some nutrients to your doggo. Whether they're being supplemented or just added on as a little extra, it doesn't hurt to have it around.
FAQs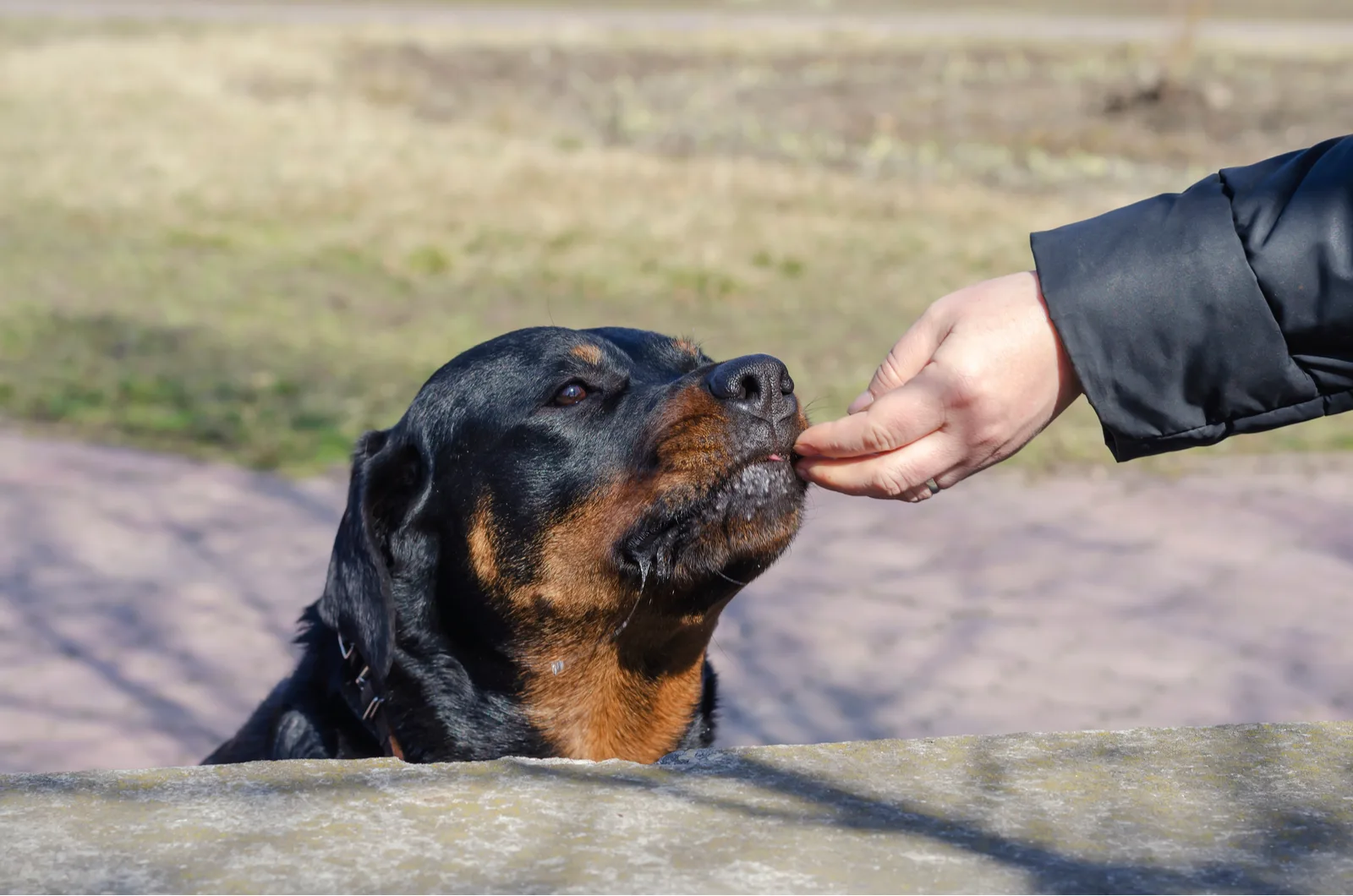 What Are The Best Dog Treats For Rottweilers?
Personally, I'd go with the Blue Buffalo option if your dog's stomach can handle the bit of milk found inside.
It's a flexible treat option that works for almost all dog breeds, so if you have more than one breed of dog lying around the house, you don't have to get breed-specific treats – you can just rely on the one brand.
How Many Treats Should I Give My Rottweiler?
This depends on the type of treat – its nutritional content and the amount of calories per treat.
I'd advise consulting your dog's vet or nutritionist on the matter in order to get a more concrete response since he knows your dear doggo better than I do.
Try not going overboard in order not to risk your dog going from being a healthy dog to an overweight one.
What Homemade Treats Can I Give To My Rottweiler?
Dog owners often resort to some homemade options, which usually involve various vegetables or fruits, with a mix of something else.
Here are a few options that are a great standalone that your dog can ingest, and will likely enjoy eating every now and then:
• Peanut Butter
• Cranberries
• Carrots
• Bananas
• Blueberries
• Sweet Potatoes
• Apples
• Pears
• Green Beans
There are many others, too, but the list would get too long. Know that most fruits and veggies are safe, and they can be used as an alternate treat for training sessions.
That said, I do advise that you look into the overall safety of a specific item before you give it to your dog as not all of them are safe for your canine companion.
In Conclusion
The best treats for Rottweilers are usually nutritious, low-calorie, and bite-size bits; however, this changes depending on what you want their overall purpose to be.
It's always good to have them be high in protein as these former herding dogs can exert quite a bit of energy if they lead an active, day-to-day life, so do keep that in mind.
Whatever you end up deciding on, however, I'm sure your dog will end up loving it – just make sure your Rottie's vet agrees with your option, too, and advises you on daily dosage. Until next time.
RELATED LINKS:
• Top 7 Rottweiler Breeders In Texas: Breeders You Can Trust!
• Everything You Wanted To Know About Female Rottweilers
• American Rottweiler vs German Rottweiler: What's the difference?
• Rottweiler Growth Chart: The Ultimate Guide To Your Rottie's Growth