To guarantee a pure Schnauzer breed, it is essential to choose a trustworthy breeder.
In addition to serving as a link between yourself and a purebred Schnauzer, good breeders should also be able to serve as a second source of support for you and your veterinarian as your Schnauzer ages.
An excellent breeder will be ready and able to respond to any of your inquiries.
They may discuss the benefits and drawbacks of owning a Schnauzer and many of the typical health issues or temperamental issues your Schnauzer can face.
For instance, Standard Schnauzers often have sound genetics. The most common health conditions in Miniature Schnauzers include pancreatitis, diabetes, weight gain, and bladder stones.
The Giant Schnauzer breeders will also be familiar with the grandparents and maybe the parents of your Schnauzer.
They should be aware of whether your Schnauzer's ancestry has been carefully assessed and checked for genetic problems and possible health issues because excellent breeders seek to enhance the breed.
In an effort to eliminate recognized genetic issues from the litters.
Recognizing the right Giant Schnauzer breeder can be easy, when you understand that the breeder you chose to buy puppies from needs to be an absolute expert of every life stage of that specific dog breed.
Giant Schnauzer Puppies For Sale
In the 17th century, the German states of Württemberg and Swabia produced the first Giant Schnauzers.
The original Giant Schnauzers were assumed to be a harsh undercoat variation of the German Pinscher breed, and it was believed that their fur would protect them from vermin attacks and the chilly German winters.
Before it was employed as nothing more than a military dog during World War I and II, it was uncommon outside of Bavaria.
The first ever Giant Schnauzers were introduced to America in the 1930s, however, the breed didn't become common until the 1960s.
There were only 23 new Giant Schnauzers certified with the American Kennel Club in 1962, 386 in 1974, over 800 in 1984, and close to 1000 in 1987.
Knowing a bit more about the origin of this dog breed can be very good for you because you can get a good overview of the possible personality traits of the Giant Schnauzer.
Whatever the case, I present you my list of top 10 Giant Schnauzer Breeders in the US:
1. Starfire Giant Schnauzers, Shelby Charter Township, MI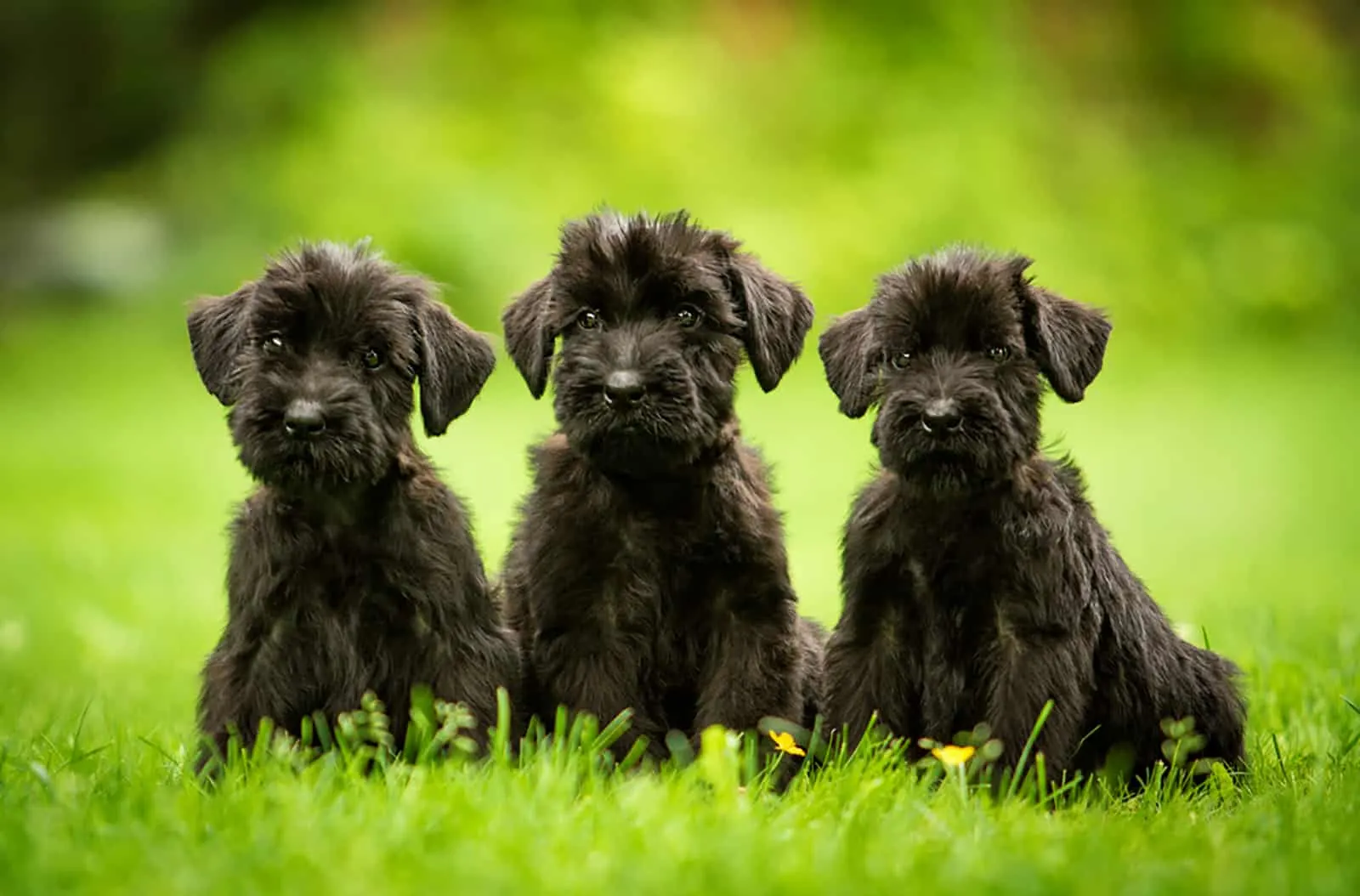 The breeders, Marianne Mazzenga and Keli Mazzenga, have been breeding Giant Schnauzers all the way back to 1978.
They are also professional dog groomers who have specialized in Schnauzers of all sizes (Miniature Schnauzers, Standard Schnauzers, and of course, Giant Schnauzers).
The parents of this litter are AKC-registered, and the puppies from this litter are also eligible for AKC registration.
Be careful to do your homework on this breed and how it can match your lifestyle before locating a reputable breeder with pups for sale.
When selling puppies, the breeder offers a health guarantee. In addition, they'll provide you a formal bill of sale outlining your and the seller's obligations.
Breeders will always accept puppies back if a puppy buyer is unable to retain the puppy they sold them.
Puppies arrive with clipped tails, dews, and ears. Additionally, they have undergone deworming and received all required vaccinations.
Your future puppy has a good chance of winning a dog show since they put a lot of emphasis on breeding for performance.
They take pride in their world class Giant Schnauzers which are bred from the best descendants from some of the best European Kennels.
Their Schnauzers are trained from a young age with an emphasis on developing their intelligence, and their skills of performance.
Most important info:
Location address: Shelby Charter Township, Michigan 48317, United States
Phone number: 586-254-4307
Contact Email: [email protected]
Socials: Facebook
2. Pam McCleary-Clear Days Giant Schnauzers, Crystal River, FL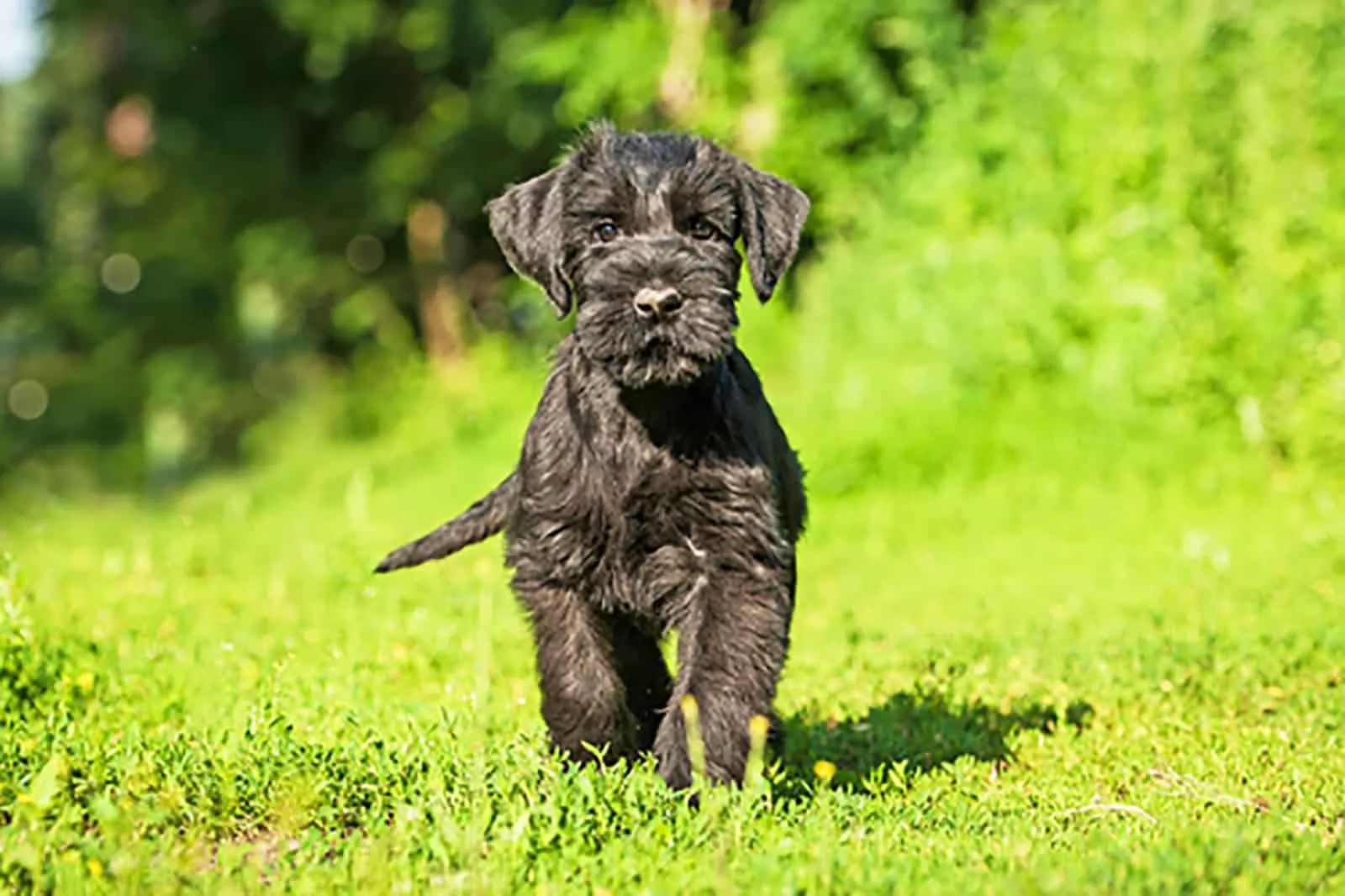 Pam McCleary is one of the most reputable breeders out there. I work with her partner doing what they both enjoy. Since the 1990s, they have been producing Giant Schnauzer pups.
A few of their charming traits include their enthusiasm, devotion, watchfulness, friendship, quick wit, and strong work ethic.
They are a small, in-home Giant Schnauzer breeder, and they take great care in choosing the dogs for breeding. Temperament, solid structure, and health are their key goals. The cherry on top are puppies with show quality.
All parents are examined for breed-specific health conditions, such as thyroid, hips, and eyes.
They stand apart because their dogs give birth to their puppies in their own bedroom, where they receive constant care. They eventually migrate to their main house where they learn about the different sounds and scents.
From there, they begin learning about nature and are exposed to all its sights, sounds, and textures. They are exposed to both indoor and outdoor settings as a result.
All are taken care of on a daily basis, which also supports excellent temperament, health, and domestic sense. Additionally, good genetics plays a role in making it all work out.
Despite being a small team, their show dog ratio has been excellent. Puppy owners have appreciated agility, obedience, and simple companionship in addition to conformation.
Giant Schnauzers must live in an active family where they may interact and engage in exercise. Because they desire to be around you always, embrace and cherish them.
They welcome guests to come and see their household!
Most important info:
Location address: Crystal River, Beverly Hills, FL 34465
Phone number: 484-883-2238
Contact Email: [email protected]
Webpage: Pam McCleary – Clear Days Giant Schnauzers
3. D' Angelo Schnauzers of California, Corona, CA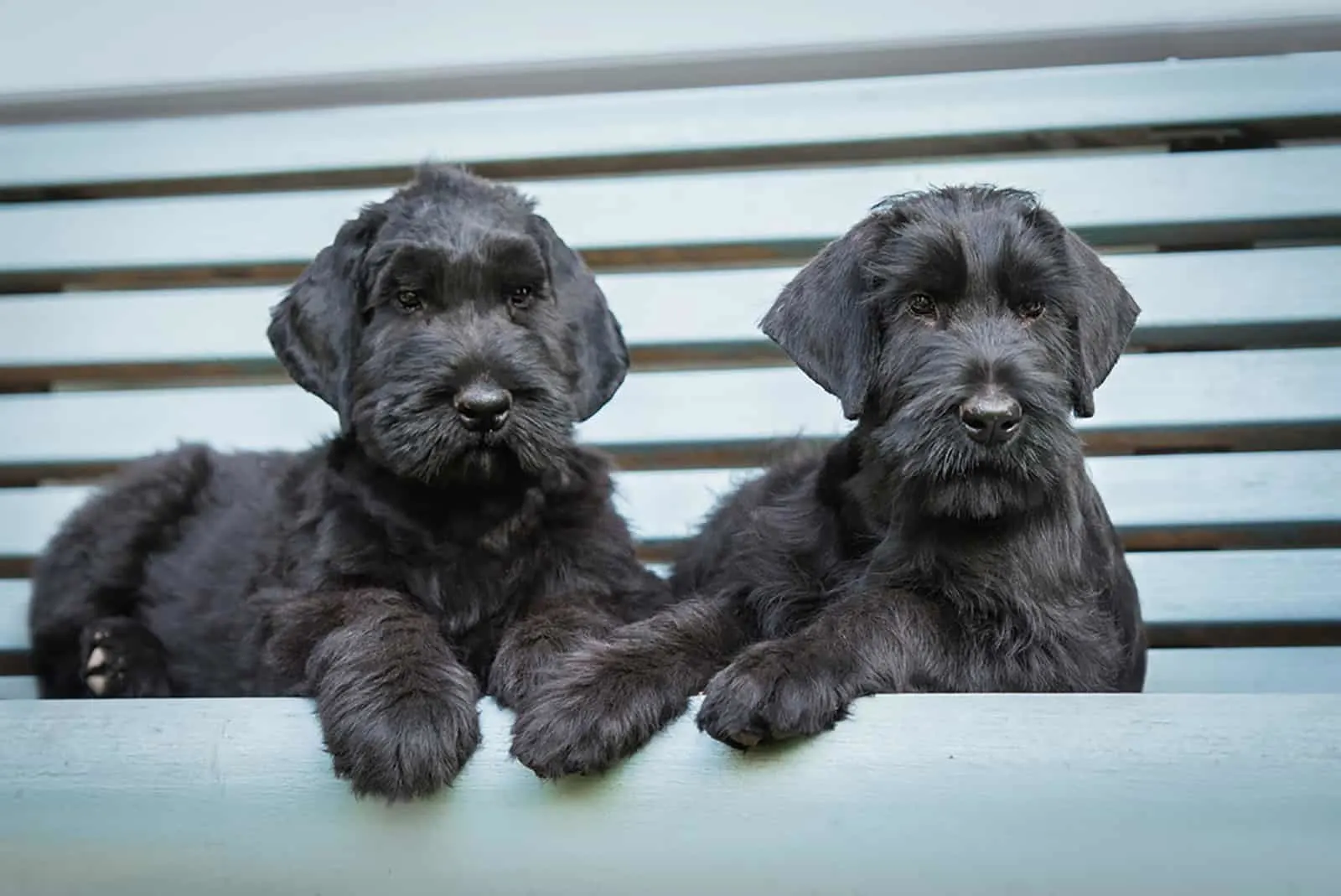 Since 1997, they have been breeding their puppies and nurturing them with the utmost love, respect, and care. They reside in southern California's bright interior, surrounded by the stunning Pacific Ocean, mountains, and rolling hills.
They are American Miniature Schnauzer Club members and family-run breeders of AKC Schnauzers. They are also members of the Miniature Schnauzer Club Of Southern California and the Giant Schnauzer Club of California.
They meticulously follow AKC guidelines while breeding lovely Black, White, Chocolate, and Black and Silver puppies with love and care. Their goal is to deliver puppies with the finest temperaments, health, and confirmation.
Under the guidance of knowledgeable geneticists and professional breeders, their pups are extremely carefully produced from lengthy lineages of champions.
They personally guarantee the genetics and long-term health of their pups throughout their lives since they come from strong hereditary origins and recognized lines, are free of flaws, and possess verifiable, long-term health.
All of their pups come with a health guarantee.
Most important info:
Location address: Corona, California 92879, United States
Phone number: 310-927-9369
Contact Email: [email protected]
Socials: Facebook
4. Classic Giant Schnauzers of Easentaigh (AKC Breeder of Merit), Bluff Road Baraboo, WI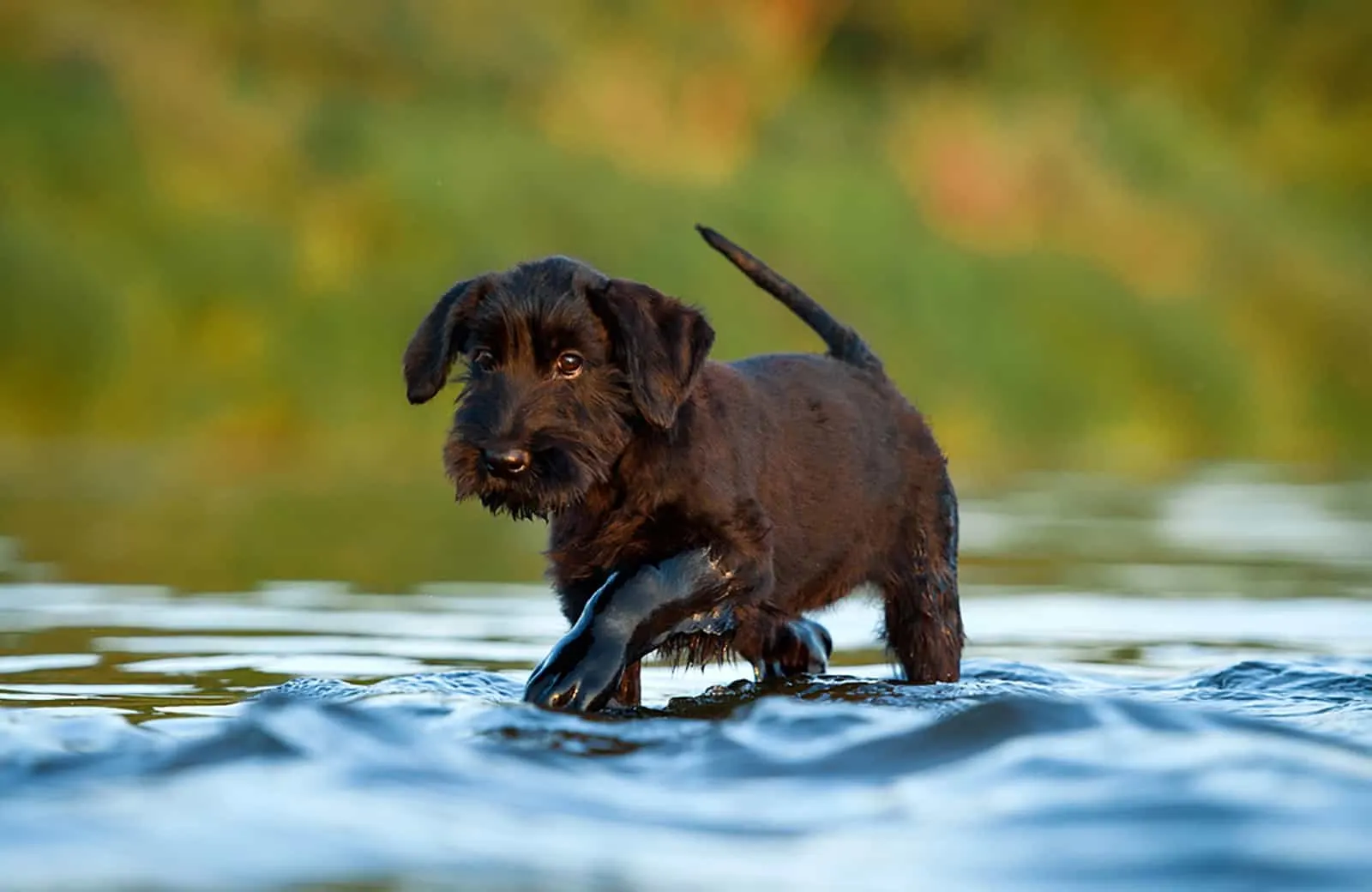 In the 40 years that the breeder has personally been raising Morgan horses and Schnauzers, she highlights that she has always begins with a superior female line.
A pedigree line with attributes that have been demonstrated over many generations is something that one wishes to keep going in the breeding program.
The finest genetic possibilities are created for the breeder when a male is combined with a strong female line that has the desired features.
According to this theory, Classic Giant Schnauzers are exceptional examples of the breed, both in terms of genotype (what you can't see, or what the parent dog will pass on to their offspring) and phenotype (what you can see, such as skeletal structure, healthy teeth, coat, dark brown eyes, large heads, drive, assertiveness, and excellent personality).
The working Giant Schnauzers produced in the United States by this breeding program are of the finest caliber.
They breed top-notch working dogs from the finest European bloodlines, which are – thanks to them – now available in the US.
In their Giant Schnauzer breeding program, they put a strong emphasis on perfect shape, good temperament, wellness, athletic ability, and genetic richness.
All breeding stock has an OFA rating of good or exceptional, a normal thyroid level at breeding, and CERF-clear eyes. All progeny are guaranteed to be healthy.
The breeding program for Classic Giant Schnauzers adheres to the goals of the Working Riesenschnauzer Federation.
The Giant Schnauzer Club of America's Code of Ethics is scrupulously upheld. The Classic Giant Program's hallmarks include excellent bloodlines and 40 years of experience in breeding purebred canines and horses.
They stick to the breed standard, do all of the needed health testing, provide highly intelligent dogs with great trainability levels, and are one of the best Giant Schnauzer breeders on the AKC marketplace.
Most important info:
Location address: S 5560 Bluff Road Baraboo, WI 53913, United States
Phone number: 608-356-6642
Contact Email: [email protected]
Webpage: Classic Giant Schnauzers of Easentaigh
5. Elegant Guardian Angels, Albertville, AL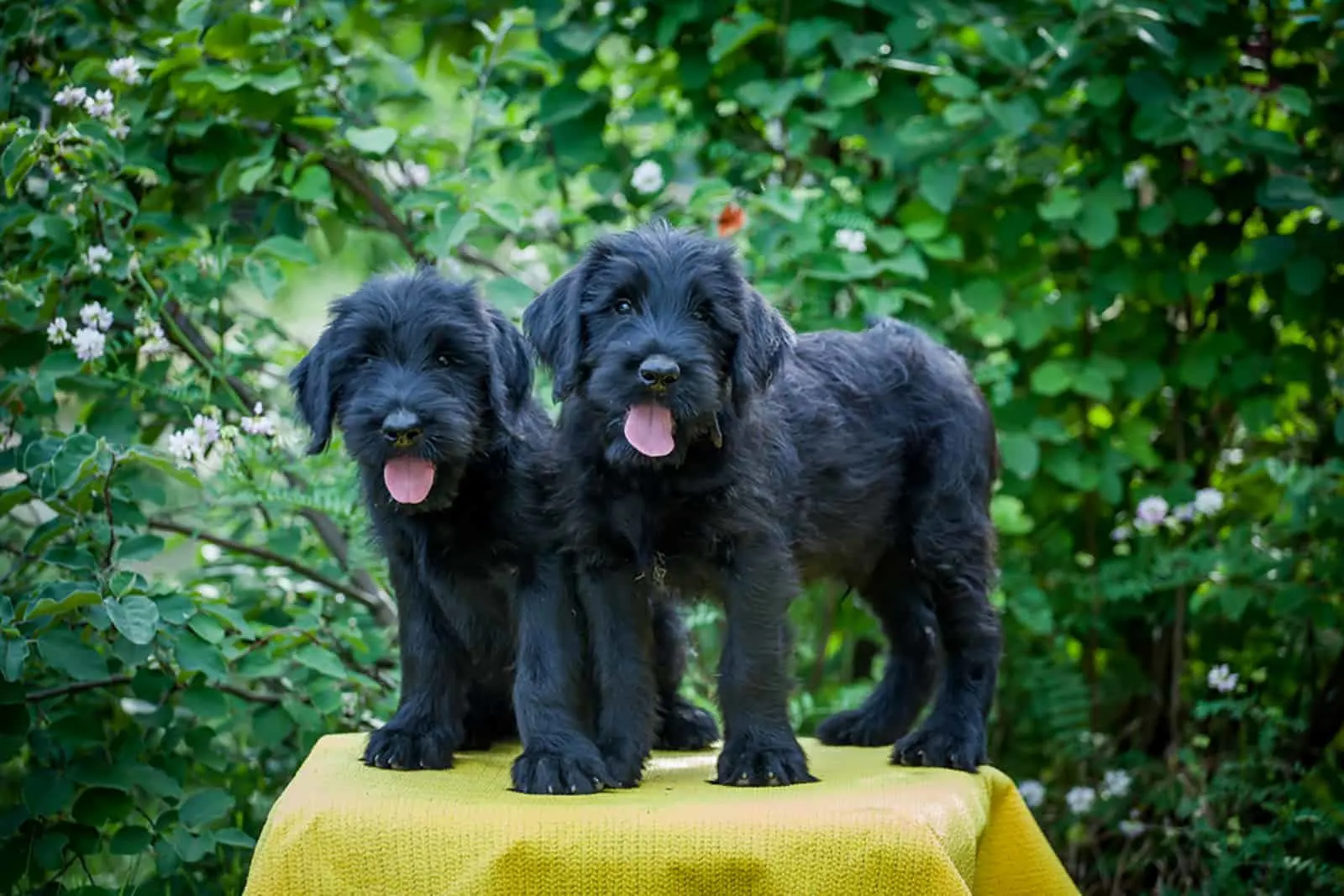 They strive to improve the Giant Schnauzer breed while preserving its remarkable characteristics.
They genuinely reproduce out of love for the breed; breeding for the qualities of a working Giant Schnauzer, such as health, temperament, size, and muscle.
Their puppies make fantastic family pets, guard dogs, working dogs, therapy dogs, or service dogs. In Rally, as well as Formal Obedience, they practice and compete. Their dogs have demonstrated workability and temperaments.
They are listed with the American Kennel Club. They have undergone testing for Pen-hip, VWB, OFA ELBOWS, OFA thyroid, and OFA eyes.
If you have any queries, they are pleased to respond. They want you to enjoy every step of choosing your puppy, watching him or her develop, and watching the dog grow alongside you and your family.
Before or after you take your puppy home, they would like you to feel relaxed to phone or text them at any time. They enjoy looking at pictures and desire to be as helpful as they can.
They have extensive knowledge of this breed and in training. They wish for you to enjoy spending time with their pets and to get the greatest match possible.
They are available to you both prior to and after you adopt one of their amazing canines.
Dew claws and tails will be docked. Make arrangements for ear cropping to be performed following pickup, if desired.
Ear cropping must be done after pickup, thus it is recommended to choose your puppy as soon as it is close to 8 weeks old to decide on the ideal dog for you.
Each puppy is delivered to you freshly groomed, including a shampoo, brushout, nail trim, and sanitary trim, a document from their veterinarian detailing a wellness checkup, shots, and deworming.
Application for AKC registration, collar, and microchip are also included.
Most important info:
Location address: Albertville, AL 35950, United States
Phone number: 256-440-9910
Contact Email: [email protected]
Webpage: Elegant Guardian Angels
6. Kalidor Kennels, Lindenhurst, NY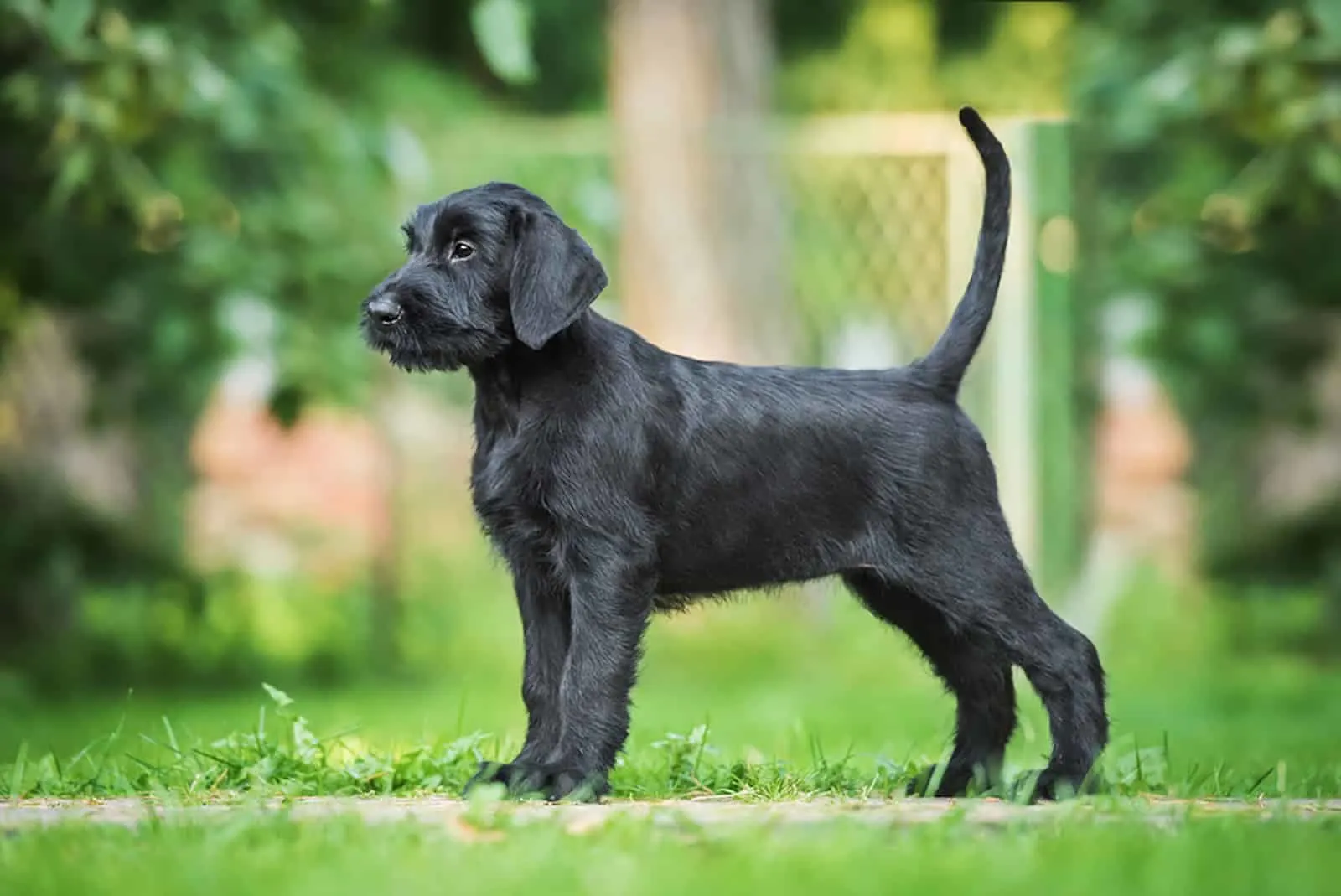 They produce Giant and Miniature Schnauzers that adhere to AKC requirements, which prohibit the use of unusual colors or sizes.
All potential homes will be required to complete a survey and agree to a contract, according to the breeder. Puppy placement decisions are made following evaluation of the pups (around 2 months of age).
The personality of the puppies are matched to the ideal lifestyle.
AKC promotes committed and ethical breeders with pride. All future puppy owners are urged to conduct their own research and prepare a list of inquiries for the breeder.
Make sure you not only select the ideal breed for you, but also that the breed you receive comes from the ideal source.
They highlight their Schnauzers' proper socialization and their extremely admirable health and wellness.
Most important info:
Location address: Lindenhurst, NY, United States, New York 11757
Breeder: Melissa Delatorre
Contact Email: [email protected]
Socials: Facebook
7. T9 Kennels Giant Schnauzers, Springdale, AR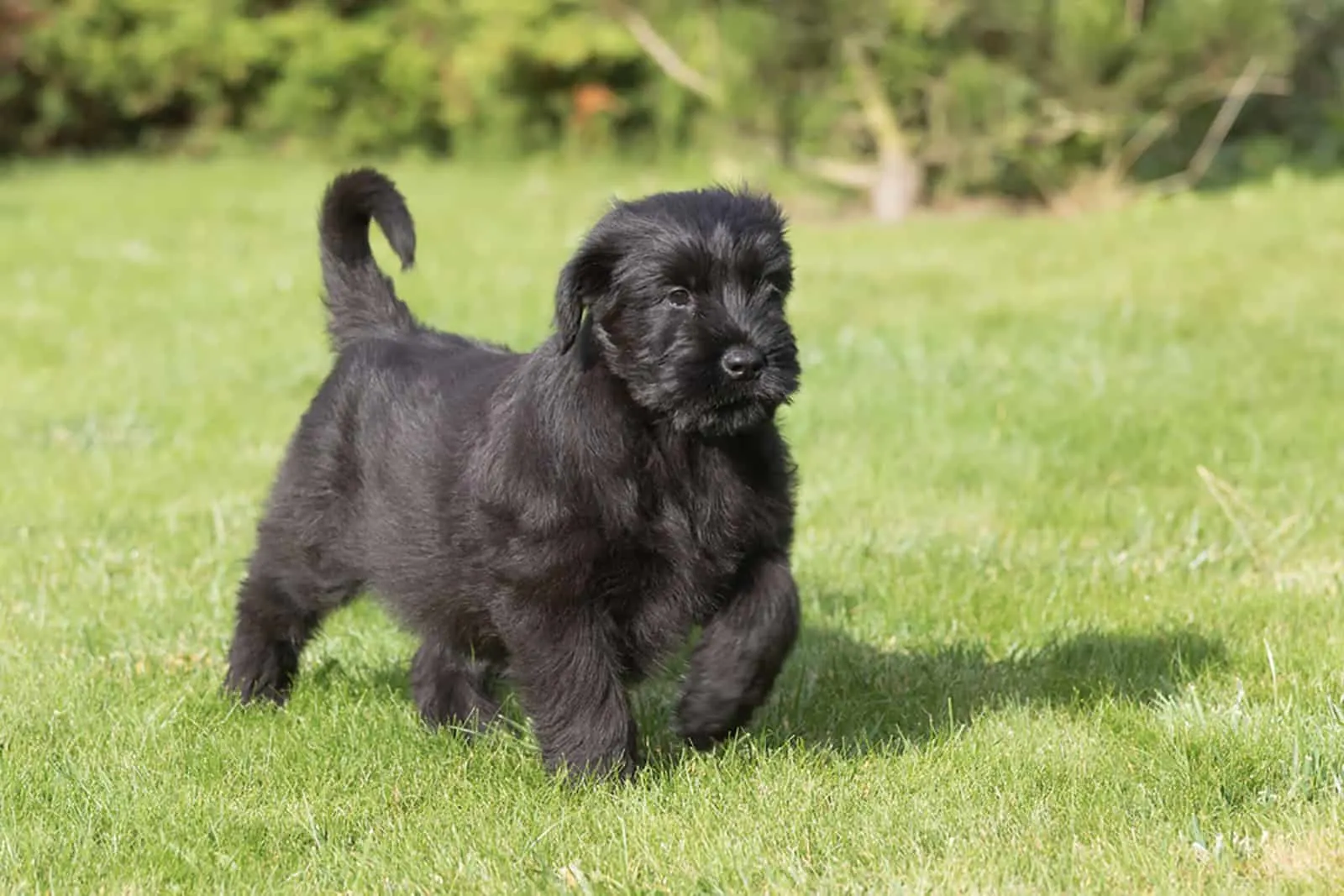 Mr. Duke takes pride in the Giant Schnauzer he breeds. He puts emphasis on the dog's wellbeing and their socialization from a young age.
They all have wonderful temperaments and get along nicely with other dogs, cats, kids, and horses. At a nearby animal emergency center, every one of their dogs older than two years old regularly donates blood. All without sedation.
They do provide shipment through a personal ground courier, and when your puppy is delivered, you will get the opportunity to meet its father. Additionally, you are invited to pick up your puppy.
For further information or to schedule a visit, kindly email, call, or text the breeder. At that time, they will be able to provide you with the waitlist worksheet or questionnaire and go over all of their fees and procedures.
Most important info:
Location address: Springdale, AR 72764, United States
Phone number: 479-250-8596
Breeder: Adam Duke
Contact Email: [email protected]
Socials: Facebook
8. Von Zetterhoffe, Clermont, FL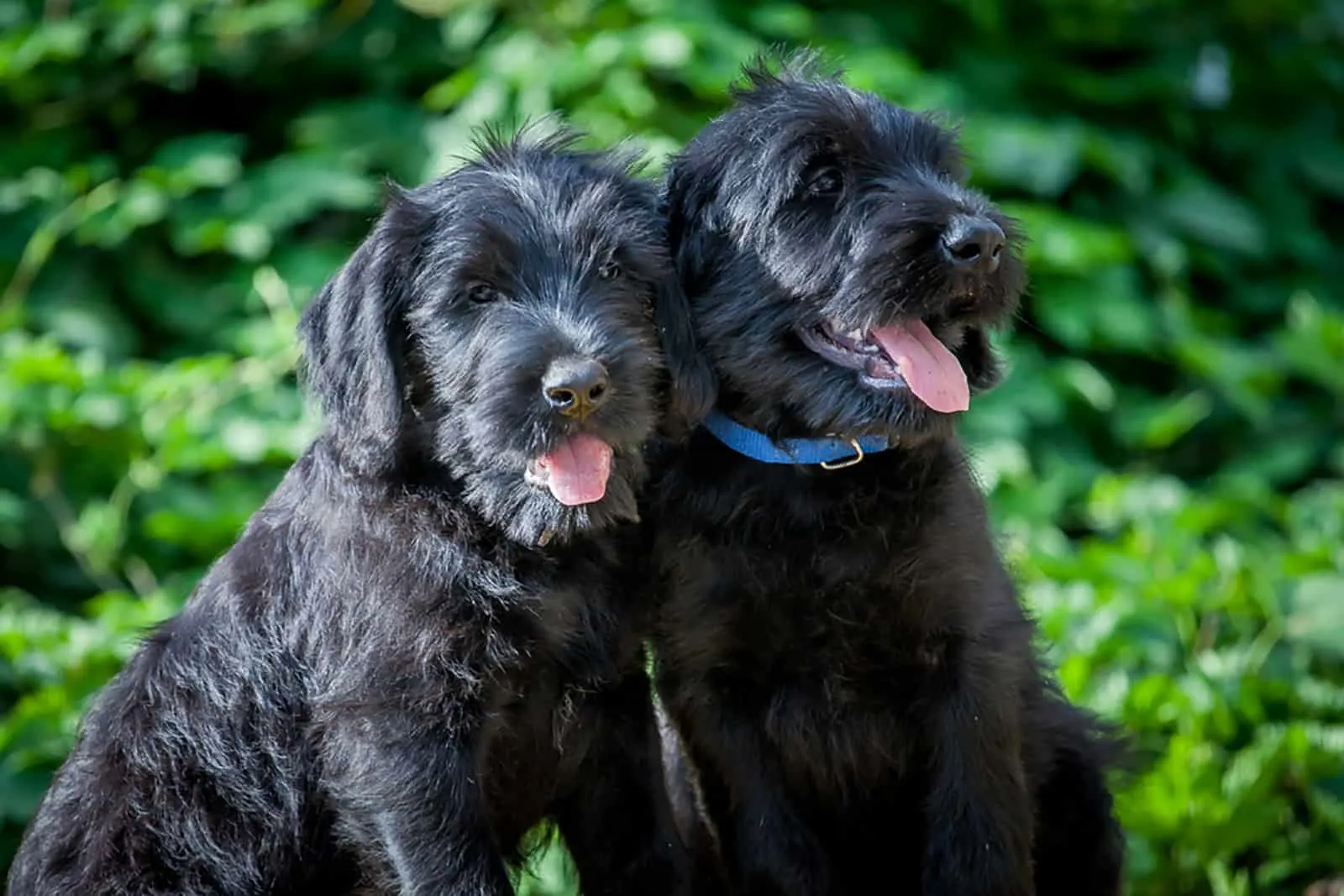 Right off the bat, one thing is for sure: this breeder doesn't do much marketing because they don't have to. It is the good word that spreads, which is the best marketing for them. They do have a Facebook page, where they are active.
They breed imported German lines of Giant Schnauzers, which have a pedigree that is astonishing. Their dogs are great at dog shows and performance, and their parents are trained to be great guard dogs and family dogs.
They breed the Giant Schnauzers for over 30 years, which means that they are an experienced dog breeder. All of their puppies come vaccinated, microchipped, and with all the possible health tests done.
Most important info:
Location address: 10332 Clear Lake Dr, Clermont, FL 34715-9467, United States
Phone number: 407-970-2538
Contact Email: [email protected]
Socials: Facebook
9. Hannah's Haus & Farm, Atoka, OK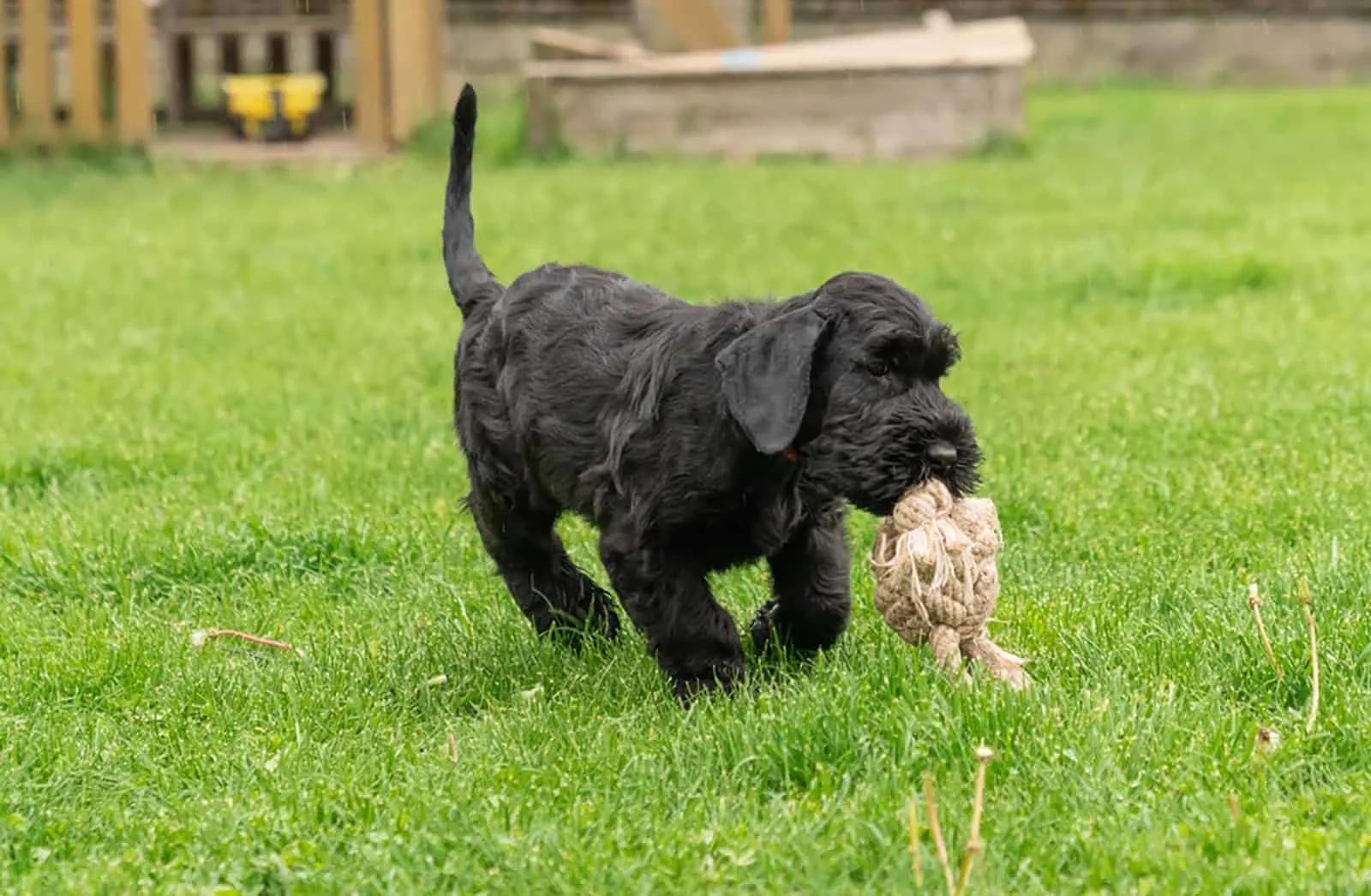 The breeder of Hannah's Haus & Farm in Atoka, Oklahoma is Christi McCormack-Pugh. Her, her husband, and their pets reside on their 40-acre property. Their pets receive a lot of love and socialization.
She works to ensure that every owner has the skills necessary to get the most out of their dog. Their pets reside in their house with their family. Up until they find their permanent home, the puppies will do the same.
They state that, before they can join their new families, puppies need time to nurse, grow, and strengthen with their mom and littermates.
A newborn pup should remain with their breeder, mother, and siblings as they grow physically and learn new social skills. Depending on the breed and even the person, a puppy can leave the shelter at about two months old.
The puppies are provided with a Certificate of Health, a blanket with the scent of their littermates, a puppy paw print, and a special bag of goodies starting when they are sent home.
They provide a 12-month health warranty. Their own veterinarian and perhaps other reputable dog breeders will provide advice, if needed.
Until they go into a forever home, they will continue engaging and working with them.
She makes use of the following approaches for enrichment: smells, environment desensitization, and a large number of friends and relatives frequently visit to assist out with the pups.
Most important info:
Location address: Atoka, Oklahoma, United States
Phone number: 580-378-2488
10. Lazy Vl Lakelands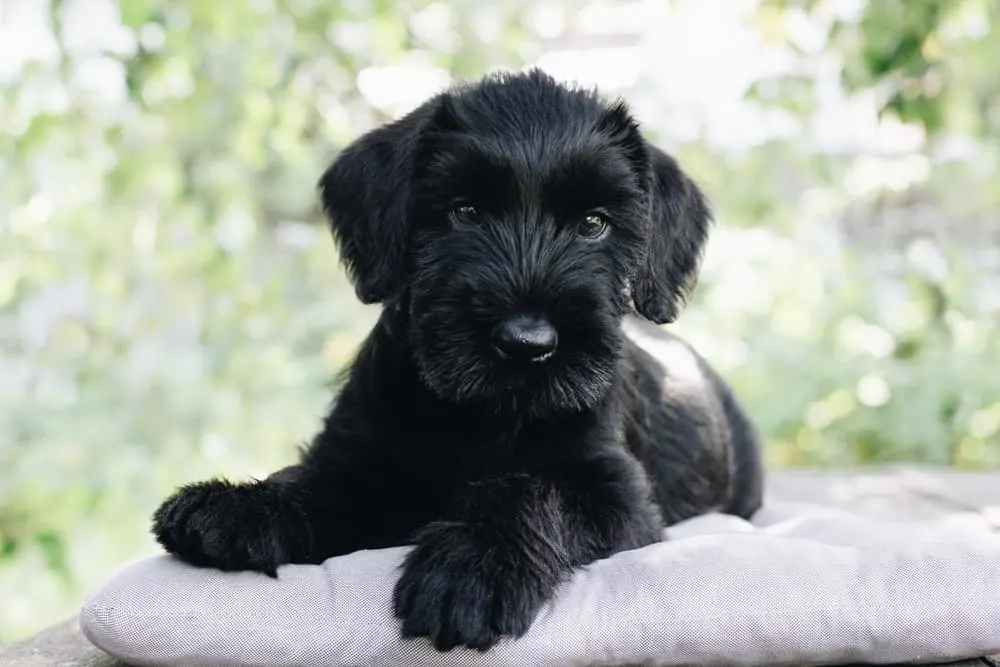 The foundation, which has been bred since 2008, is descended from Oregill, one of the world's oldest Lakeland lines. Mike Vickars gave her the moniker "sassy" and she's the second Eskwyre Import.
Their terriers are their fur kids, and they include them heavily in ranch life there in Colorado. They do everything with the breeders, including hiking, driving around, growing crops, and herding, indicating extensive socialization.
The second import is from Russia, with an age of less than 2 years old, he is a champion and a versatile dog (also known by a working title), and he has the right type and temper… a wonderful dog, he is a unique blue. (Named Zavetnaya Mechta Mistral, C. H. RATO X Lancashire Rose JE and Rose CH.)
The breeder insists upon meeting in person, and welcomes all future pup owners to his ranch to see how the pups grow up and to meet the parent dogs.
Most important info:
Location address: New Castle, Colorado 81647, United States
Phone number: 970-984-3269
Contact Email: [email protected]
Socials: Facebook
Final Word
Although purebred Schnauzers can cost quite a bit, some people hold the pragmatic view that respectable breeders aren't in it for the profit.
Ethical and respected Giant Schnauzer breeders actually love dogs, have care for them, and just want the greatest life for them, which is exactly the reverse of dishonest breeders that operate "puppy mills" with the goal of mass-breeding popular dogs.
Furthermore, moral breeders solely breed for the benefit of the dog breed. For instance, breeders of Schnauzers should have high requirements for the dam's pedigree, her health, her intellect, and her general excellence.
This dog breed, with its well-rounded personality, is as great in performance, doing therapy work, and being a family dog, as it is as a watchdog also.
There are many breed clubs of this dog breed, however, the one that is the best as being well known is the American Kennel Club.
Reputable breeders should be able to show documentation for important health examinations like CERF as well as OFA certifications. They describe the ailments that affect Schnauzer pets so you will know what to look out for moving forward.
Additionally, the breeder needs to give at least two client references from the last 12 months.
You may speak with them in person or over the phone to learn more about their interactions with the breeder, how issues were resolved, and the benefits and drawbacks of doing business with them.
Reputable breeders are knowledgeable about two or more canine breeds and may solely focus on one breed, like Giant Schnauzers.
Gaining significant knowledge in numerous breeds is challenging and kind of a red flag. Choose your breeder wisely.
FAQ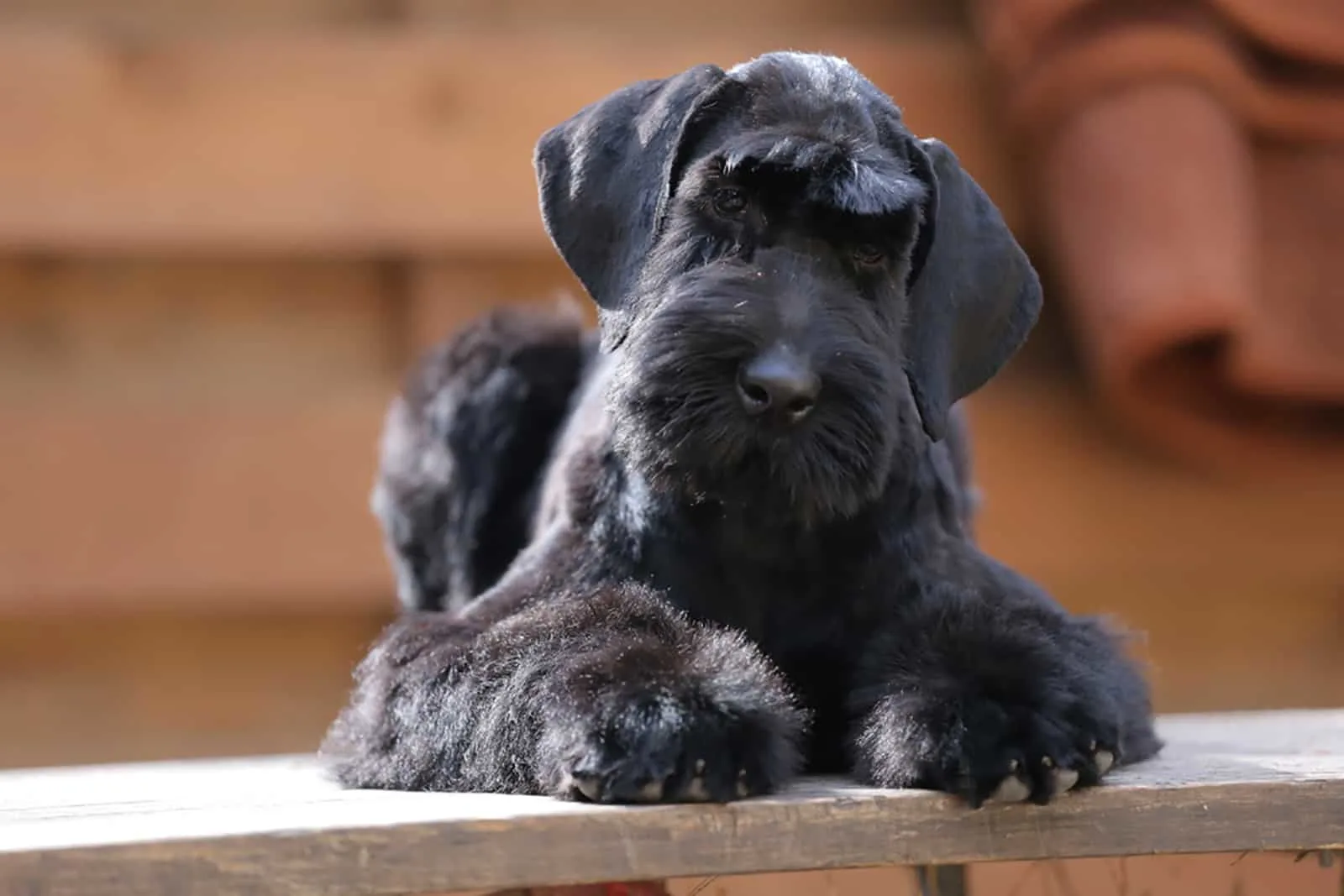 1. What Does A Giant Schnauzer Look Like?
Although the Giant Schnauzer is referred to as being "Giant," this is in relation to the Standard as well as Miniature Schnauzers rather than other large dog breeds like the Great Dane or Rottweiler.
Giant Schnauzers should resemble a stronger version of the Standard Schnauzer and are square in form. The ears are tiny and placed higher on the head, and the tail is lengthy.
Where permitted, the ears may be cut and the tail may be docked.
If you measure the dog's back from the withers to the tail, the head is the length of half of the back. Although flat, the cheeks are well-muscled. The coat is weather resistant, thick, and wiry.
A prominent "beard" and eyebrows are formed by the Giant Schnauzer's facial fur. It walks with a long, clean stride.
A Schnauzer must, in accordance with the breed standard, "be a brave and heroic posture of a dog." He is a bigger and stronger variation of the Standard Schnauzer.
He is a fantastic working dog and friend because of his superior intellect and commitment.
The fanciers of the breed refer to the muscular, solid physique as a "powerful and heroic attitude of a dog." The double coat comes in many colors, most famous being: "pepper and salt" or pure black.
The Mini, Standard, and Giant can be easily recognized by their severe eyebrows and beard, which highlight their sharp, astute countenance.
What Is The Average Giant Schnauzer Height?
The Standard Schnauzer and the selectively bred Giant Schnauzer are very similar dogs. Giants are powerful, as their name implies. Males may weigh 95 lbs and grow as tall as 27.5 inches somewhere at the shoulder.
According to the AKC breed standard, males must stand between 65 and 70 centimeters (25.5 to 27.5 in) tall at the withers, while females must stand between 60 and 65 centimeters (23.5 to 25.5 in).
2. Are Giant Schnauzers Good Pets?
Typically, Giant Schnauzers are a calm breed. The Giant Schnauzer was bred to be naturally wary of outsiders and possessive of its territory.
Once exposed, it often accepts unfamiliar persons or circumstances. Although they are often peaceful canines, it has the ability to be violent.
Giant Schnauzers have a reputation for being dependable around kids. They are extremely brilliant, yet soon become bored.
They are also incredibly active and energetic, which, when combined with boredom, can result in undesirable conduct.
They are incredibly devoted to their owner and are readily trained. They are well-known for forming strong attachments to their owners.
Some breeders think that black-furred Giant Schnauzers are much more aggressive than pepper and salt-colored Giant Schnauzers.
Even though they are friendly, Giant Schnauzers can be rather domineering.
Giant Schnauzers are often good-natured among other dogs and adore spending time with families and young children, making them excellent family companions.
Hugely dedicated, faithful, and defensive of their owners, Giant Schnauzers make excellent guard dogs. To be content, they require a lot of consideration, company, and involvement in family activities.
These puppies don't want to be left alone in the household or yard; they prefer to be part of the excitement.
Do Giant Schnauzers Like To Cuddle?
Giant Schnauzers make loving pets. They are renowned for adoring their human and constantly wanting to be with them, even if their willingness to snuggle may fluctuate.
They are known to be a highly energetic dog breed, which likes spending time outdoors. They are the type of dogs which will cuddle on the couch, only if they are dead tired.
Don't expect some crazy long cuddling time because these dogs are the ones which would rather go for a hike or go to the dog park.
You May Also Want To Read:
• 5 Best Miniature Schnauzer breeders in Ontario