This post contains affiliate links, and I will be compensated if you make a purchase after clicking on my links.
PupVine always makes sure to bring you the finest products available on Amazon and Chewy… Today, we have a delight for all Beagle owners and owners-to-be.
I'm presenting to you the ultimate list of the best dog foods for Beagle dogs!
This list is full of excellent ingredients and only the finest animal proteins for your Beagle buddy. No matter which brand you pick, you'll get a wholesome diet for your pooch and a delicious meal every time.
Top 3 Best Dog Food For Beagle Pups
If you're a dog owner like I am, then you'll always look for the best of the best for your Beagle pup. All of the brands listed today are excellent picks, but only a few of them can be featured as the finest of them all. You're about to check out our top three picks!
PupVine's List Of Best Dog Food For Beagle: Trustworthy & Healthy Choices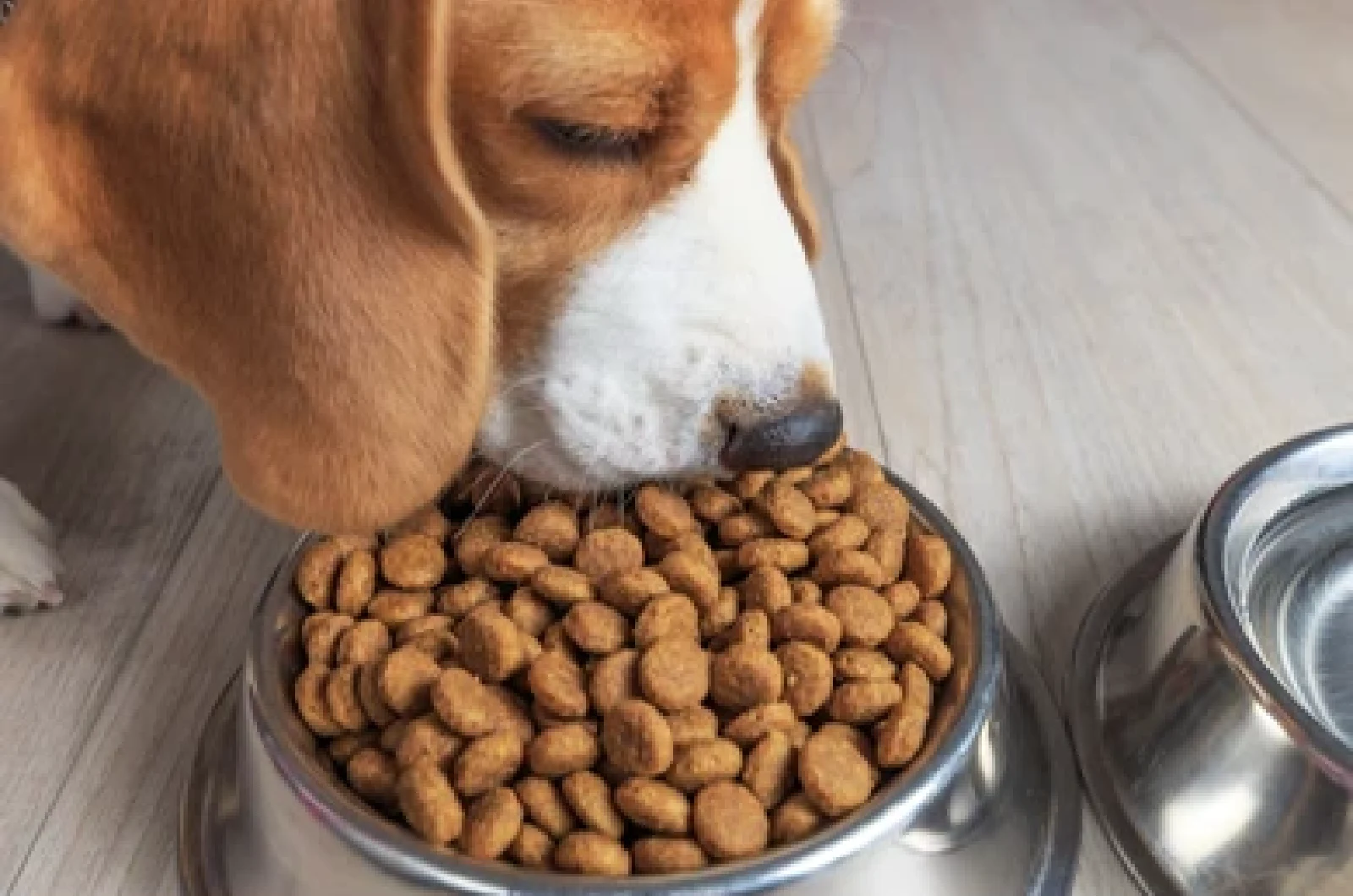 I wouldn't recommend the following dog foods if I didn't believe they're pawmazing choices when it comes to the best dog food for Beagle pups. You'll notice we have some pretty popular brands, such as Blue Buffalo, and also some less popular, but still equally-worthy brands, such as Halo Holistic and Solid Gold.
Beagles aren't that pricey, but taking care of them can be. That's why I want to give you the best of all worlds and help you pick out the ideal formula.
When real, deboned chicken and chicken meal join together, you know your pupster will have a delicious AND nutritious meal. The Blue Buffalo Wilderness formula has all that and more!
Besides the yummy proteins, this kibble contains superfoods like blueberries, kale, turmeric, peas, cranberries, parsley, etc.
What's curious about chicken kibble is that a lot of dogs have begun experiencing allergic reactions to it. Now, I'm not saying Blue Buffalo's formula will do that because each dog is an individual, but some dog owners have actually reported improvement in terms of skin reactions.
This formula is mild to the skin and shouldn't cause breakouts.
Another bonus goes to the fact that it's grain free and suitable for dogs with diabetes. This means your Beagle can consume it, especially if you're controlling his weight, making sure he doesn't get obese.
When we say a kibble formula promotes whole-body health, we really meant that. Take Wellness Core Wholesome Grains, for example. This formula was designed to support a good digestive system, and give your dog stronger joints, a shinier coat, elasticity in the skin, and a strong heart.
Oh, and it's got a delicious savory flavor! I didn't try it myself, but I've seen dogs go nuts even by looking at the bag.
Wellness Core will satisfy even the pickiest dog with its turkey protein and chicken meal. Other than that, the formula contains oatmeal, barley, spinach, broccoli, blueberries, carrots, quinoa, apples, salmon oil, and whatnot!
I'd recommend this kibble to any dog owner who wants an all-American product made with fresh, natural ingredients for the ultimate result: a happy and healthy Beagle with a long lifespan!
Beagles are small dogs, and small dogs still need lots of energy. Do you know what Beagles were first bred for? You see, Beagles were once used as great hunting dogs. They needed lots of fuel to keep them going. Circumstances have changed today, but Beagles still need good nutrition because they still have lots of energy to spare.
Fish is always a good choice for small breeds because it's delicious, sensitive to the tummy unlike beef, and still carries a good energy value.
Merrick Lil Plates kibble has been a favorite of many dog owners for quite a while. But, this sweet potato and salmon recipe is something special!
I find this kibble recipe to be quite amazing since it contains glucosamine and chondroitin for stronger joints and sturdy bones. Your Beagle will need that once he enters his senior years.
Merrick Lil Plates are really little pieces of kibble. This makes them perfectly suitable for dogs with dental issues, and we all know that our little Beagle buddies can have lots of dental problems.
I'd recommend you go with Merrick because they have formulas for all life stages.
American Journey is a widely-known dog food. They produce only products by using high-quality ingredients, without artificial flavors, preservatives, or artificial colors. This is one of the finest choices you can make for your growing puppy. Serve it dry or make puppy mush with AJ Active Life.
All puppies love to eat, and they really don't care what they're nibbling on. But, you SHOULD care. Having real salmon as the first ingredient, this American Journey formula is packed with brown rice, peas, chicken fat, oatmeal, sweet potato, fish meal, and dried egg products.
That surely sounds mouth-watering… you know, from the puppy's point of view.
The American Journey Active Life formula will satisfy all the nutritional needs your Beagle pup might have. Also, the formula promotes good muscle and bone condition, as well as excellent brain and vision development.
If you're worried about your Beagle having food allergies, you can rest assured that this kibble has no usual allergy triggers like soy, corn, or wheat.
I haven't seen many good lamb formulas like this one. Natural Balance Lamb and Brown Rice formula isn't only delicious for dogs, but it's also super beneficial.
This dry dog food is actually a terrific choice if you want premium dog food. The ingredients packed inside are a nice surprise, unlike many formulas containing fillers and meat by-products.
Natural Balance uses real lamb meat, along with lamb meals for ultimate satisfaction. The recipe uses only one animal protein, which is always a terrific thing to see with dog food brands. Most brands use several protein sources, but nothing beats 100% real meat protein from a single source.
Brown rice is the finest ingredient if you need to add more fiber to your dog's diet.
This natural balance kibble is actually a limited-ingredient formula. It's pawfectly designed for pooches with sensitive tummies. The whole recipe spins around one main ingredient that still provides enough nutritional value for your Beagle.
When dog food contains salmon, you know it's a good one! It's proven that salmon, along with salmon meal, promotes a good immune system and helps with a shiny coat and good skin condition.
Canidae Pure Puppy Food is more than they advertise. It's one of the finest choices you can make for your little Beagle pupster.
This recipe with salmon and oatmeal is rich in omega fatty acids and amino acids. This ensures that the dog will be healthy, with well-functioning cognitive abilities, as well as a rock-hard immune system.
Your Beagle puppy will enjoy this formula so much that I guarantee you'll have issues with switching to adult dog food. But, don't worry because Canidae caters to dogs of all ages and sizes.
Nutro has developed its own clean formula that promotes simple, yet purposeful and trustworthy dog food. Well, that's what they say. But, is it the truth?
Absolutely!
I was honestly surprised with how good Nutro Natural Choice is doing on the market. They can brag about having some of the best kibble formulas out there.
This lamb and brown rice recipe features not only real animal meat, but also superfoods like pumpkin, spinach, kale, flaxseed, and split peas. The kibble is enriched with standard goodies like folic acid, antioxidants, thiamine, etc.
The listed ingredients ensure that your pup will have lots of energy to run all day, but constant consumption won't lead him to obesity or problems with weight management. Nutro's Natural Choice kibble will help your pup maintain a healthy weight and stay at the top of the game.
Rarely has any dog food recipe amazed me as Instinct Raw Boost Formula. It's innovative, delicious, and the best part is: it's super healthy for our canine buddies! While most brands use meat meals to support their recipes, Instinct uses real freeze-dried meat bits from USA-raised beef.
An incredible 36% of beef protein is used in this recipe. That's pretty pawmazing!
Dog owners from all over the Internet have spoken: Instinct Raw Boost Formula is beneficial not only for normal weight gain, but it also gives more energy than your average store-bought brands. Oh, and it's sensitive-stomach friendly, meaning it shouldn't cause puppy diarrhea night or day, or vomiting yellow.
The combination of kibble and raw bits makes every dog excited to see a bag of Instinct coming into the house no matter if it's a Beagle pup or a Beagle senior.
Blue Buffalo is twice on this list of best dog food for Beagles with a good reason. Why? Because they're definitely the most popular brand on Amazon and Chewy. Dog owners (and their dogs, too) have recognized the quality of this kibble brand.
Let's see what's so special about this formula!
Blue Buffalo Life Protection Formula is specially designed for puppies. That means our lovely Beagle pups will particularly enjoy it! The formula has real chicken meat and oatmeal inside, along with barley grass, parsley, blueberries, cranberries, sweet potato, carrots, and lots of vitamin supplements.
I've seen many dog owners try Blue Buffalo, switch over to less expensive brands, and then return back to BB. Why? Because Blue Buffalo is absolutely worth every penny.
The Solid Gold dog food brand isn't advertised as much as it should be. This is one of those dog kibble brands that could be declared as the best dog food for Beagle dogs if only they had better publicity.
Not many dog owners have heard of Solid Gold, but it has been around for decades. And, it has been at the top of the game with its as-natural-as-it-gets recipes. Their Everyday Nutrition (or Sunday Sunrise) recipe is suitable for all dogs in all life stages.
The recipe works to ensure good gut health and support healthy muscle mass. Dogs that eat Solid Gold Sunday Sunrise seem to have lots of energy for daily adventures. When you take into consideration a Beagle's high activity levels, this could be the one kibble we have all been searching for.
Besides the premium ingredients list, Sunday Sunrise is grain-free and gluten-free, which makes it one of the best dog foods for Beagle pups according to PupVine and myself.
Orijen is definitely one of those dog food brands with an innovative approach and excellent quality. Sometimes, kibble brands have a good idea that's quite ahead of their time, but they have problems delivering it. That's not the case with Orijen.
If you want top-notch quality and 100% real meat, you know which brand to look for.
Orijen always states that dogs were carnivores back in the day. They try to bring back the all-natural diet that dogs used to love back then.
This formula is enriched with pure turkey and chicken meat, along with three different types of freshly-caught fish, such as whole arctic char and pilchard.
Orijen always uses premium fresh ingredients to achieve supreme quality. Personally, this is my favorite, and my two crazy pooches have been enjoying Orijen ever since it came out.
A limited-ingredient diet is the road you take if you suspect your pup is having issues with its tummy. Your Beagle might not have diarrhea, but he might vomit, or he might be flatulent. Yes, dogs can fart excessively, too!
In this case, pick a kibble recipe like Canidae Pure Petite Salmon. Canidae is that dog food brand we all love for its natural approach to creating dog food.
Besides the freshly-caught salmon, the recipe is also packed with freeze-dried salmon, peas, lentils, garbanzo beans, and many other delicious goodies.
I've heard many picky eaters like Canidae's Pure Petite formula. That's some really good news for the rest of our pooches!
I support Halo Holistic recipes because this company is strictly against GMOs, preservatives, antibiotics, artificial flavors, and growth hormones.
So, what does this kibble brand feature?
Only fresh ingredients grown locally!
This wild salmon and white fish formula is rich in vitamins and minerals from fruits and veggies such as dried carrots, chickpeas, peas, lentils, sweet potatoes, and tapioca.
Even though it's not specifically designed for weight loss, some owners have reported that the Halo Holistic recipe has helped their dogs lose weight while staying happy, healthy, and fit.
Oh, and one more thing… pardon my French, but dogs seem to poop nicely after eating Halo Holistic formula. There are no white specks in the poop, odd urine outside the recommended urine color chart, etc.
If you want your dog to eat like a king, then you get Taste of the Wild Roasted Fowl kibble. Not many dog food brands can brag about such a luxurious taste choice, but TOTW can.
This is a formula that features ancient grains, such as chia, quinoa, millet, and sorghum as excellent sources of proteins, minerals, fibers, antioxidants, and omega fatty acids.
The Ancient Wetlands recipe contains an incredible amount of 32% crude protein.
I'm aware that grains aren't welcome in dog food, but these are ancient grains, meaning they carry so much nutrition that it would be a shame not to use them in a recipe.
Dog owners using TOTW have noted that their dogs now have zero stomach issues, no smelly gasses, no vomiting, and no pickiness about their food at all.
FAQs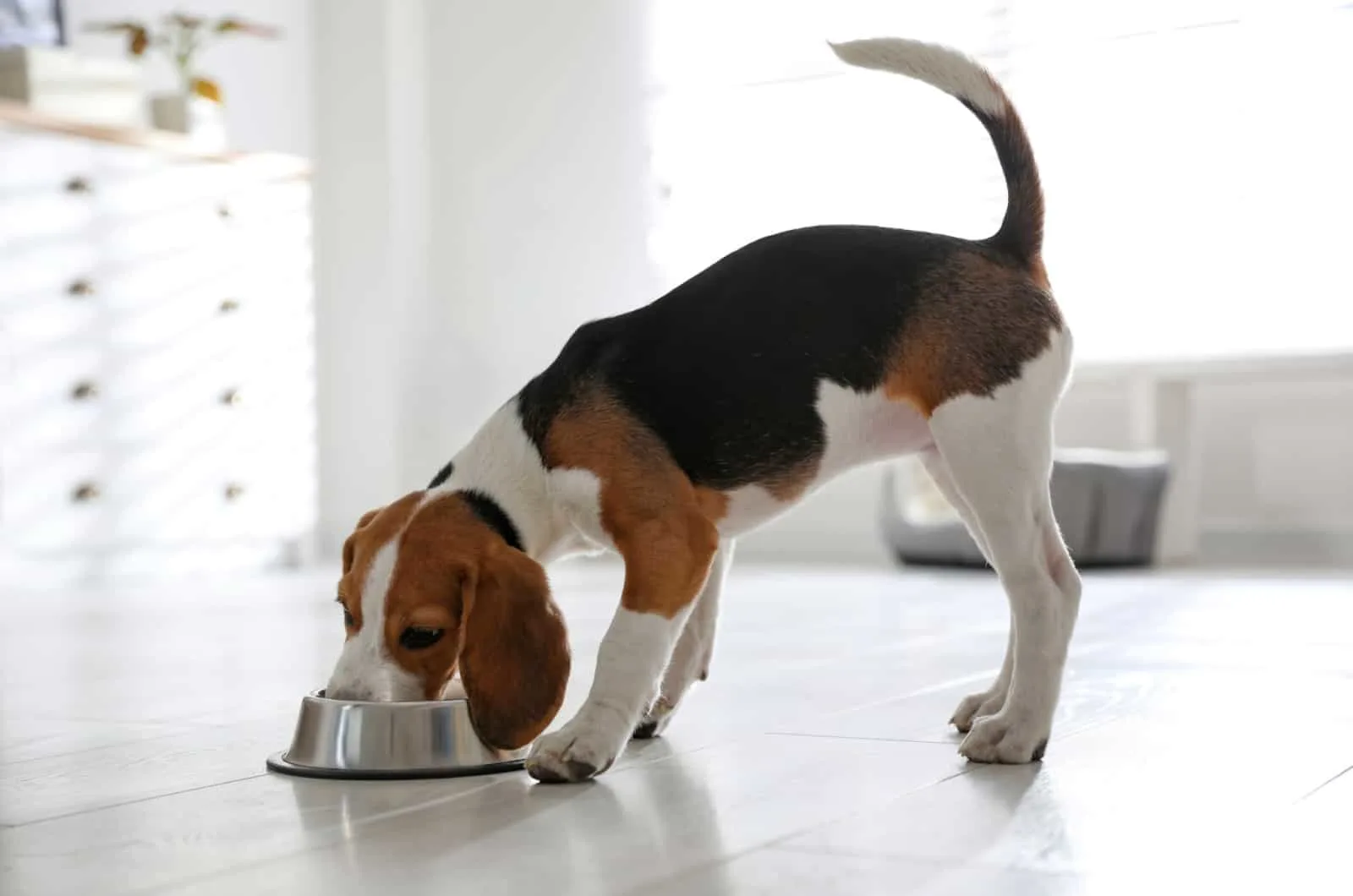 Which Ingredients Do Beagles Need In Their Food?
Beagles are dogs that need lots of good nutrients to keep them functioning well. Of course, all dogs need premium ingredients to grow up healthy. But, the thing with Beagles is that they must have lots of energy, and they must spare it.
This has to do with their origin since Beagles were once hunting dogs. To get the much-needed energy for daily tasks, Beagles need real animal proteins. That's why all dog food brands featured today contain a high percentage of real animal proteins.
Besides the high protein count, good carbs are also a must; otherwise, your little Beagle pup won't have the strength to perform even the simplest tasks.
I encourage you to look for formulas with many goodies packed inside such as l-carnitine, glucosamine, thiamine, chondroitin, omega fatty acids, amino acids, folic acid, etc.
These listed goodies help with a pup's good immune system. They promote a well-functioning digestive system, and make sure that your Beagle is feeling fine while looking fine. That gorgeous blue tick Beagle surely needs some omega acids to keep that coat nice and shiny!
What Are The Most Common Health Problems With Beagles I Should Watch For?
Beagles, like all other dog breeds, are prone to developing certain health issues. There's no such thing as a completely healthy dog, but with proper care, you can get pretty close to it.
What does proper care mean?
Proper care means regular grooming routines, daily exercise and attention, on-time vet checkups, and the best food you can get for your Beagle.
Did you know that a lot of health conditions can be treated with the use of the right dog food? Prevention always comes first. Make sure you have a nice budget for your pooch so you can get all the good products. I mean, if you want only the good stuff for yourself, then why should you skimp on dog food?
The average Beagle is prone to getting the following health conditions:
• Patella Luxation
• Epilepsy
• Cataracts
• Demodicosis
• Chondrodysplasia
• Cherry eye
• Hypothyroidism
• Central Progressive Retinal Atrophy (CPRA)
• Keratoconjunctivitis Sicca (KCS)
• Hemophilia A
• Carnitine Deficiency (CUD)
• Intervertebral Disk Disease
As you can see, Beagles can develop a condition called Carnitine Deficiency. This means you should introduce carnitine-rich food to your pooch, especially if he's a senior buddy. There's no difference between male and female Beagles since they have the same needs for carnitine. Make sure you cover this need asap.
How Much Food Does My Beagle Need?
Not every dog needs the same amount of food every day. We have pups of all sizes: from really tiny ones like the teacup Yorkie to really huge ones like the Mastiff. It would be ridiculous to expect the same serving for all dogs.
For example, the Boerboel feeding chart will nowhere be the same as the Beagle feeding chart. The difference in size really matters.
On average, an adult Beagle will need one cup of food daily. I recommend you divide this amount into two meals if your Beagle is in good health condition. Your Beagle breeder might help you out here. We have some pretty pawesome Beagle breeders in California if you're still looking for that ideal pooch!
Lastly, if you suspect something's odd with your Beagle, or if he's experiencing vomiting yellow bile, you should make three or more meals out of that one cup, and consult your chosen veterinarian.
Conclusion
I really hope you and your pooch will find the best dog food for Beagles listed here today.
Beagles are wonderful canines. They enjoy all sorts of proteins, from chicken to fish, venison, and lamb. The best thing you could do for your little snooping buddy is to provide premium-quality dog food. Not only will it work wonders for your dog's health, but it will improve its lifespan, too!
As always, before you make any significant change in your dog's diet, make sure you consult with your vet first. I'm sure he'll be delighted with your choices found here.
The only thing left to do is pick the best of the best.