I guess we all think the same when a Basset Hound theme occurs. The question that pops up is "Isn't a Basset Hound that short and long dog that turns around the corner for centuries in cartoons?", well yes, that is the one.
We can all agree that this dog is kinda funny looking . Along with some other breeds, such as Cocker Spaniels or Bernese Mountain Dogs, he is often pictured in children's picture books or in cartoons.
I was wondering if there are any Basset Hounds in Canada . I was particularly interested in Basset Hound breeders in Ontario. I must say – there are not many trustful Basset Hound breeders there. I managed to find only four. But, I believe that the rest are probably just shy.
Before we hop to the breeders , let's get to know this interesting breed a little bit more.
As I have already highlighted, these dogs are short. And long. Which makes them funny looking and equally adorable. They are very capable. They are a scent hound, which means their noses work extraordinarily well. That is why they were bred for hunting. There are differences between European and American Bassets and a few differences between male and female Bassets .
Bas means low, while bas plus et means rather low. Basset Hound colors are lovely. They can be bicolor or tricolor. All in all, adorable creatures. They are also a wonderful family dog breed. Now, here is where to find them in Ontario .
Basset Hound Puppies For Sale In Ontario
I remember the first time I saw this dog was in Oshawa in Ontario and I immediately asked the owner where he got him. He recommended his breeder and now I have found a few more. But, before we learn more about Basset Hound breeders in Ontario , let's learn if they are the right dog for you.
These cuties need a lot of attention. They love people and most people love them too. So, they are perfect as companion dogs . Still, they need a lot of training because of their stubborn nature. That requires patience from your part.
Standard leashes and collars will not fit on these dogs. This means it is probably best to get a harness. Here are a few recommendations of the best harnesses for Basset Hounds.
They are cute and you can be sure you'll get a lot of attention while walking this dog. But, there are a few "side effects" to this dog. They drool – like a lot. Especially if there is some yummy food around or if they are, for some reason, excited. There are many things that this dog likes to eat. But, you'll be limited when you're searching for the best food options for a Basset .
They shed in respectable amounts, especially in springtime. Their long and heavy ears require a lot of cleaning . I mean, more than dogs who have pointy ears.
Do not leave him alone a lot. He is not a loner. He likes packs. That is how they went to hunt in the past. With their team. So, having another one around is not a bad idea. Just to provide him with good company.
And yes, he loves to be lazy but also, he needs to hop up and walk from time to time. And while he is a sniffer, you should keep an eye on him because he might wander away.
1. Goldenasset Kennels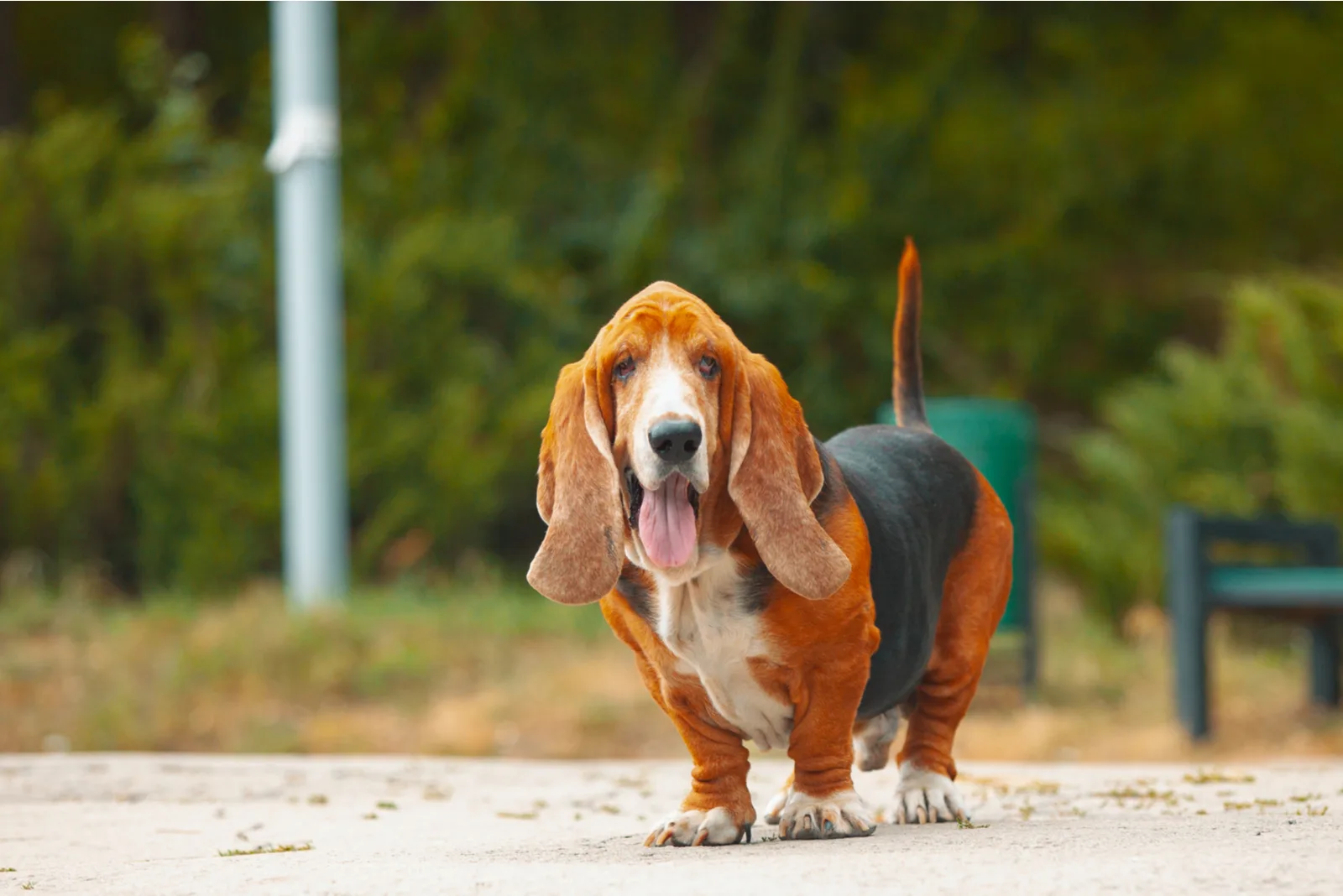 First on our list of Basset Hound breeders in Ontario and who deserve a gold medal for breeding, are Goldenasset Kennels , placed in Alliston.
About
Besides Basset Hounds , these breeders have an equally big golden heart for Golden Retrievers . That mutual love has continued since 1996.
Back in 2011, this kennel was renovated. It has 1800 m 2 of room, which makes it very spacious. Conditions in this kennel are optimal. There are heated floors to keep puppies warm in cold winters or on cool, rainy days.
Do not be afraid for the puppies' well being on hot summer days because there is pleasurable air conditioning inside too. A big emphasis is put on hygiene. Their central vacuum cleaner does a great job. Not to mention, they have two kitchens and a spacious bathroom.
Their dogs do not spend their time only inside. There is a lot of space outside and they can use it as they like . Complete freedom as it is. All this seems like a luxurious puppy hotel with five stars to me.
Breeding
These purebred dogs are classified as top quality. There is a passion greater than the feeling of duty in these breeders . You can see that they are doing it with huge amounts of love.
Their Basset Hound dogs go through a lot of testing before they come to their new home. All in order to reach the breed standard . They eat quality food and have a lot of exercise.
These dogs can be prone to a variety of health issues. Most frequent are problems with elbows, heart, eyes, and hips. That is why these breeders put in a lot of effort to reduce these occurrences.
Purchasing
When purchasing these puppies, there are several items that are included in the package. These are vaccines, wormings, microchip, CKC registration, 6 weeks health insurance, and a health guarantee.
Your new family pet brings a few things with him that will remind him of his old home. His starter pack includes his favorite toy, yummy treats, a fitting collar, and a leash. And you get something too. You get lifetime support from the breeders .
If you are interested in purchasing one of these dogs, there is an application on their website to fill in or you can reach them via email for any further questions that you may have. There is usually a waiting list and they work according to the "first come, first served" principle.
The price of these dogs is $3600 plus taxes. When you think it through, it is not much money to get yourself a friend for life.
Goldenasset Kennels Breeder Details:
Address: 5166 Conc. Rd 4 | Everett, Ontario , Canada
Phone: 705-440-7644
Email: mjg@goldenassetkennels.ca
Website: Goldenasset Kennels
Facebook: Goldenasset Kennels
Instagram: Goldenasset Kennels
Twitter: Goldenasset Kennels
2. Pennies Logo'n Basset Hounds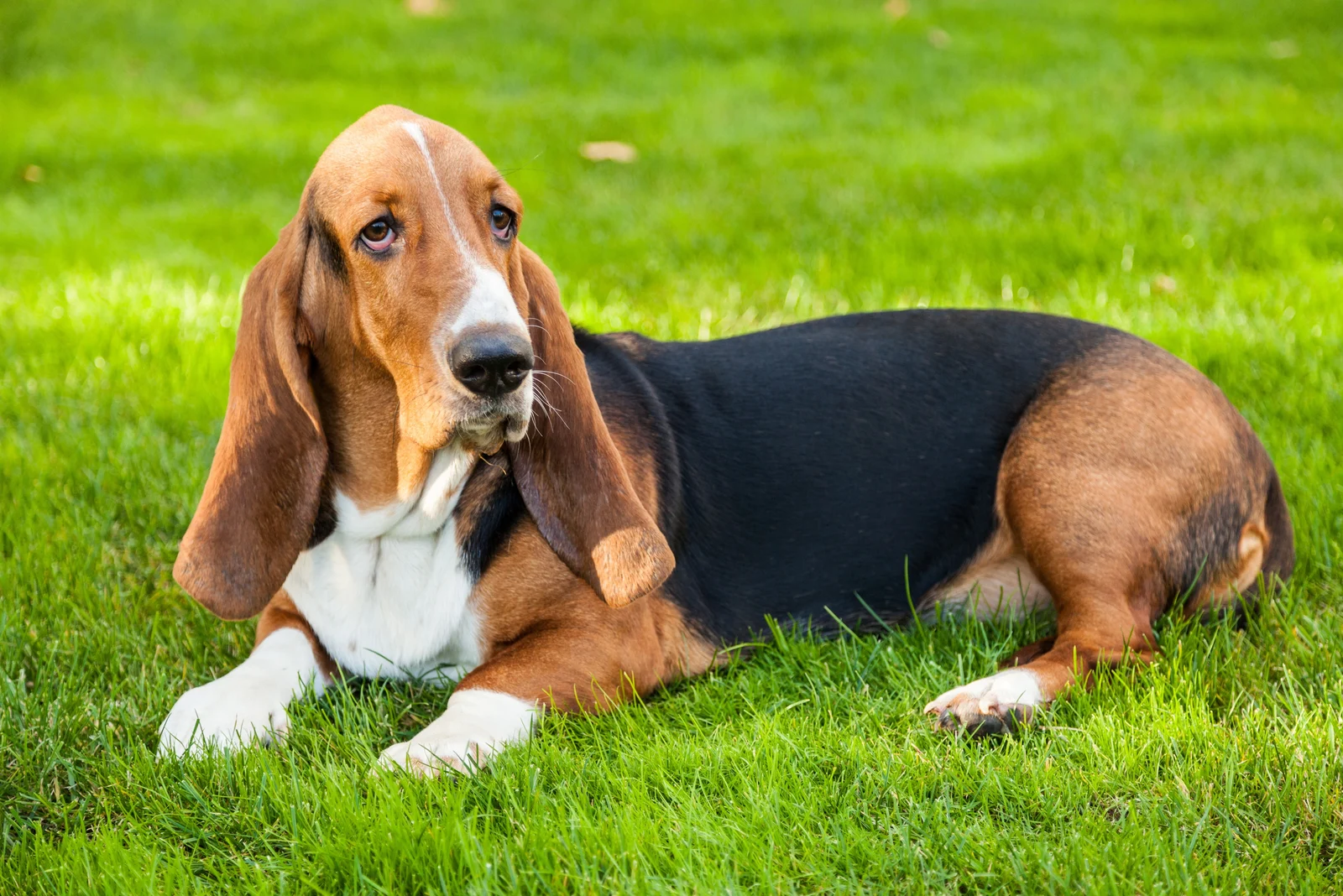 Second on our list of Basset Hound breeders in Ontario are Pennies Logo'n Basset Hounds from Paris, but not that one in France. Besides Bassets, you can also find Beagles here.
About
These "best dogs for you" as they like to say, are placed not so far away from Toronto . These people are very serious about raising a purebred Basset Hound. And also, they are very serious as to whom they are selling their dogs to.
When they were about to start their business, these people carefully searched for the right breeder . They finally found one who was breeding for betterment of the breed. And they continued his quest.
Breeding
When it comes to reproduction, special effort is put into matching the right male and female. Type and temperament are the most important traits for selection. Mothers get all the best food, including cottage cheese, yogurt, vegetables, and meals. Future puppies must have all the necessary nutrients while they are in the tummy.
Breeding here does not happen by accident. A vet is involved in the process. He keeps track of hormone levels and ovulation periods. When the time is right, breeding is done clinically. After the delivery, there is a nurse who helps the mothers to raise their puppies. All the female dogs have a year of pause between breedings.
Since the breeding process is so carefully done, their Basset puppies do not have significant, common health issues, such as back, hip, and leg problems. This also means that there is a chance that your Basset Hound lifespan will be extended as much as possible. They show themselves as excellent in conformation shows.
Purchasing
If you have decided to purchase your dog here, you can count on the following things. All dogs have registrations in the Canadian Kennel Club. This includes the CKC recovery program too.
From their conception, they are under veterinary supervision. They get their shots and dewormings. These dogs are well socialized due to the fact that they are raised at home with other dogs.
All dogs have a pedigree of seven years, minimum. Being carefully bred means they have an excellent temperament and healthy background. And, if you are fond of tri-colour Bassets, you can purchase one here. Check them out on the pics on the website.
If you want to know the price for these dogs, you will have to ask them. There is not any information on their website. They are also open for any additional questions and they will be very happy to answer you and wish you a "howling good day!"
Pennies Logo'n Basset Hounds Breeder Details:
Address: 325 Governors Road E., Hwy. 99, Paris, Ontario N3L 3E1
Phone: 1-519-755-2597
Fax: 1-519-753-0217
Email: [email protected]
Website: Pennies Logo'n Basset Hounds
3. Soundtrack Basset Hounds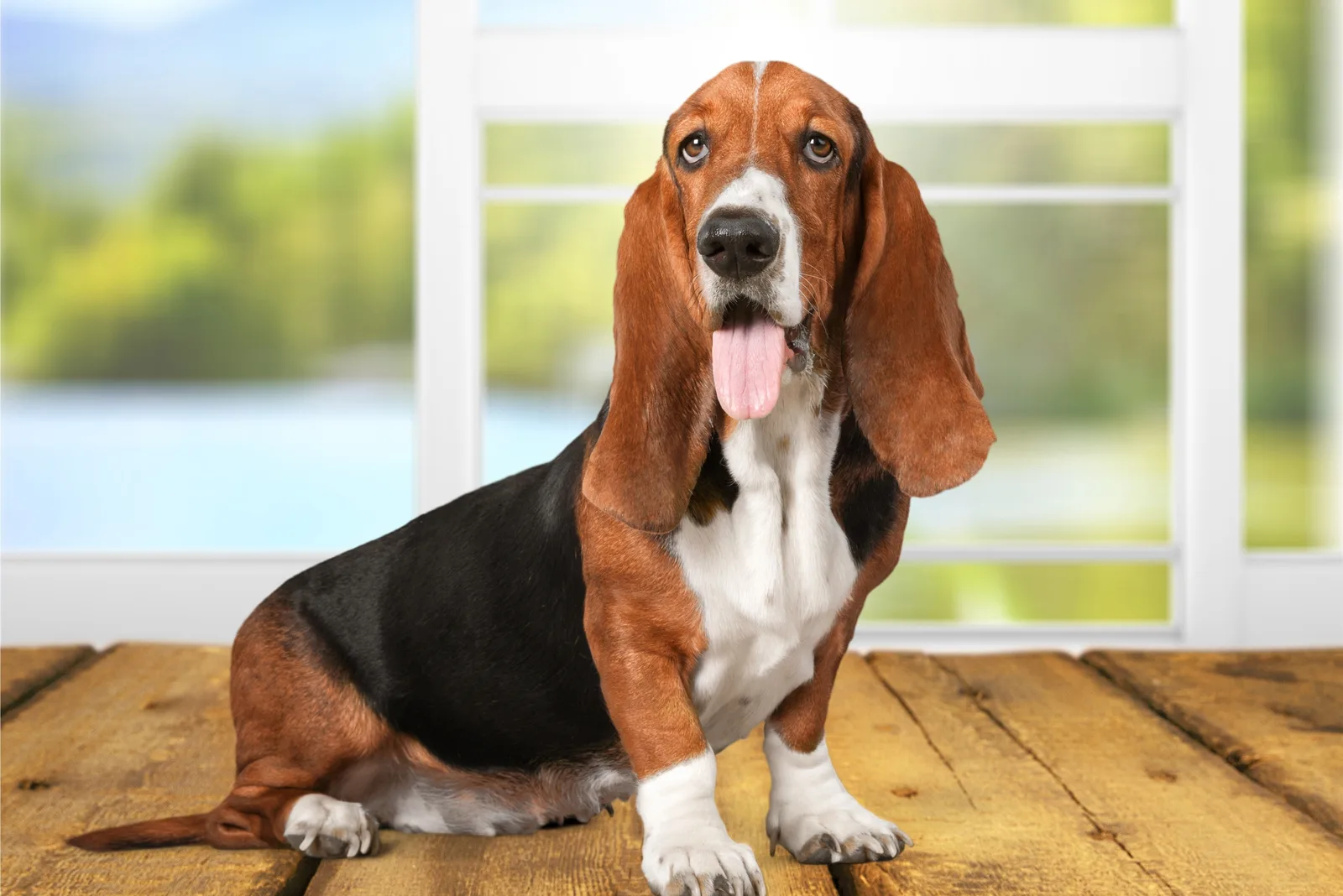 Among the humble number of Basset Hound breeders in Ontario , we found Soundtrack Basset Hounds .
About
There is not much information on the website due to its current reconstruction. There are only a few updates on available puppies and about the current condition of their adult dogs. Unfortunately, one of them has oral melanoma.
If you want to find out more, you will have to contact these breeders. There is no phone number, but there is an email. The owner would like you to ask any questions you might have, via email.
Soundtrack Basset Hounds Breeder Details:
Address: Ottawa, Ontario
Email: [email protected]
Website: Soundtrack Basset Hounds
4. ORYAN Basset Hounds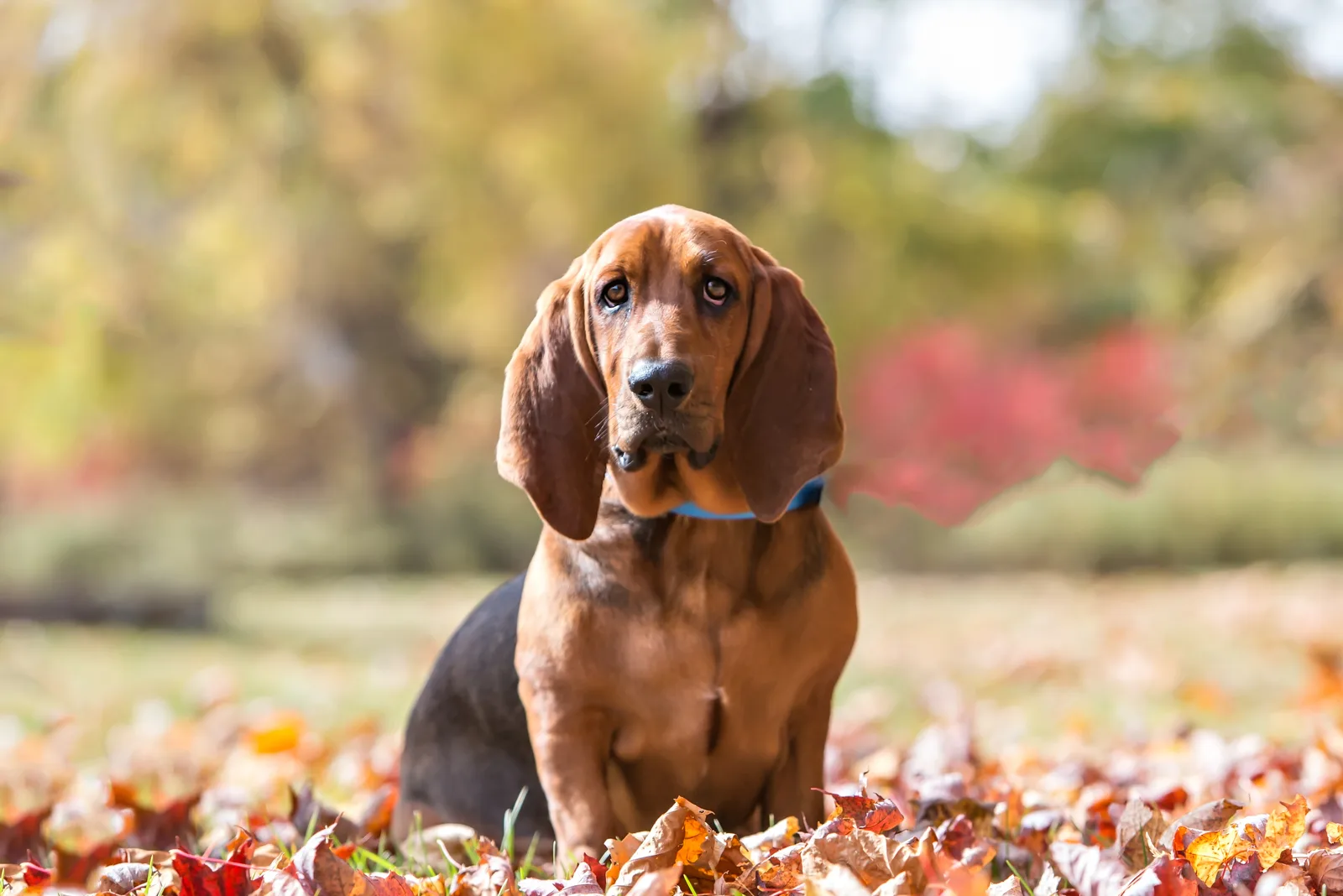 Oryan Basset Hounds are next in line on our list of Basset Hound breeders in Ontario . Let's check them out!
About
There is not much information about these breeders on the internet. There is no official website. There is only a facebook page with basic contact information.
Despite the lack of information, there are some pretty good reviews on these breeders in the comment section. And they have a five star rating.
Their customers seem very satisfied with their purchased puppies. It seems like they breed healthy and well socialized dogs. For any additional questions, there is a phone number and email address available. Check it out!
ORYAN Basset Hounds Breeder Details:
Address: 85 Main St. East Ridgetown, Ontario , Canada N0P 2C0
Phone: +1 226-881-0540
Email: [email protected]
Facebook: ORYAN Basset Hounds
Worthy Of Mention: Basset Hound Rescue Of Ontario
Though this is not a place where you can buy a puppy, I believe that these people are also worthy of mentioning alongside the Basset Hound breeders Of Ontario .
If a Basset Hound ends up abandoned on the streets, that is where this organization steps in. And, it is run solely by volunteers. What a noble purpose.
Their goal is to find a new loving home for these lovely creatures. But, do not worry. They take good care of their dogs. They are all spayed/neutered, vaccinated, and given any necessary medical care.
FAQ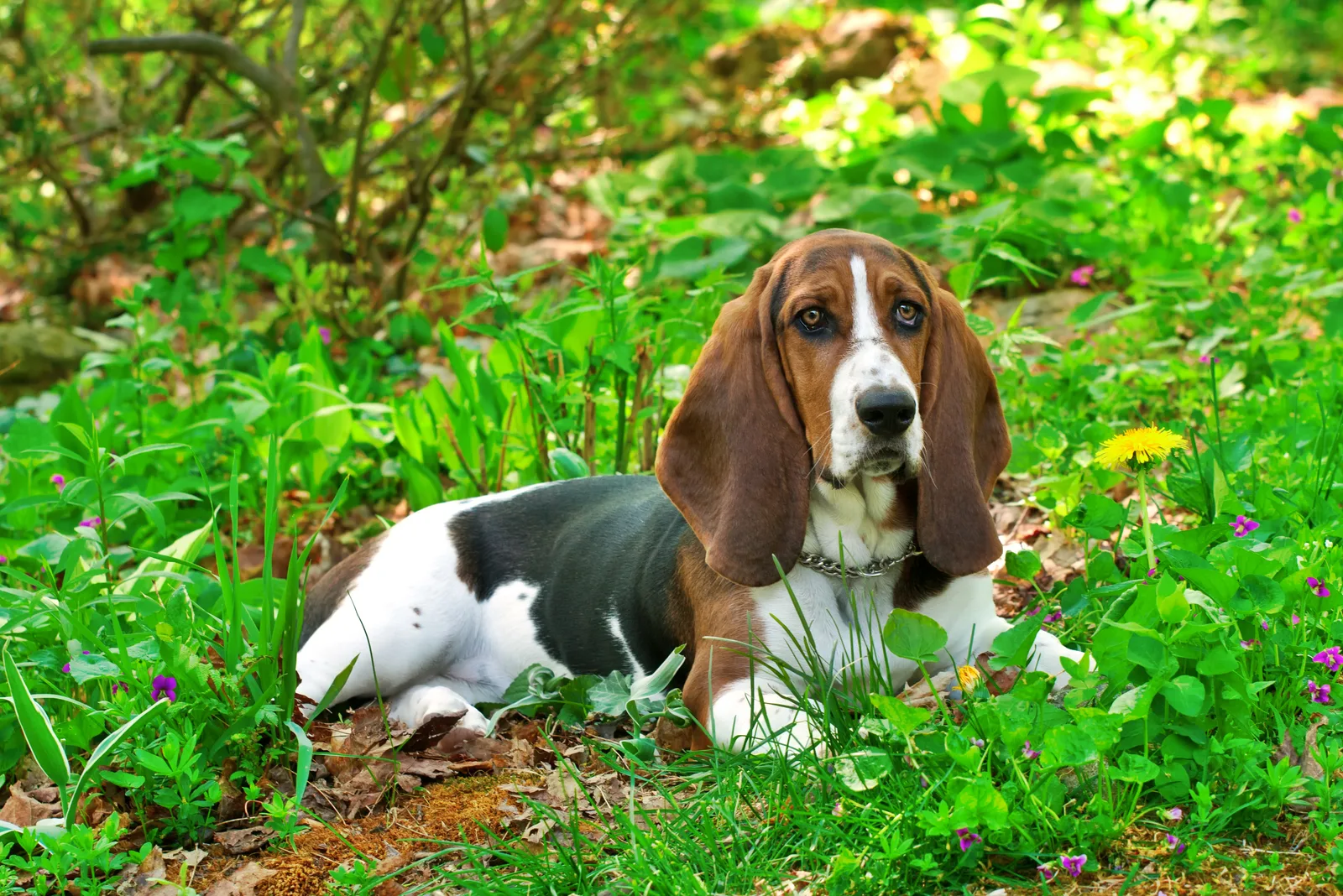 How Much Is A Basset Hound Worth?
Comparing them to other breeds, Basset Hounds are not so expensive. You can find them for $450. There are, of course, others that are more expensive. Their price can go up to $1500.
As with anything in life, the cost of this breed depends on many factors . It depends on the breeder , bloodline, pedigree, place where you live, and other factors.
Is A Basset Hound A Good Family Dog?
Generally speaking, Basset Hounds are good family dogs indeed. Almost ideal. They have a lot of positive traits that make them suitable for family life.
They are calm and tolerant dogs. This means they get along well with curious and perky children. They do not bite. But, they could accidently knock down small children (who should always be supervised anyway).
In Conclusion
If you are looking for reputable Basset Hound breeders in Ontario, then you are lucky. This is the right place for you. The choice is not very big but nevertheless, these breeders are top quality.
There are some other quality breeders in different Canadian states, such as Shecara Bassets in Alberta, but I have only included those in the territory of Ontario .
When looking for a reputable breeder, make sure he has important traits. For example, membership in official canine clubs, this could be the Basset Hound Club of Canada in this case but, the main one is the Canadian Kennel Club.
This is important because these clubs take care if breeders breed within standard. And, that is the only way to avoid scams and health issues in a dog. It is also good if they are willing to provide you with all the necessary information. That way, you can be more confident that they are honest.
All in all, purchasing a dog is a big task and requires a lot of learning. Do your homework and inform yourself properly before purchasing . And, enjoy time with your new furry friend.
RELATED ARTICLES: