What was once known as the Old Dominion, today is a State with lots of terrific dog breeders.
Meet the finest Yorkie breeders in Virginia, people that care about their dogs more than they care about themselves.
The people you meet virtually today may be the first pawrents of your ideal Yorkie puppy.
Always look for people in your area just to avoid the drive. In case you really have to, spread your search.
Who knows, maybe a short drive will bring you closer to your new furry family member.
So, lean back, scroll through the websites you're about to see, and have your phone ready to call in and ask for available puppies from these reputable breeders.
Maybe some of them have excellent stud service dogs, in case you're looking for your Yorkie gal's mate. Who knows!
Yorkie Puppies For Sale In Virginia
In this article, you'll see lots of great AKC-approved Yorkie puppies from both Virginias. Go through the list and pick a breeder that seems like the perfect one for you.
Maybe a little drive would be worth it because you'll end up with the Yorkie of your dreams.
1. Wish Upon A Yorkie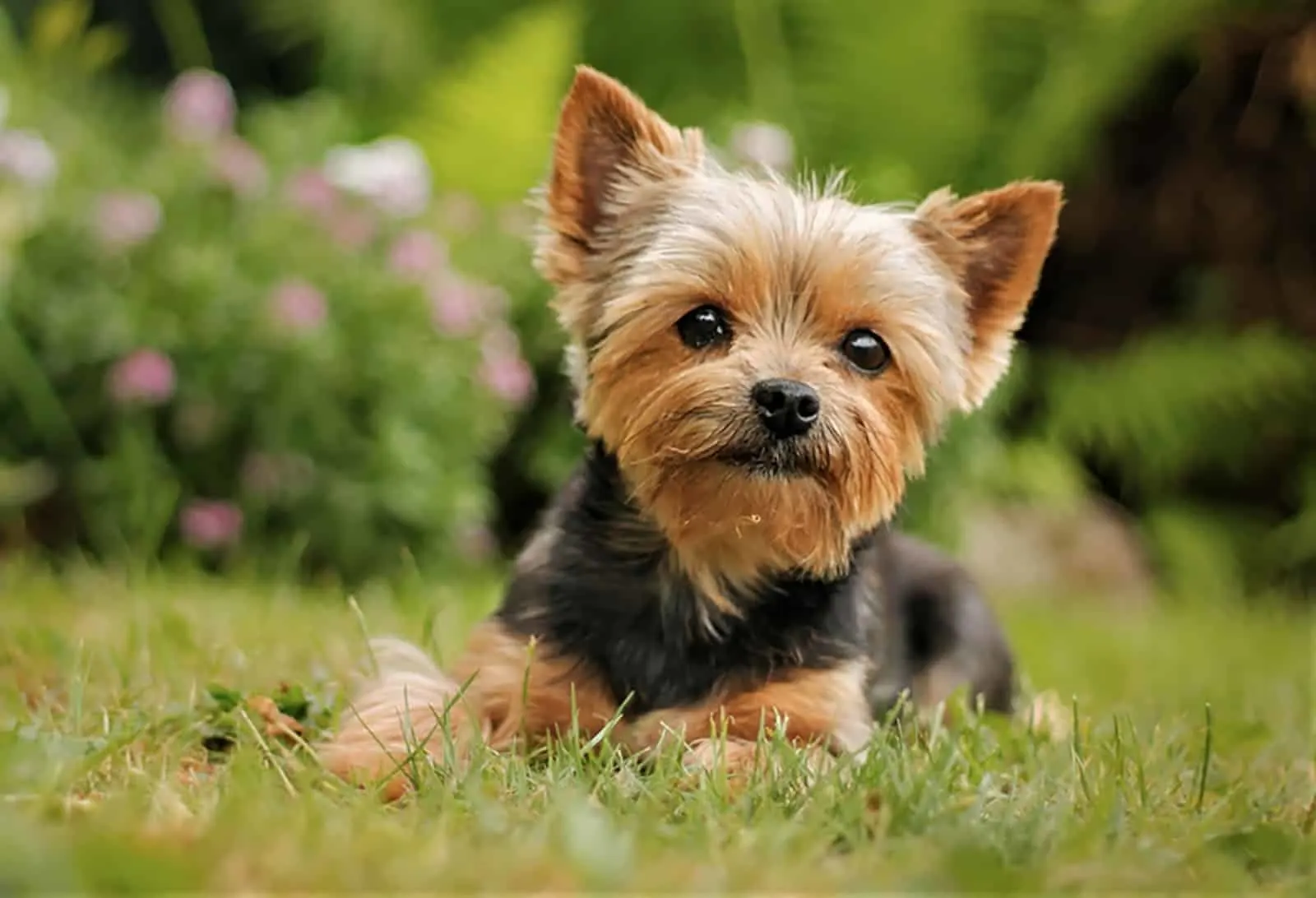 The people behind Wish Upon A Yorkie say they offer a rainbow of adorable and colorful Yorkies. One look at their website and
I could see it myself too. You can definitely say Wish Upon A Yorkie is the first place you should visit when wishing for a Yorkie puppy.
James and Deborah Robinson are the masterminds behind this breeding operation that brings us the finest Yorkies in Virginia… Well, in both Virginias!
Besides the traditional parti Yorkie, James and Deborah can offer you chocolate Yorkies, chocolate parti coats, chocolate sable Yorkie, merle, and midnight black Yorkies.
The reason why I like this breeder a lot is the fact they don't have kennels or crates. All dogs are home born and raised. They sleep inside, some even on family beds, which tells me they're super attached to their owners.
Wish Upon A Yorkie takes extra good care of the puppy's socialization needs. If you get a dog from them, you can rest assured they're healthy Yorkie girls and boys, with fine temperaments.
The breeder will submit each puppy to Optimal Selection tests to ensure their soundness.
To put your name on the waiting list, which can be quite long, you should put down a reservation fee of $200. I recommend you do so, otherwise, you'll never get the chance to get your own Wish Upon a Yorkie puppy.
These dogs are so high in demand because they're known across the States for their pristine quality.
Breeder's details
Website: Wish Upon A Yorkie
Location: Elberon
Phone: 757-707-7970
Email: [email protected]
Social media: Facebook and Instagram
2. Hidden Hollow Kennel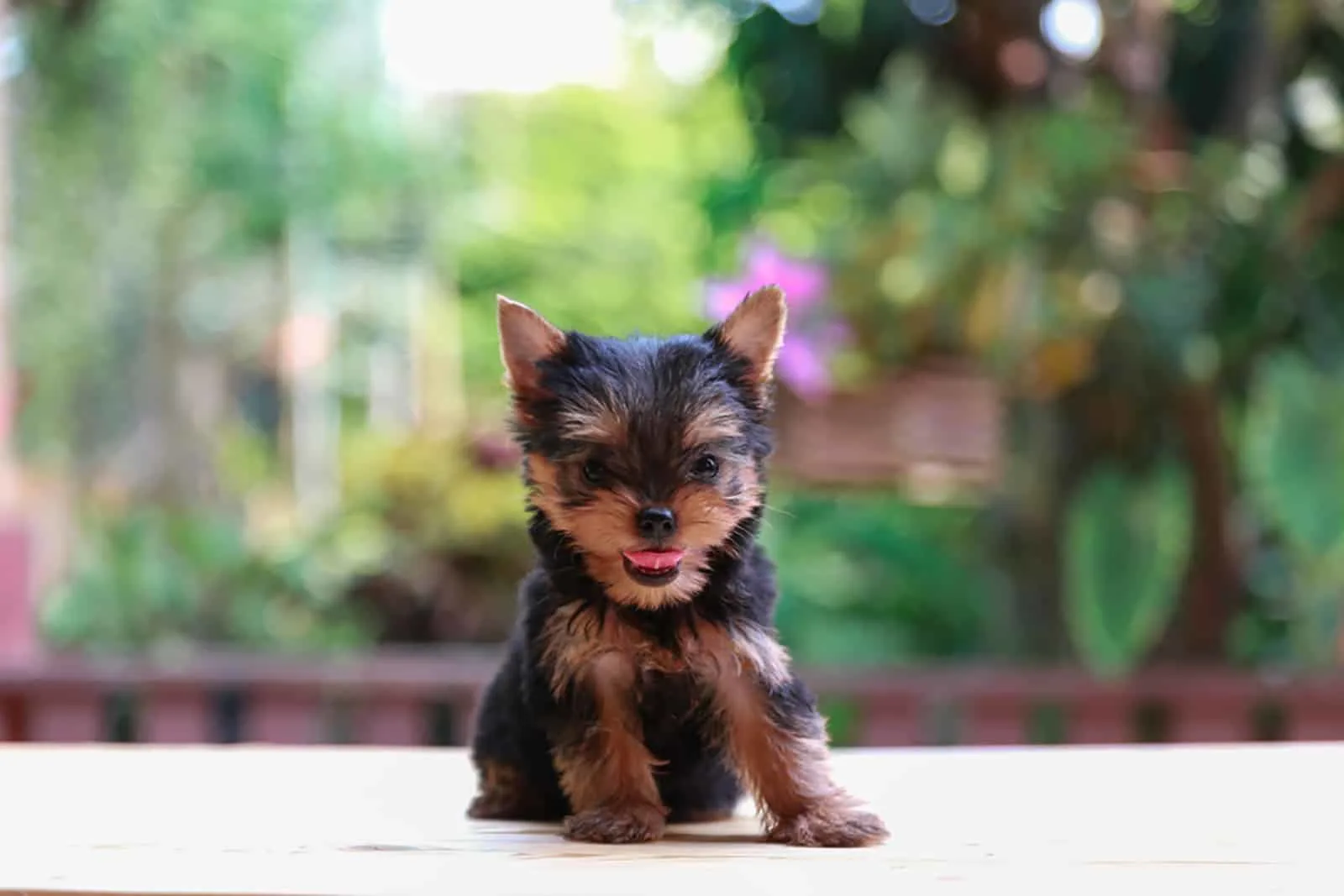 The Hidden Hollow Kennel is a true paradise for breeding dogs of small sizes. If you like designer breeds and small, pawdorable pooches other than Yorkies, this is the place to visit.
The Hidden Hollow Kennel isn't only a fine Yorkshire Terrier breeder. These guys also breed Pugs, Shih Tzus, Dachshunds, Poodles, Bichon Frises, Morkies, Yorkies, and whatnot!
If you came for a Yorkie companion, you'll definitely return with another tiny buddy.
The biggest priority of this breeder is supreme bloodlines that come with excellent health status. There's nothing more important to a dog breeder than the health of his puppies.
The care for HHK puppies starts even before they're born. All HHK Yorkie boys and girls are well-taken care of, especially expecting Yorkie mothers.
I'm always happy to see breeders post their prices online. This ensures no one has to go through that painful phone call when they want the puppy of their dreams, but it's seriously overpriced. The Hidden Hollow Kennel does not overprice their dogs.
Our Yorkie buddies are always listed for up to $1,500. That's a reasonable price, and it might be a bit generous, for such quality.
Each HHK Yorkie will come already microchipped, so you don't have to worry about him getting lost.
Contact Jeff and Bridgette for more information about their Yorkies. You'll be surprised to see how dedicated this kennel is to their dogs. And, let me tell you something, it's definitely not your average breeding kennel!
Breeder's details
Website: Hidden Hollow Kennel
Location: Mt. Crawford
Phone: 540-478-5371
Email: [email protected]
3. Royal Darling Yorkies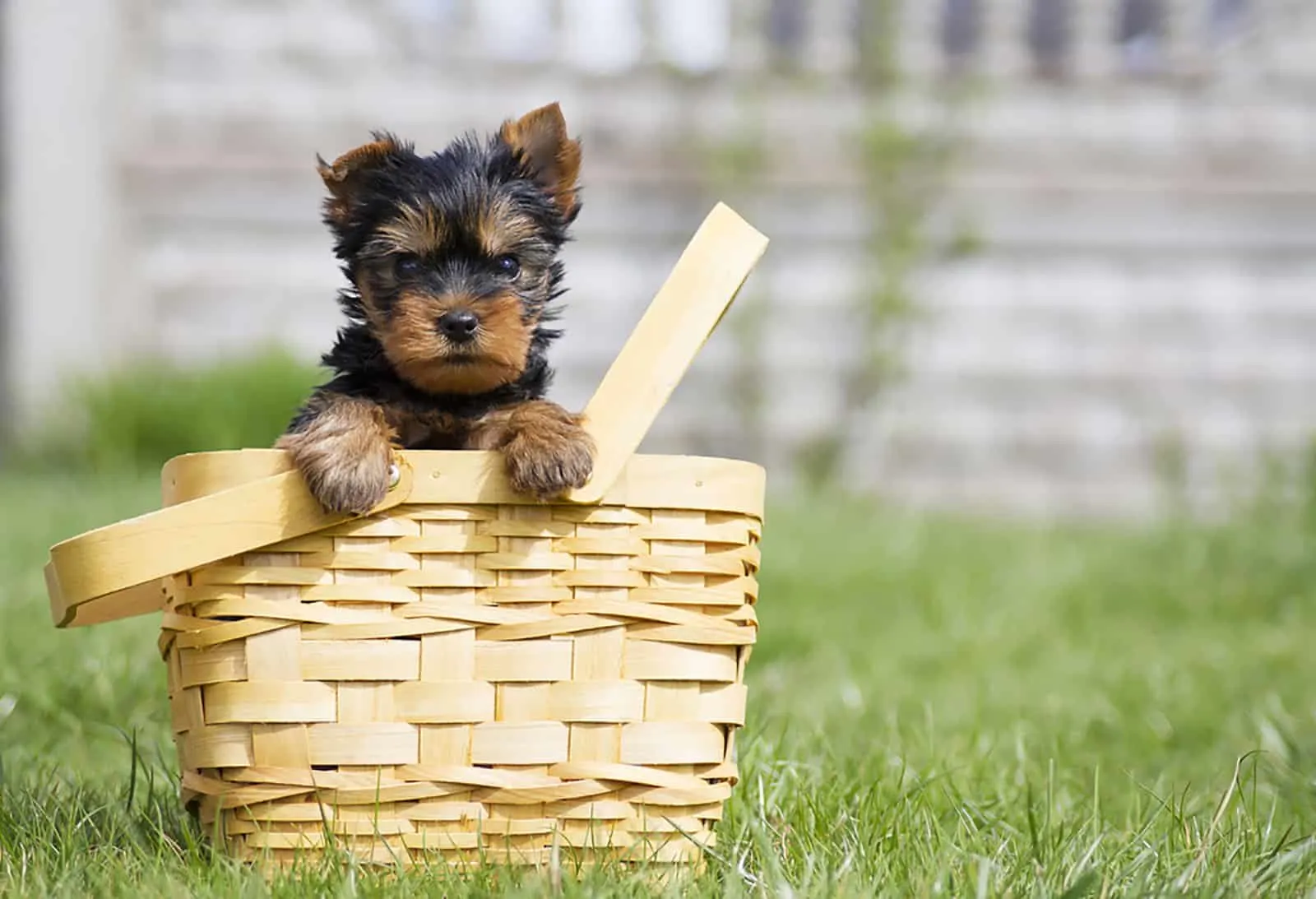 Royal Darling Yorkies is the place that caters to Yorkie lovers from the areas of both Virginias, Washington, Pennsylvania, and Maryland. But people from all over the States come to see Royal Darling Yorkies, because they're considered one of the best!
This breeder has something else to offer than just traditional Yorkies. They also carry Biewer Yorkies a la' Pom Pon. The only difference between them and the traditional version is the coat color.
In order to get a Royal Darling Yorkie of any kind, you must ensure the breeders and you the owners are a good fit, someone that will love their puppies dearly.
Royal Darling Yorkies will never go into the hands of someone that won't promise to take extremely good care of them.
The breeder is trying to find someone that will love their pups as much as they do. Yorkies are small breed dogs with giant hearts. This breeder knows it too well, and soon so will you.
I recommend you fill out the questionnaire that can be found on their website, so you can enter the race to get your hands on a lovely little Yorkie puppy.
New litters don't come that often, so be on the lookout. Also, Yorkies usually don't have many puppies in one litter, so there's another issue.
In case Royal Darling Yorkies are currently not available, the breeder can recommend one or two other Yorkie breeders he trusts. But I'd recommend you do the waiting.
Royal Darling Yorkies have excellent pedigrees and come from champion bloodlines. To pass on them would be just a pity!
Breeder's details
Website: Royal Darling Yorkies
Location: Front Royal
Phone: 540-692-9392
Email: [email protected]
Social media: Facebook and Instagram
4. ChantaillyLace Yorkshire Terriers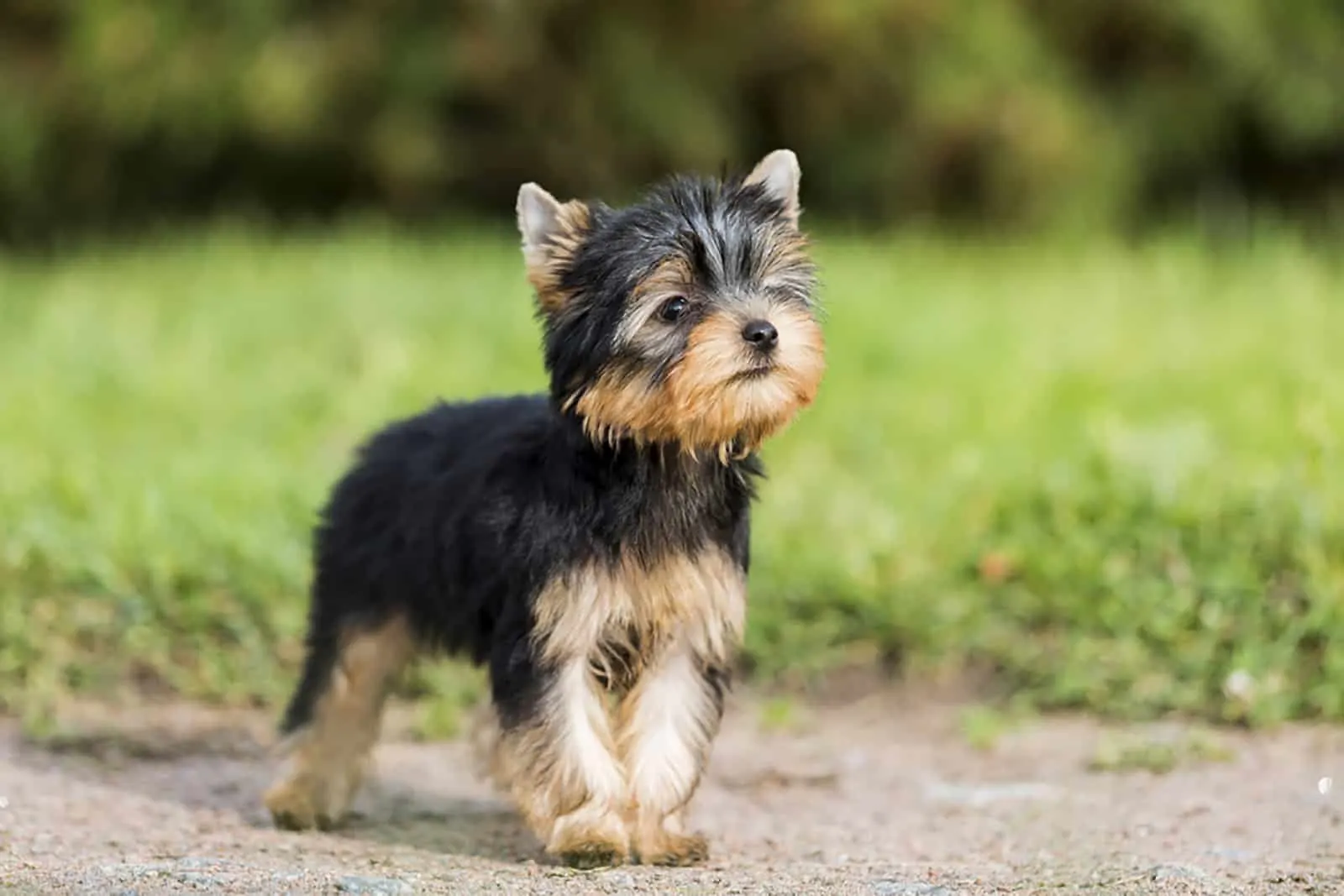 If you're interested in seeing some pawmazing Yorkie champions recognized by the American Kennel Club (AKC), then you should definitely pay Chantailly Lace Yorkies a visit.
These guys have proof of their excellence dating back for a while. So, you don't have to worry whether your Yorkie puppy will be 100 % healthy or AKC-registered.
Chantailly Lace Yorkies are puppies that will never disappoint you!
This is thehome of some of the finest purebred Yorkies and the #1 place in both Virginias if you're looking for a pet-quality pooch.
This breeder has a really strict spay and neuter contract that doesn't allow further breeding of their dogs. You must be okay with this if you want to adopt a Chantailly Lace Yorkie.
The good news about Chantailly Lace Yorkies is that you won't have to worry about them being vet checked, microchipped, dewormed, put through all their vaccinations, or supported by a written health guarantee. It's all covered.
But the bad news is the price. Yorkie's price can go pretty high up, but this breeder is definitely something else. Chantailly Lace Yorkies are among the priciest Yorkshire Terrier puppies for sale.
Usually, males are priced at $4,500, while females are $1,000 more. This breeder offers something called "masterpiece look" puppies, and their cost is much higher. These pups start at $5,500, and their prices can go sky-high.
If your budget allows it, you should absolutely check out Chantailly Lace Yorkies!
Breeder's details
Website: Chantailly Lace Yorkshire Terriers
Location: Stafford
Phone: 703-987-3811
Email: [email protected]
5. Chandler's Run Yorkie Valley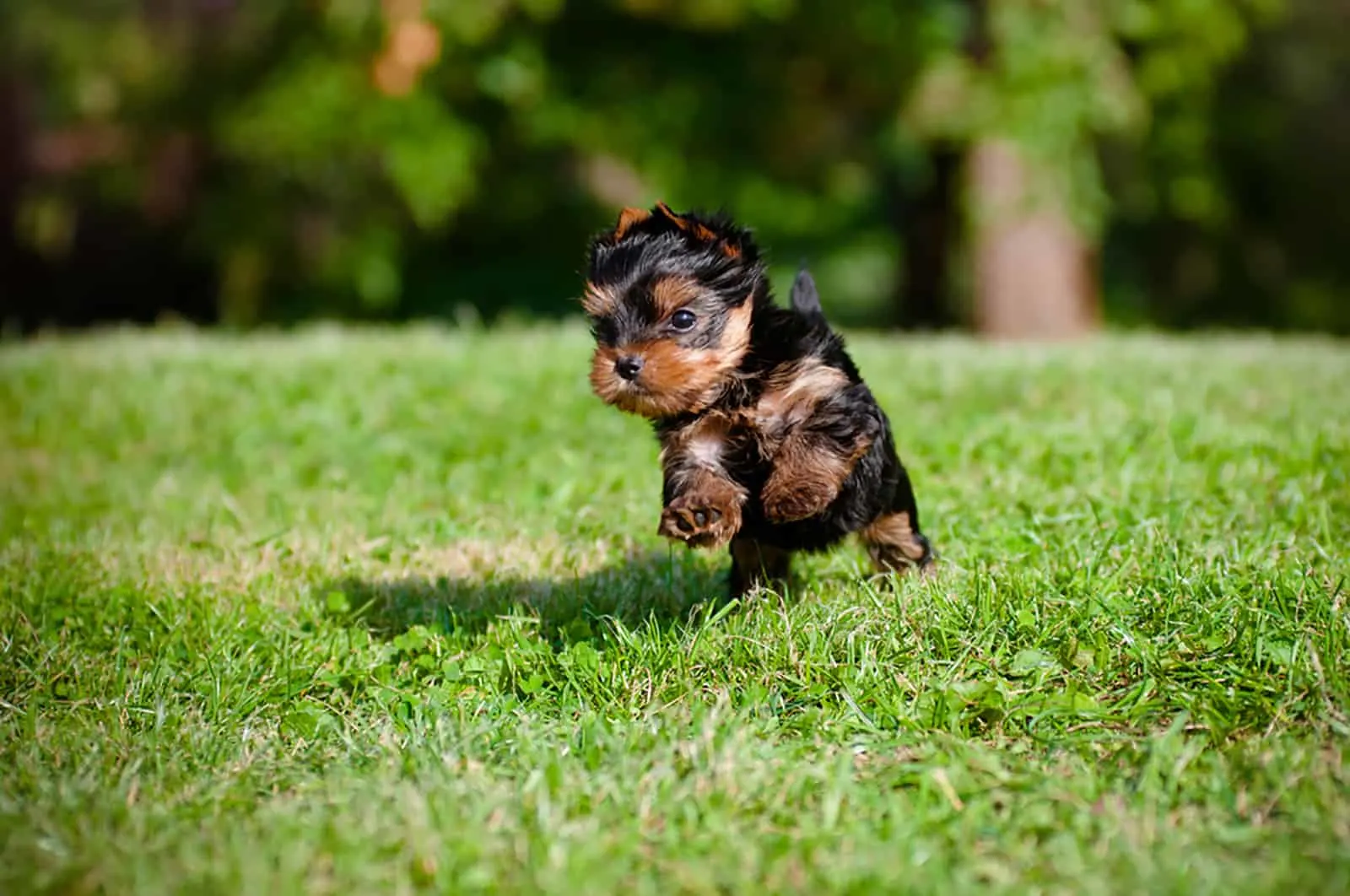 Chandler's Run Yorkie Valley is one of those heavenly places for all Yorkies and all Yorkie lovers. This breeder runs by the motto "excellence from the experience". And, let me tell you something, their experience can serve multiple breeders!
Yorkie Valley is a place of supreme quality, and a trusted source for getting a lovely, healthy Yorkie puppy.
The reason why I decided Yorkie Valley deserves a place on the list is because they breed not for the profit. Trust me, they can make a pretty penny out of their Yorkies.
It's because they want to improve the breed's well-being and make pups of excellent temperaments, lovely appearances, and fine social skills,
Basically, they want to create ideal Yorkie puppies. Oh, if only they could breed them to be already potty-trained, right?
The one-year health guarantee is also one of the reasons why Yorkie Valley is among the top 7 Yorkie breeders in Virginia. I can only add, they're definitely among the best Yorkie breeders in the States!
From chocolate and tan, to sable, blonde, and parti Yorkies, this breeder has all sorts of Yorkie colors!
Once your Yorkie Valley puppy is ready to go home, you'll receive every document you need to own about your Yorkie, as well as a special going away present in the form of a puppy package. Isn't that nice?
Breeder's details
Website: Chandler's run Yorkie Valley
Location: Waynesboro
Phone: 540-471-2995
Email: [email protected]
6. Caraneal Yorkshire Terriers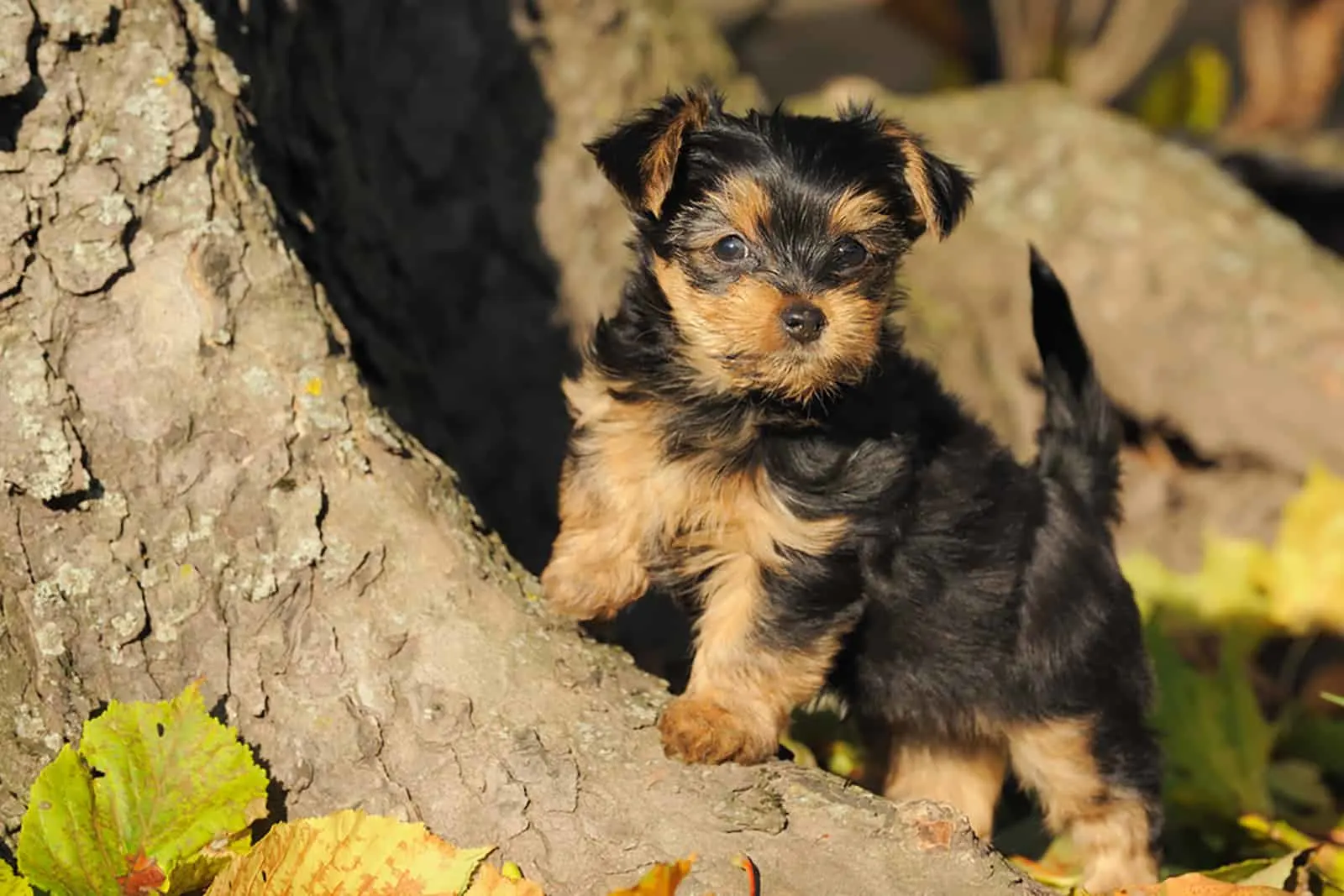 Over 40 years of experience have led Carneal Yorkshire Terriers to the top of all breeder's lists.
We've had a lot of great Yorkie breeders in Virginia, but rarely does anyone match Caraneal Yorkshire Terriers, a breeder you can trust blindly with your puppy.
People from all over the States have come to see Caraneal Yorkies. From North Carolina to California, Caraneal Yorkshire Terriers serve as a standard for all the other breeders.
The mere fact that these Yorkies have won over 44 Specialty Shows says enough. These are champion dogs with impeccable pedigrees. You would love to own one of their bests, wouldn't you?
Every time a breeder carries AKC and CKC ribbons makes me believe they're top-notch dogs. And they truly are. Not everyone's cut out to be a champion, but these pups are.
As home-raised puppies, Caraneal Yorkies are well-socialized and ready to meet their furever families. These dogs have wonderful temperaments with zero signs of aggression. Kudos to the breeder for doing a spectacular job!
I wouldn't hesitate for a moment to go online and fill out the application for a Caraneal Yorkie. Their website might be old-fashioned, but they sure know what they're doing.
Breeder's details
Website: Caraneal Yorkshire Terriers
Location: Warrenton
7. Blackwood American Yorkies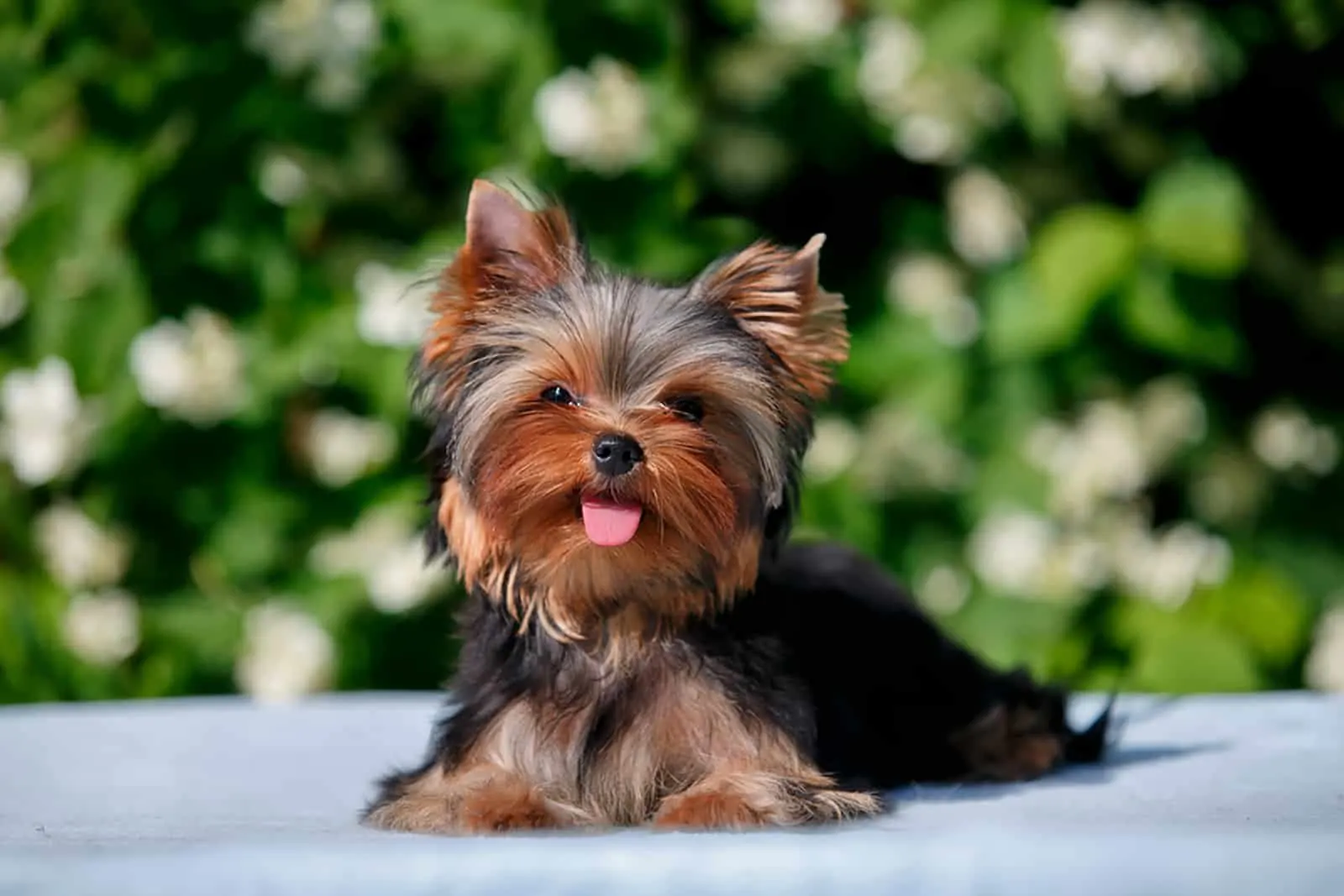 Home to AKC, APRI, and CKC champion pooches, Blackwood American Yorkies, is the final one on our list.
I highly appreciate family-run businesses and family-raised dogs. Having your Yorkie coming from such a trusted source is more than you can wish for.
Also, when a breeder is not only a breeder but a dog trainer or a groomer too, I appreciate them even more.
A fine example of what I'm looking for is the Blackwood family of Yorkies. As an all-American breeding family, this breeder ensures you won't find better puppies in RIchmond, Charlottesville, Jamestown, or Williamsburg!
Well, you'll hardly find better Yorkie puppies in the entire area, that's for sure.
So, I mentioned that Blackwood American Yorkies offer something more. Precisely, it's the grooming service.
This breeder is also a groomer, making sure their puppies look nice, and they're used to all grooming processes, especially nail clipping. Which is a disaster for most pups.
Blackwood Yorkies aren't only beautiful from the outside, they're of extreme quality on the inside too! The breeder breeds and raises Yorkies to improve the soundness of the breed and to get incredible temperaments.
The price range for Blackwood puppies is from $2,000 to $4,000. This covers all the necessary treatments and provides a 30-day health guarantee, so you can rest assured you've got a premium Yorkie puppy.
Breeder's details
Website: Blackwood American Yorkies
Location: Huttonsville, West Virginia
Phone: 850-890-5336
Email: [email protected]
Social media: Facebook
Why Should You Get A Yorkie?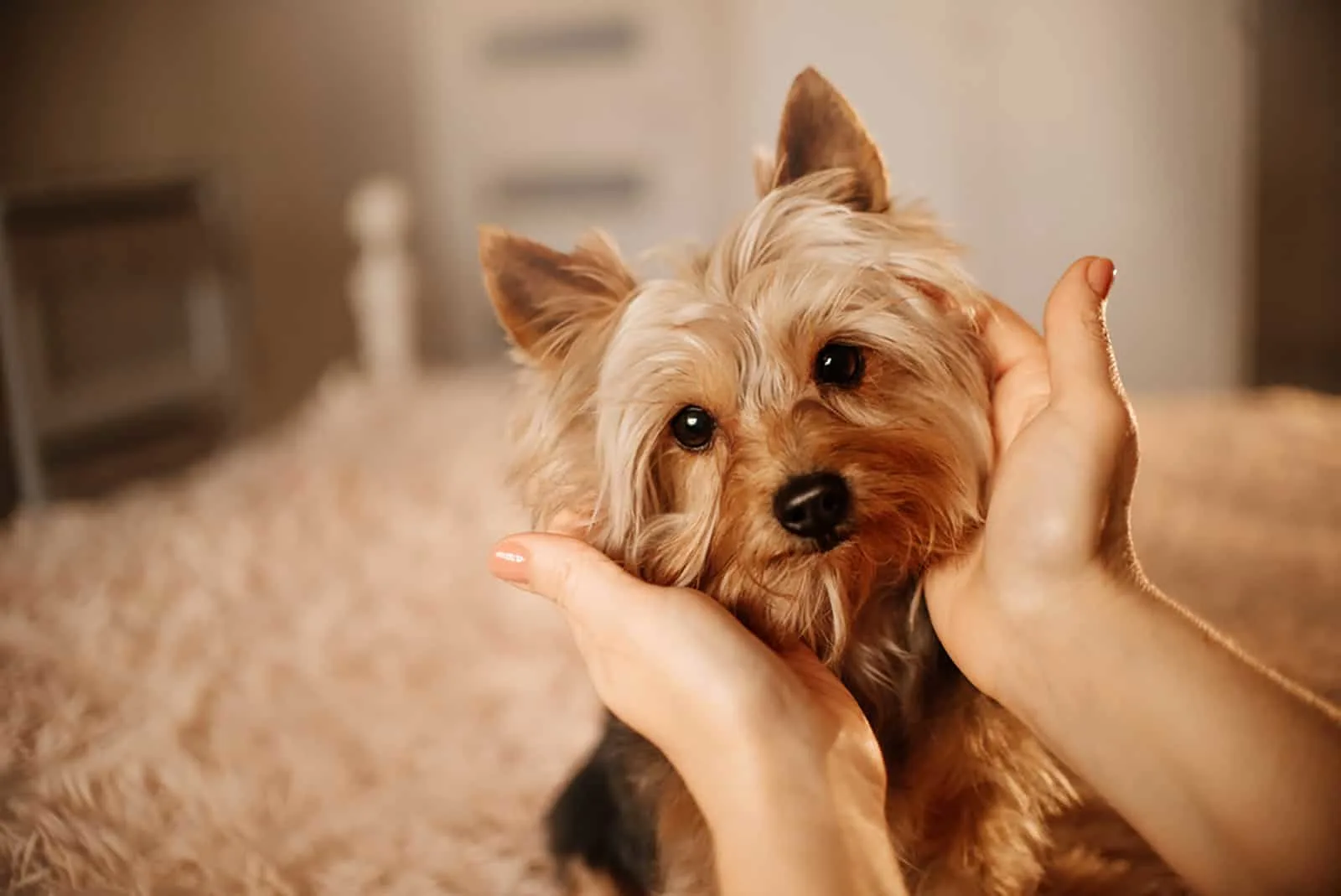 So, why should you get a Yorkie? Why not a Maltese or a French Bulldog?
A much better question is, why shouldn't you get a Yorkie?
Yorkshire Terriers are simply pawmazing dogs and you should definitely consider getting one. Well, you are if you're reading this article on the best Yorkie breeders in Virginia.
But, in case you're still wondering or having any doubts, here's why you should bring a Yorkie to your home.
Hypoallergenic Traits
Are you allergic to dog hair, dandruff, or saliva?
Oh, and you are still looking for a puppy to bring home?
Then the Yorkshire Terrier is the dog for you.
Yorkies are known as hypoallergenic dogs, meaning they won't cause allergic reactions at all. They don't shed, sweat, or drool like other dogs.
What's so great about their silky hair is that it won't even smell badly, and you'll enjoy cuddling with your Yorkie.
Bold Personality
Yorkies are small pups. Like, really small. So small that they even come as teacup Yorkies too.
But you know what's not small? Their personality!
Yorkies are bold dogs with huge personalities. They always think of themselves as big dogs. This is also known as the Napoleon complex or the big dog syndrome.
These dogs don't perceive themselves as tiny pooches and will sometimes go after bigger dogs.
Even though that can be dangerous, I personally like the big personality of a Yorkie. It can be awfully fun, and you won't ever have a dull day with a Yorkie.
How Much Affection Is Too Much Affection?
If you ask a Yorkie, there's no such thing as too much affection.
Yorkshire Terrier puppies and adults are huge cuddlers. They love showing affection and receiving it in return.
You won't find these pups running in the park. Yorkies have energetic temperaments, but they're not big fans of exercise.
What these doggos like is cuddling on the sofa and being smothered with love. No wonder so many Yorkies are spoiled rotten.
And, trust me, they love being so spoiled!
Why The Yorkshire Terrier Might Not Be For You?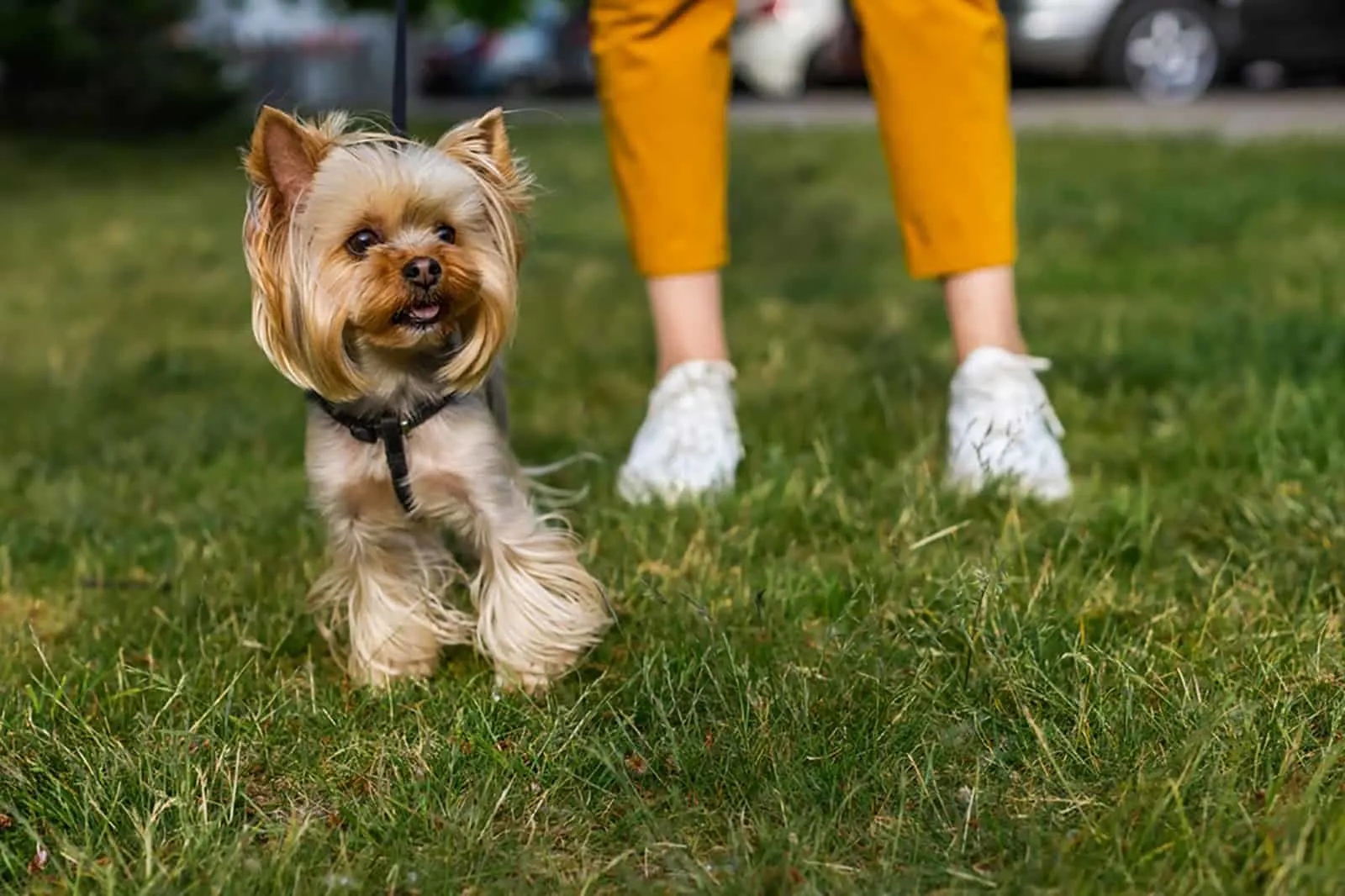 I won't list a bunch of reasons why you might not want to get a Yorkie, because I'm afraid you might drop out from the decision.
There are numerous good sides to this breed, but these dogs also come with some downsides.
However, both the good sides and bad sides are individual. Some might not think of them as good or bad things.
I'll leave it up to you to decide whether something is a pro or a con.
But I must make sure you're aware of one teensy tiny thing about Yorkies. Their size.
Sure, these pups are fantastic in every possible meaning, but their size isn't necessarily a good thing.
Yorkies are fragile, tiny, and should be handled with care.
I wouldn't recommend them to people with small children or to someone that doesn't know how to handle tiny dogs.
Otherwise, you're risking severe injuries and that's not something anyone wants.
What's The Verdict?
I'm sure you'll find your ideal puppy with some of the listed Yorkie breeders in Virginia.
All the breeders here are reliable and reputable people that put their dogs first. There's nothing more important to a good breeder than the good health status of their dogs. This includes both the breeding stock and the puppies.
Now, I know that some breeders raise Yorkie puppies as their main occupation. Some people even earn for life by raising dogs.
There's nothing wrong with this. I would like to encourage you to trust people who breed for the preservation of the breed and people who have this as their only way of income.
They both deserve your time. Because not every breeder is a bad one. Not every breeder is a scammer. Not every website is a cover for a puppy mill.
Good breeders still exist. People who care dearly about Yorkies are still among us. And they're right here.
You'll definitely find your pawfect Yorkie puppy with any of these breeders. Sometimes, it just takes a while for a breeder to have puppies ready, but the wait is worth it.
By the end of the day, you and your new Yorkie puppy will be happy together furever!
Read Next: 4 Best Beagle Breeders In Virginia