Every new pet parent has the same worries, and one of them is picking the right name for the dog of their dreams.
I get it. It's hard to put a finger on a name that will stick with your dog for as long as he lives, and even afterwards. So, which name to choose? How do you decide which of the usual Pug names is the ideal one for your Pugster?
The decision is completely individual. Just think outside the box and pick a name that suits your dog's character. You can't name your Pug Fluffy, because that name simply doesn't suit Pugs. They're not fluffy dogs.
Pick something you can imagine calling your Pug. I mean, Mr. Cuddlebuddy sure sounds adorable, but it's hard to yell that name after your dog once he runs away from you in the doggy park. And it's quite a tongue twister.
Use your imagination!
Or you can rely on PupVine and go through this list of 225 pawmazing Pug names.
Yes, they're all better and cooler than Doug. The name Doug is so overrated, don't you agree?
Pawdorable Pug Names: Female Pug Names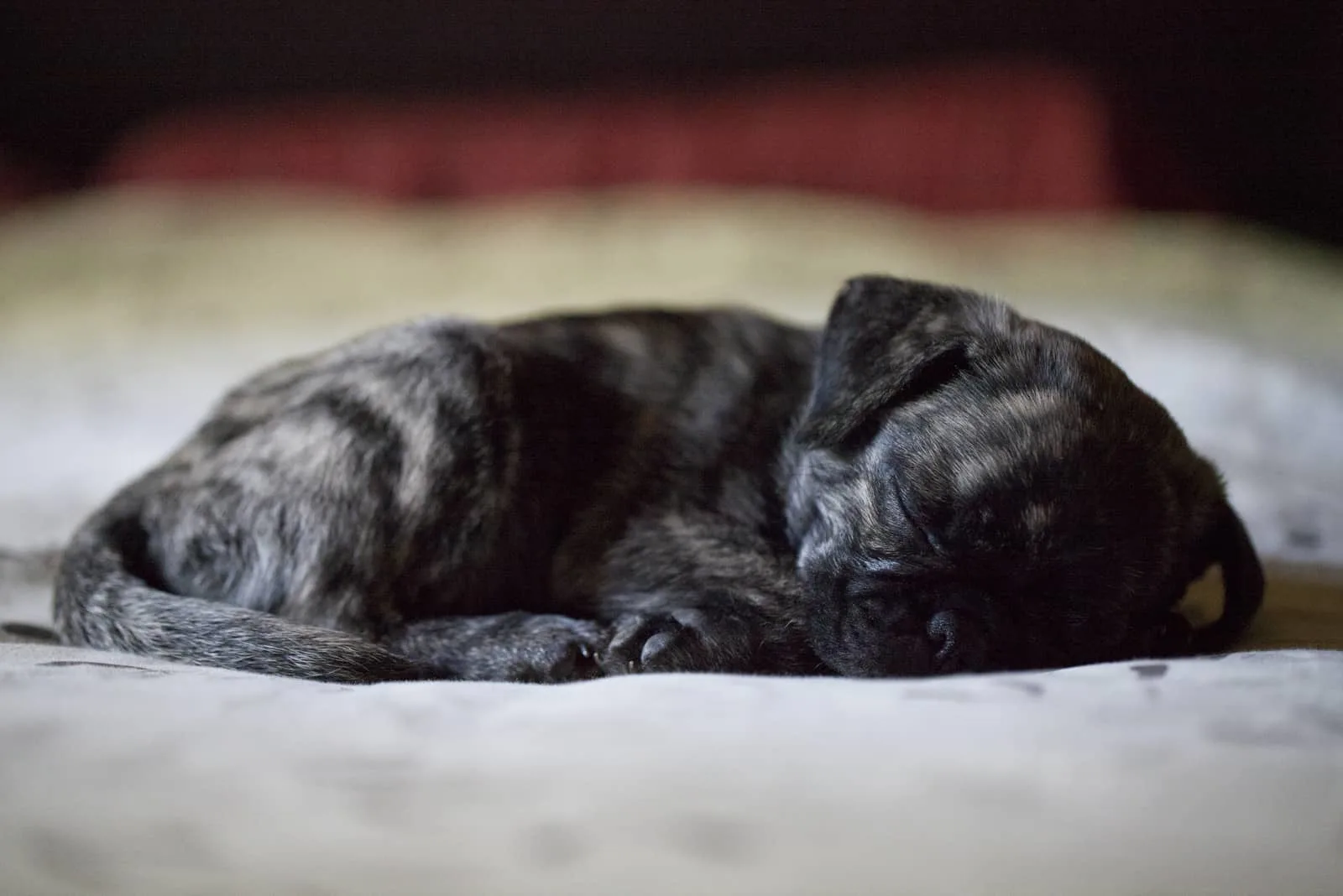 Pawdorable Pug girls deserve pawdorable names. When we pick a girl's name, we usually look for something cute, lovely, and girly. I can recommend some pretty stunning flower dog names for your Pug girl, or this list of the most popular girl dog names.
1. Fifi: The name Fifi is cute and funny at the same time.
2. Nana: A name for a sweet, caring Pug gal.
3. Coco: Coco's fashionable. Coco's evergreen. Coco's always in!
4. Lola: A cool dog name for a sassy Pug girl.
5. Chole: A sweet name for a gentle Pug puppy.
6. Lizzie: Lizzie for when she's a puppy, and Elizabeth for when she grows up.
7. Angela: An angel face and angelic behavior.
8. Bella: For one bella Pug signorina.
9. Daisy: A light-coated Pug would fit the name of this little flower.
10. Lucy: She's fun, she's sweet, she's that adorable Pug that runs around with a big bow attached to her head.
11. Sophie: Sophie's the perfect name for a sophisticated Pug girl.
12. Mia: This name is short and sweet, great for a Pug with a perky personality.
13. Zoey: Zoey's trendy and cool. She hangs out only with special dogs.
14. Lilly: Whether you love lilies, or just find the name to be super effective, Lilly is the choice to make.
15. Luna: She's your moon and your stars. She's your luna.
16. Dolly: Dolly may stand for the adorable pup, or for that pretty little doll face.
17. Maggie: Maggie will suit a small pup, but Margaret is for when she grows up.
18. Ally: Let's keep things short and simple!
19. Ruby: Oh, she's worthy like a real Ruby gemstone!
20. Ivy: This is a name for a dog that's pretty on the outside, but feisty on the inside.
21. Izzie: Because she's so easy-going!
22. Stella: She's the stella of your world!
23. Grace: A pup full of graceful and elegant moves would love the name Grace.
24. Hope: You should never lose hope!
25. Penny: The standard nickname for Penelope, both equally gorgeous names.
26. Roxy: A foxy Roxy is always a trending name.
27. Layla: Layla's mystic, not so easy to reach, but she's a good judge of the character.
Pawdorable Pug Names: Male Pug Names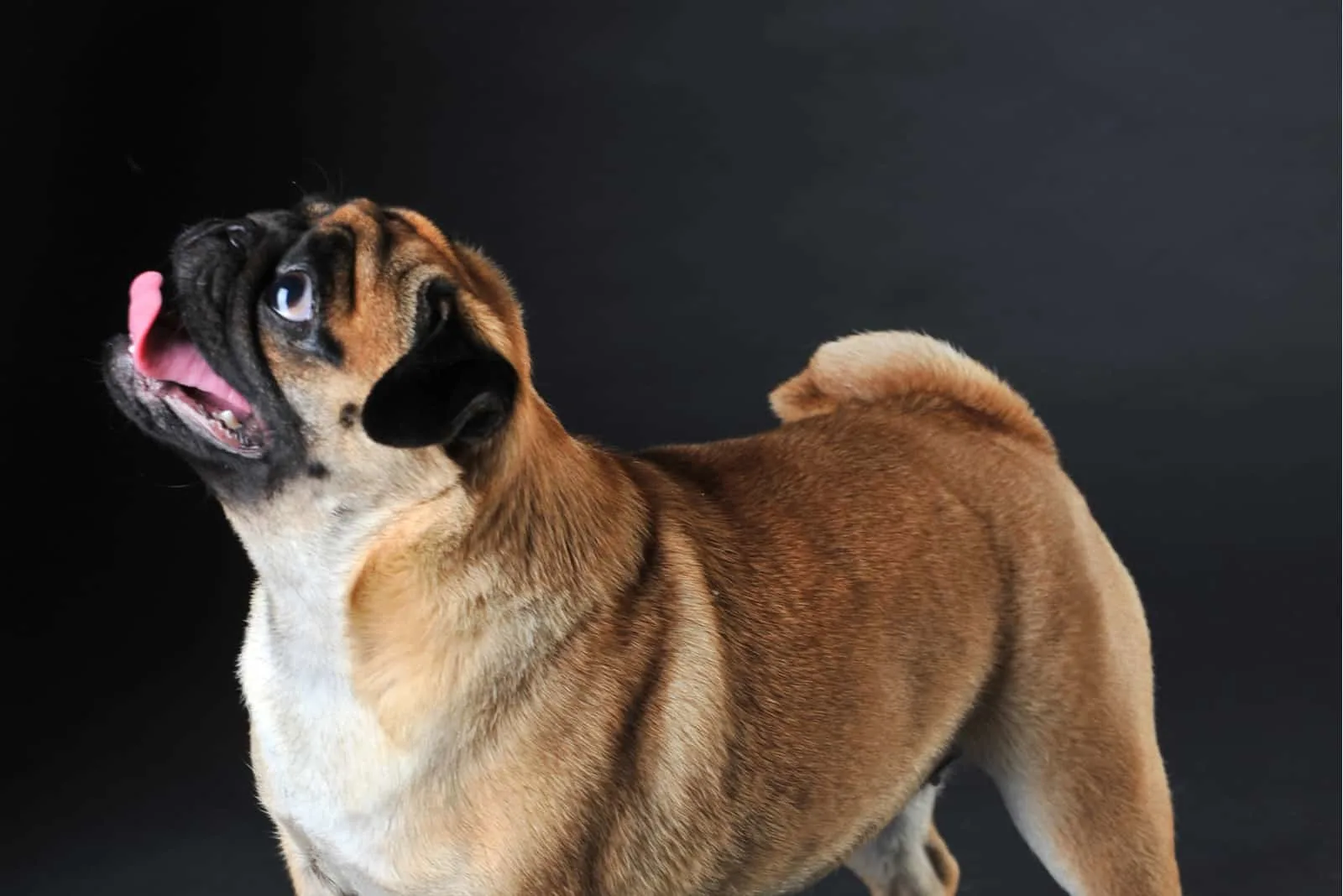 Male Pugs are fun, energetic, courageous, and adventurous. Oh, and they're also cuddlers. So, how to put all these traits into one name option? Simple! Just pick from this list of the most popular male dog names that would suit any Pug dog.
1. Milo: We'll start with the name from The Adventures of Milo and Otis. Because every Otis needs a Milo.
2. Teddy: Pugs aren't fluffy as teddy bears, but Teddy can stand for Theodore, a more appropriate name for a Pug.
3. Leo: One of those short names that suit all dog breeds, and everyone finds it lovely.
4. Felix: The name for special Pugs that have been through a lot, and still have lots of felix.
5. Otis: The popular Pug from the movie: The Adventures of Milo and Otis.
6. Theo: I find the name Theo quite adorable. I always remember that little chipmunk from Alvin and the Chipmunks.
7. Loki: This has been a popular name for the past few years, ever since the Thor movie franchise first appeared. But, every Loki needs his Thor.
8. Louie: Louie is that Pug everyone wants to hang out with. Or if you prefer, Louis.
9. Ziggy: A hardcore David Bowie fan will appreciate the name Ziggy.
10. Vinny: A shorter option for Vincent. Personally, I like how Vinny the Pug sounds.
11. Mugsy: A Pugsy named Mugsy. Could it sound any more perfect?
12. Mopsy: In some countries, the breed Pug translates to Mops, and I find it an ideal name for a boy Pug. Oh, but it can also be an unusual girl Pug name too.
13. Bandit: Because he's just a little rascal, a mischievous Pug named Bandit.
14. Eli: Eli is that sweet boy, a bit shy, but still curious enough to follow you around.
15. Yoda: Name cool you choose must. Yoda name cool is.
16. Finn: It's short. It's effective. And everyone will remember that pawdorable Pug's name!
17. Nico: Nico sounds so Italian to me. Does your Pug like to beg for a slice of your pizza?
18. Cecil: Are you a fan of weird dog names as much as I am?
19. Blake: He's that cool dog in the park, a friend of everyone.
20. Bruno: This is a lovely gentleman's name for a Pug boy with an attitude.
21. Nash: As in Pluto Nash. Remember that early 2000s movie?
22. Asher: What a terrific name for a gray Pug!
23. Jasper: Oh, what a charming name Jasper is. I'm pawsitive your Pug will be a good conversation starter in the park.
24. Julian: Inspired by King Julian, that wacky lemur from Madagascar.
25. Charlie: Imagine having one boy Pug and three girls. You can name the boy Charlie because he has three angels.
26. Hugo: Hugo is a bad boy, and all the girls in the park love him.
27. Salem: Technically speaking, most Salems are cats. But who says you can't name a Pug Salem?
28. Rocky: Because Rocky is a name that goes well with any dog breed.
Funny Pug Names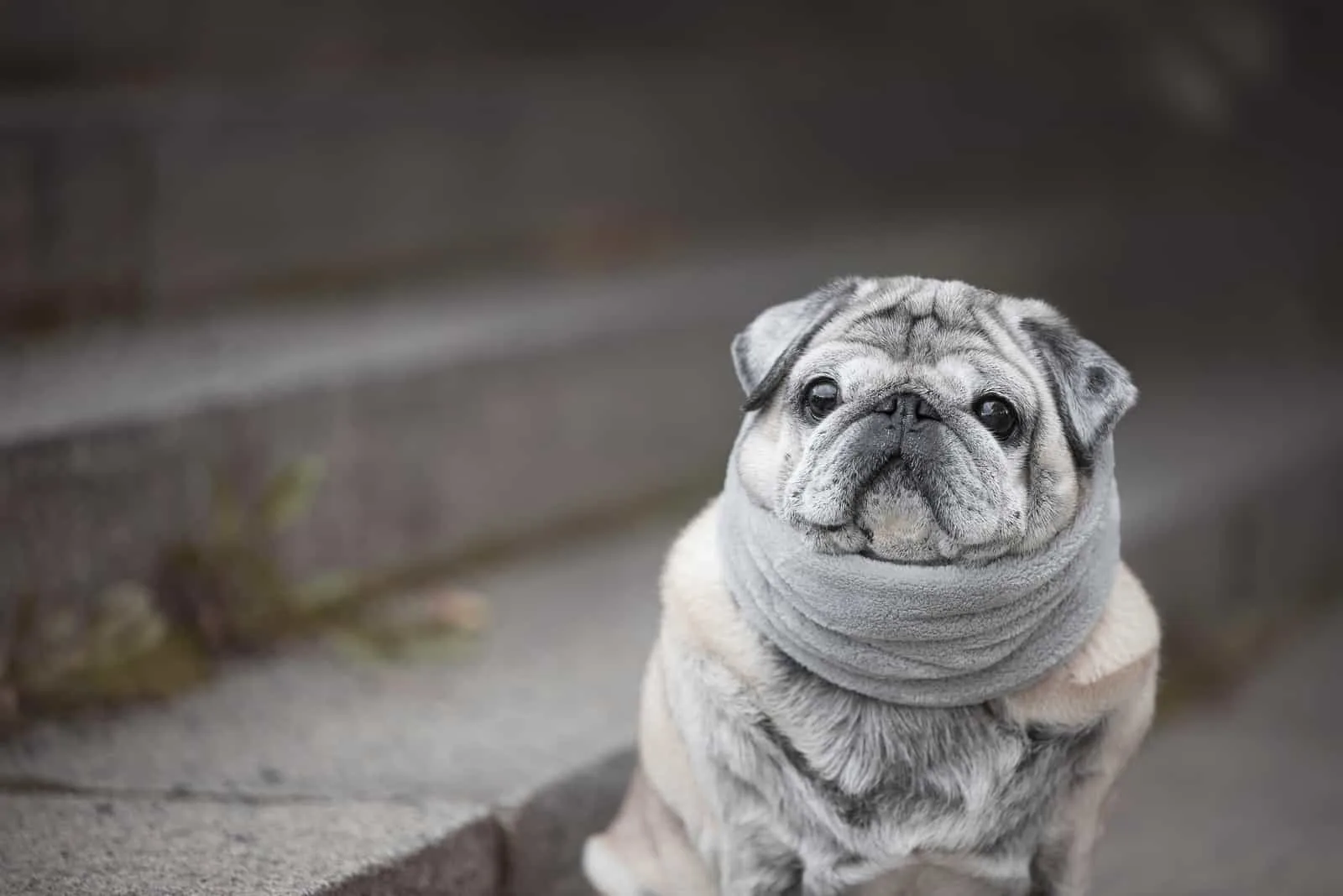 Pugs are funny dogs. Everything about them can put a smile on your face, from their looks to their behavior. They're little clown pups and giving them a funny name sure sounds like a great idea. At least they'll be excellent conversation starters!
1. Snug Bug Pug: For a cuddly Pug buddy.
2. Pugsley: It's a very old name, but still a cool one. Also, it's inspired by the Addams Family.
3. Pugboat: A name inspired by tugboats.
4. Pugerella: A Pug princess in your life, as pretty as the real Cinderella.
5. Mr. Puggles: As in Julian Pringles, Mr. Pringles, the inventor of the famous potato chips.
6. Pugart: A Pug as funny as the inspo for this name, Borat.
7. Pugdini: A master of disappearing, inspired by the Great Houdini.
8. Pugasaurus: A dinosaur fan would love to name his Pug this way.
9. Pugsworth: A Fun, twisted name of the Beauty and the Beast character, Cogsworth.
10. Pug-a-roo: Is your Pug as bouncy as a kangaroo? This is the ideal name for him!
Cartoon Pug Names For Males And Females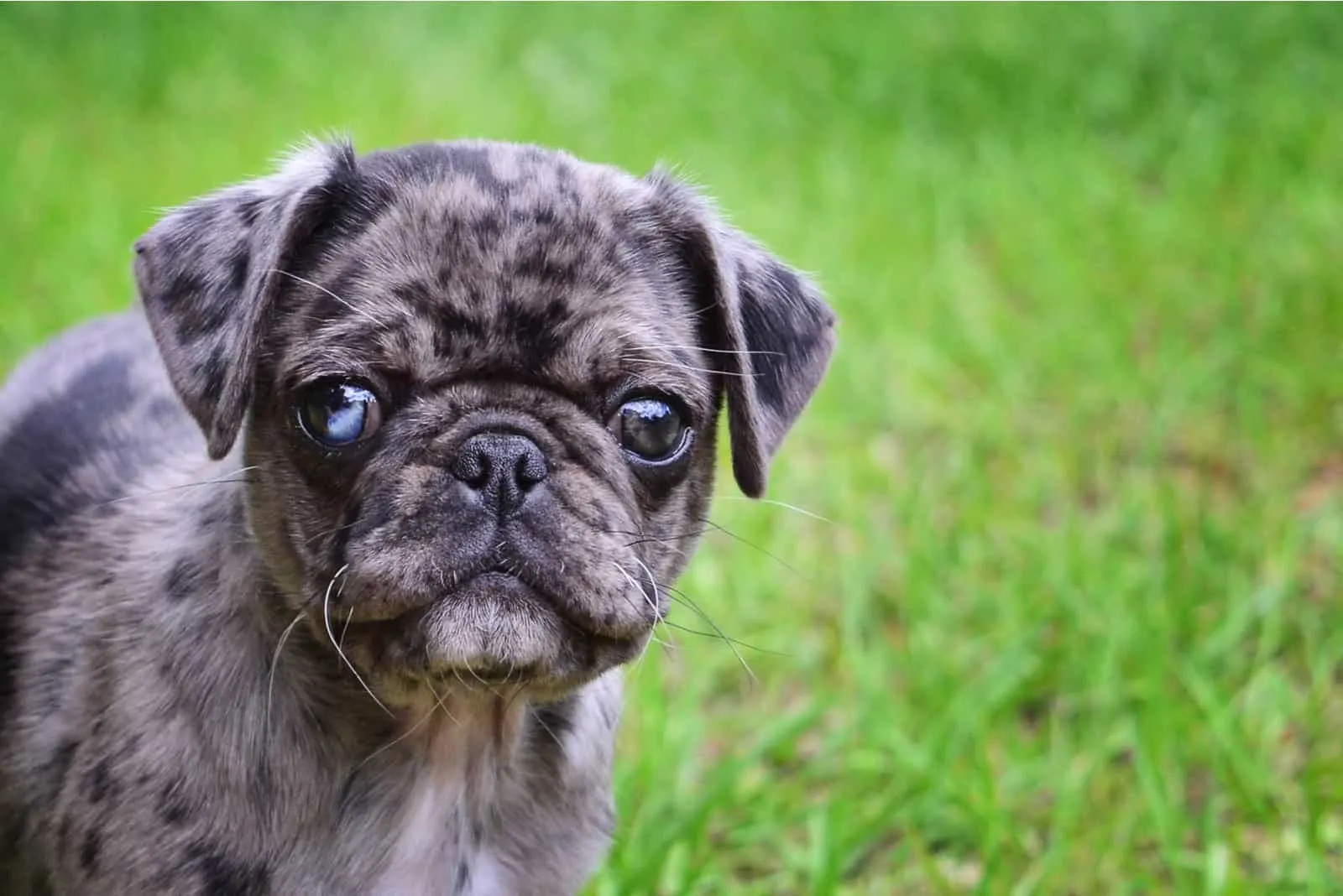 Even though most of these ideas are Disney dog names, there are still some from Pixar and other popular cartoons. Drawn and animated heroes are always a terrific source of inspiration when it comes to naming your new pooch.
From princess names to antagonists and sidekicks. These are the cartoon names you should consider!
1. Aurora: Otherwise known as Sleeping Beauty. She's the princess in the pink gown if you were wondering.
2. Cinderella: Does she really need an explanation as to why?
3. Elsa: The Ice Queen's name has been becoming increasingly popular over the past few years.
4. Esmeralda: People often forget about Esmeralda, but she's so exotic.
5. Lady: Of course, we have to include some obvious Disney dog names like Lady from the Lady and the Tramp.
5. Lilo: A lovely Hawaiian name and the protagonist of the early 2000s blockbuster: Lilo & Stitch.
6. Marie: It is inspired by a kitten Marie from Aristocats, but the name can still be of use for a Pug girl.
7. Nala: Simba's companion from The Lion King franchise.
8. Tiana: A strong, independent princess: Tiana from The Princess and the Frog.
9. Tinkerbell: Peter Pan's loyal sidekick and a lovely, little fairy.
10. Wendy: A little girl that flew back to Never Never Land with Peter Pan.
11. Yzma: She may be an evil character from The Emperor's New Groove, but Yzma is hilarious.
12. Nana: Here's another Disney dog name. Do you remember the dog/ nursemaid from Peter Pan, Nana?
13. Dinah: She may be a kitten from Alice in Wonderland, but Dinah is still a beautiful name for your new Pug.
14. Rita: Remember her from Oliver and the Company?
15. Perdita: She is a Dalmatian, but she still has a lovely name for a Pug female.
16. Toodles: If you ever watched Mickey Mouse Clubhouse, then you know Toodles, the supercomputer shaped like Mickey's head.
17. Winnie: As in Winnie the Pooh. This is one of the cool unisex Pug names.
18. Meeska Mooska: Magic words from Mickey's Clubhouse for your magical Pug.
19. Vanellope: Why don't you finally make Vanellope from Wreck-It Ralph a princess, by naming your sweet little princess after her?'
20. Celia: Monsters, Inc. Mike's girlfriend, and a pretty lovely monster.
21. Alice: Who doesn't know Alice, from Alice in Wonderland?
22. Ariel: The Little Mermaid, and one of the loveliest Disney princesses.
23. Jasmine: The Arabian princess's name for a Pug that will show you a whole new world.
24. Mulan: A great name for a Pug dog that's tough and courageous like Mulan.
25. Pocahontas: The Native Indian princess and one brave Disney character.
26. Faline: For a Pug girl that's as gentle and cute as Faline from Bambi.
27. Madam Mim: She's wicked, but she's hilarious. Can we all agree that Madam Mim is one funny name?
28. Minnie: Of course, we have to include Minnie, as one of the most popular Disney characters of all time.
29. Tramp: The popular male dog from Lady and the Tramp.
30. Zazu: Your Pug may not be a red-billed hornbill, but he might be as loyal as Zazu from The Lion King.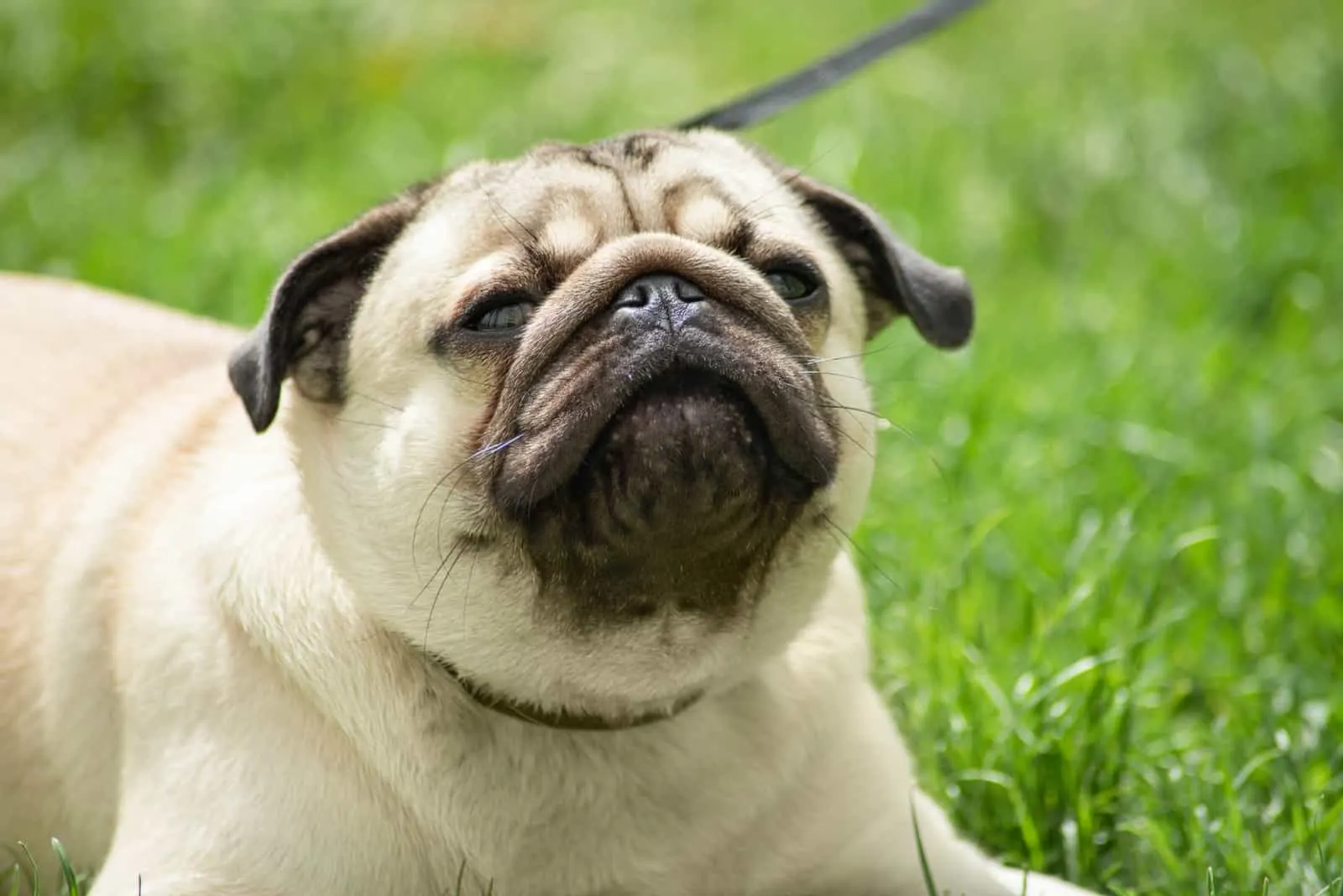 31. Sven: Reindeer are better than people. Sven, don't you think that's true? Well, Pugs are better than reindeer too!
32. Kristoff: Imagine owning two Pugs named Sven and Kristoff. Wouldn't that be cool?
33. Sebastian: With a Pug named Sebastian, every day will be like a day under the sea!
34. Ratcliff: Governor Ratcliff was a bad guy, but his old gentleman's name sounds like a cool name idea for your Pug.
35. Meeko: With every Pocahontas, there's a Meeko. And, if you include Percy the Pug, you've got yourself a little party going on.
36. Pluto: How can we forget about the ultimate Disney dog, Mickey's Pluto?
37. Pegasus: Just imagine it, Pegasus the Pug!
38. Maui: A demigod from Moana has a very inspirational name for your new pug puppy, especially if it's a rather big puppy compared to the others in the litter.39. Mushu: Mulan's wacky sidekick sure has a fun name!
40. Mickey: This list of pug names inspired by Disney shouldn't go by without the one and only Mickey.
41. Olaf: Everyone loves warm hugs, and the Pug named Olaf gives the warmest ones.
42. Pacha: Pacha the Pug. Sounds so good, doesn't it?
43. Pumbaa: Oh, and Pumbaa sounds even better! Especially if your little Pug buddy is a bit chubby.
44. Scar: For that badass Pug of yours.
45. Percy: One of the most famous pugs is definitely Disney's Percy from Pocahontas.
46. Tito: Even though he's a Chihuahua from Oliver and the Company, Tito can still be a wonderful Pug name.
47. Timon: A Pug pooch named Timon? Sounds pawesome!
48. Hei Hei: If you've watched Moana, then you know how hilarious Hei Hei was. It's a perfect name for a funny Pug.
49. Arlo: Arlo's definitely a good little dinosaur, and if your Pug is a good little Pug, then he needs a name like this one.
50. Dante: Dante sounds like a name for a tough fellow, someone that's not afraid of anything.
51. Dug: Remember that dog from Up? Yeah, that's Dug. Just imagine if he was a Pug!
52. Nemo: Just ignore the fact Nemo was a fish. It's still a pretty amazing name for a dog.
53. Jack Jack: The double name of the baby from the Incredibles is also quite a unique Pug dog name.
54. Bing Bong: Remember that imaginary elephant from Inside Out? Yup, Bing Bong is a name for an adventurous Pug.
55. Pongo: This name goes hand in hand with Perdita.
56. Abu: Aladdin's Abu is a monkey, but your Abu might be that pawdorable Pug with monkeyish behavior.
57. Baloo: The Jungle Book is rich in some pretty unique names you can use for your dog. Baloo is just one of them.
58. Baymax: Or if you prefer, Bay, for a nickname.
Food Pug Names For Males And Females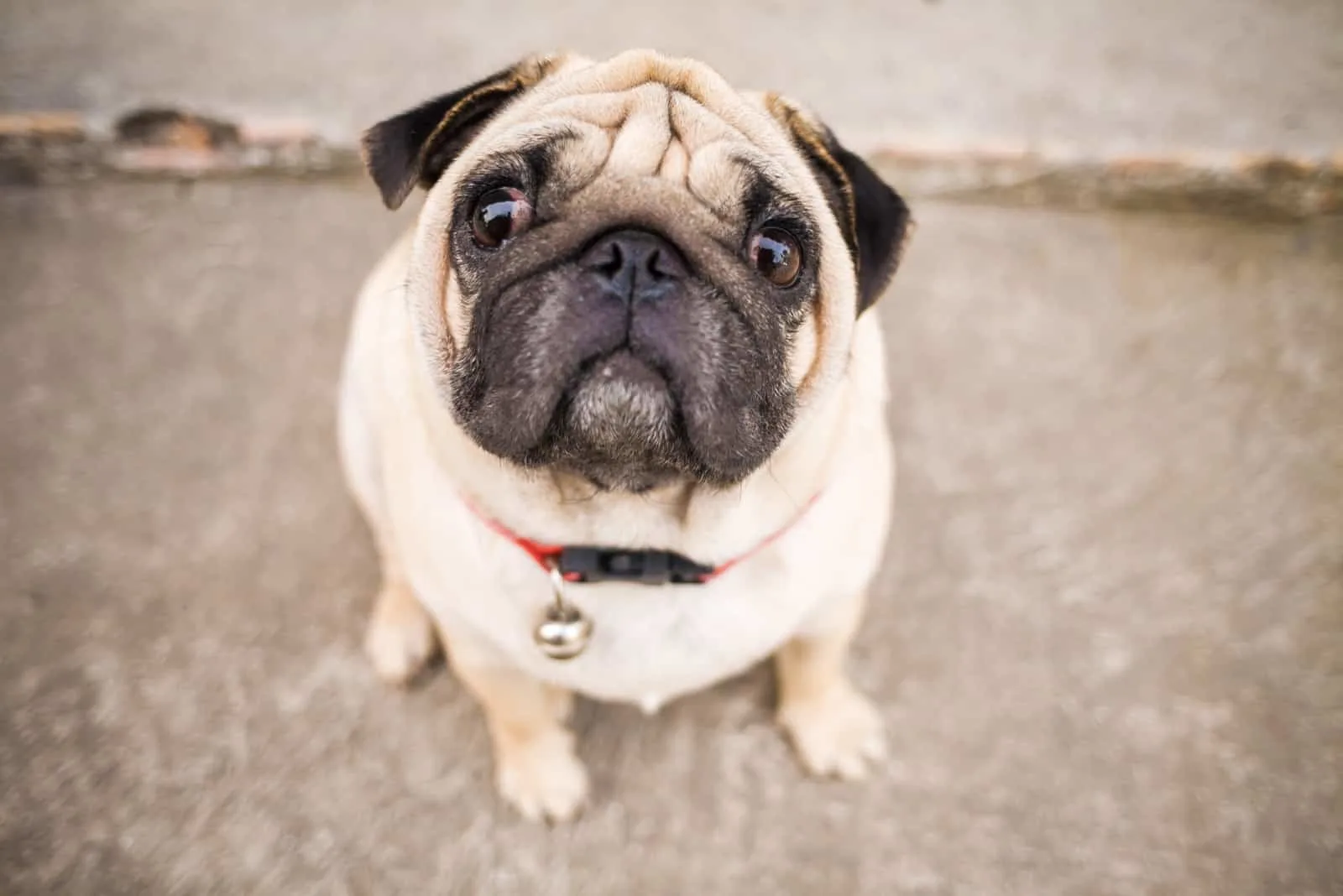 Another popular category of cool dog names is those inspired by food. Whether you find the name of a snack or candy bar super cool, or it's your favorite food, you can definitely name your Pug after it.
1. Oreo: The ideal boy pug name for a black Pug.
2. Bean: This is a universal name, suitable for all those sweet little pooches.
3. Pickles: You either love them or hate them, but Pugs… You've got to love them!
4. Waffles: If you have an apricot Pug, this is the best puppy name inspired by food!
5. Taco: Goes really well with your dog if he's a wacko.
6. Muffin: That snuggle muffin sure enjoys his name – Muffin!
7. Miso: You're a fan of Asian cuisine and need to name your dog? Try Miso!
8. Nugget: Every puppy is a precious little nugget.
9. Gumbo: A cute Pug name if you like eating this southern speciality.
10. Tofu: You don't have to be vegan to name your dog Tofu.
11. Chili: Got a feisty Pug? Try naming him Chili!
12. Clove: Everything seems better with this aromatic spice. Even the name sounds so exotic!
13. Olive: A name that's been around for as long as olives have been on Earth. Just kidding!
14. Snickers: Or Mars… Or the Milky Way… Or Butterfinger… Or any other candy bar you like.
15. Pepper: This is the only name option for a silver Pug.
16. Panini: Because we just love paninis!
17. Bacon: Name a dog that doesn't like to eat bacon under the kitchen table.
18. Tater Tot: Light-coated Pugs would fit this name pawfectly.
19. Tuna: A name for a Pug that's a big fan of eating tuna cans.
20. Potato: Pugs are usually lap dogs, and what better name to pick for your little couch potato?
21. Kiwi: An exotic name for a quirky little Pug.
22. Cupcake: Okay, can we all agree that this is the cutest female dog name for Pugs? Please?
23. Pringle: Pringles says that once you pop, you can't stop. The same goes for Pugs. Once you adopt one, you can't stop bringing more Pugs home.
24. Basil: This makes me wonder… Can dogs eat basil?
25. Brisket: A cool name for the Pug that likes sharing your Sunday meals with you.
26. Pumpkin: Because your Pug girl is as cute as a pumpkin!
27. Fluffernutter: Isn't this the coolest sandwich or what?
28. French Fry: Pugs are like fries. You can't have enough of them.
29. Peanut: You have to admit this is one of the secret nicknames you give your pets.
30. Peaches: Isn't she peachy?
Pug Names Inspired By Books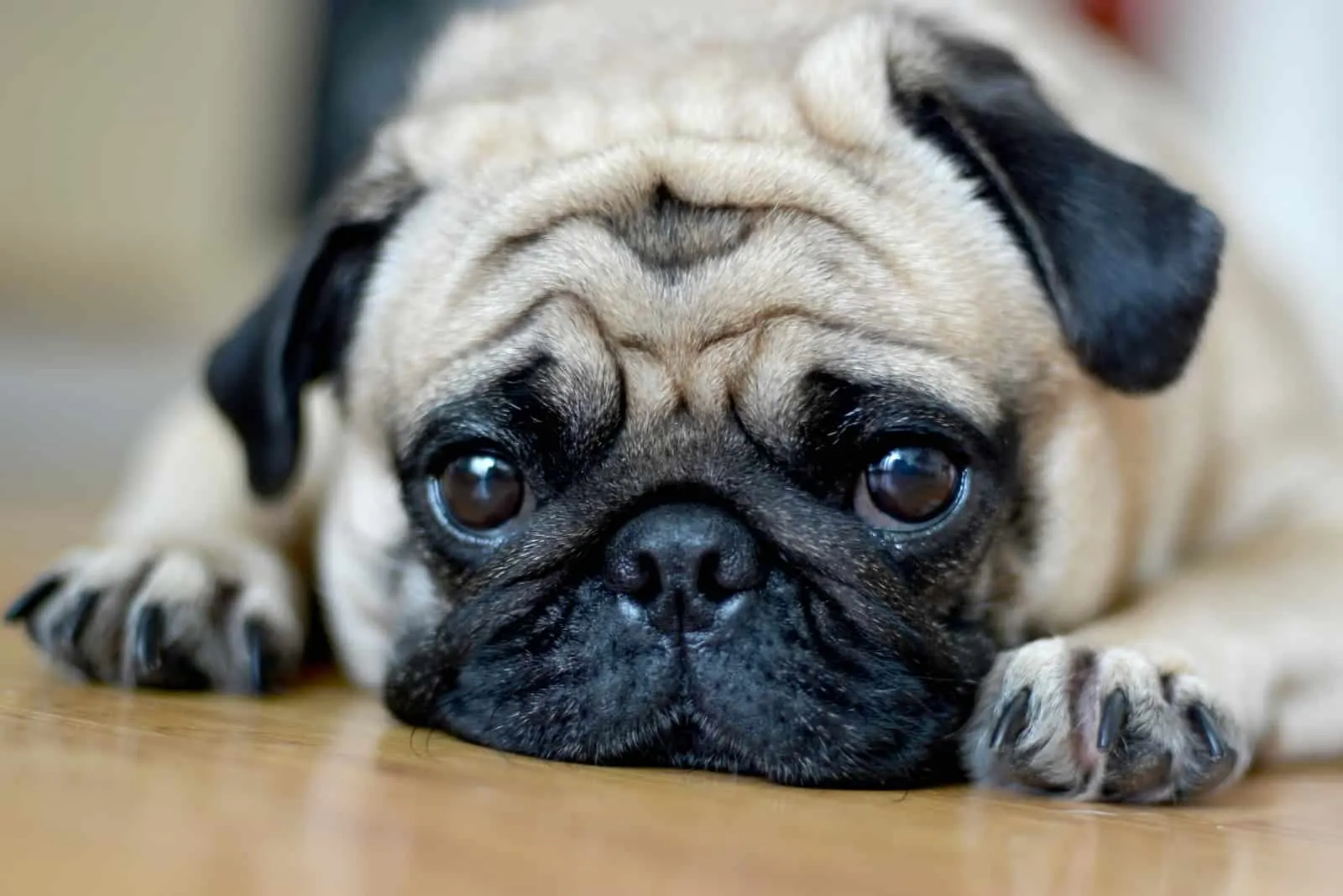 Are there any bookworms in the house? Raise your hand if you like reading because we've got a treat for you!
Have you considered naming your Pug puppy after some authors or your favorite characters?
1. Matilda: Was Matilda your favorite character while growing up? Mine too!
2. Jo: A girl Pug named Jo, after Little Women. As simple as that!
3. Arya: Any Game of Thrones fans here? Of course, you recognized the name Arya immediately!
4. Gatsby: A Pugsy named Gatsby. How wonderful it sounds!
5. Watson: Every Sherlock needs his Watson.
6. Holden: We all remember Holden from the Catcher in the Rye. A lot of people find this book incredible. If you're one of them, then you need to name your Pug after the main character.
7. Austen: Even though it's inspired by the popular Jane Austen, this sounds more like a boy Pug name.
8. Moby: Yes, that's Moby as in Moby Dick. If you're a fan of this classic, Moby is the name for your Pug.
9. Madeline: The hero of a popular children's book. Don't you remember this lovely little French girl?
10. Huckleberry: Reading about Huck's adventures is mandatory. Just imagine how many adventures you and your Pug named Huckleberry could have together!
Pug Names From The Nature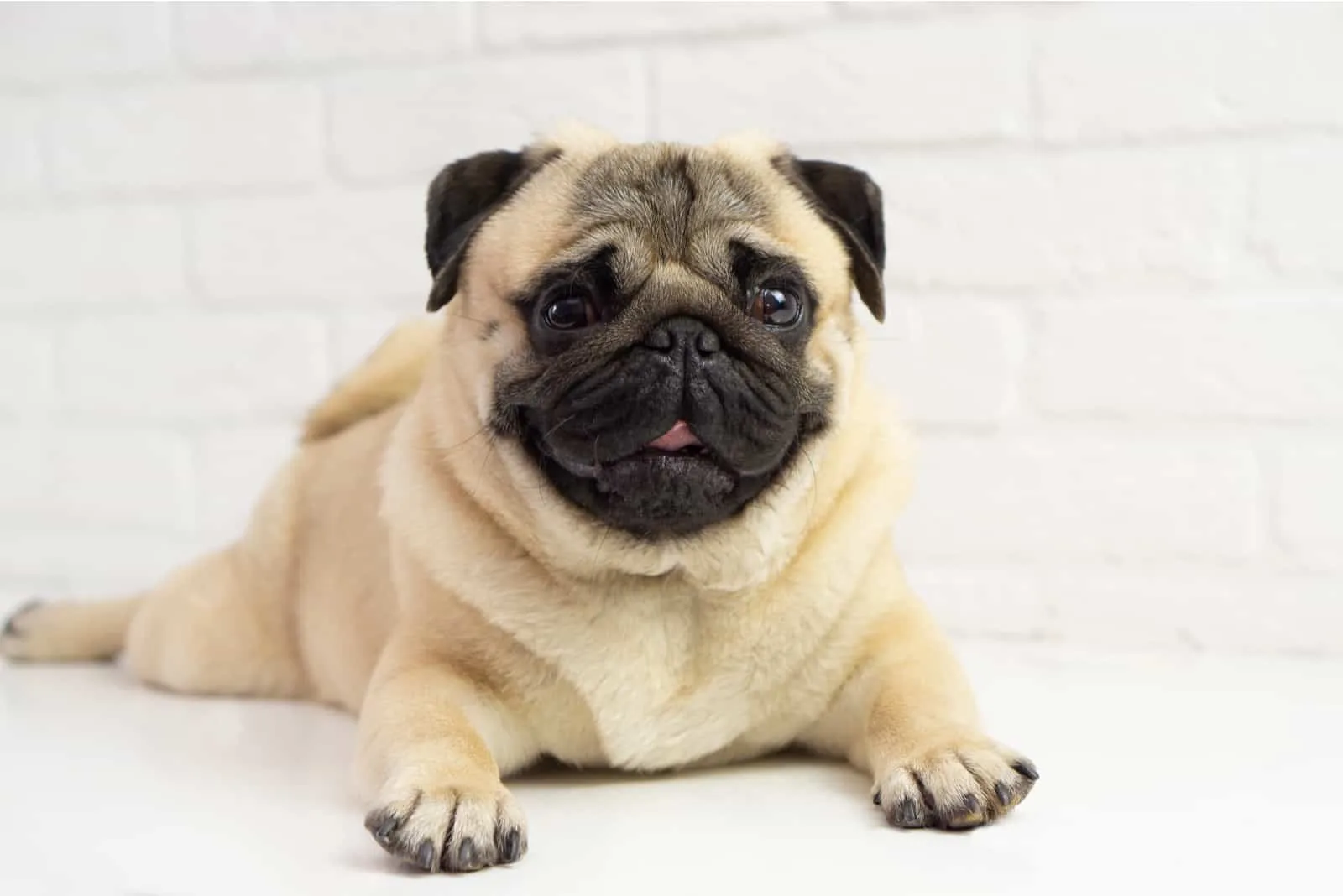 Nature is always a vital part of our lives. A lot of dog names come from nature. Whether they're weather occurrences, mountains, rocks, or other words for the Earth, they all sound so unique. You don't have to be an avid nature lover to admit these names could be ideal options for your Pug.
1. Everest: The tallest mountain in the world is always so breathtaking and inspirational.
2. Flora: Stands for plants in one area.
3. Truffle: A highly valuable fungus. It's not easy to find them, just like good Pug buddies.
4. Oakley: A Pugly named Oakley, inspired by the oak tree.
5. Geo: Stands for Earth in Latin.
6. Marble: This is a type of rock characterized by stunning beauty.
7. Moonbeam: This one is pretty self-explanatory.
8. Pebbles: Stands for tiny rocks.
9. Terra: It's a Latin word for Earth.
10. Pingo: A part of the Earth covered in ice.
Pug Names Inspired By Historical Figures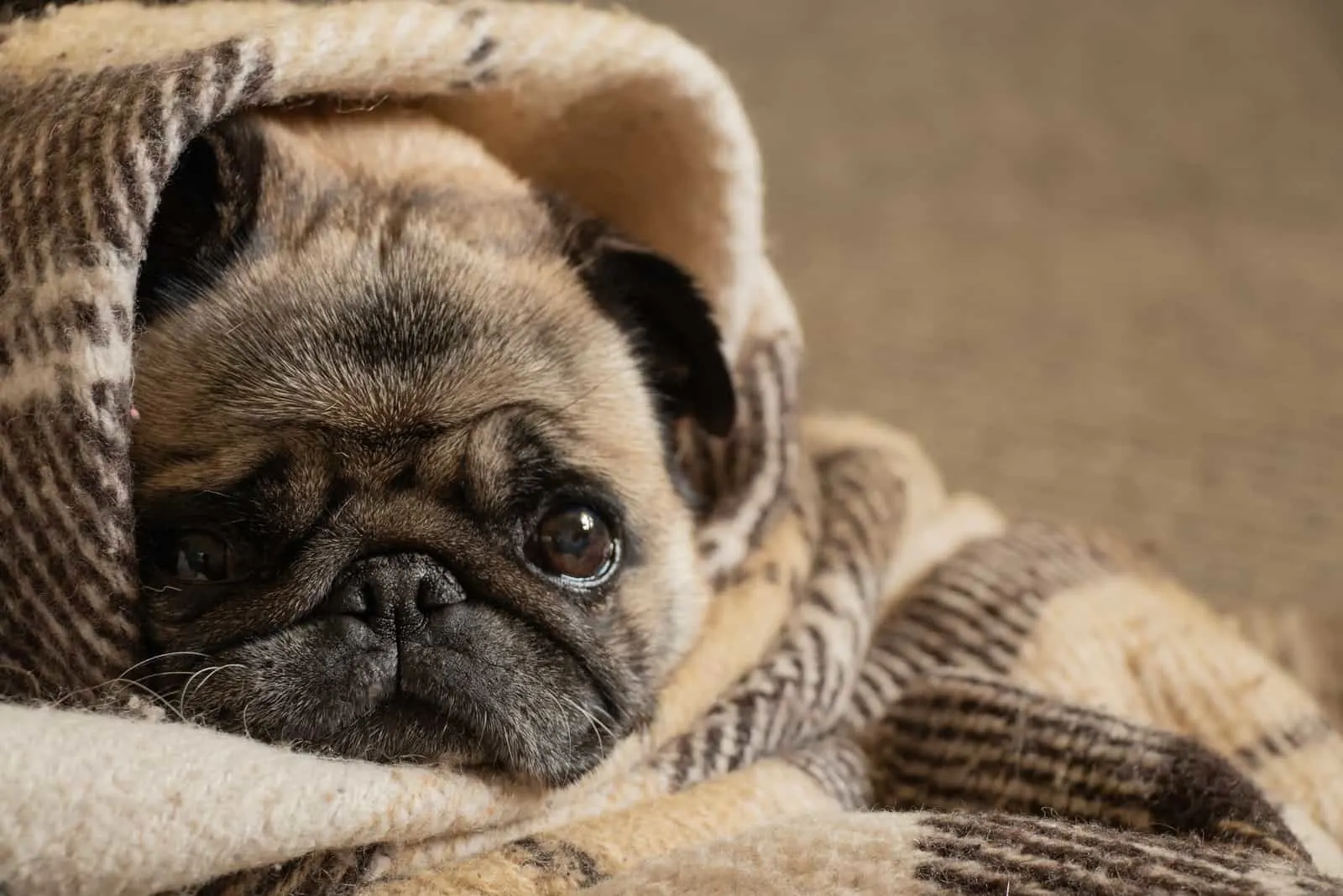 Throughout history, there have been some notable people that deserve to be mentioned forever. Those historical figures have somehow made our lives better. Of course, some of them might not share your point of view, but we can't deny the impact they've left on our lives.
Some are explorers, some are artists. Everyone's famous for different things, but they all carry recognizable names, pawfect for your new Pug.
1. Columbus: If he didn't discover America, would we be here today?
2. Sacagawea: Just remember to come up with a short nickname for when you're in the park.
3. Lincoln: Imagine what would happen if Lincoln didn't go out that night.
4. Bush: We may not agree with him, but the name Bush sure sounds cool for an older Pug doggo.
5. Wilson: The ideal name for a true Pug gentleman.
6. Pollock: Your Pug's behavior can sometimes be so… abstract! Just like Jackson Pollock's paintings.
7. Ansel: Older generations will appreciate the name Ansel, a homage to the late American Photographer, Ansel Adams.
8. Monroe: Because your Pug girl is a diva.
9. Sinatra: Quite a charmer Pug, isn't he?
10. Edison: When a lightbulb pops above your head and you get a genius idea for your genius Pug.
11. Aristotle: The name for a Pug with a wise look on his face.
12. Napoleon: This is an obvious one. Because your Pug has small dog syndrome.
13. Caesar: He's dignified, and he's above 'em all.
14. Mozart: Do you believe your Pug is something special? Like a wunderkind? Then name him Mozart!
15. Dali: Sometimes you won't understand your dog. That's okay. Dali wasn't understood either.
16. Virgil: If you're a fan of ancient poets, Virgil the Pug sounds so… epic.
17. Joyce: Or, if you prefer some more contemporary poets than Virgil, go with Joyce. A cool unisex name inspired by James Joyce.
18. Cleopatra: Because she's the most stunning black female Pug you've ever seen.
19. Shakespeare: Does this name really need an explanation?
19. Oprah: Lastly, a name inspired by one of the most powerful Afro-american women in modern history.
Pug Names Inspired By Famous People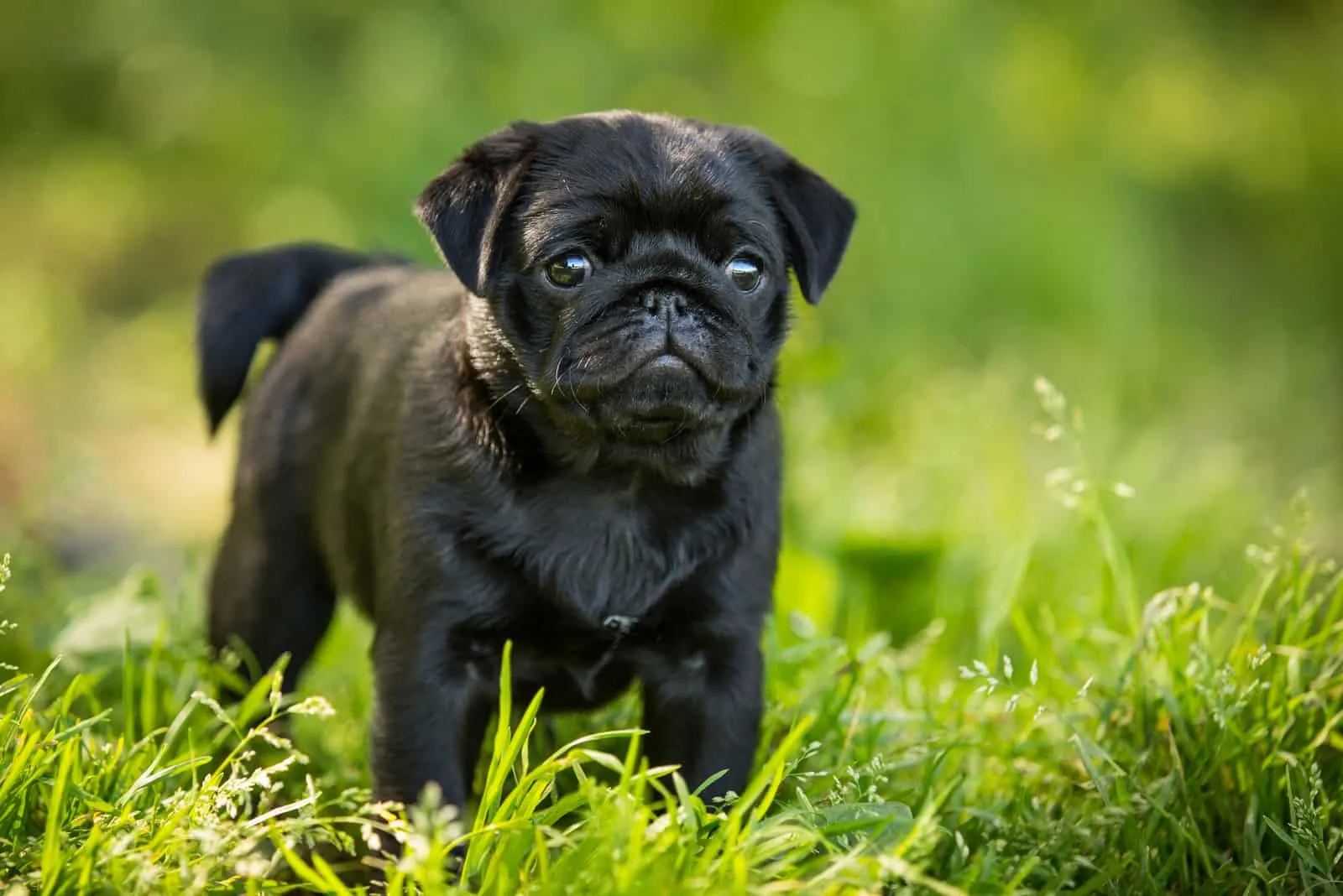 We have historical figures, and we have famous people. You might think they're the same, but they're really not. Famous people are not as significant in the world's history. Sinatra was good, but he wasn't as important as Napoleon, for example.
This list features some of the most popular Pug names inspired by musicians, actors, writers, and so on.
1. Elvis: Or if you prefer, Elvis Pugsley. The King of Rock & Roll is an eternal inspiration.
2. Frank: The popular Pug from the movie franchise Men in Black.
3. Pacino: Pacino the Pug. Sounds badass, doesn't it?
4. Bono: Because Bono is our all-time favorite musician.
5. Brando: I'll make you an offer you can't refuse. Name your Pug Brando.
6. Sting: The musician Sting was named after his black and yellow sweater. Maybe a black and tan Pug could be named Sting too.
7. Agatha: As in Agatha Christie, the queen of crime novels.
8. Yoko: Get a Pug. Name her Yoko. Get another Pug. Name him Lennon. Get three more Pugs and create The Beatles.
9. Fonda: Because Jane Fonda is still a diva and a great inspo.
10. Meryl: Keeping on with the divas on our list, we can't forget about Meryl.
11. Sherlock Bones: Probably the best dog name for a curious Pug.
12. Britney Ears: Because Pugs have those sweet, floppy little ears.
13. Bark Obama: No insult to the former President. We just find the name combo to be pawesome for our Pug buddies.
14. Karl Barx: You don't have to like Marx to admit naming a Pug Karl Barx is a terrific idea!
15. Pablo Escobark: Okay, Escobar wasn't a good person either, but his name served for giving dogs funny names.
16. Pawcasso: The artist inside you would love to own a Pug named Pawcasso!
17. Ozzy Pawsbourne: Can we get a standing ovation for this name?
18. Bark Ruffalo: When you get bored of this name, you can always switch it up to Hulk.
19. Billie Hollidog: A true fan of modern music will appreciate the name Billie Hollidog. It also works as a unisex name.
20. Diggy Azalea: Is your Pug as pretty as Iggy?
21. Snarls Barkley: How can a basketball fan name his new dog anything other than Snarls Barkley?
22. LL Drool J: Thanks to their smushy faces, Pugs can be quite the droolers, hence this cool name.
23. Lick Jagger: Because he's got the moves like Jagger.
24. Vera Fang: An elite name for a graceful girl Pug.
25. James Earl Bones: The best Pug name for a dog whose behavior is legendary.
Popular Pugs Throughout History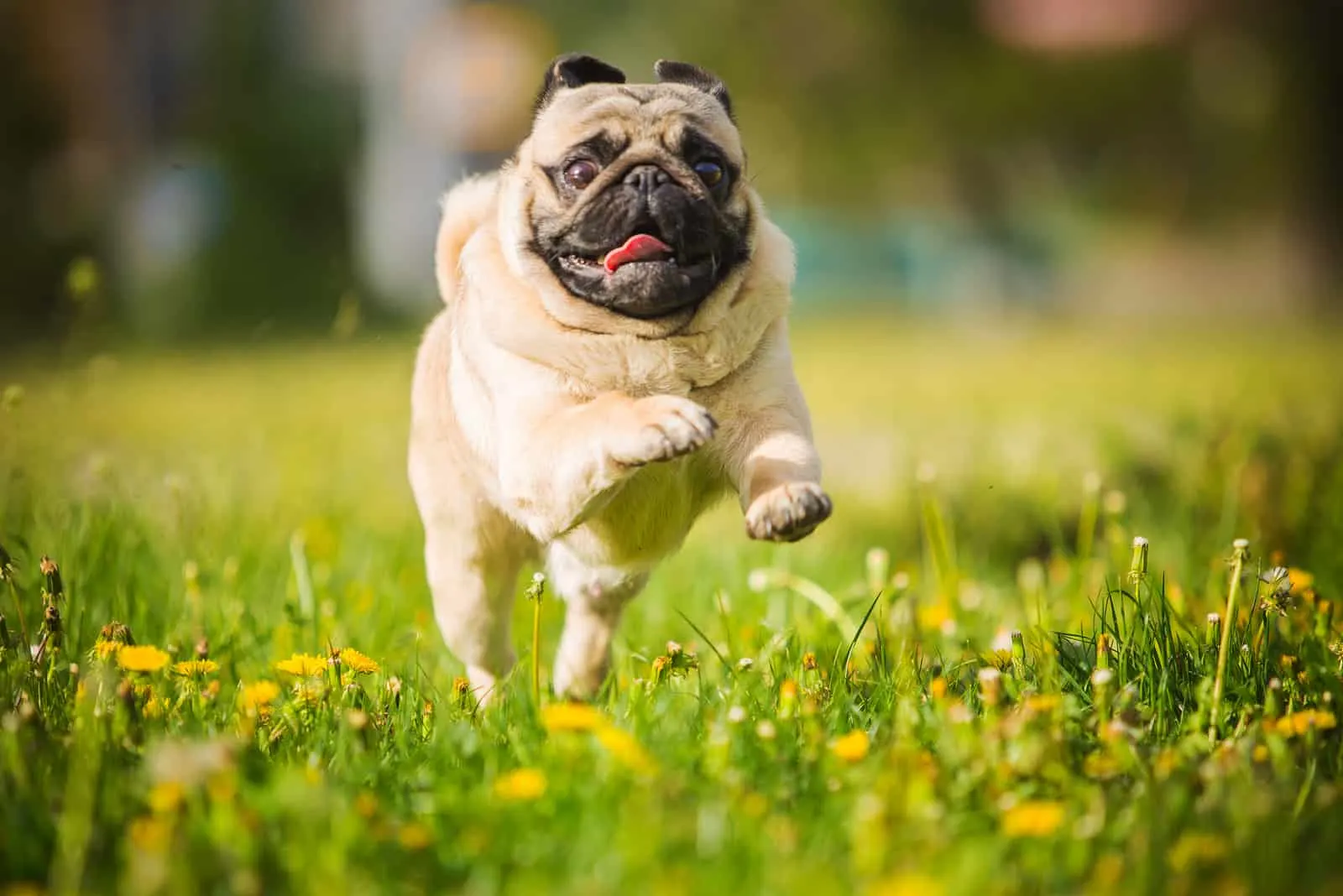 Pugs are ancient dogs. They have been around ever since 400 BC. It is believed that this breed has Chinese origins. The first Pugs were used as companions for wealthy people. The situation has somewhat changed these days. Pugs are still companions, but everyone can own them.
Throughout history, there were some heroic Pugs that even saved lives. Royal families loved their company, from Marie Antoinette to the late Queen Elizabeth.
These are the most famous Pugs of all time.
1. Basco: The name of Queen Elizabeth II's favorite Pug.
2. Pompey: The name of a Pug who saved Prince William of Holland's life, back in the 1500s.
3. Mops: The name of Marie Antoinette's Pug.
4. Punch: The name of Winston Churchill's Pug.
5. Fortune: The name of Napoleon's wife's Pug.
6. Minka: The name of one of the six Pugs Queen Victoria of England had.
7. Leonard Bean: Robin Williams' Pug.
8. Mimi LaRue: Tori Spelling's dog and one of the first canine fashionistas.
To Sum Up…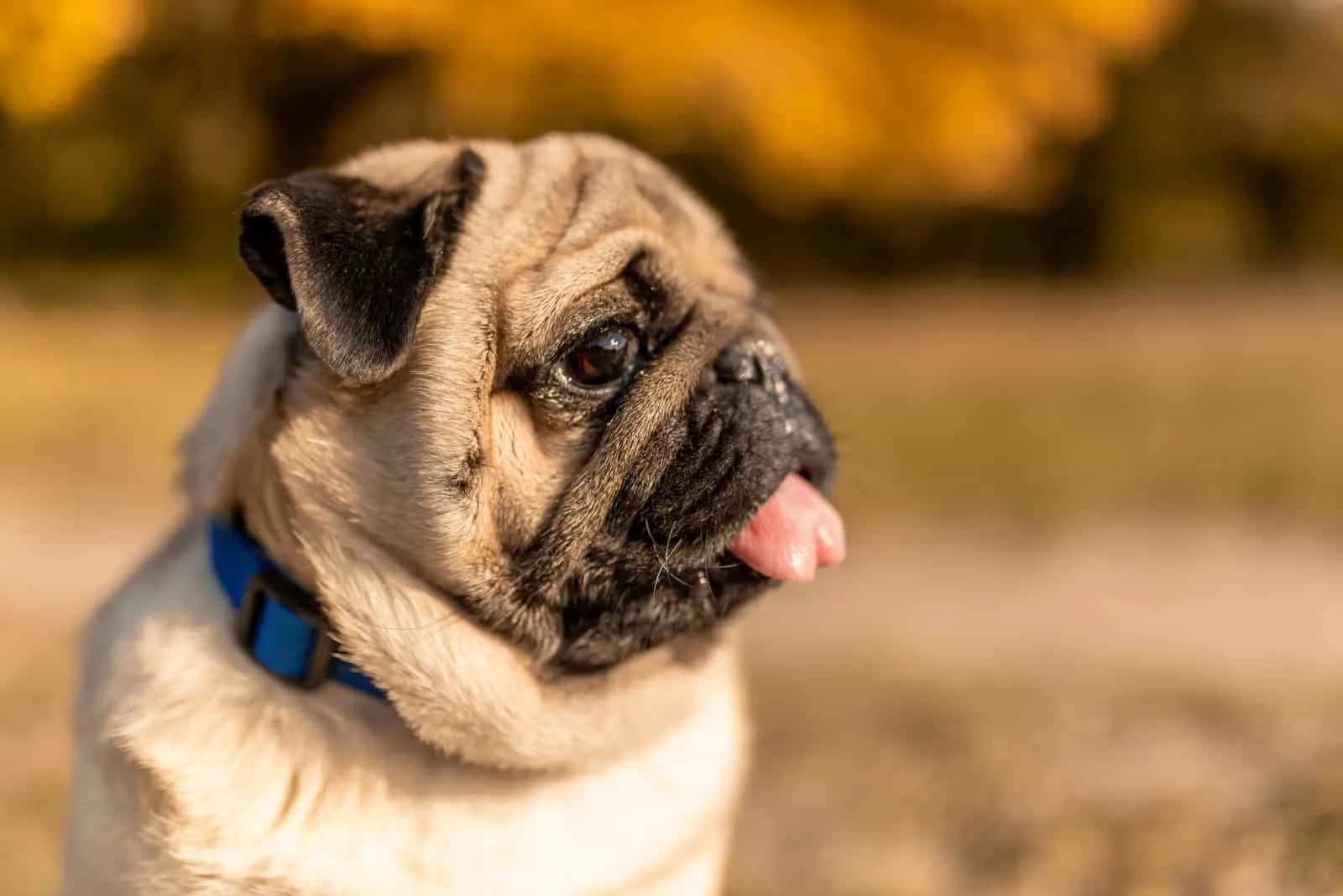 Don't tell me you don't like any of these Pug names!
I'm sure you'll like at least some of them. You have to admit, some of these names sound pretty cool. Some are very unique and sound weird, but good.
The thing with dog names is, you can give them pretty much any name you find interesting. That's why we have lots of food-inspired dog names, but it's not uncommon for pet parents to name their Pugs after sports teams, movies, books, etc.
You simply have to find at least one of these names inspiring!
The whole point of listing so many Pug names is to help you, so you don't have to google for an eternity and search for the ideal name for your new Pug pooch.