The Pug dog is a big hit these days, fitting in with our busy lifestyles, especially in urban settings. These little dogs are popular everywhere, but if you're in the Maine area, you might want to know where you can find one. Choosing a trustworthy, reputable breeder is essential , so we've picked out 5 of the best Pug breeders in Maine to get you started.
And if these breeders don't have any pups ready for you, then use our tips to find another reputable one elsewhere!
Pug Puppies For Sale In Maine
If you Google this sentence, it will return a bunch of suggestions, but how do you know which ones are safe to use? Some of these places will be puppy brokers, puppy mills, pet stores, and backyard breeders. None of these are good choices when it comes to buying your Pug puppy!
Some of these websites are simply lists of where to find Pug puppies, often with broken, useless, or dangerous links (your antivirus software might shout at you). You can bet that the people who compiled these lists did not check the places out before putting them on their website.
Why are puppy mills, pet stores, etc., so bad? Because they are only after your money. They don't care for the animals and keep them in crowded, cramped, filthy conditions. They feed them sub-standard food and don't get them checked by a vet.
These despicable places prolong misery and cruelty to animals, and you are keeping them in business if you buy from them.
Also, websites that list a whole load of different breeds often source their pups from puppy mills (sometimes from overseas, where animal welfare laws are more relaxed), despite strenuous claims to the contrary. They frequently withhold the breeder's details, and with good reason: they don't want you to find out what's really going on!
That's why we've picked out a few breeders and examined them for you. Of course, you'll have to judge for yourself, but we've only selected those that look promising. One basic test is to see if the breeder puts the welfare of their dogs above profits, and they are strict about who they sell to.
Aside from our list, you might want to check out breeder directories compiled by organizations like the Pug Dog Club of America.
Alternatively, you could try a local Pug rescue, as there are thousands of dogs in need of a loving family home.
It's better to use a breeder that's within easy driving distance, as some don't ship their pups (small dogs are especially vulnerable and find the experience of flying very traumatic). You need to be prepared to go on a waiting list or even venture a bit further out of state, perhaps as far as Vermont or New York, though not much further. Your pup won't thank you if you put it through a 15-hour drive back from Ohio!
With all this in mind, let's get started with our list of the best Pug breeders in Maine.
1. Kayjo Pugs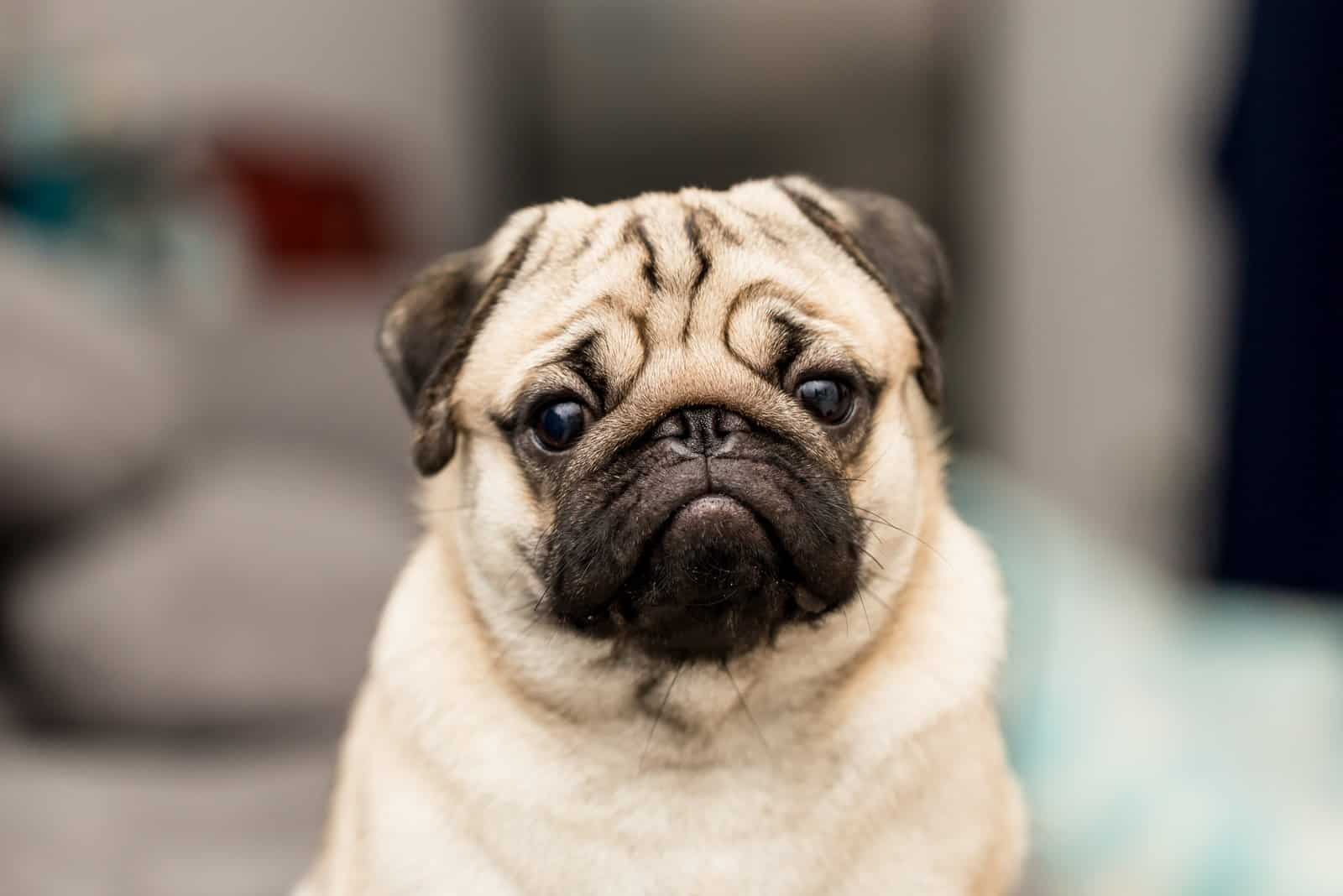 Kayjo kennel is situated in Buckfield on a site covering more than two acres, where Kellie Jordan keeps seven Pugs in her home. The dogs have their own room (the Pug Pen) and are crate trained but spend most of their time in the kitchen.
What singles Kellie out as a reputable breeder is that she is anxious that all of her pups go to loving homes where they'll be cared for. She recently updated her sales agreement to include a clause to this effect after discovering that a client had surrendered a pup to an animal shelter.
Her pups come with a strict spay/neuter agreement unless you plan to breed your dog. Even then, Kellie only sells to other reputable breeders for this purpose.
Anyone who buys a pup from Kayjo Pugs is encouraged to keep in touch and provide Kellie with updates on the pup's progress and development. This isn't because she doesn't trust her customers, but she genuinely wants to know how the pups are getting on, and she can use these progress reports to improve her breeding program.
As an ethical breeder (and in line with state law), Kellie doesn't release her pups before they are 8 weeks old.
For more information, contact Kellie here:
Website: KayJo Pugs
Email: [email protected]
Phone: 207-330-8515
2. Felzar Pugs
If you're in the southwest corner of Maine, you might want to jump across the boundary into New Hampshire to visit Felzar Pugs in Weare, close to the state capital of Concord.
Felzar breeds French Bulldogs as well as Pugs, so you'll have a choice of either of these wonderful little dogs.
Kathie Rizzo, the owner of Felzar, is an American Kennel Club (AKC) Breeder of Merit and is part of the AKC Bred With H.E.A.R.T. program.
This refers to health, education, accountability, responsibility, and tradition, encouraging dog breeders to follow a code of ethics in all their dealings relating to their breeding program.
Kathie uses the puppy culture program of early neurological stimulation, exposing the puppies to a wide variety of experiences that strengthen and enhance their bodies and minds. Week by week, the pups are given new experiences that will help with socialization, familiarizing them with many different sounds, sights, and smells.
The pups learn valuable skills and leave for their new home around 11 or 12 weeks old, equipped to cope with the many challenges of life with their new family.
The pups are usually born and kept in Kathie's bedroom, making their way to the kitchen once they are active. From there, they are part of the bustle of a busy household and become familiar with all the noises.
Many breeders use this system, but Kathie puts her heart and soul into her program, going above and beyond what other breeders do. This is a positive sign, proving that Felzar deserves a place on our list of Pug breeders in Maine, even though they are in the next state!
All pups come with a harness or collar and leash, a sample of food that they are using, a blanket with its siblings' scent, microchip, limited AKC registration, and some toys and chews. They'll also be checked by a vet, dewormed, and given a DHPP vaccine. The health guarantee includes a spay/neuter agreement that all customers must sign.
Website: Felzar Pugs
Email: [email protected]
3. Pugs On The Hillside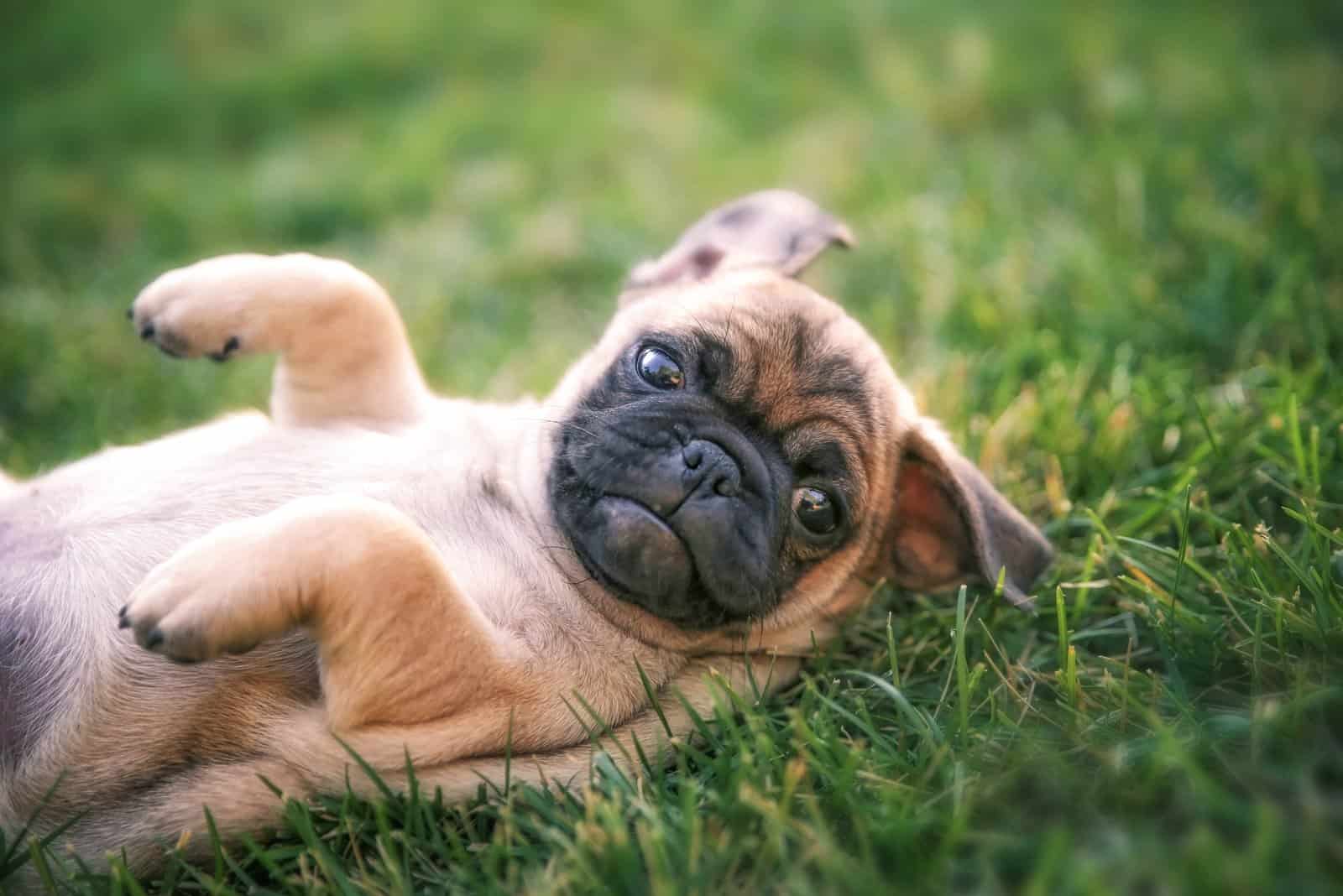 Also in New Hampshire (just!), Pugs on the Hillside is based out of Freedom, close to the Maine/New Hampshire border.
Since moving from Cape Cod, MA, in 2012, this breeder has continued their passion for Pugs, with the whole family joining in the process of raising beautiful, happy pups.
Attention is focused on producing healthy pups in a clean, safe, and loving environment. The breeder ensures that the pups get regular exercise and have access to the outdoors. They are fed only the best quality natural foods, and you can be sure that every pup is well-pampered.
Pugs on the Hillside don't ship their puppies, so you'll need to collect in person.
You can find out more about this breeder by heading to their Facebook page.
Facebook: @PugsOnTheHillside
4. Pinnacle Pugs
Brittney Coleman of Pinnacle Pugs is situated in Raymond, ME. Brittney caught the Pug Bug back in the early 1990s and has been passionate about them ever since.
According to the mission statement on her website, she aims to use her breeding program to meet the ideal Pug standard and push further, producing healthy, sound pups.
Brittney believes that the Pug's many health problems can be overcome, or at least reduced and managed, by making health the top priority when breeding stock is chosen. It's not just about how they look, the parents must have a healthy respiratory tract and eyes, as well as being sound of body.
Being a molecular biologist (who helped on the human genome sequencing project!), Brittney understands the importance of genetics. But she also realizes that these play a limited role in how a dog turns out. This is why she uses the puppy culture method (as mentioned above).
Using this methodology, Brittney ensures that the first 12 weeks of each pup's life are packed with learning experiences, producing happy, well-adjusted, and highly-trainable dogs.
As with all good breeders, Pinnacle Pugs strives to improve on each litter, reduce any inherited health problems, and enhance the features that make us fall in love with the wonderful Pug.
As Pug breeders in Maine go, Pinnacle could not be a more apt name!
Here's Brittney's contact information:
Website: http://pinnaclepugs.com/
Email: [email protected]
Phone: 978-973-6639
5. Rainbow Pugs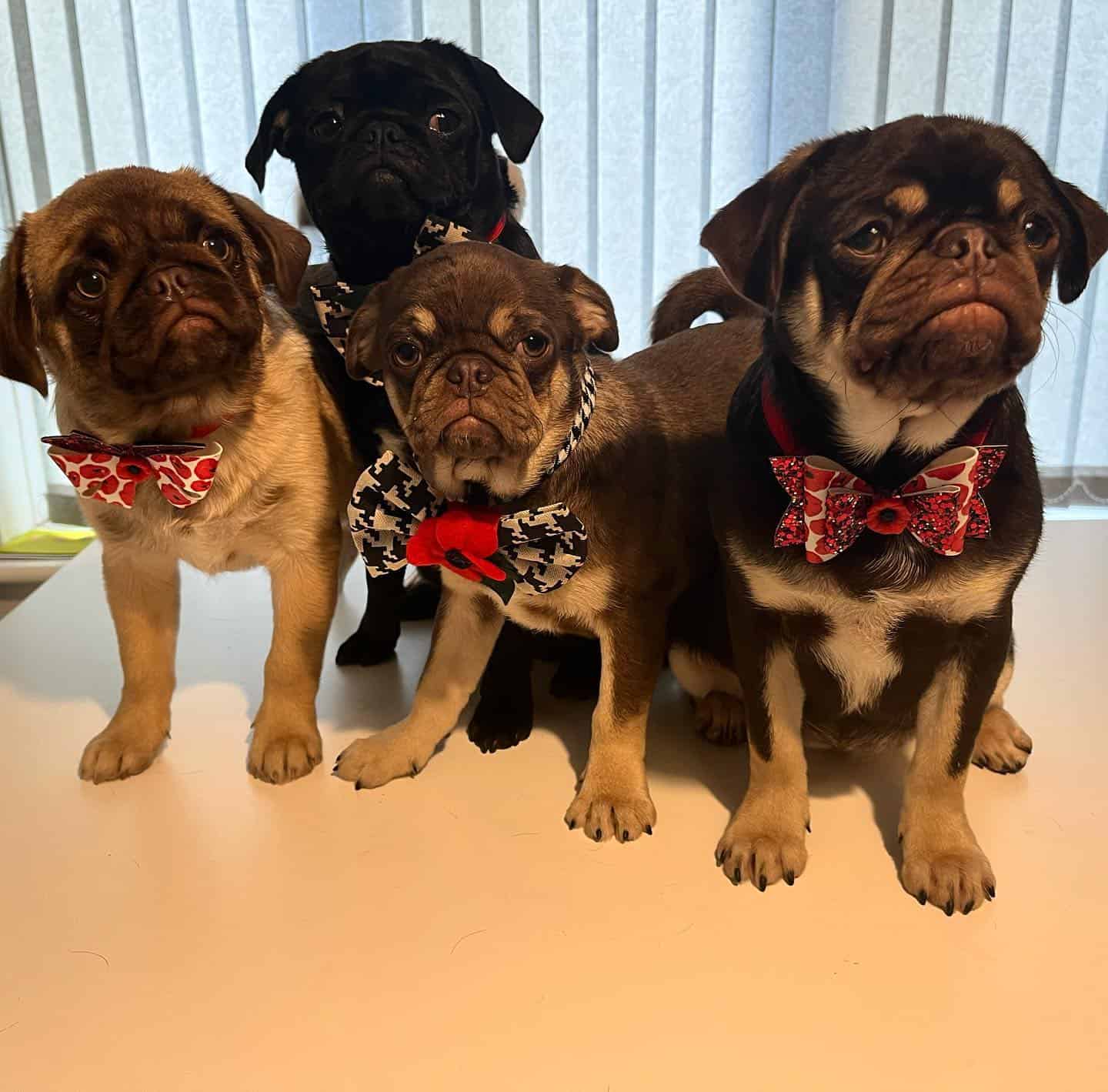 Photo from: @puglicious6
Sue Bizier of Rainbow Pugs can be found in Turner, ME, where she raises health tested, AKC-registered pug puppies in a caring home environment.
The name comes from the range of coat colors : brindle, fawn, apricot, silver, white, and black! Despite the wide range of colors, Sue's main focus is on the health of each pup.
Sue is a state-licensed breeder with many years of experience and many happy customers, as can be seen in the review section of her Facebook page. She welcomes visitors to her home (though be prepared to comply with any local Covid-19 restrictions) to meet the parent dogs, discuss any concerns, or ask any questions you may have.
By all accounts, Sue's Facebook page shows that Rainbow Pugs belongs in this list of the best Maine Pug breeders.
Contact sue here:
Facebook: Rainbow Pugs
Email: [email protected]
Pug Health Issues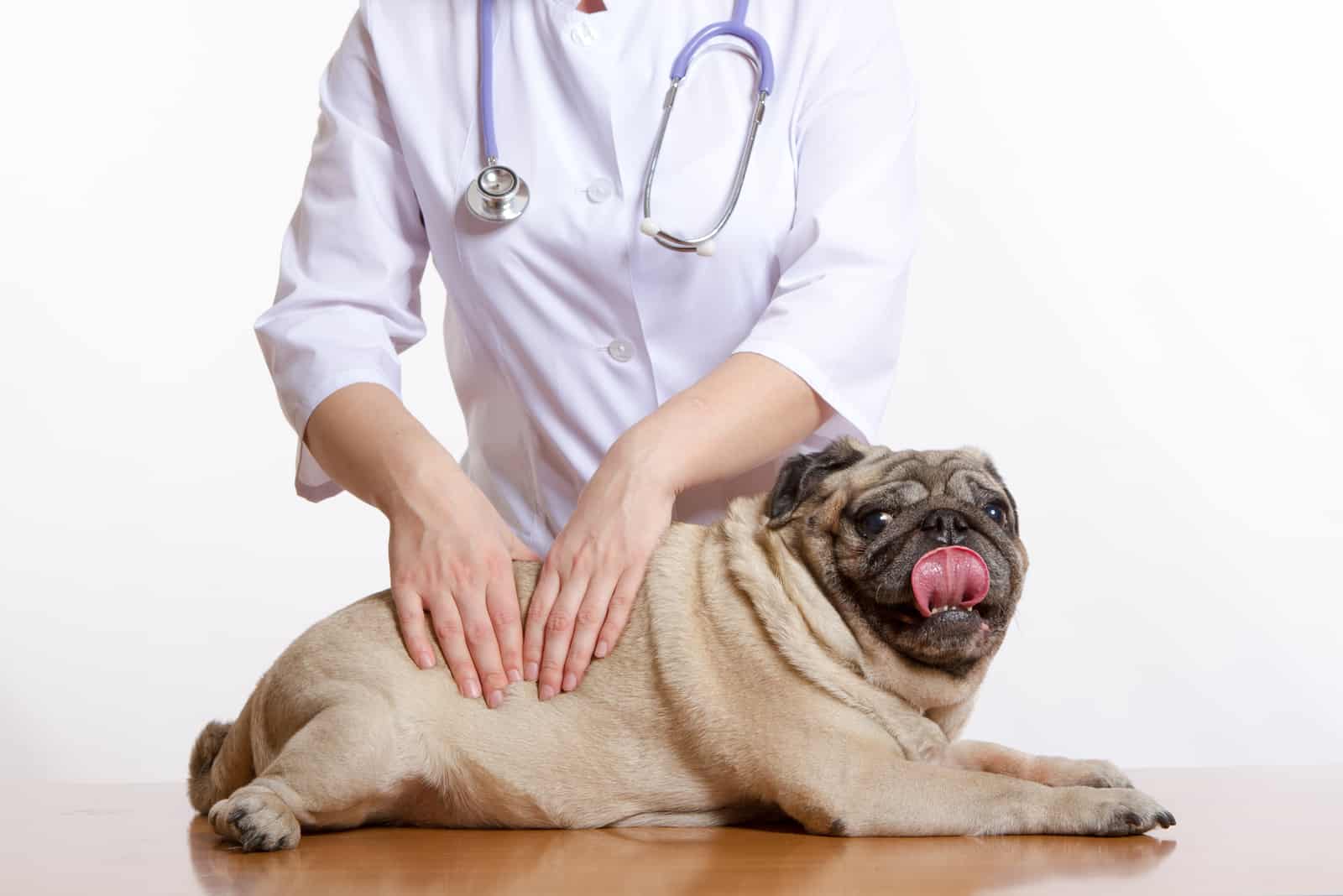 Before you get your perfect puppy, are you really sure that you want a Pug?
Like so many others, the Pug breed isn't for everyone. As a Pug owner, you should be prepared for a lot of trips to the vet. Their unique size and shape make them prone to a whole load of medical problems. Essentially, Pugs are bred to be deformed, which causes them to have health issues.
Let's take a look at what to expect:
• Corneal ulcers – because of their bulging eyes, they can easily scratch the cornea, which causes painful ulcers.
• Hip dysplasia – this condition affects many dog breeds, but the Pug is predisposed to suffer from it because of centuries of selective breeding (70% of Pugs have abnormal hips). The ball and socket joint don't fit properly, making the bones rub together. Surgery is usual for severe cases.
• Elbow dysplasia – similar to the above condition, and for the same reasons. 43% of Pugs suffer from this.
• Eye problems – the Pug's eyes are large and protrude from the socket, making them vulnerable to injury. They are also in danger of becoming dislodged and will need to be manipulated back into the socket. Eyelash problems are common (causing corneal ulcers), as are cataracts and PRA (progressive retinal atrophy is the name for a group of diseases or conditions that eventually cause blindness).
• PDE – Pug dog encephalitis is an incurable inherited condition that causes inflammation of the brain.
• Dental problems – the Pug's cramped mouth sometimes produces too many teeth, and other times, not enough!
• Seizures – the causes of canine epilepsy are often unknown, but it can be distressing for dogs and owners alike.
• Allergies – the Pug's skin is susceptible to allergies, becoming dry and itchy. The skin folds and creases also store dirt and bacteria, leading to infections.
• BOAS – brachycephalic obstructive airway syndrome is caused by the Pug's squished-up face and short snout. In short, they can't breathe properly because their airways don't have enough room inside the head that's been progressively made smaller and flatter. Brachycephalic dogs are prone to collapse if they exert themselves too much or are exposed to high temperatures, which can be fatal.
These are a few problems you might encounter, but they are by no means guaranteed. However, it's always better to be prepared!
On top of this, the poor Pug has a hard time right from the start. More than 90% of all Pug births are performed by C-section as the mother is unable to give birth naturally.
Despite all of this, the Pug still has a long lifespan of between 12 and 15 years, sometimes more! It's your job to ensure that they receive the care and attention they need during this time to make them as comfortable and pain-free as possible.
How Much Should I Pay For A Pug Puppy?
On average, you'll pay between $1,200 and $2,500 for your precious Pug puppy.
Show-quality dogs from good bloodlines will cost more, possibly as much as $10,000, but if you want a companion and best friend, the median cost is around $1,250.
Having read the previous section about health issues, you'll understand the importance of only using the very best Pug breeders in Maine.
They will perform health testing on all their parent dogs, but you can never rule out the possibility that your pup will be affected.
On top of the initial price of your pup, you'll have to ensure that you have the funds to feed and care for your pup for the next twelve to fifteen years.
What Is A Reputable Breeder?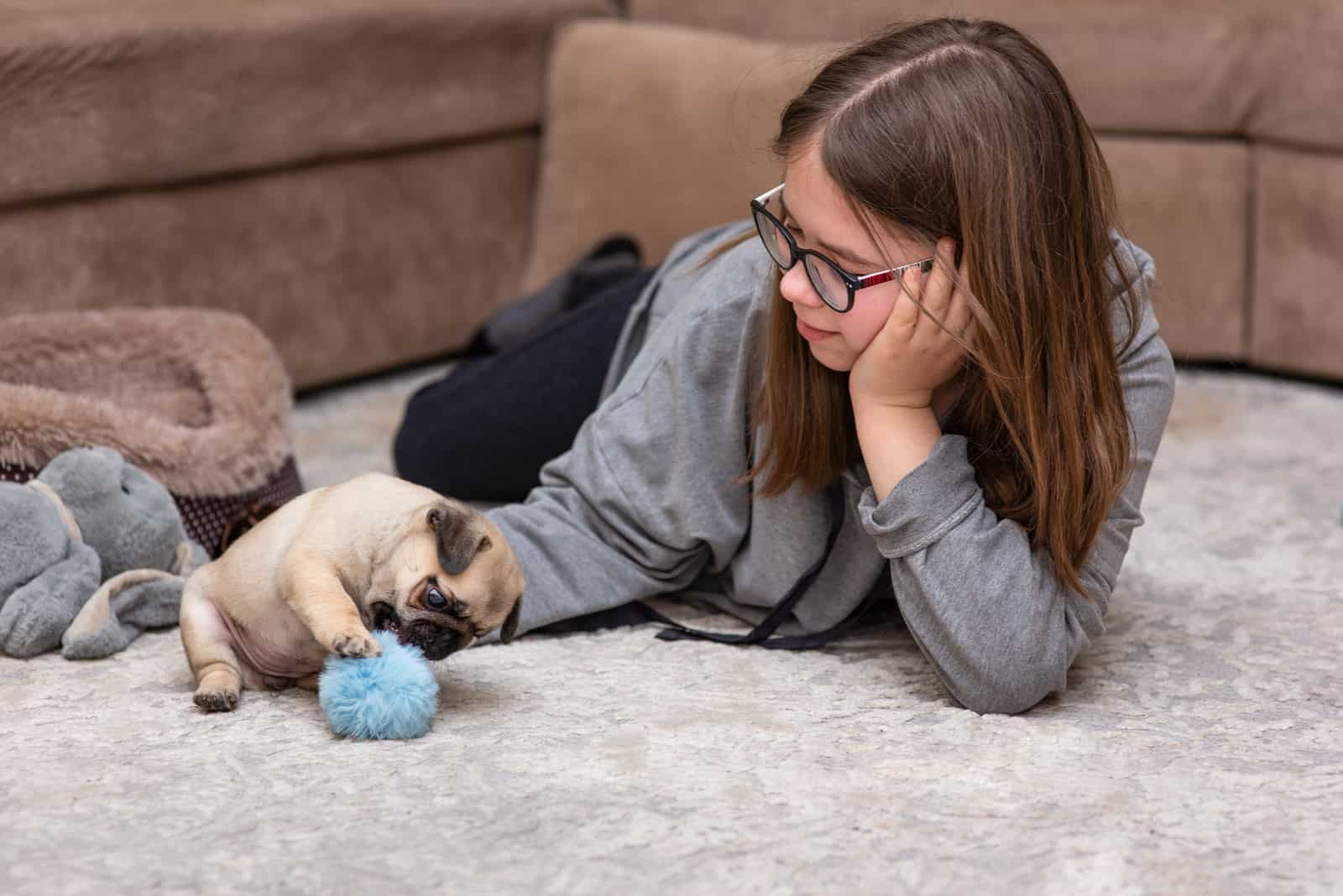 A good question!
You can usually tell from the lack of dollar signs in their eyes. An unscrupulous and unethical breeder just wants your cash. They won't ask questions, and they'll hand over the pup as soon as possible to keep costs down – a litter of hungry pups that have just been weaned onto solid food will make a dent in their profits. No pup should ever leave its mother before it is 8 weeks old, and the best breeders keep their pups until they are between 10 and 12 weeks of age.
Reputable breeders do it purely for the love of the breed, and rarely do they ever profit from it. They will usually insist that you fill out an application form and sign a buyer's contract. This is a good sign in itself, as it shows that they really care about what kind of home and environment their pup is heading to.
Most will have a spay/neuter agreement stating that you must arrange for the procedure to be completed before the dog is a year old. An unethical breeder (that is, a puppy mill or backyard breeder) won't care if your dog gets pregnant or is responsible for an unwanted litter of pups.
The last thing that a puppy mill or puppy broker will do is tell you to read the small print carefully or to visit a rescue center and adopt a homeless dog instead of buying from them. Good breeders will do exactly the opposite!
Reputable breeders rarely, if ever, keep their dogs in kennels, choosing to treat them as family members instead. They often live in the family home and are as pampered as any other well-loved pet.
When you look at all of this, it's pretty easy to see the difference.
A Few Words To Finish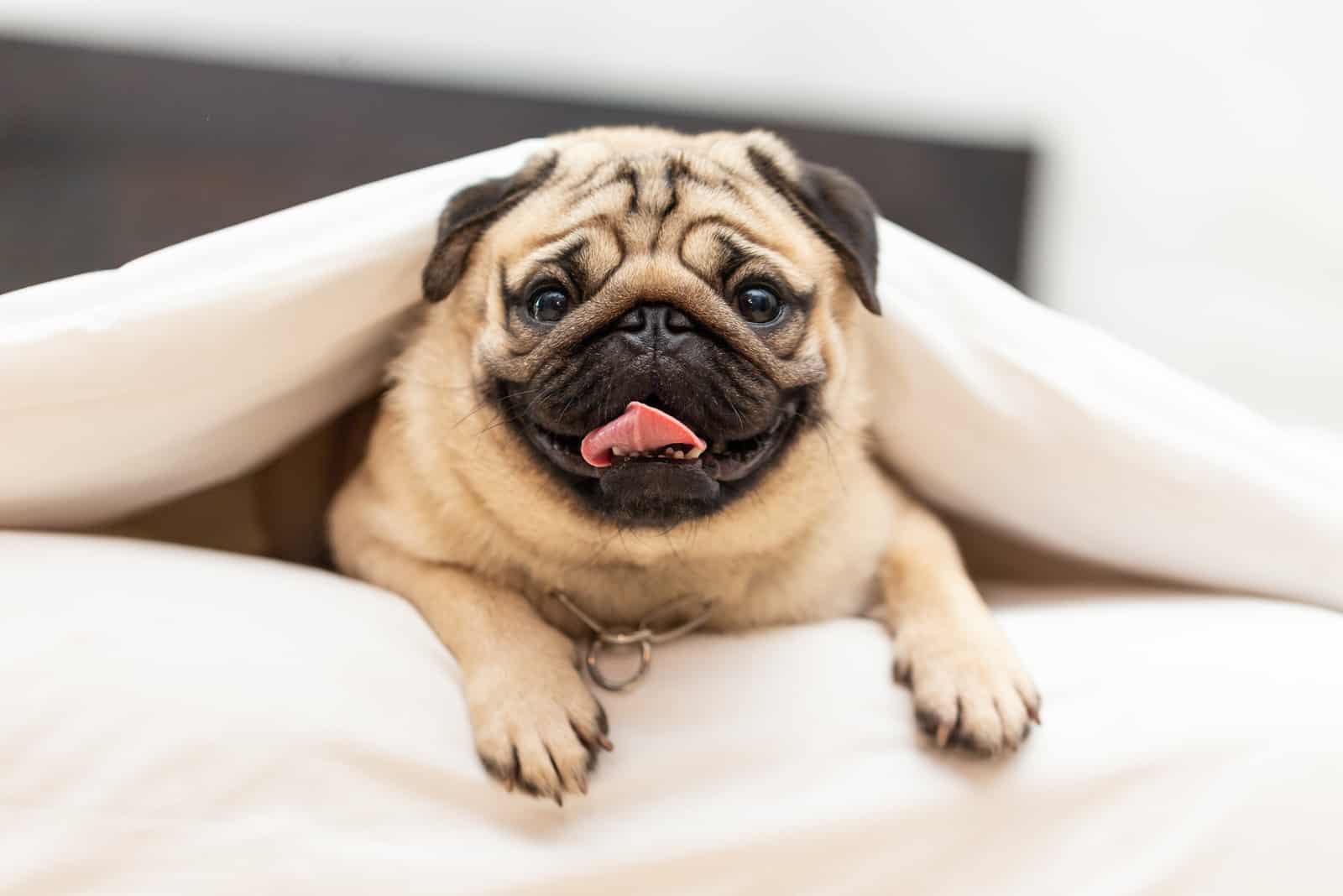 You've seen our list of Pug breeders in Maine and found out a little more about this amazing dog. If you still want one of your own, then good for you! It's now up to you to make sure that your doggy friend has the best life possible.
Because of the long list of potential health issues, the Pug is not always the best choice for first-time dog owners. However, if you feel that you're equal to the task, then go ahead. Pet insurance is probably a good idea to help with the vet bills, as this can quickly become a real financial burden.
The best way to limit the risk is to use a reputable breeder! We've already looked at how to determine who is good and who's bad, so now you're equipped to tell the difference.
To wind things up, we're going to push one more time to make sure that you're absolutely positive about the Pug.
Seriously, they're not the easiest dog to live with. Toilet training can be a slow and frustrating process. Then there are all the health problems you might have to deal with. They also shed – a lot. No, really, we're talking about hair everywhere. Pug owners know that if you sit on the sofa, you'll resemble a Pug when you get up again because of all the fur.
And they are often desperately clingy. The term velcro dog was invented just for them. They'll be your constant shadow as you go about your daily business.
Aside from regular brushing (to get rid of the hair!), you'll have to clip their toenails. And they can be wrigglers as they don't like this much. They'll need bathing at times, and their ears need cleaning to avoid infections.
Then there's the joy of emptying the anal glands. Not familiar with this aspect? No, not many dog owners are, but it's a common thing with Pugs and has to be done unless you want them scooting around on their butts along your lovely clean floor. Of course, you can get your vet to do this, but it incurs extra expense.
Pugs are known for their short bursts of energy. They'll get the zoomies one minute, then settle down for a 14-hour nap the next. This might happen while you're out in the park, so you'll end up carrying them home.
They don't do well in extreme weather conditions, so take extra care in hot summers and cold winters.
Oh, and they're seriously greedy, so you'll need to watch their diet. They'll eat anything that resembles food, and obesity can be a killer.
Aside from this, life with a Pug is a piece of cake!
If all this hasn't put you off, well done! You passed the Pug test. Now it's time to put all this newfound knowledge to good use and get your shiny new puppy.
Read Next: Teacup Pug: Is This The Right Pug For You?