The Pudelpointer is an excellent hunting dog characterized by calmness and intelligence. In addition, this dog is very loyal, which makes it a wonderful family dog. The Pudelpointer can get along very well with children and other pets with proper socialization.
This dog breed is generally in very good health, which can be an essential information for all dog lovers looking for a new pet.
Pudelpointer is a dog that needs a lot of space to run and hunt. Therefore, living in an apartment would not suit this dog best.
If you like the features of this dog breed, you are in the right place! We have compiled a list of the best Pudelpointer breeders in the United States. Continue reading to find the nearest place to look for your Pudelpointer.
Pudelpointer Puppies For Sale In The United States
Searching for a new dog is one exciting experience. When you just imagine having a new puppy in your home, I bet you already have a smiley face! But, you should take this new chapter of your life seriously.
Every dog owner is entirely responsible for his future pet. Your care starts from the moment you begin searching for a dog.
All prospective puppy buyers must understand the importance of finding a responsible breeder, and this means avoiding backyard breeders and puppy mills.
To help you with this search, we offer you this list of 10 reputable Pudelpointer puppy breeders in the States.
1. Bearded Lady Pudelpointers, Barnhart, MO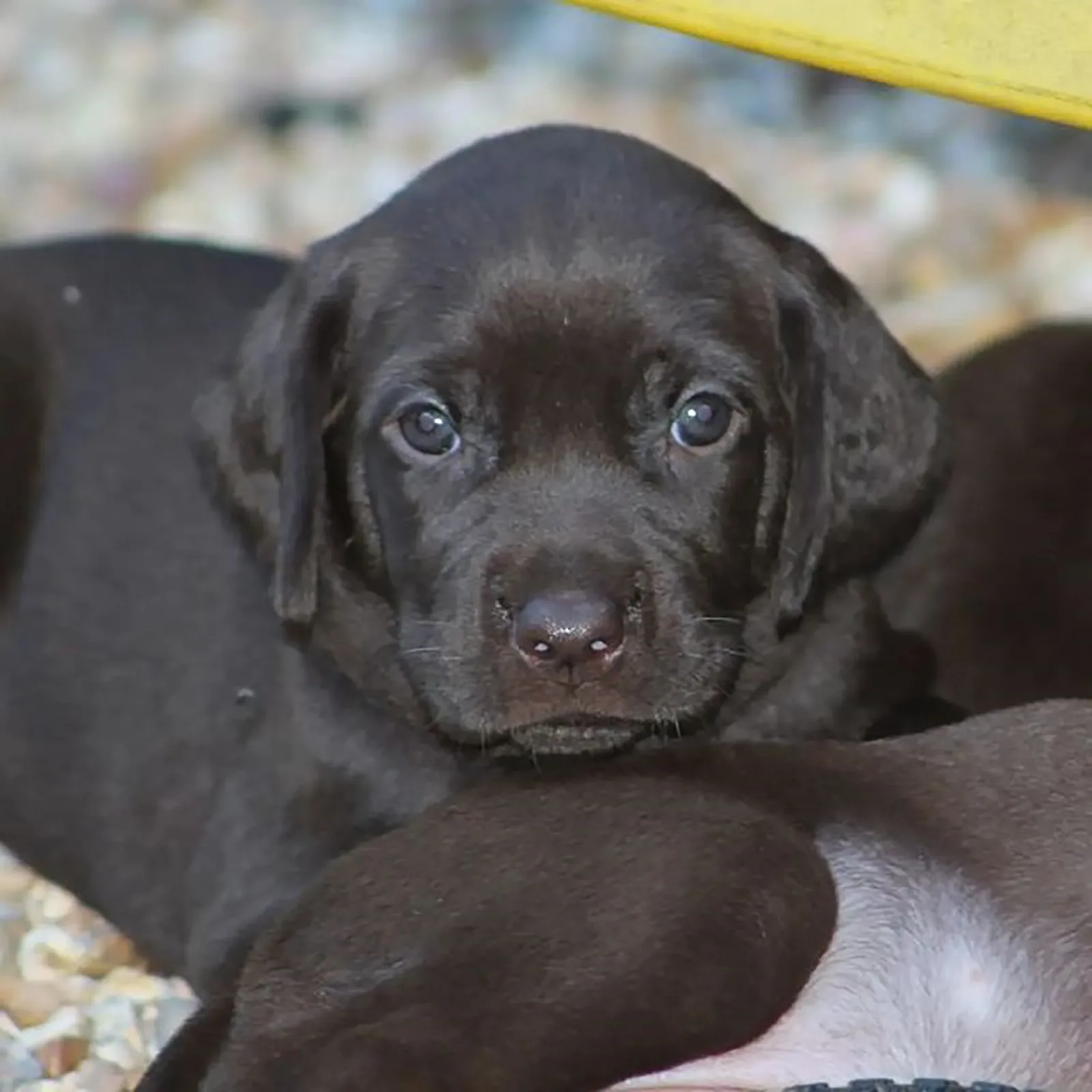 First on our list of reputable Pudelpointer breeders is Bearded Lady Pudelopinter kennel.
Bearded Lady Pudelpointers is a small kennel located in Barnhart, Missouri. The owners of this kennel are Christopher and Heather Donze.
Back in 2018, these breeders were in search of a perfect hunting dog, so they started investigating versatile breeds. This is how they found out about Pudelpointers and started breeding this wonderful dog which makes both a great hunting dog and a family dog!
Today, all puppies at Bearded Lady Pudelpointers are registered with North American Versatile Hunting Dog Association (NAVHDA).
Also, all their puppies are certified to be free of genetic defects and of hip dysplasia. Christopher and Heather breed their Pudelpointers following the breed standard.
Breeder Info
Location: Barnhart, Missouri
Website: Bearded Lady Pudelpointers
E-mail: [email protected]
Phone number: +1 (727 )267-6362
2. Cedarwood Kennels, Boise, ID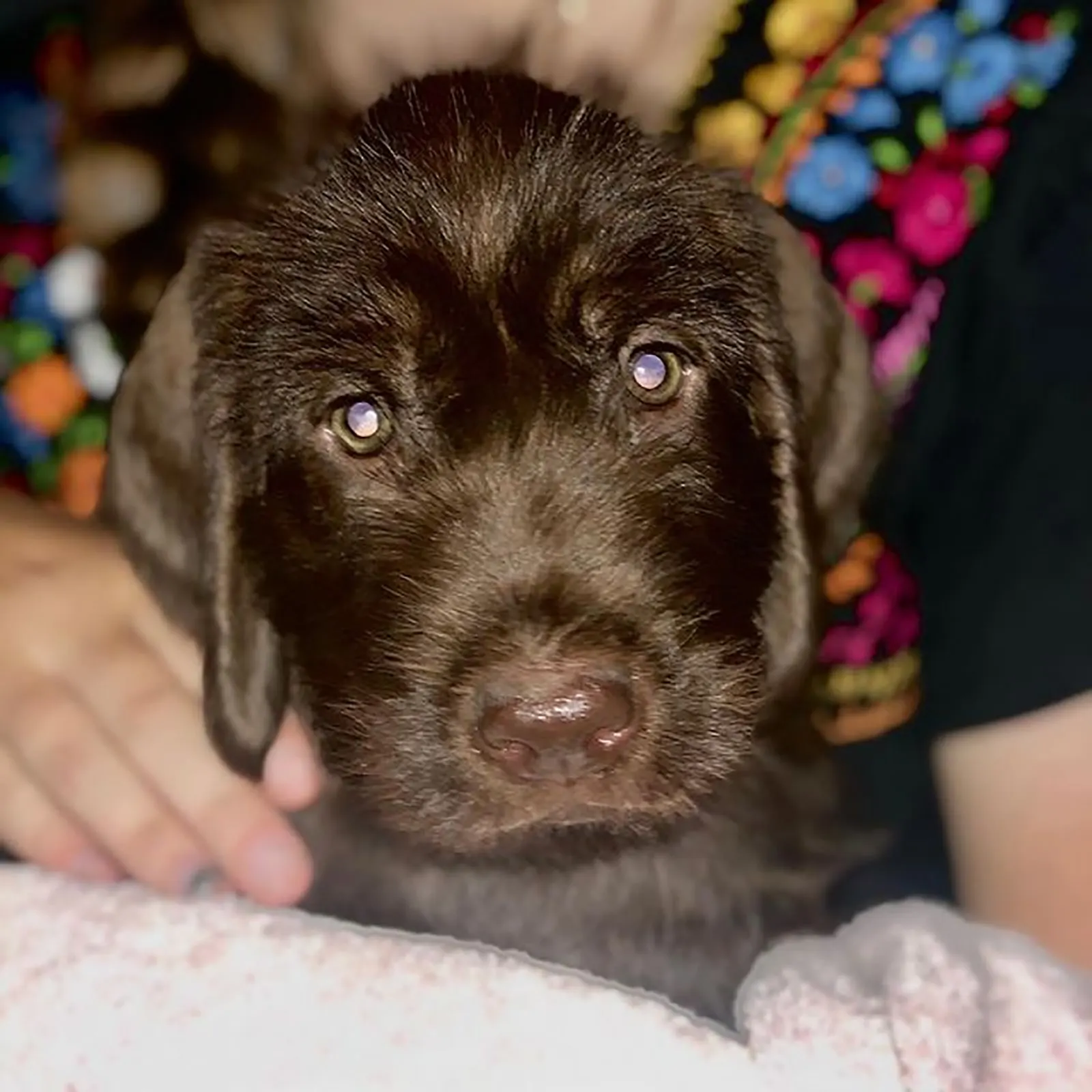 Bob Farris is the owner of Cedarwood Kennels located in Boise, Idaho. Bob claims that the versatile Pudelpointer is the best field dog and house companion anybody could wish for.
Bob's primary goal is producing the best Pudelpointers dogs in North America. This is why he breeds only dogs that show perfect hunting performances on waterfowl and wild birds. Also, all his dogs are certified to be free of hip dysplasia.
Cedarwood Kennels dogs hunt wildfowl, grouse, chukars, and pheasants. Anyone looking for a bird-hunting dog breed, should definitely check this breeders' website and see their breeding stock!
If you check their site, you will see that this breeder posts all about his dogs' pedigrees, which will assure you that Bob's dogs come from healthy bloodlines.
Bob's Pudelpointers are gun dogs raised inside his home and treated as family members. He usually has less than 40 dogs in his breeding program.
Breeder Info
Location: Boise, Idaho
Website: Cedarwood Kennels
E-mail: [email protected]
Phone number: +1 (208) 322-7792
3. Cross Timber Gundogs, Noble, OK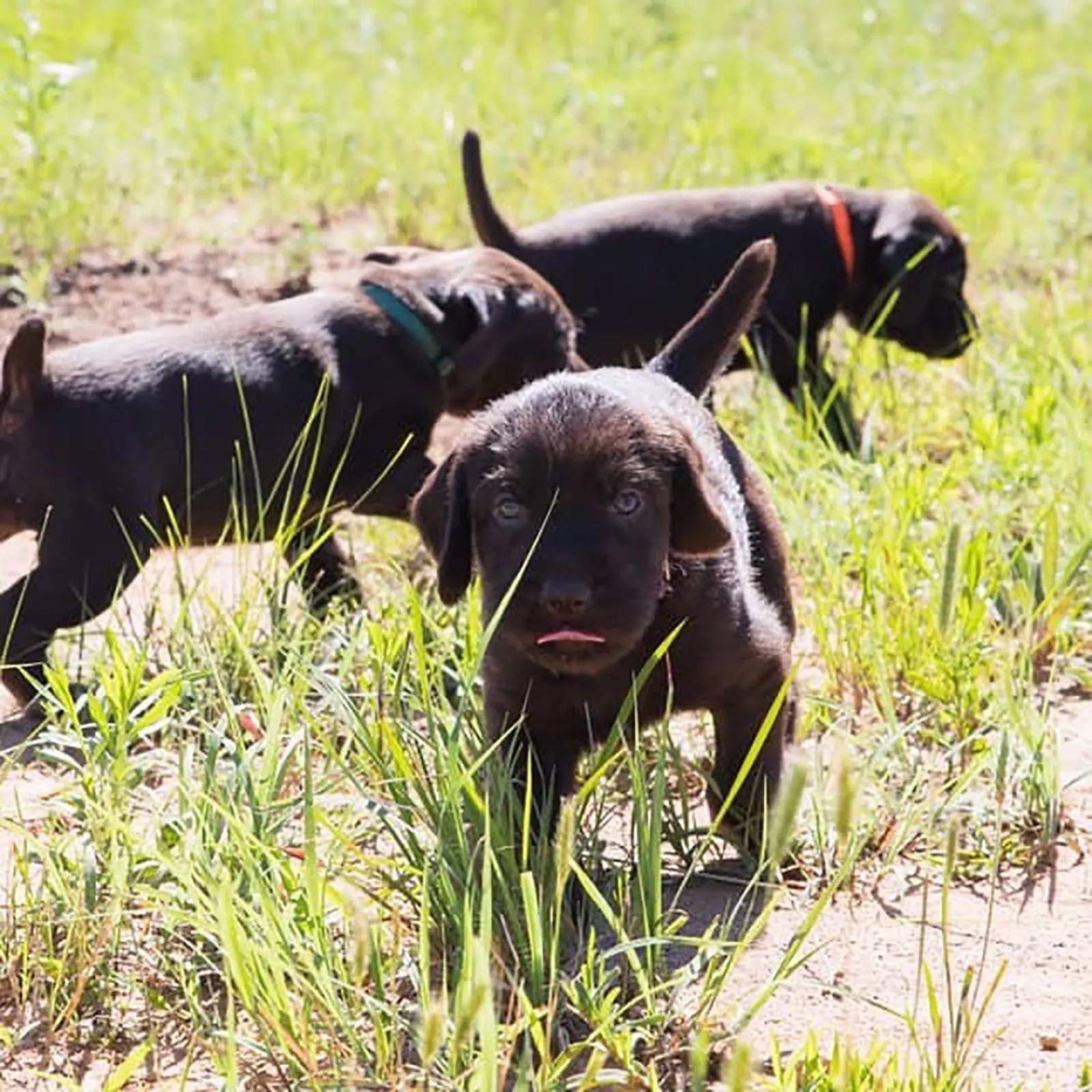 Jack Tracy is the person behind the Cross Timber Gundogs kennel in Noble, Oklahoma. This is a family-oriented kennel whose main goal is producing versatile Pudelpointers of top quality.
Jack states how his Pudelpointer dogs make a perfect combination of affectionate family dogs, and hard-working hunting dogs. The following are his main breeding goals:
• Producing highly trained and well-behaved dogs
• Breeding Pudelpointers with strong retrieving instincts
• Producing mentally stable and calm hunting dogs
• Raising independent, yet loving dogs
• Dog's performance always comes first
• Making sure all dogs are genetically tested
Jack Tracy from the Cross Timber Gundogs states that a perfect dog does not exist. However, he always strives to follow his breeding goals to ensure that his dogs will be healthy, well-behaved, and have the best possible hunting performance.
Breeder Info
Location: Noble, Oklahoma
Website: Cross Timber Gundogs
E-mail: [email protected]
Phone number: +1 (405) 213-6130
4. Evergreen Gundogs, Sedro-Woolley, WA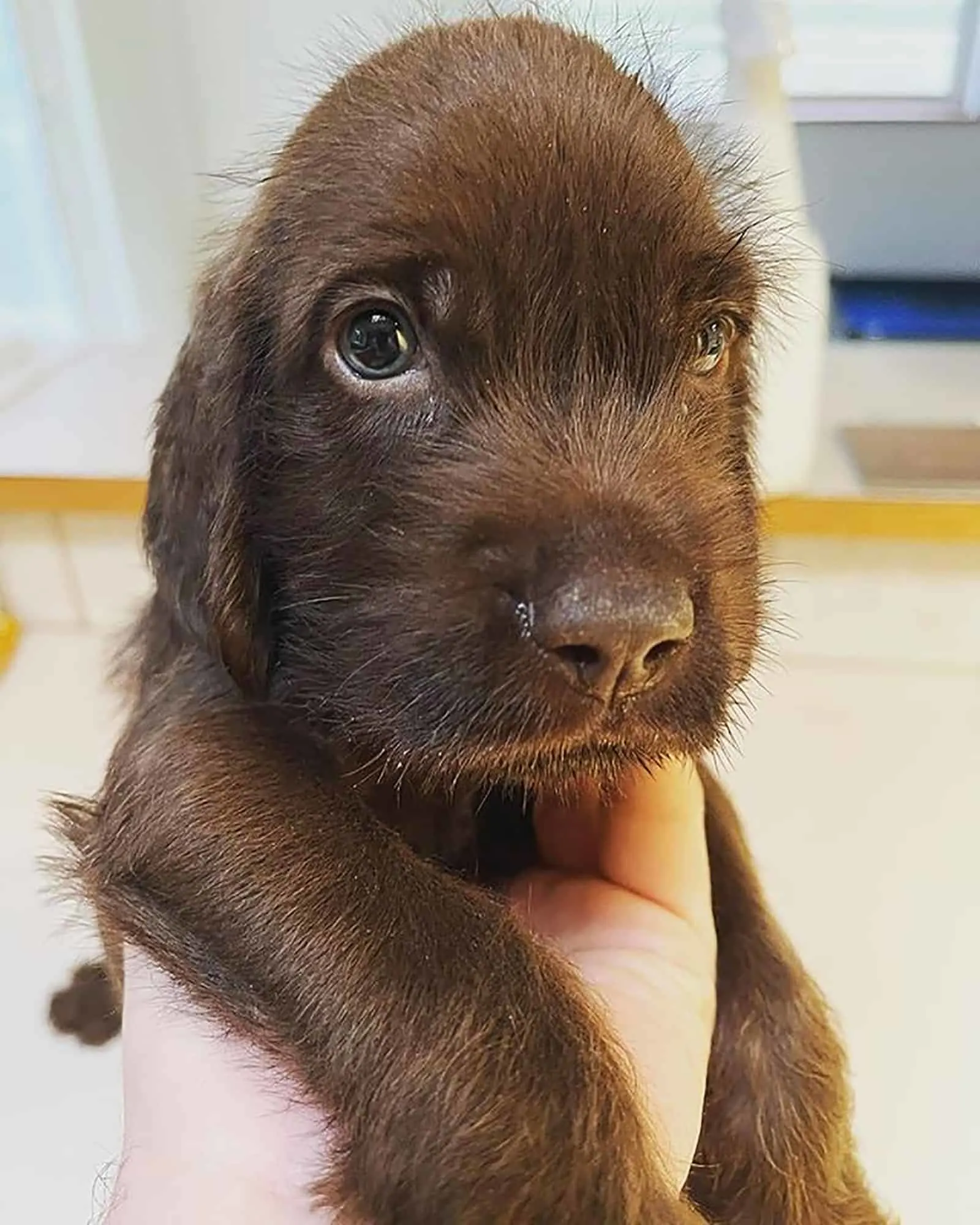 Evergreen Gundogs is located in Sedro-Woolley, Washington, and is owned by Brandon Smith. Brandon was just a little boy when he first learned how to hunt, and his favorite company in those days was his Labrador Retriever.
Later in life, Brandon wished to have an even more successful dog in the fieldwork, but that was also an affectionate family dog. This is how he started working with Pudelpointers, and his journey with this hunting dog breed began in 2014.
Today, Brandon breeds dogs that are easy to train and make great hunters. He wants his dogs to be great companions, even for those people who never owned a dog.
Brandon's dogs are serious workers, and, at the same time, they are gentle and affectionate family dogs. Most of all, his dogs are raised and treated as a part of a family.
Evergreen Gundogs respect the breeding standard of the North American Pudelpointer Alliance. Through this, Brandon Smith works hard to preserve and improve the versatile Pudelpointer dog breed.
Breeder Info
Location: 444 E Alder Dr, Sedro-Woolley, Washington 98284
Website: Evergreen Gundogs
E-mail: [email protected]
Phone number: +1 (425)280-4921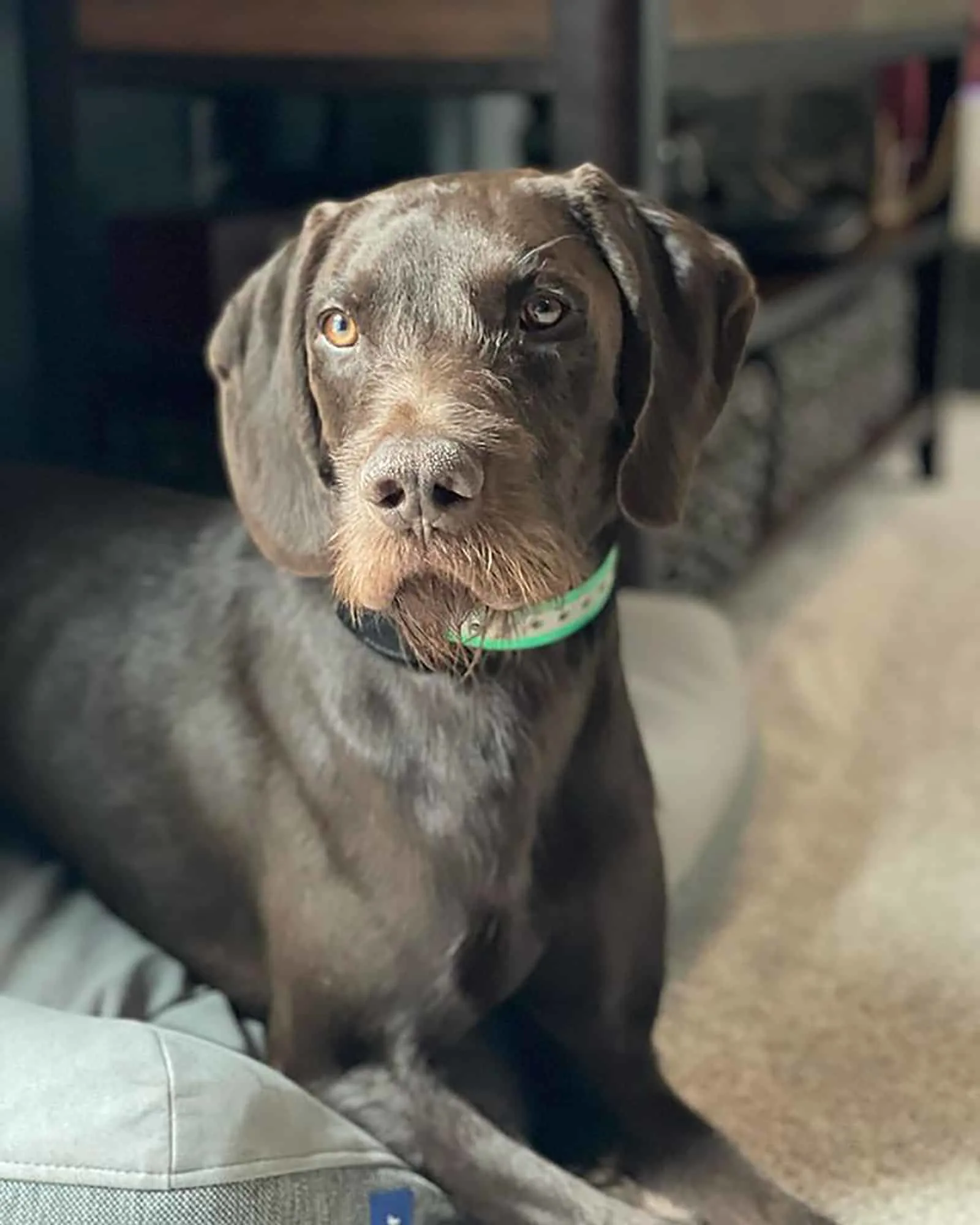 John Salassa and his family own HiddenAcres Kennel.
This kennel is located in Point Vedra Beach in northeast Florida, and has been breeding Pudelpointers since 2010.
These breeders focus on the dog's health, hunting abilities, and temperament in their breeding program. Their dogs are excellent hunters on grouse, ducks, pheasants, and quail, both on water and on land.
This kennel is located on a 130-acre-long farm where Pudelpointer puppies have a lot of space to play, run, and hunt.
The next expected breeding at this kennel is estimated for January 2023. Check this breeder's official website and find out why this German dog breed is worth buying!
Breeder Info
Location: Point Vedra Beach, Florida
Website: HiddenAcres Kennel
E-mail: [email protected]
Phone number: +1 (904) 382-7267
6. High Life Pudelpointers, Redmond, OR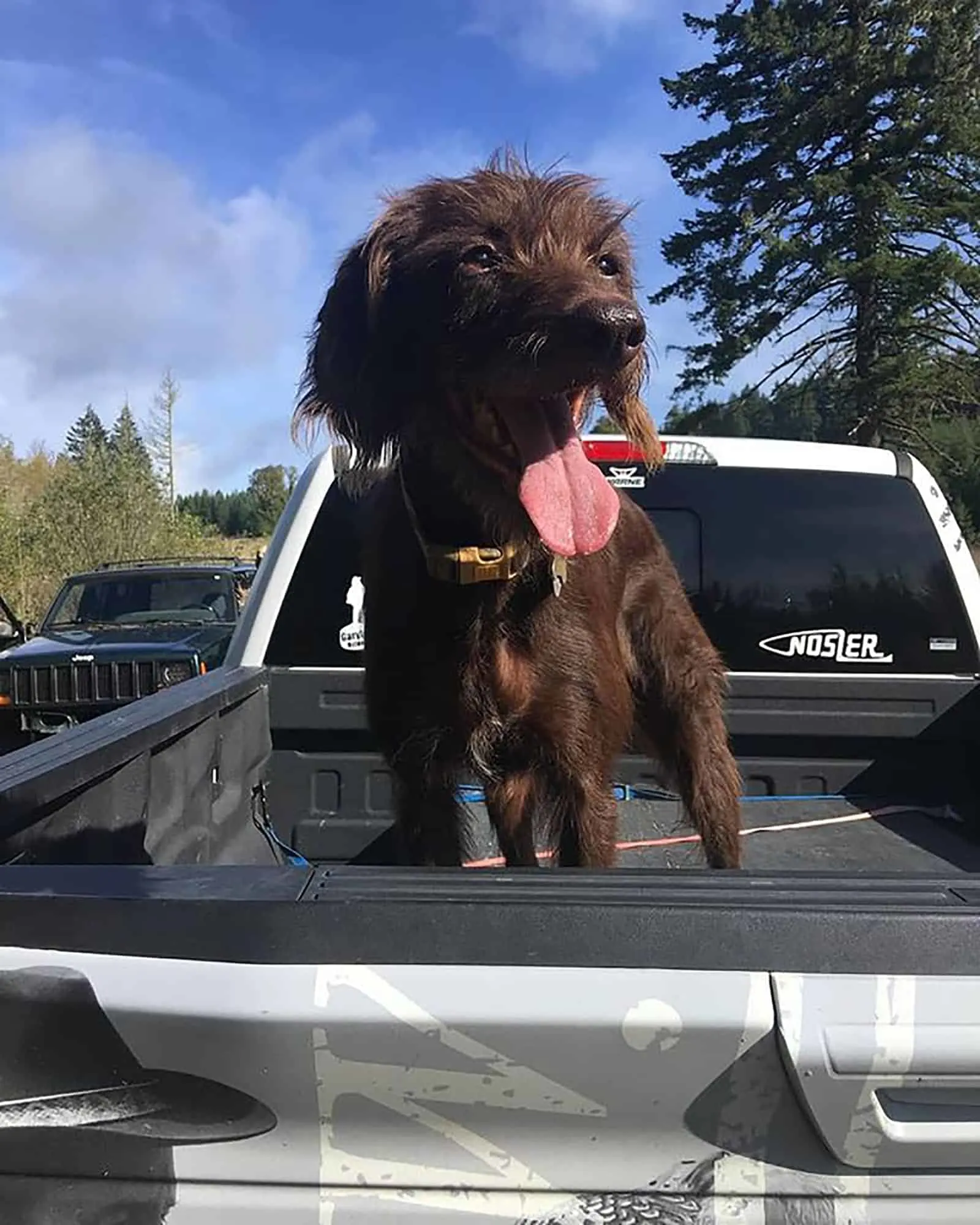 ​ High Life Pudelpointers is a family kennel located in Redmond, Oregon. These breeders describe the Pudelpointer breed as the most versatile of all gun dog breeds. Their dogs are excellent hunters, hardworking dogs, and the best human companion any dog lover could wish for.
High Life Pudelpointer dogs are not only great hunters of upland game; they are also exceptional waterfowl dogs.
These breeders state how Pudelpointers are clean dogs and how they can be described as low-maintenance dogs in general.
A great hunting dog and a dog that does not require much maintenance – all in one? It sounds like a perfect combination to us! So, wait no more and check High Life Pudelpointers' official page.
Breeder Info
Location: Redmond, Oregon
Website: High Life Pudelpointers
E-mail: [email protected]
Phone number: +1 (541) 548-1547
7. Hardtrigger Gundogs, Meridian, ID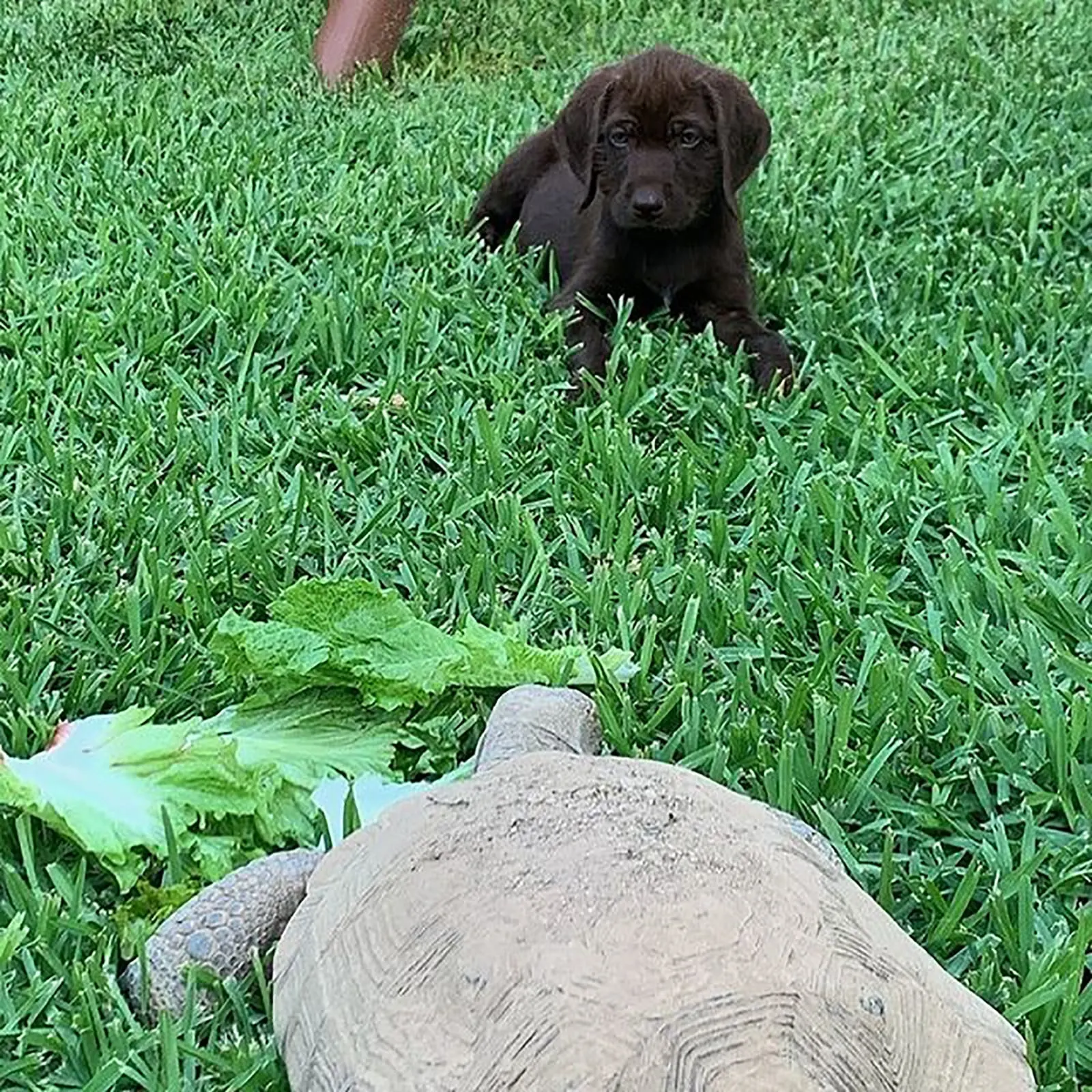 Hardtrigger Gundogs is located in Meridian, Idaho. Bill Cosdon is the owner of this kennel. This breeder is registered with the North American Pudelpointers Breeders Alliance (NAPPA).
Bill from Hardtrigger Gundogs only produces a few litters per year; his goal is to have a selective breeding stock with exceptional gun dogs. All of Bill's dogs undergo the NAVHDA Natural Ability Test and are proven free of any temperament or genetic disorders.
Bill has owned many different hunting dog breeds throughout the years, and the Pudelpointer has proven to be the most versatile. He states that this dog is a highly intelligent dog with tremendous retrieving skills and high prey drive.
Despite a strong prey drive, this dog is the calmest dog when he is inside with his family members. This is why the Pudelpointer is a versatile dog breed whose company any dog lover would enjoy.
Breeder Info
Location: Meridian, Idaho
Website: Hardtrigger Gundogs
E-mail: [email protected]
Phone number: +1 208-867-3478
8. Jackson Creek Kennel, Peyton, CO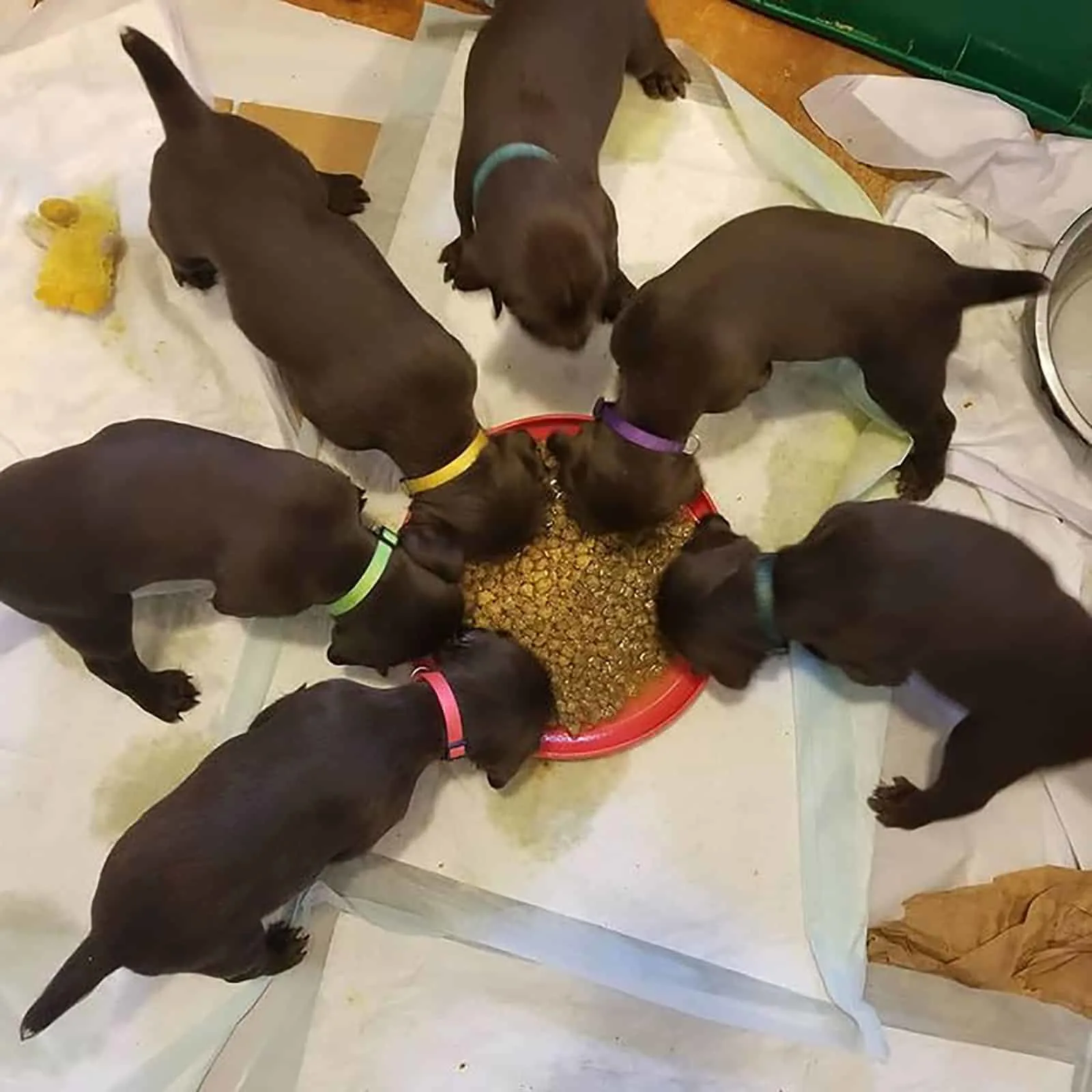 Jackson Creek Kennel is located in Peyton, Colorado. Dale Parker is the person behind this kennel: an owner, and the leading breeder and trainer of these dogs of top quality.
Besides breeding Pudelpointer dogs, Dale also offers a boarding service. So, this is where you can leave your puppy and to be sure he will be cared for.
Since many dog owners have a rather busy lifestyle, this is an excellent option and a way to know your puppy is safe, happy, and satisfied on days you will need somebody to take care of him.
Dale has been in the breeding and boarding business since 2009. He explains how Pudelpointers dogs need a lot of exercise and mental stimulation to be happy and healthy.
Whether you are looking for a perfect hunting companion or a friendly family dog, Jackson Creek Kennel in Colorado is where you will find purebred Pudelpointer dogs of top quality.
Breeder Info
Location: 19407 Elliott View Peyton, CO 80831
Website: Jackson Creek Kennel
E-mail: [email protected]
Phone number: +1 719-661-2020
9. Lunatic Fringe Pudelpointers, Jamesville, NY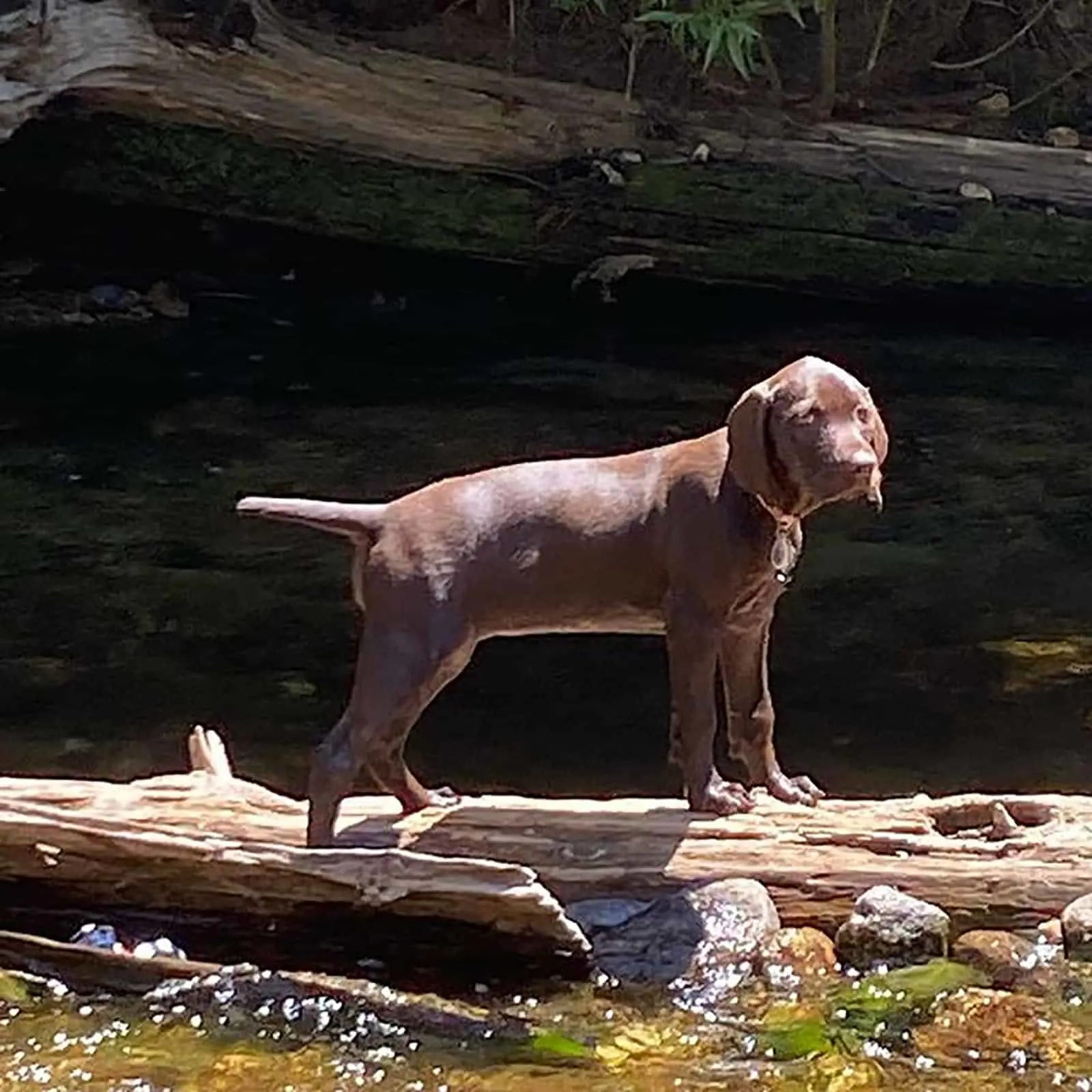 Daniel Kremers is the owner of the Lunatic Fringe Pudelpointers located in Jamesville, New York. Daniel has been surrounded by hunting dogs from an early age, and he has been breeding Pudelpointer dogs since 2003.
Daniel's goal is to produce Pudelpointer dogs according to the breed hunting and testing standard. Today, his family kennel breeds extraordinary gun dogs, and well-behaved family pets.
​All his puppies are registered with the North American Versatile Hunting Dog Association. Daniel's only wish is that all his dogs go to their forever homes where they will be loved and cared for in the same way he did from their birth.
If you visit Lunatic Fringe Pudelpointers' website, you will get a picture of their breeding program. Here you will find beautiful photos and videos of Pudelpointers living like a part of a family while doing fantastic work on the field.
Breeder Info
Location: Jamesville, New York
Website: Lunatic Fringe Pudelpointers
E-mail: [email protected]
Phone number: +1 (315) 420-3764
10. North Texas Pudelpointers, Paducah, TX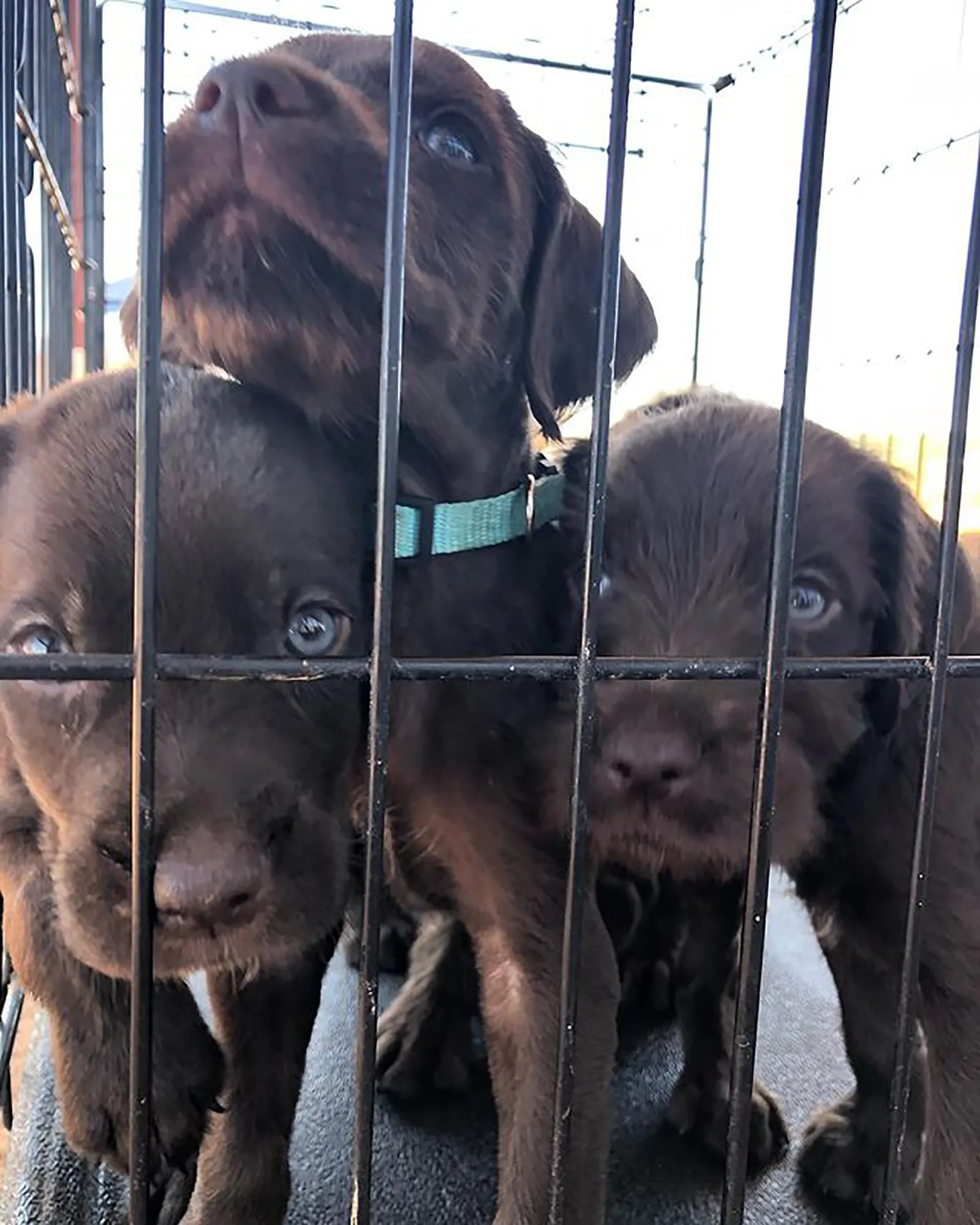 Stephen Lundy is the owner of the North Texas Pudelpointers kennel in Paducah. This breeder strives to produce the best Pudelpointer dogs you can find in Texas. His dogs' performance is tested with NAVHDA hunt tests.
Stephen focuses on training, steadiness, and obedience in his breeding program.He has been raising his dogs with his children, so dogs are socialized early. Stephen pays special attention to teaching his dog obedience.
Breeding in North Texas kennel is focused on creating a special bond and trust between a man and a dog. This is the only way for a Pudelpointer to be a hard-working dog and a loyal family companion.
Check the North Texas Pudelpointer's official website and learn all about their breeding program and the upcoming litters.
Breeder Info
Location: Paducah, Texas
Website: North Texas Pudelpointers
E-mail: [email protected]
Phone number: +1 (972) 746-0777
FAQs
How Much Do Pudelpointers Cost?

The average price for a Pudelpointer puppy ranges from $800 to $2000. These dogs are excellent hunters and wonderful family companions; therefore, we can not describe their price as low.

Also, responsible breeders who raise their puppies in top-quality conditions value their dogs highly and often have long waiting lists.

If these prices seem too high or you don't want to wait long for the next available litter, you can always check local shelters. Adopting a puppy is a noble and wonderful act, and maybe your future Pudelpointer is hiding in a shelter!
Is The Pudelpointer A Good Family Pet?

The Pudelpointer is a friendly dog that loves to please its owner. Additionally, this dog is straightforward to train, making it an excellent family dog.

Of course, every dog needs proper training and socialization at an early age.

Also, the Pudelpointer is a dog with a strong prey drive, so it is always necessary to be careful, especially if this dog spends time with small children.
Is Pudelpointer A Hypoallergenic Breed?

Pudelpointer shedding can be rated as low to moderate. Therefore, this dog is considered a hypoallergenic breed, therefore, it is also suitable for people suffering from allergies.

However, we will note that no dog is entirely hypoallergenic. Every dog sheds, even if it is infrequent and in minimal amounts.

Still, the Pudelpointer is certainly a better choice for people with allergies than, for example, the Siberian Husky, which sheds a lot!
Should I Get A Pudelpointer?

Everybody looking for a hunting dog should definitely consider getting a Pudelpointer! This dog is a serious worker who always needs something to do.

This dog breed is perfect for active families, as it is an energetic breed. At the same time, this dog can be surprisingly calm and tolerant when he is properly socialized and trained from an early age.

So, the Pudelpointer is a good option for people looking for a hunting companion or a family companion. Ensure you have enough space for this dog since it does not stand to be left in a small area for a long time.
What Is The Lifespan Of A Pudelpointer?

Pudelpointer's lifespan is estimated at 10 to 12 years.

Of course, various factors can affect a dog's life expectancy. Quality nutrition, regular exercise, and the dog's owner spending time with the dog are essential here.

In addition, every dog owner must take care of the dog's regular visits to the veterinarian. Even if your dog has a certain health problem, if it is detected in time, there are great chances that the dog will have a long and quality life!
Final Thoughts
Any dog lover looking for a hunting dog or a family dog can certainly not go wrong with a Pudelpointer puppy. This dog is a calm and friendly working dog who loves to please his owners and does not require much maintenance.
Finding your future dog is exciting but also quite demanding. It would help if you did thorough research to find the perfect place to buy a puppy. This list of the top Pudelpointer breeders in the States will significantly help you.
Buying a puppy from a reputable breeder means getting a healthy, socialized, well-behaved dog.
After that, it is only up to you to continue providing your hunting dog with quality life conditions!
Read Next:
• The 3 Best English Setter Breeders In The U.S.
• The Top 8 Poodle Breeders In California