The existence of a pup like the little Sheepadoodle is a blessing for the world of mixed breed dogs. The goal of making a little Sheepadoodle dog was to have a hypoallergenic family pet. Undoubtedly, the original breeders succeeded in producing a magnificent dog. The little Sheepadoodle is really beautiful, with its wavy, fluffy coat in a variety of apricot and gray tones.
This dog breed is known to be one of the best family dogs, and a best friend to both singles and families with children. They are loyal companions who will always be by your side, enjoying both playtime and TV time.
We get how adorable the little Sheepadoodle is, yet we have another thing for you to think about – where can I get these unusual tiny Sheepadoodle pups?
We've got you covered, so don't worry! The very finest is what I'm offering to you today. You can put your faith in these breeders for tiny Sheepadoodle hybrid puppies!
Mini Sheepadoodle Puppies For Sale
When buying a designer dog, you need to be especially careful when picking a dog breeder. Making sure that the dog breeder of your choice does not use its dogs to create a puppy mill is of a very high importance because, in the end, you want to buy a healthy pup.
Most of the reputable breeders will have to put you on their waiting list, therefore, you don't need to feel as if it is something odd. That just means that they are not forcing their parent dogs to have puppy litters frequently. On the contrary, they are probably not forcing a litter, but letting it happen naturally.
To have a healthy, long-living pup that had excellent pre-care, I recommend that you pick from among these mini Shepadoodle breeders:
1. Shannon's Shamrock Kennels, Elgin, SC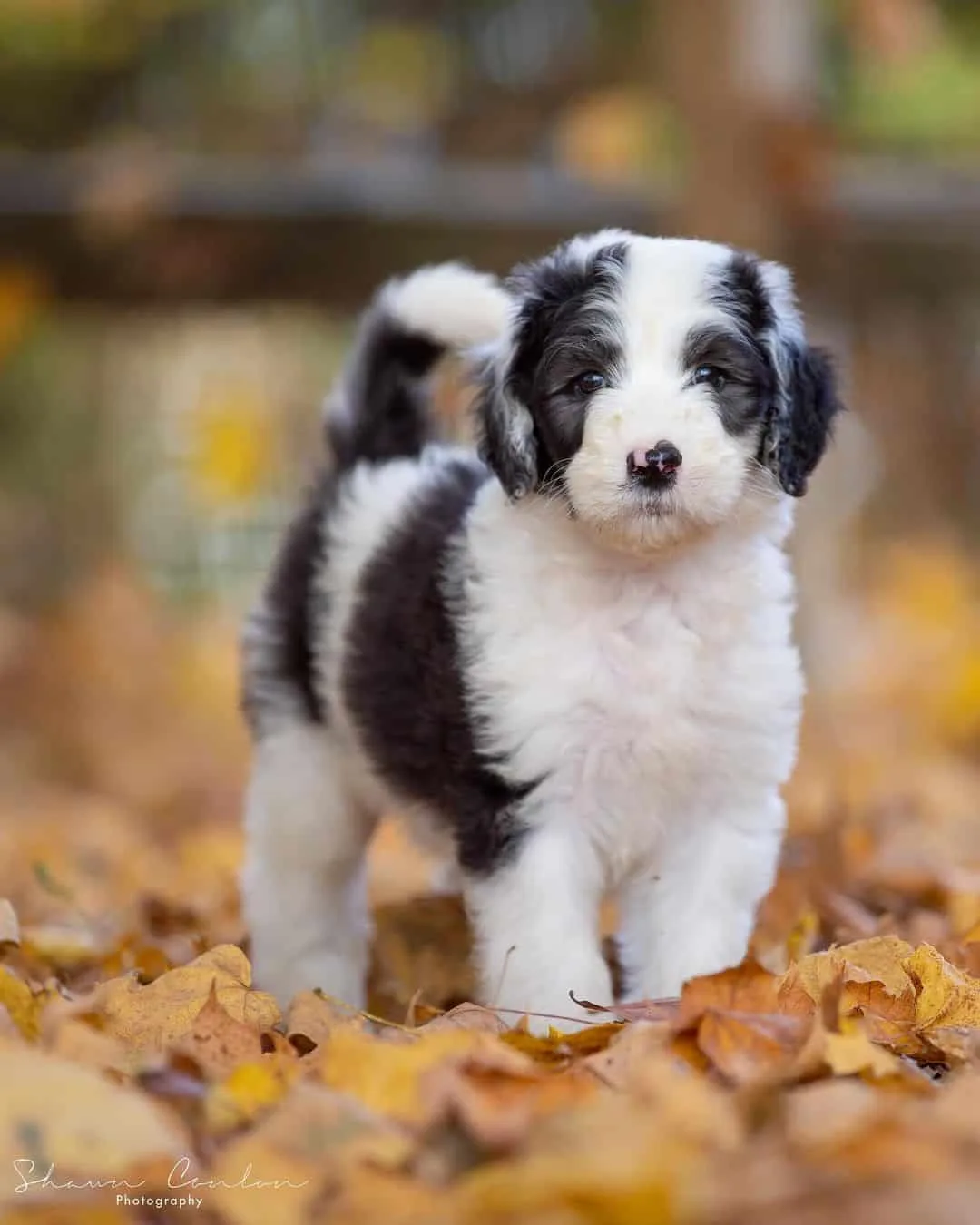 Photo from: @shawnconlonphotography
Shannon's Shamrock Kennels take pleasure in breeding healthy Cockapoos, Doxiepoos, Labradoodles, and Sheepadoodles. The affection and socialization these puppies require are given to them by this family. When caring for the pups, they show each other love and responsibility. This kennel's staff strives to nurture puppies who are loving, healthy, and self-assured.
At Shannon's Shamrock Kennels, all of the canines are adaptable to different environments. This breeder specializes in producing hypoallergenic, non-shedding dogs. Additionally, they have Sheepadoodles in various sizes. You should get in touch with this breeder if you want to buy a Sheepadoodle puppy.
Before they can put you on their reserve list, they need a deposit. When the puppies become around two months old, you can select the puppy of your dreams from the litters that are now available. You can visit Shannon's Shamrock Kennels' website to learn more about the puppies that are currently available.
They currently have F3b Sheepadoodles, f1b Sheepadoodles, and F1b mini Sheepadoodles, F1 Irish Doodles and F1 doxiepoos.
Most important info:
Location address: 1517 Hidden Valley Rd, Elgin, South Carolina 29045, United States
Phone number: 803-260-2030
Website: Shannon's Shamrock Kennels
2. Treat Bluff Kennels Sheepadoodles, Southern Illinois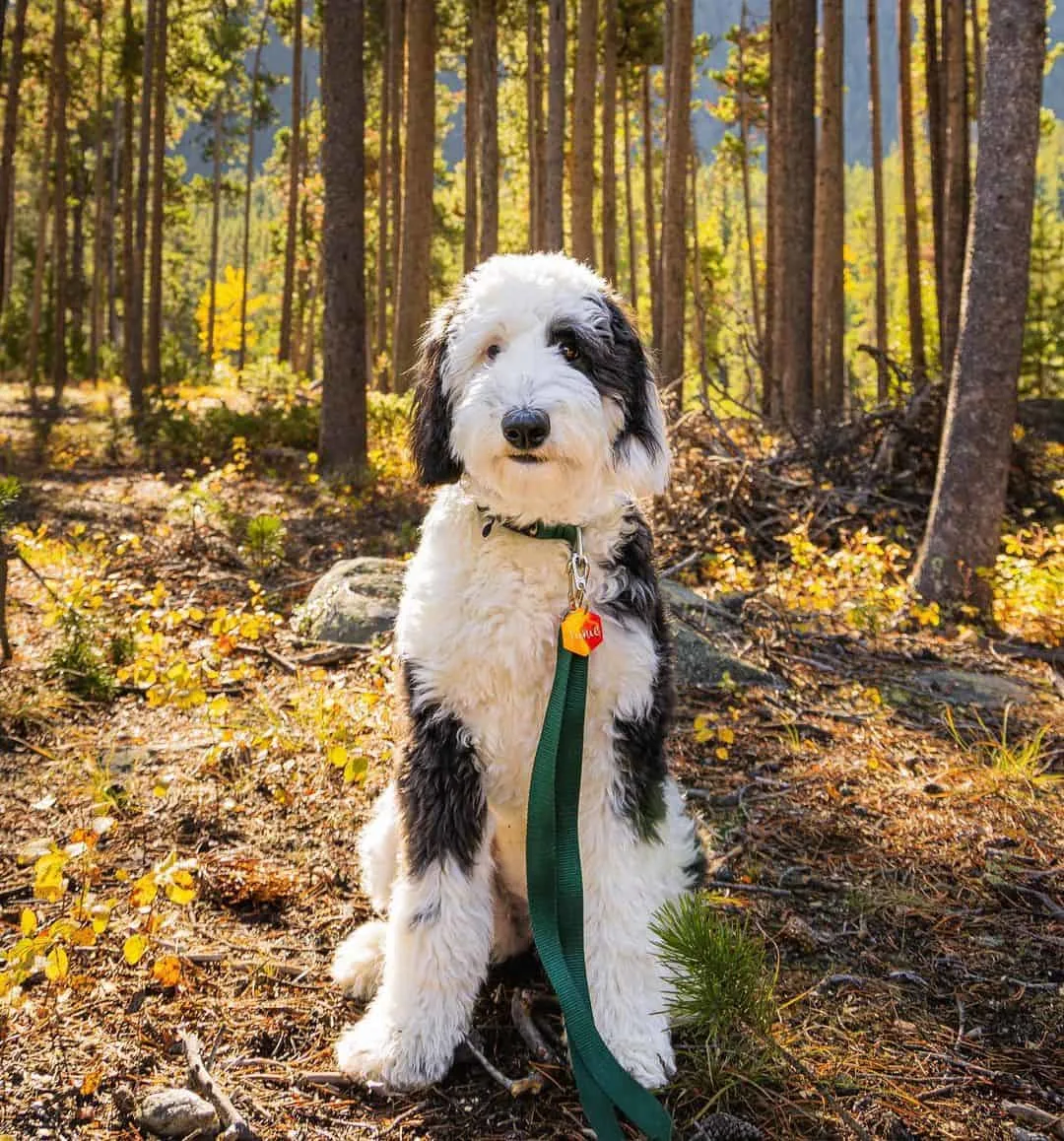 Photo from: @murphy.in.montana
One of the most recognized Sheepadoodle breeders throughout the country is Treat Bluff Kennels. They are renowned for breeding mixed-breed Sheepadoodle puppies who are strong and content. This breeder has a long history in the industry. Consequently, Treat Bluff Kennels seems to be a great spot to purchase a devoted Sheepadoodle puppy.
Their puppies are simple to train because they show high intelligence. Before any puppies leave their home, the staff always make sure that they have had a lot of socialization.
Together, they ensure that their Sheepadoodle puppies are raised in excellent health and happiness. When breeding her Sheepadoodles, this breeder places a strong emphasis on the animals' well being, temperament, and coat.
They provide health insurance for hereditary health issues on all of their puppies. Therefore, if you buy a mini Sheepadoodle pup from them, you will get life-long puppy insurance for any medical conditions.
Most important info:
Location address: Southern Illinois, United States
Phone number: 618-771-0088
Socials: Treat Bluff Kennels
Contact Email: [email protected]
Website: Treat Bluff Kennels
3. Hilltop Farms Sheepadoodles, Weirick, CA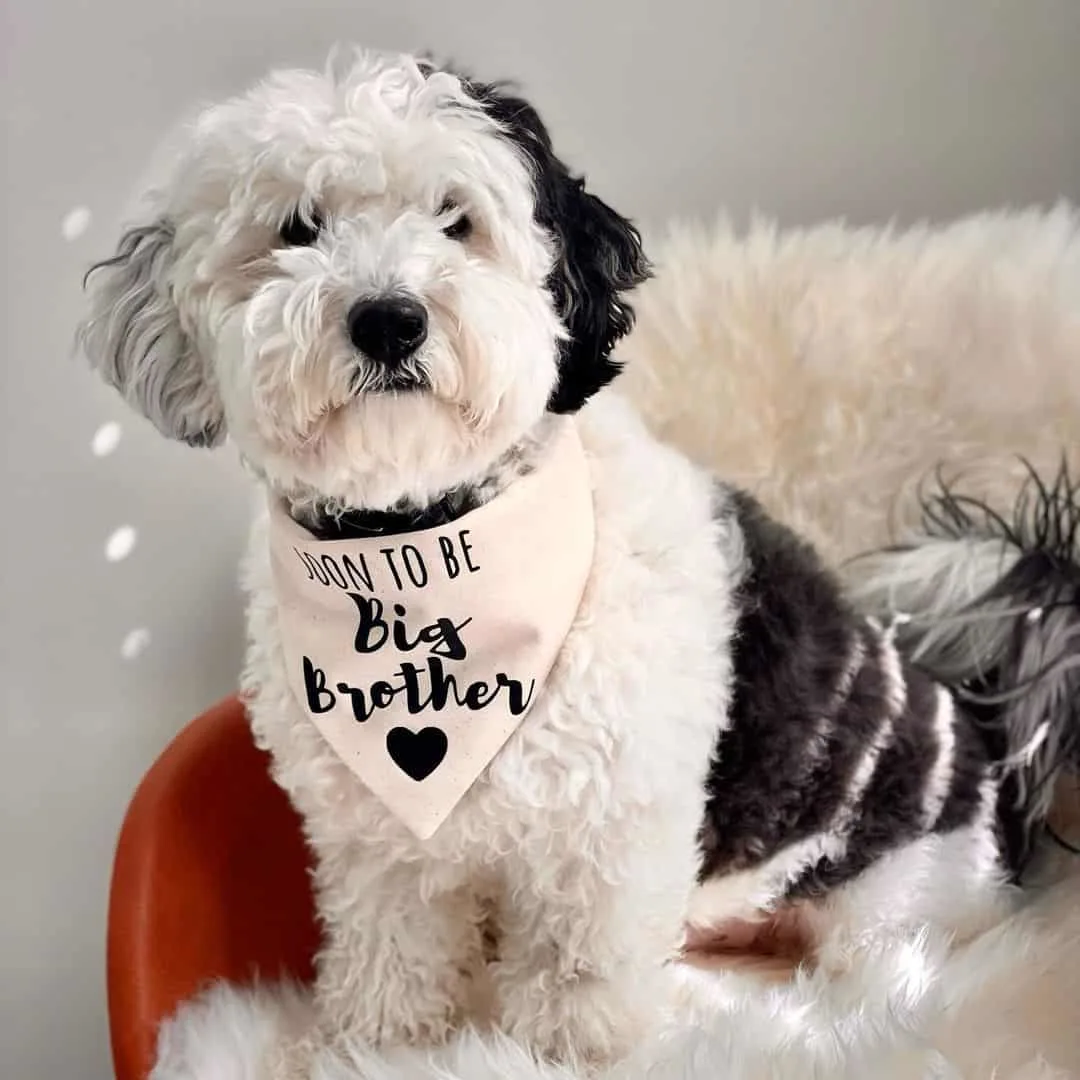 Photo from: @bestboymiso
Many gorgeous and well-behaved hypoallergenic dog breeds can be found at Hilltop Farm. This kennel's Sheepadoodle breeders place a high importance on well-adjusted dogs, which has significantly affected their commercial success.
Every puppy in a litter is trained just several days after it is born. Hilltop Farms has become one of the top brands in the Sheepadoodle industry as a consequence.
They also have several Sheepadoodle puppies who excel in therapy work. The dogs are calm, easy to train, and well-behaved thanks to the earlier imprinting and training program. Some of the world's most exquisite Sheepadoodle pups are available for purchase at Hilltop Farms.
Hilltop Farm conducts health examinations on and registers all of its breeding stock. No puppy from this breeder is given to a prospective adopter until the puppy has reached a certain age, most likely after the 8-week time period.
They give their puppies a full round of shots and vaccines before the pup is ready to be taken by its new owner. Their miniature Sheepadoodles are potty trained, and have completed health testing together with their parent dogs.
Most important info:
Location address: 8383 N Weirick Rd, Corona, CA, United States
Phone number: 657-234-1238
Contact Email: [email protected]
Website: Hilltop Farms Sheepadoodles
4. Grace Wood Farm Sheepadoodles, Fort Mill, SC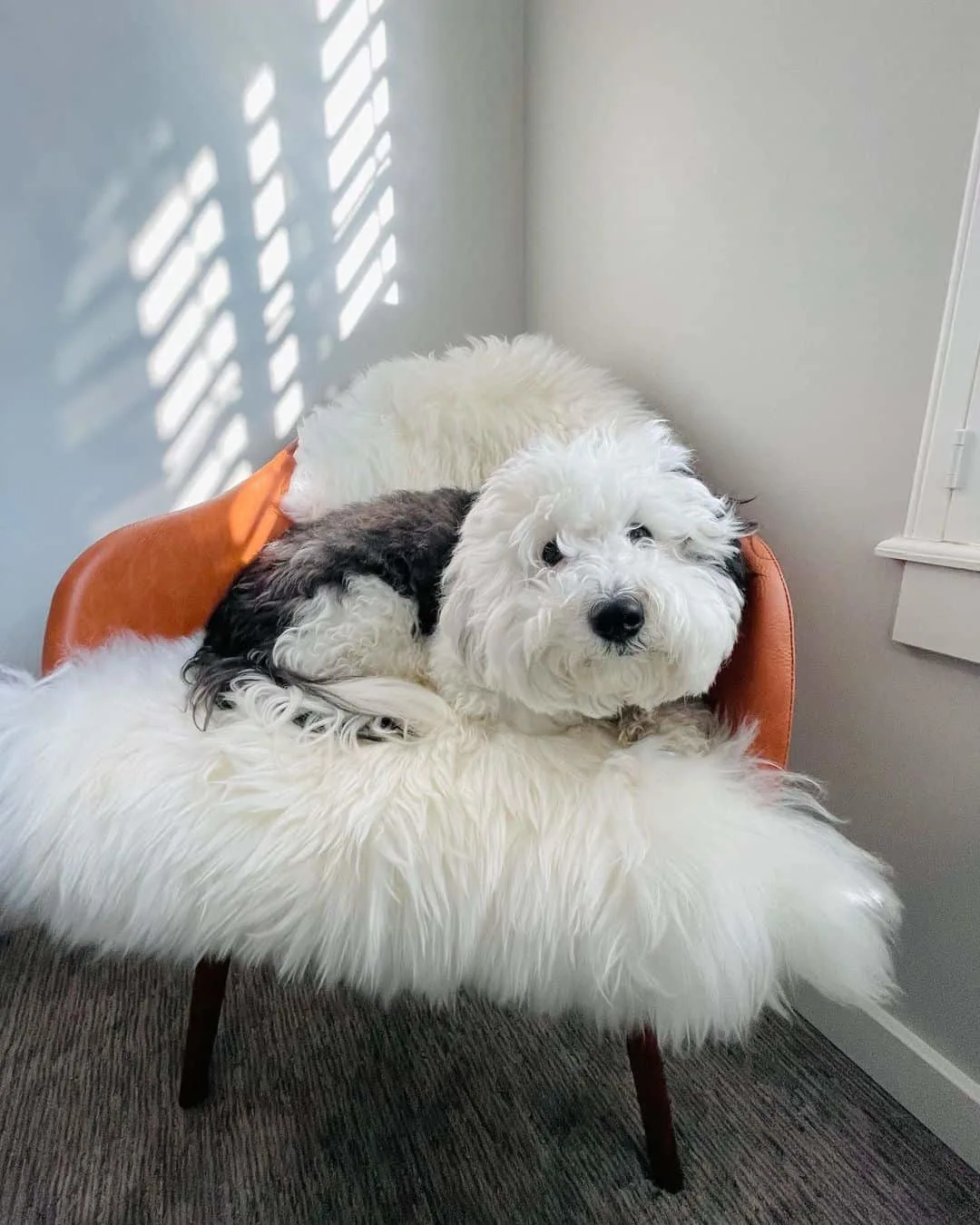 Photo from: @bestboymiso
A regimen of first-rate maintenance and developmental stimulation is followed at Grace Wood Farm. Before conception, throughout pregnancy, and throughout lactation, each parent dog receives vitamins, nutrients, and a superb diet.
Providing the greatest diet ensures that the puppies develop throughout pregnancy to their fullest potential. The team schedules the puppies' time with their mother just after the litter is delivered to make sure they receive the finest nourishment, care, and time to connect with their mother.
Grace Wood Farm ensures that the pups receive the greatest care possible from the moment they are born until they are sent home. They make use of a system known as Early Neurological Stimulation (ENS). The US military developed this set of one-on-one puppy drills.
According to studies, mature dogs that follow this approach have better personality types, are gentler, have greater health, and are simpler to teach. Following the completion of this module, Grace Wood Farm created its own industry-leading plan for the puppies' specific socialization and stimulation.
This approach promotes their dogs' general health and makes them less anxious, calmer, and more adaptable in novel settings. Each puppy receives a thorough physical examination from head to toe by a veterinarian before going to a new home, along with the appropriate vaccinations and dewormers. A 2-year health guarantee is included with each puppy.
Most important info:
Location address: Fort Mill, South Carolina, United States
Phone number: 803-888-4149
Contact Email: [email protected]
Website: Grace Wood Farm Sheepadoodles
Socials: Grace Wood Farm
5. Premier Pups Mini Sheepadoodles, New Hampshire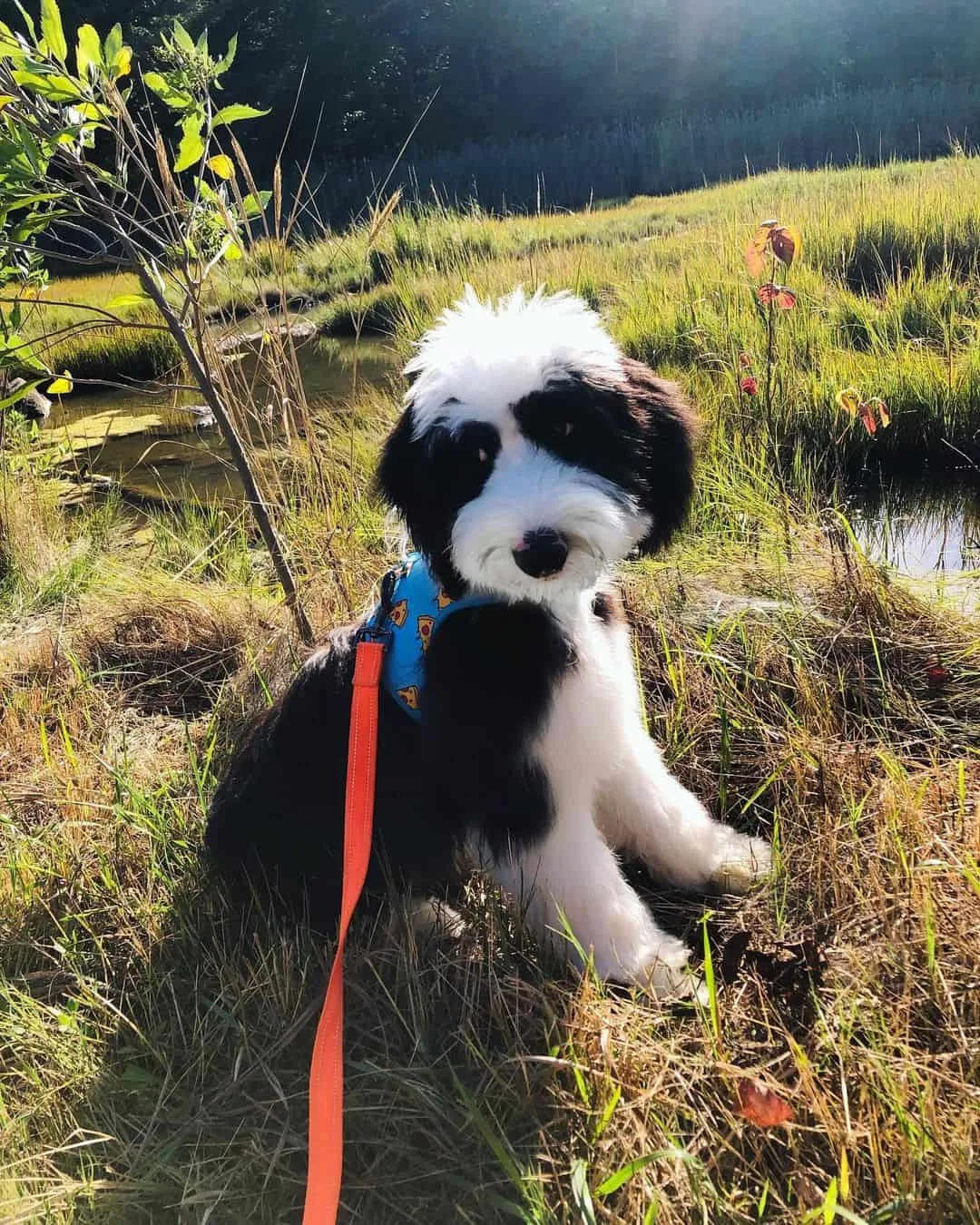 Photo from: @ozzy_mini_sheepadoodle
More than only little Sheepadoodle pups are sold at Premier Pups. They care about your experience, as well as the caliber and welfare of the pups you purchase. They are raising the bar by forming the appropriate relationships with ethical breeders and providing assistance at every stage of your puppy's growth. Additionally, they provide the best industry-standard 10-year health guarantee on all of their Sheepadoodle pups for sale.
Premier Pups also pays regular visits to the breeders who are partners with them and cultivates positive ties with them. As a result, they are able to maintain a broad network of tiny Sheepadoodle breeders across the whole country.
Additionally, they have USDA laws, internal policies, and compliance standards to deter breeders who don't comprehend social responsibility. As a result, every Sheepadoodle pup you receive is in excellent health and eager to brighten your life.
At Premier Pups, the on-site veterinarian makes sure that the pups are dewormed, immunized, and don't depart for their loving homes unless they have through a nose-to-tail physical examination.
Most important info:
Location address: Near Manchester, New Hampshire, United States
Phone number: 740-809-3074
Contact Email: [email protected]
Website: Premier Pups
Socials: Premier Pups
6. Feathers and Fleece Farm, Lexington IN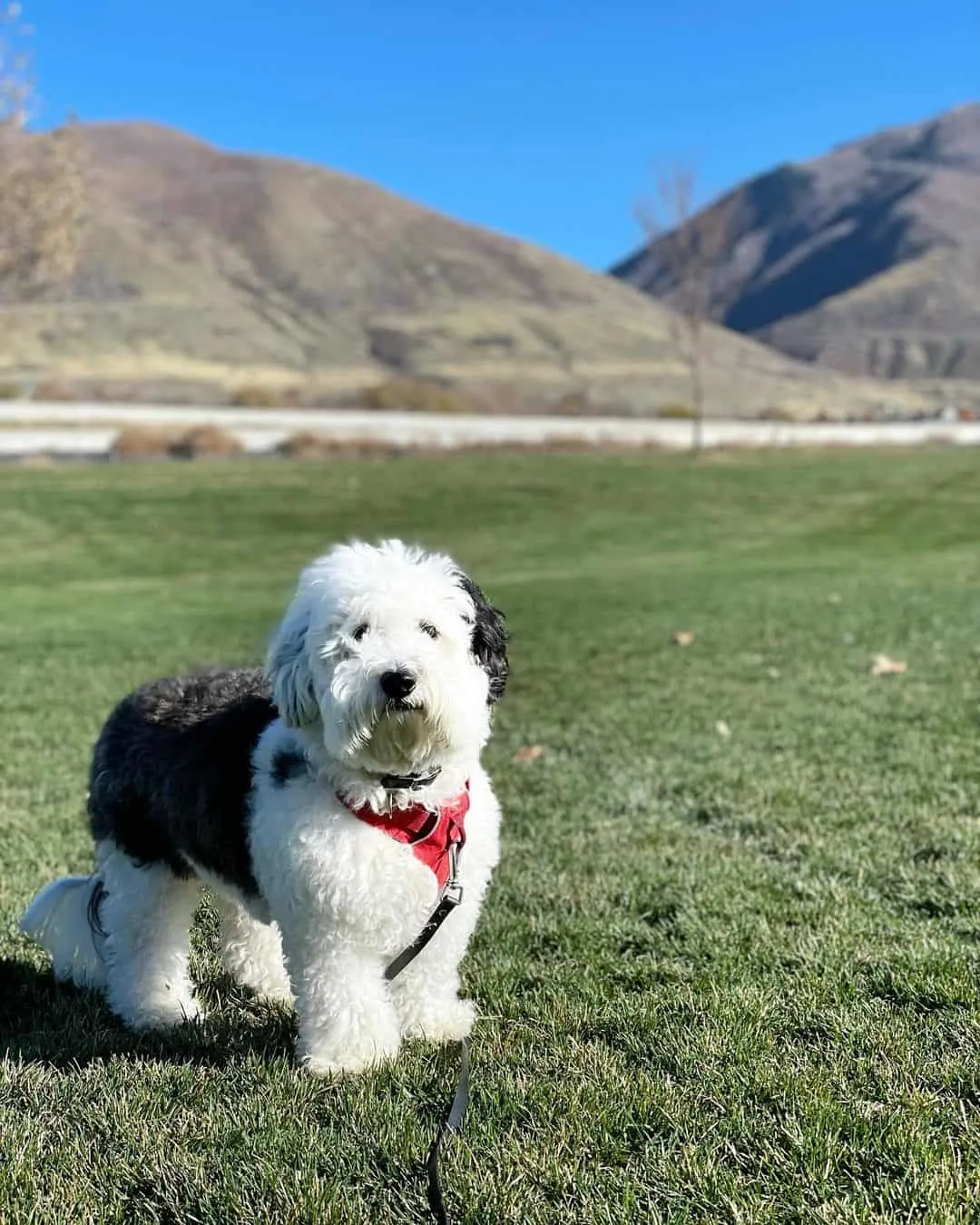 Photo from: @bestboymiso
Sheepadoodle breeding is quite successful at Feathers and Fleece Farm. Each parent has had a health screening and is warranted to be composed under pressure. This guarantees that every puppy is strong, content, sociable, and trainable.
All pups are given a go-home package that includes the registration and certification papers for the parents. One of the most reasonably priced breeders, their Miniature Sheepadoodles are available in a variety of colors and frequently cost around $1,900.
To conform to Old English Sheepdog standards, each pup has their tail clipped at one day old and has their dew claws removed. These puppies are properly socialized and imprinted upon from an early age.
A Miniature Sheepadoodle often has a 6- to 9-month waiting list. This extensive list says a lot about the healthy puppies they breed. Their offspring have perfected the balance for the Miniature Sheepadoodle's ideal appearance. They have good proportions, have good musculoskeletal shape, are powerful, and come with ensured mental stimulation. A candidate to sell exquisite miniature Sheepadoodles is this farm.
Most important info:
Location address: 11730 W State Road, 56 Lexington IN, 47138-7053, United States
Phone number: 812-866-4660
Contact Email: [email protected]
Website: Feathers and Fleece
7. Once Upon a Doodle, Colorado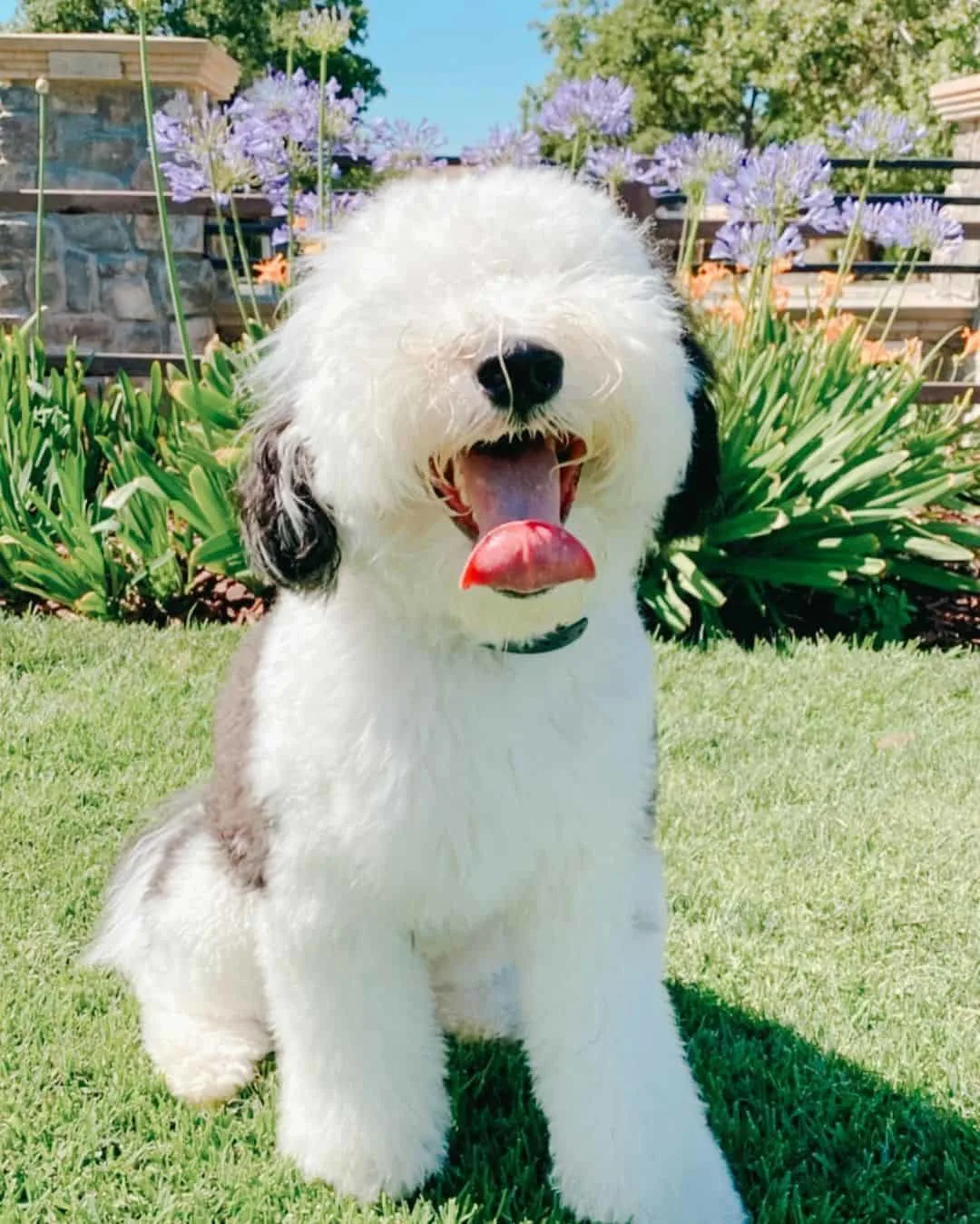 Photo from: @bentley.the.minidood
One person runs the farm, Once Upon A Doodle, which has various Doodles, such as Bernedoodles, but most importantly – Mini Sheepadoodles. The proprietor is a committed, diligent person who is passionate about pups.
Each puppy she bonds with will receive the love and attention required to develop them into healthy adult canines. This modest farm, which was founded in 2013, is constantly trying to get better.
From the moment of birth, they socialize their puppies appropriately so that when they are old enough, they are prepared for their new homes. For each puppy owner, they provide lifetime assistance in order to make their time with their pet special.
Their costs fall between $3,000 and $3,500, which is roughly what we often see for Miniature Sheepadoodles. This cost is quite worthwhile since she is one of the most responsible breeders out there.
She takes great care of the parent breeds, which are the Poodle and the Old English Sheepdog.
Most important info:
Location address: northern Colorado, United States
Contact Email: [email protected]
Website: Once upon a Doodle
Socials: Once upon a Doodle
8. Strahan Farms Sheepadoodles, Grass Lake, MI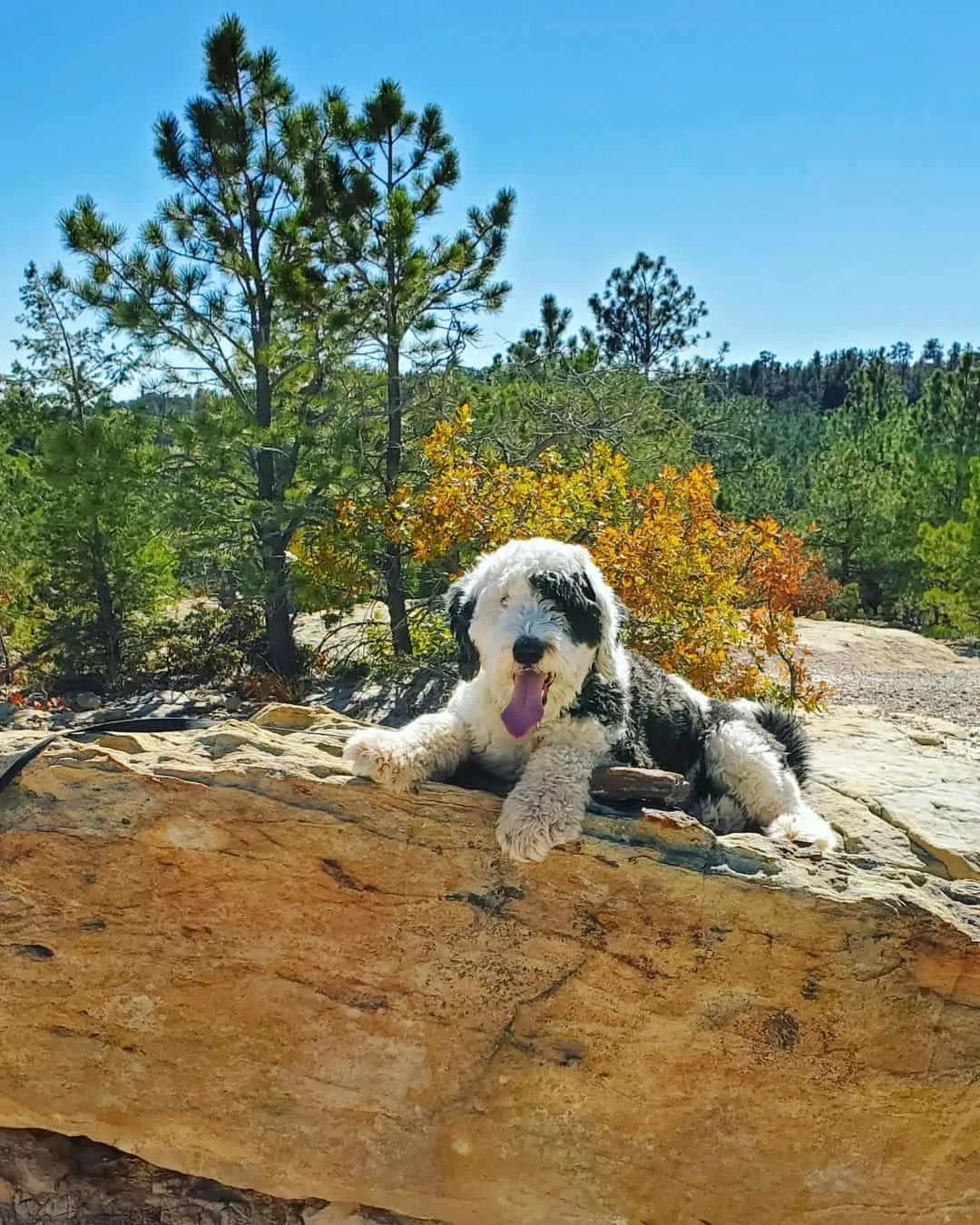 Photo from: @minidood.patch
These dog breeders have a family business specializing in breeding Aussiedoodles, standard Sheepadoodles, and miniature Sheepadoodles.
They sell regular Sheepadoodle puppies, micro Sheepadoodles, and exceptionally clever, trainable, and healthy Aussiedoodles. All of their pets have minimal to no hair loss. Regular Aussiedoodles weigh 25 to 35 pounds, but standard Sheepadoodles weigh 50 to 60 pounds.
Aussiedoodle and Sheepadoodle pups are sold and bred by Stu, Kristy, Dakota, and MacKenzie! Stu was raised in Grass Lake, Michigan where he worked on a farm. His love of animals has always been a driving force behind his desire to establish a pet supply business in Spring Hill, Tennessee.
Stu first acquired knowledge of dogs when working with "Nashville's Dog Whisperer" while residing in Tennessee. In order to be closer to their family, the Strahans sold their pet distribution company in Tennessee and moved back to Michigan, which is how Strahan Farms got its start.
An expert dog groomer with over 20 years of experience, Kristy runs Kristy's Grooming Services. So you can see that when it comes to dogs, they have quite a bit of experience!
Dakota has spent his whole life working in the family company and enjoys lending a hand whenever he can. He presently resides in Miami, Florida where he operates a ticket agency and makes the most of the pleasant climate.
MacKenzie just received her psychology degree from Bethel University. She works for a nonprofit and resides in Grand Rapids, Michigan.
They are all pet lovers and have pets themselves. Some of them have Goldendoodles, some Bernedoodles and others have Sheepadoodles.
Location address: 2100 Barber Rd, Grass Lake, MI 49240, United States
Phone number: 734-476-1864
Contact Email: [email protected]
Website: Strahan Farms Sheepadoodles
9. Prairie Hill Puppies, Hutchinson, KS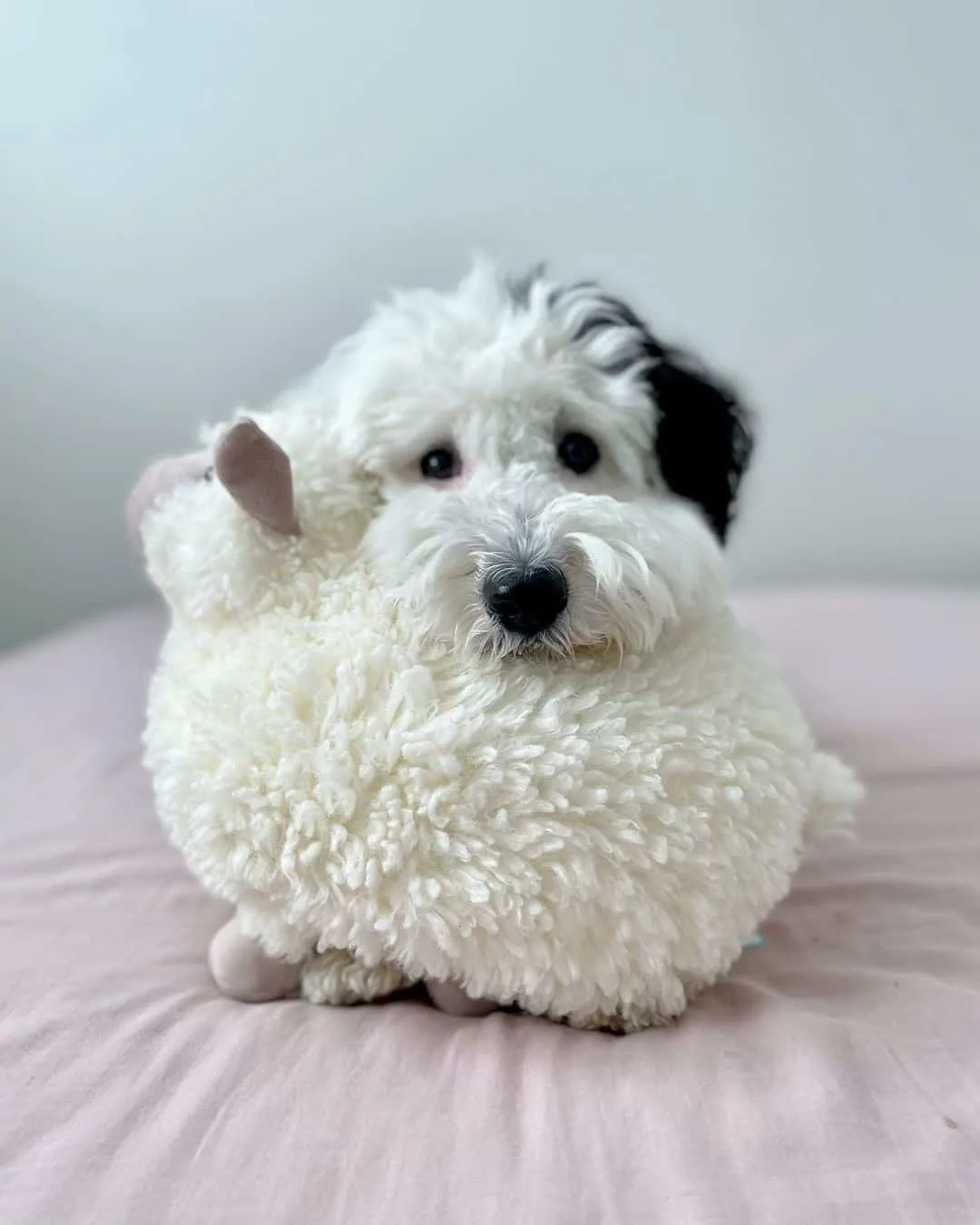 Photo from: @bestboymiso
Designer Miniature Sheepadoodle pups are available at Prairie Hill Puppies. In addition to giving top-notch puppies, they also offer lifetime assistance once the puppy is placed in a new home!
They are a highly successful and individualized breeder since they care about you and the dog equally. Regular veterinarian examinations and the appropriate medical treatment are given to each parent. The puppies are given appropriate physical and mental stimulation from birth.
Each puppy also receives the appropriate socialization and medical attention that they need. Because of this, the Prairie Hill Miniature Sheepadoodles puppies get along well with kids and other household pets. They are one of the most reasonably priced breeders of Miniature Sheepadoodles with pricing starting at roughly $2,800.
Their Sheepadoodles are mostly parti (more than 50% white). The dog breeder or the owner of the Prairie Hill Puppies expects to stay in contact with you throughout the dog's life.
Most important info:
Location address: 8112 N Yaggy Rd Hutchinson, KS 67502
Phone number: 316-719-6202
Contact Email: [email protected]
Website: Prairie Hill Puppies
10. CuddleDoos, Sugarcreek, Ohio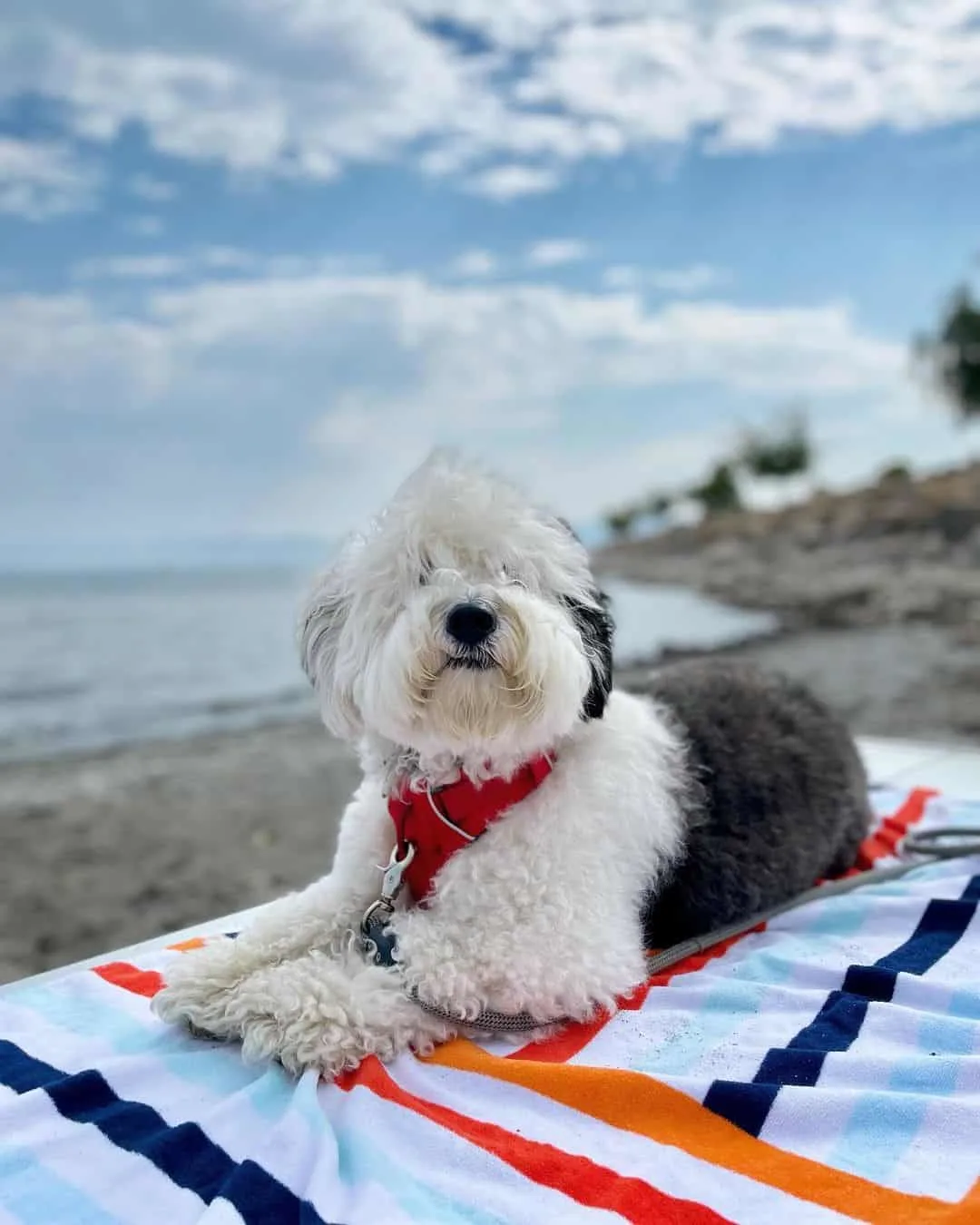 Photo from: @bestboymiso
They have a great deal of expertise transporting dogs, so your new puppy will arrive in perfect condition. Their prices start at $3,500 for black and white pups, while for merle pups with blue eyes, you will have to be $4,500 heavy.
Between the three families, they raise F1 Mini Portidoodles, F1b Mini Sheepadoodles, F1b micro Mini Sheepadoodles, and F1 Mini Sheepadoodles. A first generation OES and Blue Merle Mini Poodle hybrid produced the F1 Mini Sheepadoodles.
The minis gain between 30 and 40 pounds as they mature. The F1b, which is a second-generation mix between a Sheepadoodle and a Blue Merle Mini Poodle, weighs between 30 and 40 pounds. These hybrid dogs, which weigh between 15 and 20 pounds, are called F1b mini Mini Sheepadoodles.
An OES is a low shedder that only sheds when brushed; as a result, when you cross one with a Poodle, you nearly always get a 100% hypoallergenic Sheepadoodle.
Portuguese Water Dogs and Mini Poodles or Toy Poodles (known as Miniature Poodles) were crossed to create the F1 Mini Portidoodle. They will eventually weigh between 20 and 25 pounds. They are also a hypoallergenic breed that does not shed.
In order to guarantee a healthy puppy, their puppies are between seven and eight weeks old when they receive their final round of immunizations, dewormer, dewclaws, and a vet exam. To ease the adjustment, you will also receive a small plastic container of pup kibble (American Premium Puppy) and a health and vaccination record.
Their puppies will be microchipped, and you must visit Lost My Pet to activate it. They provide a 12-month health warranty. Their puppies are intelligent, trainable, and have a devoted disposition. They will be a great asset to their forever homes.
Most important info:
Location address: Sugarcreek, Ohio, United States
Phone number: 330-437-6177
Website: Cuddle Doos
Final Word
No matter where you buy your mini Sheepadoodle puppy: Ohio, Iowa, New York, Colorado… anywhere around the States – the only thing that matters is buying from a responsible breeder.
A responsible breeder will take great care of the parent dogs of the both parent breeds of the mini Sheepadoodle. Therefore, mini Sheepadoodle breeders need to feel as if their fur babies are also their family members. Only in that case will the result be pups that are healthy, happy and well socialized.
If the pups have a standard Poodle as a parent, you will get a standard Sheepadoodle. However, the pups that we are going for are miniature Sheepadoodles, which means that the Poodle parent is a toy Poodle or miniature Poodle.
These dogs make wonderful family pets, and it is very important that they are bred to be as such.
If you don't click with your dog breeder in any way – don't buy your pup from them. Everything needs to be extremely transparent when it comes to breeding puppies.
You may also want to check:
• Bernedoodle vs. Sheepadoodle
• 7 Mini Aussiedoodle Breeders In The States With Pawfect Pups