It doesn't matter if you call it Maltipoo, Maltepoo, or you spell it Mal-t-poo or Malt-poo — this is a breathtakingly beautiful crossbreed dog. The Maltipoo is a small dog and is very popular because of its wonderful traits, for example, its hypoallergenic trait. So, it is no wonder that there are so many people wanting this pooch all around Canada!
Needless to say, as there are many people looking after this adorable dog, it is only natural that there are many Maltipoo breeders in Ontario alone. They offer Maltipoos of all coat colors and even sizes. How do we know which breeders are the good ones? Are there some red flags we should notice that can help us choose the best of the best?
Well, we offer you a helping hand with our list of the 8 best Maltipoo breeders in Ontario. You can be sure there are no red flags and that these are the best breeders in Ontario, Canada.
The Maltipoo Puppies For Sale In Ontario
You did some research, you saw the pictures of a Maltipoo puppy, and you heard all the best things about the breed. Now, it is time to search and check the availability of breeding programs and, most importantly, reputable breeders in your area.
There are places where you can buy a Maltipoo puppy without a lot of paperwork or hassle. But looks can be deceiving and all that glitters is not gold. We did the research and checked the breeders making a list of the 8 best Maltipoo breeders in Ontario.
1. Bright Pets, Bolton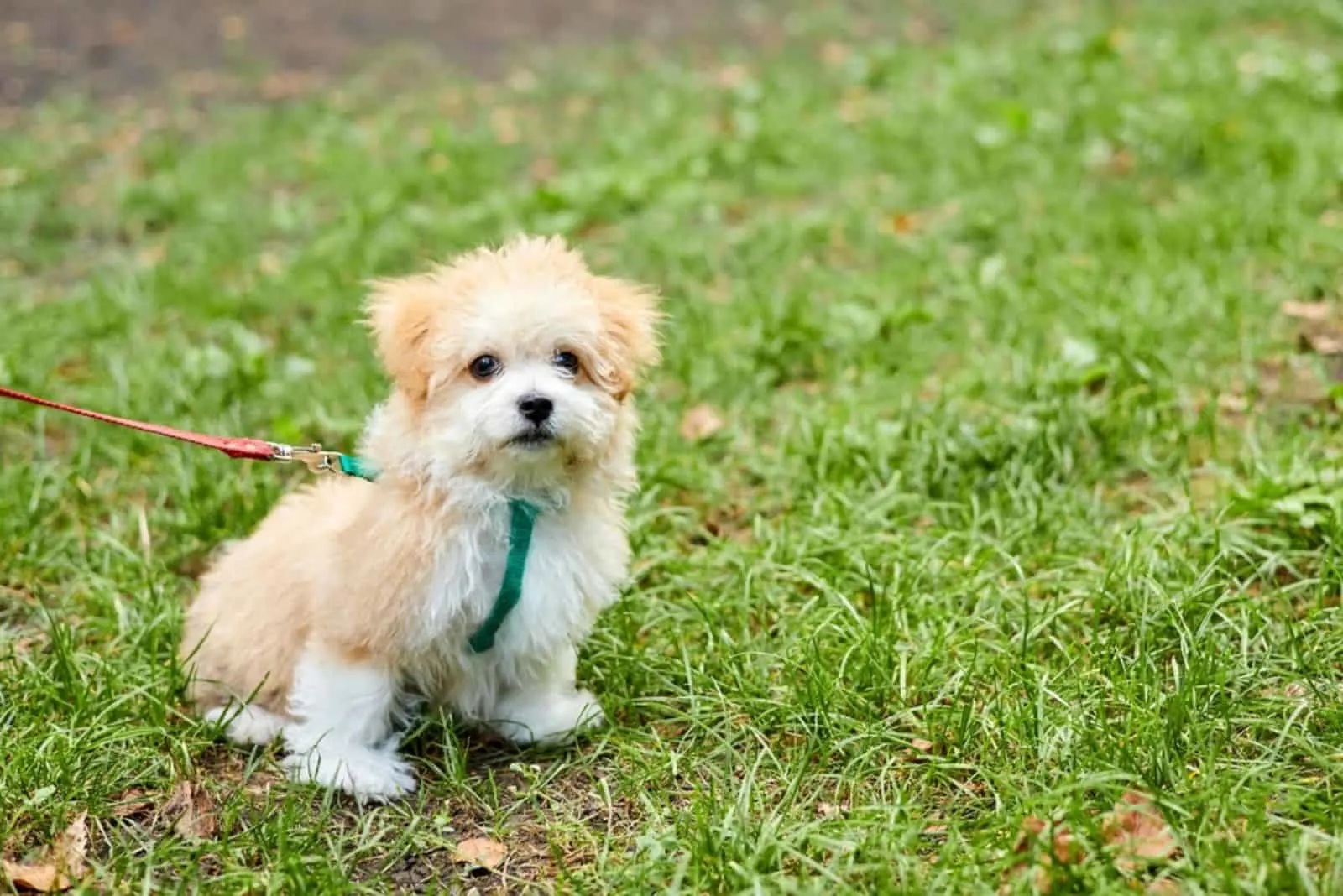 Bright Pets has been around since 2005. The owner's name is David Valencia, and he and his family have been breeding dogs themselves for a long time. Today, they offer a platform for buying designer puppies from other breeders, as well.
They do not just sell the puppies or act as a platform — they know whom they are working with and what they are offering. Bright Pets is the place to go not only if you are in Bolton, but anywhere in Ontario or Canada in general. David and his family make sure all the dog breeders they work with are high-quality and reputable breeders.
Together with the breeders they are working with, David and his Bright Pets offer Maltipoo puppies that have been through all necessary vaccinations. Besides the first shots, their puppies have been dewormed and they go to a new home with a written Health guarantee.
They only work with dog breeders located in Canada and they make sure that the Maltipoo puppies find their loving forever homes. Bright Pets offer support for the buyers and help them quickly adapt to their new puppy.
David Valencia proudly shows all the 5-star reviews on his website and the love and respect he has received from satisfied buyers.
Also, Bright Pets work with dog breeders that offer other dog breeds, like Teacup Schnoodles, Toy Cavapoos, Morkies, Yorkies, and Bichons — almost every toy or teacup dog breed there is.
Address: 15 Chapel St, Bolton, ON L7E 1C2, Canada
Phone: +16479737877
Website: Bright Pets
2. Puppies R Forever, Toronto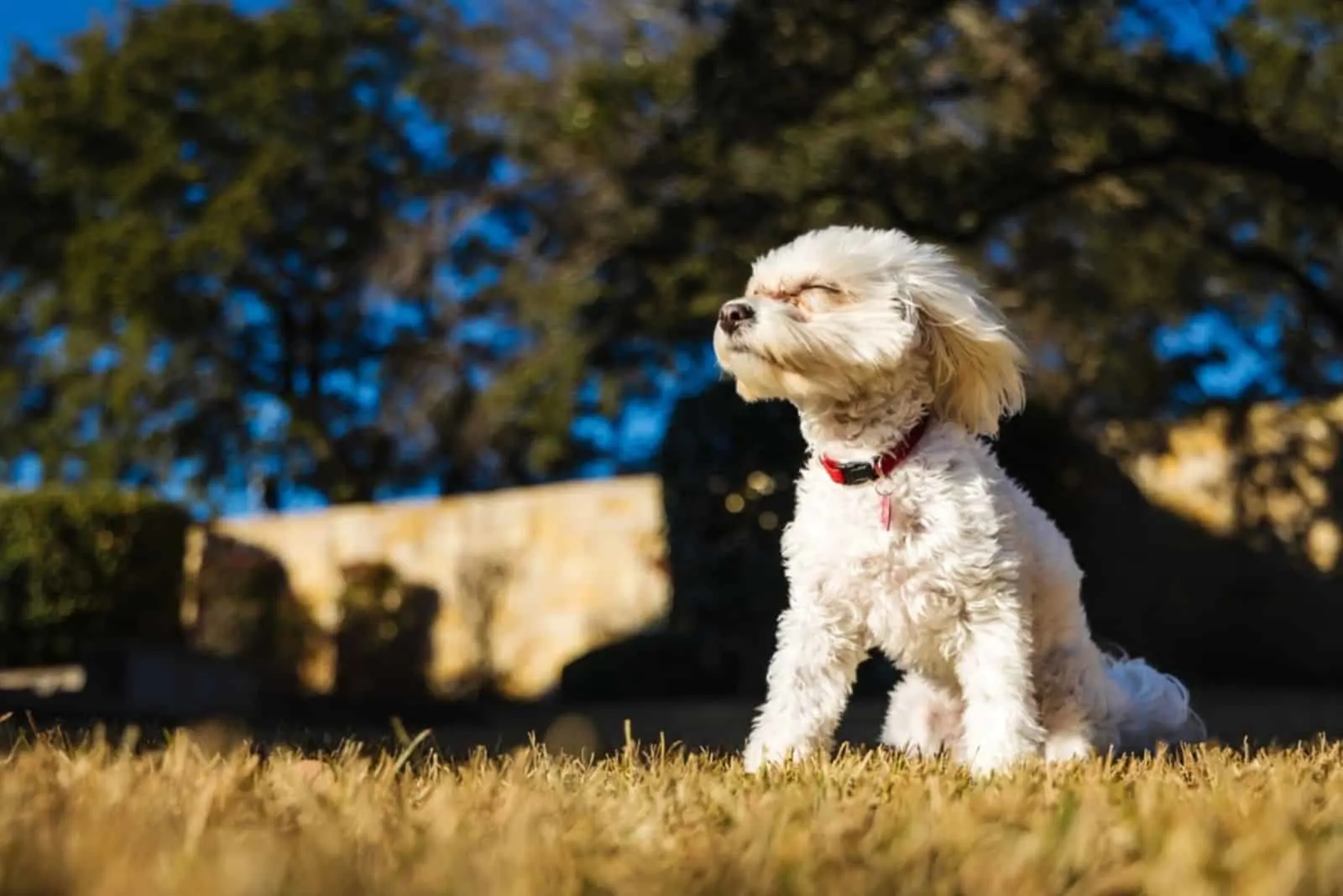 This is one of the Maltipoo breeders in Ontario that focuses on breeding Teddy Bear Maltipoo puppies and Morkie puppies. They are a small business with limited puppies available per year. But that doesn't mean you shouldn't see what they have to offer. One sign of a good dog breeder is that they put their dogs first and not the number of puppies they need to sell.
So, by all means, check the Facebook page of Puppies R Forever and see for yourself what beautiful Teddy Bear dogs they have! Or if you have any questions, you can always message them or leave a message on their Facebook page or via the Messenger app.
Puppies R Forever has Maltipoo puppies in different coat color variations. From white to black, and all the colors in between, they all truly look like Teddy Bears. Not only do they offer F1 Maltipoos (first-generation Maltipoo puppies), but they also have F2 Maltipoos.
An F2 Maltipoo is a hybrid dog bred by crossing two F1 Maltipoos. So that means they have Maltipoo puppies whose parents are both Maltipoos. That makes the F2 Maltipoos even more hypoallergenic than the "original" Maltipoo.
All of their dogs are checked by a reputable veterinarian, and they have all been dewormed, microchipped, and vaccinated. When you purchase a Maltipoo puppy from Puppies R Forever you will get a health guarantee, a gift basket, and a happy puppy to bring back to your home.
Address: Toronto, Ontario
Phone: +19059263812
Website: Puppies R Forever
3. Willowbrook Kennel, Woolwich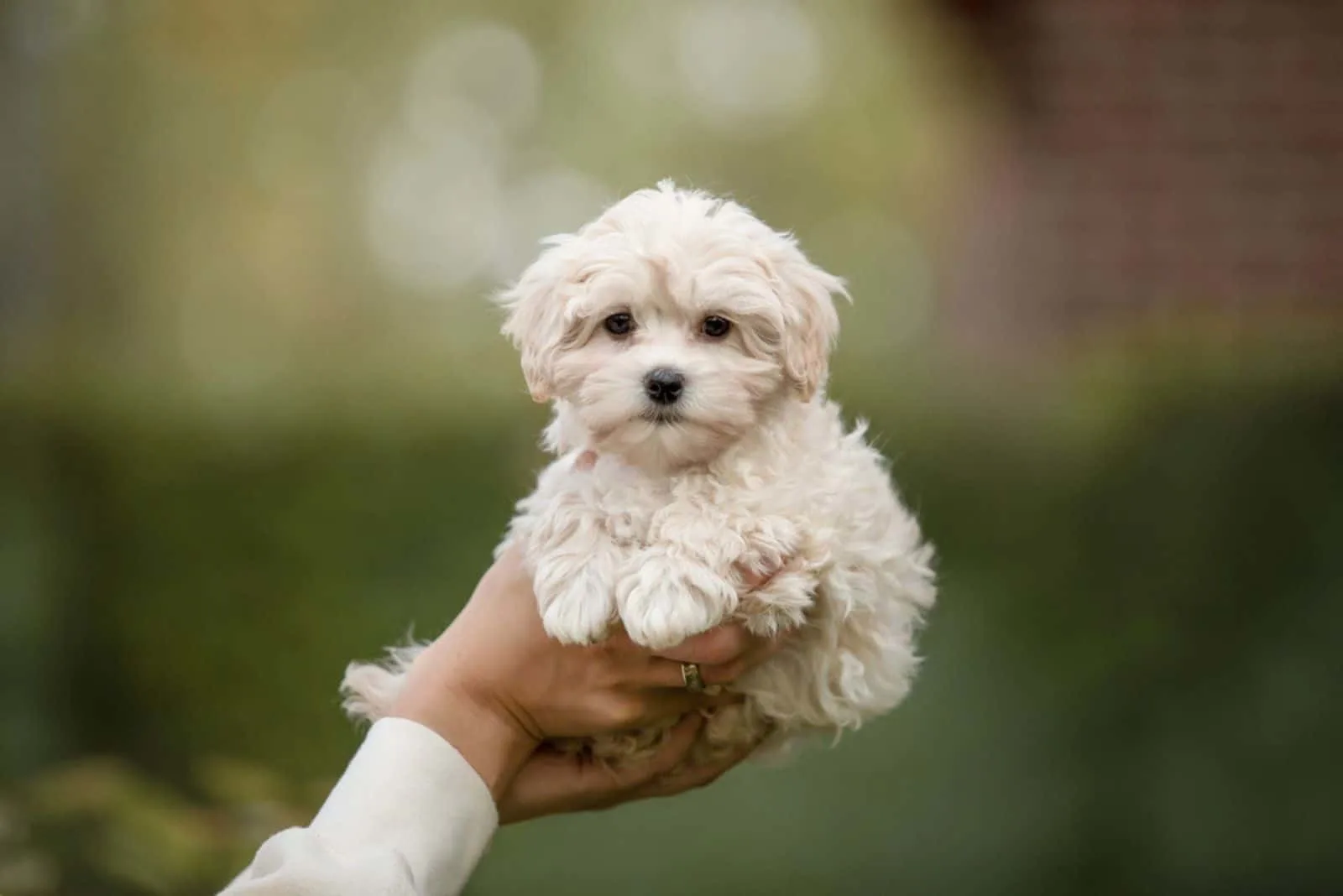 This is a licensed kennel located Northwest of Hamilton in the Municipality of Waterloo. They take extremely good care of all of their dogs and puppies. The dogs have a place to run, play, socialize, and they are healthy and happy.
Willowbrook Kennel make sure you can find only healthy puppies on their premises. All of the Maltipoo dogs have been vaccinated, dewormed, and fully checked by a vet. If you visit their Kennel, you can see that they do their best to make the most comfortable space for their lovely dogs to live and have fun.
They are constantly renovating and adjusting the living quarters of the dogs to give them the best life possible! The latest renovation was in 2019 when they added new floor heating in the nursery block — to be 100% sure the pups are cozy and warm.
If you were wondering about the best Maltipoo breeders in Ontario, you should definitely visit or check the Willowbrook Kennel. You will not be disappointed by their hospitality and their care and love for dogs.
Also, they offer other puppies, besides Maltipoo Puppies. The other dog breeds are Yorkiepoos, a purebred Maltese, Toy Poodle, and Shih Tzus.
Oh, and their photos are adorable. You can find them on their blog page which is constantly updated with new photos and information about the upcoming litter.
Address: West Montrose, ON N0B 2V0
Phone: +15196640645
Website: Willowbrook Kennel
4. Little Cups, Richmond Hill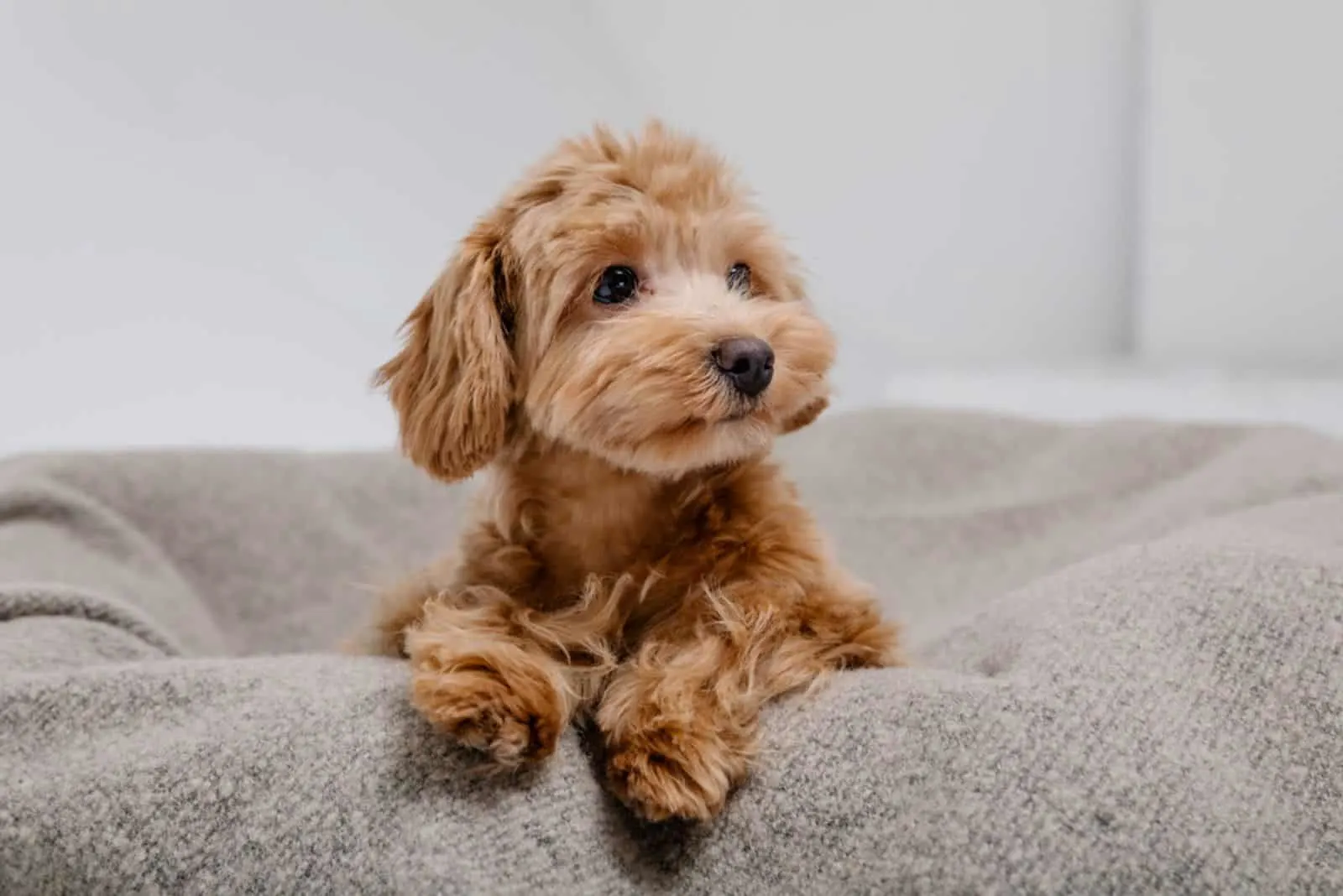 Little Cups breeder certainly deserves a place on the list of the 8 best Maltipoo breeders in Ontario. Why? Where to start! Their love for dogs is so big and strong, you will feel all the love and coziness even through the pictures on their website.
This family-owned dog breeding business treats all of its dogs as family members, and they are adamant about making sure they find an equally loving home for their puppies. You can't just take a puppy, give them the money, and leave!
You can't do that with any of the Maltipoo breeders on our list. But Little Cups are especially open in showing how much they want to know where exactly their new puppies are going.
Of course, when you have such a responsible breeder, you can expect only the best puppies in their litter – happy and healthy! Also, they come in teacup size. Not only teacup Maltipoos but other dogs like teacup Maltese, Pomeranian, and teacup Poodle puppies.
Another wonderful thing about Little Cup is the number of testimonials coming from all around Canada, not only in Ontario. From Oakville and Mississauga, across Barrie all the way to the east coast and to Vancouver.
But, because of COVID concerns and restrictions, they no longer ship the puppies — it's pick-up only. Of course, this rule is until further notice. We all hope it will be very soon when they'll be able to ship the puppies all across Canada once again.
Address: Richmond hill, Ontario (Greater Toronto Area)
Website: Little Cups
Email: [email protected]
5. Mini Pups, Toronto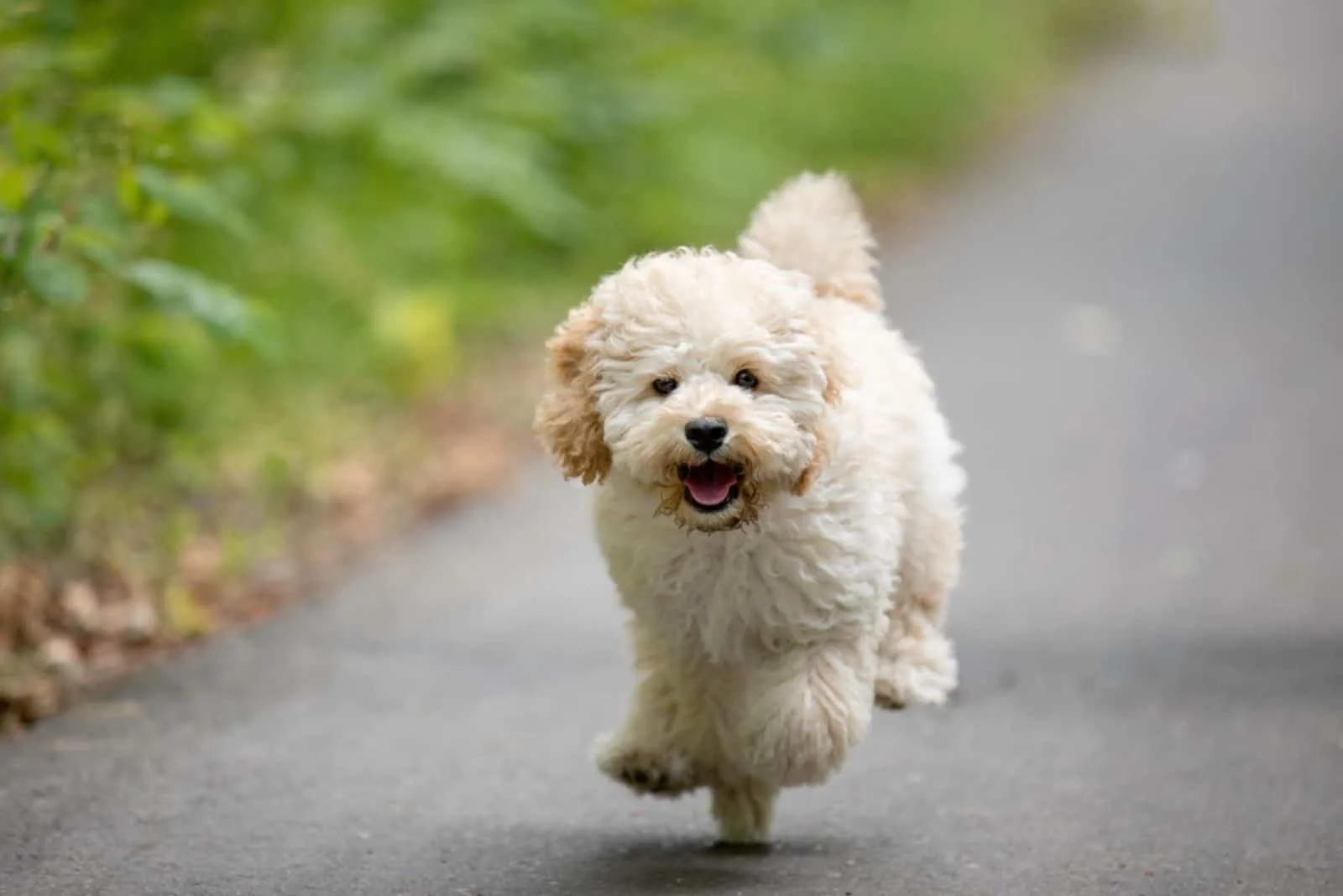 Hello Mini Pups! They truly have Mini pups, or in other words — toy-breed puppies. Mini Pups from Toronto have other lovely dogs too, but our focus here is the lovely Maltipoo puppies. And, they certainly have those! You can check out all of their dogs on their Youtube channel as well.
They offer a 5-year health guarantee for all of their puppies. That is wonderful proof of the amazing job they do here at Mini Pups. Each health guarantee states that the dogs are in good health, with no signs of infection or contagious diseases.
It also states that the puppies have been examined by a licensed and reputable veterinarian. They do require you to spay or neuter your puppy when the time comes. Another thing recommended by them in the health guarantee is to avoid large public spaces until the puppy has received all necessary first shots.
Mini Pups is run by 5 families that breed their dogs in the coziness of their own homes. They do not operate as a kennel facility but treat each and every dog as a family member. These Maltipoo breeders in Ontario have been breeding dogs for the past 8 years. And they never ship their puppies.
Mini Pups are a breeder looking for a face-to-face meeting with every potential buyer to make sure their Maltipoo puppies are going to a safe new home.
Another amazing fact about Mini Pups is that they go all the way to explain to the new puppy owners how to treat their new baby dog, and what to expect from the puppy in the adjustment period.
They offer all the help they can give including advice on chewing, biting, and other behavioral problems that can occur in puppies.
Address: Toronto, Ontario
Phone: +16478386762
Website: Mini Pups
6. Peppa Pups, Toronto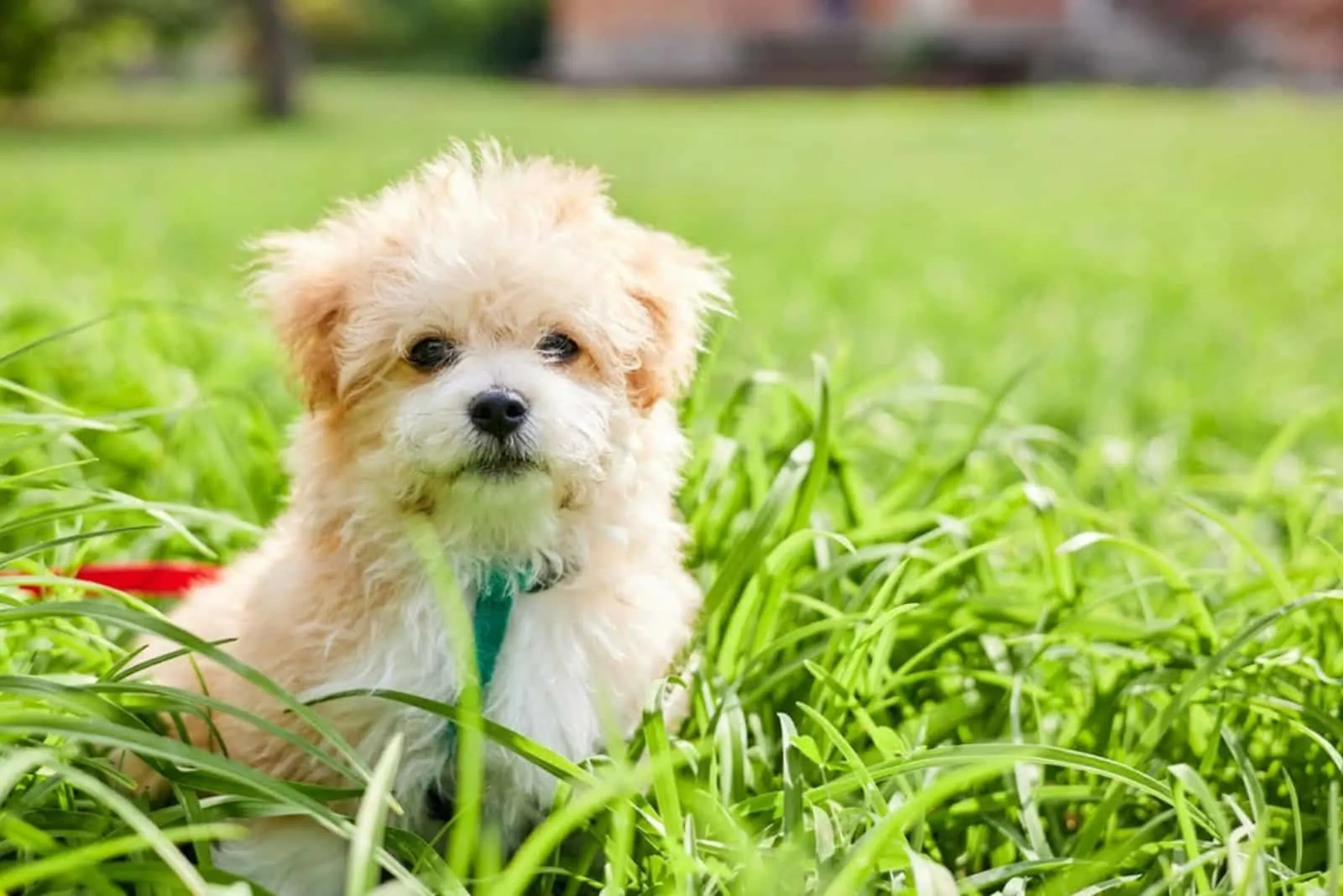 Peppa Pups has roots in another country. They were established 20 years ago in South Korea. But they moved their shop to Toronto, and they have continued their wonderful work of breeding Maltipoo puppies. Their goal is to have ethically bred puppies.
All of the Maltipoo pups are regularly examined by a vet, and they ensure that all of the dogs they sell end up in a loving home.
Happy puppy equals happy client, that is their motto. And it is a good one! All reputable Maltipoo breeders in Ontario and further, all around the planet, should have their dog's happiness as the number one priority.
This doesn't mean breeders should only make sure the dogs are healthy. That is something that is a must. But, treating a dog like a living being full of love, and not just like an object to make money from, is what counts too.
Peppa Pups are that kind of Maltipoo breeder. And you can be sure their puppies are well-socialized, healthy, and happy. You can check out their Instagram page for more detailed information about the upcoming or available puppies.
Address: Toronto, Ontario
Phone: +16478232711
Website: Peppa Pups
7. Tiny Paws Castle, Ottawa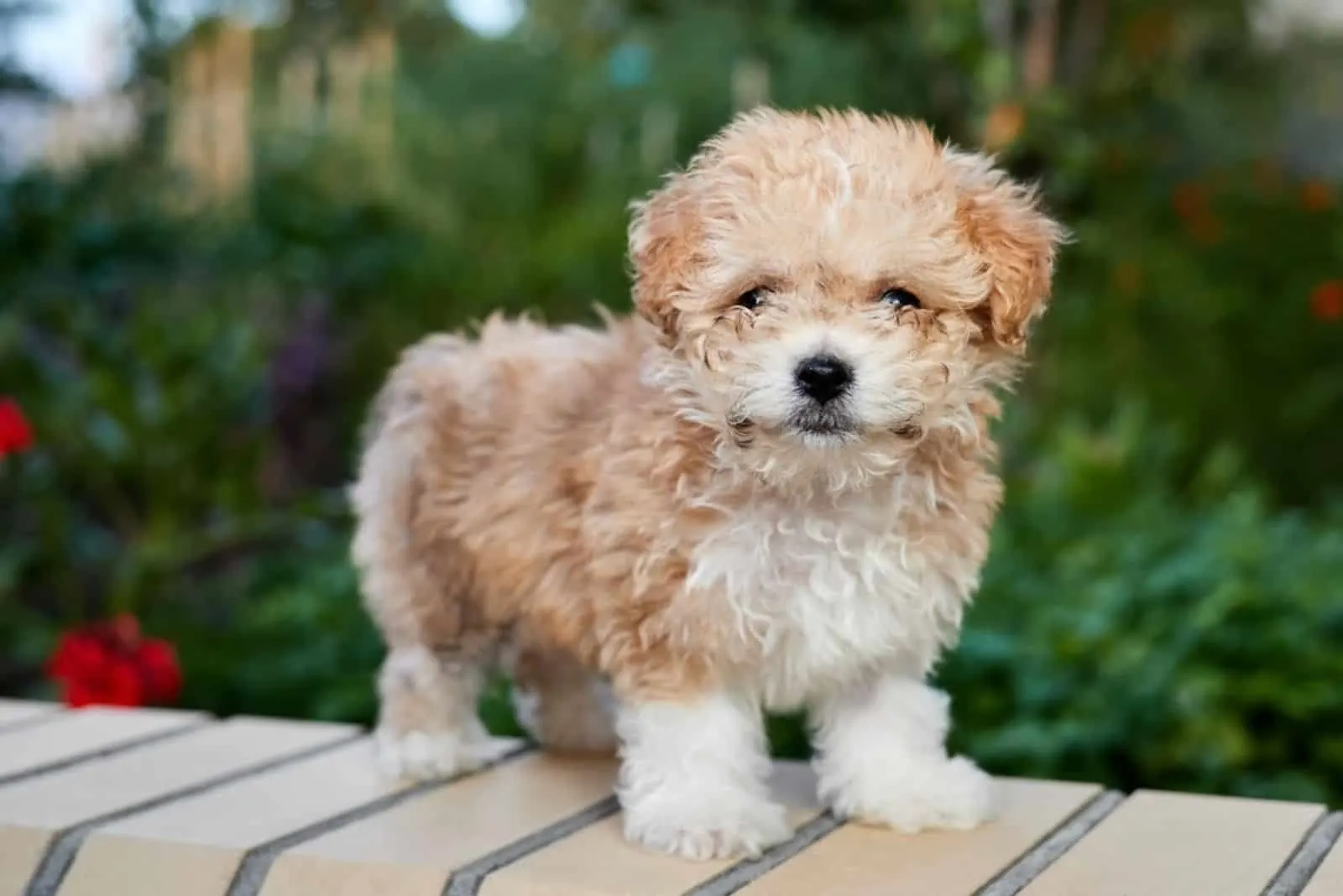 They have been in the business since the 1990s. Even though they started with the Pomeranian dog breed, they fell in love with Poodle mixes, including our lovely Maltipoo. Besides Maltipoos, they have Yorkiepoos and Morkies.
Whatever the dog breed we're talking about, Tiny Paws take amazing care of them all. An honorable and beautiful thing they do is that they keep their "retired dogs" and do not simply "re-home" them when the time comes. That means a lot to me as a dog lover, because this is proof that they love their dogs and treat them as family members.
They don't simply use the dog until they can't provide offspring each year, but they keep them and continue to take care of them and love them. Well done, Tiny Paws Castle! All the dogs here truly live like royalty in their own Castle.
They offer medical tips on their website to make sure you adjust to living with a puppy quickly and without any problems. For example, you can find a list of home remedies you can use as first aid if needed.
Overall, Tiny Paws Castle is one of the Maltipoo breeders in Ontario that will make sure you and your new furry family friend are happy together.
Address: East Ottawa, Ontario
Phone: +16132976769
Website: Tiny Paws Castle
8. Tiny Pups, Bolton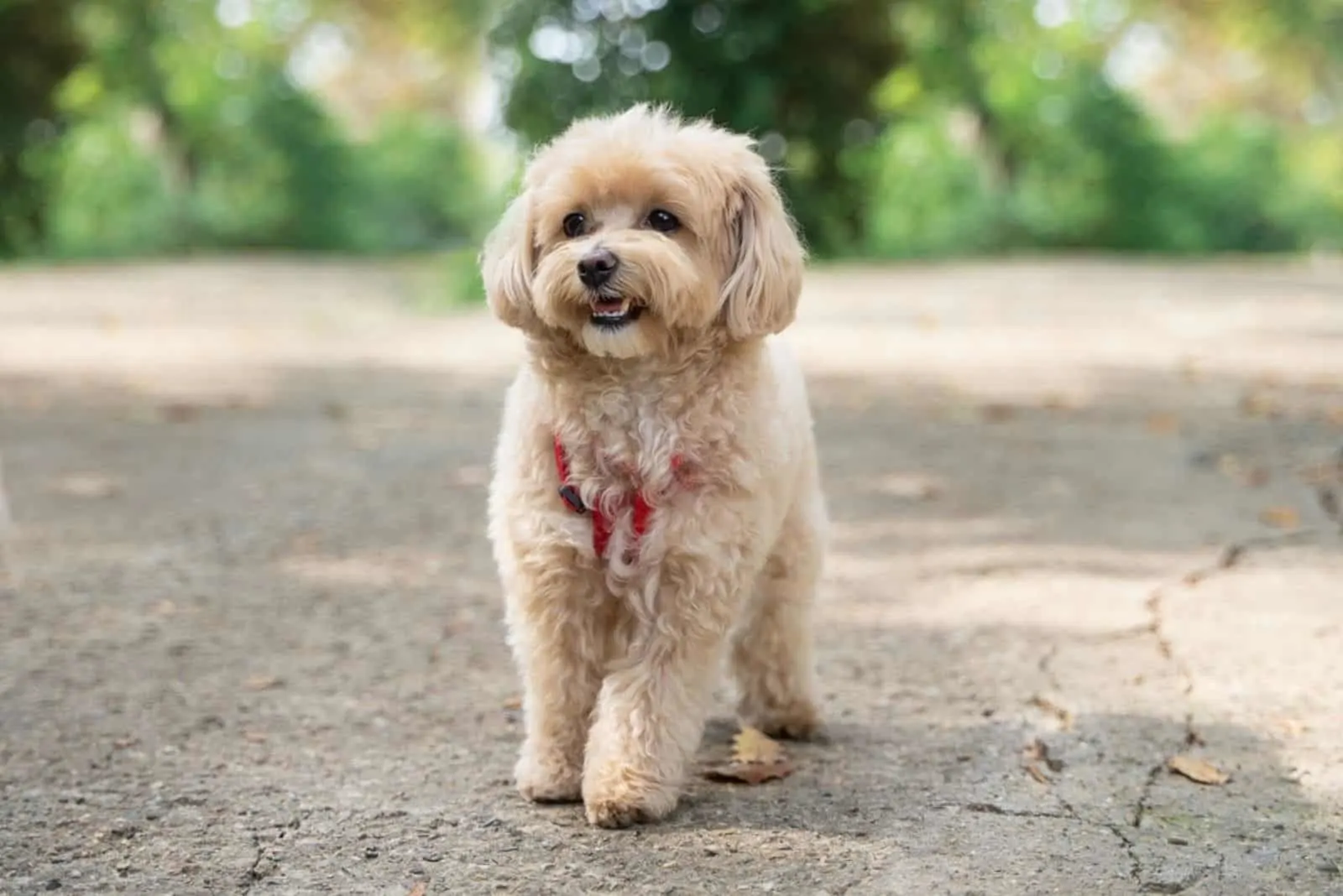 This is an experienced dog breeder and a certified Pet Nutritionist. The Maltipoo puppies are born and raised in their home together with their family. The owner's daughter is also involved in raising the pups, which makes the puppies well-socialized and ready to join any household — with or without young children.
They only have a few litters each year and they treat them like family members, giving them lots of love and affection. As you can see, Tiny Pups are well taken care of, and they grow into healthy and happy Maltipoo dogs. Tiny Pups work with teacup and toy-sized Maltipoos.
Because all of their dogs grow up in a household that treats them as family members, the dogs are not only socialized but potty trained, too. You will have no problems with your new family member. They will already know where to do their business.
All of their dogs are CKC (Canadian Kennel Club) registered as non-purebred dogs. They are also health tested for genetic disorders and have been cleared. Tiny Pups takes great care of their dogs, and they are open to answering all the questions you might have about the dogs, breed, or the family that runs Tiny Pups.
Address: King Street East Bolton, Ontario L7E 3J7, Canada
Website: Tiny Pups
Maltipoo Origin
The Maltipoo puppy originated in the United States. The exact year is unknown, but it is believed that the first Maltipoo litter came into our world in the 1990s. The problem with designer dogs, such as Maltipoos, is that they often happen as an opportunity rather than a planned breeding program.
But, once the first Maltipoo pup opened its eyes and showed all the wonderful traits it had, the breeding program changed pace, and breeders started intentionally breeding this dog.
Maltipoo dog is a crossbreed made by crossing a Maltese and a Toy Poodle. It is called a designer dog (or a hybrid dog) because a breeder purposefully continued to breed these two purebred dogs in order to draw the best traits from them and put them in one dog — a Maltipoo.
They are "designed" and not left unattended in the hands of Mother Nature. And we should thank these early breeders and their wonderful idea, because the Maltipoo is a marvelous dog.
Maltipoos are not accepted by the American Kennel Organization because they are not purebred, but crossbreed dogs. But, they are accepted and registered by the DBR (Designer Breed Registry), IDCR (International Designer Canine Registry), and ACHC (American Canine Hybrid Club).
These organizations are one of the reasons the Maltipoo dog breed is preserved under certain norms that all (reputable) breeders follow.
Maltipoo Physical Traits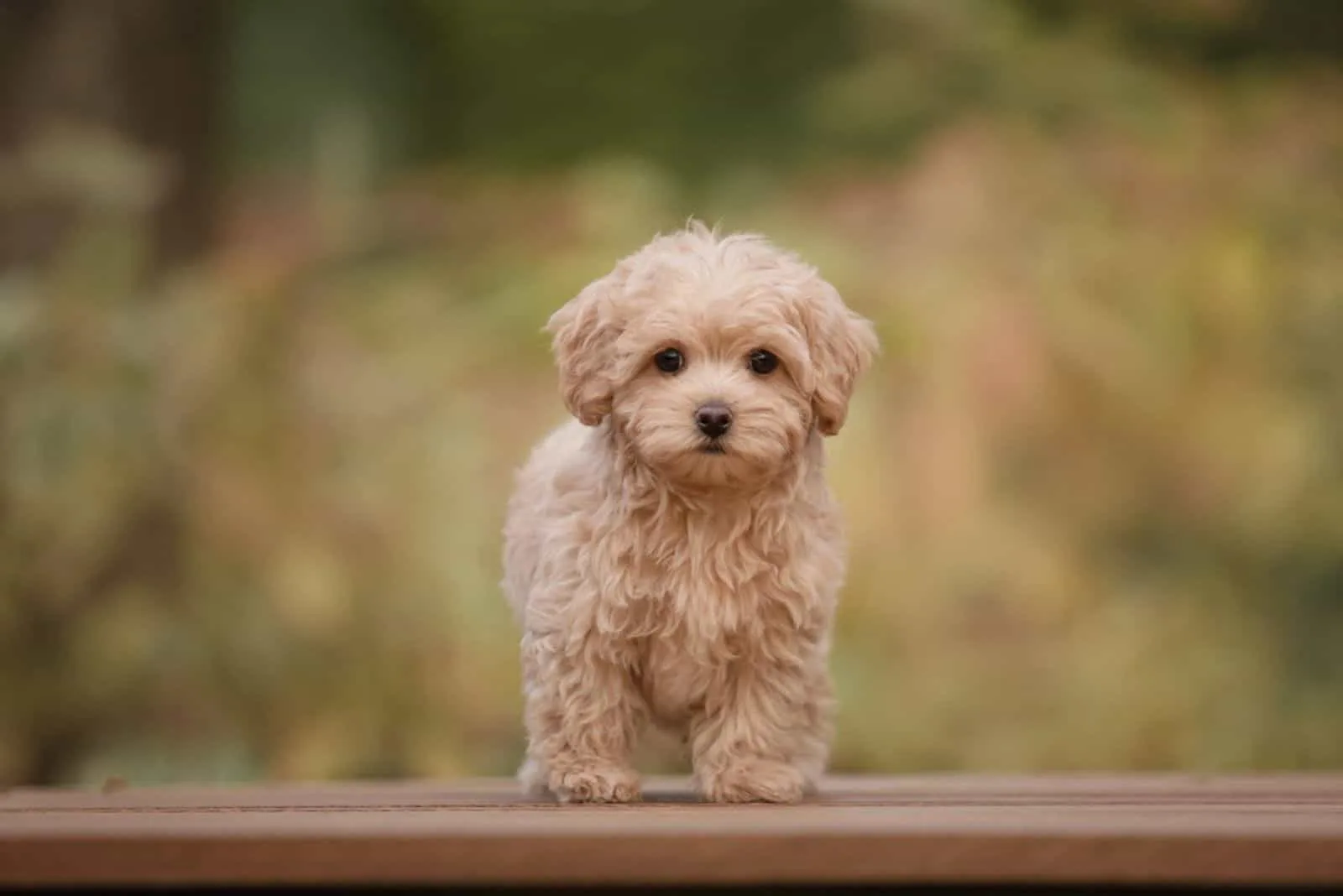 This is a small dog. Its height is up to 14 inches, and it can weigh up to 20 pounds. With these traits, we can put Maltipoos in the small dog group together with Chihuahuas, Pomeranians, and Shih Tzus.
Maltipoo dogs can look more like a Poodle or more like a Maltese. As with all the other designer dogs, their looks are depending on the looks of their parent dogs. But there are some general physical characteristics that can be applied to all Maltipoo dogs.
The general Physical Traits are:
• coat length: medium
• coat density: normal
• coat texture: wavy
• coat colors: white, cream, brown, black, etc.
• eyes: brown and round (rarely blue color)
• nose: black
• ears: floppy
• tail: curled or docked
When it comes to their color it depends on the color of the dog's parents. We've mentioned the most common coat color variations of a Maltipoo, but other coat color variations are possible, as well. For example, you could see a silver, apricot, gray, or blue Maltipoo puppy.
The Maltipoo Puppy Average Cost
The Maltipoo puppy is a popular dog breed in Canada and in the US. You would think that high demand means a very high price, but that isn't always the case when it comes to Maltipoo puppies. The Maltipoo puppy price is from $700 to $4,500. That is a big range for the same dog breed. Why is that?
The reason is that the Maltipoo is a crossbreed dog, made by crossing a Maltese and a Toy Poodle. That means there are no firmly established rules when it comes to breeding programs. Anyone can breed these dogs without a lot of regulations.
Unfortunately, because of this, a lot of Maltipoo puppies end up in a shelter waiting to be adopted for a small price.
But the price gets a lot higher when you get a puppy from a reputable breeder with all the health guarantees to prove the puppy and its parents are healthy.
Reputable Maltipoo breeders in Ontario put higher prices on their Maltipoo puppies because they take excellent care of them. They make sure they have everything — from soft beds and grooming sessions to all the love a dog can have. So, the price goes as high as $4500.
The Conclusion
When we look at the list of the 8 best Maltipoo breeders in Ontario, there are several things that all of the breeders have in common. They love their dogs. They are not in the business just for profit.
The breeders want to find good homes for their puppies, not just sell them. Not only do they carefully choose the new owners, but they also keep the dogs in excellent health.
From regular vet checks to regular deworming and high-quality food, Maltipoo puppies born and raised at these 8 Maltipoo breeders in Ontario have the best life a pup can have. When you get a puppy from them, it becomes your turn to keep it happy, loved, and healthy.
We're sure you're up to the task, and that you and your new Maltipoo family member will become best friends in no time!
Read next:
• Maltipoo Lifespan And Tips For Increasing The Life Expectancy Of Your Pup
• 7 Best Maltipoo Breeders In Toronto, Canada