This post contains affiliate links, and I will be compensated if you make a purchase after clicking on my links.
When we go out for a day at the beach, the pool or the lake, we tend to leave our dear Chihuahuas at home, as they have a tough time staying afloat, but what about getting a life jacket for Chihuahua dogs?
Believe it or not, a life jacket for Chihuahua dogs does exist and it does wonders in helping relieve the load from your precious pooch, allowing him to relax as much as you do in the water and not have to paddle for dear life.
After all, they may be able to last a certain amount of time, but they may not be aware of when they get tired and how far off the shore is, which can cause them to drown, but with a proper dog flotation device, you get to circumvent that issue.
The other problem tends to be losing track of your dog in the water, particularly on a busy beach, but with the bright orange and yellow colors (among others) that many dog life jackets are painted with, that too becomes a non issue.
But how to find the right one that fits your dear doggo?
Well, you don't have to worry about having to spend hours of your free time scouring the online marketplaces for the right one. I've done the job for you and have composed a list of the best life jackets Amazon has to offer.
With any luck, one of these will be a perfect fit for your canine companion.
So read on to find out what these dog flotation vests are and whether or not they're the right choice for your dog.
8 Best Life Jackets For Chihuahua Dogs
Vivaglory Ripstop Dog Life Vest
Key Benefits:
Made from comfy padding encompassed by durable ripstop material that should hold out against even the rowdiest of Frenchies

6 different size options to fit any and all breeds

Over 10 different colors and patterns to choose from, all of them bright and noticeable even from far away, paired with reflective trim, D-ring and rescue handle as extra safety options.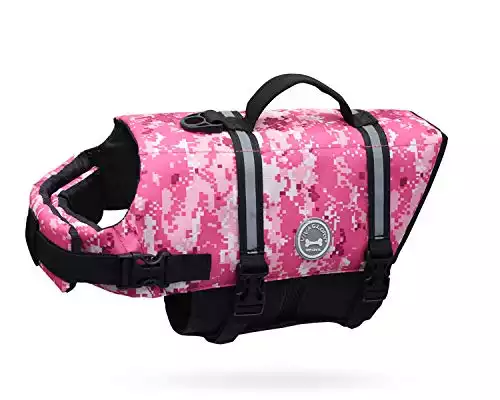 First up on the list is the Vivaglory Ripstop dog life vest.
An option for your Chihuahua that offers incredible water safety through high quality.
The Material
It's made from ripstop, a material that's incredibly durable and won't break or rip under any form of pressure.
The material also comes with extra padding that will provide comfort for your dog even when he's idling in the water, serving as an extra buoyancy aid once he gets tired.
The jacket is relatively easy to put on and doesn't obstruct his legs, allowing your doggo to move around freely without restriction, and the design doesn't compromise dog safety in the slightest.
The front floats can easily be strapped around your dog's chest and are fastened with a quick release buckle in case of an unforeseen emergency.
Plus, a simple mechanism like that makes it easier for you to put it on and take it off while making it a challenge for your dog to dismantle himself.
Sizing
You get a solid 6 sizes to choose from, from extra extra small all the way up to extra large.
The sellers do suggest that you measure your dog beforehand as picking the right fit is important.
Should your dog be between two sizes, it's always better to choose the larger one as your dog may grow into it if he's not done growing yet, and larger ones can be fastened up.
Another great thing about this one is that it features a carrying handle on the top so packing it isn't a hassle, and you can readily carry your dog with it too!
It also makes it easier to get him out of the water if you're out sailing or beach boating.
There's a D-ring next to the handle as well so you don't have to take the vest off your dog to take him out for a walk, removing more needless steps of constant donning and doffing.
You can also use it as an extra safety measure while your dog is in the water, but the leash is likely to be more of a hindrance in there than not if you're not careful.
The Colors
The dog lifesaver comes in about 10 different colors, ranging from the standard fluorescent oranges and yellows to more fashionable, but still easily noticeable ones like camo pink and multicolor.
There's definitely enough choice for you to find one that fits your style the best, or, at the very least, the color of your swimsuit.
Price wise, it's one of the more affordable options all things considered, especially given the options it provides you with.
However, people have noted that the size chart on the product page seems to be off a little and that it's smaller than indicated, so be wary of that when buying and ask the seller about it beforehand so you don't have to return it for a bigger one.
Though, even if you do, the people over at Vivaglory will happily exchange it for you should a mix-up like that happen, as long as you do it within 90 days of purchase.
RUFFWEAR Float Coat Dog Life Jacket
Key Benefits:
Made from durable PVC-free GAIA foam panels which allow for freedom of movement while keeping the dog comfortable and safely secured.

6 different sizes that can fit any and all dog breeds assisted by adjustable straps

3 different color options each providing high visibility in water and low light conditions otherwise

6 different sizes that can fit any and all dog breeds assisted by adjustable straps

3 different color options each providing high visibility in water and low light conditions otherwise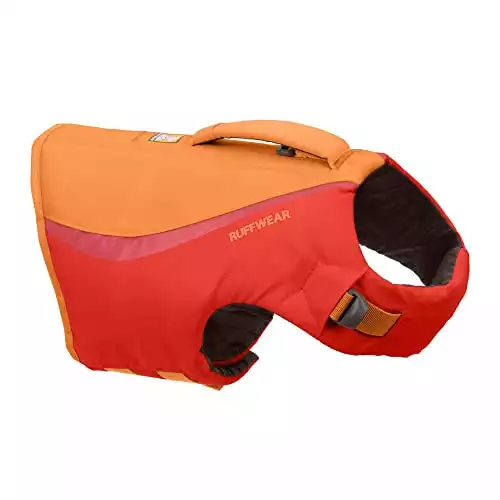 Next up we have one of the more expensive options on offer, a real big ticket item, but for good reason, the RUFFWEAR float coat.
It retains an almost perfect rating on the amazon store and is stamped with the "Amazon's Choice" tag, meaning it's one of their highest quality options on offer.
The Material
The product is made out of durable GAIA foam panels which not only provide the flotation means, but comfort as well, leaving your dog's skin unirritated and his movement unimpeded, allowing him to enjoy a leisurely cruise in his "doggy submarine".
There's a webbing below that doesn't allow the suit to shuffle about and become misaligned with your dog's body no matter how much your dog jostled around.
The webbing, as well as the neck help provide stability for the life jacket itself, not allowing it to slip away and pose a security risk to your dog's health rather than an aid.
All of that is further aided by the safety straps found on the side that pair with the quick release buckles in case of a malfunction or any other potential accidents.
Said straps also allow your dog to grow with the life jacket regardless of girth, at least not until it's time to size up.
Sizing
Speaking of sizing up, this wonderful pet life preserver for Chihuahuas and other dog breeds comes in 6 different sizes, accommodating anything from the extra small dog breeds all the way up to the large ones.
The Colors
And, as is customary, a good life jacket comes in bright, noticeable colors, and the RUFFWEAR one holds true to that statement by offering you 3 different color choices to pick from.
This way you can easily match it with the style you have your dog normally wear if you're the type of person to buy your doggo sweaters or other forms of dog clothes.
Sure, the colors are brighter here for easier recognition, but I'm sure you'll find something that fits.
For further safety, you'll find that it too has both a carrying handle so you can help your dog out easier and haul him around, as well as a plastic D-ring for leash attachment when out of the water.
The plastic, however, doesn't appear all too durable, so use it at your own risk.
The other downside is the price as it's definitely one of the more expensive ones on this list. Whether that stands for good quality in your eyes is up to you to decide.
Phyxin Dog Life Jacket
Key Benefits:
Made from lightweight and durable polyester fabric and stuffed with pearl cotton foam, providing comfort and durability to the product regardless of what your Frenchie does to it

6 different size options to fit any and all dog breeds

3 different, brightly colored options to choose from with other safety features like reflective stripes, d-ring and rescue handle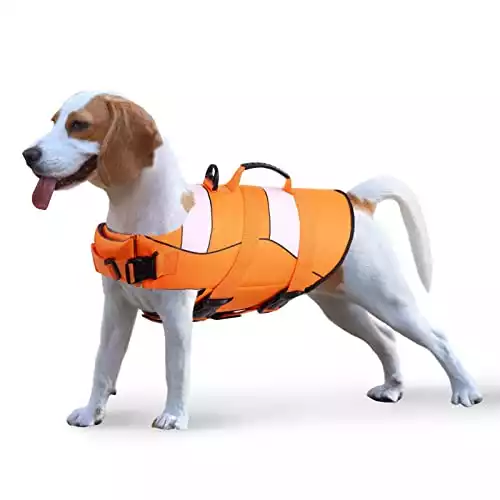 Next up is a bit of an all-rounder, the Phyxin Dog Life Jacket.
The Material
This article is made from high quality polyester fabric stuffed with soft pearl cotton foam. This way you have durability on the outside and comfort on the inside so your Chihuahua can feel at ease while traversing the waters.
Irritation and overall discomfort free.
The chosen materials are also relatively lightweight, allowing your dog full freedom of movement in the water and out of it without feeling weighed down.
Sizing
They come in 6 different size options, from x-small to xx-large with you only likely to need the former of the two, with the potential of transitioning into a small, depending on the size of your pooch.
They offer a number of standard security measures.
The obvious ones are the quick release buckles attached to adjustable straps on the front end with the bottom having velcro to further secure your darling doggo without compromising his comfort.
Then you have the rescue handle on top with the D-ring in the front to act as a leash attachment, both solid options for helping transport your doggo around depending on the situation.
The Colors
Naturally, the product is fashion forward too, offering 3 different bright colors to choose from that'll stand out in the water, especially when paired with reflective stripes.
It's definitely one of the more expensive ones on the market, but it's worth the price if you're looking for a high quality product.
That said, make sure to test each product beforehand and never trust the seller at first glance as some consumers have reported faulty products, be it with stitching or stuffing. Don't use it on your doggo before testing it out in order to keep him safe.
Outward Hound Granby Splash Dog Life Jacket
Key Benefits:
7 different sizes that accommodate any dog

Made with high quality ripstop material paired with a neoprene bottom and several adjustable straps with quick release buckle to make a safe and comfortable life vest for dogs

7 different color options to choose from, each bright and made with reflective accents to make your Frenchie easier to spot out in open waters for you and anyone else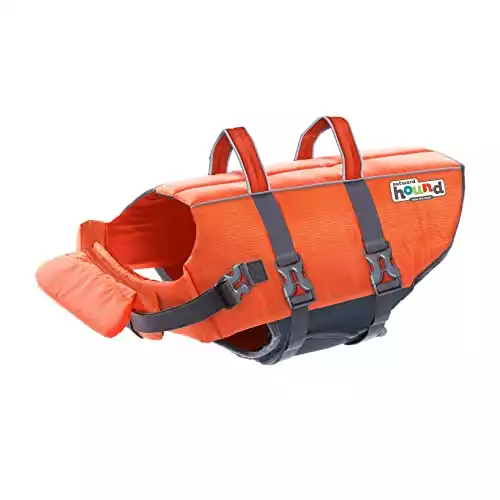 Next on this list is the Outward Hound dog life jacket.
The Material
Similar to the earlier product, it's made from ripstop material, a blend of polyester alongside some other high quality material to create an extremely durable product that your dog won't be able to tear up should he get his teeth on it.
The material is incredibly buoyant too, especially when paired up with the foam stuffing that allows it to stay afloat.
It also has the standard protection and comfort with adjustable straps paired with quick release buckles in case the straps get tangled up or anything else gets stuck.
To add further comfort, there's a whole bottom band rather than a mesh which keeps your dog put and the fit form-fitting.
It's made from neoprene, which is an elastic and highly durable material. It may feel a little tight at times, but it should be more than fine.
Sizing
Aside from these adjustments, you also have 7 different sizes to work with that are based on your dog's girth, but you're likely only going to need the X-small ones.
The Colors
For further customization, there are 3 different model styles to choose from in case you want something different for your Chi.
It's their method of personalization with added doodads, while providing an entirely different experience.
But don't worry, all 3 options have reflective colors on them with added accents, making them easy to spot in case the current takes your dog away from you or he gets a bit too curious and wanders off on his own.
Naturally, you also get the other safety options of the front neck float, keeping your dog's head above water even if he gets tired, allowing him to take some time to chill out and recuperate his strength.
It's also a great tool to help him learn how to swim if he didn't do so already, acting as a great form of drowning prevention.
On top of all that there are two grab handles on top which can help hoist your doggo out of the water a lot easier or to carry him around like luggage if he's too tuckered out.
Mixed in with the 3 earlier styles, there are 4 more colors to choose from, making for 7 color options total for your personalization needs.
Given everything that comes with it, the price is pretty good and relatively affordable, just make sure to check it for any damage or similar defects.
Some users have complained about that and it's worth double checking so your doggo doesn't end up in trouble.
Better be safe than sorry and a few extra minutes of check-up is something that I figure you can spare for your Chi's sake.
Queenmore Dog Life Jacket
Key Benefits:
Features an adorable shark fin on top that makes your doggo look more menacing in the water

Made from a mix of comfy and durable oxford cloth and soft polyethylene foam as well as a breathable mesh on the bottom end for maximum canine comfort

Comes in 6 different sizes to fit any and all dog breeds and has 6 different color options and 2 different patterns to choose from for added personalization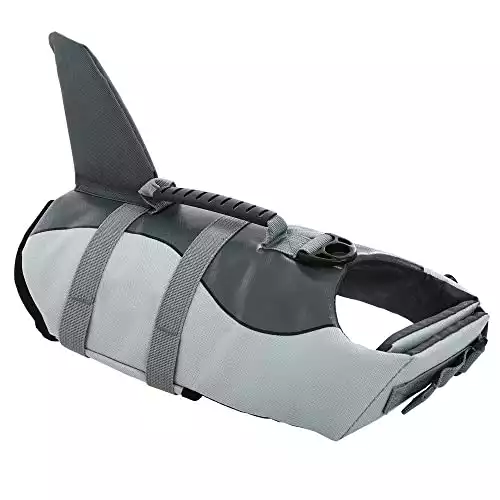 For those of you who want to turn your Chi into a proper seadog and maybe even scare a few family members senseless, you may want to give the Queenmore life jacket for dogs a go.
The Material
Made to resemble a shark thanks to the fin attachment, this particular flotation device is made from Oxford cloth and stuffed with polyethylene foam to make for a lightweight and breathable jacket.
It helps circulate the air on the inside of the jacket to help cool your doggo off on those hot summer days.
This is further enforced by the mesh found underneath which not only supports breathability, but it also helps keep your doggo in place so the device doesn't rotate over and start doing more harm than good.
For added safety, as always, one can find adjustable straps armed with quick release buckles just in case such an emergency would occur or something worse that gets your dog tangled up.
It also helps better adjust the jacket itself so it better fits your Chi.
Then there's the usual life jacket pet rescue handle on top that you can utilize as a safety measure to pull the dog back up on the boat if he falls off it, or to help carry him around when you're out and about.
A D-ring can be found on top too so you don't have to bother with collars when you want to leash your pooch and take him for a walk, the life jacket will act as the collar and more.
Aside from the shark fin gimmick, this life jacket for Chihuahua dogs is mostly the same as the other ones in terms of design barring the construction elements themselves.
The Colors
They still sport the highly reflective colors for easier spotting out in the open sea or in any other body of water for that matter.
There are 6 total options spread across different styles to accommodate for that, though the base one is arguably the least reflective one which is why suggest opting for something a bit brighter, your doggo will thank you for it.
The fin helps out in that regard too as the ones in more reflective colors allow you to see it better, having it act as some sort of signal flag.
There are a few differences in design compared to the standard ones we've seen so far, the main one being the positioning of floats for the Queenmore, placing enough floatation on the front, back and sides to even it all out and reduce drowning risks.
Though, the usual one of only placing the floatation around the head works just as well, if not better for some.
The fin is the other obvious design difference, but it was done to help bring some extra aesthetic to the product and it ended up working as an extra positive too.
Sizing
Size wise, the doggy life jacket comes in 6 different size varieties, though your dog should be content with the small or extra small, but be sure to size up if needed.
The cost of the product seems fair, certainly more fair than some other options I've seen on Amazon thus far, even if the gimmick may seem somewhat unneeded by some parents.
Speaking of which, it was also the design's biggest detriment as it was the one piece that was easiest to break or dissolve.
And, another thing, though not really all too relevant for a Chihuahua, would be the fact that most of these can't seem to support larger dog breeds which is why larger dogs ought to be careful, but your Chihuahua should be safe now, at least from our wrath.
HAOCOO Dog Life Jacket
Key Benefits:
Made from a mix of durable and high quality Oxford cloth and nylon fabric with pearl cotton foam as the padding

Extremely safe with adjustable straps on the bottom, bright colors of 10 different variants, a reflective trim and a front float to keep your furry friend's snout out of the water

Comes in 7 different sizes and is incredibly cheap for the benefits that it offers compared to its other competitors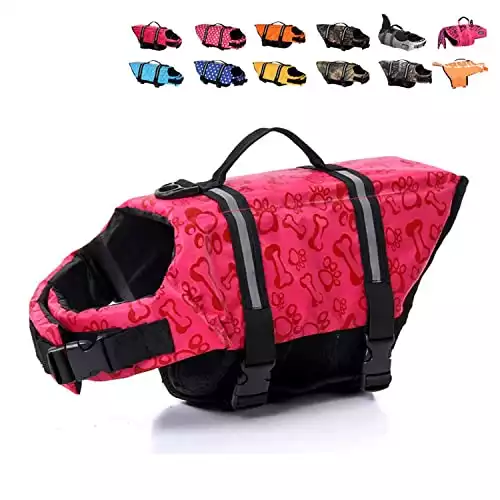 Coming up next is one of the more budget picks out there that still has a good level of quality, the HAOCOO dog life jacket.
The Material
This particular one utilizes pearl cotton foam as padding, covered with a mix of Oxford cloth and nylon fabric which leaves your Chihuahua in the highest levels of comfort while paddling around in the water.
Naturally, the strap found on the underside of the jacket is fully adjustable so it can adapt to its user, alongside several quick release straps which serve as an added layer of safety should anything malfunction and get stuck.
For further safety, there's a carrying handle on top alongside a D-ring, the default for any good small dog life jacket, allowing you to easily get him out of the water, especially in the case of a pool where he may struggle to reach the steps or vault over the edge.
The vest has a front float which helps elevate your dog's head and keep it from sinking beneath the water, allowing him some reprieve for when he gets tired without worry of drowning, though it may take your dog some time getting used to it.
Sizing
While you're likely to only go for the smallest of size in this case, do know that HAOCOO comes in 7 different ones, in case you have a bigger doggo in your household too, making it easy to pair your duo up in matching vests if need be.
The Colors
As for personalization options, there are 10 varieties there too, each of them painted in bright, reflective colors that are easy to spot no matter which body of water you go to.
One of the styles even offers the shark fin design, similar to the product from earlier if you wanted to give that a go.
As I've said at the start, the price is definitely a positive with this product as it'll barely cost you anything while still providing similar quality to some of the pricier products on this list.
That said, durability is always questionable with products like these. Though it's more likely to be the case with sizes intended for large dog breeds, make sure to inspect your small dog's safety vests thoroughly.
There's no guarantee that they didn't send you a defective product by accident.
Kurgo Surf n' Turf Dog Life Jacket
Key Benefits:
Made from quality neoprene material which is both waterproof and flexible, allowing your dog to enjoy maximum comfort

Adjustable straps with 3 points of adjustment to make the life jacket fit perfectly on your canine companion as well as 2 traverse control handles allowing for easier extraction from water or tight spaces.

10 different sizes on offer to fit dogs of every size category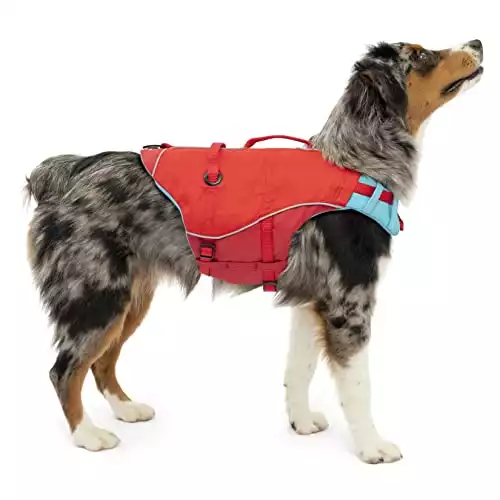 Next is the Kurgo Surf n' Turf dog life jacket, a simple design, but equally as effective as the other candidates for the top life jacket for Chihuahua dogs.
This is the definition of a classic dog life preserver with the default bright red coloration and the aforementioned simple design, that said, it does hide a few different things which give it a level of uniqueness.
The first ones are the 3 points of adjustment for the adjustable belts and straps found on the vest, alongside the quick release buckles which are a staple in canine safety, no matter what piece of dog gear is used.
The second would be the 2 traverse control handles set perpendicular to one another, allowing you two different angles of approach when you need to pull your Chi out of the water or any other dangerous area.
It helps provide you with better grip strength than you would otherwise have trying to grab his body despite his small size.
On top of all that, you have a metallic D-ring on top as opposed to the plastic counterparts many choose, allowing you to add a proper leash attachment wherever you go so your dog can feel safe.
It may not be best for saltwater, but that's about its only detriment.
The Material
And, of course, the construction is made from neoprene and stuffed with comfy foam to provide the maximum enjoyment for your canine companion.
Naturally, this is further enforced thanks to the front float that goes under your doggo's neck in order to provide relief for his body should he get tired out in the water.
The Colors
While there are only 2 colors on offer, they're more than enough for practicalities' sake as they're very bright and easy to notice, not to mention the added reflective trim to further enhance visibility in a crowded area.
Sizing
There are 10 different sizes to choose from, though the first three should suit your Chihuahua well, meaning it also shouldn't cost you as much as one would for a larger doggo.
The price is definitely its weakest selling point though alongside the metallic d-ring which isn't really needed for smaller dogs like the Chihuahua.
Paws Aboard Dog Life Jacket
Key Benefits:
Neoprene material helps the vest dry quickly and keeps your dog comfortable

Breathable mesh underneath to prevent adjustable straps from digging into the dog's skin and to help fixate the vest to prevent it from rotating

7 different size and 10 different color options to choose from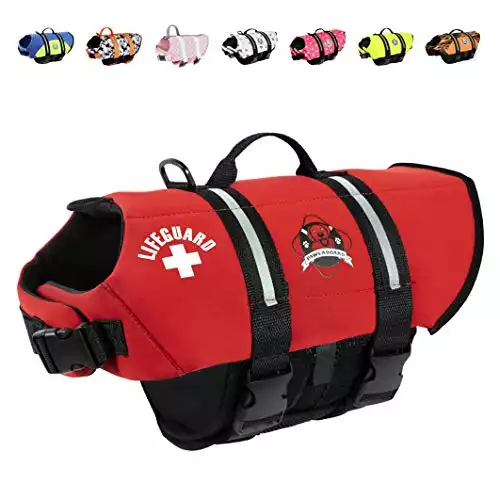 This final entry on the list comes from a small business, but don't let that make you diminish its great value.
The Material
It's still one of the better choices out there compared to the numerous lower quality ones out there, especially considering the neoprene material that it's made out of, allowing for both flexibility and water resistance.
This helps keep it from accumulating mold on the inside and helps keep your dog comfy during his swimming excursions.
The float on the front fastens underneath the dogs neck and provides a point of buoyancy that your Chi can rest on should he ever get tuckered out or to simply reduce the stress on his neck, preventing potential neck pain flare ups.
The underside is made from breathable mesh with velcro straps for easier attachment, providing an extra layer of comfort and air circulation to prevent rashes or infections from sprouting up.
It also serves as an extra layer of protection for the adjustable straps to not dig into his skin when you tighten them, the same ones that have quick release buckles should your dog be in trouble and to make donning and doffing the life jacket easier.
As for other safety features, it comes down to the standard package of a plastic d-ring for leash attachments and a rescue handle to help your dog out if he can't make it on the boat himself or if he needs help getting pulled out of someplace.
The Colors
Then there are the reflective strips found on each side which provide added visibility on top of the 9 different color options and patterns for you to choose from and best match with your dog's usual attire and gear theme or your own swimsuit.
Sizing
Size-wise, you have 7 options to go with, but the first few should be more than enough for a Chihuahua throughout all of his life stages.
And the price isn't all that much either. Sure it's not the cheapest thing on the market, but it's about average, though different colors do add to the cost, so do be wary of that when going out shopping.
There are some complaints regarding the stitching, so be sure to check the product before you use it, just in case you may have been given a faulty one.
BEFORE YOU BUY: Things To Be On The Lookout For When Buying A Life Jacket For Chihuahua Dogs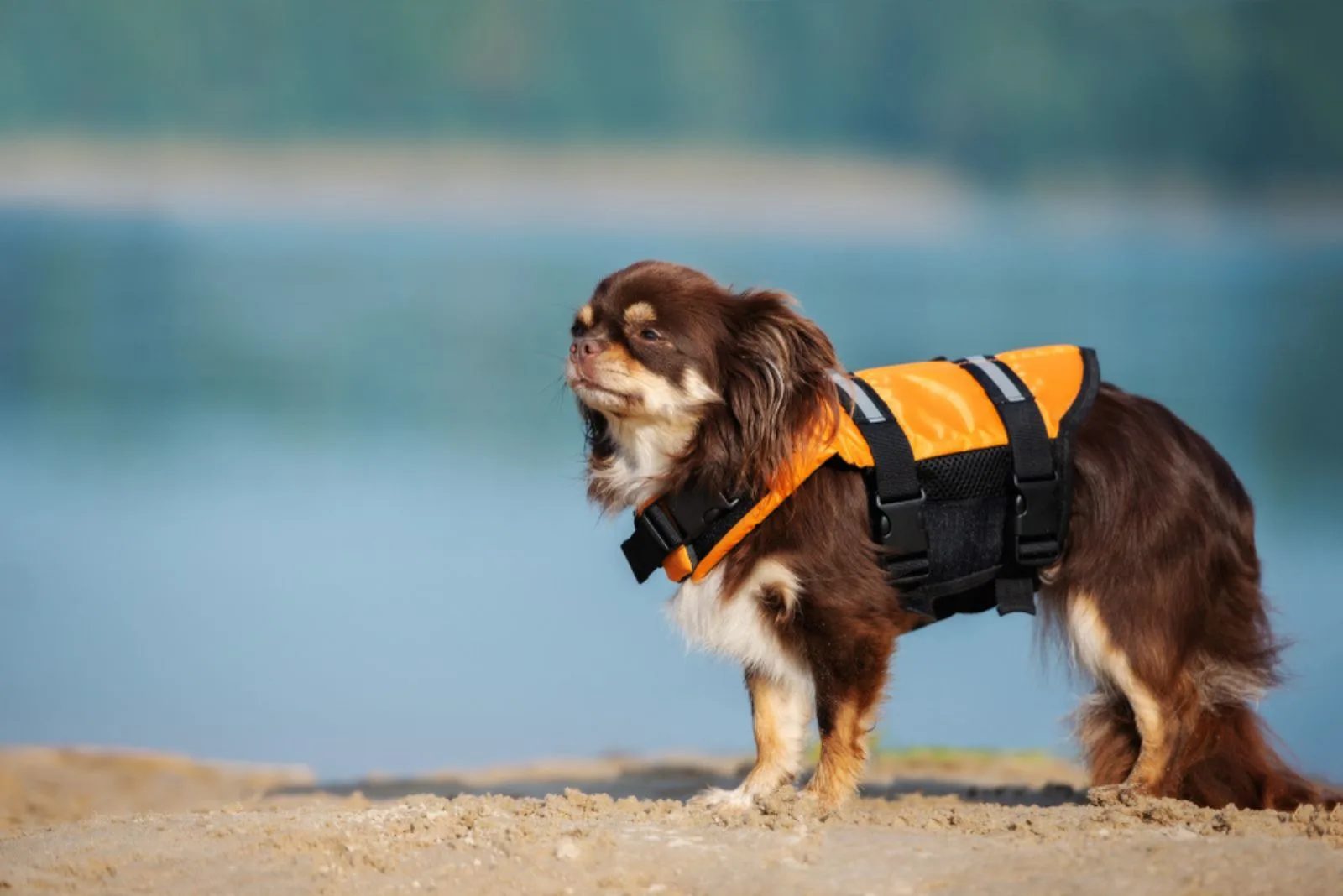 With all of these products listed, it may still be difficult to discern which one is best for your canine companion, which is why I'm here to help with that too.
Maybe none of these fit your ideal depiction of a small dog life vest, but figuring out what makes these good may help you detect some other potential candidates should you decide to take a peek on the online marketplaces yourself.
Here are the most important factors:
1. The Material
First and foremost, the material is important. You'll want something that dries quickly and that's water resistant, but on top of it all, still comfortable for your Chi.
Neoprene and Oxford cloth are usually the best candidates in that regard as well as some of their mixes as they tick all of these boxes.
Products made with Oxford cloth can be on the more expensive side at times, but depending on other features, the Neoprene option can be equally as pricey.
It's also responsible for the overall quality of the product and how well the padding on the inside is insulated.
2. The Amount Of Padding
The second bit that you should keep in mind is how much padding you want in your dog's life jacket.
If you want more padding then look for articles tagged as dog life jackets as they're the bulkier ones of the bunch, providing more comfort and buoyancy at the cost of mobility.
If you want the opposite, then go for a life vest which are a lot thinner than their counterparts and allow for greater mobility.
The former is better for the more open sea and unruly waters while the latter is adequate for smaller bodies of water where you can easily get your dog to shore should he get tired.
3. The Safety Measures
Arguably the most extensive of the categories, the safety measures encompass a great deal of features that make your dog's life easier in more aquatic terrain.
Some of the basic necessities are adjustable straps with quick release buckles.
You've seen me mention these in just about every single one of these products, and that's because they provide you with the flexibility to use one size and adjust it to your dog as it grows, preventing discomfort and restriction of mobility.
These also tend to keep the life jacket non-rotary, that way it doesn't turn into a safety hazard rather than a safety aid.
Next up would be the amount of float provided.
The front float is the basic standard for these, but some can provide an all around float, though these are more expensive by default.
You only really need the front, but if you're willing to give a little bit more to allow your dog to rest a bit better, then feel free to do so. It certainly won't be the wrong decision.
Of course, we can't forget about D-rings and Rescue handles.
These two more or less go hand in hand with one another given their location always being at the top.
D-rings can be either plastic or metal and I suggest going for the plastic if you're going into saltwater areas for longevities' sake.
I'd normally recommend the metal one, but that's only in case of large dogs as plastic ones may end up giving way to the pull of a big doggo, but this is a Chihuahua we're dealing with so plastic would be the way to go.
There's not much to say about rescue handles, and yet they're one of the most useful tools for getting your dog out of the water if he's unable to do so himself.
They provide a better access to your dog to grip onto and lift him up with, and they can come parallel or perpendicular to your dog's length, or a mix of both, but, it doesn't matter too much, as long as it's there.
And, finally, the color.
Bright colors are important on vests as well as any reflective strips or material to help easily discern your dog in a crowd or out in open water in general.
Strong currents can often sweep small dogs away with ease or your dog may end up becoming curious and wandering out of your sight, which is why having a color that's easy to spot helps out tremendously.
This is as true on water as it is on land in case your dog decides to wander into a forest or get lost in the dark.
We may think it looks ugly in some cases, but it certainly does provide a lot of utility, which is why it's of paramount importance that you find the right color that you can easily spot your dog in when you buy a dog floatation vest.
4. The Size
No life jacket is going to be good if it's too big or too small as that only introduces safety hazards into the equation, something you want to avoid if you're trying to safeguard your dog's enjoyment of water.
Getting the right life jacket size is important which is why you should always take your dog's measurements and compare them to the charts of the product you're looking into so it can be a near perfect fit.
If his size ends up being between vest sizes, always size up as chances are that you'll be able to adjust its girth with the straps provided.
5. The Price
Finally, while not the most important factor, it certainly plays a part in what's available to you.
While we would all like to afford the most expensive things for our furry friends, the reality is that we don't have an unlimited budget.
However, more expensive doesn't mean better, so make sure you weigh the pros and cons of each product against their respective prices before you make a decision, you may just walk away with a few extra bucks saved while getting a better product.
FAQs
So, What Is The Best Life Jacket For Chihuahua Dogs?
Well, it depends on preference, but usually it's better to go with something less bulky like the Kurgo or the Vivaglory options, simply to not burden your doggo too much.

That said, my personal preference would still go toward a bulkier one like the Outward Hound one, especially if your dog is just starting out with his swimming lessons.
Do Dog Life Jackets Actually Work?
They most certainly do, as well as human life jackets do, if not better, properly accommodated for their build.

They're the potential difference between life and death for a lot of doggos and help brachycephalic breeds like the French Bulldog enjoy the water for a longer period of time by allowing them to have breaks.

They're certainly important for small dogs like the Chihuahua as they're a lot easier to lose in open water due to their size and having something to easily point them out can be a real lifesaver.
Do Chihuahuas Even Need Life Jackets?
Well, at least in the start they do.

While they can swim well when they learn it, it takes time for them to get accustomed to the water and the motions required.

That said, if you plan to take them to open waters, you should always have a life jacket on them as currents can easily sweep them away or tire them out which could lead to drowning if they don't have one on.

Having one on in that situation will provide them time to rest should they get tuckered out and would make them easy to spot in case they do end up getting carried off.

However, if you're going to stick to the pool or bodies of water of similar size, you can do without one once they learn how to swim properly.

Do be sure to keep an eye out on them at all times, just in case they swim out too far as they may not have enough energy left over to swim back.
How Long Do Life Jackets Even Last?
They last for a pretty long time.

Depending on how much use one gets, they can last anywhere from 3 to 15 years.
Normally 300-500 hours of use on average, but if you don't frequent the beach too often, it'll last your dog a lifetime and then some.
In Conclusion
When considering the best life jacket for Chihuahua dogs, there isn't much extra that needs to be considered outside of the standard, and accommodating said standard to a small breed.
The option you should be on the lookout for is one that will keep your pupper afloat without compromising his mobility or his comfort.
Naturally, safety precautions and material need to be taken into consideration, but if you have the basics like straps with different points of adjustment to allow for the right size, a rescue handle on top and a d-ring, you can have your dog swim without worry.
Finally, the material should provide comfort and proper circulation without being too tight.
If you can manage all of these factors, you'll easily be able to find the best fit for your precious Chi. Until next time, pet parents.
RELATED LINKS: