Because of their small size, the best dog food for Chihuahuas is something with lower calories that comes in smaller servings but still packs a lot of essential nutrients and protein in.
You don't want to go overboard, as a few extra pounds of weight is a lot more added to the Chihuahua's average than it would be on a large dog breed, so you have to be really careful with their daily intake.
The food you get should also taste good so it is appealing for your doggo to eat. It can be as healthy as you want it to be, but if your canine companion doesn't like it, good luck trying to get them to eat it.
Even with all those things in mind, there are still way too many options to pick from out there, which is why I've browsed through Amazon and Chewy to bring you this list of products that I believe are some of the best dog food options for your Chihuahua.
Read on to find out what they are as well as get the answers to some frequently asked questions regarding Chihuahuas and their nutrition.
12 Best Dog Foods For Chihuahuas
Royal Canin Breed Health Nutrition Chihuahua Adult Dry Dog Food
Key Benefits:
Chicken meal as the main ingredient together with brown rice

Small kibble size for ease of eating for Chihuahuas

Omega-3 fatty acids, DHA, biotin and EPA that help maintain healthy skin and a shiny coat

Chock full of various ingredients, including vitamins and nutrients to meet daily nutritional requirements
Cons:
A lot more expensive than some of the other Chihuahua dog food options on the market

Contains wheat gluten which can be hazardous to some dogs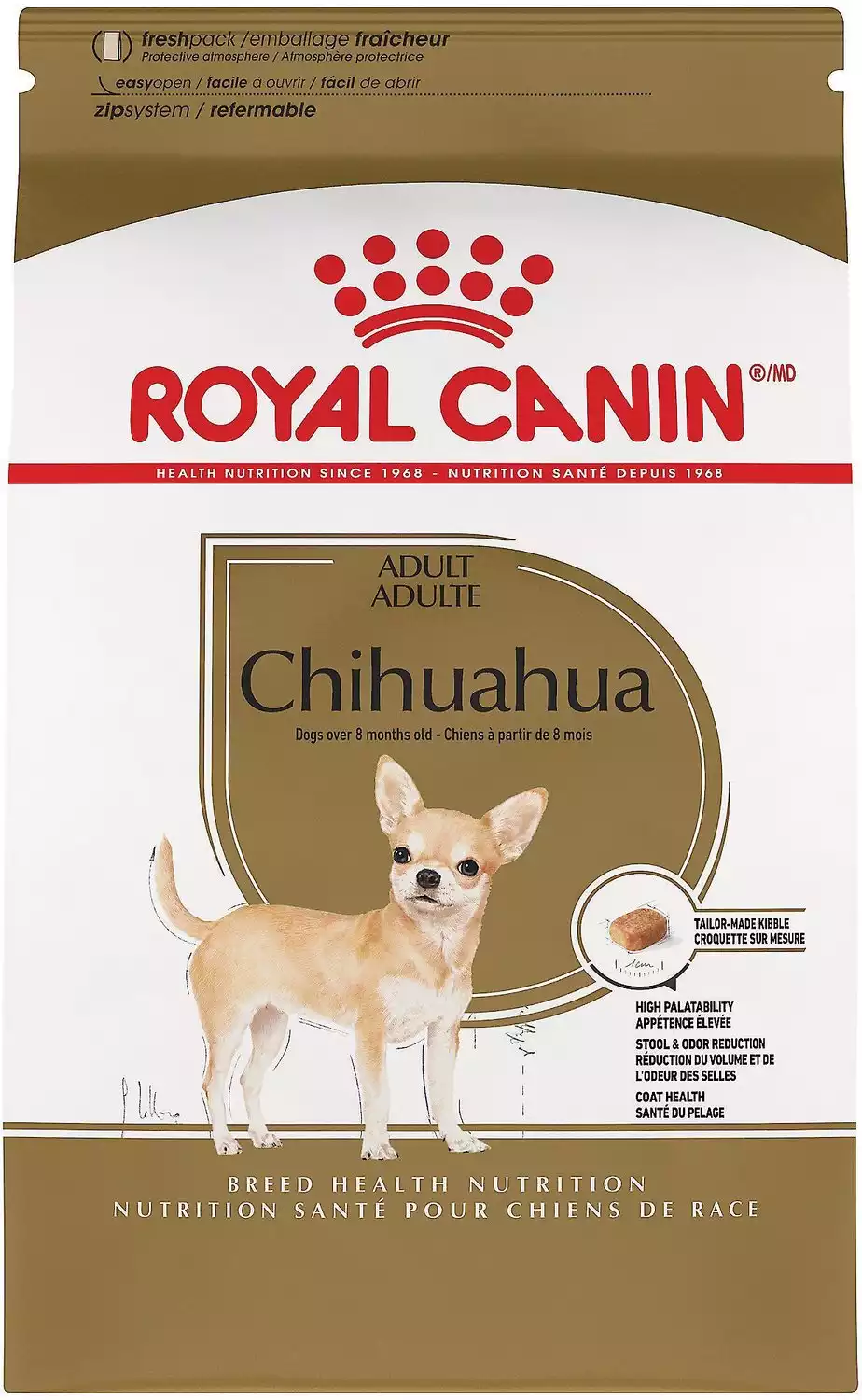 First up is a very familiar brand for any dog owner out there, Royal Canin Chihuahua-oriented dog food.
Designed primarily for the adult dog, this kibble contains the nutrients that every 8 month or older Chihuahua needs on a daily basis to provide them with a rather balanced diet.
Chicken meal is the main protein, supplemented by brown rice for improved digestion with added fiber content. The healthy, natural fiber and protein also help in reducing stool odor by helping things move along at a proper pace.
Some of the crucial nutrients include Omega-3 fatty acids, DHA, EPA and biotin, all key players in keeping a Chihuahua's skin healthy and irritation-free and their coat lush and shiny.
The mix also includes plenty of different vitamins, including vitamin E which not only helps retain their sight quality but also functions as an antioxidant.
The caloric content comes out to about 323 calories, which is pretty standard, but you still need to portion adequately to meet your doggy's recommended average of around 200–260 (depending on weight).
One of its other great benefits is the smaller kibble size, so your dear doggo doesn't have to struggle with larger bits and can easily and comfortably sink their teeth into their favorite meal.
While great in every aspect, it is a bit of an expensive purchase. It may be worth it though, considering the benefits provided, especially if your furry friend is a really picky eater.
And, if your dog is allergic to grains, you may want to skip this one as it does contain wheat gluten.
Blue Buffalo Life Protection Formula
Key Benefits:
Deboned chicken as the main ingredient, paired with whole grains

Omega-3 and 6 fatty acids promote healthy skin and a shiny fur coat

DHA and ARA help develop cognitive function of the brain and the eyes

Phosphorus and calcium support a healthy and normal bone structure and its development

Chelated minerals and antioxidants keep the immune system at peak performance

Grain-free food with no soy, corn or wheat

No empty calories with chicken by product or meals

Affordable pricing
Cons:
Packaging looks bland and outdated

High caloric content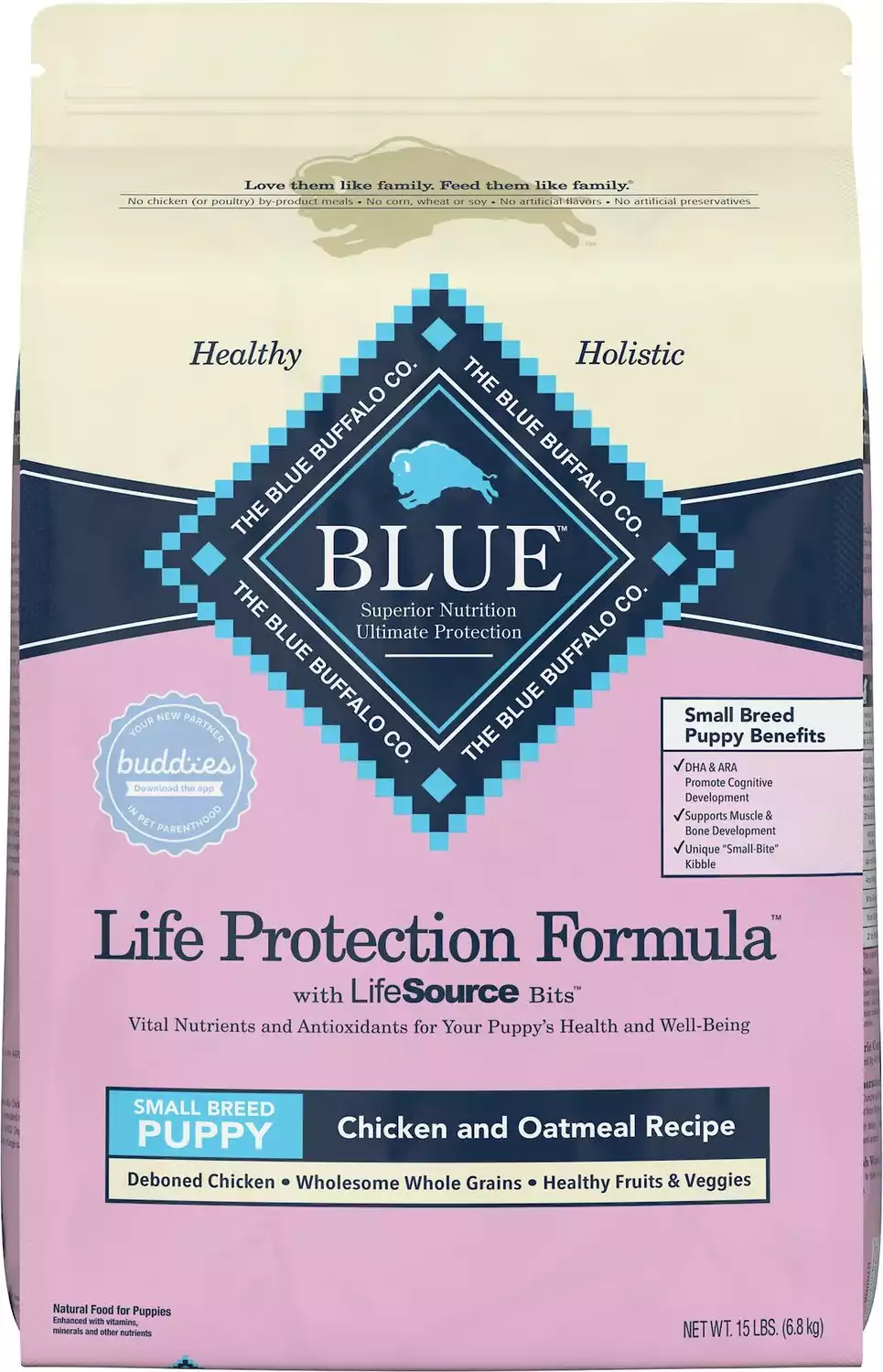 Moving on from the first senior dog food option, this time we have pet food aimed at small breed puppies with Blue Buffalo's life protection formula.
It's filled with quality ingredients, the main one being deboned chicken, a high quality protein that sets the foundation for healthy muscle growth, with added whole grains like oatmeal and barley to keep the kibble relatively soft and easy to digest.
The food also contains key vitamins and nutrients necessary for healthy puppy growth and bone development, such as phosphorus and calcium.
Speaking of bones, their teeth are kept healthy and plaque and tartar-free thanks to the specially designed, puppy-sized kibble bits perfect for the tiny mouth of a Chihuahua pup.
You'll also find ARA and DHA in this quality dog food mix, each of them essential key players in cognitive development in both pups and adult dogs, albeit a lot more crucial for the former.
You can't have a product called the best dog food without Omega-3 and Omega-6 fatty acids though as they play a key part in maintaining two very important parts of a dog's body, their skin and his fur.
We're not done yet, as the food also contains antioxidants and various chelated minerals, each a key part in supporting the development and maintenance of a healthy immune system.
The caloric content is higher than that of the previously mentioned dog food, coming in at 417 calories a cup, which does mean your doggo gets to chow down on less kibble, but still gets everything they need in their daily allotment.
While it's full of natural ingredients, the one thing it doesn't contain are any common grain allergens like corn, soy and wheat Nor does it pump in empty calories through meat by-product, chicken meal or similar.
Price-wise, it's a lot more affordable than many of its competitors on the market, though the packaging could do with a bit of a modern touch as it currently looks a little bland and unappealing.
Wellness Small Breed Complete Health Adult Turkey & Oatmeal Recipe
Key Benefits:
Made in the USA

Turkey as the main protein, paired with oatmeal for better digestion

Smaller pellet size for ease of chewing and digestion in smaller dog breeds

No GMOs, artificial preservatives, or fillers and meat by product

Omega-3 fatty acids aid in combating skin infections and improve fur health

Glucosamine helps build cartilage for better joint health

Antioxidants protect body against oxidation from free radicals

Probiotics boost overall immune system by improving gut bacteria

Taurine keeps cardiovascular system healthy
Cons:
Calorie-rich food meaning smaller daily serving sizes for your doggo

Some bags have been reported to smell of fish oil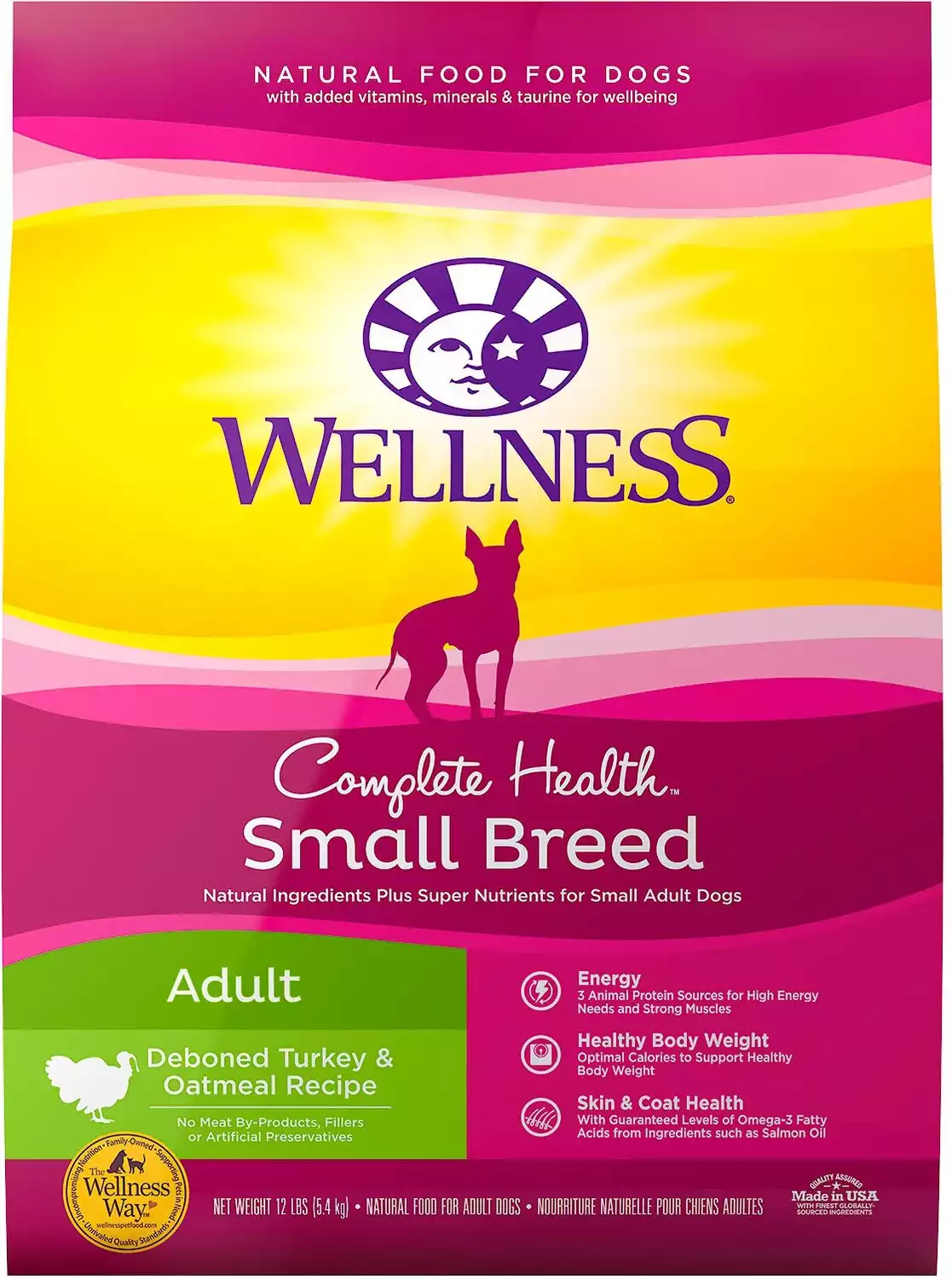 Next up on the list is another highly respected brand with their own entry specifically designed for small dog breeds. Wellness Complete Health includes turkey as the main ingredient and is boosted by oatmeal to help the food pass along the digestive tract easily.
A US-based company that manufactures their high quality dog food on our soil, a purchase from them helps support a local business and the jobs of fellow Americans.
The size of the pellets is smaller than that of standard dog food to adjust for the smaller jaws of the Chihuahua, making it a lot easier to chew and digest.
The food contains no empty calories from fillers and other meat by product, nor does it contain any artificial preservatives or GMOs, opting for a more genuine and natural food experience for your doggo.
What it does have are plenty of the vitamins and nutrients your dog needs to stay healthy, the first one being omega-3 fatty acids which help prevent skin irritation and maintain coat shine and strength.
Then there are the probiotics which help support healthy gut flora to process food better and strengthen the immune system.
Taurine is also present as a supplement for improving cardiovascular health.
Various antioxidants are included in this mix too as a great way to protect the body from free radicals.
Finally, glucosamine is another crucial ingredient that helps build cartilage which is often found in joints. While of more importance for large dog breeds, it still plays a vital part in the health of smaller dogs too.
Cost-wise, it sits on the line of average so you're not exactly getting a steal, but you're also not overpaying for a product while getting some of the best dry food for a Chihuahua out there.
The calorie count per cup is 400-ish which means you're going to have to provide smaller servings, but your dog will still be getting their daily nutrients regardless.
That said, do be wary that some shipments may come with a fishy smell as some users have reported.
Hill's Science Diet Adult Sensitive Stomach & Skin Dry Dog Food
Key Benefits:
Specially crafted for small and toy breeds of dogs with sensitive stomachs

Main protein is chicken and chicken meal supported by whole grains

US brand

Vitamin E and Omega-6 fatty acids help fight against skin infection and irritation while maintaining good fur health

Prebiotics support healthy gut bacteria

Amino acids and antioxidants help boost overall immune system and body

392 calories per cup

Slightly cheaper than the average
Cons:
Cheaper options out there with similar benefits if your dog doesn't need to worry about digestion problems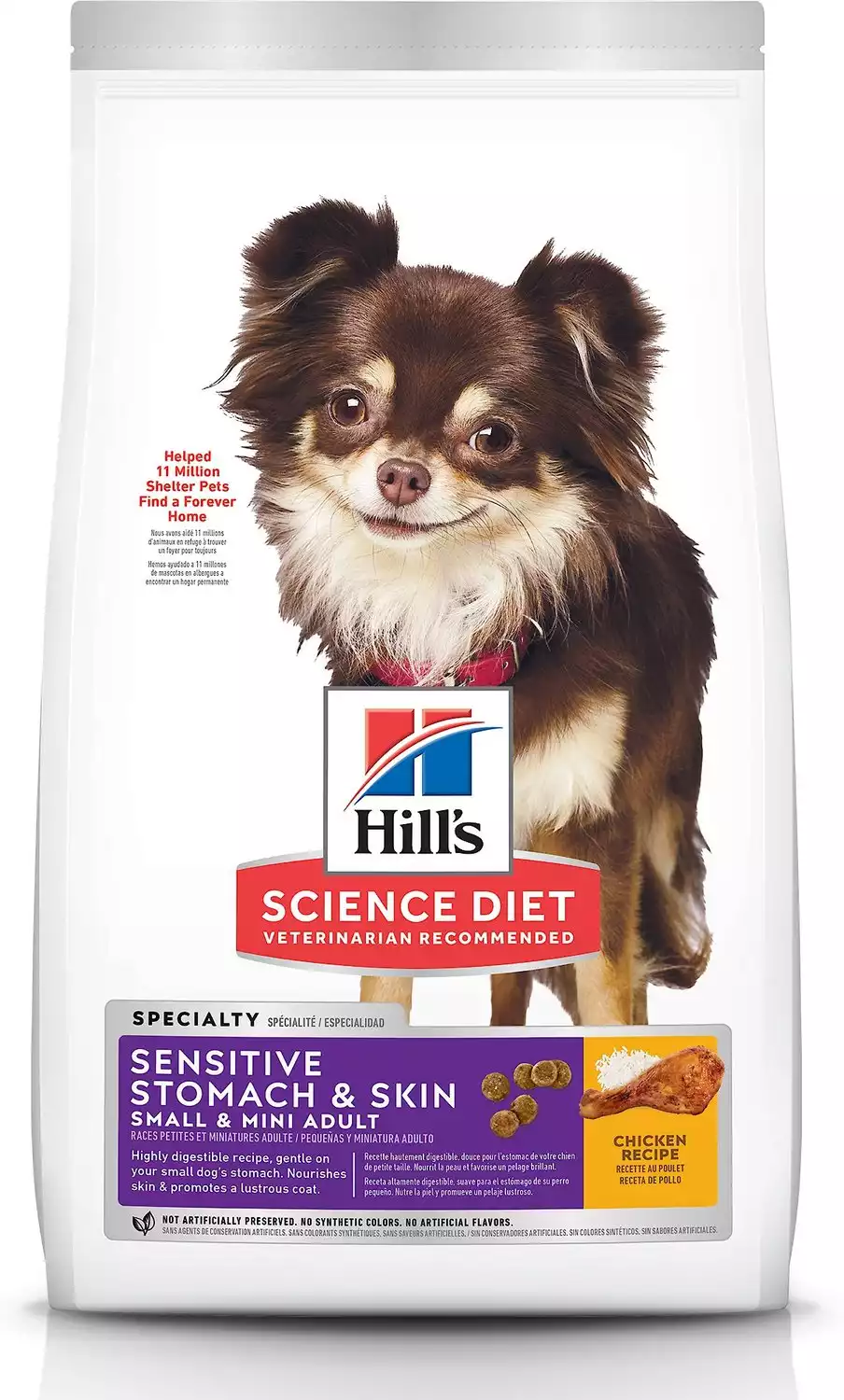 Here's another specialized form of dog food for your darling Chihuahua, especially if they have issues digesting certain foods or any allergies.
Hill's Science is a company based in the USA that prides itself on using natural ingredients which are carefully selected to create their specialized diets.
It uses chicken and chicken meal as the primary protein sources mixed together with whole grains to make it easier to process.
Omega-6 fatty acids are also present. They, alongside vitamin E, help keep your doggy's coat nice and soft and their skin hydrated and free of infections or rashes.
A healthy dose of prebiotic fiber can be found in the food too, important for keeping gut bacteria healthy, allowing your canine companion to better process food and have less problems with digestion.
It also contains a good amount of antioxidants and amino acids which boost overall bodily health in a number of different ways.
It comes out at around 392 calories per cup which is less than a lot of the other competitors out there, but it's still a lot more than the daily allowance for an average Chihuahua of about 230-ish, so you'll still have to give them smaller serving sizes.
Price-wise, it sits around the average mark, maybe leaning a bit more toward being cheap rather than expensive.
There are better-priced options out there with similar benefits, so only get these if your dog has issues with digestion or certain ingredients.
Cesar Rotisserie Chicken Flavor & Spring Vegetables Garnish Dry Dog Food
Key Benefits:
Real chicken as the main ingredient paired with grains and rice

Contains a mix of various spring veg to enhance flavor

26 different nutrients

Differently-shaped kibble bits with one specifically designed to improve dental health

Bag is resealable to maintain freshness

349 calories per cup

Incredibly budget option
Cons:
Contains common grain allergens, worth noting for Chihuahuas with sensitive digestive tracts

No mention of any of the more common and essential nutrients that other options have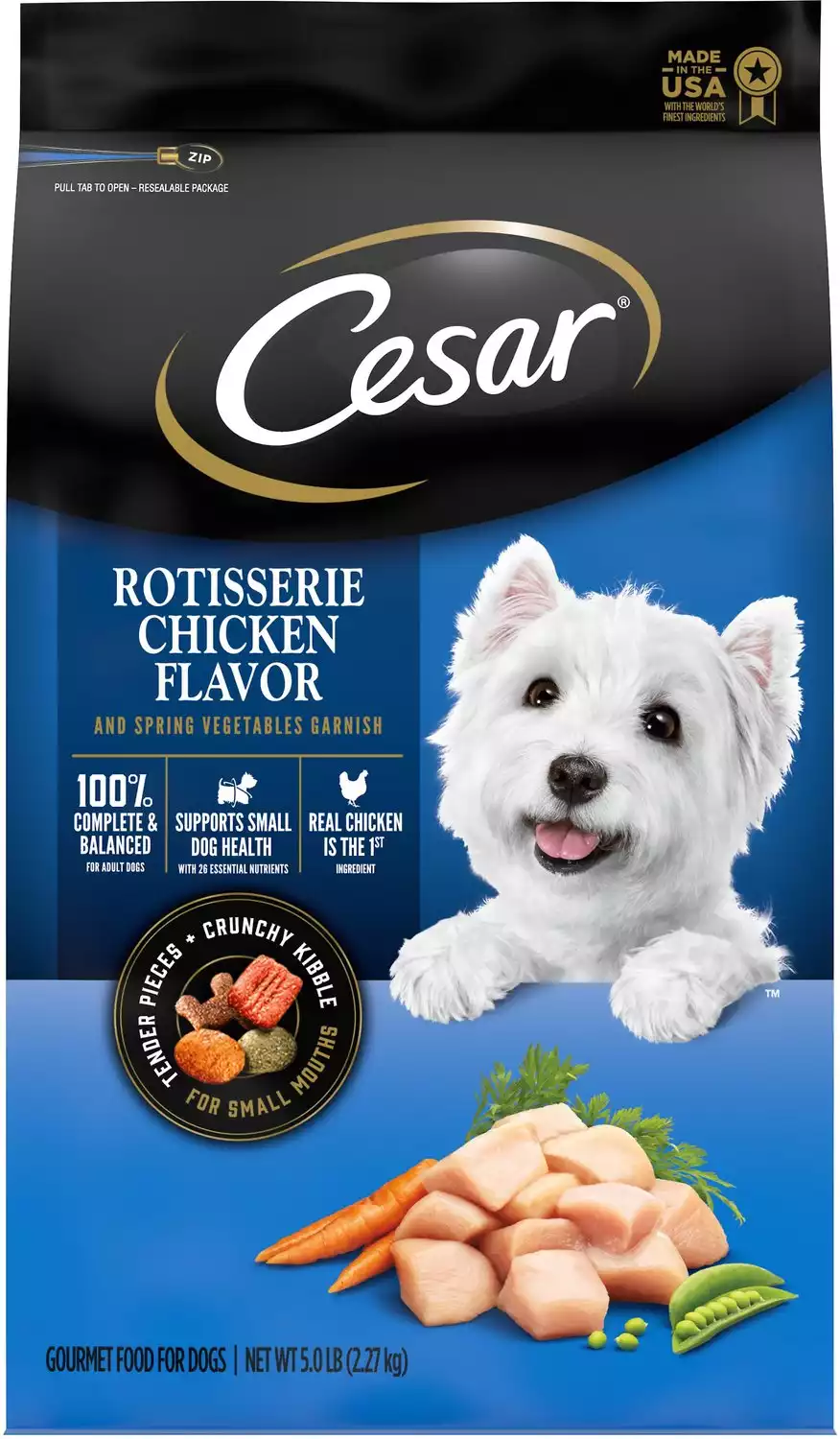 Taking a reprieve from some of the pricier options, here's a more budget-friendly pick in Cesar's dry dog food.
As is the standard for most dog foods, the main ingredient is high-quality chicken which acts as a good neutral base for the rest of the ingredients to sit on alongside some grains and rice to help blend the flavors better.
Its main selling point is the rich flavor sealed within that comes from the blend of various spring veggies and spices which any dog is bound to fall for. Well, that and the 26 various nutrients essential for a dog's growth and healthy function.
One of these is vitamin E which not only helps with eye health but is also known to improve fur and skin quality in dogs.
The kibble comes in various colorful shapes with the H-looking one also helping to deal with plaque and tartar.
The food itself comes in a resealable bag so it stays fresh for as long as it needs to, allowing your doggo to experience maximum flavor at all times.
The calorie count is lower than most, coming in at about 349 calories per cup, allowing you to give your furry friend a larger serving than you would with some of the other options on this list which I'm sure your Chihuahua will be more than happy about.
And price-wise, it's an absolute steal with single-digit pricing.
The only flaw that I can really notice is that there's barely any mention of the standard set of beneficial nutrients, but I guess it's understandable as it's a budget option.
Iams Adult Small & Toy Breed Dry Dog Food
Key Benefits:
Real chicken and chicken by-product as the main ingredient

No artificial flavors or preservatives

Contains antioxidants which boost overall immune system function

Omega-6 fatty acids maintain optimal coat and fur health

Smaller-sized kibble for easier pickup, chewing and swallowing

393 calories per cup

Less than half the price of an average bag of dog food
Cons:
Contains wheat which is a potential allergen in dogs

May not sit well with all dogs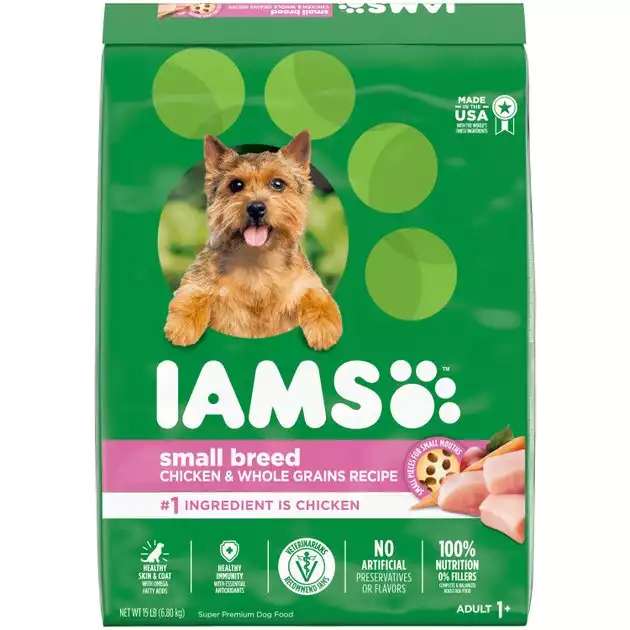 Another good contender for best dog food for Chihuahua dogs is Iams dog food for small and toy breed dogs.
It has all the essentials tucked into a neat little package: the antioxidants help protect the body from wear by protecting it from free radicals, the omega-6 fatty acids that preserve the skin and keep a dog's coat healthy, and many others.
All of this on a nice foundation of real, free-range chicken mixed in with whole grains and natural preservatives with no artificial flavors whatsoever, only the juicy, tender poultry.
The dog food is also made smaller than usual to make it easier for small breed dogs like the Chihuahua to both pick up with their jaws and digest.
The caloric content in a cup is higher than that of the recommended daily average for a Chihuahua, coming in at 393 calories a cup, so you'll need to deliver smaller servings to your doggo.
As for the pricing, it's a lot cheaper than the standard and makes for a great budget pick that still contains the relevant vitamins and nutrients for your canine companion.
It may not be the best food on offer quality-wise, but it's a great all-rounder in terms of price and quality, striking a happy medium between the two.
Though, as is the case with almost every dog food brand, some dogs simply may not like it even if it's the best thing since sliced bread, so do keep that in mind.
Purina Pro Plan Chicken & Rice Formula
Key Benefits:
Chicken and rice as the first ingredients

A healthy dose of prebiotic fiber and probiotics to boost digestive strength and improve gut flora

Rich in calcium and phosphorus, both of which improve bone health and aid in their growth

Smaller kibble size to accommodate small and toy breeds of dogs

448 calories per cup
Cons:
Contains wheat which is a common allergen among dogs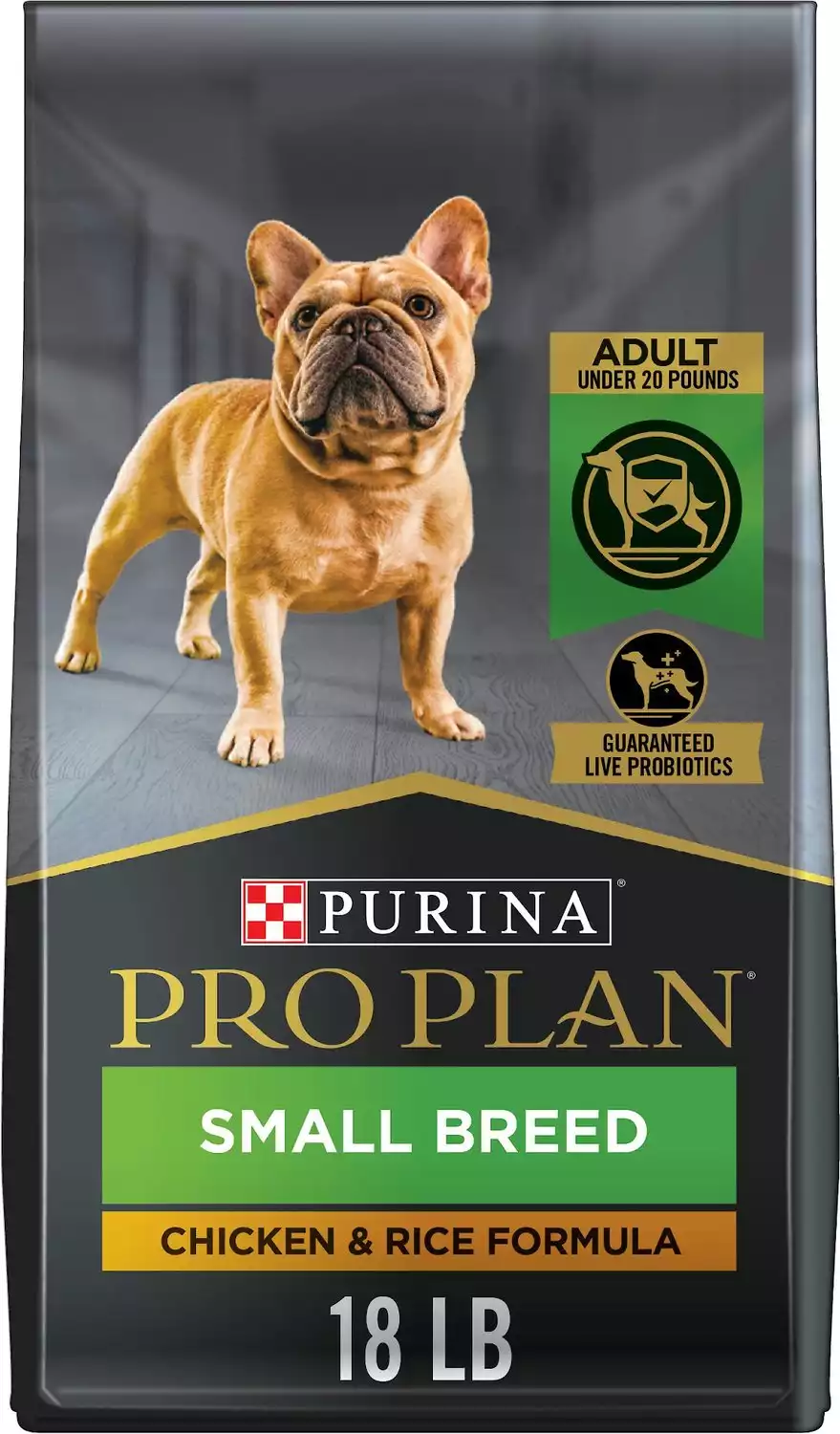 Another popular dog food brand enters the mix, one that specializes in improving gut flora and the overall immune system, the Purina Pro Plan Chicken & Rice.
As the name of the product says, the first ingredients of the base are a mix of chicken as the protein and rice as extra padding to make the food go down smoothly.
The main benefits come from wheat-sourced prebiotic fiber that helps feed your dog's beneficial gut bacteria to improve digestion levels, as well as live probiotics that enrich the biodiversity of said bacterial culture.
It's also rich in phosphorus and calcium which serve to reinforce bone structure and foster proper bone growth.
These, paired with the prebiotics mentioned earlier, make this product a decent choice of Chihuahua puppy food as these are all necessary ingredients for their growth, with a few extra missing ones that can be supplemented by other food options.
The kibble is small to make it easier to consume by smaller dog breeds, but that doesn't mean it's not nutrient dense. In fact, it's the exact opposite as each little pellet contains a portion of your darling doggo's daily nutritional needs.
The calorie count is pretty high though, measuring in at 448 calories per cup, so you ought to limit it to half a cup's worth for your doggo per day to keep them from gaining a few extra pounds.
The price is about average, albeit more expensive than some of the other options on this list.
The downside is slightly contradictory to the kibble's purpose, but the presence of wheat can be troubling if your dog is allergic to it, despite the dog food aiming to improve their gut's digestive capabilities.
Instinct Raw Boost Toy Breed Grain-Free Recipe
Key Benefits:
Free-range chicken used as the primary ingredient, bolstered by peas

Contains no by-product meals, artificial coloring or preservatives

No wheat, gluten, soy or potatoes present

• High protein content

Freeze-dried raw for better preservation

Has glucosamine and chondroitin, which aid in improving joint health and preventing joint-related diseases and other problems

Calcium and phosphorus added to help strengthen bones and facilitate proper bone growth

469 calories per cup

Cheap cost-wise
Cons:
High calorie count means less food for your doggo daily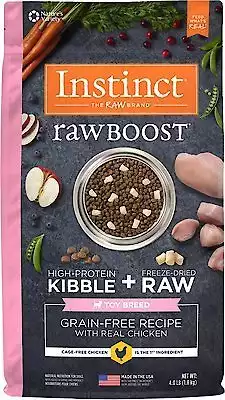 This next one, Instinct Raw Boost, which is produced by a US-based brand, is an excellent choice for Chihuahuas who need some support for their joints and bones.
The main ingredient is the standard one among dog foods, chicken, although in this case free-range and cruelty-free, with a variety of peas to soften it up and make it easier to digest.
Adding to that are the numerous beneficial nutrients like calcium and phosphorus, both of which strengthen bone structure and make sure your dog's teeth are in tip-top condition.
The other relevant nutrients are chondroitin and glucosamine which are responsible for healthy joints and essential for preventing joint diseases and other related problems later in life.
The things it doesn't have are the common grain allergens like soy, wheat or corn, nor will you find any artificial preservatives or coloring for that matter.
There are no by-product meals to pack empty calories in either or any potatoes which can contain a substance toxic to dogs called solanine.
The dog food is high in protein and is fully freeze-dried for longer preservation.
The calorie count is massive though, coming in at 469 calories per cup meaning those food servings are going to have to be pretty small to meet your doggo's daily nutritional needs without adding too much weight to their bones.
As far as costs go, it's among the cheaper options but definitely ranks among the best dog food options for Chihuahuas and small breeds in general.
Nutro Ultra Small Breed Adult Dry Dog Food
Key Benefits:
Chicken, salmon and lamb as the primary ingredients

15 other nutrient-rich foods included

All ingredients quality-tested and meet US food safety standards

Contains essential nutrients that every dog needs in their standard diet

Has no meal or meat by-product

Smaller pellets made for easier consumption by toy and small dog breeds

No artificial preservatives, colors or flavors

Grain-free

442 calories per cup

Cheaper than the average bag of dry dog food
Cons:
Flavor may not be to the liking of all dogs

Large calorie count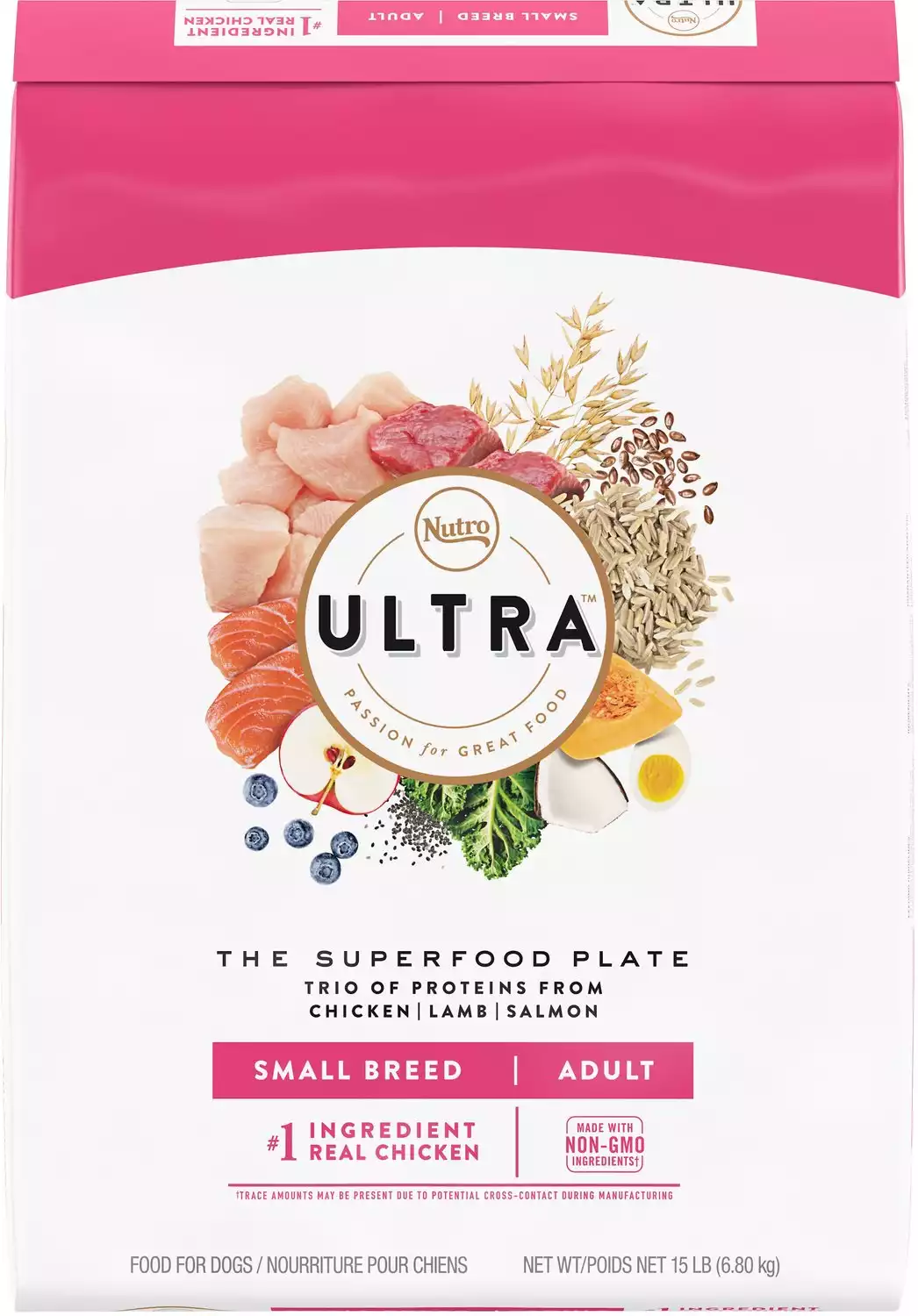 There is a mix of protein in this one with not just chicken but salmon and lamb on offer.
While chicken is still the majority here, an extra mix of different meats will provide a refreshing set of flavors for your Chihuahua to dig into.
This insanely nutrient-rich product is packed to the brim with all sorts of amazing extra ingredients like kale, chia seeds, carrots, blueberries, and even coconuts, among 10 other ones.
And these aren't just picked up at random from the cheapest source; they're obtained from trusted sources, farmers who grow them in proper conditions and whose food passes food safety laws to ensure your doggo isn't at any health risk whatsoever.
This means no empty calories from by-products and meals, no artificial coloring, flavoring or preservatives of any kind, and no common grain allergens either.
The calorie count is high though coming in at 442 calories per cup, but those all come from healthy ingredients.
That said, you should still be careful regardless of where the calories come from as overfeeding a small dog breed can easily reach obesity levels.
Cost-wise, Nutro is definitely cheaper than the average bag of kibble, even for their biggest option, so if you want to provide something with a richer taste than just chicken, this may be the right choice for your little canine compadre.
That said, the change in taste may put off dogs that have gotten used to the taste of chicken, so you may want to try weaning them off their old food to the new one if you want to make the swap.
Merrick Lil'Plates Mini Medley Wet Dog Food Variety Pack
Key Benefits:
3 different flavor options between 12 cans

Grain and gluten-free

93 calories per bowl

Beef, turkey or chicken as the main ingredient depending on flavor

Food contains lots of vitamin A which benefits the body in several different ways

Around 93 calories per bowl

Good bang for your buck
Cons:
Sickly gray color of food is often off-putting for dog owners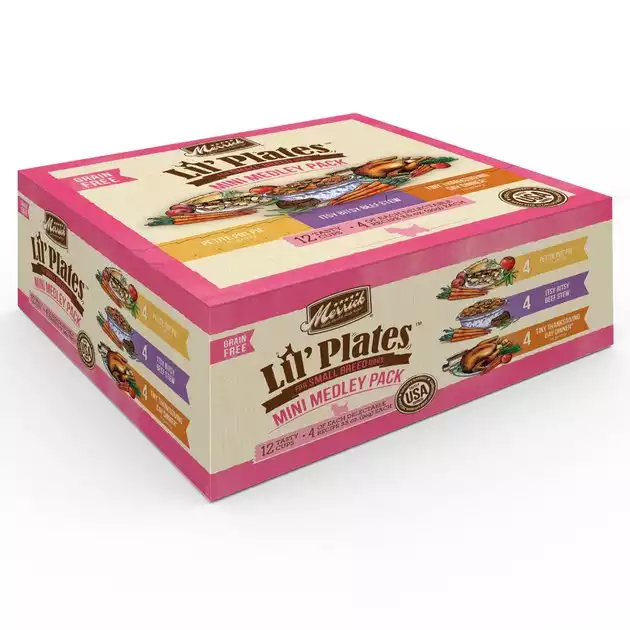 Here's a little bit of a change of pace, some wet dog food for when you want to reward your darling doggo with something extra special. With this variety pack, you get to spoil them for choice.
With 3 different flavor options packed in 12 different cans, your Chihuahua gets to choose between Tiny Thanksgiving Day Dinner, Petite Pot Pie, and Itsy Bitsy Beef Stew.
Each has a different main protein, Turkey, Chicken and Beef in order of listed tag, and all of them are both gluten and grain-free!
And they're all perfectly balanced for small dog breed intake at around 93 calories per bowl.
It does end up as a bit less than a Chihuahua's daily needs by about 40 calories after 2 bowls, but that can easily be supplemented by adding a little bit of dry dog food into the mix.
Grain would normally increase it, but the complex carbohydrates more than make up for it.
They're rich in vitamin A, crucial for many functions of a dog's body like improving eyesight, skin quality and their immune system in general.
And, considering the amount of cans that you get, the price is pretty darn good.
Though, while the flavors may be fantastic and all, many people have found that the color of the dog food wasn't really to their liking as it looked sickly gray.
Diamond Naturals Small Breed Adult Chicken & Rice Formula
Key Benefits:
Chicken and rice as the main ingredients

A number of other healthy ingredients, including various fruits and vegetables

US-based brand

Contains omega-3 fatty acids, essential for healthy skin and fur

Prebiotics and probiotics help improve gut flora and overall immune system potency

Antioxidants help protect body from wear by free radicals

No artificial colors or flavors

No wheat or corn included

418 calories per cup

On the cheaper end with regard to price
Cons:
Some dogs don't like the stuff

High calorie count that will need proper portioning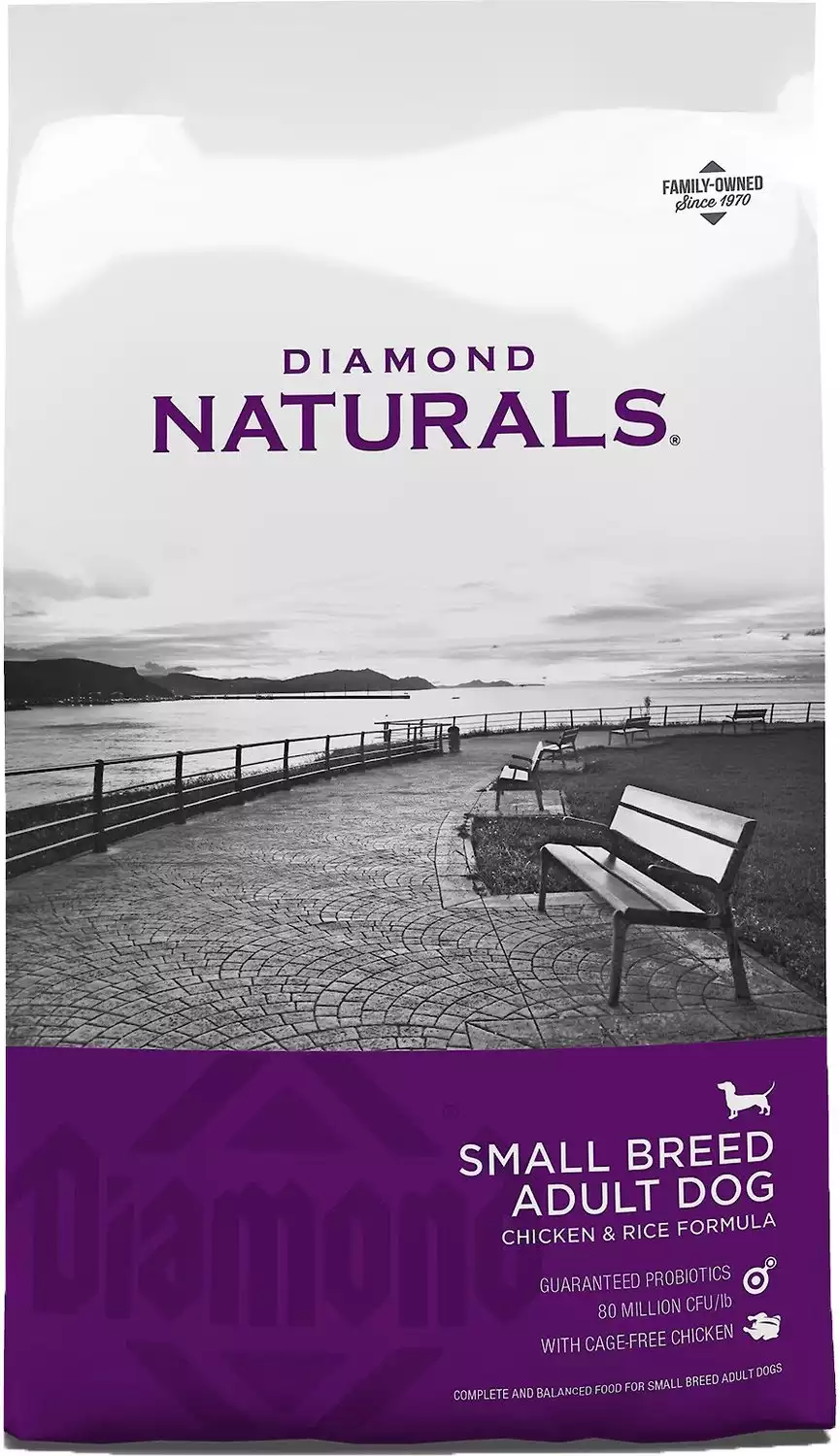 Moving back to dry food options, we have Diamond Naturals with chicken as the first ingredient and paired with rice for the ideal foundation for other ingredients to add some extra flavor. For example, pumpkins, blueberries, oranges, kelp and many, many more.
Every single ingredient is filled with essential canine nutrients and vitamins that help keep your dog healthy day in and day out.
One of the most important is , as always, omega-3 fatty acids to keep the most important parts of your dog's body safe, their skin and fur.
Aside from that, the mix also contains various prebiotics and probiotics to help safeguard the healthy gut bacteria found in the intestines and help boost your dog's immune system.
Antioxidants are there too. They are great little things that protect every part of the body from oxidation due to free radicals, essentially making everything last longer.
The calories are high-ish at 418 calories per cup, meaning you'll have to halve those servings again.
Thankfully, it's free of grains and doesn't contain any artificial coloring or flavor.
As yet another US-made product, buying local seems to always be the best as long as most of the ingredients are local too, at least from what I've gleaned on the internet.
Price-wise, Diamond Naturals dry dog food is among the cheaper options while still offering a good amount of beneficial ingredients, so I definitely recommend getting these for your canine companion if you're dealing with a tighter budget.
That said, your doggo may just end up not liking it for unknown reasons, as several other users have reported as well, but that's always a risk when introducing new food to your dog.
Solid Gold Mighty Mini
Key Benefits:
Chicken as the main ingredient with rice and pumpkin supplement

Contains over 20 different superfoods for added flavor, minerals and nutrients

Probiotics help improve overall gut health

Gluten, artificial additive and grain-free

Omega fatty acids help facilitate production of natural skin oils and keep fur shiny

450 calories per cup

One of the cheapest dog foods out there with incredibly solid quality
Cons:
Very high calorie count

Contains peas which is a hazard for dogs with the corresponding allergy
And for the final entry on this list, we have the Solid Gold Mighty Mini, a wonderful small breed dog food option with a mix of over 20 different superfoods that are rich in nutrients, like sweet potatoes, lentils, blueberries, pumpkins and the like.
The product uses chicken as the main base for these added foods, alongside chickpeas to help it all mix together well.
It has no sign of grains, gluten or any artificial additives so it's a grain-free dog food option as well, and safe for the more allergy-prone canine.
To supplement that notion, they also include probiotics which benefit the health and efficiency of your Chihuahua's digestive tract, ideal for adult and senior Chihuahuas whose immune system may have weakened with age.
Of course, you'll find omega fatty acids in the mix, preventing skin irritation by stimulating the production of natural skin oils as well as keeping his fur coat nice and shiny.
The food is pretty high in calories though, 450 calories per cup to be exact, so portion adequately.
One of the cheapest options on the market in terms of price without losing out on quality.
The only thing that could potentially be a downside is the presence of peas meaning that some dogs with pea allergies may want to skip this one.
Before You Buy: Things To Consider When Buying Dog Food For Chihuahuas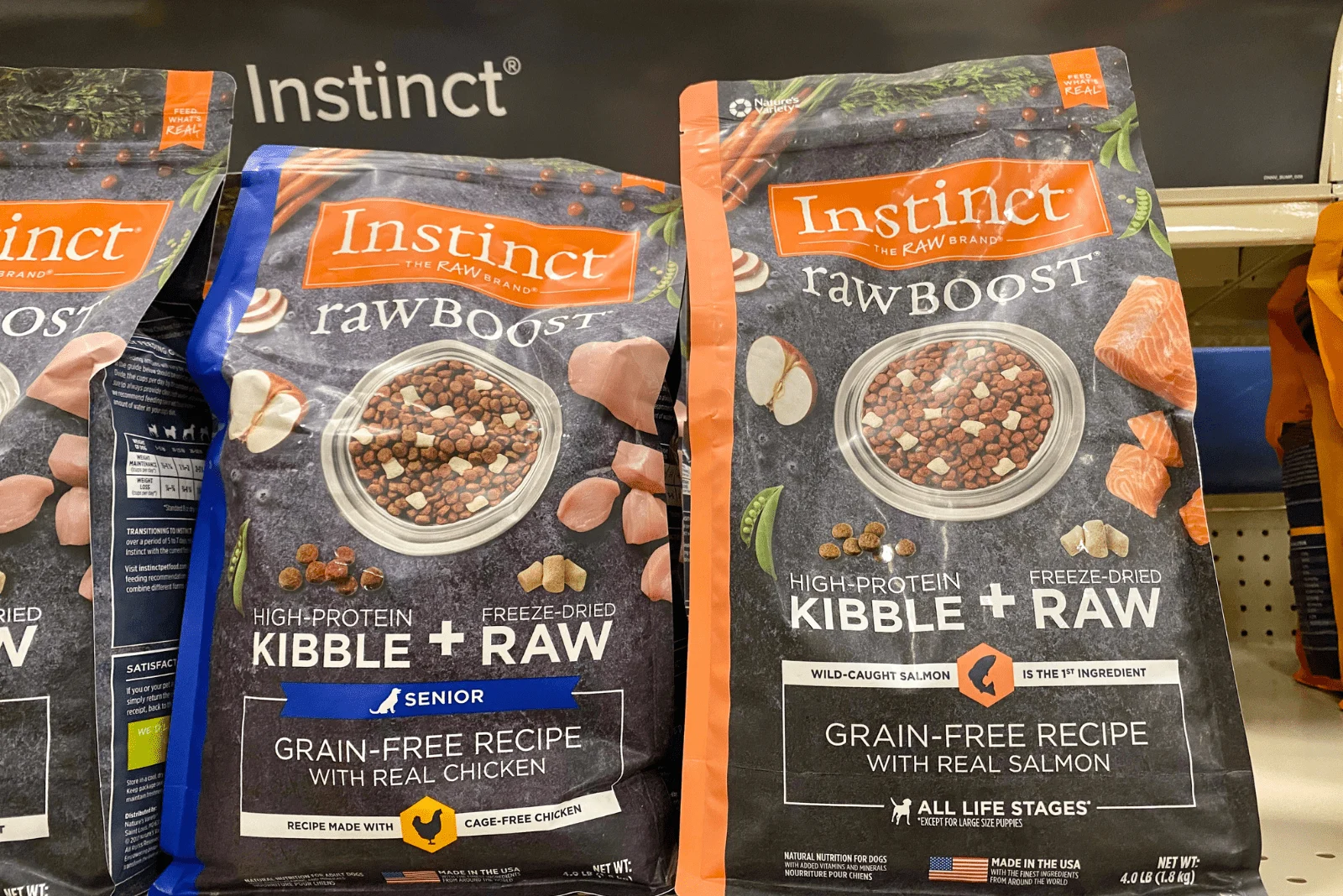 There are various options on this list that cover a variety of niches.
However, if none of them ended up being to your liking or your dog's specific niche wasn't mentioned, then I'd like to at least advise you on what to look out for when trying to find your doggo's ideal food.
You may have gotten acquainted with the various similarities that some of the best options here have, but let me summarize them so you have an easier point of reference:
Same Things, Smaller Packages
Like all dogs, Chihuahuas need the same nutrients but in smaller amounts and with less calories, so always look for the ones that contain the most beneficial and essential options for your dog and are offered in small dog breed servings.
Smaller Kibble Size
Regular-sized kibble is often too big for smaller dog breeds to manage so getting dry dog food with smaller breed-sized pellets is going to be a lifesaver.
Fiber Forever
Fiber is a key player in healthy digestion so always aim for fiber-rich foods to avoid potential constipation in your doggo.
High In Protein
Despite their small size, Chihuahuas are a very high energy dog breed with a lightning-fast metabolism, so finding protein-rich foods is going to be ideal for them.
Try aiming to hit somewhere around 25% or higher, but I suggest you consult your nutritionist or vet on the matter as your dog may require more or less protein in their diet.
Keep Fat Percentage Low
While fats are a key part of any living being's diet, overdoing it for a small breed can lead to excess weight gain. Try to keep it in check when feeding your doggo.
Carbs Are Important
Similar to fat, carbohydrates are an essential part of any diet as they help keep blood sugar levels up. This is extremely important for Chihuahuas as they often suffer from hypoglycemia, one of their many health problems, if not fed a proper diet.
Rich In Minerals, Vitamins And Nutrients
Food without nutrients isn't really all that great so getting ones that do have them is a priority.
You should especially be on the lookout for antioxidants, Omega-3 fatty acids, probiotics and the like.
For smaller dogs, phosphorus and calcium are also important for facilitating normal bone structure development.
Keep a look out for Chondroitin and glucosamine too as they're responsible for joint health.
Finally, DHA and vitamin E are vital for proper cognitive development and function.
FAQs
What Is The Best Dog Food For Chihuahua Dogs?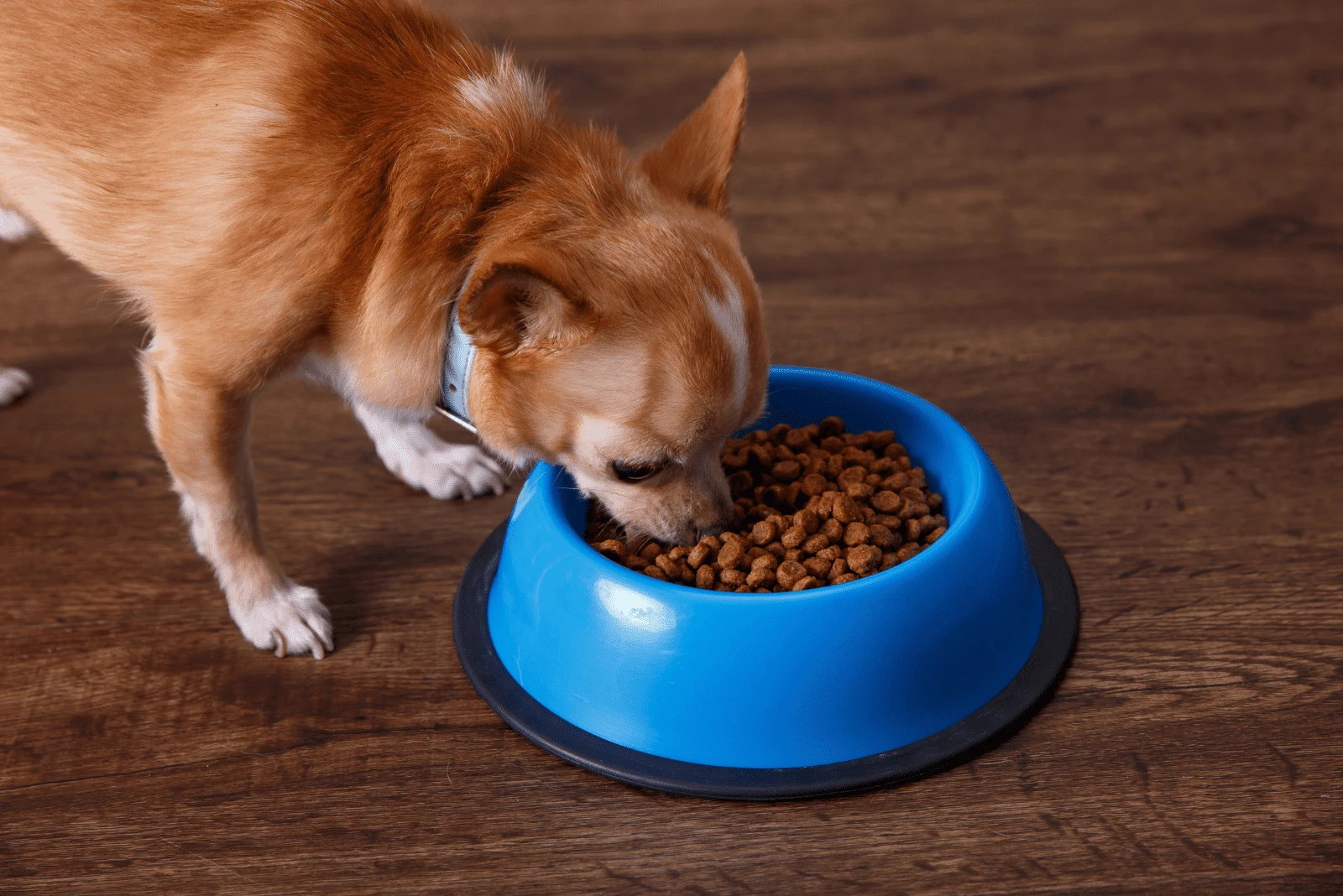 Well, that depends on your dog's dietary options and any potential health issues that may force a specific diet on them.
But, if your dog is relatively healthy and doesn't have any allergies, then I personally suggest the Blue Buffalo dog food option since it offers a lot with very few relevant downsides.
How Many Calories Does A Chihuahua Need Daily?
It depends on which life stage your Chihuahua is in and their activity level, but the average is usually 50 calories per pound of their own weight, often ending up between 200-300 calories per day, with the latter risking potential obesity.
How Often Should You Feed A Chihuahua?
Once again, the dog's dietary needs depend on which stage of life they're in.
Growing puppies should get more meals per day to get used to feeding, usually around 5–6 meals daily is good enough, give or take a few depending on what your dog's vet or nutritionist says.
Most adult Chihuahuas get fewer servings though with similar daily caloric intakes, usually coming down to around 2–4 meals a day, but again, it depends on the advice of your dog's vet or nutritionist.
In Conclusion
The best dog food for a Chihuahua needs to be high in protein, digestible carbs and rich in nutrients and vitamins, among many other factors.
This is why it's hard for me to determine the best of the best for each individual Chihuahua owner reading this, but I hope I have presented the options well enough that you'll be able to figure the best one for your doggo and yourself with ease.
My personal favorite is the Blue Buffalo, but your doggo may be a picky eater or simply like another brand better.
Whatever the case may be, I do hope you end up happy with your choice. Until next time.
RELATED LINKS:
• 9 Trustworthy Chihuahua Breeders In Florida
• Chihuahua Growth Chart Decoded: How Big Can A Chihuahua Get?
• Teacup Chihuahua: The Tiniest Dog With A Huge Backstory
• Chihuahua Potty Training: Housebreaking Chis In A Few Short Steps
• The Chihuahua Lifespan: How Long Do Chihuahuas Live?
• Male Vs. Female Chihuahua: How To Choose Your Perfect Pet
• How Much Do Chihuahuas Cost? Chihuahua Puppy Price And Expenses Calculated