Lhasa Apso is a very unique little dog. Its history is as interesting as its appearance. The Lhasa Apso dog comes from a far away region — Tibet.
This East Asian region is known for its beautiful landscapes, culture, monasteries, and — dogs! In fact, there are many dog breeds that derive from Tibet. Most of them are small dog breeds that are similar in appearance. For example, the Shih Tzu is a popular breed originating from Tibet that looks a lot like Lhasa Apso. Then we have other small dog breeds like the Tibetan Spaniel and the Tibetan Terrier.
But, what made the Lhasa Apso dog so special was its ability to guard and protect the buddhist monasteries. In fact, this little dog was so cherished that it was considered holy. It got its name from the Tibetan capital Lhasa.
Lhasa Apso was an all time favorite dog breed back in the 7th century that not many people could own. This royal canin guard was admired by the Dalai Lamas who would breed and offer Lhasa Apsos to special guests as gifts. They were considered as signs of good luck.
Nowadays, Lhasa Apso is adored by many Americans across the States. In Tibet, the Lhasa Apso is still known under the name "Abso Seng Kye" meaning "Bark Lion Sentinel Dog".
Whatever you may call it, there is no doubt that the Lhasa Apso dog breed catches all the attention. Many dog lovers have become interested in owning such an ancient, yet modern dog breed.
If you are among the future Lhasa Apso dog parents, we're here to help you find the perfect little Lhasa Apso puppy. Let's take a look at some of the best Lhasa Apso breeders in the United States!
Lhasa Apso Puppies For Sale In The U.S.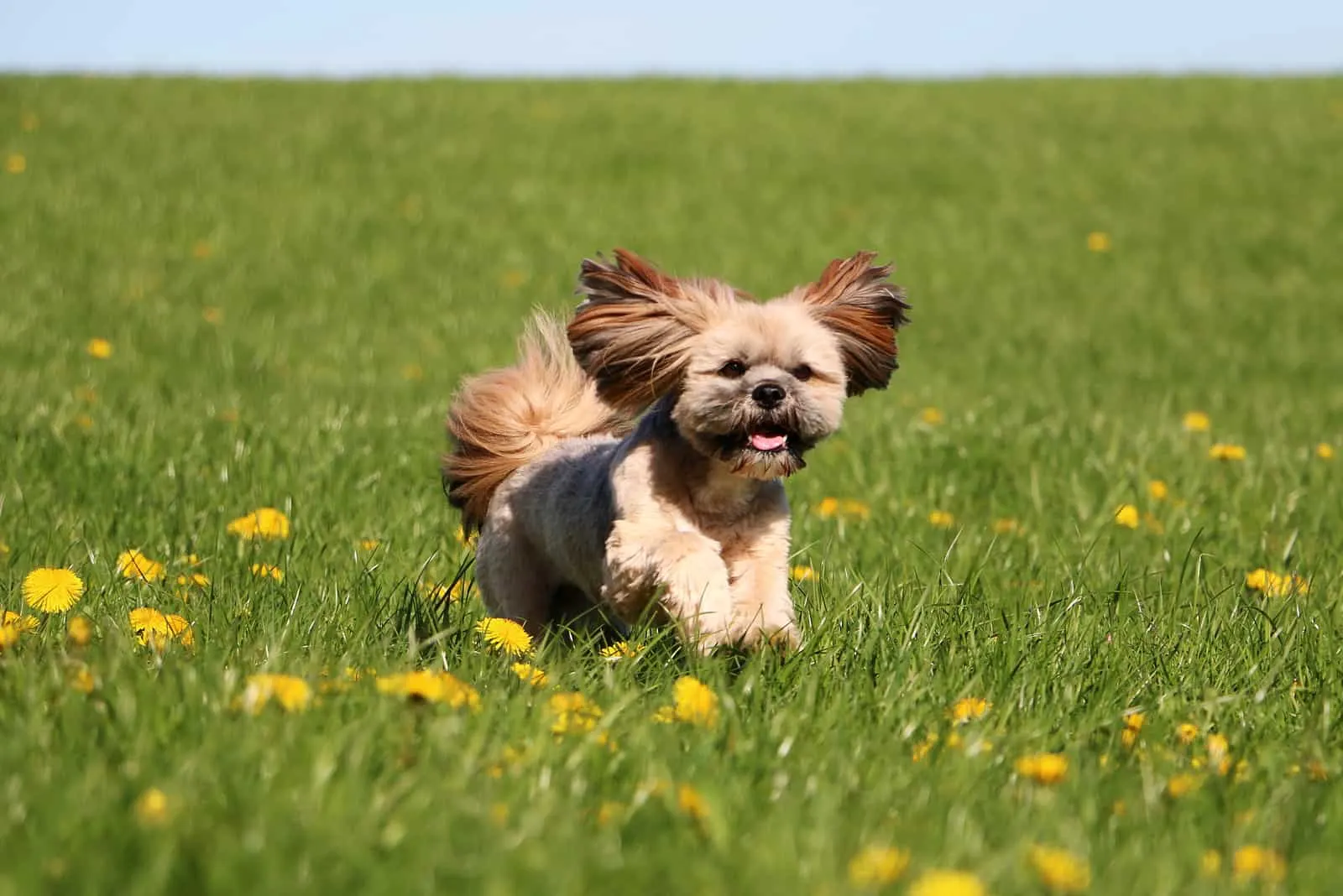 No, it's not a Shih Tzu, it's a Lhasa Apso dog! These two small dog breeds are very similar in terms of appearance and heritage. And I understand why most dog lovers tend to mix up the two.
So, what are the Lhasa Apsos most recognizable features?
All purebred Lhasa Apsos have a remarkable double-layered coat that serves for thermoregulation purposes. These small dogs can endure both cold and warm climates.
Compared to other brachycephalic dog breeds (Pugs, Bulldogs), Lhasa Apso inherits a somewhat longer nose and smaller eyes. Why are we talking about this?
Well, knowing the Lhasa Apsos most recognizable features will help you recognize a purebred Lhasa Apso. This is very important when searching for a new puppy.
Most reputable breeders focus on quality breeding programs to produce healthy Lhasa Apso dogs.
On the other hand, there are unethical breeders who focus on producing a number of Lhasa Apso puppies, without paying attention to health problems that come with incorrect breeding.
This is why we did a lot of research to find out about the most high-quality Lhasa Apso breeders in the United States. Take a look at their breeding programs and what they offer!
1. Absosengkye Lhasa Apsos Of Distinction, Idaho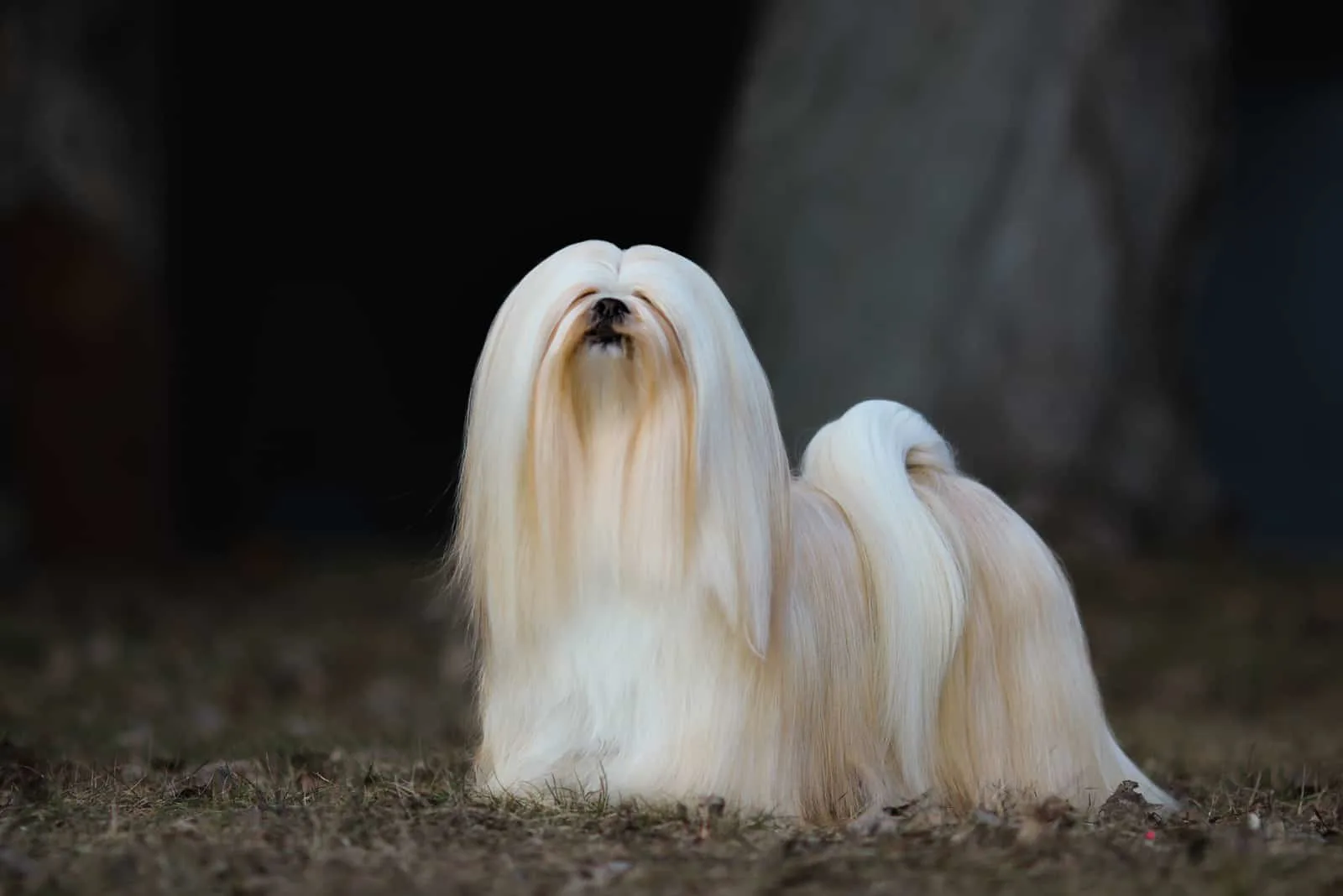 Absosengkye breeders have a long history of breeding these sacred dogs. Their story dates back to 1996.
Who They Are
Absosengkye are ethical breeders from Idaho who breed purebred Lhasa Apso puppies. They own a quality kennel in which each puppy is treated with a lot of care and dedication. That said, they breed Lhasa Apsos according to ethical breeding codes. What this means is that this reputable breeder won't have thousands of puppies, but a litter per year.
Breeding Program
Their breeding program focuses on producing quality Lhasa Apso puppies that inherit the best personality and appearance characteristics. Alongside fabulous physical traits, their puppies derive from healthy Lhasa Apso parents. Until their puppies leave to new forever homes, the Absosengkye team puts each pup through an early socialization process. The rest is up to new owners.
What They Offer
Absosengkye offers health guarantees for each puppy they sell. This includes guarantee against life-threatening congenital defects and crippling hip dysplasia.
Prospective and serious buyers will have to place a non-refundable deposit, as well as fill out a puppy application form. Once you purchase a Lhasa Apso puppy from Absosengkye kennels, you will have a lifetime support and advice on any concerns and questions about raising your new Lhasa Apso puppy.
Absosengkye Lhasa Apsos details
E-mail: [email protected]
Website: Absosengkye Lhasa Apsos
Phone: 607-435-1634
Address: Sandpoint, Idaho 83864, United States
Facebook: Absosengkye Kennel
2. Ponderosa Lhasa Apso Ranch, South Carolina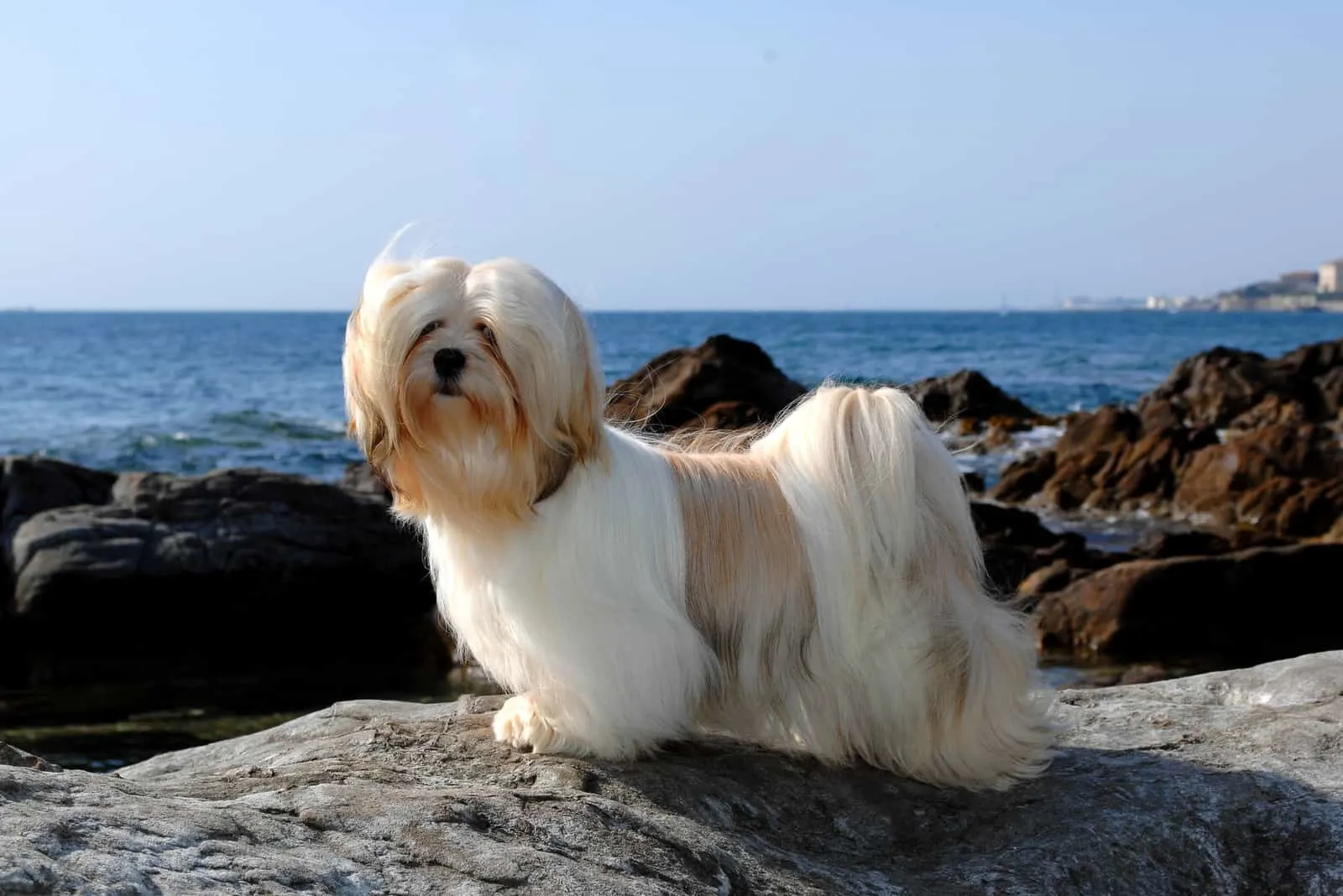 With utmost dedication, love, and efforts, the Ponderosa Ranch excels in breeding exceptional Lhasa Apso dogs. If you are looking for a companion or a show dog, Ponderosa Lhasa Apso Ranch is a place to start with.
Who They Are
It all began when a family got their first two Lhasa Apso dogs. The next thing you know, 25 years have passed and these reputable breeders have expanded their purebred Lhasa Apso family tree.
Breeding Program
Ponderosa Ranch only breeds purebred Lhasa Apso dogs that have proven to be clear of breed-specific diseases such as progressive retinal atrophy (PRA).
Moreover, their quality breeding program is built on love and dedication to this small dog breed. Developing healthy Lhasa Apso puppies is not their only priority. Ponderosa team strives to raise well-mannered Lhasa Apso dogs that are easy to train.
What They Offer
Ponderosa Ranch is known for producing colorful Lhasa Apso dogs. They offer some of the most unique coat colors of Lhasa Apso puppies. These include: cream, parti, red, red grizzle, golden, and red gold.
These AKC registered breeders offer educational videos and a lifetime support for each future Lhasa Apso owner. As for documentation, each Ponderosa Lhasa Apso puppy is backed with AKC registration, veterinary documentation, microchip, and a health guarantee.
Ponderosa Lhasa Apso Ranch details
E-mail: [email protected]
Website: Ponderosa Lhasa Apso Ranch
Phone: (951)707-5909
Address: Ridgeville, SC 29472, United States
Facebook: Ponderosa Lhasa Apso Ranch
3. Kai-Ara Lhasa Apsos, Georgia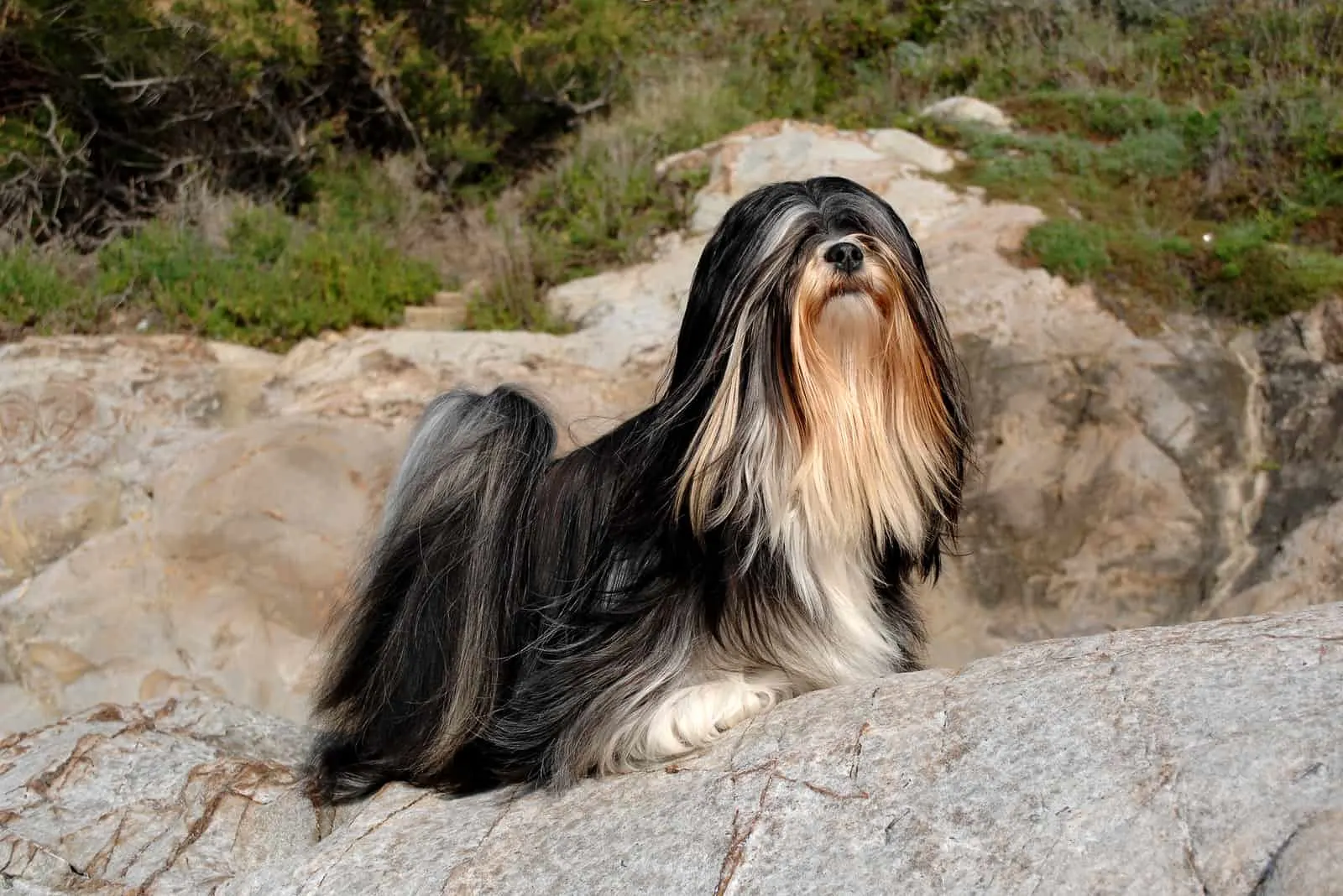 The next breeder on our Lhasa Apso breeders list is the AKC registered Kai-Ara Lhasa Apsos. This is a veteran owned small business that has achieved the responsible breeding program badge. Let's see how they do it!
Who They Are
Kai-Ara Lhasa Apsos is located in North Georgia, U.S. They have spent years getting to know this wonderful dog breed. In accordance with that, the Kai-Ara team has devoted themselves to producing sound, healthy, and happy Lhasa Apso dogs.
Breeding Program
Their breeding program stands among the rest. To breed two purebred Lhasa Apso dogs is not as easy as everyone thinks.
But, the Kai-Ara team takes selective Lhasa Apso breeding to a new level. Their dog selection program is very detailed. They only choose the healthiest Lhasa Apso foundation bloodlines to introduce into the breeding program.
That said, most of their dogs derive from champion bloodlines. Such an impeccable breeding program promises a long life expectancy of each Lhasa Apso dog. Of course, it's up to new Lhasa Apso parents to provide them with healthy life habits in order to expand their life span. Alongside good health status, Kai-Ara Lhasa Apsos are socialized little dogs that get along with everyone.
What They Offer
Kai-Ara Lhasa Apsos are healthy and outgoing pooches. What more, their sweet Lhasa Apso dogs are accustomed to all sorts of environments — both outdoor and indoor. They love car rides, children, other pets, cuddles, and adventures.
The Kai-Ara team is very active on social media and you can follow each Lhasa Apso puppy's progress on their profiles. They also offer a lot of information for first-time dog owners on their website.
Currently, Kai-Ara breeders do not have any puppies to sell, but they are happy to answer any of your questions.
Kai-Ara Lhasa Apsos details
E-mail: [email protected]
Website: Kai-Ara Lhasa Apsos
Phone: 404-574-0092
Address: 148 Hunters Trl. SE, Calhoun, GA 30701-4463, United States
Facebook: Kai-Ara Lhasa Apsos
Instagram: @lhasa_love_me
Youtube: Kai-Ara Lhasa Apsos
4 Foxwood Kennels, Wisconsin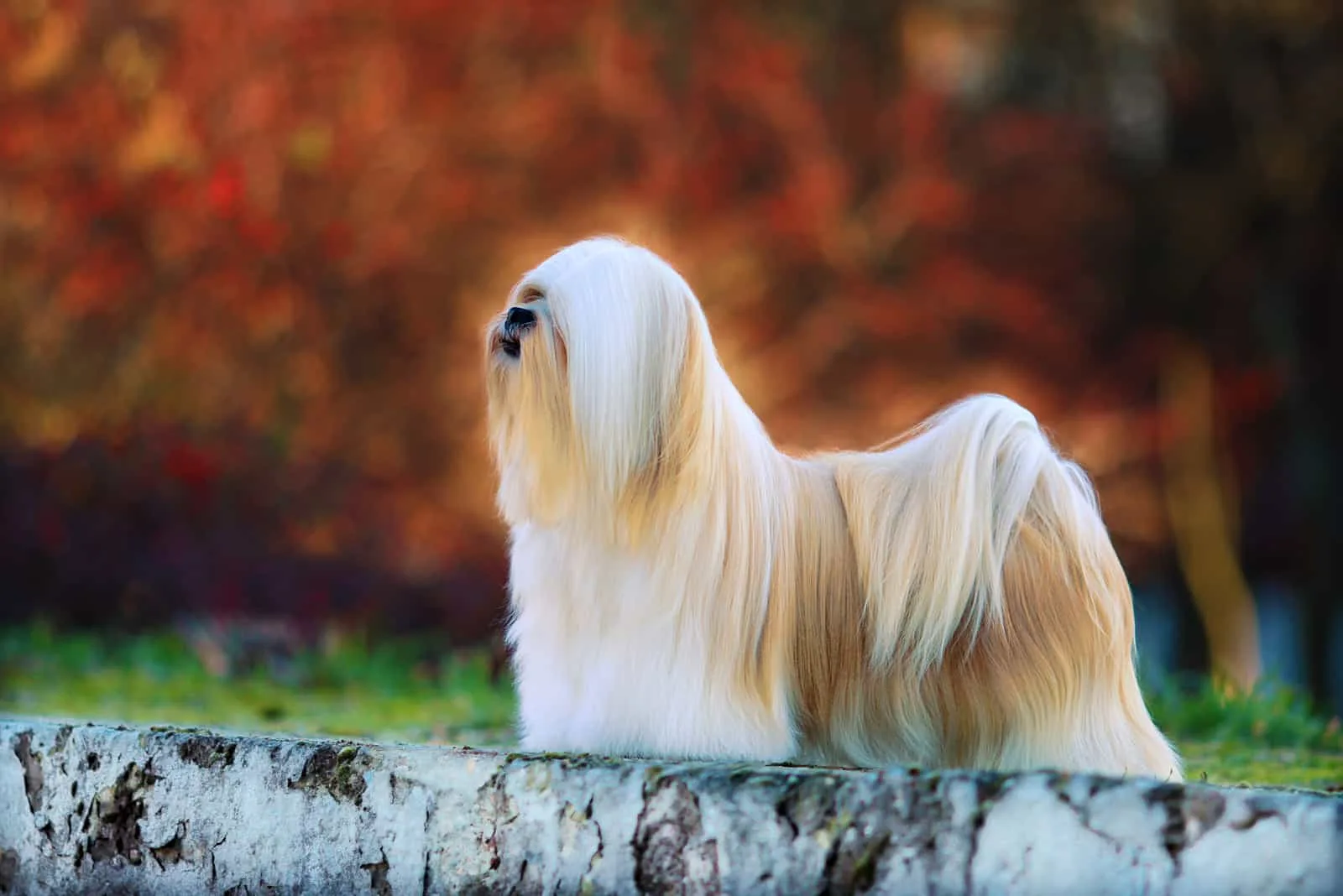 Among all Lhasa Apso breeders in the United States, Foxwood Kennels has the longest history of breeding this special dog breed.
Who They Are
Foxwood Kennels are responsible dog breeders who are well-known for their amazing breeding program. Here's an interesting fact about Foxwood kennels — they are a State Licensed Dog Breeding Facility.
Breeding Program
Their quality breeding program started back in 1988. Ever since then, the Foxwood team has been putting their efforts into combining high-quality Lhasa Apso dogs to achieve the best results.
Their breeding program is completely under the WI Act 90 law. This means that they are ethically breeding dogs whilst focusing on eliminating puppy mills and similar breeding facilities. Their Lhasa Apso puppies are therefore treated with a lot of care and love. Each puppy is provided with amazing living conditions which you are able to see while scrolling through their website and socials.
What They Offer
Each Foxwood Lhasa Apso dog is under regular veterinary care. That being said, both puppies and adult dogs get all the medical care they need. So, as a new Lhasa Apso owner, you don't have to worry about your little companion inheriting congenital diseases.
Their dogs come with a written guarantee, health records, and a puppy manual that is great for beginner dog owners.
By purchasing a Lhasa Apso puppy from Foxwood Kennels, you are also getting a major discount to the local veterinarian clinic! You can get both mixed breed and purebred Lhasa Apso dogs.
Mixed breed dogs like Lhasapoos, Lhasachons, and Lorkies are not registered with the American Kennel Club. On the other hand, purebred Lhasa Apso dogs come with AKC registration papers.
Foxwood Kennels details
E-mail: [email protected]
Website: Foxwood Kennels
Phone: Call 920-336-8780, Text 920-372-3512
Address: 2389 Little Rapids Rd, De Pere, WI 54115, United States
Facebook: Foxwood Kennels
How much should I pay for a Lhasa Apso?
Lhasa Apso is a small dog breed. You will be surprised that this fabulous little fellow doesn't cost as much as its similar counterpart — the Shih Tzu.
In fact, the average price of a Lhasa Apso puppy in America is $850. Purebred dogs are more expensive than Lhasa Apso mixes.
As for price range, purebred Lhasa Apso puppies cost between $500 and $1,250. It's quite a small price to pay, considering that the cost of most purebred small dog breeds starts from $800.
But, here's the catch. If you decide to get an AKC registered show dog with a remarkable pedigree, then the price of a Lhasa Apso puppy may reach up to $3000.
As for Lhasa Apso maintenance, you may want to save some bucks for grooming salons. This dog's coat makes the Lhasa Apso look like a mop! So, its extraordinary long coat requires regular grooming. Sometimes it's hard to keep its coat from matting. So, it's best to leave Lhasa Apso grooming to a professional dog groomer.
Usually, a grooming session for such a small dog like Lhasa Apso costs around $80. Due to the fact that it is recommended to brush Lhasa Apsos coats at least three times a week, grooming sessions may cost you a lot in the long run.
So, here's an idea — get an at-home grooming kit! This will save you a lot of money and your Lhasa Apso puppy will love the at-home-pampering!
Let's Wrap It Up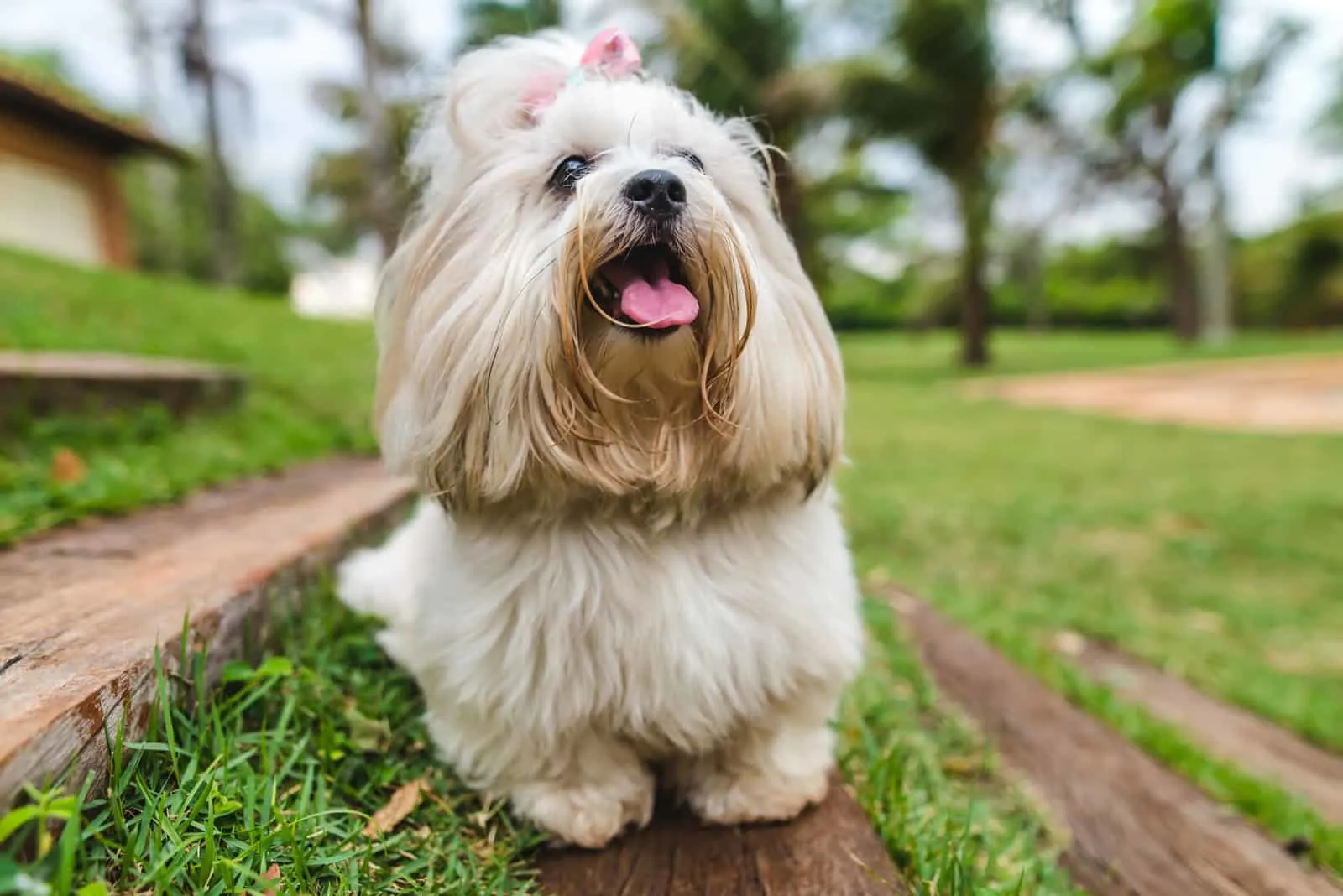 Lhasa Apso is a little dog with a big heart. Although at first sight their appearance may not show it, Lhasa Apso dogs have been primarily bred as watchdogs and herding dogs (they derive from herding-type dogs).
If you thought only large dogs are the best watchdogs, you probably haven't met a Lhasa Apso dog! The guarding skills of this small dog will make any stranger run for its life!
What makes the Lhasa Apso dog breed stand out among other small dog breeds is that its nature is calmer and sounder.
Their energy levels are moderate, so you don't have to worry about high-energy puppy zoomies that are hard to calm down. Still, the Lhasa Apso makes an outgoing, active, and affectionate family pet.
However, if you think that you do not have what it takes to own a Lhasa Apso dog, you can search for similar dog breeds in the AKC non-sporting group (Maltese, Pekingese, Miniature Poodle, Goldendoodles).
Mind you, the Lhasa Apso dog isn't as obedient as the Labrador Retriever, but it's also not as feisty as a Chihuahua. It will take some time to train this little dog.
These Lhasa Apso breeders in the United States will help you narrow down your search and provide you with the best purebred (and mixed breed!) Lhasa Apso dogs!
Related Content
• 8 Shih Tzu Breeders In Texas: Best Places To Find A Pet
• The Top 8 Corgi Breeders In Virginia Of 2022