So, you have finally made the decision to purchase a greyhound? Good for you!
Greyhounds are known for their outstanding athletic abilities, some of which include coursing and racing. Just don't expect them to be scary guard dogs because they are athletic!
They are also one very affectionate dog breed that is suited for loving homes.
Many people wonder if a dog that is bred for racing can adapt to such a home environment, and the fact of the matter is that they are a great dog for a home environment. It also doesn't hurt that they are moderate shedders.
They are very friendly and happy dogs – you just have to make sure that they, like any breed, get enough exercise and have a healthy environment to live in.
In this article, we will help you identify the best greyhound breeders that you can choose from when you're trying to find your new family member!
Greyhound Puppies For Sale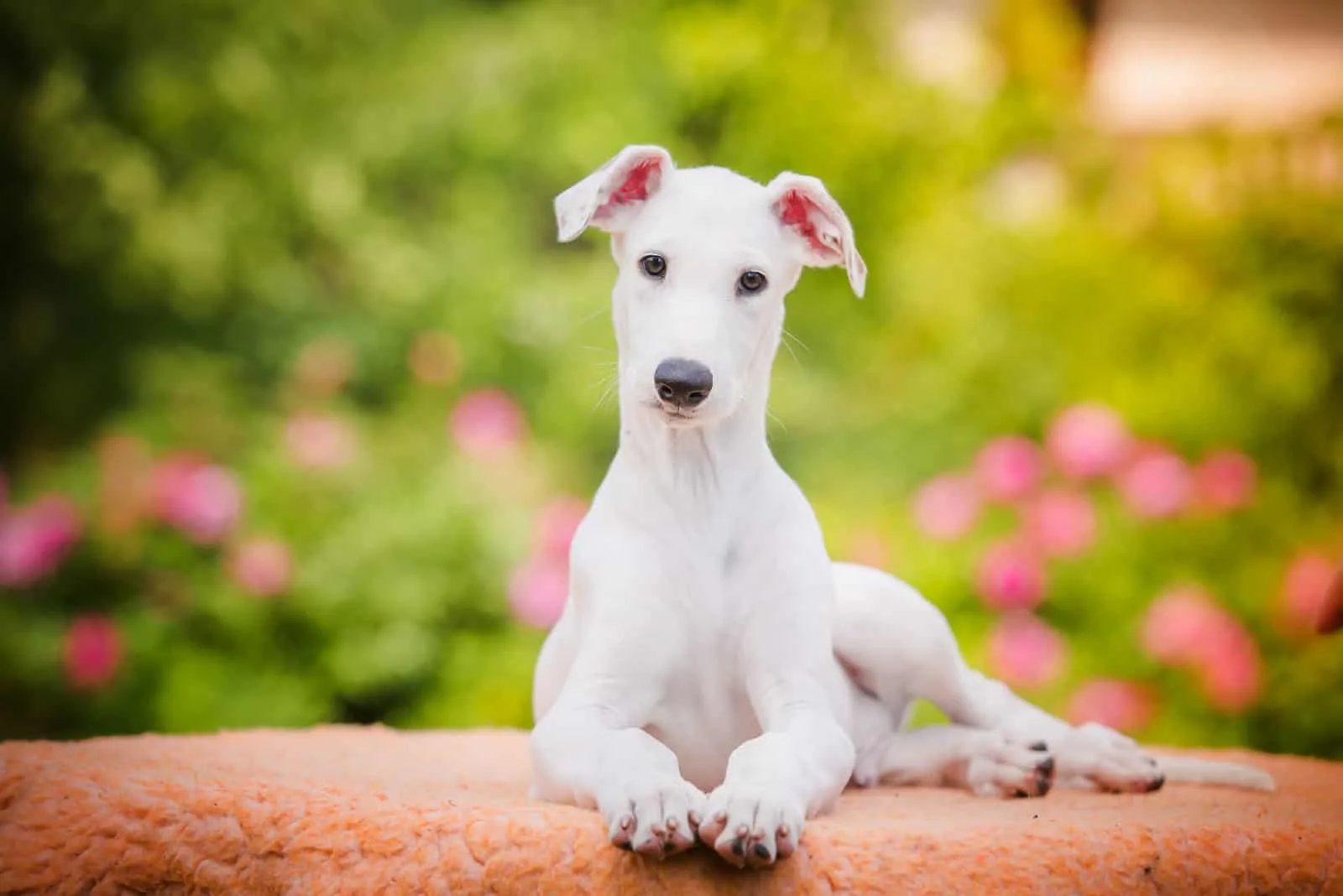 It's important to purchase your Greyhound from a breeder who knows a lot and cares about the dog breed that they are breeding. You want to avoid puppy mills and irresponsible breeders at all costs since they can do more harm than good.
A good breeder will make sure to follow the breed standard identified by the AKC (The American Kennel Club) and will genuinely care about the puppies they are breeding as opposed to backyard breeders.
The breeders that we will discuss are all located within the United States, so for those who reside elsewhere, sorry!
1. Windrock LLC.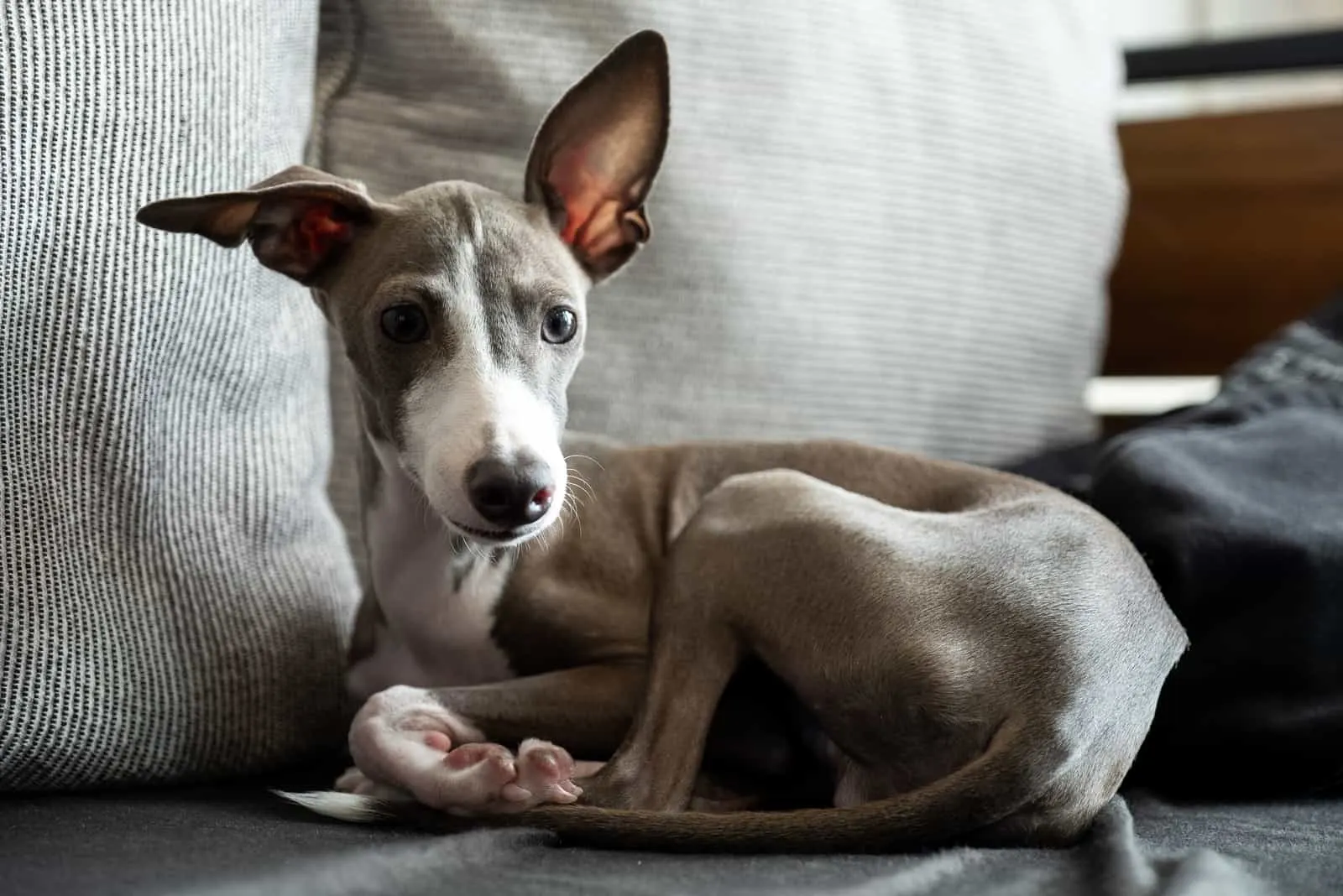 Windrock LLC specializes in Greyhound breeding, and they have been registered with the AKC, which means that you can be certain that they know what they are doing – these guys are certainly breeders of merit!
Colin and Kimberly Fritzler own Windrock LLC. They created this family business, and are members of multiple organizations, such as The Greyhound Club of America, which is a widely recognized club for Greyhounds within the AKC.
They also actively participate in the AKC and the widely known National Greyhound Association.
What Makes Them Unique?
Most of the dogs that are bred by Windrock have been show champions, but they also have puppies that are quite the family pets, considering their devoted and caring natures.
Many people have tested and tried Windrock, and have claimed that their Greyhounds are just like family members.
Windrock LLC only produces a litter about once or twice every year.
Because they are known for their high-quality pups and because of the limited number of puppies, it isn't quite a shock to find out that they have many people on their waiting list who are only interested in having the best Greyhound puppies.
Like with any good breeder, you will have to fill out an application if you want to purchase your Greyhound from Windrock LLC.
Colin and Kimberly want to ensure that their Greyhound dogs are going to go into good and loving homes, which is why such an application exists. They will want to know if you will be the right Greyhound owner for their dog.
Their puppies are about $3,750. If you wish to be added to their waitlist, you will have to place a deposit as insurance.
Most of the dogs that they sell are not meant to be racetrack or lure-coursing Greyhounds, but they are sold instead as valuable family pets.
If you are perhaps interested in breeding your dog, you will have to speak to the kennel for more information.
Windrock LLC contact info
• Location: Torrington, Wyoming
• Telephone: (970) 270-6173
• Email: [email protected]
• Website: Windrock LLC
2. Harmony Greyhounds.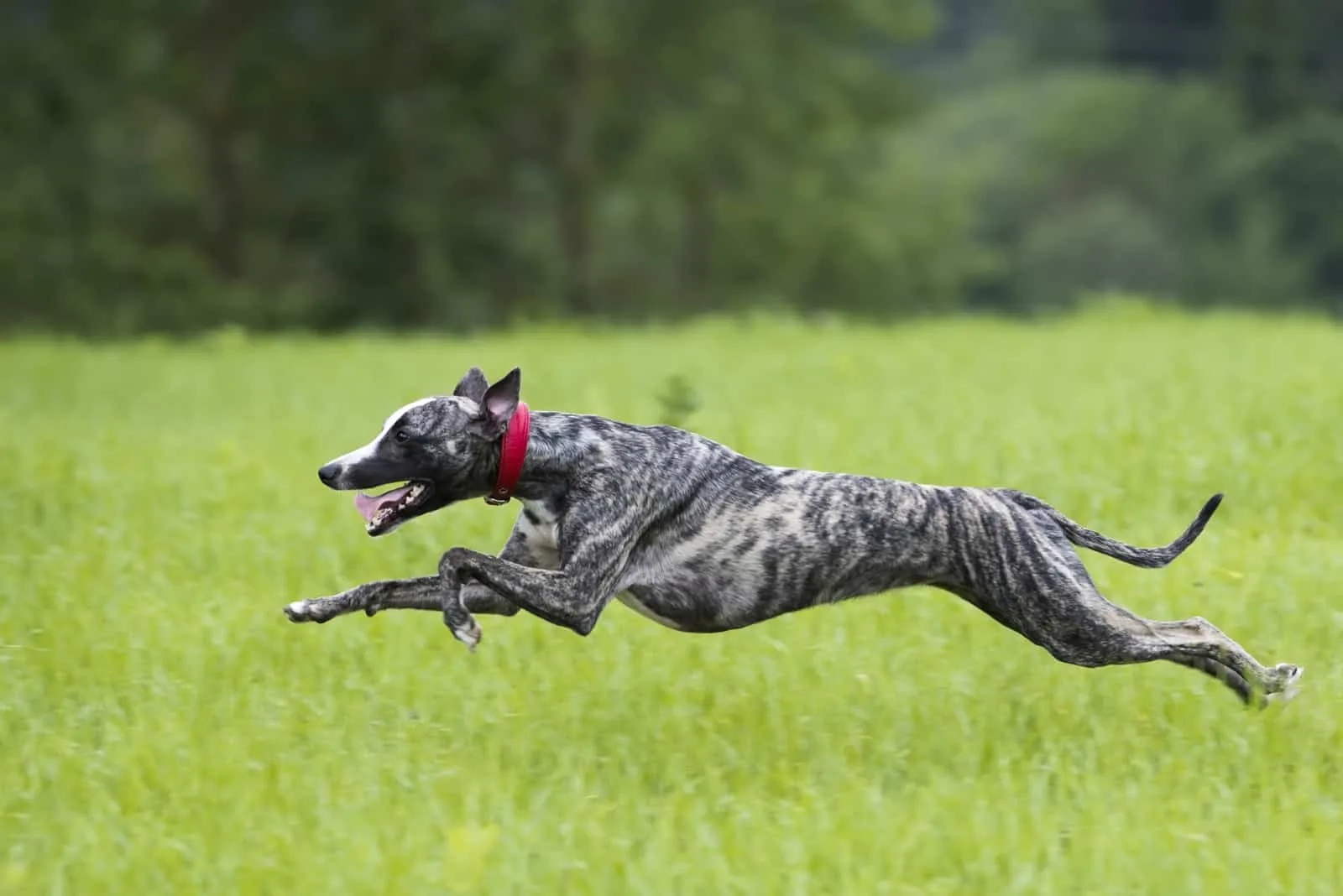 If you live around Charlotte, North Carolina, lucky you! Harmony Greyhounds is considered one of the best Greyhound breeders out there!
You can find Harmony Greyhounds on Indian Trail. This kennel is a breeder that will only sell around one to two puppies every year, ensuring quality over quantity.
Just like with Windrock LLC, you will have to fill out an application if you are interested in adopting from Harmony Greyhounds.
They will want to know details about your lifestyle in order to see if their Greyhound pets are right for you and your family.
Some of this information includes (and is not limited to) how large your household is, your prior experiences with Greyhounds, your working hours, as well as many other things.
We know that this might look a bit intimidating, but remember that Harmony Greyhounds will wonder if their Greyhound's new home will be the right fit for them.
What Makes Them Unique?
The great thing about this kennel is that you can be certain that your puppy will come from a fantastic pedigree. Your Greyhound's parents will be thoroughly tested to ensure that the dogs they breed will be healthy.
The healthier the parents, the healthier the pups will be. Breeders will try to root out all health issues known to the breed before proceeding to the actual breeding. Nothing makes a hit on your wallet like vet care if a dog is sick.
You might want to talk to Harmony about having registration rights if you choose to adopt from them. Adult dogs are usually AKC-registered – you might want to check if the pups will be as well.
Their dogs cost from $1,500 to $2,000. The price usually depends on gender and other traits the dogs might have.
If you don't live near this area, you might be able to contact Harmony and see what they can do for you. There might even be an option to deliver the dog to you or for you to pick it up from the breeder when you are available.
The great thing is that if you do happen to live near the area, Harmony provides boarding and training for your dog.
Harmony Greyhounds' contact information
• Location: Indian Trail, North Carolina
• Telephone: (704) 882-9377
• Website: Harmony Greyhounds
3. Greyhound Pets, Inc.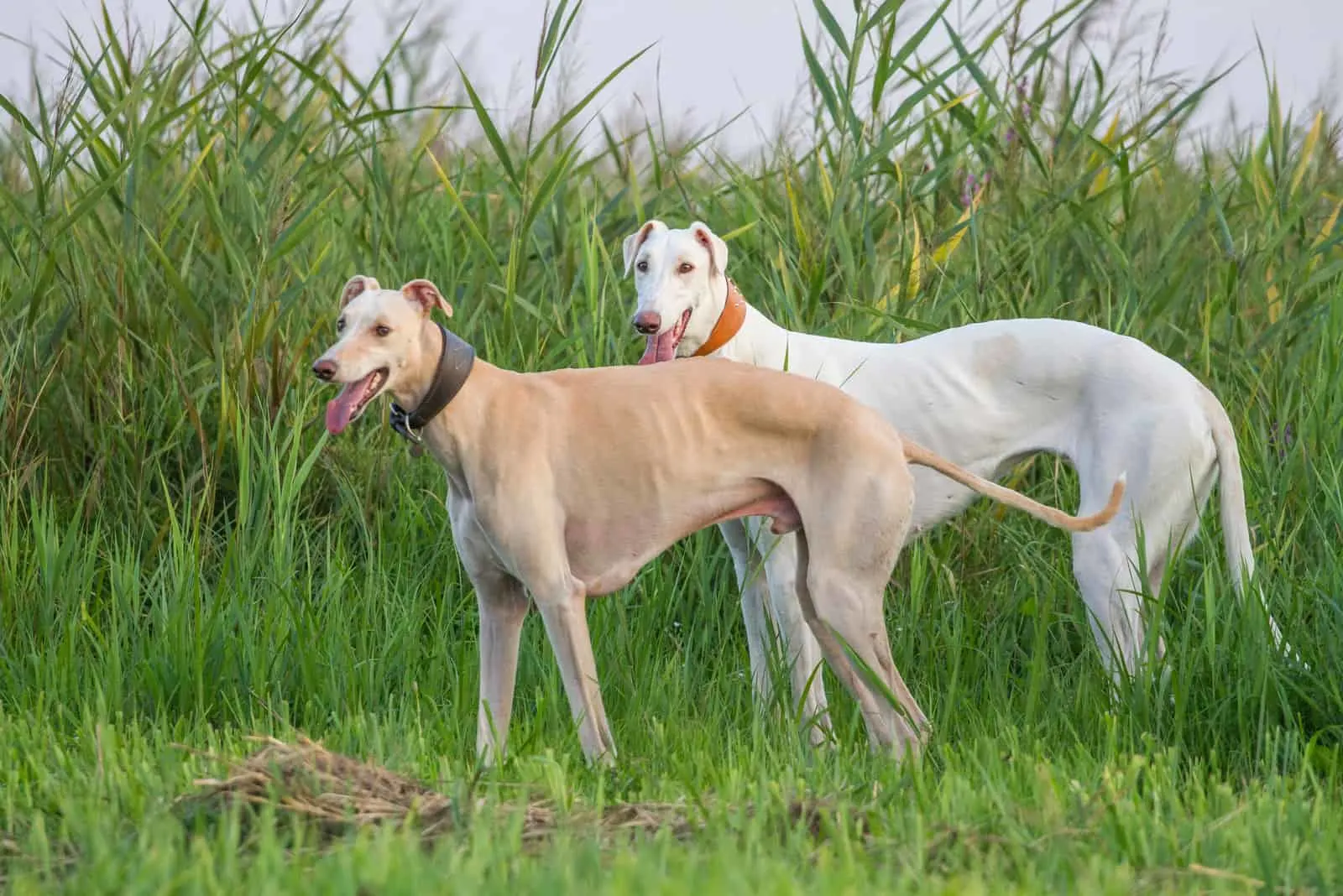 For all of you animal rights advocates, you will love this kennel!
You can find Greyhound Pets in the city of Woodinville, Washington. They work as a rescue kennel mainly for retired racers and adult Greyhounds that need to find a home.
You can sometimes find puppies in this kennel, although they are not their primary target group.
What Makes Them Unique?
The great thing about Greyhound Pets Inc. is that they have a website that lists all of the dogs they have available for adoption, sorted by age.
You will naturally have to apply for a dog through the application process if you want to adopt from Greyhound Pets.
The application form will ask you various questions such as how familiar you are with Greyhounds, how large your family is, and many others.
If your application is accepted, it will be valid for up to three months.
Greyhound Pets asks these questions and uses the application in order to determine which one of their dogs complements your family's lifestyle and habits.
The price of the dog will vary depending on a variety of factors; one of which is age, but the fee is approximately around $500.
If they are happy with your application, and once you are matched with a Greyhound, then Greyhound Pets will want to plan a visit to your home to see if you and the dog are best for one another.
During the Greyhound adoption process, Greyhound Pets will be available for all of your questions about how to care for the breed and whether this dog is a good fit for your family.
How exciting! You might be able to get yourself a retired racing greyhound as a family pet!
However, Greyhound Pets will not deliver your Greyhound to you. They expect you to be available to pick up your new pet at Woodinville!
Greyhound Pets, Inc. contact information
• Location: Woodinville, Washington
• Telephone: (877) 468-7681
• Website: Greyhound Pets, Inc.
4. AKC Marketplace.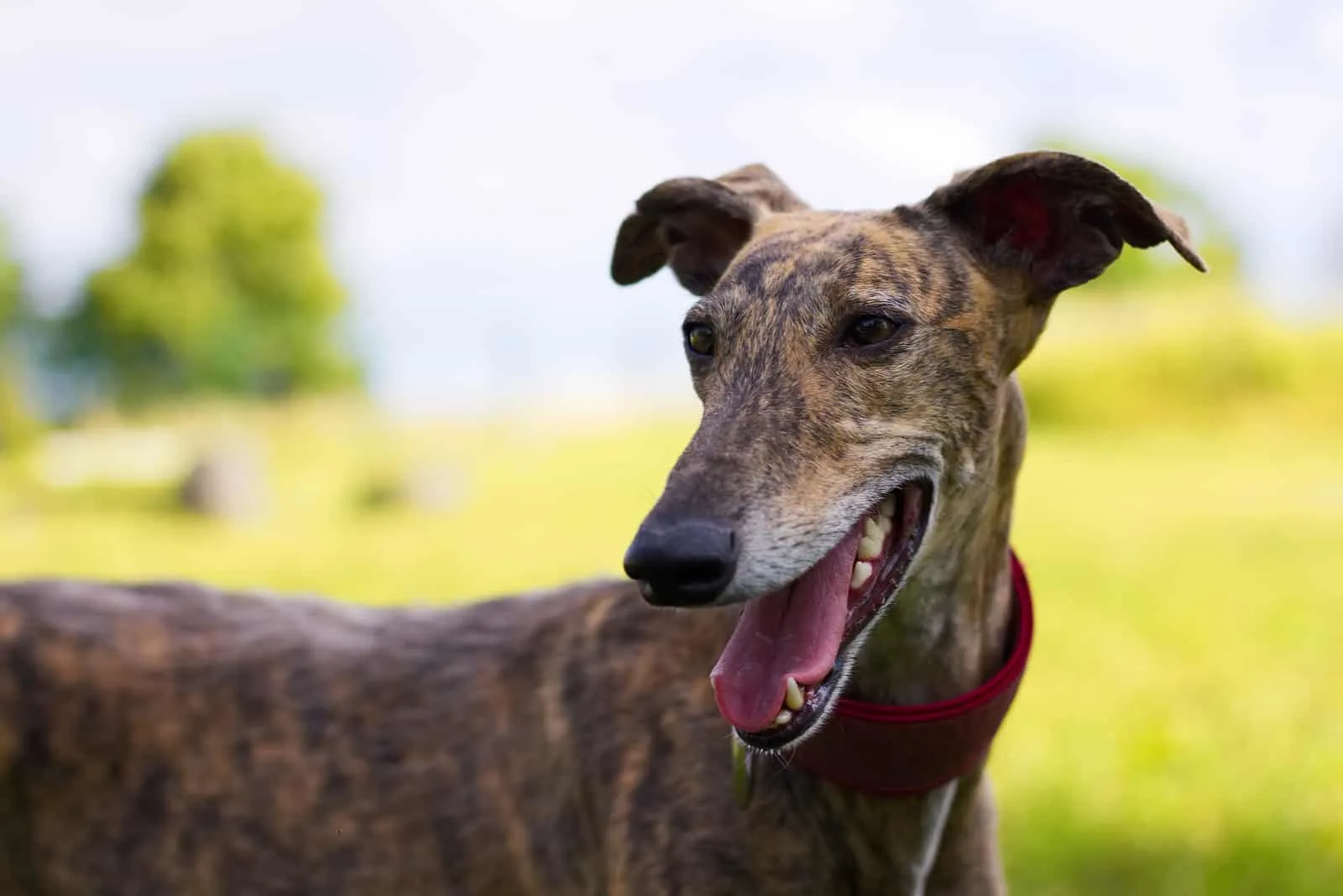 It shouldn't come as a surprise that you can get a Greyhound pup through the AKC Marketplace, which is an organization created by none other than the American Kennel Club.
At the AKC Marketplace, you will be able to find a Greyhound of your choice from the best Greyhound breeders.
What Makes Them Unique?
You can find a variety of Greyhounds here, depending on color, traits, and breeds. Perhaps you are looking for an Italian Greyhound, a Spanish Sighthound, or a Whippet.
Or, perhaps you are more interested in looking for a dog that will be best in show in dog shows or your next BIS or SBIS winner.
Whatever you happen to find, you can be sure that it is a safe bet considering that the dogs are AKC approved.
How the AKC Marketplace functions is that AKC members are allowed to post their own pups for sale over their website.
By using the website, you can search by different variables such as gender, location, or breed.
All breeders have to follow all regulations to ensure high-quality care and hygiene as well as others listed by the AKC. You can be certain that all members are inspected once a year, and have to meet the criteria for high-quality breeding.
You will find many details about the breed of dog you are searching for, which means you will be able to tell whether it is a good fit for you and your family.
When you find a breeder that you approve of, you can find their information and get in touch with them over their website to figure out extra details such as availability, the adoption process, and the dog's cost.
Just because the website is approved by the American Kennel Club, you will still want to do extra research to find out all that you can about the breeder. Adopting a Greyhound is no light matter!
Make sure that you get all the answers to your questions when you get in contact with the Greyhound breeder of your choice before you commit to paying for the dog.
You can also try to find references from people who have adopted from the breeder before; once you find someone who has already adopted from them, you can ask questions about his or her experience.
The whole registration process might differ depending on the kind of breeder you are interested in. You will have to know answers to questions like whether you want a dog as a pet, for show, or for breeding.
You should fill out all the requirements during the registration process before you commit to paying the costs for any dog.
AKC Marketplace information
• Location: Nationwide
• Website: AKC Marketplace
5. Houndsavers.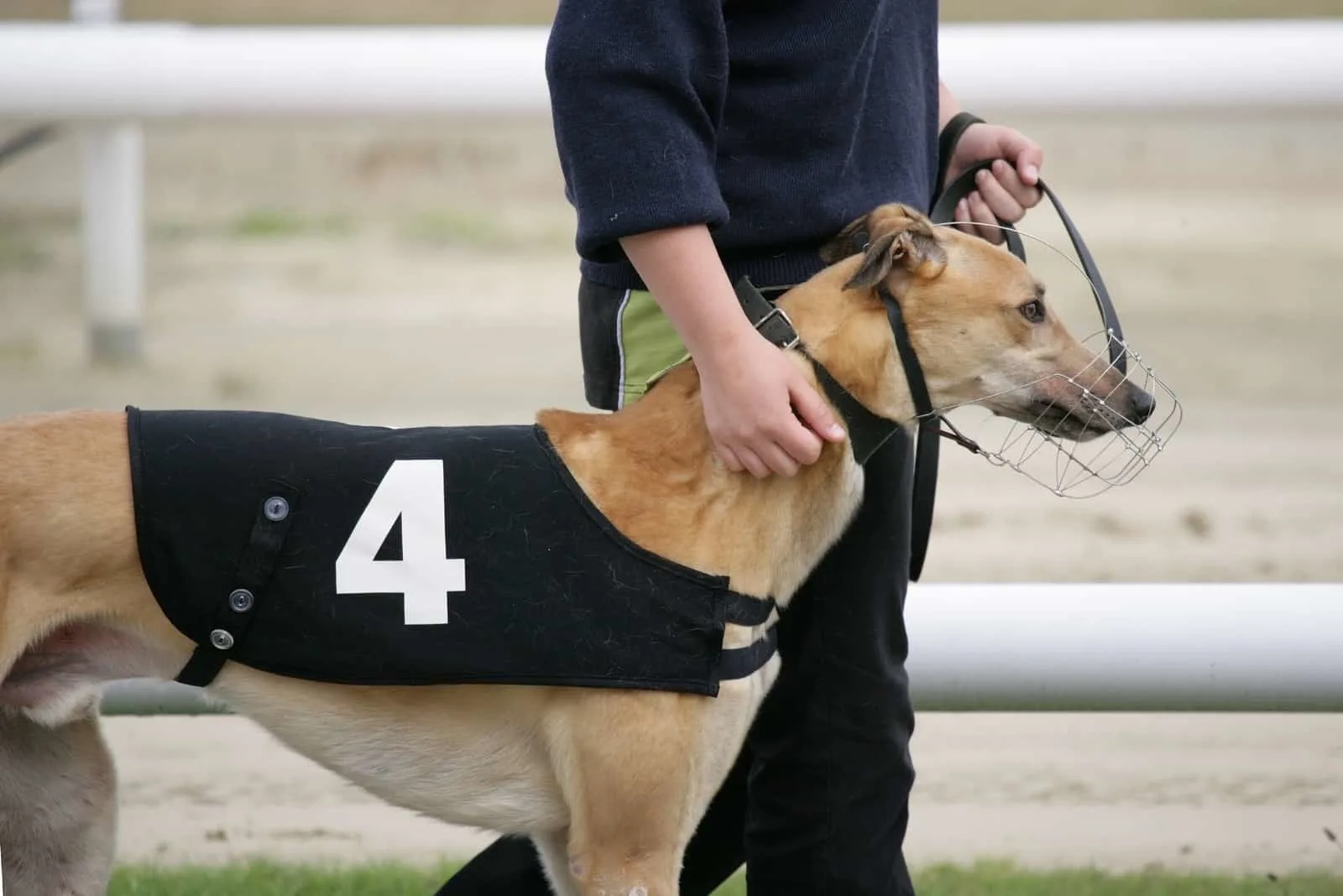 This is another rescue kennel for all of you animal activists out there!
Houndsavers is another kennel that loves rescuing dogs, and they will sometimes have a Greyhound puppy available for you to adopt!
You can find this kennel in La Mesa, California, and they will take applications from nearby counties.
What Makes Them Unique?
They usually save retired Greyhound dogs, but you might be able to get lucky with a puppy if any of them are searching for a forever home for them.
You must first fill out an application form if you want to adopt from Houndsavers. However, they will not be able to ship dogs out to you, so you must come directly to the kennel to pick up your adopted Greyhound puppy in the facility.
Houndsavers will examine the information you have provided before they accept your request for adoption. Once approved, you will be contacted for an interview, and they will want to come to your home for a visit.
All dogs cost around $295 — age and gender won't influence the price.
Houndsavers' Greyhounds will all be microchipped, dewormed, and fully vaccinated. When you adopt a dog from Houndsavers, you will receive a safety collar and a leash as a gift to start your journey with your new family member!
Houndsavers information
• Location: La Mesa, California
• Website: Houndsavers
6. KB's Greyhound Farm.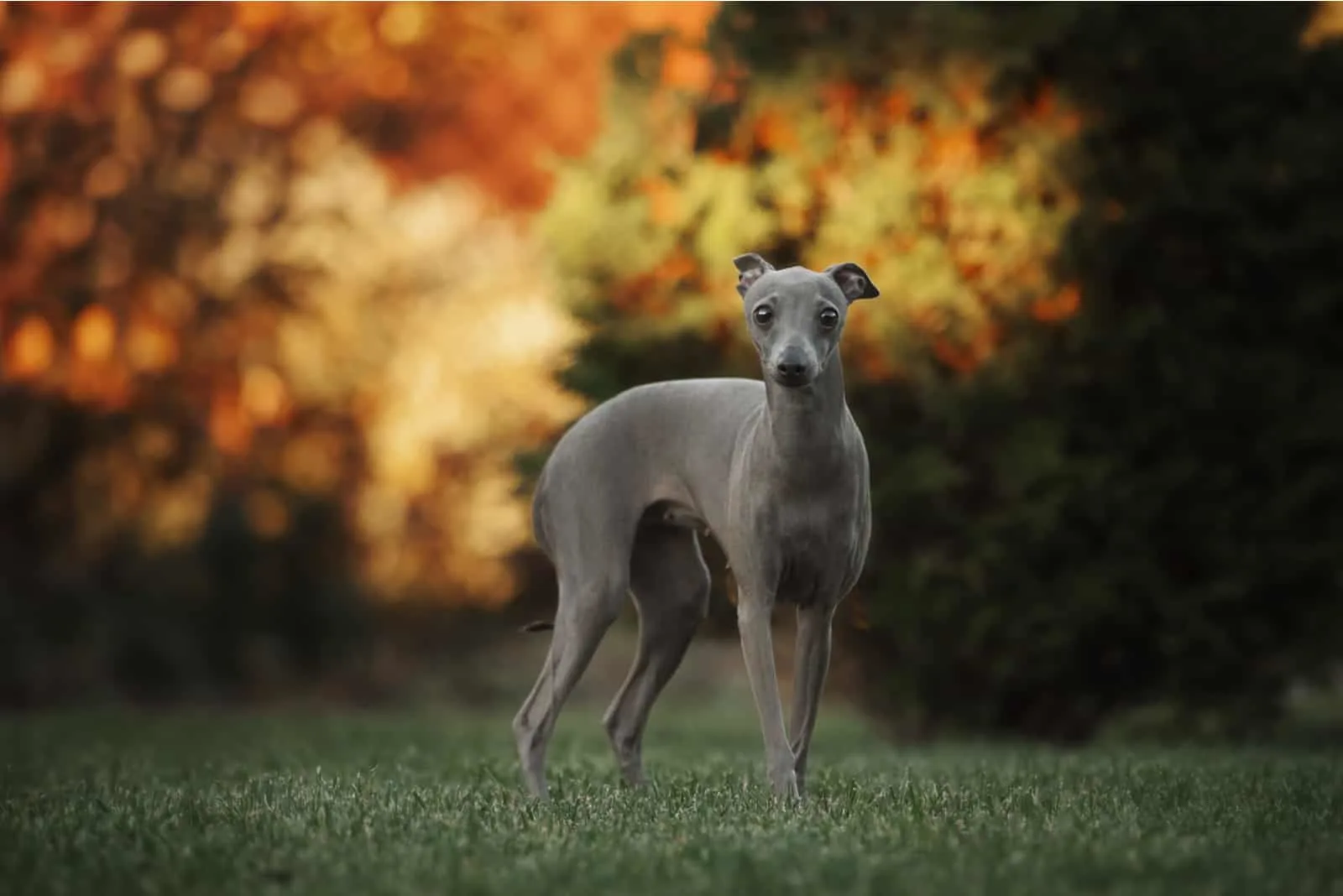 KB's Greyhound Farm is an interesting kennel that can be found in Thorndale, Texas, and they are considered one of the best Greyhound breeders for a reason! What is unique about them is that they work exclusively on producing sires for Greyhound breeding.
While the kennel does breed litters from time to time, this kennel specializes in providing Greyhound owners with a dog to breed new Greyhound puppies with their dam.
You will be able to visit KB's Greyhound Farm as they are quite welcoming. In order to learn more about the cost of their services, you will have to contact the breeder directly for further information.
When you go to KB's Greyhound Farm for a visit, you will have the opportunity to ask all the questions that interest you, such as the quality of the pedigree of the dogs as well as other questions about the dogs at the kennel.
Ken Biehle is the owner of KB's Greyhound Farm. He is known for his enthusiasm about the breed, and will be delighted to answer any concern you might have about breeding Greyhounds.
Thorndale is located a bit outside of Austin, Texas, but that doesn't stop KB's Greyhound Farm from serving the nation!
You can talk to Ken if you are interested in different options, such as the shipment of frozen sperm for your dam (or anything else).
You also might be interested in getting to know the sires before using siring services, which is definitely an option at KB's Greyhound!
KB's Greyhound Farm contact information
• Location: Thorndale, Texas
• Telephone: (512) 898-2143
• Website: KB's Greyhound Farm
7. Pearl Italian Greyhound Home.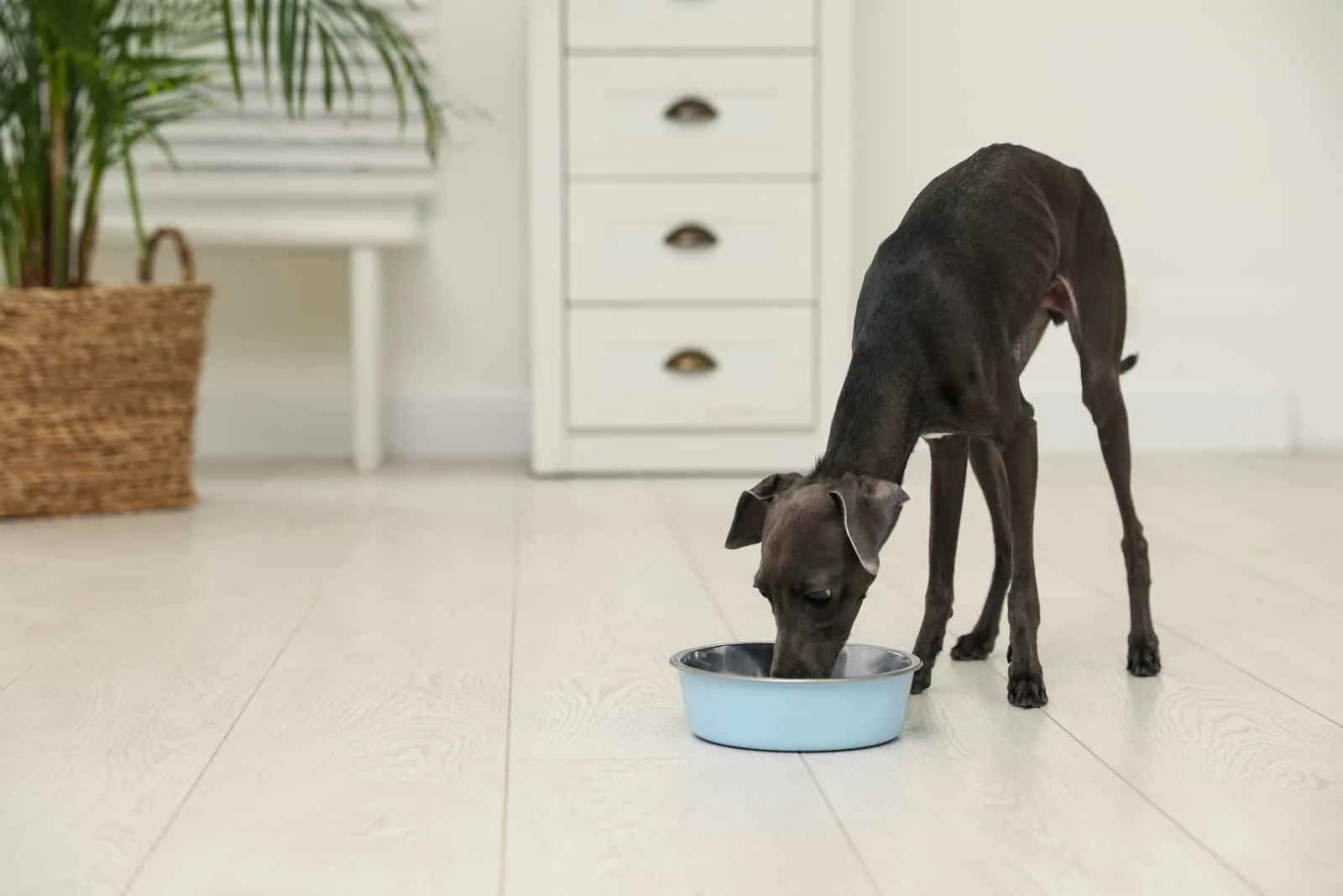 Pearl Italian Greyhound Home will greet you with open arms, having been in the business for over a decade now.
The kennel is owned by a husband and wife who love Italian Greyhounds, and the great thing about their services is that they will be able to offer you their services no matter where you are located within the United States.
What Makes Them Unique?
A fun fact about the breeder's wife is that she works as a flight attendant, so she is familiar with all of the procedures in order to securely deliver your new Greyhound puppy at the airport of your choice!
They also provide a one-year health assurance. Your new pup will be completely up to date with all health treatments that a Greyhound puppy should have, such as vaccination and deworming.
You won't have to pay for the plastic crate they use to ship your puppy to you. You will also receive detailed instructions about how to care and feed your new Greyhound puppy.
These puppies are bred in a comfortable home environment, and will be thoroughly socialized, which is fantastic because you don't have to worry about your dog being awkward with new strangers.
They will also know how to behave and play with people, which is always a plus! All puppies need to learn how to cope with day-to-day activities in an active household, which might sometimes involve strange scents and sounds.
Like with every professional kennel, Pearl Italian Greyhound Home will expect you to fill out an application form in which you will answer questions about your lifestyle, habits, and members of your household, as well as your knowledge about Greyhound care.
The cost of their Greyhound puppies will vary depending on a variety of factors, but the AKC-registered pups will be approximately $700.
Pearl Italian Greyhound Home information
• Location: Nationwide
• Contact: Pearl Italian Greyhound Home
8. Mariaba Italian Greyhound Puppies.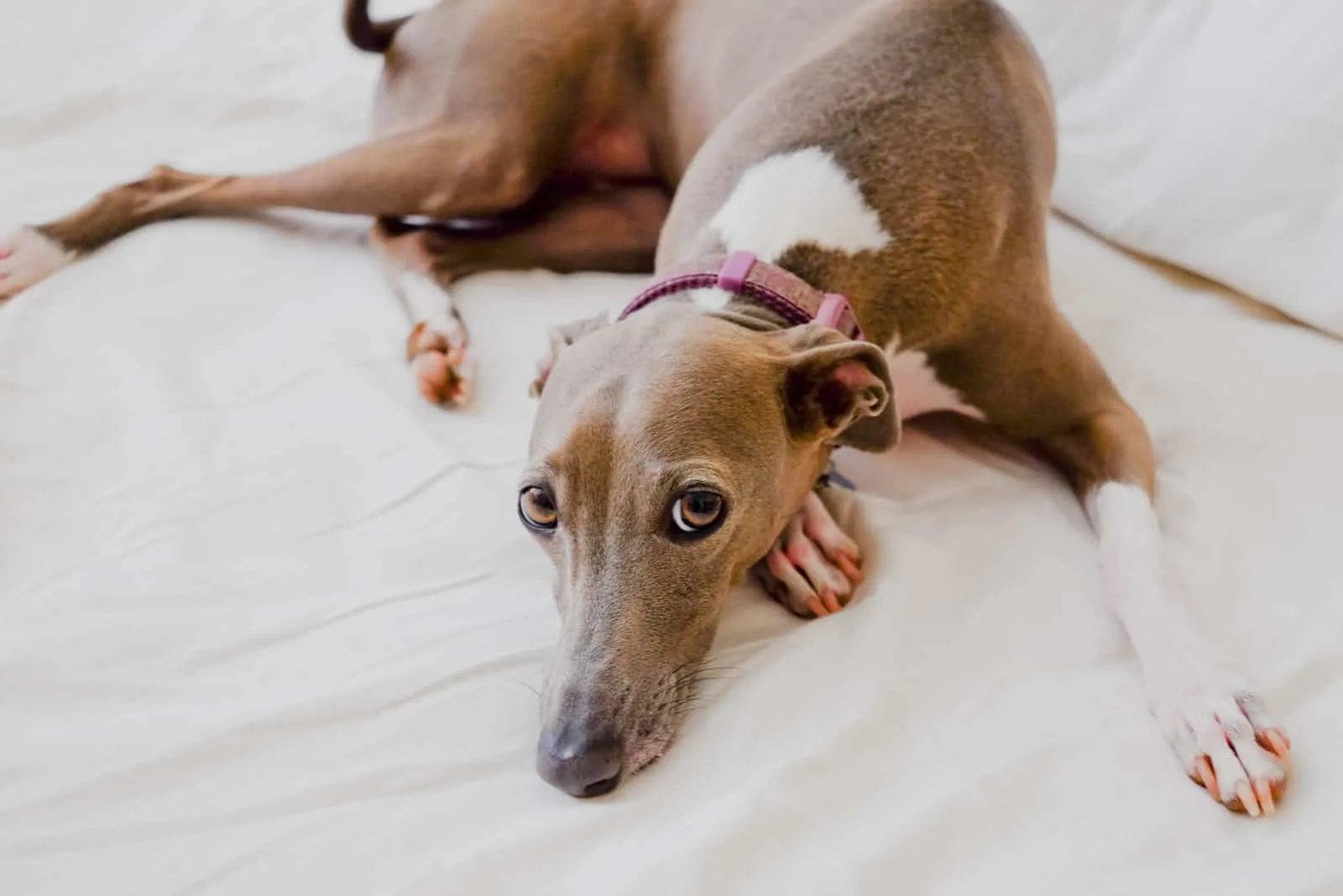 Mariaba Italian Greyhound Puppies is a kennel that will ship Greyhound puppies all over the United States, as well as Mexico and Canada for an extra fee, which is probably unique to this kennel.
If you are worried about whether your Greyhound puppy might experience great stress getting to your home, Mariaba Italian Greyhound Puppies has got you covered!
This breeder hires professional dog nannies to chaperone your pup on its flight. You will be able to receive your puppy with the assurance that the journey will be as stress-free as possible.
The Greyhound puppies bred by Mariaba all have a health guarantee that promises that your puppy won't experience any illness associated with Greyhounds.
Your puppy will be up to date with all deworming procedures and vaccinations when you pick it up from the airport. A vet needs to issue a certification in order to ensure the puppy is healthy enough for traveling on a plane.
The cost of the puppies will generally be around $700, but like with other kennels, the cost of the dog might vary depending on additional factors.
You can talk to the breeder regarding placing a deposit on the Greyhound puppy of your choice.
Mariaba Italian Greyhound Puppies' information
• Location: Nationwide
• Website: Mariaba Italian Greyhound Puppies
Conclusion: The Best Greyhound Breeder For You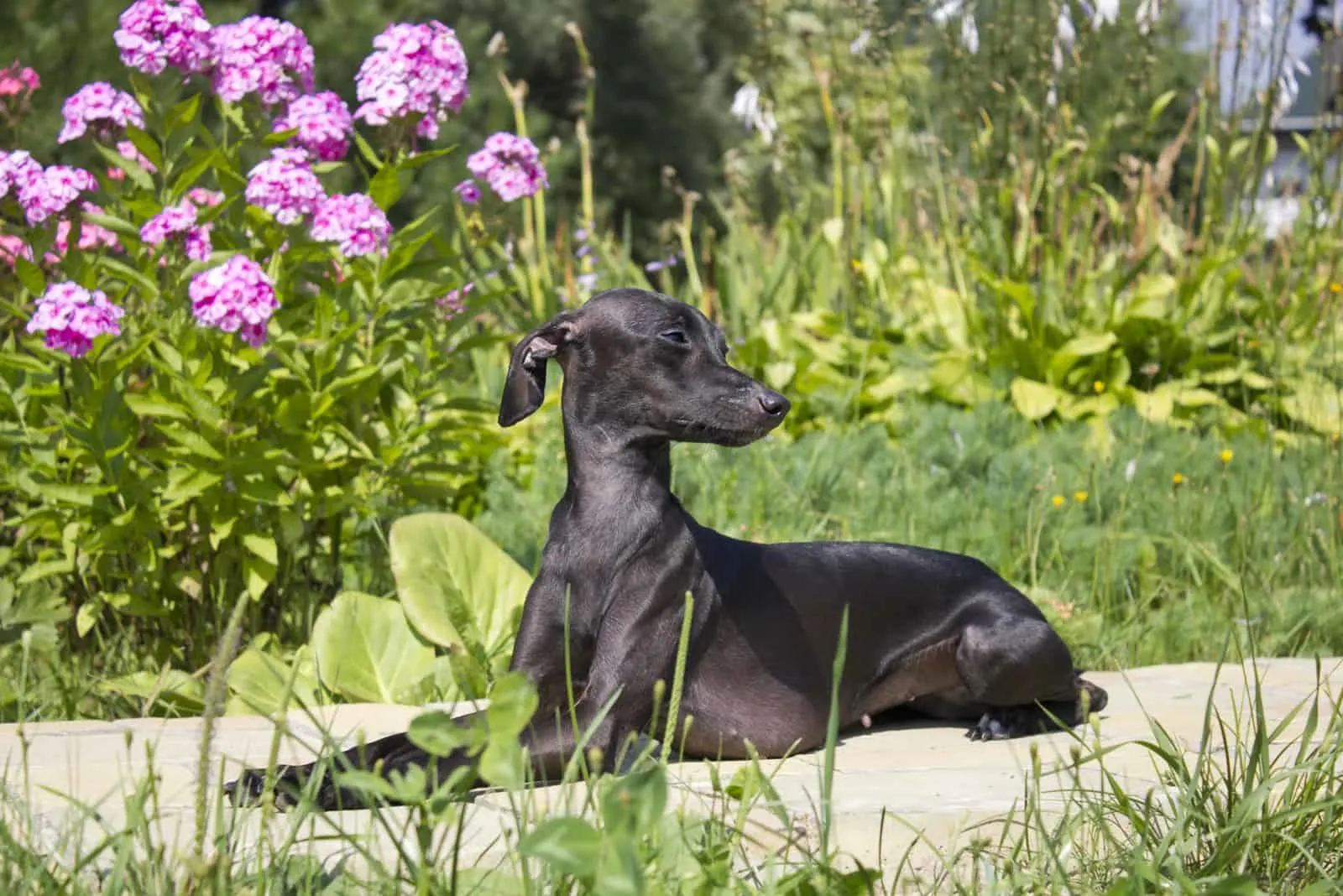 You already know that Greyhounds are one of the sweetest dog breeds out there and one of the gentlest and trainable dog breeds out there.
If you are considering getting a Greyhound, try to give one of the kennels that works with retired Greyhounds a shot.
We know that puppies sound exciting, but older dogs can often work really well with families who enjoy an easier-paced life, and a retired dog can certainly provide a family with a more laid-back experience.
However, if you are committed to finding a puppy as a family member for your home, make sure that the pup comes from a breeder who knows all of the ins and outs of Greyhound breeding and health.
You don't want an irresponsible breeder to cost you unnecessary trips to the vet because they didn't do their homework when it comes to breeding healthy Greyhound pups.
You might also want to consider nonprofit organizations as opposed to those who are for-profit as their values might align more with your own if you believe that they are more interested in the common good of Greyhounds and pet owners alike.
We have provided you with this list of breeders as a head start to your journey for Greyhound puppy searching!
Just make sure that the breeders you look into have the puppies best interest at heart as that is a key factor in all the best Greyhound breeders out there!
Read Next:
• Best Akita Breeders In The U.S.: 7 Places To Find A Pet!
• 7 Afghan Hound Breeders You Should Check Out