Deck the halls with boughs of holly, fa la la… Oh, wait. It's time for an Easter puppy, not a Santa pup.
I know, my jokes are worse than dad jokes, but I swear I'm much better at throwing Easter egg hunts for pooches.
Now, let me prove that to you and teach you how to throw an Easter hunt for your dog, too.
Prepare The "Prey"
Eggs, assemble!
Unfortunately, it doesn't work that way (unless you have a magic wand), so you'll have to do everything by yourself or find a few victims in your family who are willing to help.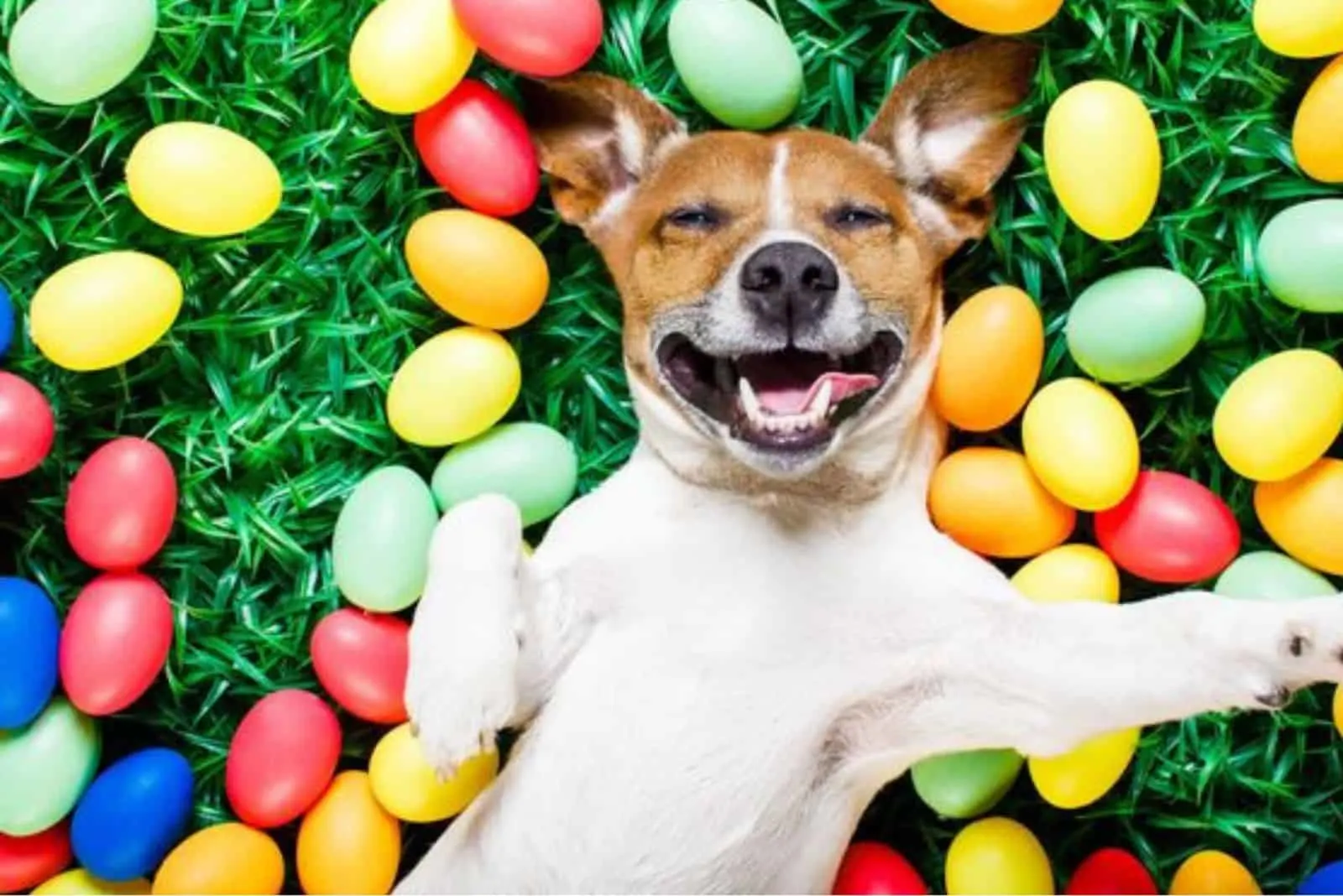 I love preparing egg hunts with plastic eggs because they're cute and colorful. You can simply put in your doggo's favorite treats, peanut butter, or go with healthier options such as apple slices and blueberries.
Keep in mind that if you use plastic eggs that don't have any holes, make sure to make one, so your dog can find it more easily.
According to AKC's article, plastic eggs can represent a choking hazard, especially for dogs with strong bites that might break the egg and swallow shards.
READ MORE: Everything On The German Shepherd Bite Force
Therefore, if you're not completely sure that your pooch won't break it, I recommend you skip the plastic eggs completely.
Plastic Egg Alternatives
But, do not weep yet. If you really want to use eggs, you can simply go with the original ones, but only if you hard-boil them first.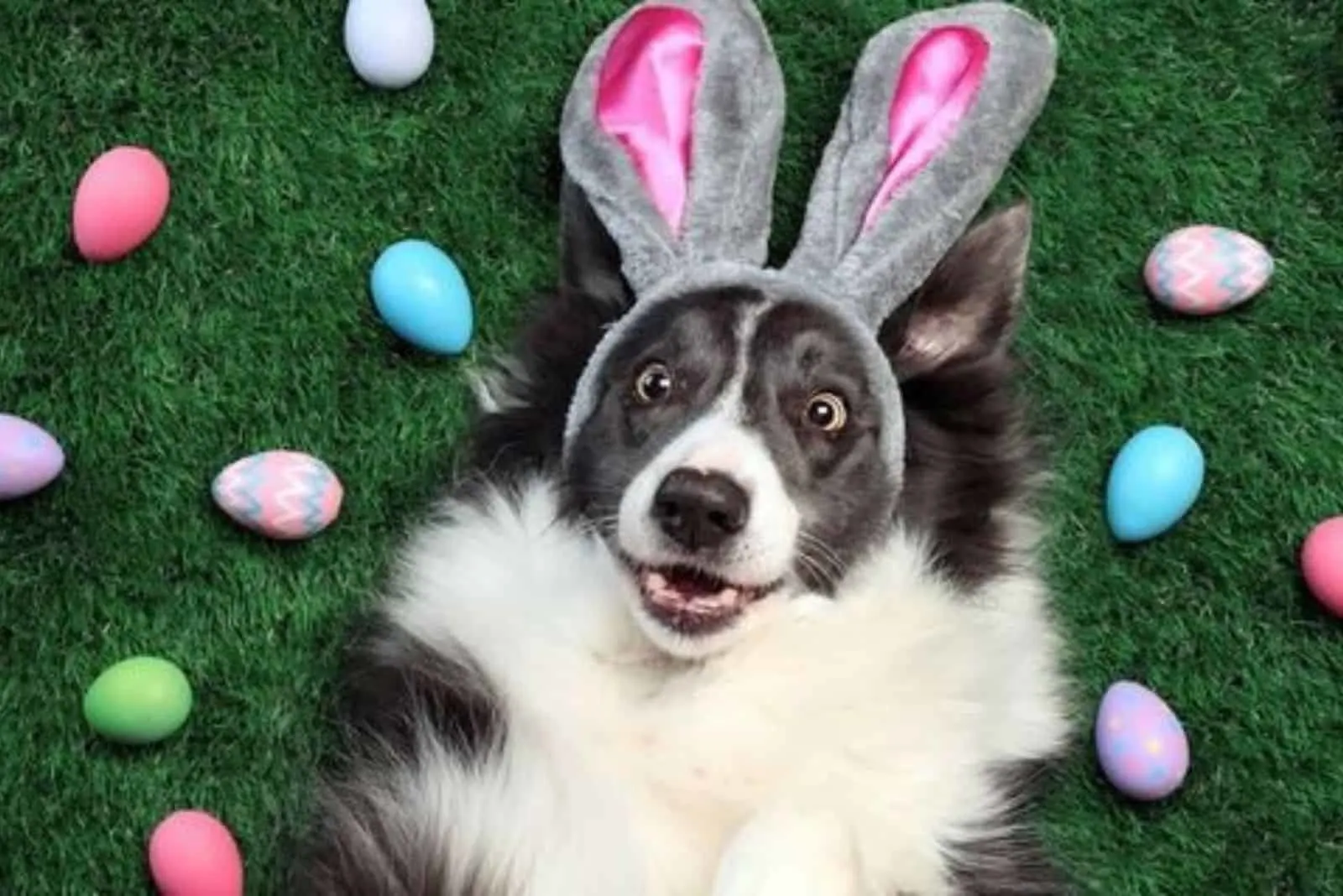 Hard-boiled eggs are safe for doggies, and are filled with essential nutrients that will make your four-legged pal healthier. [1] You know how they say: An egg a day keeps the vet away.
On the other hand, if you're not obsessed with eggs as I am, you can hide parts of apples, carrots, blueberries, or anything else that will motivate your doggo to look for it.
The third option is reserved for pups that are heavy biters. If you still want to hide the treat, but without having to use any eggs, you can do so by using a dog toy with hidden compartments for dog treats.
Shoo, Sugar, Shoo
Chocolate and candies are delicious, we can all agree on that. If you have kids or know someone who has them, you know these are their favorite treats for holidays.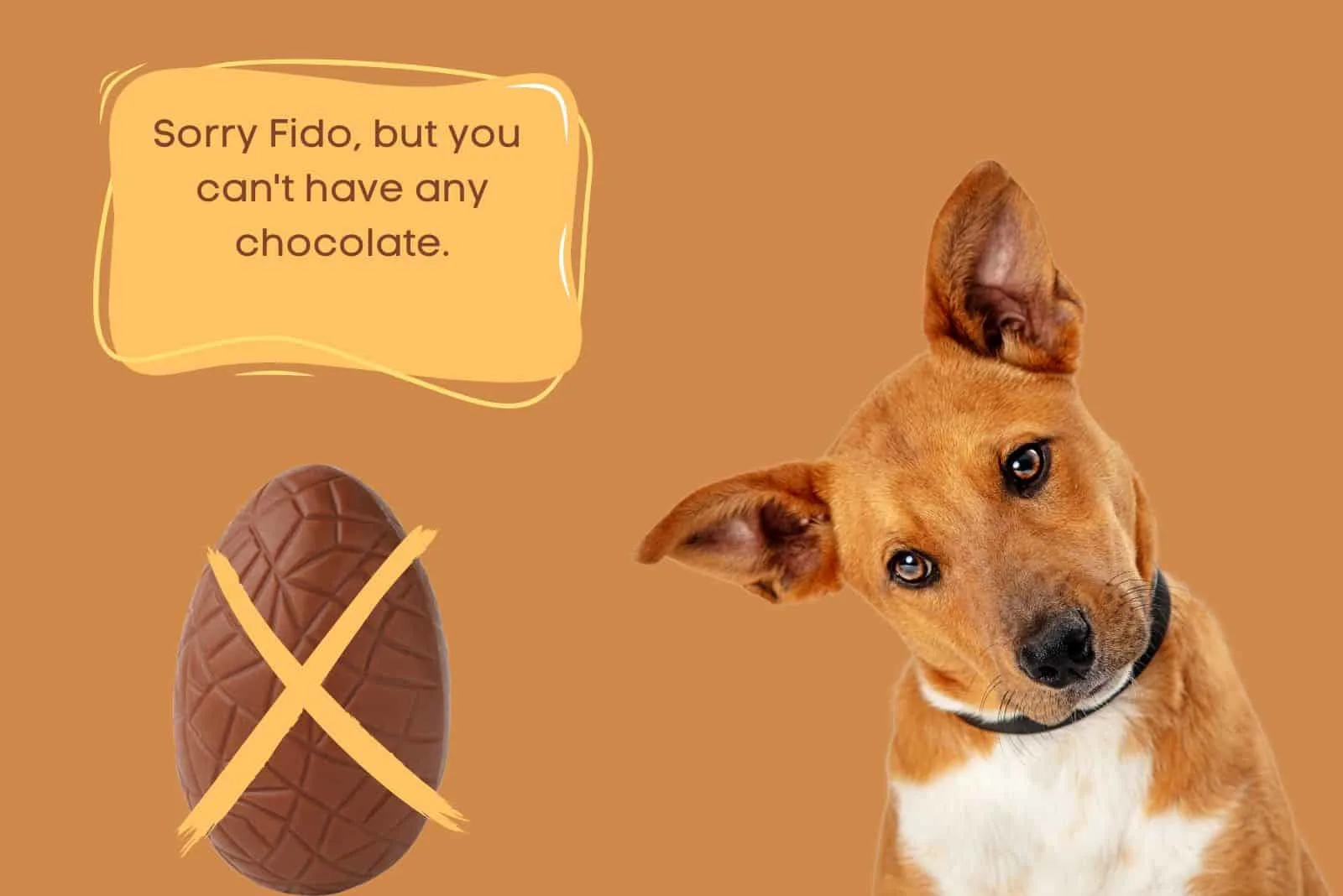 But, these aren't good treats for dogs, and they should be avoided at any cost. Chocolate is a big no-no for doggies, and it might even be life threatening [2], so make sure to keep sweet treats away from them.
RELATED: How To Make A Dog Throw Up After Eating Chocolate
Doggie The Explorer: House Or Back yard Edition?
Now that you have the Easter eggs/treats ready, it's time to choose the venue and get the party started.
Essentially, you've got two options to choose from: your yard and your house.
I usually choose the first one, as my yard is fenced and safe for the doggo. Also, this is a great outdoor activity which I sometimes turn into a part of training.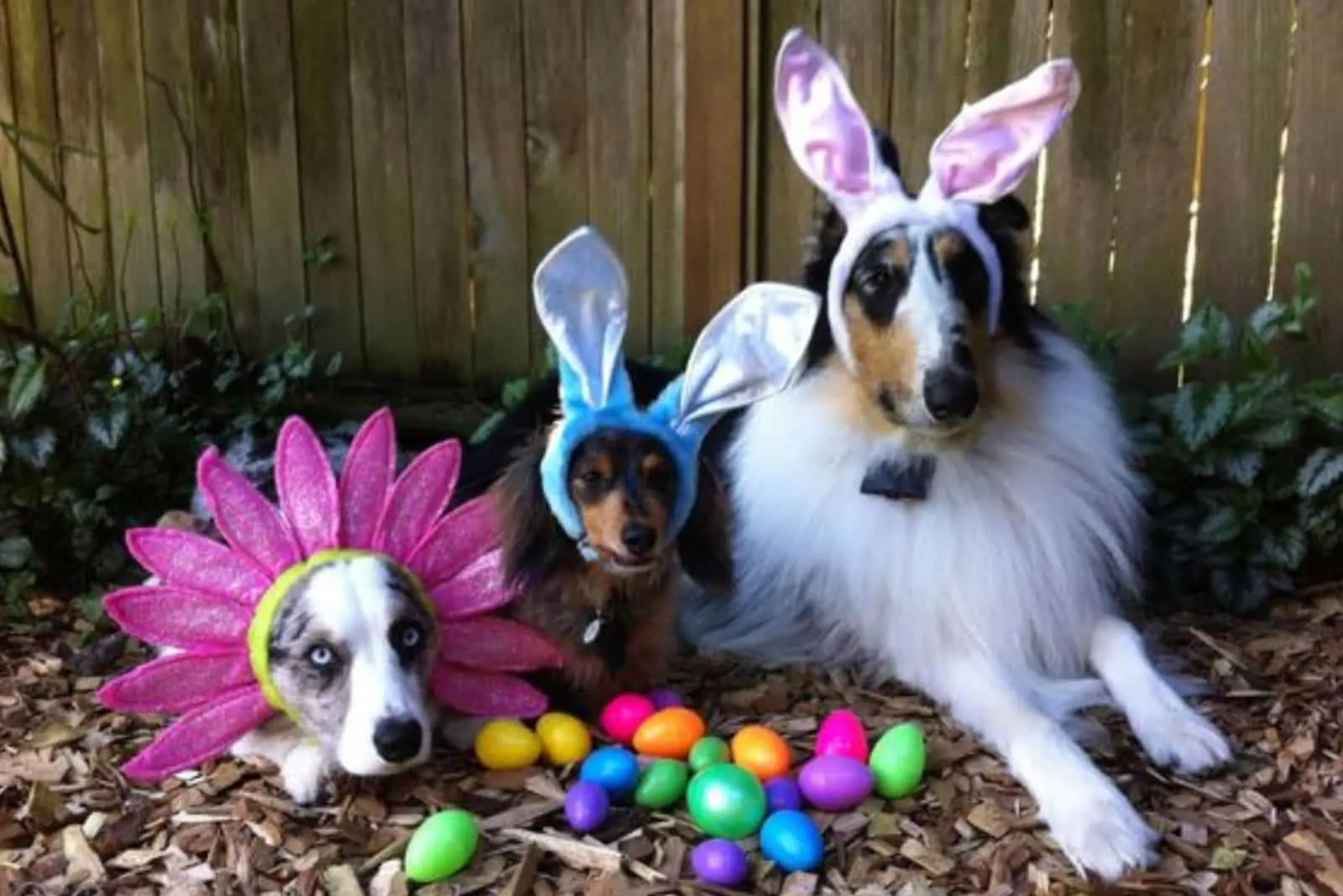 I actually taught my German Shepherd a few basic commands by using the Easter egg outdoors, and he didn't even notice because he had so much fun.
However, if you don't have the chance to prepare the Easter hunt outside, you can always do it inside the house or apartment. Just make sure that you don't put Easter eggs too high or near fragile things (you might want to put your favorite vases and china somewhere safe).
Finding The Right Spot
One thing you should always keep in mind is that your doggie doesn't have hands and is not able to pick up things to find the Easter egg.
That's why hiding spots should always be somewhere where the eggs are at least partly visible and easy to get for your pup.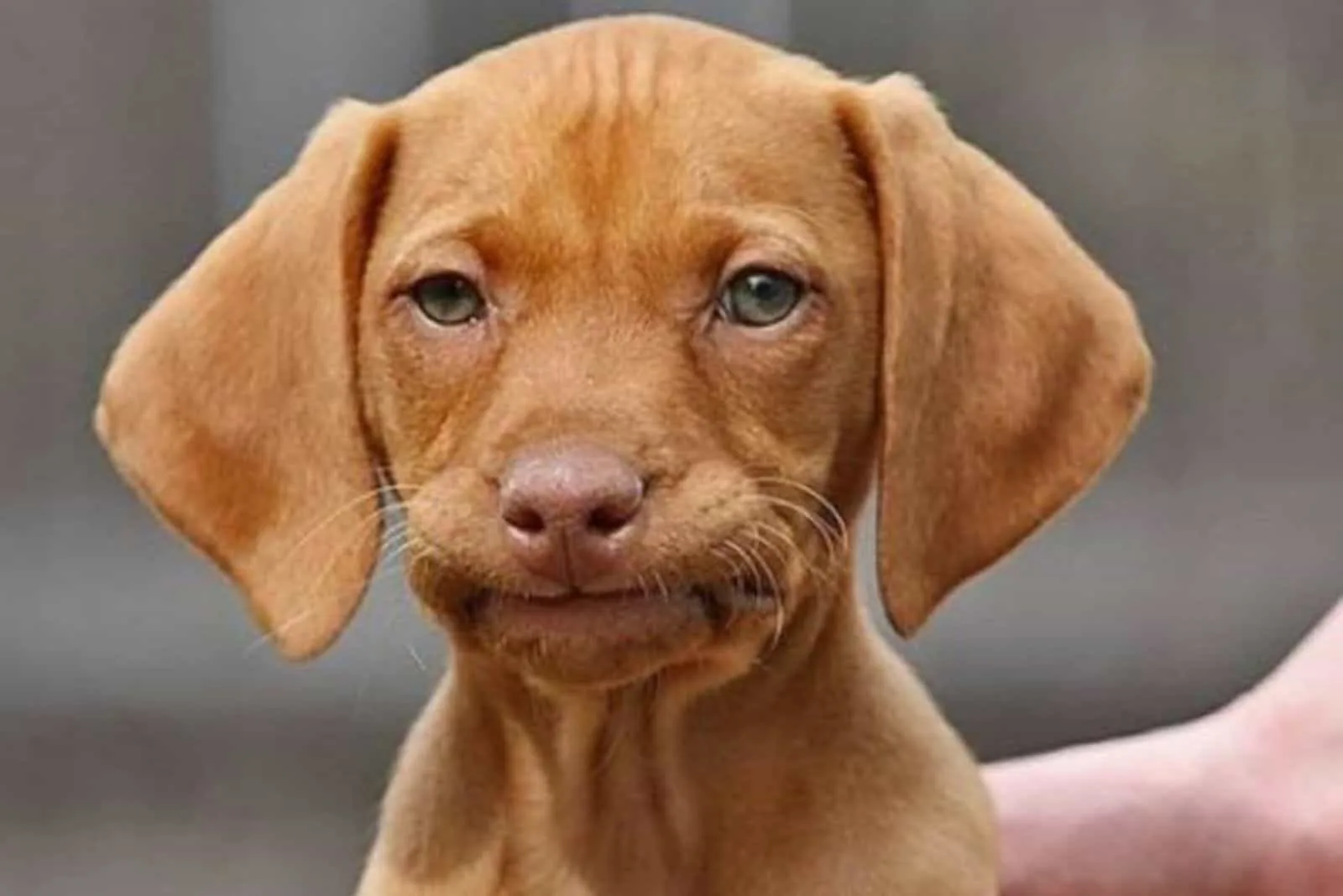 I want you to learn from my mistakes. The first time I organized an Easter hunt for my pet, I foolishly put one of the Easter eggs behind boxes in the garage and my doggo just stood there and looked at me like:
To avoid this look on your pup's face, go with places that might be obvious to you (like under the table or next to the sofa), but will take your doggie some time to discover them.
Keep An Eye On The Pup
I do believe that I have a good fence, but I still prefer to keep my dog either on a leash or at least close to me just to prevent him from eating something he's not supposed to.
With a leash, I'm able to keep my pooch on the right track, so we don't end up searching for treats for hours.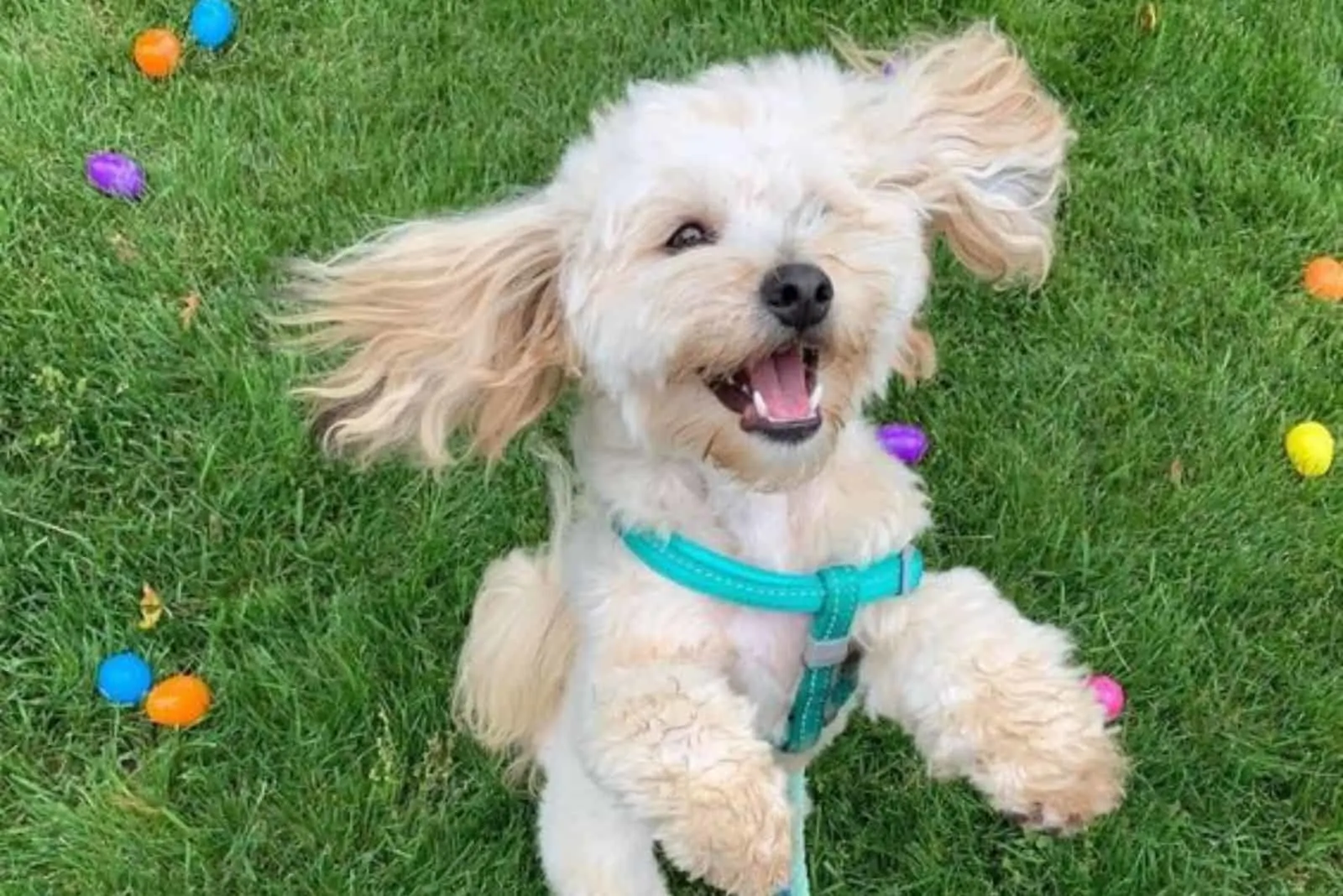 Dogs aren't really aware of what they're doing and if you tell your pup you're doing an Easter hunt, that won't mean a thing to him, which is why he could get easily distracted.
Instead of searching for eggs and treats, your doggo could easily end up playing with his toys or chasing a butterfly (this actually happened to me once).
Of course… your dog, your rules. If you think your pup will be equally successful without a leash on, you can let him run around during the hunt on its own, but I'd still recommend you to stay close and control what he ingests, so you don't end up at the vet's office on Easter.
An Easter Hunt Is Not A Competition
I occasionally throw Easter hunts not only for my doggo, but my friends' pooches as well, which turns into a fun time for both us and our pets.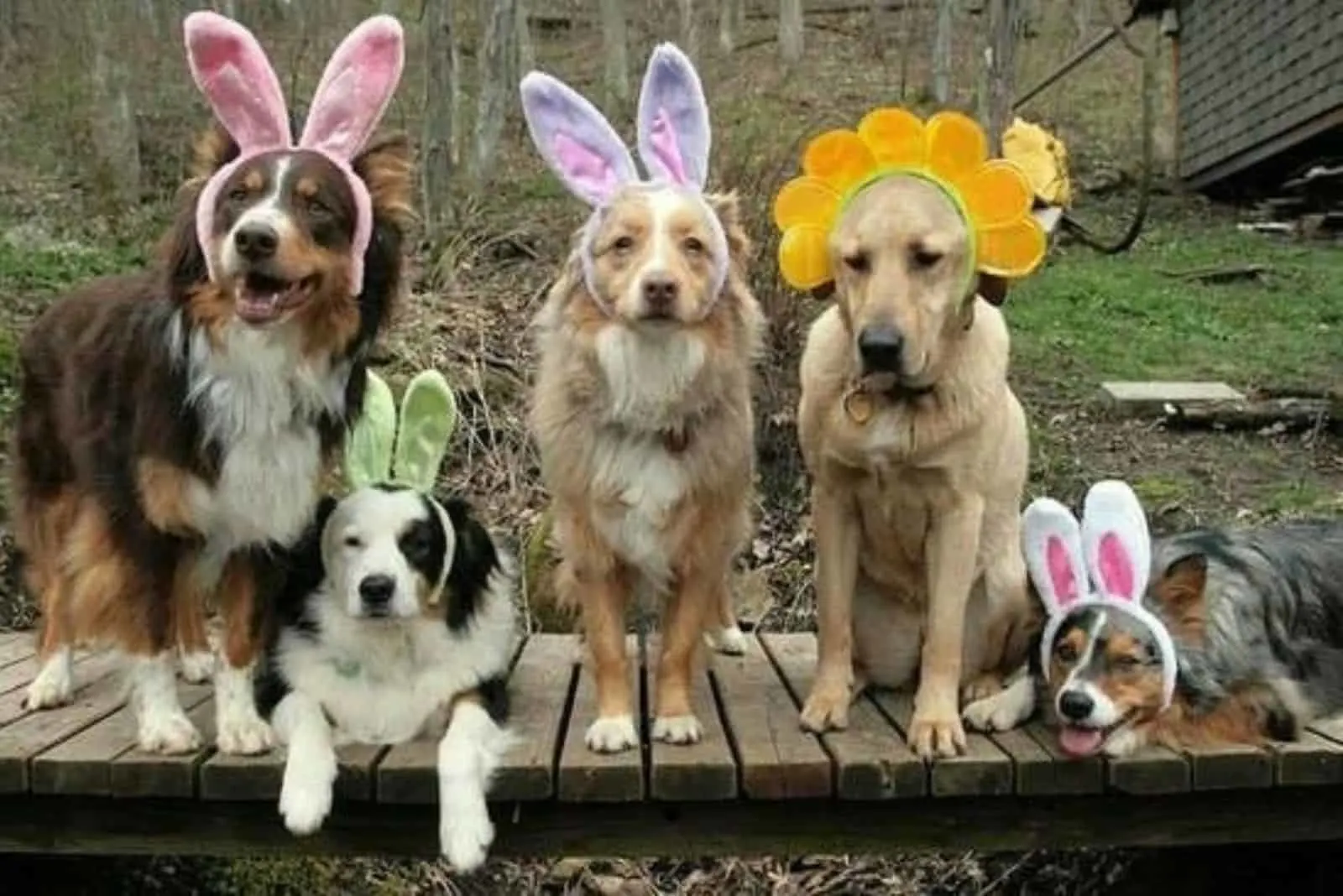 But, I have to admit this often turns into a competition not between our dogs, but between us. We start counting the eggs and treats our furry buds gather, and then we lead them to find more. This can be fun, too, but it usually ends up with frowned faces.
That's why I advise you to remind yourself that this is all just a fun activity that should be filled with laughs and positive energy.
This way, your pooch will grow fond of the Easter hunt, so it might turn into a lovely tradition.
The More, The Merrier
Don't shy away from inviting people and their pets to your Easter hunt dog party. This way, your doggie will have a great chance to socialize with other pups and you'll all have great fun.
I know it's not easy to organize everything by yourself, but that's what friends are for.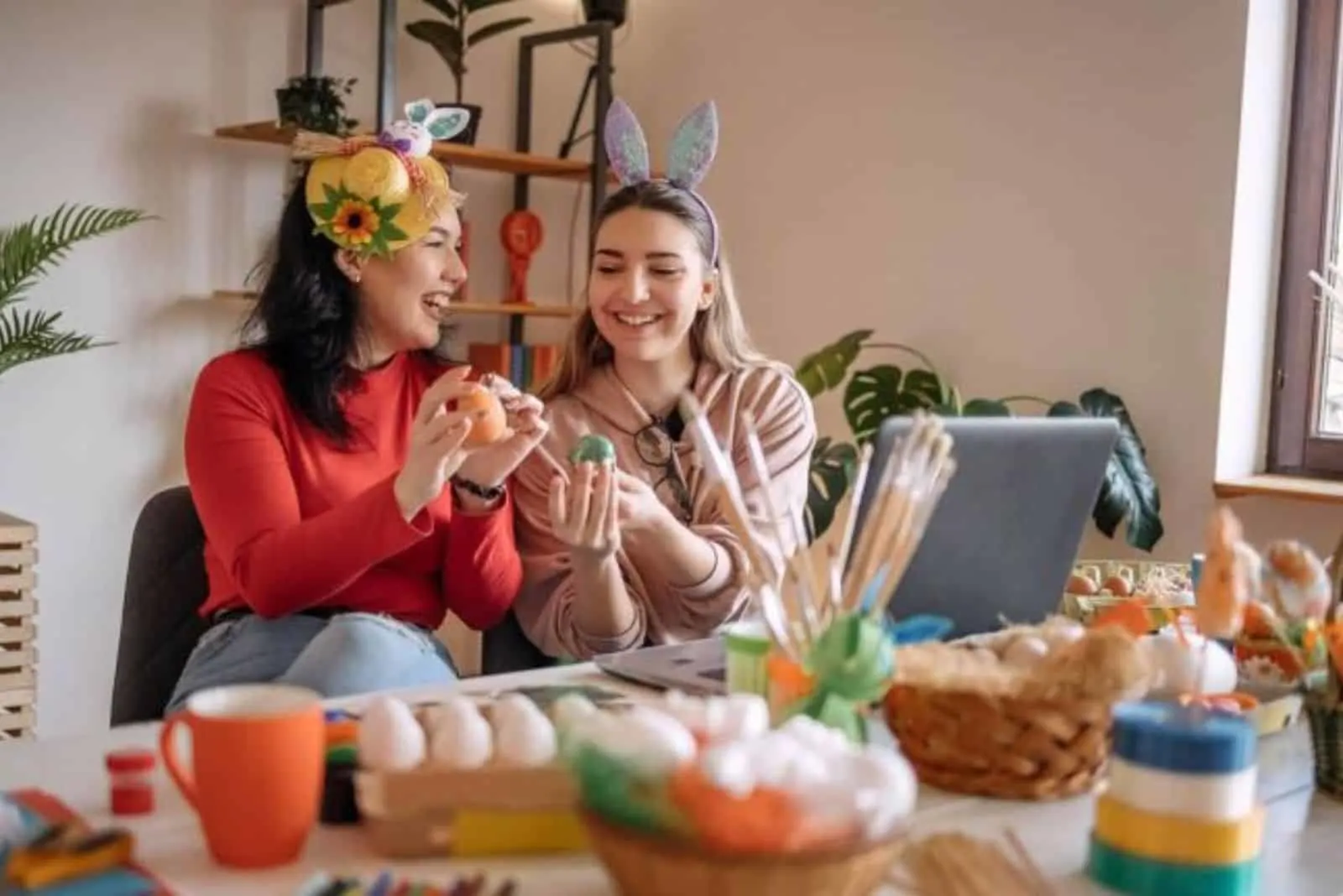 If you'd love for your dog to search for Easter eggs and treats with his furry pals, but aren't sure whether you can prepare it by yourself, just ask for help.
I'm sure other owners would love to join the organization of the party and help you with everything you need.
Wrapping It Up
Easter bunnies, move away… The Easter pup is coming to town!
If you had no idea how to throw an Easter hunt for your dog, I hope I managed to prove to you I'm good at it. Or, at least better than my jokes.
All I want is for you to have great fun with your doggo and enjoy it to the maximum.
If you'd like to see what an Easter hunt for doggies looks like, you can check the video below and see how well Milli, the havanese poodle cross, did:
Happy Easter, fellow pet owners and have a pawsome holiday!
READ NEXT:
15 Funny Dog Memes To Wish You Happy And Joyful Easter
23 Cute Dogs Celebrating Easter In The Most Adorable Way
References:
1. Joy, Hector. (June 30, 2020.) "Can Dogs Eat Eggs?" PetMD Website.
2. Schmid, Renee, Brutlag Ahna. "Chocolate Poisoning in Dogs." Retrieved March 26, 2023 from https://vcahospitals.com/know-your-pet/chocolate-poisoning-in-dogs