Do you live in Canada? Is this why you're looking for the best Golden Retriever breeders in Quebec? As one of the biggest provinces in America's friendly neighbor, Quebec has a lot to offer. Lots of gorgeous nature sites, kind people, and even kinder furry best friends.
Yup, Quebec is blessed with lots of great dog breeders, but today, we're discussing those that focus on Golden Retrievers.
The first thing you should know about Quebec is that you could have a hard time here if you only use English. Almost 80% of the population in this province speaks French. To be honest, I struggled quite a bit before I found today's top breeders.
Some have websites only in French, some speak English too. But, I guarantee you'll manage to find common ground if you prove to be a valuable future Golden Retriever owner. Kindness transcends languages, and dog lovers speak it. There's no way you won't get along with the listed breeding teams!
If you're ready, I'd like to present to you the top 9 Golden Retriever breeders in Quebec.
Golden Retriever Puppies For Sale In Quebec
The Golden Retriever dog breed is pretty popular in Canada. From Toronto, to Manitoba, Saskatchewan, and Yukon, you won't find more hardworking Golden Retriever breeders than the people listed below.
1. Manoir de Majestes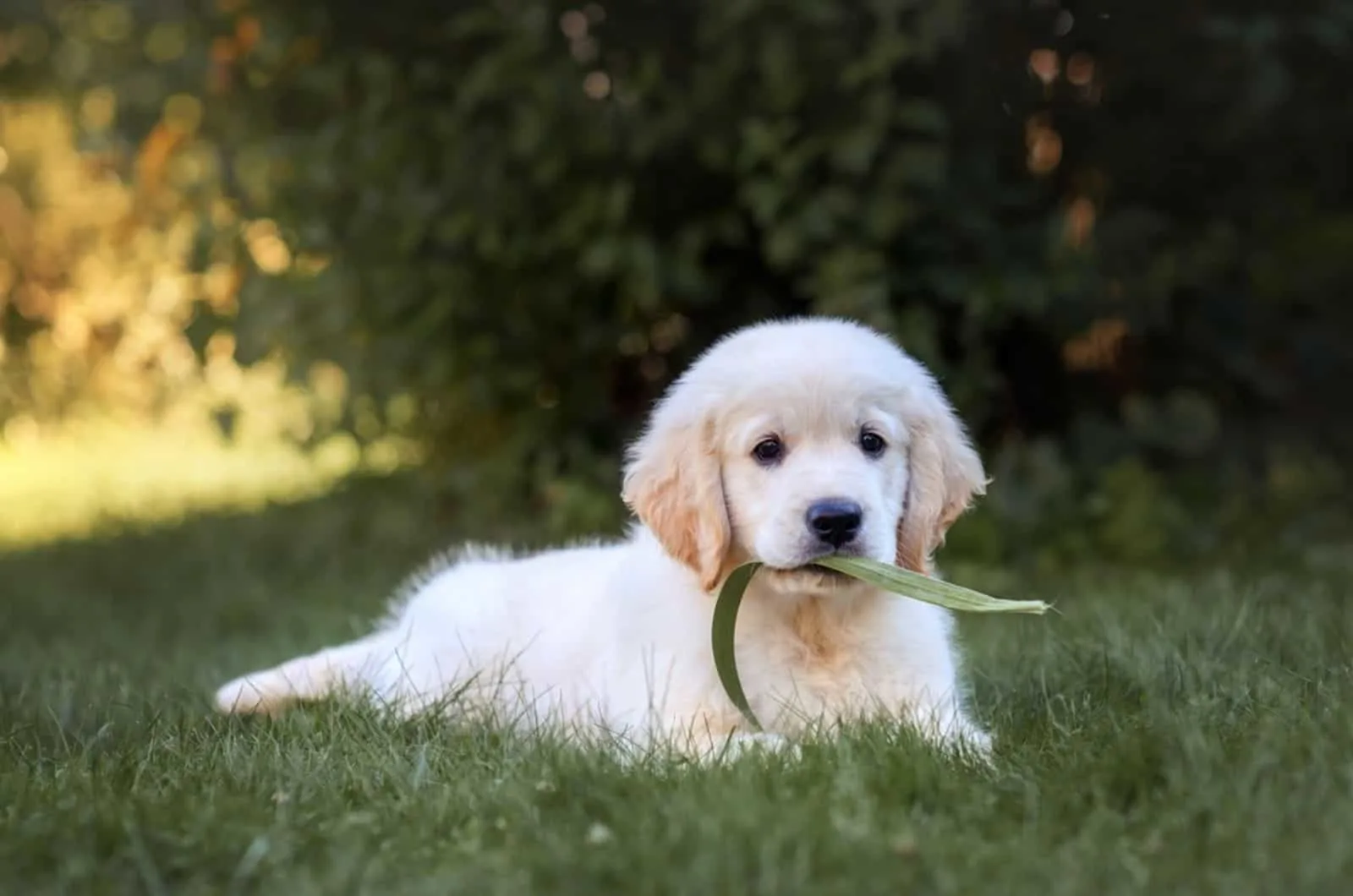 You don't have to speak French to realize that Manoir de Majestes is a big, fancy manor for Golden Retrievers. As one of the finest Golden Retriever breeders in Quebec and Canada, Manoir de Majestes should be your first stop when looking for a Golden Retriever puppy.
I was truly impressed with their website, because everything seems so professional and on a next level. Manoir de Majestes is definitely a breeder with an expert approach. One of the first things I look for with every breeder is how dedicated they are to their breeding stock and puppies.
What I mean by this is how devoted the breeder is to different health tests and studies conducted to prove their dogs are healthy. Manoir de Majestes is deep into those examinations, and provides OFA, CERF, and PenHip certificates for all their dogs.
This ensures all of their dogs are clear from any eye, heart, hip, or elbow health problems for over four canine generations. In addition to these tests, Manoir de Majestes also offers an incredible 26-month health guarantee.
The masterminds behind Manoir de Majestes have lots of years of experience, not only in dog breeding, but also in rescuing dogs, and rehabilitation.
If you want a Golden Retriever puppy to treat it like a king or queen, just like the good people of Manoir de Majestes do, you must have a reservation. The deposit is only $200, a small price for a safe spot on the list!
Just call in and pick the Golden color you like the most!
Breeder's details
Website: Manoir de Majestes
Location: Beaumont
Phone: 855-935-3504
Email: [email protected] or [email protected]
Social media: Facebook
2. Elevage SagaGold Golden Retriever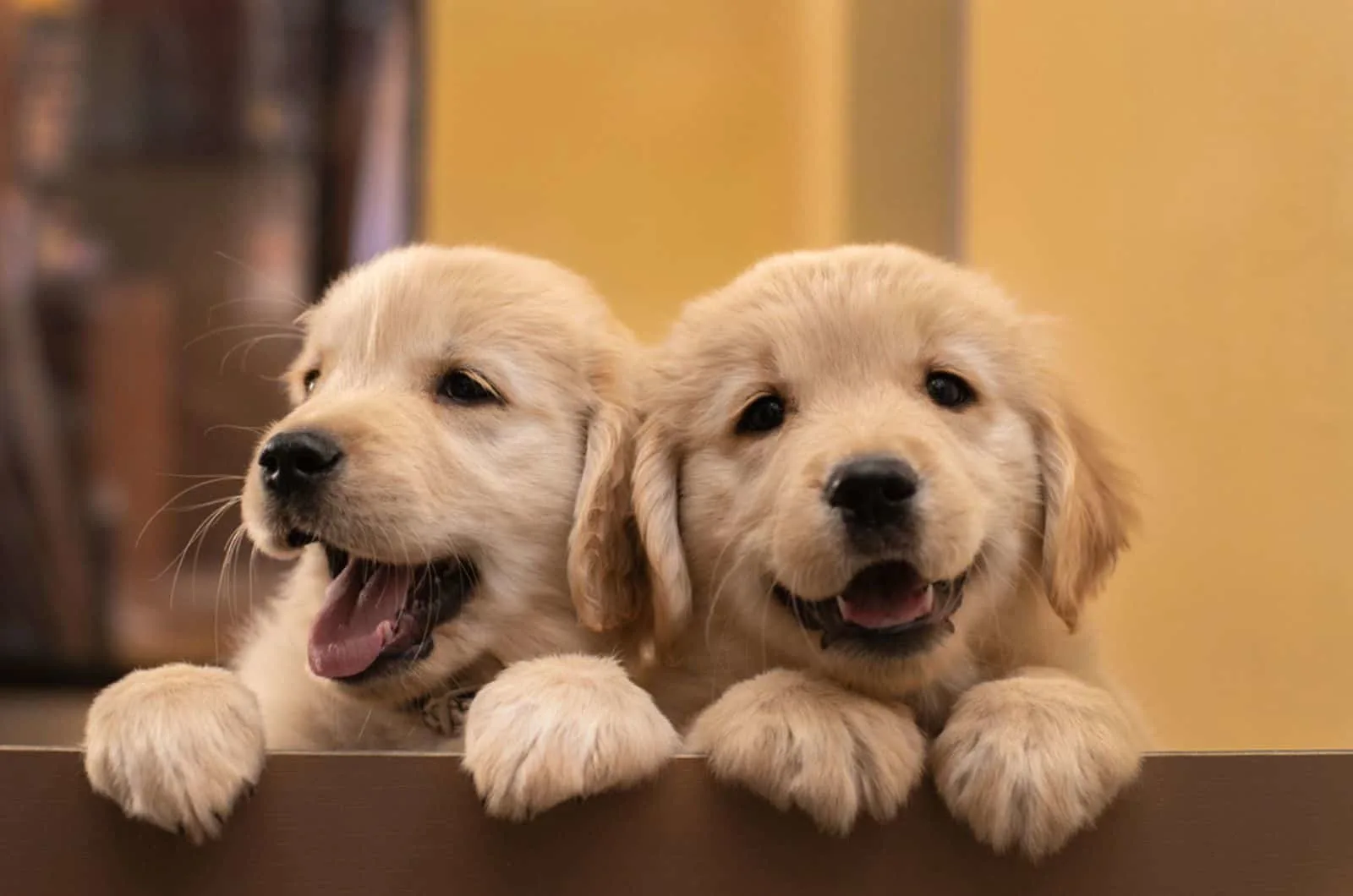 For more than 25 years, Nancy from SagaGold Golden Retrievers has been madly in love with breeding and raising excellent specimens of the Golden Retriever breed. Just a bit shorter is Nancy's experience in a veterinary clinic.
This makes her one of the most professional Golden Retriever breeders among all passionate breeders in the whole of Canada.
As an approved breeder by the Canadian Kennel Club (CKC) and the Golden Retriever Club of Canada, SagaGold is a place where you get Golden Retriever puppies for their high-quality. Nancy's biggest goal is to breed to improve the quality of the breed.
SagaGold Golden Retrievers come with all the necessary documentation from OFA and CERF. Also, DNS testings for predominant diseases of this breed are being conducted regularly.
What makes SagaGold worth your visit is the fact these doggos are only available occasionally. Nancy doesn't overbreed her stock. She will offer puppies for sale only a few times a year.
If you want a SagaGold puppy, you must sign a non-breeding agreement. This ensures puppies will be sold as companions only, not as breeding stock. All puppies are regularly dewormed, and will receive their shots.
Also, puppies will be microchipped for your convenience and socialized from day one. They will be ready for adoption as soon as they turn 8 weeks of age.
What will amaze you about SagaGold Golden Retriever puppies is the fact they have a 2-year health warrant for congenital diseases, which is always something you should look for in a breeder.
Breeder's details
Website: Elevage SagaGold Golden Retriever
Location: Rimouski
Email: [email protected]
3. Norsehaven Reg'd English Type Golden Retrievers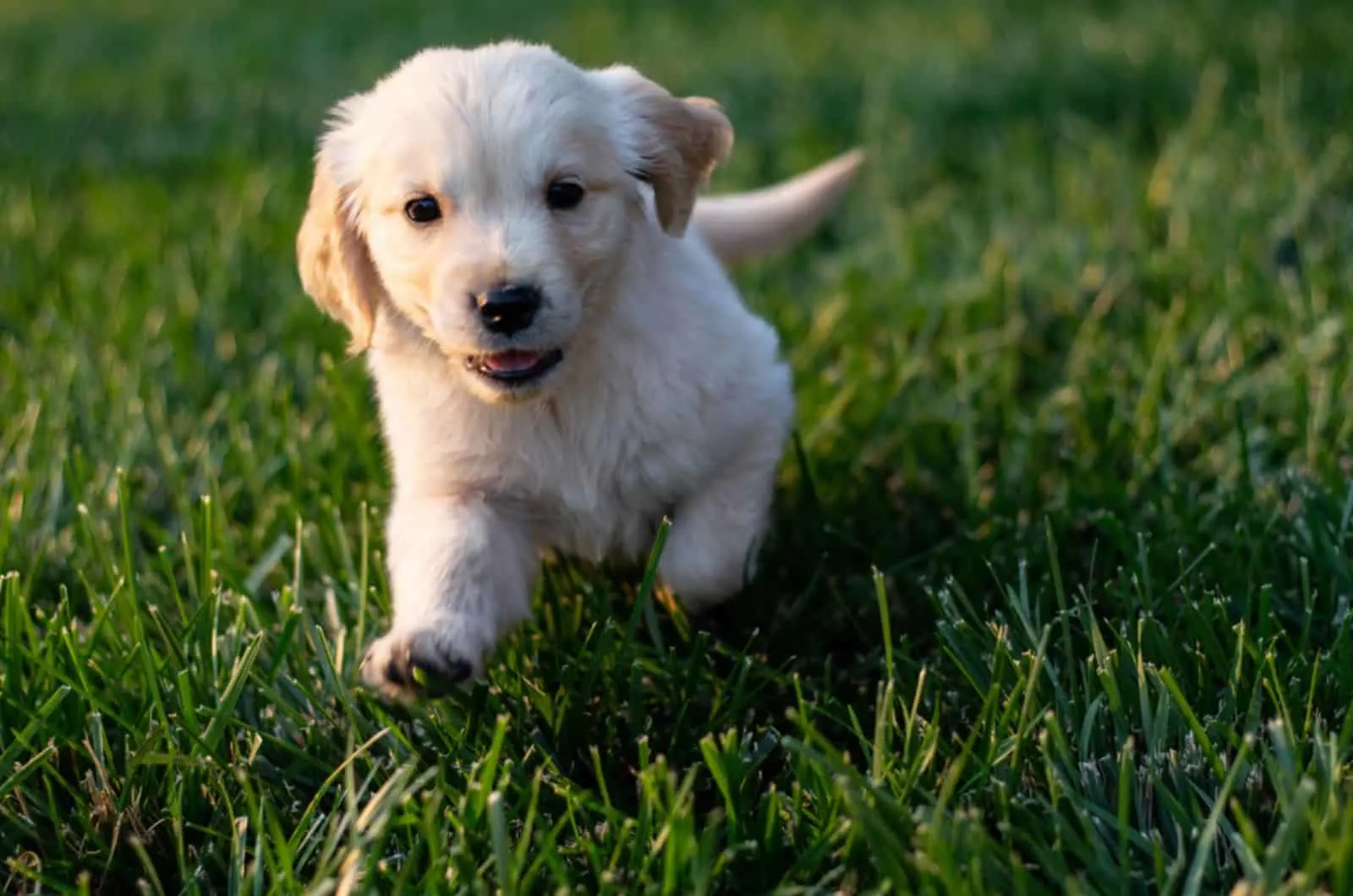 Ever since 1991, Dominic Valois has been involved with breeding Golden Retrievers. Everything started with Norsehaven's first Golden Retriever dog, Dundee.
Today, Norsehaven has come a long way from being just a local breeder, to becoming approved by all the major clubs and organizations like CKC, GRCC, GRCQ, and GRC(UK). As their full name says, this breeder focuses on bringing the best of the English Golden Retriever breed.
See why English Goldens differ from American Goldens here.
Officially, Norsehaven was established in 2005. But, thanks to the lifelong dream and the supreme experience, it managed to climb to the top rather quickly.
Norsehaven's Golden Retrievers are all well-rounded dogs. From the first day of their lives, puppies are being socialized. The socialization and establishing friendships continues as the puppies grow. This is one of the reasons why Golden Retrievers are considered super friendly and never aggressive.
Norshaven dogs enjoy full treatment as equal family members. They love being active with the family, going swimming or hiking, and enjoy time well-spent together.
Besides their wonderful temperaments, these Golden Retrievers are tested for hips, elbows, eyes, heart, DNA for PRA and Ichthyosis. All the puppies are of terrific health status, which you'll see for yourself.
What you should know is that Norsehaven Golden Retrievers come with a non-breeding agreement. They're pet-quality dogs, with a wonderful 3-year written health guarantee.
Breeder's details
Website: Norsehaven Reg'd
Location: Hudson
Phone: 514-566-6700
Email: [email protected]
Social media: Facebook
4. Majesty Golden Retrievers et Pension Engold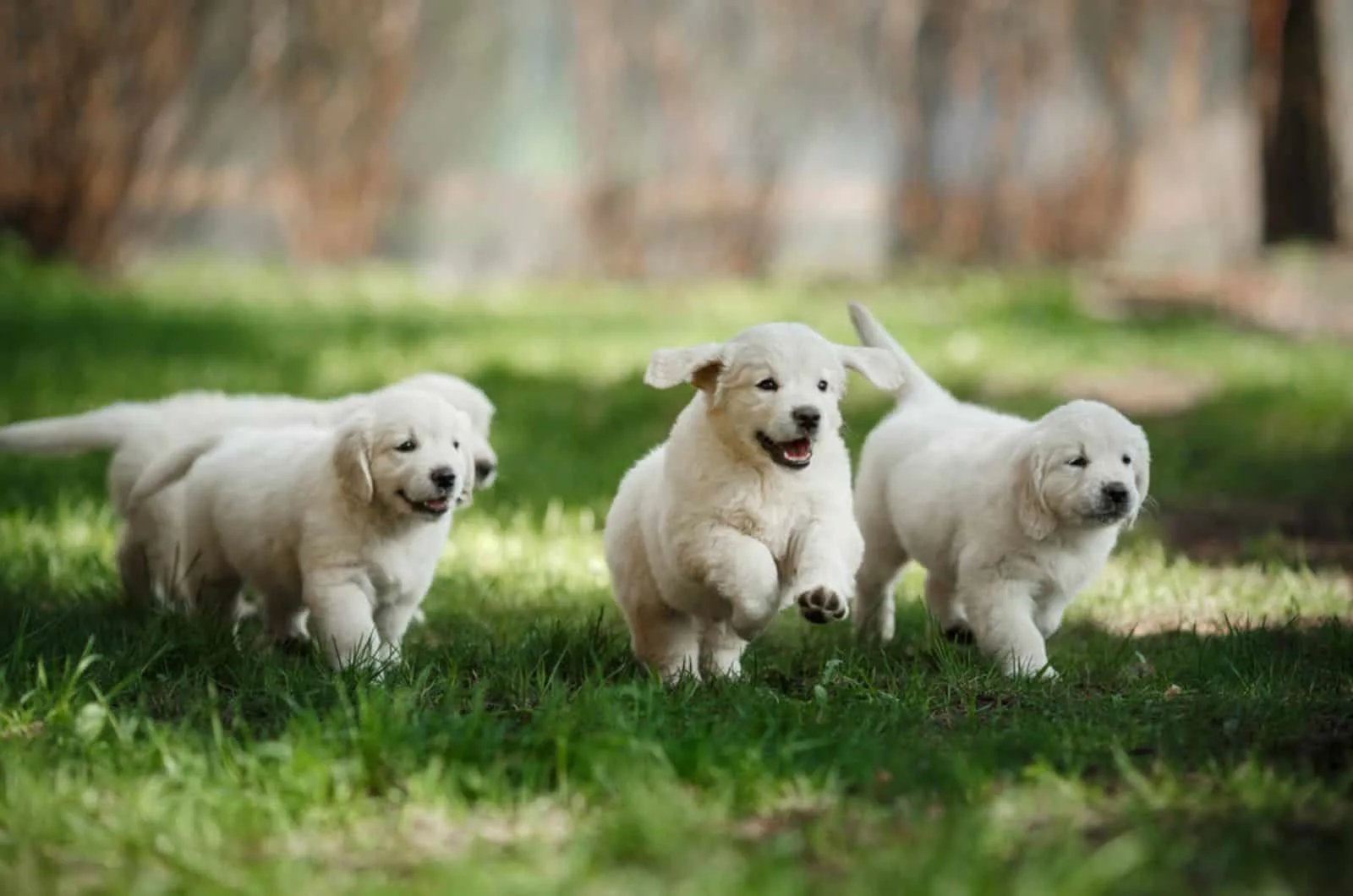 Back in 1981, when the first Golden Retriever, named Max, entered the family, no one expected they would all go nuts about this breed. Soon, Max proved that Golden Retrievers weren't only good for fetching waterfowl. They were excellent family pets too!
Majesty Golden Retriever soon began producing lovely Golden puppies, precisely in 1988. Anik Primeau, the breeder behind Majesty Golden Retrievers, was declared the youngest professional handler not only in Quebec, but in the entirety of Canada.
Today, Anik and her husband, Dominic, run Majesty Golden Retriever entirely by themselves. They have built a name worthy of attention. Majesty Golden Retrievers are dogs that can serve as terrific examples of the breed.
Even some veterinarians from this province refer to Majesty Goldens as extraordinary pups from an extraordinary breeding practice!
All Majesty Golden Retrievers are companion dogs. You can't buy one to enrich your breeding stock.
These dogs will be cleared of any hip, eye, elbow, or heart conditions. They will be as healthy as Golden Retrievers can get. To prove this, if you get a Majesty Golden Retriever, you'll also get a 26 month health guarantee on hip dysplasia, and 24 month guarantee on hereditary diseases.
All Majesty puppies will be vaccinated and dewormed. They will have been checked by the vet regularly, by the time they turn 8 weeks of age. After that, they're ready for adoption and to enrich your life with their pawsitive temperaments.
Breeder's details
Website: Majesty Golden Retrievers
Location: Sainte-Julie
Phone: 450-649-1209
Email: [email protected]
5. Zomarick Golden Retrievers Rustiques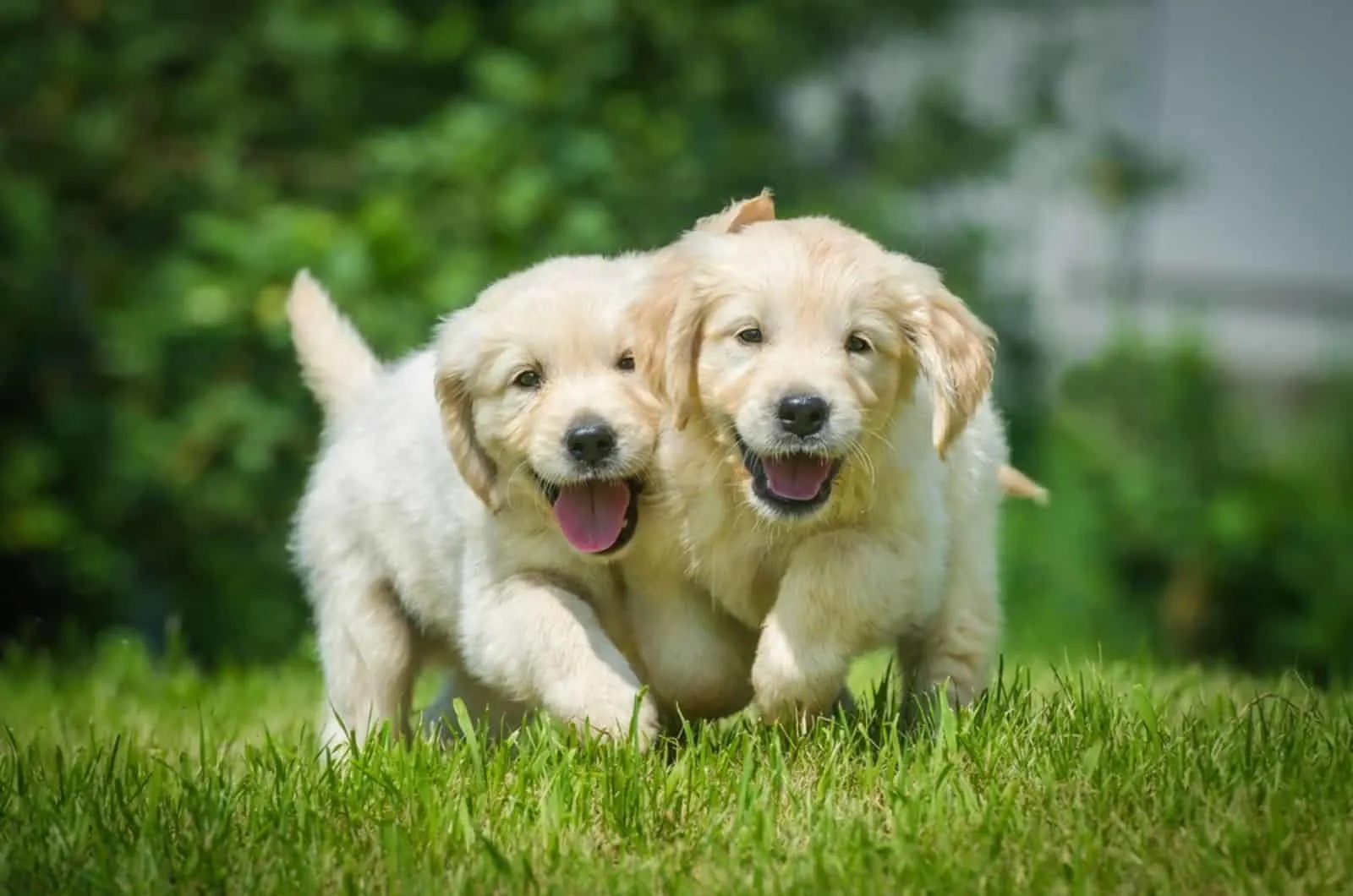 Zomarick Golden Retrievers have one of the best Golden Retriever breeding programs in the entire North America, not just Canada. This breeder follows a strict code of ethics and a motto of: pride, fidelity, and devotion.
This is more than just a breeding practice. It's a lifestyle devoted to bringing only the finest Golden Retrievers bred and raised according to their official breed standard.
So, is this the only reason why Zomarick Golden Retrievers should be on this list? Absolutely not!
Zomarick Golden Retrievers are hidden away from city noise, close to lovely streams and creeks where dogs can enjoy fetching waterfowl on a daily basis. They're closely in touch with nature, roaming freely all day long.
These Golden Retrievers are pretty special and you don't see many such specimens anywhere from British Columbia, to Ontario, or Nova Scotia. The reason why they're so special is because these dogs are rustique Golden Retrievers.
Rustique Golden Retrievers are close to original Golden Retrievers, featured in gorgeous coppery coat colors.
Well, that's one huge reason why you should consider a Zomarick Golden Retriever puppy.
Another big reason why these dogs should be on your list is the strong devotion the breeder has to raising only the healthiest puppies possible. All Zomarick puppies will be vaccinated before they're ready for adoption at the age of 10 weeks.
Puppies will also be housebroken and taught some basic obedience lessons.
What's cool about these Golden Retrievers is the fact all puppies will be introduced to birds and the art of gundogs. If you're interested in such activities, you can be sure your new Golden Retriever puppy from Zomarick will have a terrific starting point.
Breeder's details
Website: Zomarick Golden Retrievers Rustiques
Location: Rimouski
Phone: 418-732-0078
Email: [email protected]
Social media: Facebook
6. Mesoka Golden Retriever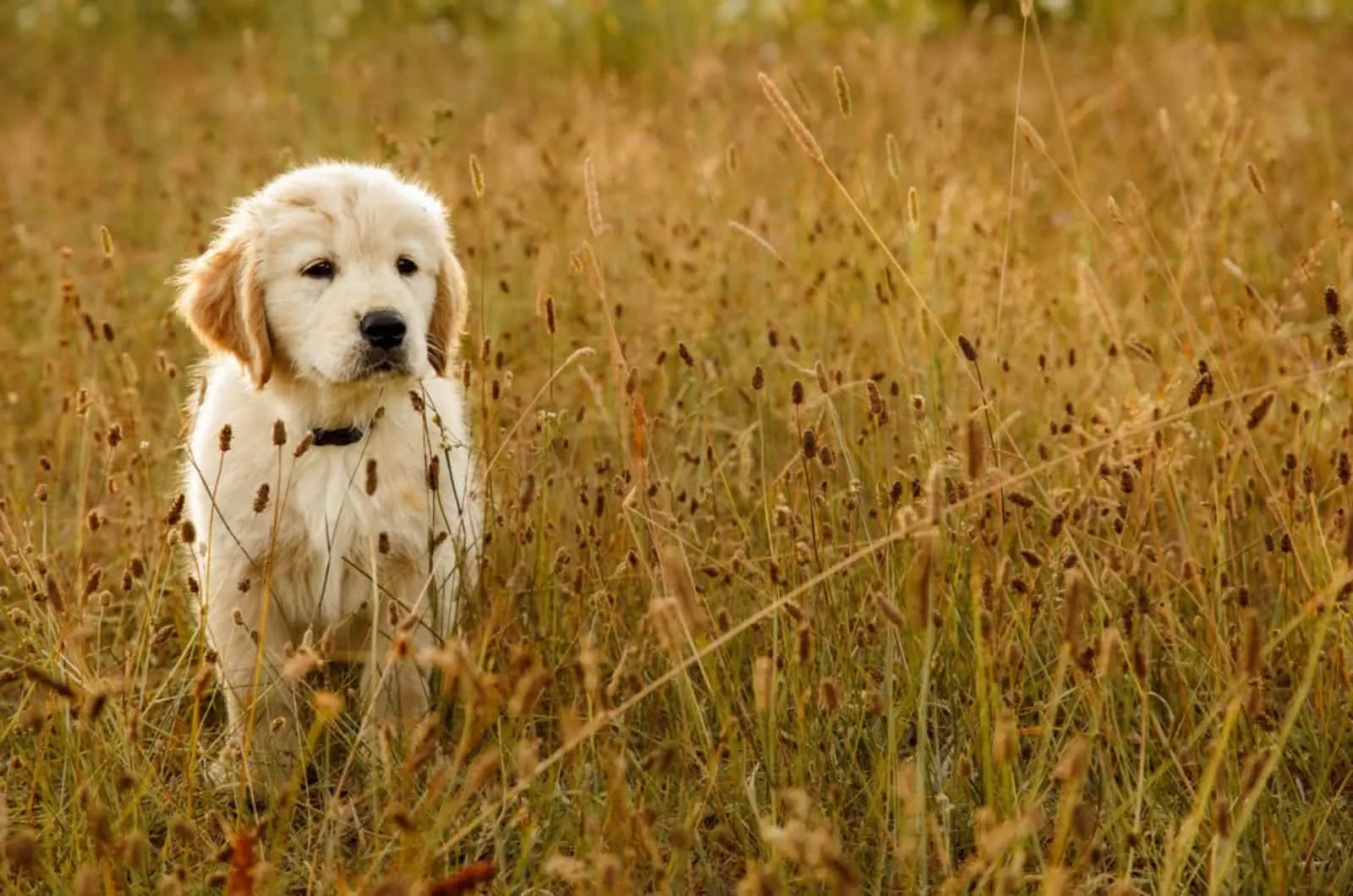 This family business of breeding and raising excellent, purebred Golden Retrievers began back in the 1990s. For more than thirty years now, Mesoka Golden Retrievers have served not only as excellent family companions, but also as field Goldens and superstars of any confirmation ring.
The entire family is deeply involved with raising German Shepherds, even Sonia's grandkids enjoy socializing with them. Who is Sonia? Oh, just the brilliant mind behind Mesoka Golden Retriever.
There's only one right way to raise Golden Retriever puppies, but Sonia has figured out how to do it even better. As a rule, her puppies will go through special socialization lessons that include different games, smells, and sounds, as well as discovery missions. Also, puppy massages are in order.
Who wouldn't like to get a puppy from Mesoka Golden Retriever?
Sonia makes sure all her puppies are healthy and free from hereditary diseases. They have their OFA, CERF, and Pennhip documents to prove they have no issues with eyes or hips, for example.
I do have to mention that Sonia doesn't have litters available all the time. She makes sure that her breeding stock isn't overused for breeding. If you want a Mesoka puppy, stand in line and wait patiently for a new litter.
Breeder's details
Website: Mesoka Golden Retriever
Location: Granby
Email: [email protected]
Social media: Facebook
7. Elevage Dicha Perm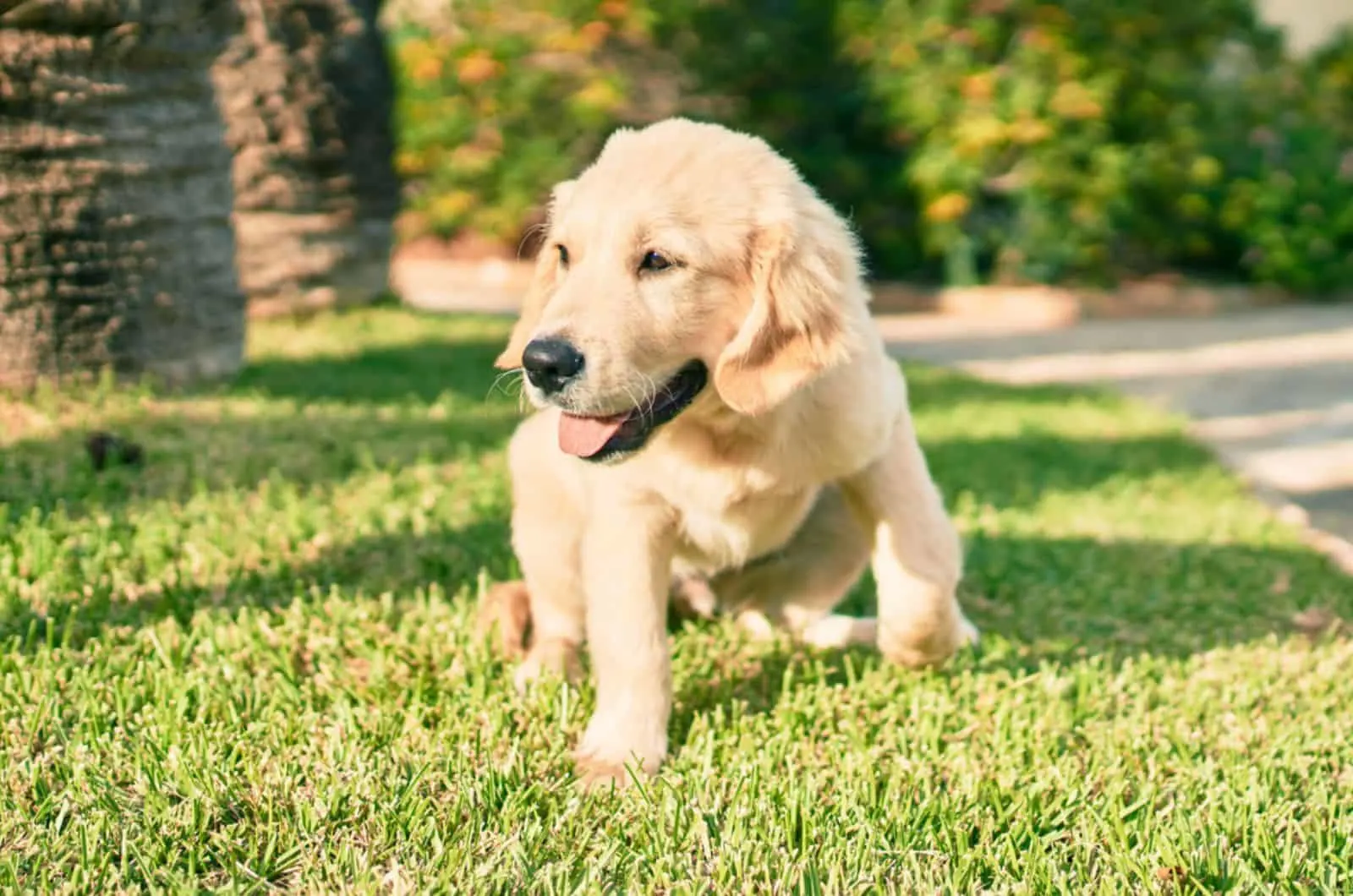 Charles and Diane Plante don't really like to brag about their successes: their website isn't up to the latest web standards. But, this isn't something that should discourage you. Dicha Perm Golden Retrievers are more than capable of making your life a whole lot better.
Besides our Golden buddies, Dicha Perm also breeds Labrador Retrievers, another popular family dog breed in Canada.
But, let's focus on why you should adopt a Dicha Golden puppy.
For starters, these dogs come with a wonderful 2-year health certificate, proving they're completely free from any hereditary health problems. It's always good to have your puppy covered for a while. Chances are it'll develop a condition after the warranty expires are just too low.
Also, I'd like to point out that Dicha Perm Golden Retrievers are used to all grooming processes. These dogs have an avid trainability and they care a lot about making their owners happy.
Dicha Perm Goldens can only be adopted from a reservation list. You should put down a $300 deposit if you want one of these Golden babies.
For any additional information on the prices and litter availability, contact Charles or Diane. They have a pretty active Facebook page, so make sure you check out their daily adventures too!
Breeder's details
Website: Elevage Dicha Perm
Location: Nicolet
Phone: 450-782-3481
Email: [email protected]
Social media: Facebook
8. Elevage Beausoleil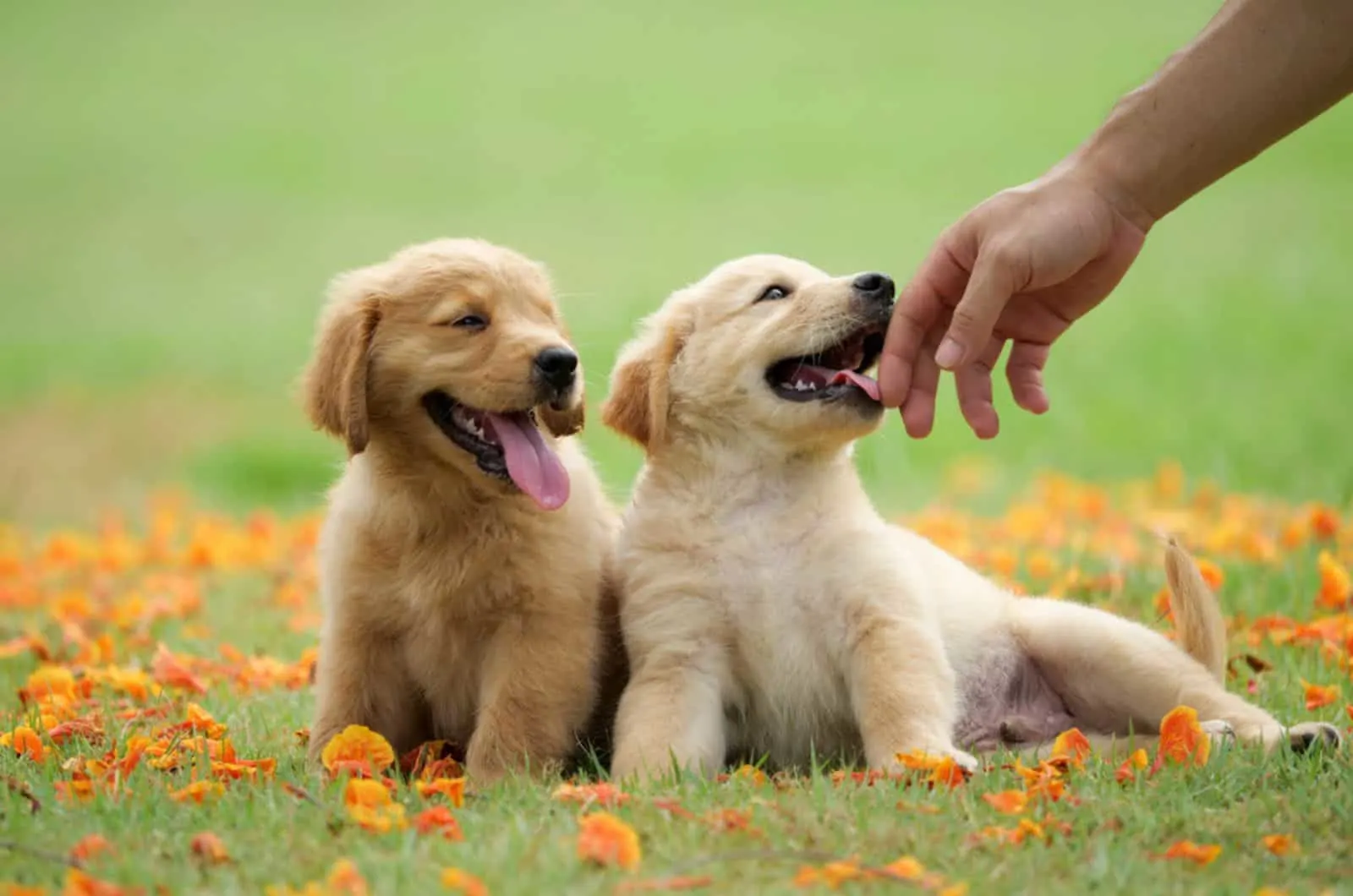 Rarely does any Golden Retriever breeder in Canada have pups recognized by all major breed clubs like the AKC. Rarely does any Golden Retriever breeder in Canada have puppies adopted on three different continents.
Beausoleil Golden Retrievers are quality pups known all over the world. This breeder can brag about the fact they have Golden doggos from their facility living in France, Morocco, and Thailand. Of course, their pups can be found in the States too.
Beausoleil puppies come from a small breeding stock. Only two males and two females participate in the breeding process. However, this doesn't mean they're being overbred in any way. Only a few litters a year will be available with this breeder.
Beausoleil Golden Retrievers are bred for their soundness and lovely temperaments. They're all dogs with lovely, silky coats, soft undercoats, kind eyes, and happy tails, looking forward to their new pawrents. Unfortunately, Goldens aren't hypoallergenic.
If you just want a pet quality dog with a spectacular health status and excellent temperaments, Beausoleil dogs are the way to go.
Breeder's details
Website: Elevage Beausoleil
Location: Ste-Marguerite
Phone: 418-935-7163
Email: [email protected]
9. Spring Dreams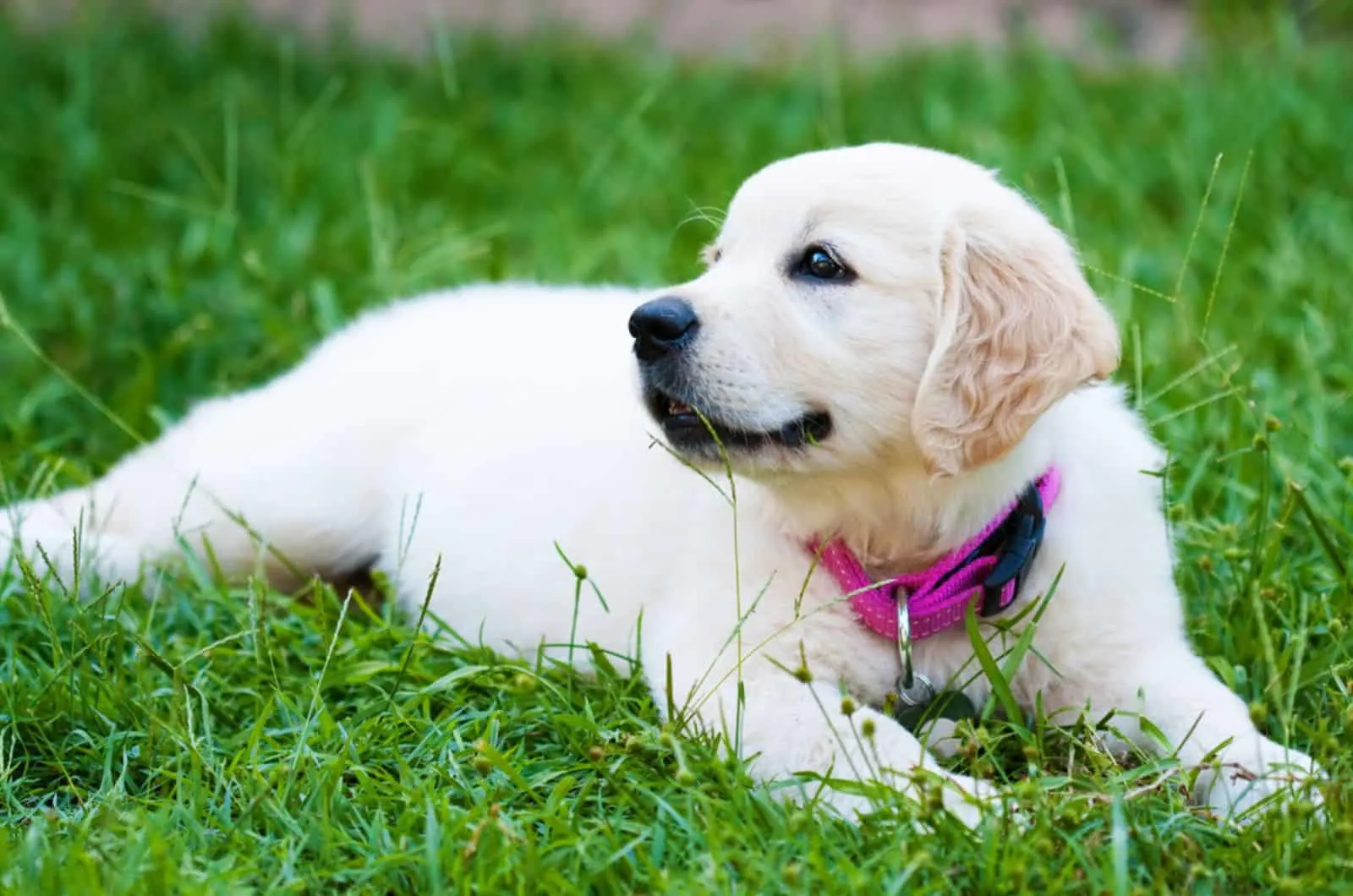 Spring Dreams have been around since 1989, when Nathalie first founded the breeding program. She first fell in love with English Springer Spaniels for their elegance, grace, and sporty behavior. But, it was obvious Springer Spaniels wouldn't be her only canine buddies.
The mid 1990s brought an addition to the breeding family in the form of lovely Golden Retrievers. Thanks to Annie, Nathalie's right hand, Spring Dreams became a haven for Golden babies too.
Today, the ladies, along with Vicky and Kelly, run a practice that tries their best to improve not only English Springer Spaniels and Golden Retrievers, but also Border Collies and Berger Australien.
Do I have to mention that the dogs are 100% healthy and submitted to tests to prove it?
No matter if you choose between boy or girl Goldens, it's pretty obvious that Spring Dreams dogs are one of the finest on the market. If you don't believe me, then you sure will believe the women and their website.
Go on, check it out!
Breeder's details
Website: Spring Dreams
Location: Mirabel
Email: [email protected]
Final Words
I sincerely hope you have found your ideal breeder among all the listed Golden Retriever breeders in Quebec today.
Finding a good breeder is something every future dog owner dreads. It's not easy to give your trust to someone you don't know, especially if it involves your future best friend. You should always be careful who you trust, because some people today have no dignity – they would do anything for cash.
Unfortunately, Golden Retrievers are so popular, a lot of puppy mills have them and sell them through their stores. I advise you never to trust pet stores as such. There are people that actually care about puppies and their well being.
There are people like these ones today that will always put their dogs in first place.
Better check them out!