There's a great number of German Shepherd breeders in Virginia, and we've decided to pick the best ones for you!
Getting a new pet is a great responsibility and it should start with picking out the most reliable breeder, one who produces only the best quality canines.
Both male and female German Shepherds are amazing canines that won't let you down in any situation, and they'll always be by your side, no matter what happens.
All breeders mentioned below are specialized in the production of purebred GSDs and are recognized by the major institutions, such as the American Kennel Club (AKC), United Kennel Club (UKC), and others.
That is why you might not be able to find breeders on this list with more unique German Shepherd colors, such as blue, liver, or Isabella shades.
German Shepherd Puppies For Sale in Virginia
1. Great Original German Shepherds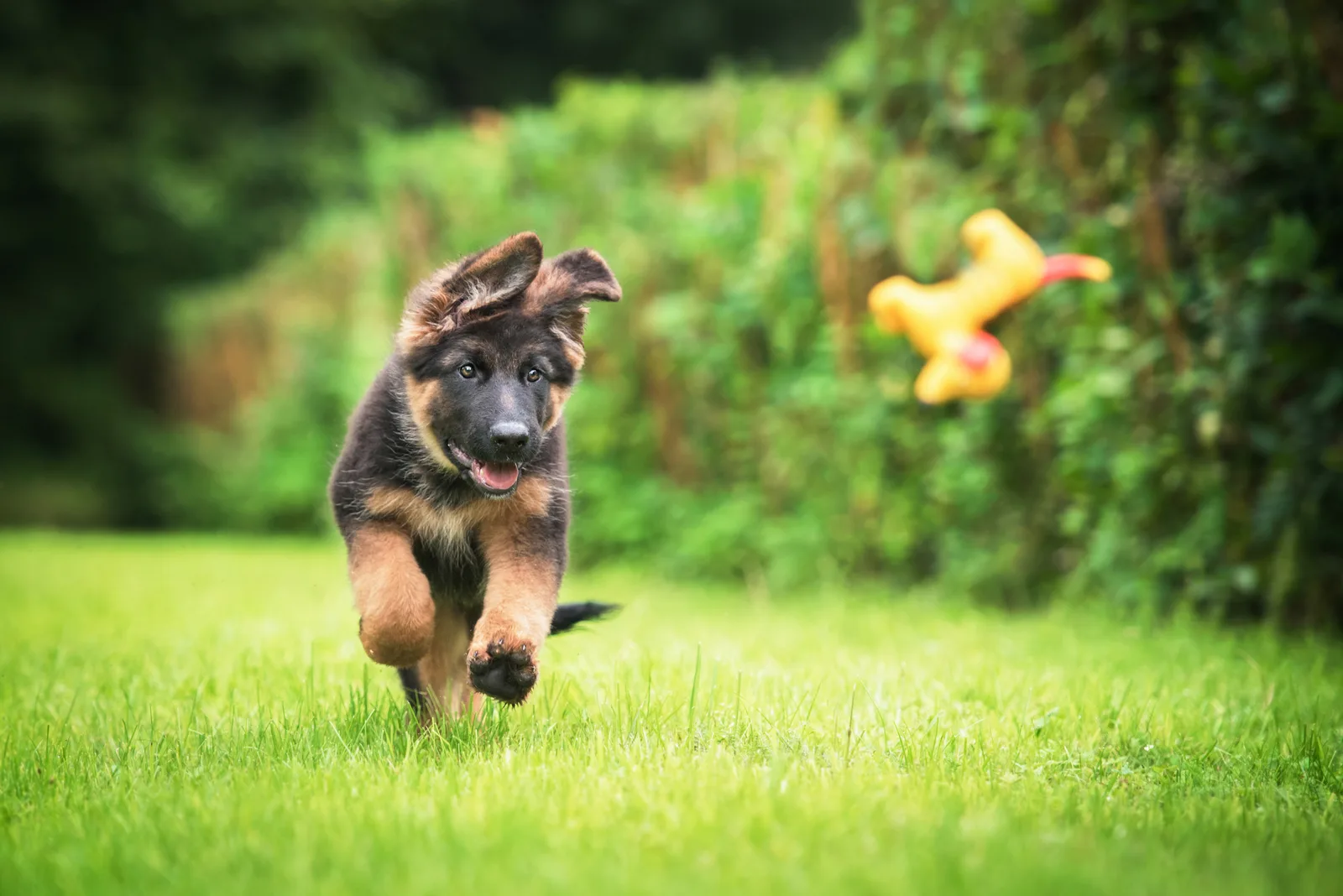 Those who would love to find straight-back GSDs in Virginia will be thrilled to discover that there is a place which still values this type of canine.
The owner of this outfit is completely committed to breeding and raising GSD pups of the highest quality, specifically regarding their health and temperament.
It's important to mention that the Great Original breeding program is a family business; therefore, the pups receive love and care from both children and adults.
This also means that Great Original GSDs are socialized from the first day of their lives.
Straight Back German Shepherds
This term is used to describe the canines of this breed which have a rather long and straight back, just like the original breed.
On the other hand, a lot of German Shepherds, even if they're produced at reliable breeding facilities, have sloped backs, and the main reason for such an occurrence is the fact that some breeders are more focused on personality, colors, and other qualities.
The straight-back GSDs actually represent the original working line that has a greater strength and agility, which is why they're considered better working canines.
The GSD breed standard doesn't seem to be very clear about these two types of canines.
Although the standard mentions that a recognized breed shouldn't have any exceptions from the original line, such as roaches or sags, sloped-back canines have been active in dog shows lately and there's quite a large number of representatives that have won in these competitions.
Puppy Quality And Colors
The owners of this breeding program aren't color-oriented as much as they're interested in the health and general well-being of each canine.
That's one of the reasons why they breed exclusively straight-backed pups. Original GSDs are strong, big pooches, who have a great amount of strength.
On the other hand, they can be amazing family pets and get along with children better than any other pet.
When it comes to the colors of the GSD, you can find German Shepherds in black, black and tan, bicolor, sable, and other shades.
Purchasing Process
If you decide to get a pup from this breeder, you can get all the information, including the adoption process and the price of the canine, via the phone number or email address stated below.
You will find lots of useful information on the breeder's website, including the health certificates of each GSD parent from the kennel.
Also, there's a great guide for all new owners of GSD pups, which contains excellent advice on how you can protect your pup and your home to them.
Breeder Details:
Address: Sterling, Virginia
Email address: [email protected]
Official website: Great Original German Shepherds
Contact number: 703 444 9775
2. Haus Juris German Shepherds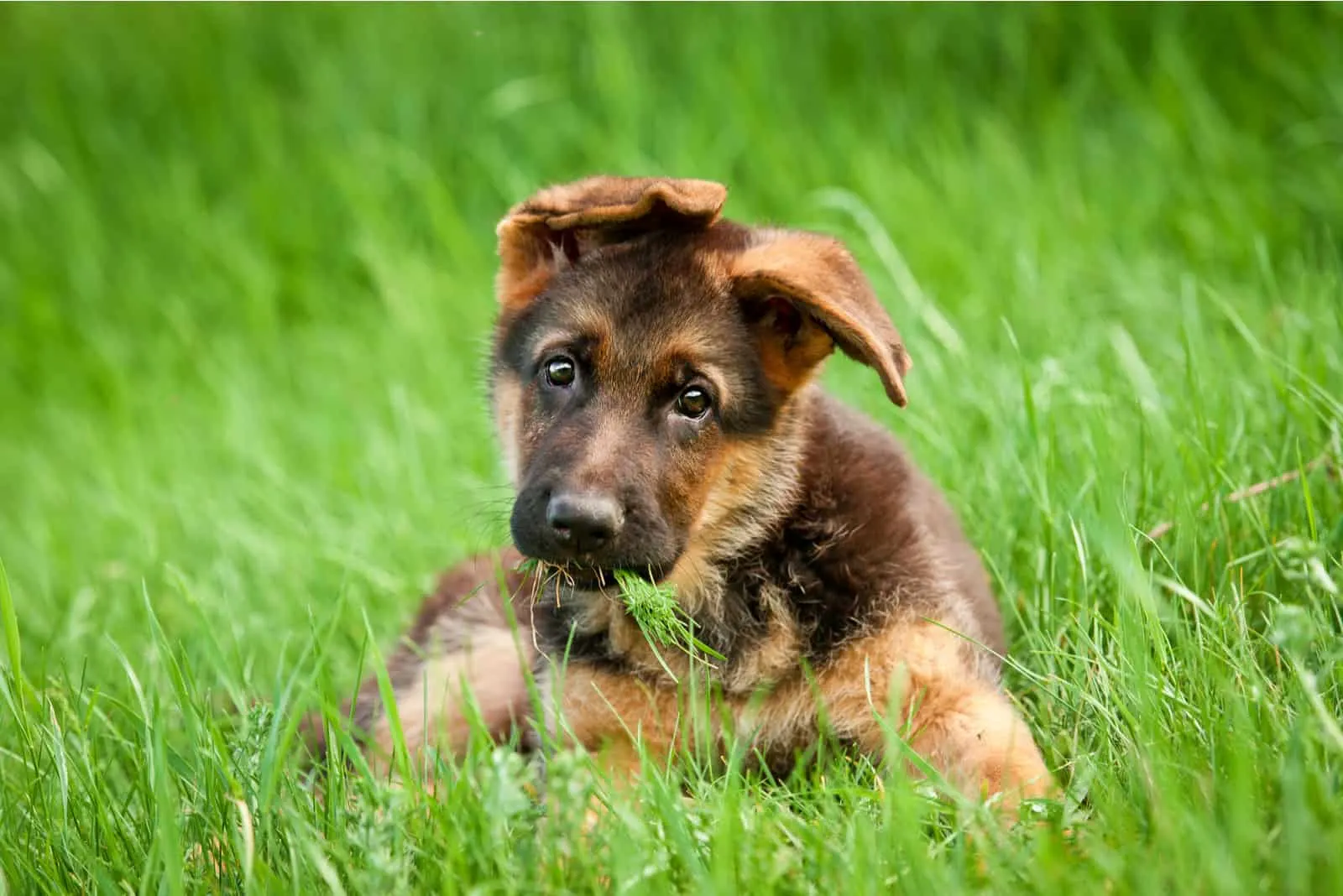 If you're looking for a breeding outfit that has it all, you are going to love this kennel!
According to the breeder's statement on their website, this breeding program doesn't just produce and raise high-quality pups, but it also takes care of its canines by offering grooming sessions that will turn your pup into an even more beautiful canine.
Puppy Quality
The owners of the breeding program state that each pup from their kennel comes from high-quality GSD bloodlines.
Pups with such an origin are versatile, so they can be either excellent family dogs, great search and rescue pups, police canines, or perfect candidates for American Kennel Club's (AKC) conformation shows.
Every pooch that comes from this place is a descendant of a top-quality imported GSD canine.
Adult canines are handpicked based on specific criteria, including personality, overall health, and conformation.
Training
This breeder offers several training programs for German Shepherds, including:
• Puppy Classes – Specialized training for pups that teaches them basic commands, solves common issues regarding their behavior, and encourages socialization.
This is a great way to prepare a pup for their new home.
• Basic Obedience Training – Learning basic commands, including "sit", "come", "stay", or how to meet and greet other people and pets.
• Private Training – This type of lesson is also available for pet owners who want to personalize the program for their pup specifically, to follow their pace.
• Beyond Basics – This is a type of test that'll make plenty of GSD dog owners happy because it's sort of a preparation for the test that'll allow you to take your pet with you into many different buildings and institutions that ask for the CGC to let canines in.
CGC stands for the "Canine Good Citizen" and it represents a test of ten different skills related to the pup's behavior.
• Advanced Training – This type of training can be done in two ways, as an individual or in a group session. The main focus of this training is obedience, Schutzhund, speed, and other dog skills and characteristics.
Purchasing Process
When it comes to the purchase of a pup from this breeding program, it's quite an easy procedure, but it does require you to contact the breeder who'll then give you further instructions.
You are able to visit their premises by appointment only, but you can see the available puppies on their website.
The owner will inform you about the price of the puppy once you make initial contact with them.
Breeder Details:
Address: Nokesville, Virginia
Email address: [email protected]
Official website: Haus Juris German Shepherds
Contact number: 703 594 9925
3. Little Creek German Shepherds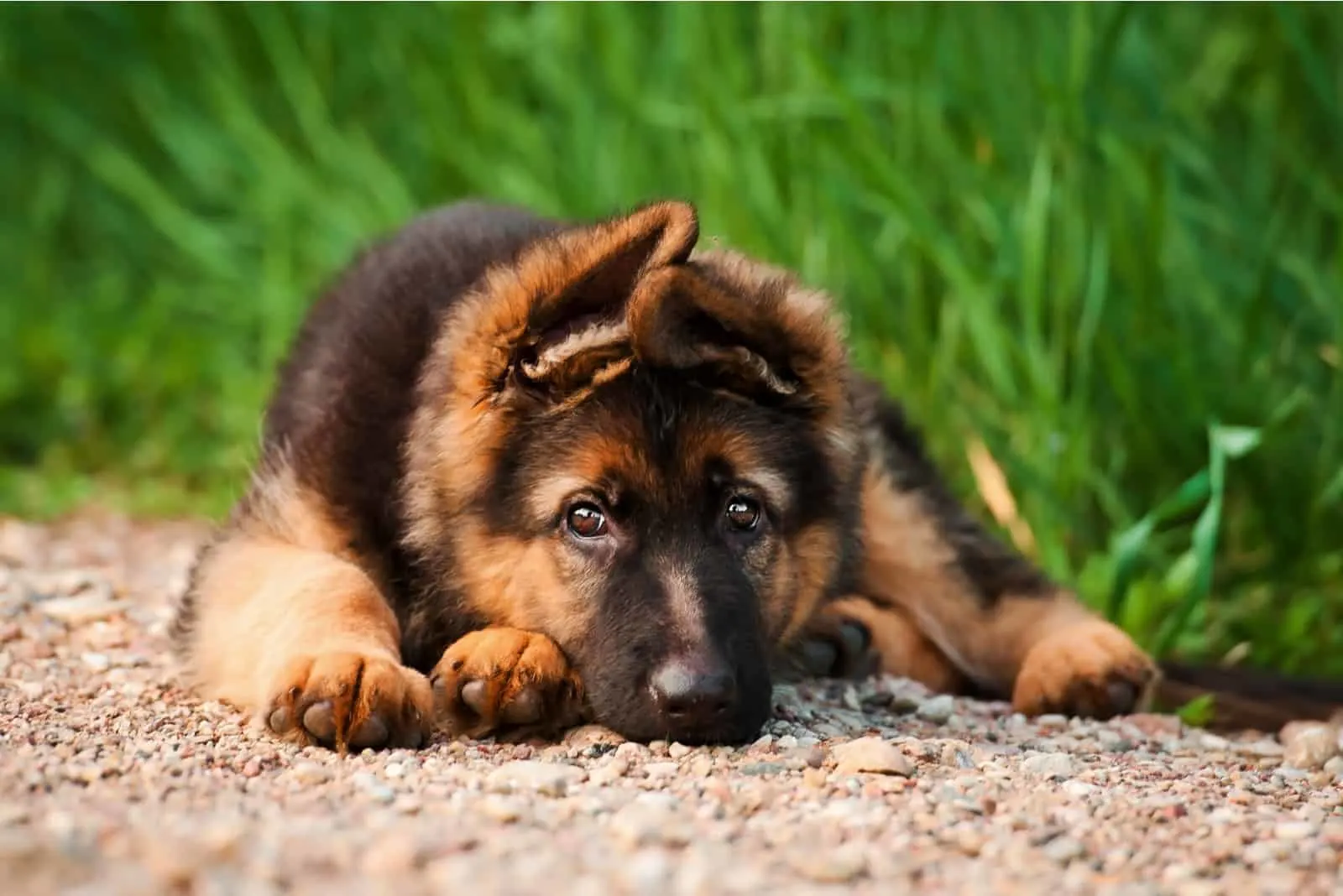 This ten-acre property with clean grass and fresh air is a perfect place to raise pups with perfect health.
The owner of this beautiful place is committed to producing healthy German Shepherd puppies that can easily adapt to family life and little children.
With more than two decades of experience working with GSDs, it's safe to say that Little Creek breeds and raises some of the best German Shepherds in Virginia and beyond.
This breeder offers two lines of GSDs, the show and the working canines. The shades of the GSD are also divided by the bloodline they belong to.
Show canines are generally seen in red, tan and red, black, and black and red, while working canines come in black, bicolor, or sable GSD shades.
Purchasing Process And Pricing
All pups from this kennel are of the highest quality because they come from parents that are among the best examples of working and show dogs.
Each parent is regularly tested by OFA standards for hips and elbows, and they're frequently taken to the vet for checkups, vaccines, etc.
If you want to get a pup from this breeder, all you have to do is contact them and follow their instructions regarding the adoption procedure.
The price of the GSD puppies varies between $2500 and $3500 for canines with limited registration at the American Kennel Club.
However, if you want a full registration (for show and breeding canines), you'll need to pay up to $4500, depending on which pup you choose.
If you have any additional questions about the kennel or their puppies, contact the owner via email or the phone number written below.
Breeder Details:
Address: Culpeper, Virginia
Email address: [email protected]
Official website: Little Creek GSD
Contact number: 540 229 3849
4. Blue Ridge Lane Farm and German Shepherds
When we're speaking about the best German Shepherd breeders in Virginia, it's impossible to miss Blue Ridge Lane, who has been in the business for a long time.
However, their years of experience aren't the only thing that makes them one of the most reliable breeders in the Old Dominion area.
The owners of this breeding facility are deeply devoted to breeding and raising some of the best show line GSDs that are imported from the Old Continent.
Every canine is carefully picked by the following criteria:
• Health
• Social skills
• Ability to train
• Temperament
Purchasing Process
The first thing you've got to do if you're about to purchase a pup is to make a firm decision about owning a dog and committing to such a long-term responsibility.
This is what the breeder also suggests on their website and wants to remind future pet owners before they get a pup.
The puppies from this breeding facility are regularly vaccinated, medically tested, dewormed, microchipped, etc.
One of the breeder's main conditions is that you come in person to get the pup, no matter which transportation you use.
Each pup will get a limited AKC registration because the canines are only sold for pet purposes, not for breeding.
The price of the GSD will depend on the type of canine you choose, including the color, gender, etc.
Canines For Service Members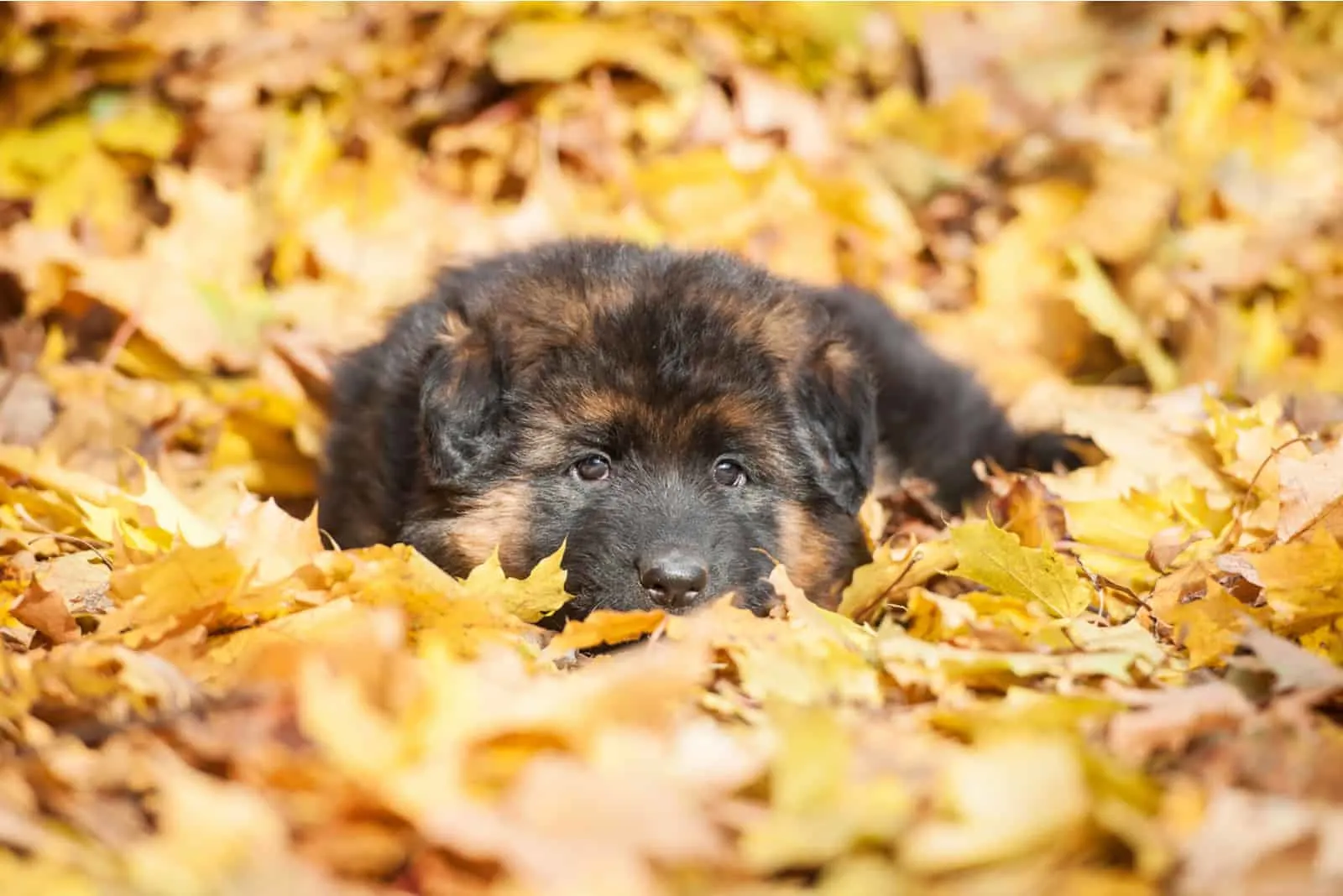 I'd say that these are beyond a good breeder of GSDs, not just because of the dogs' quality, but also because of their generosity, love towards animals, and the huge respect they have for all those brave and fearless people who defended their homeland.
As a way to say thank you, the Blue Ridge Lane kennel has been donating service pups for almost a decade, to US veterans who were left with a physical or mental mark from their deployment days.
In order to apply to the donation program, veterans should include their DD214 with the necessary documentation.
Over a hundred German Shepherds have been placed into the homes of these brave men, and according to the owners of the breeding program, all retired and active military will get a $50 discount on their puppy's price.
You can apply for this donation on their official website.
Breeder Details:
Address: Boston, Virginia
Email address: [email protected]
Official website: Blue Ridge German Shepherds
Contact number: 540 764 4158
5. Vom Dreifke German Shepherds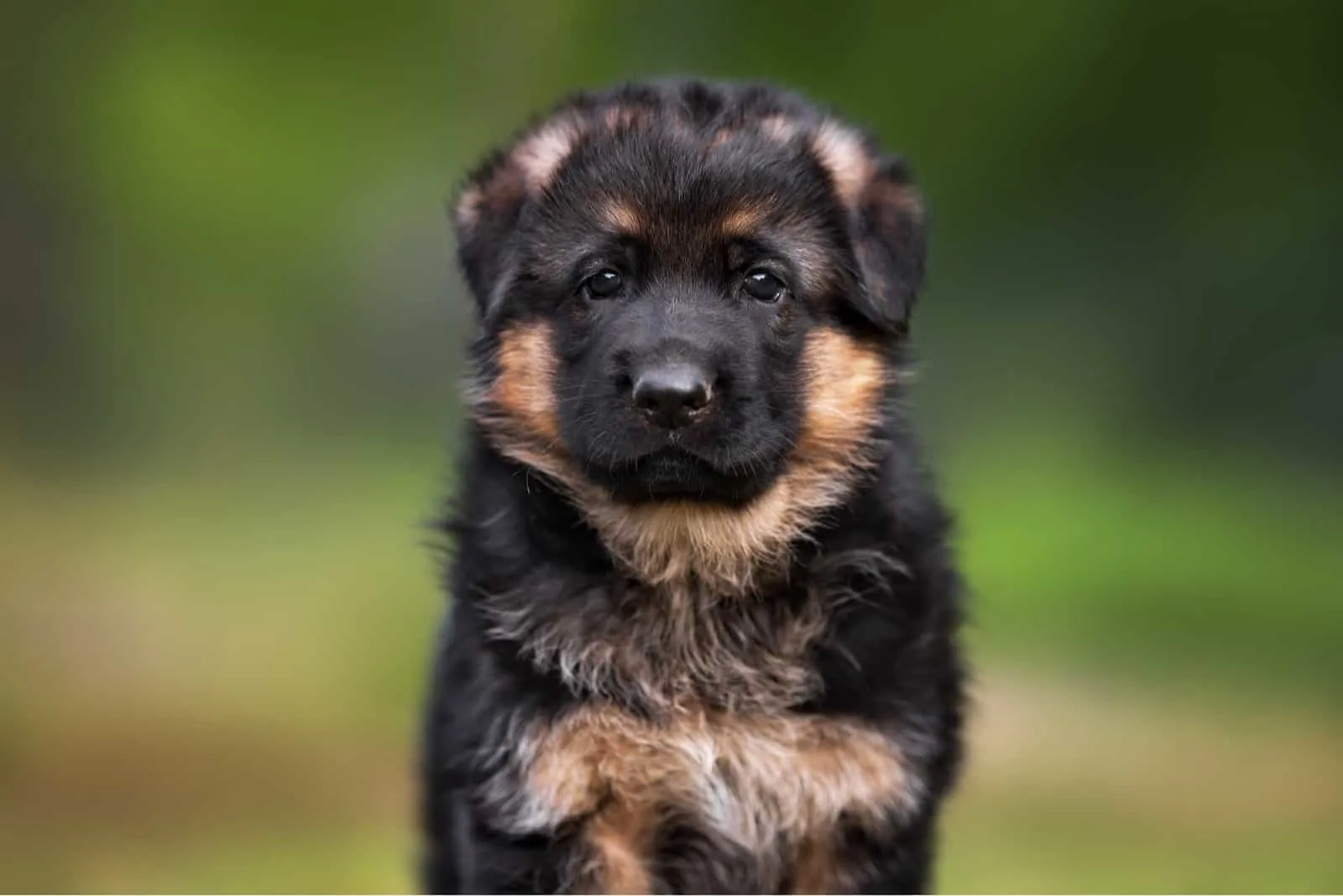 This is one of the breeders that has a great amount of love and respect for this magnificent breed, at least according to what they have stated on their official website.
They've been in business for more than two decades (two and a half, to be precise), but they still love all of their pups and enjoy the whole process every time a new litter arrives.
Their main motto is that "their job isn't a right, but a privilege."
If you need any additional confirmation about the reliability of this breeding kennel, know that this breeder is thoroughly checked and approved by the American Kennel Club, and that they're in the process of becoming a CGC examiner!
Puppy Quality
German Shepherds that come from the Vom Dreifke kennel are trained and enabled to become great therapy and service canines, but also great additions to the police forces, search and rescue groups, and show dogs as well.
The breeder offers a training program for canines, especially for new German Shepherd owners that are still adapting to their new family members and vice versa.
The program includes help with:
• Countering aggressive behavior
• Stopping them getting on top of humans
• Excessive GSD howling and barking
• Service canine practice and certification
• Mouthing and nibbling on things
• Pulling the leash during walks
• Destructive natures
• Quickly escaping via open doors
• Impulsivity
• Arriving late after being called
READ NEXT: German Shepherd Howling – 9 Causes And How To Prevent It
Adoption Process And Pricing
The breeder is available for all information and details every day of the week, including to give information about the application process and the price of a pup.
According to the price of the canines that have already sold, the cost of getting a GSD would be somewhere around $4,500.
When it comes to the general information, it's important to mention that once the pup turns seven weeks of age, you're able to take them home.
Also, every GSD puppy is dewormed, vaccinated, microchipped, medically treated, and will come with a two-year health guarantee.
In case you'd like your pet to be shipped to you, there'll be an additional fee to the price of the pup because shipping isn't included in the original cost.
If you're looking for a breeding canine or a show dog, you'll have to mention that prior to your purchase because the price and the process aren't the same for family companions and these types of canines.
Breeder Details:
Address: McKenney, Virginia
Email address: [email protected]
Official website: Vom Dreifke German Shepherds
Contact number: 804 896 1066
6. Shiraz Farm German Shepherds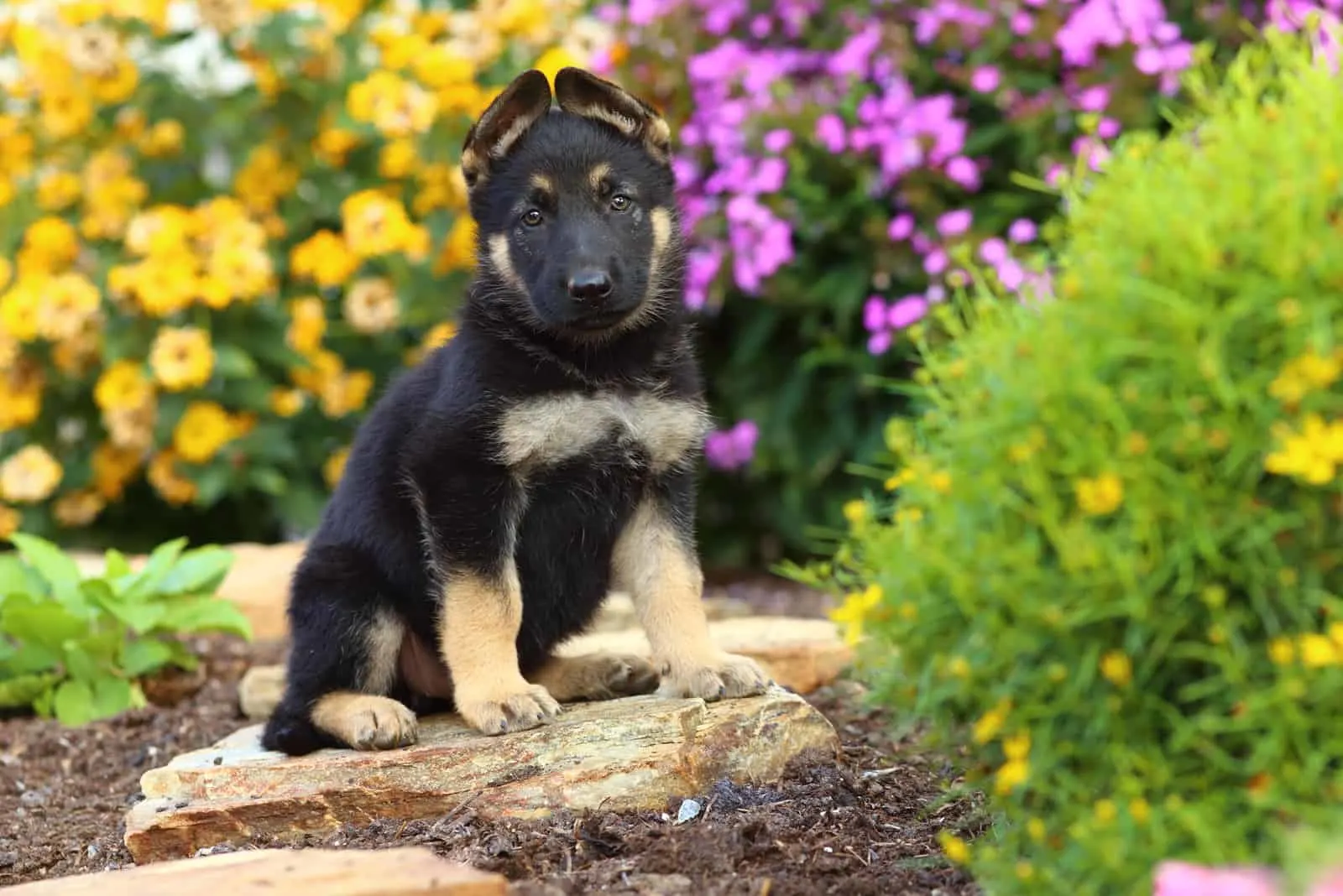 This is a family business that has been producing and raising GSDs for more than thirty years.
One of their main focuses is to breed healthy West German Shepherd canines that are certified by the American Kennel Club (AKC).
Essentially, they're interested in breeding German Shepherds as family dogs, companions, therapy dogs, and service dogs.
A very common misconception about these amazing pups is that GSDs have aggressive tendencies towards other people and pets.
However, Shiraz is one of the German Shepherd breeders that decided to prove everyone wrong and show that this canine breed deserves to be treated with respect.
How Did It All Start?
As I mentioned above, Shiraz Farm is a family business and it all began with an inspirational and beautiful story of a family who went through a lot, but managed to come out of their battles as winners!
A loving couple had a baby girl more than thirty years ago, and right after birth, they found out that their daughter couldn't hear at all.
However, the hearing loss didn't stop her from developing into a courageous young girl who learned everything at almost the same pace as her peers.
The owners mentioned that their daughter's positive attitude towards life would hardly be possible without their pet, a German Shepherd, who later became the inspiration for the kennel.
Purchasing Process And Price
Just like the majority of other reliable breeders, Shiraz Farm requires every future pet owner to fill out the form that is available on their website.
After that, you'll be contacted by the breeder with other details regarding the purchase of a GSD puppy.
The application form is an essential source of information for the breeder and helps them to choose the right pup for you.
The price of the German Shepherd pup can go up to $4000, depending on the GSD's color, gender, and other factors.
All puppies from the Shiraz Farm German Shepherds come with all their necessary documentation, including records of microchipping, vaccination, and regular medical checkups.
The adoption process usually begins after you pay the reservation fee of $500. Keep in mind that this breeder only offers litters that are or will be born in the near future.
If you have any questions about the breeder and their kennel, or about your future puppy, just contact the owners via email or phone.
Breeder Details:
Address: Loudoun County, Virginia
Email address: [email protected]
Official website: Shiraz Farm German Shepherds
Contact number: 703 309 4246
7. North Mountain Kennels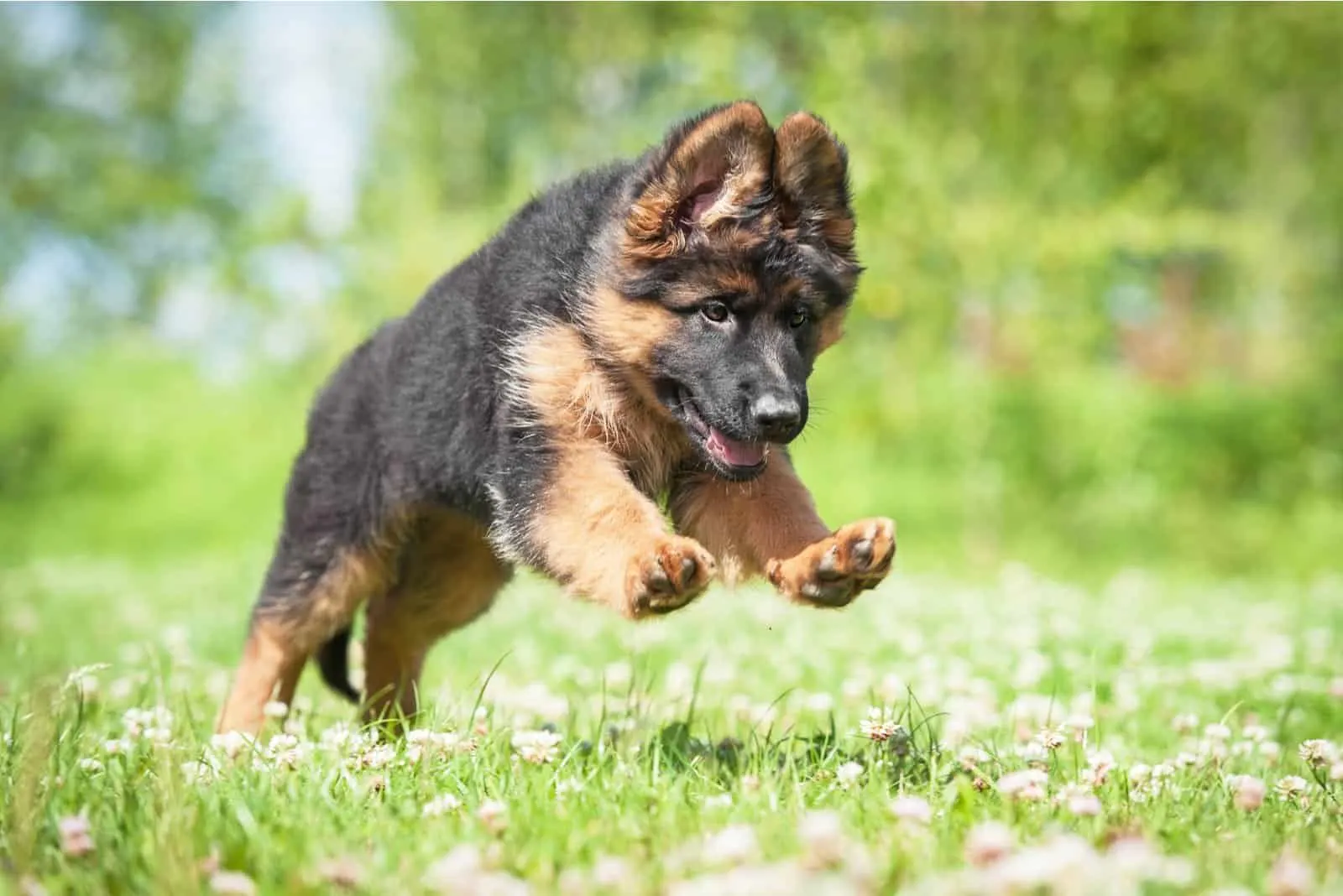 This isn't just a regular breeding kennel, it's a type of breeding program that is led by a professional who earned two Masters in examinations of pups from a neurological viewpoint.
Therefore, it can be said that Audrey Estep, the owner of the breeding kennel, understands canines better than the majority of average breeders or dog owners.
Her knowledge has helped her to find the best approach to canine training and to develop new methods that are specifically tailored for the owner and their pet.
Turnkey Puppies
This program is the best solution for all people who would love to get a GSD puppy, but don't have enough time or experience to go through the initial step of training.
The turnkey package includes:
• Support during the initial period of adaptation
• 30 days of free pet insurance
• Socialization and obedience training
• Vaccination
• Medical checkups
• AKC registration
• Week-to-week training updates
You can choose between a four-week plan, which will cost you $5,500 and a six-week plan that'll be $6,500.
Purchasing Process
The regular price of the German Shepherd dogs is available upon request in North Mountain Kennels, but there's one thing you can be sure of and that's that these pups are of great quality.
A highly experienced trainer and breeder who invests a great amount of time and effort in order to raise only the best GSDs, won't leave you disappointed.
You can contact the owner via phone or the contact form on their website.
Breeder Details:
Address: Strasburg, Virginia
Email address: Website Contact Form
Official website: North Mountain Kennels
Contact number: 703 869 2684
8. Trinity Kennels German Shepherd Dogs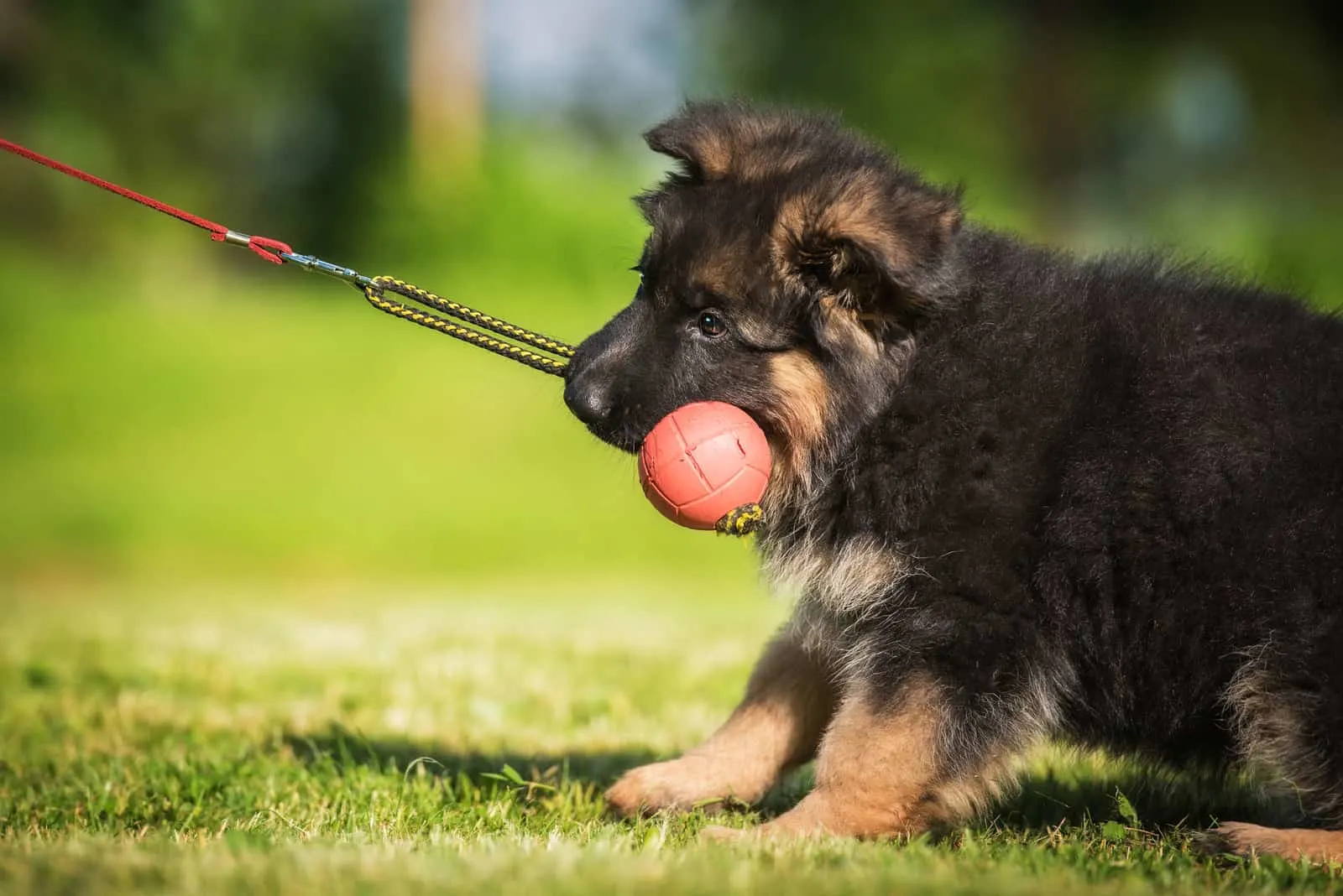 A small-scale breeding business can be just as successful as large-scale breeders, and Dana Clark, the owner of this breeding program, is a true example of such a statement.
She is one of the most reliable German Shepherd breeders in Virginia and is devoted to breeding healthy pups for all enthusiasts of this dog breed.
Being a responsible and ethical breeder is one of her main missions, not only when it comes to producing, but also training, and finding perfect homes for each of the pups from the kennel.
To ensure that every canine from this kennel is healthy, the breeder regularly performs several tests, including elbow and hip dysplasia examinations, temperament tests, and examinations regarding congenital diseases, such as degenerative myelopathy.
Purchasing Process And Pricing
Since the owner doesn't have an official website, or a contact displayed publicly, you can apply for a puppy via the Good Dog webpage.
You can find all the essential information about the breeder and its canines on this website.
Once you provide the breeder with all your necessary information, they'll be able to find the perfect puppy for you.
The price can be up to $2500, plus the additional fee of $500 for the deposit.
The breeder also includes a one year health guarantee for all of its puppies.
Breeder Details:
Address: Fredericksburg, Virginia
Official website: Good Dog Trinity Kennels
German Shepherd Breeders In Virginia: Wrapping Up
Finding reliable German Shepherd breeders in Virginia might seem a challenging task at first, but now you've seen that there are plenty of German Shepherd enthusiasts out there who want to make other pet owners just as happy as they are.
Owning a GSD isn't the easiest task, but it's one of the most beautiful experiences that every potential pet owner should go through. If we exclude the excessive shedding GSDs are prone to, they're amazing family companions.
Keep in mind though, that before you purchase a puppy, you should get everything you'll need for your new pet, including a dog bed, collars, and brushes specifically for GSDs.
I'm sure you'll have some great times with your new pet and that you'll choose the right breeder for you!
READ NEXT:
Doberman vs. German Shepherd: Which One Is The Best Pet?
16 Dogs That Look Like German Shepherds (Meet The Clones)
German Shepherd Growth Chart – How Big Your GSD Puppy Will Be
12 Best German Shepherd Breeders In New Jersey (2022)