If you live in the NY metropolitan region and are looking to buy a German Shepherd puppy, you've come to the right place.
Although there are hundreds of German Shepherd breeders in New York, not all of them are reputable or trustworthy. There are many dubious dog dealers and puppy mills looking to scam unsuspecting buyers into buying GSDs of suboptimal quality.
Luckily, you won't have to scour through endless ads for German Shepherd dogs in your area as we've done all the research for you! Our list contains only the highest-quality German Shepherd breeders in New York, and you can choose one that best suits your needs.
All of the breeders on our list are registered with the American Kennel Club (AKC) and produce AKC certified German Shepherd puppies, so rest assured you will find a happy and healthy canine companion for you and your family!
German Shepherd puppies for sale in New York
1. Gale I. Dinces LLC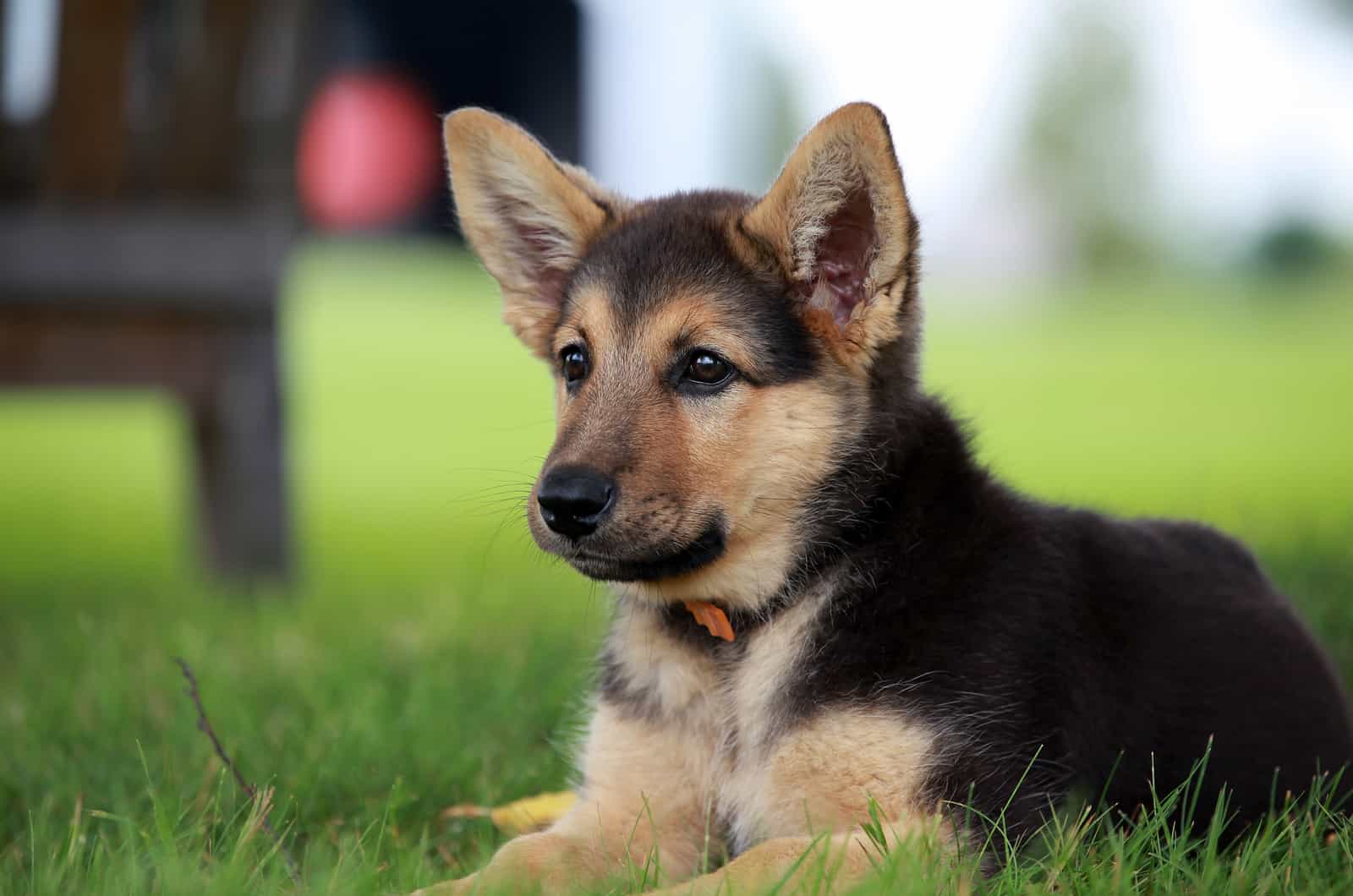 Gale I. DIncess LLC is a certified breeder and trainer of superior European German Shepherd dogs located in New York. They offer German Shepherd puppies for sale and training services if you've bought a GSD from another breeder.
Knowing that you'll have the friendship, companionship, loyalty, and love of one of their German Shepherd dogs is their greatest joy. Through each of their litters, Gale I. Dinces fulfills its commitment to the constant improvement of this awesome dog breed.
They are proud of their German Shepherd breeding dogs and puppies and are always glad to show off their facilities and breeding program to potential customers.
Whether you are looking for a companion dog, family pet, guard dog, or a dog bred for the show ring, a Gale I. Dinces GSD will fit your needs. Regardless of the task you have for your new furry friend, rest assured you will be living in the company of a loyal and faithful canine companion for many years to come!
German Shepherd breeder details:
Location: New York, USA
Website: Gale I. Dinces LLC Website
Phone: 914 649 0485
Email: [email protected]
2. New York Canine German Shepherds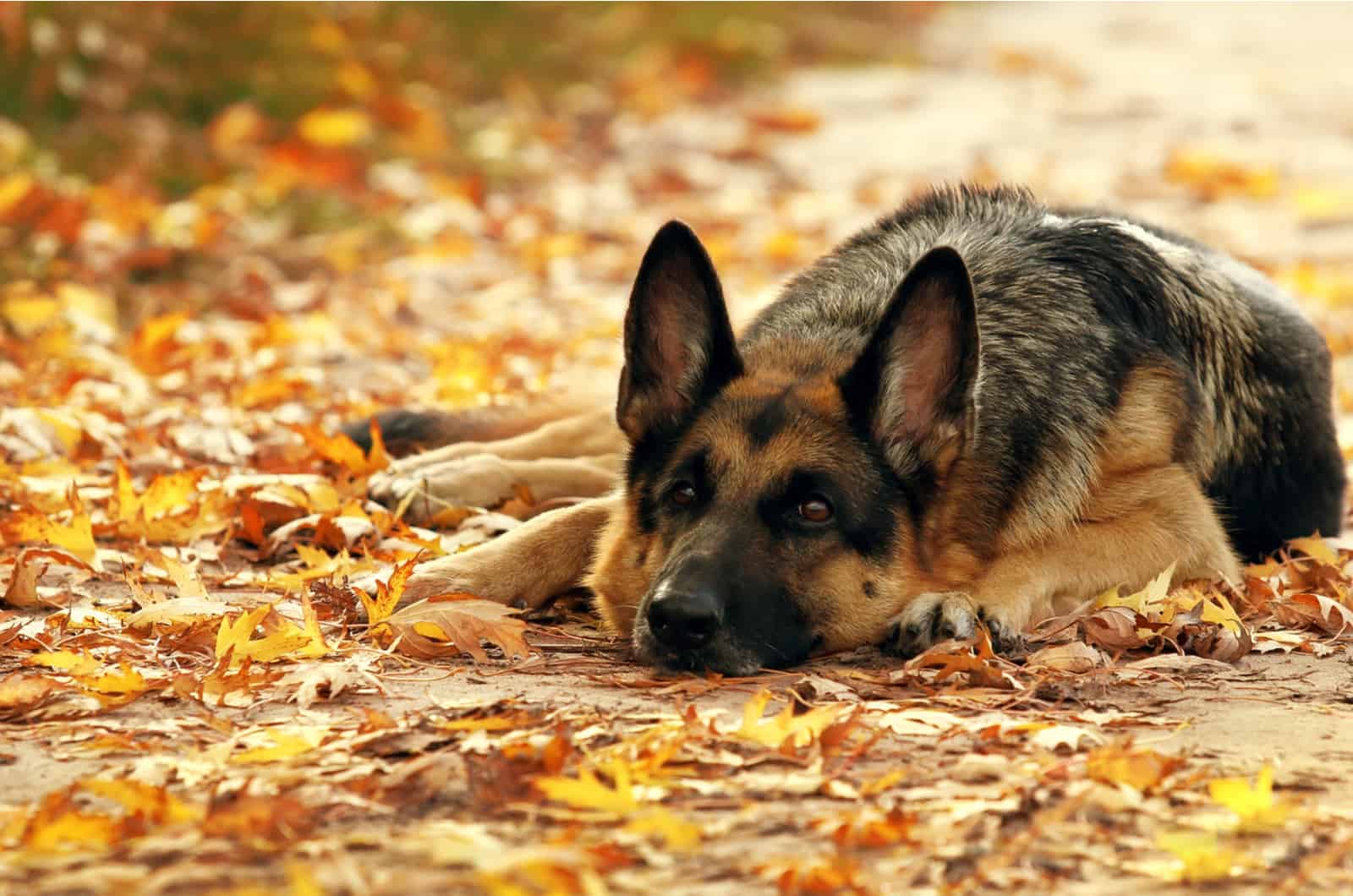 New York Canine is a German Shepherd breeder of excellent quality focused on the working line pedigree of the breed. This facility produces German Shepherds that possess all of the characteristics these dogs are known for that allow them to live up to their "all-purpose" label.
Owner and main breeder Jeanette Rix, alongside her experienced team of handlers, puts all of her efforts into breeding canines that are well trained and socialized for any environment the puppies enter into.
The training program at the New York Canine breeding outfit is based upon the following steps:
1. Expert instruction
2. Setting up a clear training goal
3. Developing a structured training regime
4. Getting started
Placing their German Shepherd puppies in the right homes is one of their top priorities. Because of this, Jeanette and her team are more than willing to assist and educate any potential owners on the responsibilities and training required to own a purebred GSD.
Also, they make sure that their puppies are only sent off to approved homes around New York, and they offer more information on the GSD breed and all there is to know about owning a German Shepherd puppy under the "Our Puppies" section on their website.
With New York Canine, you can be confident that you will receive a German Shepherd of the highest quality. Their beautiful canines have been featured in ads by Bazaar and Ralph Lauren, as well as TV shows such as Person of Interest and Elementary.
In addition, many of the German Shepherds from their breeding lines boast other achievements, such as graduating from the police academy. Feel free to check out their breeding dogs' pedigrees and view the qualities and traits that this breeder has chosen to pass down to the puppies they deliver.
German Shepherd breeder details:
Location: Middletown, New York
Website: New York Canine German Shepherds Website
Phone: 845 386 5005
Email: [email protected]
Special note: New York Canine German Shepherds Facebook page
3. Highlander German Shepherds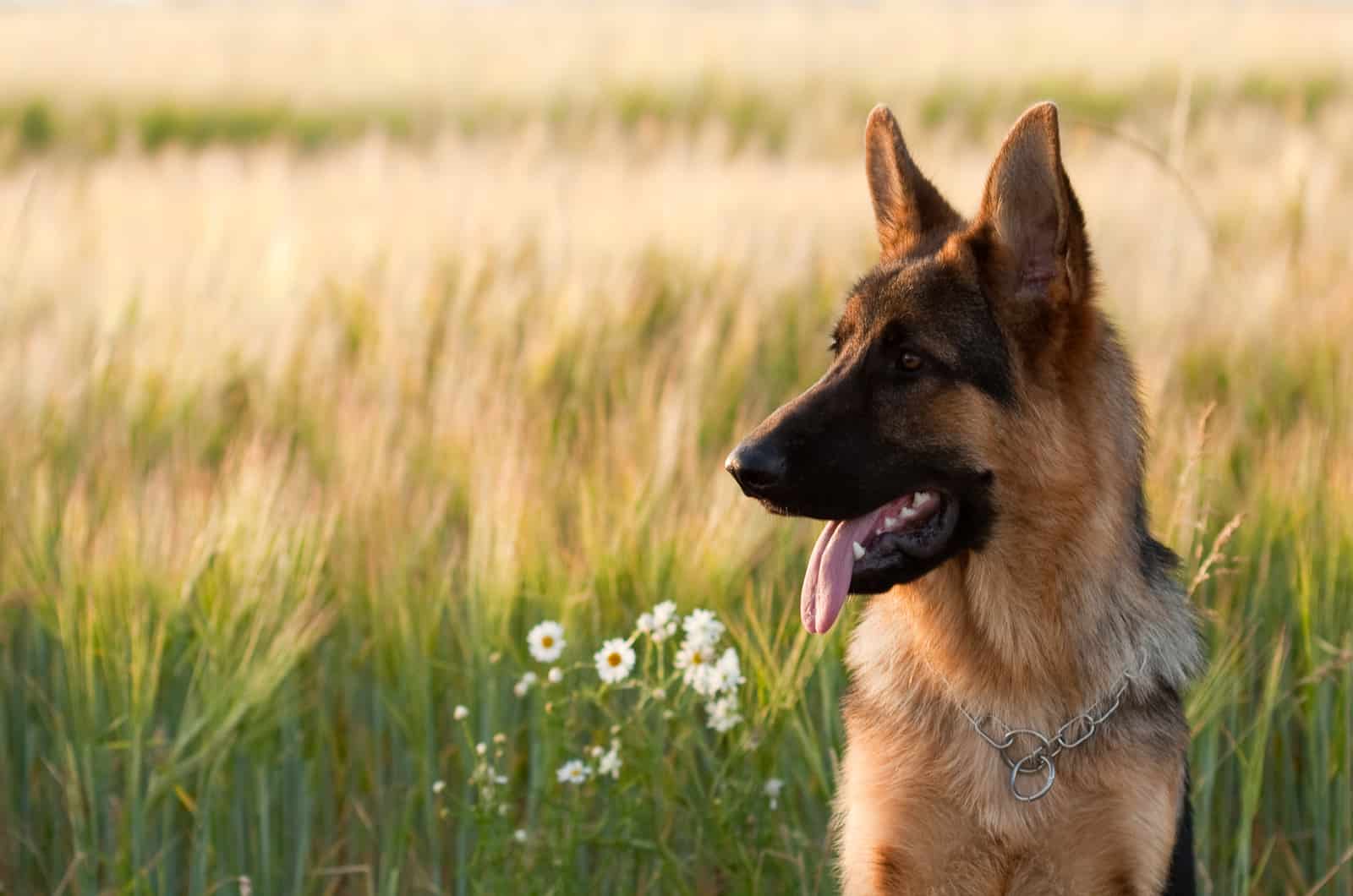 GSD puppies from the Highlander breeding outfit have been bred to the highest standards of quality held by the McIntyre family.
With over forty-five years of experience with dogs of this breed that have worked as search and rescue and service dogs and in K9 units and drug detection squads, as well as being the best family companions, Highlander German Shepherds have come to be known as one of the most reputable German Shepherd breeders in New York.
Selling as many puppies as they can just to make a profit has never been the goal of this small-scale, family-run operation. In fact, the McIntyre family allows only two litters per year to avoid putting too much strain on their female dogs. By breeding on a small scale, the family members can provide attention to the individual needs of their puppies.
All German Shepherd puppies they produce receive early socialization and the attention they need to become well-rounded, obedient canines in adulthood. Note that one of the top priorities of this breeding facility is to place their puppies with a family that is the correct fit.
To accomplish this, they've set up an adoption process that each potential owner must go through. Even after you select a puppy and take it home, the breeders from Highlander stay in touch and offer continuous guidance and assistance in raising your new furry member throughout its life.
Feel free to view their breeding couples, subscribe to their YouTube channel, and click on the links on GSD care and info through Highlander German Shepherds' website.
German Shepherd breeder details:
Location: Poughquag, New York
Website: Highlander German Shepherds Website
Phone: 844 660 3828 or 845 224 9170
Special note: Highlander German Shepherds Facebook Page
4. Vom Haus Schutz German Shepherds K9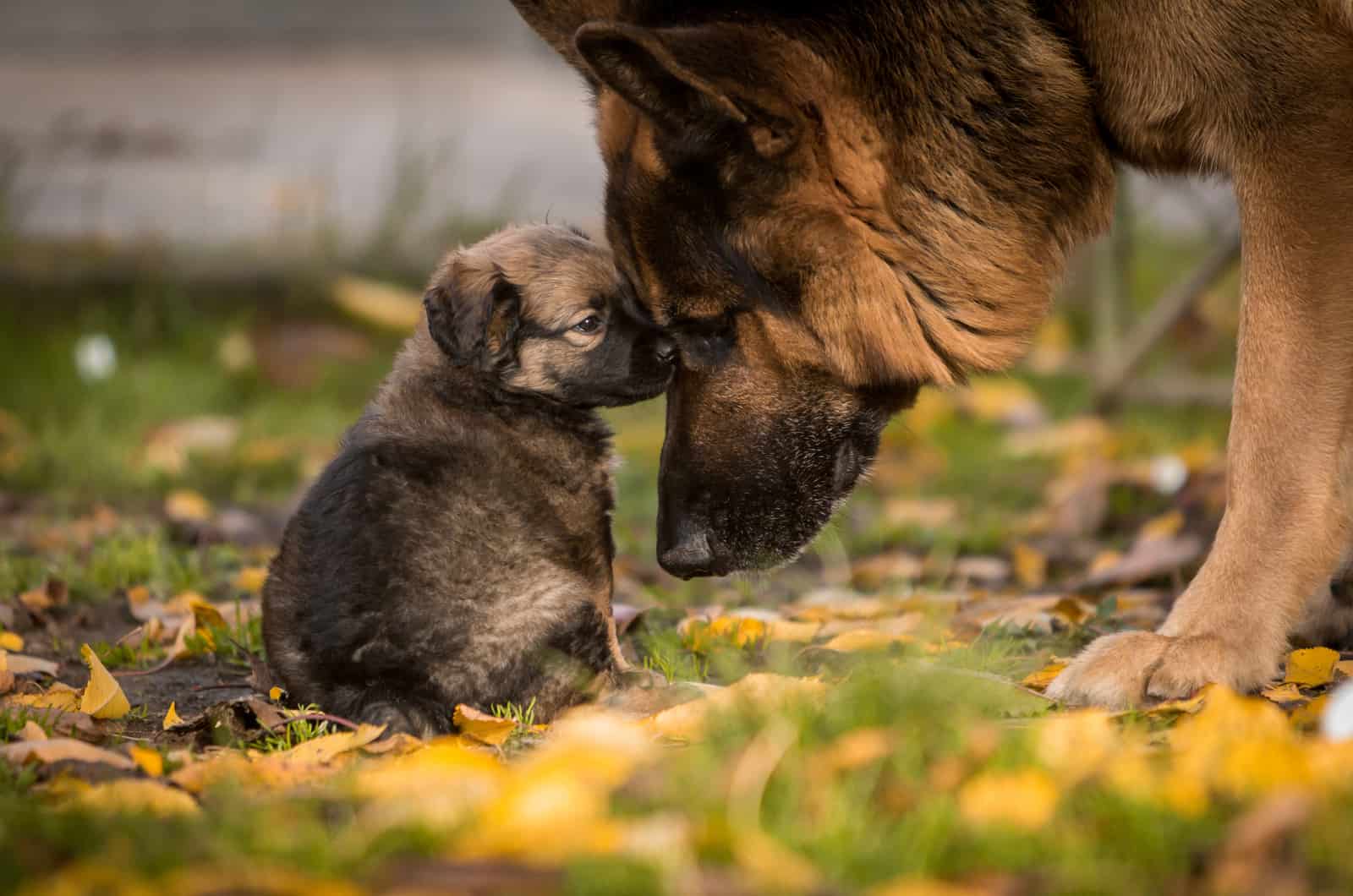 Chech European bloodlines, solid pedigrees, and mild temperaments are the cornerstones for the breeding program at Vom Haus Schutz German Shepherds K9 located in Pinebush, New York.
With a lifetime connection to the German Shepherd breed, this small-scale, reputable breeder strives to find the perfect families for their puppies. Led by Mary L. Shallenberger, the facility aims to produce the highest quality GSD puppies possible with the cherished traits that make this breed so sought-after.
From their website, you can view dogs that are coupled for breeding, read up on proper puppy training and exercise, enjoy live feed puppy cameras, get inspired by testimonials from other satisfied customers, see available puppies, and fill out a puppy reservation and contact form.
All of their GSD puppies in New York State come to their new homes well-socialized with children, adults, and other dogs.
German Shepherd breeder details:
Location: Pinebush, New York
Website: Vom Haus Schutz German Shepherds K9 Website
Phone: 845 283 3229
Email: [email protected]
Special note: Vom Haus Schutz German Shepherds K9 Facebook Page
5. Peakes Brook Shepherds New York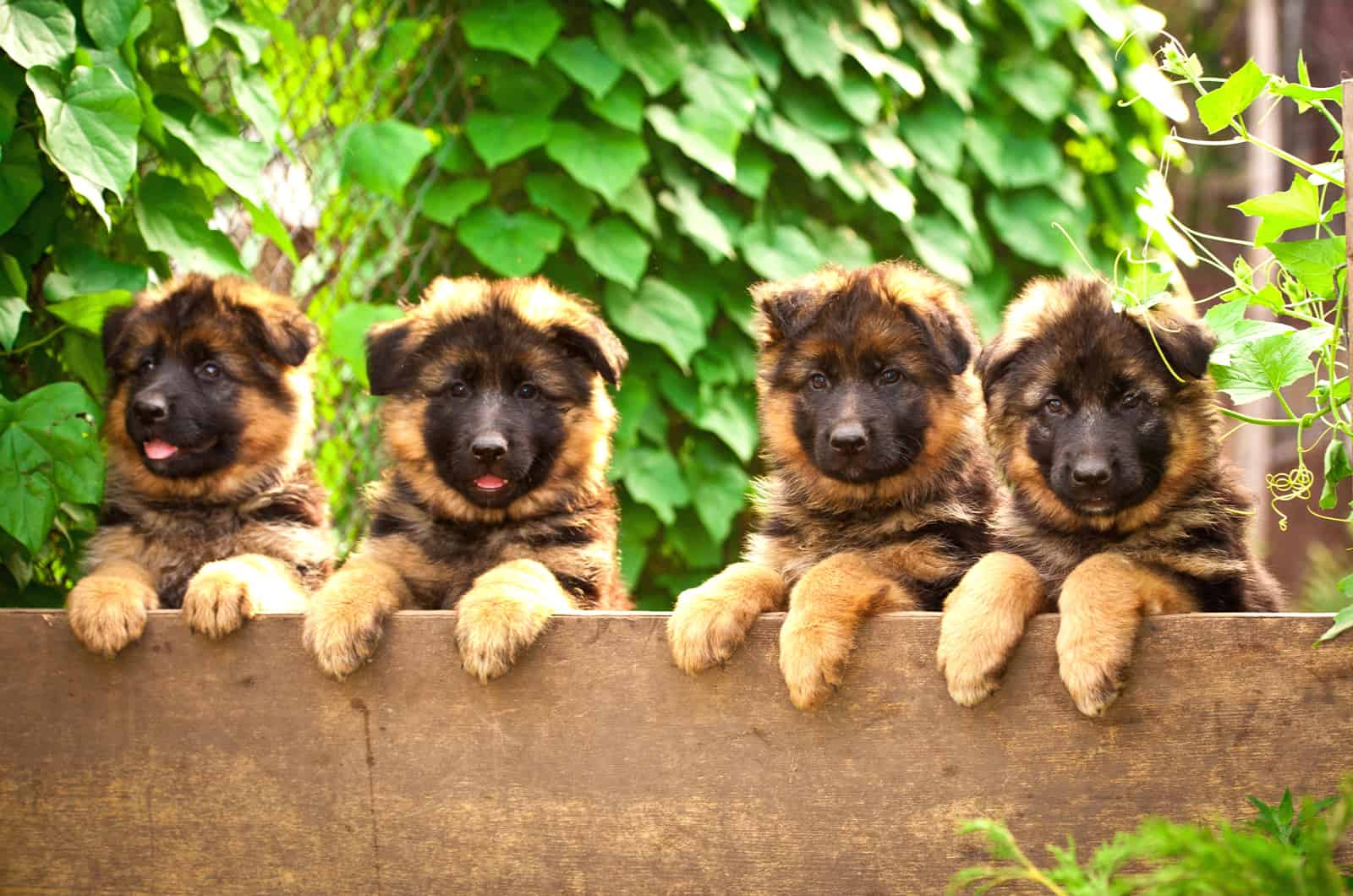 Looking for an awesome companion to work alongside you at your job? Maybe you would like your furry family member to compete in conformation shows? Or, perhaps you are looking for a loyal, loving four-legged furball to become an irreplaceable part of your family?
No matter what type of GSD you are looking for, look no further than the awesome German Shepherd puppies from Peakes Brook Shepherds.
The Peakes Brook Shepherds breeding facility was founded in the 1990s and is a family-owned and run operation recognized as an American Kennel Club Breeder of Merit.
This title alone should convince you that this is one of the most reputable German Shepherd breeders in New York. However, if you are still on the fence, note that they only have one to two litters per year. Also, they work to combine the genetic makeups of their carefully selected breeding couples to further improve the breed.
Each agreement entered into with new German Shepherd owners contains a continuous relationship with the facility that guarantees the breeders from Peakes Brook will always be there for any concerns or questions throughout their puppies' lifetimes.
Each puppy bought at Peakes Brook arrives at its new home with AKC registration papers, a four-generation pedigree, information on training and socializing pointers, family pictures of the parents, vaccine records, and a statement of health from Peakes Brook's licensed veterinarian.
Apart from pictures of available puppies, you can find all the necessary information you may need on how to go about completing the application process for becoming a proud owner of one of their puppies on their website.
Note that they do work on a first-come, first-served policy with a $300 non-refundable deposit, so make sure you get in touch via phone or email to get on their reservation list as soon as possible.
German Shepherd breeder details:
Location: Delhi, New York
Website: Peakes Brook Shepherds Website
Phone: 607 746 8182
Email: [email protected]
Special note: Peakes Brook Shepherds Facebook page
6. Central Park Puppies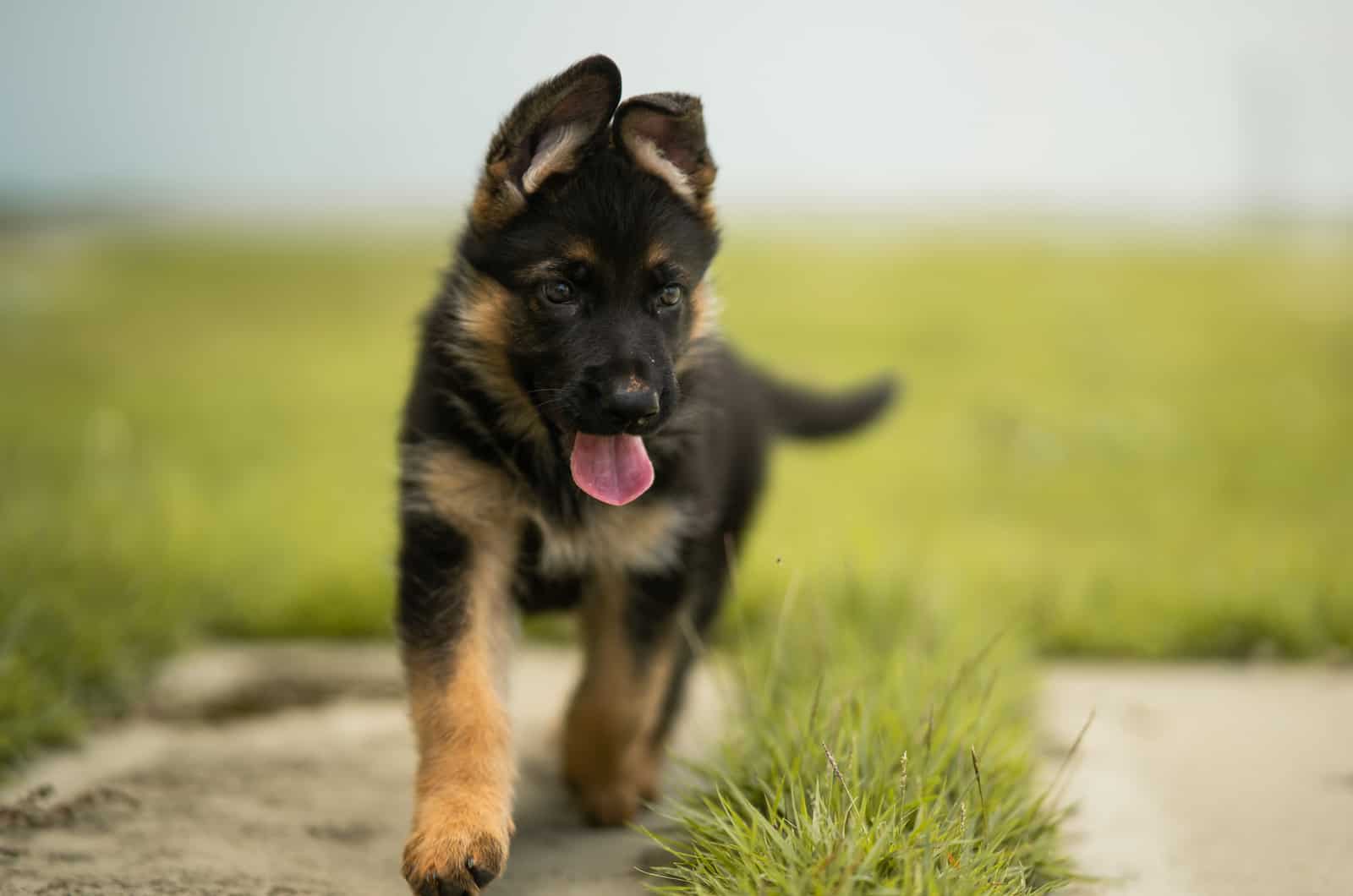 Central Park Puppies is the best place to find your next canine family companion in upstate NY. They go by the saying "a puppy isn't just a pet, but a member of the family" and aim to provide healthy, happy, and affectionate pups.
At Central Park Puppies, they go above and beyond to ensure that each dog that comes into their care is ready to find the perfect new forever home. They do extensive background checks for breeders who want to sell their puppies at their facility.
In addition, all of their puppies undergo thorough vet exams to ensure that they have zero health issues. They also provide free deworming and vaccinations for each dog's lifetime and more.
They make the health of their puppies their top priority from the start. Once they determine that a puppy meets their health standards, the next step is compatibility. They feel that the fit between their puppy and its new family has to be just right, and they go the distance to make sure that the connection is there.
German Shepherd breeder details:
Location: Central Park, NYC
Website: Central Park Puppies Website
Phone: 914 207 7558
Email: [email protected]
Special note: Facebook, Instagram, Twitter
7. Stoverhaus German Shepherds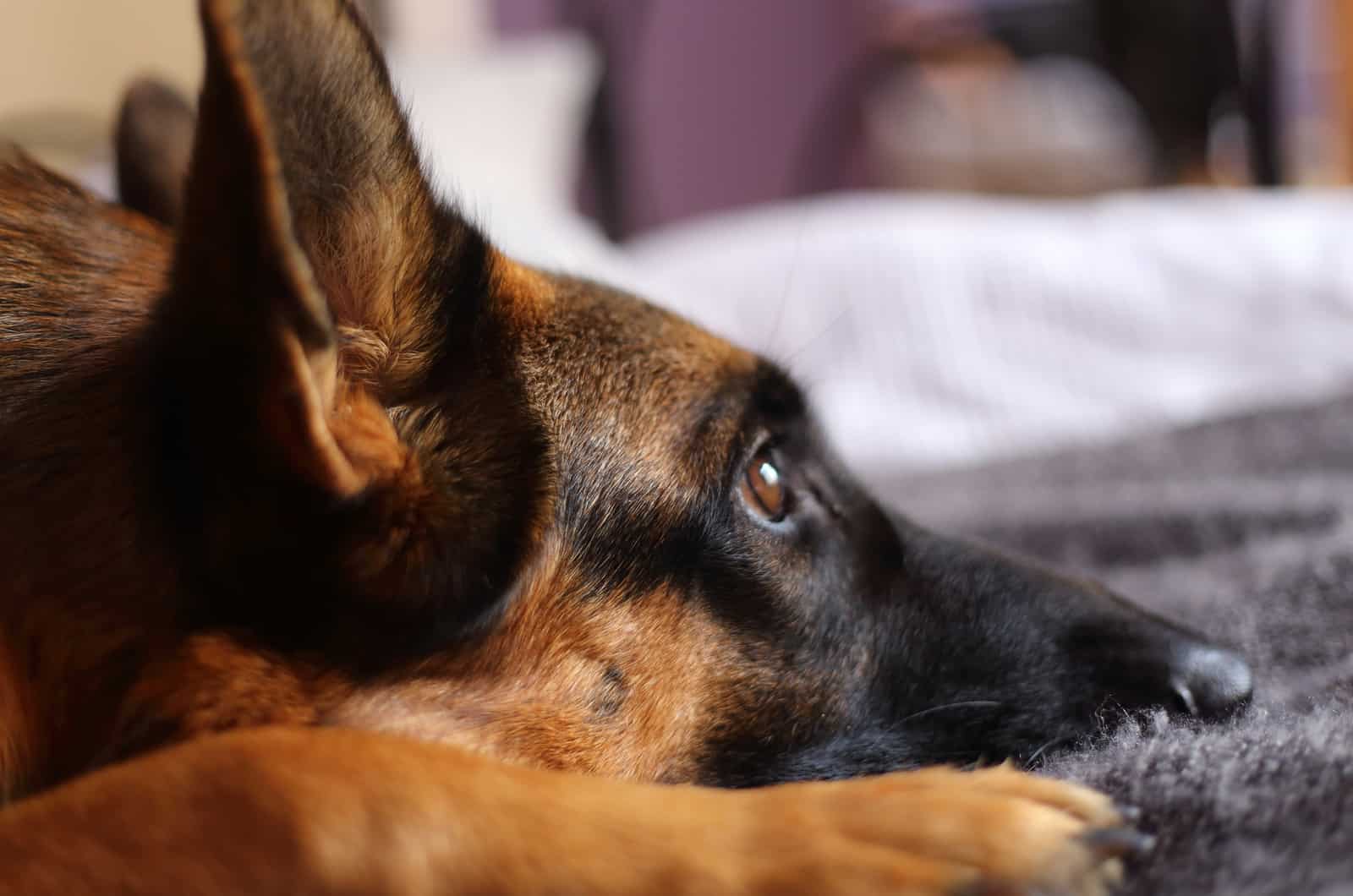 The Stoverhaus German Shepherds breeding outfit produces smart, hardworking, beautiful, and sweet-tempered dogs. They are one of the most professional German Shepherd breeders in New York, and it is a pleasure dealing with them.
They are always open to any questions or issues you might have and stay in touch even after you take your new furry friend home. They aim to breed high-quality German Shepherds and enhance the breed with each breeding cycle.
If you don't believe us, feel free to view all of the heartwarming testimonials that dozens of satisfied customers have left on their website.
German Shepherd breeder details:
Location: New York, US
Website: Stoverhaus German Shepherds Website
Phone: +1 516 250 5269
Email: [email protected]
Special note: Stoverhaus German Shepherds Facebook Page
8. Manhattan Puppies & Kittens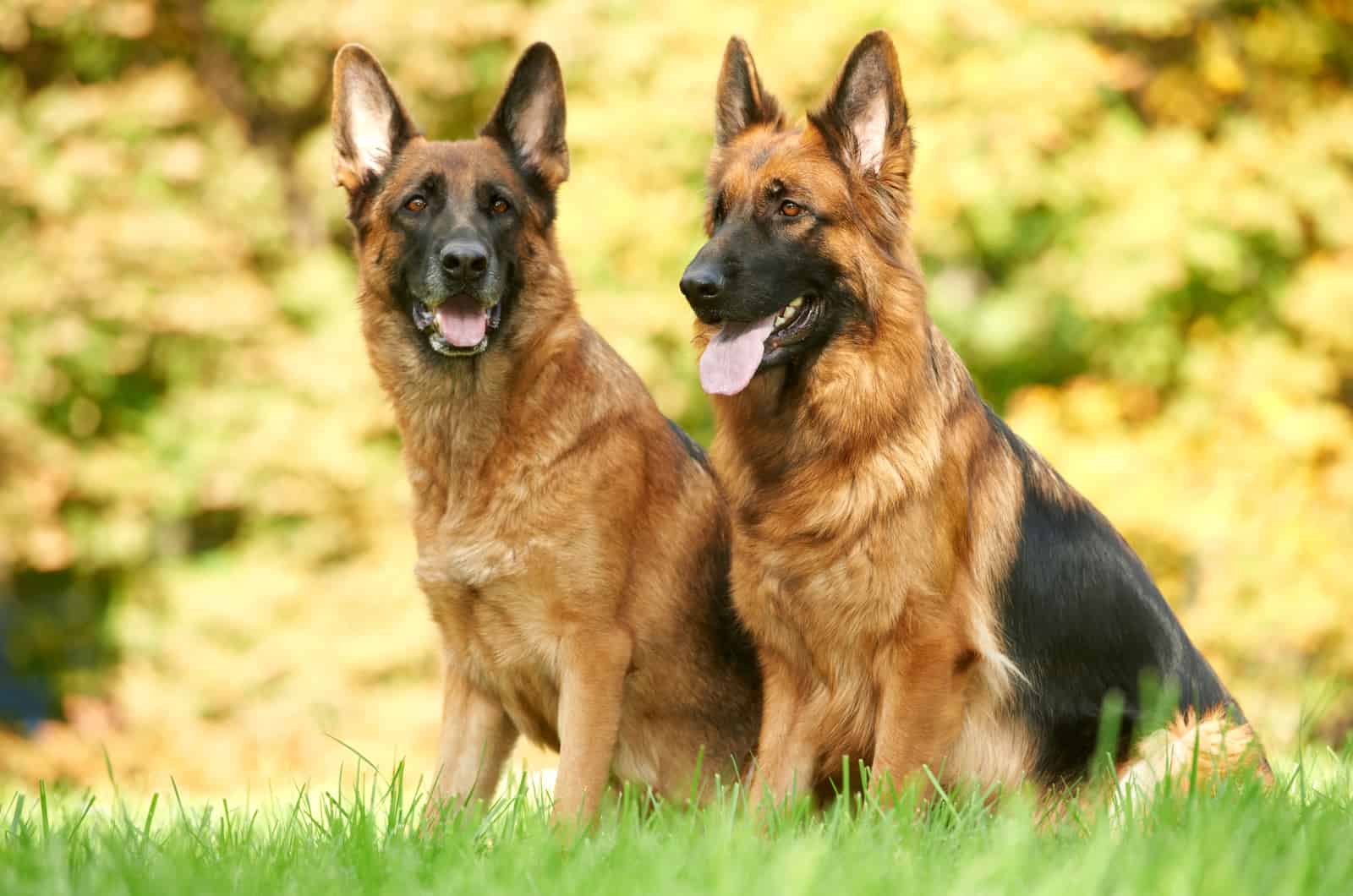 Manhattan Puppies & Kittens specializes in showering adorable puppies and kittens with lots of love and affection. They go to great lengths to assist their clients in picking out a puppy that best suits their lifestyle and living conditions.
Their Upper West Side facility in Manhattan is immaculate. They take pride in treating each of their dogs as if they are going to be theirs forever. With Manhattan Puppies & Kittens, you can rest assured that you will go home with a puppy that is a perfect match for you and your family.
Another great thing about this place is that they don't just have German Shepherd puppies for sale. They sell all sorts of dog breeds, including hypoallergenic breeds and designer dogs such as Labradoodles, Goldendoodles, Yorkiepoos, Bernedoodles, and pretty much any other doodle mix you can think of!
German Shepherd breeder details:
Location: Columbus Ave, New York
Website: Manhattan Puppies & Kittens Website
Phone: 212 787 1909
Email: [email protected]
How to recognize the best German Shepherd breeders in NY
Locating a reliable, high-quality German Shepherd breeder in New York can be a struggle. Also, the price of these dogs can be quite high, but a high price means good quality, and good quality ensures the breed's future, fitness, and well-being.
So, how can you be sure that you are dealing with a good breeder? Well, download our list of best German Shepherd breeders in New York, and whenever you interview a breeder, take it with you.
Compare what the breeder you are dealing with has to offer with what the breeders on our list have to offer. This will be more than enough to rule out all of the backyard breeders and puppy mills as they simply cannot compete with the breeding practices of the breeders we listed above.
The next thing you should do is perform some basic litter research, such as visually inspecting the breeding dogs and litters and their living conditions. Make sure to also ask the breeder which puppy would be the best fit for you.
Try to spend time with each puppy individually and observe its behavior. Each dog is unique, and the more time you spend with a puppy, the higher the chances you will find the one that matches your personality.
Note that you should invest more money in buying a puppy than you might think. The smarter you are with your spending from the start, the more you will save in the long run.
Reputable German Shepherd breeders: puppy price
On average, the price of a German Shepherd puppy in New York ranges between $500 and $1,500. The average price of a GSD bred as a family pet is around $800.
The price goes up significantly if the puppy comes from an exceptional lineage or show-winning parent dogs. There are also other factors to consider when determining the price of a GSD puppy, such as gender, coat color, size, and type.
Dogs bred for protection and guard work tend to be much more expensive than those bred for companionship. Also, female dogs are sometimes more expensive due to their ability to deliver five to nine German Shepherds in a litter on average.
How much does it cost to own a GSD in New York?
The initial puppy price is just the tip of the iceberg when it comes to owning a German Shepherd. On average, you can expect to spend around $85 per month for all of the needs your pooch will require.
If we take into account the initial purchase cost and the average cost per month for collars, food, toys, bed, grooming tools, the cost of owning a German Shepherd for over 10 years could amount to $12,230.
Keep in mind that these dogs are high-maintenance pets when it comes to grooming. They need to be groomed several times a week to maintain their fur and avoid tangles and mats.
Also, don't forget that you are dealing with a large-sized, high-energy dog breed. This means you will need a lot of high-quality dry dog food to satisfy its daily needs. If you feed your pooch four cups of dog food a day, you are looking at around $660 a year in food expenses.
German Shepherd breed highlights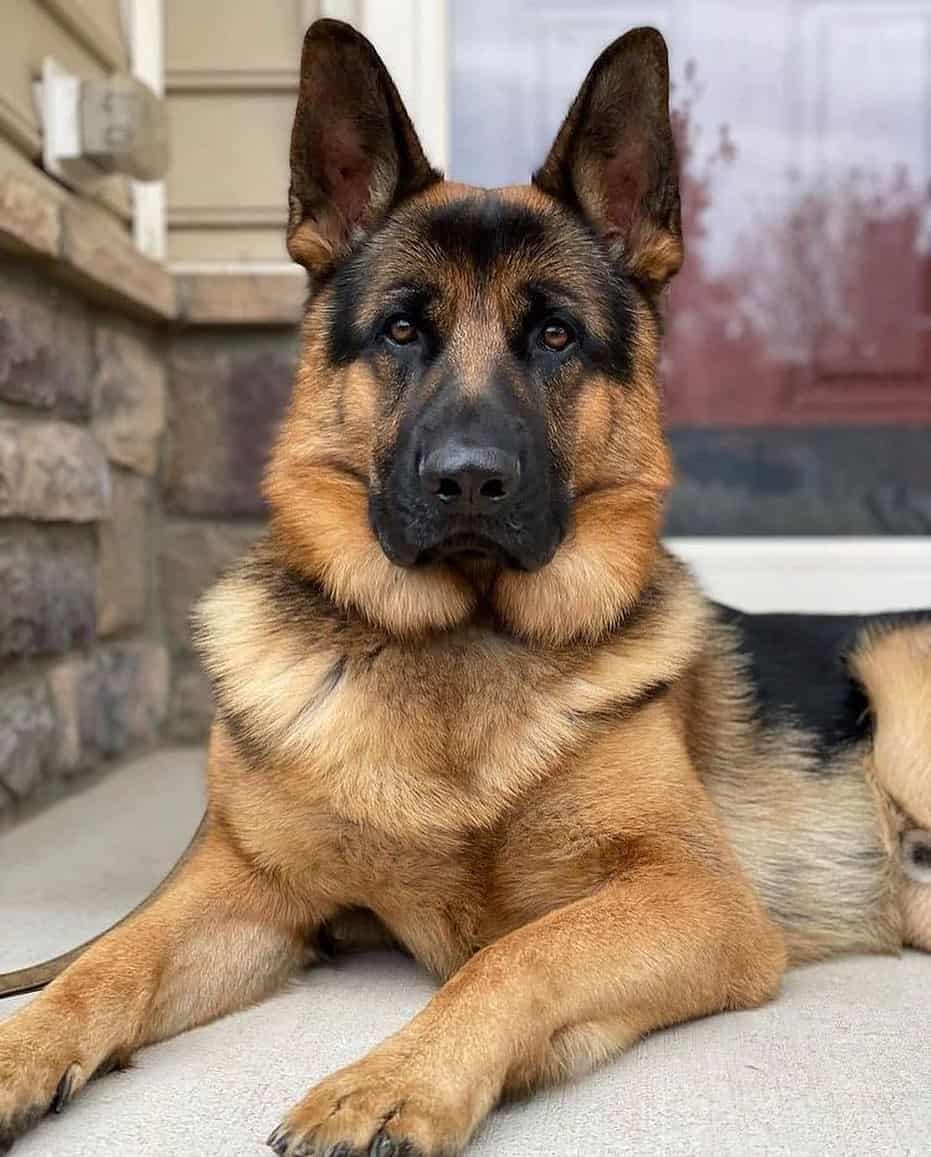 Photo from: @gsd_empire
• The German Shepherd breed was first introduced in Germany back in 1899. Although these magnificent dogs dropped in popularity during both world wars, they quickly regained their title as one of the best breeds in the United States.
• Even though the breed originally descends from a line of herding dogs, the GSDs we know and love today have become all-purpose dogs, obtaining highly prized jobs in military and police operations, search and rescue situations, drug detection, and as service dogs.
• German Shepherds are incredibly intelligent and active canines. They need to be kept busy either playing, working, or learning to prevent boredom. They require both physical and mental stimulation to stay healthy.
• They are great for first-time dog owners but need proper training and socialization to become the best versions of themselves in adulthood.
• Dogs of this breed can be aloof and suspicious of strangers, making them good guard dogs. However, in order to have a well-behaved adult pooch by your side, you should properly socialize it from an early age by exposing it to different sights, sounds, smells, and situations.
• German Shepherds shed a lot! In fact, one of the nicknames of this is the "German Shedder." Be prepared to brush your four-legged furball several times a week, and make sure to invest in a durable vacuum cleaner, as you will need it.
• Both male and female German Shepherds have a reputation for being great watchdogs. However, dogs of this breed, or any other breed for that matter, should never be chained or tether just to stand watch. Chaining your dog will only lead to frustration and aggression.
• GSDs are known for their barking and howling tendencies. If you aren't fond of hearing them complaining or warning you about everything, you should invest time and effort into teaching them from an early age to not howl or bark without reason.
• Crate training is a great way to housetrain your puppy as it helps teach it to be happy and calm when separated from its family. It is especially important when it comes to German Shepherds as dogs of this breed can suffer from separation anxiety or extreme anxiety when left alone for longer periods.
• Even though most people think that GSDs come in only the black and tan coat color combination, they actually have quite a wide range of colors, including black, white, liver, Isabella, sable, silver, and albino.
German Shepherd breeders New York: final thoughts
Introducing a dog into your life is a decision that should be made with lots of care and consideration. You need to understand all of the responsibilities that come with owning a dog and make sure you are up to the challenge.
German Shepherd dogs have needs that require training, guidance, and nurturing from their owner to grow up to be well-rounded canines that are well-behaved in all situations.
If you think you have what it takes to raise one of these intelligent, agile, and athletic creatures, then the first challenge is finding a reputable breeder. Our list of high-quality German Shepherd breeders in New York is here to narrow down your options and help you get a German Shepherd for you and your family without having to worry about being scammed.
Each breeder we mentioned above has healthy, happy, and well-socialized German Shepherd puppies for sale, and you can safely choose one that best matches your preferences!