If you are looking for a German Shepherd puppy in Maryland, you are in luck because today's article is going to give you the best breeders of these high-quality dogs in Maryland.
This dog is among the top 5 most popular dogs in the USA. The German Shepherd dog is generally one of the most famous dogs in the world. We believe that there is not a single person in this world who hasn't heard about this mesmerizing breed.
German Shepherds (GSD) can offer so much, since they are working dogs. They make amazing guard dogs, police dogs, service dogs, and most importantly, the best family dogs. Both male and female GSD have the same working ability.
German Shepherds can have different coat colors and can differ in their build but, be sure that all of them have the same characteristics. If you have some preferences when it comes to the look of a GSD, make sure to emphasize this to the breeder.
Some people have a misconception that we want to debunk right away, and that is, that German Shepherds are aggressive dogs. This is not even the slightest bit true. The American Kennel Club (AKC) characterized these dogs as one of the most loving, caring, and smartest dog breeds.
We are here to present you with a list of the best German Shepherd breeders in Maryland.
German Shepherd Puppies For Sale In Maryland
We are happy to announce to you that by deciding on getting a beautiful German Shepherd, you aren't just getting a hard working dog but an amazing family pet that will be your best friend for a long time.
Since you have finished making the hard decision of choosing a breed, the next challenging step is finding a reputable breeder. Because of the popularity of these dogs, there will be sure to be a lot of breeders that will try and deceive future pet owners.
These breeders are mostly in it for the money, and unfortunately, it is a commonly known fact that they don't keep their dogs in good condition. And never, and we do mean never, buy your puppy from a puppy mill.
There is also the amazing option of adopting a GSD. If you don't mind getting an older dog and not a puppy, then you should look for shelters that are near you. There is a possibility that there is already a German Shepherd there, waiting for a new forever home.
For all of you that are looking to purchase a purebred German Shepherd, we'll present you with a list of the best German Shepherd breeders in Maryland. They aren't ordered by any qualifications or anything. This is a randomly ordered list of all the best breeders in Maryland.
You will be the one who decides which breeder is best suited to you and your family.
1. Johnson-Haus German Shepherds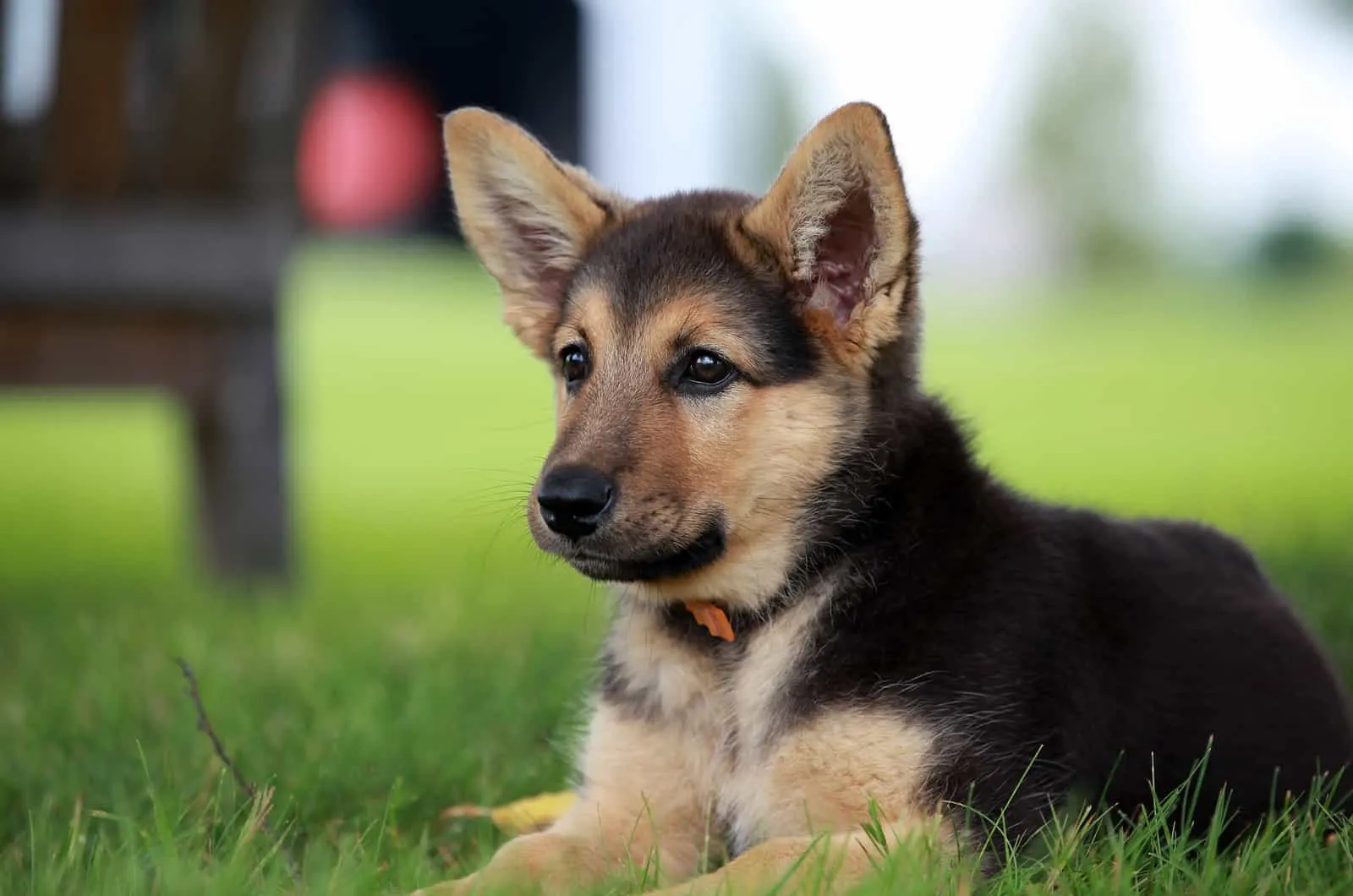 This kennel is owned by a man named Dennis that started breeding German Shepherds around 1994, after he graduated from West Virginia Canine College. When buying a GSD puppy from him, you will not get a dog with questionable characteristics.
You will get a dog that is the full package. That means that you can expect your future dog to be a working dog, a guardian, and a life companion. What more could you want?!
It is important for breeders to maintain the correct temperament of a German Shepherd and, because of that, they only import breeding dogs with the best bloodlines out there. Their breeding program is conceptualized to breed German Shepherds that will be both working and athletic dogs, as well as amazing and loving family pets.
Their breeding dogs come with Schutzhund and a hip/elbow certificate. They offer dog training for not just German Shepherds but for all breeds. Their dogs come in various colors but they have noticed that their black German Shepherd puppies are the ones that go the fastest.
We advise you to visit their page and look at all the beautiful dogs they have, read what previous clients have said about them, and take in all the other details that they have provided for you.
Johnson-Haus German Shepherd Details
Website: Johnson-Haus German Shepherd
Location: DC Metro Area, Frederick Maryland
Email: [email protected]
Phone: 301-956-0788
2. Haus Juris German Shepherds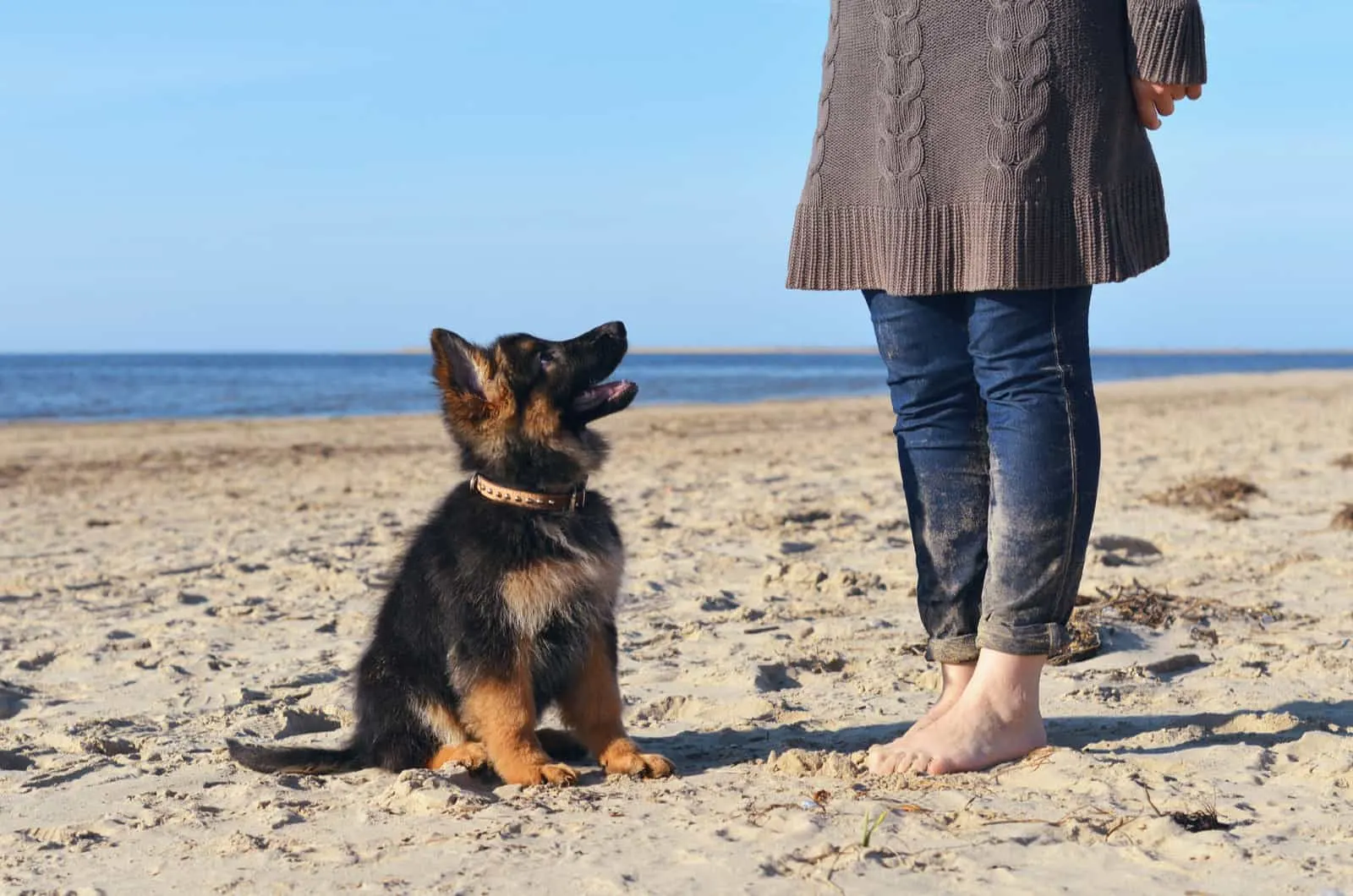 This kennel cares about the bloodline of their dogs. They breed their German Shepherds to the breed standard. Their dogs are superior for sports, AKC, Agility, Search and Rescue, Police, International Conformation, and/or loving family protection and companionship, which you can also expect your future puppy to be.
They strive to reach Max Von Stephanitz's ideal of a "Golden Middle". That means that this German Shepherd has it all. They import all their dogs from high-quality places.
They are serious about which dogs they will use as their breeding dogs. Health is something that is very important to them, so you can expect your puppy to go through all the necessary health testing.
They advise you to contact them so you can keep up to date on when a new litter is available. They do put future litter information on their website but it is best to reserve a puppy in advance by getting in touch with them.
They offer dog training, which you can read more about on their site, where you can also see pictures of their current litter, past puppies, and their breeding dogs.
Haus Juris German Shepherds Details
Website: Haus Juris German Shepherds
Location: DC,11910 Valley View Drive, Nokesville, VA 20181
Phone: 703-594-9925
Email: [email protected]
3. Haus Morrisson German Shepherds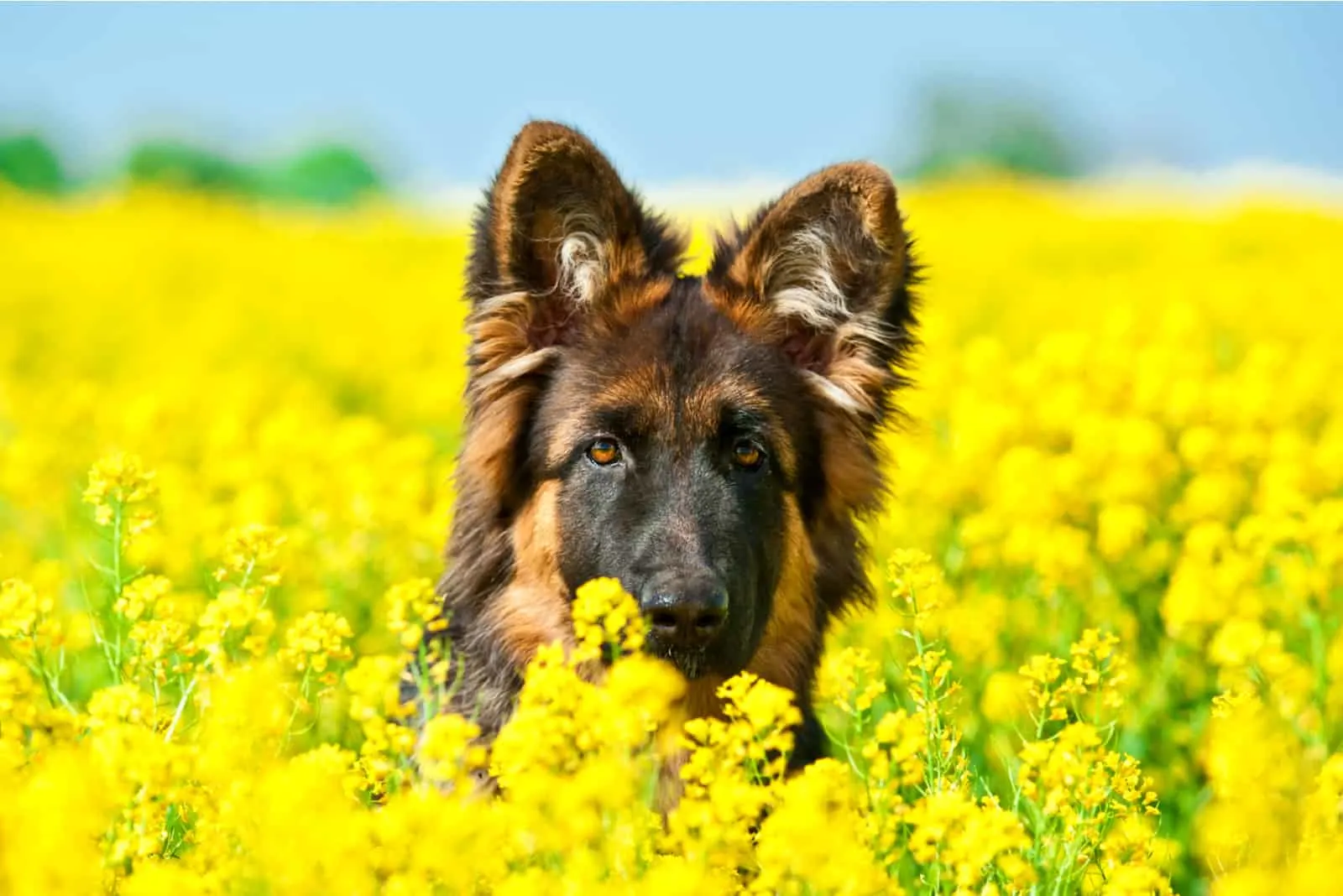 Haus Morrisson is owned and operated by Amy & Charlie Morrisson. These two exceptional people consider their dogs as family. Amy is a vet technician, which can assure you of a health guarantee for your future puppy.
They are members of the American Kennel Club and United Schutzhund Clubs of America. Besides these two, they are also proud members of 10 other organizations, which are all listed on their website. When it comes to their dogs, they don't spare any expenses.
Their breeding dogs and their puppies all receive the best veterinary care, which includes annual exams, vaccinations, monthly heartworm, flea and tick protection, bloodwork, hip and elbow examinations, and many more aspects that you can see on their site.
Besides the health guarantee, your puppy will also be fed high-quality food and will receive a lot of exercise, love, and training. They believe that socialization is key to a dog's life, so you can expect your dog to be fully prepared for the outside world and meeting and exploring new things.
Their breeding program is based on producing dogs with structure, longevity, an amazing temperament, and solid working ability. You should feel free to contact them for information on their upcoming litters.
When you add all this up, you can surely say that they are good breeders, well not just good but we could even say exceptional. You can be sure that you will end up with a perfect puppy.
Haus Morrisson German Shepherds Detail
Website: Haus Morrisson German Shepherds
Location: Boonsboro, Washington County, Maryland
Phone: 240-626-8110
Facebook: Haus Morrisson facebook
4. Rodina Straze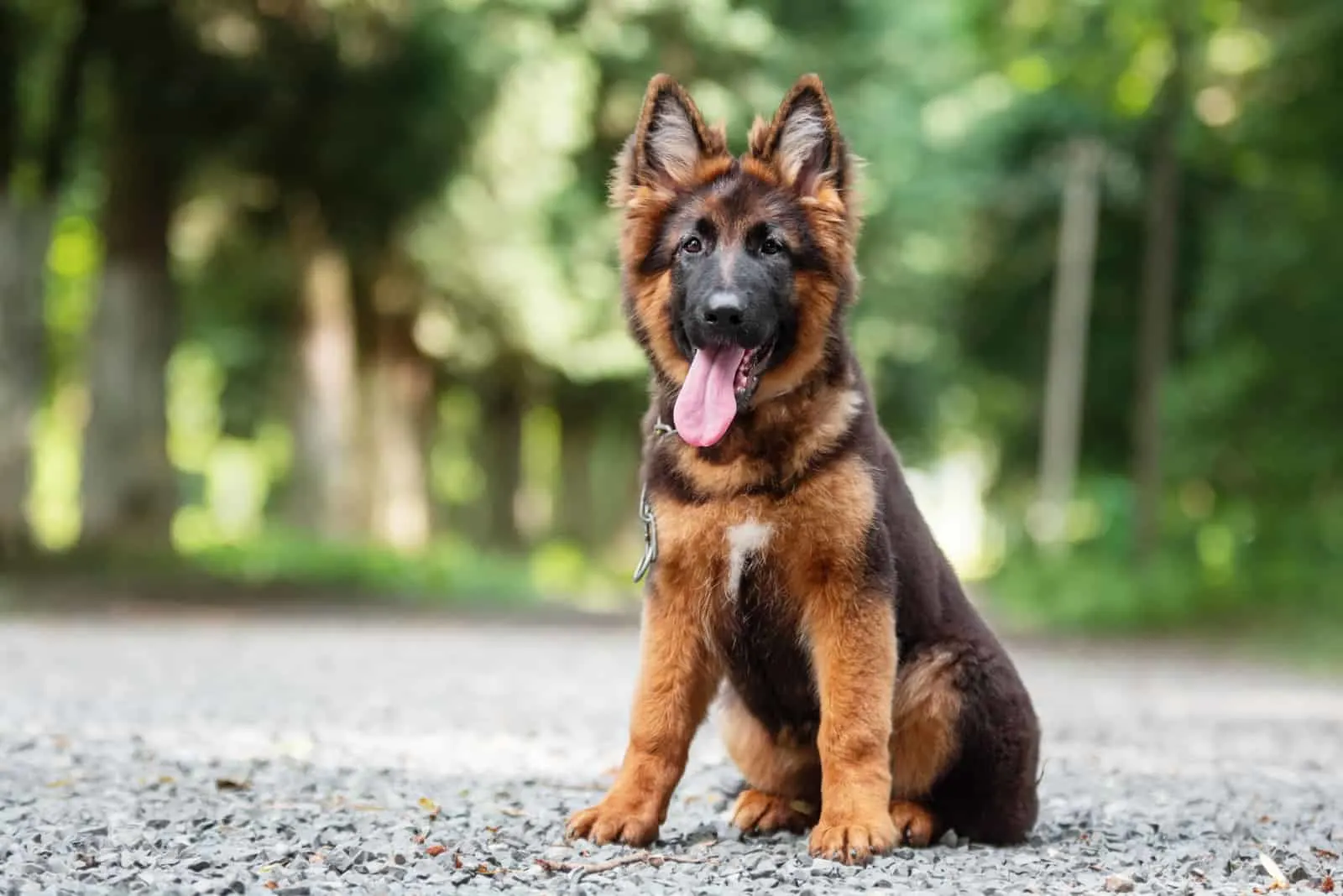 Rodina Straze was founded by Mike and Marie Donahue. Their name means family guards in the Czech language. Their breeding program is based on preserving the German Shepherd Chezch and DDR working bloodline.
Their dogs have the correct structure, dark pigment across their coats, amazing health, and balanced temperaments. They consider their dogs as family members and they live in their house with them. They take time for every dog to get the attention they deserve, and that includes care, love, training, and socialization.
They will provide you with all the information you need, like health certificates, vaccines, rewards, etc.
Even though their program is small, their dogs are bred under the AKC registered Kennel. They have a huge passion for German Shepherds and they want you to see it.
Rodina Straze Details
Website: Rodina Straze
Phone: (301) 708-1889
Location: Frederick, Maryland
Email: [email protected]
5. Mountain Pride German Shepherds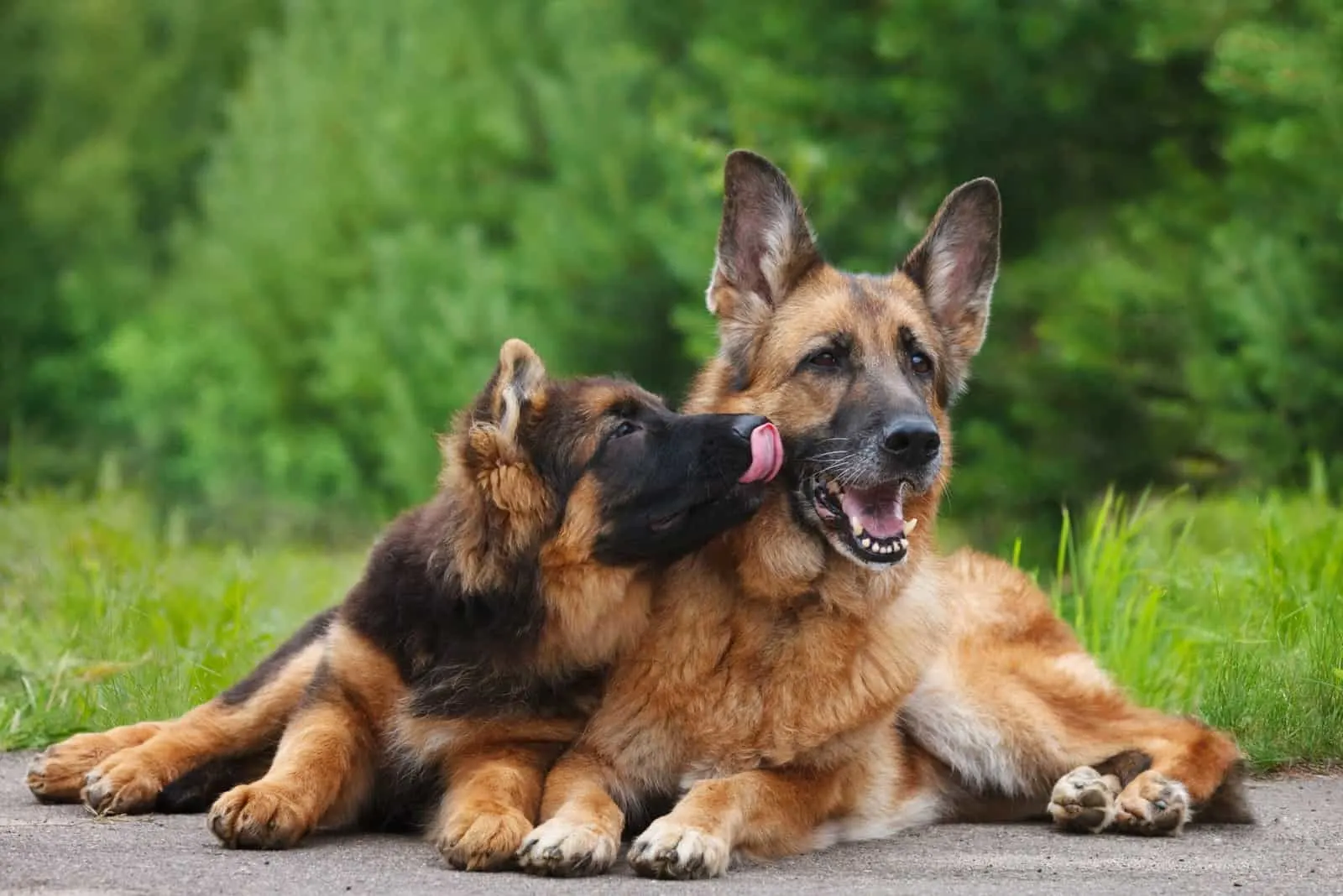 Mountain Pride is a family-owned kennel that was founded in 2006. They treat their dogs as family members and because of that, they raise them in their home. They want to provide their customers with the best bloodline possible.
They want to make sure that you will receive a well-behaved family member and because of this, they train their puppies. They also socialize them so they are prepared for new adventures and also to make your life a bit easier when your puppy arrives.
Their German Shepherds are AKC registered. Besides selling puppies, they also offer dog training for any breed of dog that you might own.
Their dogs make great family members and besides that, they make amazing guard dogs, herding dogs, and service dogs and you can expect your future puppy to flourish in any environment.
They invite you to contact them for any further information. You can visit their website to see other details and pictures of their past and current dogs.
Mountain Pride German Shepherds Details
Website: Mountain Pride
Address: 11108 New York Ave NW, La Vale, MD 21502, US
Phone: (301) 245-1777
6. Misty Ridge
Misty Ridge was founded by a woman named Joyce 30 years ago. The place where her kennel is located used to be an empty farm that was in a bad condition. When she took things into her own hands, she managed to make a perfect place for her dogs.
It is heaven on earth, where her dogs can run free, swim, and enjoy nature. She cares deeply about her dogs, which is why she considers them her family. You can expect your puppy to be socialized, trained for the basics, well-groomed, loved, and equipped with all the necessary health certificates.
Besides breeding German Shepherds, she also offers boarding, grooming, and training for all dog breeds. She also has a daycare. So, if you are in need of someone to look after your dog for a while and you live in the area, Joyce is a great option.
Service areas where they operate are Washington DC, Virginia, Montgomery County, Howard County, Fairfax County, Frederick County, Baltimore County, Annapolis, Frederick, Hagerstown, Potomac, Silver Spring, Gaithersburg, Baltimore, Germantown, Rockville, Bethesda, Alexandria, Olney, Ellicott City, Kensington, Glen Burnie, and Towson.
Misty Ridge Details
Website: Misty Ridge
Location: 2922 Old Liberty Road, New Windsor, MD 21776
Phone: (410) 875-2045
Email: [email protected]
How Much Should You Pay For A German Shepherd Puppy?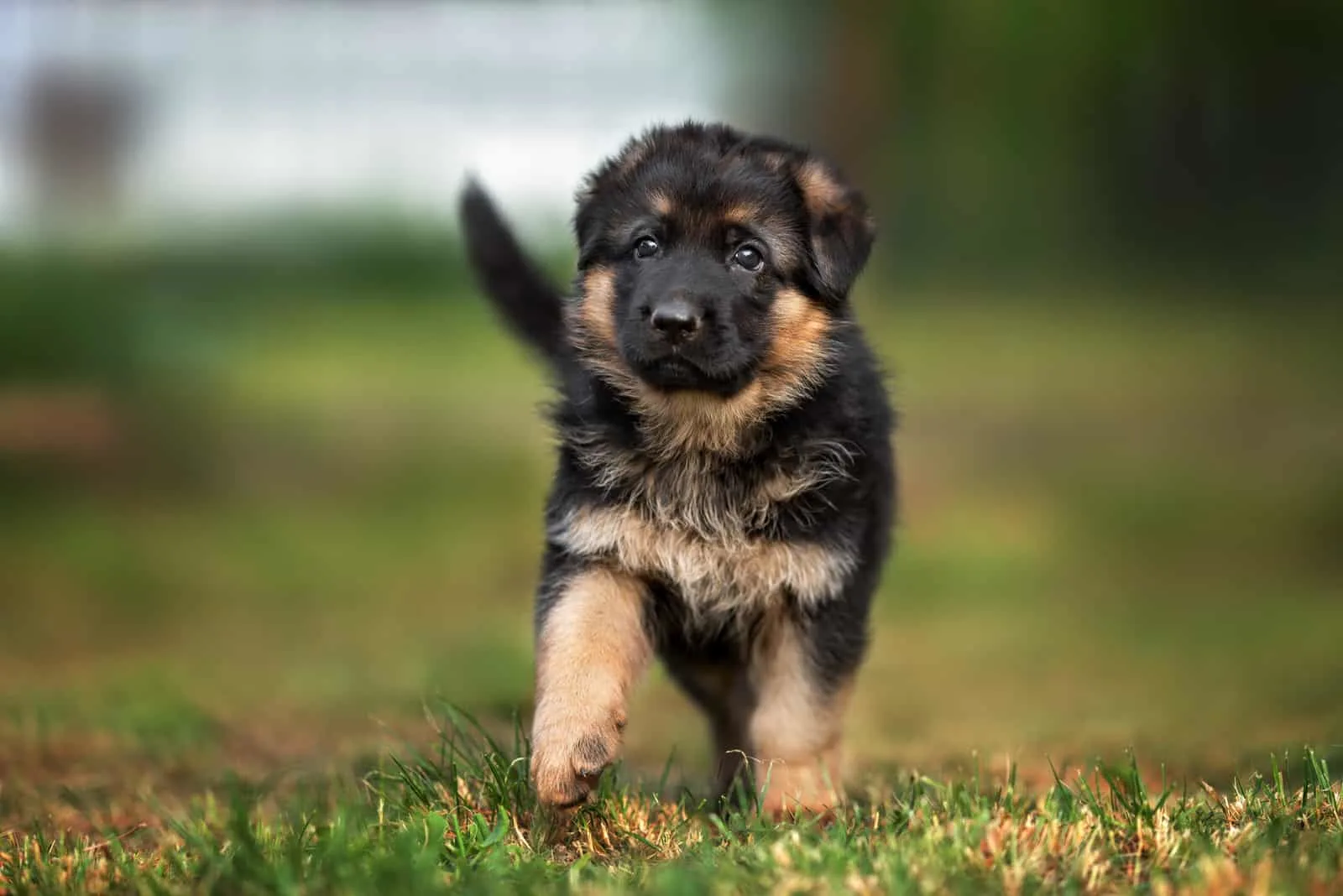 When you have decided on a potential breeder, one that covers all the things you are looking for in a good breeder, you might ask yourself ˝How much does a German Shepherd puppy cost?˝
The average price for this beautiful dog is around $1,000. But, this depends on many factors, so you can expect them to be anywhere from $400 to $2,500. As you can see, they aren't cheap dogs but, when you think about all their characteristics, you could say that they are definitely worth the price.
But, don't be surprised if you see a German Shepherd being sold for $12,000! There are various prices out there that depend on a lot of factors. But the thing you should know, is that if anyone tries to sell you a GSD for under $400, turn the other way because we are sure that it is just a scam.
Besides the price of the puppy, you should know that you will have some additional costs, especially for the first year. You'll need a dog bed, quality food, shampoo, grooming tools, vet bills, toys, leash, and a collar.
The things you shouldn't skimp on are top-quality dog food and, something that may sound weird, a good quality comb or brush. You need to be prepared, as a German Shepherd sheds a lot and having a quality tool for brushing yours daily will be necessary.
Factors That Can Determine The Price For A German Shepherd Puppy
1. Bloodline
One thing that you might notice while going through the list of German Shepherd breeders in Maryland, is that all of them truly care about preserving a good bloodline for their dogs. This is one of the biggest things that can determine the price of your puppy.
If you choose a puppy that has a champion bloodline going through its veins, you need to be prepared to open your wallet quite a bit. These puppies can cost anywhere from $12,000 to $14,000.
But don't worry, you can get a puppy from a great bloodline without paying these enormous prices. A GSD that costs around $1,000 will have an amazing bloodline as well.
2. Certifications
There are a lot of breeders that will offer you various certificates and pedigrees for your puppy. But, you need to expect that this type of puppy will cost you a bit more. The price can be around $1,500. This also depends on how many certifications your dog will come with.
Dogs that have less or no certifications will cost you a bit less. A puppy without any papers might cost you around $800.
3. Coat Color
German Shepherds can come in various colors and some of them are quite unique and rare. One of those unique-looking dogs is called an Isabella German Shepherd. These dogs will be on the more expensive side. You can expect them to be priced at around $4,000.
Another dog that is on the more expensive side is the silver German Shepherd. Some other colors are red, black, and white.
But, the one that is the rarest and the most expensive of them all, is the albino German Shepherd. These dogs are extremely hard to find. When a breeder gets an albino GSD in their litter you can be certain that this dog will be the most expensive one in the litter.
The price will probably be around $5,000 to $6,000. If they have a champion bloodline, then this dog will probably cost a small fortune.
In Conclusion
The first step of buying a dog is deciding on the breed you want, we can see you have decided on a beautiful German Shepherd. The most important thing when buying a dog is to choose a breeder that will provide you with a purebred, happy, well taken care of, and happy puppy.
The easiest thing to do is to contact the kennel that you have decided on. The best option is to go and visit them. This way, you will be able to meet the breeders, your puppy's parents, and possibly your future puppy.
The thing you have to keep in mind is that a reputable breeder will always gladly give you all the health certificates from both the parents and the puppy. They should also step it up a notch and give you the contact of their vet and all the possible pieces of advice you might need when it comes to your dog's health.
We hope that our list of the best German Shepherd breeders in Maryland and some of these tips will speed up the process of you taking your future German Shepherd (GSD) to their new and loving home.
Read Next:
• Top 7 German Shepherd Breeders In Alabama (2022)
• 8 Best Caucasian Shepherd Breeders In The United States