Welcome to the state that's been blessed with many great people and lovers of the French Bulldog dog breed. Let me introduce you to the finest French Bulldog breeders in Georgia. They're the people you can trust when looking for a Frenchie puppy.
These people are AKC-registered breeders and raise puppies following the finest breeding programs. Here, you'll find only high-quality puppies that can become not only your best friends, but future AKC champions too.
This is the start and the end of your search for the best French Bulldog breeders. I'm absolutely sure you will find a Frenchie puppy with some of the top 10 Pup Vines picks!
French Bulldog Puppies For Sale In Georgia
Remember, these are all reliable people with trusted breed lines. Sometimes, they won't have available puppies, but that doesn't mean you should try your luck elsewhere. Maybe spending some time on the waiting list won't do any harm.
1. Flawless Frenchies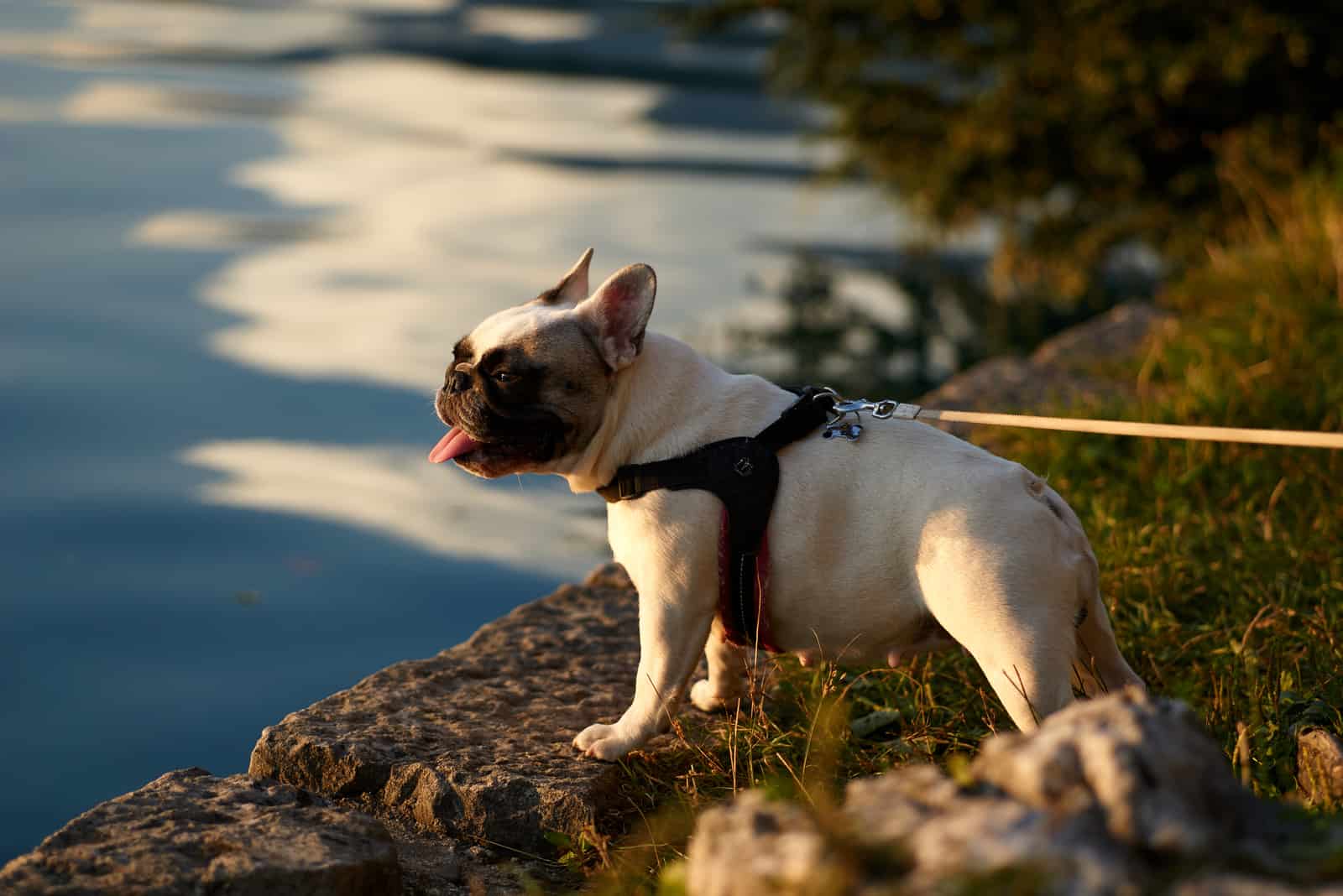 Well, that's a breeder with a name that couldn't be more appropriate!
Meet the Flawless Frenchies. And yes, they're truly without any flaws!
Hidden away under the foothills of the stunning Appalachian Mountains, Flawless Frenchies are Jessica Jackson's pride and joy. She's been in the business for years now, producing premium quality French Bulldog puppies.
Jessica breeds for health and temperament. She wants to make sure her puppies are beautiful on the inside. Outside beauty simply comes naturally with these puppies.
What doesn't come naturally, a result of hard work and many years of improvement, is the health status of these puppies. They're all OFA tested and certified. Meaning, there are no health conditions such as patellar luxation, hip dysplasia, or thyroid issues.
They really mean that "flawless" part.
Jessica is also an AKC Bred with H.E.A.R.T. breeder, which is always a wonderful thing to see with breeders.
If you live far from Lula, or if you're in another state, transport with a nanny will be provided. Jessica usually takes care of this. Rest assured your puppy will fly like first class, not with cargo.
Besides being a professional breeder, Jessica has a kind heart. In fact, she's started a foster program that makes sure her breeding pups can find a furever home once they get retired. Isn't that sweet?
Breeder's details
Website: Flawless Frenchies
Address: 8058 Belton Bridge Road, ​Lula, GA 30554
Phone: 678-9361-862
Email: [email protected]
2. Lindor French Bulldogs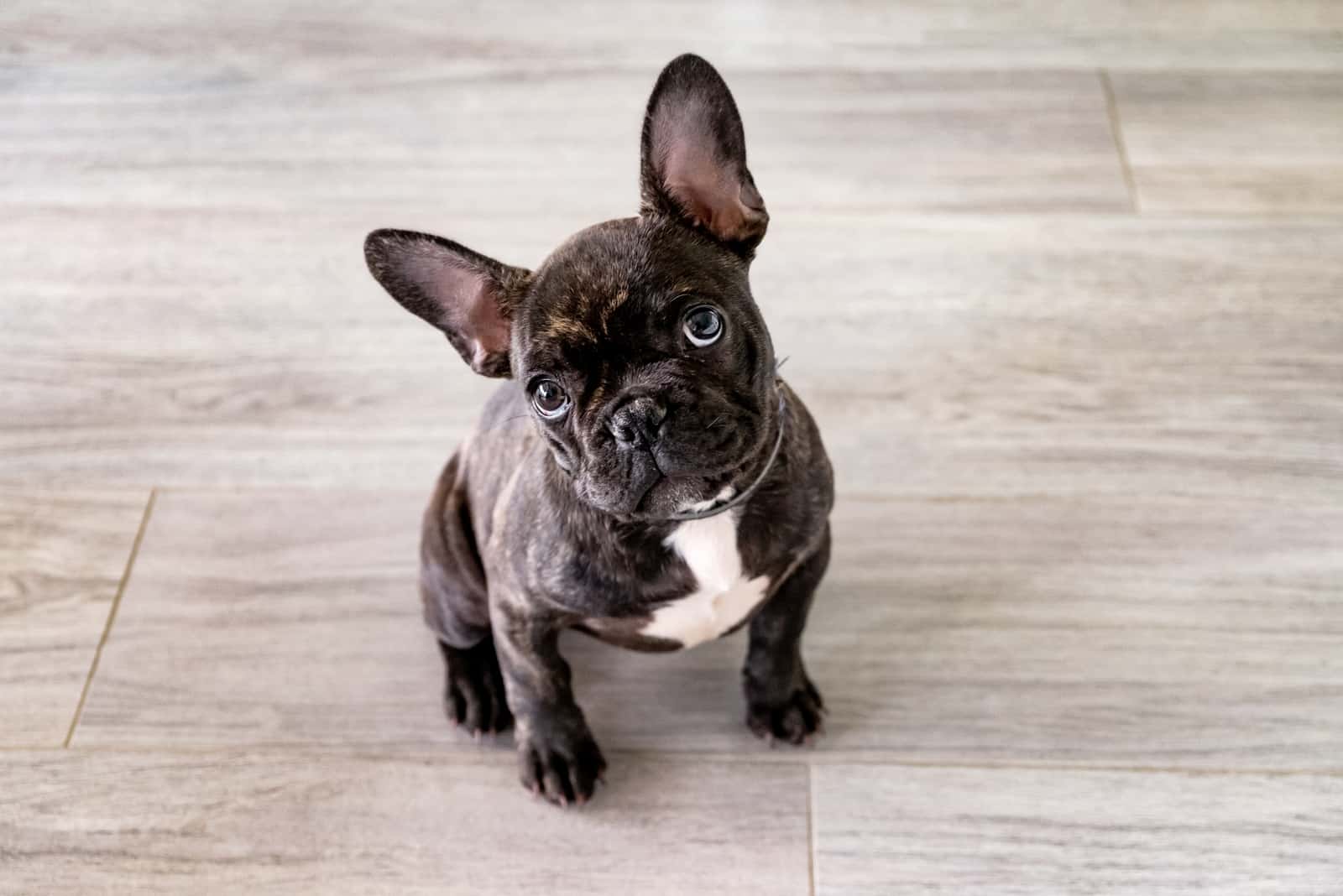 Raising French Bulldogs isn't just a hobby or a part-time job for the guys at Lindor French Bulldogs. It's become an obsession!
I'd like to say that breeding dogs isn't a profession. It's more of a lifestyle. I mean, the Lindor crew, since this is a family business, has completely devoted themselves to breeding Frenchies. They want to make sure the world has plenty of healthy Frenchie pups!
For over 13 years, Lindor Frenchies have been connected with the AKC and approved by them. Also, the state of Georgie has them licensed too! If a breeder is licensed by official clubs or the state, you know they're doing their job the right way.
Lindor Frenchies are very much proud of their state-of-the-art breeding facility. They have a modern indoor kennel, featuring a separated nursery for mommies and puppies. These pups even have an assistant that's always there for their needs!
Lindor has everything a puppy might need while growing up at the breeder's place: from the vet's office to a grooming parlor. Honestly, I envy these pups a bit for being so spoiled.
Lindor puppies are completely healthy. Certificates will prove that. They usually come in blue, lilac, tan, chocolate, and black coat colors. If you want one of these adorable babies, you will need to contact the owner and ask about the puppy's price. Each is priced differently.
Still, the average price ranges from $5,000 to $7,000.
Breeder's details
Website: Lindor French Bulldogs
Phone: 904-4674-857
Email: [email protected]
Social media: Facebook and Instagram
3. Southern Territory Frenchies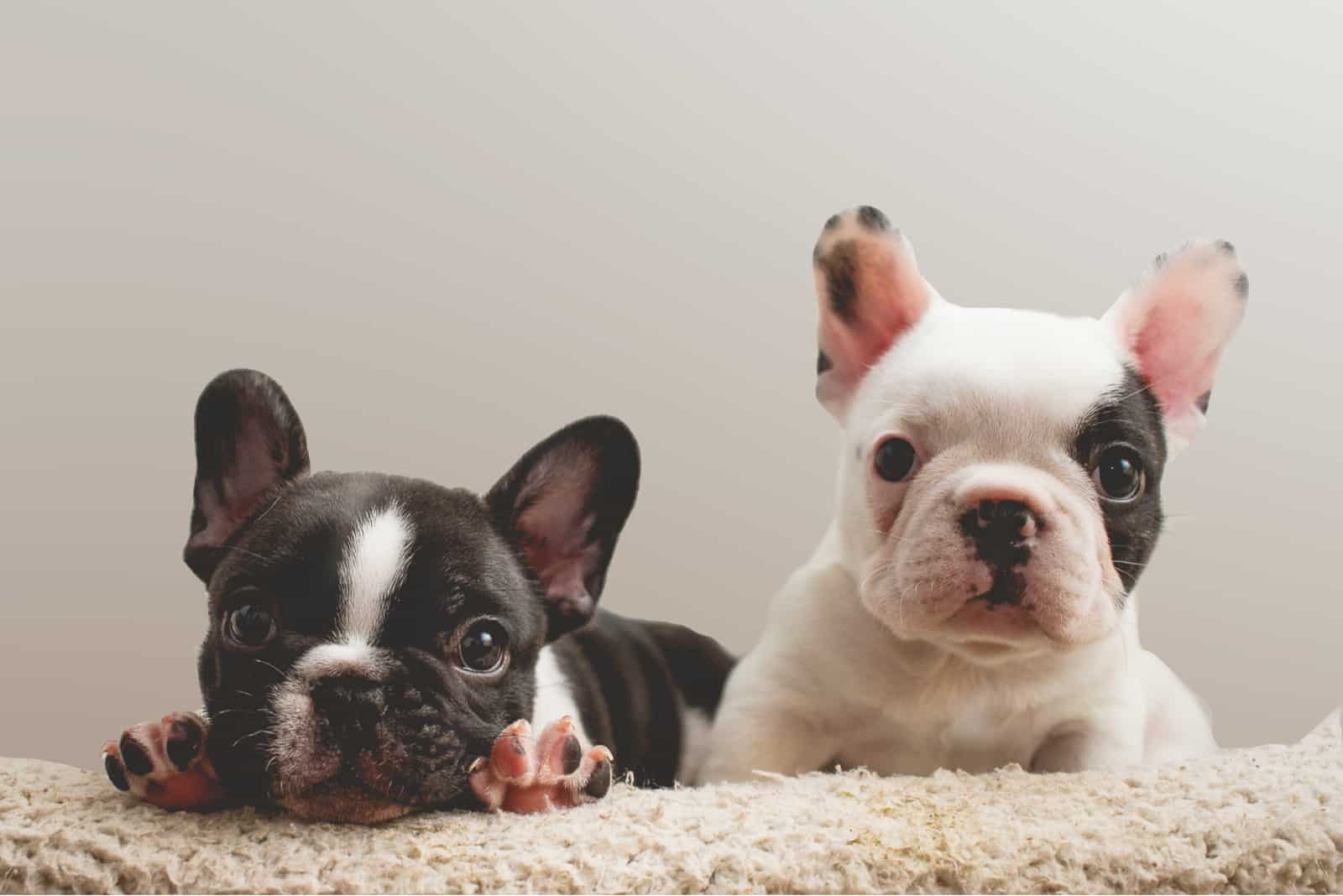 Karen from Southern Territory Frenchies couldn't say no to those goofy faces, and funny floppy Frenchie ears. This jokester of the canine kingdom stole her heart and she's been in the breeding business for many, many years.
Karen imports champion bloodlines and produces puppies of the finest quality. No wonder she's been declared as AKC Bred with H.E.A.R.T. breeder!
What really impressed me about this breeder is their detailed website, featuring small descriptions of each of their sires and dams. You can see each dog from a different angle, which will help you paint a better picture of your future puppy.
Speaking of puppies, Southern Territory Frenchie puppies come with all their vaccinations. They're dewormed in time, and will bring a puppy package with them once they're ready for adoption.
If you're interested in buying a Southern Frenchie, make sure you give Karen a call. She'll be more than happy to talk to you and answer all your questions. Also, if you live far from their home, Karen and her crew will arrange puppy shipping to your address.
Breeder's details
Website: Southern Territory Frenchies
Address: Cobbtown, GA 30420
Phone: 443-618-7598 or 912-246-6403
Email: [email protected]
4. Broad River Frenchies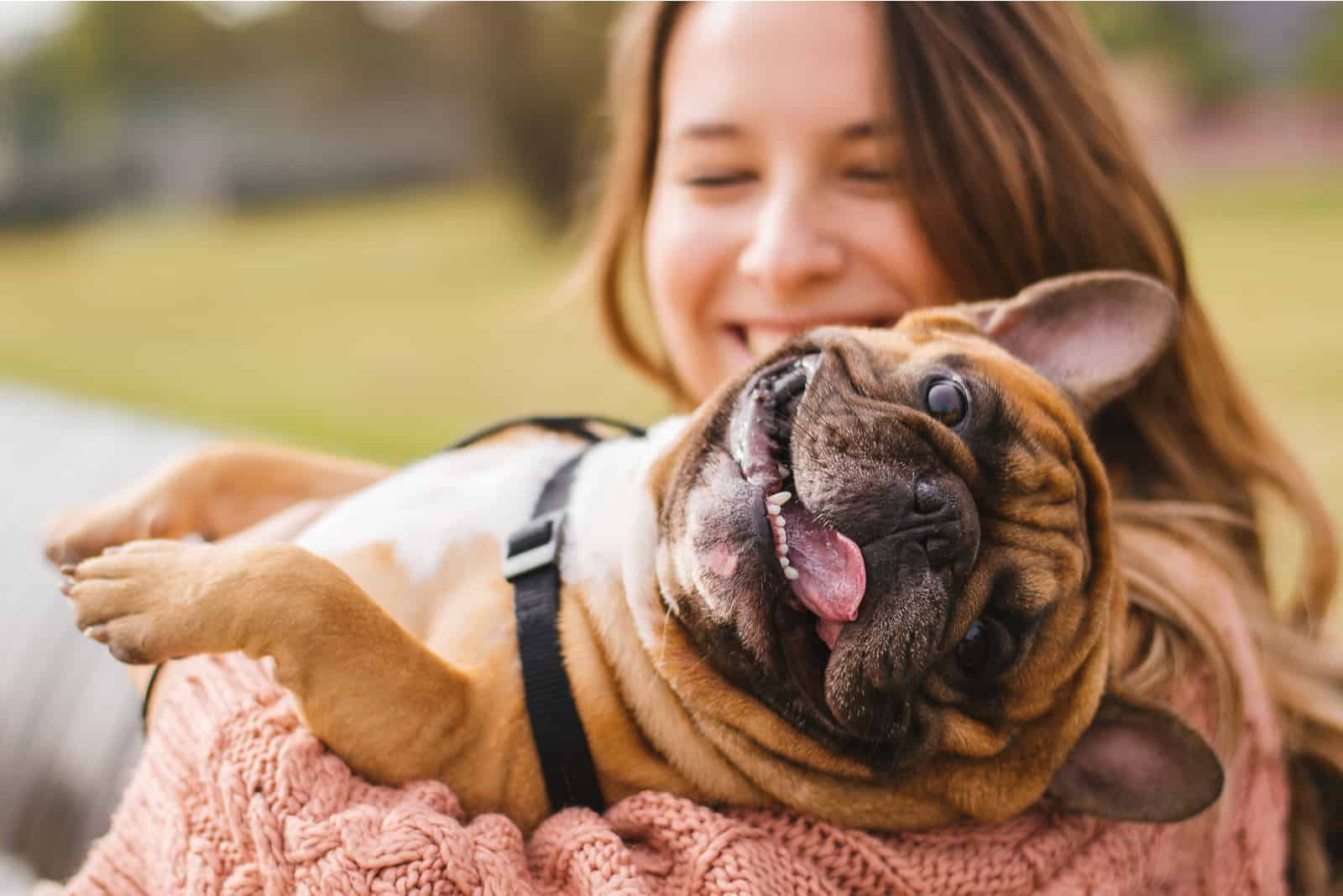 What does it take to raise perfect French Bulldog puppies? Oh, just your husband, your sister, and some love for this dog breed.
All jokes aside, this is exactly how the story of Broad River Frenchies started back in 2013. A group of Frenchie lovers decided it was time to enrich their lives with even more Frenchies. Thus, a breeding program was born.
Hidden away on a 5-acre farm, Broad River Frenchies are proud of their approach to breeding Frenchies of excellent health and an even better temperament. But, are they cute enough? Of course they are!
These guys have a fairly big breeding stock consisting of three Frenchie boys and several Frenchie girls. They usually come in fawn or cream with black masks, merle, blue, black, and tan.
Once the puppies turn six to eight weeks old, they will be ready to go to their new furever homes. All pups are free from hereditary conditions, have health certificates to prove so, and come with a year health guarantee.
You live near Athens, Georgia? Well then, give Broad River a call, they'll appreciate it!
Breeder's details
Website: Broad River Frenchies
Address: North of Athens, GA
Social media: Instagram
Other: Contact form
5. Le' Petit Frenchies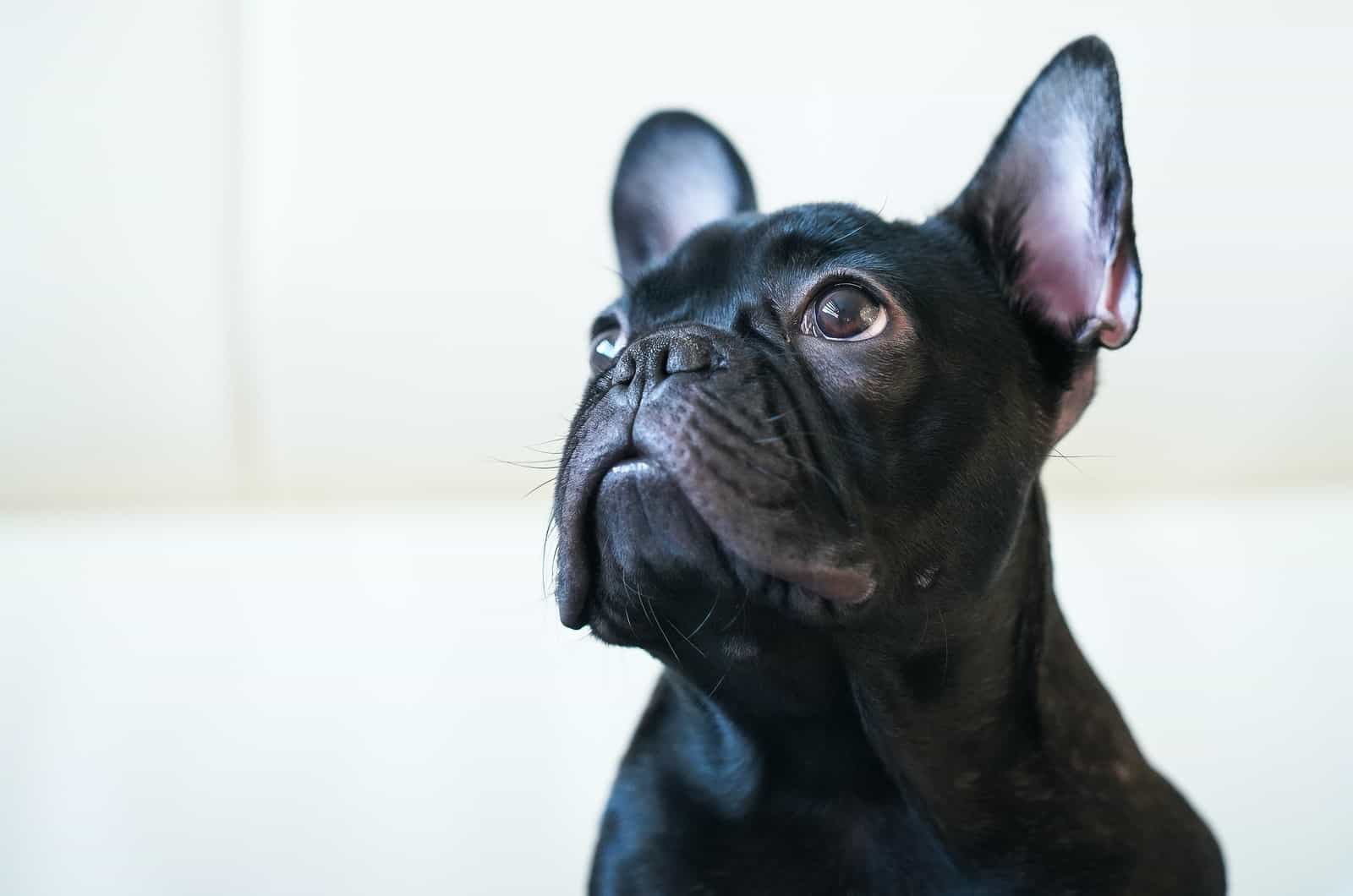 I was really touched when I heard the background story of the following breeder. Sandra was always a dog person. But, because of her great love for Frenchies, I'd say she was a French person. Get it?
Okay, well, maybe my jokes are cheesy, but I know what's not cheesy: Sandra's breeding career.
It all started in her teenage years when Sandra helped her dad breed large dog breeds, but sadly no Frenchies. As Sandra likes to say, it took her many years to save up money and get a Frenchie of her own.
Fortune smiled upon her in 2016 when her husband found this adorable Frenchie girl. The couple immediately adopted her and named her Freya. Soon, Freya got some company. In a short period of time Freya and Sir Griffon the Great began making cute puppies together.
The rest isn't history. It's today, and Sandra, along with her husband Michael, are breeding Frenchie puppies of excellent health, kind temperament, and pawfect appearance.
All puppies from Le' Petit Frenchie are DNA tested and come with a one year health guarantee. These are sound dogs, waiting for you to pick them up and love them just like their first mommy did!
Breeder's details
Website: Le' Petit Frenchies
Address: Evans GA United States 30809
Email: [email protected]
Social media: Facebook and Instagram
6. Frenchie Nation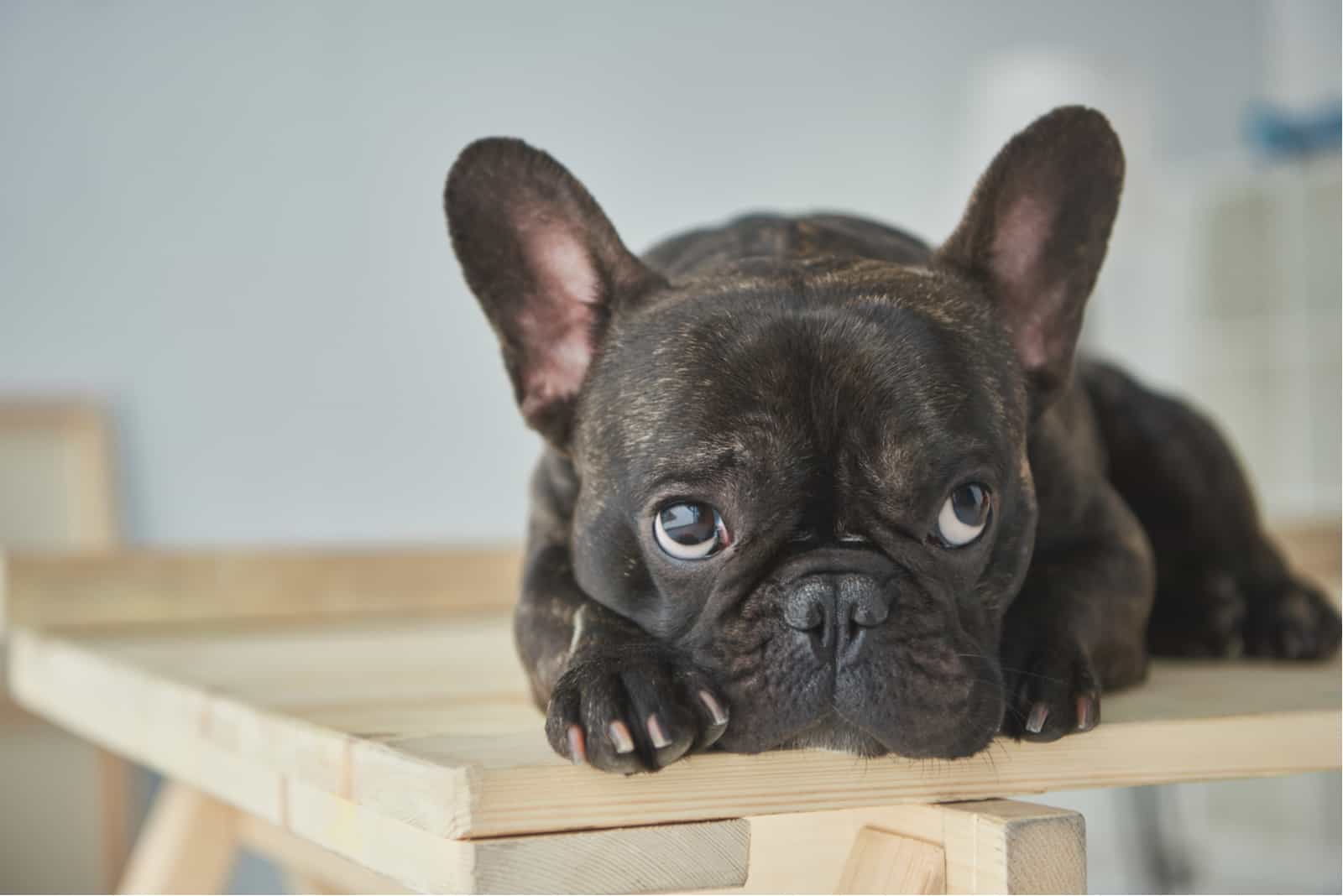 Frenchie Nation is a little nation of French Bulldog lovers, breeding premium pups, and making sure the breed stays unspoiled.
I love seeing websites like this one. This breeder is clear, direct, and has no fluff listed on their site. They're professional and really mean well to dogs.
Do you know how I realized this?
Well, for starters, I found that they offer a health guarantee for one year on your puppy. You can be sure your puppy won't suffer from any genetic disorders. Usually, such problems occur within the first year of a puppy's life. So, you can be pretty sure you'll avoid them if they don't resurface.
OFA, UC Davis, and The Veterinary Genetics Laboratory documents guaranteed.
To get one of the Frenchie Nation puppies, you will need to sign a puppy contract. What's more, $1,000 as a deposit is obligatory.
All puppies are sold with a pet contract. However, if you're interested in getting breeding rights, the Frenchie Nation will arrange it for you, with a somewhat higher price.
Lastly, if you live outside Georgia, the breeder suggests you either come pick up the puppy, or have a puppy nanny deliver the puppy to you.
Breeder's details
Website: Frenchie Nation
Address: P.O. Box 492921, Lawrenceville GA, 30049
Phone: 770-674-8189
Email: [email protected]
Social media: Facebook and Instagram
7. Enfant Parfait French Bulldogs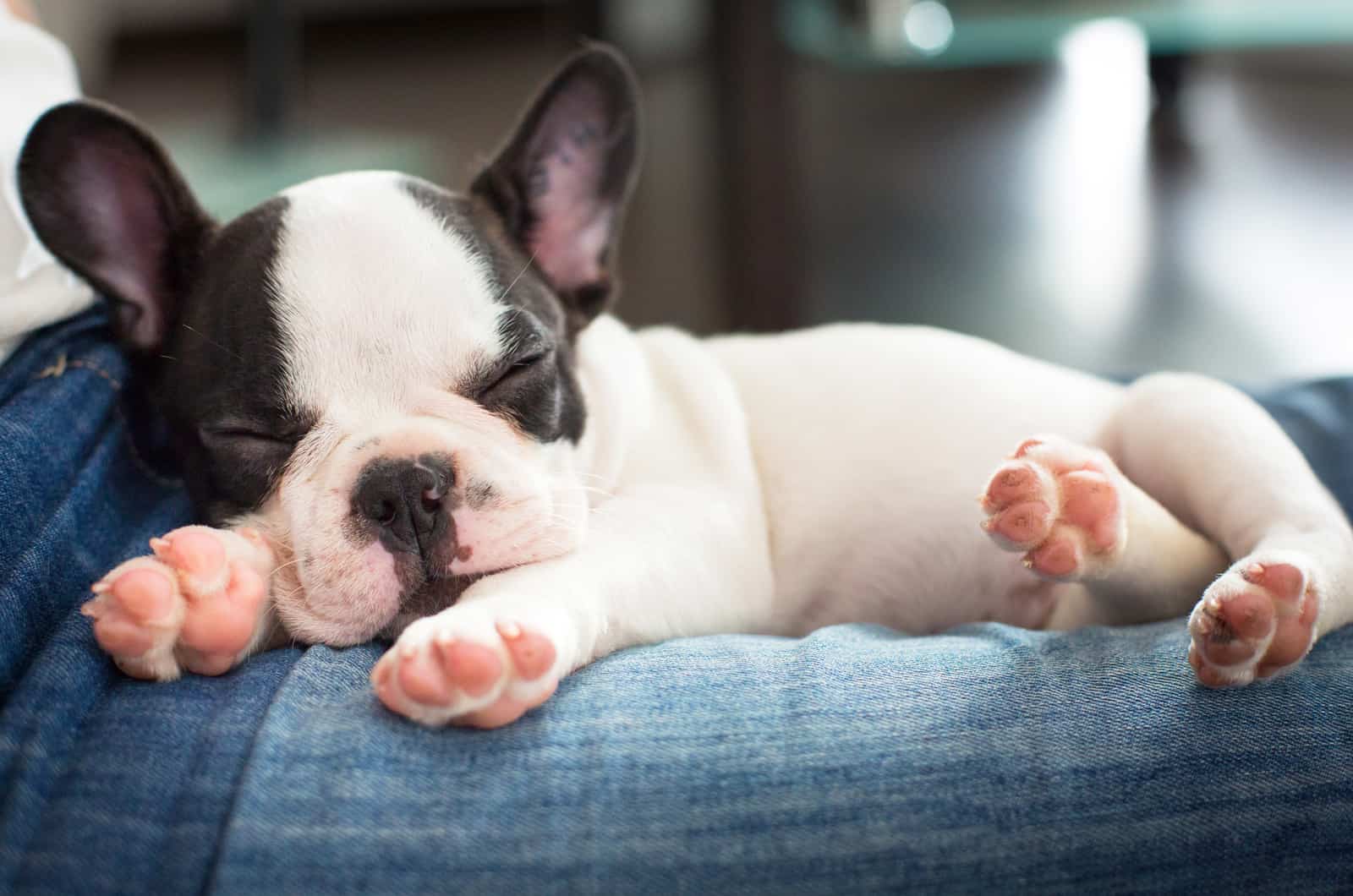 Enfant Parfait French Bulldogs is a home to AKC French Bulldogs of great quality. It's run by the Towery family. The entire family is deep into the Frenchie breed. They're proud of their 6 Frenchie pups, which make their breeding stock.
This breeder is known for strictly avoiding producing fad colors or designer pups. They follow the latest breeding procedures and trends, making sure they stay on top of the game.
The Enfant Parfait Frenchies are truly spoiled pups. Well, I also like to add they're very much loved. These dogs enjoy the finest dog food, and sleep on the comfiest dog beds. That's not something all breeders tend to offer their puppies. But, hey, these Frenchies are family, not just pets.
If you share Towery's love for this dog breed, then you'll definitely enjoy one or even two of their pups! Once you get a Frenchie, you won't be able to stop at just one.
Enfant Frenchies are submitted to socialization from day one. They're free from genetic conditions, and even have a year's warranty that nothing terrible would happen to their health.
As with most French Bulldog breeders in Georgia, the prices are high. For a pet Frenchie, you'll have to pay $3,500. I'd say it's worth saving up money to have a Frenchie enrich your life!
Breeder's details
Website: Enfant Parfait
Address: Metro Atlanta, GA
Email: [email protected]
Social media: Facebook
Other: Contact form
8. Cherie's Bulldogs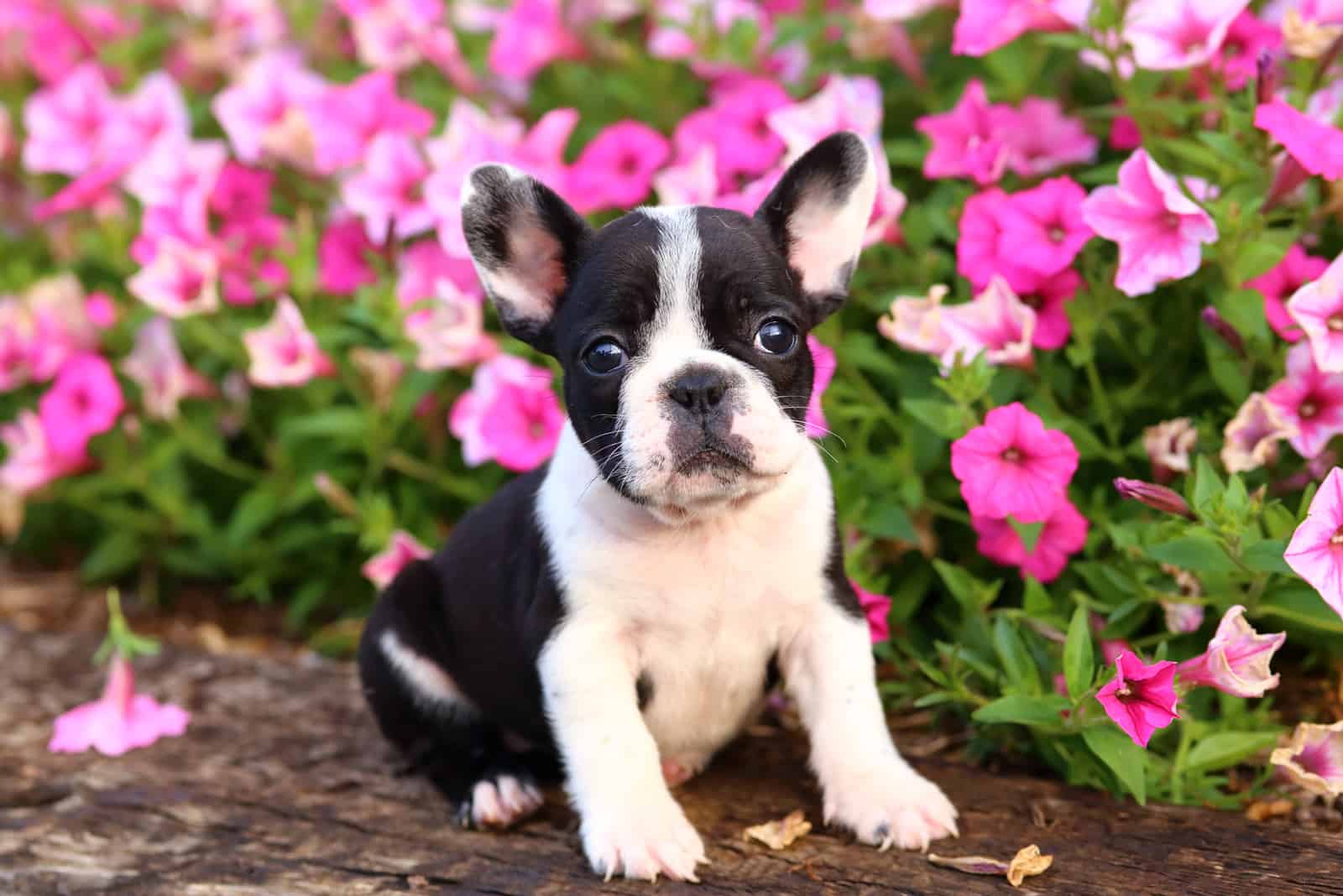 I always admire single moms, especially those who were brave enough to start their own businesses. One of those brave women is Cherie – a mom whose youngest was diagnosed with Autism. Cherie found a way in breeding Frenchies to help her kid. And, she helped herself too.
Breeding dogs and sharing love with them helped Cherie to stay firmly on the ground.
She first began breeding English Bulldogs, but this dog breed had a lot of health issues. It was troubling to breed them. That's why Frenchies entered the scene.
Cherie breeds Frenchie pups of good health, covered by health guarantees. Her dogs are priced like any average Frenchie in Georgia. The starting price is $4,000. However, the value of each puppy is determined by its age and coat color. We're talking about pet-quality dogs.
If you're interested in breeding rights, you will have to add $2,000 to the final bill.
Cherie's not a scammer. She's a breeder licensed by the state of Georgia and always passes her inspections. She does work with two other Frenchie breeders who are also licensed and inspected regularly. These are people that care about the puppies and their reputation.
Before you make any conclusion of your own, call Cherie. Ask to make an appointment. She's always open and ready to take in visitors interested in her Frenchie pups.
Breeder's details
Website: Cherie's Bulldogs
Address: Fayetteville, GA
Phone: 1-801-580-2028
Email: [email protected]
9. Posibulls French Bulldogs
The Possibulls French Bulldogs is a place where everything is possibull!
Here we have a professional Frenchie breeder, a company that will astonish you with their devotion and professionality. The first time I visited their website, I was amazed with clear directions, detailed information, and puppies listed with everything you need to know about them.
I have to add, these guys really know what they're doing.
There's no need for boring, tiring processes of adopting puppies. With Possibulls, you won't feel like you're into the adoption process. You'll feel like you're simply bringing home a new addition to the family.
Possibulls are specialized in breeding three popular Frenchie coat colors, including Lilac Frenchies, merle, and blue French Bulldogs.
I'm sure you're wondering if they have some guarantees or are they submitting puppies to a health check up. Yes and yes. All Frenchie puppies from this breeder are free from hereditary problems. They come with a year's guarantee that nothing bad will happen to these pups.
You should know that these pups are only pets. They're sold on a spay/neuter contract, meaning you will have to fix your puppy once he turns 16 weeks of age. Full AKC rights can be discussed.
Two dams and three studs are making sure the prettiest Frenchie puppies will wait for you.
The breeders are blessed with many positive reviews coming from over 50 clients. If you ever doubted whether you should get a Possibull Frenchie, the testimonials on their website will prove that they're worthy of your attention.
Breeder's details
Website: Posibulls French Bulldogs
Phone: 404-499-3312
Email: [email protected]
Social media: Facebook and Instagram
10. Southern Frenchies And Sons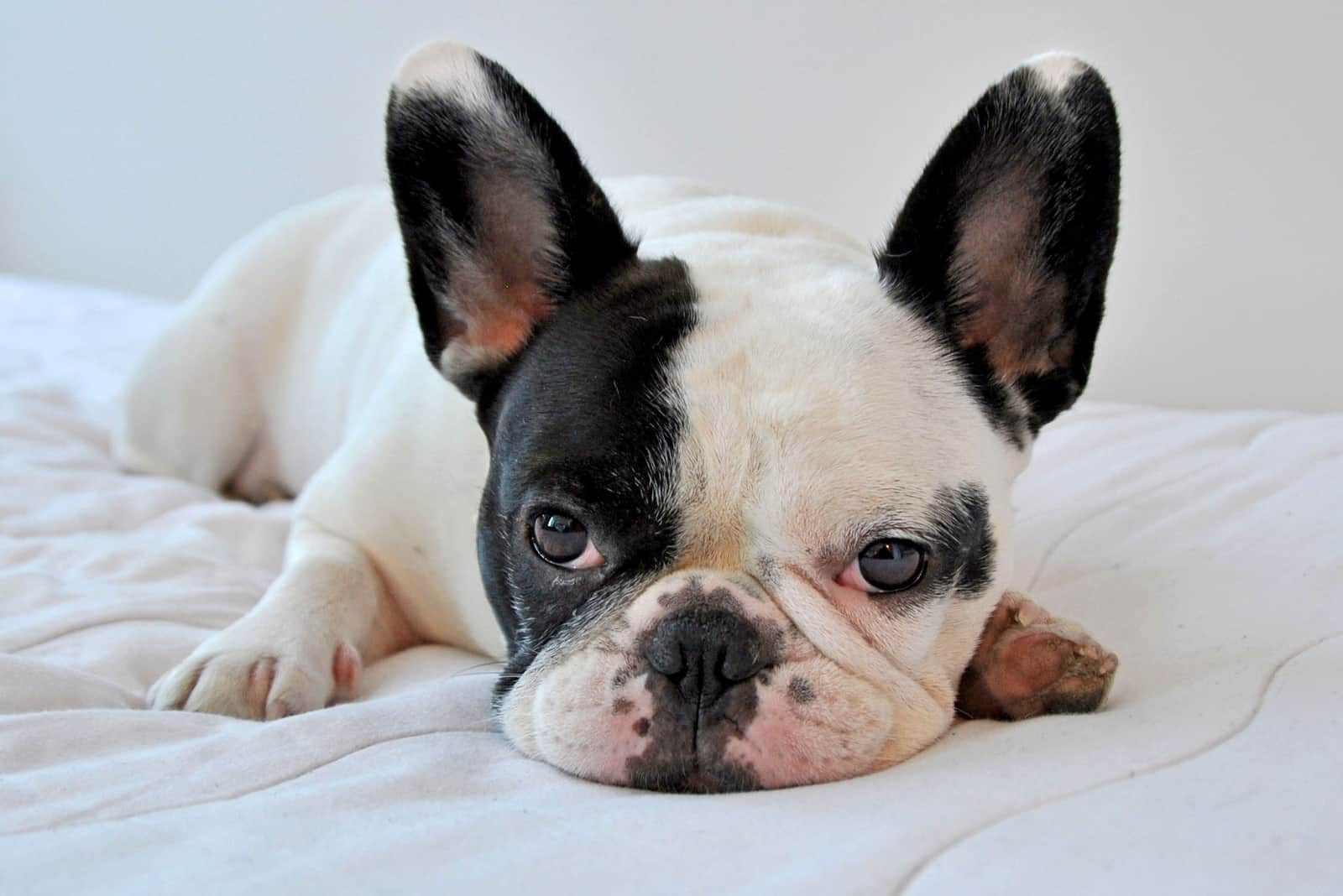 What makes Souther Frenchies and Sons so different from the rest of the French Bulldog breeders in Georgia?
For starters, they have full rights to be one of the top 10 breeders since they've got such good breeding practice. Also, their great love for Frenchies made me put them on the list. I didn't regret this a second, and neither will you.
Southern Frenchies and Sons is a breeder focused on improving Frenchie's already-lovely temperament, as well as increasing the chance of producing only the healthiest litters.
SFAS are breeding puppies that are submitted to DNA and color testing. The puppies will have health guarantees and veterinary certificates. But, what really makes this breeder better than some others, is the fact they offer lifelong support.
I believe the five-star rating really tells a lot about their quality.
If you want to discuss the pricing, I highly recommend you get in touch with the owner. I mean, you can't buy a puppy over the phone. Come on over, meet the breeder and the rest of the gang.
SFAS wants to know where their puppies go at the end. They want to connect with you and let you in on a network of satisfied customers and Frenchie lovers.
Breeder's details
Website: Southern Frenchies And Sons
Address: Evans, GA, US 30809
Phone: 706-5642-902
Email: [email protected]
Social media: Facebook and Instagram
FAQs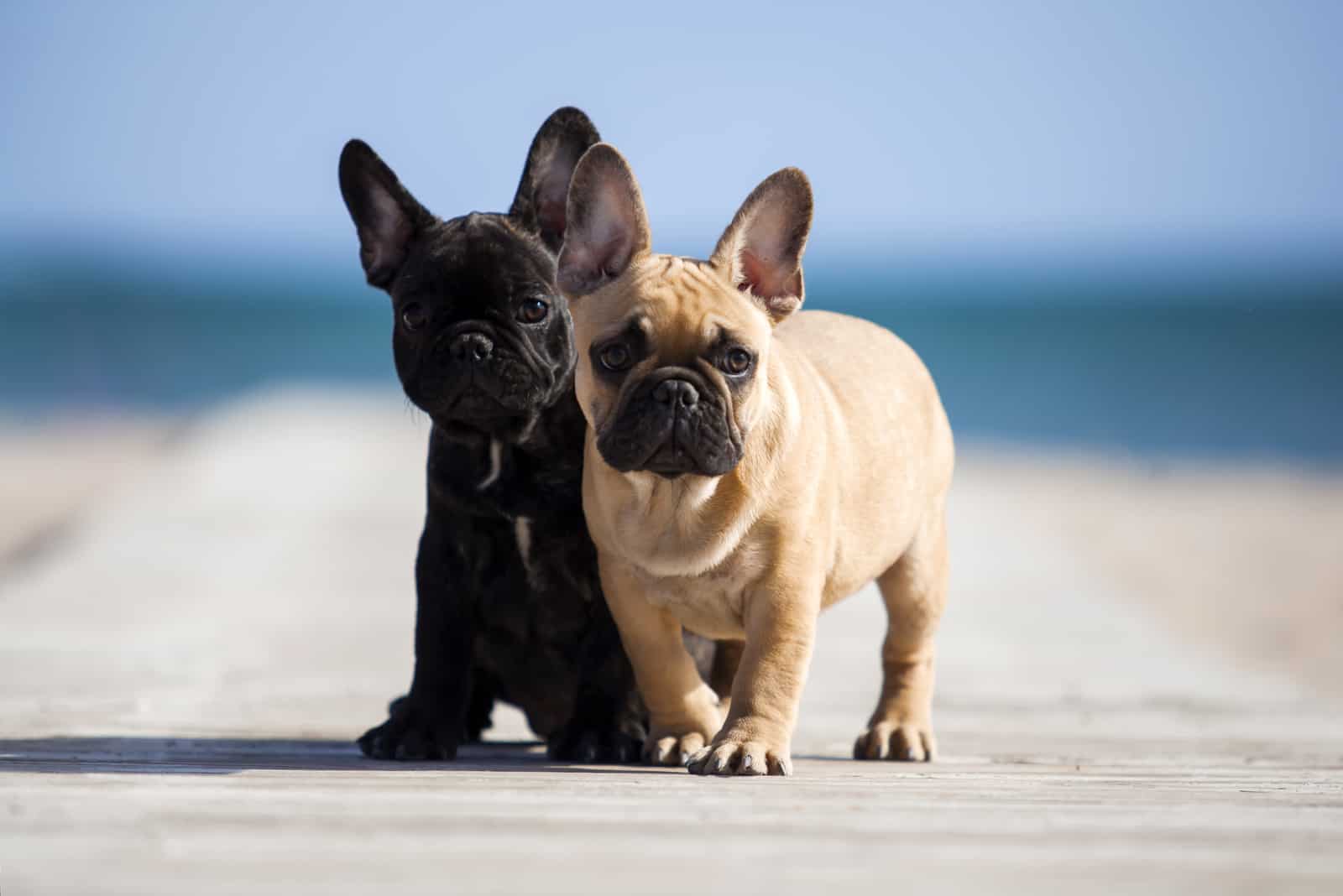 What Is The Average Cost Of A French Bulldog In Georgia?
Because it's so hard for Frenchies to become pregnant the natural way, breeders are usually using AI for successful pregnancies. Such pregnancies are carefully monitored by the vet.
French Bulldog mommies aren't really capable of delivering the babies on their own. With the vet's assistance and C-section, Frenchie newborn puppies get to see the light of the world.
But, their way of getting into this world isn't the only reason why French Bulldog puppies in Georgia are so expensive.
I believe it has to do with their lovely, easy-going temperament. I mean, these little clowns of the canine world have one of the friendliest characters of all dogs! They get along perfectly fine with pretty much everyone.
That's why you can expect a Frenchie puppy from Georgia to be priced at $3,500. That's the price for a pet-quality dog. Show-quality and premium bloodlines can cost over $5,000!
What Is A French Bulldog's Life Span?
French Bulldogs are blessed with a long lifespan. If you're a good dog owner always making sure your puppy is healthy and satisfied, you can expect them to live from 10 to 14 years. That's fairly long considering Frenchies' common health issues.
But, being brachycephalic or prone to numerous breathing-related issues didn't cut down their lifespan.
How Many Colors Do French Bulldogs Come In?
French Bulldogs aren't hypoallergenic dogs (sadly), but that doesn't deny the fact they have a wonderful coat type that comes in many colors.
Since there's no link between a coat color and so-called Frenchie aggression, you can easily just pick the color you want. No need for busting your head thinking blue French Bulldog is less aggressive than cream Frenchie, or something like that.
You can find French Bulldogs in 25 amazing coat colors. Still, there's always something new with this dog breed, since you can mix and match colors to create new patterns.
The most common French Bulldog colors are:
Blue
Lilac or Isabella
Chocolate and tan
Fawn
Fawn and white
Brindle
Brindle and white
Cream
Black
Merle
Final Words
I bet you can't wait to pick your puppy from one of the listed French Bulldog breeders in Georgia and take it to your loving home.
Bringing a puppy into your life is a serious commitment. You shouldn't do it if you don't have free time, or if you're not ready to take care of another living being.
Puppies aren't just our pets. They should be treated as equal family members. If you're bringing a puppy home from a breeder that takes great care of their little ones, and treats them as family, why shouldn't you do the same?
Think wisely before you bring a new puppy into your life. And think wisely who you trust with breeding your puppy.
Related: 17 Best French Bulldog Breeders In North Carolina In 2022