Dogs are called man's best friend for a reason, so they deserve to be celebrated with the best dog birthday captions on their special day!
Birthdays stop being fun when we realize we are celebrating getting older, but when it comes to our furry friends, every day with them is worthy of a celebration.
With that said, we gathered the funniest, and most creative dog birthday messages for your furry best friend (or, you can use them to congratulate happy birthdays to other furry girls and boys out there).
Best Dog Birthday Captions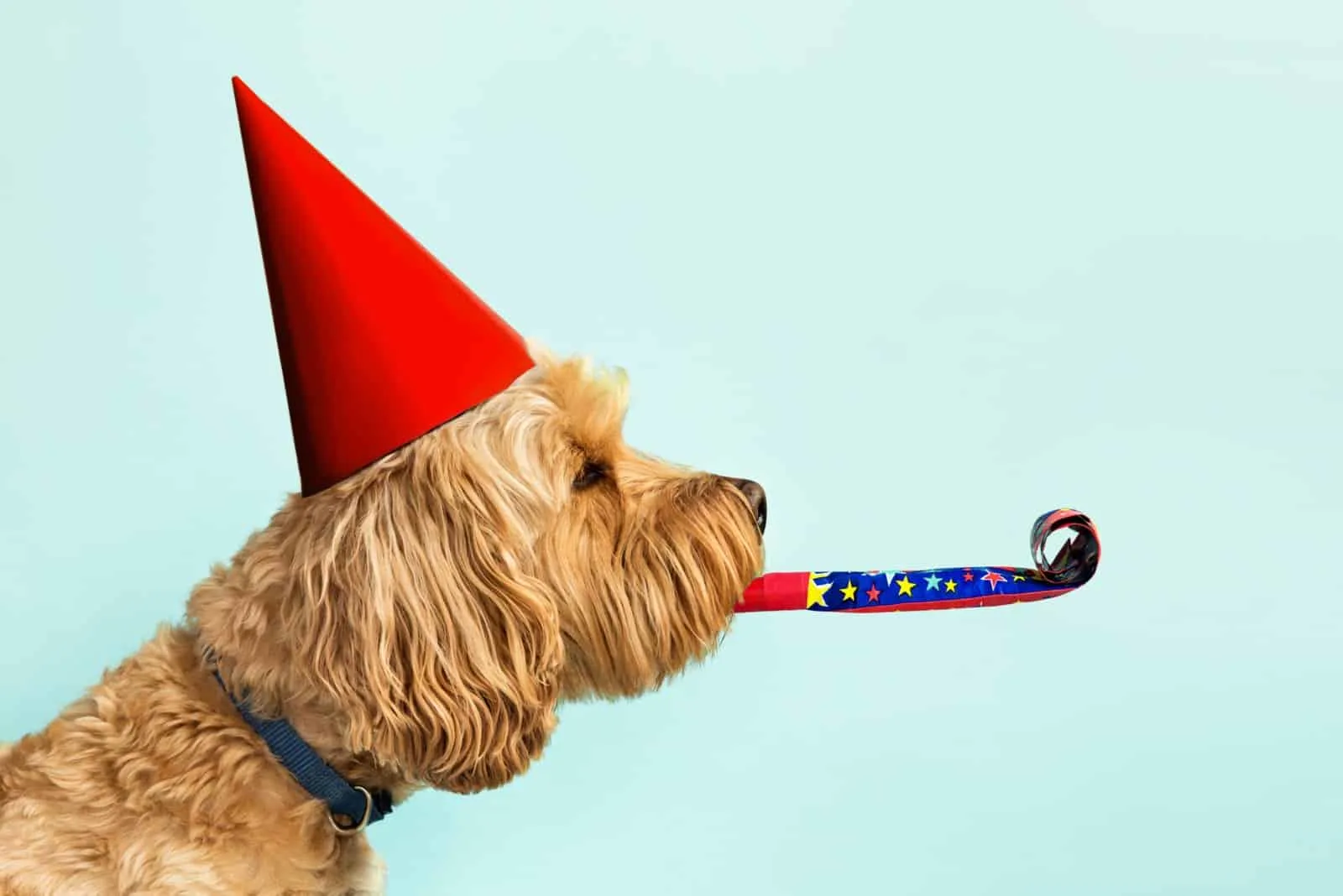 Happy birthday is a simple, loving way you can congratulate someone's birthday and show what you think of them. But, as a dog lover myself, I understand the need to go above and beyond when it comes to your pets.
Our pawsome buddies give us their unconditional love and make our lives better no matter what we are dealing with at the moment.
So, coming up with the best happy birthday wishes and making sure they have the best birthday ever is the only logical thing to do.
But, let's make it extra – they deserve it!
RELATED: The Greatest List Of Dog Quotes: 150+ Best Quotes You Will Ever Read
Dog's First Birthday Captions
Turning one is quite a big day for a dog and its owner. Dealing with a puppy phrase has its ups and downs, but once your dog turns one – emotional maturity and temperament start to develop, so you can finally relax a bit (or, can you).
Here are some ideas you can use to express your birthday wishes for your dog's first birthday or share their special day on social media:
1. I hope your birthday is just like you – pawsome!
2. Learning how to celebrate my birthday because it's my first one.
3. It's your birthday! Let's raise a woof!
4. It may be 'Twos-day,' but today, I turned one.
5. It's my 1st Birthday! Let the pawty begin.
6. My first birthday was the best!
7. I'm 15 according to my dog years.
8. This is my first time doing this. Am I doing it right?
Happy Birthday Captions For Senior Dogs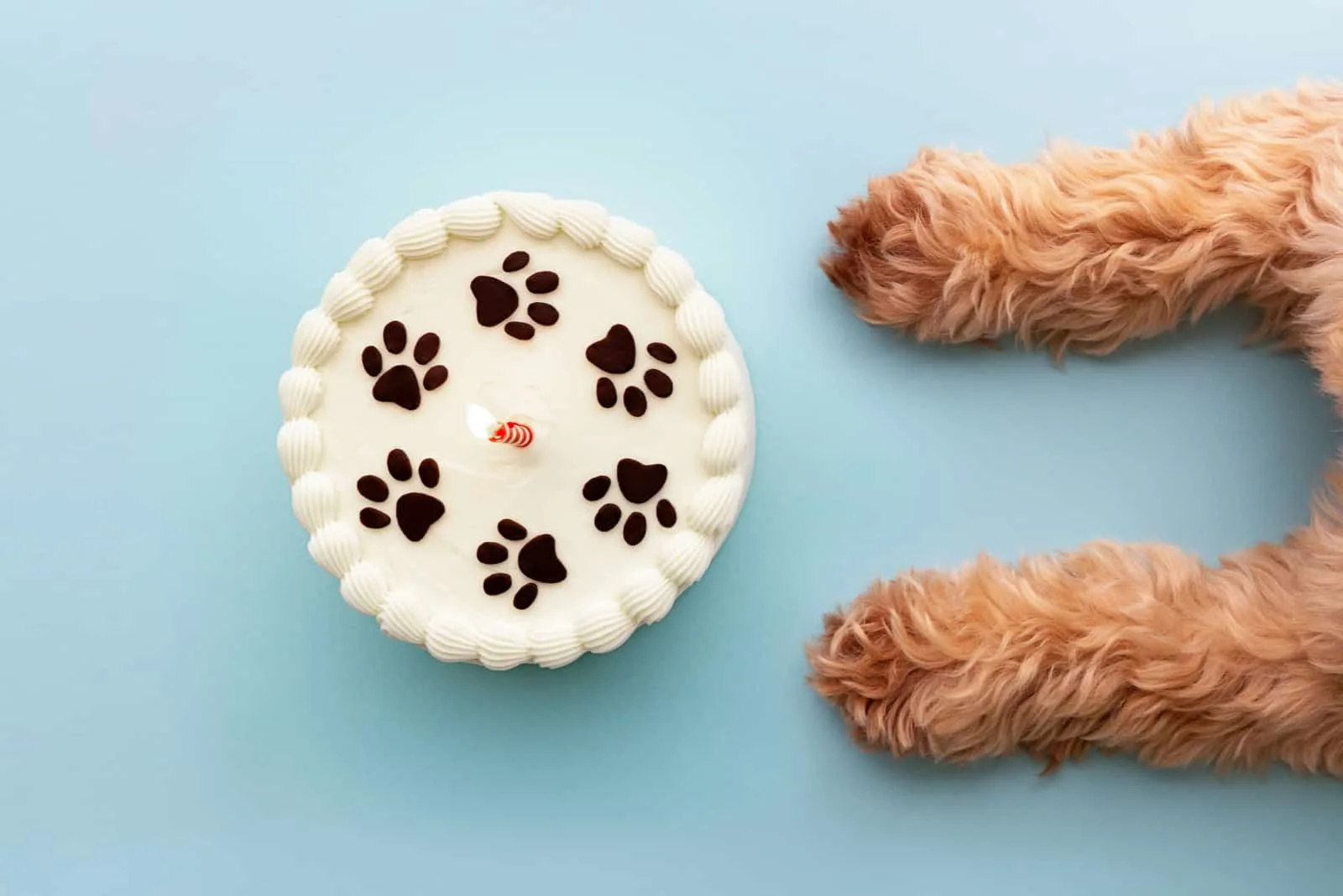 Turning one is fun, and senior dogs are not party breakers either. They deserve to have a fun birthday full of good treats with their doggy and human friends.
These are our favorite happy birthday messages for our senior pooches:
1. In my entire life, I have never seen such a loving pet that loves unconditionally. Thank you (Dog name) for teaching me the real meaning of true love. Happy birthday!
2. Birthdays are for breaking out the really good treats.
3. Fur-ever young.
4. Happy birthday to the most amazing dog in the world.
5. Have a bow-wow time. Happy birthday.
6. Keep calm and pawty on!
7. We should all measure our age in dog years — there are way more birthdays!
8. In the birthday candles of life, you're the brightest sparkler.
9. Dogs make birthdays wonder-fur!
Classic Dog Birthday Messages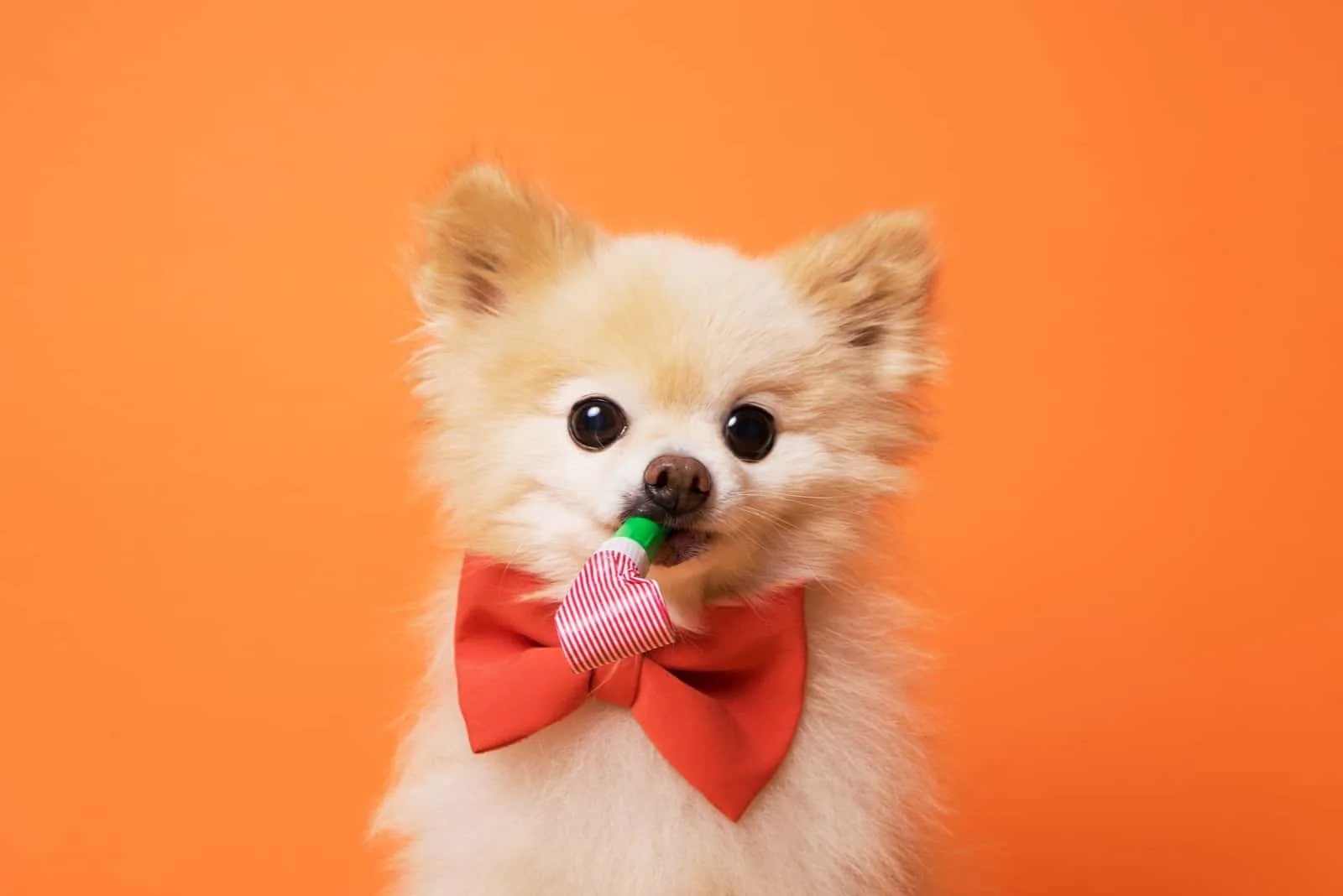 We can't forget to mention the good old classic happy birthday dog captions that every dog lover can use for their furry friend:
1. Happy birthday and furry more!
2. Happy birthday to my furry best friend.
3. Every 52 days is a year in a dog's life. Take long walks, enjoy cuddles, and give lots of treats!
4. Happy bark day!
5. Happy [Dog's Name] day!
6. I don't speak dog language, but please accept this 'Woof Woof' as a 'Happy Birthday.'
7. Happy birthday to the best Good Boy in the whole world!
8. Happy birthday to Yowuuuuuu!
9. Wishing my best friend a pawsome birthday.
Cute Dog Happy Birthday Messages
If you are looking for cute ways to express happy birthday to your little pooch, then we got you. Here are the cutest happy birthday dog messages that will warm every heart out there:
1. Some dogs know tricks, but you know how to touch my heart. Happy birthday.
2. You are the first being on the earth who tends to give me amazing therapy just by wagging your tail and licking my face for hours.
3. Anything is pawsible when your dog is with you. Happy Birthday, my buddy!
4. Happy birthday to the cutest (Dog's Name) in the world!
5. Birthdays call for funshine with a 100% chance of happiness.
6. Hope your day is zoomie-worthy!
7. To the world's greatest, sweetest, and most loving dog – I love you so much! Happy birthday!
8. If you're happy and it's your birthday, wag your tail.
9. Happiest birthday to the mushiest doggy.
Funny Dog Birthday Captions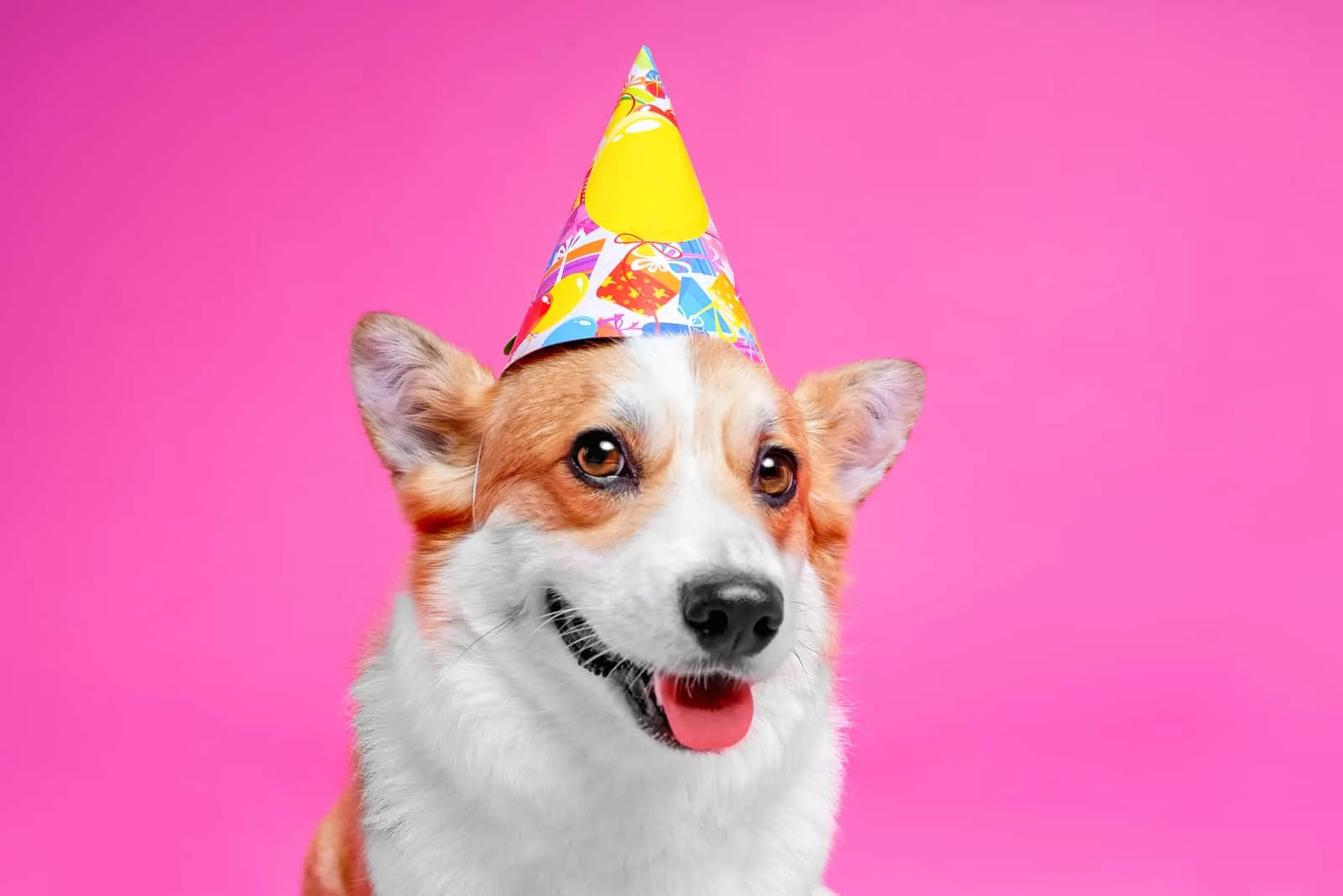 Every time I see dog photos on social media and funny captions that expose their cute or naughty side, my day automatically gets better.
So, if you are looking for ways to make people laugh, these funny dog birthday captions are for you:
1. You remembered my birthday? Gasp
2. Roses are gray. Violets are gray. Have a happy birthday.
3. I was going to fetch you a gift, but then I said, "Oh, fur-get about it."
4. I hope there's bacon in that birthday cake.
5. Birthday cake? No, I didn't see any birthday cake.
6. My therapist is having a birthday party today!
7. It's my b-day, mother-puppers!
8. Birthday? Whose birthday? It's MY birthday today? Yaaaaay!
Party Captions
If your doggy loves pawties, and has its own group of pawty animals that like to eat cake and play fetch all day, then you need these party captions for your dog's birthday:
1. Pawty Time!
2. The original party animal.
3. Party pooch!
4. Raise the woof!
5. Can I get a little woof-woof!
6. It's my party, and cats are not invited.
7. I'm just here for the paw-ty!
8. Treat yourself to all the fun you can fetch!
Best Captions For Instagram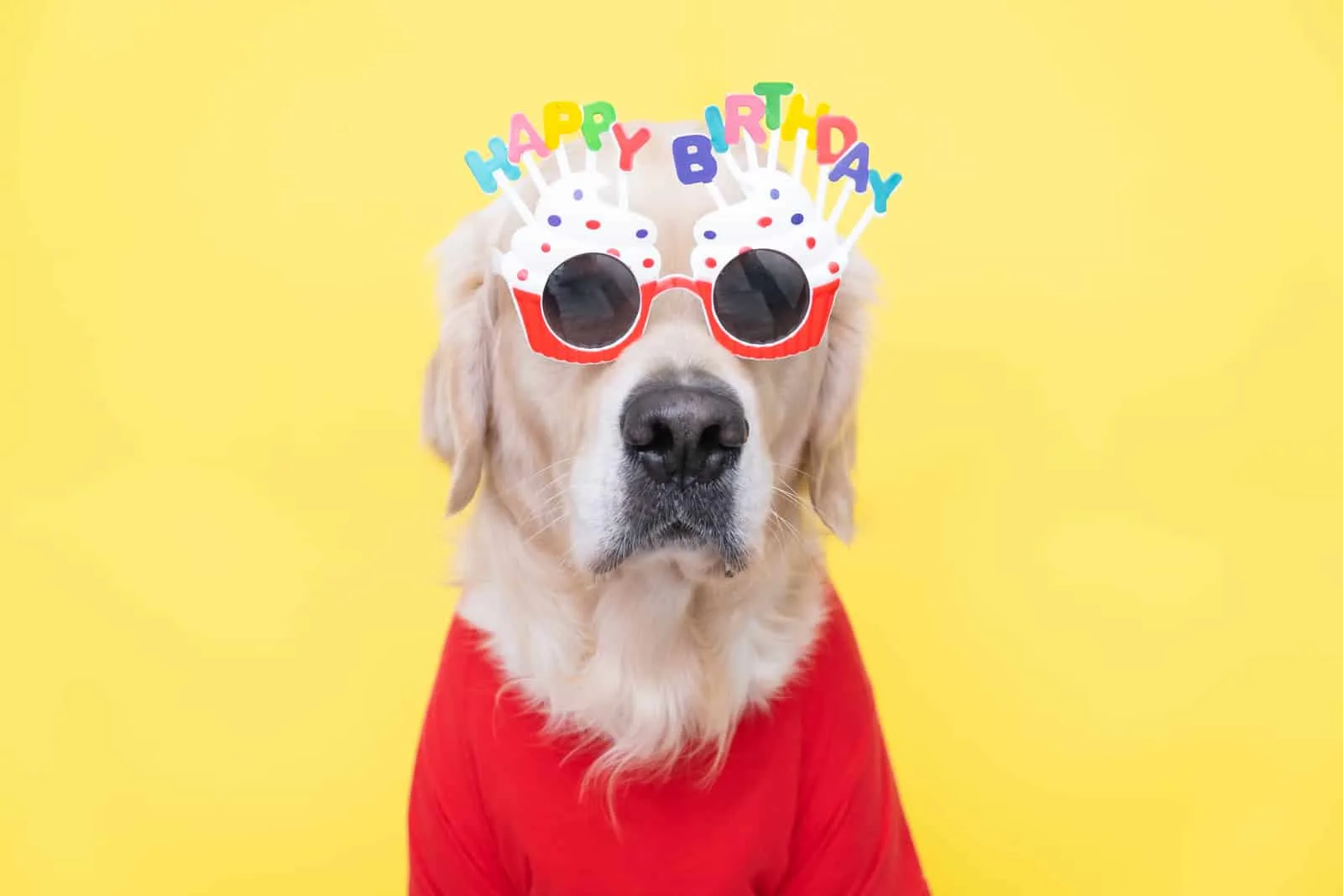 Instagram is the best place to share your furry best friends. It doesn't matter if your dog is insta famous or is a star in the making, it is the right place to share their special day with your friends and strangers all over the internet.
Take these fun, silly dog birthday captions and make everyone who reads them happy:
1. This is my happy birthday face.
2. Ready for my birthday selfie!
3. I made a wish for more treats, belly rubs, long walks, and catching squirrels.
4. Birthday hat… so embarrassing. Can eat?
5. It's my party, and I'll bark if I want to.
6. Have an Insta-happy birthday with your furry bestie!
7. Birthday cake coma.
8. Life would be ruff without you.
9. When you're supposed to have a happy birthday, but all you can think about is global warming.
10. Weird hat and food on fire day.
11. Thanks for never judging me, always loving me, and never peeing on the couch.
12. Happy Birthday to my best friend who loves me more than he/she loves himself/herself.
13. You really gonna scroll by without saying happy birthday?
14. Do I get to get on the couch since it's my birthday?
15. This friendship is fur real.
16. Time for my party hat photoshoot!
Best Dog Birthday Quotes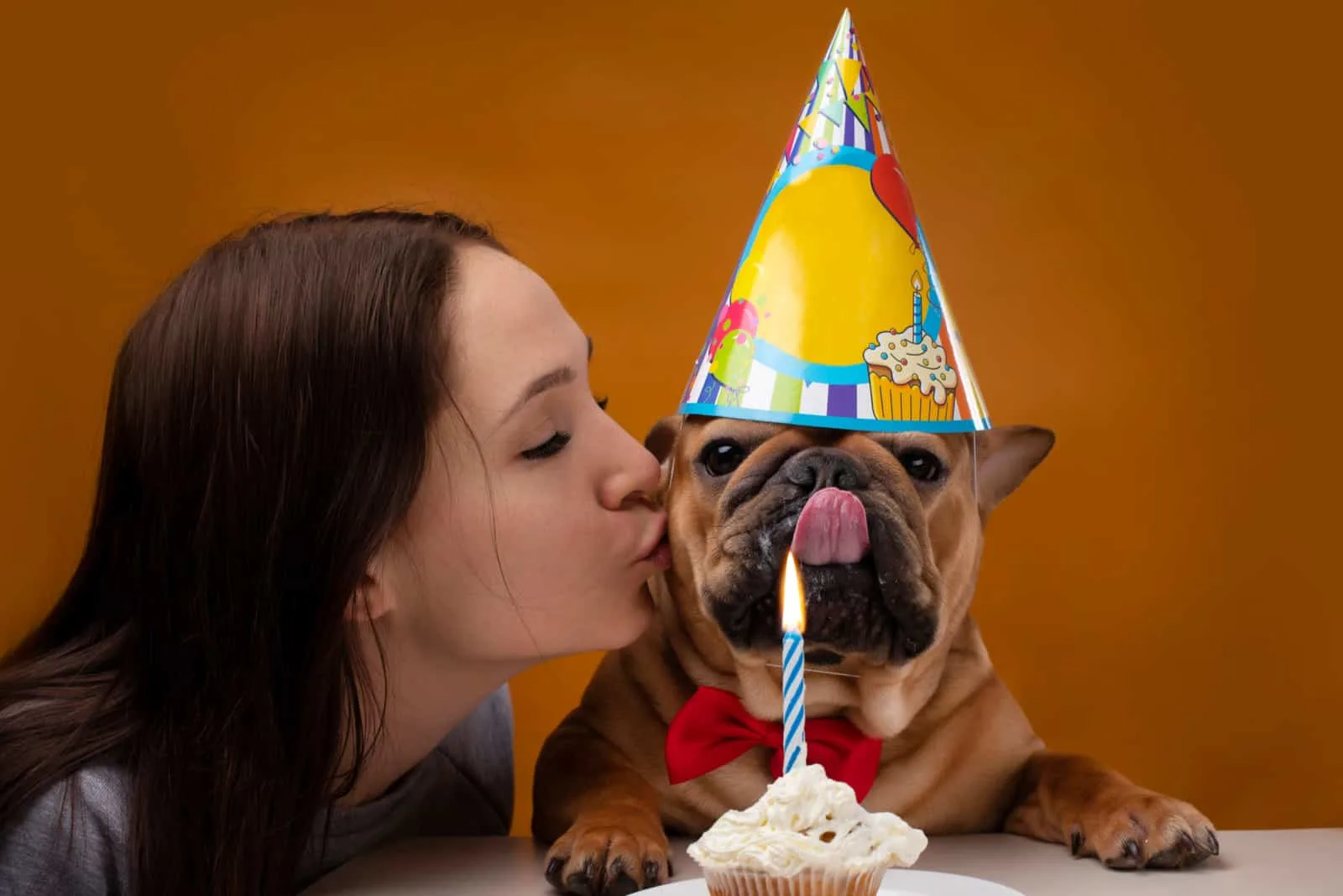 A lot of people struggle to understand the love we feel about dogs! Those who don't have them will never know what a dog's unconditional love and loyalty feel like.
And, sometimes we struggle to express how important our little furry friends are to us. With that said, we selected the best dog birthday quotes for our amazing dogs:
1. "Dogs are not our whole life, but they make our lives whole." – Roger Caras
2. "Everything I know, I learned from dogs." – Nora Roberts
3. "Be the person your dog thinks you are." – C.J. Frick
4. "Dogs do speak, but only to those who know how to listen." – Orhan Pamuk
5. "The greatest pleasure of a dog is that you may make a fool of yourself with him and not only will he not scold you, but he will make a fool of himself, too." – Samuel Butler
6. "Money can buy you a fine dog, but only love can make him wag his tail." – Kinky Friedman
7. "A dog is the only thing on earth that loves you more than he loves himself." – Josh Billings
8. "Dogs are the magicians of the universe." – Clarissa Pinkola Estes
9. "My fashion philosophy is, if you're not covered in dog hair, your life is empty." – Elayne Boosler.
10. "If I could be half the person my dog is, I'd be twice the human I am." – Charles Yu
11. "Until one has loved an animal, a part of one's soul remains unawakened." – Anatole France
12. "Dogs are our link to paradise." – Milan Kunundra
13. "No matter how little money and how few possessions you own, having a dog makes you feel rich." – Louis Sabin
14. "You can say any foolish thing to a dog, and the dog will give you a look that says, 'Wow, you're right! I never would've thought of that!" – Dave Barry
15. "My sunshine doesn't come from the skies. It comes from the love that's in my dog's eyes" – unknown
16. "My little dog – a heartbeat at my feet." – Edith Wharton
Conclusion
Dog birthday captions can be a lot of fun. They are the perfect way to show your furry friend how much you care, and to celebrate their birthday in style.
Whether you choose a classic, funny, or cute birthday caption, we hope you have a great time celebrating your pup's special day!
And, we are sending your doggy lots of birthday wishes. May your best friend always be happy, healthy, and have tons of zoomies!
READ NEXT:
• Dog Best Friend Quotes: Inspirational Words For Dog Lovers
• Prayers For A Sick Dog: 25 Inspiring Examples To Say Right Now