Have you ever felt desperate or anxious about the future of your sick dog? It definitely breaks our heart to see our furry friends sick and in pain.
I remember the time when my brother's German Shepherd had a serious health issue. I was devastated to see her lose her energy and liveliness. The sad look on her face told it all – she needed help.
And, how on Earth were we supposed to help her when not even veterinarians were able to cure her? Well, there was a way, and in fact, it will always be a powerful way of helping our sick furry friends – and it is praying.
In fact, a prayer for a sick dog is a means of communication with God when we want to open our heart and ask for our dog's health. It is actually a powerful act of love we should all practice because all we want for our dog is a long and happy life, don't we?
This article includes not only a list of prayers you can use when your dog is sick, but also additional information when it comes to saints you can pray to, the reasons why it is important to pray for your furry friends, the ways of praying, and the best time to pray for our loved dogs.
Choose The Best Prayer For A Sick Dog To Help Them Heal: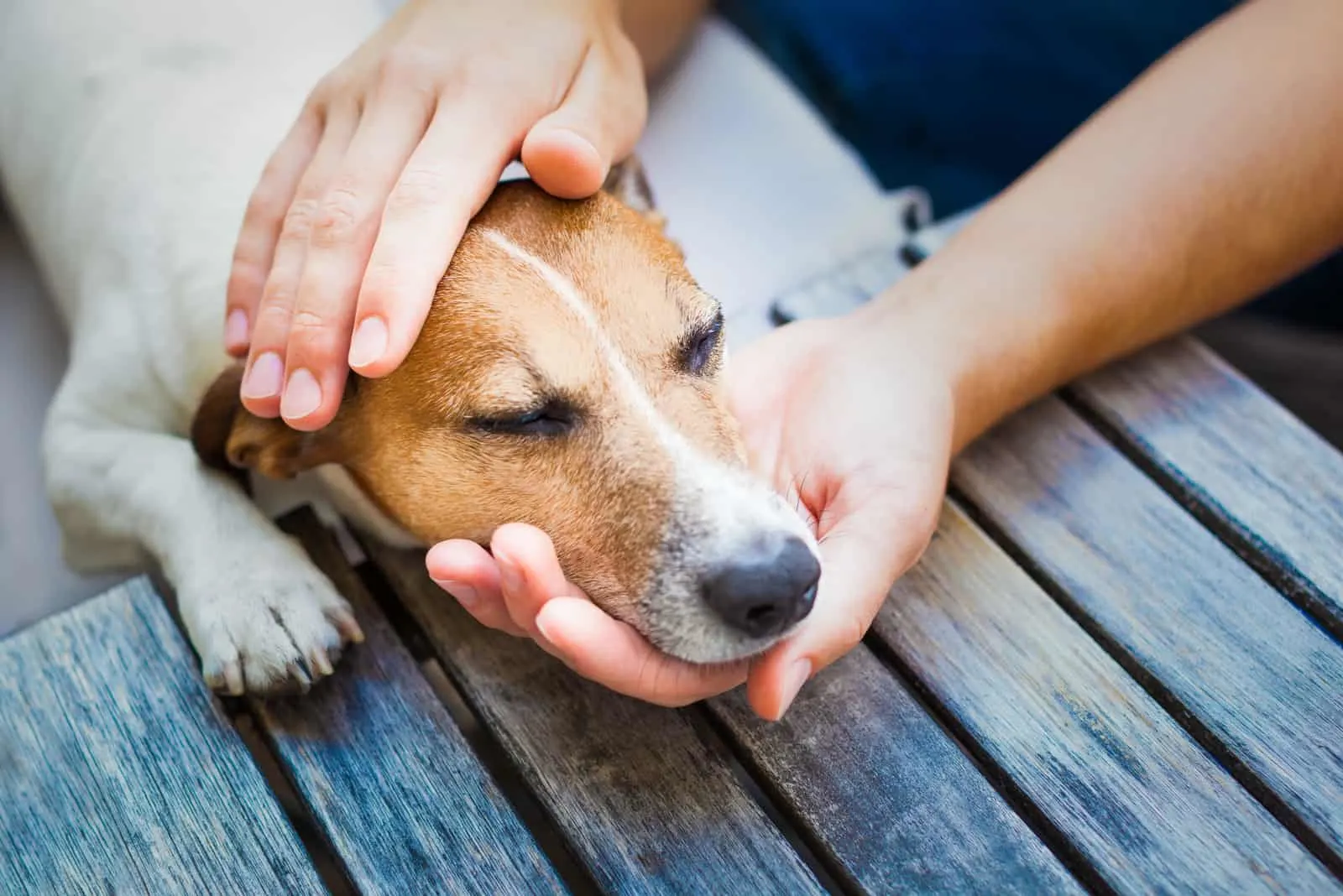 If you are looking for a prayer for healing your beloved furry friend, just keep on reading.
Below are some powerful prayers for your dog that you can use when it is sick.
You can use each of them as a daily prayer when your pet is sick. Blank spaces are supposed to be filled in with your dog's name.
So, here, you have 25 prayers for the healing and well-being of your dog:
1) 'The Lord is good to all, and his tender mercies are over all that he has made.' Psalms 145:9
Heavenly Father, my dog is sick, and it breaks my heart to watch him/her suffer so much. I really need Your help in these trying times. You know that he/she is like a family member to me – I love him/her so much.
I know that Your mercy is over everything You have made – I firmly believe that.
I beg You to have mercy and take away his/her pain. Right now, I wish for nothing but good health for my beloved pet. Please watch over him/her because there is so much more to experience together. Amen.
2) 'For with God nothing will be impossible.' Luke 1:37
Lord Jesus Christ, my best friend _____ (insert your pet's name) is sick. I deeply feel in my heart that his/her healing is possible with Your help. Please be a shield of protection for my dearest__________. He/she is in great pain, and I know that I'm asking for a miracle.
I beg you to give him/her the strength to heal so that I do not fear tomorrow. In the name of Jesus Christ. Amen.
3) 'In his hand is the life of every living thing and the breath of all mankind.' Job 12:9-10
Dear God, first, I want to thank You for blessing me with __________. You know how much he/she means to me – he/she is always by my side. But, difficult times have arrived, and we need your divine help.
Unfortunately, _________ is terribly sick. I feel your presence, and I know that his/her life is in Your mighty hand. O Lord, show us Your glory! Take away his/her pain! Please help us in this time of need! Amen.
4) 'But they who wait for the Lord shall renew their strength; they shall mount up with wings like eagles; they shall run and not be weary; they shall walk and not faint.' Isaiah 40:31
Dear Lord, I know that Your love and power surround us each and every moment of our lives. I know that You love all Your creatures, and that Your hand can restore their health. One of them is ____________, who is very sick.
I ask, in the name of Jesus, our Savior, that You would make my beloved dog strong and healthy again. Let him/her regain the energy and excitement he/she used to have. Come, Holy Spirit, replace this anxiety and sadness with hope and calm. Amen.
5) 'All things of creation are children of the Father, and thus, brothers of man. God wants us to help animals if they need help. Every creature in distress has the same right to be protected.' St. Francis of Assisi
Heavenly Father, I beg you to help Your child, _____________ because he/she is sick. I can't help him/her, and I am desperate. Please protect him/her from all the pain and illness he/she is enduring.
I ask you to bless _____________ with good health through the intercession of St Francis of Assisi. Amen.
6) 'Dear God, please reveal to us your sublime beauty that is everywhere, everywhere, everywhere, so that we will never again feel frightened.' St. Francis of Assisi
Dear Jesus, my dog is sick, and I am scared that he/she might die. I am truly frightened by that possibility. I never want to see him/her suffering like this again. You have redeemed the world by Your cross, so I beg You to save ____________ from this terrible disease.
O lord, enlighten the darkness of my mind, and give me the hope and strength to carry on. Be a guardian for ______________ because he needs it the most right now. I hope You will answer my prayers as soon as possible. Amen.
7) 'Let us understand that God is a physician, and that suffering is a medicine for salvation, not a punishment for damnation.' St. Augustine
Heavenly Father, ____________ is the greatest gift You have blessed me with. I know that You are watching us, and that You can see him/her struggling. O God, the omnipotent physician, please comfort _____________ in his/her suffering.
Be a cure for his/her illness! I put my whole trust in Your hands. Hallelujah!
8) 'LORD, be gracious to us; we long for you. Be our strength every morning, our salvation also in the time of trouble.' Isaiah 33:2
Merciful Lord, thank You for every new day that I get to spend with my beloved pet. As You know, ___________ has been sick lately. Please, walk beside ___________ as he/she endures the pain. Please, be his/her strength in this time of distress.
Only You know how hard and challenging life has been for us. I know You feel our pain and suffering. Please fill him/her with Your healing power. Hallelujah!
9) 'Do you not know that you are God's temple and that God's Spirit dwells in you?' 1 Corinthians 3:16
Lord, be my light in this sad period. My dear furry friend is sick. He/she needs Your divine help. O, Holy Spirit, light this never-ending dark road! I am grateful for every moment that I spend with __________, and I hope that there will be plenty in the future as well. Wherever You lead us, we will go. Amen.
10) 'Ask and it will be given to you; seek and you will find; knock and the door will be opened to you. For everyone who asks receives; the one who seeks finds; and to the one who knocks, the door will be opened.' Matthew 7:7-8 NIV
Jesus, our Savior, I knock on Your door in hope of getting an answer to my prayer. My dear dog, ___________, got sick. Please, open Your door and help us cope with this pain. ______________ means the world to me, and it is really difficult for me to watch him/her suffer.
O, Jesus, fill this heart with hope, and give my pet a long and healthy life! In Jesus' name.Amen!
11) 'This is what the Lord, the God of your father, David, says: I have heard your prayers and seen your tears; I will heal you.' 2 Kings 20:5
Dear Heavenly Father, You see my tears and You see this sadness that seems to have no end. My dearest pet has been struggling lately, and I am here to beg for his/her healing. I can't be happy when I see him/her in pain.
He/she has a special place in my heart, and I can't imagine my life without him/her. His/her pain is my pain. Please hear my prayers and wipe away these tears. Amen.
Read More: Dog Coughs After Drinking Water: Here Are 6 Reasons Why
12) 'He heals the brokenhearted and binds up their wounds.' Psalms 147:3
Dear Jesus, our Savior, the only thing I ask of you is to look at __________'s wounds and tears. This period of his/her sickness has been a lonely and dark road. I pray that You will heal ______________ so that he/she can bring more happiness to my life.
I'm grateful that I have __________ in my life, and I want him/her to stay with me as long as possible. Almighty God, heal this little angel. Hallelujah!
13) 'The Lord gives sight to the blind, the Lord lifts up those who are bowed down.' Psalms 146:8
Almighty God, first, I want to thank You for blessing me with ______________. He/she means the world to me. Please, hear my prayer for this sick member of my family. Be his/her shelter in times of trouble. Amen.
14) 'It wasn't any herb or ointment that healed them, but your word alone, Lord, which heals everything.' Wisdom 16:12
Lord, my dearest furry friend needs You. ____________ is sick and shows no sign of recovering. He/she is a true angel, and he/she brings so much joy into my life. I know that Your word heals everything, and I hope that you will hear this and give _____________ a long life. In Jesus' name. Amen.
15) 'Whenever you cry out to me, I'll answer. I'll be with you in troubling times. I'll save you and glorify you. I'll fill you full with old age. I'll show you my salvation.' Psalms 91:15-16
Dear Lord, these troubling times have shown me how much _____________ means to me. He/she is sick, and nothing like he/she used to be before. I pray that You touch his/her body and heal him/her. Restore his/her health, and let him/her live up to old age. In the name of Jesus Christ. Amen.
16) 'When Jesus heard this, he responded, Don't be afraid; just keep trusting, and she will be healed.' Luke 8:50
Dear Jesus, I'm afraid that my dear _____________ is very sick. This feeling is terrifying, and I can't sleep well. I feel his/her pain each moment. I can't help him/her, but You can. I wish to be afraid no more. Please heal ________________ and bless us with more happy moments together. Amen
17) 'For I know the plans I have for you, declares the Lord, plans of peace and not to harm you, plans to give you hope and a future.' Jeremiah 29:11
Heavenly Father, my beloved ______________ is sick. I believe that there is nothing impossible with your presence. Give me the hope to carry on. I pray that You heal him/her, and give us a future full of happy moments. Amen.
18) 'And the power of the Lord was present to heal the sick.' Luke 5:17
Dear Jesus, I am heartbroken, and I need Your help. I beg You to send Your blessing on all who are sick. __________ is one of them. He/she is in pain, and has been struggling a lot recently. O, Lord, I place my worries in Your hands. Please hear my prayer and make ___________ healthy again. Amen.
19) 'I lift up my eyes to the mountains—where does my help come from? My help comes from the Lord, which made heaven and earth.' Psalms 121:1-2
Dear God, this time, I pray that You help my furry friend. He/she is sick and needs Your divine help. O, Lord, the Maker of heaven and earth, the Maker of all creatures, please make ___________strong and healthy again! See his/her pain and tears, and bless him/her with a beautiful future. Hallelujah!
20) 'I can do all things through Christ who gives me strength.' Phillipians 4:13
Father, I may be asking too much this time, but You know that ____________ is my best friend. He/she is terribly sick. His/her eyes have become sad and his/her body is in such pain. It breaks my heart to watch him/her like that. Please grant ___________ the strength to fight. Restore his/her health and smile. In Jesus' name. Amen
21) 'The Lord is my light and my salvation—whom shall I fear?' Psalms 27:1
Almighty God, the Creator of all the universe, please provide light for me and my furry friend. He/she is sick, and I feel his/her pain every day. I beg You to show us the way in this difficult period. I fear nothing because I know that Your healing power is everywhere. Hallelujah!
22) 'God is our refuge and strength, a very present help in trouble.' Psalms 46:1-3
Father, the omnipresent Creator, please hear my prayer. My dog is sick. Please be his/her refuge in this time of need. Comfort him/her in suffering. Be his strength and grant him/her the power to overcome this pain. I put my whole trust in You. Amen.
23) 'Or do you not know that your body is a temple of the Holy Spirit within you, whom you have from God?' 1 Corinthians 6:19
Heavenly Father, I come before Your throne to seek healing for my furry friend. Please be with him/her in this difficult period. Father, by the power of the Holy Spirit, I pray that his/her healing will be released in Jesus' name. Amen!
24) 'So do not fear, for I am with you; do not be dismayed, for I am your God. I will strengthen you and help you; I will uphold you with my righteous right hand.' Isaiah 41:10
Father, the Almighty God, my dog is sick and we need Your help. Please lay Your gentle hands upon him/her. Heal his/her body and restore his/her health. O, God, I do not fear this sickness because You are with him/her. Amen.
25) 'By his wounds you have been healed.' 1 Peter 2:24
O, King of Kings, whose wounds healed us, please hear my prayer! __________, my dog, is sick. I beg You to comfort him/her in this pain. All I am asking for is You to make him/her healthy again. May ____________ be wrapped up in Your Love. Blessed are You, Lord. Amen.
Read More: Dogs Eyes Rolling Back: Why Does This Happen, And Should You Worry?
Which Saints Do You Pray to for a Sick Dog?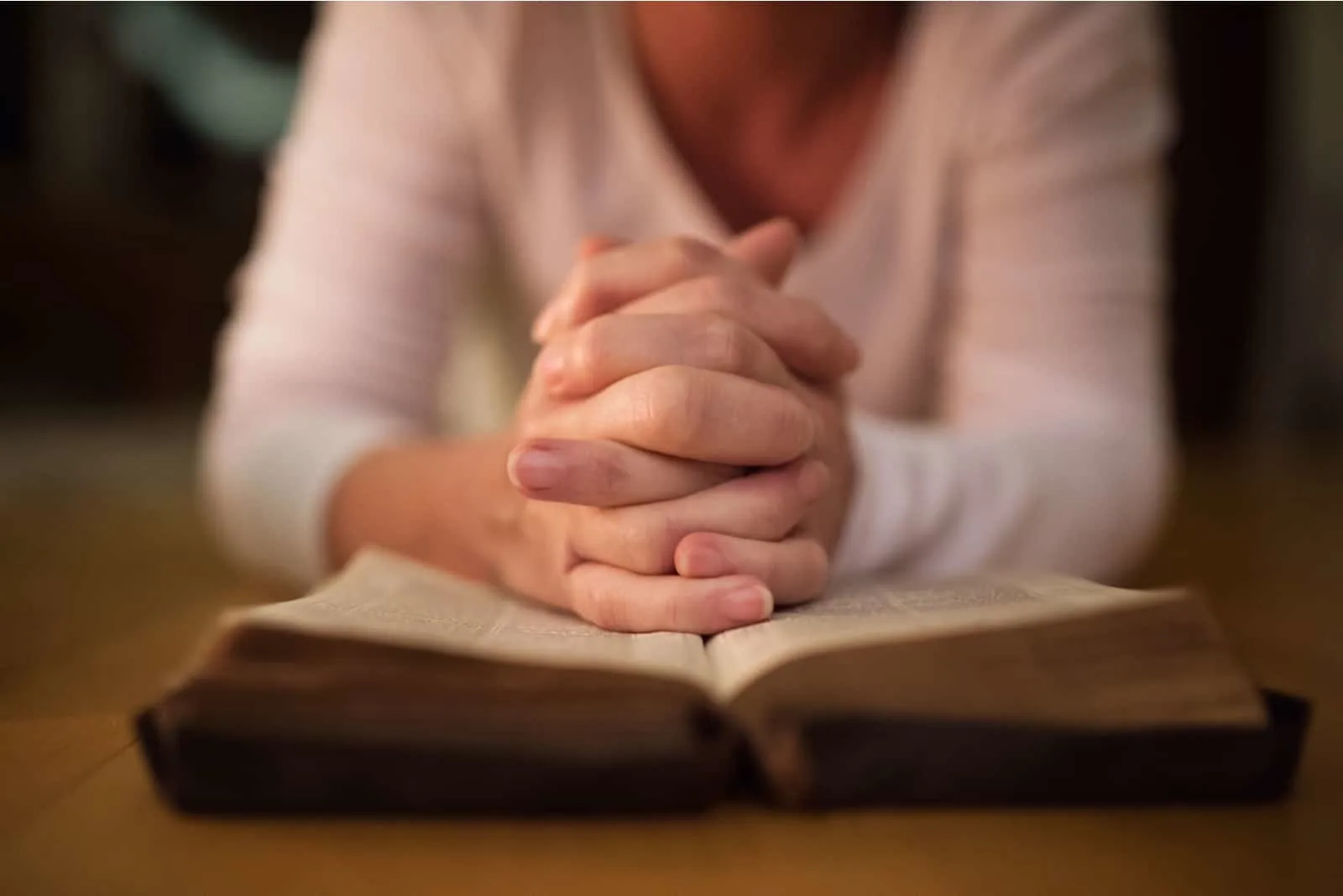 In case you have wondered which saints are related to animals and dogs in particular, here is a short list. Don't forget to pray to them when your dog is sick.
Let's see which saints you can pray to for a sick furry friend:
St. Francis of Assisi
St. Francis is the patron saint of animals and the environment. He was an Italian friar, preacher, and a well-known lover of animals. You can pray to St. Francis for sick animals in general, not only for dogs.
St. Roch
The next saint on our list is St. Roch – also known as St. Rocco. He is the patron saint of dogs and the sick. Allegedly born in France, he is famous for his pilgrimage to Rome where he devoted himself to care for the people who had the deadly bubonic plague. During that mission, he got ill, too.
However, according to a legend, a dog visited him while he was sick, and licked his wounds. His wounds healed, and the dog brought him bread so he could regain his strength. Fascinating, isn't it?
St. Anthony
This saint is also connected to animals because his goodwill focuses on pets and domestic animals. According to a legend, while he was fasting and praying in the desert, his only companions were animals. As you can see, sometimes animals are your only true friends.
St. Lazarus
Finally, legend has it that dogs licked St. Lazarus' sores while he was suffering on Earth. They showed their compassion for him, and they were his only friends. Heartwarming, isn't it?
Since you now know which saints you can pray to when your furry friend is sick, don't forget to include them in your prayers.
Why Is it Important to Pray to God for Our Beloved Pet?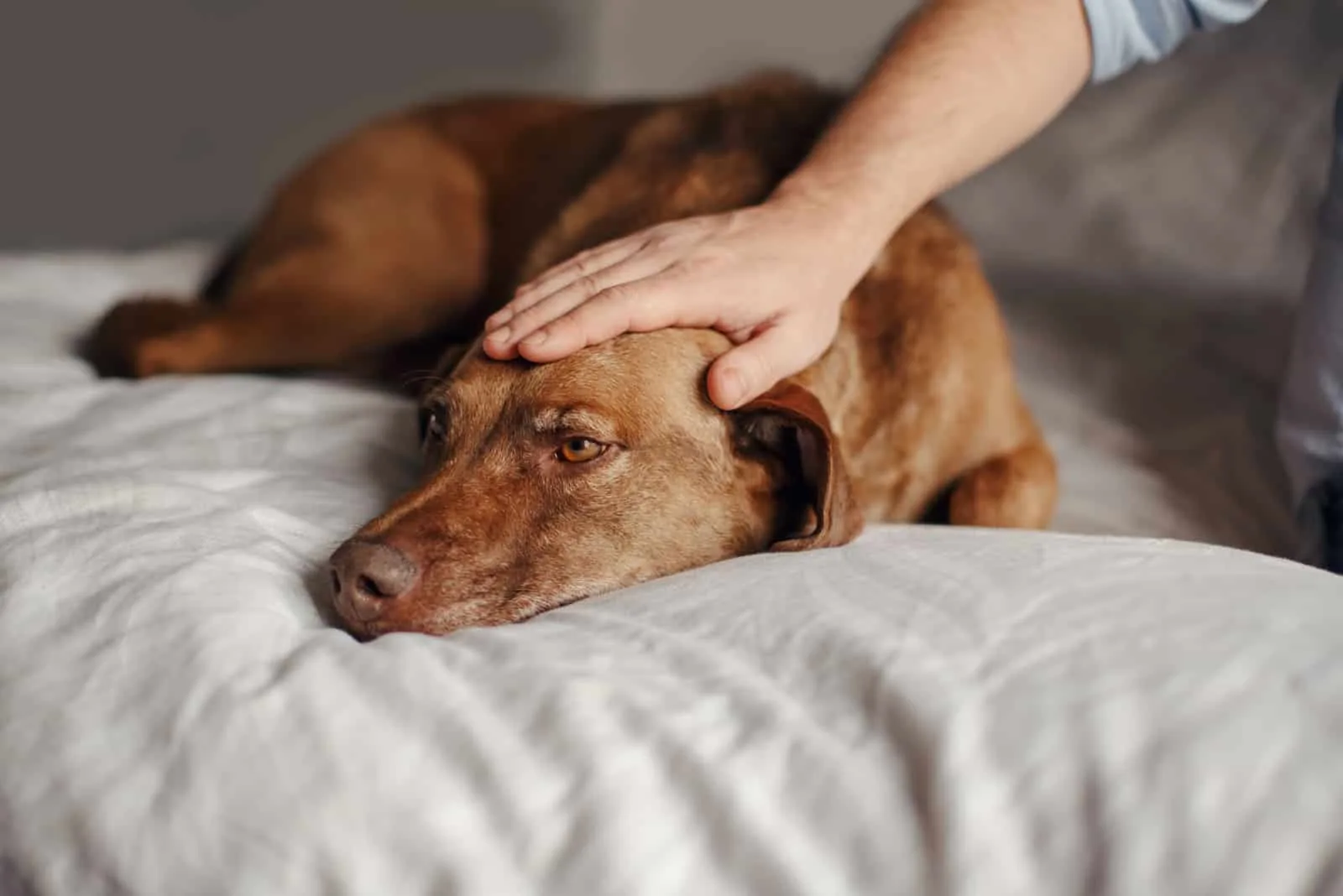 So far, we have provided examples of prayers and saints you can pray to when your pet is sick. If you, for some reason, still feel anxious and unsure about the whole process, you should probably consider the the following reasons why it is important to pray for our sick furry friend:
Stress Relief
We can't control everything. Period. In fact, we often feel the pressure because of that, and that's why we can easily become stressed. A simple prayer for our beloved dog can provide effective stress relief because that way, we open our heart to God and allow Him to lead us.
God is omnipotent
His power is great, and He can do things we can't even imagine. If you are desperate and looking for a miracle, don't forget this.
If you want to find out ways of praying for your dear pet, keep on reading because the next section deals with that.
How Can I Pray for a Sick pet?
This is a good question because we often feel like we are alone on our journey. Now, consider the following:
Alone
Many people like praying alone, and that's perfectly fine. Maybe you don't want others to know that both you and your dog are suffering.
With Family
It's a good idea to pray for a sick furry friend with your family so that you don't feel alone. Family stands for unity, and it is often easier to cope with pain with family members rather than being alone.
With Friends
Friends are the family we choose, and you may consider praying together with your close friends. You can, for example, ask your best friend to join you in your prayers.
In Person
We can pray together with our family or friends in person when it is possible. It is not always possible, of course, but it is probably the best way.
Online
We all have different social media accounts, don't we? How many times have you seen someone asking to join him/her in prayer for a sick furry friend? I have seen it many times, and people mostly respond to it.
I personally find that heartwarming because that way, we can send prayers to our friends who live hundreds or thousands of kilometers away from us.
When Can I Pray for a Sick Dog?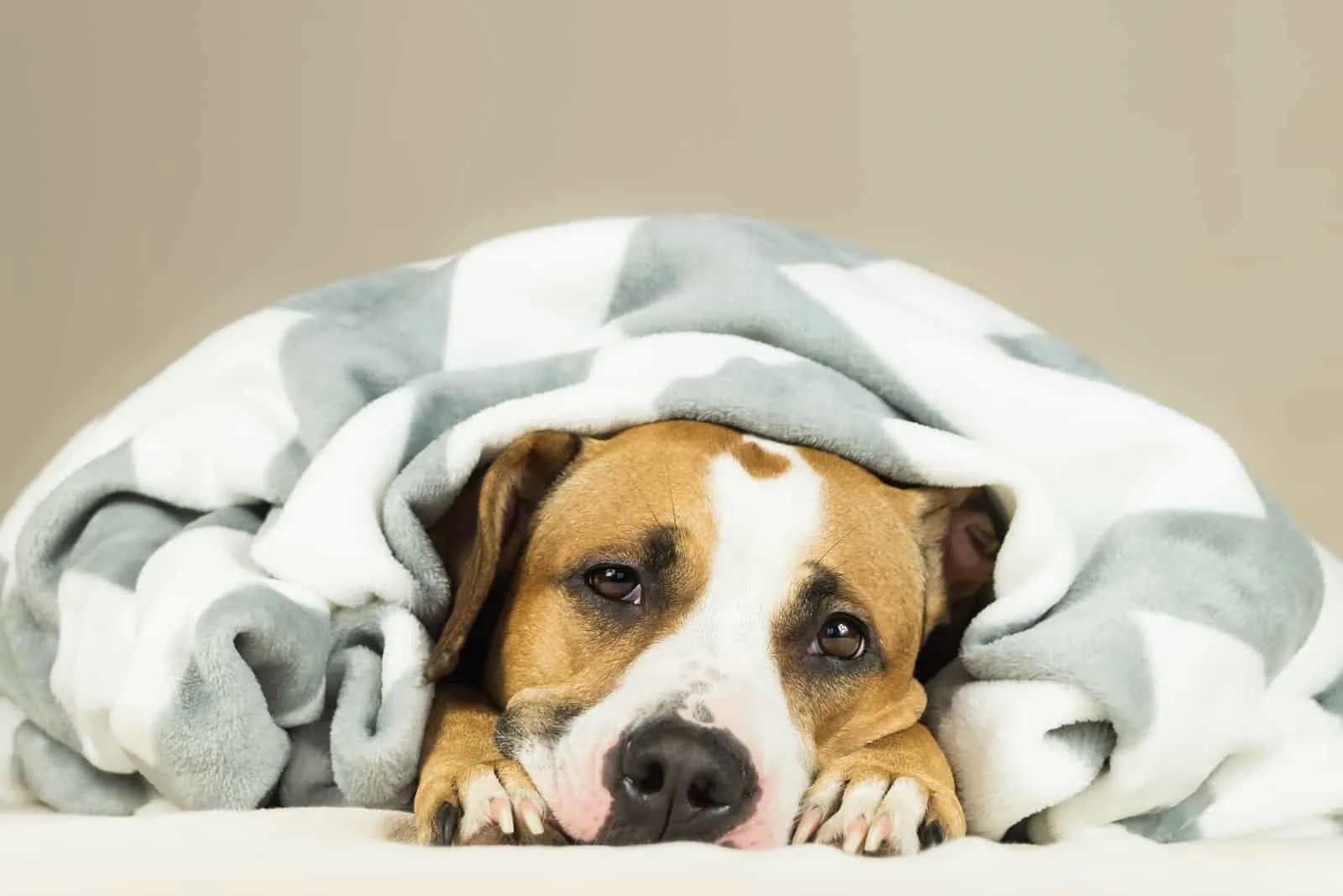 Another thing to consider when it comes to praying is the best part of the day to do it. I suggest the following:
In The Morning
Mornings are usually quiet so you can say a prayer for your sick pet in peace. Also, it is good to start your day with a prayer because that way, you talk to God before you talk to anyone else.
In The Evening
Some people say that they have more negative thoughts in the evening than in other parts of the day. This particularly happens when we go to sleep. A challenging day can drain our energy, and we can also feel stressed because of all those upsetting thoughts regarding our sick pet.
The best way to deal with this is to pray and let God help you with all your struggles.
Whenever You Find It Suitable
Not everyone will agree that there is a certain best time to say a prayer for a beloved dog, so whenever you feel like it is suitable, it will be okay. It could be during the afternoon that you may feel that you should pray, so why not?
Final Thoughts
As strange as it may seem, it is perfectly fine to say a prayer for a sick dog. Generally, there are many prayer points in our life – people pray for all sorts of things, for example, for a good wife/husband, a nice job, a good future… you name it!
We all sometimes need divine help, and we actually often pray for our loved ones – you will certainly agree that dogs belong to that group as well. They aren't just pets – they are our best friends and family.
When it comes to difficult and challenging times, sick animals, especially dying pets, need our prayers the most. We need to do our best to help them – it is our duty. A prayer is a simple, yet effective way of connecting with both God and your pet.
Although this article suggests a list of powerful prayers you can use during difficult times, make sure you include common Catholic prayers as well. Additionally, you can look up some other Bible verses for inspiration, and even create your own prayer for a sick furry friend.
Amazing, right?
Finally, may God bless both you and your dog. I truly want you to stay optimistic (I know it's difficult), and never, ever give up! Be grateful for each day you get to spend with your beloved dogs because they are a true blessing in our life.
Related Articles:
Where to Euthanize A Dog For Free In The U.S.
Dog Abortion – Are They Possible? Guide And Information
My Dog Is Gagging And Not Throwing Up: Six Possible Causes