There is often a misperception of Doberman puppies, probably because this magnificent breed looks intimidating at first. However, Doberman Pinschers are great athletes, but they also make great family members!
The breed was named after Karl Louis Dobermann from Germany. This is an AKC registered, high-quality dog breed.
The dog is known for its exquisite intelligence and high trainability. You can see Doberman puppies taking part in agility and obedience contests all the time.
In order to find a reliable Doberman Pinscher puppy, you have to carefully consider breeders on the market.
If you live in Wisconsin, Iowa, Minnesota, Illinois, or even Missouri, I have picked up the most reputable Doberman breeders in Wisconsin for you! Breeders from the list follow the finest breeding program and they sell health-tested canines.
These seven Doberman breeders show excellence in breeding, which is crucial for the further development of your puppy. Let's choose the perfect Doberman pet!
Doberman Puppies For Sale In Wisconsin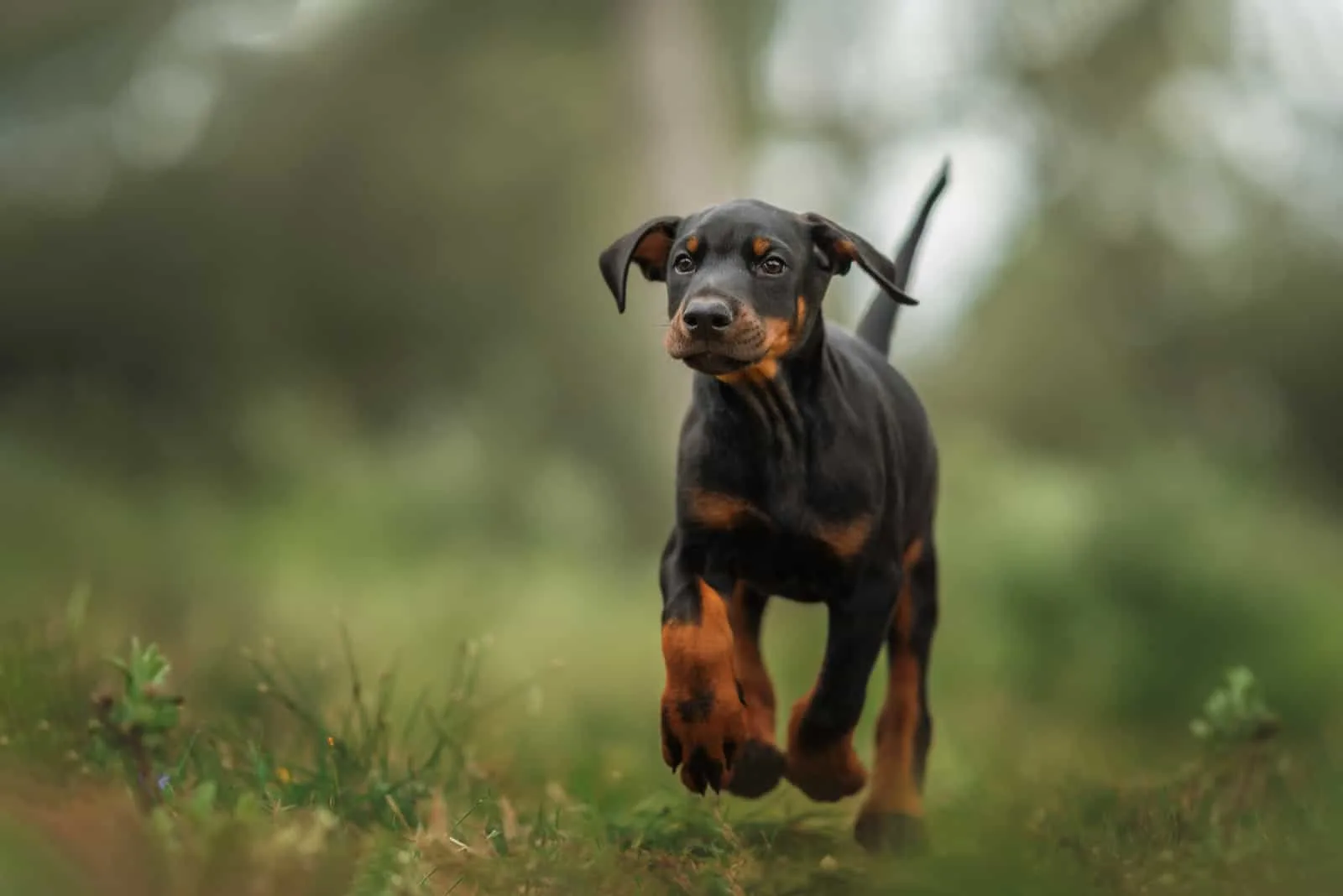 There is a plethora of backyard breeders and puppy mills that sell unreliable Doberman puppies. However, many first-time dog owners cannot tell the difference.
That's why I have made the list based on several things. The first thing you should look into when buying a Doberman is a breeder's affiliation with AKC. AKC registered puppies are regularly inspected, as their breeders follow the breed standard.
Regular bloodline tests and health exams that come with a puppy are other things you should take into consideration. Even though Doberman puppies are generally healthy, they are not among the healthiest dog breeds in the world.
Reputable breeders will make sure their puppies are tested early for hereditary health issues, such as hip dysplasia, or Von Willebrand's disease.
Early socialization and obedience training is what reputable breeders do. Make sure you research your breeder's puppy program in the first place, as Dobermans need early training and mental stimulation in order to grow into healthy, family dogs.
These seven Doberman breeders in Wisconsin are surely the best in business. You can enjoy the list without any doubts about their quality, reputability, and reliability. These breeders are ready to disclose information and answer all your inquiries. Let's start!
1. Dog Team Dobermans, Pleasant Plains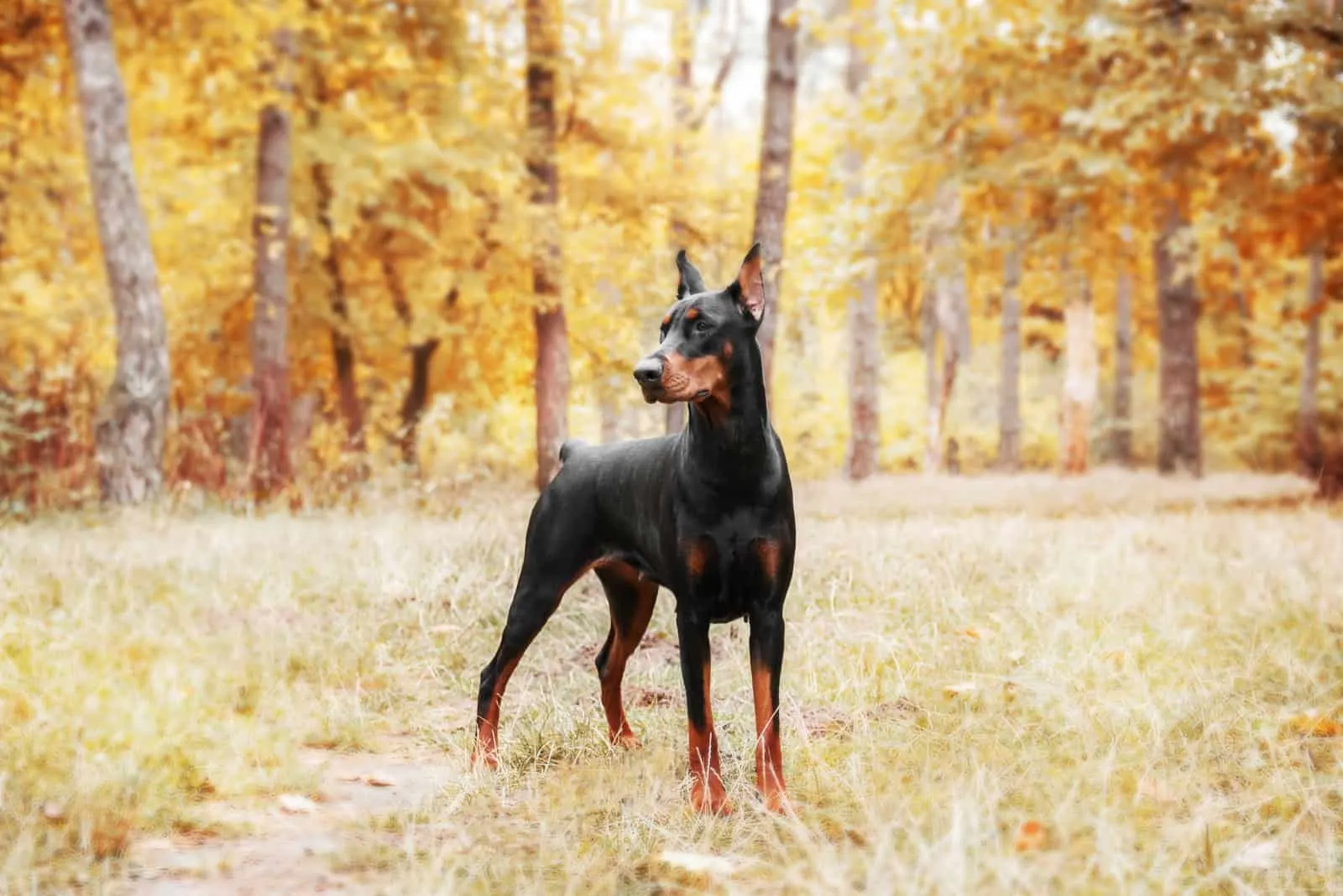 Robert stands behind this beautiful Doberman facility. New litters are available two times a year, which means you have to be on alert and reserve your spot timely.
A Doberman breed at Dog Team Dobermans is raised to be a family dog with exquisite social traits. Puppies undergo early obedience and socialization training, which is a plus for families who want an indoor dog.
Dog Team Dobermans provides a good home for Doberman puppies, as they are properly nurtured and taken care of. Puppies are regularly health tested and their bloodline is reliable.
What you will get from Dog Team Dobermans is a healthy Doberman puppy that will make your home filled with love and affection.
Even though these canines are generally known for being qualified among the most aggressive dog breeds in the world, Doberman Pinschers in Dog Team Dobermans have a kind nature and they are good with kids.
You can contact the breeder via their official website. Once you fill in the application form online, the breeder will contact you about further steps.
Location: 6239 Horse Barn Rd, Pleasant Plains WI
Phone number: (217) 741-0228
Email: [email protected]
Website: Dog Team Dobermans
2. Wounded Warrior Canines, Marion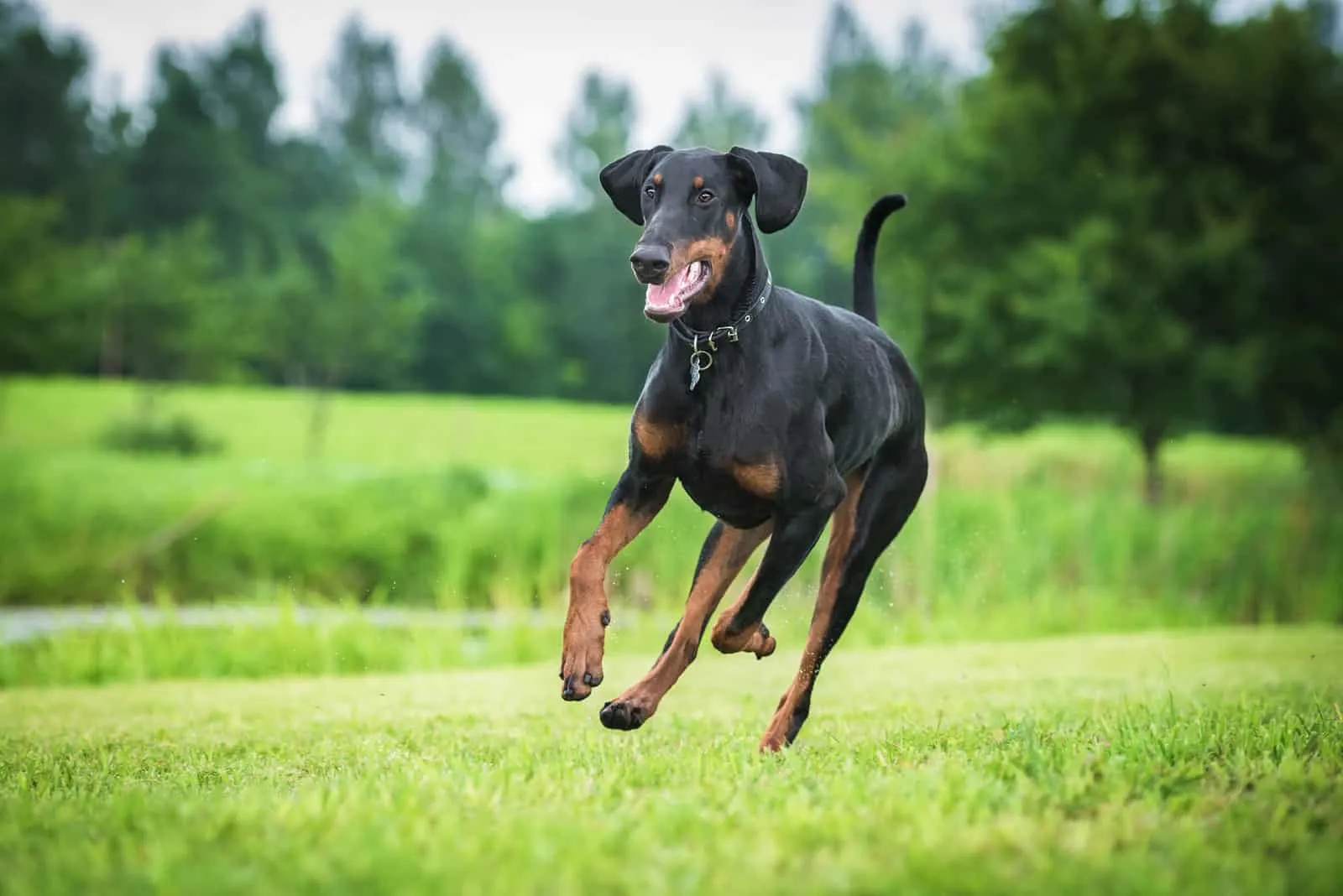 Wounded Warrior Canines is an unusual, but exquisite Doberman facility. The original idea behind this rescue is to provide war veterans and disabled veterans with socialized Doberman puppies.
However, the popularity of WWC is on the rise, as there are now numerous clients who adopt Doberman puppies from them.
European Dobermans are most represented in this kennel. Puppies are provided with regular bloodline tests and health exams. Breeders are state licensed and have a long-time experience in breeding.
The Doberman Pinscher is not a shy dog breed. That's why this puppy is recommended as a therapy dog as it shows excellence in helping people who struggle with anxiety. Dobermans in this kennel are taught obedience from an early age.
Early socialization and a lot of positive reinforcement are what makes Wounded Warrior Canines one of the most reputable Doberman breeders in Wisconsin.
This dog facility is very popular in Wisconsin and their wait lists are long. The advice is to hurry up and fill in the application at your earliest convenience. Choosing WWC Doberman puppies will provide a lifetime of happiness!
Location: 6239 Horse Barn Rd, Pleasant Plains WI
Phone number: (217) 741-0228
Email: [email protected]
Website: Dog Team Dobermans
3. MOA Dobes, Beaver Dam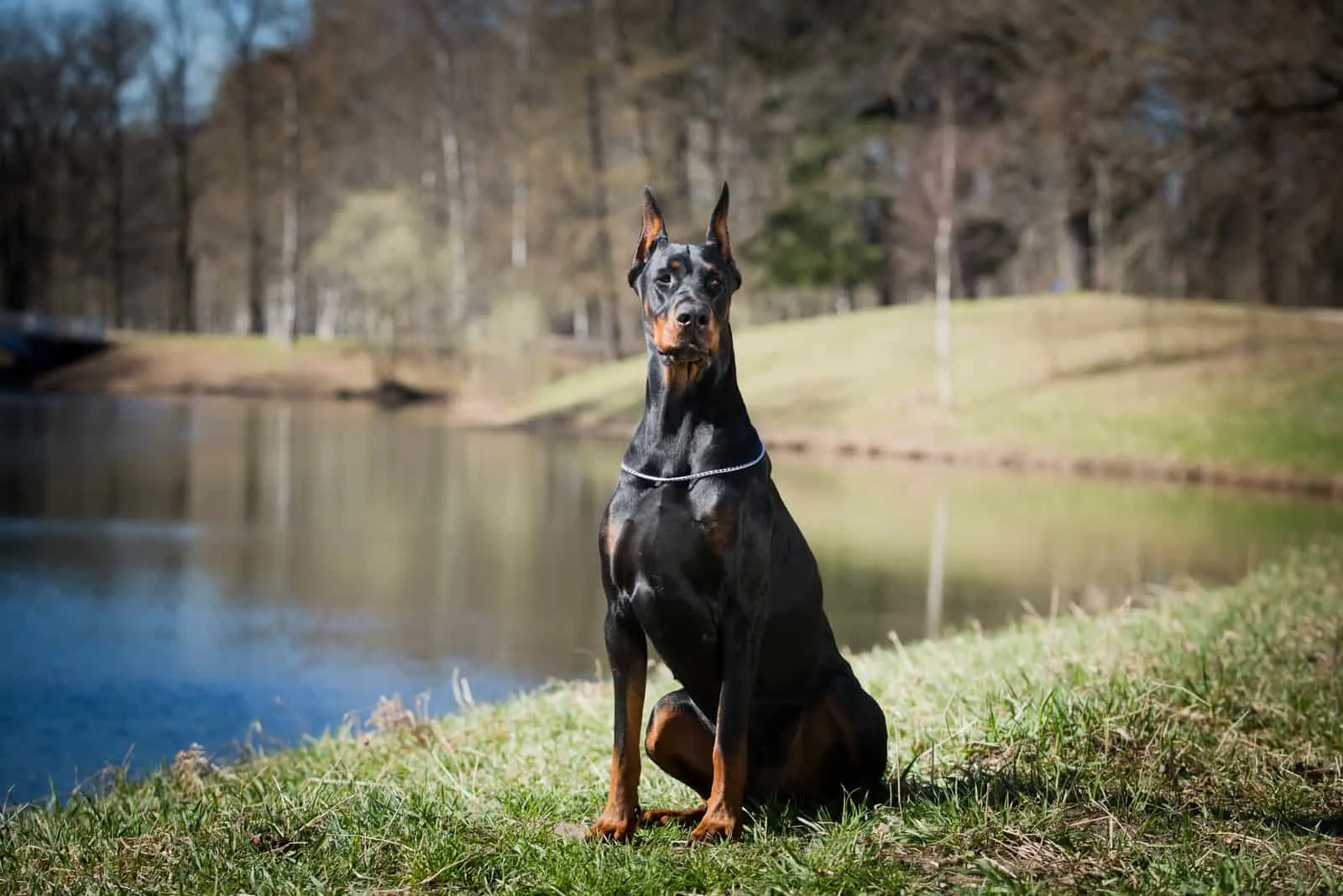 Margarita from MOA Dobes is known as one of the finest Doberman breeders in Wisconsin. She is an American Kennel Club Breeder of Merit, which puts her at the very top. Outstanding breeding practices and health guarantees are a must in this puppy facility.
Despite the fact that a Doberman puppy is not on the list of top family dog breeds, Margarita makes sure you get a highly socialized and well-behaved puppy. MOA Dobes follows AKC and Doberman Pinscher Club of America codes of ethics.
Doberman puppies at MOA Dobes show quality in conformation, agility and obedience. All Dobermans are AKC registered. Margarita breeds for dog shows and families. However, the mission of this facility is to provide canines as family pets.
Breeding dogs is challenging, especially when it comes to large, dominant breeds, such as Dobermans, or Rottweilers. MOA Dobes puts a lot of effort into designing a calm, socialized nature in their Doberman puppies.
Early vaccinated and dewormed puppies, alongside AKC and health exam documentation are what you get once you decide to purchase a Doberman from MOA Dobes. Their dewclaws are removed.
This is a good breeder that you should give a try!
Location: Beaver Dam, WI
Phone number: (262) 893-6284
Email: [email protected]
Website: MOA Dobes
4. Dragonborn Dobermans, Marion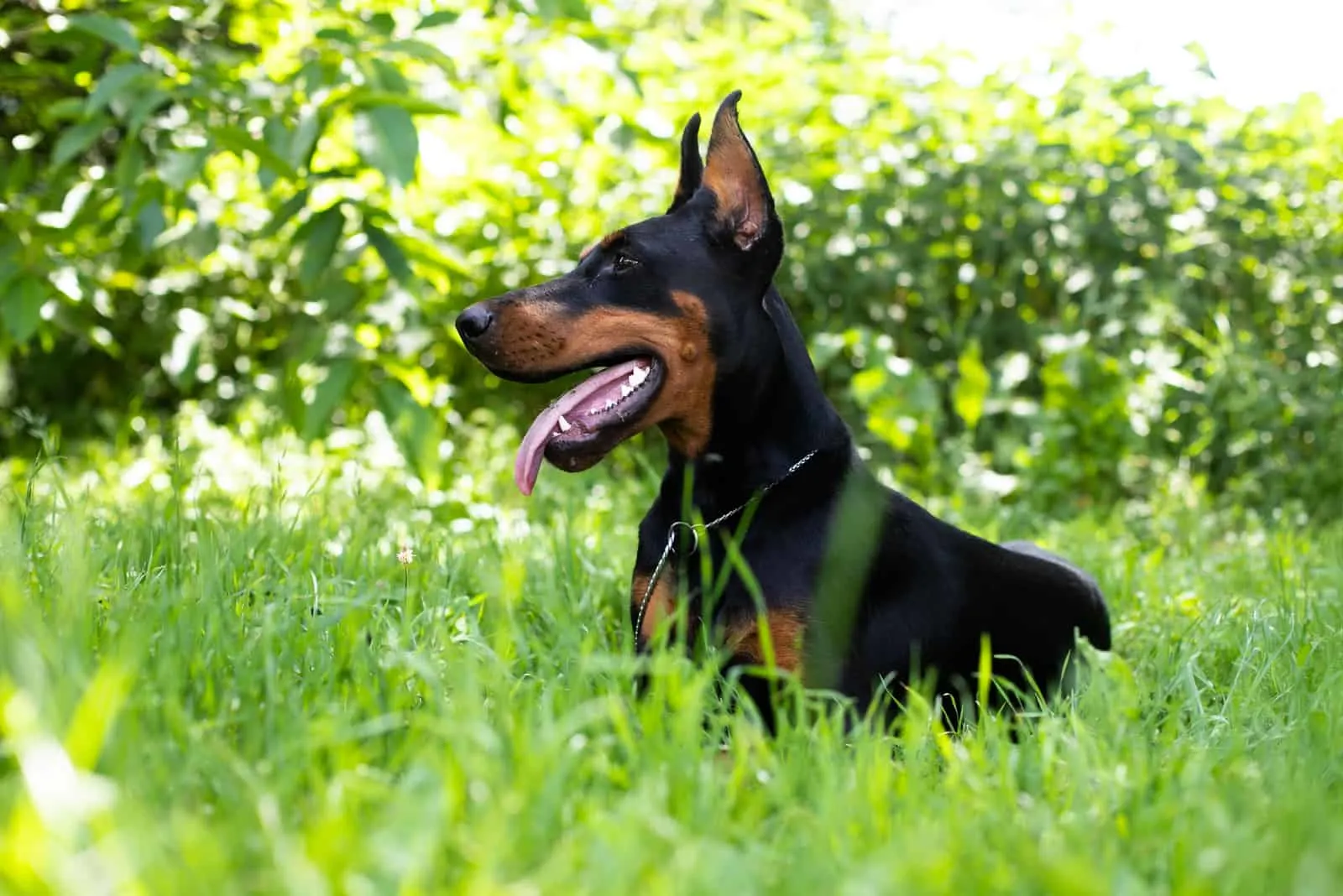 Dragonborn Dobermans is another state-licensed Doberman breeder in Wisconsin. All puppies come with their dewclaws removed and tails docked. Their good health is of extreme importance to Dragonborn Dobermans.
Puppies are socialized from early puppyhood. If you are worried that you might get a puppy that shows aggression – be at ease. Dragonborn Dobermans pay attention to their puppies' good temper and calm nature.
However, you will need to keep your Doberman pet active, as they require at least two hours of exercise a day. Dog training collars and additional training supplements are something you may want to consider in this regard.
This Doberman Pinscher breeder is twenty-four-hours available, and he will be there to answer all your inquiries. Their past clients commonly gave the highest possible grade for outstanding breeding practices and readiness to disclose all information needed.
Doberman puppies may not be a lap dog breed, but puppies from this kennel are indeed affectionate, attached to their owners, and they make excellent family dogs.
Location: W11085 Riverside Road, Marion, WI
Phone number: (715) 754-2539
Website: Dragonborn Dobermans
Facebook link: Dragonborn Dobermans
5. Dynasty Dobermans, Mount Pleasant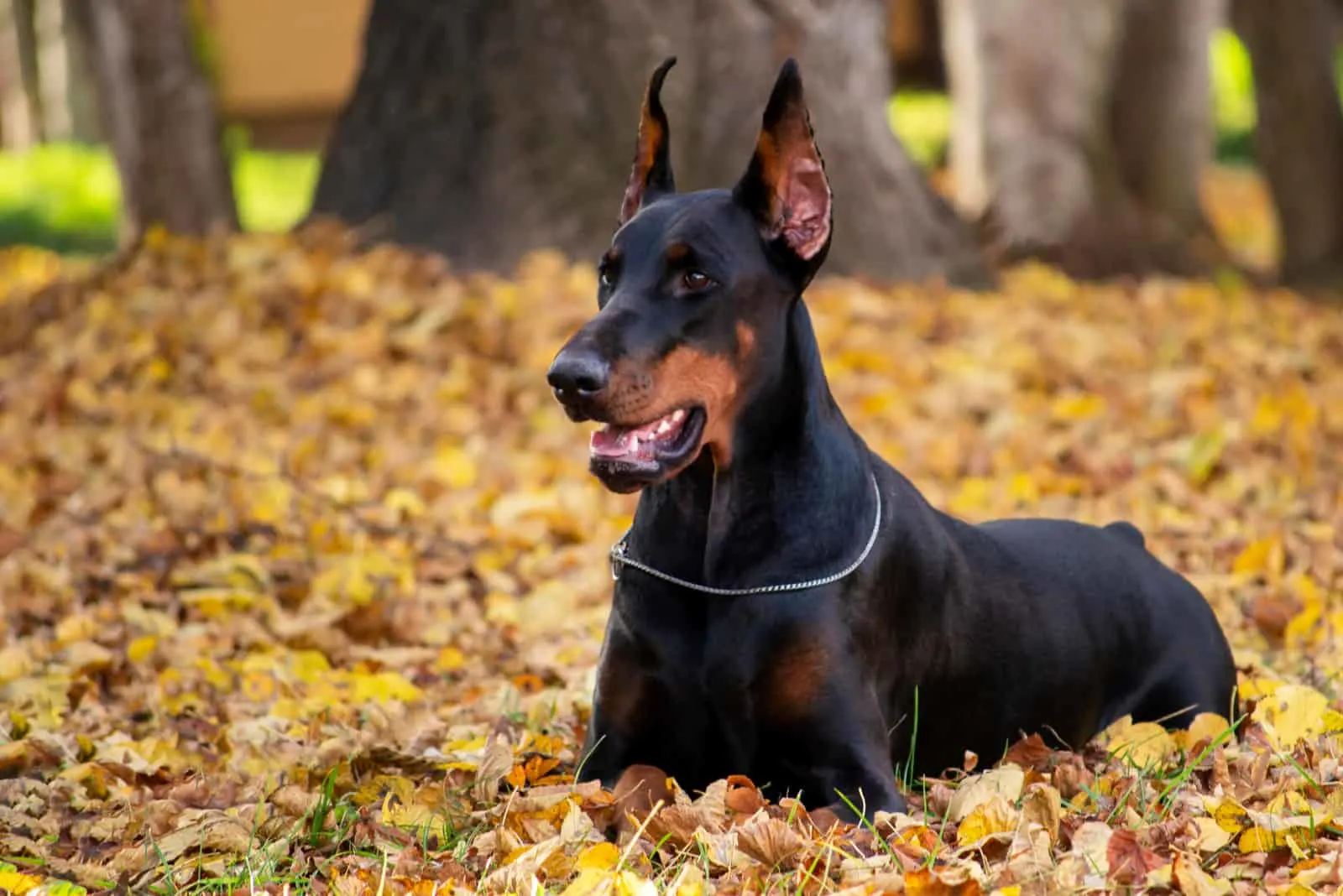 Dynasty Dobermans breed outstanding European Dobermans. The facility has been in business since 1980. What puts this breeder among the highest-quality Doberman breeders in Wisconsin is the fact that they don't only raise family pets, but also service dogs.
This dog breeder breeds for search and rescue, too. Training sessions take up a good part of the day in Dynasty Dobermans. All puppies are socialized and well-behaved, which saves future owners some time.
All canines at Dynasty Dobermans have OFA (The Canine Health Center Information) certificates. They are regularly health tested and their DNA is reliable.
Dynasty Dobermans is an excellent breeder known for following the Breeding Program. Puppies undergo early socialization, as the breeder wants to make sure future dog owners get a reliable, non-aggressive dog.
Excellent conformation and outstanding physique are what make Dynasty Dobermans puppies so special. Reserving a spot at this breeder's is not the easiest part, as there are long waiting lists. Additionally, puppies come with a health guarantee.
Location: 1121 S Stuart Rd Mount Pleasant, WI
Phone number: (262) 498-8689
Email: [email protected]
Facebook link: Dynasty Dobermans
6. Supreme Doberman Kennel, Kenosha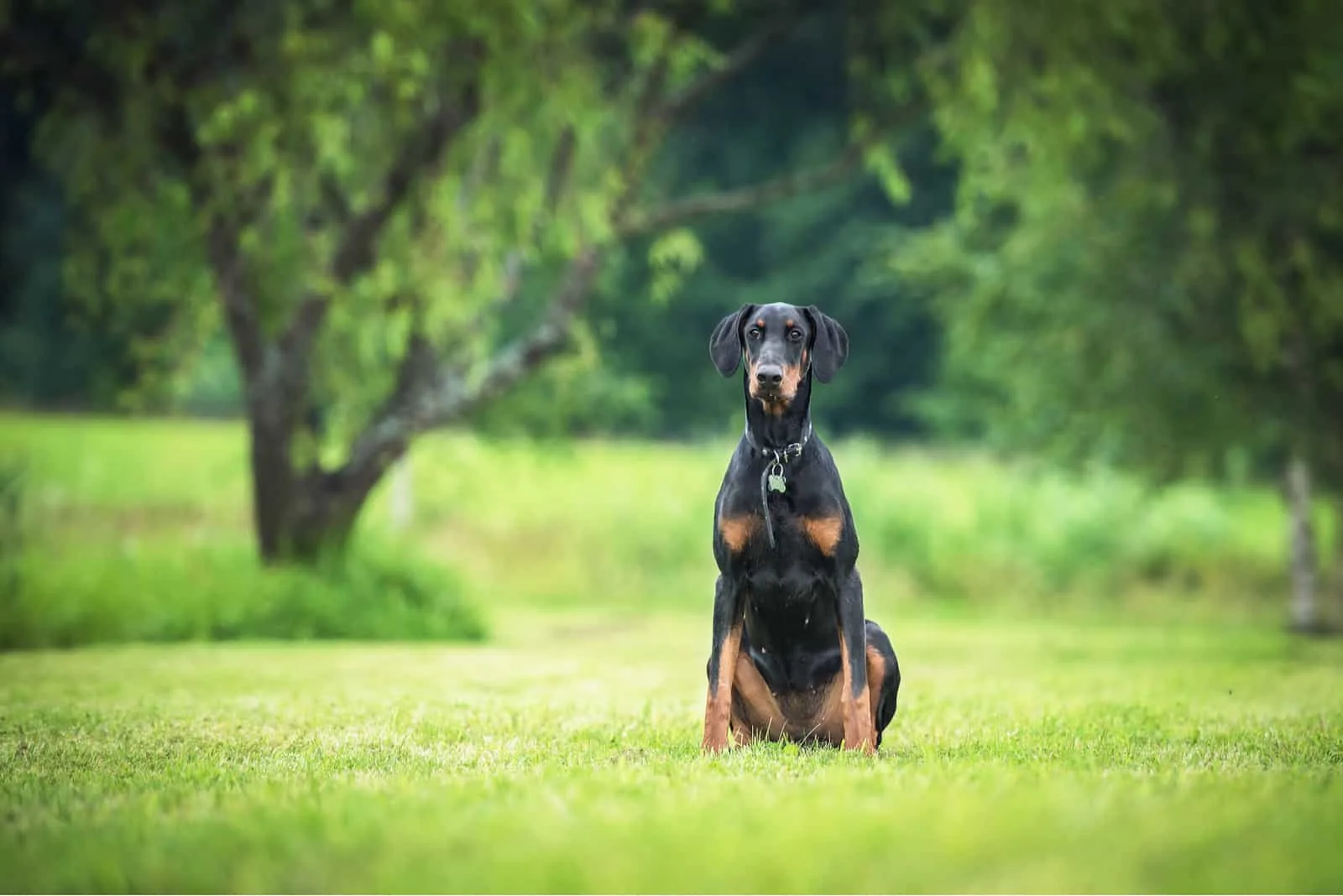 Doberman Pinscher puppies in Supreme Doberman Kennel are exclusively family pets. One interesting fact about SDK is that you get a ten percent discount if you had a Dobie puppy that has passed away. This puppy policy shows that the breeder is deeply committed to raising loving pets.
If you have small children in your family, Supreme Doberman Kennel is probably one of the best Doberman breeders in Wisconsin for you. The breeder spends a couple of hours every day socializing his Doberman Pinscher puppies.
Puppies are trained to be excellent dogs around children and other pets. They make excellent nannies, too.
This facility has operated for more than twenty years. The breeder has long-term experience and expertise in breeding Dobermans.
If you're worried about getting a dog that looks like Doberman, but isn't really a purebred Doberman Pinscher – be relaxed! Dobermans in SDK have an exquisite bloodline that is tested regularly.
A great thing about this breeder is that he is available twenty four hours a day. You will get full disclosure and needed puppy documentation once you purchase your dog. The breeder offers assistance even after you buy a puppy.
Location: Kenosha, WI
Phone number: (262) 960-4147
Website: Supreme Doberman Kennel
7. Element Dobermans, Germantown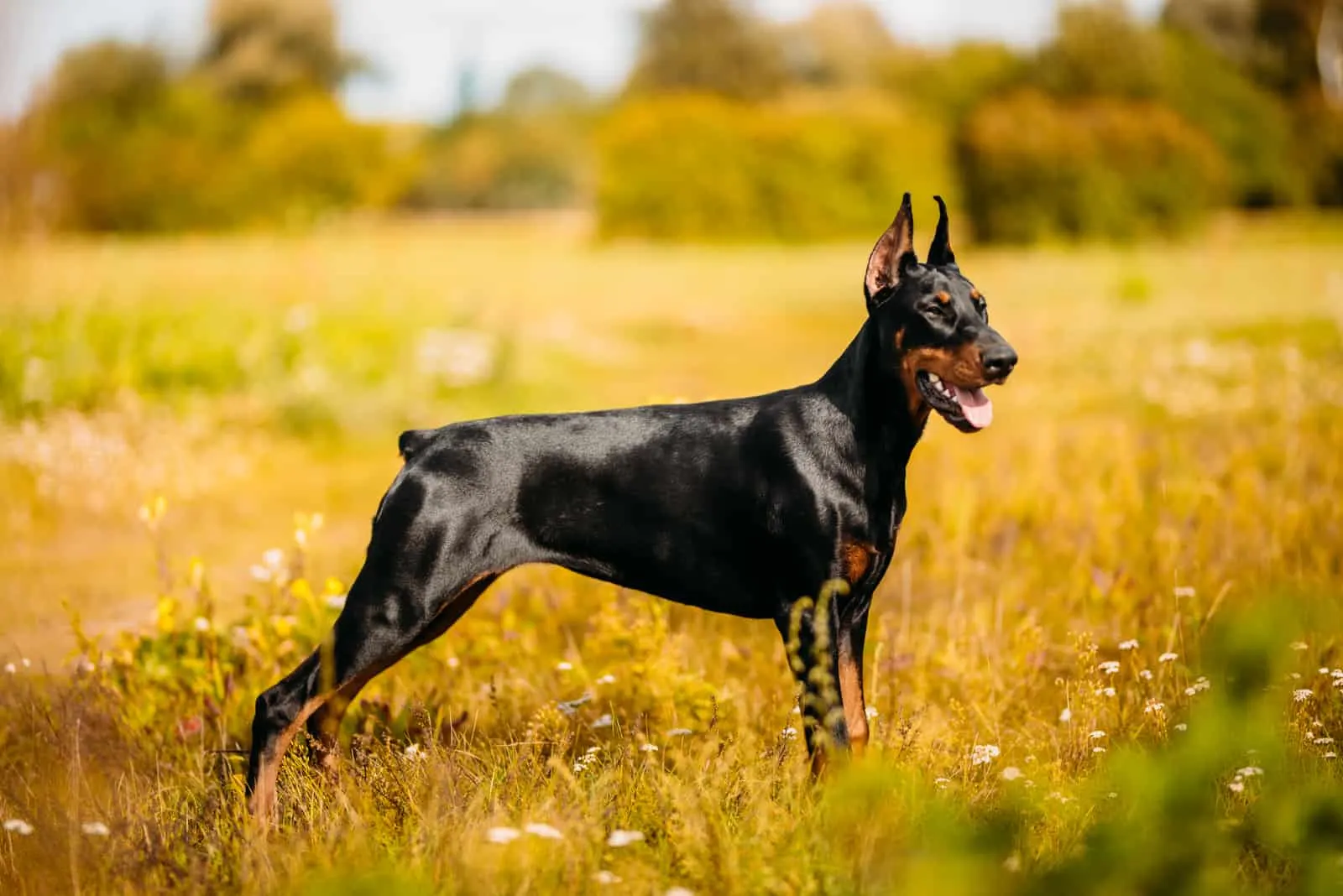 Denise and Leah from Element Dobermans have been in the breeding business since the 1990s. This facility is a proud member of the Doberman Pinscher Club of America. Additionally, ED is an AKC Breeder of Merit.
This breeder follows the breed standard and Breeding program, which makes Element Dobermans one of the greatest Doberman breeders in Wisconsin.
The code of ethics is carefully followed throughout the breeding process. These beautiful canines are properly socialized and raised to be indoor pets. Even though this is a large dog breed, Dobermans are excellent house pets.
Dobermans tails are docked and all puppies undergo early vaccination and deworming. Puppies come with microchips and their dew claws are removed. Everything that you need in order to make a Doberman puppy your new house pet is provided.
Regular grooming is a practice of this facility. Health and bloodline tests are a practice for all Doberman dogs at this breeder. Once you decide to purchase a puppy, the breeder will provide needed documentation related to bloodline and vet check ups.
The first step towards a new puppy will be filling in the questionnaire on the official Element Dobermans website. This way the breeder wants to get to know a future Doberman owner, as well as to make sure that you will provide a safe, nurturing home for your puppy.
Element Dobermans' puppies are known for outstanding conformation, good body physique, and agility.
Location: Germantown, WI
Phone number: (262) 391-4819
Email: [email protected]
Website: Element Dobermans
How To Pick The Best Doberman Breeder
It doesn't matter if it is a Black, Red, or Blue Doberman Pinscher – all puppies need to be subjected to regular bloodline and health tests. Reputable breeders will spend dozens of hours on health testing in order to design a perfect Doberman puppy.
These canines are known as aggressive dogs, especially because of the fact that they have been used for military and police services. However, early socialization and obedience training is something that all quality breeders do.
This is an outstanding family dog. Dobermans are excellent as therapy dogs, as well as ''find and rescue'' operators. The breed is known for its exquisite intelligence and high trainability. They need a well-established daily routine, though.
Dobermans need at least two hours of exercise every day in order to remain calm and kind. Otherwise, these puppies can display destructive behavior, especially towards strangers.
Reputable breeders will provide a good feeding chart to their puppies. A pack of dog food is often calculated within the overall price once you purchase a puppy.
However, if you're living in Wisconsin, Petland Racine at 2310 S Green Bay Rd, Racine is a great place to look for puppy services and to buy Doberman supplements needed for boosting both their growth chart and feeding chart.
Always search for AKC registered Doberman breeders in Wisconsin, or elsewhere. Their canines are reliable, regularly tested, and have outstanding social skills.
FAQs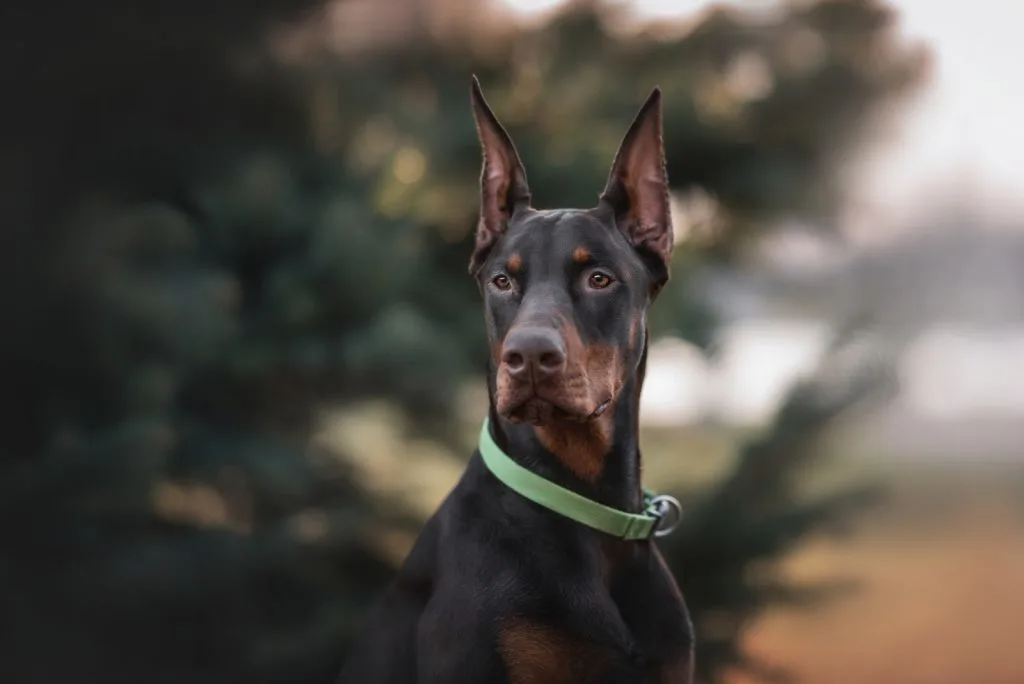 1. What Is The Definition Of A Doberman?
Dobermans, popularly known as Doberman Pinschers in the USA, are large breed dogs.

This is a guard dog by default, which means their original purpose was to defend and protect. The puppy has a short coat and an athletic body physique.

The initial name was established in Germany, by Carl Louis Dobermann.

Over time, the breed was adapted to family life. Doberman breeders used a puppy's extraordinary intelligence as a starting point in the socialization training process. Today, puppies are seen as
excellent family dogs with calm, yet protective natures.

Dobermans are highly adaptable dogs. They are one of the easiest dogs to potty train, which is great if you're planning on having one in your home.

The breed is recommended for indoor life, and the puppy does great with small children.
2. What Are The Requirements To Be A Breeder?
Even though it may seem easy, being a good, reliable Doberman breeder is pretty demanding and it requires experience and knowledge. You initially have to be a puppy enthusiast in order to be a good breeder, as it takes a lot of work to get to the top.

Good, reliable breeders areAKC registered and they subject puppies to everyday tests. Bloodline and health examinations are the first thing breeders need to do once a litter is on the ground. However, many backyard breeders or puppy mill owners don't do that. The recommendation is to stay away from them.

Furthermore, quality Doberman breeders will spend long hours on a training process. Socializing these canines is not as easy as it sounds, despite the fact that the Doberman breed is highly intelligent. Puppies can come across as stubborn at times,and require a lot of patience.

AKC requirements for being a Breeder of Merit include at least five years competing in AKC contests. You need to show outstanding breeding practice and regular health testing. This includes Doberman feeding chart and growth chart daily supervision, too.
3. What Is The Average Price For A Doberman?
The initial price for Doberman puppies starts at $1000. However, this is the lowest you can get, as high-quality Doberman puppies will cost you more. Their price can go up to $2500. This is especially the case with reputable breeders.

The overall price usually includes microchips, health tests, first vaccination and deworming, a blanket, a pack of food for adaptation to new foods,toys for Doberman Pinschers, a collar, and AKC documentation.

This is a great deal, even though the price is a little bit higher than in average Doberman Kennels. However, in the long run, you will have much less to worry about, as puppies are healthy, and you won't spend money on additional health tests.
To Sum Up
Choosing these seven Doberman breeders in Wisconsin was mainly based on their reputability and quality. AKC affiliation, outstanding breeding programs, and health clearances are just some of the many reasons why you should give them a try.
The Doberman breed makes an excellent family dog. However, these puppies require early socialization, obedience training, and a quality feeding chart. All of these things were considered while doing the research on the best Doberman breeders.
Read more: Top 8 Doberman Breeders In Arizona