Before deciding to bring a Doberman home, you should understand a few facts about this lovely breed if you're searching for Doberman breeders in Oregon.
These enormous canines have an average height at the shoulder of slightly over two feet, a weight range of sixty to one hundred pounds, and a lifespan of ten to twelve years.
Doberman Pinschers are known to be great family dogs, famous for their affectionate personality. These alert and intelligent dogs are excellent watchdogs, and will gladly protect their people from any danger on the outside.
The owner of this dog breed will always feel safe because these dogs were bred for one purpose: to make the owner feel safe and protected. The Doberman Pinscher is an elegant dog breed of robust stature.
However, a pup from a healthy litter may sometimes involve a lot of work to obtain. That is why I have decided to make a list of the best Doberman Pinscher breeders that produce healthy Doberman Pinscher puppies.
Doberman Puppies For Sale
When buying a new Doberman puppy from Doberman breeders in Oregon, or actually, a puppy of any dog breed, there are a few things that you might consider when picking out the perfect pup for you from a litter.
Puppies that appear hesitant or cautious are frequently noticed by people. This can indicate that the puppy would be challenging to socialize.
Instead, observe which puppies come up to you. A puppy has a greater chance of succeeding in your home if it is calm and at ease with you from the beginning.
It shouldn't take much work to entice a puppy to approach you. Find a puppy that wishes to be close to you, and watch which of the puppies come to you as you casually sit close to them.
1. Heartwood Dobermans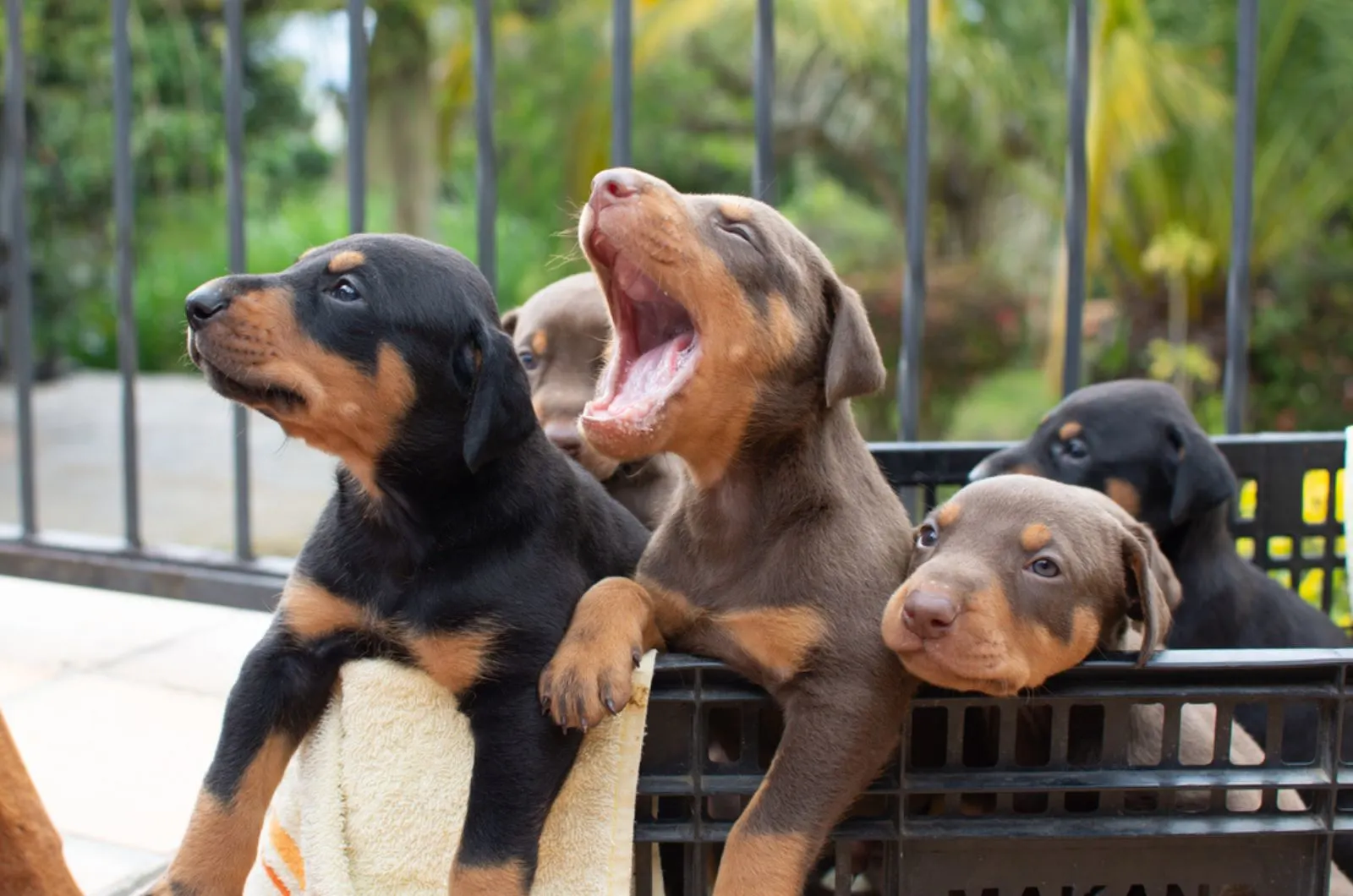 The Southern Oregon hills are home to Heartwood Dobermans. This small kennel engages in Service Dog training and other AKC-approved activities.
Their Dobies have undergone fitness screenings, and breedings are planned in order to produce a gorgeous, dependable youngster with a lengthy pedigree.
Their good temperaments result in a puppy that is incredibly adaptable, and ready for you to shape it into a friend you will love.
They do not support or condone the breeding of White / Albino Doberman Pinschers because it is a genetic mutation. They welcome your questions and value your concern.
When they acquired my first pet Doberman in 1969, they ignited their affection for the breed. They contribute to the breed by encouraging health, and focusing on upholding a trustworthy, positive attitude.
They want to produce Dobermans that are the standard for strength, loyalty, and intelligence. Of course, raising dogs that are ideal companion animals comes first, but puppies also succeed in conformation as well as the competition ring.
They have won the prestigious Bronze Apex Award of the 2019 DPCA, of which they are very proud. They are active Doberman Pinscher Society of America members, an AKC (American Kennel Club) Canine Decent Person Assessor, and an Assessor for Therapy Dogs International.
Most important info:
Location address: 2728 Anderson Creek Rd, Talent, OR 97540, United States
Phone number: 541-535-7171
Contact email: [email protected]
Webpage: Heartwood Dobermans
Socials: Facebook
2. Sunset Dobermans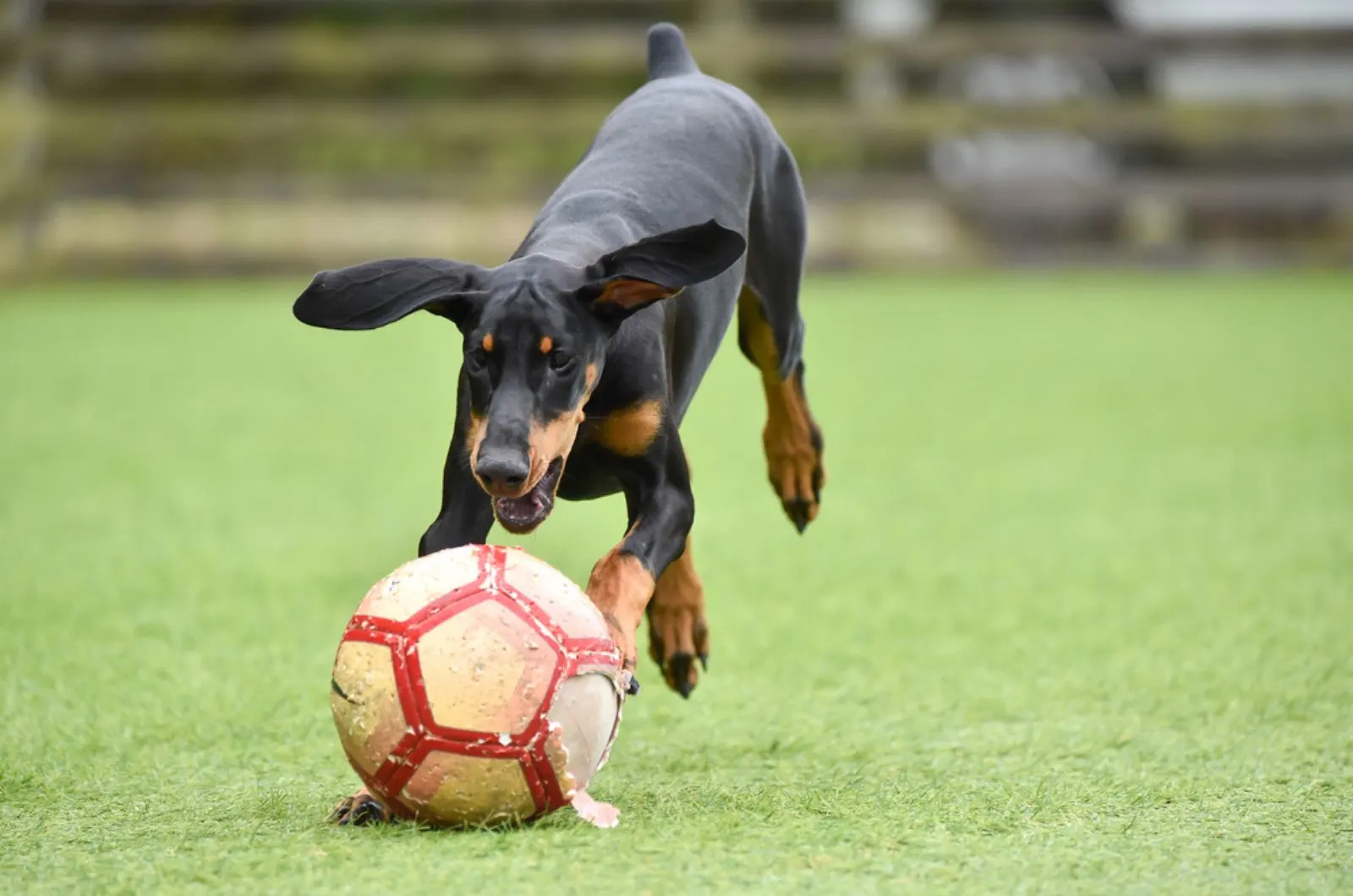 Among the Doberman breeders in Oregon, Sunset Dobermans stands out.
Dawn Danner is a certified veterinarian, and an advisor for the Doberman Pinscher Club of America (DPCA). She has bred and raised Doberman Pinschers for more than 30 years, and she has specialized in this dog breed only.
She meticulously chooses possible sires as well as dams, concentrating on disposition, well-being, and conformation, with the primary goal of enhancing the breed.
Each prospective breeding animal has been subjected to Orthopedic Foundation for Animals (OFA) screening for hips as well as elbows, genetic analyses for cardiovascular health, endocrine and liver function blood work, and Von Willebrand's disease DNA testing.
Every puppy from this breeder is nurtured at home in a loving atmosphere, handled frequently beginning at birth, and properly socialized. Dawn also prepares the puppies for cage training, and exposes them to an agility course to help them become more confident.
Each puppy also includes a microchip, a one-year health guarantee, cropped ears, a docked tail, a deworming record, and initial vaccinations. Due to the breeder's limited AKC registration papers, all purchasers are required to sign a spaying and neutering contract.
A Doberman puppy can be returned to the breeder at any moment if the prospective dog owner is unable to care for it.
Most important info:
Location address: Beaverton, Oregon, United States
Phone number: 503-799-9461
Contact email: [email protected]
Webpage: Sunset Dobermans
3. Unique Dobermans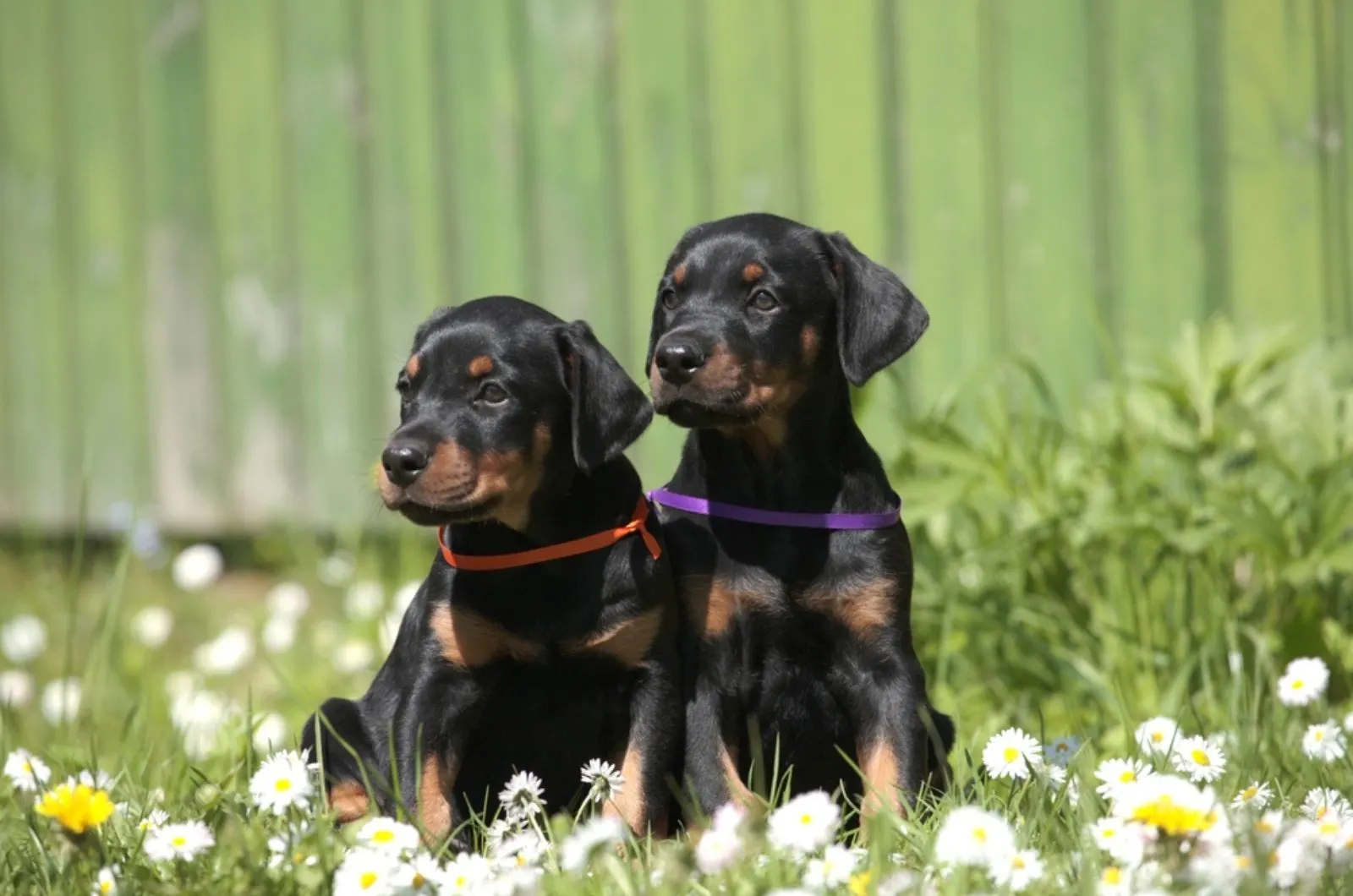 Having produced Doberman Pinscher puppies for more than 20 years, Unique Dobermans occasionally offers litters for sale that are healthy, sturdily built, and raised in Europe.
Their distinctive Dobermans look beautiful in appearance, and have the spirit and demeanor to make great family pets and guardians.
Every Dobie pup for purchase at Unique Dobermans is painstakingly and purposefully groomed and planned well before mating.
Their Doberman pup is delivered with a lineage full of gold-medalist purebreds sporting German, Russian, and European Dobermans.
In order to give their customers a large, secure, and self-assured puppy, their Doberman puppies are reared as organically as practicable on their 10 acres of property, receiving lots of love, good nutrition, and freedom to roam and play.
The new Doberman puppy's parents also go through rigorous personality instruction, surveillance trials to evaluate their sense of smell, and most crucially, nerve-racking personal protection courage tests.
You can definitely contact them (they encourage you to contact them for any kind of information that you may wish to obtain).
They have a Doberman Pinscher World Champion history, Schutzhund, IPO, IGP, VPG, and ZTP. Their Doberman Pinschers have won Working Awards in Personal Security, Track, Obedience, and Agility with Charm and Brawn to compliment.
Most important info:
Location address: Bend, Oregon, Washington, United States
Phone number: 541–990–8097
Contact email: [email protected]
Webpage: Unique Dobermans
Socials: Facebook
4. Elite Family Dobermans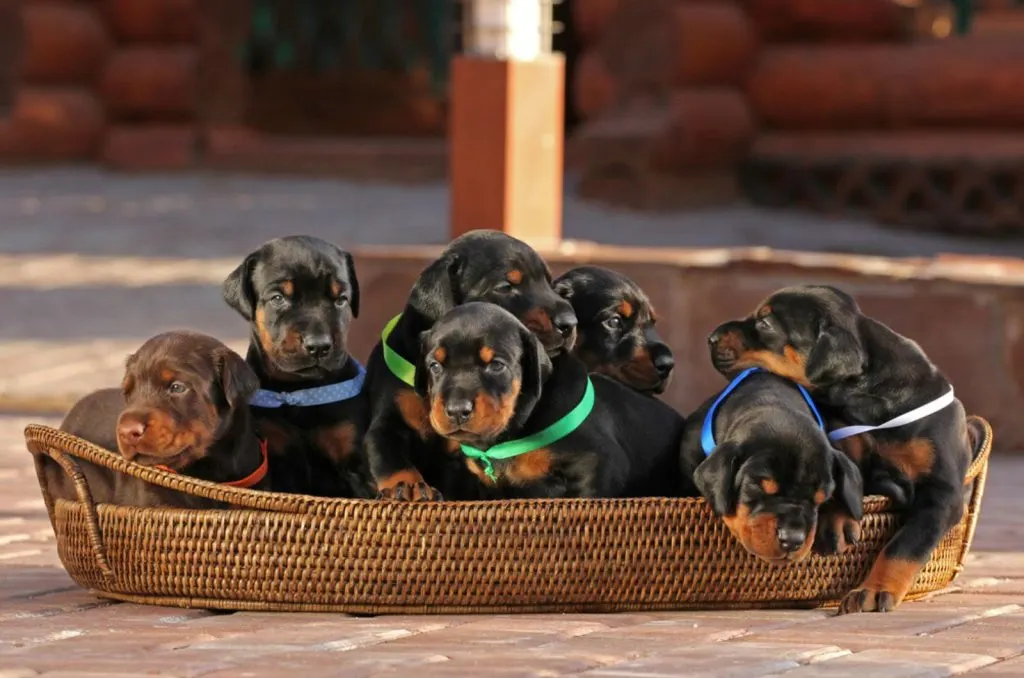 Doberman Pinschers from Elite Family are among the most sought-after breeds for affluent families and estates. They are a family of breeders with a focus on companion, service, and security dogs.
The stronger that a dog's genetic propensity to protect humans is, the more rewarding the bond with that dog will be. A canine member of the family that has the capacity to value and make a contribution to the family unit is happier and more fulfilled.
The instructors that serve as examples of this description to the youth teach the puppies and teenagers to do more than sit and observe what is going on around them.
Steve McKinnon is the founder of Elite Family Dobermans. He has been training, raising, and improving his lineage of Doberman Pinschers for more than 40 years.
The Elite's loving servant-companion dogs feel satisfaction by being able to interact with you and your kids. No choke chains, shock chains, or other tools of restraint or discomfort are used, and they endorse food baits as teaching aid.
They treat all newborn pups with gentleness. Their pets get along with birds as well as cats. They will accompany you whether you are on a horse, in a car, or on an ATV.
We represent our clients both domestically and internationally. Reference letters from our clients provide evidence of the dedication, vigilance, and protectiveness of our placements, as well as the presence of their reassuring families.
Breeding Doberman Pinschers of the highest caliber in order to display their outstanding characteristics is the main goal of Elite Family Dobermans. Their dogs are genetically predisposed to act with focus, dependability, and a respectful attitude.
Most important info:
Location address: 51 Garden Grove Drive, Roseburg, Oregon 97471, United States
Phone number: 717-460-8896
Contact email: [email protected]
Webpage: Elite Family Dobermans
Socials: Instagram
5. Wingate Dobermans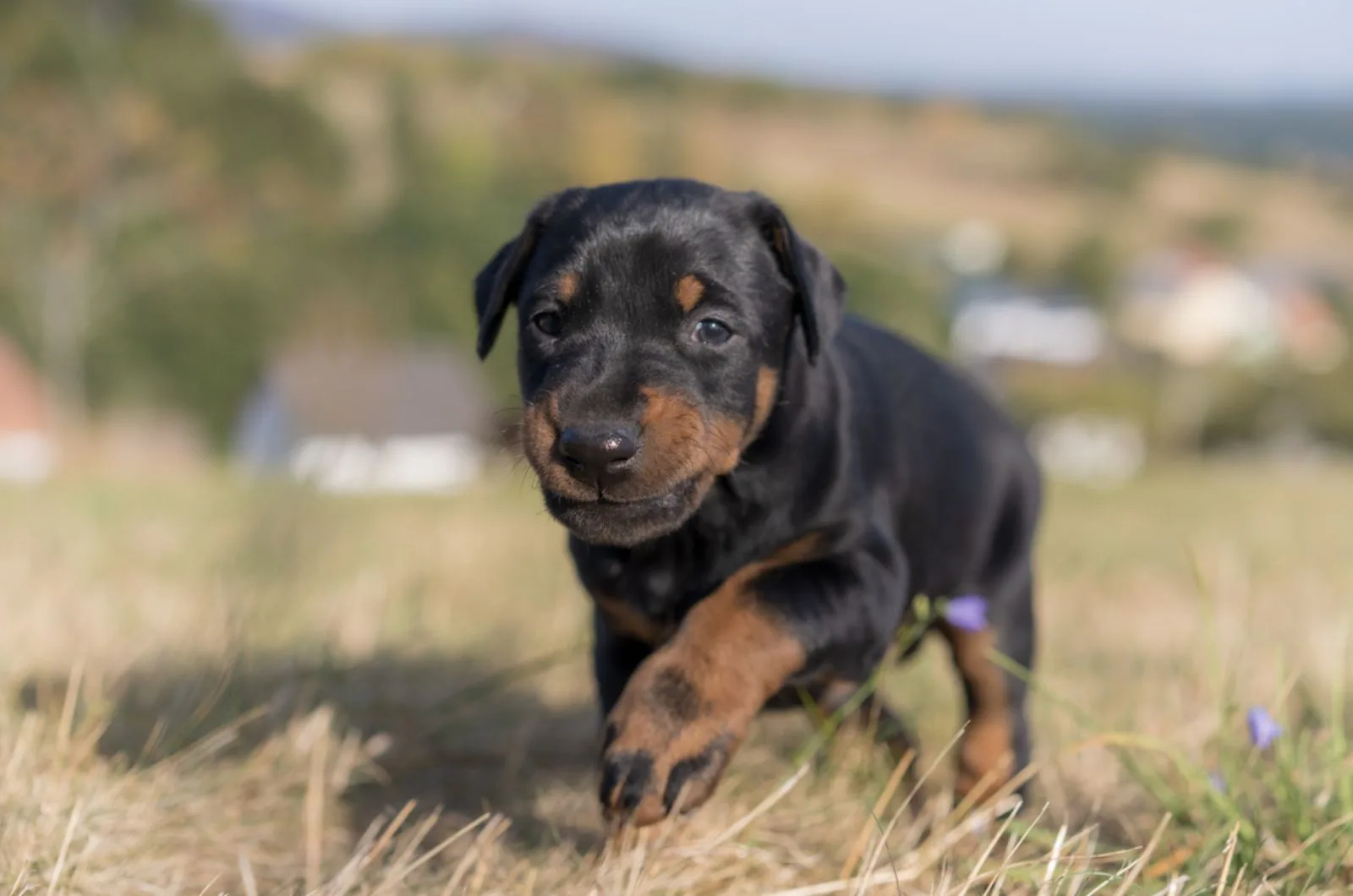 Wingate Dobermans has bred Dobies for the past 37 years. This group seeks to raise Dobies with exceptional disposition, training, and conformation. They have gained security and lifelong friends from the dog community, thanks to their dedication to their dogs.
The puppies that were given to contestants, in reality, did exceptionally well in obedience, and even won competitions. This breeder is constantly producing a lot of winners.
Their puppies will be born with their dew claws available, docked tails for early deposit to AKC, initial certification as a dog for various dog shows, welfare testing, deworming, and first distemper vaccination.
They'll use the Apollo XI to assess the well-known breed's appearance, attentiveness, and health.
Most important info:
Location address: Napavine, OR, Washington, United States
Phone number: 360-748-0945
Contact email: [email protected]
Webpage: Wingate Dobermans
Socials: Facebook
6. Di Altobello European Doberman Pinscher Puppies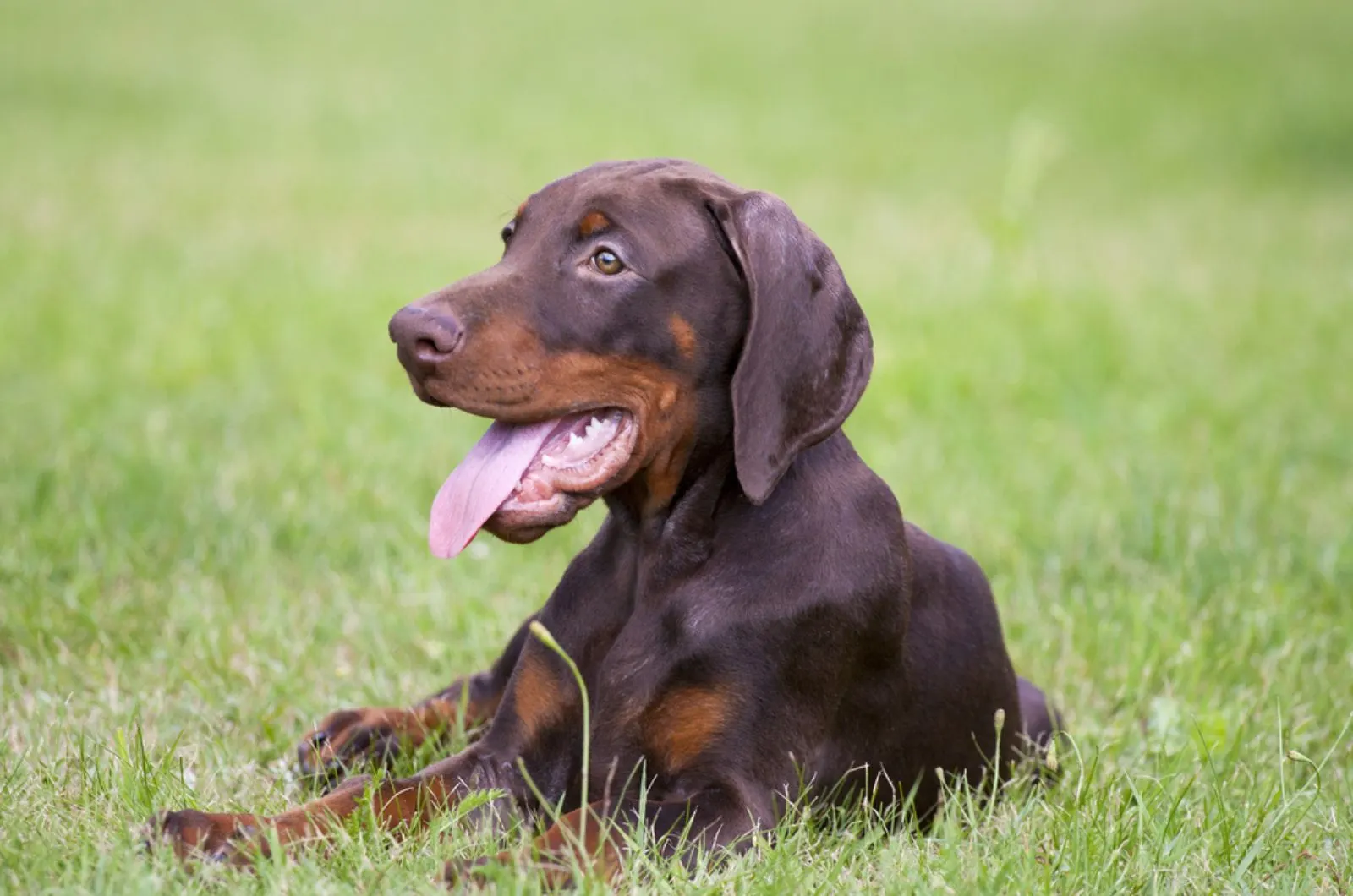 Angela will give you a survey and paperwork if she decides you would make an appropriate home for one of her puppies.
Each puppy she nurtures will be going to a happy home because of her meticulous verification procedure. If you buy a puppy from Angela, and are unable to maintain it, you can return it to her because she will take great care of each and every puppy in her care.
In addition to offering a health guarantee for the Doberman puppies she sells, Angela provides her breeding dogs with all the necessary health examinations for this breed.
She also offers a sales contract outlining the obligations of the breeding program and the purchaser. All puppies are dewormed, and have their first round of immunizations.
If you place a puppy reservation, but don't discover your ideal puppy in the first generation, you have the option to roll over your investment to a subsequent litter, and pay just $50 for a testing charge.
Most important info:
Location address: Portland, OR 97223, United States
Phone number: 503-713-7407
Contact email: [email protected]
Webpage: Di Altobello European Doberman Pinscher Puppies
7. Day Hill Dobermans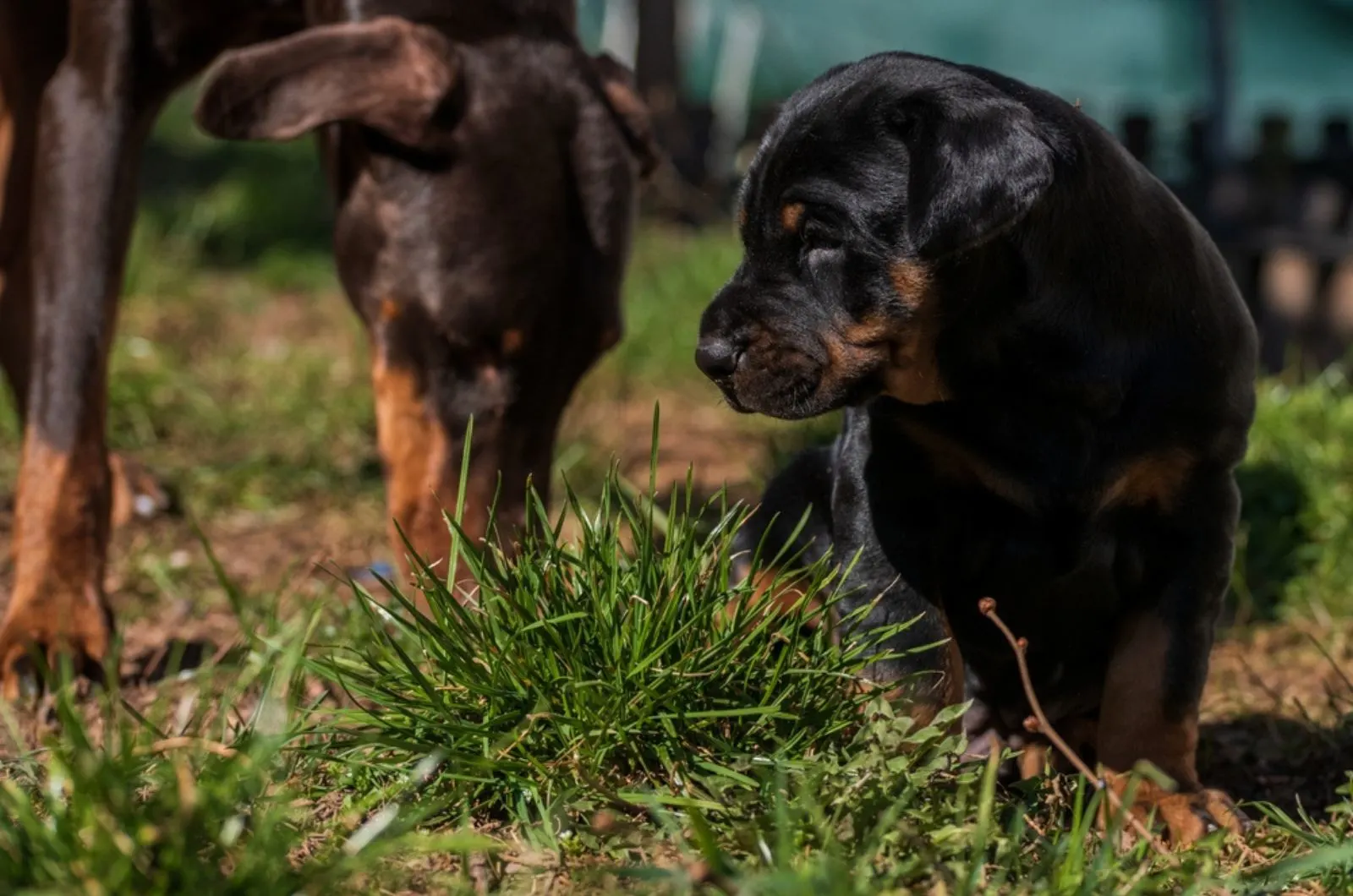 Kimberlee Dorr, the kennel owner, works to increase the caliber of the dogs she breeds, and she broadens her knowledge with each new litter.
Each puppy is shipped with a two-year health guarantee, a hip guarantee, a cardiac check, two vet exams, and their dewclaws removed. Their tail is docked, their ears are cropped, they have their first round of vaccines, a heartworm prevention record, and AKC limited registration papers.
When acquiring a dog from this kennel, purchasers are required to sign a spay / neuter contract. These puppies cost $3,000 to purchase. All dogs that are sold are exclusively pet grade – co-ownership may be an option if you want a display or a breeding animal.
Most important info:
Location address: Estacada, Oregon, United States
Phone number: 971-400-0336
Contact email: [email protected]
Webpage: Day Hill Dobermans
8. Jessica Bell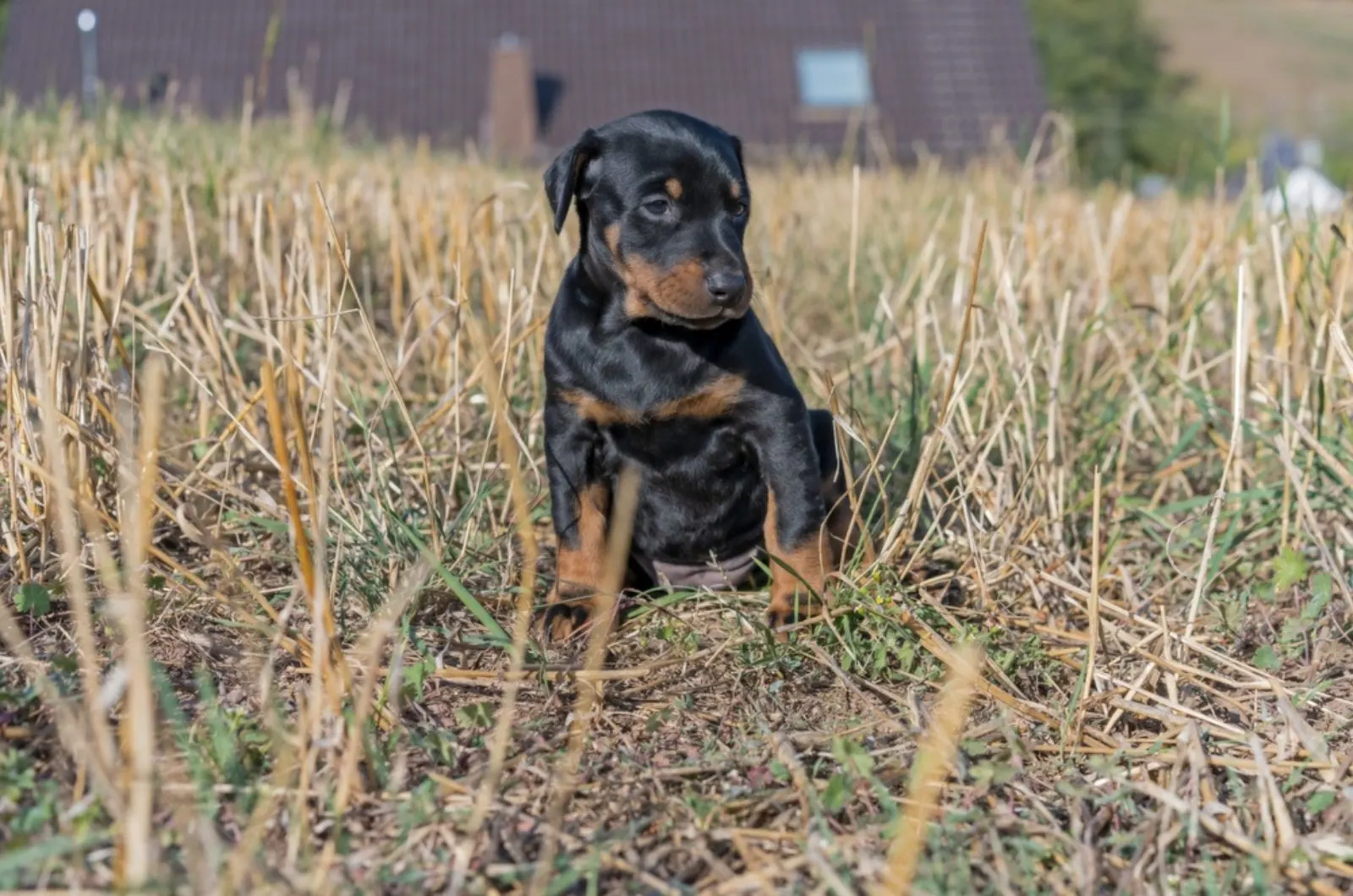 Josh and Jessica Bell are amateur breeders. However, they undertake all the essential safety measures for their litters every two years, including bloodlines, health tests, and genetic health assurances.
Their sire is of European lineage, and both their dams are AKC-recognized dogs. These breeders train their Dobermans to play gently with the family during playtime while keeping a guard dog attitude when defending their fence line and youngsters.
This breeder has black Doberman puppies available.
Each puppy is provided with its initial vaccinations and a deworming certificate. The pups will come with a docked tail as well as removed declaws. There is an additional charge for ear cropping. A puppy from this kennel costs $2,500.
Most important info:
Location address: Aumsville, OR 97325, United States
Phone number: 503-446-0806
Webpage: Jessica Bell AKC Marketplace
9. Starlaine Dobermans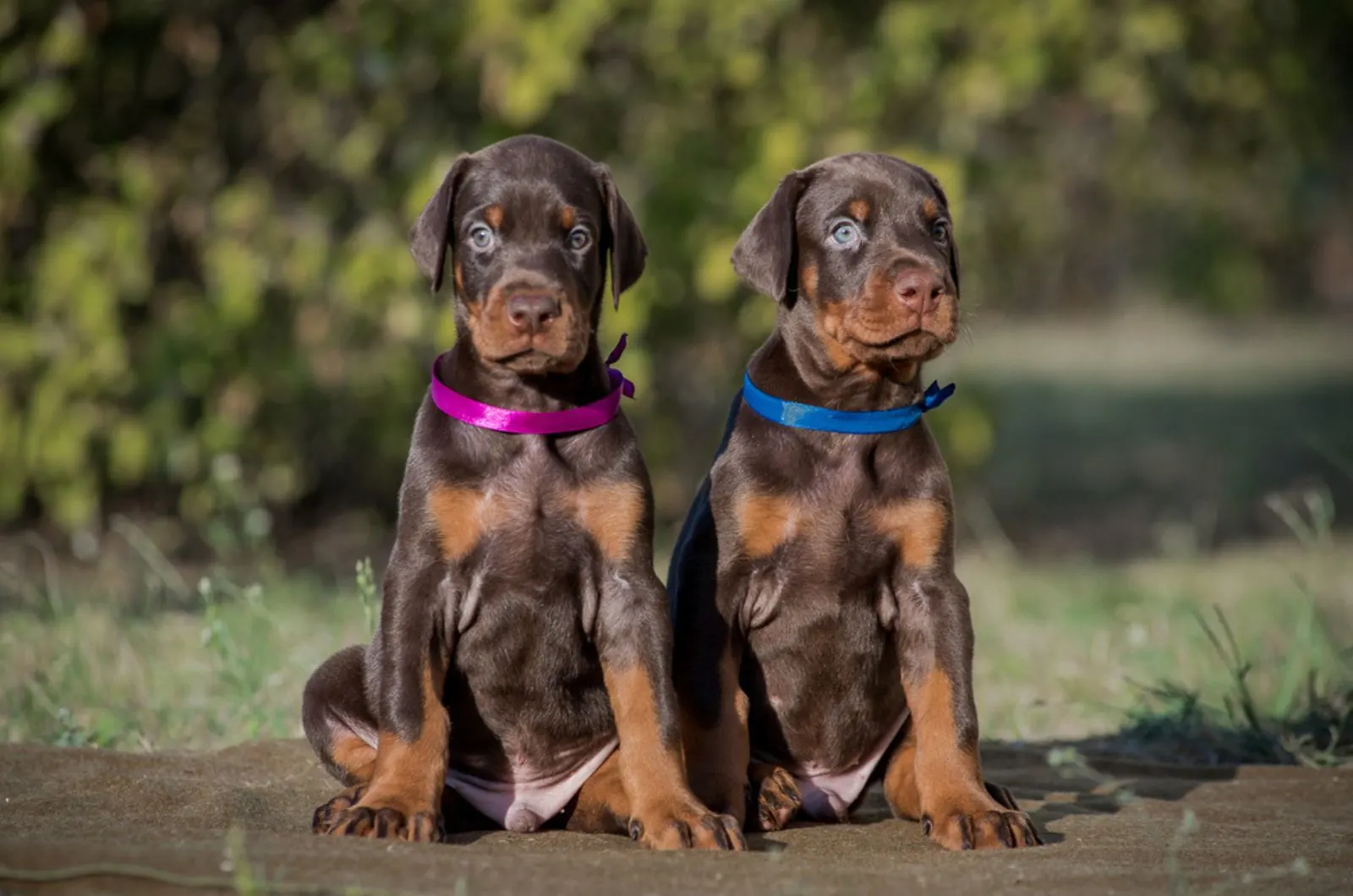 A small number of Starlaine Dobermans are bred, and they are proud of the titled champion, obedience, and agility dogs they have produced.
They are firm believers in next-best breeding, which involves doing all the required health exams in order to ensure the welfare of the pets you want.
They are a part of a few Doberman societies and clubs. Some of them are the American Whippet Club, the Doberman Pinscher Club of Puget Sound, and the Doberman Pinscher Club of America.
Additionally, they contributed to the creation of breeder referral systems, which they saw as being a crucial instrument for educating the public and supporting moral breeders.
They have helped many now-professional handlers gain experience in handling, and subsequently developing their own customer base. They adore having a stunning example of any breed so they can be able to claim the title of champion.
The Doberman has had the good fortune to assimilate, via selective breeding, the positive features of the breeds that already have left a mark on its lineage. It has always been a working dog devoted to helping people since the beginning.
A great family dog recognized for his kinship, the very well-bred and trained Doberman does indeed have a clear conscience, body, and spirit.
Starlaine Dobermans says that they provide the greatest example of a Doberman in the USA for your loving family or organization.
Most important info:
Location address: Oregon, Washington, United States
Phone number: 425-228-7070
Contact email: [email protected]
Webpage: Starlaine Dobermans
Socials: Starlaine Dobermans
Final Word
Many people make a mistake when purchasing from an untrustworthy breeder for the first time. Read and decide among these Doberman breeders in Oregon to avoid getting yourself in a similar situation.
Suppose you buy a Doberman from somebody who doesn't possess any of these qualities. In that case, you will be willfully contributing to the extinction of our breed and the requirement for protracted and labor-intensive rescue efforts. That is why buying from a good breeder is essential.
The Doberman breed is a good dog that requires not much more than your love and care. Buy your Doberman puppy from a reputable Doberman breeder, and train it to become an adult dog with a well-rounded personality.
You May Also Like To Read: