There are several reliable Dachshund breeders in Massachusetts that sell puppies of great quality, and we have gathered them in this article to help you find the right one for you and your family.
Both female and male Dachshunds are great family pets that are loyal and affectionate to their owners.
Wirehaired, short, or long-haired Doxie pups of any shade – the choice is yours.
However, what you should be careful of is the type of breeder you're looking to adopt the puppy from.
RELATED: Top 10 Dachshund Breeders In Florida
Puppy mills and backyard breeders should be avoided at any cost, as they don't offer puppies of good quality, health, or temperament.
That is why we provided you with the list of the best Dachshund breeders in Massachusetts that we hope will be helpful in your search for the perfect Doxie puppy.
Dachshund Puppies For Sale In Massachusetts
If you're looking for standard or mini Doxie pups, the breeders that are listed below will surely have at least one or two pups that suit your needs and requirements.
Most of these breeding outfits are held by small breeders that raise their pups in their own homes or places that possess all the necessary conditions for ethical breeding.
Without further ado, here are the most reliable Dachshund breeders in Massachusetts that are able to provide you with the puppy of your dreams:
1. DTD Puppies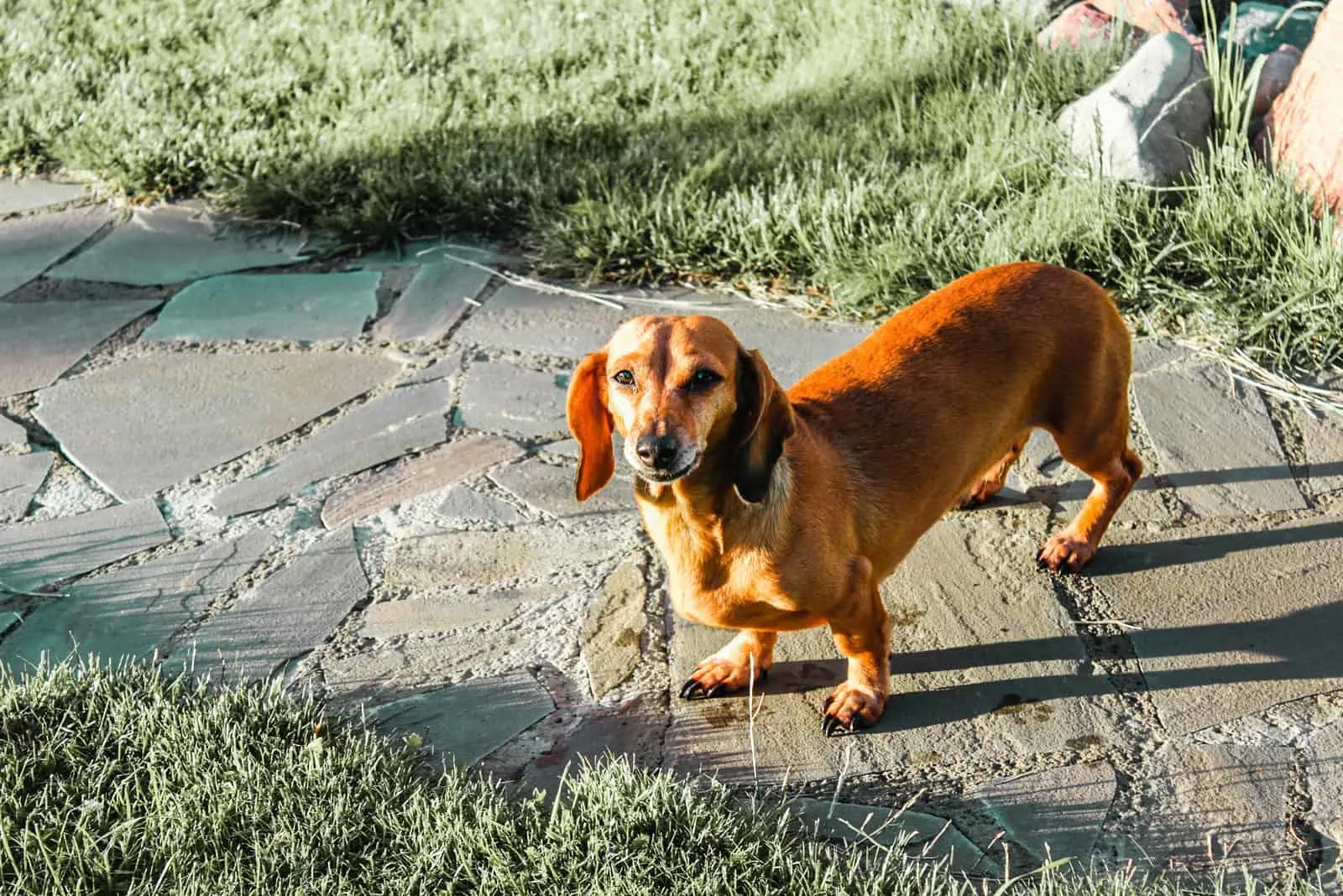 As one of the Miniature Dachshund breeders, DTD Puppies offer Doxies for sale only under the spay/neuter agreement with limited AKC registration.
READ NEXT: Teacup Miniature Dachshund – The 411 On The Tiniest Wiener Dog
They are experts in both short and long-haired mini Dachshunds of great quality that come from purebred parents.
All of the puppies from this breeder are raised with great care and affection, which is great preparation for life as a family pet.
They breed puppies for pet purposes only, but that doesn't affect the overall quality of their Dachshunds in any way.
Puppy Quality
All of the mini Dachshund puppies for sale are of great health and solid temperaments, but keep in mind that Doxies love to bark, so you'll have to train them from early puppyhood.
The breeder offers pups in different shades and patterns, including piebald, black and tan, tuxedo, and all sorts of cream Dachshunds, such as English cream and cream long-haired Doxie pups of miniature size.
All of their mini Dachshunds have received the first round of vaccines and have gone through deworming and microchipping as well.
It's important to mention that they require all of the puppies to be spayed/neutered on time.
The breeder takes great care of their pups and wants the future owners to do the same, which is why they do a checkup even after the pups are adopted.
On the other hand, the breeder recommends that all dog owners come to visit their future family pets as soon as they turn four weeks of age.
Purchasing Process And Pricing
The mini Doxie puppies from DTD puppies are usually sold for $2500, although the price can go up to $3500, depending on the coat color of the pups (cream Doxies of any kind are usually more expensive).
In order to adopt the pup, you will be required to go through the policy section on their website first. Then, if you wish to apply, you can do so by filling out the application form, also available online.
After the breeder reviews it, you can make the advanced payment of $500, which is non-refundable. However, if there's a valid reason you'd like to pass on available puppies, you can transfer the deposit to the next litter.
If you wish to visit the breeder and select your puppy in person, you'll be required to pay the deposit before the appointment.
Those who have further questions (that aren't answered here or on the breeder's website), can either send an email or call the breeder directly.
Breeder Details:
Location: North Andover, Massachusetts
Contact number: 978 885 0587
Official website: DTD Puppies
Email address: [email protected]
2. Paradise Dachshunds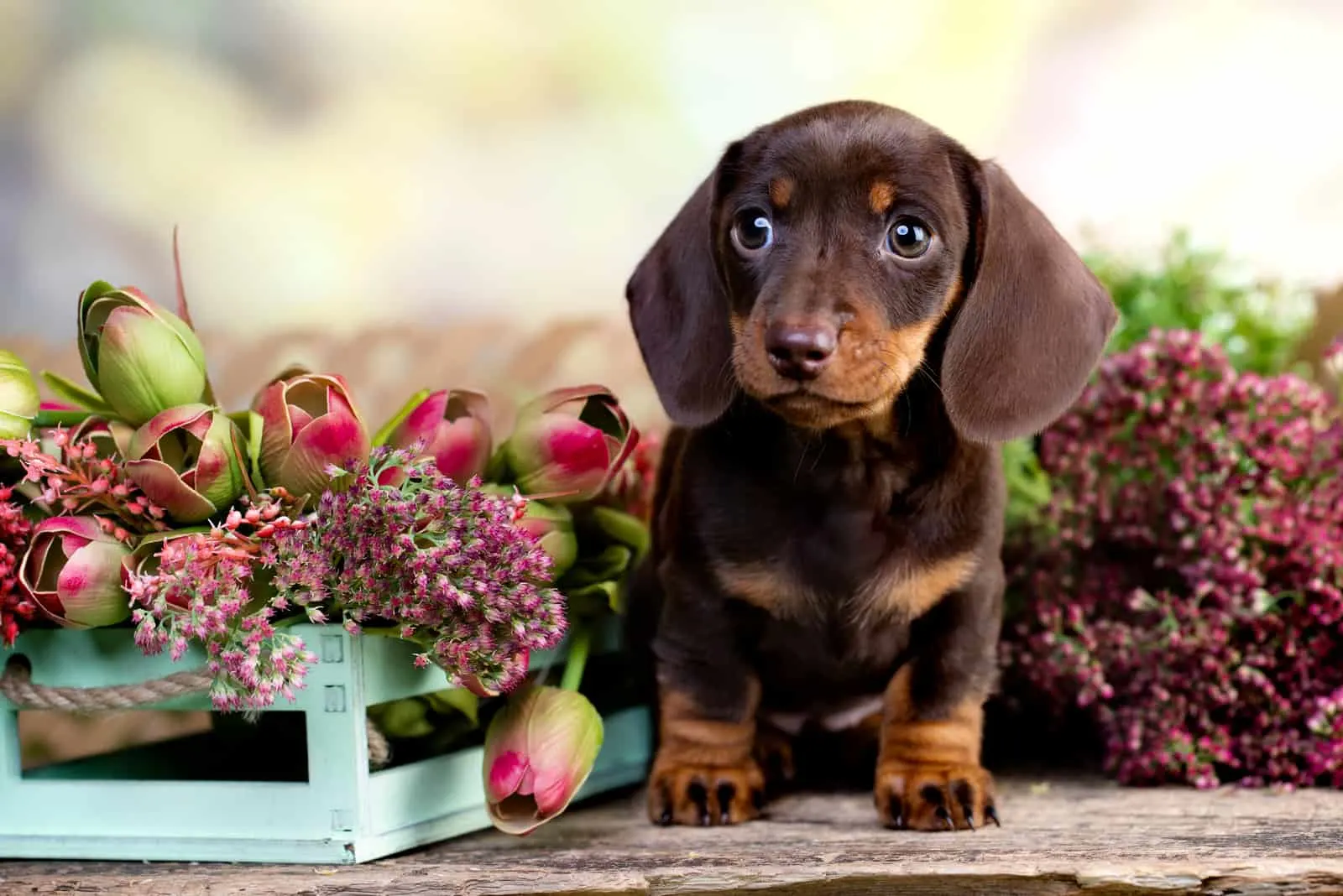 This home breeder is mainly focused on breeding and raising black and tan or red Dachshunds of great health and solid temperament.
The reason why they breed pups in these two shades only is the fact that these hues are usually found at dog shows.
All of the pups from this breeding kennel are AKC registered, bred from parents that have won several titles, and come from a champion bloodline.
The breeder is part of the Dachshund Club of America, as well as of the Connecticut Yankee Dachshund Club, which is yet another proof of their reliability.
Puppy Quality
The breeder states that they're focused on breeding Dachshunds of miniature size that comply with the American Kennel Club's (AKC) breed standard.
Their adult canines have been a part of big conformation events such as the AKC National Championship, Westminster Kennel Club, and other dog shows and competitions.
One of the owners of this breeding program is a veterinarian, which means that they have all the necessary expertise to produce healthy pups of excellent quality.
All the mini Doxies from this outfit are vaccinated, dewormed, and vet-checked before they are sent to their forever homes.
It's interesting to notice that this breeder doesn't offer a health guarantee on their pups, but that's because all new owners receive vet records and puppy reports.
However, if any health problems do appear, the breeder would like to be notified of it, so they can check the cause that occurred in that bloodline.
Purchasing Process And Pricing
If you want to get a mini Dachshund puppy from Paradise Dachshunds, you will need to complete the application form, after which you'll have to make a non-refundable deposit of $700.
The deposit can be made after the initial contact with the breeder, once you agree on all terms and choose the puppy you'd like to buy.
The breeder requires all of their potential clients to email the application to them. Only after the application is approved will they share their contact number with you.
All of the doggies come with obligatory spay/neuter agreements, as their canines are sold as pets-only.
If, for some reason, you're not able to take care of the dog anymore, the breeder will take the Dachshund pup back but will not return money for it.
Breeder Details:
Location: Uxbridge, Massachusetts
Official website: Paradise Dachshunds
Email address: [email protected]
3. Donna's House Of Dachshunds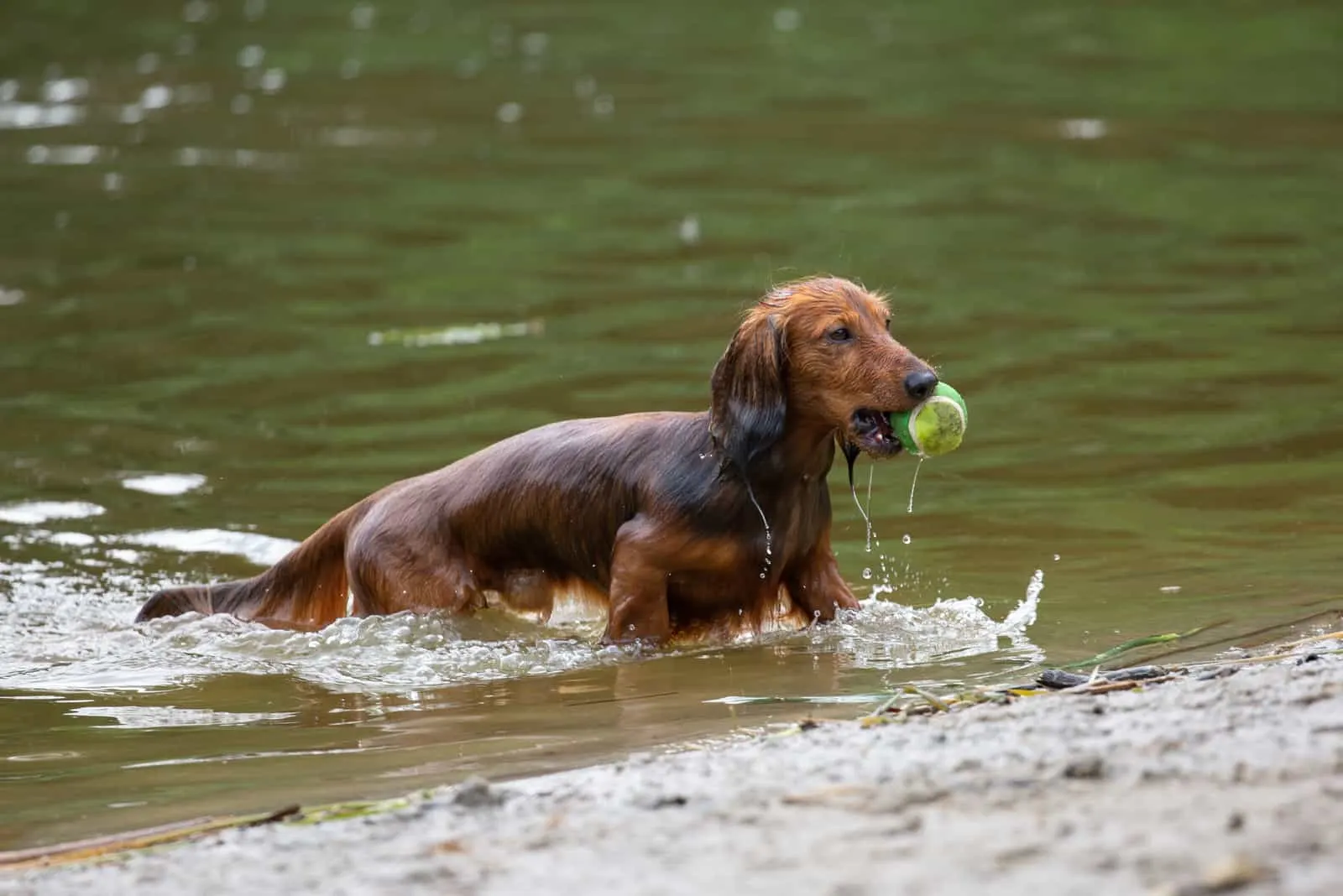 Although Border Collies were her first love, Donna, the owner of the breeding program, switched to breeding Dachshund puppies once she moved to Massachusetts about a decade ago.
The main reason she started breeding Doxie puppies is because of their nature. Dachshunds are far from aggressive pups; they're often used as therapy and service canines and are known for being lovely companion dogs.
She is devoted to breeding and raising Doxies with excellent conformation and wonderful smooth coats.
Puppy Quality
This breeder concentrates on breeding absolutely stunning Dachshunds with champion bloodlines with long-haired chocolate or English cream coats.
Her puppies are guaranteed to be healthy when they are placed in their new homes and are all certified with the AKC.
They put in a lot of effort to guarantee that her puppies have wonderful temperaments so that they can be good companions for families with children as well.
All of their puppies are from great pedigrees, which is why it can be said that they're almost perfect puppies.
The pooches are vaccinated, vet-checked, and prepared for their new homes as soon as they turn eight weeks of age.
Purchasing Process And Pricing
Unfortunately, there is no available information about the purchasing process and pricing of the Dachshund puppies from this breeder on their official website at the moment.
However, you can contact the breeder by phone or email to get all of the details you need.
What we do know is that the breeder provides all new owners with a starter pack that includes a litter scent toy and a small package of dog food (there might be other items included, too).
You will also receive a health warranty which includes results of tests on genetic disorders, along with the veterinary diagnosis documentation.
Breeder Details:
Location: Athol, Massachusetts
Contact number: 508 958 6198
Official website: Donna's House Of Dachshunds
Email address: [email protected]
4. Rumor's Dazzling Dachshunds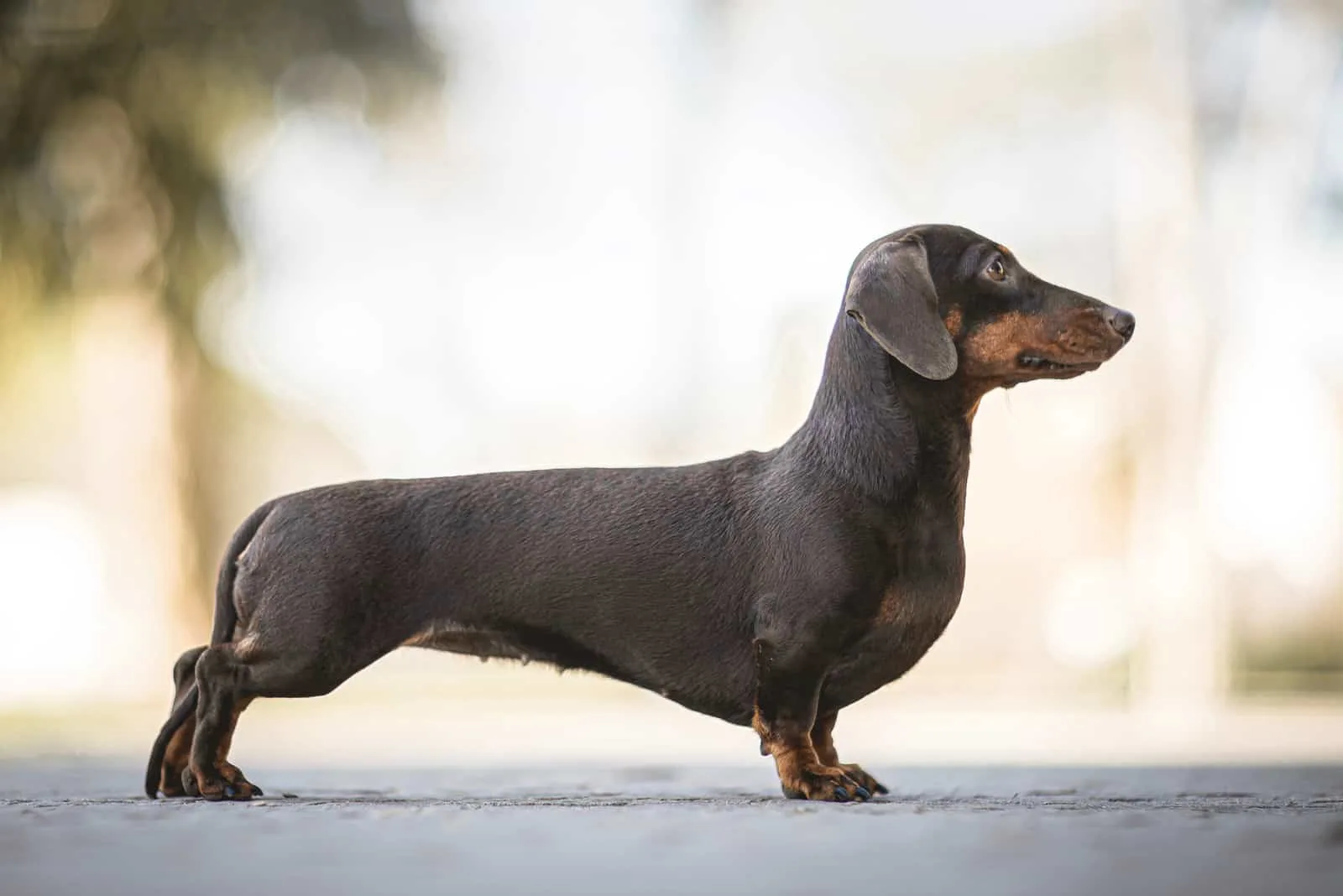 Rumor's Dazzling Dachshunds is one of the miniature Dachshund breeders in Massachusetts that specializes in the breeding of short and long-haired Dachshunds in shades and patterns such as dapple, piebald, chocolate, cream, and diluted hues.
The breeder takes great care of their miniature Dachshund puppies by providing them with proper medical care, along with a lot of affection and love.
Puppy Quality
All the Doxie pups from this breeding program are of top quality because of their excellent health and great temperament, which is confirmed by a large number of satisfied clients of this breeder.
Rumor's Dazzling Dachshunds are potty trained and prepared for their new families with basic manners they acquire during their early puppyhood.
The breeder is open to communication with future owners by sending them weekly updates on their pups' health and general well-being.
Unfortunately, the breeder doesn't have an official website, but you are welcome to contact the breeder and get all the information you need before you make the final decision.
Breeder Details:
Location: Wareham, Massachusetts
Contact number: 774 775 2055
Social Media: Rumor's Dazzling Dachshunds
Email address: [email protected]
5. Depot Dachsies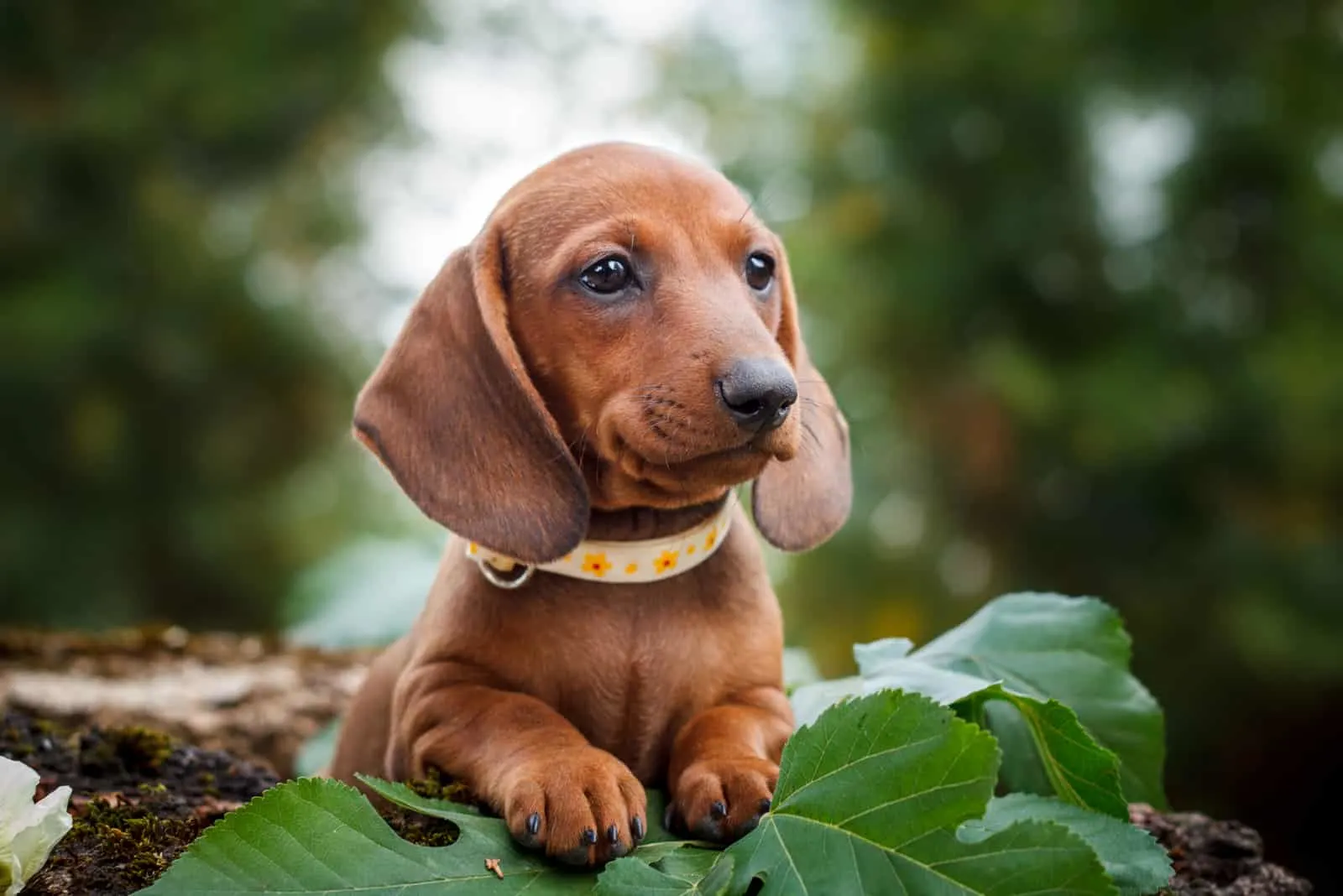 Small-scale breeders have proven numerous times that they breed puppies of the same quality as high-scale breeders who produce a large number of litters annually.
Depot Dachshies is one of the small home breeders of Dachshund puppies in Massachusetts that are dedicated to the production of smooth-coat Dachshunds, as well as miniature, standard, and tweenie Doxies.
The whole family is involved in the process of raising Doxie pups until the day they are sent to their new homes.
Puppy Quality
You can find Doxies in all colors, including black, black and tan, chocolate and tan, chocolate and cream, cream, red, and other shades, except for diluted hues.
Their Doxies are showered with love and affection that comes from all family members, including children. This is also a part of the socialization training that helps puppies to adapt more easily to new environments.
The main focus of breeding is on conformation and personality, as they strive to produce high-quality family dogs that will become the best furry buddies of their owners.
All of the puppies are available with limited AKC registration as they're not meant for further breeding. The breeder states on their website that they might offer a few pups with full registration, but only on rare occasions.
Guardianship Option
Depot Dachshies offer a guardianship program for people who live close to Middleboro or Easton (up to one-hour distance) and are ready to dedicate their time to train and take special care of the puppies.
This type of program enables the breeder to contact you if they need the puppy you adopted for breeding. This is essentially a partnership between the breeder and you, through which you'll receive a certain amount of money for every litter bred from your pup, or some other advantages (shorter waiting time on waitlist, etc.)
If you'd like to be a part of this program, there are several conditions you need to fulfill:
• Frequent communication between the breeder and dog owner
• Puppy insurance required
• Crate training required
• Puppy classes required
Contact the breeder directly if you'd like to apply for the guardianship program.
Purchasing Process And Pricing
Those who'd like to adopt a pup from this breeder should download the application form from their official website and return them, once it's completed, via email.
After the application is reviewed, you'll be required to pay $150 to join the waiting list and another $150 once you select the puppy you'd like to buy.
The price of the puppies isn't available on the website at this moment, but the breeder will share all necessary details with you once you make the initial contact.
Breeder Details:
Location: Easton, Massachusetts
Contact number: 508 801 1912
Official website: Depot Dachsies
Email address: [email protected]
How To Choose The Right Breeder?
Even though Doxies are a popular dog breed among families, it's quite difficult to find Dachshund breeders in Massachusetts who are trustworthy and reliable.
If you're looking for a pup, but you're not sure whether the breeder you have found is reliable, you can do your own research on them and check whether they are:
• Able to answer all your questions
• Members of any organization
• Selling registered puppies (for purebred canines)
• Ready to share details regarding the puppy's needs later in life
• Ready to provide the best puppy that will suit your needs
• Ready to share all necessary documentation (health records, vet reports, etc.)
If you're not able to find any reputable breeders online, you can try to contact local vets or owners of the same breed you're interested in (someone you know or meet in the park).
If you're ready to pay more for shipping, you can also check breeders in nearby states like New York, Vermont, Connecticut, New Hampshire, and Rhode Island.
Why Should You Avoid Puppy Mills And Backyard Breeders?
Backyard breeders and puppy mills are problematic as they're not able to provide the owners with healthy puppies, mostly because they don't do any health check-ups of parent breeds or puppies.
Also, these types of breeders aren't registered at any reputable dog organization such as the American Kennel Club (AKC) or Dachshund Club of America.
Puppy mills often offer pups at suspiciously low prices, as they don't do any vet checks, vaccination, microchipping, deworming, or any other testing and medical treatment, for that matter.
These places often keep puppies and adult dogs in inhumane conditions, which can result in destructive behavior and serious health issues.
Wrapping Up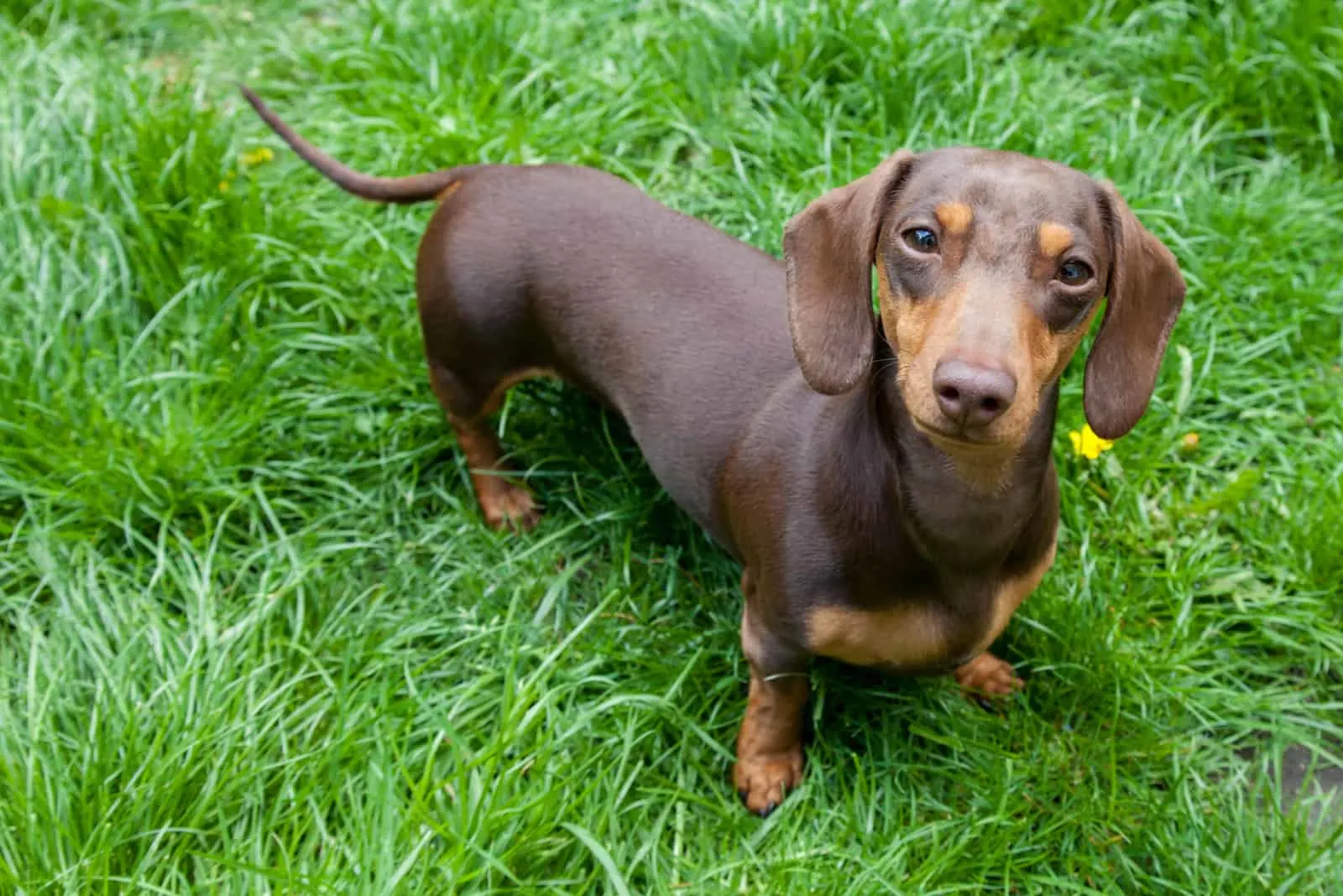 Finding trustworthy Dachshund breeders in Massachusetts is challenging but not an impossible task.
However, it will require thorough research of all breeders you come upon if you want to own a healthy puppy of good quality.
Puppies from puppy mills and similar places might be available for lower prices, but they come with a high risk of serious health and behavioral issues.
Therefore, if you want a non-aggressive Dachshund of good quality and health, you can choose one of the breeders we mentioned in this article.
Good luck with finding your perfect Dachshund puppy.
READ NEXT:
Dachshunds Barking – What To Do About It (Causes And Prevention Tips)
Why Do Dachshunds Shake? The Common Reasons And Remedies
Why Are Dachshunds So Needy? Dealing With Clingy Wiener Dogs