Deciding on getting a new dog is an experience of a lifetime. There are many factors that you consider before bringing your furry friend back home. We understand that it is very exciting but do not let that make your research on the breed deteriorate.
By being in this article we can see that you have chosen, or at least have it in consideration, the Coonhound, which is also mostly addressed as the Black and Tan Coonhound.
Since these dogs are very special, we can conclude that you are an interesting person as well. These dogs are very specific and not that well known so finding a breeder might be a bit difficult.
Don't worry we are here to help you with our list of Coonhound breeders that we find reputable and trustworthy.
Buying Vs Adopting A Dog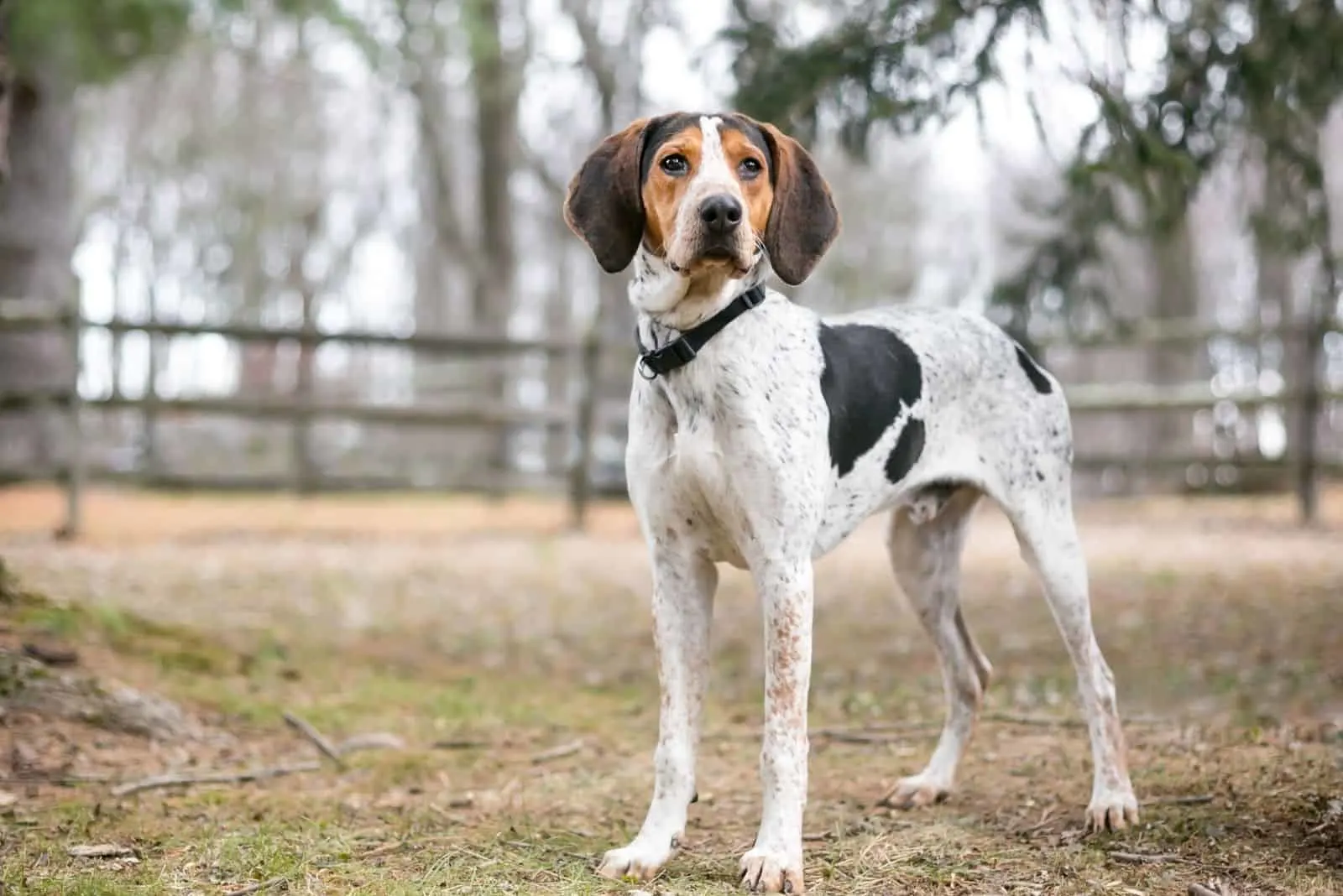 Adoption is something that can have a lot of discussion around it. We are all for saving dogs and providing them with new homes, but this is not something that every person is ready to do, and it is completely understandable.
If you have found your perfect match in a certain dog breed after you have done all the research, finding that dog in adoption centers can be difficult. This is one of those breeds that can be quite tricky to find in shelters.
You might think that there are no areas around you for adoption but you just need to do a little bit of research and we are sure that you will find one.
A Coonhound is a specific dog that is mostly held on farms, not in the cities. They are working dogs that are extremely difficult to find and they need a lot of work to get them to the level you want them to be.
This is the reason why these types of people that get this dog will take good care of it and will not just leave the dog behind. But never lose hope.
Some people might figure out that these pooches are a big bite for them and because of that make a decision to bring them to the shelter.
With a breed like this, it is better to buy them from a reputable breeder than to wait for them to appear in a shelter because it might take forever. There might even be a chance that this dog never appears in the shelter that is near you.
If you decide on buying a dog, that is completely justified. You have found a breed that you like, and you want to raise them from puppyhood to adulthood all the way to the dog's senior years.
We want to warn you about the places that are called puppy mills. You should never buy a dog from these places because they treat their dogs horribly and keep them in inhumane conditions.
Coonhound Breeders That You Need To Check Out
Now that you have decided what breed you want and that you want to buy the dog and not adopt it, you need to find the perfect breeder.
This task is not easy at all. A lot of research needs to be done and you need to make sure that you are not dealing with scammers or people that are breeding these dogs just for profit and are not caring about the well-being of these pooches.
Here is the list of Coonhound breeders that we have picked just for you.
1. Egli's Ragin Black And Tans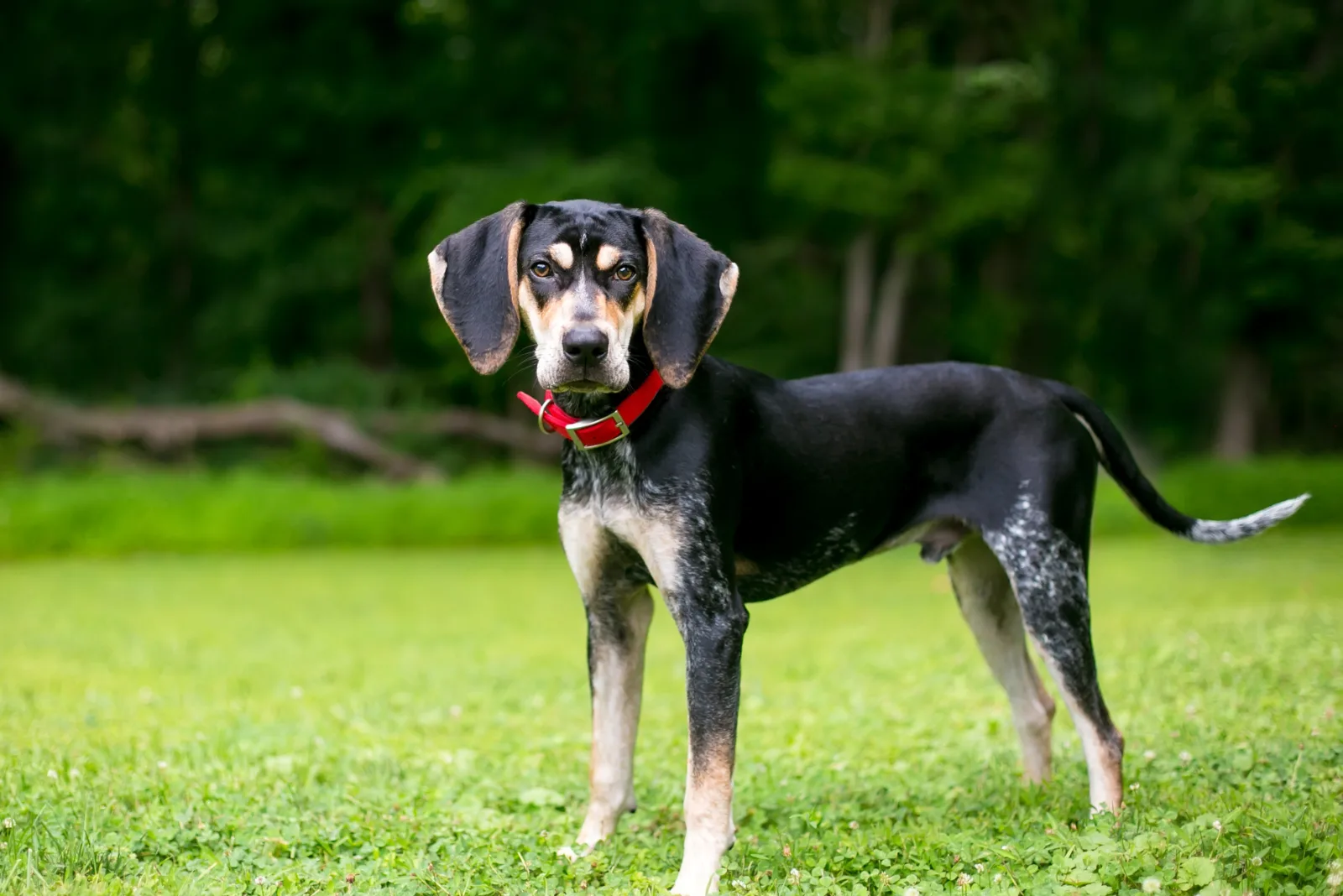 Egli's Ragin Black And Tans are owned by a person called Donnie Egli, and he has a lot of help from his family in breeding these dogs. They have been breeding these dogs for over 25 years.
This older gentleman has proven that he is amazing with this breed and that he only picks the best bloodlines to produce the best puppies for you. All of the puppies go through necessary health checks.
He is super proud of his dogs to the extent that there is even an option to exchange your dog for free if it does not reach your expectations. You can do this by the time the dog reaches the first year of age. He takes treeing seriously.
His website is full of pictures of his family that help him breed these pooches. When you look at the pictures you will be able to see that they are a big family that also has children. This is amazing when it comes to the early socialization of the dogs.
They will be used to kids, other dogs, and being surrounded by a lot of people.
If you want to get a hold of one of his puppies, you can always contact him and ask for everything that you need. He prefers if you contact him by making a phone call because he admits that he is not good with email, and computers in general.
And we find that to be adorable.
His website is also filled with a lot of useful information, so we advise you to check it out.
Egli's Ragin Black And Tans Details
Website: Egli's Ragin Black And Tans
Location: 1750 Willow Blvd, Lockridge, IA 52635
Phone: 319-931-1730
2. Buffalo Hollow Kennels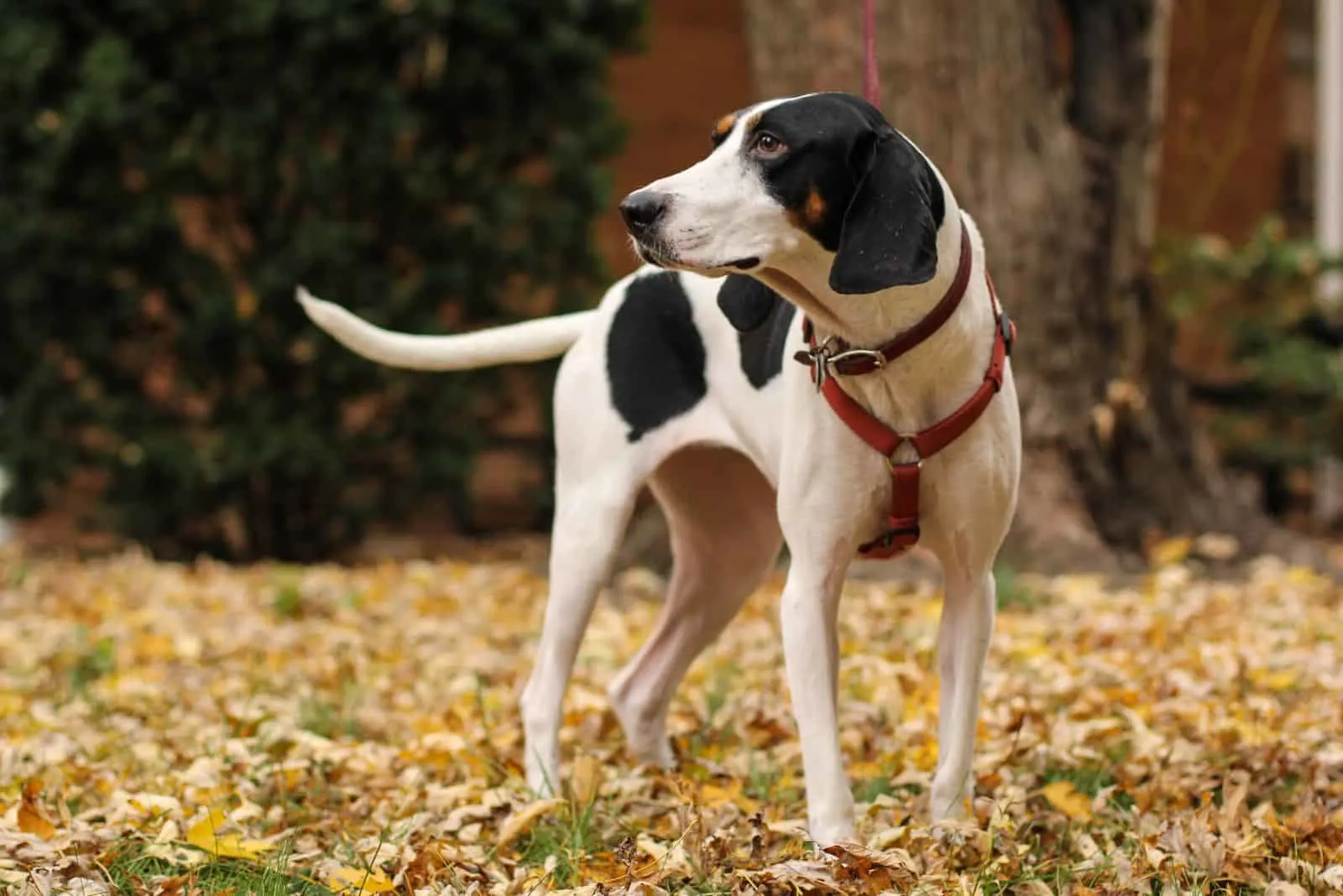 Buffalo Hollow Kennels is owned by a man named Matt and he takes a lot of pride in his dogs. He guarantees that your pooch will tree within the first year of its life. This is something that he takes seriously.
He is even willing to give you the money back if the dog does not exceed your expectations.
A hunting dog is the main thing that he can say that you will be getting if you buy a dog from them. He also offers to train your pooch to become a hunting dog. He also considers them as family members so he wants to find a family that will take good care of his dogs.
He prepares you for the fact that these dogs are quite energetic and you might ask yourself when will my puppy calm down, but don't worry, as they grow up they become more manageable.
If you visit his website, you will be able to see the breeding dogs' pedigree. If you have any questions, feel free to contact him.
Buffalo Hollow Kennels Details
Website: Buffalo Hollow Kennels
Location: Virginia, Floyd County
Email: [email protected]
3. Timber Chopper Redbones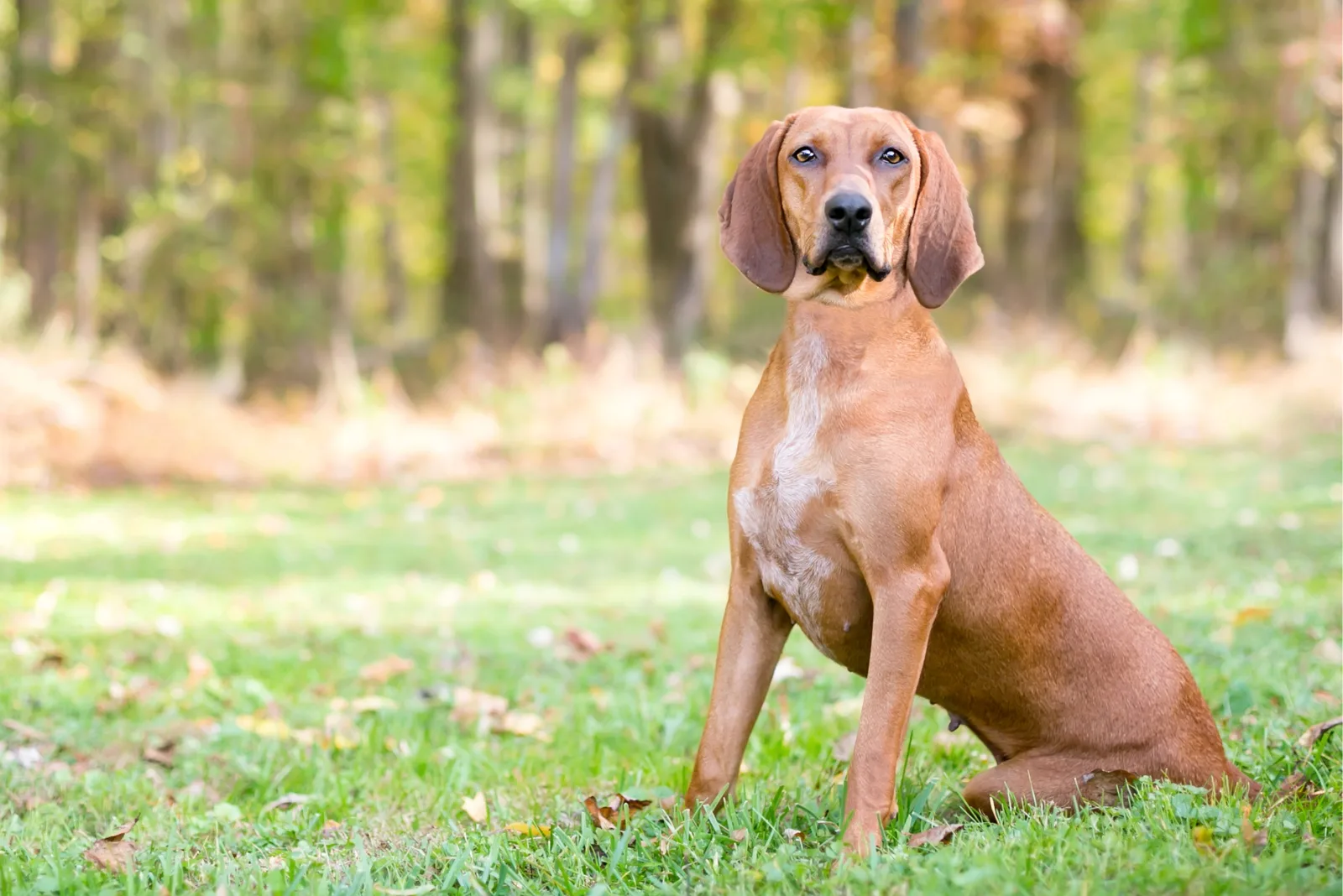 Timber Chopper Redbones kennels were founded in 1976 and have been going strong since then. They are experts at breeding Redbone Coonhounds. They take the breed standard very seriously and because of that, they are members of the UKC and AKC.
Their dogs have proven to be excellent at bear hunting and coon hunting as well. But these are not the only things that they excel at. These dogs will make perfect family members.
The hunting abilities and amazing temperament are things that you can expect your puppy to have.
On their website, you can see the detailed schedule of deworming and vaccination. You will see week by week what your puppy will receive. You will also be able to see that their adults are getting their vaccinations and dewormers regularly.
They give the puppies only the best food, and they usually wet it with warm water. After 7 weeks they will introduce them to dry food. At 8 weeks you will be able to collect your puppy and bring it home.
If you want to know if there are any litters available or planned, you can always contact them. Asking anything that you want to know is never a problem for them, they will provide you with any answer that you need.
Timber Chopper Redbones Details
Website: Timber Chopper Redbones
Location: Amelia Court House, Virginia
Phone: 804-382-3186
4. Triple I Kennels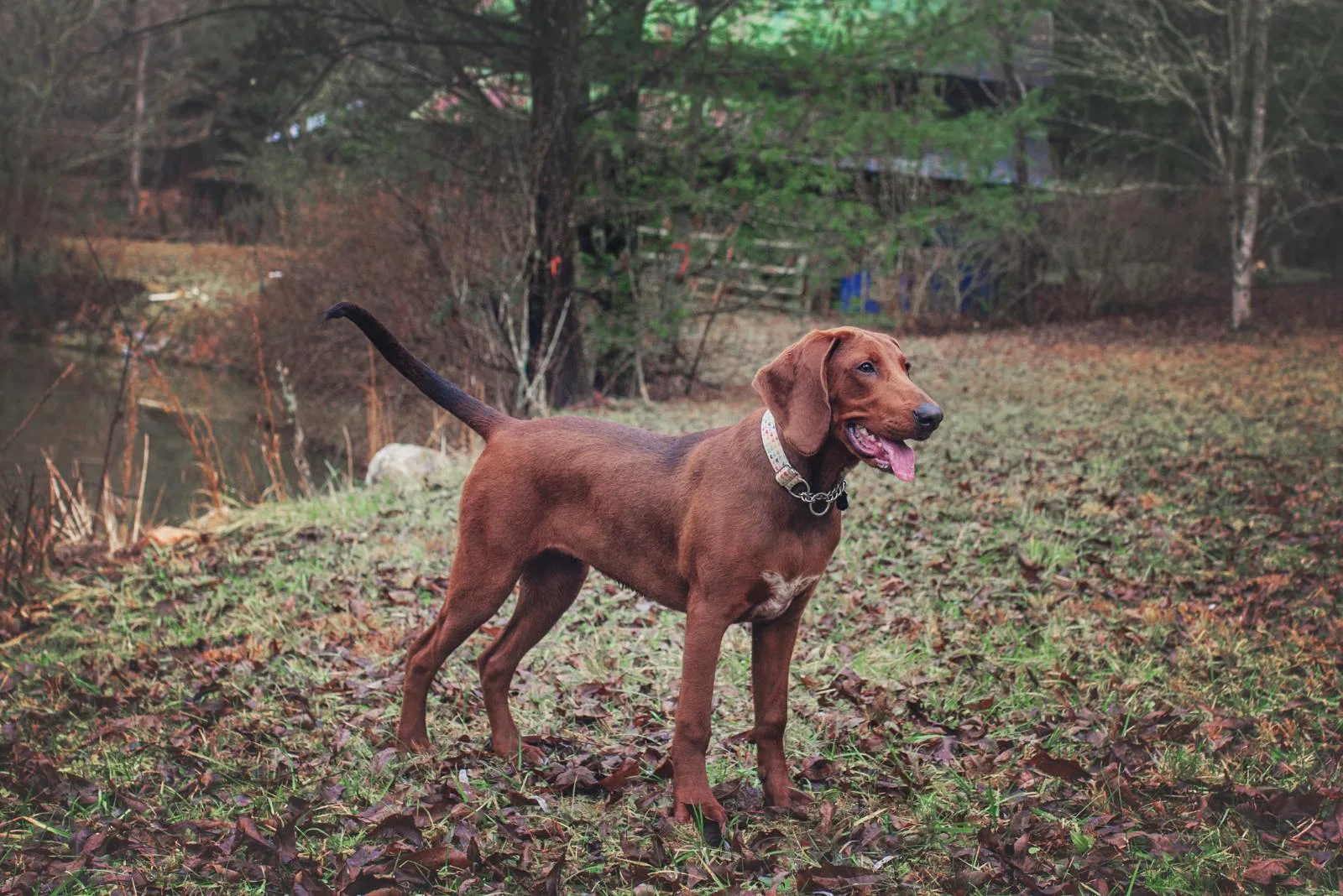 Triple I Kennels is owned by a man named David and he has dedicated his time to breeding Redbone Coonhounds. He wants to showcase the ability of these dogs and make them more popular.
David is a master when it comes to training hunting dogs. He has trained many different breeds to become some of the best hunting dogs. By that, you can expect that your puppy will be amazing as well and that it comes from a great bloodline of hunting dogs.
He believes that the Redbone Coonhound makes some of the most amazing companions and equally amazing hunters, especially when it comes to hunting at night.
His puppies are $500. We advise you to get on the waiting list, but you need to know how to do so. He likes when people contact them by making a phone call or email. If you have asked all the questions and decided on getting a puppy from him, you will need to send a deposit.
First, you will tell him whether you want a male or a female puppy, or if you don't have any preferences. The deposit is $100, and it is a guarantee for him that you are serious about getting his puppy.
The rest of the money you will give when you come to pick up your pooch.
You can also fill out an application that is on his website if you want to get on the waiting list.
Triple I Kennels Details
Website: Triple I Kennels
Location: Hustontown, Pennsylvania
Email: [email protected]
5. Passchendaele English Coonhounds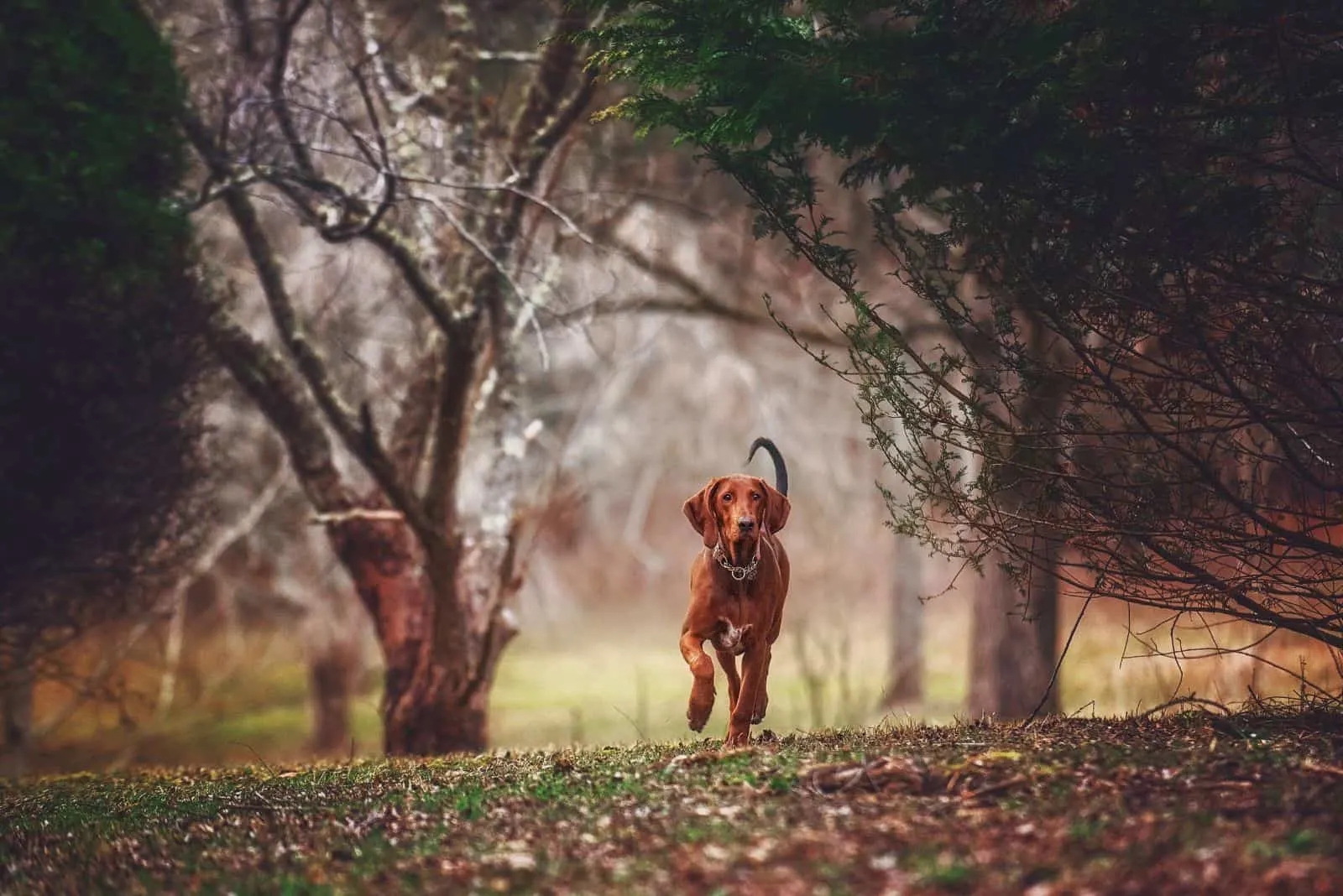 Passchendaele English Coonhounds are led by people that deeply care about the well-being of their dogs. They want to make sure that they are providing you with the best puppy by carefully picking the best bloodline out there.
Their puppies will have:
– Amazing health
– Hunting abilities
– Family companion compatibility
– Best Temperament
They are registered by the UKC because they think that this is best for their English Coonhound puppies. Their puppies are also eligible for single registration with the AKC and the PKC.
They take their breeding program seriously and are always looking for new ways to improve it.
All of the puppies are raised in their home and are always surrounded by people. When you get your puppy, you will also get health certificates, a list of all the vaccines, and a little puppy package that will have some of their milestones.
All of the puppies are microchipped.
Passchendaele English Coonhounds Details
Website: Passchendaele English Coonhounds
Location: 2903 Washington Road, Waldoboro, ME 04572
Email: [email protected]
Coonhound Puppies For Sale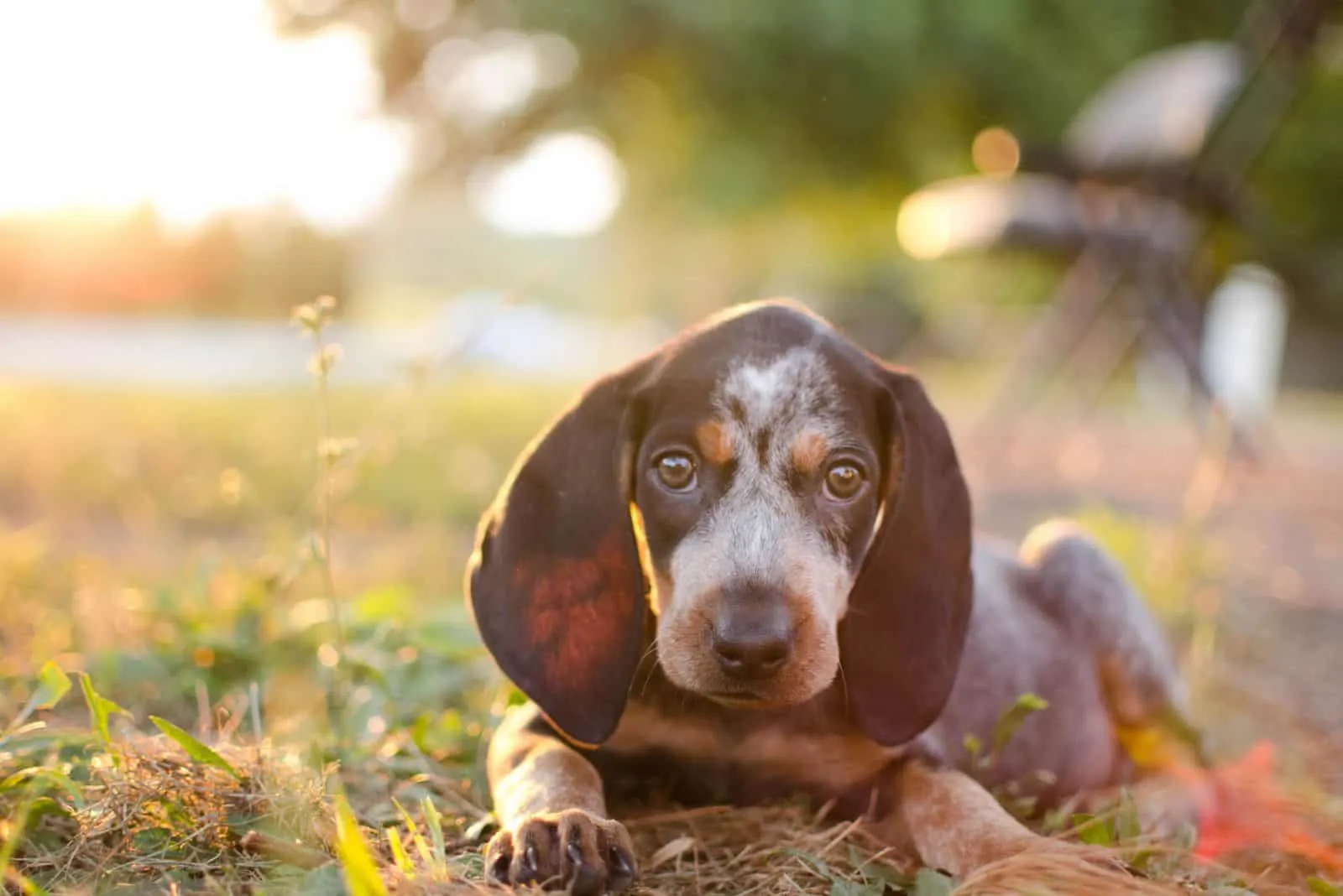 When it comes to Coonhounds the price can be determined by the color of the dog. All of them are around $300 to $800, but the bluetick coonhound puppies can be around $1,200, depending on the breeder.
All of the Coonhounds, no matter the color, are the same and have the same temperaments. The color should not be the biggest factor that will make you buy a dog. If you find a breeder that has a Coonhound of your desired color then you should go for it for sure, but don't make it a priority.
Besides paying for the puppy you need to be prepared that there will be some more costs that are the highest when you are preparing to get your pooch home.
Some of the costs are getting your puppy a leash, a collar, toys, a dog bed or kennel, grooming tools, dog food, treats, etc. These are just some of the costs that you will have. It can be a bit overwhelming because you are getting it all at once.
But as the dog gets older the costs will get lower. The vet bills are one of the costs that will be high when your dog is a puppy, then it will lower down a bit, and then it will probably raise back up again when your pooch gets to senior years.
When it comes to dog food you should only pick high-quality ones. This is something that you should not skimp on. The food has to meet all the dietary needs of the dog, especially dogs like Coonhounds that spend a lot of time being active and on the go.
You need to be prepared to have a lot of cleaning supplies because there is a possibility that your dog will poop in the house in the beginning stages.
How To Know If You Have Found A Reputable Breeder?
There are some factors that a reputable breeder needs to fulfill. This can be a bit trickier when it comes to dog breeds like Coonhound. Since these dogs are hunting dogs and the buyers may not be as concerned about some of these things, it may make it a lot more difficult for people that care about these factors to find a breeder which will respect some of the things from the list.
Here are some of the things that you need to keep an eye on when choosing a breeder.
– Every reputable breeder will make sure that their breeding dogs and puppies go through all the necessary health tests. You will need confirmation that the test has indeed been done. This is why all reputable breeders will provide you with a health certificate.
– If they are claiming that they pick only the best bloodlines you need to see a confirmation of that as well. This is when the breeder is more than willing to show you the Pedigree of all of their breeding dogs.
– They need to be willing to show you the parent dogs and even the puppies when they get born. If breeders are hiding the dogs and do not want to show them to you even via a video call, you can take that as a red flag. This can mean that they are hiding the condition in which they are keeping their dogs.
– Some of the breeders will be either AKC or UKC registered. This is not something that is extremely important because there are some amazing breeders out there that are not registered with any of the clubs.
– Good breeders will make sure that their dogs and puppies are comfortable. They will never let their dogs stay out in cold or extremely hot temperatures. Most breeders keep their dogs and puppies in their own homes. If they keep them outside, they make sure to make the most comfortable kennels that will keep the dog safe and sound.
– They will stay in touch. Once you decide on getting a dog from them, they need to be open to any questions that you may have. If they all of a sudden ghost you, it may be a problem. A check-in from time to time should be approved.
Sites Where You Can Find Coonhound Puppies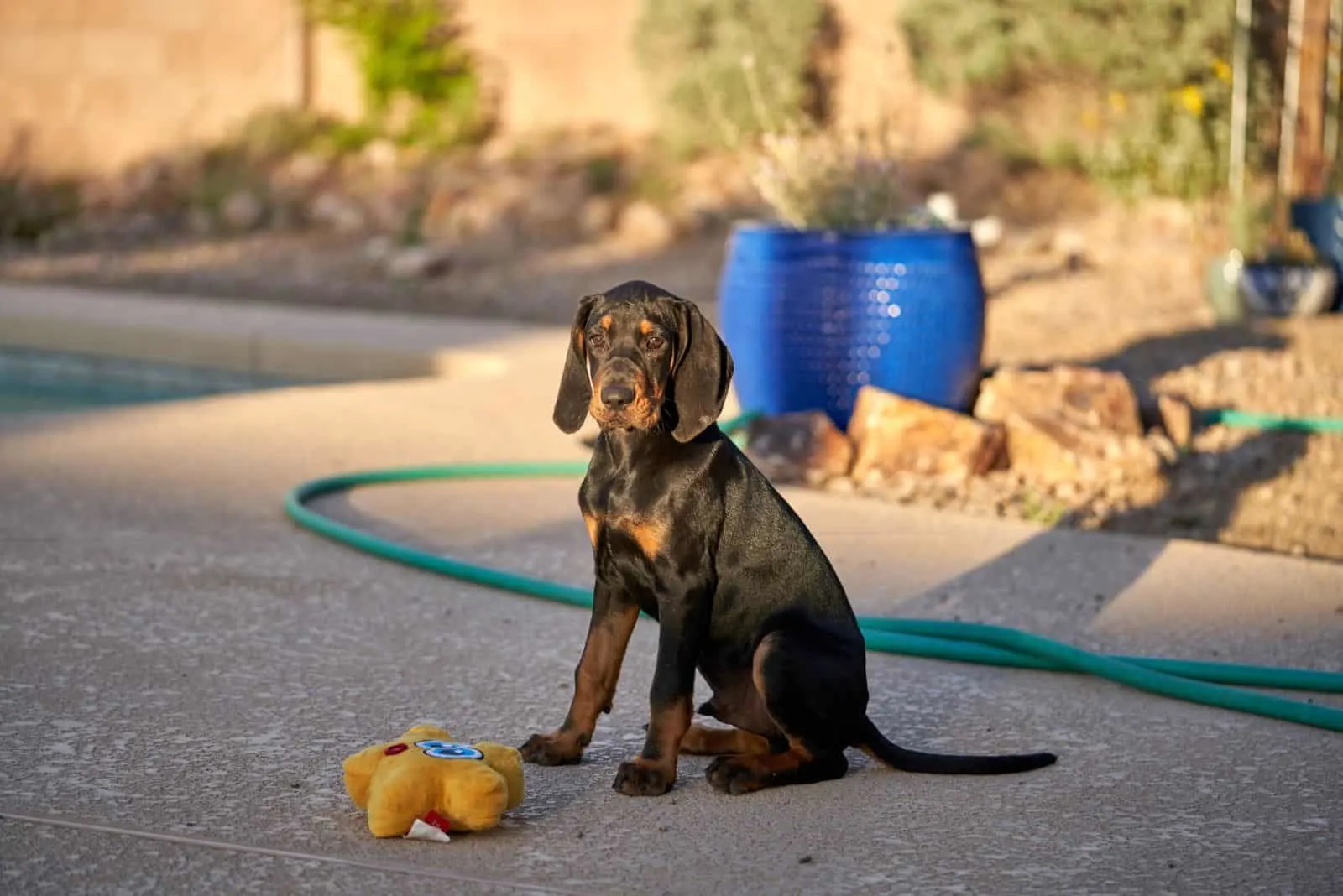 We have gone through some breeders that we believe are trustworthy and what makes a breeder reputable in the first place.
But besides getting your pooch from a breeder you can consider some other options in getting your dog, and one of those options is visiting sites that are full of people selling puppies and even adult dogs.
This way of finding your puppy may be a bit scary, and overwhelming for sure, but don't worry, we are here to help guide you through the process and give you all the information you may need.
Before we list the sites, we want to make sure that we go through all the things you may need to keep your eye on.
What To Be Careful About
We immediately want to start with the list of things you need to keep an eye on:
– Even if these people are not professional breeders, they need to make the puppies' health the priority. They need to go through all the necessary vet checks and receive all the needed vaccinations. If they cannot prove to you that they have done all the health tests, you should find another person that is selling the breed that you want.
– You can find puppies that are a bit cheaper than the puppies that you can get from a breeder. This can be thought of as a bad thing, but it does not have to be. Some people are aware that they are not professional breeders and they do not want to charge you like one.
– Keeping in touch before making the final decision of getting a puppy from them. This means that the person selling the puppy should be more than willing to respond to your messages or email to organize a video call. This way you will be able to see the puppies and you can be sure that they are genuine about selling the puppies to a loving home.
– They need to show you the puppies. Some people might not be comfortable with you coming in person to see the puppy, especially if you still have not made the decision to actually get the puppy. But a video call should not be a problem. If they only want to contact you by phone call or email, you should find someone else.
– The description of their ad is important. If you see a detailed description that almost gives the answers to all of your potential questions you can consider this person to be serious about their puppies and where they will end up going.
These are some of the factors that you should keep an eye on. There can be some misunderstandings because the sellers can also be cautious as well. There can be a lot of buyers that are scammers, not just the other way around.
These sites are for people that may have gotten an accidental litter but are serious about the well-being of future puppies. Some people might have a litter from time to time but do not want to consider themselves breeders.
This is also not a bad thing, but only if you see that they are serious and fulfill every factor that we listed. If they are doing this only because of the profit you should stay away from them.
These sites can also be good for people that are just starting the journey of becoming a professional breeder.
The List Of Sites And How They Work
Every one of these sites works in the same way. You will have some brackets where you will need to put the information that you need.
In one of those brackets, you will put the breed of the puppy you are looking for, for example, a Beagle, Plott Hound, Golden Retriever, Coonhound, etc.
In the other bracket, you will put your location, for example, New York, Ohio, Oregon, North Carolina, Kentucky, etc. You can be more precise or less precise with your location.
But you need to know that if you are really precise with it you will probably have fewer available litters. If you put a more general location, there will probably be more litters that are available.
When you have filled that out, you will be able to see all the puppies or even older dogs that are being sold. Some of the sites will also have some professional breeders but mostly there are only people that are not breeders selling puppies on these sites.
Here is the list of sites that you can check out
– Good dog
– GunDog
To Conclude
Deciding on the dog breed and finding the perfect breeder are two difficult tasks that you need to go through to find your future furry best friend and family companion. Depending on what breed you decided on, the search for the breeder can be easier or more difficult.
With breeds that are popular, you will be able to find a breeder fast, but the problem with the popular breeds is that there are many breeders that are doing this only for profit and not for the love towards the breed and the well-being of the puppies.
With breeds like Coonhounds that are not as popular as a Golden Retriever, for example, finding a reputable breeder will be difficult.
Never let the excitement of getting a new dog go to your head. Do your research. We hope that we've helped you with the search for a Coonhound breeder with the list of them that we've made.
We hope as well that you unite with your pooch as soon as possible and that you two create many happy memories and live long, loving, and happy lives.
Read Next: • 5 Best Redbone Coonhound Breeders In The US