The Redbone Coonhound is a friendly hunting dog, with a beautiful reddish coat and long floppy ears. They are portrayed in movies and TV shows as dogs with booming barks and easy-going natures.
And they are right! If you want to find yourself a wonderful watchdog and an amazing family companion — the Redbone Coonhound is the dog for you!
They are all-American dogs, born and bred in the US, but they are still quite rare. Of course, you can look for yourself and see that there are many "breeders" that sell puppies with uncertain pedigrees.
They often mix the Coonhound with other breeds and claim they are purebred. These breeders are often not so keen on keeping the dogs both happy and healthy. They are in it for the profit.
But, if you want to find a Redbone Coonhound of excellent conformation, temper, and all other traits that go with this beautiful dog, you can take a look at our list of the 5 best and most reputable Redbone Coonhound breeders in the US.
Redbone Coonhound Puppies For Sale In The US
As we already mentioned, the Redbone Coonhound is one of the original American dog breeds. They were bred by the American settlers for the purpose of hunting raccoons. And they were excellent at it. People still use them in sport hunting games, but nowadays, they are mostly loving family pets.
Just as they were excellent hunting dogs, they are excellent family dogs. Their life expectancy of almost 15 years and gentle and loyal nature make them great pets for families with children.
So, if you are looking for a new puppy and you decided on the good ol' Coonhound, we are here to help you find Redbone Coonhound puppies across the States.
We've got the list of the 5 best Redbone Coonhound breeders to help you find your perfect doggo. You'll see the info about the breeder, their location, and contact details.
Let the hunt begin.
1. 3 Color Kennel, Crocket, TX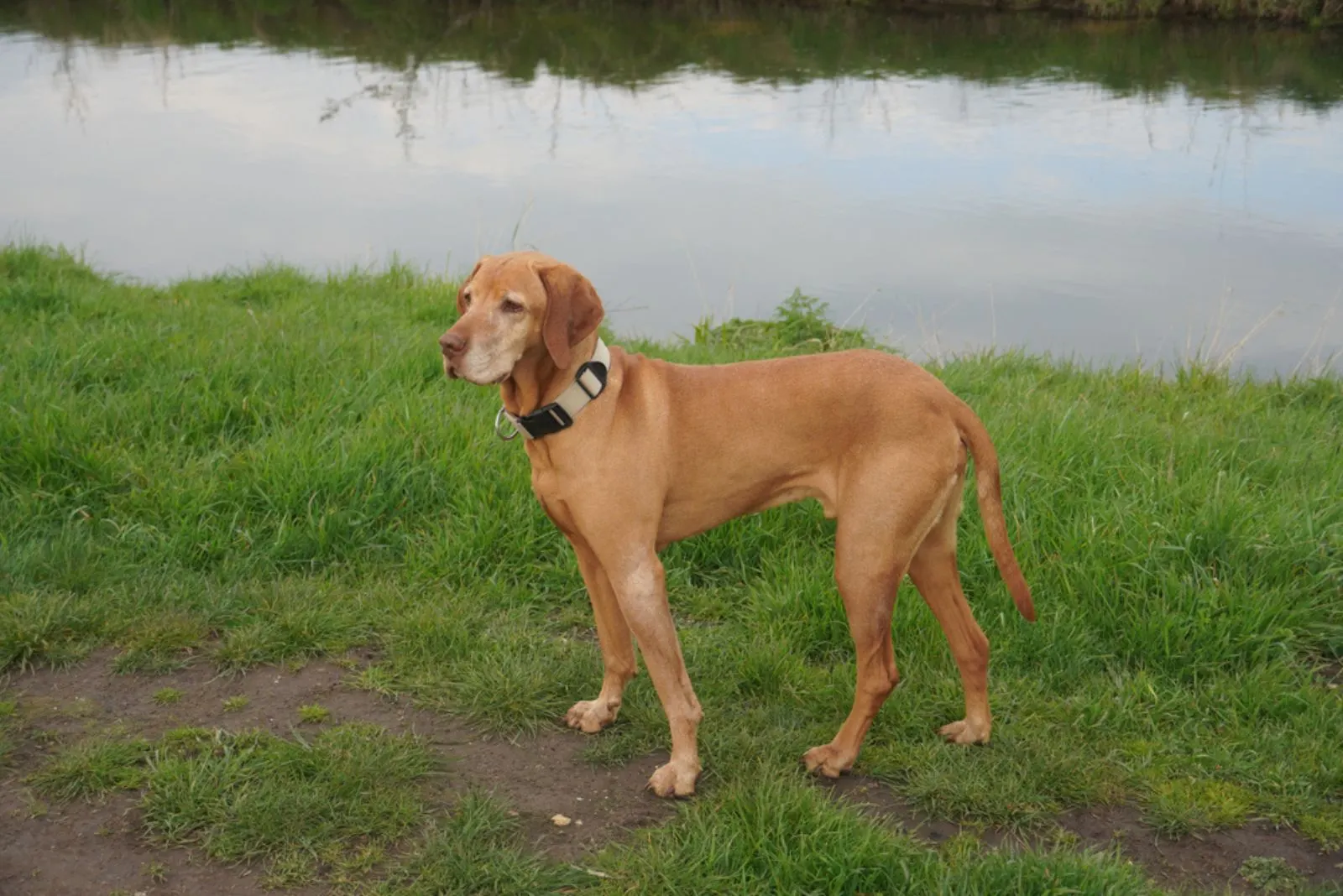 First on the list is Jessica McRae and her 3 Color Kennel. She breeds Redbone Coonhounds and Treeing Walker Coonhounds. But the Redbone Coonhound breeders are what we are interested in right now, so we will focus on her Redbone puppies.
And Jessica has the most beautiful and well-tempered Redbone Coonhounds in Texas and beyond. She implements the socialization of puppies from an early age. She makes sure her puppies will grow into confident and well-tempered adult dogs that can handle any situation.
That's why she uses early neurological stimulation methods on her puppies. This means that she makes sure they know what normal sounds, smells, and objects are. She takes them on walks and teaches them how to behave with a leash or off-leash.
Through early walks, she makes sure puppies get used to going on a walk and they learn how they should behave when they are outside the home, especially in the dog park. You can ask Jessica how often to walk a dog and other information about playtime because Redbone Coonhounds have high energy levels.
Jessica and her husband Michael expose their puppies to other dogs, cats, and other types of pets, as well as children of various ages. Different situations are included too, from rain and windy weather with all the scary noises to a friendly neighbor ringing the doorbell.
Her dogs also come with a three-year health guarantee that covers the genetic diseases common to the Coonhounds.
Address: Crockett, TX, United States
Website: 3 Color Kennels
Email: [email protected]
2. MI Pondholer Redbone Coonhounds, Manton, MI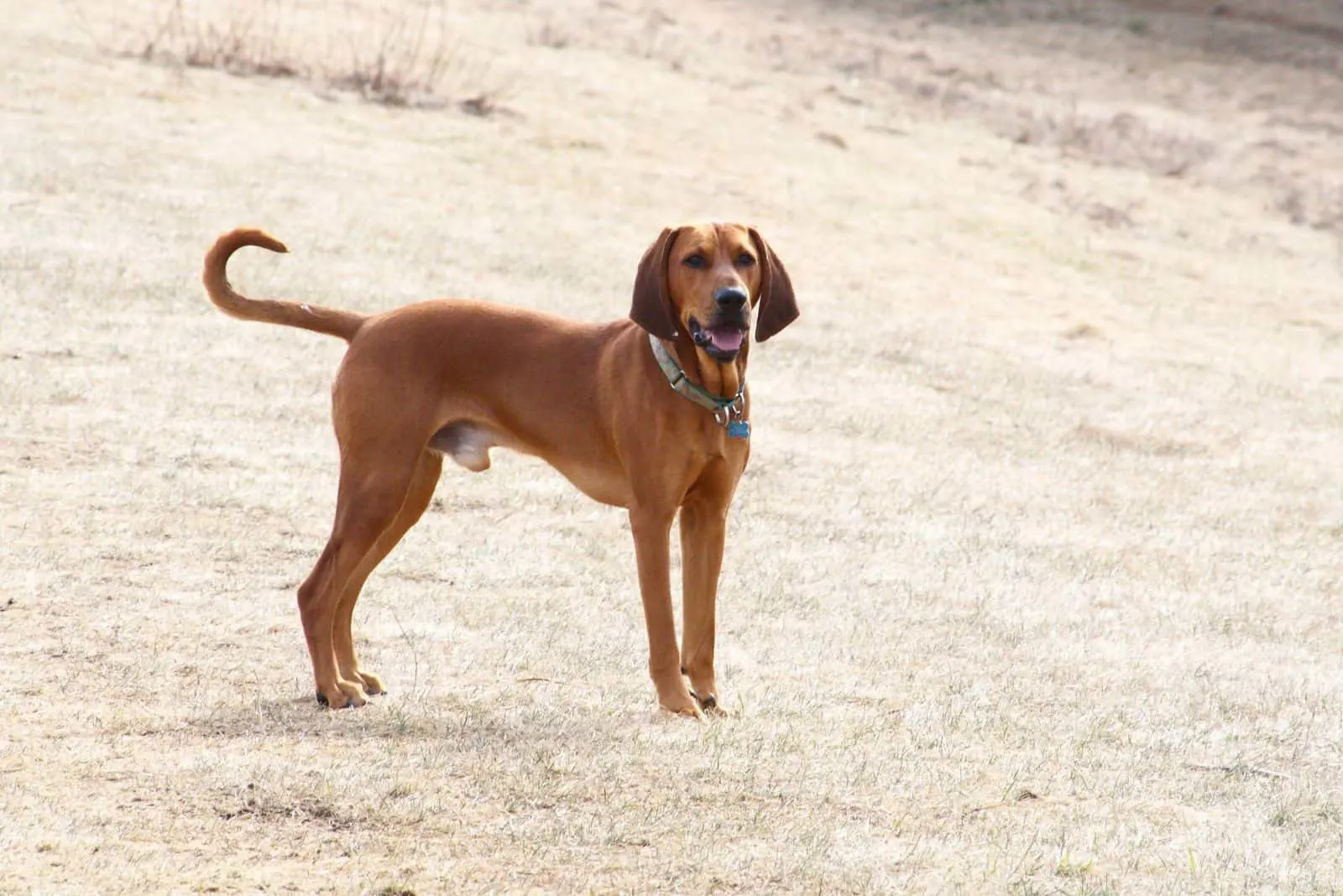 The owners of the MI Pondholer Redbone Coonhounds are Joe and Ann Mongar. They are located in Manton in Wexford County, Michigan. And they are on our list of the 5 best Redbone Coonhound breeders for many reasons!
Joe and Ann breed Redbones that will become perfect family members. They are not interested in making perfect hunting dogs or Show dogs, but perfect family dogs. They prepare puppies and work with them from day one.
Also, all of their dogs are tested for hip dysplasia, and elbow dysplasia and they've had their eye examinations. Of course, the puppies have had all of the necessary vaccinations and they are regularly dewormed.
With the puppies you buy from them, you will get a one-year health guarantee.
Joe and Ann have been breeding dogs for more than 20 years. Even though their dogs are socialized to become perfect family dogs, that doesn't mean you can silence all of the hunting instincts in a Redbone Coonhound!
No sir, you cannot! So, pay attention to your new doggo and don't leave it with an unfamiliar small pet alone. They might decide to bring you a present — prey.
But that's what makes MI Pondholer so amazing. Their dogs are beautiful, and they adjust and adapt easily to all kinds of families.
Address: Manton, MI, United States
Phone: +15402907925
Website: MI Pondholer Redbone Coonhounds
3. Anlon Kennels, Chillicothe, OH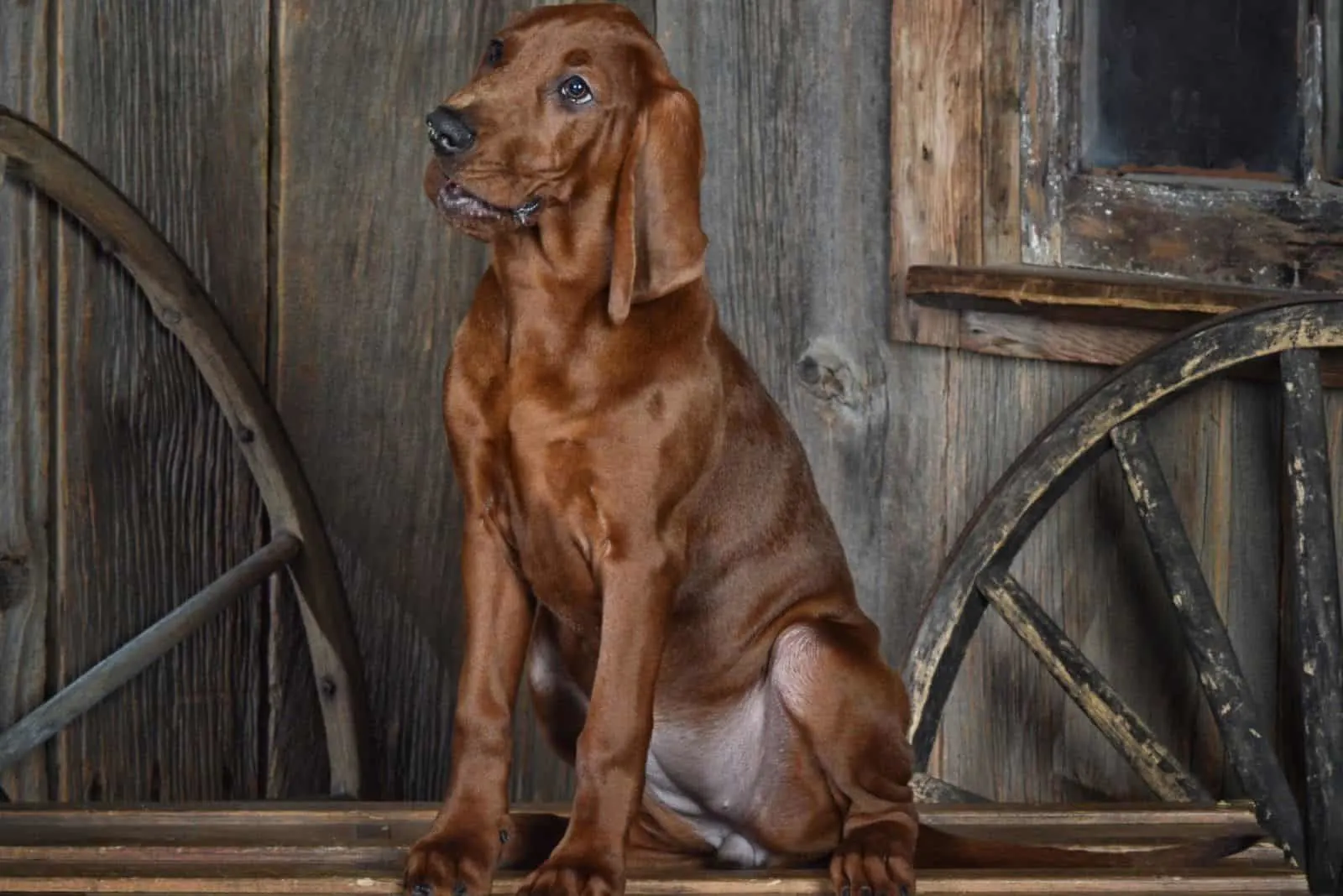 Meet Paige Renison, the owner of the Anlon Kennels from Chillicothe, Ohio. She is one of the Redbone Coonhound breeders that breed dogs to become great hunting dogs and family pets at the same time.
Paige also has Bluetick Coonhounds, and she hunts with both of her Coonhound dog breeds. She lives by the belief that hunting dogs should stay hunting dogs and that they should enjoy doing the tasks they were bred to do.
So, whether you want to hunt birds with your dog or you want one of her Coonhounds to hunt small ground prey, Paige supports and understands a good hunting adventure. Of course, it is all in line with responsible sporting hunting occasions.
But, back to the Redbone Coonhounds and Anlon Kennels. Her dogs have been tested for hip dysplasia, elbow dysplasia, and patellar luxation, as well as eye tests and DNA screenings. Of course, all of her breeding dogs came out clear from all of these genetic diseases.
Address: Chillicothe, OH, United States
Phone: +17406496457
Website: Anlon Kennels
4. Hudson Hounds, Danville, VA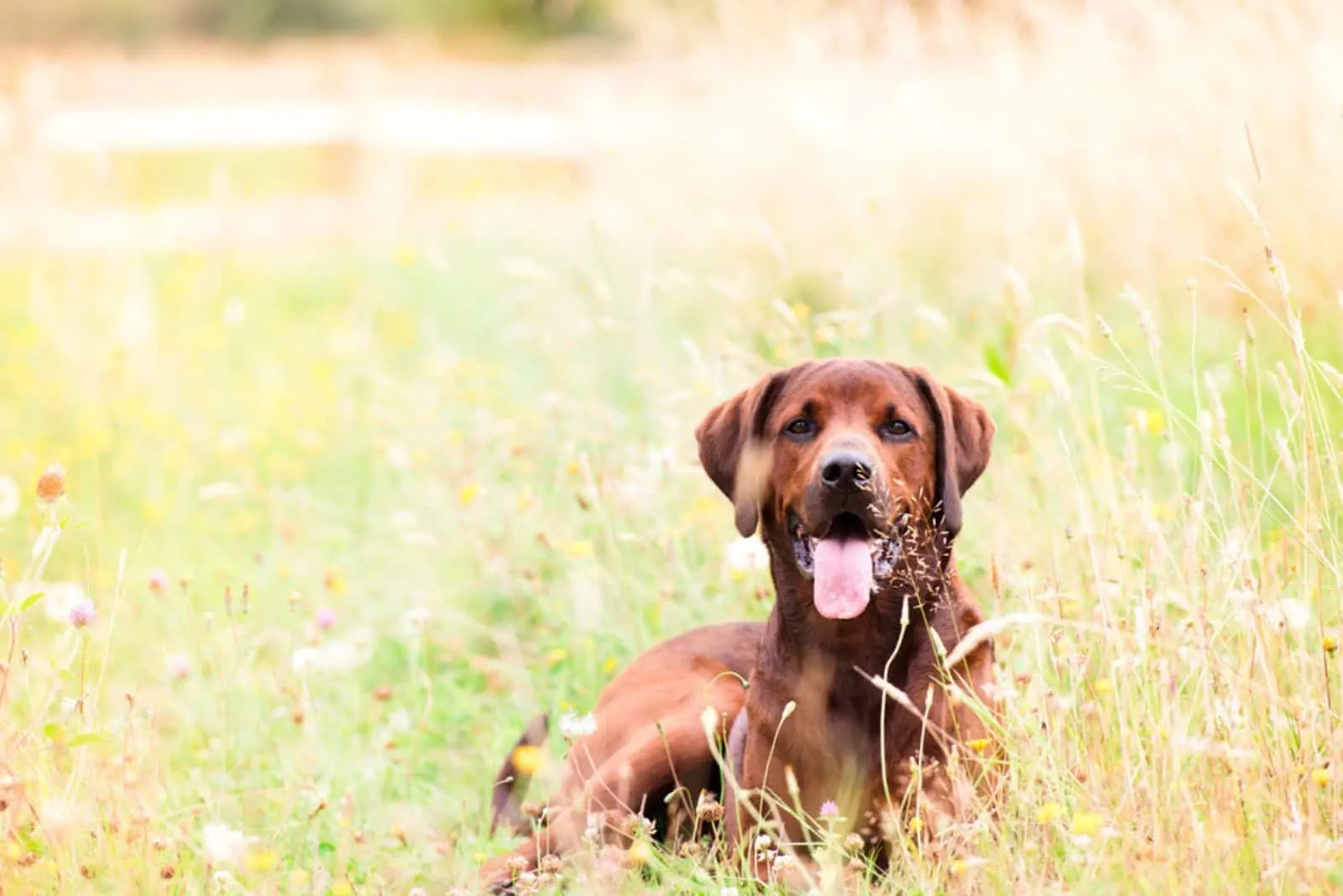 The owner of Hudson Hounds is Jackie Graddon. This Redbone Coonhound breeder is located in Danville, Virginia. They do not ship their puppies — you will have to pick up the puppies yourself.
And I absolutely respect that decision. They are responsible breeders that don't want to sell the puppy, say goodbye, and just send it off – end of the story. No, they are highly involved in where their puppies go.
Also, transportation can be quite a traumatic experience for a dog. There is also a risk of catching some kind of infection or getting hurt. Of course, these situations are rare, but they can still happen. So, picking up the puppy by yourself is the best option.
Hudson Hounds give their puppies to new owners with a puppy collar, certification of vaccinations, and UKC (United Kennel Club) registration papers.
They have a gorgeous female named Rosie and a male named Seven. They have a red coat color without any markings — typical physical traits of a Redbone Coonhound according to the AKC (American Kennel Club).
Address: Danville, VA, United States
Website: Hudson Hounds
5. Robert's Coonhounds, AR
The name of the owner of this Redbone Coonhound breeder from Arkansas is Robert Hart. Robert is a small breeder with great experience and amazing reviews from happy customers.
He has two dogs, a breeding pair — Pick is dad and Mercy is mom. They are both registered purebred Redbone Coonhound dogs that produce the best Redbone puppies. Both dog parents are healthy, well-tempered, and with great trainability. They pass on wonderful genes to all litters.
Robert Hart doesn't have a lot of litters per year, which is a good sign. If you are looking for a reputable breeder, one of the signs he or she is one is the number of litters per year they claim to have. If they have one breeding pair, two litters per year is a normal number.
Anything more than three litters per year is a possible red flag. They might be overexerting their dogs in order to sell more dogs. But as you can see, Robert Hart and Robert's Coonhounds are reputable, and he certainly takes great care of his dogs.
His dogs, Pick and Mercy, are loved and well-taken care of. That is the case with all of their puppies, and that is something you will have to continue doing once you get a puppy from him.
Address: Arkansas, United States
Website: Robert's Coonhounds
What Is The Average Price Of The Redbone Coonhound Puppy?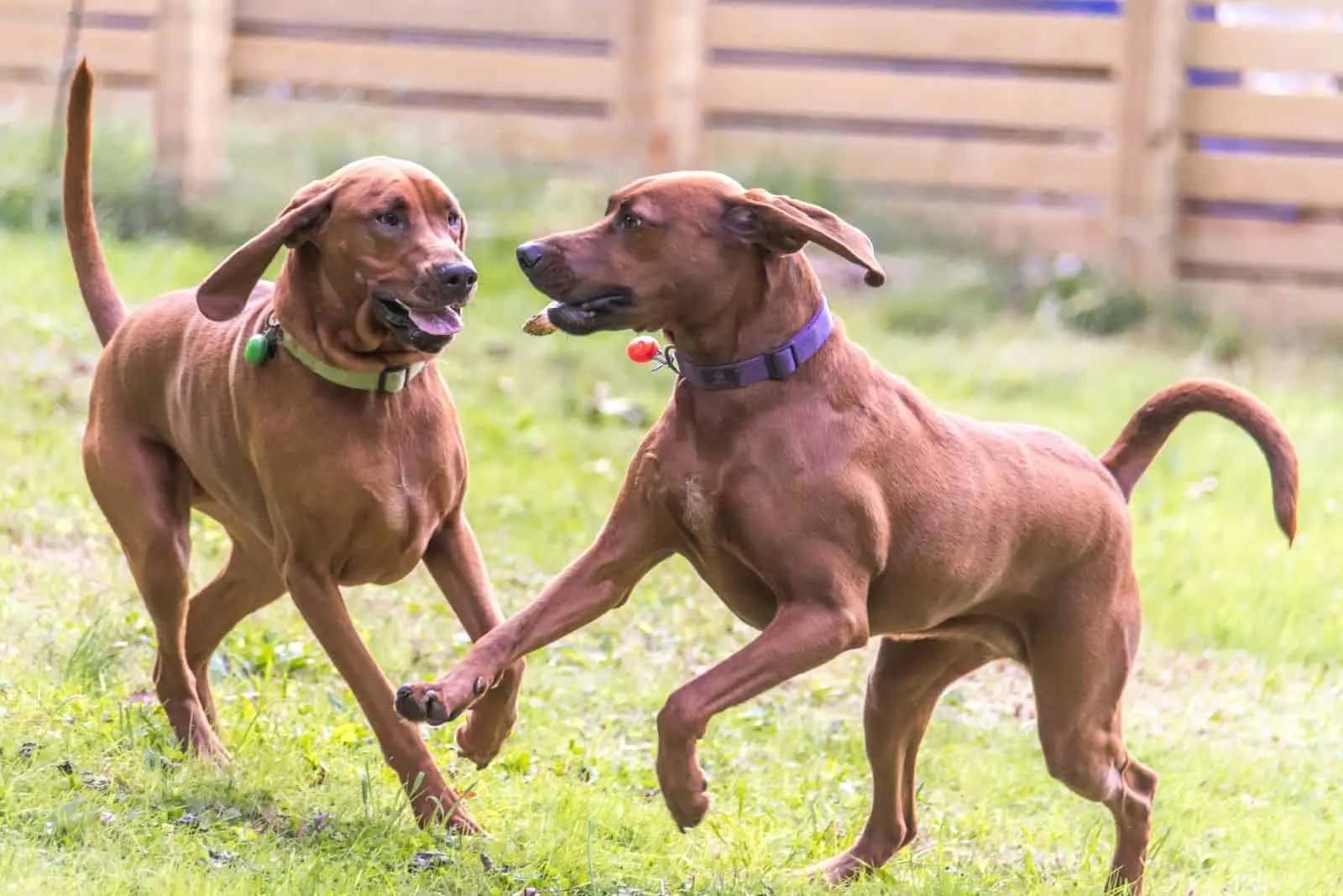 The average price of a specific dog breed depends on many factors. The first one is the breeder or kennel you buy a puppy from.
If it's a reputable and well-known breeder that has dogs from a famous bloodline, the price will be higher. If you get a puppy from a home breeder that doesn't have registration papers or pedigree papers, the price will be lower.
The average price of the Redbone Coonhound puppies from breeders on our list is from $800 to $1500.
As you can see, this dog breed is not one of the most expensive dog breeds. But it is quite rare, so getting one might be tricky. We found the best of the best in the US, and we made a list of 5 Redbone Coonhound breeders that are the most reputable and great dog lovers.
You can always check the AKC marketplace to try and find a Redbone Coonhound that is closer to your home. You can check the local shelter too. Who knows, maybe you will make one sad Redbone very happy.
The Conclusion
The Redbone Coonhound is a great dog for a family with children and other dogs that love to stay active every day, and you can find one on our list of the 5 best Redbone Coonhound breeders in the US.
Redbone Coonhounds are hunting dogs and they need to run, sniff, and keep their body and mind occupied in order to stay healthy. A dog that is very energetic that lacks exercise will become destructive. They will chew what they shouldn't chew, bark, and overall become very anxious.
So, remember this if you are looking for a Redbone puppy. They need to stay active. Not too active all the time, but they will need daily walks and playtime.
If you cannot keep this dog entertained and stimulated mentally and physically, it is better for you and the dog if you look for another dog breed. Something that will go well with your way of life. Maybe a low-maintenance dog breed?
If you do get a Redbone Coonhound in the end, we are certain you've got yourself a wonderful family companion and a best friend.