Living a busy life that is not well suited for high-energy dogs is probably why you landed on the Bulldog as the ideal canine companion for your home. Known for their docile but stubborn demeanor, these laid-back ruffians are the epitome of a low-energy dog.
Due to the predisposition to some genetic diseases, getting one from a reputable breeder will be most important. This list of Bulldog breeders should give you plenty of options to choose from without worrying about congenital health issues.
Bulldog Puppies For Sale
1. D'Vista Bulldogs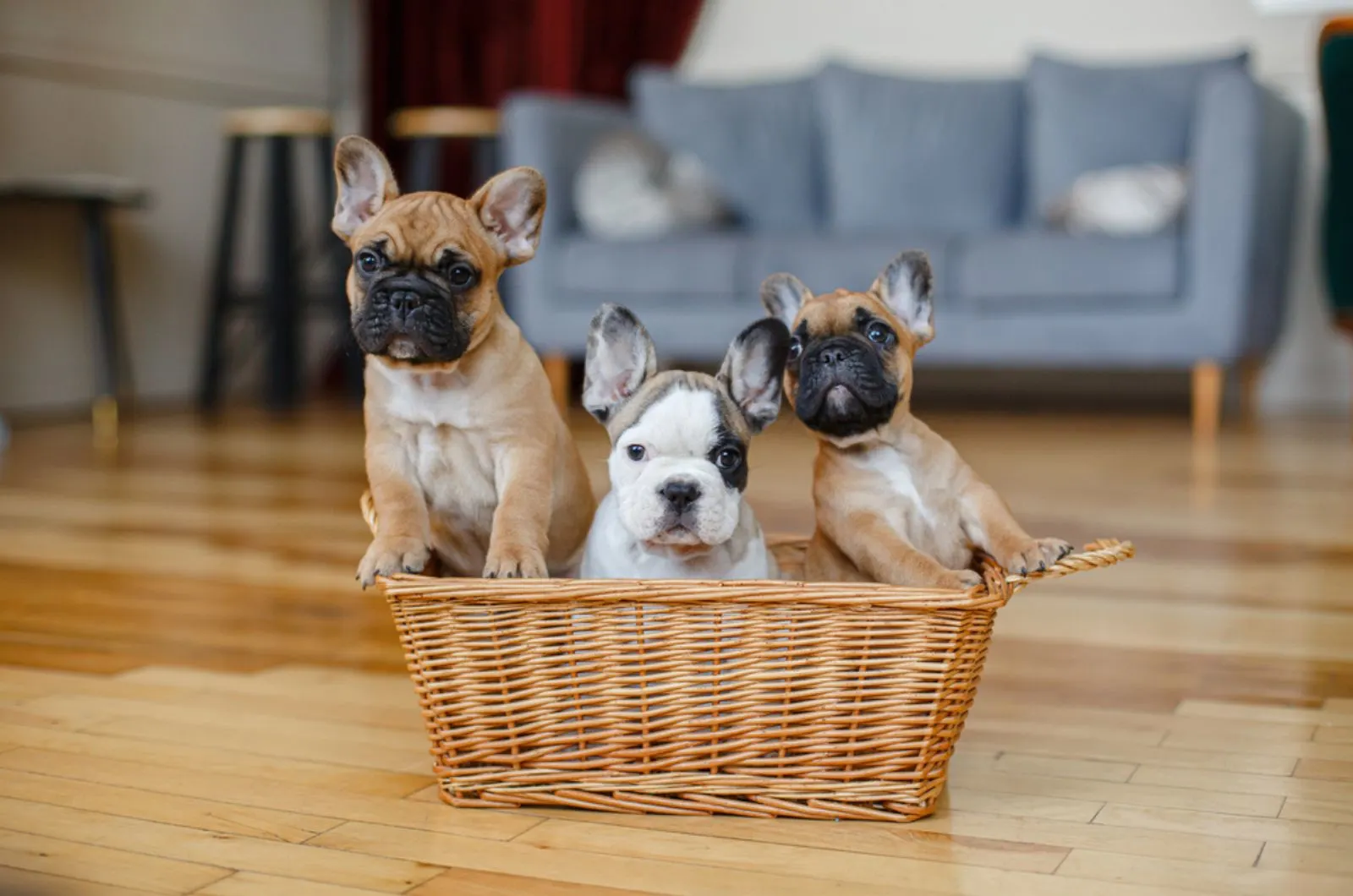 With a long career in loving Bulldogs, this family-owned breeder has both French and English Bulldogs. They have some of the best bloodlines in the US and many champions that prove the quality of their breeding program.
All adult dogs are screened for genetic diseases; the puppies receive vaccinations and dewormer and are microchipped before leaving for a new home. D'Vista Bulldogs is a member of the Bulldog Club of America, which means their dogs are bred according to AKC breed standards.
Raising the puppies and their parents as family members, D'Vista uses Early Neurological Stimulation (ENS) methods of exposing the Bulldog and Frenchie puppies to noise, lights, different materials, animals, etc., in order to reach high levels of socialization.
The Process Of Acquiring A Puppy
In terms of communication, there is a website contact form, email, and phone number. All the necessary information regarding puppy prices, deposit fees, and waiting lists will be given once you get in touch through the form.
One thing is for sure, though. D'Vista does not ship puppies due to previous bad experiences with transporting dogs. Keep in mind this breeder has puppies and adults for sale only occasionally, and you will have an interview with the owner before being given the green light to reserve a pup.
Breeder Information
Address: Spanaway, WA 98387, US
Phone: +1 253-312-7113
Email: [email protected]
Website: D'Vista Bulldogs
2. Newcomb Bulldogs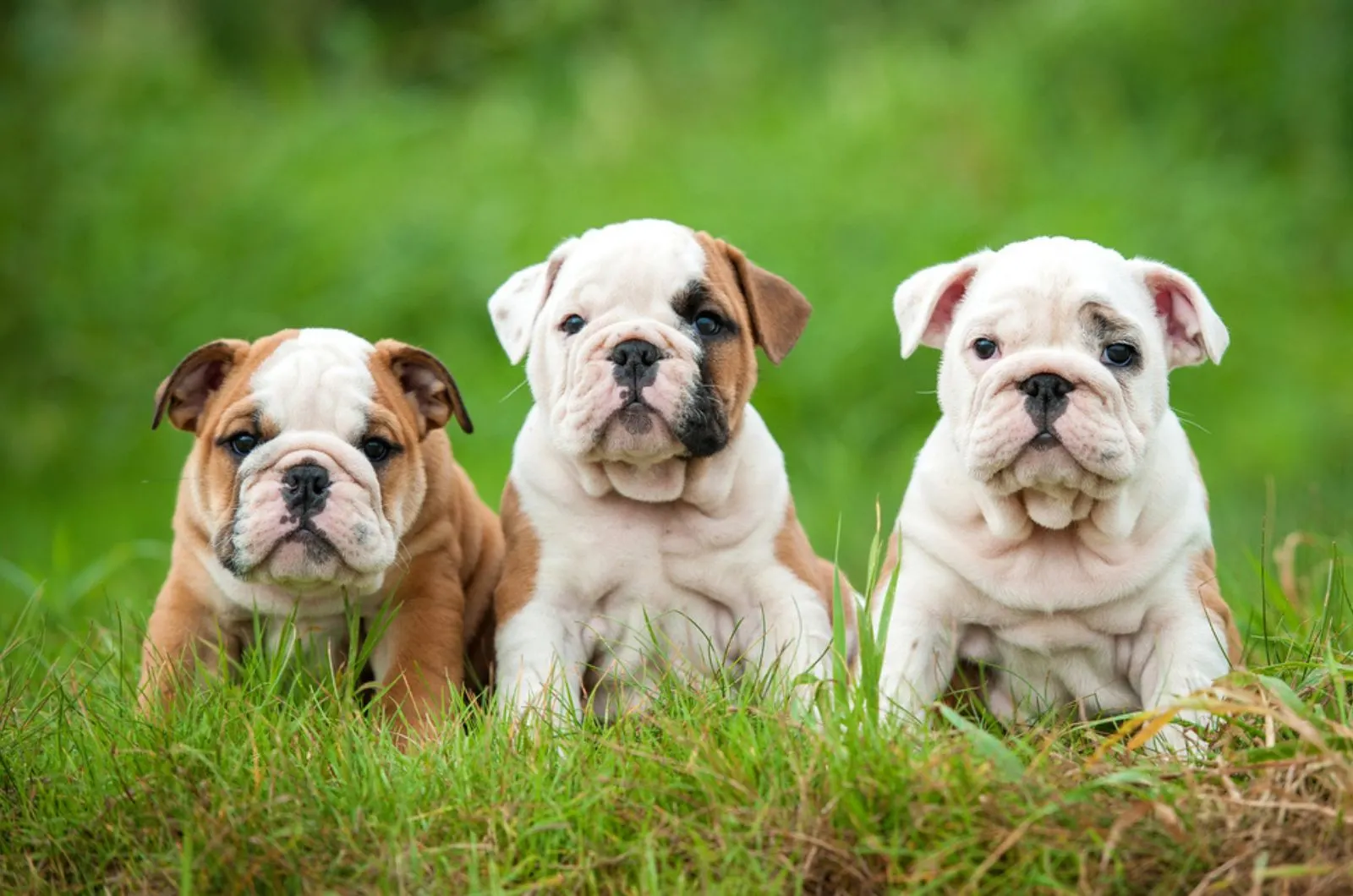 Among all dog breeds, the English Bulldog was Brenda Newcomb's favorite for over fifty years. In those years, she has raised fifty American Kennel Club champions. Her kennel is a member of multiple local dog clubs and the Bulldog Club of America.
With a focus on temperament, all of their Bulldogs are bred for companionship as a primary role. Regardless, the many title winners in the bloodline are proof Newcomb dogs are bred according to AKC standards to be perfect conformation competitors.
In terms of health, all adult dogs go through rigorous health testing for genetic diseases, which means the litter will be healthy and ready for their forever puppy home. Socialization skills are up to standard, so your Newcomb pup will be crate and potty-trained.
The Process Of Acquiring A Puppy
Getting in touch should be pretty easy, with email, contact form, and phone number all available for starting a conversation. You will find a puppy reservation form on their website, where you will fill out some basic questions regarding your puppy preferences.
You will be placed on a waiting list, with prices and other useful info available on inquiry. Adult males are sometimes available as breeding stock, with puppy litters available once a year or less frequently.
Breeder Information
Address: Palm Springs, Southern California, 92262-6531
Phone: +1 405-826-1232
Email: [email protected]
Website: Newcomb Bulldogs
3. Sactown Frenchies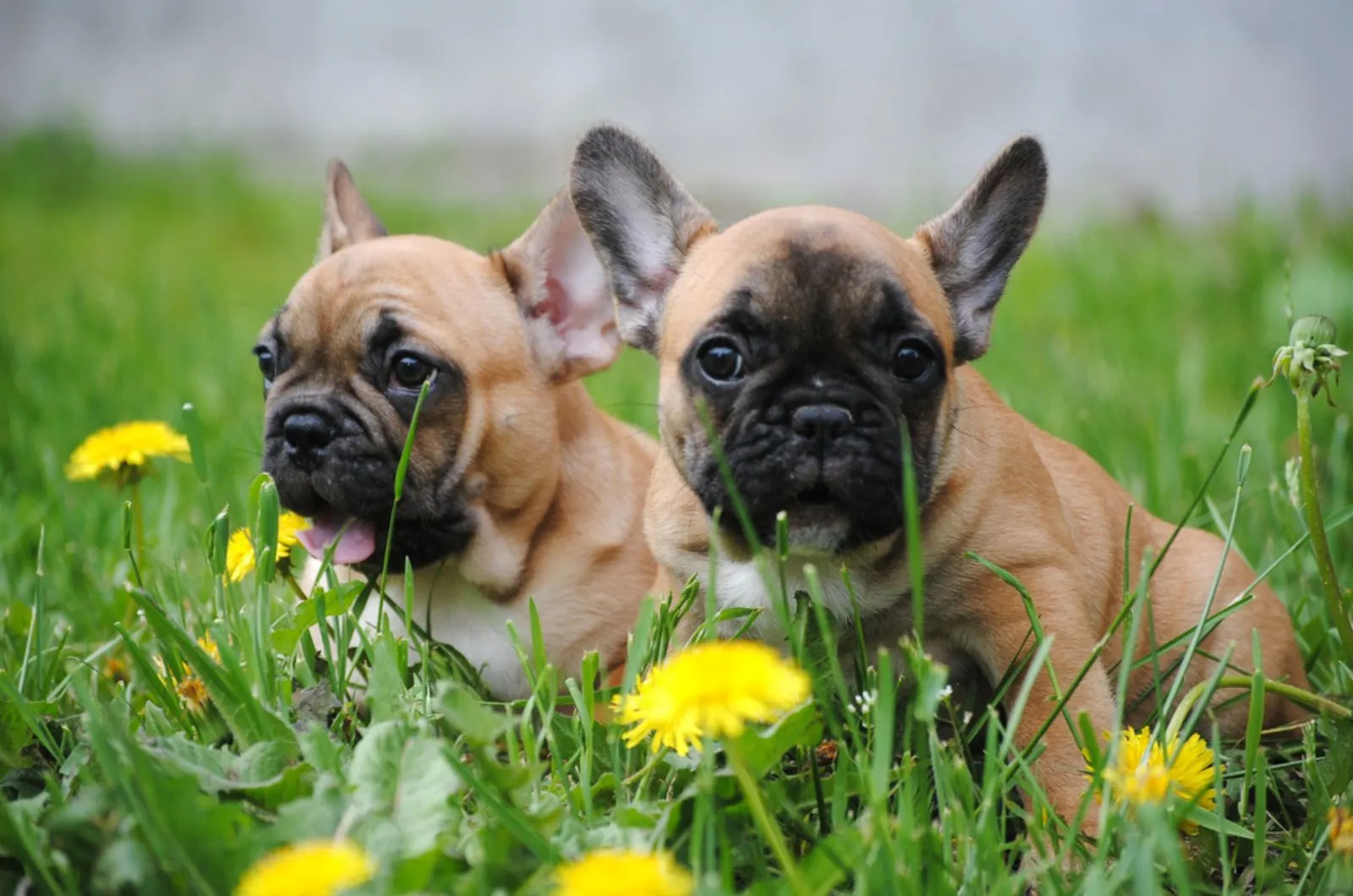 If you are looking for French Bulldog breeders, this is the only place you will ever need. Sactown Frenchies is a breeder based in Sacramento, CA that breeds dogs for perfect temperament without compromising on health.
Adult dogs are screened for genetic diseases, and the puppies come with a one-year health guarantee. Vaccination and dewormer are all done and dusted by the time the French Bulldog puppy is ready for its new family dog role.
With one or two litters per year, they definitely focus on quality instead of quantity. Living with the owners, all the puppies are well-socialized and crate/potty trained. Let me not forget that they have several Frenchie color options, so you should get on that waiting list as soon as possible.
The Process Of Acquiring A Puppy
Calling, emailing, or filling out a small contact form on their website are all good options for getting in touch. Alternatively, you can try DMing them on their Instagram or Facebook page.
Once you are talking with them, prices, deposit fees, and transportation options info will be given to you. Payment can be done via any major credit card company.
Breeder Information
Address: 8758 Shasta Lily Dr, Elk Grove, Northern California, 95624, United States
Phone: +1 916-548-3899
Email: [email protected]
Website: Sactown Frenchies
4. Millerbull's Kennels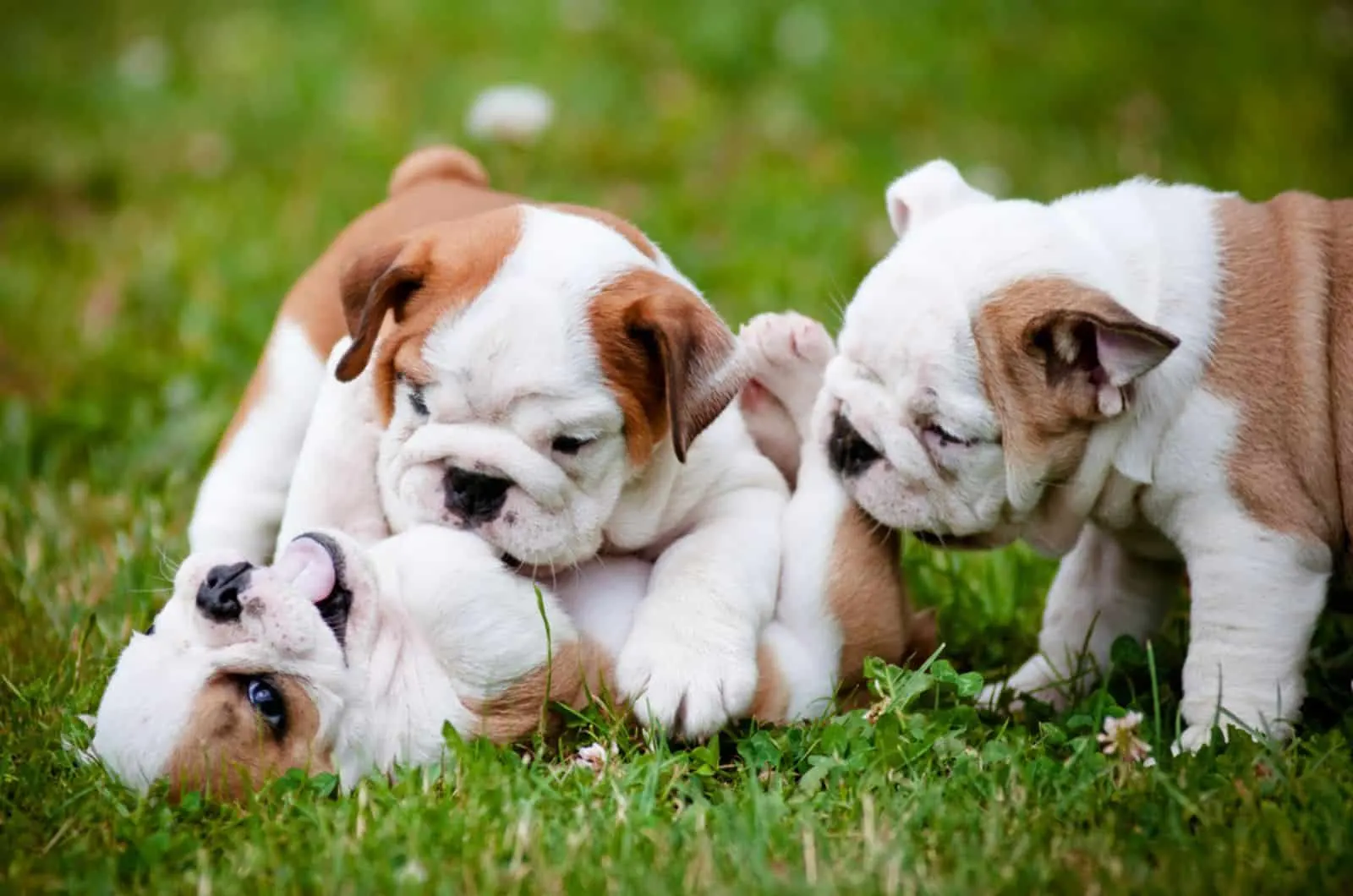 Decades of experience breeding, showing, and raising dogs gave this husband and wife combo all the possible knowledge to become one of the best Bulldog breeders in the US.
Randy, the husband, serves as a member of the Bulldog Club of America and several other local dog clubs. He is the president of the Bulldog Club of Central Iowa, which is recognized and licensed with the AKC.
Getting to the title of Hall of Fame Breeder is no small accomplishment. That is why their Bulldogs are all health tested for genetic diseases, and puppies receive vaccines and dewormers before being available for pick-up.
Other than occasional adult and puppy dogs for sale, they also offer stud services from the champion bloodline males.
The Process Of Acquiring A Puppy
All you have to do is give them a call or email at the address provided below. They do not have any price, deposit, or transportation info on the website, but a quick phone call will get you started.
The contract they offer is AKC limited registration, so you will have to spay or neuter your dog once it reaches a certain age. You are, of course, free to discuss a potential AKC full breeding rights option too.
Breeder Information
Address: Boyceville, WI 54725, US
Phone: +1 612-202-8668
Email: [email protected] | [email protected]
Website: Millerbull's Kennel
5. Ultimate Bulldogs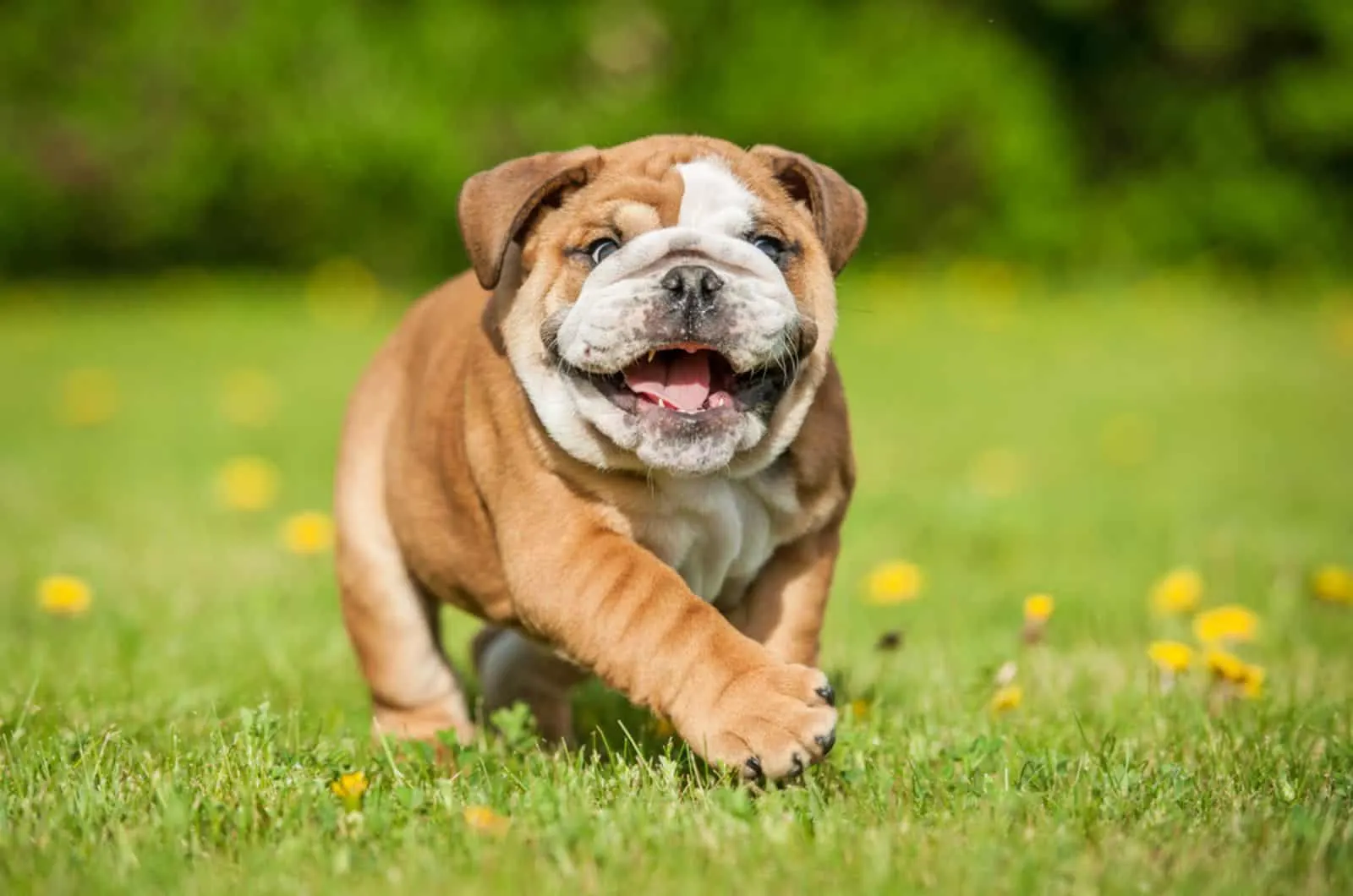 Being the best is never easy, and Ultimate Bulldogs is among the top contenders for best English Bulldog puppies in the US. Their pedigree is incredible, boasting over twenty champion Bulldogs, a Breeder of Merit, and a Hall of Fame Breeder title.
Regular health testing of adult dogs that includes liver, eye, hip, and many other tests earned them the BoM title. Their dedication to polishing the breed's temperament won them the greatest honor — testimonials of hundreds of people who got Ultimate Bulldogs that are their best friends.
Puppies come vaccinated, dewormed, and microchipped, so all you have to do is pick them up and love them forever. If you are aiming for the stars, buying from Ultimate Bulldogs will get you the best dog health and temperament around. That goes for both English and French Bulldogs.
The Process Of Acquiring A Puppy
Two phone numbers, an email address, and a contact form should be more than enough to start the conversation with Ultimate Bulldogs. A puppy application is available on their website, so you can fill it out stating your preferences.
Both puppies and adults are available, but there is a waiting list for the pups. You will have to send a deposit once your application has been reviewed, and the deposit fee is non-refundable.
Prices, deposit amounts, and transportation options will be given in due time, so a little patience will go a long way. A starter pack and care instructions are included with every puppy and adult purchased.
Breeder Information
Address: Powhatan, Virginia, 23139, US
Phone: +1 201-753-1393 | +1 201-803-5942
Email: [email protected]
Website: Ultimate Bulldogs
6. Big Bulldogs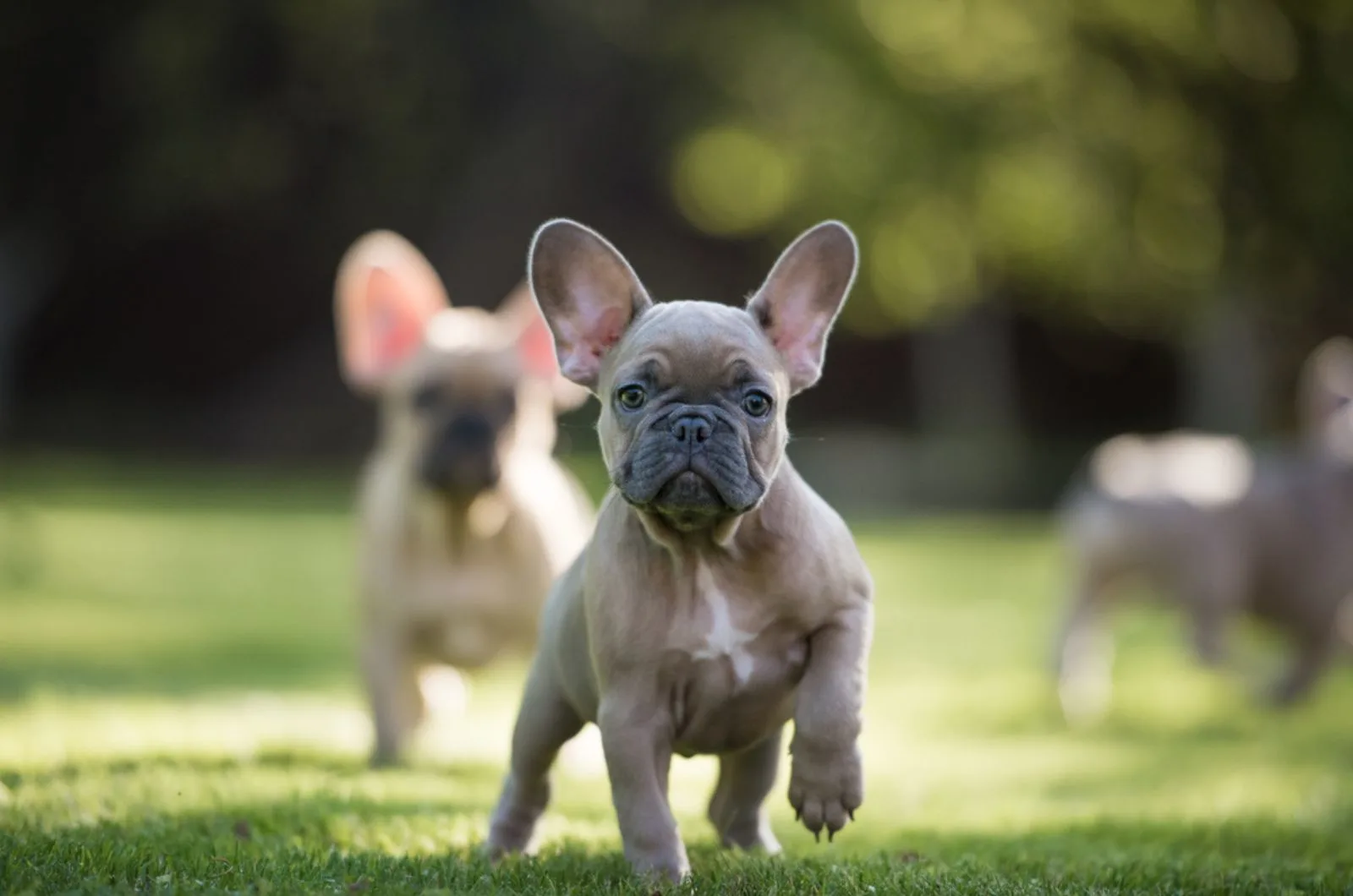 Perhaps one of the most well-organized Bulldog breeding programs and businesses in the US, Big Bulldogs does it all right. They have veterinarian experts that know everything about Bulldog health and temperament, so you will not be short on tips and advice.
Both Frenchies and English Bulldogs from BB are genetically tested for common Bulldog health problems. Puppies are vaccinated, dewormed, microchipped, and vet-checked, with the breeder offering help in case something happens to your Big Bulldog.
A two-year health guarantee exceeds most other breeders' commitments in terms of reassuring you of the quality of their breeding program. The business is fully owned and operated by military veterans, so you can be sure the work ethic is high.
You can see for yourself how what kind of operation Big Bulldogs runs by reading the immense amount of testimonials on their webpage or any of the social pages.
The Process Of Acquiring A Puppy
To start off, you can simply fill out a puppy application. If you prefer a less "formal" way of beginning the journey with Big Bulldogs, a phone number and email address are available. Payment methods include any major credit card company and Zelle.
Though puppy pricing and deposit fees are not disclosed on the website, the breeder strongly believes that picking up your puppy in person is the only right way to get a Bulldog. Clearly, they do not provide shipping and want to meet you.
Breeder Information
Address: 2517 S Santa Fe Ave #1, Vista, California, 92083, US
Phone: +1 760-580-6084
Email: [email protected]
Website: Big Bulldogs
7. Gunslinger Bulldogs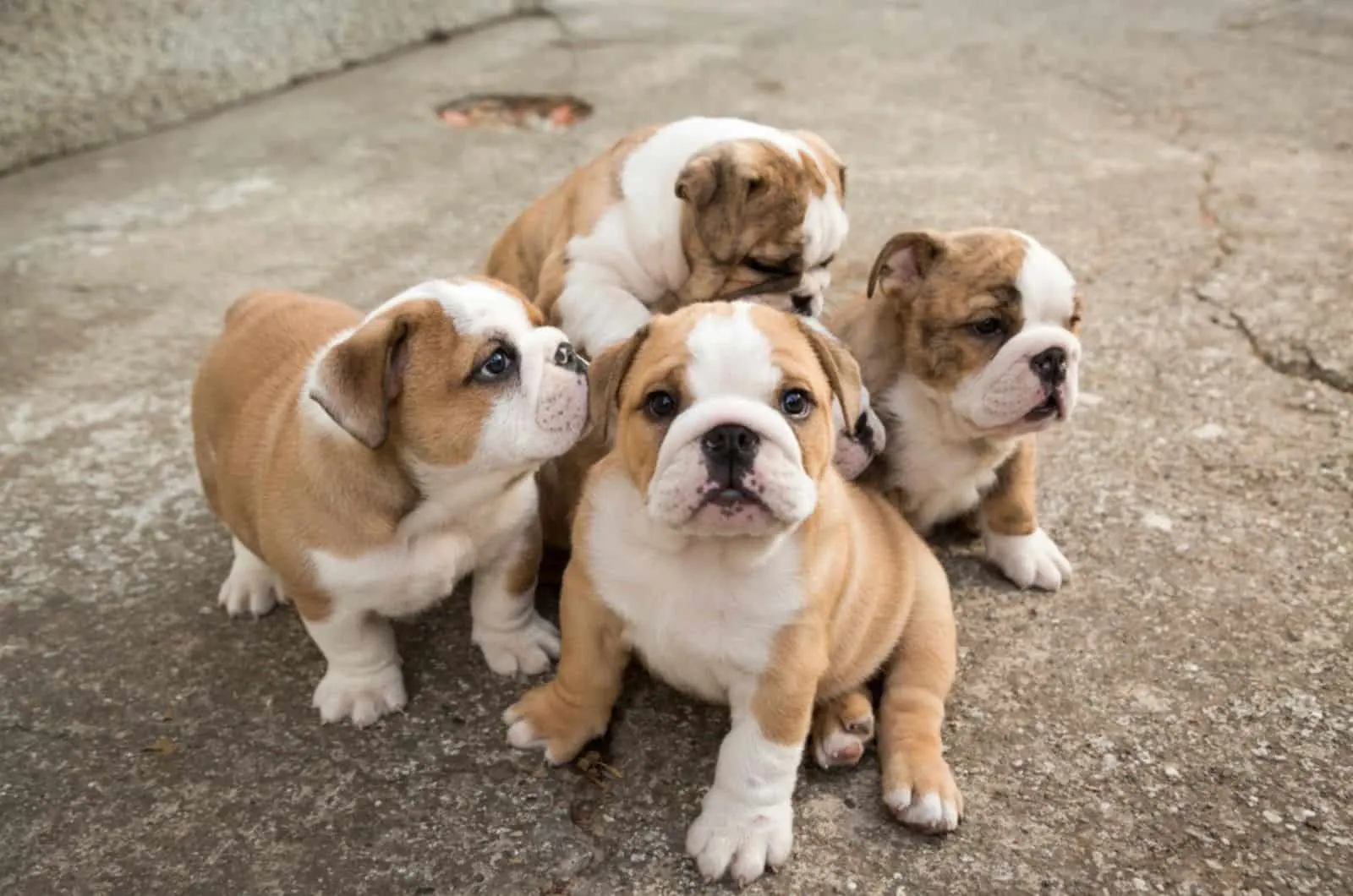 A strong stance against mixing non-pure and purebred Bulldogs is the thing I most like about Gunslinger Bulldogs. They stand resolute, with the Bulldog Club of America, to remove the non-purebred colors in Bulldogs, such as lilac, merle, blue, etc.
Though you might like a more "exotic" Bulldog color and fundamentally disagree with the fight against producing such dogs, Gunslinger and the BCA warn about the fact that the merle gene, for example, was never part of the purebred Bulldog.
Because health and mental well-being is their primary concern, buying from Gunslinger is as sure as a gun. All the puppies are vaccinated, dewormed, and microchipped for your convenience. Raised around other dogs and within the human family, they have high-socialization skills, too.
The Process Of Acquiring A Puppy
Despite not having any social network profiles, the email addresses and phone number provided below will be enough for initial inquiries.
Pricing, deposits, and transportation options can be discussed once you contact Gunslinger Bulldogs to express your interest in purchasing a puppy. They will answer any questions you might have about the purebred Bulldog, so do not hesitate.
Since the puppies are produced only for the best show potential, you will have to be placed on a waiting list that could result in a long wait time. Do not waste your time, and contact them immediately if you are interested.
Breeder Information
Address: Colorado Springs, Colorado, 80918, US
Phone: +1 951-818-7861
Email: [email protected] | [email protected]
Website: Gunslinger Bulldogs
8. Castlewood Bulldogs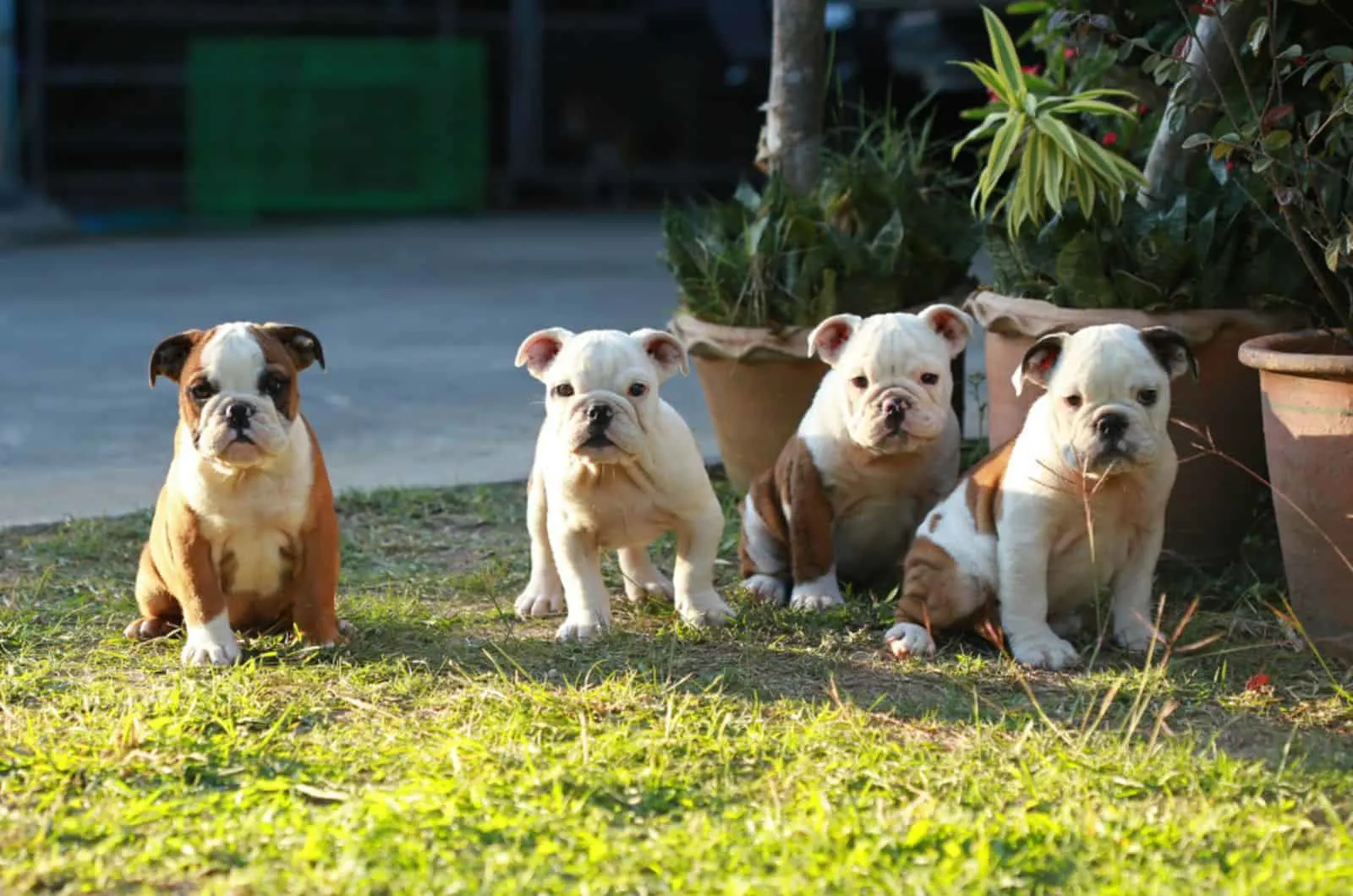 A love for Bulldogs is something that hits you out of nowhere and sticks forever. At Castlewood, this love began almost twenty years ago when the owners, Ronny and Dawn, joined the Bulldog Club of America and started their first litter with a Champion stud called Ch. Easy Ed's Chazzmo.
Castlewood Bulldogs is among the few breeders who focus on breeding European bloodlines to American bloodlines to get the best combination of body features. They have produced six champions in their breeding career that have been perfect for showcasing breed standards.
Needless to say, all vaccinations, deworming, parent health screens, and vet checks are done prior to your arrival or shipping of the puppy. With day and night support for their clients, you will be able to call about burning questions like dog food selection, chew toys, etc.
The Process Of Acquiring A Puppy
A detailed guide for all potential buyers is available on their website, and you should definitely read it first. You can email them, text, call, or try your luck DMing them on their many social accounts.
The first step will be filling out a puppy application, after which you will be interviewed by the owners. The usual questions about experience with dogs, living conditions, etc., will give them a general picture of how good of a fit you are for one of their puppies or adults.
After approval, you will have to send a $500 deposit fee to get on the waiting list. The deposit is refundable only in case the puppy is unavailable or dies under the one-year health guarantee for genetic diseases.
Full puppy prices are $4000–$4500 exclusively on a limited registration contract, meaning you cannot breed these dogs, they are only for show or companionship. Full breeding rights are not available in any scenario.
In terms of transportation, the owner will fly them personally for an added fee of $850. The price is subject to change according to the ticket, gas, and other prices.
Breeder Information
Address: 94 Castlewood, Caulfield, Missouri, 65626, US
Phone: +1 417-274-1881
Email: [email protected]
Website: Castlewood Bulldogs
Socials: Facebook | Instagram | YouTube | WhatsApp
9. Bane Bulldogs
What began as an adopted rescue Bulldog turned into a fully-fledged Bulldog breeding business that aims to both educate on the importance of Bulldog health and breed standards and practice what it preaches.
Bane Bulldogs has many good bloodlines among their past and present litters, so you will have no problems with participating in conformation events, shows or having the healthiest, grumpiest Bulldog in the area.
All puppies come dewormed and up-to-date on all vaccinations. Health screening the parents makes sure no congenital issues will pop up unannounced, and you will receive a health guarantee for the most common Bulldog genetic diseases.
The Process Of Acquiring A Puppy
A standard contact form, phone call, or puppy application will get you started with Bane Bulldogs. If you use the form or application, you can expect a reply in two or three days.
While there is no pricing, deposit, or transportation information on the website, you will find a lot of educational material on their page. It includes info about common genetic tests for Bulldogs, cost of maintenance, food, etc.
Breeder Information
Address: Salt Lake City, UT 84109, US
Phone: +1 801-450-8997
Email: [email protected]
Website: Bane Bulldogs
10. Font A Nose Bulldogs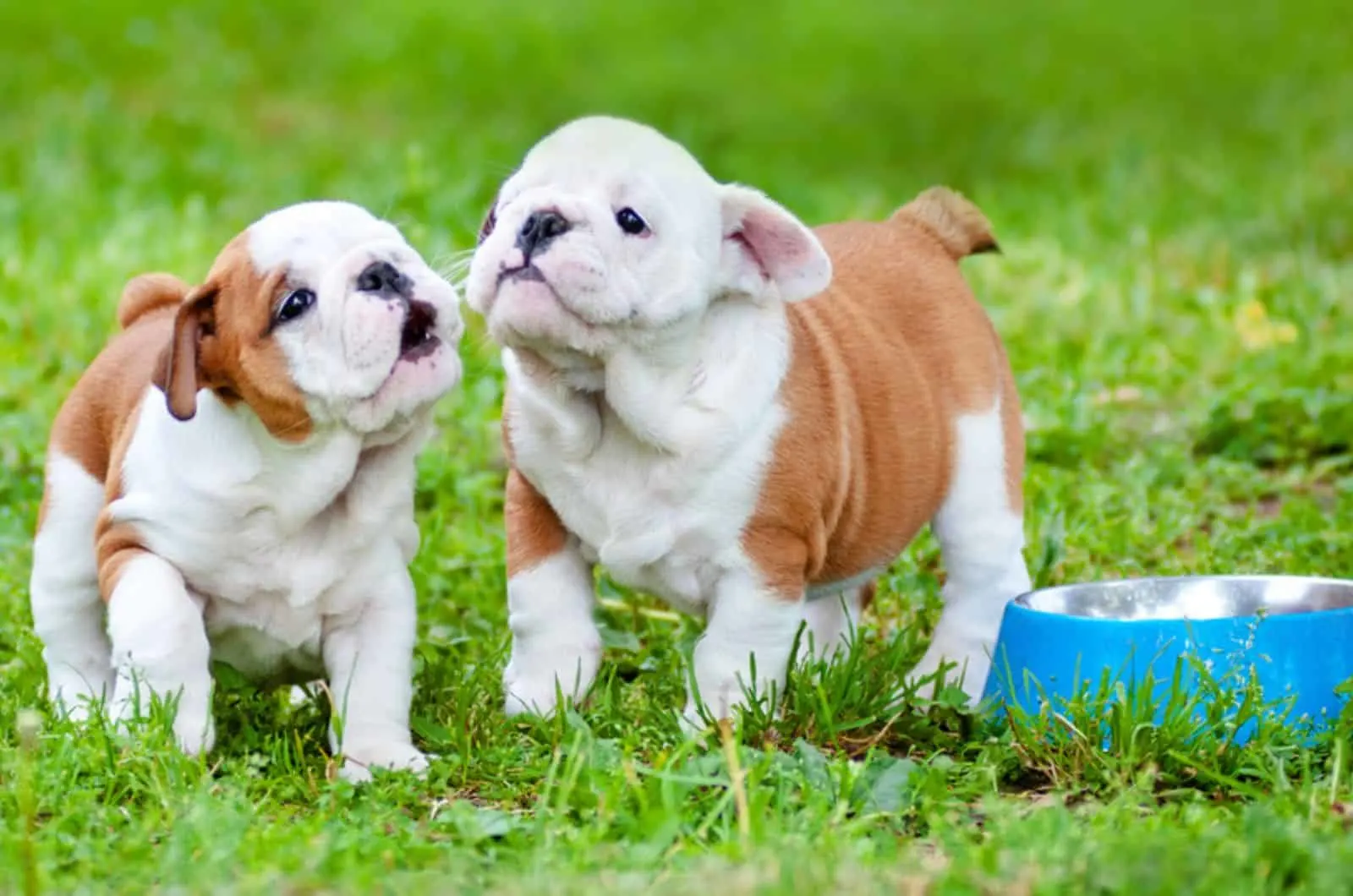 Everything good starts with a fun name, and Font A Nose Bulldogs delivers an immediate impact. With years of success breeding immaculate dogs, they managed to crystalize the Font A Nose bloodline to include Grand Champions.
This is not a breeder looking to cash in but rather inform potential buyers about the breed and the potential health issues specific to it. That is why a half-year health guarantee is there for any congenital diseases.
Vaccinations and dewormers are done by eight weeks of age. Socialization skills are high thanks to the breeder raising the puppies as family members and using Early Neurological Stimulation (ENS) techniques.
Another testimonial to their focus on excellent health is the BCA Platinum Sponsor of Health Award, with a Breeder of Merit and Hall of Fame Breeder titles to back up the accomplishments in the breeding business.
The Process Of Acquiring A Puppy
Whether you prefer calling or keeping it online, you have a number, email, and contact form to get in touch with Font A Nose.
A deposit fee of $500 is required to reserve a puppy, along with the filled-out contract. You can sign two types of contracts, limited AKC registration or no papers. The latter will mean they are pets that cannot be shown. Limited registration will cost extra.
Full prices range between $4500 and $7500, depending on the type of contract, but do inquire about what other details determine puppy cost. The AKC limited registration is contingent on a spay/neuter contract.
Shipping your puppy is only possible via plane, but cabin only, not air cargo. All transportation arrangements and incurring costs will be your responsibility, so ask for a quote from the breeder before deciding.
Breeder Information
Address: Lebanon, Oregon, 97355
Phone: +1 541-405-6896
Email: [email protected]
Website: Font A Nose Bulldogs
Socials: Facebook
11. Cherokee Legend Bulldogs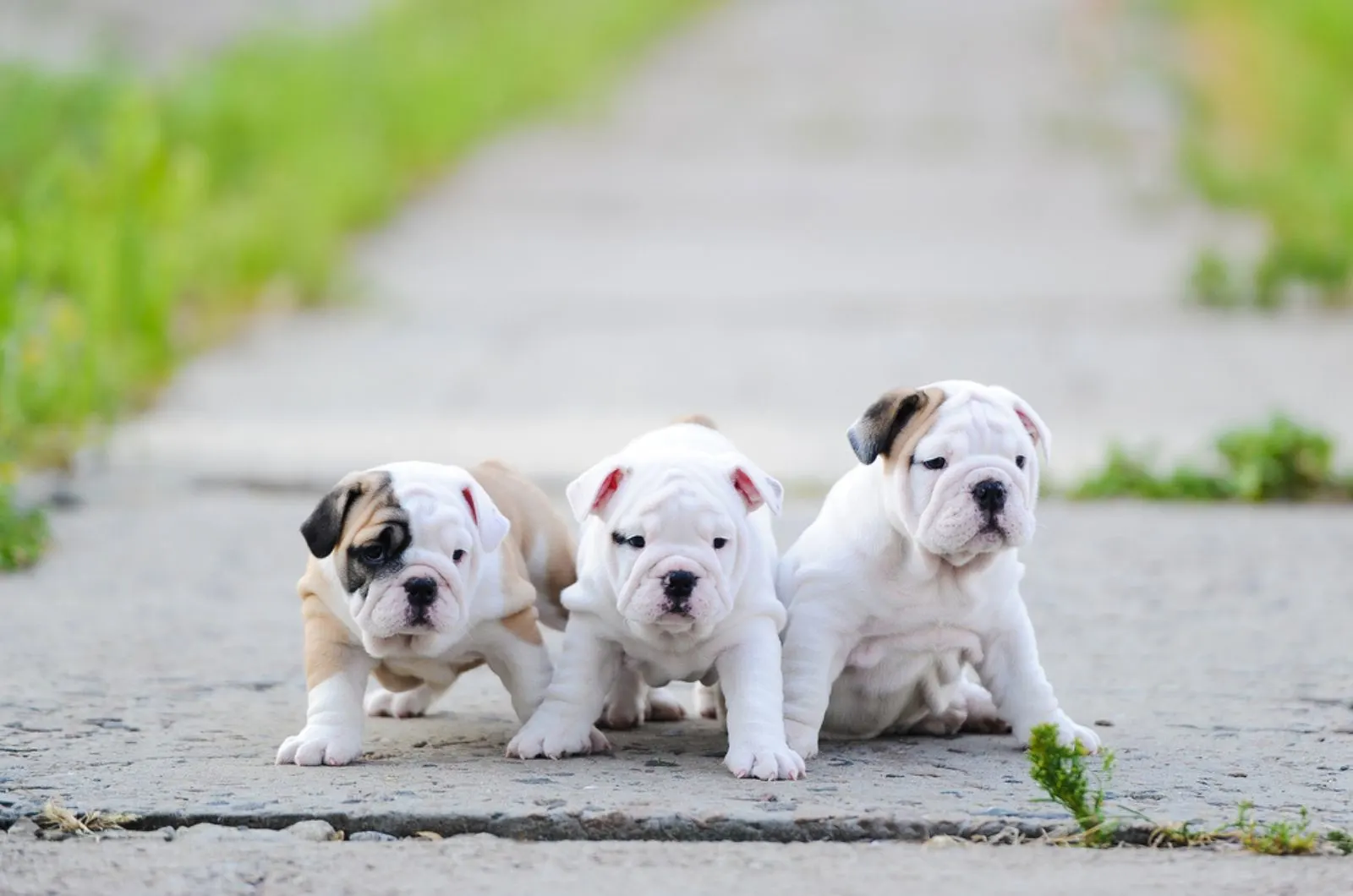 Cody and Connie, the owners of Cherokee Legend Bulldogs, have been in the business for half a century and have had amazing success with numerous Breeds Best, Best in Specialty, and Best Non-Sporting.
To add to the accolades, they earned AKC's Platinum Breeder of Merit and have been induced in the BCA Hall of Fame Breeders list. Clearly, their Bulldogs are excellent prospects for showing and conformation events, which means as healthy as a horse.
With all shots and dewormers up-to-date, they offer a health guarantee and a lifetime of advice for all of their customers. Championing champions is no easy task, so you have a whole section dedicated to information on what it means to be a Bulldog owner.
The Process Of Acquiring A Puppy
A phone number, email address, and puppy reservation form are available. Calling might be the best choice if you prefer not to wait for a reply.
Contracts are usually limited AKC registration, and the cost is not disclosed, as the breeder believes price should not be the deciding factor for getting a Bulldog puppy.
There are plenty of ways to reach either Cody or Connie, so you will be able to get all the necessary information regarding general Bulldog questions, pricing, deposits, transportation, stud services, etc.
Breeder Information
Address: Indianapolis, IN 46201
Phone: Connie +1 317-679-6604 | Cody +1 516-721-1279
Email: Cody [email protected] | Connie [email protected]
Website: Cherokee Legend Bulldogs
Final Word
This list of Bulldog breeders is supposed to help you dodge around the ever-growing number of puppy mills and backyard breeders. Because a reputable breeder is the first line of defense against potential health issues, choosing the right one is an important decision.
I assembled this list so that you do not have to worry about whether they do genetic testing, what pedigree they have, are the dogs purebred, etc. All of the listed breeders have the best possible conditions for breeding, titles, recognition, and love for the Bulldog breed.
Choosing the best English Bulldog breeder was never easier with this amount of options, so learn all you can about the breed, ask questions to the breeders, and help yourself to some good old Bulldog temperament.
Read Next: 13 Responsible Dog Breeders In Colorado That You Can Trust