If you live in the United Kingdom and you want to buy a new Boerboel puppy, you're probably on the hunt for the most reliable Boerboel breeders in the UK.
The South African Boerboel (also called the South African Mastiff) is a Mastiff-type breed that descended from the now-extinct Bullenbeisser.
The Boerboel breed's origins can be traced back to the 1600s in South Africa—it got its name after the Afrikaans word "Boer", which means farmer, and "Boel", which when loosely translated, means large dog.
Experts believe that the Boerboel as we know it today is the result of years of cross-breeding the original Boer dogs with other dog breeds like Bullmastiffs, English Bulldogs, Rhodesian Ridgebacks, and the Khoikhoi dogs (the native African landrace).
If we think of the Boerboel as a large farm dog, it's easy to put two and two together to figure out this breed's original purpose—it was mainly developed to serve as a guard dog and farm protector and often doubled as a hunting companion.
Although the mighty Boerboel is a large dog that might seem dangerous to the untrained eye, the truth is, they're actually gentle giants that make excellent family pets—albeit, this breed is not for first-time dog owners and is ideally suited for more experienced canine enthusiasts.
So, if you're longing for a South African Boerboel puppy of your own, read on to find out who the 3 best Boerboel breeders in the UK are.
Boerboel Puppies For Sale In The UK
Before we get to the best Boerboel breeders in the UK, it's important to flesh out a few general guidelines.
One thing that you should keep in mind is to source your new pup from a reliable and reputable breeder instead of buying from an unreliable breeder.
There are countless self-proclaimed breeders out there who advertise their Boerboel pups online, and while buying a puppy from one of these breeders is cheaper than buying from a reputable breeder, you'll most likely end up with a dog that's haphazardly bred, barely socialized, and likely to develop certain health problems down the line.
Sourcing your new Boerboel pup from a trustworthy and reputable breeder who is licensed with the Kennel Club or another Boerboel breed club might be more expensive at first—but it almost 100% guarantees that you'll end up with a healthy, happy, and well-socialized purebred Boerboel puppy that's going to save you some vet bills and heartbreaks in the long run.
Ethical breeders do everything in their power to ensure that their puppies are bred and raised properly, along with thoroughly health testing their breeding dogs in order to produce puppies that are free of any major genetic health problems.
So, now that you know why you should avoid backyard breeders, let's check out who the 3 most reputable and reliable Boerboel breeders in the UK are.
1. Sandahaar Boerboels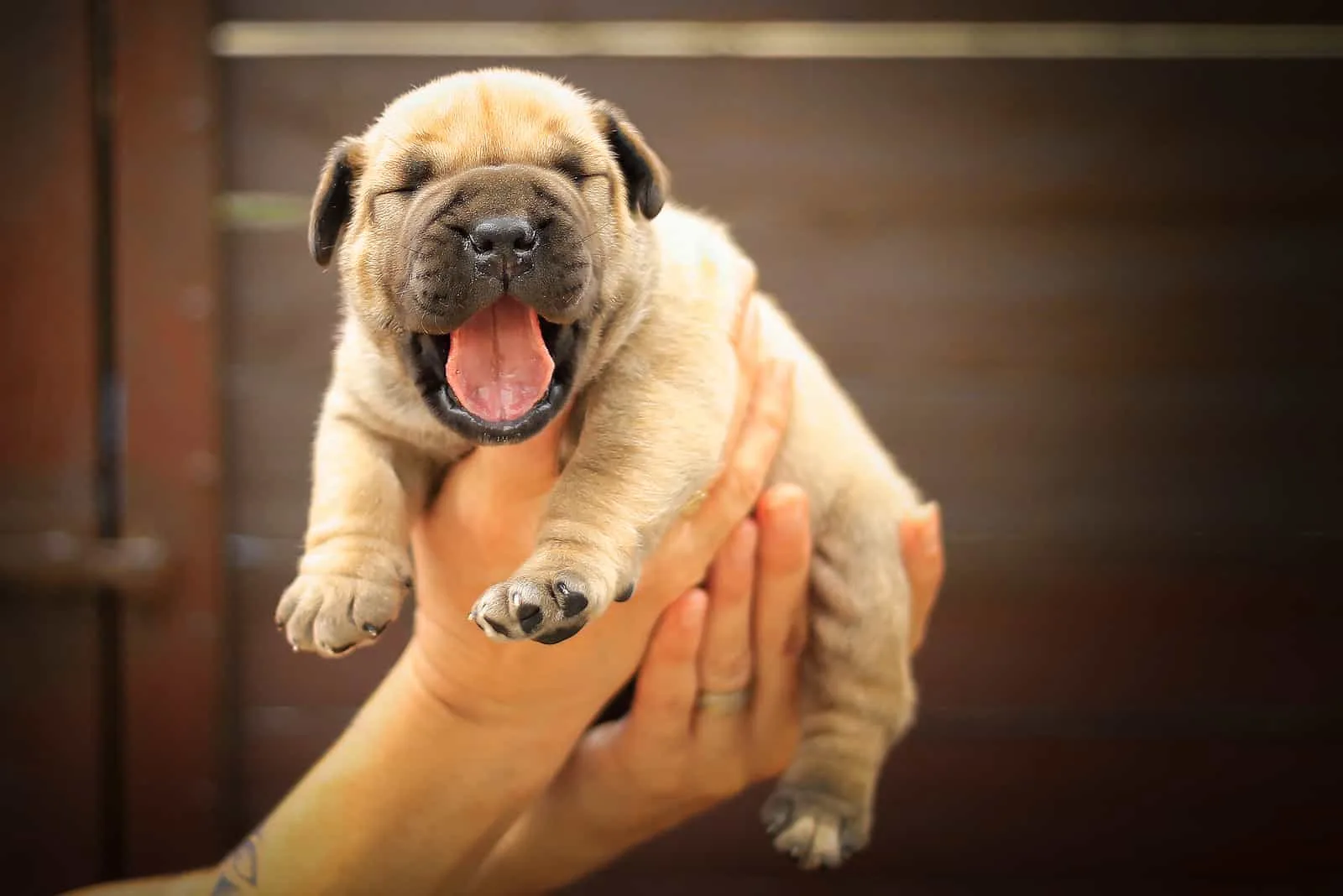 Our pick of the litter among the best UK Boerboel breeders is Sandahaar Boerboels, a Kennel Club and SABBS/SABT (the official registry for Boerboel pedigrees in South Africa) registered breeding outfit that's located in Carlisle, Scotland.
Who They Are
Owned and operated by Harry and Sandra Brownlie, Sandahaar Boerboels is a world-class breeder of purebred South African Boerboels that perfectly adhere to the Boerboel breed standard.
Both Sandra and Harry are experienced dog enthusiasts who have shown, bred, and worked with many breeds over the years, including Rottweilers, German Shepherds, and Dobermans—but they finally found their true passion in the South African Boerboel.
After years of research, time, money, and effort geared toward fully understanding the breed, the Sandahaar Boerboels breeding outfit was finally established back in 2004, when the owners acquired their first Boerboel named Razina and fell in love.
Over the past 18 years, the breeders have only refined their breeding program and have successfully bred over 7 generations of high-quality purebred Boerboels that have found forever homes with many loving families all around the world.
Breeding Program
The breeding team at Sandahaar Boerboels makes sure to use only health-tested parent dogs in their breeding program—all of their breeding dogs are DNA tested for common health problems that Boerboels are prone to, such as hip and elbow dysplasia, dilated cardiomyopathy, entropion, ectropion, etc.
Their breeding program focuses on health, temperament, and conformation above all else—and all of their parent dogs and puppies are registered from birth with the SA Studbook and come from the finest South African bloodlines.
What They Offer
Sandahaar Boerboels offer vet-checked, vaccinated, dewormed, and microchipped purebred Boerboel puppies that come in the standard colors of fawn, brindle, cream, and brown.
The breeders sell their pups with a SABBS registration, a one-year genetic health guarantee, and a lifetime of support for new owners.
If you want to buy a Boerboel puppy from Sandahaar Boerboels, make sure to get in touch with them as soon as possible in order to reserve a puppy from their upcoming July litter—they also currently have a young female Boerboel available for sale to prospective owners.
When you buy a Boerboel puppy, you'll definitely need to keep a Boerboel growth chart handy in order to easily keep track of your new pup's developmental progress.
Sandahaar Boerboels' details
Location: Carlisle, Scotland, United Kingdom
Website: Sandahaar Boerboels
YouTube: Sandahaar Boerboels
Contact: +44 7 516-894-980
Email: [email protected]
2. Noxterra Boerboels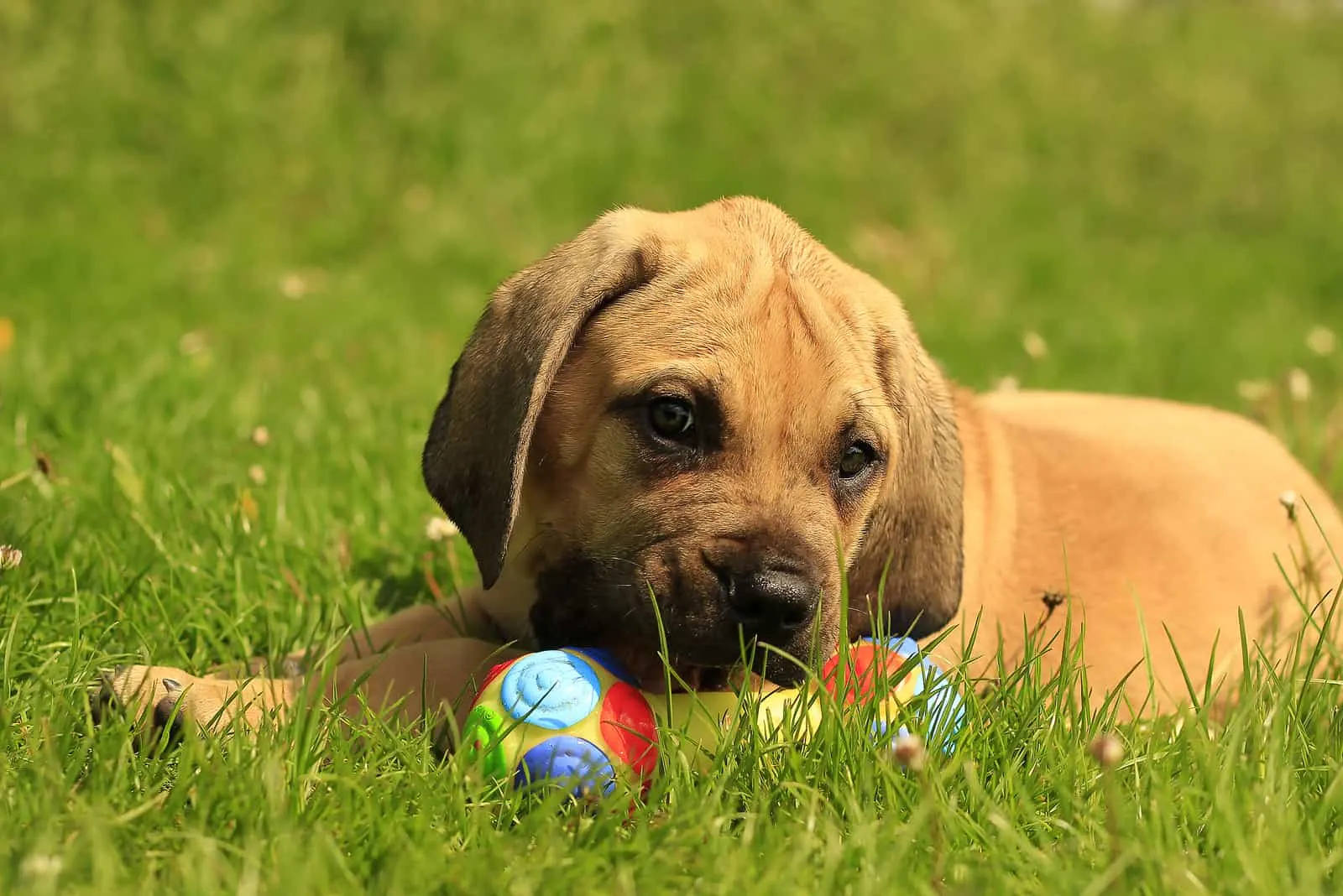 Our second spot on the list of the best Boerboel breeders in the UK goes to Noxterra Boerboels, located in Wickford, United Kingdom.
Who They Are
Registered with the SA Studbook, NABBA, and the SABBS—Noxterra Boerboels is a world-class, family-owned breeding outfit that specializes in producing the highest quality purebred South African Boerboels.
From 2004 to 2014, the Slate family successfully bred, raised, and showed English Bullmastiffs until they, unfortunately, lost three of their main dogs to cancer—after this tragic incident, the breeders decided to research various other breeds and eventually fell in love with the South African Boerboel.
In late 2014, the Noxterra Boerboels breeding outfit was born again via the procurement of their foundation female Boerboel "MES Madison" from Lukas, the owner of world-famous Spitsvuur Boerboels in South Africa.
Their foundation bitch was bred with Spitsvuur's best stud dog—the legendary black Boerboel dog named Ramkat, and the rest is history.
Breeding Program
All of their current breeding dogs come from the finest South African champion bloodlines and are extensively DNA tested in order to produce litter after litter of healthy Boerboel puppies that are free of any major hereditary illnesses.
Their matings are all extensively planned in advance and the resulting puppies are raised with a hands-on approach—each puppy is given lots of early neurological stimulation, proper socialization, early crate and potty training, as well as lots of love and care.
What They Offer
All of Noxterra Boerboels' puppies are given their first age-appropriate immunizations and are properly dewormed and microchipped—they come in red, fawn, black, and dilute black colors.
Both their Boerboel pups and adult dogs are sold with a SABBS/SABT registration, a one-year genetic health guarantee, and a lifetime of support, along with a full money-back guarantee.
Noxterra Boerboels currently have 7 young female Boerboels available for sale and are expecting a couple of new litters soon—so, if you want to reserve a puppy for yourself, make sure to visit the breeder's website and fill out the puppy application in order to be placed on their waiting list.
You can also stay up to date with Noxterra news by signing up for their newsletter, which will let you know of any planned matings and confirmed pregnancies.
Keep in mind that a large dog like the Boerboel needs a specialized diet and a strict feeding schedule in order to develop into a healthy adult dog—find out how much you should feed your new pup in our Boerboel feeding chart.
Noxterra Boerboels' details
Location: 263 London Rd, Wickford, United Kingdom SS12 0LG
Website: Noxterra Boerboels
Facebook: Noxterra Boerboels
Contact: +44 7 939-196-690
Email: [email protected]
3. Claymore Boerboels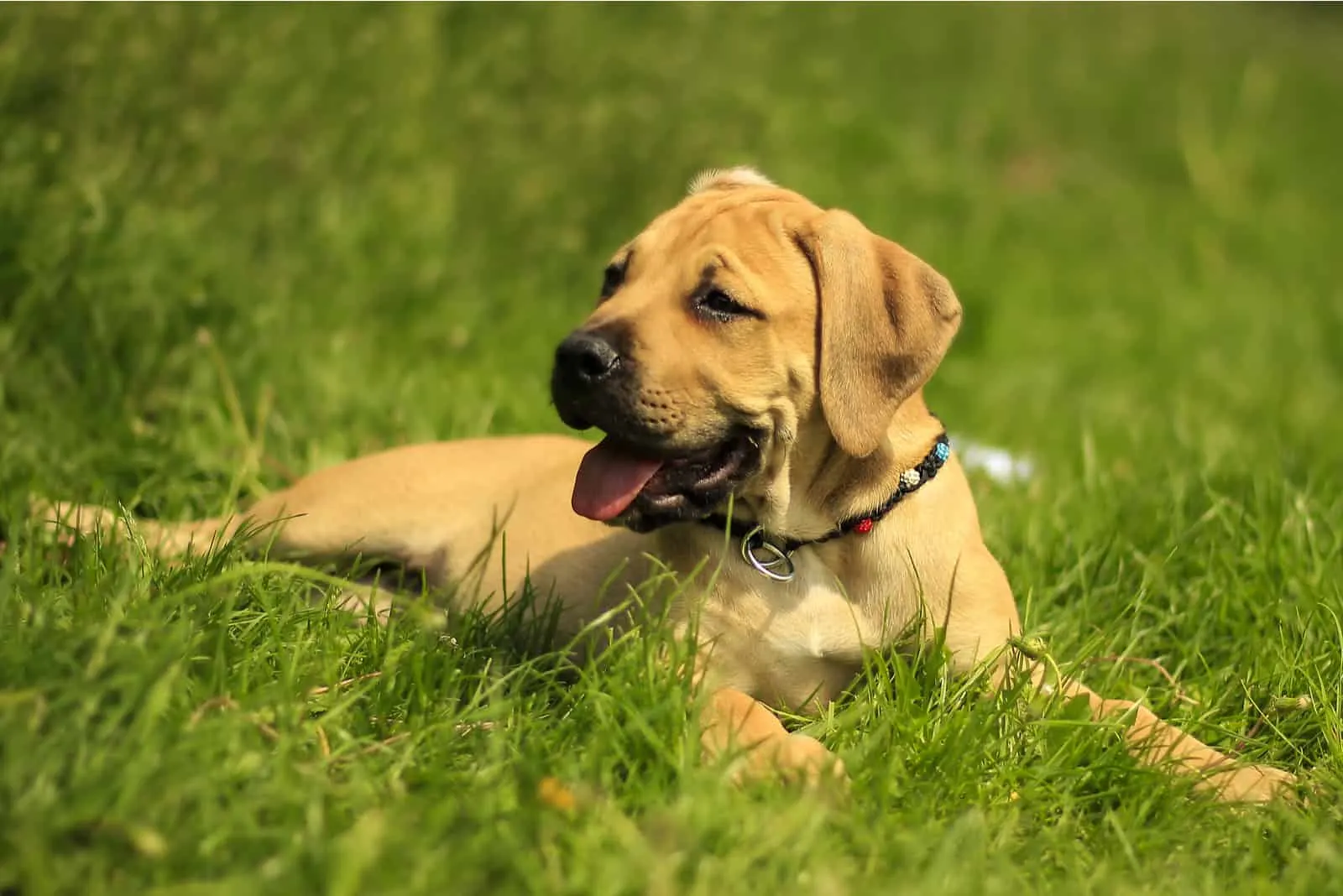 Our third and final spot on the list of the best Boerboel breeders in the UK goes to Claymore Boerboels, located in Herts, United Kingdom.
Who They Are
Claymore Boerboels has been in the business of breeding, raising, and showing purebred South African Boerboels since 2002—in the past 7 years, Claymore Boerboels has successfully produced 7 consecutive UK champions, as well as multiple European champions.
This breeding outfit is among the first Boerboel breeders in the UK, as well as the first breeders to have their dogs registered with the SABBS/SABT, so you can rest assured that their expertise in all things Boerboel is almost unparalleled.
Breeding Program
The breeding team at Claymore Boerboels makes sure to carefully research both the pedigrees and genetics of their breeding dogs, in order to produce healthy, high-quality Boerboel pups—while improving upon the breed with each new litter.
While raising their puppies, the breeders place a great emphasis on proper conformation, sound temperament, and excellent health above all else, in order for their puppies to grow into well-rounded dogs that make great family pets and outstanding show dogs.
What They Offer
The breeders make sure that each one of their Boerboel puppies is fully dewormed and microchipped, as well as properly socialized and given their first age-appropriate shots.
Claymore Boerboels sell their pups with a vet check, a written pedigree, a SABBS/SABT registration, a one-year genetic health guarantee, and a lifetime of support from the breeders.
Make sure to visit the breeder's website and get in touch with them via email if you want to buy one of their available Boerboels or reserve a puppy from an upcoming litter.
Have you considered whether a Cane Corso might be more suitable for you than a Boerboel? Check out their differences and similarities and figure out which is the right breed for you in our article on the Cane Corso vs the Boerboel.
On the other hand, if you think you've got the gumption to take on both of these breeds, check out the hybrid of these two giant breeds—the Cane Corso Boerboel mix.
Claymore Boerboels' details
Location: Kings Langley, Herts, United Kingdom
Website: Claymore Boerboels
Email: [email protected]
How Much Does A Boerboel Puppy Cost In The UK?
Now that we've covered who the 3 most trustworthy and experienced South African Boerboel breeders in the UK are, you might be wondering how much a purebred Boerboel pup even costs in the UK.
There are four main types of Boerboels in existence, depending on which bloodlines an individual Boerboel descends from—these are the Hound type, the Bulldog type, the Terrier type, and the Mastiff type.
The price of a purebred Boerboel pup in the UK will vary depending on several different factors, such as the reputation of the breeder, the type of Boerboel they breed, the pedigree of the dog, the demand for the breed in the area, etc.
Since Boerboels are a rare breed and are always in high demand, the cost of a purebred Boerboel puppy in the UK ranges from £800 for a pet-quality pup to as much as £3500+ for a high-quality pedigree pup or a rare colored pup like the black Boerboel.
Of course, buying a new Boerboel puppy is only the tip of the iceberg, since taking care of such a large breed can get quite expensive too.
If you want to find out whether you can afford to keep a purebred Boerboel, check out our article on the cost of a Boerboel.
In Conclusion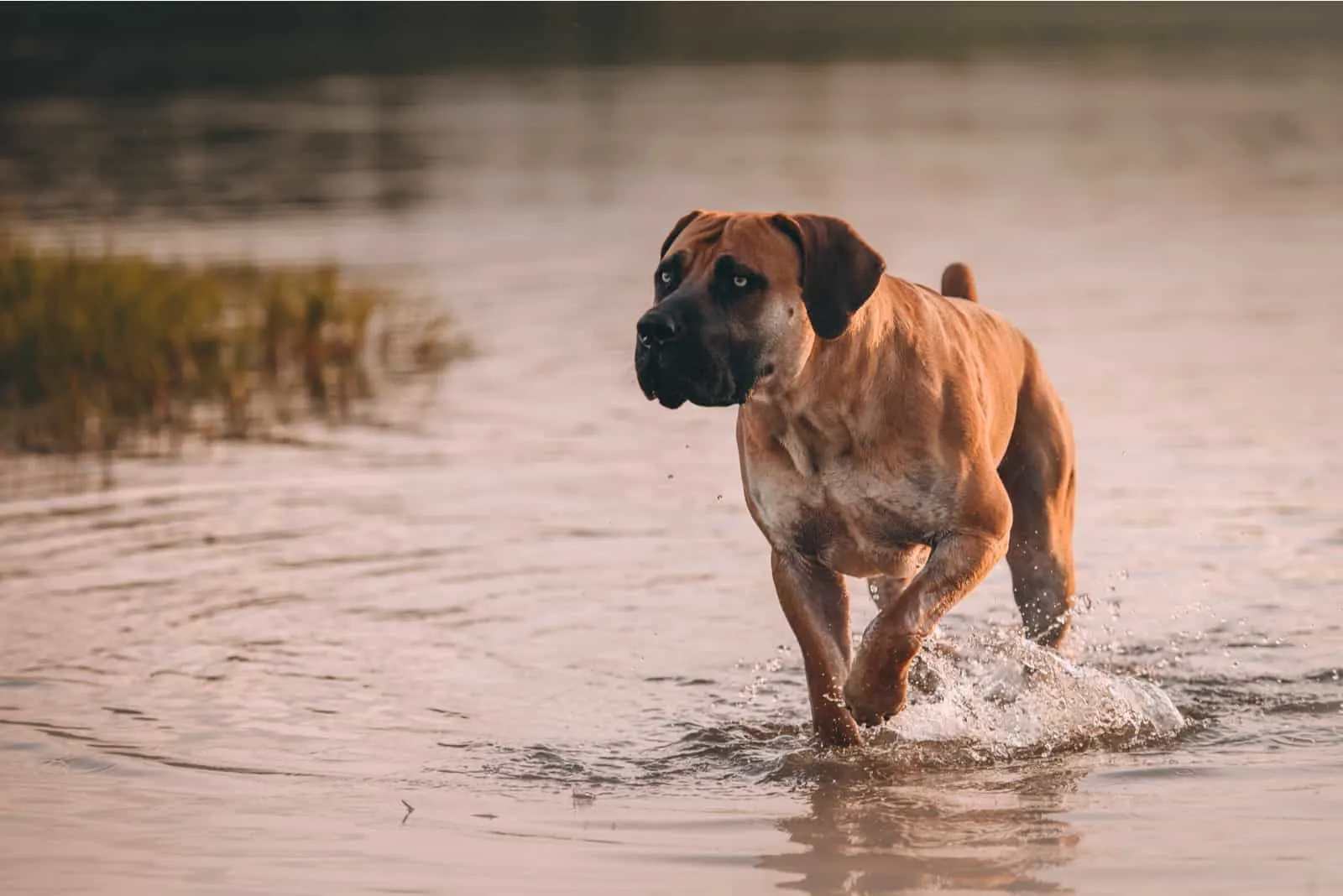 Now that we've covered who the 3 best Boerboel breeders in the UK are, you're bound to have an easier time finding the perfect breeder and the perfect new Boerboel puppy for you.
Just remember to do your research about this giant dog breed before jumping the gun and committing to one—South African Boerboels are mighty dogs that are known to be self-willed and aloof, so they need an experienced, strong-willed owner who is able to handle them.
On the other hand, when properly trained and socialized, Boerboels are affectionate toward their family and will stop at nothing to protect them—they truly are the ultimate family guard dogs.
Related articles:
• The 5 Best Boerboel Breeders In America – Breeders You Can Trust
• 16 Dogs That Look Like Pitbulls – Similarities And Differences