According to the AKC's list of the Most Popular Dog Breeds of 2021, Labrador Retrievers are once again the most popular breed in the USA.
Topping the charts for the 31st year in a row, we can confidently say that it's America's, but also the whole world's most loved dog breed!
We would be lying if we said that we are surprised by this fact. These beautiful dogs have a lot to offer, and are surely in first place for a reason (actually, a lot of them).
You can choose between various Labrador colors; however, the three main (and officially recognized) colors are black, yellow, and chocolate.
Black Labs are definitely the most common ones, and are usually preferred by a lot of dog owners. There are a couple of reasons behind this, but the most evident one is that they are easier to maintain than other lighter-colored Labs.
If you are looking for a black Lab for yourself, let us present to you the top six black Lab breeders in the USA. So, let's get to business…
Black Labrador Retriever Puppies For Sale In The USA
The Labrador Retriever breed originates from the Canadian island of Newfoundland. They were bred from the now already extinct Newfoundland domestic dog that was called the St. James water dog.
Although there is not much information about this breed, we know that they were strong dogs, with a thick, mostly black double coat.
The English Aristocrats brought the new breed to Europe to use them as gun dogs, but today, these pups have many working qualities, and they often serve as noble search-and-rescue dogs.
That being said, let's see where you can find one, and who the top six black Lab breeders in the USA are:
1. Mykiss Labradors – Washington State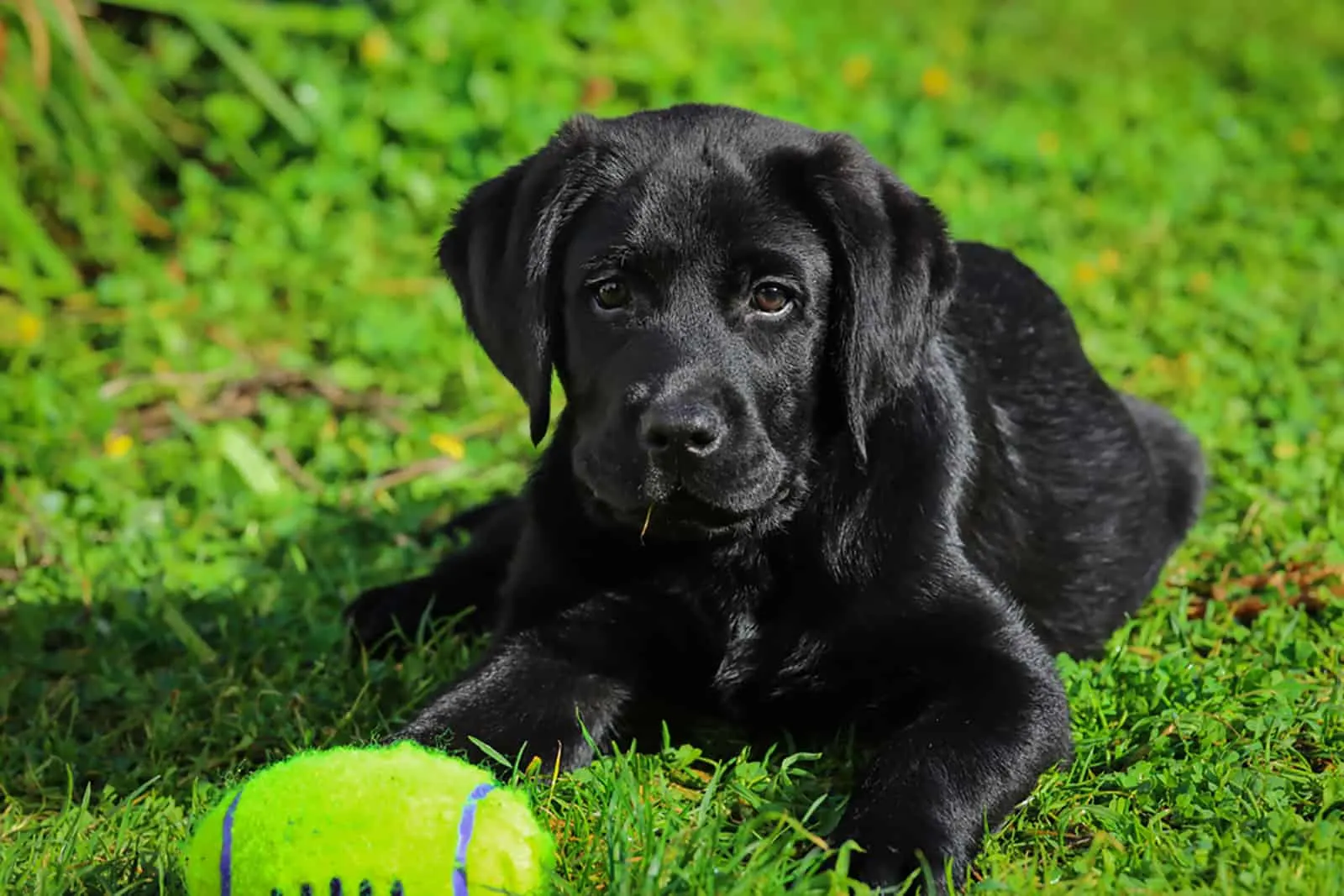 First on our list of black Lab breeders, we have the American Kennel Club (AKC)-recognized breeding program — Mykiss Labradors, located in the capital of Washington State, Olympia.
Who Are They
Mykiss Labradors is a breeding program run by breeder, Tamaria Hartman, who has been breeding Labrador Retrievers since 2008. Tamaria has been an animal lover all her life, ever since she was a little girl. It is something she was born with.
She has always had a big passion for animals and breeding, and she has enjoyed all the thrills and even the challenges of the process. Throughout her childhood, she lived on a farm, and had the opportunity to live and meet all kinds of animals.
Tamaria truly enjoys researching and learning about Labradors and breeding, which she then tries to incorporate into her breeding program to make it even better than it is.
Only with her love for Labs and dedication to improvement has she managed to be where she is now — a truly respected Labrador breeder.
Mykiss Labradors is a proud owner of the AKC Breeder of Merit certificate, and the AKC Bred with H.E.A.R.T. program.
Besides being part of the AKC family, they are also members of the Labrador Retriever Club, Inc., the Rose City Labrador Retriever Club, and the Puget Sound Labrador Retriever Association.
Breeding Program
The goal of their breeding program is to preserve the true Labrador breed standard, along with their wonderful temperament, trainability, and impeccable health.
A lot of care and time is spent on developing good-tempered Labs that will do great in various situations and environments and, after all, be perfect family dogs.
Their dogs are great hunting dogs, and they are also suitable for competition in various sports and events; however, their main priority has always been to produce well-balanced dogs that will do great as family pets and make people happy.
In order to achieve that, all their puppies are born and raised in their home, where they receive the maximum care and love possible.
They try to expose them to as many sights and sounds as possible, so that they can grow up into well-behaved, friendly, and sociable pups.
What They Offer
If you decide to get a puppy from Mykiss Labradors, you will also get its AKC registration papers, a health certificate, a starter bag of food, a puppy starter kit, and a blanket with the mother's scent.
All their Lab puppies are microchipped, vaccinated, and dewormed before they leave for their forever home. They also have received a full veterinary examination, so you can be sure that they are completely healthy.
Puppies are sold only as family companions, which means that you don't get the breeding rights, nor can you use puppies for breeding. If, by any chance, you are no longer able to take care of your pup, they will happily take it back.
For any inquiries about the availability of puppies, planned future litters, or the application, please email them. You can check out their website or social media for pictures and more information.
Breeder Information
Breeder's name: Tamaria Hartman
Location: Olympia, WA 98513
Email: [email protected]
Website: Mykiss Labradors
Facebook: Mykiss Labradors
Instagram: Mykiss Labradors
2. Belquest Conclusion – Maryland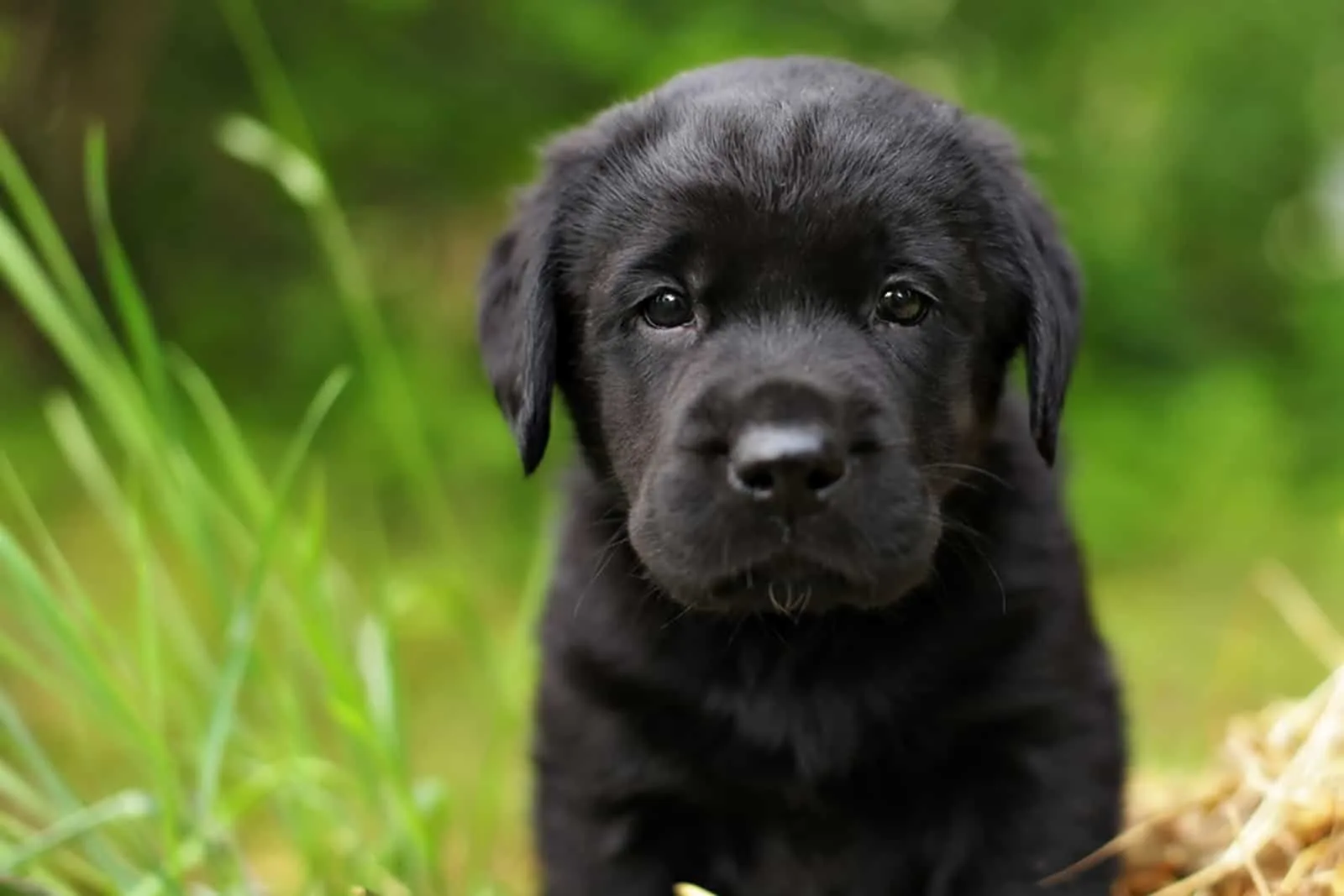 Next on our list of black Labrador Retriever breeders, we have an interesting family-operated and owned dog breeding program and cattery, located in Mount Airy, Maryland.
Who Are They
Belquest Kennels and Cattery has been breeding extraordinary Labradors since 1972.
This breeding program, which is owned by Vicky and Mike Creamer, also offers you boarding services for dogs, cats, and exotic pets, as well as grooming, dog training, microchipping, and tattoo ID services.
Everything that you might want, you can find at this five-star business. So, how did Belquest Conclusion come to be?
In 1974, Vicky got her first Lab, named Shadow, and then she got Amy, which became the first Labrador to receive the #1 Obedience Dog in the country.
Once married, both she and her husband, Mike, decided it was time for them to open a proper breeding program, so Belquest Conclusion was born.
To this day, Vicky is not only a great breeder and trainer, but also a professional groomer, animal hygienist, and registered tattoo specialist.
Among many accreditations that they have, we will highlight the AKC Breeder of Merit Platinum recognition, which is the highest advanced level of recognition from the American Kennel Club.
Breeding Program
The main goal of their breeding program is to produce extraordinary pups that will be the best of the best. They care only about quality and not profit.
Their dogs have wonderful temperaments, good looks, and amazing working qualities. A lot of them have ended up as great service dogs, guide dogs, hunting dogs, and most importantly, great family members.
The puppies come from top-quality bloodlines, and the sires and dams have been OFA health tested to ensure that all of the Lab pups are completely healthy.
Besides black Labradors, you can find puppies in two other main colors — chocolate, and yellow.
What They Offer
Puppies can go to their new home at eight weeks of age. Prior to that, they are vet-checked by a certified veterinary specialist, and they all have a health certificate.
Additionally, they have been dewormed, microchipped, vaccinated with their puppy shots and Bordatella vaccine, and have a negative fecal report. They come with a four-generation pedigree, and are sold on limited AKC registration.
It is possible to put down a deposit for a puppy, but only after they are born. The price of the Belquest Conclusion puppies starts at $4,000, but it can change depending on the parents and the breeding process.
If you are interested, and would like to visit the kennel and meet these beautiful little pups, the great news is that it is possible.
You just have to make an appointment via email. For any other inquiry, you can email them and they will respond shortly.
If you don't live close to Maryland, don't worry because Belquest has a solution.
They are very experienced in all sorts of shipping, and will arrange and take care of the entire process, from booking flights to safely receiving your pup in your arms.
Breeder Information
Breeder's name: Vicky and Mike Creamer
Location: 18745 Penn Shop Rd Mount Airy, MD 21771
Phone: +1 301-831-7507
Email: [email protected]
Website: Belquest Conclusion
Facebook: Belquest Conclusion
3. Black Swamp Labradors LLC – Ohio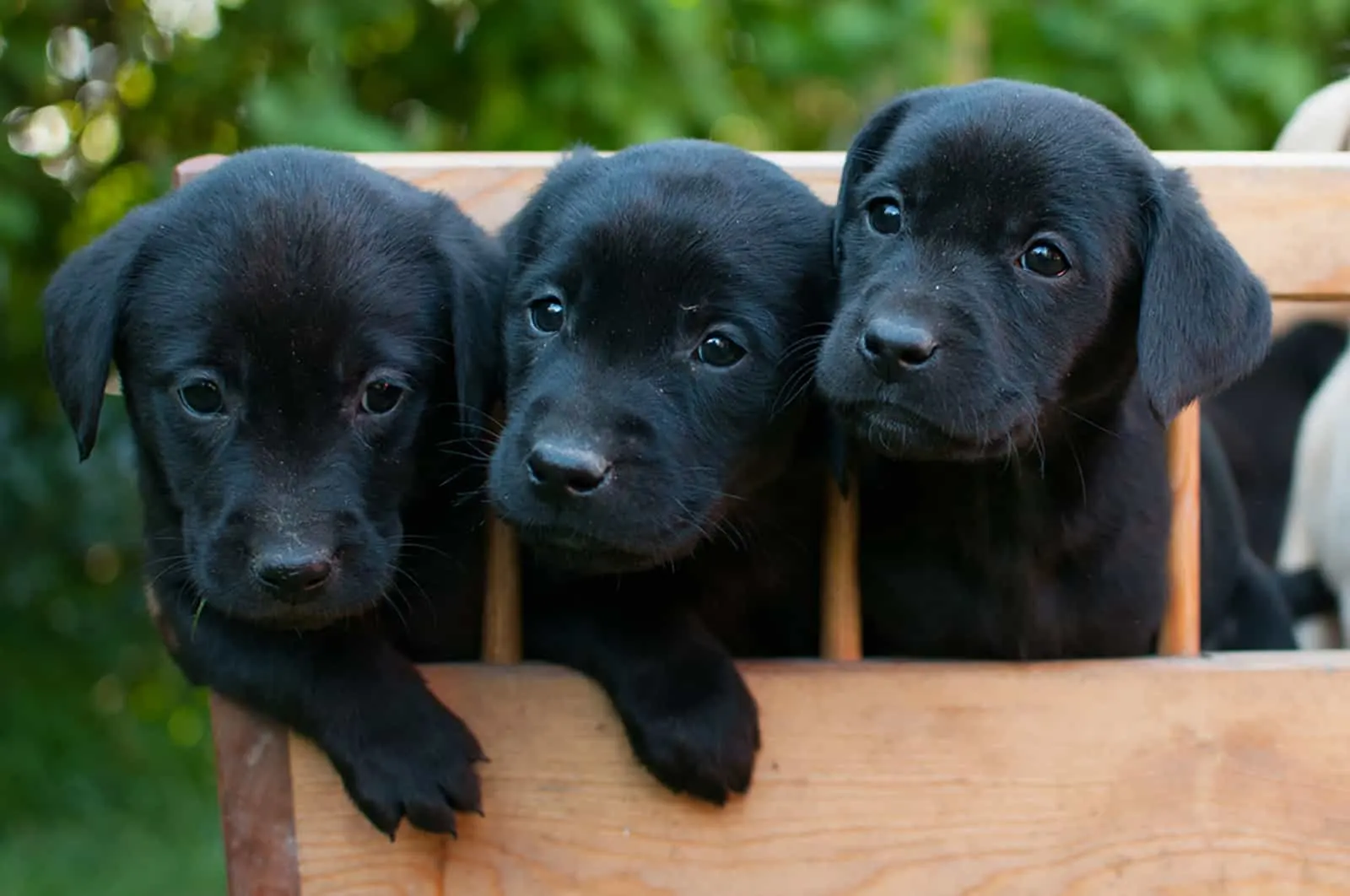 Next on our list, we have a black Lab breeding program, which is located in one of the finest Ohio Villages – Grand Rapids. We present you with Black Swamp Labradors.
Who Are They
Black Swamp Labradors LLC is a small, family-based breeding program that strives to breed for health, high quality, and a calm temperament. Their story began in 2014 when the now owner, Rebecca, wanted to purchase a puppy.
Her schoolmate just happened to have a Lab litter, and while Brittany wanted a male chocolate Labrador, fate had its own plans, and she ended up with a female black Lab named Kiena.
Although she didn't originally have plans for breeding, once again, life had its own ways.
Before she knew it, they had new puppies, and a new passion was born — Black Swamp Labradors LLC.
Breeding Program
Their breeding program is located on 5.5 acres of land, just west of Toledo, Ohio, where the dogs have full freedom to run around and play.
All puppies receive the best care possible, and are handled daily to help raise them into perfect companion dogs for future families.
Thanks to life on the farm, all dogs receive proper socialization from an early age, so they get along very well with other dogs, children, and all sorts of animals. Excellence and quality are what they strive for.
In order to achieve the breed standard and the perfect combination of great drive and a sweet temperament, they make sure that all of their Labradors used in the breeding program (as well as puppies) are health tested.
Besides standard black Labs, at Black Swamp Labradors, you can find all sorts of Lab colors, such as yellow and chocolate Labs, but also white and Fox Red Labs.
If you are perhaps interested in Fox Red Labs, check out our list of top 5 fox red Labrador breeders in the U.S.!
What They Offer
All Black Swamp puppies are vaccinated, dewormed, checked by a licensed veterinarian, given fecal tests, microchipped, and are potty and crate trained.
They offer you lifetime breeder support, and a health guarantee for all genetic conditions that can be found in Labs, such as hip dysplasia, elbow dysplasia, progressive retinal atrophy (PRA), and many more.
Along with your puppy, you will receive an AKC registration, your very own puppy packet, a puppy dog food starter bag, a soft carrier bag, and a blanket with their mother and littermates' scent.
It is possible to reserve a puppy; however, you will have to pay a $321.75 non-refundable deposit.
So, if you decide to apply for one of these beautiful pups, you'll be first asked to provide some information about yourself that will help the breeder find the perfect match for you.
Check out their website for more information and beautiful pictures, of course.
Breeder Information
Breeder's name: Brittany Pescara
Location: 1080 County Rd T3, Grand Rapids, OH 43522, United States
Phone: +1 567-218-1615
Email: [email protected]
Website: Black Swamp Labradors
Facebook: Black Swamp Labradors
Instagram: Black Swamp Labradors
4. Ridge View Labradors – Iowa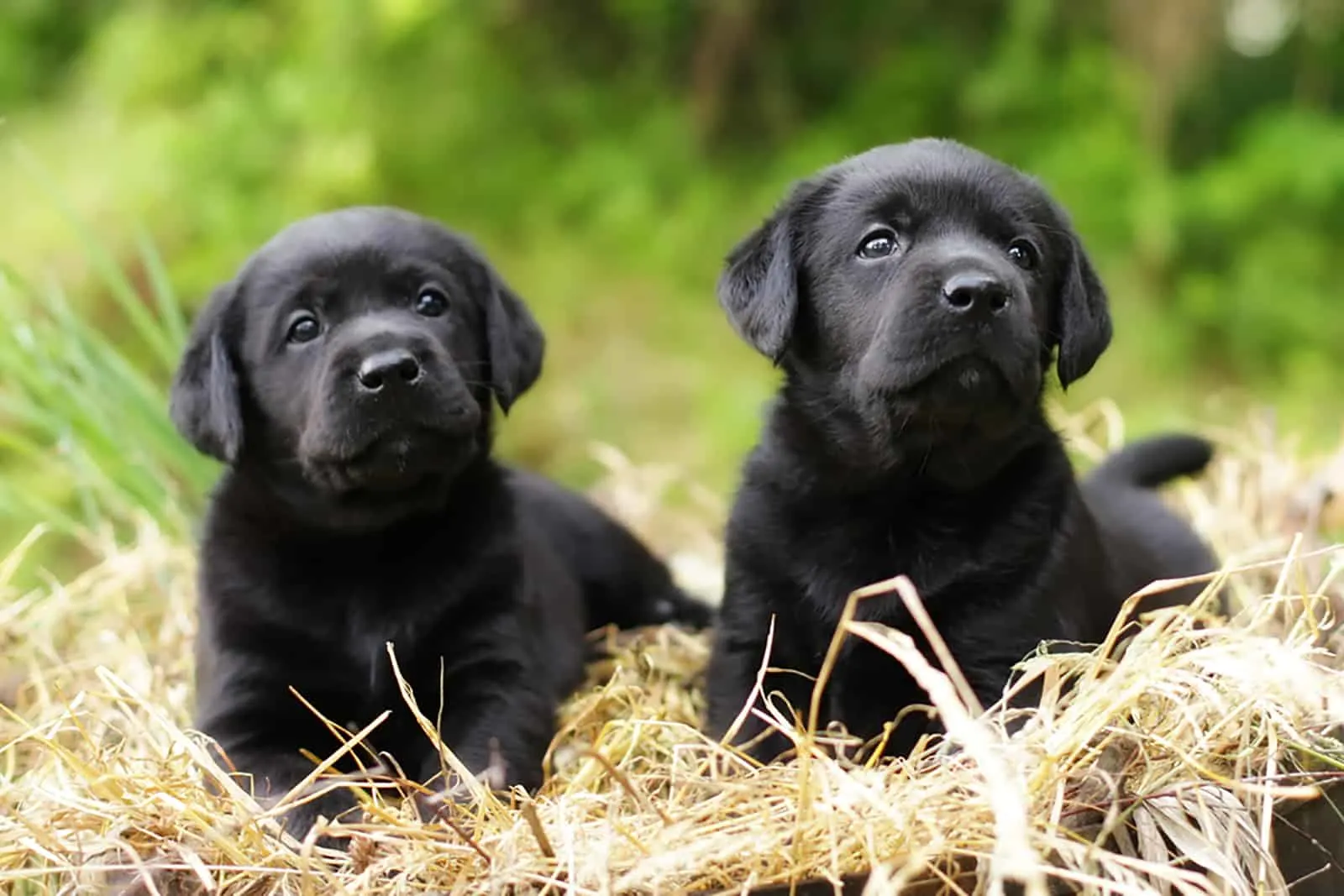 Welcome to Ridge View Labradors – a premier breeder of dual-purpose Labradors from the city of Elkader, Iowa. Let's meet this breeding program and see what they have to offer.
Who Are They
They have been breeding black, yellow, and chocolate Labradors for more than 35 years. Breeding and training Labs is their true passion, which is why they strive to produce completely sound puppies that will become someone's best friend in the future.
They are proud members of the AKC family and the Labrador Retriever Club.
Throughout these 35 years, they have produced more than 100 AKC champions, with many of them being #1 Best in Show, Master Hunters, Obedience, and great service dogs.
Breeding Program
As you may have already noticed, they do not only offer breeding services, but training programs as well if you wish to have your puppy properly trained.
Other than that, they strive to produce high-quality dogs that will be loyal companions, hunting dogs, sporting dogs, and service dogs.
They do not sell dogs for breeding purposes, nor do you get any breeding rights. However, you will get beautiful companion dogs that will steal your heart from the moment you lay your eyes on them.
What They Offer
With Ridge View Labradors, you'll get a beautiful balance of beauty, intelligence, and retrieving capabilities. They offer you a 30-month health guarantee and lifetime breeder support. If anything happens, you can always contact them for help.
The price of the puppies starts at $2,700; however, if you'd like one of their trained puppies, the price can go from $3,500 to $5,500 depending on the training done. They do require a non-refundable deposit in order to reserve a puppy.
If you are interested in their puppies, you can start your process by filling out the Ridge View Questionnaire that will help them find the best possible fit for your family.
After sending in the questionnaire, you'll be contacted via email to set up a phone interview where you'll be able to discuss all your wishes. Don't hesitate to also check out their website for more information.
Breeder Information
Breeder's name: Donna Reece
Location: Elkader, IA 52043
Phone: +1 216-798-5025 / Main Kennel: +1 563-245-2049
Email: ​[email protected]
Website: Ridge View Labradors
Facebook: Ridge View Labradors
5. MistyWoods Labradors – Missouri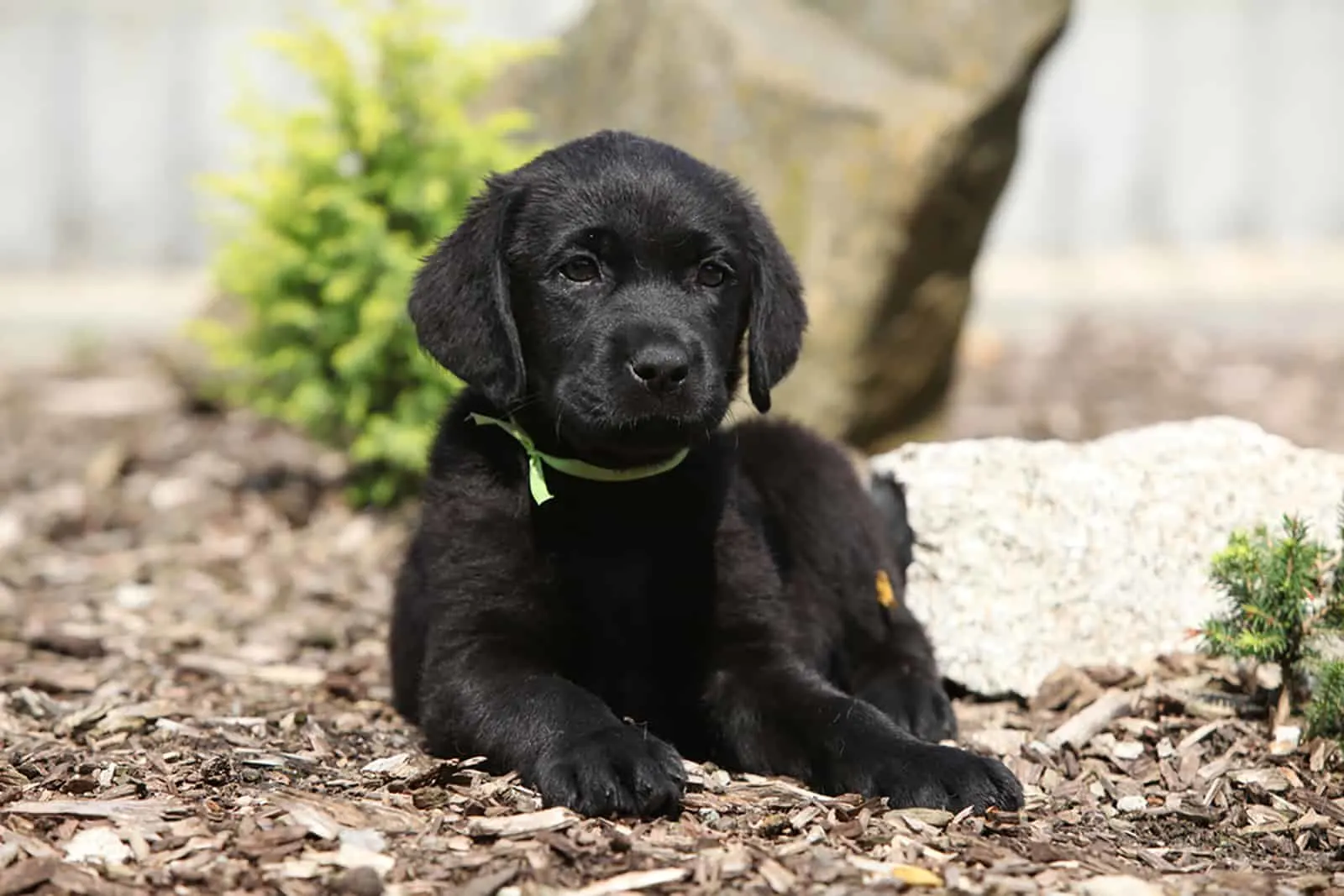 Located in south-central Missouri, near the Arkansas border, you can find a small farm with beautiful Labradors — meet MistyWoods Labradors.
Who Are They
Tammy Johnston is a registered veterinary technician who lives with her husband on a 20-acre farm in Missouri. Her story with the Labrador Retriever breed started in 2001, when her good friend gave her a cute yellow Lab puppy named Belle.
Unfortunately, Belle had to be put down a couple of years later due to health problems and uncontrolled seizures, but Tammy never stopped loving her. Belle inspired her to start her own breeding program.
In 2006, MistyWoods Farm was born… inspired by the humid, hazy mornings that surround the farm.
Breeding Program
The purpose of their breeding program is to produce high-quality puppies and try to improve the breed standard.
They love their country life with Labradors, horses, and ducks, where the puppies have plenty of space to run around and even swim in several ponds and rivers in the area.
They produce English/Bench style Labrador Retrievers that adhere to the breed standard set by the Labrador Retriever Club.
Besides being wonderful companions to many families, their Labs also perform in conformation, obedience, agility, rally, field trials, therapy, and assistance.
They breed black, chocolate, and yellow (from light to fox-red shade) Labradors.
What They Offer
All of their pups are AKC registered, and have to pass extensive health testing and DNA testing (OFA hip and elbow certified, AVCO or CERF eye certified, and PRA, EIC, CNM, and HNPK certified).
Puppies are sold on AKC limited registration papers, and they require a $500 deposit, which will be deducted from the final puppy price. You need to fill out a puppy questionnaire in order to be considered for a puppy and to be put on their waiting list.
What will you get with your MistyWoods puppy?
• Limited AKC registration
• A puppy starter kit (dog food, toys, helpful information)
• Parents' health clearance tests and pedigree
• Dewormed, vaccinated, and microchipped puppy
• Breeder's lifetime support (in case anything happens)
The price of a puppy is $2,300, and they offer puppy delivery within three to four hours of their farm. For more information, feel free to contact them via email or visit their website.
Breeder Information
Breeder's name: Tammy Johnston
Location: Alton, Missouri 65606
Phone: +1 417-778-1758 home / +1 417-255-3915 cell
Email: [email protected]
Website: MistyWoods Labradors
Facebook: MistyWoods Labradors
6. River Retrievers LLC – Florida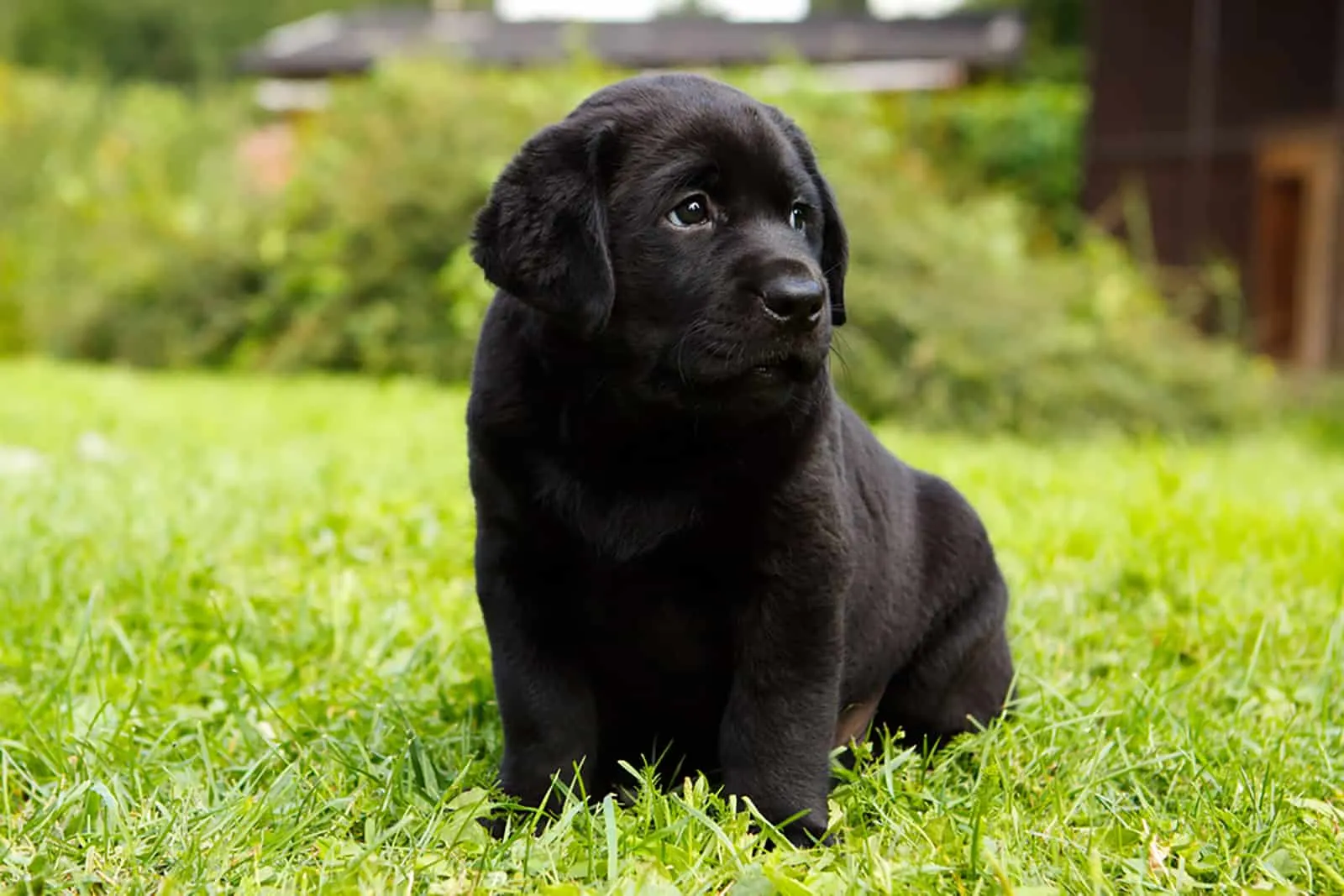 Finally, we present to you River Retrievers LLC – a black Lab breeding program located in Brooksville, Florida, that offers your excellence in both the field and the ring.
Who Are They
River Retrievers LLC is a small kennel, run by Rebecca Medeiros, that focuses on producing healthy dogs with the best temperament and working abilities of the Labrador Retriever breed.
They are proud owners of the AKC Breeder of Merit award, as well as proud members of the Hunting Retriever Club, the Central Florida Hunting Retriever Club (CFHRC), and the "No To Silver Labradors" movement.
Breeding Program
All of their puppies are whelped and raised in their home, where they receive the best mental stimulation and socialization possible.
Their goal is to produce pups that will have it all – correct conformation in order to be able to compete in the show, a good drive for the field, and the perfect temperament for a family pet.
They currently compete in conformation, agility, hunt tests, dock diving, and obedience.
Additionally, besides breeding, they also offer some other services such as handling, whelping, and stud services.
What They Offer
The price of the River Retrievers' puppies is $3,000, with a non-refundable deposit. This includes:
• AKC registration
• A health certificate
• Vaccinations (up-to-date and age-appropriate)
• Deworming and microchipping
• 30 days of free Trupanion and AKC health insurance
• Delivery (in the state of Florida)
• 24/7 lifetime breeder support
If you visit their website, you can find all the necessary information, as well as new dog owner instructions with a detailed guide concerning everything you need to know – from the history of the Labrador Retriever, to diseases and conditions, to nutrition and care – they have it all set out for you.
Breeder Information
Breeder's name: Rebecca Medeiros
Location: 7244 High Corner Rd, Brooksville, FL 34602, United States
Phone: +1 352-424-5692
Email: [email protected]
Website: River Retrievers
Facebook: River Retrievers
What Is The Average Cost Of A Black Lab?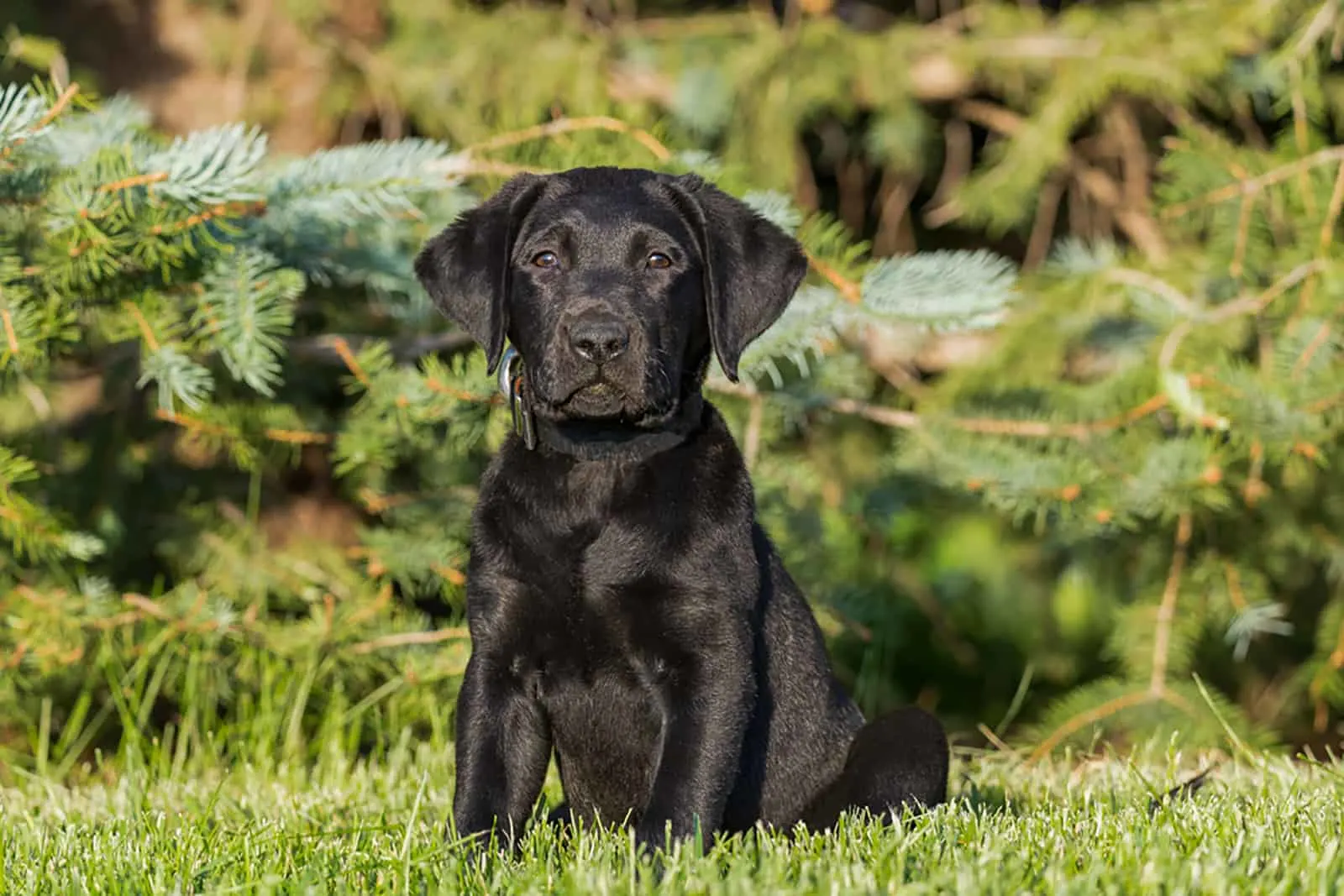 If you are looking to buy a purebred black Labrador Retriever with a high-quality bloodline from a reputable breeder, you can expect to pay between $1,700 and $2,500; however, some especially prestigious pedigrees can cost around $5,000.
If you are not able to pay that much, you can always go the route of adopting, where you'll only need to pay an adoption fee, which, even though prices are increasing a little bit, will cost you around $350 to $400 depending on the location.
Black is one of the most popular Lab colors, so it is quite reasonable that the prices are very high.
The popularity of the breed, the higher demand, the high-quality bloodline, the location, and breeding process all greatly influence the price, and all of that has to be taken into consideration.
Please don't fall for the lure of lower prices. Those low prices are usually the result of bad breeding habits, and irresponsible breeders, such as puppy mills and backyard breeders, who don't care about their puppies – only about profit.
This can result in pups having various health issues that can seriously affect the quality of their life. These are the people and organizations that you don't want to support.
The initial cost of your new puppy is not the only expense you'll have. You'll also have to provide your pooch with all the supplies that are needed for him to have a happy life.
If you need some help with that, check out some of our Labrador-related articles that can be of use:
• 10 Best Dog Beds For Labrador Retrievers: Reviews And Buyer's Guide
• 11 Best Dog Food For Labrador Retrievers In 2022
Final Thoughts
Finding the right breeder is not easy at all. With the popularity of black Labs today, there are a lot of people who are just looking to make money off of them. Unfortunately, this results in poorly-bred dogs with a lot of health problems.
In order to avoid someone trying to scam you and provide you with a puppy that sadly has a lot of issues, we decided to make this list of reputable black Lab breeders in the USA.
We know how difficult and time-consuming it can be to find the right one, so we sincerely hope that this list will help you.
Please always check the breeder's credibility – if they actually possess all the certificates that they claim to have – and be aware of possible scammers.
Sometimes, it is better to pay a little bit more in order for you to get a perfectly healthy and happy dog. Money comes and goes, but the memories with your beautiful new black Labrador puppy will stay forever!
Related Content:
• 7 Top Labrador Breeders In California: Find Your Lab Here!
• 11 Labrador Breeders In Texas That You Can Trust