This post contains affiliate links, and I will be compensated if you make a purchase after clicking on my links.
Proper nutrition for canines is important, especially for larger dog breeds like Labradors, so today, I'll be showing you the best dog food for labrador retrievers and why exactly these options are considered the best.
Labs have a large genetic predisposition for obesity, as well as issues with joint tissue and pain in their later years.
The latter is something that all big dog breeds end up suffering from, given poor weight distribution and the effects of gravity over time, but obesity has a chance to affect labs a lot more.
This is due to a genetic mutation that kicks the standard doggy appetite into overdrive.
In order to sate that hunger, a proper balance of ingredients is needed that caters to the lovely labs in order to produce the best dog food for Labradors.
What qualifies as the best food? Well, I've gone through the trouble of finding a number of fantastic and quality dog food options for you to choose from for your pooch. Hopefully, you'll find something that caters to your dog's specific nutritional needs.
11 Best Dog Foods For Labrador Retrievers
Nutro Ultra Large Breed Adult Dry Dog Food
Key Benefits:
Excellent source of high-quality protein, with chicken as the main ingredient, supplemented by lamb and salmon

Contains glucosamine, which is essential for maintaining joint health

Whole grains and brown rice help with digestion

The 15 superfood mix provides necessary vitamins and nutrients at barely any added calorie-cost

Free from soy, corn, and wheat protein, making it compatible for dogs with sensitive tummies

All ingredients are sourced from trusted farms, with no utilized GMOs
Cons:
Potential trace amounts of GMO material from accidental interaction with other products in the same factory

Dog food size fits smaller dog breeds better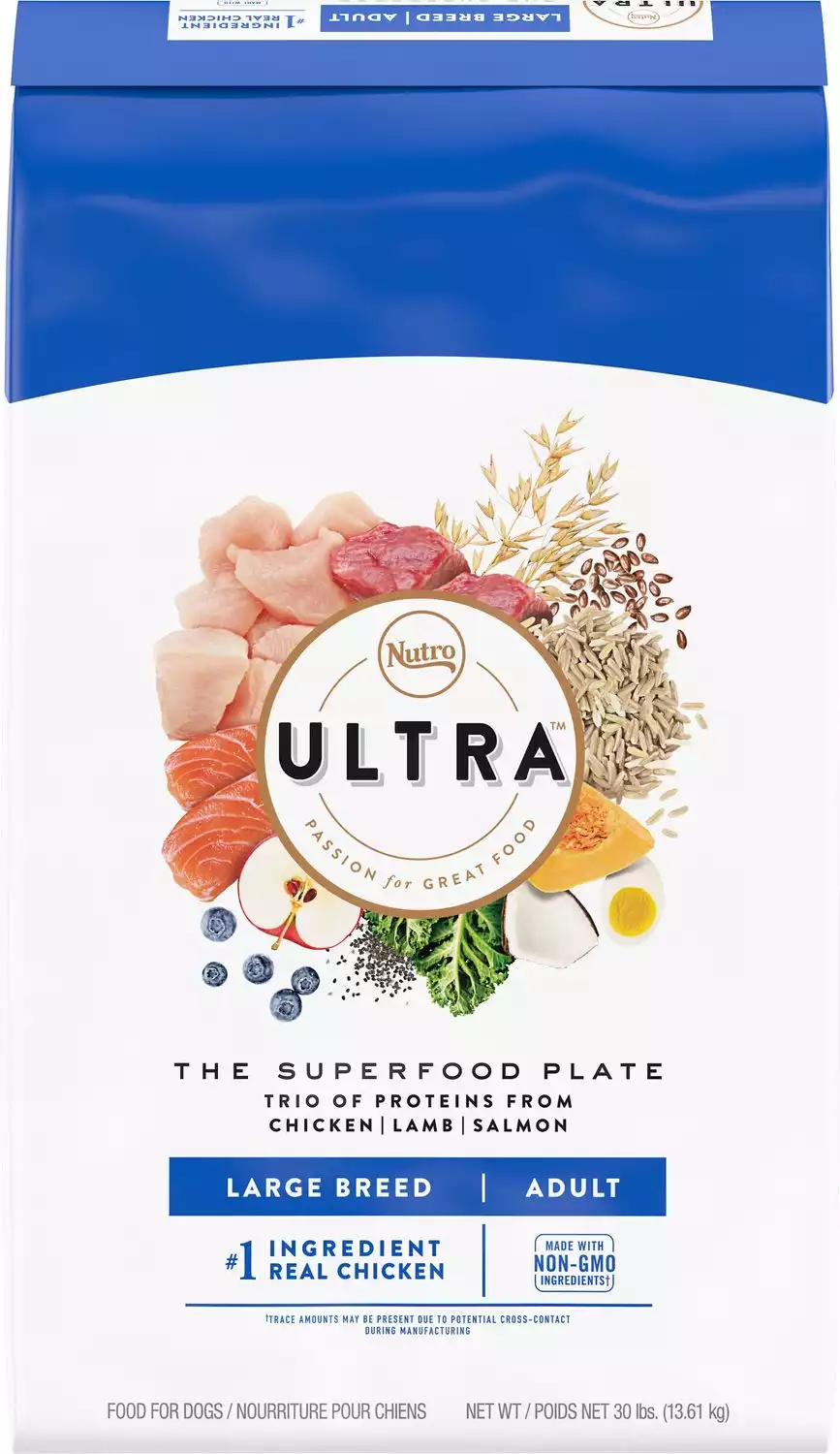 First on our list, we have the Nutro adult dry dog food.
This fantastic kibble was tailored specifically for large breed dogs in order to provide the necessary nutrients for the sake of your furry friend's health.
The Ingredients
The first ingredient is poultry, mainly real chicken with no added by-product chicken meal as the latter tends to be quite fattening.
It's further supplemented by lamb and salmon on the meaty protein front, albeit in lesser amounts, which help provide the necessary protein content to foster proper lean muscle tone development.
That's followed up by three other ingredients, namely whole grain oatmeal, rice bran, and whole brown rice, which help digest the dog food easier and reduce any potential chances of GI problems.
You'll find sunflower oil as an ingredient as well, providing linoleic acid; a healthy fat that helps stimulate the production of natural oils to preserve your adult dog's beautiful coat color.
There's also a unique 15-superfood mix that Nutro is famous for, containing items like blueberries, coconut, chia, and kale – all-natural ingredients that help supplement your dog's nutritional needs in every possible way.
The ingredients used are free of any artificial colors, preservatives, and other flavors as well as being free of any wheat, soy, or corn protein to make the kibble agreeable for dogs with potential allergies or stomach sensitivities.
Most ingredients in this pet food are sourced from trusted farms that provide high-quality ingredients with no GMOs, and they go through rigorous testing before being used to make the pellets.
The Benefits
Another positive note is that the food contains glucosamine; a necessary compound to help build the cartilage that joints are composed of; thus, helping prevent any joint pain that could be debilitating to a large dog.
There are two downsides, however. The one major one is that some packaging of the food may contain trace amounts of GMO material due to cross-pollination with other products produced in the same factories.
The second one is relatively minor, but the size of the kibble feels like it was intended for smaller dogs rather than larger ones, so your dog may spill a bit of it here and there, but that's about the extent of the downside.
Wellness Complete Health Senior
Key Benefits:
Specifically catered toward older dogs

Chicken as the main protein, supported by barley

Contains glucosamine and chondroitin to help with joint health issues

The inclusion of taurine helps with heart health

Omega-3 fatty acids help the coat maintain its brilliant luster

Antioxidants and probiotics keep the doggo's immune system and body in decent shape

Beta carotene helps absorb vitamin A and improve vision

Contains no GMOs, artificial preservatives, fillers, like soy, wheat, or corn, or any meat by-product
Cons:
Pricier than most other options on this list, though still well worth it for older dogs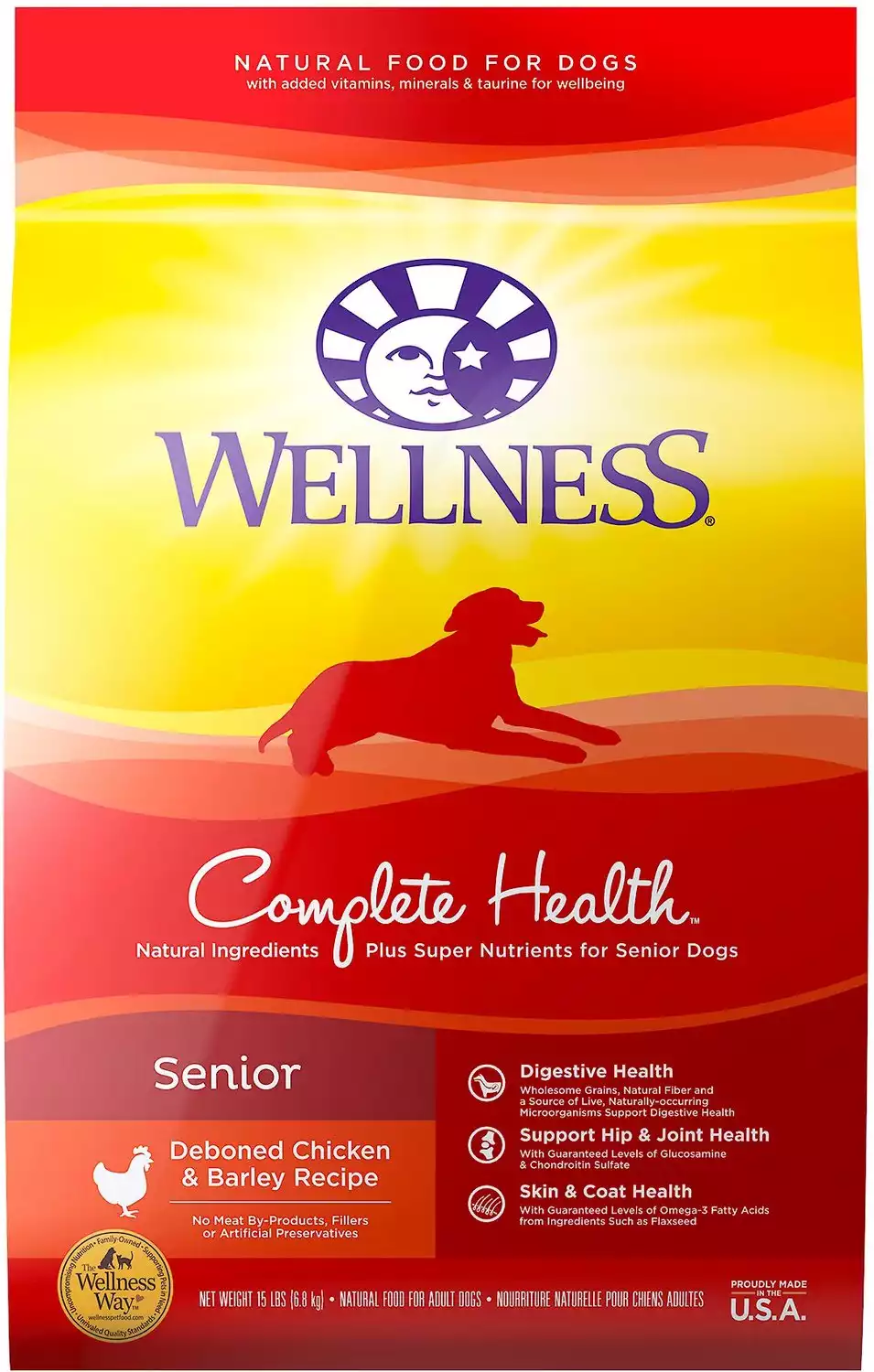 This is another well-known brand that I consider to be one of the top picks for the best dog food for Labradors.
Wellness never fails to impress as they always tailor their food to specifically cater to the targeted group of dogs, whether it's small breeds, large, young, old, or otherwise.
In this case, it's aimed more at older dogs with a lower metabolism and a more sensitive stomach.
The Ingredients
The main ingredients this time around are chicken and barley, with no chicken by-product or any other meat by-product in general.
The Benefits
What it does have, though, is a heap of other select ingredients that don't add too much to the calorie count, but do contain Omega-3 fatty acids for a shinier coat, and chondroitin and glucosamine for reinforcing joint structure.
Then, there's beta carotene to help improve vision in dogs and to help the body better absorb vitamin A in general.
It's also chocked full of antioxidants, taurine, and probiotics that help strengthen the dogs immune system overall.
What this food doesn't contain, however, is any artificial preservative or filler, nor does it contain any GMOs in general, making it one of the healthiest and overall best dog foods for Labradors and any other dog.
Labs already have relatively poor digestive power. Labs in this late of their life stage – even more so, but thankfully, Wellness helps take care of that and ensures your Lab has minimal issues with its stomach even as a senior dog.
Diamond Naturals Large Breed Adult Chicken & Rice Formula Dry Dog Food
Key Benefits:
Chicken is the main protein

Whole-grain brown rice help make the food easier to digest

Coconut and pumpkin as a source of fiber

Blueberries, coconut, and kale provide Omega-3 fatty acids for a shinier coat

They also contain antioxidants and probiotics to boost your Lab's immune system

Glucosamine and chondroitin found within help maintain joint health

No wheat or corn to accommodate the tummies of more sensitive pooches

No artificial flavor or color

Extremely affordable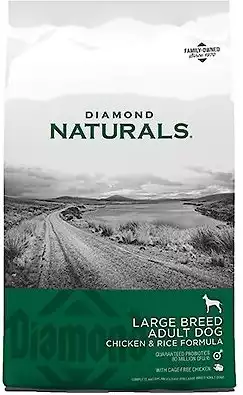 Diamond Naturals is yet another worthy contender for the best dog food for Labradors prize.
Sure, it may not seem like it does anything too differently from the other brands, but its ethical approach to poultry and extremely accessible price put it at this spot.
The Ingredients
The main ingredient, as you may have guessed, is chicken, raised in ethical, cage-free conditions and providing all the protein an adult lab needs on a daily basis.
The chicken is supported by whole-grain brown rice to make it easier on the adult dog's stomach for the sake of digestion – a must-have for any Lab-viable dog food.
The Benefits
Glucosamine and chondroitin are present as well, providing the necessary boost to joint sturdiness that all large breed dogs need in order to stay healthy.
Aside from that, it has pieces of proper fruit and veg, with the addition of superfoods like coconut, kale, and blueberries – all of which carry an extra kick of protein and additional minerals to meet nutritional needs at minimal caloric input.
They also provide the necessary Omega-3 fatty acids to reduce the risk of skin infection and to maintain a nice and shiny coat.
The coconut, alongside another ingredient (pumpkin) also serves as an added source of fiber in order to allow the food to digest itself properly.
To further tick all of the necessary nutrient boxes, this kibble also contains probiotics and antioxidants that help your big boy's overall health and ensure him with a long life.
Naturally, the folks over at Diamond Naturals have excluded any added fillers like corn and wheat from the mix to alleviate any allergy risks in more sensitive dogs, as well as excluding any artificial coloring or flavor for that matter.
Finally, the chow is extremely budget-friendly, making it a good choice for any dog owner who still wants to provide their dog with the nutrition it needs without having to skimp on quality.
CANIDAE All Life Stages Chicken, Turkey, & Lamb Formula
Key Benefits:
The main protein is a mix of fish, lamb, turkey, and chicken meal

The HealthPLUS solution provides the necessary fatty acids, probiotics, and antioxidants for a healthier body, skin, and coat

No soy, corn, or wheat present due to their nature of being dog allergens

Vet-approved

Made to accommodate every dog breed at all stages of life
Cons:
The meal protein composition lessens the taste that the actual meat would've provided

The price is considerably higher than some of the others on this list while not providing much more benefit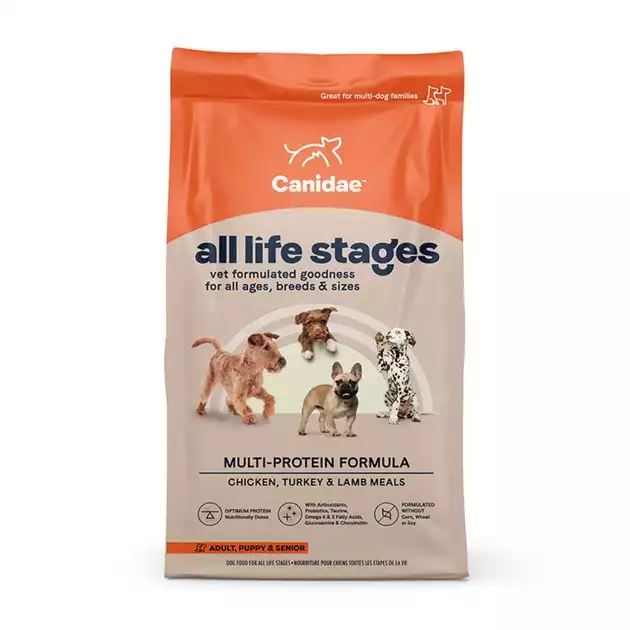 One of the more diversified options is Canidae's "All life stages" dog food option.
Intended as a sort of an "all-in-one" option to remove the need to plan out what breed needs what, the people over at Canidae have thought of this mix.
The Ingredients
The main protein comes from a mix of fish meal, turkey meal, lamb meal, and chicken meal, which make up around 26 to 28% of the compound, with the rest occupied by carbs to a greater extent, and fat to a lesser extent.
It rounds out to about a 60% fat-to-protein ratio, which is what one would expect from food made from various meat by-products.
The Benefits
On top of all that, the food contains a so-called HealthPLUS solution, which is a unique mix of antioxidants and probiotics as well as various omega-3 and omega-6 fatty acids.
The former help the body overall, while the acids themselves promote skin and coat health.
And, as with many of the best dog foods for Labs, it's free of any filler like soy, wheat, and corn in order to prevent potential food allergies that some dogs may have. After all, it's intended to cover all the bases.
The only real downsides that I can see from my research are the fact that the desire to cover every breed makes it resort to by-product and meal, making the taste experience for dogs a bit poorer than using the pure stuff.
The other downside is the price, which, especially for universal dog food, is a bit questionable when comparing it to the quality of other kibble you can get for your furry friend.
Royal Canin Breed Health Nutrition Labrador Retriever Puppy
Key Benefits:
Chicken as the main ingredient

Healthy carbs in the form of whole-grain brown rice

Prebiotics to help with establishing healthy and rich intestinal flora

Antioxidants in the form of vitamin C and E to help with overall body health

Calcium and phosphorus to help strengthen bone structure

Donut-shaped kibble to make pups work the food in their mouths longer, so that they can train their jaws and digest it easier
Cons:
Very expensive compared to other products on the list

Contains common allergens, which can be a problem for some pups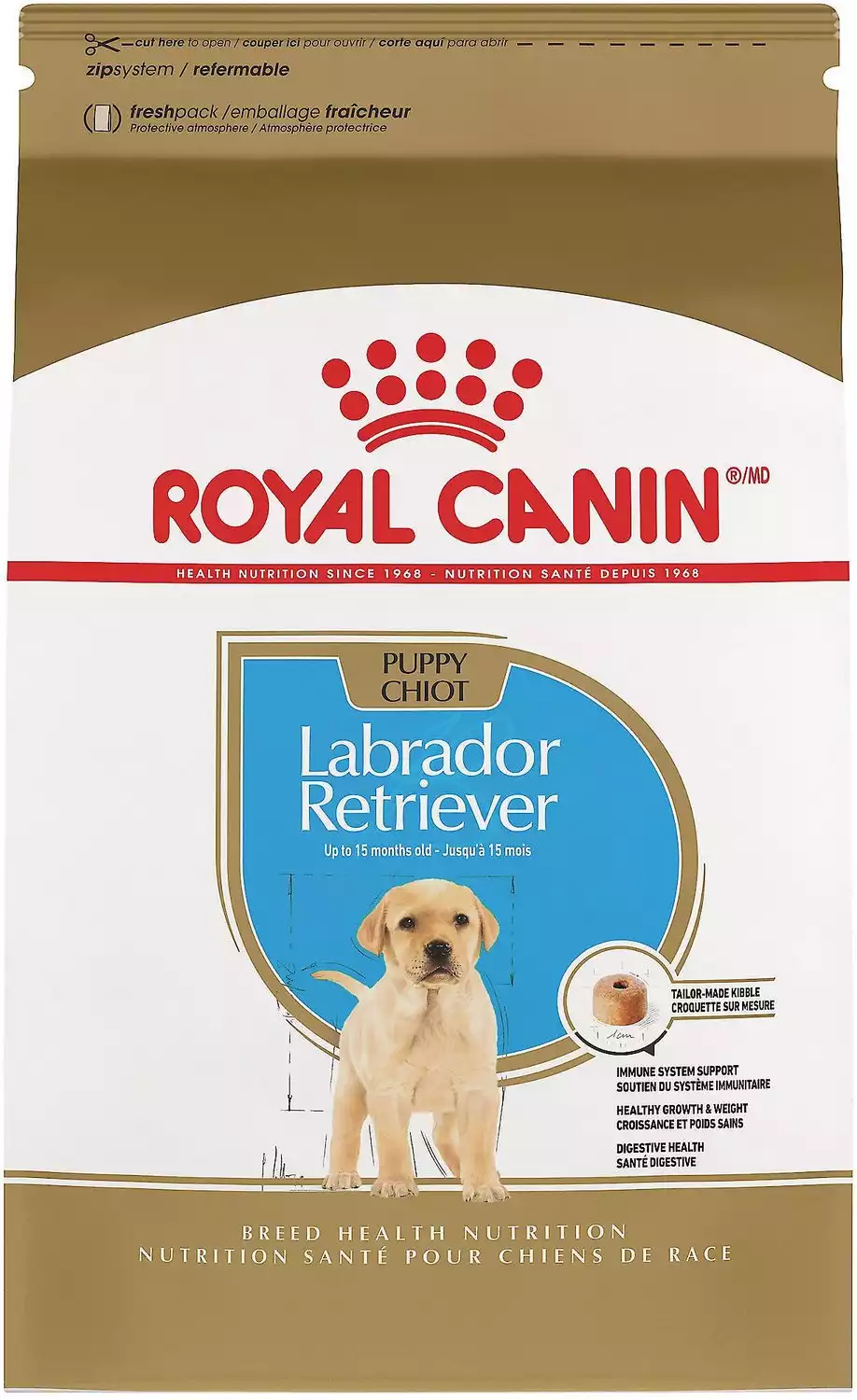 Next up on the list is a well-established brand, Royal Canin, known for its premium dog food options, and this one covers large breed puppy nutrition.
Intended for labrador puppies up to 15 months of age, this dry dog food helps cover all the bases that a small pupper needs in his nutrition in order to grow up into a healthy adult.
The Ingredients
It starts with the classic first ingredient – that of real chicken – with high protein amounts to help build up mass in order to turn into lean muscle later down the line.
Next is the standard support of carbohydrates in whole-grain brown rice, which slow digestion down in order to allow all the nutrients to be absorbed before being processed further.
The Benefits
The food contains a healthy amount of prebiotics, which help establish a proper culture of healthy gut bacteria, necessary for digestion, immunity, and the like.
Vitamin C and E as well as other antioxidants further assist the immune system by giving the entire body an overall health and durability boost.
On top of that, you'll find a good amount of phosphorus and calcium provided within, which serve as the building blocks of bone structure, helping your lab puppy develop a sturdy skeleton foundation early and not suffer from problems later in life.
The kibble has a curious donut shape to it, but even that has a purpose as it's aimed to make the little rascals actually chew their food instead of gulping it down.
This helps train their jaws for more complex meals down the line, and allows the food to get properly digested when it's in the stomach.
Proper nutrition in a dog's early life is what helps prepare them better for issues later down the line. If a dog lacks this, it may suffer from a lot more joint and muscle pain, or obesity, especially for Labrador Retrievers.
Thankfully, Royal Canin helps cover all of that, though it's not without its downsides, just like any other food.
The most notable one is the fact that there are still a few allergens that can be found within the food itself, namely refined grains, wheat, and corn, which may not fit every dog, even though their immune system is a bit more potent when they're young.
The other is the price that almost reaches triple digits – an astronomical amount to pay, but it is for the benefit of your canine companion, so it's up to you to ultimately decide. It's still one of the best puppy food options out there on the market.
Hill's Science Diet Adult Healthy Mobility
Key Benefits:
Chicken as the main ingredient

Carb support from barley and brown rice

High amounts of chondroitin and glucosamine to support cartilage health and sturdiness

Omega-3 fatty acids to reduce skin inflammation and keep the coat color vibrant

Antioxidants to help improve bodily health in general
Cons:
Relatively expensive when compared to other brands

Larger than normal pellet size can be a choking hazard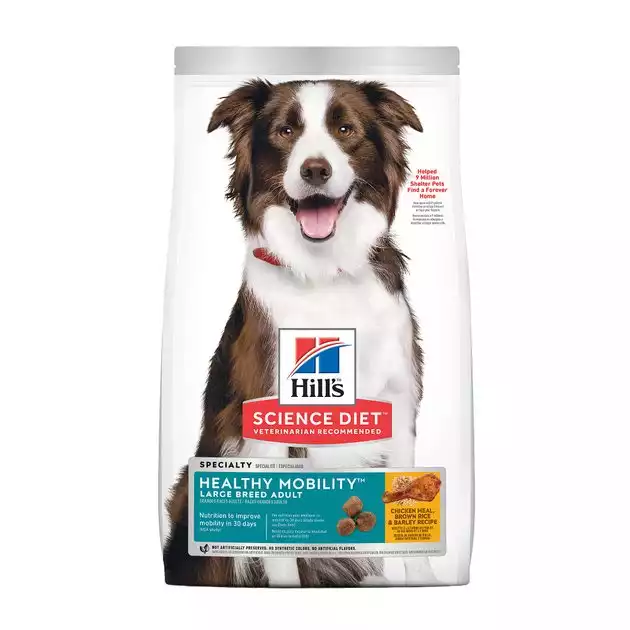 The next option is one that's well known for its high content of chondroitin and glucosamine, and dubbed the best food for maintaining joint health and structure – Hill's Science Diet Adult Healthy Mobility.
The Ingredients
A common occurrence with almost every choice on this list is the fact that they choose chicken as the main ingredient as it's neutral and quite versatile, and it can emphasize almost any added flavor by mixing with it beautifully.
It's further aided by the addition of whole-grain brown rice and barley in order to help slow digestion down a bit, so all the nutrients can be properly absorbed before the food gets sent on its merry way.
As mentioned earlier, Hill's Science Diet prides itself on solving issues in canines, and the big one for large dog breeds are joint problems in later adult life.
The Benefits
That's why they've included good amounts of glucosamine and chondroitin to help rebuild frail or worn cartilage, reinforcing them so they can keep up with the weight of your big boy, and allowing him to jump around and play like he's in his prime.
This isn't the only thing it offers, however. There are still other needs that must be met, and Hill's Science Diet never fails to deliver.
You'll find fish oil and flaxseed in the mix, which contain a number of omega-3 fatty acids that help keep the skin healthy and the coat glistening by stimulating the production of natural oils secreted within the skin itself.
Then, there are antioxidants in the forms of vitamin C and E, which, while supporting the digestive system of dogs and the body overall, have the extra purpose of keeping joints protected from free radicals.
It's a great option as a preventative measure from crippling conditions like hip dysplasia, which is common in large dog breeds, as well as recovery food from any joint injury that may occur
But, once again, it's not without its own negatives – namely the price and the size of the kibble itself.
While the price isn't as egregious as some other options, it still can feel a bit much. However, given that it's a specialized form of dog food, it can be somewhat justified.
The other is the unusually large kibble bits, which, given the lab's increased desire for food, can end up being a choking hazard.
Make sure to teach them to chew their food early in order to prevent this, but otherwise, ensure that they're supervised when eating, just in case.
Dr. Gary's Best Breed Holistic Field
Key Benefits:
Chicken meal as the main ingredient for concentrated protein

Iron proteinate to help absorb iron from food and act as a supplement for iron deficiency

Green-lipped sea mussels, as well as glucosamine help keep healthy and protected cartilage for highly active dogs

Rich in omega-3 and omega-6 fatty acids for better skin and fur health

Antioxidants, vitamins, and minerals help keep the body strong overall

Free of common allergens like wheat, corn, and gluten meal, as well as other fillers

No artificial flavors, colors, or preservatives
Cons:
The meal base won't make the most pleasant of taste for your pooch

High calorie content is not suitable for low-activity dogs unless properly portioned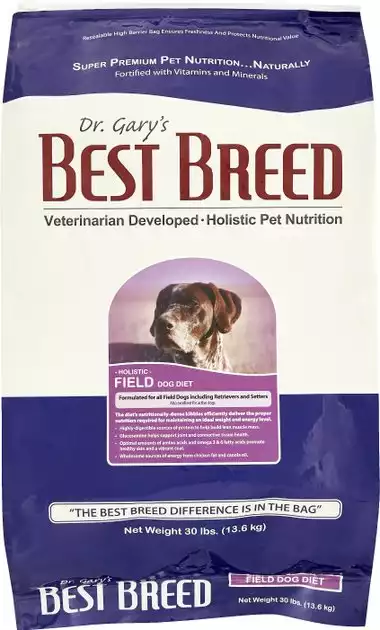 Dr. Gary's dog food is oriented toward high-energy dogs that get a lot of activity done on a daily basis.
The food is higher in caloric content, and thus, isn't recommended for regular use unless you adjust the portions accordingly.
The Ingredients
The first ingredient is that rich chicken protein from chicken meal that gives dogs their energy for the day to do whatever they please.
The reason why they went for meal over pure chicken is because of the higher concentration of protein so as to not make the meal too bulky, but still provide ample protein with added chicken fat and leave room for other ingredients.
The Benefits
The dog food is rich in iron proteinate as well, which helps absorb iron from food and fix any iron deficiencies that may be present.
Glucosamine is also present, alongside green-lipped sea mussels, both of which help rebuild and maintain cartilage since that'll see a lot of wear in physically active dogs.
On top of all of that, you'll still find some essential vitamins and minerals to help strengthen the body and facilitate proper immune system functioning.
You'll find omega-3 and omega-6 fatty acids in there as well. Active dogs need shiny coats, too.
Dog food curated for sporty dogs is also meant to be healthy, so Dr. Gary's has excluded any artificial colors, preservatives, and flavors from the mix as well as any fillers that are common allergens like gluten meal, wheat, and corn.
CANIDAE PURE Limited Ingredient Salmon & Sweet Potato Recipe Grain-Free Dog Food
Key Benefits:
Salmon as the main protein source, alongside salmon and Menhaden fish meal

Peas and sweet potatoes as carbs

No artificial flavors, colors, or preservatives

Free of common allergens like wheat, refined grain, soy, and corn

Canidae's patented HealthPlus Solution mix of omega fatty acids, antioxidants, and probiotics
Cons:
Somewhat pricey

Higher than average caloric content

The main ingredient can be too smelly for some dogs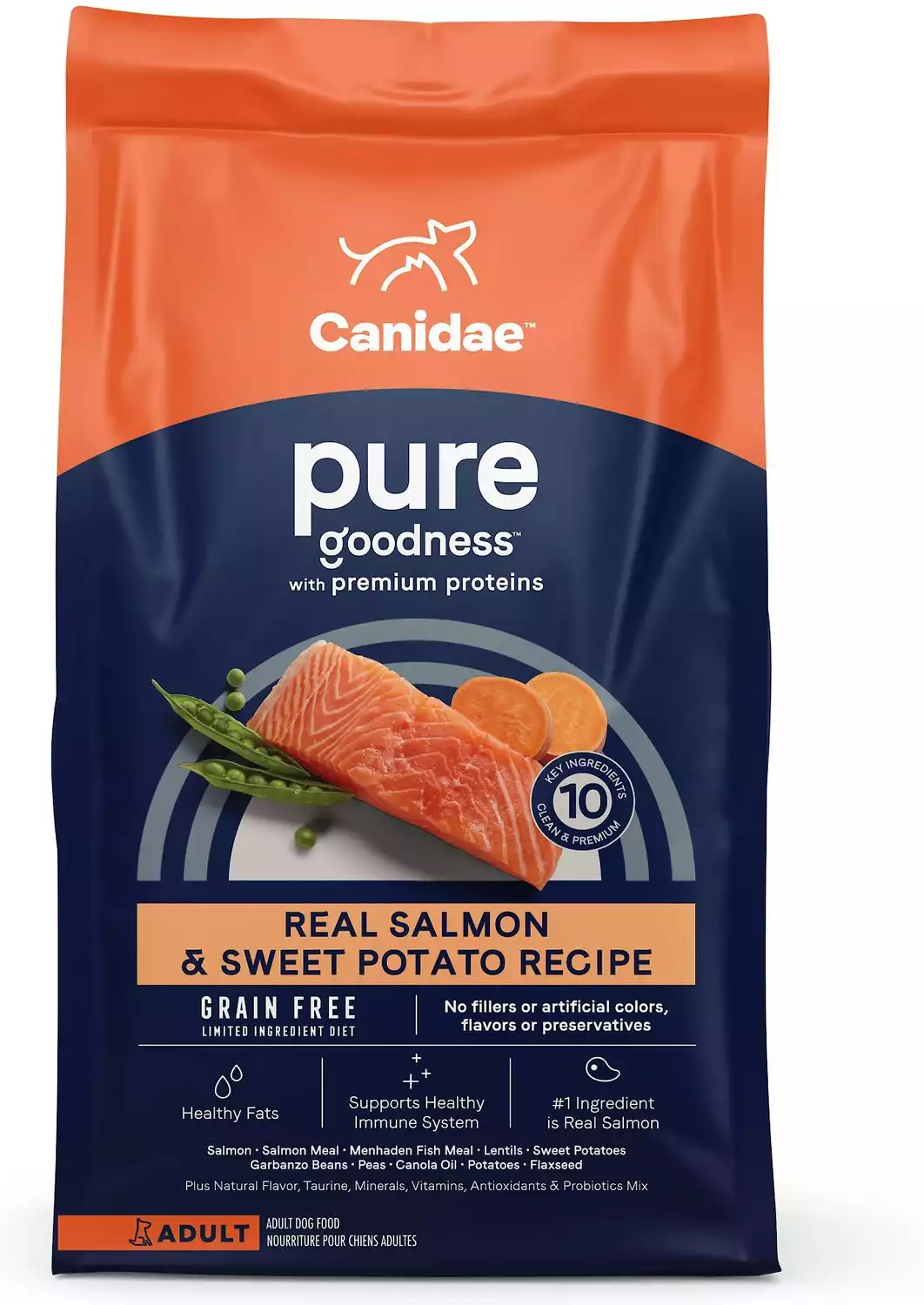 Canidae is on the list once more; this time as one of the best allergen-safe options for your dear Lab friend.
The Ingredients
The main proteins this time are salmon, mixed in with salmon meal and Menhaden fish meal.
They're paired with peas and sweet potatoes to serve as healthy carbs that help better digest the protein.
Seeing as it's aimed to be free of any common allergen, you'll find that it's free of refined grain, corn, or soy, as well as any other food filler, minimizing the impact on the sensitive digestive system of some dogs.
You'll also notice that it's free of any artificial nonsense like colors, preservatives, and flavors, as is the norm for anything that finds itself at the very top.
The Benefits
The mix also features the HealthPlus Solution mix of omega fatty acids, probiotics, and antioxidants like the other food from the same brand on this list, allowing doggos to satisfy their daily nutritional needs with ease.
It's not without its minuses, though, as the caloric content is higher than average, meaning that you'll have to be careful of your portioning, especially considering how obesity-prone Labs are.
The other issue that you may face is the smell from using salmon as the main ingredient, as some dogs don't like it and may end up being outright repulsed.
The price is a bit higher than average compared to the competition, though it's somewhat justified considering the purpose of the kibble.
Purina Pro Plan Adult Large Breed Chicken & Rice Formula
Key Benefits:
Chicken as the main ingredient

EPA and glucosamine to improve joint health

Prebiotics and probiotics to maintain healthy intestinal flora

Formula approved from top to bottom by board-certified nutritionists, and made for dogs weighing over 50 lbs

Incredibly affordable given the quality
Cons:
Corn and gluten are two of the ingredients used, which are a hazard for dogs with an allergy to them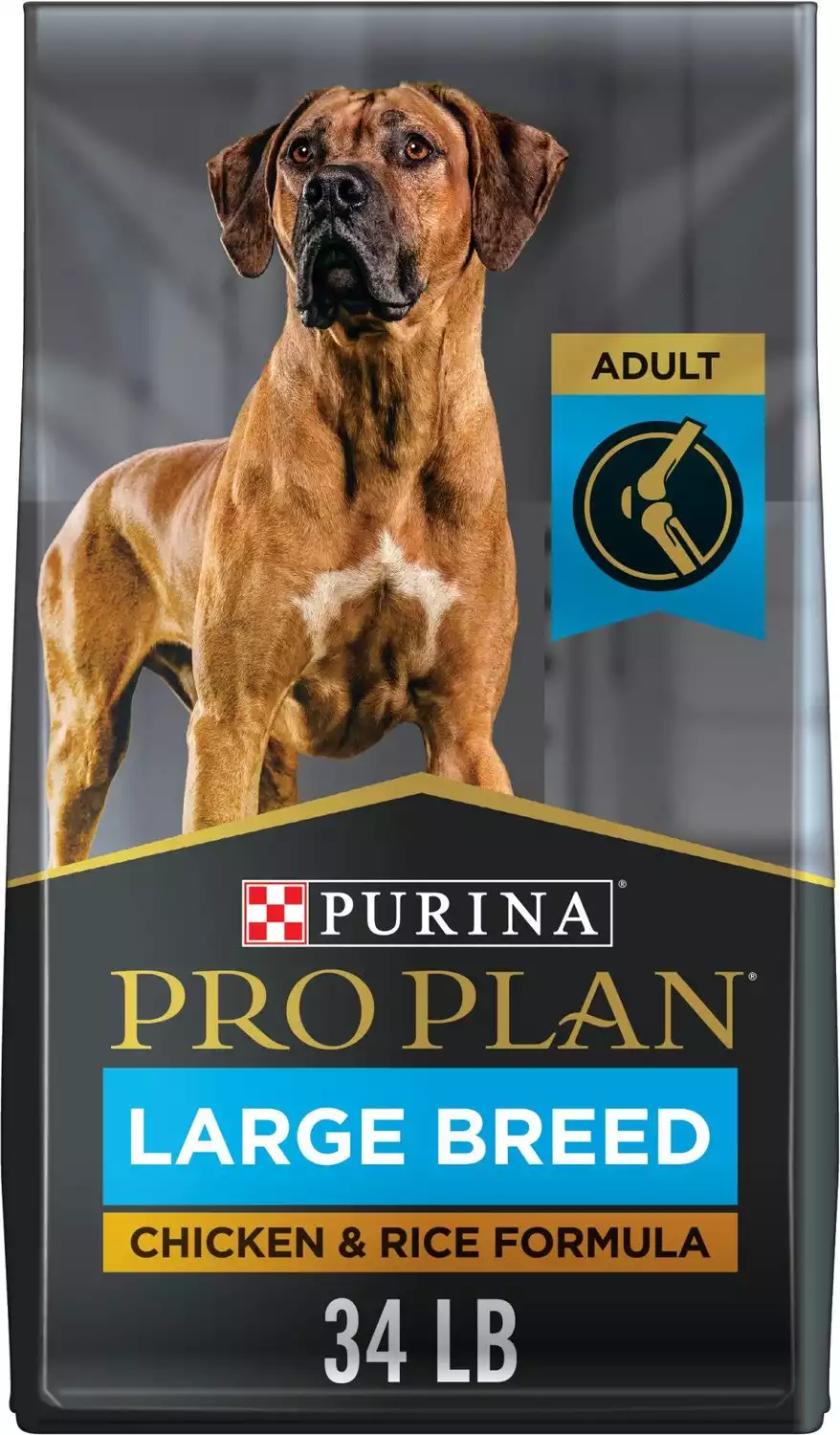 Universal kibble from a popular brand is always bound to make the best dog food list, and Purina is no exception to the rule.
The Ingredients
The main ingredient of this tasty treat is chicken, with the perfect fat-to-protein ratio measured by Purina's elite nutritionists, and supported by rice as the carbohydrate, it's easy on the gut, too!
The Benefits
The dry food also features EPA and glucosamine – the former a bit less known than the latter, but they both support better bone and joint health with a well balanced phosphorus-calcium ratio.
EPA is one of a number of omega-3 fatty acids found in the kibble, which helps prevent skin inflammation and fosters good coat health overall.
The addition of live probiotics supports the development of your pup's helpful gut bacteria, which keeps its immune system working at peak efficiency.
If you're still doubting its credibility, know that every part of the process in making Purina's food is done in accordance with the rules given by the World Small Animal Veterinary Association.
The only limitation is that the food is intended for dogs that are a bit more developed, usually weighing around 50 pounds or more.
Outside of that, the inclusion of corn gluten meal may be a deal breaker for some in case your dog has a specific allergy to it, but other than that, I'd definitely recommend this as one of the top options – not just because of quality, but price, too, as it's affordable compared to some others on this list.
Wellness CORE Grain-Free Large Breed Chicken & Turkey Recipe
Key Benefits:
Real chicken and turkey as the main ingredients, paired with a premium selection of fruit and veg

Antioxidants, fatty acids, and probiotics to boost canine health across the board

Glucosamine and chondroitin help keep the dog's very active joints healthy and flexible

No allergens

No meat by-product or other fillers

No artificial coloring, preservatives, or flavors included

Larger pellets for easier consumption and longer chewing

Meets AAFCO nutrient standards
Cons:
More expensive than most other brands

Some bags could potentially be contaminated from other products being processed in the same facility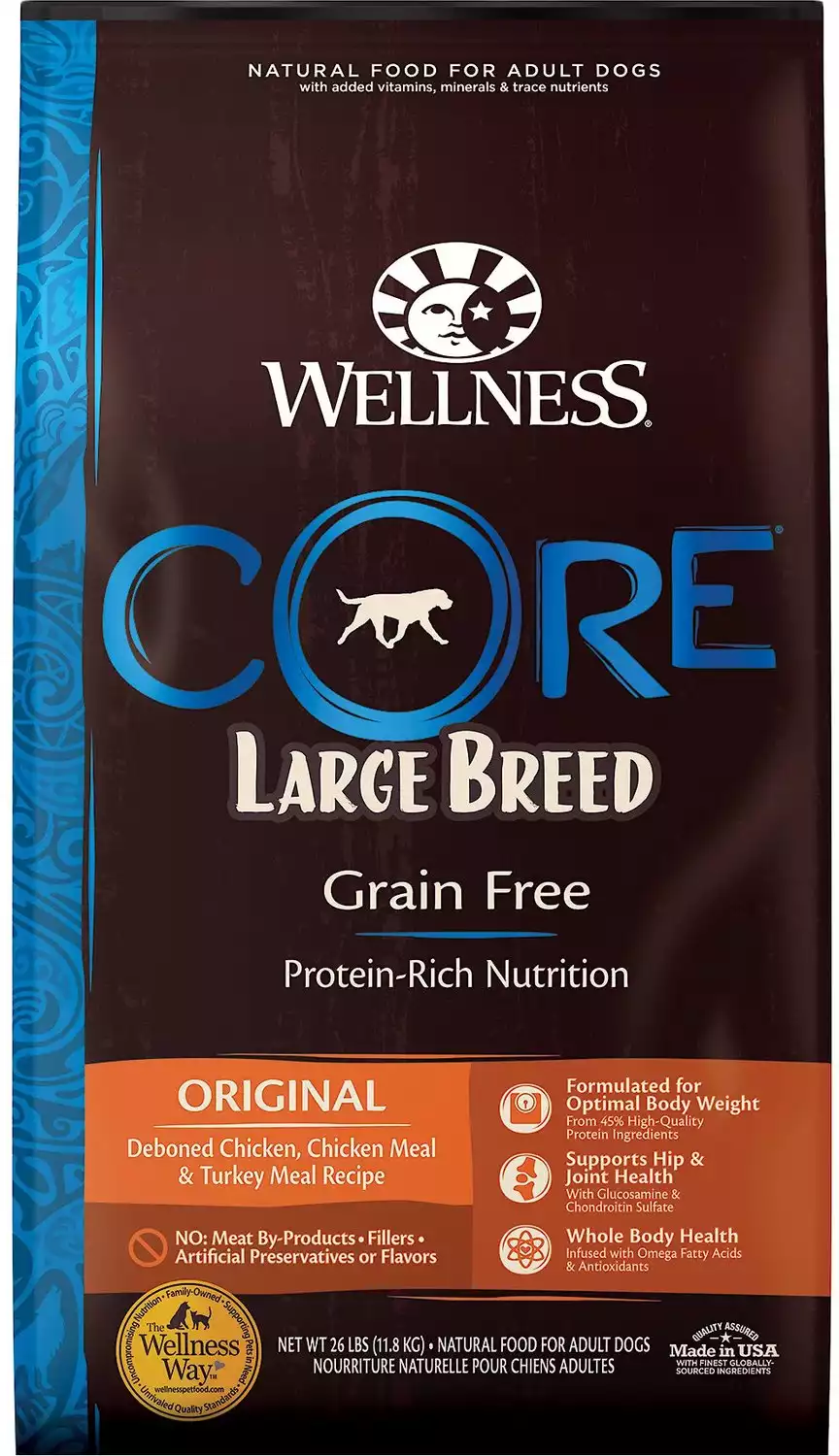 For those of you hunting for a more deluxe option, Wellness has got you covered with this batch of dog food.
The ingredients
The main base consists of delicious chicken and turkey, paired together with various fruits and veg to provide a divine food experience for your furry friend.
The Benefits
The food is packed with all kinds of vitamins and minerals necessary to fill a Lab's daily nutritional needs on its own.
Glucosamine and chondroitin are also present to help maintain healthy joints for our active canine companions while the antioxidants and probiotics help keep the overall body healthy.
There are some omega-3 fatty acids in there, too, in order to help keep your doggo's coat shiny and its skin healthy.
What it doesn't have is most of the low-quality or downright bad stuff, so you won't find any meat by-product or other filler, no artificial flavors, colors, or preservatives, nor are there any allergens like corn, wheat, soy gluten, or refined grain in general.
The kibble is also larger to help larger breeds like the Lab grab it with ease and savor each bite while they work it with their jaws.
Finally, the food itself meets the rigorous AAFCO standards for nutrients in dog food, which is why it and many of the others on this list are here in the first place.
Though, being that it's a premium food, it comes at a premium price, being about $10 to $20 more expensive than the average.
And, despite removing allergens from their mix, Wellness has issued a warning that there may still be trace amounts of grains present due to potential cross-pollination in the factory.
Blue Buffalo Wilderness Large Breed Puppy Chicken Recipe
Key Benefits:
The first ingredient is high-protein chicken, paired with tapioca starch and pea protein for carb support

Well-balanced calcium and phosphorus sources to facilitate bone growth and strength

ARA, DHA, and mother's milk fatty acids help improve and develop eyesight and cognition

L-carnitine helps improve brain health and development

Taurine, antioxidants, and amino acids boost overall bodily health and the immune system

Free of common allergens

Affordable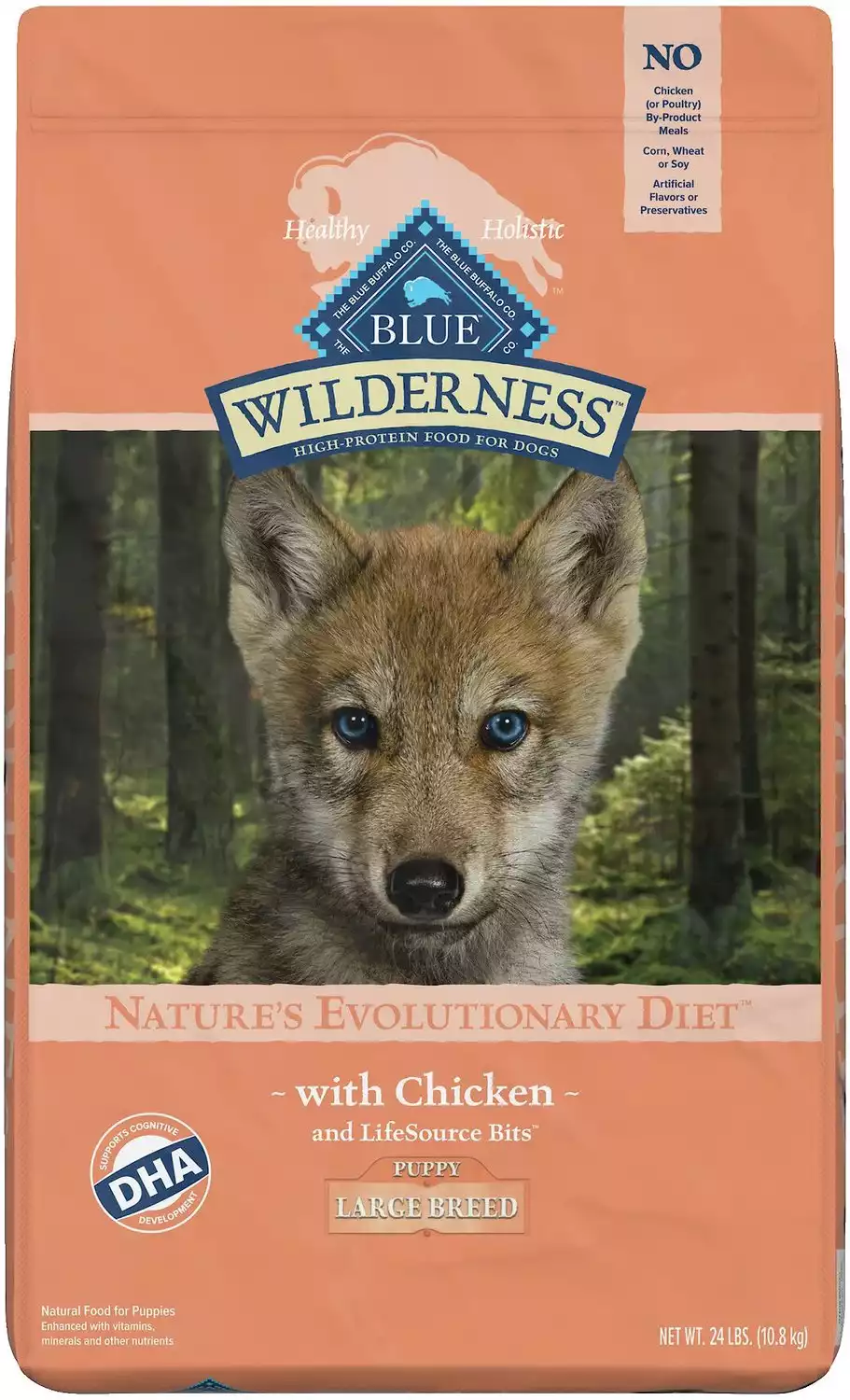 The final entry on this list is another Chewy favorite – Blue Buffalo dog food for large breed puppies.
The Ingredients
Being high in protein from real chicken as its main ingredient, the food provides your pup everything it needs in order to develop lean muscle and maintain muscle tone, all of this supported by tapioca starch, peas, and pea protein as added healthy carbs.
The Benefits
On top of that, there's added phosphorus and calcium to facilitate bone growth and strength.
Then, there's the addition of ARA and DHA as well as fatty acids derived from the milk of female dogs that help develop cognition and promote eye health.
The presence of l-carnitine adds to cognitive development as well by improving overall brain health.
Taurine, antioxidants, and various amino acids are present to promote better heart health and general body health.
The product is completely grain-free, making it a safe purchase for allergy-prone pups.
It's quite affordable compared to some other pup-targeted foods.
What To Look Out For When Buying Dog Food For Labrador Retrievers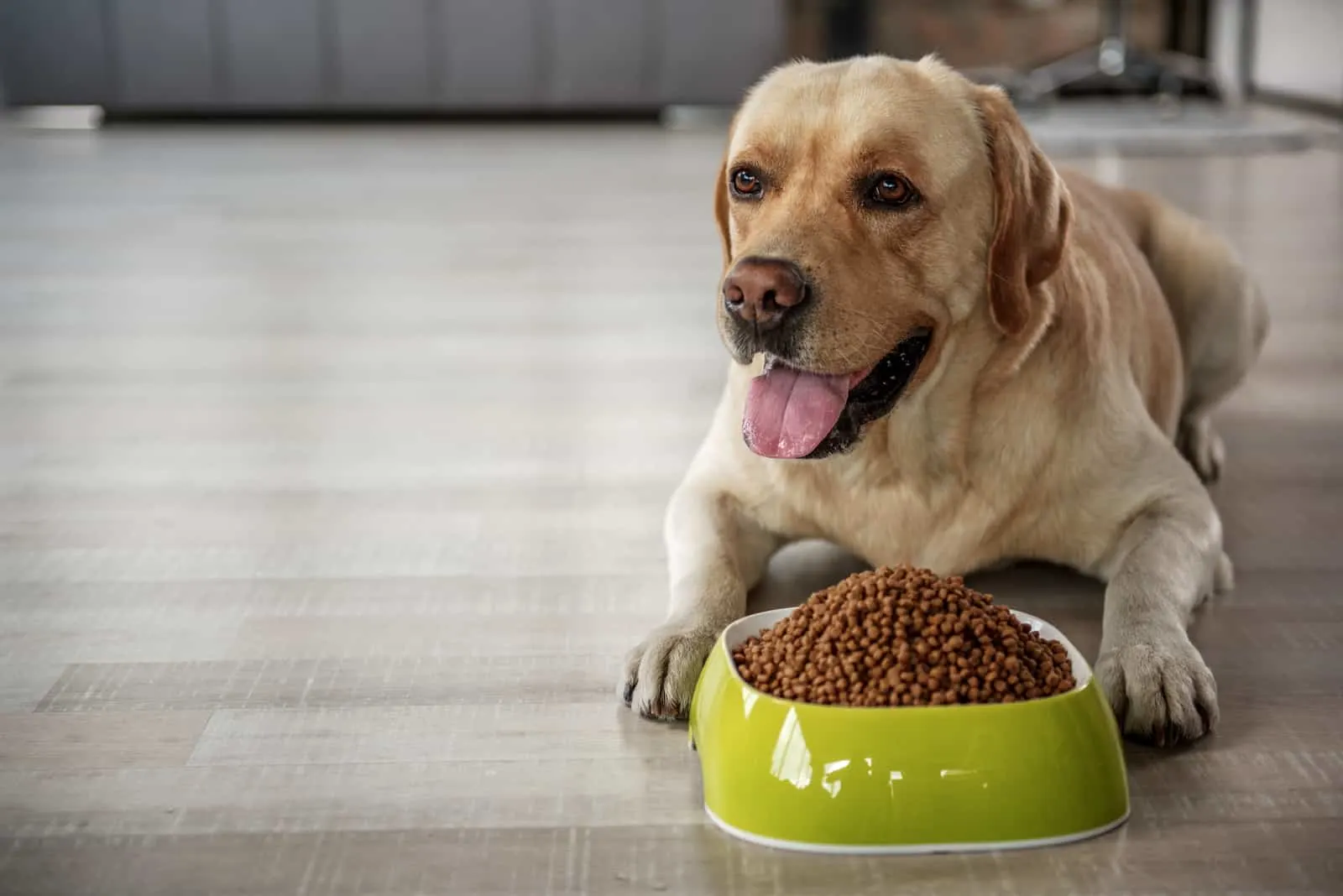 While I've laid out some of the top options here, there are many others out there that can qualify as well. Most of it is up to your dog's preferences, but if you're buying any of it yourself, do pay attention to some of the necessities.
Lower Amounts Of Fat
As labs are prone to obesity, be on the lookout for dog food that has less than 20% fat content, as well as make certain that most of those are healthy fats like omega-3 and similar.
Needs To Fill Daily Nutritional Requirements
While you can always supplement missing nutrients in your dog's daily diet, it's best to have it all in one place to remove the hassle out of the equation.
Always ensure they get their daily vitamins and minerals in order to keep them healthy and happy for a long time.
High-protein Foods
Dogs require a hefty amount of daily protein to fuel their daily activities, so protein-rich ingredients like chicken, venison, and similar are things you should be on the lookout for in your dog food purchases.
Healthy Carbs
While carbohydrates aren't the most necessary ingredient for Labrador retrievers, they do help ease the digestion process.
They don't need a lot, but a decent amount is helpful, especially when it comes from a healthy source like whole grains or vegetables.
Lower Calories
Since labs are obesity-prone, looking for the low-calorie option is crucial in their case.
The Presence Of Glucosamine And Chondroitin
These are the two terms you've seen in almost every product above due to their importance in maintaining healthy joints through repairing cartilage wear.
Labs are an active and playful bunch, and given that they're a large breed, they put a lot of strain on their joints, meaning they need to have a good amount of these two in order to help keep up.
Phosphorus And Calcium
Cartilage may be important, but so are bones, and these two help make them strong and durable. A lack of these can cause big problems for your pup, so make sure they always get enough of them to avoid a weaker bone structure.
Probiotics Are Key
For a breed that loves their food, maintaining good gut health is vital to their functioning, so providing them with a good source of probiotics helps them maintain good gut flora and protects them from illnesses.
Amino Acids And Omega-3 Fatty Acids
Finally, ingredients such as Taurine and DHA help in their own way.
The former keeps cardiovascular health at a high level while the latter helps with skin health and keeps the dogs' coat shiny and lustrous.
FAQs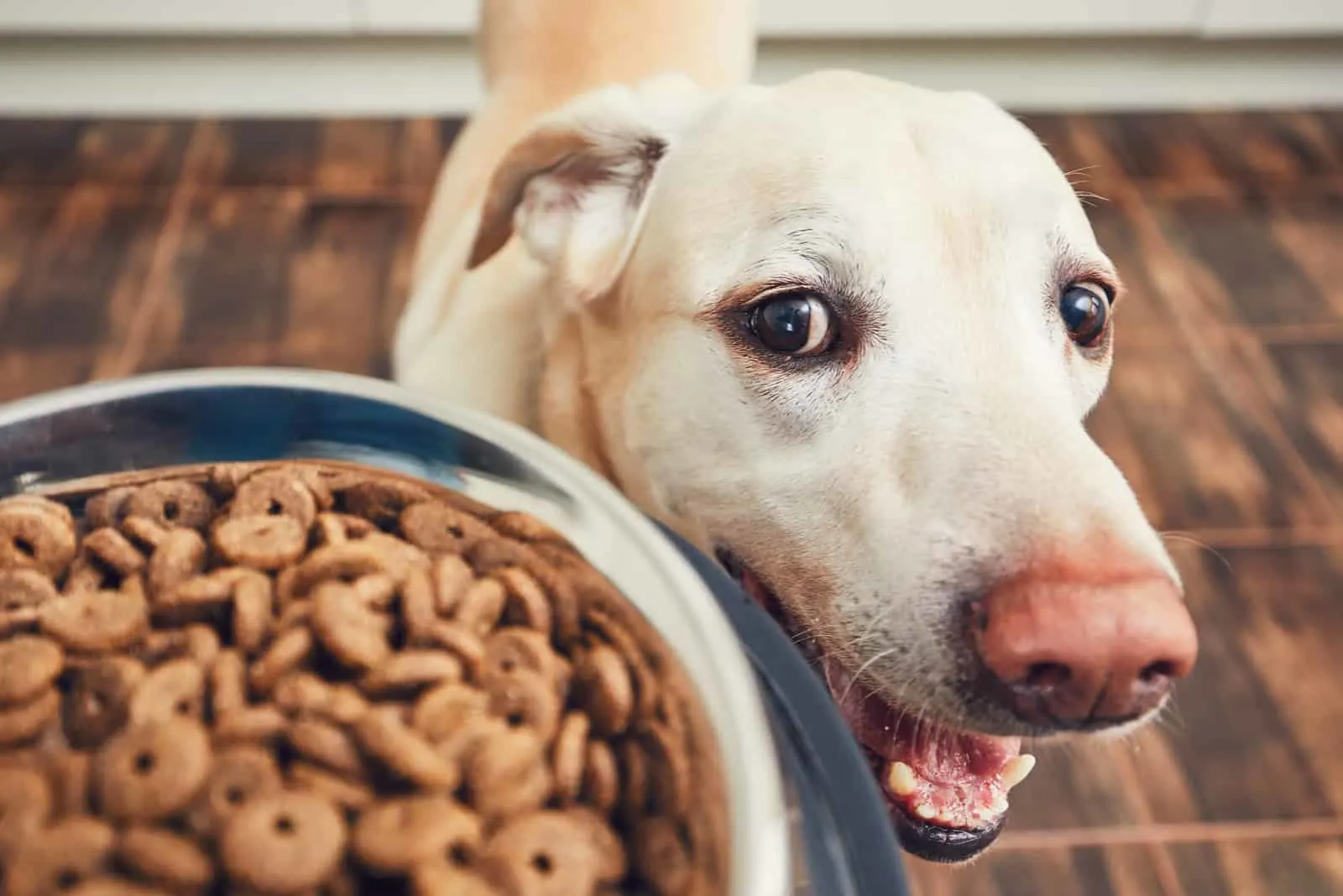 What Does A Lab's Diet Look Like?
There's no definitive one since every dog is different.
To get a balanced diet, I advise you to consult with your dog's vet and pet nutritionists to see what fits your furry friend the best, and stick to it.
Depending on his age and activity level, he'll need varying amounts of protein and fat.
Should I Only Feed Him Dry Food?
While dry food is generally preferred since it's better for your dog's teeth, you can spoil him once in a while with a wet food surprise – just don't overdo it.
What Common Health Issues Does a Labrador Retriever Suffer From?
You've seen me name a few already, but it's worth knowing everything that your dog is prone to in order to help him avoid it as much as you can.
Obesity
This is the main one. Labradors are notorious for their appetite, and they'll never stave away from food when presented, plus they devour it almost without chewing which only worsens the situation.
That's why I mentioned earlier that you should look for a lower calorie count or adapt to a special diet for your furry best friend in order to not increase his risk of heart disease and other issues that come with obesity, and also help him maintain a healthy weight.
Joint And Bone Wear
This is a problem that affects all large dog breeds given their shape, center of gravity, and pounds that pile on the older they get.
It's a deadly cocktail that constantly wears down their joint cartilage and their spine as well, which can lead to painful older years.
Labs are especially prone to this given their love of all things edible, so make feeding him a balanced and low-calorie diet your #1 priority.
Sight Issues
With age, a dog's eyesight falters, doubly so in obese ones that may suffer from diabetes. The most common problem is cataracts that can slowly develop into full-on blindness.
In order to help minimize the chances of these issues developing, make sure the food has plenty of vitamin E and other antioxidants to bolster his eye health.
Cardiovascular Problems
Being obesity-prone also increases the chances of heart issues, and Labradors are notorious for this.
In order to avoid potential heart failure or other heart-related problems, look for food rich in Omega fatty acids and Taurine to help maintain everything at a healthy level.
You may also want to exclude salt from his diet since high amounts of sodium play a big part in heart problems.
Bloat
Finally, bloat is a notorious problem in large breed dogs, and it has higher chances of occurring the older the dog gets.
As your Lab's stomach works throughout his life, it can move in such a way that it causes an obstruction of veins, organs, or similar, allowing the stomach to expand while pushing other organs down.
This ends up making a mess of the rest of the dog's guts, and will cause mounting problems that could eventually become fatal.
In order to prevent this, control your Lab's impulse for swallowing food.
Make him chew it thoroughly, something that should be taught at a young age, and make sure to feed him smaller portions multiple times a day so his stomach is never too full.
In Conclusion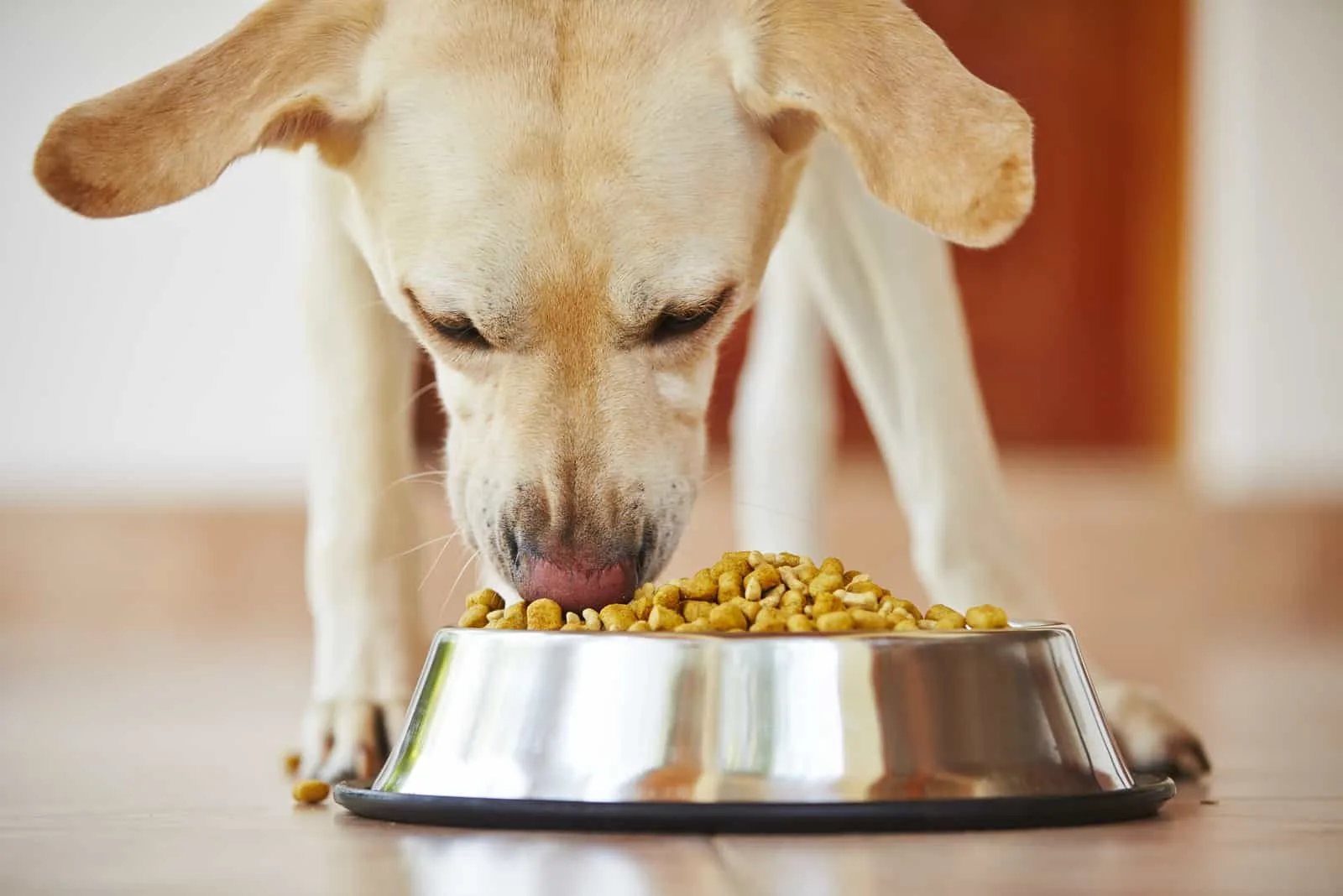 Some of the best dog food for Labrador Retrievers help regulate their weight gain while still being tasty and giving them the nutrients they need for the day.
Many factors affect exactly what kind of diet they need, but overall, it's all down to the dog's preference in food and the dietary options your vet or nutritionist gives you, as well as your budget.
Buying from Chewy or Amazon is equally fine since they're both trusted marketplaces, but do be wary of recalled food like Taste of the Wild or similar brands that may have gotten a recall recently.
Always read the reviews when doing your own research in order to not get your dear friend sick.
I do hope that you manage to find the right food for your golden boy within this list. If not, just follow the guidelines I've listed here for Lab food shopping and you should be able to find the ideal kibble for your Lab with ease.
Until next time.