This post contains affiliate links, and I will be compensated if you make a purchase after clicking on my links.
Choosing the best treats for Yorkies can be a challenging task, considering that they can be picky eaters.
Yorkshire Terriers are adorable, small-sized pups that don't grow over seven inches in height. They usually weigh about seven pounds only, so it's no surprise they're considered one of the smallest breeds in the world.
These pooches are delicate beings that need a lot of attention from their owner.
If you'd like to help your pup live a longer and healthier life by maintaining its regular weight, and help it grow stronger and more resistant to usual diseases, you should be mindful of what kind of treats they receive.
Here are some of the best brands and products that will make your doggie happy, healthy, and satisfied.
Best Treats For Yorkies: Here Are PupVine's Favorites!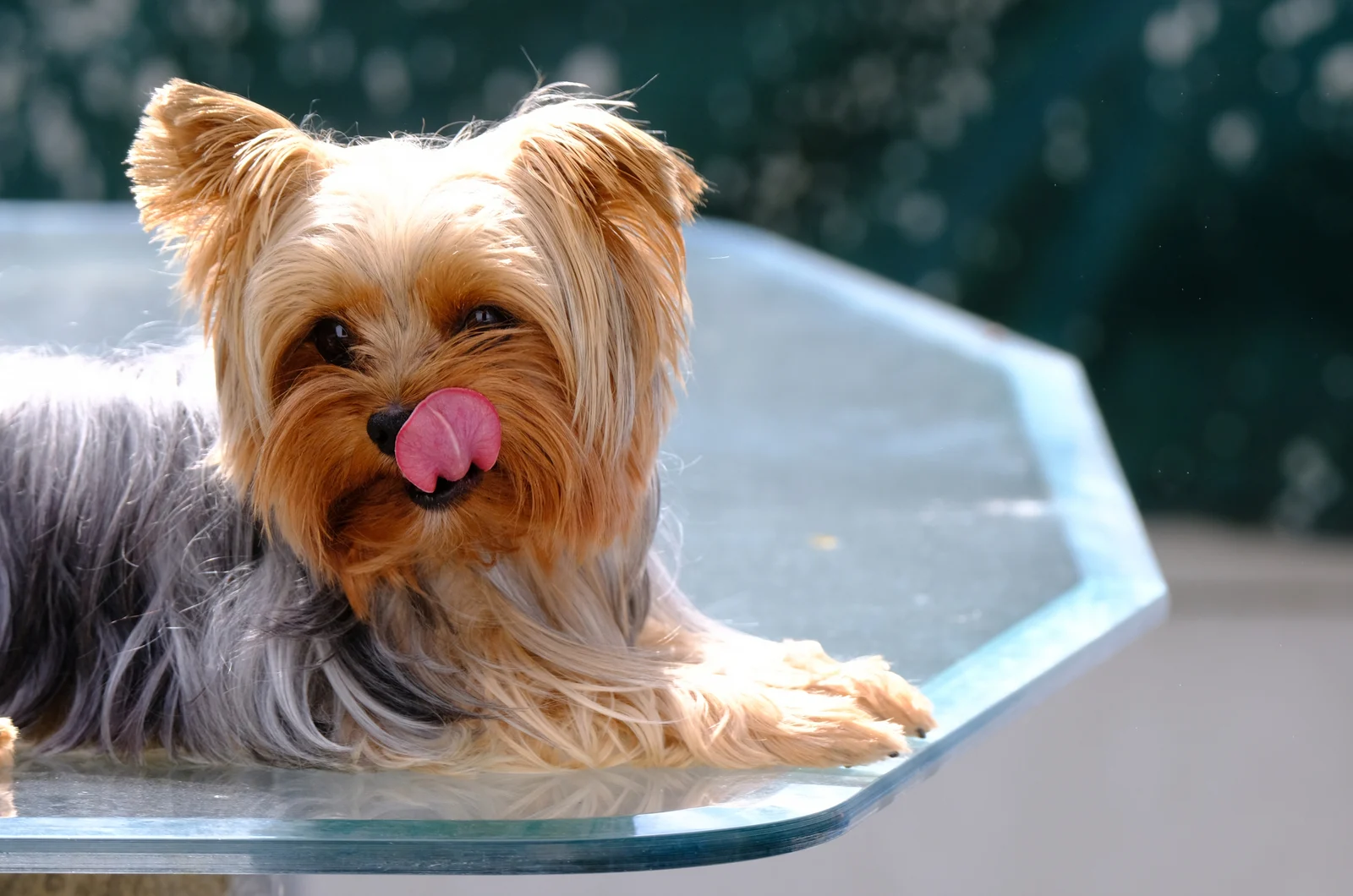 This is one of the best treats for Yorkies, although it might not be one of the tastiest ones. The main reason why Greenies is number one on our list is the fact that they keep the canine's teeth clean and healthy.
These dental treats will keep your pup's teeth protected from tartar and plaque as they efficiently clean both without the usage of any aggressive chemicals.
All components come from natural sources, and don't represent any type of danger to the canine's health.
It contains minerals, wheat flour, gelatin, wheat gluten, vitamin supplements, folic acid, lecithin, etc. All these ingredients are easily soluble, and won't cause any digestive issues in your pet.
Another great feature of this Yorkie treat is that it keeps the pup's breath fresh for hours, and their teeth stay as white as snow.
The texture is quite chewy and soft, so it won't affect the delicate teeth of small dog breeds, such as Yorkies.
Why Should You Buy It?
One of the main reasons why you should get this dog treat for your Yorkie is the fact that it enables them to clean their teeth while enjoying their favorite treat.
Meat and sweet potatoes might seem tastier, but the manufacturer of these dental treats claims they're tasty as well (if you're not willing to try, you'll just have to trust them).
If you want your Yorkshire Terrier to have a sparkly smile and zero-percent plaque on its teeth, then all you need to do is give them Greenies and let them enjoy chewing these dental sticks.
There's no need to fear for the pup's safety as these sticks are made from natural ingredients and approved by veterinarians.
However, I'd still keep an eye on the pup while it is chewing it in case it manages to bite off a larger chunk that could get stuck in its throat.
Because they contain just a few calories, Greenies are a wonderful option for dogs whose owner is trying to keep an eye on its weight.
These dental sticks might not be inexpensive, but when you take into account the advantages they provide, we believe that purchasing them is money well spent.
This is a type of snack that is suitable for Yorkies, especially doggies that are prone to food allergies.
These pumpkin treats are made with only a few ingredients that don't include any artificial flavors or preservatives, so you don't have to worry about your pet's health.
This packaging includes five seven-ounce bags with different flavors, such as blueberries, apples, cranberries, bananas, and sweet potato and pecan mix.
All treats contain baked pumpkin and a little bit of cinnamon for a better taste.
If your pup isn't allergic to any of the ingredients mentioned above, you can get the whole package and mix these treats to define which ones your pet loves the most.
However, if you already know that your pup is allergic to one of these foods, you can buy each of the bags individually in order to avoid an allergic reaction.
Why Should You Buy It?
Pumpkin sweets are an excellent way to provide your pooch with a daily dose of fiber and antioxidants.
These baked Yorkie snacks contain vitamins (A, C, and E), along with fiber and antioxidants.
The smell of these treats is equally as good as their taste, which is why so many dogs love them.
One of the best things about these dog snacks is the fact that they contain no more than nine calories per each treat, so they're the perfect choice for canines that are prone to obesity.
Considering that the majority of small breeds easily gain weight, they sure will benefit a lot from eating snacks that are low in calories.
If your Yorkshire Terrier enjoys both fruit and pumpkin, then Fruitables treats might be the choice for them, especially if you're searching for an all-natural method to treat your Yorkie which suffers from allergies.
If you have bought these treats before, you will notice that the packaging doesn't look the same. However, you don't have to question the quality as the recipe hasn't changed.
According to the manufacturer, these yummy snacks are still one of the best treats you can feed your pup as they contain plenty of flavors and natural ingredients that keep them healthy and ready for new adventures.
These mini biscuits are the perfect treat during training as they can be eaten in a matter of seconds, but be careful not to overdo the amount of them.
Your dog will never get bored of these treats as each package includes several flavors such as cheddar cheese, chicken, char tar, and the original Old Mother Hubbard recipe biscuits.
All of these flavors come from natural sources, which means that there are no artificial additives to them.
However, keep in mind that they do use preservatives – mixed tocopherols, to be exact, in order to keep the snacks fresh and soft.
Why Should You Buy It?
Ingredients such as chicken, bone charcoal, apples, turmeric, and carrots ensure that your pup is getting the most essential nutrients such as proteins, fiber, and healthy fats in every treat they eat.
It's interesting to notice that the ingredients list also includes extracts of rosemary, spearmint, and green tea, which keep the Yorkie's digestive system well and its breath fresh at the same time.
All of their products are made in the USA from natural sources by using a homemade recipe that hasn't changed for almost a century.
It's also important to mention that their snacks are slowly baked in an oven to preserve that wonderful smell and taste, which makes your pooch drool every time you come near them with these biscuits.
This product is high on our list because of the quality of ingredients that are used in the making process.
American Journey's Oven Baked dog snacks are a real treat for Yorkies and other small dog breeds because of their size and the high-quality ingredients that don't include any animal by-products or grains.
Even though I chose the peanut butter version for this list, there are other recipes that are equally good for your Yorkshire Terrier as they don't contain any harmful components.
The delicious morsels are made from 100% real peanut butter, which is one of the favorite flavors among canines, so don't be surprised if your pup asks for more.
However, keep in mind that the feeding limit is up to five treats per day.
These dog biscuits contain not only peanut butter, but also chicken fat, chickpeas, cane molasses, and peas.
Why Should You Buy It?
Every responsible pet owner wants only the best for their beloved furry family members, especially when it comes to food.
READ NEXT: Best Dog Food For Yorkies – 17 Products You Have To Try
Dogs love treats… they can't get enough of them, and considering that those from American Journey are delicious, it will be challenging to resist giving them more than five per day.
However, keep in mind that this is just a snack and not a full meal, so avoid giving your furry buddy more than they should have.
You can rest assured that all of the ingredients from American Journey's products are safe for your pup as there are no artificial flavors or by-products added.
These dog treats are made in the United States by the original recipe, which doesn't include soy, wheat, or corn.
Therefore, pet owners who take pride in knowing that their dog's food was prepared locally have no need to feel guilty about giving their Yorkie one of these tasty treats.
The size of the snacks is another reason why this product is ideal for Yorkshire Terriers. Since they're small, it makes them the perfect fit for the mouth of small dog breeds, no matter which life stage they're in.
READ NEXT: Small Guard Dogs: 21 Little Dogs With A Big Attitude
Therefore, your Yorkie will be able to take these treats and chew on them without choking.
This product is a great choice for owners who are looking for protein-filled snacks for their Yorkshire Terriers that don't contain any grains or glycerin.
Full Moon dog treats are manufactured by using ingredients that are safe for human consumption, and they do not include any artificial flavors or preservatives.
They are also an excellent source of omega-3 fatty acids, which are essential for the overall health of the canine's skin and hair.
One of the reasons why I find this product suitable not only for Yorkies, but other canine breeds is the fact that they're made from antibiotic-free chicken meat that comes from chickens raised cage-free on farms.
This not only makes the meat tastier, but also a lot healthier for pups.
The recipe follows the USDA food guidelines, so you can be sure that your furry companion is enjoying only high-quality food that doesn't contain any artificial components.
Why Should You Buy It?
The reason why I find this snack to be one of the best treats for Yorkies lies in the fact that all ingredients are safe for human consumption.
This is one of the rare brands that produce such types of dog treats and dog food in general.
The list of ingredients is the main proof that they adhere to the notion that if something is not good for humans, it can't be good for pups either. This is a statement that the majority of dog owners will agree with.
Full Moon doesn't use any fillers, and only utilizes chicken that was raised on farms in the United States.
Full Moon chicken strips are a good choice to consider if you want to give your Yorkie a treat that is of great quality and acceptable for humans (which doesn't mean you should eat them, of course).
Still, there is a possibility that some doggies won't be able to chew on these treats properly, so they might not be the best dog treat for senior pooches or those with dental issues.
Chicken, salmon, beef, and turkey are considered real treats for all doggies, including Yorkshire Terriers. If your pup likes all four, it will definitely enjoy the Blue Buffalo training bits.
These tasty bits are made from real meat, which means that no artificial colors, flavors, or artificial preservatives were added to the mix.
Because they are small enough to be eaten in one bite, these Yorkie dog treats are an ideal snack during training.
Each bag of these low-calorie dog training treats contains DHA, which is essentially omega 3 acid that is responsible for the mental health and development of your pup.
There are other vitamins included as well, which keep your pup's hair, skin, joints, and other body parts in good condition.
Why Should You Buy It?
These might not seem the least expensive puppy treats on the market at first, but considering that you get 16 ounces with four different flavors, which you'd have to purchase for a bigger price individually, this is quite a good deal.
All four types of these dog treats have high protein levels as they're made from real meat. Your doggie will be able to receive animal protein from different sources and enjoy delicious treats made of simple ingredients.
As the manufacturer mentions on the packaging, these healthy treats are easy to chew as they're soft and squishy. Therefore, even junior pups and senior canines will be able to eat them without any issues.
The size of these treats is suitable even for small pups, so it doesn't represent any choking hazard to your Yorkie or any other small pup you have.
Each of the delicious morsels is heart-shaped – this might not mean anything to your dog, but I'm sure you'll appreciate this adorable gesture.
Milk-Bone is a fairly good option for Yorkies when looking for a treat that is high in calcium content. One of the best features of this pet food is the bone marrow, which is one of the main ingredients.
Bone marrow has a great number of benefits for your pup's health, and a taste that your dog will love for sure.
Another great thing about these treats is that they're easy to chew because of their size and texture.
Many people use these chew treats as training snacks for the same reasons, although I'd be a bit more careful about it.
Once you check the ingredients list, you'll notice sugar as one of the components of these tasty morsels. Although the amount of sugar isn't high, it's still not recommended to give too much of it to your pup or else it could be detrimental to its well-being.
Therefore, if you notice any stomach issues in your Yorkie, there's a possibility that they have eaten more dog treats than they should.
Always keep a close eye on how much your dog consumes, and be aware of any potential adverse effects.
Why Should You Buy It?
Calcium is an important part of a dog's diet as it strengthens its bones and supports proper development during the early periods of its life.
This mineral is also needed for the development of muscles in canines, as well as their nervous system and the proper functioning of their heart.
You can get a lot of calcium from fruits, veggies, and other Yorkie foods and dog treats, such as Milk-Bone Marosnacks.
The recommended daily dose of these treats will be enough to keep the pup's fur, skin, and overall well-being in a great state.
These bone marrow treats are not only healthy, but they are so tasty that your dog won't be able to get enough of them.
Because each MaroSnack has only 12 calories, they are the perfect choice for use as rewards while exercising.
This type of snack will motivate your pup during training sessions as they'll do anything just to get another bite of that delicious treat.
However, keep in mind that these snacks also contain BHT/BHA as preservatives, which is perfectly safe for your pup, but might not be well-accepted among all owners.
According to what the manufacturer states about their product on the packaging, you're going to provide your furry buddy with four different high-quality types of treats that are both delicious and good for the dog's teeth.
There are plenty of reasons why this is one of our top picks for Yorkshire Terriers, including the fact that they don't contain a high level of fat or any artificial colors, preservatives, or flavors.
Speaking of flavors, one bag of these delicious treats contains four different types of dog treats such as natural cheese, bacon and cheese, peanut butter and molasses, as well as grilled chicken.
One of the things I love the most about these treats is the ingredients list – or, better to say, four of them. There is a separate list for each flavor, which enables you to have full control over what your Yorkie puppy eats throughout the day.
There is also a feeding guideline on the back of the package, which serves as a reminder that this product isn't intended as a meal, but as a treat, and it should not be given in excessive amounts.
Why Should You Buy It?
Dog treats, and food in general, that come from natural sources are always welcome, especially if they have that extra crunch that all pups love.
All Blue Dog treats contain eggs, oats, molasses, and whole wheat flour – four ingredients that keep your pup healthy and happy.
Oats and wheat flour contain all the necessary fiber, minerals, and vitamins for the proper development of your Yorkie.
On the other hand, eggs contain nutrients that make your pup's fur as shiny and healthy as possible. Eggs are also a great source of protein, while molasses contains minerals like potassium, magnesium, calcium, and iron.
These dog biscuits can't really clean your pup's teeth, but they can keep its breath fresh.
This canine treat might be a bit more on the expensive side, but if you outweigh all the pros and cons, you'll soon understand why these are one of the best treats for Yorkies.
Burger Bites will be the perfect treat for all pooches that love the taste of real meat in their dish.
These tasty morsels are produced with real beef, and do not include any artificial flavors or colors of any kind, which is great news for dog owners who are looking for healthy snacks for their beloved pups.
This snack is one of the best training treats, not only for Yorkies, but for other dog breeds as well because they're filled with proteins, and they aren't too big, so there's no risk of a choking hazard.
These canine treats contain real beef, glycerin, potatoes, natural flavors, natural preservatives, bison, and other ingredients.
Why Should You Buy It?
The quality of the ingredients, the size of the treats, and their tastiness are all indicators of good treats that your pup will love.
Since Rachael Ray Nutrish treats possess all three of the above-mentioned features, it can be rightfully said that it's one of the best dog treat options for doggies.
Another reason why this is a highly beneficial snack for Yorkshire Terriers, among other breeds, is the fact that it contains not only beef, but also bison meat, which is farm-raised meat that is low in fat.
It's commonly agreed upon that bison has a stronger taste than beef, so it might take some time until your pet gets used to it.
These tasty morsels are quite soft, which makes them easy to chew for Yorkies of any age.
However, keep in mind that these treats contain sugar as well, which is quite high on the ingredients list. That is exactly why you shouldn't feed your pup more than a few morsels throughout the day.
"Less is more" is probably one of the best sentences that could describe these dog chews, which are considered one of the best on the market, not only for Yorkshire Terriers, but for other canine breeds as well.
This snack contains four ingredients only – chicken breast, salt, glycerin, and rawhide.
Treats like these Hide Twists are wonderful for Yorkies that love eating chicken. These tasty morsels are created with real chicken, and do not include any additives, wheat, corn, preservatives, or anything else that might harm your pup or cause any unwanted reaction.
Because they do not contain any allergens, they are a fantastic option for pooches that suffer from allergies.
Why Should You Buy It?
No sugar, no additives, no artificial components of any kind – the perfect recipe for a healthy pup, isn't it?
These dog snacks are considered one-of-a-kind not just because of the simple ingredients list, but also for their interesting looks.
Chicken meat wrapped around edible rawhide looks like a real treat, and it might seem tempting even to we humans (although you wouldn't really like it… trust me).
Rawhide might be a bit questionable as many people consider it to be a choking hazard. However, it's also great exercise for the dog's jaws. Still, I'd recommend giving this treat only if the pup is under your supervision.
The size of the treats is appropriate for Yorkies; nevertheless, some dogs may feel that they are too tough to chew on.
All in all, if you're looking for a meaty, gluten-free snack for your Yorkie pup, then search no more as this is one of the best options for sure.
Although the majority of canines love meat, and all types of food that have a meaty taste, there are certain pups (or their owners) that aren't really fond of the strong meaty smell that is usually present in foods that contain animal proteins.
If your canine isn't a meat lover or you simply find a plant-based snack to be a better option for them, you're more than welcome to try these dog cookies made from peanuts and pumpkin pieces.
Chickpeas, ground peas, potatoes, pumpkin, peanuts, and sweet potatoes are just some of the ingredients, along with cranberries, which are considered a superfood because they're filled with antioxidants.
These cookies aren't just free of meat; they also don't contain any rice or dairy products, which usually have a negative impact on the canine's digestive system.
Why Should You Buy It?
There are plenty of reasons why you should get this type of food for your Yorkshire Terrier, especially one that is not a big fan of meat.
Although these biscuits don't contain any meat or other animal proteins, it's important to mention that your pup won't be left without nutrients, including vitamins and minerals.
It is believed that a plant-based diet promotes healthy weight in dogs, especially those that are prone to such behavior.
Pet parents want only the best for their furry babies, and sometimes you might not even be aware of the fact that they might benefit greatly from more unusual combinations of dog treats.
If you're ready to offer your pet a new type of treat, feel free to go with this type of healthy and vegan dog snack.
Other Treats For Yorkies You Should Consider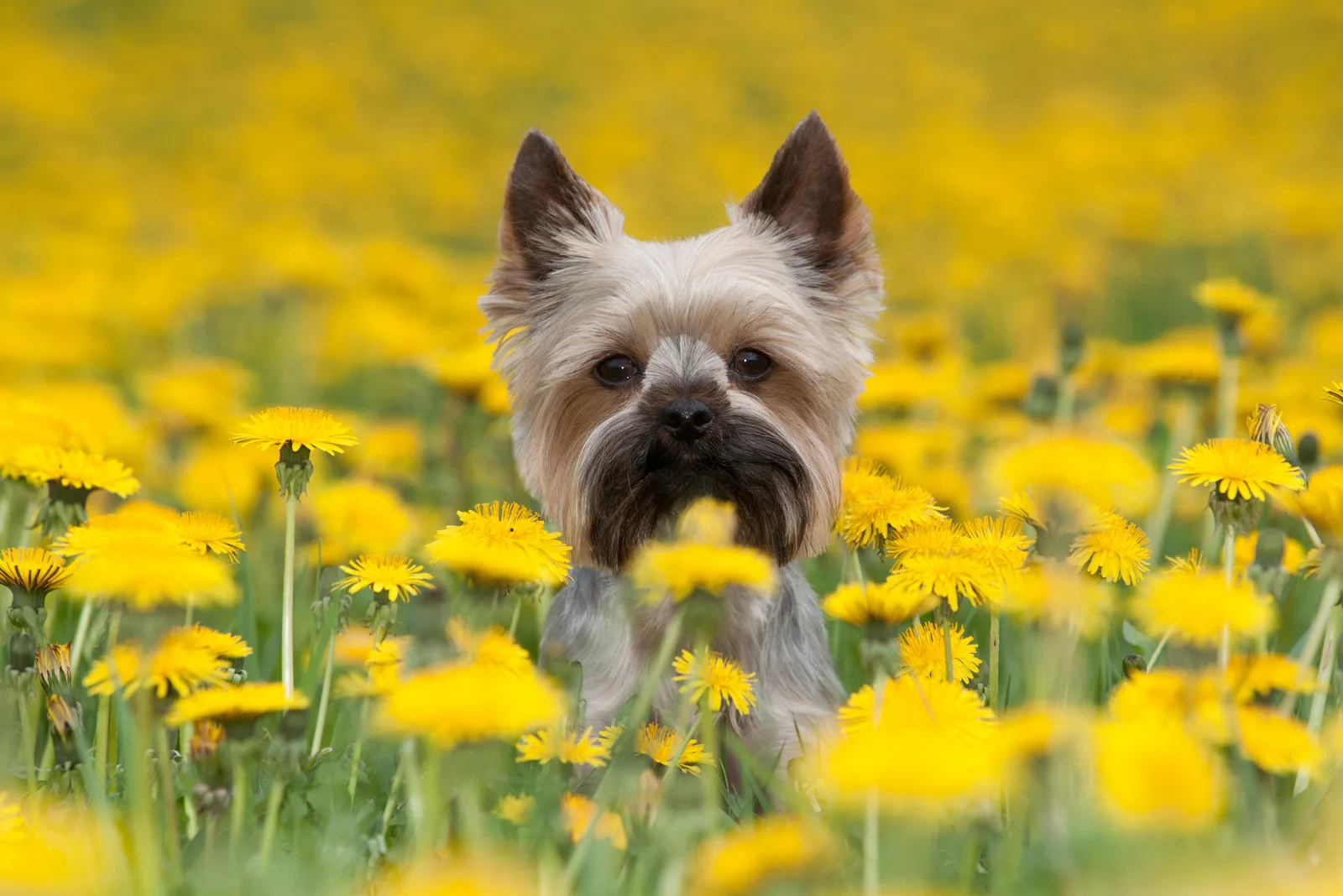 Snack time is probably one of the favorite periods for a canine of any breed, especially if you have their favorite dog snack in your hands.
There's a great number of high-quality dog treats, and it would be impossible to mention all of them in one article.
These dog treats definitely deserve to be among the best treats for Yorkies, even if all people don't agree with such an evaluation (according to their online reviews).
Wrapping Up
The best treats for Yorkies would be snacks that your pup enjoys eating, and that contain at least one beneficial trait for their health.
Simply because some type of food is a snack doesn't mean that you shouldn't care for the quality of the ingredients as it can have a direct impact on the health of your pup.
If you're not sure which of these dog treats your Yorkshire Terrier would like, you can try a flavor that you're sure they'd love or simply go with what you think is the best for them.
READ NEXT:
12 Best Brushes For Yorkies: Keeping That Coat Silky Soft
Yorkie Feeding Chart: All You Need To Know On The Yorkie's Diet
The Yorkie Growth Chart: Tips For Healthy Growth
Female Yorkie Vs. Male Yorkie: Which Is The Best To Own?