This post contains affiliate links, and I will be compensated if you make a purchase after clicking on my links.
Treats are a fundamental part of dog training and make for a great reward in general, especially for the lovable Goldendoodle, but what are the best treats for Goldendoodles?
Usually, the best treats for Goldendoodles are made with healthy nutrients in mind which help supplement their diet, though it does vary from dog to dog based on taste preferences as well.
Meaty treats are usually the best option, but things like peanut butter can also be a real delight if you want to spoil your dear doggo.
However, if you're looking for healthy, you also want them to be low in calories so you can give them to your doggo guilt-free and to be free of many of the harmful chemicals that are often put in lower quality brands.
You also want it to fit into the budget. It doesn't have to be dirt cheap, but pricey doesn't usually mean high quality. There are plenty of hidden gems in-between.
Finally, treats come in all shapes and sizes, be they bones, elk horns, cow ears, sweet treats like PB or just regular doggy biscuits.
There's plenty of choice in type alone, even more so when you look at everything that's on offer on the market, especially places like Chewy and Amazon.
Truth be told, it's way too much for anyone to spend their time sifting through.
Lucky for you, I have the time as it is my job to provide you with the best options and to trim the proverbial fat that represents the worse product, curating a list that'll hopefully end up giving you the ideal treat for your Goldendoodle.
So, read on to find out what these products are, whether or not they're a good fit for your dog and find answers on some of the frequently asked questions regarding treats for Goldendoodles.
The 8 Best Treats For Goldendoodle Dogs
Cookie Pal Banana & Coconut Dog Biscuit
Key Benefits:
3 different flavor combinations to choose from between banana & coconut, sweet potato & flaxseed, and pumpkin & chia

Contains a healthy amount of Omega-3 and 6 fatty acids and other essential nutrients for a dog's daily diet

Only 16 calories per treat make it a great guilt-free option with the recommended daily intake written on the back of the bag
First up on the list are the Cookie Pal dog biscuits, a great organic option for a doggy treat that contains the wonderful flavor of banana and coconut.
They're made from all-natural ingredients without the inclusion of gluten or any GMOs meaning it's a little safer for dogs with allergies to the two.
It contains key nutrients like omega-3 fatty acids which are core in keeping his fur shiny and his skin healthy as well as contributing to the healthy function of his body as a whole.
The treats are made to be environmentally friendly, made in bakeries that use everything and leave no waste and are then packed in recyclable and biodegradable bags, showing that Cookie Pal cares about dogs as well as the planet.
The treat ingredients are human grade, meaning even you can give them a taste, though do expect for it to be different than what you're normally used to.
They're also full of fiber that will help balance out your dog's digestion and keep him sated for longer periods of time.
The treats come in easy to portion, break apart forms with each of the squares accounting for only 16 calories, making it a relatively guilt-free treat.
If you're confused on how many should be given daily to your dog, they even have a handy little chart on the back of the package to tell you how many should be consumed on average.
After all, they're not meant to be the actual diet for your canine companion but a supplement.
They come in two other flavors aside from the aforementioned coconut and banana and those are pumpkin and chia, and sweet potato and flaxseed, so pick your furry friend's favorite, or get the variety pack.
The price is a little on the steeper end, but they're still a pretty decent treat all around.
Also, do note that the product may contain hints of tree nuts due to the other products being made in the same location and some cross-pollination does tend to happen.
Rachael Ray Nutrish Real Meat Dog Treats
Key Benefits:
5 different meat options to choose from that come in 4 different sizes

Contain no grains or artificial flavors, fragrances or colors nor does it contain any meat by-products

All-American, natural meats that are easy to pull apart and come out at a mere 19 calories per treat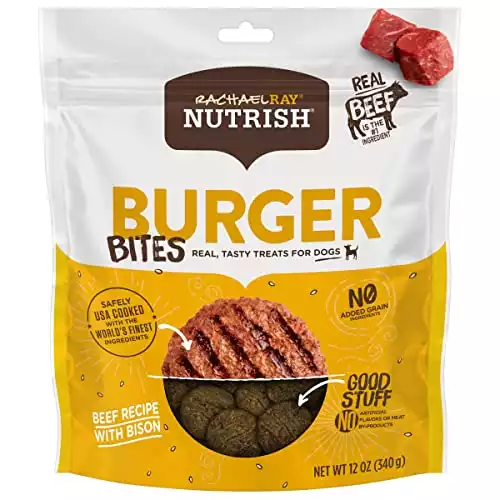 Moving over to a more meaty treat we have some patty-shaped treats made with real meat where the main ingredient in the burger bites is bison raised in the US.
Keep in mind that the burger is only one option, you can choose between 4 other meat options too, be it turkey, sausage, meatballs or roast chicken.
They also come in 4 different size options for you to choose from depending on how well stocked you want to be with treats for your Goldendoodle.
The treats themselves are soft and moist which makes them easy to break down.
They contain no artificial colors, fragrances, flavors or anything of the sort nor do they resort to using meat-by product, just pure meat.
They're also completely grain free, making the food safe for any dog with a more sensitive stomach.
The calories aren't too bad either for a dog like the Groodle, averaging at about 19 calories per piece which is pretty alright, all things considered.
As mentioned a bit earlier, the products are fully US made with no China-sourced ingredients or from any other country known for questionable ingredient quality.
The pricing is on the more affordable side of things too, definitely lower than some of the other options on the market.
The one downside only really happens from time to time in case you're sent a bad batch that may have been improperly stored which causes the meat to dry up and make it tougher to chew and handle in general.
Other than that, it's a pretty solid product that's quite popular on Amazon.
Zuke's Mini Naturals Adult Dog Treats
Key Benefits:
All natural ingredients with real chicken as the primary one, supplemented by various berries

Extremely light on calories with only 3 calories per treat making for a great, guilt-free treat option

Contains no fillers or artificial flavors, preservatives or similar and is free of any common grain allergens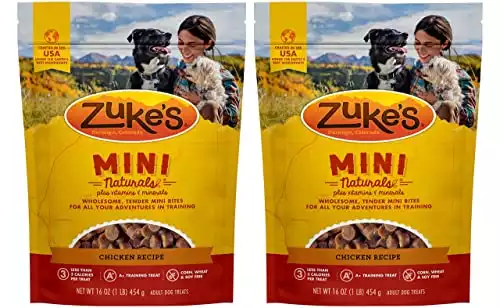 A rather popular treat brand is Zuke's, and for good reason, as they're known for their incredibly low calorie count per treat, with the mini naturals only clocking in at a mere 3 calories per treat.
This allows you to go wild with the treat usage and makes these little bits ideal for dog training.
The first and main ingredient is real chicken, the ideal, neutral meat which seems to agree with almost every dog out there and they're paired with various berries that only serve to add to the flavor.
Zuke's treats are also completely free of any fillers that would only serve to bloat up the calorie count in other products.
They're also completely grain free, meaning they contain no common allergens like corn, soy or wheat which can be a nightmare on your pooch's digestion if he has a sensitive stomach.
All of this makes for one incredibly healthy treat that's perfectly moist and suited for consumption by almost any dog breed, be it Golden Retrievers, Goldendoodles or any other one for that matter.
The bag it comes in is resealable too, so the food stays fresh even after initial use.
As for the price, it's sadly on the pricier side of things, but, again, if you're looking for an extremely calorie-lite treat for your precious pooch, this one is the way to go.
Milk-Bone MaroSnacks
Key Benefits:
Real chicken as main ingredient, bolstered by bone marrow

Contains calcium, collagen, chondroitin and glucosamine, all key ingredients in kibble and treat alike to help aid with joint and bone health for older dogs and medium and large dog breed canines of all life stages

Lightweight and guilt free with only 10 calories per treat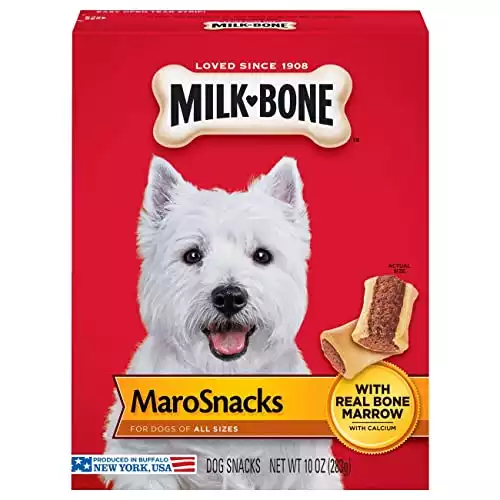 Next up are MaroSnacks, a delicious treat for any dog breed out there, be it a Goldendoodle, a Poodle or a Labradoodle, or any other breed for that matter.
These wonderful treats are healthy, tasty and nutritious all at the same time.
It uses chicken as the main ingredient, but there's another extremely vital ingredient in the mix, bone marrow.
This may sound somewhat off putting to some, but bone marrow is a naturally healthy product full of vital nutrients that even we humans consume.
The obvious one is calcium, great for strengthening teeth and bone, the same with collagen which also helps improve skin health.
The other two key ingredients are glucosamine and chondroitin, vital actors in maintaining good joint health which becomes a major issue for any medium or large dog breed, Goldendoodle included.
The product is completely made in the USA for all you supporters of local businesses out there.
While not as moist as some of the other treats out there given their intended purpose, they do come with a satisfying crunch that'll have your doggo salivating over each and every treat.
The calorie count is pretty small with only 10 calories per treat to go by, it's a treat that you don't have to worry about too much if you go one or two overboard in a day.
The price is decently affordable considering the amount you get and should last you a while.
The only real issue is the fact that it does contain some wheat flour which is one of the more common allergens among dogs.
If your canine companion has a sensitive stomach that doesn't react to it very well, you may want to give this one a skip.
Bil-Jac Dog Treats - Original Recipe
Key Benefits:
A soft, moist treat with tasty chicken liver as the main ingredient

Contains no gluten, wheat or rendered fats and only uses all natural ingredients

Guilt-free training treat option with only 8.3 calories per treat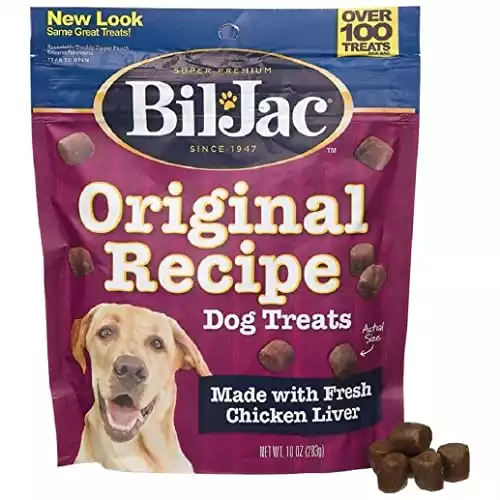 Following up after the MaroSnacks are the Bil-Jac dog treats, a tasty treat with chicken liver as the main ingredient.
They're moist and easy to break down and swallow, making it ideal as an added bonus to a new puppy food diet when broken into smaller bits, as well as the occasional treat for an adult dog.
It's a pretty healthy treat too with no gluten present in the mix, rendered fat that only adds to the calories counts of lower quality brands, or any soy for that matter, eliminating two of the more common allergens for dogs.
The treats are fully made in the US using natural, high quality ingredients, so think about supporting a local business rather than opting for an overseas brand.
They're also pretty light on the calories with only about 8.3 calories per treat which makes them a real good training treat option.
The bag they come in is easily portable and resealable, keeping the treats fresh for longer periods of time.
And the price is anywhere between cheap to average, depending on your budget, but you certainly won't be breaking your bank if you opt for a bag of these.
You even have multiple sizes to choose from so you don't have to re-buy often if you end up picking this brand up.
They are a little too crumbly, so don't squeeze on them too hard or you'll risk breaking the whole thing into grainy bits.
NUTRO Mini Bites Small Natural Dog Treats
Key Benefits:
Real chicken and peanuts as main ingredients, but is offered in 3 other different flavors to mix it up a little

Made in the US, Grain-free with no GMO ingredients included

Extremely light on calories with only 2.3 calories per treat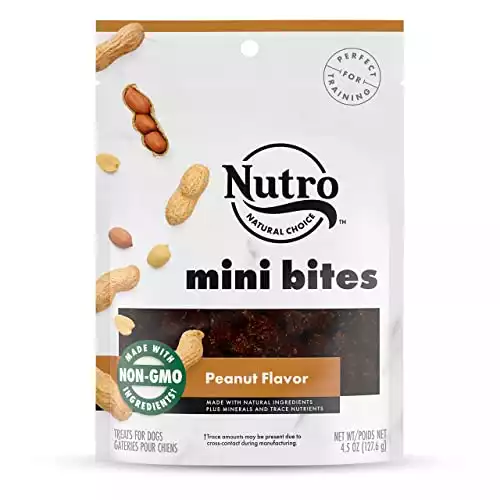 NUTRO is another familiar brand with their own line of healthy dog treats, and this one comes as no exception.
While this particular one is of peanut flavor, it still uses real chicken as the main ingredient, providing a mix of flavors that work surprisingly well together.
And even with both of those, it still manages to be extremely calorie-lite with only 2.3 calories per treat.
However, that's not your only flavor option in case your dog doesn't prefer it, you can also choose regular chicken, beef & hickory smoke or berry & yogurt flavor for a more diverse flavor palate.
It's a US made product that uses globally sourced ingredients, making sure the treats are filled with nothing but the best.
They're full of essential nutrients and vitamins necessary in a dog's diet and can serve as a light supplement for it.
What it doesn't contain, on the other hand, are any GMOs or common grain allergens like wheat, soy or corn.
There are also no traces of any artificial preservatives, colors or flavors for that matter, it's all just natural ingredients.
The bags used are properly resealable, as is the standard for any high quality treat out there.
Their price isn't overly expensive either, coming out as extremely affordable, even for penny pinchers.
Their size is a lot smaller than that of other treats though, but it shouldn't pose too much of an issue with a breed like the Goldendoodle and is of an ideal size for a mini Goldendoodle.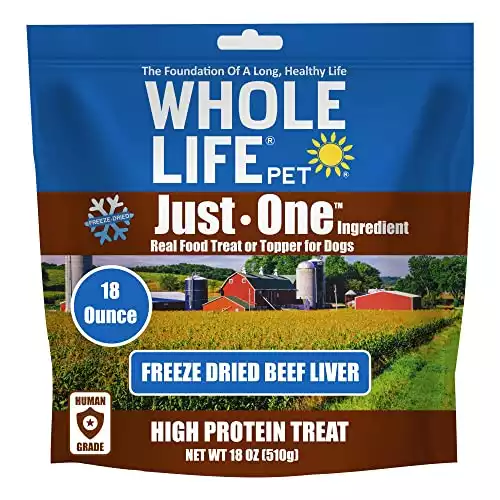 Whole Life makes it to the list as another excellent candidate to be dubbed one of the best treats for Goldendoodles.
It accomplishes this by using beef liver as the first ingredient, one so good that it's safe for human consumption too.
And that's really the only ingredient, one that contains no artificial fillers, preservatives or any other harmful chemicals that could cause problems for your dog's health.
This also means that it's fully grain-free making it a safe inclusion in the many diets of dogs who are sensitive to corn, soy or wheat.
Thankfully, that one ingredient is arguably the best one that you'll find considering it's sourced from US beef and it has passed through the rigorous quality assessment tests by the FDA.
It's freeze dried to preserve maximum freshness and is kept in a resealable bag for ease of access and storage.
The treats also make for a great food topper, especially when mixed with some gravy.
While they don't state how many calories there are per treat, they do say it's 160 calories per ounce which isn't too bad.
Though, they do provide their own math stating that it's best to give your dog 1 or 2 treats for every 10 pounds that he has, which is about 8-10 treats on average, give or take a few.
The price is certainly up there for this one though and should be considered somewhat of a luxury item, even though it's not that expensive overall, but they do lack some smaller purchase options.
Pet 'n Shape Beef Lung Dog Treats
Key Benefits:
Made with beef lung as the first and only ingredient in the mix

Contains no artificial colors, additives or preservatives nor any common grain allergens

Resealable packaging keeps the treats fresh for longer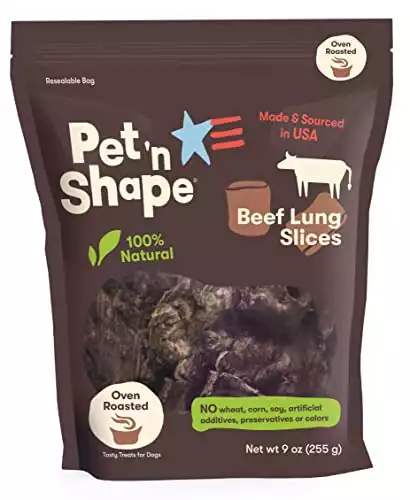 Our final entry for this list are the Pet 'n Shape treats with beef lung as their choice of first ingredient with said beef being raised on US soil.
A completely natural ingredient suitable for dogs of all ages and sizes thanks to the use of that sole ingredient.
This means that there are no grains or any artificial preservatives, colors or additives added to the mix, just pure beef lung.
The texture makes it high in protein and a mix between crunchy and chewy, giving your dog a texture he can really sink his teeth into.
The packaging is made to be resealed after opening, allowing you to store it for longer periods of time and keeping it moist-ish.
Depending on the choice, you can get them either packaged as small steaks or in smaller bites so you can better portion the treats down.
I'd recommend the latter for training purposes, but you choose the one that best fits your dog's preferences.
The product may seem simple, but it's earned the "Amazon's Choice" tag for a reason.
It's also decently cheap, all things considered.
The only thing that I have against it is the fact that it's a whopping 76 calories per treat, meaning you may not get to give your dog too much to not go over his daily intake.
Before You Buy: What To Look For In A Good Dog Treat?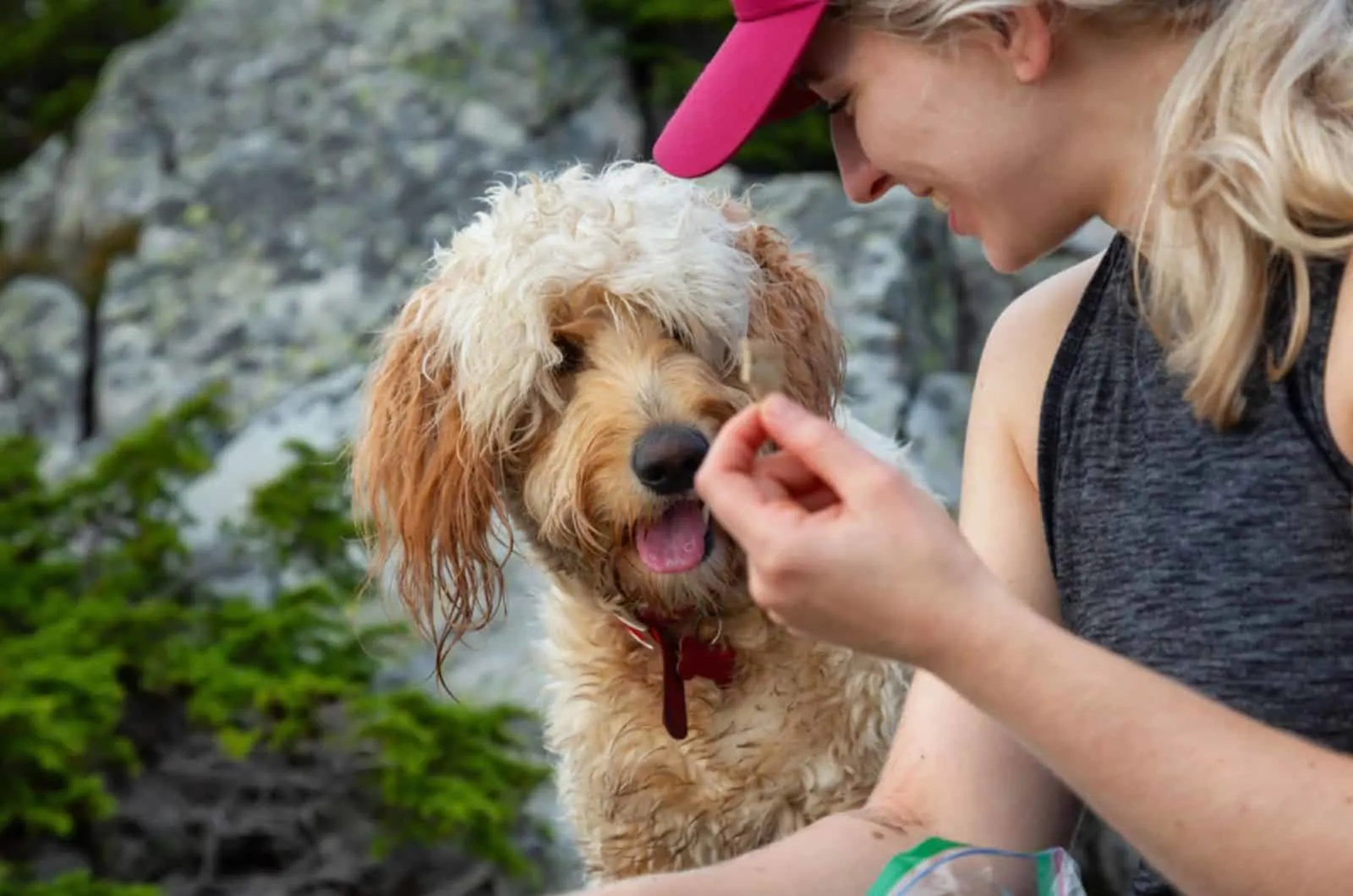 As with all products, there are going to be some individuals whose dogs simply may not like any of the given options.
For you, and anyone else interested, I'd like to give you a few things to keep an eye out if you're looking to search on your own to find the best treats for Goldendoodle dogs, or at least yours.
Here they are:
1. All-Natural Ingredients
Always make sure the ingredients are natural or that they don't contain any hazardous chemicals or additives.
This will ensure a healthy life for your dog and will provide him with lots of tasty options to choose from even with such a limitation
2. The Size
Goldendoodles are a medium dog breed, so going with treats that are either too big or too small for them may pose a challenge when eating and may make a mess.
Look for ones that are adequate for medium sized dogs with the exception being a mini Goldendoodle.
3. Nutrients And Minerals
Given how they're only a supplement to an actual diet, it's not overall necessary for treats to be packed with essential minerals and nutrients, but it sure is a good bonus.
However, if you find ones that are affordable that contain the necessary nutrients and minerals for your dog, don't skip out on them.
4. No Allergens
For the sake of your dog's wellness if he's allergic to one of the more common grain allergens, make sure the product is grain-free.
If not, then feel free to skip it and move on, there are dozens of other options out there.
5. Flavor And Calorie Count
Of course, dogs want something with good flavor, so try finding something that fits their personal preferences.
On top of that, make sure that the calorie count isn't too high so you can use several treats daily to reward your good boy for equally good behavior.
6. Affordability
Finally, cost plays a big role in what options are open for you.
Don't try going too far with your spending as you still need a budget for other things and try finding the best out of the given options.
FAQs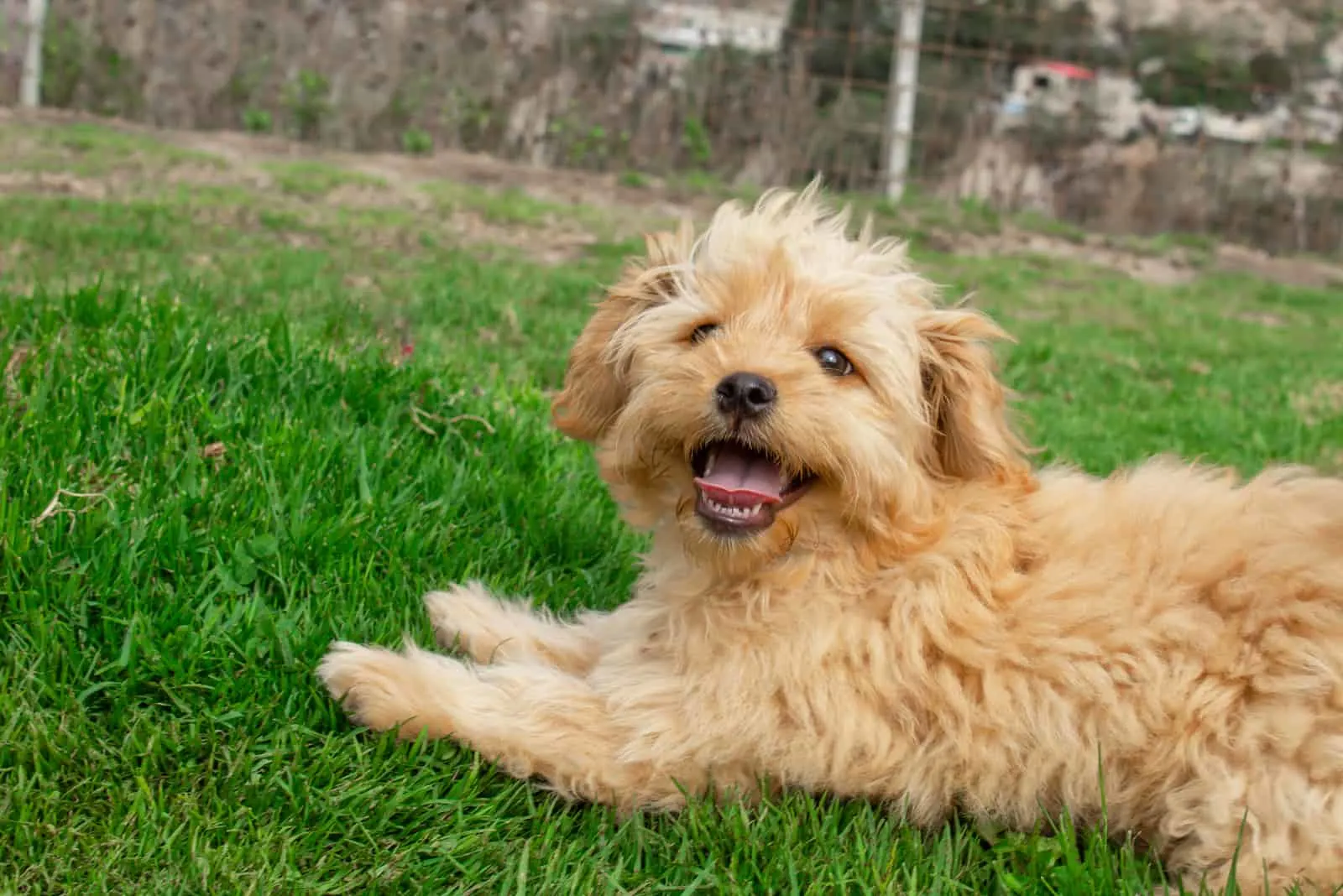 So, What Are The Best Treats For Goldendoodles?
Well, personally, I'd say the MaroSnacks are one of the better ones purely since those bone and joint-strengthening nutrients and minerals will be a needed supplement when your dog grows older.
Plus, it's affordable too while still remaining tasty and crunchy at the same time.
What Types Of Treats Are There?
I've mentioned a few at the start. Regular treats certainly aren't the only thing, you also have:
• Jerky
• Pig ears
• Rawhide
• Bones (mostly antlers)
• Bully sticks
• Hooves
Keep in mind that not all of these are exactly the healthiest options and aren't recommended for dogs who need to watch their weight.
Are There Any Other Treat Options?
There certainly are. Various berries like cherries, blueberries and similar work as does watermelon, seedless preferably so your doggo doesn't have to struggle.
All of these work just as fine as puppy treats too.
You also have peanut butter as an option which you can put in a KONG toy or similar product and have him get some physical exercise and entertainment along the way.
You can also rely on some homemade, DIY stuff for treats too. Definitely recommended if you're unable to find anything that works with your dog's sensitive stomach if he has one.
This can be anything from freezing the aforementioned fruits into ice cubes or similar, or even freezing some broth to act like a popsicle.
What Else Are Treats Used For Besides Training Sessions?
Well, some treats are the best dog food topper out there too and can serve as a great additional flavor to your dog's usual kibble.
In Conclusion
Many dog owners and breeders alike put high value in dog treats as a useful training tool for Goldendoodle puppies and any breed in general.
The best treats for Goldendoodles are ones that are tasty, adequately sized and have a nice texture to them.
While preferences vary from dog to dog, I'm sure that you know yours well enough to get the perfect treat option for him. Until next time.
RELATED LINKS:
• Can Dogs Eat Prunes? Safe Foods For Dogs
• Can Dogs Eat Fig Newtons? Advice For Concerned Dog Owners
• 11 Best Miniature Goldendoodle Breeders In The USA You Need To Check Out
• Goldendoodle Feeding Chart: The Golden Feeding Guide
• Goldendoodle Growth Chart: Different Sizes Of Goldendoodles
• Best Dog Food For Goldendoodles: 15 Tasty Kibble For All Life Stages