This post contains affiliate links, and I will be compensated if you make a purchase after clicking on my links.
Yorkies are adorable little doggos with incredibly luxurious fur. It only makes sense that it'd need to be maintained properly, but what is the best shampoo for Yorkies?
The best shampoo for Yorkies is one that can preserve the strength of his hair follicles and keep that wonderful fur of his shiny and soft.
A shampoo that can help deal with any tangles and matting in their hair and one that'll leave them smelling amazingly well.
You'll want a shampoo that's gentle on not just their fur, but their skin as well to not get it irritated and so it can be protected from any potential skin irritation or any skin infections down the line.
Naturally, you'll also want to find a shampoo that's affordable among a few other things as the budget for maintaining a doggo is big enough as is.
Wherever you can save up without compromising on the quality of your dog's care is an opportunity that shouldn't be missed.
But, as it is with any other brand, the amount of choice when it comes to dog shampoos for a specific dog breed is staggering and may leave your head spinning.
To avoid choice paralysis, I'm here to help you out by sifting through the muck and finding the shining examples worth your time and consideration from popular marketplaces like Chewy and Amazon.
Ones that satisfy most, if not all of these categories and ones that'll sure to bring you good results, no matter which one you end up picking.
The final option is mostly going to go down to personal preference, but it should at least take less than if you had to search them up yourself.
So, read on if you want to find out what these pet shampoo options are as well as tips on how to find a good shampoo with ease and get answers to some of the more commonly asked questions regarding the Yorkie and his hygiene.
The 11 Best Shampoos For Yorkies
Earthbath 2-in-1 Conditioning Shampoo for Pets
Key Benefits:
Pet and environmentally-friendly option with a cruelty-free practice and 100% biodegradable bottles

Coconut-based cleanser paired together with Aloe Vera and various vitamins, all topped off with a pleasant mango smell

Free from any sulfates, parabens, phthalates, gluten and other hazardous chemicals and ingredients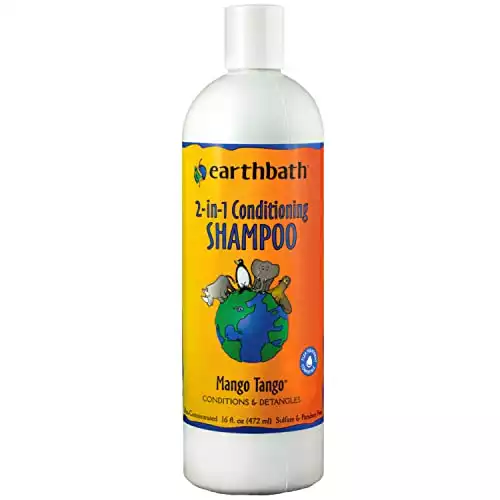 The Ingredients
It starts off with a coconut based cleanser used as a base which is paired along with Aloe Vera and a selection of useful vitamins to help nourish your dog's skin and coat to help prevent skin irritation and keep your Yorkie's coat shiny and durable.
The Benefits
The two main ingredients are very gentle too, providing a calm, soothing sensation, as if your dog is receiving a massage at a spa center. This is extremely useful for bath time as most dogs, despite loving water, act like cats when it's forced on them.
Aside from the softness and moisturizing ingredients, the ingredients used also help detangle your Yorkie's fur to make it easier to straighten out after the bath itself by softening the tangles up.
On top of all of that, the shampoo is relatively gentle for your canine companion, gentle enough that it won't wash off any topical tick or flea ointments in case your pooch is using any.
Just make sure you follow the instructions on the package and you'll be fine.
The shampoo formula doesn't contain any hazardous materials for your dog's health like parabens, phthalates, sulfates, phosphates, gluten or similar, meaning it's completely safe for your darling Yorkie.
Plus, the shampoo is also made cruelty-free, with absolutely no animal testing done whatsoever as Earthbath believes that it's a cruel practice that needs to go extinct in its entirety.
Aside from supporting the animal friends, Earthbath actively tries to make their product as environmentally friendly as possible. Their bottles, for one, are completely biodegradable, reducing the environmental impact their product waste has.
As far as pricing is concerned, it's definitely up there in terms of cost, hinging more on the expensive side rather than not, but, if it ends up working well for your Yorkie, it's not the biggest expense you'll have to worry about.
After all, Yorkies only have to take a bath once, maybe twice a month depending on their level of activity.
TropiClean Gentle Coconut Hypoallergenic Puppy and Kitten Shampoo
Key Benefits:
Wonderful tropical scent of coconut, papaya and kiwi with a hint of chamomile for an extra relaxing time

Gentle on the dog's skin and made from a hypoallergenic formula that caters to even the most allergy prone canines

Contains no phthalates, parabens, soaps or other potentially harmful chemicals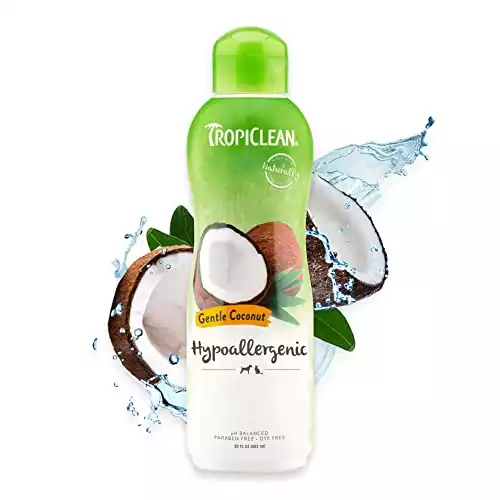 Next up is a shampoo that every dog owner loves for not just its effectiveness in cleaning your pooch, but also due to its incredibly fresh scent, the TropiClean hypoallergenic shampoo.
That's right, hypoallergenic too as the people making the product have made sure to eliminate any potential allergens from the formula.
The Ingredients
Instead, they use natural ingredients like a classic oatmeal base paired together with Aloe Vera, both helping keep your Yorkie's coat's natural oils protected and his skin moisturized to reduce any chance of potential skin problems popping up.
Adding on to those two, they also utilize a mild coconut cleanser which helps keep the shampoo gentle, but still effective in removing dirt and debris from your furry friend.
Aside from the clear softness, the source of this tropical scent doesn't come from the coconut alone, but the chamomile, kiwi and papaya extracts found within as well.
The chamomile is a bit less tropical, but it serves the extra purpose of enhancing that relaxing sensation the shampoo so graciously provides.
The shampoo is produced in the USA using all natural ingredients. No imported ones of questionable quality here.
The Benefits
It also contains no parabens or phthalates and is entirely soap free, further validating its gentleness by eliminating potential irritants.
And, if you're still not convinced, know that they've made sure to keep their shampoo perfectly pH balanced for a dog's skin pH level so that it's completely neutral against it and doesn't react with the skin whatsoever.
Aside from animals, the people over at Tropiclean care about the environment too with their bottles being made out of 50% recyclable material.
Not the same as plenty of others, sure, but at least it's a conscious effort toward a greener future.
Do keep in mind that the product should only be used on pups that are 3 months or older as the younger ones have skin that's still too sensitive to handle even something as gentle as this.
As far as prices are concerned, it certainly hedges on the more expensive side of things, with its cost being relatively similar to Earthbath, so do keep your budget in mind, regardless of shampoo quality.
Aside from that, the only other problem that people have had with the shampoo in the past was that the cap often got broken during transport and ended up leaking into the box.
The company has since tried to remedy the situation by adding a reinforced cap and an induction seal on top of all that, but you should still be wary of potential spillage, though, at this point, I feel like the quality of delivery service is the problem.
4Legger Organic Dog Shampoo
Key Benefits:
All-natural ingredients featuring an oatmeal base which is further supported by Aloe Vera, lavender and coconut oil, and lemongrass extract to moisturize your dog's skin and help keep his coat shiny and durable

Ingredients procured through sustainable means and shampoo produced in small batches

Made cruelty free using non-GMO ingredients with 100% biodegradable bottles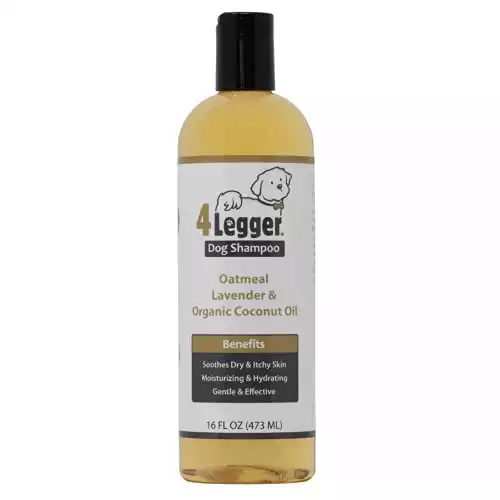 But it's not just me, plenty of other pet owners and groomers of a variety of different breeds love using this particular brand of shampoo.
It's surprising enough considering it's just a small local business.
The Ingredients
It features the usual cast of a colloidal oatmeal base and Aloe Vera, both being some of the best options in helping lock moisture into the skin and prevent hot spots and other problematic skin conditions, as well as keep your dog's hair nice and durable.
However, it does contain a handful of other ingredients which make it stand out from the others, namely the lavender and coconut oil mix help soothe your dog during a bath and make him less likely to bolt out of there and make a real mess in your home.
However, the real star is another unique ingredient, lemongrass, best known for its antibacterial and antifungal properties, but it has plenty of others like helping deal with pests that may attack your doggo.
The Benefits
The product is made in smaller batches to not end up wasting product senselessly and is packed in 100% biodegradable bottles, making the 4Legger one of the most environmentally friendly options on the market.
This goes doubly so due to the fact that all of the ingredients used meet the strict USDA standards, meaning they don't slack on ingredient quality, so you know you're not getting a shoddy product, and are instead getting a USDA certified organic shampoo.
And, naturally, like every good pet product, they don't test their shampoos on animals, making it cruelty free.
Not only that, but all of the ingredients used are vegan in nature.
But, while that's all regarding the ingredients it does have, 4Legger has also made sure to exclude some of the more hazardous ingredient options.
Things like parabens, sulfates, phthalates, various artificial fragrances, thickeners and preservatives or any strong detergents that may prove abrasive to your Yorkshire Terrier's skin or that may damage his hair follicles in any way.
Quite the opposite, in fact, as the 4Legger is safe to use on dogs that have extremely sensitive skin too without any unwanted reaction.
As stated before, it'll help soothe any currently irritated skin that may be present and will aid in further prevention of the very same problems.
Though, while I can sing its praises all day long, it does have a few of its own issues. No product is perfect after all.
The first thing of note is that the price tag is a bit steeper than some of the other, more budget-friendly options out there, though, personally, I say paying the extra few bucks will pay off massively, but I'm biased.
Other than that, I've heard from a few friends and other users of the product online that they've had a few troubles with it, mostly regarding the potency of the shampoo's fragrance.
That said, I'll leave that for you to judge, as both people and their dogs can have different preferences to that of others.
Rocco & Roxie Dog Shampoo for All Dogs & Puppies
Key Benefits:
Uses oatmeal as a base, paired with Aloe Vera to lock in natural oils within the skin and utilizes olive oil and Shea butter to further strengthen the hair of the dog's coat

Contains no phthalates, parabens, strong alcohols, artificial dyes, formaldehyde and similarly irritable or harmful ingredients for the dog's skin or his overall health

Shampoo brand provides a 100% satisfaction guarantee or your money back should you or your dog find the product lacking in any way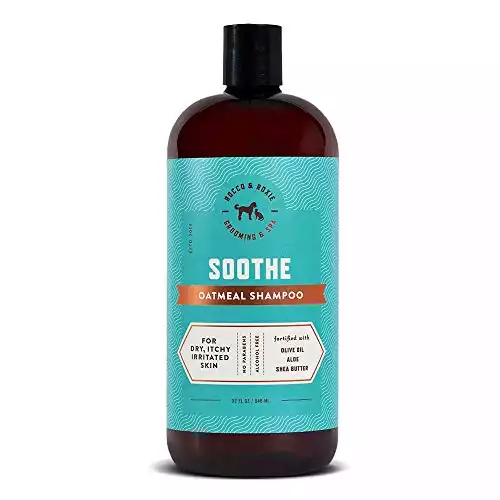 Going back to more objective stances, we have Rocco & Roxie, another fantastic contender to be crowned the best shampoo for Yorkies.
While, as the title states, it's a shampoo that covers both dog and cat breeds alike, I promise that that doesn't diminish its value in any sense.
The Ingredients
The initial ingredients are the same as many other shampoo options; oatmeal extract as the base to provide the shampoo with it's main, soft texture, and Aloe Vera to help moisturize your Yorkie's skin and his fur's natural oils to keep the hair follicles protected.
Aside from those two, you'll also find two other ingredients that are rarely used by its competitors, Shea butter and olive oil.
These two further strengthen the effects of the Aloe and enrich his hair follicles with a number of beneficial nutrients and vitamins to help keep them growing at a healthy rate and stay safe from any potential damage from outside sources.
They also help prevent tangles and matting as well, making your Yorkie look a lot more presentable after a bath and a nice brushing session.
The Benefits
The shampoo in question makes sure to avoid any potentially hazardous ingredients as well. It contains no phthalates, formaldehyde, parabens, artificial dyes or any strong alcohols for that matter.
That said, with such a designer name comes a higher price. While not as expensive as some of the other options on the market, it's threading the needle between average and expensive in terms of cost.
Keep that in mind when looking over your pet budget.
That does seem to be the only issue though, however, if you find yourself dissatisfied with the product in any way, or if your dog doesn't end up liking it, the people over at Rocco & Roxie offer a 100% satisfaction guarantee.
This means that they'll try to find some sort of compromise, either through a product replacement or a full refund if you simply end up not preferring their product over another one.
Vet's Best Allergy Itch Relief Dog Shampoo
Key Benefits:
Contains the classic mix of oatmeal and Aloe Vera for a soothing doggo bath time as well as tea tree and neem oil for some extra comfort and relaxation

Gentle enough to not wash away any topical pest ointment while still remaining potent enough to be able to clear up any allergens and irritants

Has a nice and pleasant lavender scent

This next one is a slightly different option than those prior as it's considered to be a medicated shampoo.
Medicated shampoos are focused on dealing with more serious fur and skin issues, helping treat them.
These shampoos are made to be used more frequently in a certain period of time, up until the issue subsides or told otherwise.
This particular shampoo option was made by the aid of a number of different vets.
The Ingredients
The formula consists of the standard oatmeal and Aloe mix paired together with a variety of different essential oils as well as tea tree oil.
The Benefits
This particular concoction will not only be soft on your Yorkie's sensitive skin, but it'll help clean the irritants and allergens out without causing damage to his skin or fur itself.
The Aloe and oatmeal help lock moisture in while keeping both the fur and the skin's natural oils from being washed out so as to not leave them both unprotected and vulnerable to further issues.
The formula was also made to be gentle so it didn't wash out any topical flea or tick ointments if your dog happened to be using them at the time, as long as you followed the given instructions.
However, this all may sound well and good, but these medicated shampoos, given their specialized role, end up being more expensive than the standard options.
However, you'll rarely ever need to use one, hopefully never, but that'd require avoiding any skin issues over your dog's entire lifespan, which is nigh impossible.
That said, you'll only need to get the shampoo maybe once or twice during his lifetime, so the price shouldn't be that big of a concern.
It's certainly not made for regular use, at least.
There is a bit of a downside to it too which is the fact that it doesn't lather all that well, at least some people have reported it, which may make the rinsing more difficult to manage.
Pro Pet Works Organic All Natural 5 in 1 Oatmeal Dog Shampoo & Conditioner
Key Benefits:
5-in-1 option that helps cover all needed bases for a doggy bath

Uses oatmeal as a base together with Aloe Vera, vitamins A, B12, D and E and almond oil to provide your dog with a bath experience that he'll never forget

It's hypoallergenic, and is soap and alcohol free, ensuring it's as gentle as it is potent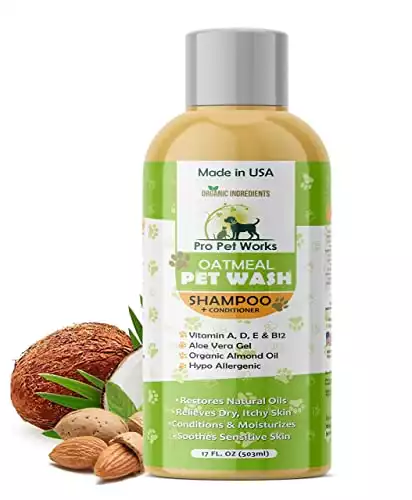 Getting a little bit off the expensive train we have a great all in one option presented this time around, the Pro Pet Works 5-in-1 dog shampoo.
The Ingredients
Once again, we find similar ingredients added into the mix with oatmeal standing in as the base of this formula with Aloe Vera added on top.
No point fixing what ain't broken after all. These pair so well together in creating the perfect concoction to help moisturize the skin and help deal with any persistent issues like rashes and hot spots, among others.
Aside from the two almost evergreen ingredients, you'll find a few useful vitamins; A, B12, D, and E to be exact, as well as a little bit of almond oil, each of which further improves skin and coat quality.
One such benefit is helping soften hair up during a bath to make it easier to detangle after the fact with a few strokes of the brush.
The Benefits
On top of the soothing feel in general, the shampoo is gentle on the skin with no soaps used, or alcohols, phthalates, parabens or sulfates for that matter.
The product is fully US made too, a little tidbit of information for all you Americans out there who like supporting local businesses to help them thrive and to keep the economy rolling.
While the price may appear steep, do remember that this accomplishes 5 different functions: shampoo, conditioner, detangler, deodorizer and moisturizer, among other things.
But again, even a 5-in-1 shampoo isn't without its faults, though on this one people can't seem to come to a consensus given how varied the issues seem to be.
Most of them aren't that big, but the most common ones that have popped up relate to how useful it really is against rashes and similar problems, while another worried about its lather or lack thereof.
However, these all seem to be some edge cases, and you should probably judge for yourself whether you find that you share the same opinion as the people who've stated this, or if you're completely fine with the product.
Buddy Biscuits' Cloud Star Lavender & Mint Corporation Buddy Wash
Key Benefits:
Coconut base paired with Aloe Vera to help deal with itchiness and various other skin issues as well as a mix of botanical extracts

Non-toxic, tearless option for your dog which doesn't use any harmful chemicals in its list of ingredients

All-natural dog shampoo made in the USA at an affordable price, and one of Amazon's top picks in the category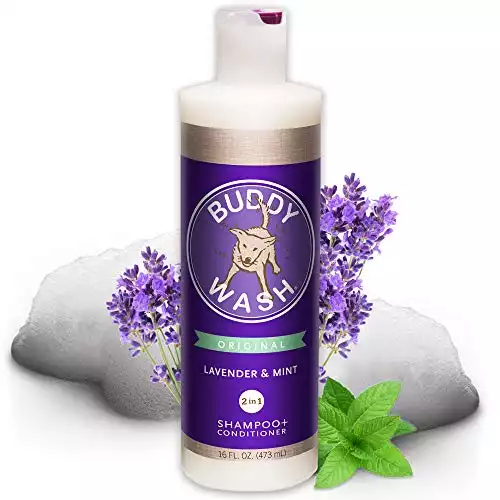 Here we have yet another crowd favorite, the Buddy Wash shampoo.
The Ingredients
This formula uses coconut instead of oatmeal as a base, an alternative which also offers your dog a very soft and comfy bathing experience.
However, it's similar to that of the many others on this list with the inclusion of Aloe Vera to help moisturize your Yorkie's skin and hair in order to keep either from getting damaged or the skin itself from getting irritated more often.
It also includes a variety of different botanical extracts like sage, chamomile, green tea and rosemary, all fully rounded out by the scent of fresh lavender and mint.
All of the ingredients used are all natural and entirely soap free too, and the product is completely US made.
The Benefits
The formula itself is non-toxic too, a good thing to note in case some of it ends up going into your dog's maw on accident.
The Buddy Wash doubles as both shampoo & conditioner thanks to the botanical extracts fulfilling the latter role.
It also functions as a deodorizer thanks to the wheat protein included in the mixture.
That said, most people may be put off by said ingredient considering it's one of the more common allergens for a dog, but it's allegedly safe when applied topically, though I'd still be wary in your dog's case.
Also, especially make sure it doesn't get in his mouth to not cause an allergic reaction.
Other than that, there aren't really any other potentially harmful ingredients like phthalates or parabens.
Aside from being soap free, the shampoo is also tear free too, making it as gentle as it can possibly be in this scenario.
This massive list of positive traits has earned it the coveted "Amazon's Choice" tag to better help showcase the quality of such an amazing product.
It's even one of the more affordable options on the list too, sticking around the lower double digits as of writing this article.
That said, while it does have a sizable list of positives, it also has its negatives, the primary concern being the lack of a scent, though that's a plus for a good amount of people. It's up to you to determine what it represents for you.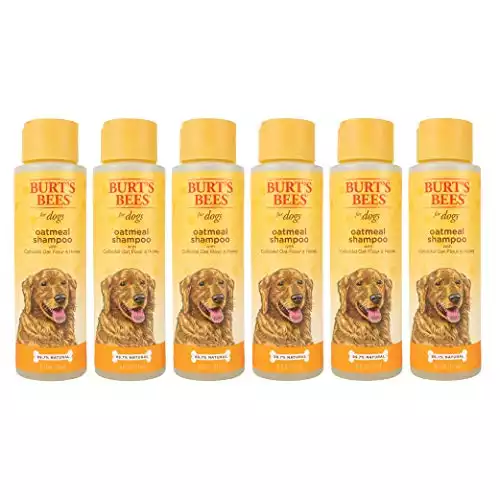 If you've ever had a child, you may already be well acquainted with the Burt's Bees brand.
If so, then it may also come as a surprise that they're found on this list today, as they dabble with doggy products too, one such product being this wonderful shampoo.
The Ingredients
While an oatmeal shampoo at its core, much like a lot of others mentioned here, there is a slight difference with this one, and that's the decision to use honey instead of Aloe Vera.
It's easier to procure, but still performs similar functions of moisture locking the skin so it doesn't dry out and protecting the body's natural oils from being washed off with the lather.
On top of the honey and oatmeal, there's some green tea extract thrown into the mix to help maintain the quality of your Yorkie's coat and keep it nice and lustrous.
The formula uses almost organic ingredients, clocking it at a commendable 97%. Sure, it's not a 100%, but rarely any have that, if at all, and getting this close is a feat on its own.
The Benefits
The shampoo's pH levels are perfectly balanced to the skin pH levels of dogs and should be used as such. It's not safe for use on humans.
The product doesn't utilize any harmful chemicals like parabens, petrolatum, SLS, sulfates, phthalates or any artificial dyes for that matter.
The product is fully made in the USA and is made to be entirely cruelty free. After all, the love and care Burt's Bees put into baby products they reciprocate to their pet products too.
The shampoo's formula is gentle, so much so that using it won't wash off any topical flea or tick creams and ointments.
Just make sure you follow the given instructions regarding the procedure.
On top of all that, the company also cares about the environment with their shampoo containers utilizing 80% recyclable material to store the product in, significantly reducing their own negative environmental impact.
And again, 80% is pretty impressive despite not being 100% as a lot of other contenders don't even bother to do eco-friendly practices at all, so any percent is a good percent.
Cost wise, it's arguably one of the cheapest options on the market while still maintaining a high quality standard.
A fantastic pickup for any dog owner who's looking to swap from a more expensive product to save some money up if need be.
Shockingly enough, the only downsides relate to the quality of their caps which seem to often get broken during delivery and not much else.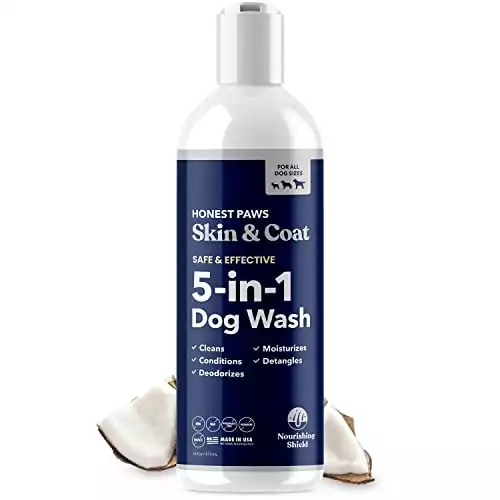 Here's another relatively budget pickup in Honest Paws' 5-in-1 shampoo option and is a good contender for the best dog shampoo for Yorkies title.
Not only does this function as a good dog conditioner and shampoo, but it also works well as a moisturizer, detangler and deodorizer too.
The Ingredients
You'll find that it uses many of the same ingredients that other options do with oatmeal being utilized as the soft and silky base while Aloe Vera complements it by providing the skin the nourishing moisture that it needs to preserve its quality and elasticity.
Apart from those two evergreen ingredients, palm and coconut oil extracts are present too, both of which provide that detangling function and a nice and subtle tropical scent to the whole thing.
The Benefits
The product is pretty close to being able to call itself all natural, chalking up a 99% with only a few ingredients still left in for consistencies' sake. This high of a percentage also makes it less likely for it to cause any skin allergies.
What little there is, still doesn't qualify as anything harmful to your dog like phthalates, parabens, sulfates, DEA and artificial dyes, all well known to affect your canine companion's health in a negative way.
That said, even with its gentleness and organic ingredients, the shampoo is only intended for pups who are at least 3 months old as well as older dogs since younger pups don't have a properly developed epidermis just yet and are more sensitive.
While I did say the price would appeal to the penny pinchers, I referred to the product as a whole given its many functions.
As a singular unit, it definitely is a little higher than average, but considering it's a 5-in-1 deal, I'd wager one can consider it a bargain.
However, even if you still have qualms, Honest Paws offers their customers a 100% satisfaction guarantee where they'll try and find an alternative to the product in case you or your dog don't like it for whatever reason.
Wahl Dry Skin & Itch Relief Pet Shampoo for Dogs
Key Benefits:
Great option to help deal with itchy skin thanks to the oatmeal and Aloe Vera mix

Wonderful post-bath scent thanks to the addition of coconut lime verbena

Contains no parabens, phthalates and similarly hazardous ingredients to your dog's health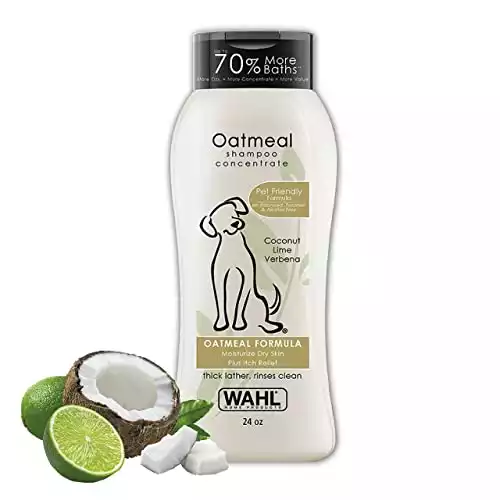 If your Yorkie often struggles with rashes, you may want to try an anti-itch shampoo option with Wahl's pet shampoo.
It's made entirely in the US meaning supporting the company will, in turn, support the US economy too.
The Ingredients
As far as the ingredients go, the classic oatmeal and Aloe mix are in for optimal skin hydration and hair follicle protection, though there's also the addition of coconut lime verbena which gives it a subtle, but noticeably pleasant scent.
The Benefits
A solid option that is phthalate and paraben free as well as lacking many other dangerous chemicals to your precious pooch.
The cost is pretty decent and is more concentrated which may mean that you might have to dilute it a little if your doggo has more sensitive skin than usual so the product doesn't end up irritating it.
The downside of this option though is that it contains SLS which can be a bit too strong on the natural oils of your Yorkie's skin and fur, which is even more reason why you should dilute it a little to reduce its potency.
Zesty Paws Oatmeal Anti-Itch Shampoo with Aloe Vera & Vitamin E
Key Benefits:
Utilizes oatmeal together with Aloe Vera and vitamin E to provide high quality skin and fur protection for your little Yorkie

Subtle vanilla scent is extremely pleasant to the nostrils and normally doesn't irritate them

A favorite choice among dog groomers nationwide

Our final entry of the day is Zesty Paws, another excellent pet shampoo choice that's oriented toward combating rashes and other forms of itching.
The Ingredients
It too utilizes Aloe Vera mixed with oatmeal, granting reprieve to your doggo from having to deal with itchy skin and allowing him some rest and relaxation after bath time.
Vitamin E is added to the mix too to further strengthen that soothing property and to act as general relief against all forms of skin irritation.
And the pleasant, yet subtle vanilla scent it comes along with is just heavenly when your doggo starts to radiate it post bath.
The Benefits
It's a favorite among dog groomers all over the country alongside the conditioner from the same brand that pairs really well with it.
Naturally, it's also free from any potentially harmful chemicals like parabens, phthalates and similar.
The only issues are usually directed toward its seemingly scarce ingredient content and its relatively high price which can be a bit of an issue for dog owners who are trying to save up a little.
Before You Buy: A Buyer's Guide To The Best Traits
Every product has its ups and downs, and shampoos are no different to the standard.
While I have listed some of the most popular options out there, that doesn't mean that you'll end up liking any of them.
I do realize that a lot of people and dogs alike have different tastes on which one is good, here's a little list that showcases what traits to be wary of when searching for the best shampoo for Yorkies.
Here are some of the more popular ones:
Naturally Gentle And Soothing
Dogs are big fans of water when it's on their own terms, but when they encounter a bath, they'll often behave like the stereotypical cat and try to avoid getting wet, especially if it's extremely hot or cold water.
This is why having a shampoo that's naturally soothing is such a key factor, to help your dog relax while taking a bath and take it a lot better without fidgeting around all the time.
This isn't that hard to manage when bathing a Yorkie as it would be with a bigger dog breed, but they can be deceptively slippery too, especially when lathered up.
So, be on the lookout for ingredients like oatmeal, coconut and various botanical extracts and essential oils while avoiding ingredients that are too abrasive.
Skin And Fur Care
The main reason behind giving your doggo a bath is to make sure his skin and fur remain healthy and clean without getting the former irritated or the latter damaged.
It's also a time where you get to get rid of all that dandruff and fix any flaky skin or other forms of skin irritation.
As far as the fur is concerned, you're gonna be looking to soften it up to make detangling easier as well as helping to get rid of areas of matted fur.
Finding a shampoo that can manage all of that on top of everything else isn't all too hard however, as Aloe Vera is in every good shampoo option.
If the shampoo contains vitamin E, A or D, those are good options to tick this box too.
Alternatively, you can look for ingredients like honey or the aforementioned botanical extracts and essential oils which also aid in this endeavor.
If you like the functionality to be separate from the shampoo itself, you can always get a leave-in conditioner instead, just make sure it's of good quality.
pH Balanced For Dogs
There are shampoos for every breed of animal and every human, however, not all can be used for everyone.
We all have different pH levels to our skin so the shampoos pH levels are balanced differently between each species.
Dogs, for instance, have a thinner epidermis than we do, so they need a more neutral option compared to human shampoos as our skin's pH is more alkaline than theirs.
Our shampoos would simply be too harsh on their skin and would irritate them which would be very counterproductive.
So, look for shampoos that specifically state are pH balanced for dogs to ensure your doggo will have a comfy time during the bath.
Natural Ingredients
For this one, you don't have to look for a 100% all natural ingredient presence as that would exclude a lot of shampoo options and would be really hard to find, less than 2% of them, in fact, have that stated on their bottles.
That said, there are plenty of them that are 95% natural and up which will broaden up your choice pool which may make said choice easier and, ideally, more affordable.
Aside from seeking out natural and organic ingredients, you want to avoid the harmful ones too.
Some of the most common ones are: phthalates, parabens, petrolatum, DEA, sulfates, phosphates and so on.
If you're keen on going the extra mile, look for brands that use biodegradable bottles to make the world a bit more eco-friendly.
Hypoallergenic
Our dear pets can be just as allergy prone as we are, especially to some common allergens like grain proteins and a few ingredients found in shampoos.
If your dog has such issues, I recommend finding a hypoallergenic shampoo option.
It'll ensure that, at least during bath time, he won't end up suffering from any unwanted allergic reactions.
Affordable
And, finally, one of the least relevant factors to your dog and a bit more relevant for your pockets, is affordability.
Sure, we all want the best for our dogs, but that usually isn't the most expensive option, especially considering the ingredient similarities on the market.
This is why going through several products is advised as there are plenty of options that'll perform similarly, if not exactly the same to another, but are cheaper for that.
Though, don't settle for something that appears good just because it's cheap either as they may be employing questionable practices or there may be some unforeseen downsides.
Read through reviews to see whether or not the cons outweigh the pros between the two options.
FAQs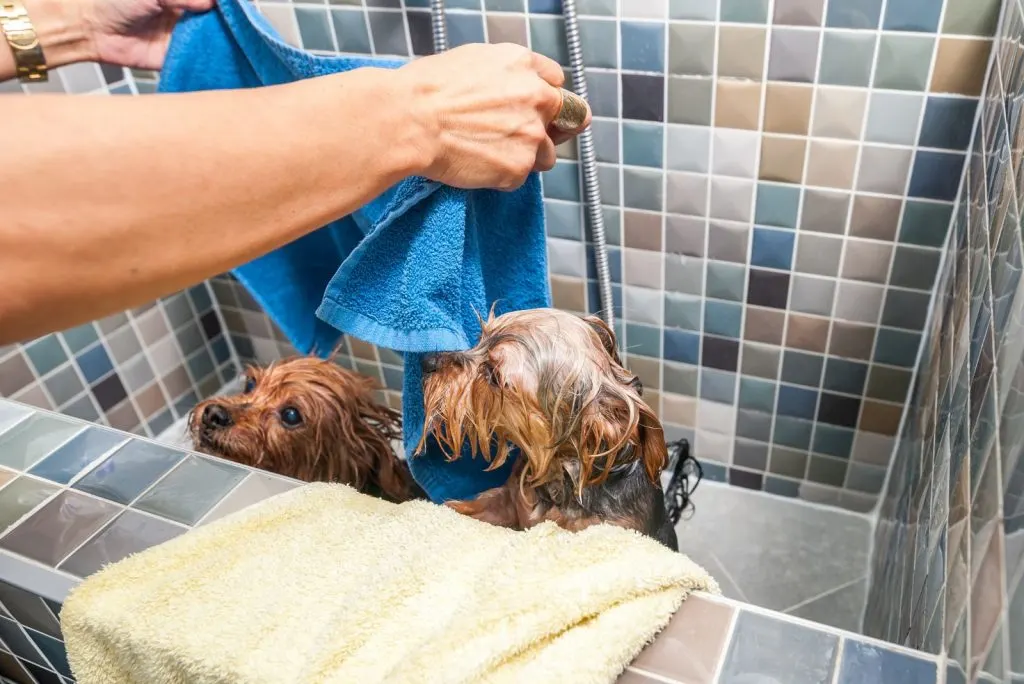 So, What Is The Best Shampoo For Yorkies?

Seeing as how a lot of shampoos help cover a large number of breeds, I'd have to say that the 4legger still remains one of my personal recommendations, regardless of what type of dog you have.

It's primarily due to the inclusion of lemongrass, but it's also because the ingredients are almost all natural, the company fosters a cruelty-free practice for testing their products and strives to be as eco friendly as it can.

But again, that's what I consider the right shampoo for my dogs.
You and your dog may have different ones and may find another option which suits you better, however that one is on you to find out for yourself through a little bit of trial and error.
What Types Of Dog Shampoos Are There?

To nobody's surprise, with the amount of shampoos available, there would be a great number of shampoo types too.

Here are some of the more common categories:

Deshedding shampoos – to prevent any excess hair from shedding off your dog

Soothing shampoos – to make bath time more enjoyable for your canine companion

Medicated shampoos – to help deal with any particularly nasty skin conditions or invasive pests like ticks and fleas. Can also be found titled as tick or flea shampoos, depending on the pest.

Puppy shampoos – extremely gentle options that cater to Yorkie puppies and other doggos when they're at their most vulnerable

Deodorizing shampoos – to help combat that notorious wet dog smell

Natural shampoos – shampoos made with all-natural ingredients

Multipurpose shampoos – ones that end up performing multiple roles on top of being a shampoo, like a deodorizer, conditioner and similar
In Conclusion
The best shampoo for Yorkies has many specialties, from helping soothe the dog to making sure that the Yorkie's hair and skin remain healthy and strong, among other things.
However, it's tough to say outright which of these listed products would be dubbed as the best Yorkie shampoo option.
The best way to determine something like that is through you as only you know your dog and his needs well enough to be the most qualified judge on the matter.
That's why I always say that I have the utmost trust in our readers to make the right decision and value reader-supported input greatly aside from that. I believe that streak will continue for months to come. Until next time.
RELATED LINKS: