Finding the right dog shampoo can be a difficult and time-consuming task regardless of the dog breed , but this time, we're asking ourselves this question about one breed in particular – the Rottie . So, what is the best shampoo for Rottweiler dogs?
The best shampoo for Rottweilers are those that are gentle and can help coax him from fighting against bath time like most dogs often do.
While Rotties don't require a lot of effort to maintain, and they won't cause you much trouble, they do get messy from time to time, especially if you take them out for walks or have a yard for them to play in.
That, and they have their two shedding periods where you'll have to be prepared with the adequate pet shampoo or else your furniture and household in general are going to suffer.
But, choices are often numerous, and while this would normally be a good thing, there are plenty of bad options out there.
The bad ones are often filled with harmful chemicals, or are too strong for your doggo's skin and fur in general, among other bad traits they may possess.
But, you don't have to worry about it too much because, as always, I've gone through the trouble of pulling out the best that Amazon and Chewy have to offer and putting them all in this neat little list so you won't have to sift through countless pages yourself.
If you'd like to find out which of these fits your Rottie the best, or what traits you should look out for in a shampoo if these don't strike your fancy, read on.
9 Best Shampoos For Rottweilers
The first option for your Rottweiler puppy is one of the more affordable ones.
Burt's Bees colloidal oatmeal shampoo does wonders for a dog's sensitive skin .
The oatmeal itself serves as a good method of soothing the skin and preventing any irritation , and it's supplemented by honey, which is one of nature's great moisture sealants that helps provide itch relief by keeping the skin hydrated.
The skin isn't the only important part, however – the coat is, too, and the green tea tree extract in the shampoo helps keep the coat healthy and strengthens hair follicles .
This helps control the shedding process somewhat, on top of making sure the new coat grows healthy and strong.
It's a gentle shampoo, perfectly pH balanced for dog skin, and it won't cause any irritation.
The product is made from 97% high-quality, natural ingredients . It doesn't contain any artificial colors or fragrances, or any harmful chemicals like Sodium Lauryl Sulfate (SLS), petrolatum, phthalates, parabens, and the like.
As Burt's Bees is also a company that makes baby gear, they pride themselves on their gentleness, and thus, make all their products cruelty-free , choosing not to test their products on animals, and instead, resorting to more ethically sane methods.
They care about the environment, too, as the bottle is made from 80% recycled material , helping reduce the global waste footprint one small step at a time.
And, if you're currently using some topical tick or flea ointments on your dog, don't worry – the shampoo won't mess with them if you follow the instructions properly.
As mentioned at the start, the pricing is pretty affordable for the quality it provides as well as all of the other benefits, so it shouldn't set you back too much. Thankfully, Rottweilers don't require too much maintenance, so even some of the more expensive options shouldn't be that big of an issue for you.
Speaking of issues, though, the shampoo will irritate your furry friend's eyes should it come into contact with them, so do be careful when it's time for a bath.
The next product is a shampoo that claims to be tailored based on the individual dog breed and they're good quality, too.
The avocado extract serves as the base in this one, offering both soothing properties, which are crucial for dogs to not make a mess during bath time, or make it longer, and to help hydrate and moisturize the skin to fight off itchiness and inflammation.
It also helps remove tangles, which makes the post-brush session easier.
The product is fully U.S.-made for those of you who pride yourselves in supporting the local economy, and it's made without the use of any harmful chemicals like various sulfates, parabens , etc.
Price-wise, it's better than a lot of its other competitors – perfect for dog owners who want to save a few bucks without losing out on quality for their canine companion.
The one nitpick I do have with this one is the fact that this whole "breed specific" thing ends up being mostly marketing. The ingredients are often the same for any dog breed – the only thing different is the label.
Next up is a bit of tropical freshness from this 2-in-1 shampoo and conditioner from Tropiclean .
What appears to be only two main ingredients on the title are actually four amazing ones, with the papaya and kiwi extract acting as a means to hydrate and moisturize the skin while also ensuring that the sheen and strength of your Rottie's coat is preserved.
The coconut and mango, on the other hand, are there to turn this into a deodorizing shampoo by eliminating nasty smells and replacing them with their own natural fragrance .
Plus, they help detangle your doggo's hair when you first lather him up.
The product is very gentle on the dog's skin, and free of any soaps, greatly reducing the chances of skin irritation and the like popping up.
Price-wise, it's relatively decent compared to other products on the market.
It certainly won't make you spend too much, especially considering that it acts as both a shampoo and a conditioner, so you kill two birds with one stone.
The only real downside is that the cap often breaks during shipping, and it may end up leaking, so be wary when opening the box.
The preferred choice for dog grooming enthusiasts everywhere , Zesty Paws definitely deserves a spot on the best shampoo for a Rottweiler list, especially when combined with the conditioner of the same brand, though this is optional.
Oatmeal and Aloe Vera are the main ingredients , which is the premiere, all-natural choice for skin and coat care – both helping hydrate and moisturize in order to prevent hot spots , skin irritation, or any infections – fungal, bacterial or otherwise.
But, that's not all – vitamin E plays a key part in this mix, too… one that helps improve hair follicle strength , ensuring that the double coat remains pristine.
And, the natural vanilla scent from vanilla bean extract is so pleasing to the nostrils that even your dog will enjoy it without feeling too overwhelmed by it.
For all of you who have multiple dogs at home, this product isn't exclusive to Rotties – it covers all dog breeds , big and small, so you can't go wrong if you decide to get it.
That said, it's pricier than a lot of the other options here, so I hope you can get your money's worth out of it; otherwise, the cost may put you off the product.
If you're an owner of a dog with some allergies, then you may want to look into this hypoallergenic option from 4-legger.
It's a gluten-free, vegan shampoo made cruelty-free, and from biodegradable, non-GMO ingredients.
There are no harmful chemicals or artificial preservatives, thickeners, parabens, or sulfates in the mix either, ensuring maximum safety for your dear canine.
That's a lot to take in and a bit hard to believe, but it is true – they have the USDA certification to prove it.
What it does have are Aloe Vera and lemongrass – two exceptional ingredients to combat sensitive and itchy skin while hydrating and moisturizing it and combating fungal and bacterial infections.
The Aloe also has key soothing properties, which are boosted through an array of organic and essential oils , helping keep that big boy steady as you give him a good cleaning.
Every ingredient included is gentle, and the concoction itself is pH balanced for the dog's skin in order to prevent any irritation.
Any topical tick or flea ointment should be safe during bath time as well, but do mind the instructions; otherwise, that statement won't hold any water.
Given that the shampoo caters to a specific niche, it does cost more than some of the other options out there, but for allergy-prone dogs, it's a necessity.
Another budget product, this is somewhat of a hidden gem among the sea of average products despite the popularity of Nature's Miracle.
It's fully made in the USA for all of you who enjoy buying local and trusting your fellow countrymen to make a quality product.
With a mix of cocoa surfactant, Aloe Vera, and jojoba oil , this fantastic 4-in-1 package has it all. It acts as a shampoo, a conditioner, and a skin deodorizer, and it prevents any further odors from forming .
The shampoo itself is gentle and soap-free , meaning dogs with sensitive skin will be safe if you intend to use this product.
It also has no phthalates, parabens, or artificial dyes and other potentially hazardous chemicals that you'd normally have to worry about.
The pricing is great considering what you're getting with it – the only downside is that the scent the shampoo itself provides doesn't last nearly as long as you'd want it to.
Buddy Wash is another classic shampoo option that doubles as a conditioner, and it definitely deserves a spot on this list of best dog shampoos for Rottweilers .
A set of humble ingredients like Aloe Vera for its wondrous skin-soothing properties, and mint and lavender to supplement it all provide a lovely, natural scent.
Essential oils help even further in calming any rambunctious Rottweiler puppies, keeping them steady long enough so you can give them a cleaning, paired up with the soft texture of the lather that the coconut base provides.
If that wasn't enough, there are no traces of alcohol or soap in this shampoo, showing just how gentle to the skin it really is .
It ends up being like a day at the dog spa for the doggo in question.
In fact, it's so safe and comfy that even humans can use it every now and then , though only with careful instruction.
The product is cruelty-free, too, as I personally believe that no product deserves the tag of being the 'best' if they treat animals poorly.
Price-wise, Buddy Wash is incredibly affordable for any dog owner, helping save a few extra dollars on that doggo maintenance budget. Every buck counts, after all.
The only potential risk here could be the wheat protein, which may trigger an allergic reaction in dogs that are allergic to wheat, so keep that in mind when looking to purchase it.
A different kind of shampoo this time around – one primarily focused on aiding dogs affected by infections – fungal or bacterial.
While usually not something you'd be buying on a regular basis, but rather on the prescription of your dog's veterinarian, this is one of the better options to get.
That's because Dermabliss gets the job done while still managing to be gentle enough not to cause irritation itself.
And, it's also soap-free .
The primary ingredients for this one are various chemical mixes like chlorhexidine and ketoconazole, which help fight infections and root them out.
They don't carry many of the other benefits that other shampoo ingredients do, like Aloe Vera and similar, but they get the job that they were made for done.
Given its specific use, the shampoo does cost more than the other options, but it's not an expense you'd have to cover every day – only for the duration of the said infection.
And, the product is made entirely in the U.S. , so you'd be supporting fellow countrymen by opting for this brand in particular over some other overseas competitor.
Do note that the shampoo is by no means safe for human use. It's specifically tailored for a dog's skin. The chemical used may be harsh on human skin with extended use, so handle it with care.
The final option on this list is yet another classic in the canine hygiene world, with a classic mix of ingredients and a twist here and there.
This is a great deshedding shampoo that's perfectly pH-balanced for dogs in order to ensure adequate gentleness on their skin – the same skin that the Aloe Vera and awapuhi help moisturize and hydrate, making it an excellent choice for dog's that are prone to having itchy or dry skin .
The shampoo also provides soothing properties, with essential oil extracted from green tea tree leaves, ginseng, and shea butter; thus, relaxing your Rottie 's body and getting him to enjoy bath time more often.
No topical tick and flea ointments will get washed out either as long as you wait the adequate amount of time for the said ointment to set in before lathering him up with the Earthbath shampoo.
It's a fully biodegradable product that contains no sulfates, parabens, phosphates, or any other harmful chemical that could irritate your canine's sensitive skin .
The price of it is rather average, which is still a good thing considering everything that comes in the package. Hopefully, it will get your dog's paw of approval.
The packaging may look a bit lackluster, but from what I've seen, Earthbath is determined to stick with the classics, for better or for worse.
Things To Note Before You Buy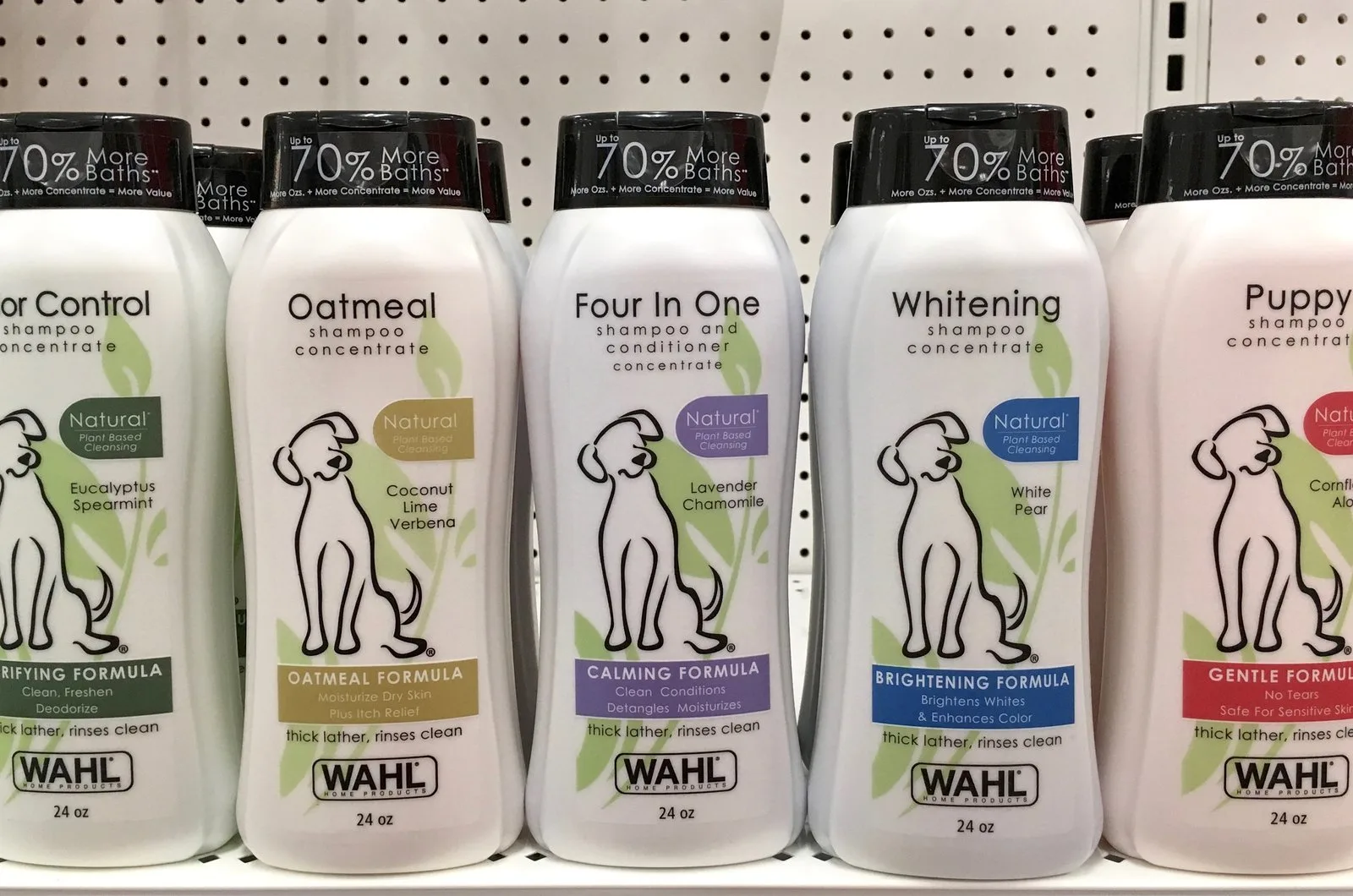 While I have listed all of the options that I figured were best for your Rottie , you or your doggo may have different tastes, in which case, I'd like to help you out with some guidelines on what some of the best shampoos for Rottweilers have.
You've likely noticed some of the repeated similarities in the products above, but I always figure it's better to put them all in one place for easier comprehension and navigation:
All-Natural Ingredients
One thing that all good shampoos have is the fact that they use completely natural ingredients .
They're less abrasive than the alternative, harmful chemicals. The shampoos made from them are usually pH balanced and they often come with added benefits that spread into the other notable points in this list.
For instance, Aloe Vera and oats are quite common for their skin benefits and generally soothing properties, and the best ones usually have one or the other, alongside a mix of other ingredients, to make them stand out.
Skin- And Fur-care Properties
These are common for most shampoos, but important to always keep track of.
Always keep an eye out for ones with ingredients like oatmeal, Aloe Vera , vitamin E , Omega-3 and 6 fatty acids, and the like since they're a good sign that the shampoo contains the said properties.
Soothing Properties
No dog likes taking a bath, but loves to take a swim in any body of water. A strange thing for sure, but it is what it is.
The former can be a problem when it's bath time as your dog will make you work to get him cleaned up. That's what that Aloe is for as mentioned before.
Aloe and a mix of various other herbal extracts and essential oils that serve as all-natural relaxants.
Depending on the type, they'll help relieve tension in your doggo's muscles, and help him stay put while you lather him up and give him a proper bath.
Hypoallergenic
A relevant point of interest for dog owners whose dogs suffer from any kind of allergy.
It goes without saying that this shoots up to the top of the priority list if that's the case, as you don't want to cause any discomfort or harm to your canine companion.
While most of the hypoallergenic ones are medicated shampoos , there are a number of regular ones bearing the same tag, too.
Soap-Free
Soothing and gentle wouldn't be complete if the product wasn't soap-free .
While it won't cause your dog any real harm unless you're using massive amounts of the shampoo or are abusing it, it's still better to find one without soap since it'll end up irritating your pupper's eyes and make him the opposite of soothed.
Deshedding Properties
This is not as relevant for Rottweilers as it may be for some other dogs unless it's for one of the two shedding periods in the year where these double-coated dogs shed massive amounts of hair from the undercoat and the top coat.
In that case, a deshedding shampoo is sure to help you out in keeping your home clean by slowing the process down of too many loose hairs.
FAQs
What Are The Most Popular Types Of Rottweiler Shampoos?
As far as Rotties go, there are two relevant options:
Relaxation Shampoo
The main one is a relaxation shampoo since the main problem you'll be facing with a Rottweiler is getting him to stay put when bathing him.
You may have your dog be one of the calmer ones, and not have any issue with this either – in which case, I'm jealous of you.
But, just in case – it's always good to have one as skin issues are likely to make him dislike baths even more.
The Aloe Vera and various other natural relaxants in the form of herb extracts or essential oils help calm your dog down and prepare him for this ordeal, making him less likely to run around lathered up and you having to catch him.
These relaxants may help a little or a lot. It's different for each dog, but hopefully, it's the latter in order for you to prevent a mess.
One of the better options of this type is the 4-Legger Dog Shampoo .
Anti-Shedding Shampoo
The other, somewhat less important one, depending on your circumstances is the anti-shedding shampoo variant.
As mentioned prior, Rottweilers aren't the most notorious of shedders apart from the two periods within the year where it turns to heavy shedding.
However, if they're mostly kept in an air-conditioned home or if the climate in your area is the same year-round, these periods may either last less, or not exist altogether.
In case you're of no such luck, definitely consider one as it helps slow the shedding process down a little, reducing the amount of hair you'll have to deal with on a daily basis.
One of the better options here would be the Furminator Ultra Premium ; however, they appear to be somewhat out of stock, which is why I didn't talk about them in great detail, but if you manage to snag one, it would be a really good deal.
What Is The Best Shampoo For A Rottweiler?
Well, as I always say with this question, it mainly depends on the dog as every dog is different, regardless of dog breed .
However, my personal go-to option would be Nature's Miracle as they have everything in one neat package, and for a relatively decent price.
And, given how the only downside was the short-lasting scent, both me and my doggo are fine with it since the scents from other shampoos would just bother him.
Does My Rottweiler Need Shampoo?
He does – just not as often as we humans do.
While most shampoos thin the layer of natural oils on your dog's skin regardless of their gentleness, not using one can help nasty things like dust and dandruff accumulate.
This, in turn, fosters the growth of fungi and bacteria that can lead to infections, which is something neither you nor your dog want.
How Often Should Rottweilers Be Bathed?
It depends on whether or not they're in their shedding phase. Once or twice a month should suffice if he's not shedding – about once a week if he is in order to help deal with the hair.
Should I Go For Local Brands Or International Ones When Buying Shampoo For My Rottweiler?
Personally, I'd recommend going local over the latter.
Local ingredients have to meet American standards before being put into the market, making them more secure and reliable.
Meanwhile, the ones imported from overseas may have the final product looking nice enough, but the ingredients themselves and their methods may be questionable.
The same is the case with any other product, like dog food, which may be fine in our country, but could be low-quality or may cause issues for your dog if made with questionable means and questionable ingredients.
Can I Use Human Shampoo On My Rottweiler?
I definitely wouldn't recommend it.
As mentioned in this article earlier (and the many other dog shampoo articles before it), dog and human skin are vastly different in terms of what they're accustomed to, which is why their respective shampoos are pH balanced to a different standard.
Human shampoo is oftentimes a lot stronger and more abrasive than a dog one would be, which will eat away the dogs natural oils quickly and leave the skin dry, irritated, or similar.
So please – even if it's a dire situation, avoid using human shampoo on your pets as much as you can.
How Should I Bathe My Rottweiler?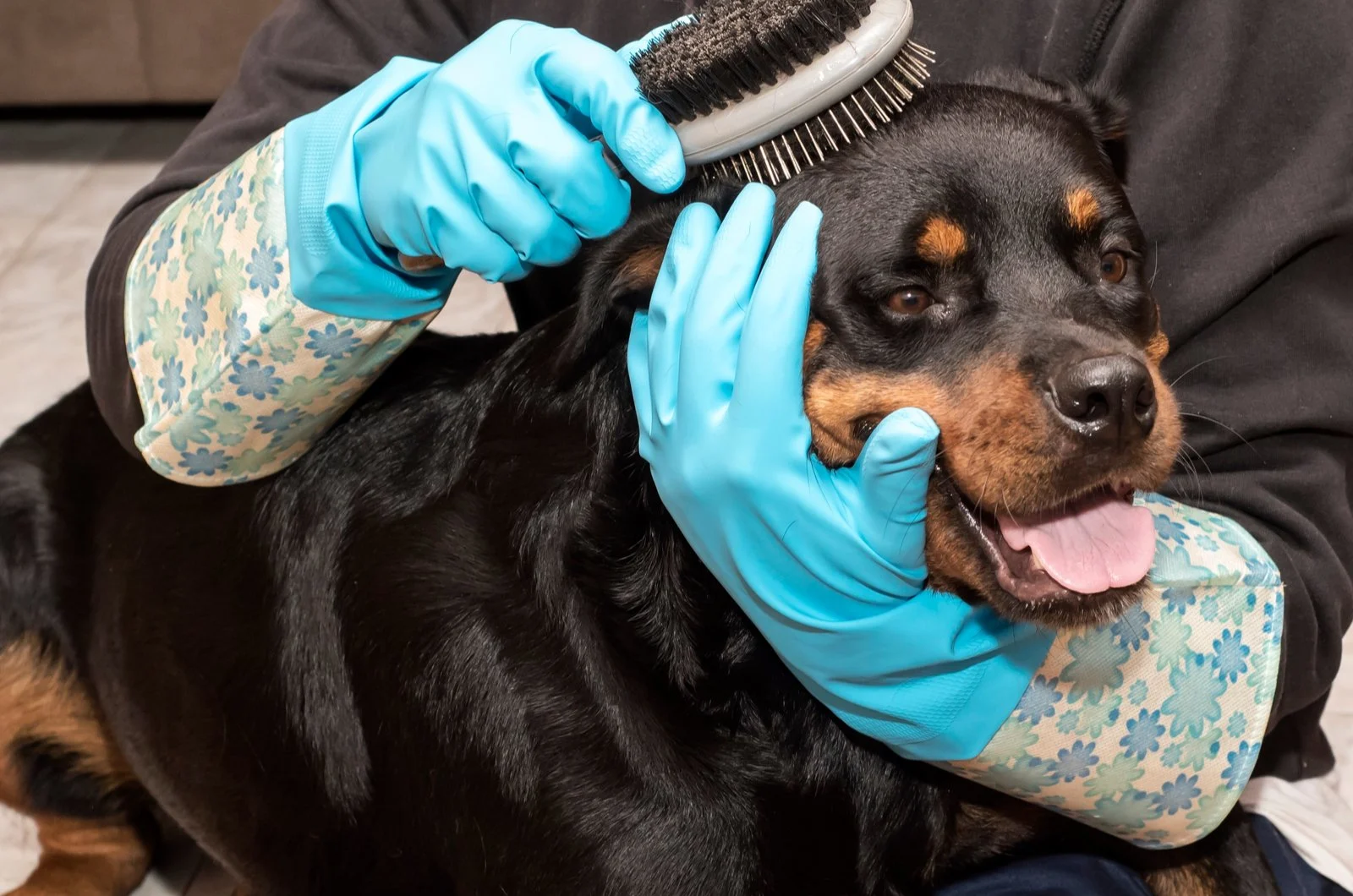 While bathing isn't the Herculean task that I make it out to be, it can definitely be a bit messy if your dog simply refuses to take one. Here are a few tips for new and experienced dog owners alike to keep in mind in order to make things easier for you:
1. Always Brush Your Dog Before A Bath
Many people neglect this since they do it after the bath, but the process is equally necessary.
Shampoos can only detangle so much, but doing a pre-bath brushing will help speed the bathing process up as it helps loosen some of the shed fur, and makes the Rottie 's coat a bit more malleable for the bathing process.
RELATED: Top 7 Best Brushes For Rottweiler: Groom Like A Pro!
2. Secure Your Dog
Depending on where you're giving him a bath, you may skip this part of the process.
If you have a yard and a hose, your dog should be fine standing or sitting on the pavement or in a small kiddie pool.
But, if you're doing it in your bathtub inside the house, putting down an anti-slip mat or a towel underneath helps your furry friend keep his balance and be a lot less panicked about the bath.
3. Get Everything You Need Next To You
You usually won't have too much time to go looking for something mid-bath as it's a miracle that your dog will stay put as is.
Make sure you get everything that you're going to need for his bath next to you and available the second you need it; otherwise, your Rottie may think the bath is over and exit prematurely.
So, prepare the towels, shampoos, brushes, and whatever else you may need ahead of time.
4. Throw A Towel Over Him To Catch Some Of The Splashback
The tendency for all dogs is to shake all the water off themselves when they're soaked. If that's done inside the bathtub, that'll lead to a whole lot of water all over the place.
In order to minimize the spread, have a towel ready when you're done and toss it over your dog before he begins shaking himself dry. Then, do manual drying.
This should make the clean-up process a lot less tedious in regards to your bathroom.
5. Shield The Drain With Steel Wool
Again, this step is only relevant if you're bathing your canine companion in the bathtub , but a relatively crucial one if you don't want to be cleaning the drain yourself when it clumps up.
Dog and human hair alike can be a nightmare for drains , especially when dog's are hitting that shedding period, so a good trick is to 'plug' it with some steel wool in order to catch some of the hairs while still letting water through.
This is why a regular plug won't really work since you'd just be getting a ton of dirty water building up and ruining the bath you just performed.
In Conclusion
The best shampoo for Rottweiler dogs is different for each dog, so it's hard to really pick one option.
Every dog, much like every dog owner, has different preferences on what suits them and what doesn't, and whether or not they have any specific condition like an infection or an allergy to keep in mind.
While I've pooled together all the dog shampoos in this article that I believe to be the best of the bunch, none of them may end up suiting your dog's specific needs, and that's completely fine.
I hope that the guidelines given, and the answered questions can at least give you a good idea on what to look for if you choose to go on a marketplace-browsing adventure on your own, and that you manage to find what you're looking for your dear doggo.
Until next time.
RELATED LINKS:
• Long-Haired Rottweiler: Genetics, Care, And General Info
•American Rottweiler vs German Rottweiler: What's the difference?
• 17 Best Rottweiler Breeders In Georgia
• Rottweiler Growth Chart: The Ultimate Guide To Your Rottie's Growth