This post contains affiliate links, and I will be compensated if you make a purchase after clicking on my links.
You own an English Bulldog? Lucky you! These dogs are so sweet, adorable, and friendly that they make perfect pets for any family.
We all know that English Bulldogs are not the most active dogs. Moreover, this dog won't mind spending the afternoon lounging on the couch with you. While any other dog would insist on playing or any activity, this is not the case with the English Bulldog.
Although this dog does not require much exercise, it does need some physical activity to remain a healthy and happy dog. Essential physical activity refers to walks. To walk carefree with your Bulldog, you must socialize and train the dog on time.
In addition, it would be good if your English Bulldog had a suitable harness during walks. A harness is far more secure than a dog collar, but choosing the right harness can be problematic in the case of the English Bulldog. The main reason for this is this dog's specific body shape.
But you don't need to worry. We have prepared a list of the 10 best harness for English Bulldog. We believe that here you will find the one that will suit your dog perfectly.
Best Harness For English Bulldog: Our Top 3 Picks
For starters, we'll list our three favorite picks: the premium pick, the budget pick, and the pick that brings the best value for the price.
We believe this kind of qualification will be handy depending on everyone's budget, wishes, and intentions.
Julius-K9 IDC Powerharness
Key Benefits:
High-quality nylon straps

Shatterproof buckle

Recommended by dog trainers, veterinarians, and working dog organizations

Reflective material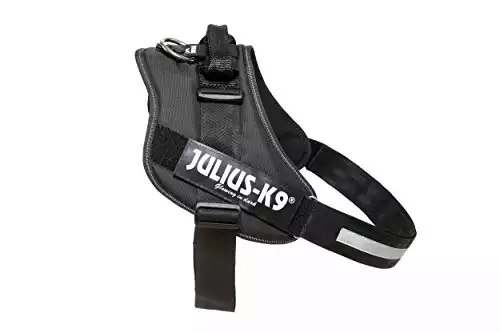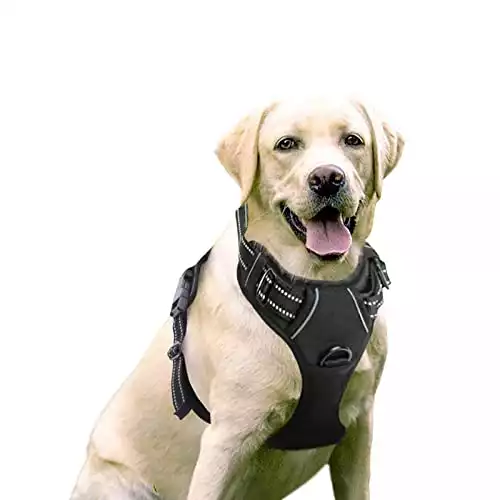 BUMBIN Tactical Dog Harness
Key Benefits:
Two metal D-rings

Breathable material

Sturdy plastic buckles

Extremely easy to put on & to take off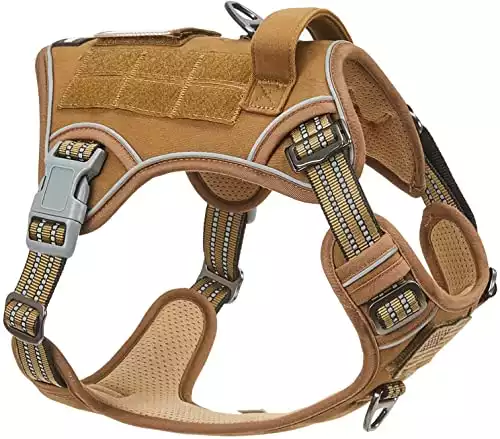 What Are The Different Types Of Harnesses For English Bulldogs?
Choosing the best harness for your dog may seem quite challenging. Too many products available can make it even more difficult to choose.
However, we believe that our list of selected harnesses for English Bulldogs will make your job significantly easier. You have all the harness characteristics in one place – and then it will only be up to you to evaluate which harness will be the best for your pooch!
You can find all these products on Amazon and Chewy.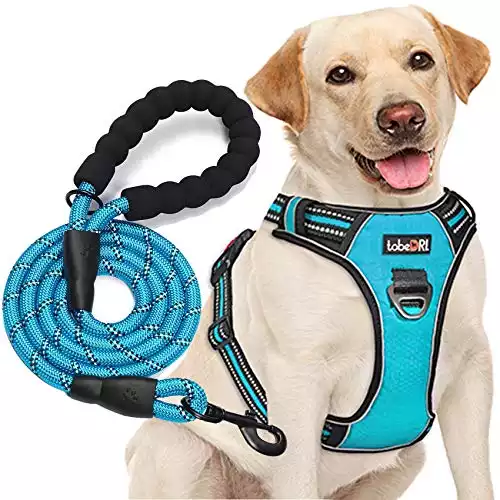 TobeDRI No Pull Dog Harness has two metal delta shape-rings, so you can attach the leash to the harness. With this harness, a walk with your Bulldog will be completely safe. These two rings are made of durable nylon webbing, so even if your dog is a puller, he will not be able to rip off this harness.
TobeDRI harness has four easy-size adjusters, so you will quickly adjust this harness following your English Bulldog's measurements.
You can wash this harness in the washing machine, since its metal rings are rust-proof. Also, this harness has reflective stitches, therefore, other walkers will be able to spot you and your Bulldog even at night.
TobeDRI harnesses come in four sizes and six different colors. So, you will even be able to match your English Bulldog's coat color with this harness!
JUXZH Truelove Soft Front Dog Harness is a durable harness of top quality. At the same time, this harness is quite stylish, so your dog, no matter if you have a male or female English Bulldog, will look even cuter while walking around the neighborhood!
You will easily put this harness on the dog and take it off, since it is lightweight and designed to be comfortable on the dog's body. JUXZH harness comes with a seat belt attachment, so, your Bulldog will also be safe while riding in a car.
This harness has soft sponge padding, making it perfectly comfortable for your Bulldog. You will not have to worry that your dog will get injured while carrying this harness!
JUXZH harness has two rings: the V-ring and O-ring, both durable and made to keep your puppy comfortable and safe.
Kurgo Tru-Fit Harness
Key Benefits:
Crash tested for dogs up to 75 lbs to keep your dog safe while traveling

Comes with included seatbelt tether

Offers five adjustment points for the perfect fit

Combines strength and comfort

Sturdy, durable, and made from heavy-duty material and stitching
Kurgo dog harness has five adjustment points to fit dogs of different sizes. This harness has two primary purposes: using it as a walking harness and a car safety harness.
Also, this harness has a padded chest plate for your Bulldog to feel extra comfortable!
Kurgo harness has durable metal nesting buckles. This harness also comes with a seat belt tether, so you can drive your English Bulldog without worrying about its safety. Kurgo harness is crash tested for dog breeds that weigh below 75 pounds.
According to the AKC (American Kennel Club), the average weight for Bulldog dogs is 40 to 50 pounds, so, your Bulldog will be safe driving in a car wearing a Kurgo harness.
So, if your Bulldog likes to pull you while walking, this is the thing you can use to control this undesired behavior. At the same time, if you spend a lot of your time in the car, by using this harness you will be able to take your Bulldog everywhere with you!
Buying one product that has two functions sounds like money well spent.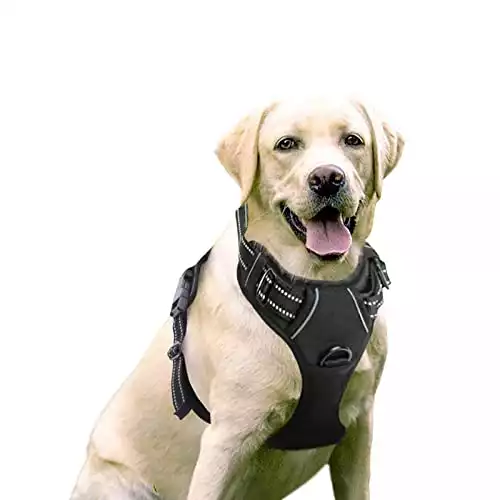 This harness is our budget pick on the list of best harness for English Bulldog.
Rabbitgoo dog harness is a no-pull and no-choke pet harness. This harness has a front and a back clip and a soft padding for the maximum protection of your dog's skin.
It is suitable for both medium-sized and large dog breeds. According to the English Bulldog growth chart, these dogs are medium-sized dogs, so, Rabbitgoo harness is a good fit for them.
You love to walk with your Bulldog, but he is driving you crazy with his pulling? Well, this harness might be your solution! You will be able to use the chest attachment clip easily and stop your dog's pulling in a second.
Rabbitgoo dog harness has two fast-release buckles.. You will be able to put this harness over the head of your Bulldog quickly.
Once you put the harness on the dog's neck, you just need to adjust the straps and buckle the harness up. After this, you and your English Bulldog are ready for a safe walk!
You will not have to worry about your dog choking or slipping out of this harness, since Rabbitgoo harness has four easy adjusting straps. So, no matter the size of your Bulldog, you will be able to adapt the harness to the dog's body.
PetSafe Easy Walk Dog Harness
Key Benefits:
No choking & no gagging harness

Less coverage for a more comfortable fit to the dog's body

Many color options
PetSafe Easy Walk Dog Harness is a great English Bulldog harness for all dogs that love to pull their owners during a walk. PetSafe company has been selling this dog harness since 2004, and more than a million dog trainers and pet parents have bought this harness since then.
This harness is lightweight and, therefore, breathable for our dogs.. Also, compared to other dog harnesses, the PetSafe harness covers a lot less of the dog's body, making it easier for the dog to breathe normally.
This is essential for English Bulldogs, since they are a brachycephalic dog breed and might have breathing problems. All dog owners want their pups to be healthy and safe, so this harness is definitely a good choice for Bulldogs!
The PetSafe harness goes on the dog's chest, so it will not put additional pressure on its trachea. This means that even if your Bulldog pulls you during a walk, you will not have to worry that your dog will choke.
HDP Big Dog Soft No Pull Harness is a no chock and no pull dog harness. If your Bulldog is a puller, this harness will be a great option for him. This harness has easy click buckles, so your dog will not slip out from it easily.
At the same time, even if your dog continues to pull, he will not choke, since the HDP harness has extra padding. Many great dog collars are on the market, but your furry friend will be safer and will not choke wearing this HDP dog harness.
These harnesses have four sizes: M, L, XL, and XXL. The manufacturer dictates that dog owners need to measure the chest girth around the broadest part of the dog's chest and add 2 inches to that measurement.
HDP harness is made of polyester, and it is suitable for machine washing.
Julius-K9 IDC Powerharness
Key Benefits:
High-quality nylon straps

Shatterproof buckle

Recommended by dog trainers, veterinarians, and working dog organizations

Reflective material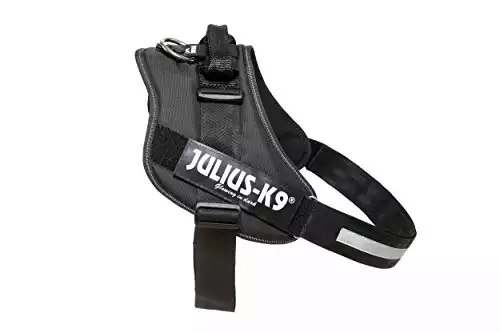 Julius-K9 IDC Powerharness is the premium pick on our list of best Bulldog harnesses. This means that you will need to pay a bit more for this harness, but its quality is undeniable. You can use this harness to make sure your Bulldog will not pull you during your morning walk.
At the same time, this harness is used on search and rescue dogs. So, it is indeed a high-quality dog harness that will keep your pet safe and comfortable. The Julius-K9 IDC Powerharness has a shatterproof buckle, which makes it an extra durable harness.
This harness is made of first-class reflective material so everybody will easily notice your English Bulldog at night. Your dog will be perfectly comfortable while wearing this harness that will not make his neck and chest feel stressed.
The manufacturer dictates that dog owners should not wash Julius-K9 IDC Powerharness in machines. A better option is a hand wash. Also, storing this harness in a dry place and not in direct sunlight is necessary.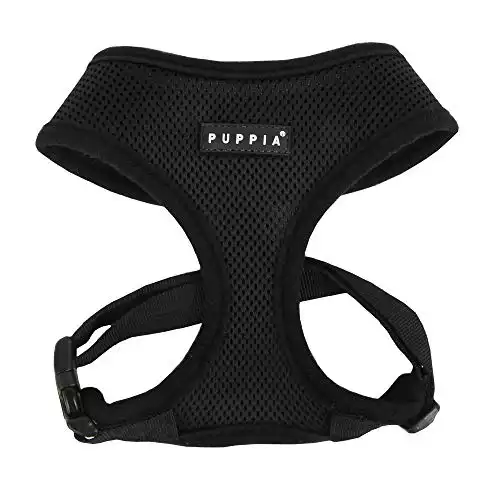 Puppia dog harness is a no-choke harness that has an adjustable chest belt and a breathable mesh for your pooch to be completely comfortable. This affordable dog harness will make your walks with your sweet puller more enjoyable.
The air-mesh material of top quality will make your English Bulldog breath perfectly normal.
This harness has plastic clasps and a quick-release buckle. These plastic buckles are durable and harsh weather conditions-resistant.
Also, Puppia dog harness has a soft padding for your dog's skin to be entirely protected. It comes in 6 different sizes, from extra small to extra extra large.
If you are a dog owner that cares for colors, you will be delighted with the color varieties of this dog harness. You will find the one that will make your English Bulldog look stylish, without a doubt!
This harness is machine washable, but hand washing is more recommended.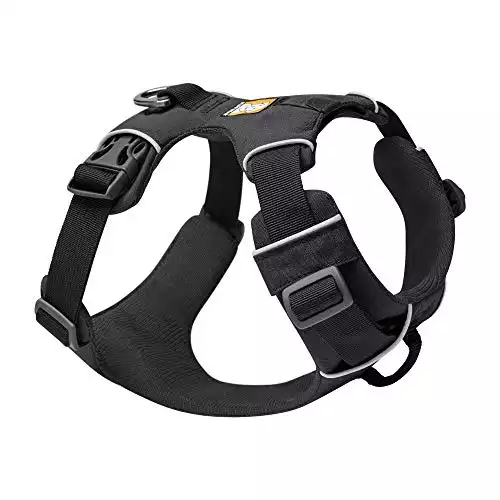 Ruffwear Front Range Dog Harness is a high quality, durable dog harness. It comes with two leash attachment points and is a great option for everyday walks, but also for dog training. It has an Aluminum V-ring that is located on the back.
This harness has stripes padded with foam which makes it comfortable for a dog to wear it during a walk or a run. Reflective trims make this harness easily visible even in low-light conditions.
Ruffwear harnesses come in a variety of colors, so you are able to match this harness with your dog's leash.
One customer wrote a review that he had machine-washed this harness, and everything went smoothly. Compared to some other harnesses on this list, the Ruffwear harness is a bit pricey, but this harness is durable and sturdy, and is a well-done purchase.
BUMBIN Tactical Dog Harness
Key Benefits:
Two metal D-rings

Breathable material

Sturdy plastic buckles

Extremely easy to put on & to take off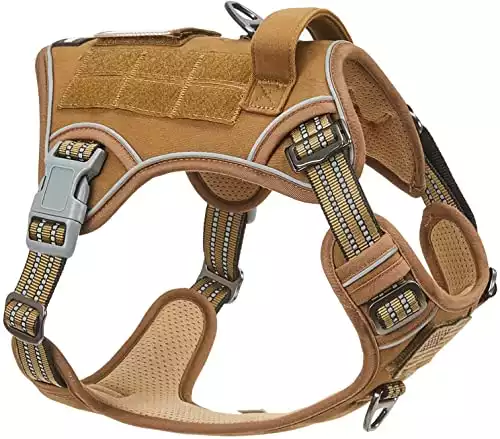 This is the harness we choose as a product that brings the best value for the price.
BUMBIN Tactical Dog Harness has two metal D-rings and two clips: the front one to control your dog's pulling and the back one, which you can use for walking or jogging with your pooch.
This harness is recommended for medium-sized and for large dog breeds. BUMBIN dog harness has a breathable air mesh, so your Bulldog can breathe normally. The reflective strips make this harness completely safe for night walks.
This harness comes in three basic colors: brown, black, and green. You can use this dog harness for casual neighborhood walks and many other activities, such as hiking in the woods. It has a single-sided buckle, which makes it so easy to put on and take off the dog.
You can attach this harness to a leash and also to a seatbelt for total safeness of your pet while driving. So, with a BUMBIN harness, you will have all the control in your walks, and your English Bulldog will be safe, satisfied, and still allowed to investigate around!
Buyer's Guide: Most Important Questions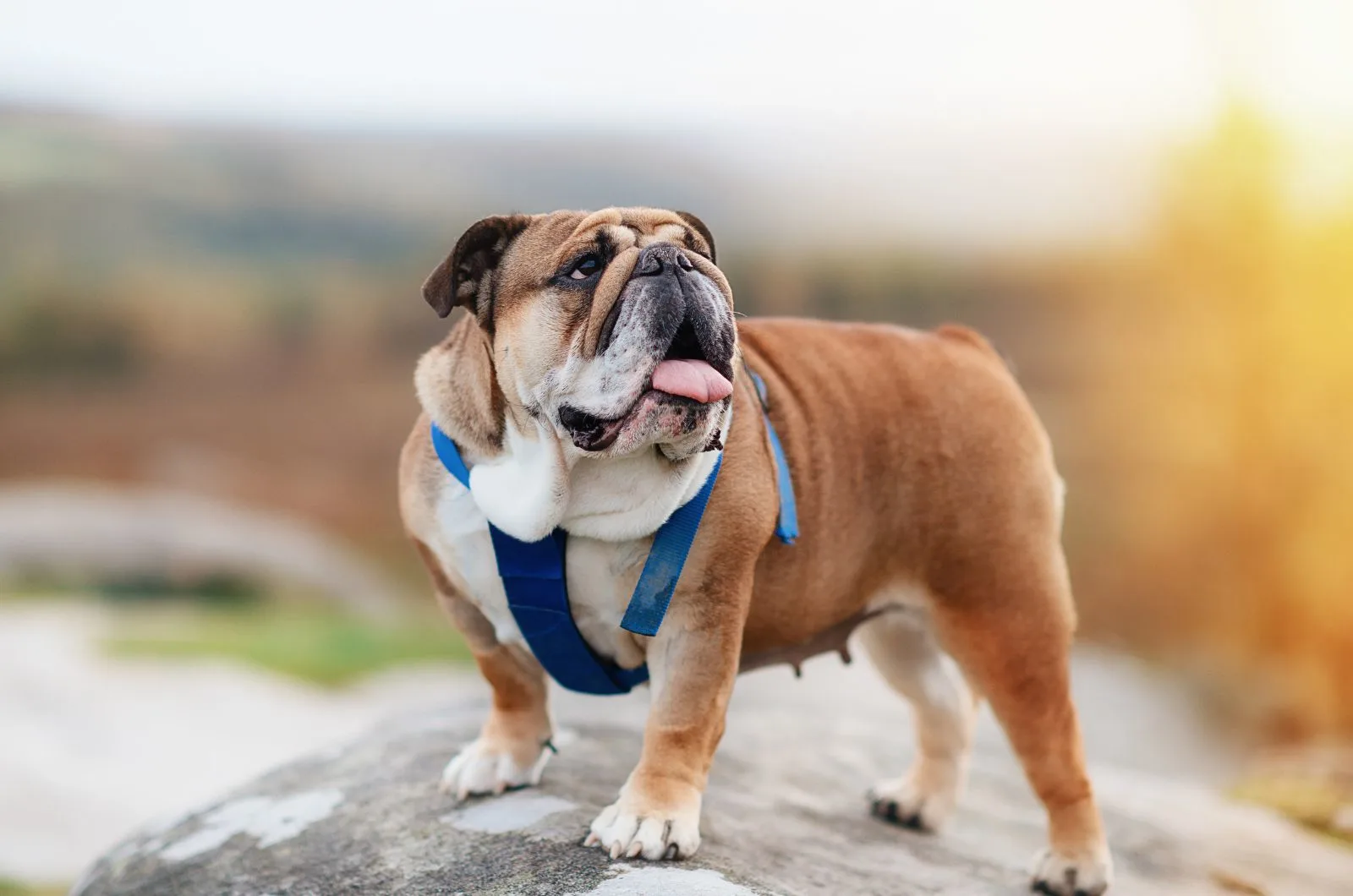 All English Bulldog owners who are in the process of buying a suitable harness for their dog have additional work besides choosing the harness itself.
How to measure your dog? Is a harness a better choice than a collar? What are the crucial factors of a quality harness? All answers are below.
Should Bulldogs Wear Collars Or Harnesses?
Dog collars are beneficial and can make life with our pets significantly easier. However, harnesses are still a much better option when it comes to Bulldogs. First, it is clear to everyone that the English Bulldog has a unique build.
This dog has short legs, and a broad chest, a large head, and is muscular and heavy, especially for a dog of this size. Furthermore, this dog has a strong lower jaw and a short muzzle.
Considering these physical characteristics, the first advantage of the harness is that it will be more comfortable for your Bulldog. It will not make breathing difficult for him, and he will be able to move freely.
However, a harness won't make your pulling dog problem magically disappear. But wearing it will surely reduce the pulling significantly. Even if he pulls hard, the dog will not easily slip out of the harness.
This is a big advantage of the harness over the collar in English Bulldogs. So, with the harness, you will be able to walk with your Bulldog carefree.
You don't want to be in a situation where your dog slips out of the collar in the middle of a walk and scares you and everyone around! Therefore, a harness is a safer choice than a collar.
Additionally, a harness can be an excellent tool for dog training, especially a front clip harness.
We can conclude that the harness is very useful and desirable for English Bulldogs. Just make sure that the harness is comfortable for the dog and not too tight. Also, never let your dog wear the harness too long.
How Do I Measure My English Bulldog For A Harness?
Even if you have purchased the best quality dog ​​harness, the harness will be useless if you do not choose the correct size.
Therefore, you first need to learn how to measure your Bulldog. More than choosing a harness based on the dog's weight is required.
A Bulldog that weighs 40 pounds is significantly different from another dog breed of the same body weight because of its specific body structure.
To measure your dog, you will need a soft measuring tape, a ruler and a piece of string to wrap around your Bulldog. Your dog should stand during the measurement. If you have difficulty keeping him calm, ask a family member to help you.
The measurement will only take a short time and will mean a lot to you. You need to measure your dog's chest and neck to get the measurements for the harness that will fit him best.
The neck is measured by wrapping the measuring tape under the narrow part of the neck – that is, where the dog's collar is placed. When measuring the chest, it is necessary to put the measuring tape on the widest part of the chest.
The appropriate size of the harness will be the one in which there will be enough space to put two fingers between the harness and the dog's body. Then you will know that the harness is comfortable enough for your furry friend.
If the measurements of your Bulldog fall exactly between two sizes, always choose the larger one. You can adjust the harness to narrow it, but if it's too small, there's nothing you can do about it.
What Are The Advantages Of A Harness For An English Bulldog?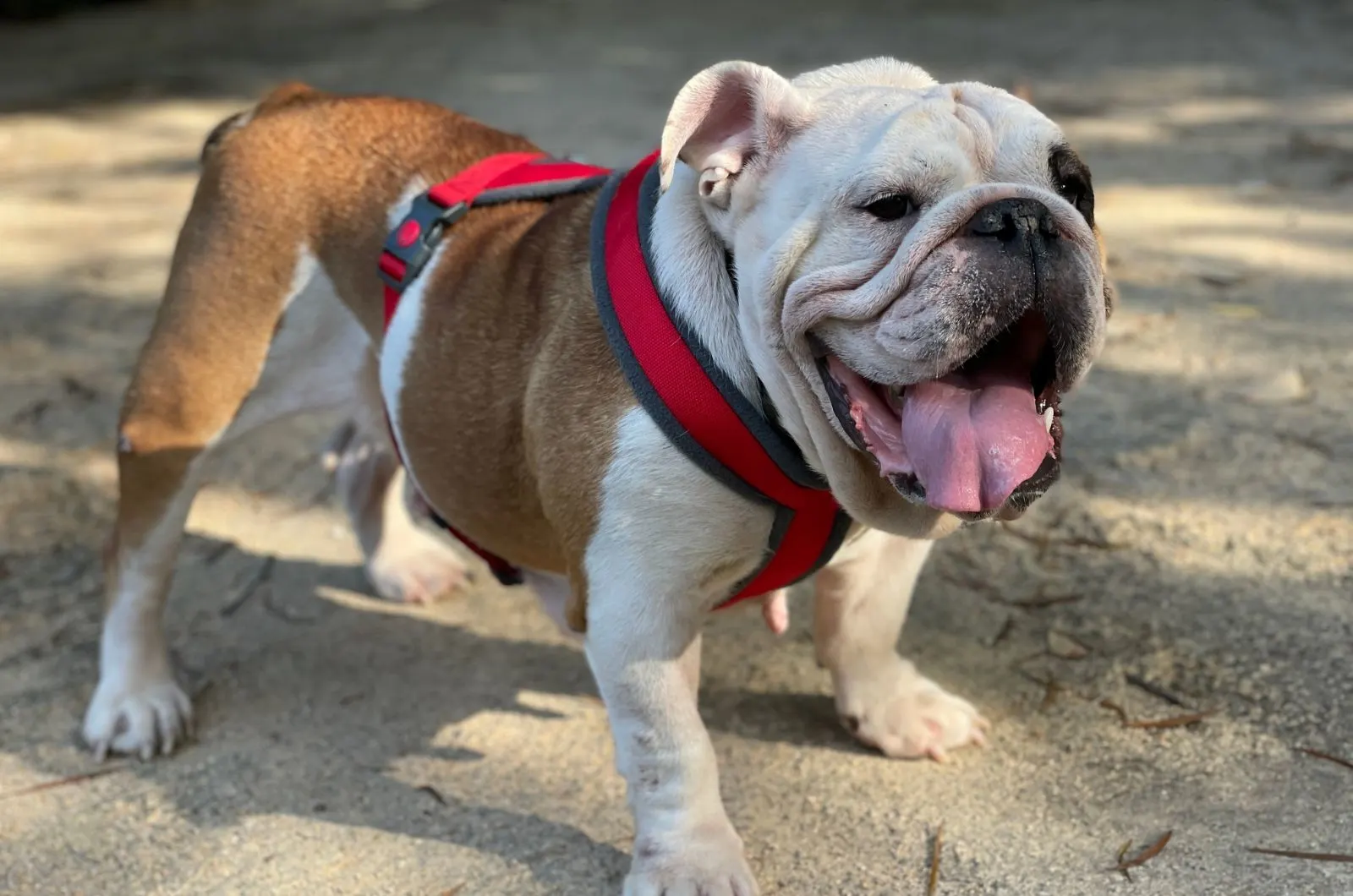 You are roughly familiar with the function of the harness and what it actually serves. But do you know exactly what the benefits of a harness are for your English Bulldog?
If you need to learn more about this tool that can make your life with a Bulldog significantly more manageable, the following is a description of all the benefits of a harness for an English Bulldog.
1. Harness Is Comfortable For Dogs
How often we walk our dogs is very important for their physical, mental and emotional health. Walking is important both for the dog to exercise and to maintain optimal body weight, and at the same time, by walking, every dog owner increases the bond with its pet.
A walk with a dog is impossible without an appropriate leash and collar, or harness. A harness is a better choice for an English Bulldog than a collar, as it takes pressure off the dog's neck.
So, the harness allows you to control the way your dog walks, and at the same time you are sure that your dog does not feel uncomfortable.
When a dog wears a harness, the load is evenly distributed over its entire body, so the dog can breathe normally.
When the dog pulls on you, and then you pull its leash, this puts pressure on the dog's neck, which can lead to poor blood flow and can cause injury to the dog. In addition, the dog can also develop certain back problems.
With a harness, things are different, and the risk of a negative impact on the dog's health is significantly reduced.
2. No More Pulling
Harnesses are very useful for all dog owners whose pets are strong pullers.
If your Bulldog likes to pull you as soon as he sees something during a walk, or for no particular reason, a harness will be a great solution for you.
Using a harness will give you more control over your dog's movement, but will not harm or restrict him in any way. In addition, you will be sure that your dog will not get neck injuries.
Of course, for the harness to be fully functional, it is necessary to choose the size and design of a harness that will perfectly suit your Bulldog.
3. Greater Security
If you are the type who likes to share every activity with your dog, safety must be a priority for you.
When your Bulldog wears a harness during activities such as walking, running, or planning, you can be sure that the dog will not run away. While most dogs can break free from a collar, this is not the case with a harness.
The harness covers a good part of the dog's body, therefore, no dog will easily slip out of it.
In the end, we will mention that a dog should only wear a harness sometimes, despite its many advantages. From time to time, it is desirable to replace the harness with a dog collar.
What Kind Of Harness Should I Get For My English Bulldog?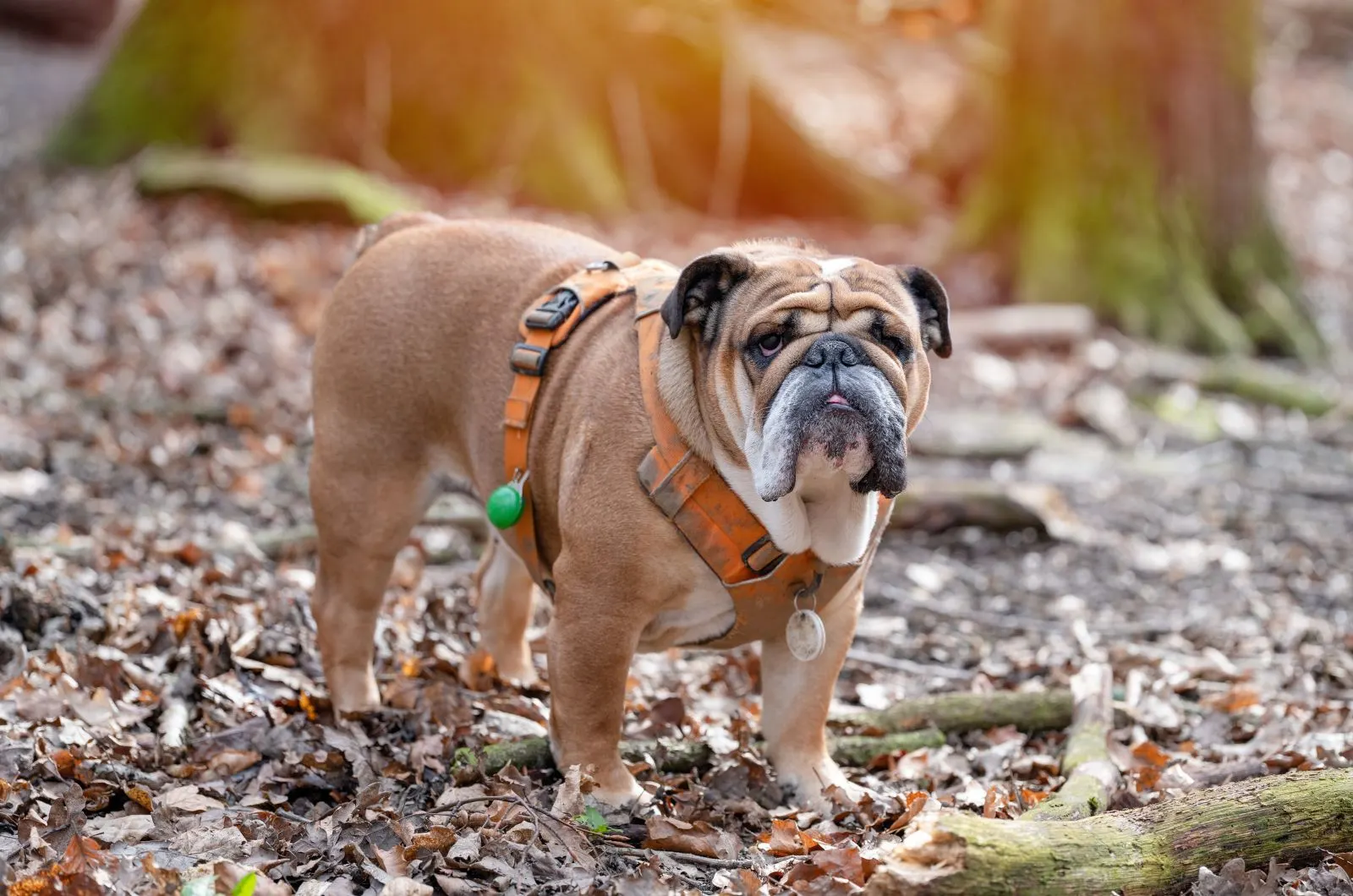 Every dog is different and not even all English Bulldogs will be equally satisfied with one type of a dog harness.
So, every pet owner should thoroughly consider their dog's needs, lifestyle, and body characteristics to choose the best dog harness. In selecting the best harness, you should pay attention to several factors that we describe below.
1. Size
Size is a vital factor in choosing the right harness. Although every manufacturer provides customers with a measurement guide for dogs, this may only be partially accurate in the case of Bulldogs.
Every English Bulldog owner will need to measure their dog to get an accurate measurement. With some other dog breeds, the process of buying a harness is probably much simpler, but what can you do – we still love our Bulldogs!
The size of the harness fits your dog when it is not tight and not too loose. The right size harness will make your life better – if your dog has refused to go for walks earlier, you may just have been missing the perfect harness!
2. Comfort
Wearing a harness should be a maximally pleasant experience for your Bulldog, meaning, it should not cause any pain for the dog, but simply, to be an integral part of the walk or dog training.
It may take some time for the dog to get used to the harness, but, in the long run, the harness will bring many benefits to both your Bulldog and you.
The harness should be very comfortable for the dog to get used to wearing a harness as soon as possible. This means that it should be made of material that will not harm the dog's sensitive skin.
Besides sensitive skin, Bulldogs are known for breathing problems. This is another reason why the harness must be as comfortable as possible and not strain the dog's chest and neck.
A comfortable harness is a harness that reduces the dog's ability to pull its owner and, at the same time, the one that is entirely safe for the dog's health.
3. Design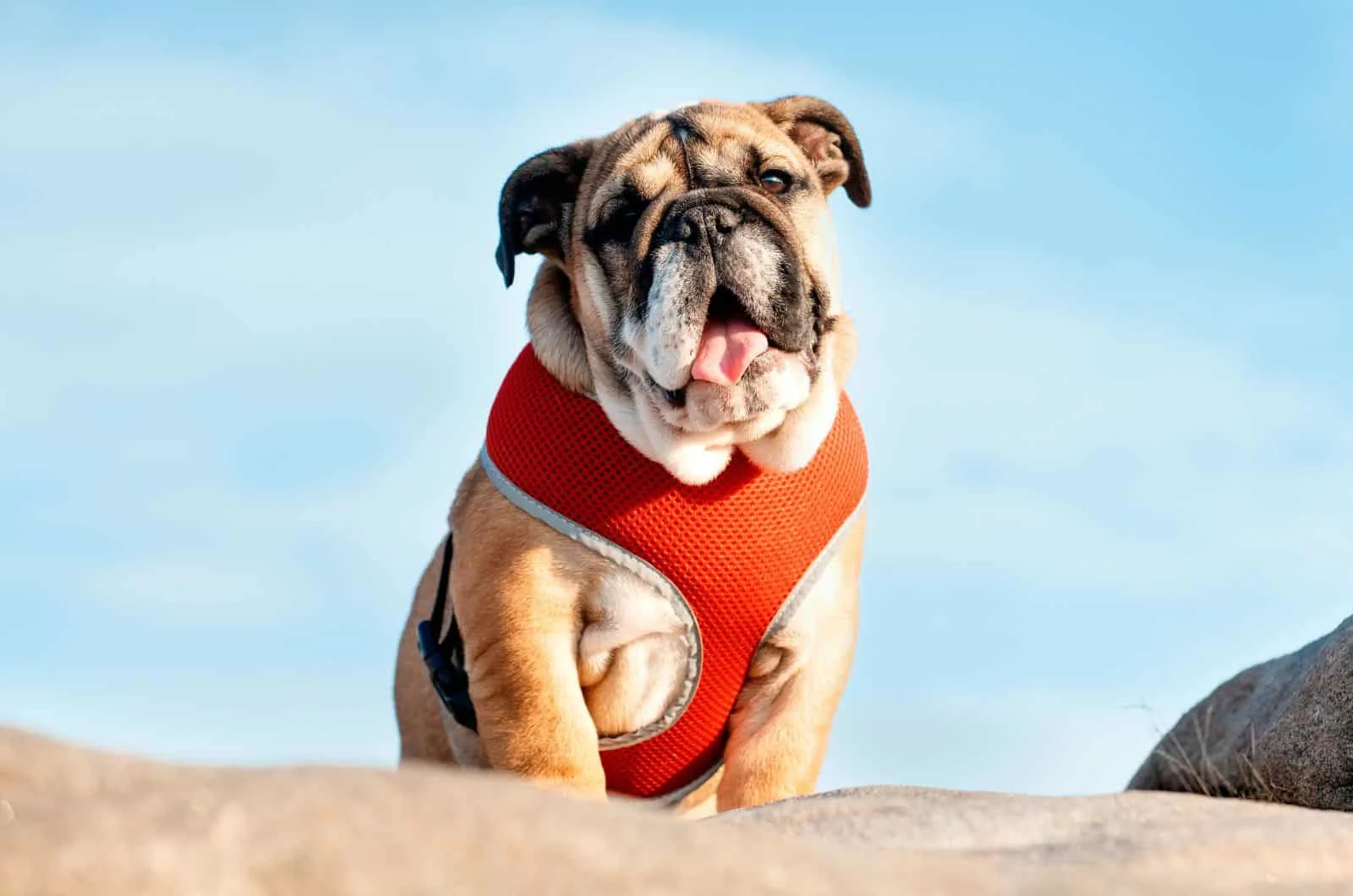 The design of the harness is an additional important selection factor. Of course, every dog owner will have different preferences, and the same harness design will only suit some dogs.
However, what we recommend you with the design is to pay attention that the harness has adjustable fasteners.
Even if you've chosen the right size, your Bulldog may gain weight (or lose weight!) at some point in the future. If it is only slightly noticeable, and you have an adjustable harness, you will not need to buy a new one!
4. Durability
Durability is something every dog owner should consider when purchasing a harness. Is your Bulldog a strong puller? If so, you want to ensure that the harness keeps his pulling under control and that he won't tear it.
That is why it is necessary to choose a harness made of quality material that will be durable and that you will not have to replace it with a new one soon.
Here we will add that not only a high price does always imply that the product is durable. The budget options we mentioned on our list are also durable and made of quality materials.
Conclusion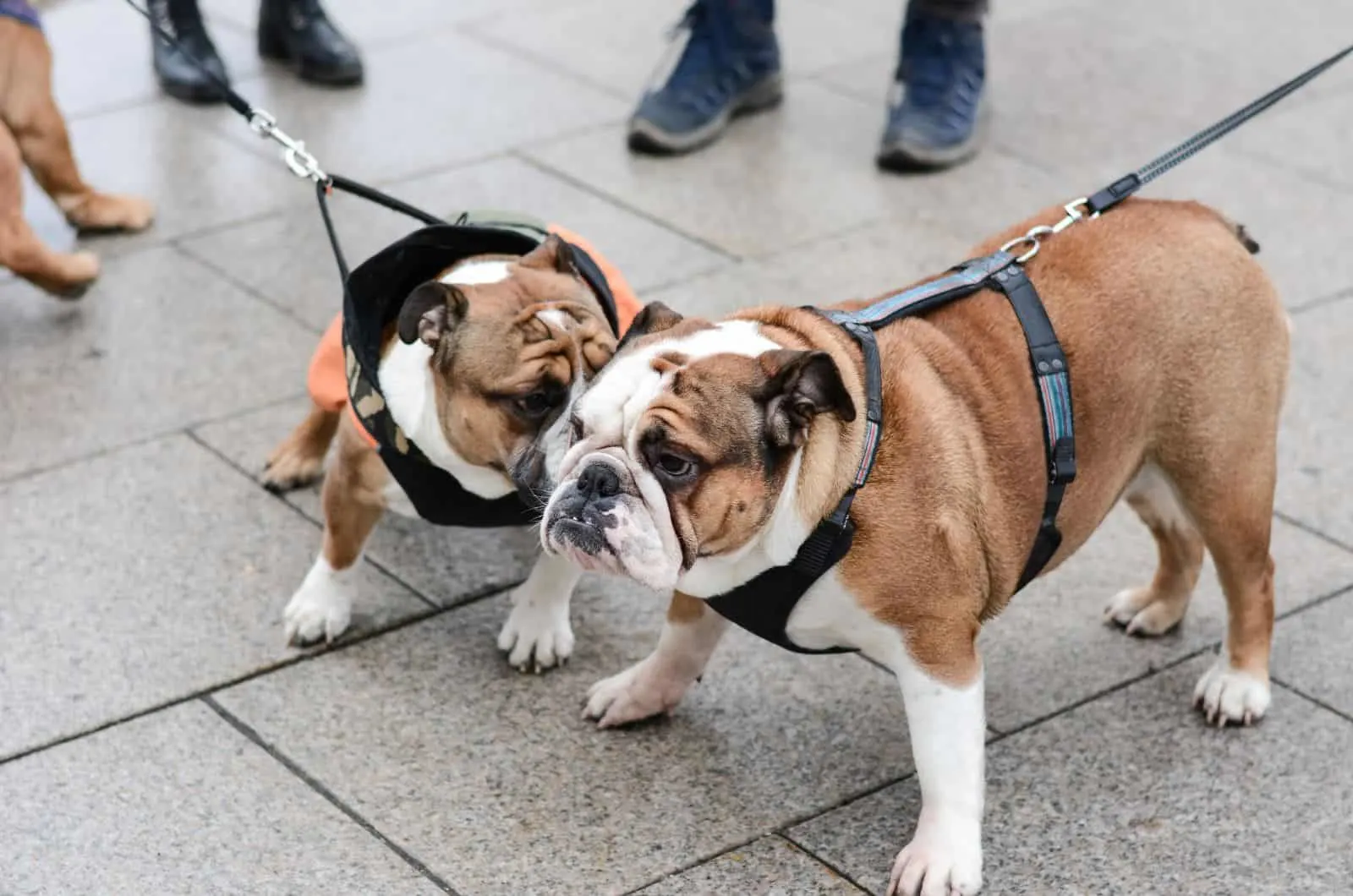 A dog harness is practical, and, in the case of an English Bulldog, it is a better option than a regular dog collar.
The harness will reduce the possibility of your dog pulling you, and at the same time, it will be comfortable for the dog and allow it to move normally. To realize this, you must choose a suitable harness for your dog.
We're sure you won't go wrong with any of the options on our list of the best harness for English Bulldog. We hope that you will be satisfied with your choice and that your dog will get used to it as soon as possible.
Enjoy long and safe walks with your favorite Bulldog!
Read Next:
• 10 Best Collars For French Bulldogs: The Ultimate Guide