This post contains affiliate links, and I will be compensated if you make a purchase after clicking on my links.
The Belgian Malinois is a very physically active dog, so finding the right training treat can be somewhat hard. Thus, dog owners often ask what the best dog treats for Belgian Malinois are?
Well, the best dog treats for Belgian Malinois tend to be ones that have a lot of nutrients, are low in calories, but high in protein, and… above all, taste good.
This usually means you want some kind of meaty treat for them, but there are some veggie options that may work, too.
It honestly depends on your own dog's likes and dislikes most of all, but there are a few key factors to keep in mind, which we'll get to later.
The market for dog treats is incredibly massive, though, and finding the best ones is a chore, but I've gone through the trouble of sifting through both Chewy and Amazon in order to find you the best of the best and line them up in this article.
Read on to find out what they are as well as what makes a good dog treat, and some frequently asked questions related to treats and the Belgian Malinois that you may or may not have known already.
The Best Dog Treats For Belgian Malinois
First up is a vegetarian option ironically enough, but one that might be helpful for your dear doggo, especially if they need to lose a few pounds.
Despite claiming to be a dietary option, they do serve about 74 calories per treat, so you still have to properly portion them off to not give your doggo a bit too much at once.
Thankfully, the calories are mostly healthy, containing virtually no fat, but it still pays to remain attentive to how much your canine companion eats.
The best benefits of the VeggieDent, however, are the dental ones as these healthy, herb-flavored chews help combat plaque and tartar with ease, keeping those pearly whites shining in your furry friend's maw.
The said herby taste also keeps his breath fresh, as long as he doesn't take an excursion somewhere nasty.
The treats are shaped in the form of the letter 'Z', which, oddly enough, works well for getting an easier grip with the doggo's bite.
It all seems well and good, but it does suffer from the drawback that its price is a bit on the higher side, and repeated purchases of the treat can rack up costs.
However, if your darling doggy does end up liking them, you can get them from time to time instead of always having a stock in the house, and opting for something more budget-friendly if you can't manage it within canine maintenance costs all the time.
Virbac C.E.T. VeggieDent Fr3sh Dental Chews
Key Benefits:
Fully vegetarian treat

Z shape helps keep an easier grip on the treat

Wonderful, planty flavor

Combats plaque and tartar

Freshens breath
Cons:
A little bit too expensive

High in calories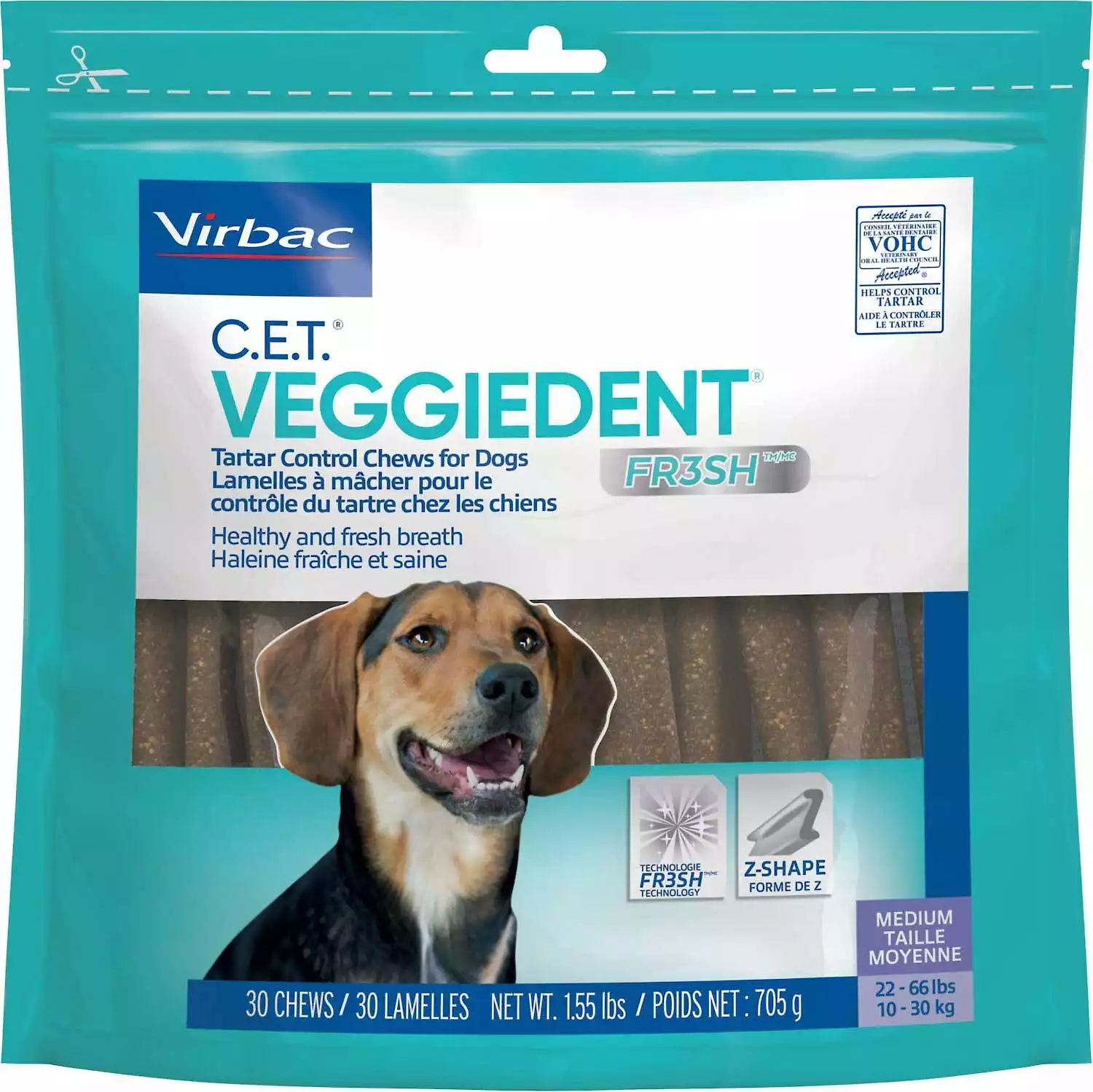 Next up is one of the more popular choices for dogs of all breeds and sizes – Blue buffalo blue bits.
This one has more traditional protein as the main ingredient – all-American beef; one of the most popular types among any dog.
Aside from the protein, one could also find flaxseed, a good source of fiber to match the said protein, and also omega-3 and 6 fatty acids, which help prevent skin irritation, help produce natural oils to protect the skin, and keep your dog's fur soft and shiny.
Speaking of good nutrients, there's another very important one – DHA; an essential one in helping develop cognitive skills for young pups, and also maintaining the said cognitive skills in adult dogs.
Given all these great supplements, Blue Buffalo is often used as the premier treat during puppy training since most dogs can't resist the taste, and dog trainers value the nutrient content.
The treat is also free of any common grain allergens like soy, corn, and wheat, as they do care for all dogs with a more sensitive digestive tract.
The grain-free product is extremely calorie-lite, too, coming in at around three to four calories per treat. A great guilt-free option during training, but do make sure to not overdo it as you may end up making him gain a few pounds instead of losing them.
When it comes to treats, always consult a vet or a nutritionist on the matter so he can make the proper assessment as to how much you should be giving your dog on a daily basis, if any, depending on its dietary needs.
Thankfully, it's a pretty affordable product, too – no pricier than the standard average.
Though, while it is free of grains as allergens, it does contain traces of milk, which may cause issues with lactose-intolerant or milk-allergic dogs, so do keep that in mind.
Blue Buffalo Blue Bits Tender Beef Recipe
Key Benefits:
Beef as the main ingredient

Contains omega-3 and 6 fatty acids for better hair and skin health, as well as DHA for help with cognitive development for puppies

No artificial flavors, colors, or preservatives

Completely free of any common grain allergy like soy, corn, and wheat

Relatively affordable pricing
Cons:
Contains milk, which could be a potential allergy risk in some dogs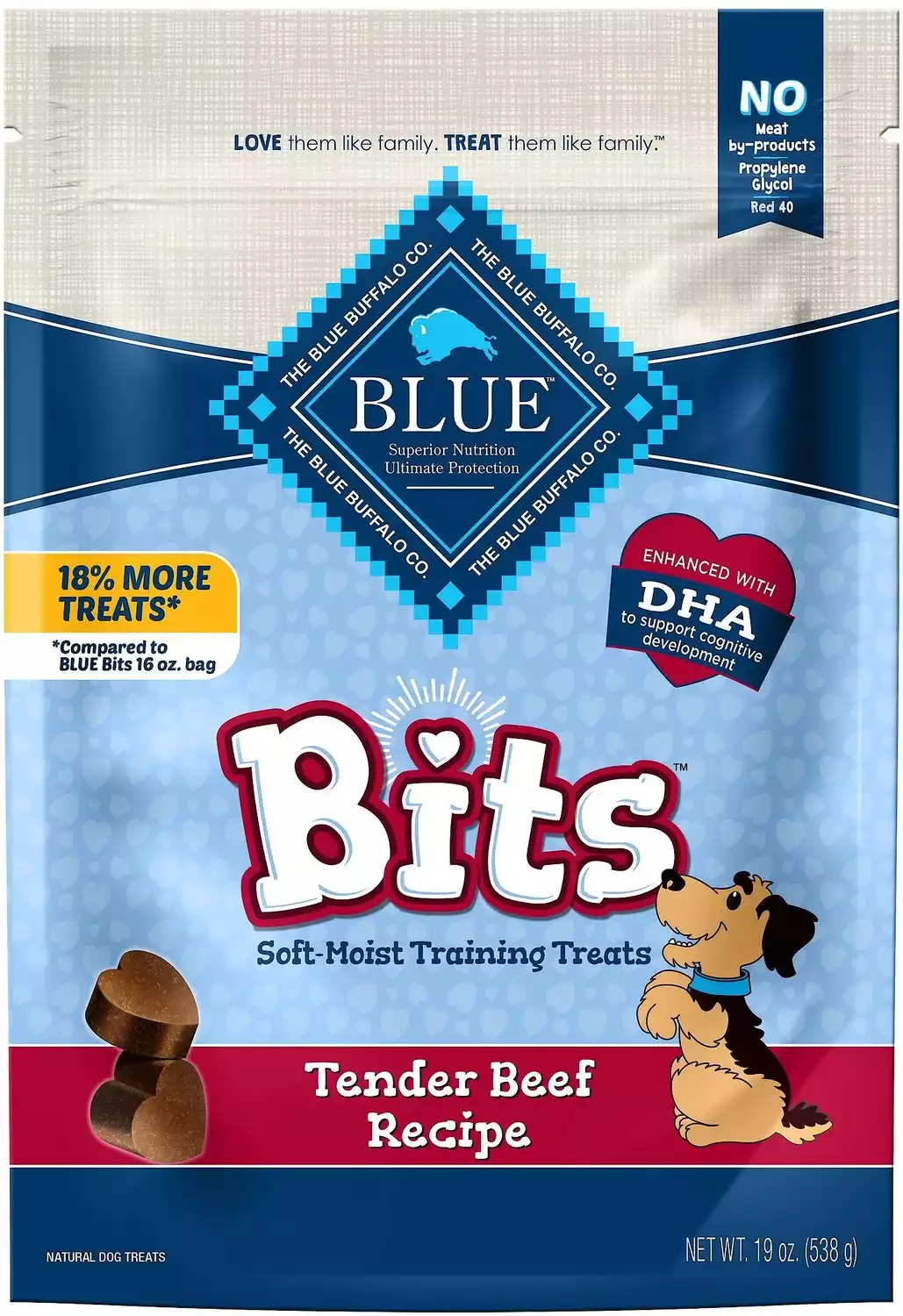 Next up is quite the meal for your furry friend – a mix of several parts of beef and sweet potato all grouped together into a wonderfully scrumptious treat for your dear doggo.
The beef is part beef meat, liver, fat, and meal, coming in at a 35:10 protein-to-fat ratio before adding the sweet potato, natural preservatives, and other ingredients.
While the beef provides most of the protein, the sweet potato is there to aid in proper digestion and help improve gut health in general.
It may not be the healthiest dog treat around, especially at a sizable 21 calories per treat, but it sure is tasty, and it best serves as a reward to be given out every now and then to your Malinois.
What it doesn't have, however, are any grains that can cause potential allergies like corn, wheat, and soy, nor does it utilize any artificial flavoring or preservatives for that matter.
ACANA is also a proud U.S. brand that makes their biscuits out of all-American ingredients, so keep that in mind if you're keen on boosting our local economy over buying international brands.
As far as treats go, its pricing is easily affordable, and the packaging is simple and attractive.
The only downside I can see are the more calories per treat than the usual single digit ones we're mostly used to.
ACANA High-Protein Biscuits
Key Benefits:
Made from various beef products and sweet potatoes

Sweet potatoes help improve overall digestion

All-natural product, with no artificial preservatives or flavors

Completely grain-free

U.S.-made ingredients and product

Attractive packaging

Affordable pricing
Cons:
A bit higher calories per treat than most other good brands out there, but nothing too extreme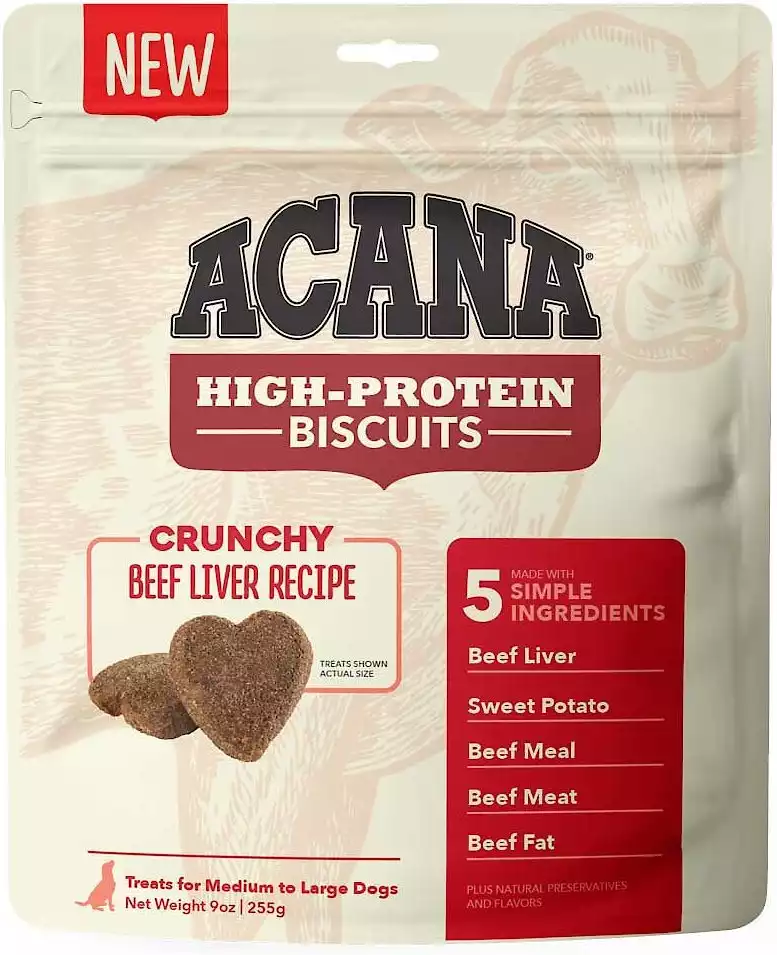 Here's a somewhat unique treat – yummy combs, designed to aid in better dental care for your Belgian Malinois puppy.
The treats in question are made from all-natural ingredients, with chicken as the main protein and a 44:8 protein-to-fat ratio, which is quite a decent balance.
They're also grain- and gluten-free, meaning all common allergens are out of the building. They don't even contain any GMOs, meaning it's completely safe for your dear pupper.
What it does have is a rather unique ingredient called Slick'M, an additive added to the treat to make it dissolve quicker for easier digestion, even if taking larger bites.
Given their size, the treat has a whopping 115 calories per treat, so you may want to be careful on how many you give to your furry friend.
And, you don't have to worry about him choking either since the treats are designed to be flat and wide in order to prevent your canine companion from trying to down the whole thing in one gulp.
As far as the dental care part, the shape of a comb is the innovation here, perfectly sized to fit the teeth of larger dogs so that they can have something to scrape against, scrub all that tartar and plaque off, and keep the teeth as bright and white as the day they grew out the first time.
It's a bit on the expensive side in terms of price, though, so do be wary of that when buying, but there's no denying that this is a high-quality product, and that the price is somewhat justified.
Yummy Combs Ingenious Oral Care Flossing
Key Benefits:
Uses chicken as its main protein

High protein-to-fat ratio

Contains Slick'M for easier digestion and dissolution to prevent choking

Honeycomb shape helps scrape off plaque and tartar as your canine gnaws on the yummy combs

Free of grain and gluten
Cons:
115 calories per treat, which means you'll have to ration these off properly

On the more expensive side of things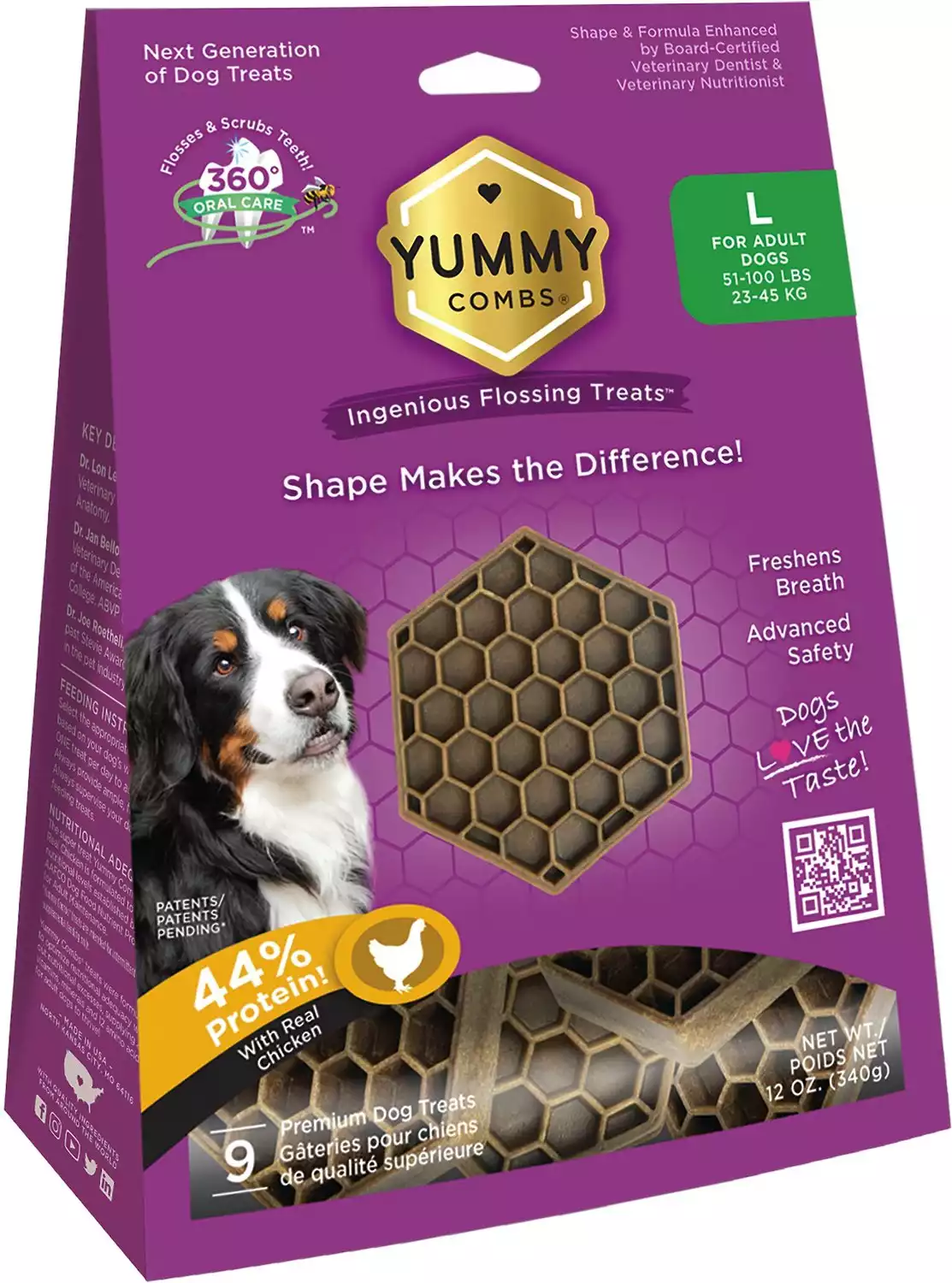 A favorite among large dog breeds everywhere, from German Shepherds and Border Collies to our beloved Belgian Sheepdogs.
A wonderful, high-protein treat made entirely in the U.S., with locally sourced beef and a mix of sugar and salt for preservation.
It has a decently high protein content with very little fat, and it only comes in at 20 calories a piece.
While this is more than some of the single-digit ones, this treat lasts that much longer than the others so your doggo should be satisfied longer, thanks to that wonderfully chewy texture.
The jerky contains no grains, fillers, or any artificial preservatives or flavors – only the three ingredients mentioned prior. A pure and simple experience that is everything a dog would want in a more standard snack.
Sure, it doesn't have any special nutrients, but sometimes a treat is just meant to be a treat… nothing more.
The packaging itself is very enticing and neatly designed, while the price is about what one would expect on average.
And, while this is beef, don't use it as a replacement for kibble or puppy food because it doesn't have much else to offer aside from the meat protein.
American Journey Beef Jerky
Key Benefits:
Made with U.S.-sourced beef, and preserved in a mix of sugar and salt

High protein-to-fat ratio

Only 20 calories per treat

Has no fillers, grains, or artificial flavoring or preservatives

Average pricing for a treat of this kind

Attractive packaging
Cons:
Doesn't offer much else other than beef protein, and too much salt isn't good for your dog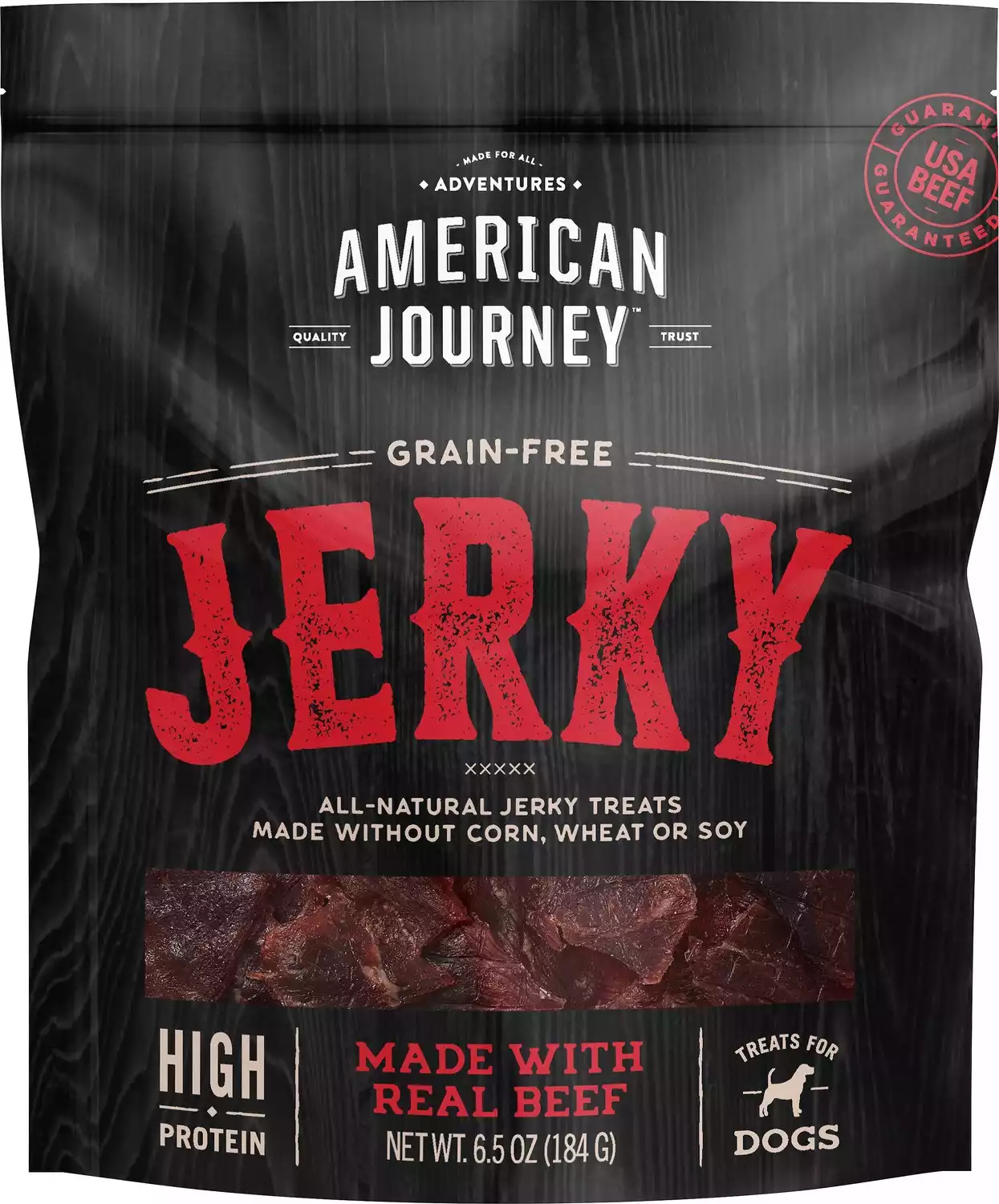 If you're really looking to get something for your new puppy that barely has a single calorie per treat, or if you're looking to keep a senior dog in shape while not skimping on flavor, then you may want to give Pupford a go.
It's yet another product fully made in the U.S., with beef liver and hearts as the main sources of protein, but with a small twist – they're completely freeze-dried treats.
This makes them compact and moisture-free. While that may not go well with some dogs, it definitely helps trim the calories down to a single one.
The only other ingredients in the mix are mixed tocopherols, which are a natural antioxidant that helps reinforce your Belgian Shepherd's (and any dog's) immune system by safeguarding its cells from free radicals.
The lack of moisture also provides the benefit of easy storage as there's nothing in the bag to form mold or similar, so you can just store it wherever you want as long as the bag remains sealed.
The packaging looks pretty fancy and colorful, too, and it comes with over 450 treats in the bag, which will last you a good while.
Cost-wise, it does hinge on the slightly expensive-ish side, but I feel like for a dog treat where you can literally measure your dog's daily intake calorie per calorie, it's a decent investment.
Pupford Beef Liver Training Freeze-Dried Dog Treats
Key Benefits:
Only three ingredients

Main protein comes from beef hearts and beef liver

Contains mixed tocopherols; a natural antioxidant

Each treat is completely freeze-dried

Only one calorie per treat

Great option for dog training

Can be stored anywhere

Attractive packaging

U.S.-made product
Cons:
Slightly more expensive than desired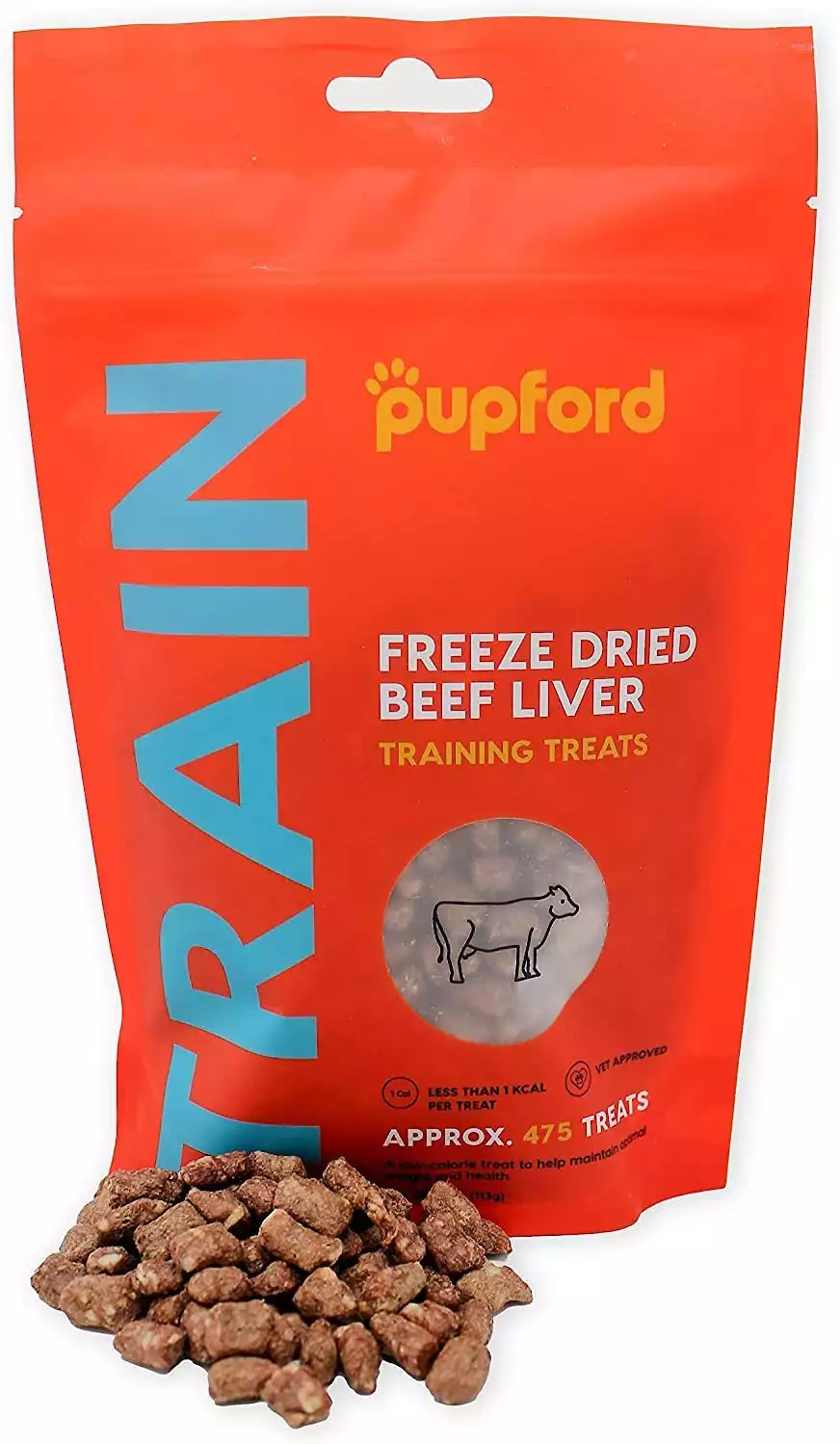 On the other hand, if you just want a treat for treat's sake in order to spoil your loving doggo once in a while, Bil-Jac has you covered.
It provides a mix of real chicken and chicken liver as the main ingredients, combined with a dash of peanut butter.
It may sound like an odd mix, but apparently, it works real well for dogs, and that's all that matters in the end.
They're a delectable little training treat that, despite the inclusion of peanut butter, only amount to 13.6 calories per treat.
Their soft, moist texture is a delight for any dog to bite into as the flavors melt into their maw.
The treats don't carry any gluten, fillers, or meals that would only reduce the exquisite flavor.
The package that they come in is adorable, too, and it's resealable so the treats can remain fresh for longer periods of time.
And, as far as the price itself is concerned, it's all the way down to the single digits, making it a great budget pick.
They don't make for the best training treats, though, as they crumble easily, so do keep that in mind.
Bil-Jac Gooberlicious Peanut Butter Flavor Soft Dog Treats
Key Benefits:
Real chicken and chicken liver as the main ingredients, supplemented by peanut butter

13.6 calories per treat

Lovely moist and soft texture where the treat easily melts in your dog's mouth

No fillers, meals, or gluten

Adorable and resealable packaging

Budget-friendly price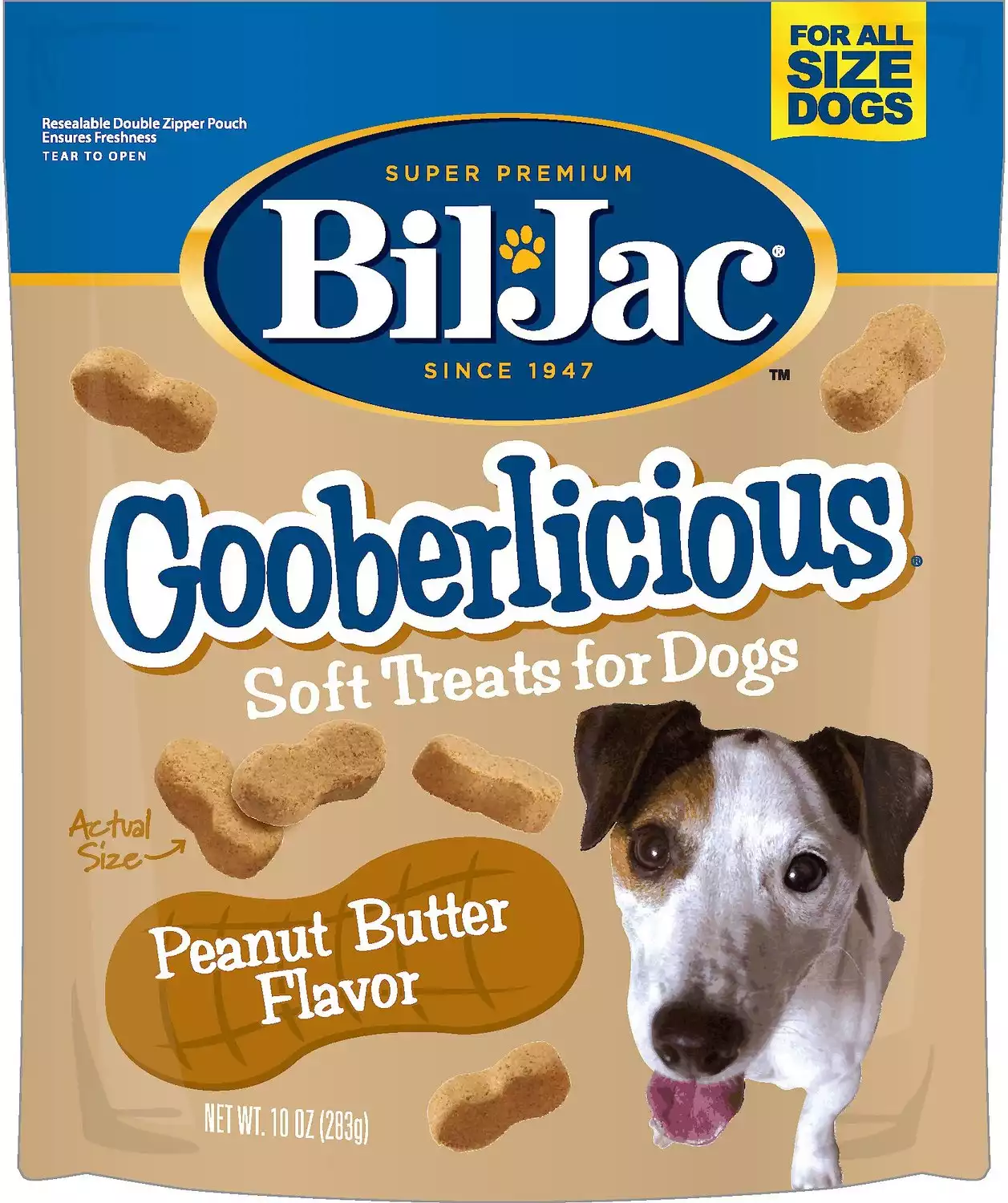 For the final entry on this list, I present you with a treat that's popular with any furry friend, from small dogs to the large breeds.
These biscuits feature a special, limited-ingredient diet of nine amazingly flavorful ingredients that mix together into this lovely dog treat, with the standouts being dried chicken liver, brown rice, turkey meal, and flaxseed.
It's made entirely in the U.S. using all-natural ingredients, with no trace of any fillers, artificial flavoring, preservatives, or grains that count as common allergens. Only the best for your canine companion.
All of these ingredients have some great benefit to them, with the brown rice improving digestion, the flaxseed providing that source of omega-3 and 6 fatty acids, and the chicken liver as a good source of iron and vitamin B.
The treat does come at a sizable 45 calories per treat, but proper portioning can remedy that issue. Just make sure to ask your pet's vet or nutritionist how much you're allowed to give him on a daily basis.
And, price-wise, it's an absolute steal. I'd definitely argue that this is my vote for the best dog treats for Belgian Malinois, but that's not up to me to decide.
Beggar Dog Gobbled Up Turkey Meal & Brown Rice Crunchy Dog Treats
Key Benefits:
Limited-ingredient diet

Turkey meal and chicken liver as the main ingredients

Contains flaxseed; a great source of omega-3 and 6 fatty acids

Brown rice helps with gut health and promotes proper digestion

Incredibly affordable pricing
Cons:
A sizable 45 calories per treat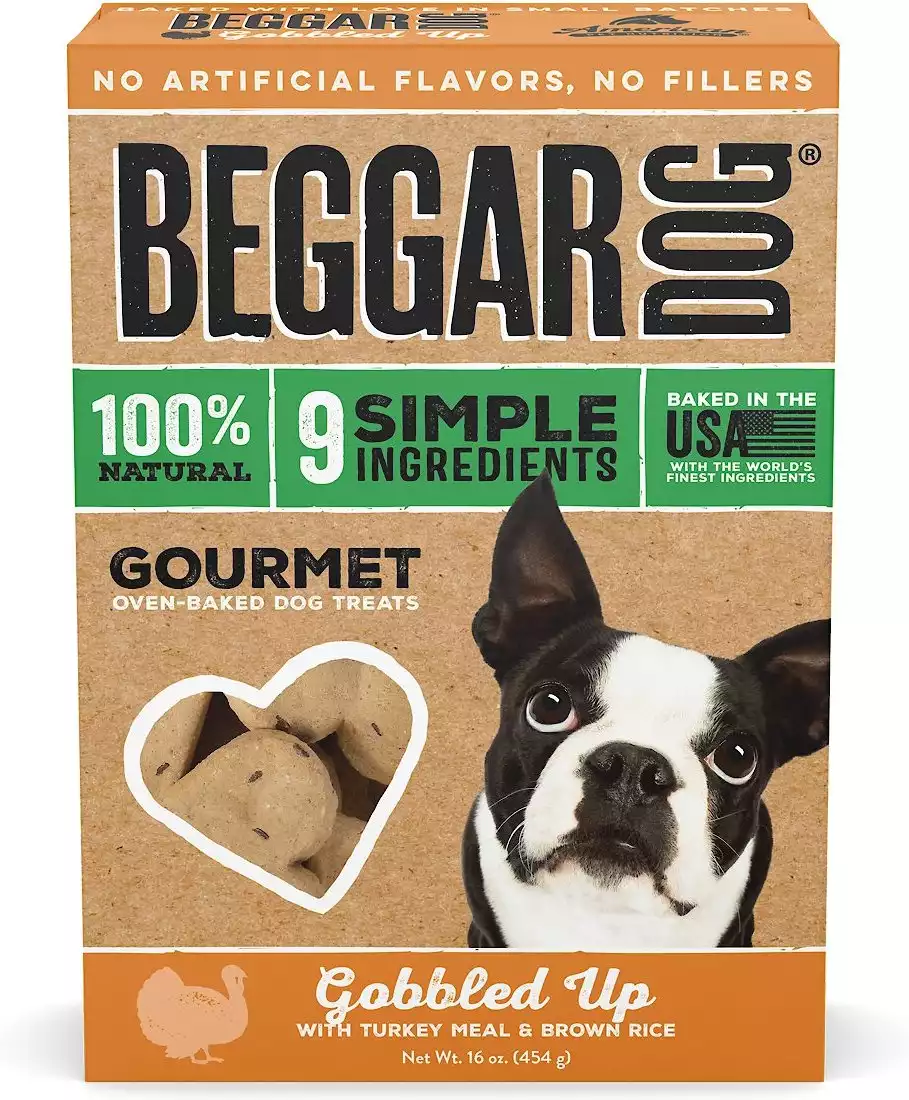 FAQs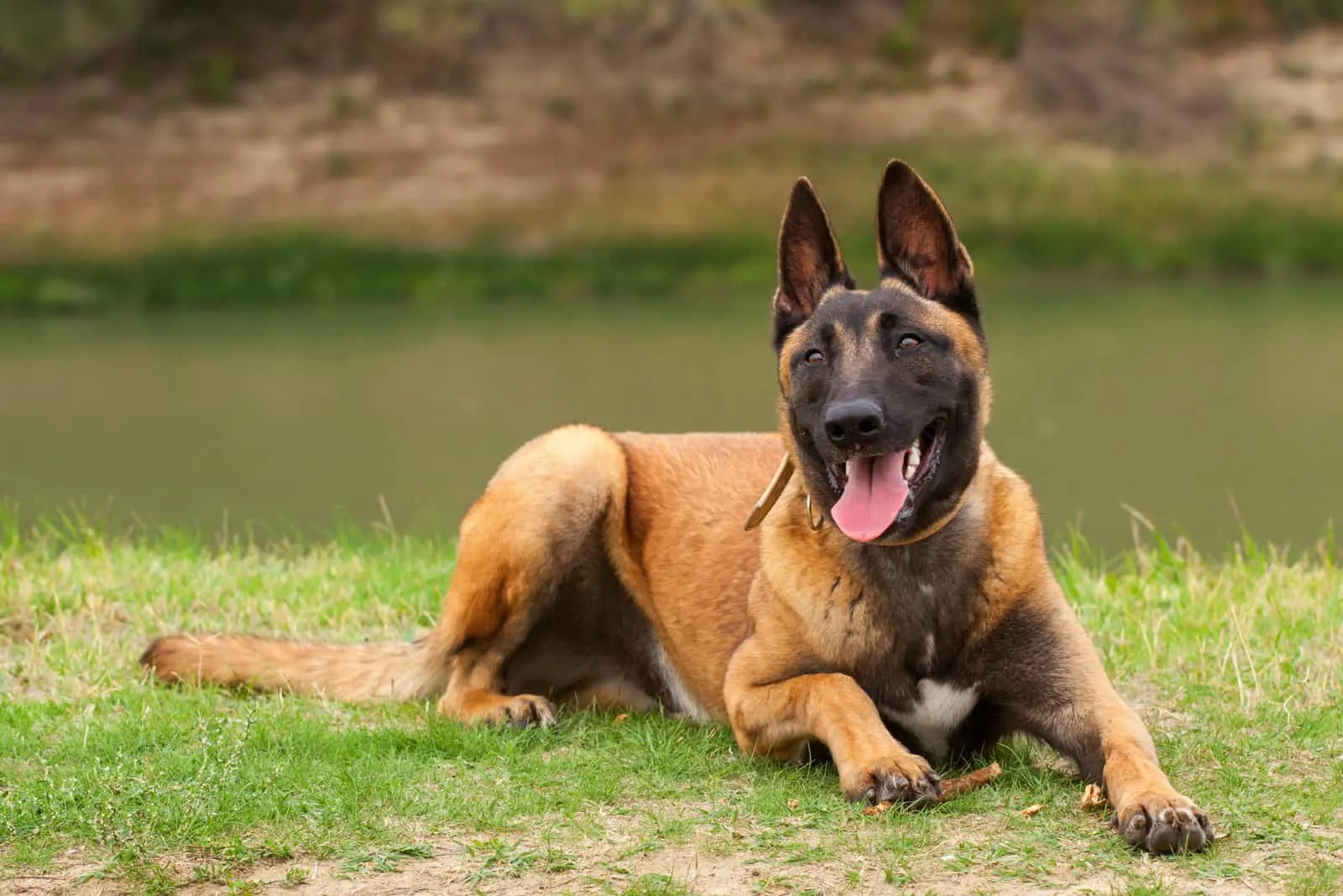 What Are The Best Dog Treats For Belgian Malinois?
Well, my personal favorite of the bunch would be Beggar dog since they offer everything you'd want in a doggy treat, but there are so many other contenders here that may suit your or your dog's taste better.
It all depends from dog to dog anyway since they're the taste testers here.
What Are Dog Treats Used For?
Well, the first part is obvious – they're meant to treat your dog, but the reasons can vary, however.
You can give it to him simply to have something for him to enjoy or you could give it to him as a reward for finishing potty training or any other form of dog training in general.
What Other Expenses Factor Into Belgian Malinois Maintenance Costs?
As we all know, pets are a big responsibility, with a sizable financial cost for their upkeep. While treats may be a drop in the bucket for these costs, every penny matters in the big picture.
The other things you should be concerned about, however, are the costs of dry dog food, dog collars, dog harnesses, dog beds, medical expenses, dog toys, and the like.
This is why I keep mentioning pricing and budget since a lot of these things can rack up the cost real high, and food especially has a really deceptive cost since you can end up getting more bags per month than you expected to.
RELATED: How Much Do Belgian Malinois Cost? All You Need To Know
How Much Should A Belgian Malinois Eat?
Again, that's not my place to judge – it's more a question for your pet's veterinarian or nutritionist, but a Belgian herding dog eats about two to three cups of high-quality dog food on average, give or take.
In Conclusion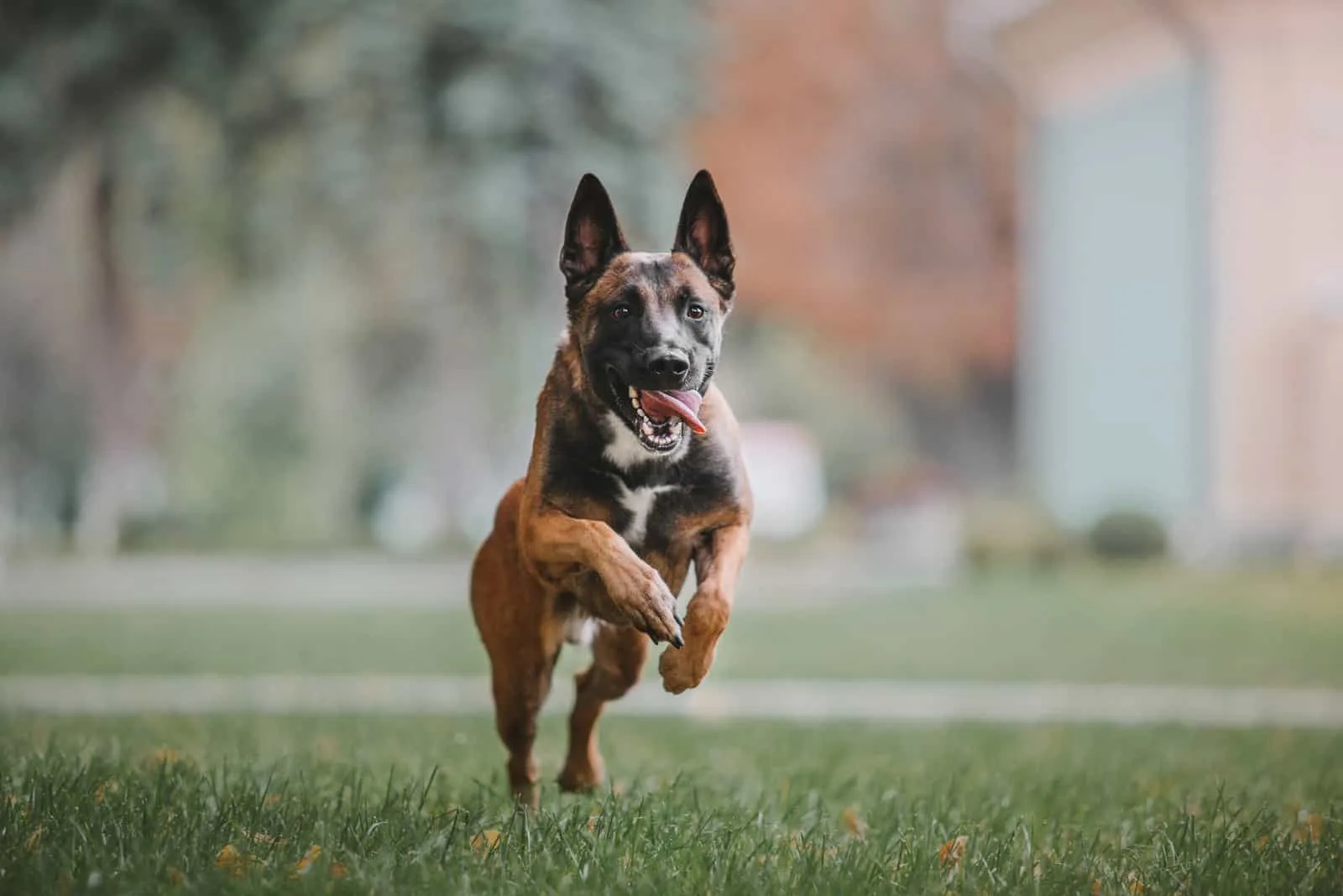 The best dog treats for Belgian Malinois include a good amount of protein and other essential nutrients while still being low-calorie so you can give your doggo several of them if you're using them for dog training purposes.
But regardless, one should never overdo it with treats as some dog owners do, as they're meant to be an occasional reward.
You'll end up spoiling your dog, and the treat may lose its special factor if given out too often. Your doggo may end up just not liking the thing anymore, or at least seem a bit less enthusiastic about it.
Regardless, through proper use, treats are a great tool in obedience training, and they are a great snack option for your furry friend. I'm sure that you'll easily be able to pick the one that suits him the best out of these presented options. Until next time.
RELATED LINKS:
• The Belgian Malinois Feeding Chart: How To Feed Your Beauty
• 14 Best Dog Foods For Belgian Malinois – What To Feed Your Mal
• Belgian Malinois Growth Chart – When Do Belgian Malinois Stop Growing?
• Belgian Malinois Breeders – Best Places To Find Belgian Malinois Puppies