This post contains affiliate links, and I will be compensated if you make a purchase after clicking on my links.
Belgian Malinois are dogs with high activity levels. To make sure they get all the nutrition they need, you should only feed them with the best dog food for Belgian Malinois.
This is a working dog breed that was initially bred to be a herding dog. You can expect them to run around all day long. With their high energy levels, they are not dogs you can keep in apartments; at least not without a few long daily walks and extensive exercises.
They are a medium to large dog breed with a short and straight coat. They have a fierce, yet elegant appearance, which is why many dog lovers are afraid of them. This is only enforced with their somewhat distant and independent attitude.
At the same time, they are very affectionate and loving, and they can make great family companions if you know how to properly train and socialize them.
Due to their history, this active breed has a somewhat bad reputation, especially when you compare them to their more famous look-alikes, German Shepherds. However, this is just a myth as they are no more aggressive than any other herding breed.
However, their lean stature requires a special kind of diet to maintain proper muscle mass and to avoid obesity. If they gain weight, they can no longer fulfill their purpose, which can lead to some behavioral issues and health problems.
To meet their nutritional needs, you should stick to the best dog food for Belgian Malinois. But, how can you know what food is the best for them? And, what do you look for ingredient-wise?
Don't worry – we've got you covered. Here are 14 dog foods your Belgian Malinois will love that you can find on sites such as Chewy and Amazon:
Best Dog Food For Belgian Malinois Ratings
What Is The Best Dog Food For Belgian Malinois
Belgian Malinois are a strong and active breed of dog. As such, their food must be rich in protein and fairly low in fat. Not just that, but they are highly intelligent, and their food needs to have proper nutrients to keep up with this.
All dog breeds require the best pet food possible, but this only increases when you have such demeaning dogs as Belgian Malinois.
Their unique body structure and energy level demand that you give them food that's rich in proteins and carbs, but also contains a certain amount of fat. This is to provide them with enough energy to continue their daily life and energy levels.
To meet these high demands, top-quality dog food is essential for Belgian Malinois. It has to have a high amount of protein as any empty calories or too much fat can keep their brains from functioning properly, and their bodies could become overweight.
We've reviewed products that many dog owners consider to be the best dog food for Belgian Malinois. Here's what we think of them:
This might easily be the best dog food for Belgian Malinois. It's specifically designed for active adult dogs as it's filled with quality ingredients that can boost your dog's overall health.
It's filled with lean protein, thanks to the whole chicken and chicken meals, which are the main protein sources. Also, the food contains chondroitin and glucosamine from white meat, helping to provide healthy joints.
The food uses whole grain brown rice as a source of carbohydrates. While some dogs can be sensitive to whole grains, this is the most nutritious option. If your pup isn't prone to dog allergies, this type of dog food will be extremely beneficial.
Also, the formula includes plenty of superfoods filled with antioxidants that will prevent tissue damage that free radicals can cause. It also includes probiotics, prebiotics, and omega fatty acids. To top it all off, it's made in the USA, so you'll know it's of high quality.
Wellness CORE is known for producing recipes for all life stages. This particular formula is made to fit a senior Belgian Malinois' diet due to its low fat content and ingredients that will go easy on your doggie's stomach.
The recipe uses deboned turkey and chicken meal as protein sources. It also contains salmon oil that will help boost the omega fatty acids content, making sure your old friend stays healthy.
Taurine is also found in this dog food. It is extremely beneficial for battling heart conditions, such as cardiomyopathy.
Some other ingredients that this dog food is rich in include whole fruits and veggies such as blueberries, carrots, spinach, and apples. They are great antioxidants that will make sure your pup stays healthy.
Also, as this food is gluten-free and grain-free, it is suitable for many dogs with various food allergies.
This is an excellent high-protein, grain-free dog food that will meet all Belgian Malinois needs. It uses wild boar, whole beef, and lamb meal as protein sources. These red meats provide excellent support for the dog's muscles, bones, and joints.
While this is a budget-friendly option, this is a high-quality dog food with premium ingredients. It doesn't contain any additives, but it's enriched with whole fruits and vegetables, including tomatoes, raspberries, and blueberries.
This means it's rich in fiber that will aid the dog's digestive system, while also being a rich lycopene source. This is a powerful antioxidant that is believed to prevent many forms of cancer.
Finally, the food contains K9 strain proprietary probiotics that will further aid the digestive system.
If you can afford premium dog food, this might be the best one for you. It has a protein-dense formula that mostly includes animal protein ingredients. In fact, the recipe is made with 85% poultry and fish!
This recipe is rich in omega fatty acids and DHA, which ensure your dog is in the best possible health. It also contains real chicken liver, which is filled with vitamin A.
In fact, this dog food tries to replicate the Belgian Malinois' ancestral diet. As such, it uses the entire animal for its recipe, including organ meat and bones. This means the food is filled with animal-based proteins and antioxidants.
It's grain-free, with freeze-dried coated kibbles that will taste good even to the pickiest of eaters. At the same time, it's produced in the USA, so you can be certain of its quality.
If you're looking for canned dog food, this might be the perfect choice for you. It's packed full of top-quality ingredients that will help your dog's health.
It contains three types of beef: whole beef, beef liver, and beef broth. All of these provide lots of fat and protein necessary for Belgian Malinois.
This is a great choice for picky eaters as most dogs won't refuse to eat wet dog food. This even makes it good for puppies, although it won't provide them with all the nutrients a pup might need.
The biggest issue with this dog food is that it won't provide your dog with enough protein. As such, we'd advise you to use it as a topper or as an entree meal instead of on its own.
If your pooch is prone to food allergies, this might be the right product to try. It is chicken-free and pea-free, and the main protein source is salmon and menhaden fish meal. While this might be tricky for dogs that hate the taste of fish, it's great for those with poultry allergies.
While there isn't hypoallergenic dog food, this product comes close as it doesn't contain any grains or soy, while being rich in omega fatty acids and fiber.
It includes sweet potatoes as a source of carbs, giving your pooch some additional energy. Unfortunately, it doesn't contain any chondroitin or glucosamine, so if your pooch has joint problems, you might want to look elsewhere.
This is a great weight control dog food, especially if your pup has a sensitive tummy. This is a grain-free, limited-edition food that excludes most common allergens, such as chicken and peas. Instead, it uses real meat and body parts from lamb.
As it contains lots of red meat, it has just the right amount of protein for any large breed puppy or adult. As lamb isn't a common allergen, it isn't supposed to cause problems for most dogs.
At the same time, lamb is a great source of healthy omega fatty acids that further help the dog's body battle inflammatory processes such as allergies while also preventing dry skin by supporting natural skin oil production.
This is the best dog food for Belgian Malinois that need that extra boost of energy – and, in a way, this is something all Mals need.
This is a high-protein formula that lists chicken meal as the first ingredient, but it also contains blood meal for an additional protein boost.
Next to this, Victor uses its unique VPRO Blend that contains various mineral complexes, probiotics, prebiotics, and selenium yeast. This makes it a great choice for improving your pup's overall health and boosting its digestive system.
Next to active dogs, this is also a great choice for lactating females and Belgian Malinois puppies. This is due to its high protein and fat content, which makes it suitable for all life stages – although we might avoid feeding it to older dogs.
This is the best dog food for a Belgian Malinois if you want to ensure his well-being and have him lose some weight. It contains a fairly high protein amount, but it's low in fat, so it's amazing for weight control.
It can also fulfill most of a senior dog's needs as it won't go too hard on the pup's stomach since it's gluten-free and grain-free. The recipe also uses a holistic blend of live prebiotics and probiotics that will support digestive health.
This isn't a recipe that's made specifically for large breeds, but it contains everything that dogs such as Belgian Malinois need. It's rich in vitamins and minerals, has just the right amount of protein, and provides enough nutrients. Your Mal will enjoy it!
This might be the best dog food for Belgian Malinois, especially those that struggle with digesting chicken or many other ingredients. It helps minimize food sensitivities while also providing your pooch with all the nutrients he might need.
It contains healthy ingredients such as sunflower oil, chickpeas, and sweet potato, while using deboned lamb and lamb meal as its main protein sources. In fact, it's free of chicken and any other poultry, which are two main allergens found in dog food.
It also uses many vitamin and mineral supplements such as Vitamin A, Vitamin D3, and Vitamin B1, as well as taurine. It's free of any artificial flavors and colors, and all ingredients are non-GMO.
We have to mention another food made by Wellness as this brand is known for being one of the best out there. This dog food is made for large breed adult dogs, and it can provide them with the best possible nutrition.
This is a unique formula that uses deboned chicken as a protein source. It has just the right amount of proteins needed to keep your dog in good shape. It's enriched with tocopherols that are great for preventing eye infections and cataracts known to plague this dog breed.
It has a moderate fat content; just enough to ensure your dog has the right amount of energy, but not too much to cause weight gain.
A unique ingredient that this dog food sports is Yucca Schidigera extract that can reduce odor in the dog's stool. This makes this food a great choice not just for dogs, but for their owners as well.
12. Timberwolf's Black Forest Legends
Their Black Forest Legends dog food has been developed using fresh New Zealand lamb, and fresh deep sea cold water salmon, whitefish. The addition of lentils and peas provide a fiber-rich, nutritious vegetable component, packed with folate as well as iron, protein, vitamin B1 and B6, potassium, and zinc. Flaxseed is also added, which has been shown to prevent cholesterol from depositing into the heart's blood vessels.
Timberwolf's Black Forest provides a fully balanced diet, high in omega 3 fatty acids and soluble dietary fibers. It is also a highly useful formula for combating dermatologic issues and other conditions caused by the build-up of toxins or other adverse food reactions.
Best Dog Food For Belgian Malinois Puppies
Puppies don't have the same demand as adult dogs. As such, you cannot give them the same type of food. Their nutritional needs are different as they are still growing and, as such, they require more energy.
Very young puppies are not yet used to dry dog food, which is why they might prefer eating pate or wet dog food. In fact, this is preferable as they don't yet have fully developed teeth, and their tummies might have problems digesting dry food.
As they also have sensitive stomachs, it is best to give them limited-ingredient foods, or foods that don't contain dairy or any fillers.
When the puppy has weaned off the mother's milk, it's time to give him wet dog food. You might have to mix it with the mom's milk for a few days until he is used to it.
Puppies should stick to wet dog food until they are several months old. Once their teeth start growing, it's time to start using wet food as a topper on kibble until it's time to fully switch to dry dog food.
Here is the best dog food for Belgian Malinois puppies:
If you're looking for the best dog food for Belgian Malinois puppies, this might easily be the right one. Not only does it contain a high amount of protein, but it also has only high-quality ingredients.
It uses top-quality chicken and turkey meals, so you can know it has great protein sources. In fact, it's as close as you can get to raw food despite it being in the form of kibble.
It also contains menhaden fish meal as a source of omega fatty acids that will help your puppy's development while also ensuring his coat and skin are in great condition.
The food is supplemented with glucosamine, phosphorus, and calcium that can help your dog's growth. It's also rich in probiotics and antioxidants, while it excludes any artificial colors, preservatives, by-product meals, and GMO ingredients.
The biggest issue with this puppy food is that some picky eaters might not be too satisfied with its flavor, which is why it might take a while for a dog to transfer to it fully.
This is a great food for puppies that are not known to have any food sensitivities. It has just the right amount of protein and fat to enable puppies to grow strong.
The food uses fish oil and flaxseed as the main source of fatty acids and DHA, so it can give pups everything they need for good brain development. It also contains L-carnitine for that added energy boost.
Fiber-rich ingredients, such as chickpeas and beet pulp further help healthy digestion while chicken meal and deboned chicken add to the flavor.
Blue Buffalo uses LifeSource Bits to provide the perfect blend of all necessary antioxidants and nutrients. This is a high-quality recipe that goes by the belief that the puppy stage is the most important life stage for a dog's development, so it makes sure that it has everything a puppy needs.
This is great dry dog food for Belgian Malinois puppies that have weaned off wet dog food. It has lamb as the main protein source, and this red meat is excellent for providing your dog with all the energy its lean muscles need.
Everything is designed to meet the active puppy's needs while also ensuring his overall health, thanks to a great blend of ingredients.
Everything is tasty, so even the pickiest of eaters should love having a bite of it.
The recipe uses all-natural ingredients such as brewers rice, whole grain brown rice, chicken fat, fish oil, tomatoes, spinach, coconut, and chia seed. This makes it rich in many healthy nutrients, such as glucosamine and chondroitin. With it, your puppy will grow to be strong and smart as this breed is supposed to be.
This is just another dog food that proves how Nutro is willing to dedicate everything to producing top-quality meals. Every single ingredient is carefully tailored to provide all the necessary nutrients for puppies up to 18 months of age.
Best Dog Food For Belgian Malinois Buyer's Guide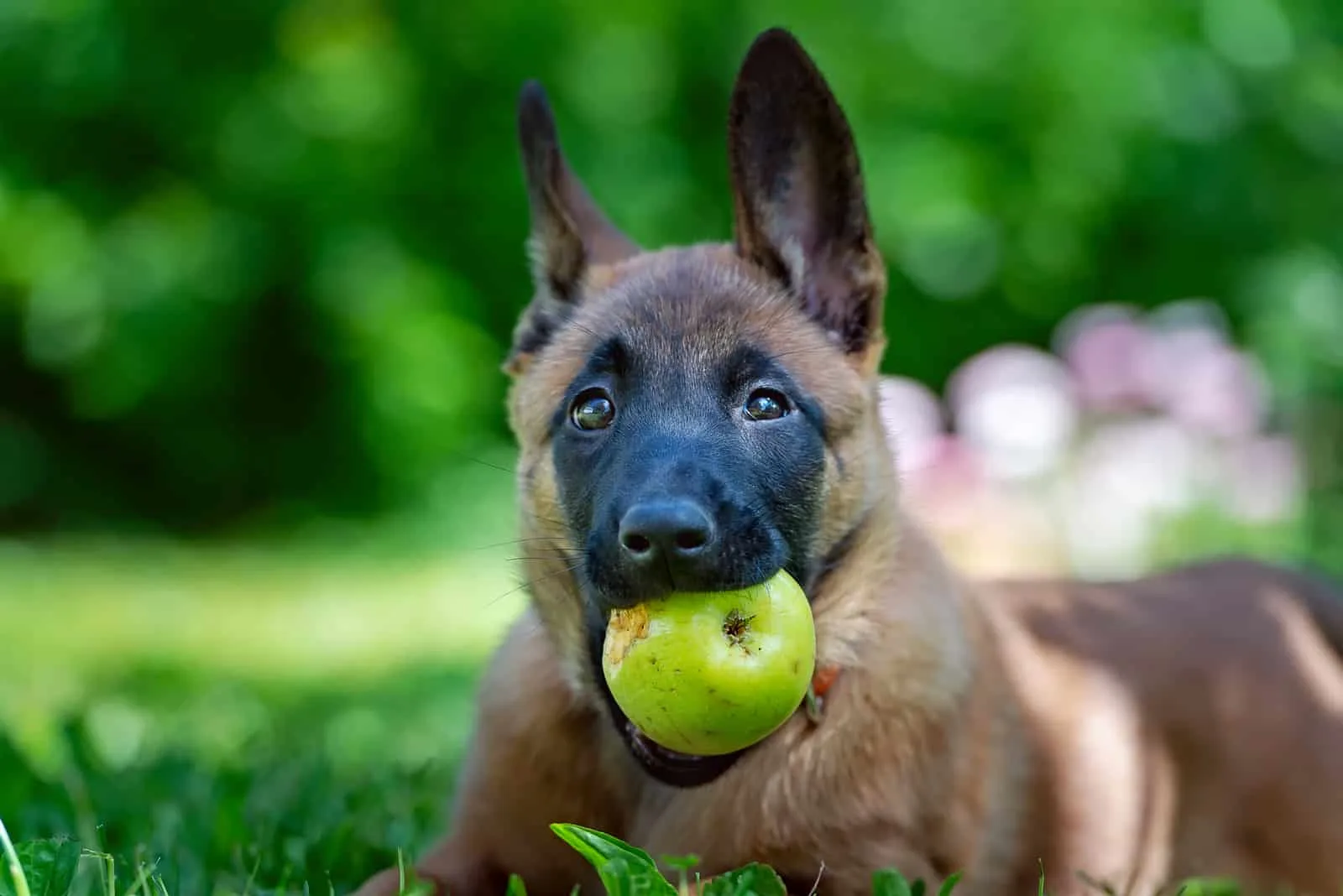 All Belgian Malinois owners would agree that these are high-quality dogs. As such, they require a high-quality diet that will meet all their dietary needs.
Each dog breed has its own nutritional requirements that only the best food can meet. For example, we've already established that Belgian Malinois are an extremely active breed. This means that they have lean muscles that require a balanced diet in order to be fueled correctly.
Even if your Mal leads a more or less sedentary lifestyle, you'll need to provide it with some exercise to keep it from becoming overweight and destructive. If this breed isn't given enough physical and mental stimulation, they'll become destructive and restless.
Active dogs such as Belgian Malinois require 22% to 25% of protein, combined with 5% to 15% of fat. They also require some carbohydrates that will support their digestive system and provide them with some additional energy.
The most important factor for keeping your Belgian Malinois healthy is the perfect balance between a proper diet and exercise.
While we're at diet, here's what the best dog food for Belgian Malinois should contain:
High-Quality Protein Source
The best dog food for Belgian Malinois should be high in protein. Mals have high muscle density that requires thick muscle volume to maintain their body mass and bone structure.
Not just that, but protein helps these pups feel full, which will make them eat less food and keep them from becoming obese.
However, the amount of protein isn't the only essential thing you need to look at. It's also important where you get this protein from.
Most protein is sourced from animals and meat. You can get it from deboned meat, animal meal, or animal byproducts.
The tastiest choice would be deboned meat such as deboned chicken, deboned turkey, or deboned beef. While some dog lovers argue that this type of food contains lots of water and not enough nutrients, if the protein amount is good, your dog will get just what he needs.
While animal meals and animal byproducts can also be a good choice, it's important to know what animal they are sourced from. Don't buy dog food with an unspecified protein source. Make sure the food has a label, such as 'chicken meal', or 'turkey byproducts'.
This is because not all animals are considered to be a quality protein source. If the dog food doesn't have a label stating what meat is in it, chances are the source isn't high quality.
There are even some protein sources that don't originate from animals. This includes corn, soybean meal, and gluten meal. However, these protein sources also have lots of carbs or calories, and they cannot provide the same amount of protein as meat.
Also, you should look at the location where the food was produced. Countries such as the USA, Canada, Australia, New Zealand, and the EU have strict safety regulations and quality control. If the food has been approved by the AAFCO and similar organizations, you can know it has been processed properly.
This isn't to say that food that is made outside of the USA is necessarily of poor quality. However, without proper testing, you cannot be certain that specific protocols regarding healthy food have been followed.
Fat Amount
All dogs need a certain amount of fat in their diet. Fat serves as an energy powerhouse, and it's usually used for the development of the brain and vision.
However, active dogs shouldn't eat as much fat as lazier breeds. This is because it's more dangerous for them if they happen to become obese, and you should give them food that will help them avoid this.
Fatty acids or amino acids are extremely important for these dogs as they can help the health of the dog's coat and skin. Not just that, but they'll boost the health of your dog's heart and brain. The same goes for DHA, which improves cognitive functions.
If you notice that your pup has been lethargic, chances are he's running low on fats. Try giving him a bit stronger food, but make sure he is active.
Supplements
Supplements, such as chondroitin and glucosamine are very important for your pup's health. They can improve your dog's joint health as well as proper brain function. Ingredients, such as fish oil, can be rich in them.
You should also look for food rich in vitamins and minerals. These usually come from ingredients, such as healthy fruits and veggies. Vitamin D, Vitamin E, Vitamin C, and Vitamin B are all very important for your pup's immune system, while minerals, including calcium, phosphorus, and selenium can keep his body healthy.
Probiotics and prebiotics are important for a dog's digestive system as they make sure your pup can digest food effortlessly, and this is further aided by fiber.
This is why you should always look for dog food rich in fresh fruits and vegetables such as blueberries, cranberries, tomatoes, carrots, spinach, and so on.
Avoid Artificial Ingredients And Fillers
Artificial flavors and colors are never a good thing to have in a dog's food. They don't have any nutritional value, and usually won't bring anything good to your Belgian Malinois.
Artificial colors are there to make the food pleasant to the human eye, while artificial flavors might ensure that a picky eater consumes the food. However, they are usually made out of unhealthy chemicals, and you don't want them in your dog's diet.
Similarly, you should avoid preservatives. While these can give your dog food a longer lifespan, they are extremely unhealthy, and no product labeled as the best dog food for Belgian Malinois should have them.
Fillers are placed in the dog food to give it a fuller look, and sometimes they can add to the flavor. However, these are usually filled with bad carbs, so you should avoid them. This includes ingredients, such as corn and soy.
Belgian Malinois Health Problems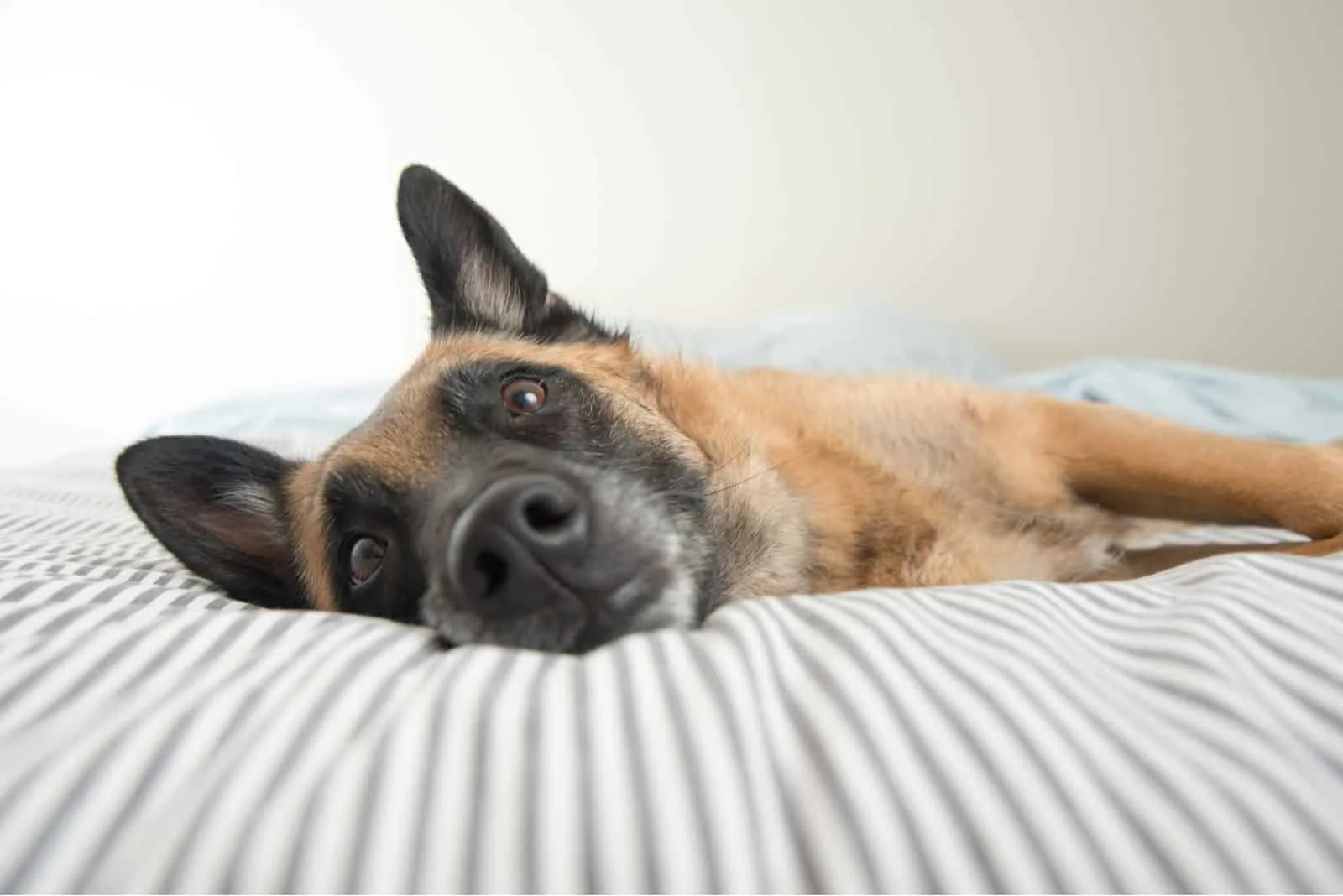 All dog breeds, especially purebred ones, are prone to some health conditions. Many are genetic, but some are related to allergies or the overall environment.
The best thing you can do to make sure your pooch is free of health issues is to buy from a reputable breeder that will make sure the dog has been tested for most genetic conditions.
The next best thing you can do is give your pooch the best dog food for Belgian Malinois as food rich in antioxidants and proper minerals can help improve the dog's health.
Here are some common health conditions that might plague your Belgian Malinois:
Obesity
Belgian Malinois are active dogs that require constant exercise. If they don't go outside or don't run around as much as they should, they can easily become obese.
Things get a bit more complicated as their food has to be rich in fats and proteins. Once they stop training, the body will no longer spend them to create energy, and instead, store them into body fat.
This is why it's essential to choose a dog food with the right amount of protein and fat that won't easily lead to weight gain. Animal byproducts, for example, are known to have lots of empty fats, which are not good in the long run.
Hip Dysplasia
Hip and elbow dysplasia are common orthopedic problems that dogs can either develop in old age or earlier if it's genetic.
These occur when the hip joint and the joint socket are improperly placed, which can result in lameness. This is a common condition in all working dog breeds as their bones deteriorate faster.
Hip dysplasia is hereditary, which is why dogs that have it aren't bred any further. If left untreated, it can lead to arthritis.
Foods rich in chondroitin and glucosamine can lower the chances of developing dysplasia. Also, a dog that maintains a healthy weight is less likely to suffer from it.
Retinal Atrophy
This is an eye disorder that can result in blindness. Fortunately, it's easy to detect even before significant vision loss, although it's not treatable.
Fatty acids can help reduce the chance of retinal atrophy, which is why the best dog food for Belgian Malinois should be rich in them.
Gastric Torsion Volvulus (Bloat)
Bloat is the most common cause of death in young, medium to large breed dogs. It occurs when the stomach twists due to an improper diet or bad eating habits. If not treated immediately, it can be fatal.
The only way to prevent bloat is to take great care of your dog's feeding habits.
This is why it's important to feed your pooch several smaller meals instead of one big one. Also, don't make him exercise right after eating.
Cancer
Unfortunately, Belgian Malinois are also prone to some forms of cancer such as osteosarcoma, lymphoma, or ovarian and testicular cancer. Sadly, cancer is often fatal, and there is no way to predict or fully prevent it.
However, there are some indications that food rich in antioxidants can help keep most forms of cancer from appearing. They provide detox for the body, and help healthy cell and DNA development.
FAQ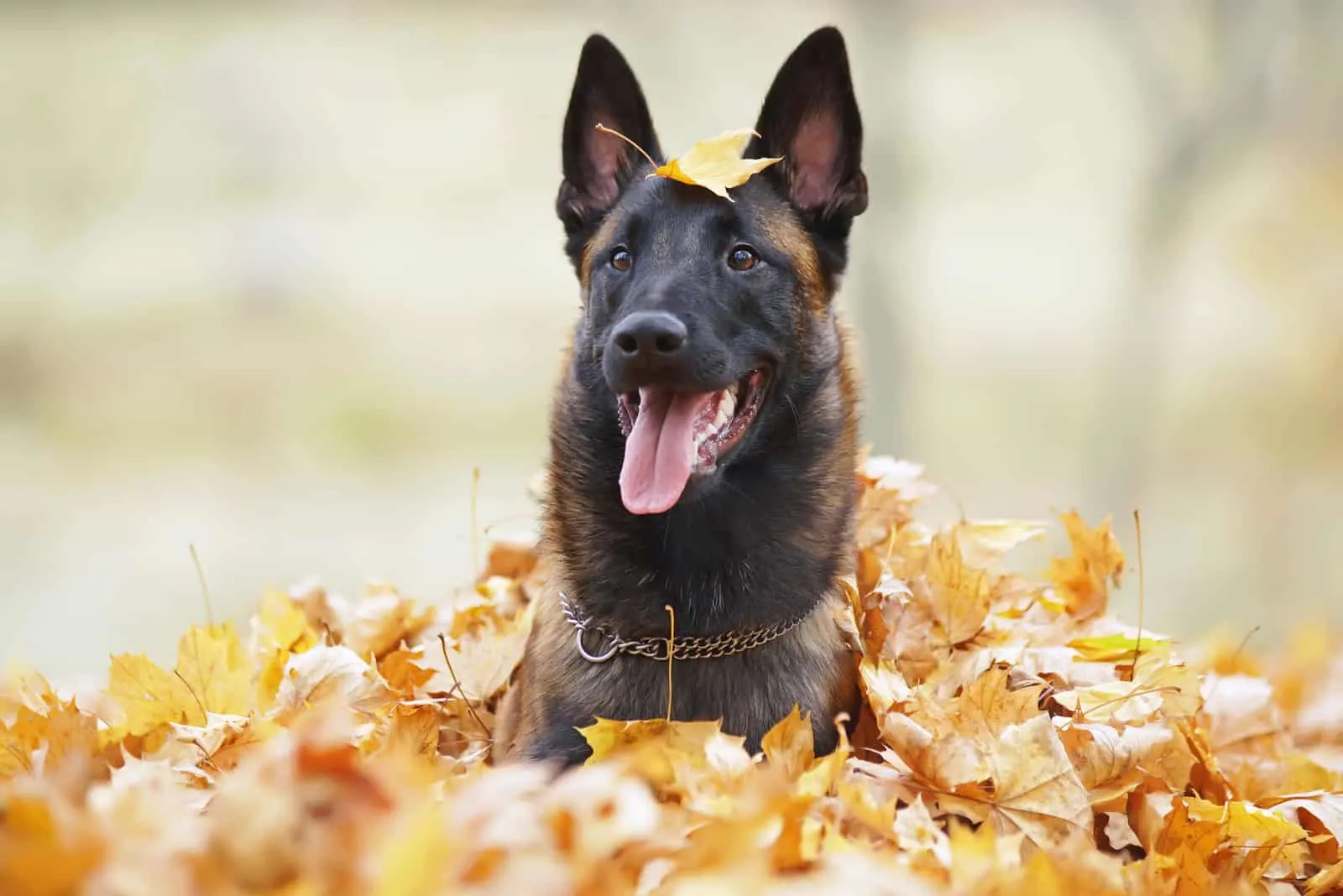 Are Belgian Malinois Good Dogs?
There is a myth that Belgian Malinois are aggressive dogs that won't tolerate strangers, and they make terrible family dogs.
While it is true that they are not as friendly as some other dog breeds, such as Retrievers or GSDs, these are not aggressive dogs. They are very loyal to their owners, and they can even be very affectionate.
The problem arises if you don't socialize or train your pooch properly. These are not beginner-friendly dogs. They are territorial, and they might not do well with new people and dogs. This is why they might function the best when they are the only pet in the household.
However, this isn't to say that they are bad dogs or make bad pets. They simply require a firm hand and an experienced owner.
Of course, it's essential to note that the temperament is always up to the individual dog. Just like humans, canines have their own personalities, and you might end up having a Belgian Malinois that is extremely social and that'll love to make new friends.
What's most important is how you train your dog and how much time you dedicate to them.
How Much Food Should A Belgian Malinois Eat?
The exact amount of food depends on the individual dog and on features such as his size, weight, activity levels, and whether you're giving him dry or wet dog food.
Overall, you should give your Belgian Malinois two to three cups of high-quality dog food a day, divided into two meals. You shouldn't give it too many treats as you don't want it to become obese or overweight.
At the same time, if you have a puppy, you should give him a bit less food, but divided into more meals. This will help your Belgian Malinois puppy always have enough strength to grow and be active.
What Do You Feed A Senior Dog?
Just like puppies, senior dogs don't have the same requirements as adult dogs. They are usually less active and more prone to obesity, while there are also some health concerns that need to be taken into consideration.
As such, their food shouldn't contain too much fat and carbs. However, it isn't necessary for dog food for older Belgian Malinois to contain that much protein. These dogs won't run around all day, and they are certainly not growing.
Over time, a canine's stomach might become more sensitive to certain foods. It is best to avoid giving them ingredients that are challenging to digest such as fillers, corn, or even too much fiber.
Their food should be rich in vitamins, especially omega 3 and omega 6 fatty acids, glucosamine, and chondroitin as these can improve their bone, brain, heart, and joint health. This will help your pups live long, healthy lives.