This post contains affiliate links, and I will be compensated if you make a purchase after clicking on my links.
The Shiba Inu dog breed is a good-natured companion dog that comes from Japan. This beautiful, well-muscled, and spirited dog is also one of the most popular dogs in America. It makes sense since who is able to resist a beautiful-looking dog with a charming and confident personality?!
However, owning a dog is not only having a cute companion to play with – it is also a huge responsibility since you are the one who has to make sure that he is happy and healthy.
A high-quality diet is an essential part of a dog's well-being, so choosing one is a really important step. Don't be afraid because we are here to help you!
We have scanned the market and found 15 picks for the best dog food for Shiba Inu dogs that your pup will surely love. Check out the buyer's guide at the end to learn what you need to look for in a dog's food and what you should avoid.
Let's start our mission to find your Shiba Inu the perfect dog food he is going to adore…
Top 3 Best Dog Foods For Shiba Inu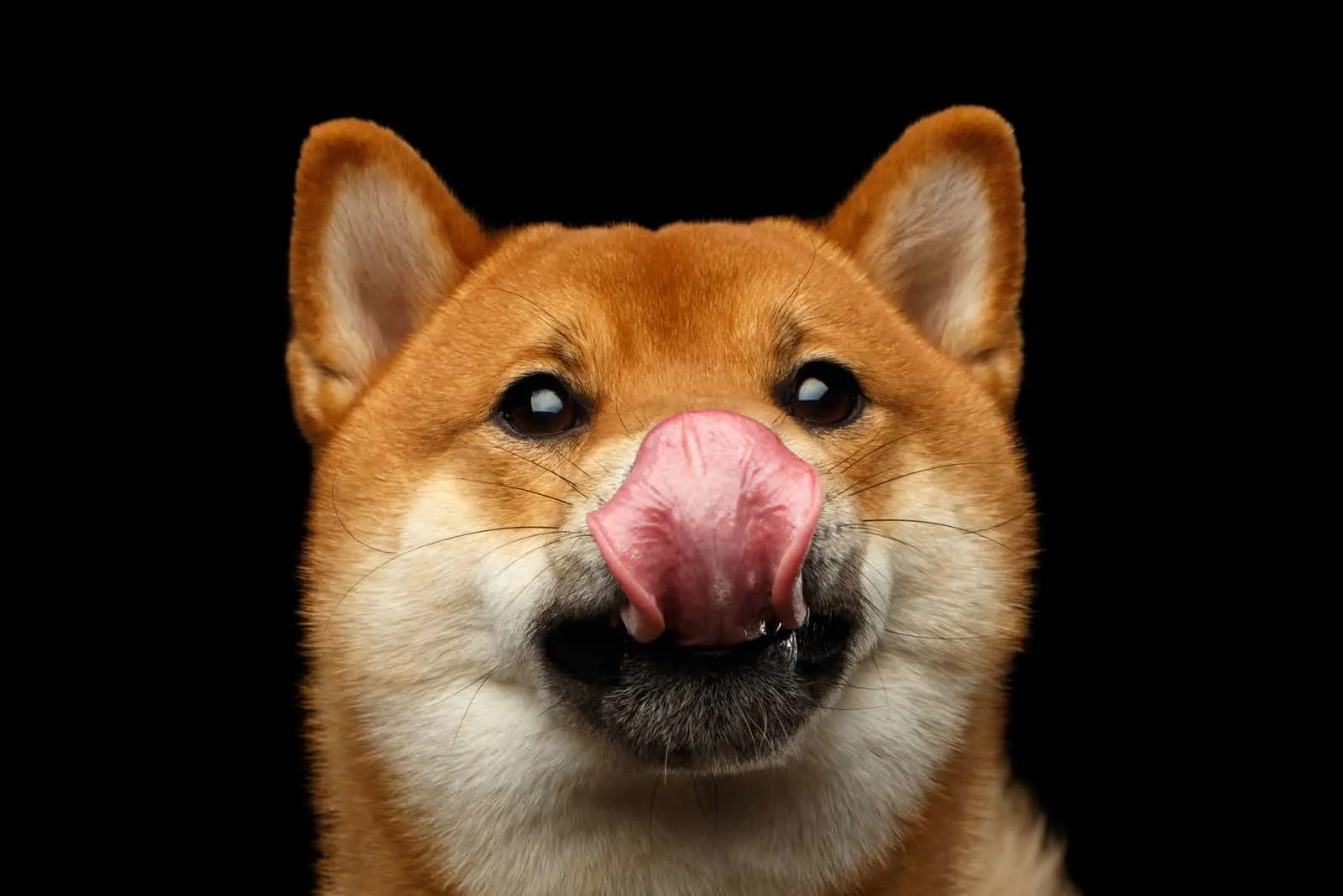 15 Yummiest And Best Dog Foods For A Shiba Inu
Each product should have a feeding guide printed somewhere on the package, but our advice is that you read the "Shiba Inu feeding chart" beforehand so that you know what the ideal diet and healthy feeding amount should look like.
Let's get back to the business and see what our 15 picks for the best dog food for a Shiba Inu are:
Wellness CORE Natural Grain Free Dog Food is specifically-formulated small-breed dog food that will provide your Shiba Inu dog with optimal protein and calorie levels needed for small-to-medium dog breeds.
This expertly balanced dog food offers your pup a diet packed with nutrients and everything that one doggo needs to thrive. You don't need to worry about the quality of this recipe because it does not contain any meat by-products, fillers, or added preservatives.
Each product is crafted in the USA, with the best possible non-GMO ingredients for a wholesome diet and nutritional benefits.
Ingredients such as omega fatty acids, antioxidants, probiotics, and glucosamine help support the whole body's health, and are especially good for a healthy heart.
It might be a little bit on the pricier side, but this high-quality dog food will definitely provide your pooch with everything he or she needs to thrive and live its best life.
If you are looking for good-quality dry dog food, Royal Canin Small Breed Adult Dry Dog Food should definitely be one of the top picks for you.
It is specifically made for small-breed dogs from ten months to eight years, and weighing up to 22 pounds. According to the Shiba Inu's growth chart and its size, this dog food can be the perfect choice for your pooch.
Even if you are dealing with a fussy eater, this dry dog food has a delicious taste that will win over even the pickiest eaters. It offers many health benefits, but the most important ones have to be maintaining healthy weight, skin, and a shiny coat.
Many veterinarians recommend this brand since it helps dogs live a happy and healthy life.
This USDA, organic-certified, and non-GMO chicken and sweet potato dry dog food is made from organic chickens that have been raised naturally, without any added antibiotics or growth hormones.
It contains no artificial colors, flavors, or preservatives, and it is completely grain-free, without corn, wheat, soy, chickpeas, or lentils. On the other hand, some superfood ingredients provide the necessary nutrients.
This brand is a completely U.S.-made product made with love, and in an organic-tested USA kitchen. Although many customers simply adore this brand, there are a few of them who are a little bit disappointed by the shrinking of the bag.
In the last few years, while the price has stayed the same, the food bags seem to have shrunk little by little, so this is something that you should be aware of.
Purina is a well-known brand whose high-quality formula is not only great for Shiba Inus, but also for various other dog breeds. It is checked for quality and safety, so you can rest assured that you are feeding your pup with only the best food.
This high-protein formula is made with shredded pieces of real chicken that provide your pup with an excellent source of protein. It helps dogs maintain ideal body conditions and stay happy and healthy.
Vitamin A and omega-6 fatty acids that can be found in the formula help nourish your dog's skin and coat, making him look fabulous and shiny as ever. Natural fibers help nourish intestinal bacteria and secure the perfect health of the digestive system.
Many happy customers state that their dogs absolutely love this dog food brand, so you should definitely try it, and maybe your Shiba doggie will also love it.
Blue Buffalo Wilderness natural dry dog food is a premium recipe that your dog will surely love. It is made with real deboned salmon as the main ingredient, which will help build your dog's strong muscles.
Additionally, complex carbohydrates gained from fruits and veggies will help fuel your dog's high-energy needs. It perfectly supports a dog's immune system health, oxidative balance, and all current nutritional needs.
The best veterinarians and animal nutritionists have worked together to create the best possible formula that will satisfy even the pickiest pups. It is enhanced with vitamins, minerals, and other nutrients, and it does not contain any artificial flavors, by-products, or preservatives.
Even the pickiest eaters will howl with delight after this wholesome meal.
If you have a Shiba Inu puppy, IAMS PROACTIVE HEALTH puppy food with real chicken will be a great choice for your pup's special needs.
It is made with twenty-two key ingredients that can also be found in mother's milk, and that are absolutely necessary for developing a strong immune system.
Additionally, to ensure that your puppy receives balanced nutrition, they have made sure that their recipe does not contain any artificial preservatives, flavors, or fillers, but only high-quality animal protein.
Iams is well-liked, easy to digest, cost-effective, and will make your puppy grow healthy and happy. If your dog likes it, they also carry a full line of foods for all dog ages and dietary needs, from young pups to adult dogs.
RELATED: My Puppy Is Always Hungry – When To Stop Feeding
Hill's Science Diet is perfect dry dog food made with natural ingredients and small kibbles that are easy to digest even for the smallest dogs. It contains omega-6 and vitamin E that will keep your dog's skin healthy and its coat lustrous.
Natural fibers that can be found in the formula promote healthy digestion, and high-protein chicken meal will provide your Shiba Inu with enough energy needed for a healthy lifestyle.
It is made from globally-trusted ingredients (plus vitamins, minerals, and amino acids), and it never contains artificial colors, flavors, preservatives, or chicken by-product meals. By buying this product, you are not only feeding your pup with high-quality food, but also helping donate food to shelters across the country.
Hill's Food, Shelter, & Love program helps provide the proper nutrition that every dog needs and deserves, so with every purchase of their products, they donate a portion of the proceeds that helps feed over 100,000 homeless pets every day. Buy good and do good!
If you are interested in saving one Shiba Inu and providing him/her with a forever home, take a look at Shiba Inu Rescues For Adoption: 10 Best Organizations In The States for reference.
The most important ingredient in this formula is sustainably-sourced salmon that provides your pup with optimal protein levels and omega fatty acids that will help your dog's skin be healthier and his fur shinier and smoother.
READ ALSO: The Ultimate 2022 Guide To All The Lovely Shiba Inu Colors
Taste of the Wild is a premium dry dog food that is filled with superfoods, antioxidants, and probiotics. Each pack of food has proprietary K9 probiotics that are specifically developed for dogs and absolutely vital for a dog's diet.
Different kinds of vegetables and fruits help provide your dog with antioxidants that enhance the dog's overall health, while on the other hand, supplements in the form of zinc, calcium, and vitamins help keep your dog's immune system strong and healthy.
The only downside is that it is a bit pricier; however, if you want to provide your dog with appropriate nutrition and make him look and feel great, you should definitely try this.
If you want simple, purposeful, and trustworthy dog food, choose NUTRO Natural Choice and see why so many dog owners solely use this food brand.
Each formula's number one ingredient is always a high-quality protein that your dog will simply adore. Besides the chicken meal, there are also choices like beef, lamb, or venison, so you can always find something that your Shiba is going to love.
NUTRO products are always made with non-GMO ingredients, and without chicken by-products, corn, wheat, or soy protein. Still, they make sure that every formula is rich in nutrients and delicious in flavor because they care about dogs and their nutritional needs.
A lot of owners actually recommend this food for dogs with food allergies, sensitive digestion, gas, or bowel problems, so if you are also one of the concerned owners dealing with any of these issues, you may want to try it and see if it helps.
RELATED: Why Does My Dog Poop So Much? Healthy Pooping Amounts
ZIWIPeak air-dried dog food offers great nutrition for all dog breeds and all life stages. It is expensive, but it provides your dog with all-natural, ethical, and sustainable ingredients that will ensure the optimal health of your pet.
It combines the best from the fresh and raw diet in a ready-to-serve and convenient air-dried alternative. ZIWI air-dried dog food offers you a great variety as it can be used as a nutritious topper, tasty treat, or a complete meal on its own.
Coming all the way from New Zealand's farms and oceans, this brand offers you only the best high-quality meat sources that are raised without added hormones, antibiotics, or growth promotants that can be very harmful.
This dog food is completely safe even for food-sensitive dogs because it helps support digestion, and promote heart health, joint health, and mobility, dental, and oral health, and it also reduces inflammation. Your dog will surely enjoy every bite.
If you want to provide your Shiba Inu with simpler, naturalingredients, try Natural Balance Limited Ingredient dog food.
With over 125 years of experience, and working with some of the best veterinarians and pet food specialists, they have managed to develop a food brand that delivers nutrition, quality, and delicious taste at the same time.
The main ingredient in this specific formula is real salmon, which is a great source of omega-3 fatty acids like DHA and EPA that are great for healthy-looking dogs. Many customers have noted that it also helped their dogs with itching and irritation, and made their fur look much better.
This salmon and sweet potato formula does not contain peas, pea protein, lentils, legumes, corn, wheat, or soy, but only great ingredients that your pet is going to love.
Natural Balance is great for dogs with food allergies as well, but make sure you test it before you try feeding it to your pup. If you have any concerns, you can always contact your veterinarian for advice on the matter.
This small-breed dry dog food is perfectly formulated to satisfy your small dog's needs. Shiba Inus being alert and agile dogs need all the nutritive value they can get, and this complete and balanced goodness packed in a bag will provide your pup with nothing less than that.
The number one ingredient on the list is real lamb, paired with other great ingredients, and then coated with freeze-dried raw lamb. All of this ensures the best taste for your pooch.
Since they use approximately eight or even fewer key ingredients, they are great even for sensitive dogs or dogs with food allergies. By using this hypoallergenic food brand, you are supporting your dog's healthy digestive system and immune system, and ensuring the optimal health of joints, skin, and coat.
All Canidae recipes do not include corn, wheat, soy, or animal by-products, and they exceed AAFCO standards. So, if you want to feed your dog with premium-ingredient dog food, but also not break the bank, we suggest you try this food brand.
Let's not forget the senior dogs. Your Shiba Inu might be a little bit older now, but it still deserves high-quality dog food that will keep him healthy for a lot more years to come.
Generally, both male and female Shiba Inus will live between twelve and fifteen years, provided they don't have any health issues. Feeding them a good-quality diet can extend their lifespan and ensure they live a long and happy life.
Blue Buffalo senior wet food is made from only the best ingredients specifically chosen for your senior dog. Additionally, it has been enhanced with minerals and vitamins for the best experience. This pack contains twelve cans of the homestyle recipe with real chicken meal.
It can be fed in three ways: as a delicious treat, a dry food topper, or a complete meal on its own. Either way, your wonderful pup will surely enjoy it. No chicken or poultry by-products have been used in the making as well as no corn, wheat, soy, or artificial flavors or preservatives.
Canned food is great for picky eaters as well as dogs that need to take some pills as it is easier to hide it inside their meals. Wet food is generally a healthier option, especially for senior dogs, as it provides them with not only a healthy diet, but also hydration.
Merricks dog food makes sure that each dog receives specially formulated dog food for every breed and their nutritional needs. They have multiple grain-free as well as healthy whole-grain recipes that will provide your pup with health that you can clearly see.
High-protein dog food gained from real deboned chicken and sweet potato ingredients helps your dog maintain an ideal weight and have all the energy in the world.
Omega-3 fatty acids support super healthy skin and a smooth and shiny coat that is going to be easier to maintain.
Unfortunately, as it has been a trend over the last couple of years, this brand also has been known to reduce the weight of the package, but keeping the same price.
You will be receiving less food for the same price, but this is something that many brands have been doing, and not just in the dog food industry.
RELATED: Do Shiba Inus Shed? A Guide to Taking Care of Your Shiba Inu Pup
The last on our list, but definitely not less worthy is Nature's Recipe dog food. It offers you a good-quality dog diet for an amazing price. It is specifically formulated for dogs weighing 30 pounds or less, which means it will be perfect for your Shiba Inu pup.
Smaller-sized kibble is perfect for smaller mouths, and it is also easier for them to digest. The number one ingredient is real chicken with nutrient-dense sweet potatoes and pumpkins that are a great source of energy for your little pup.
For more than 35 years, they have been creating a natural dog food diet with added nutrients, minerals, and vitamins that help your furry friend lead a happy and healthy life. When our pets are happy, it makes our life happier, and this is the ultimate goal of every dog owner.
By choosing this food brand, you can rest assured that your pet will be enjoying a delicious taste as well as receiving premium food that is a great source of valuable nutrients.
Many happy customers state how this dog food has helped their furry friends with skin allergies, so if you are dealing with this problem, we advise you to try this brand. You have nothing to lose, and it might help your pup in the long run.
READ ALSO: The 4 Best Shiba Inu Breeders In The Entire U.S. (2022)
Buyer's Guide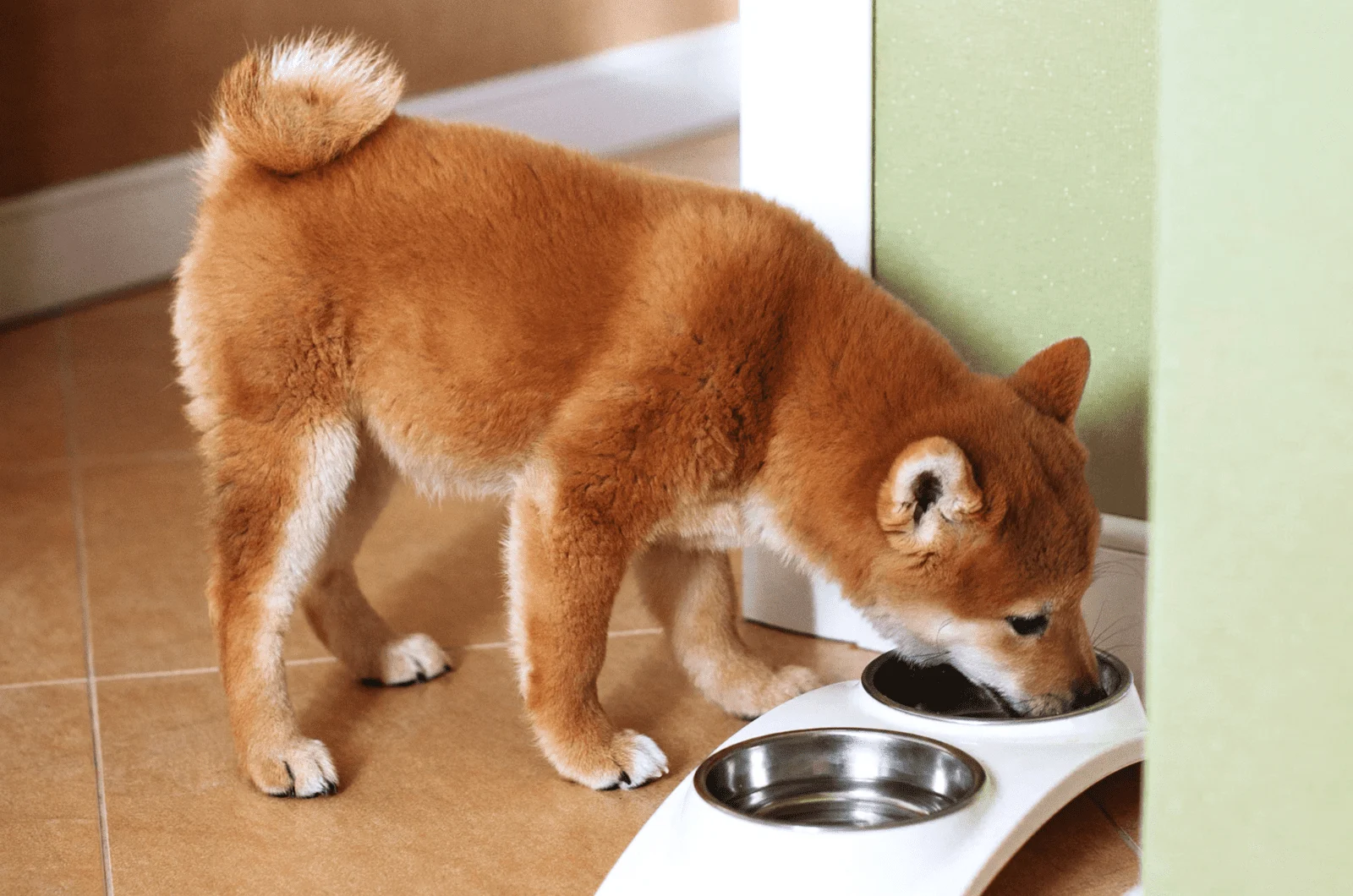 Before you buy any food for your Shiba Inu, you should be aware of the nutritional needs of your pup. Not every food is actually good for your dog, so before feeding your pooch, you should make sure that the food you choose has every ingredient that your Shiba needs for a healthy and happy life.
Protein Source And Content
Whether you choose homemade food, raw food, or commercial dog food, the most important part of every Shiba Inu diet should be the protein source.
A protein-rich diet is absolutely necessary for maintaining their healthy muscles, tissues, and cells. The ideal source of protein is fish meat or animal meat such as chicken, lamb, venison, beef, or salmon.
The number one ingredient on the ingredient list should always be some kind of animal protein. It is recommended that the food contains at least 25% of animal protein, but it is always better if it has even more.
Try to choose food containing meat from natural sources, grass-fed, and raised without any growth promotants, added hormones, or antibiotics, ideally from free-range farms in the USA, Canada, New Zealand, etc.
Avoid meals containing any kind of animal by-product because you can never be 100% sure what it actually contains.
Healthy Fats
Fats are a great source of energy for any dog, and there is no difference when it comes to Shiba Inus. To maintain optimal health, essential fats should be one of the most important parts of your dog's diet.
Omega-3 and omega-6 fatty acids help keep your dog's skin and coat looking healthy and shiny. Although many people believe that fats cause weight gain in dogs, that is actually not true – they provide protection to the organs and aid nutrient absorption.
If your pup does not receive a needed amount of healthy fats in his diet, he or she might experience fatigue and a significant decrease in energy levels.
Carb Content And Nutrients
Carbohydrates are another great source of energy for your energetic Shiba Inu pup. Look for a dog food that contains easy-to-digest carbohydrates that also have high fiber content.
Vegetables like sweet potatoes or peas, along with rice and grains are great sources of carbs. However, due to possible food allergies and stomach sensitivity, many dog owners actually choose grain-free over a whole-grain diet, but if your dog does not have digestive problems, you don't need to avoid it.
On the other hand, you should definitely avoid food that has added fillers, artificial colors, flavors, and preservatives.
Supplements
A healthy and well-balanced diet will also have a healthy amount of supplements, vitamins, and minerals to provide support to the immune system and digestive system.
Vitamins are essential in your dog's healthy diet, so try to always choose food that has either Vitamin E, Vitamin C, or other minerals.
Zinc, calcium, magnesium, and taurine are also some things that you should look for on the ingredient list since they are needed for developing and maintaining healthy joints, bones, and the heart.
RELATED: What To Feed A Sick Dog With No Appetite: We Are Here To Help You
To Sum Up…
Choosing a healthy diet is probably the most important part of taking care of your pet, so this is why we have made this list of the 15 best dog foods for a Shiba Inu.
If you choose a high-quality and protein-rich diet, there shouldn't be problems. However, sometimes Shibas can be picky eaters, which can make finding good-quality food that they like quite a task for dog owners, but you need to be patient and not be afraid to try different brands on the market.
No Shiba Inu dog is the same, and since you know him the best, you will know best what they like or don't like, or what works for him or not. Choose a diet that works for your lifestyle and your dog's needs, but make sure he receives all his nutritional needs.
Don't be afraid to consult a veterinarian for advice if you are unsure about something or if you just want to check if everything is alright.