Disclosure: This post contains affiliate links, and I will be compensated if you make a purchase after clicking on my links.
When it comes to feeding a muscular breed such as a Pitbull, it is very important to stick to a diet that contains all of the essential nutrients. Food that lacks these nutrients can cause a lack of nourishment that your dog's body needs in order to stay strong and agile.
Even though high-quality dog food comes with a hefty price tag, the real cost of feeding low-quality, cheap food to your pooch is much higher in the long run.
There is no way you can afford low-quality dog food with cheap ingredients for this breed, or any other breed for that matter. Since Pitbulls are athletic and muscular canines, they require more fat, carbs, and protein in their diet, just like human athletes do.
Whenever we talk about Pitbulls, most people think of the American Pit Bull Terrier breed, and they are right.
However, Pitbull is an umbrella term used for five different dog breeds, and they are the Staffordshire Bull Terrier, the American Pit Bull Terrier, the American Bulldog, the American Staffordshire Terrier, and the American Bully.
To help you make an informed decision about your furry bestie's diet, and to give you a clear picture of your dog's needs throughout all stages of its life, we have included all important information in our "best dog food for Pitbull" guide.
We spent quite some time creating this list by using 40-point inspection criteria and factoring in things like consumer ratings, nutritional analysis, brand reputation, and more. So, whenever you are ready, let's get into it!
The 8 Best Dog Food For Pitbulls
Pitbull Dog Food Reviews
Dr. Tim isn't just some brand name with nothing to back it up. It is also the name of an accomplished dog musher and veterinarian who started making high-quality dog food in his back yard before turning it into a successful company.
This artisan-crafted dog food is made from high-quality ingredients, with a special nutritional balance aimed at large-breed and working dogs. Dr. Tim knows all about the stamina and energy requirements of working dogs, and this recipe is formulated to satisfy them.
Dr. Tim offers plenty of different dog foods, but Pitbull owners favor the All Life Stages Kinesis Formula for the nutrition it has to offer as well as the amazing blend of flavors.
The slow-cooked, all-natural recipe is prepared under the strict guidance of experienced vets and a professional canine nutritionist to ensure your Pitbull is eating a bowl loaded with metabolically balanced nutrition and quality ingredients.
This corn-free, soy-free, and pea-free food is also great for dogs with sensitive digestive systems, and it supports their playful, healthy lifestyle. We highly recommend this dog food as it is one of the best dog foods for Pitbulls out there.
The Earthborn Holistic Great Plains Feast is an excellent diet choice for adult Pitbulls. You should never ignore your Pittie's nutritional needs, and you should always rely on high-quality sources of fats, carbohydrates, and protein for your canine companion.
In addition to two significant sources of meat, this dog food also contains several vegetables to offer a nutrition profile that is ideal for your pup.
This Earthborn Holistic blend includes a bison meal to help your dog's body maintain lean muscle. On the other hand, the addition of amino acids works to provide essential building blocks and sustain energy.
The carefully balanced ratio of fatty acids ensures a healthy exterior while nutrients like Vitamin C and Vitamin E, as well as antioxidants, support the immune system and help maintain the health of your Pitbull.
This all-natural, grain-free recipe makes this dog food from Taste of the Wild a delicious feast for your Pitt. Pitbull breeds are naturally energetic and active, and require a balanced diet to maintain great overall health.
So, you should aim to serve them a savory recipe loaded with flavorful, nutritionally rich ingredients including lamb, chicken, and buffalo meal.
Taste of the Wild High Prairie Grain-Free Dry Dog Food also contains highly digestible ingredients, such as peas and sweet potatoes, to make it an excellent choice even for the most sensitive stomachs and the pickiest of eaters. The recipe does not have any wheat, grain, corn, or artificial colors and flavors in it.
So, if your goal is to feed your furry friend with the best available dog food, this blend from Taste of the Wild will certainly help you achieve it. The Taste of the Wild brand is always among the top choices when it comes to dog foods, and this blend is among the best when it comes to Pitbulls.
Making the top five best food for Pitbulls, the High-Performance Super Premium Dog Food from Bully Max lives up to its name as it offers a premium diet that supports maximum performance throughout all life stages. So, if you wish to provide your PIttie with the best diet from puppyhood, look no further!
This recipe from Bully Max is nutritionally rich to support your dog's nourishment and growth. Packed with chicken fat for energy and chicken meal for building muscle, this is one of the most often purchased dog foods by Pitbull owners.
The high calorie count found in this blend is perfect for this breed as it gives them the energy their bodies need throughout the day.
The Blue Buffalo Wilderness brand is famous for having the most authentic all-natural dog food recipes for our canine companions. This specific formula imitates the natural diet of wolves, providing Pitbulls and other high-energy breeds an optimal diet for their sustenance and growth.
Blue Buffalo Wilderness Duck Recipe Grain-Free Dry Dog Food is full of meat that utilizes the very best turkey meal, deboned duck, and chicken meal as the major sources of protein.
This blend of carefully selected ingredients and amino acids provides maximum energy and ultimate muscle building. Carbohydrates are maintained at proper levels by the addition of potatoes and peas.
Finally, this amazing dog food from Blue Buffalo Wilderness includes a healthy blend of fresh vegetables and fruits including carrots, blueberries, and cranberries, to give your Pittie a healthy dose of antioxidants.
With deboned chicken as its main ingredient, Merrick's Backcountry Raw Infused Large Breed Recipe Dry Dog Food is full of protein and other necessary nutrients for the proper maintenance and growth of your Pitbull.
The delicious flavors are a combination of handpicked ingredients of the highest quality, including fruits and vegetables for added probiotics and minerals.
This dry dog food formula from Merrick can also be given to pups with sensitive stomachs because it is free of additives, preservatives, artificial flavors, fillers, and other by-products often found in cheap dog food.
Wellness CORE Grain-Free Reduced Fat Turkey & Chicken Recipe Dry Dog Food is an excellent choice for Pitbulls with sensitive digestive systems. The formula is carefully prepared by using high-quality ingredients, and it is free from all sources that are known to trigger food allergies.
This Wellness grain-free recipe features whitefish, salmon meal, and herring meal as the first ingredients, and it offers your Pittie a diet rich in protein and healthy fats, which provide the nutrition it needs for maintaining optimal health.
The high levels of fiber in the formula guarantee normal digestion without causing any issue to your dog's digestive system.
Wild Frontier, by Nutro, With Beef & Wild boar Large Breed Grain-Free Adult Dry Dog Food is a protein-rich recipe that comes from pork, chicken, and beef meals to ensure your Pitbull's nutritional requirements are met.
The balanced and complete diet of crunchy dry kibble contains 60% animal ingredients to satisfy any dog's craving, as well as all of the natural requirements of a healthy high-protein diet. This formula includes all vital ingredients that help support your muscular companion's strong and lean body including flaxseed and salmon oil, as well as glucosamine and chondroitin which help your dog's body maintain healthy hips and joints.
If your Pittie has a sensitive stomach, he will be thankful for this limited ingredient formula. Natural Balance L.I.D. Limited Ingredient Diets Sweet Potato & Fish Formula Grain-Free Dry Dog
Food provides a balanced and complete meal for your agile little buddy. Salmon, sweet potatoes, and menhaden fish meal are there to provide all the nutrients your dog needs without the common allergens and stomach irritants.
Despite the limited natural ingredients in this dog food formula, the fat and protein content is kept at satisfactory levels to ensure every Pitbull gets the nourishment it needs for a day filled with playing, running, and jumping around.
If your pooch is a chicken enthusiast, it will surely fall in love with Diamond Naturals Chicken & Rice Formula All Life Stages Dry Dog Food. This special blend promotes the wellbeing and health of all Pitbull dogs through a nutrient-packed diet in kibble form.
As its name suggests, the formula is suitable for all life stages and different breeds of dogs. Cage-free chicken is the main source of protein, and when this is combined with other healthy ingredients, it gives your Pittie a well-balanced and holistic diet.
If you wish to feed your Pitbull a high-quality diet and save some money in the process, the Large Breed Salmon & Sweet Potato Recipe Grain-Free Dry Dog Food from American Journey is an excellent choice.
This dog food is packed with high-quality proteins, antioxidants, vitamins, and other nutrients that support your Pitbull's optimal health and wellbeing. On top of that, the added omega fatty acids, including DHA, support the cognitive development of your pooch.
Freestyle Turkey & Sweet Potato Recipe Grain-Free Adult Dry Dog Food by Nulo is an excellent diet option for Pitbull breeds, and it is suitable for other large and giant dog breeds as well. This delicious grain-free formula contains deboned turkey, salmon meal, and turkey meal as the primary protein sources.
The fat and protein content are at optimal levels for adult dogs, and with the addition of antioxidants, this nutrient-rich dog food becomes a great defender of your Pittie's overall health. The omega-3 fatty acids from the salmon meal will keep your dog's coat healthy and shiny.
Rachael Ray's Nutrish PEAK Grain-Free Natural Open Range Recipe with Beef, Venison, & Lamb Dry Dog Food is designed with both nutritional requirements and your Pitbull's cravings in mind.
The grain-free blend contains only high-quality animal protein to help maintain your Pittie's healthy organs and improve its lean muscle mass.
In this delicious formula, you will find a lot of all-natural, rich ingredients including beef, lamb, and venison, all of which give your pooch a nutrient-dense, lip-licking, protein-packed meal.
Frequently Asked Questions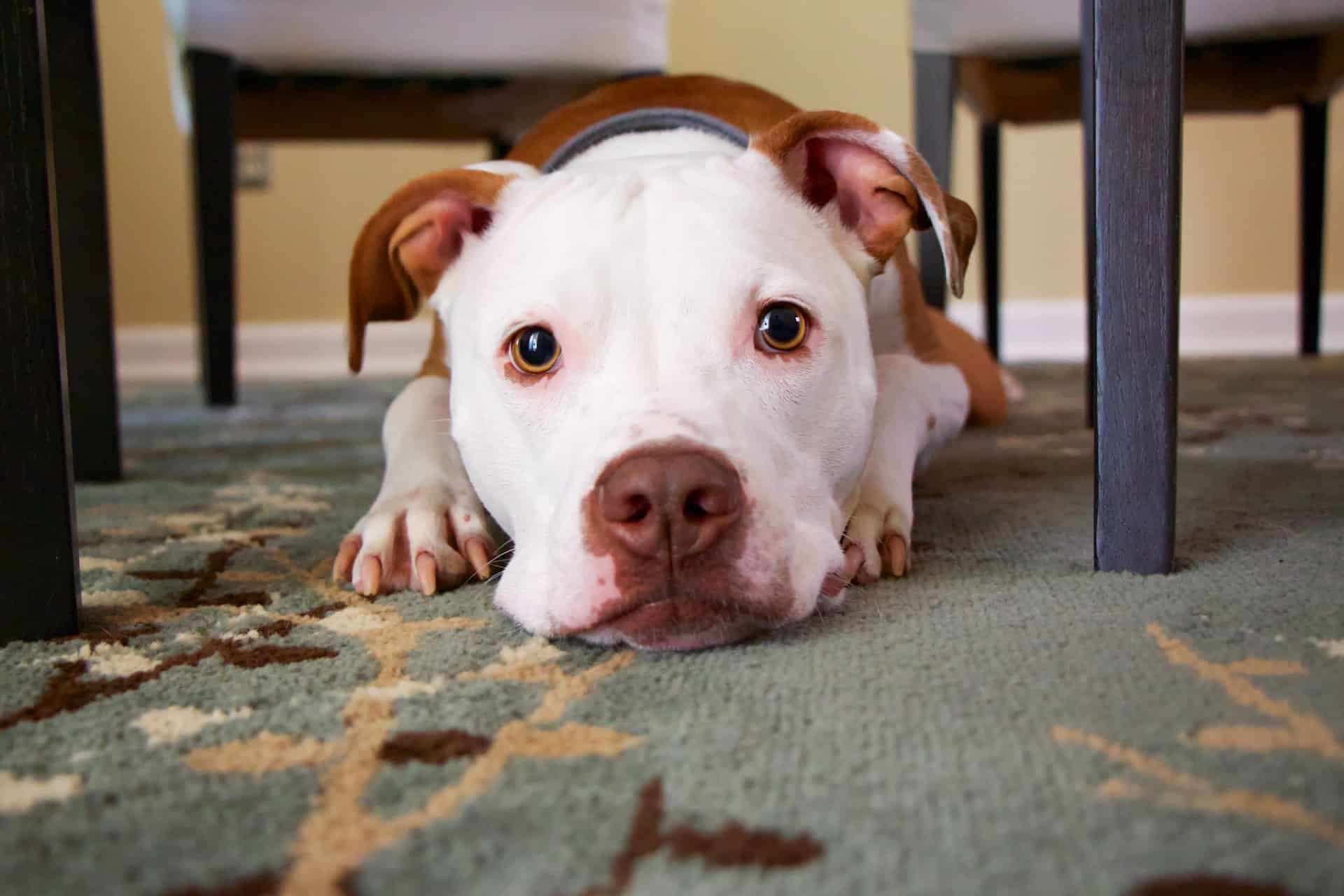 1. Do Dogs Of This Breed Have Any Special Dietary Requirements?
The Pitbull breed should be naturally muscular and active. If your pooch is skinny and unwilling to participate in activities, there could be something wrong with its diet. These dogs need a moderate to high fat content and a high level of animal protein to maintain lean muscle mass. For this particular breed, animal-based proteins are the best go-to source to make the food more digestible.
2. What Are The Nutritional Requirements Of Pitt Puppies?
Like most other large and giant dog breeds, Pitbull puppies require a diet that is composed of high-quality animal-based protein. A growing Pitbull puppy needs puppy food that contains at least 22% protein.
3. What Are The Dietary Requirements Of Middle-Aged And Senior Pitbulls?
Like most other senior dogs, your older Pittie will need some extra fiber in its diet to help its digestive system. Additionally, you will need to keep an eye on its caloric intake once its activity levels begin to drop.
4. How Much Food Should I Feed My Adult Pitbull?
Make sure you feed your Pittie with high-quality adult dog food that is formulated for large dog breeds. An Adult Pitbull's needs should be satisfied with two appropriately sized meals during the day.
5. How Much Food Should A Pitbull Puppy Eat?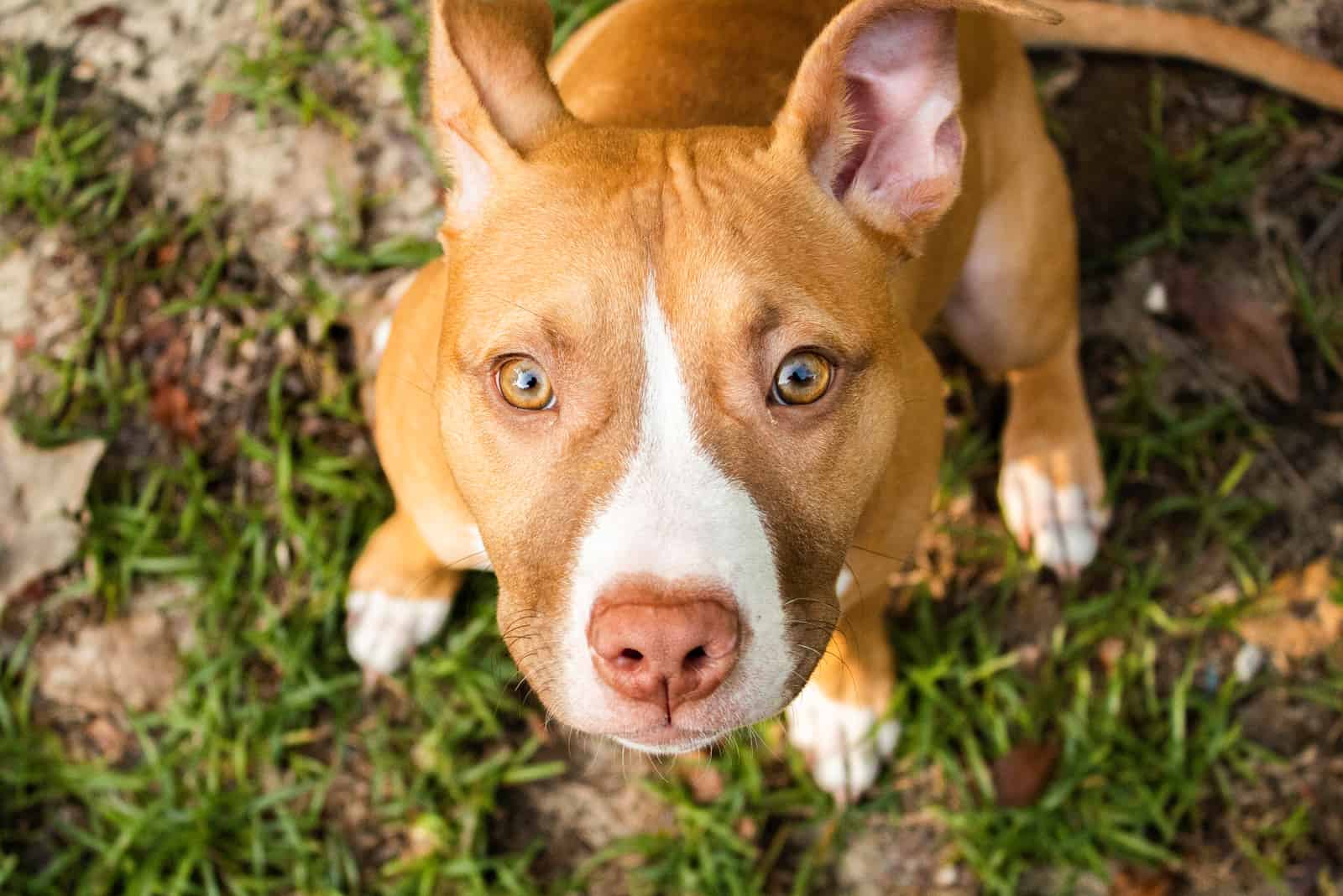 Pitt puppies need much more calories and nutrients for growth and development than adult dogs of this breed. So, you should feed your Pitbull puppy at least three small meals consisting of dog food that is formulated for large-breed puppies during the day.
6. What Vegetables Are Safe To Give To My Pitbull?
Pitbulls absolutely love vegetables! Luckily, there are plenty of veggies that are perfectly safe for your Pittie to munch upon. Don't hesitate to feed your pooch paprika, brussels sprouts, artichokes, edamame, sweet potatoes, and spinach. Avoid garlic, onions, and wild mushrooms at all costs!
7. What Fruits Can I Feed My Pitbull?
Fortunately, for dog owners around the world, there is a long list of fruits that are totally safe for our furry friends. Feel free to feed your pooch bananas, durian, papaya, blackberries, apples, cantaloupe, pears, mangoes, guavas, figs, watermelon, raspberries, and strawberries.
8. Is Grain-Free Dog Food The Best Option For My Pitbull?
Pitbulls are one of those breeds that are prone to suffering from food allergies and sensitivities. If your pooch suffers from these ailments, then grain-free food is the go-to option.
9. How Many Calories Should I Feed My Pitbull?
Younger Pitties should do fine with around 1100 calories daily, while a mature dog of this breed may require between 1100 and 1700 calories. This, of course, depends on their activity levels.
Senior, less active pooches may only need 825 to 950 calories per day.
10. When Is The Right Age To Switch From Puppy Food To Adult Food?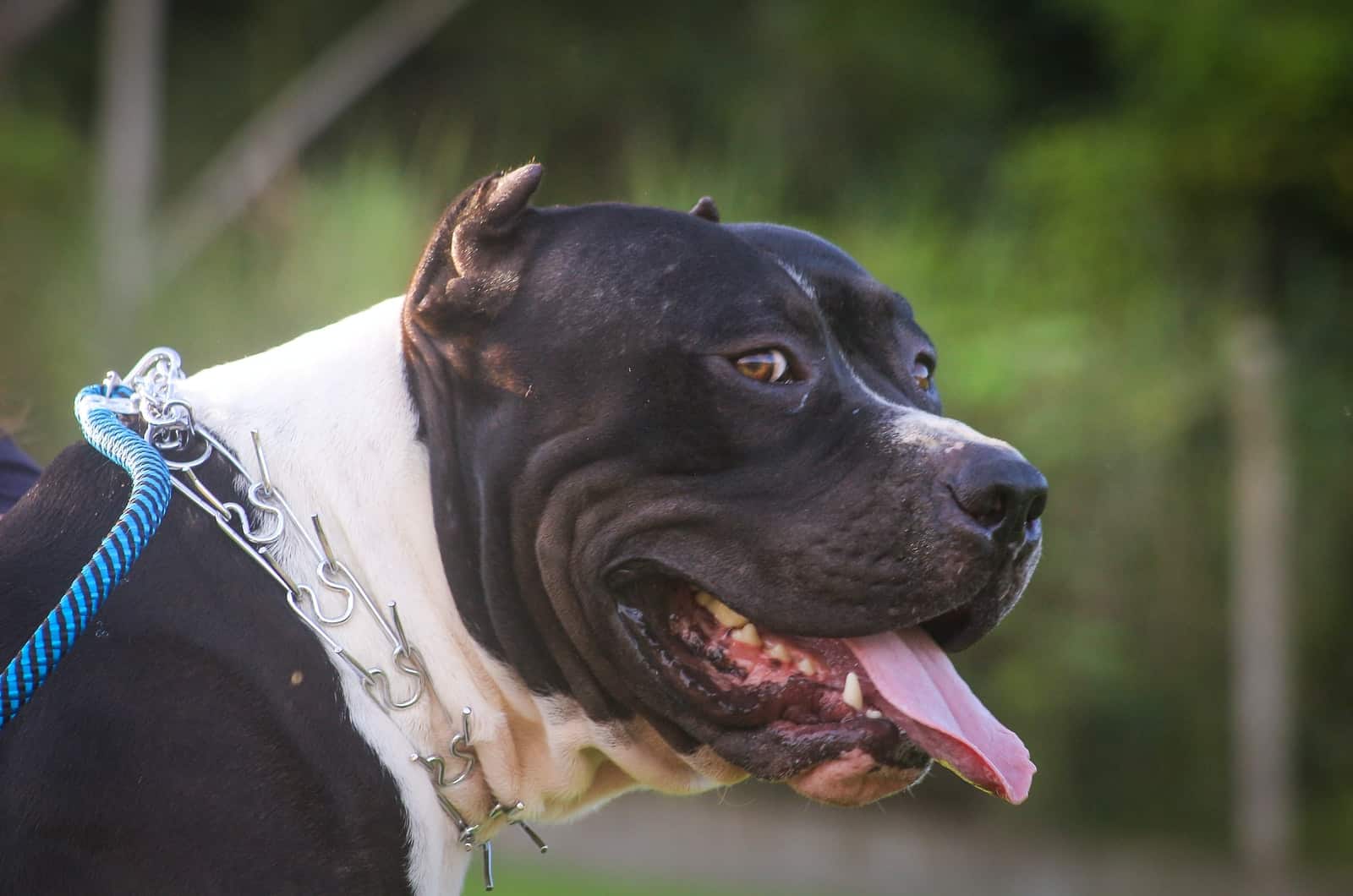 You should stick to puppy food brands for at least twelve months before switching your Pitbull to adult dog foods.
11. How Do I Stop My Pittie From Eating Its Food Too Quickly?
Pitbulls are particularly very hasty when it comes to eating, second maybe to Labrador Retrievers. Also, these pups tend to take in a lot of air while gulping down food in larger quantities.
This can result in an upset stomach and digestive system. To avoid this, you should place a large ball toy in their bowl to try and discourage your pooch from gulping down its kibble. If all else fails, you can resort to using a dispenser toy to release the food slowly.
12. How Should I Introduce Different Foods To My Dog's Diet?
You need to take a very slow approach to introducing any new food to your dog's regular dish. This will ensure the proper digestibility of new food.
Some dogs, Pitbulls especially, can be rather sensitive to any change you make to their diet. Because of this, it is vital that you make this transition as gradual as you can. Make sure you stop giving the new food, or at least reduce the quantity if your dog shows any sign of stomach problems such as a soft stool, vomiting, or constipation.
13. Can I Feed Table Scraps To My Pitbull?
The most direct answer to this question is a firm "no!" Never use table scraps to feed your Pitbull unless the food is something healthy, such as uncooked and unspiced vegetables like carrots, peas, broccoli, and green beans, or nutritious fruits we mentioned above.
14. How Can I Tell If My Pitbull Is Getting The Right Dog Food?
Always keep a check on your dog's coat and overall health. If your pooch seems to be thriving on a particular dry or wet food brand, then by all means, continue with it. But, how do you tell exactly?
Well, if your dog has healthy skin, a high-quality glossy coat, a fit appearance, and displays a lot of energy during the day, then the food is definitely agreeing with your Pittie.
What Dog Food Is Best For A Pitbull: Buyer's Guide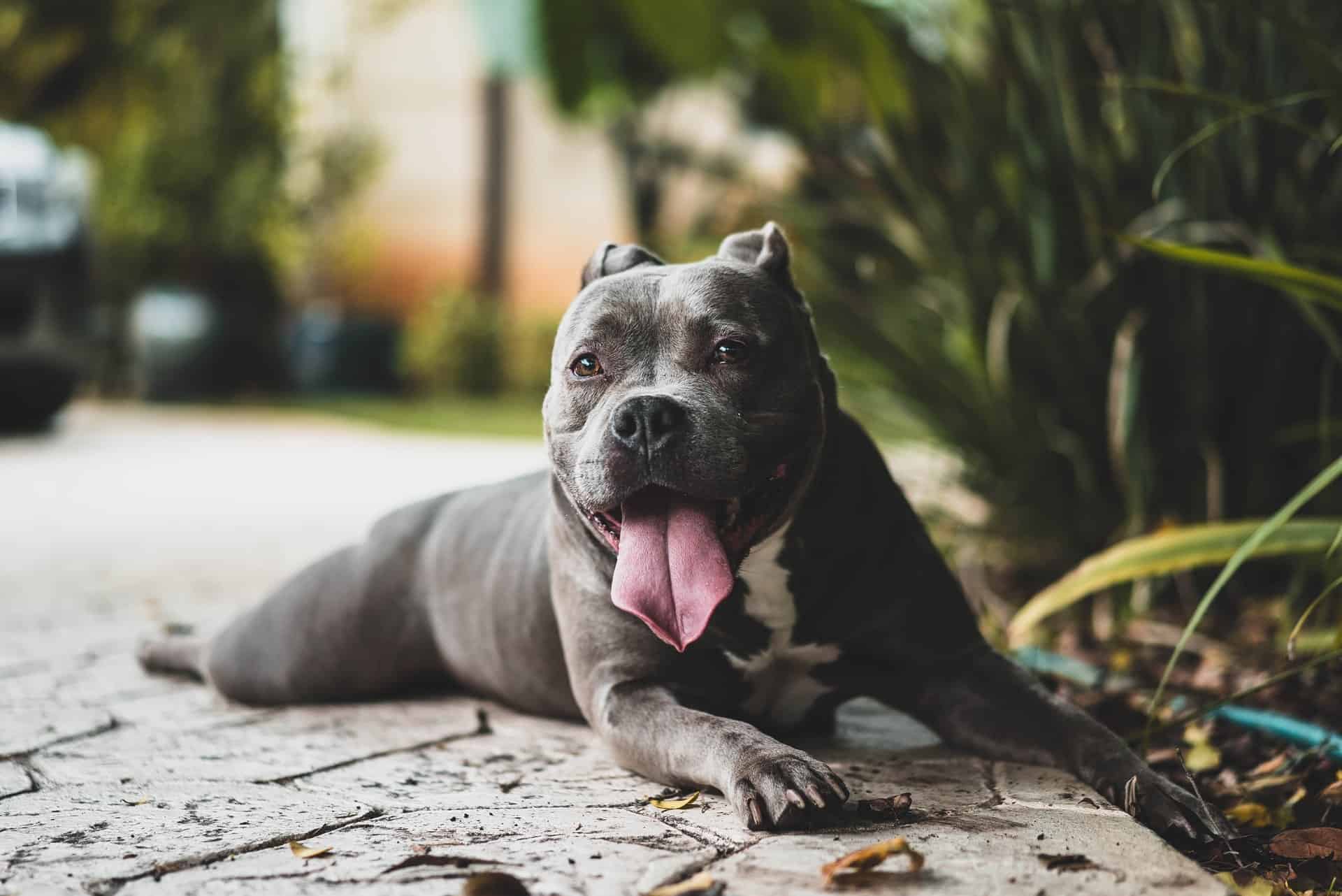 The benefits of a well-balanced and complete diet for your Pitbull
Offering a balanced and nutritious diet to your Pittie has various benefits; the most important one being, of course, helping your pooch live a long and healthy life. A diet consisting of balanced nutrients is also important for a dog of this breed in order to maintain a healthy coat and adequate muscle tone. The solution is to establish a good foundation for your Pitbull's nutrition.
Unlike many other popular dog breeds, a balanced diet for Pitties includes carbohydrates as a source of energy. This is especially important if your pup loves to exercise vigorously, which Pitbulls usually do.
It is vital to stay away from low-quality dog food that is full of unnecessary grains, such as wheat and soy, as well as empty carbohydrates as they are far away from the best macronutrients your pup should be consuming on a daily basis.
Make sure you stick to an all-natural dog food like the ones we listed above which are rich in protein and fat for the best possible health benefits.
Pitbull Health problems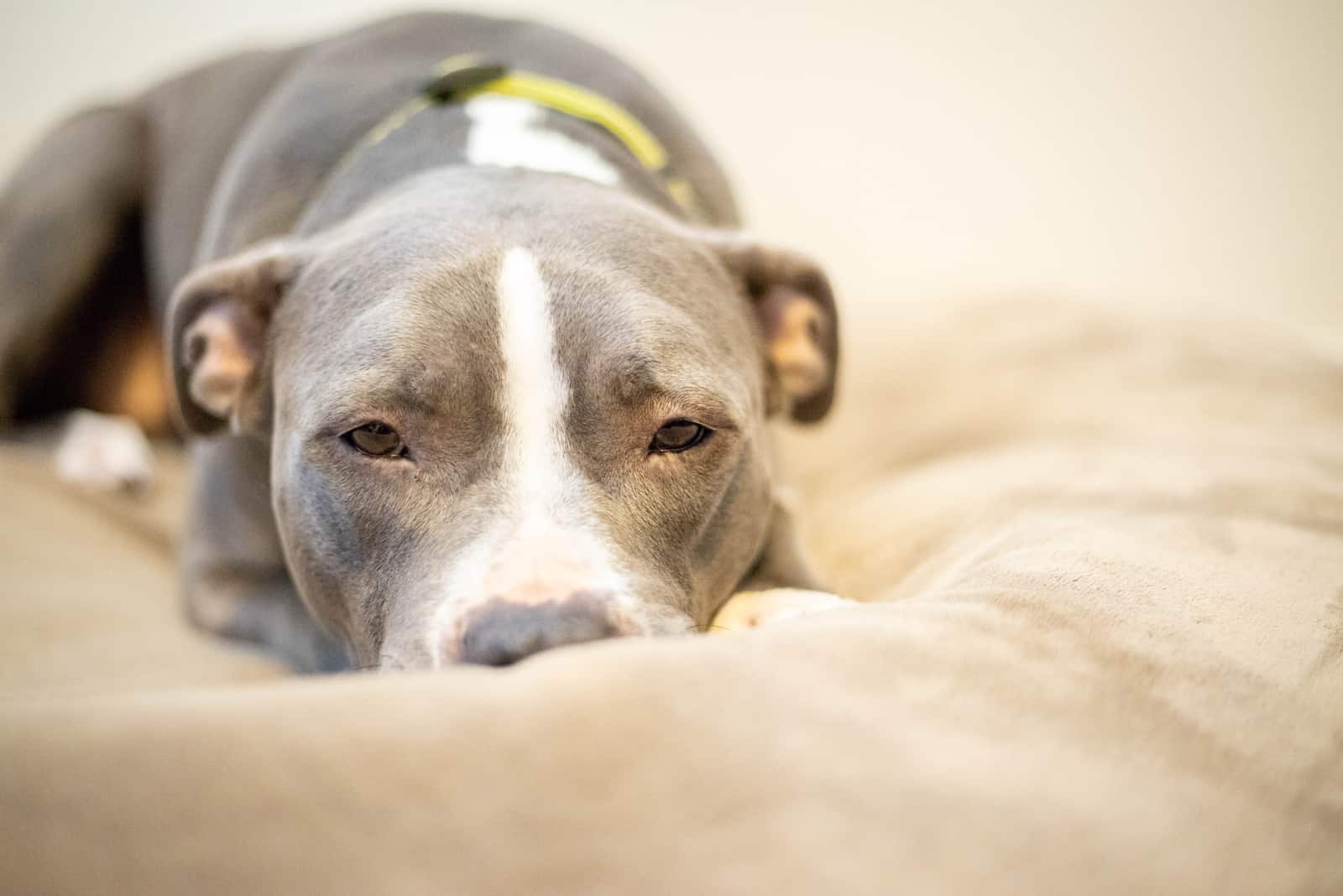 This breed is prone to several health issues. The crucial thing is to be on the lookout for any symptoms in order to get on top of the situation in time. Here are some of the most common health problems associated with this breed, so that you know what to look for:
Common Allergies
Allergies of all sorts are quite a common occurrence in Pitbulls. As a Pittie owner, you should know how to recognize the symptoms in order to be able to treat your pooch accordingly. The most common symptoms of allergies include itchy skin, red skin, constant licking, snoring, vomiting, and sneezing.
Heavy snoring is most often caused by throat inflammation. The causes of allergies, however, are numerous, and the best way to figure out what exactly causes your pup to have allergic reactions is to take it to a vet for analysis.
Joint Problems
Joint problems are also quite common in this and other athletic dog breeds. These are more likely to occur as your dog gets older, which can lead to limited mobility and discomfort. This can hugely impact a Pitbull's mental wellbeing because these dogs are so active.
Some pups may develop joint problems, such as hip dysplasia and elbow dysplasia, earlier because of the type of physical activity they do. Luckily, you can always ask your veterinarian for advice.
Most of the time, the vet will recommend supplements that support joint health, along with the right medication for these problems.
Make sure to keep an eye out for the symptoms because such health conditions can stay below the radar for quite a long time. If you notice your Pitbull resisting playing, jumping, or running around, these are all red flags, and you should take it to the vet immediately.
Bloating
The medical term for this condition is Gastric Dilatation Volvulus, and it is quite a common occurrence in dogs. With bloating comes gas, which aside from causing your dog's stomach to expand, it can also cause a tear on the stomach wall resulting in severe damage to your dog's health.
Taking this condition lightly is not something you would want to do. So, you should be on the lookout for common symptoms such as anxiousness, shortness of breath, restlessness, pale gums, and rapid heartbeat, and you should seek veterinary advice immediately.
Ingredients That Promote Muscle Growth In Pitbulls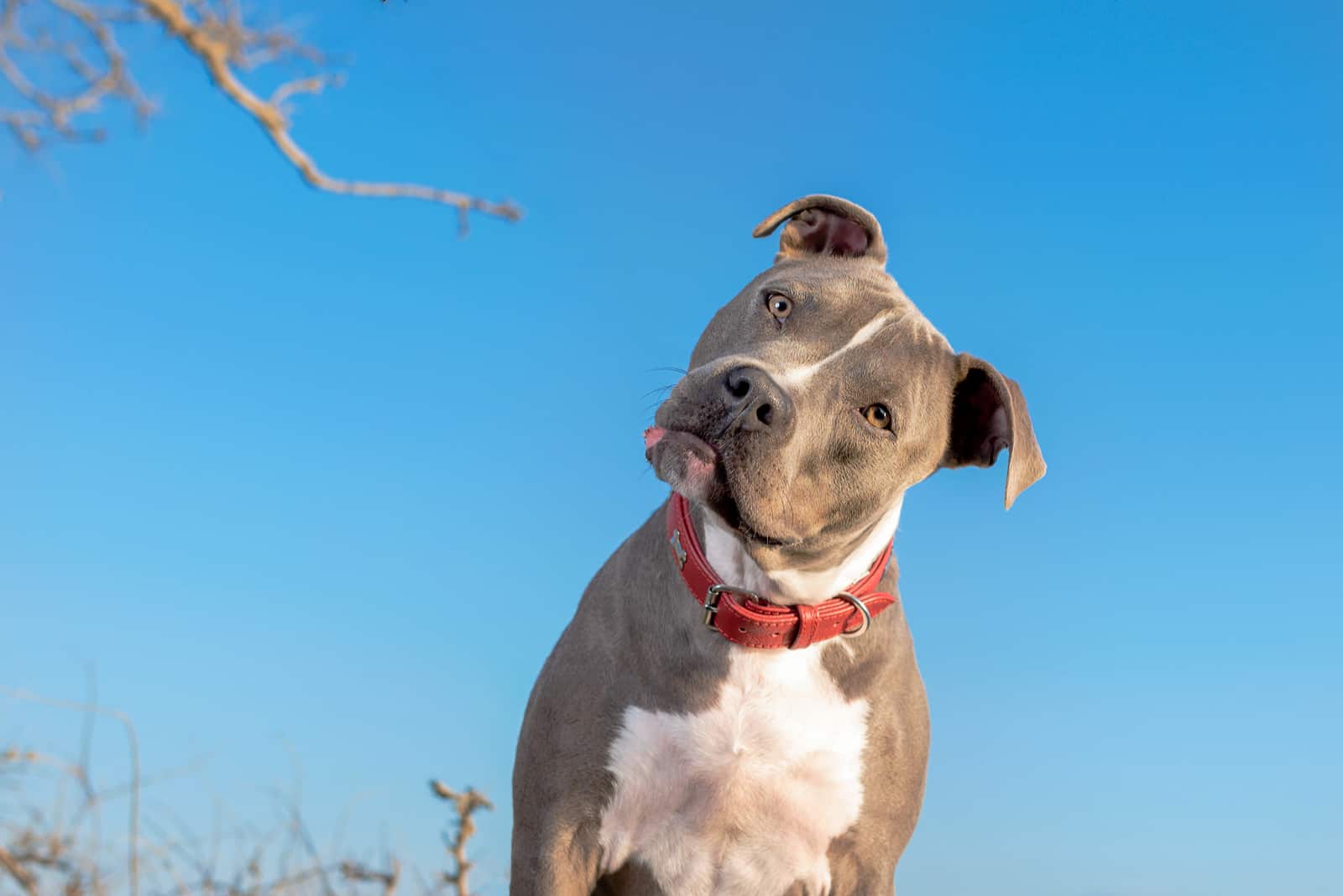 It is essential to include certain ingredients in your dog's dish in order to promote the healthy growth of muscles. Whichever dog food brands we listed in this article you choose for your four-legged companion, make sure it includes at least a few of these necessary nutrients to have peace of mind.
Vitamin E
This vitamin is the most powerful known antioxidant that promotes tissue repair and energy metabolism, and it boosts overall cellular activity. Lack of this crucial vitamin can lead to weakness in ligaments or tendons, which can ultimately lead to muscle degeneration.
Because of this, it is vital that your pooch has adequate levels of vitamin E in its diet. The best sources for this fat-soluble vitamin include spinach, nuts, kale, and broccoli.
Vitamin B Complex
While vitamin B6 is essential for supporting healthy muscle tone, vitamin B1 is great for maintaining healthy metabolism. Likewise, vitamin B8 promotes good muscle function.
The best sources for vitamin B complex include poultry, nuts, leafy vegetables, beef, fish oil, sweet potato, and real meat from organs like the liver.
Calcium
When it comes to keeping your dog's muscles and bone health at optimal levels, calcium is your best bet. It is a vital ingredient that supports appropriate muscle contraction as well as proper nerve transmission.
This is especially important for Pitbull breeds since these dogs are highly active, athletic, and always alert. Feeding your pet food that lacks this essential mineral can lead to ropy muscles and weak bones that are the result of a degraded nervous system. Food options that include calcium are leafy vegetables, nuts, fish, and seeds.
Choline
Choline plays a big part in gaining overall muscle mass as well as promoting healthy muscle function. This irreplaceable ingredient also helps to improve nervous system communication, which leads to proper muscle contraction.
Choline is also a great tool in breaking down fat for energy. The best food sources of this vital nutrient include cauliflower, spinach, nuts, and organ meats.
Best Dog Foods For Pitbulls To Gain Muscle
In the previous section, we saw what the necessary ingredients for gaining muscle are. Now, let's go over the top three foods that contain these ingredients in required amounts for your Pitbull to have a lean, muscular figure.
Wilderness Blue Buffalo High Protein Dry Adult Dog Food has the best ingredients for your Pitbull to gain strong muscles. The primary protein sources in this high-quality formula are deboned duck, chicken meal, and turkey meal.
While potatoes and peas provide the necessary carbs, a healthy mix of fruits and vegetables is there to ensure your pooch also gets the much-needed vitamins, minerals, and antioxidants.
For dogs of this breed in need of a diet consisting of wet dog food, an excellent choice is Blue Buffalo's Grain-Free Freedom Grillers Adult Wet Dog Food.
Its main ingredients are beef broth, beef, wholesome vegetables, vitamins, and minerals. This delicious blend does not contain any artificial flavors, preservatives, or other by-products.
The primary sources of protein in Dogswell Happy Hips Grain-Free Lamb and Sweet Potato Recipe come from lamb, beef, and salmon. It contains fruits and vegetables, but it lacks grains.
This amazing wet dog food blend from Dogswell also has chondroitin and glucosamine, which are necessary for your Pitbull's hip and joint health.
Ingredients That Promote Healthy Weight Gain In Pitbulls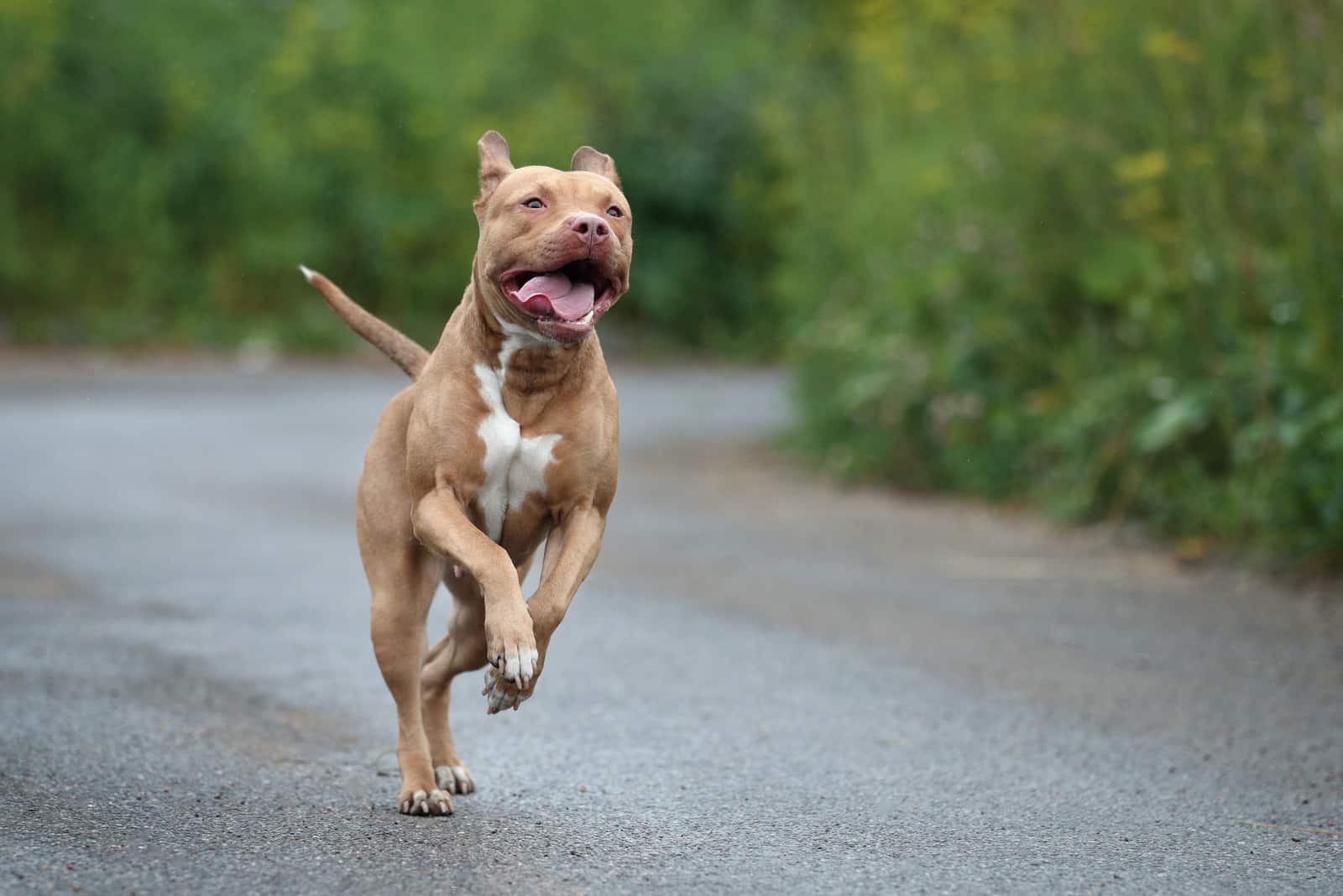 Healthy and steady weight gain is crucial in this breed as they grow up, and the way to accomplish this is to rely on a few key ingredients to deliver the results. However, you should make sure that your pooch eats as per its required calorie consumption for its age because too much of any dog food, no matter how healthy it is, can cause unhealthy weight gain and obesity.
Protein
Pitbull dogs require more protein than most other dog breeds, thanks to their muscular and athletic build. However, just picking up dog food that is rich in protein is not good enough.
It is equally, if not even more important to ensure that the protein is derived from high-quality sources in order to promote healthy weight gain. Make sure to check out food options that derive their protein from whole real meat sources including chicken, salmon, venison, bison, turkey, beef, and more. A minimum of 30% protein is a great choice for your dog's diet.
Fats
The next fundamental ingredient in a Pittie's diet is fat content. To achieve and maintain proper weight gain, your furry friend will require at least 17% fat in its diet, which is derived from high-quality sources. Sources like chicken fat, soybean oil, fish oil, vegetable oil, and pork fat are excellent sources of fat content.
Carbohydrates
The third fragment of a Pitbull's healthy diet is carbs. Your energetic Pittie will certainly thrive on good quality carbs in its kibble. Any formula containing potatoes or sweet potatoes is great as long as your Pitbull is not sensitive or allergic to any of these ingredients.
It is always best to start with small amounts in order to know whether or not your pooch has any allergic reaction before you start feeding it on a daily basis. Also, make sure to keep the carb content low to moderate.
Summary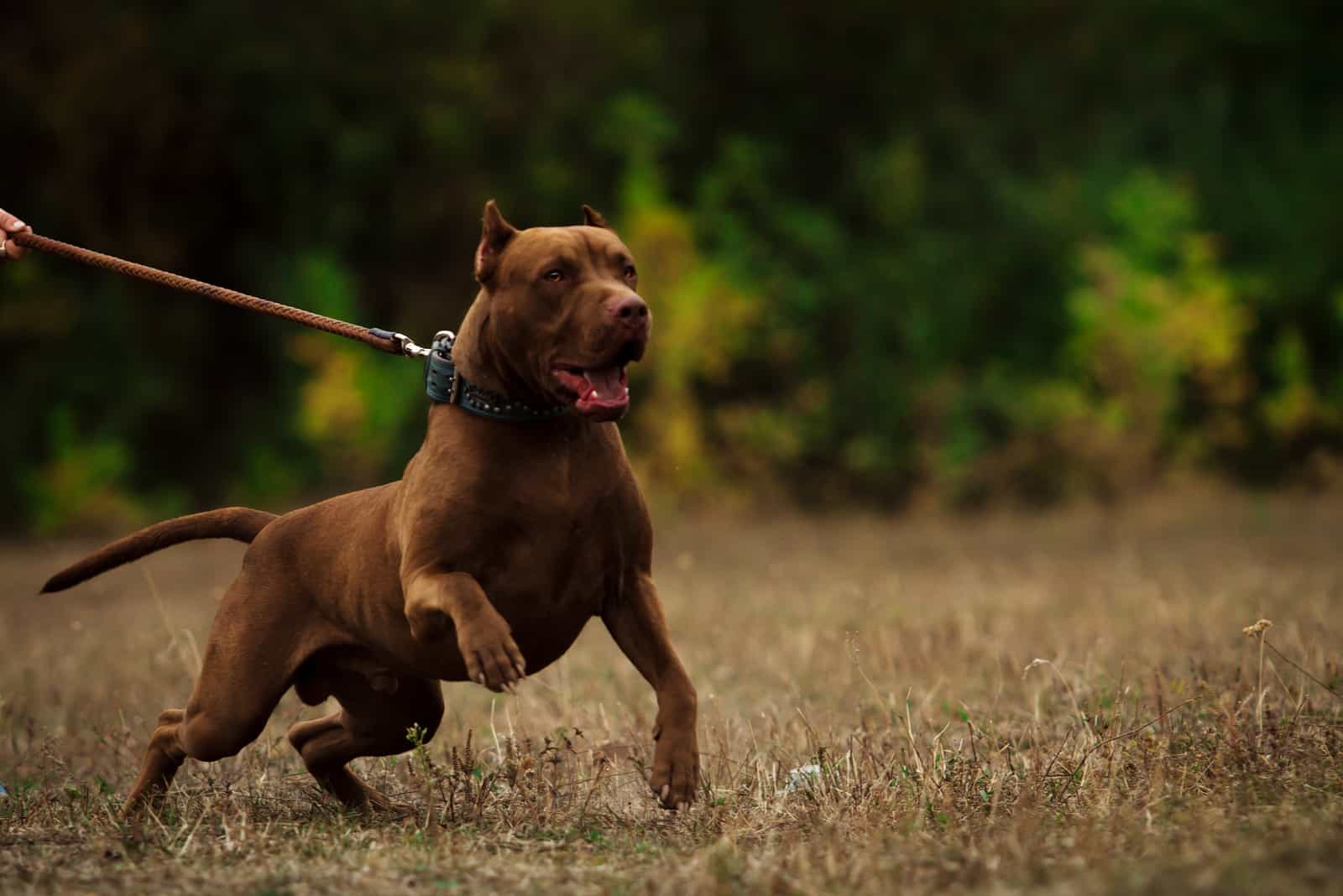 When it comes to our "best dog food for Pitbull" guide, we cannot stress enough how important it is to pay special attention to the fat and protein content when browsing through all of the different dog foods we mentioned above.
Ideally, a 20/30 fat-to-protein ratio is the way to go, but you can pick any formula that fulfills the minimum amount of desired nutrients.
We hope that this guide covered all the details that will help you on your quest for finding the right diet for your Pitbull. Not only will the right dog food promote your pup's healthy muscle building and weight gain, but it will also promote the overall health and wellbeing of your furry bestie.
Use the information we provided here in your and your dog's best interest, and pick the perfect dog food for your pooch!