Disclosure: This post contains affiliate links, and I will be compensated if you make a purchase after clicking on my links.
Great Danes are one of the largest dog breeds out there. With that in mind, most dog owners are concerned about keeping breakable items away from their doggies and not about brushing them. However, this is still something that has to be considered.
Large dogs like Great Danes can be quite a challenge to keep clean. Fortunately, they have a short coat that is fairly easy to maintain, especially if you've bought some of the best dog brushes for Great Danes.
Great Danes are a good example of gentle giants. Despite their name, they originate from Germany and not Denmark, and they were bred to be hunting and guard dogs. Today, however, they are kept as family companions due to their mellow nature with a hint of protectiveness.
These pups can be stubborn, and they might not always want to cooperate in daily activities. Because of this, you'll want to get grooming tools that can help you brush your Great Dane as quickly and easily as possible. Since Great Danes shed despite their short coat, grooming is a necessity.
With so many products available both in pet shops and online on sites like Amazon or Chewy, choosing the best dog brushes for a Great Dane can be overwhelming. This is why we have created a list of the 15 best dog brushes for your beloved pet.
We've also included some other information about grooming these short-haired dogs that might be of use to you.
Here's what we've found:
15 Best Dog Brushes For Great Danes
No matter if you buy your Great Dane from a breeder or adopt them from a shelter, Great Danes have delicate skin and short coats, so they need brushes suitable for their requirements. Long slicker brushes won't do much more than hurt their skin, and the same goes for fancy detangling tools.
We've gathered a list of the 15 best dog brushes for Great Danes, and you won't go wrong with any one of them. Here's what these products are:
By now, the FURminator has already made a name for itself, and this deshedding tool has been specifically designed for short-haired dogs like Great Danes.
It has a stainless-steel edge that is strong enough to reach all the way to the base of the coat without harming the Dane's delicate skin (provided you follow the instructions that come with the product). The ergonomic handle offers you great support and comfort, so you can use this brush with ease.
This patented technology has been created with careful monitoring by a professional groomer to ensure top quality, safety, and functionality.
This is another product from FURminator, but it is very different from all of its other deshedding brushes. In fact, this is a rubber brush that will get rid of most loose hairs, as well as dead skin flakes and dirt.
This is a gentle option for dogs with sensitive skin. Its silicone bristles won't harm your pup's skin, no matter how delicate it might be. In fact, it was designed with short-haired dogs in mind, and it can meet most of their brushing requirements.
Not just that, but this curry comb is a rather affordable option compared to other FURminator products, so it's a great option if you'd like to save some money on dog food – and we all know your Dane eats a lot!
KONG is yet another well-known brand of grooming products, and the ZoomGroom is a great brush to be added to any short-haired dogs' grooming routine.
The ZoomGroom has rubber teeth that won't harm your dog's skin. Quite the opposite, it can provide him with a gentle massage he'll enjoy. At the same time, it will remove dead hair from the undercoat.
This brush is made entirely out of rubber, so you can even use it during baths. It won't pull on wet hair, and it will remain just as gentle. This can also help you clean up loose hairs effortlessly.
This brush was made in the USA, and it's made entirely from globally sourced materials. This helps it achieve its high quality.
This is a great bristle brush that is soft to the touch, and it can help provide a good finish after bathtime. It will make sure your Great Dane's coat is shiny and sleek.
This grooming brush was designed for both dogs and cats, and it can be used on both small and large dogs. It comes with a non-slip grip that will make sure both you and your dog are comfortable during your grooming sessions.
There is an entire line of Gripsoft brushes, and they come in several designs, so there is bound to be one to fit your dog's particular needs.
You will definitely find a Gripsoft bristle brush that fits your expectations and requirements.
One amazing product for Great Dane brushing is a grooming mitt – and Mr. Peanut's Hand Gloves are among the best grooming mitts out there.
As its name suggests, this is a rubber glove with silicone tips all over its palms. Thanks to its shape, it won't intimidate your dog, and it will help reduce the amount of shedding hairs and undo any tangles and mats.
While this type of brush doesn't work well on long hair, it is among the best dog brushes for Great Dane as it is basically self-cleaning and easy to use, all the while keeping your dog's delicate skin safe.
All you need to do is put the glove on, brush your dog, then easily remove all the loose hairs from the brush's surface.
If you cannot decide what brush would work best for pet grooming, you might consider getting a dual brush. This way, you can get the best of both worlds at one price!
When you purchase this dual dog brush for your Great Dane, you'll likely find yourself using the bristle side more often. However, this is a great brush if you have a long-haired dog together with your Great Dane, as you'll have one brush you can use on both pets.
Even if you plan on using it just for your Dane, this is a rather budget-friendly option – and it is a high-quality bristle brush that you can't go wrong with.
This is a flexible dog brush that is intended for short-haired dogs, no matter their size. It is made from 100% medical-grade silicone, making it durable and safe for your pooch.
You can use this brush on both dry and wet hair. No matter if you're up for some quick grooming or if you want to brush your Dane while you're bathing him, this is a great product for you. It will also provide your dog with a gentle massaging sensation, soothing him.
The brush can also help reduce shedding, and it will help get rid of dander and sebum that might cause allergies. And once it gets dirty, you can simply put it in the dishwasher or the washing machine.
This is yet another of the best dog brushes for Great Danes that has been specifically crafted for dogs with short hair. While it does feature a colorful pin brush, it is gentle enough not to hurt your pup's delicate skin while detangling and reducing shedding.
The bristle side of the brush can help you get a smooth finish after a bath or grooming session with another type of brush. It is of high quality and rather soft, so it will be a perfect fit for the Great Dane's short coat.
The ergonomic handle is easy to grip and comfortable. You can brush your four-legged friend with ease.
If you're someone who prefers brushing your Great Dane during bathtime, you're probably looking for a brush that won't pull on his hair. If that is the case, this might be the brush you're looking for.
This bath brush will give your pup the deep clean it needs. While it's advertised as a brush for small canines, it can be used on dogs and animals of all sizes – provided they have a short coat.
It comes with rubber teeth that help remove and hold onto loose hairs, keeping your pup from shedding. Also, the rubber tips won't get stuck on a wet coat, making the brush suitable for baths.
This is a great brush for dog owners who love eco-friendly products and the look of wooden products. Its handle is made out of eco-friendly bamboo, and it's very comfortable and easy to grip.
The bristle brush is soft yet durable, and it can help remove mats, tangles, dirt, and debris. This will leave your pup with a shiny, healthy coat. Also, it removes loose hairs, so it will help with the shedding.
This brush comes in two sizes, so it can fit all short-haired dogs. We'd recommend getting the medium/large for your Dane so you can make brushing more comfortable.
This brush has a unique design that gives it a handle-free appearance. This isn't just to make it look nice – it can also help deal with dogs that are afraid of regular brushes or simply dogs who dislike getting brushed.
The bristles combine natural and synthetic materials, providing a perfect mix that will glide through the coat, smoothing it. They will also help distribute natural oils, ensuring the skin stays healthy.
The brush sports the Palm-Petting Grip Technology. All you need to do is slip your fingers through it to hold it securely. Also, this brush is great to use on both short and curly coats, so it's a great choice if you have another pet in the home.
This is a grooming glove that will fit comfortably around anyone's hand. It even has inner straps and an adjustable wrist wrap that can tighten around smaller hands, ensuring a universal and secure fit.
The outsides of the glove are made of mesh, allowing water to flow through. This will also help everything dry quickly and help your hand breathe during the dog grooming process.
You can use the rubber side of the glove either wet or dry, as its brush-like fingers are waterproof. Also, the brush is a great tool for massaging your pet.
This is a universal bristle brush that can be used on dogs of all breeds, but it works best on dogs with shorter hair, as it helps the coat stay shiny and soft.
The bristles are soft and very gentle, and they can distribute the dog's natural oils, giving his skin the hydration it needs. This makes it perfect for dogs with dryer skin, and Great Danes are definitely one of them.
The ergonomic handle enables a firm grip, ensuring you have full control while you're brushing your pet. This will also help make the entire process much more comfortable for your dog.
This is a unique dog brush as it sports an adjustable strap instead of a handle. You can fit it around your hand with ease, ensuring a strong grip without actually gripping the brush!
It has dual-action features, meaning it won't just brush your dog but massage him as well. The rubber nubs enable this, giving your pup a soothing feeling and making him love his grooming sessions. On the other hand, the natural bristles help remove any dirt and debris, as well as loose hairs.
This brush can give both you and your dog just the right amount of comfort and convenience, strengthening your bond as a dog and his owner.
This is yet another great dog brush for bath time, but its shape and design make it like no other. It looks just like a rubber duck! This can make every brushing experience fun.
It comes with long, soft rubber tips that can reach the dog's skin, cleaning it thoroughly. It will remove any dirt, debris, and loose hairs, leaving your pup's coat looking shiny and healthy.
You can also use it to lather shampoo. You'll be certain you're getting the most out of a specific product and the bathtime itself with this brush. Not to mention the amount of fun it will bring to the bath!
Types Of Dog Brushes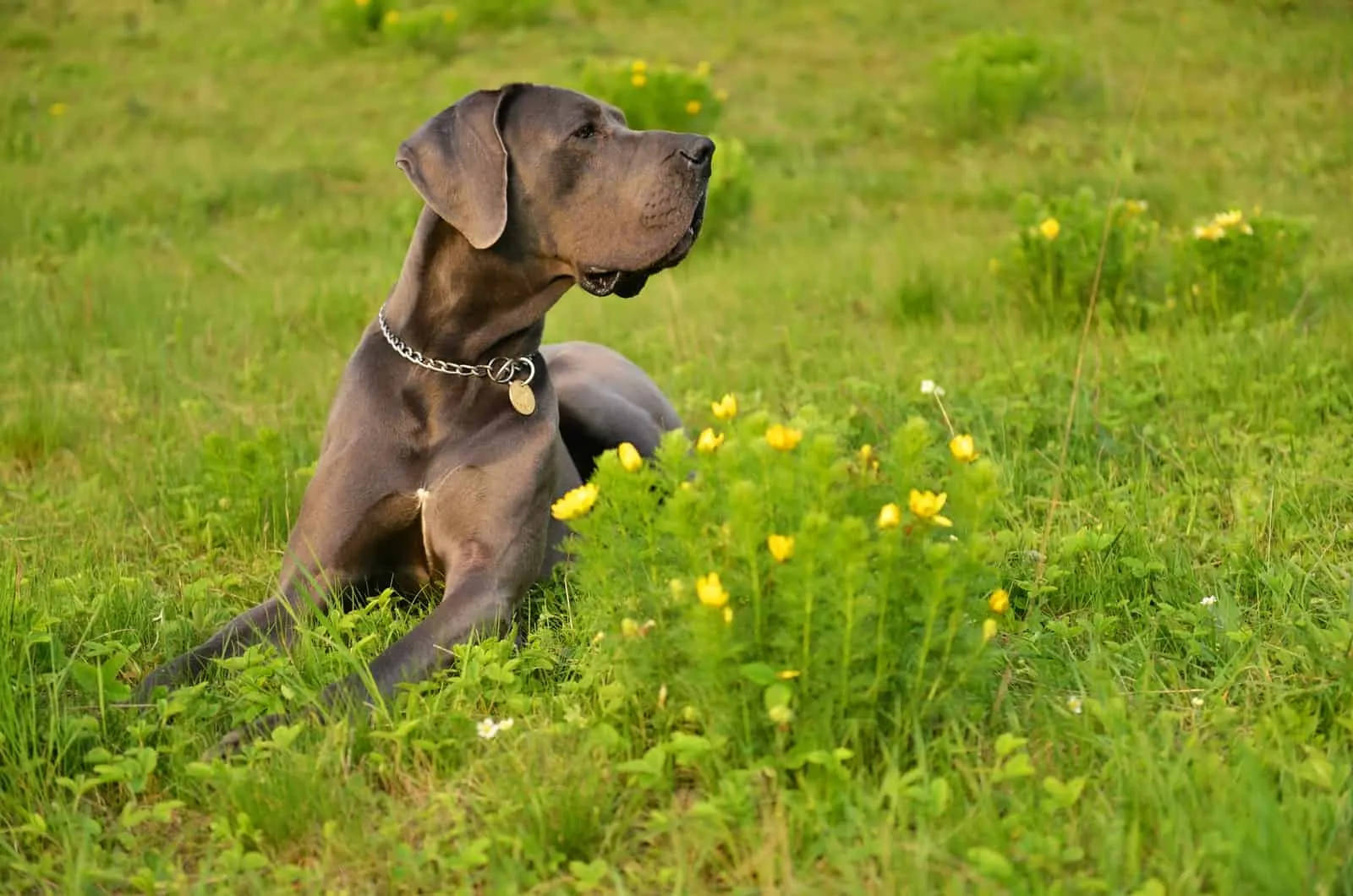 After reading these reviews, you've probably noticed that we've mentioned several types of brushes so far. This is because different products serve different purposes.
Danes have a short coat, but they are still shedders. However, brushes with long pins and teeth, such as a slicker brush, won't be of help as they are designed for dogs with longer hair.
Information like this can be crucial when choosing the best dog brushes for a Great Dane, especially if you don't have much experience in dog grooming.
Here are three types of dog brushes that can be used on Great Danes:
Bristle Brushes
Bristle brushes are brushes with long, coarse hairs that can reach down to the dog's undercoat. They are used for many dog breeds, including German Shepherds, Dobermans, and Great Danes.
It might seem unproductive to use bristle brushes on dogs with short hair, as they are commonly used to detangle curly hairs. As you can guess, this isn't a concern with Great Danes.
​However, bristle brushes are great for removing dander and dirt from the dog's coat and skin, as they can reach all the way to the base of the coat. At the same time, they are gentle enough not to harm the Great Dane's sensitive skin. Some of the best dog brushes for Great Danes are bristle brushes.
Keep in mind that a bristle brush is rarely enough when it comes to grooming your Great Dane dog. You will likely need another type of brush to help you out in keeping your furry friend nice and clean. Still, they are a useful tool you should consider purchasing.
Rubber Brushes
Rubber brushes are the right brush type for any short-haired dog, including Great Danes. They work like a magnet, attracting loose hairs and removing them from your pet's fur.
Rubber brushes aren't a good choice for detangling or reaching deep inside thick coats, but this isn't an issue with Great Danes. A rubber brush is usually all you need to remove dander and dirt and reduce shedding from your short-coated pup.
This type of brush is a great option for dogs with sensitive skin as well. They don't have hard, metal teeth that might cause irritation or even injury to your dog's skin.
A rubber brush is an excellent choice if you're looking to find the best dog brushes for Great Danes that can quickly give these dogs a healthy-looking coat.
Deshedding Tools
Despite having short, sleek coats, Great Danes shed a moderate amount – and some might even be huge shedders. Because of this, it's essential to find the best dog brushes for Great Danes that will keep loose hairs at bay. This is where deshedding brushes come into play.
These brushes are usually designed with fine teeth that can help you reach down to your Great Dane's skin. This way, they can get rid of any dead hair that is lingering on the coat. This will not only give their fur a gorgeous shine, but it will also keep those loose hairs from falling all over your carpets and furniture.
Deshedding brushes can also work great for detangling, but this isn't a problem you will expect with Great Danes. Still, it is a trait worth noticing.
Keep in mind that while some deshedding tools are labeled as brushes for long-haired dogs, they will work just fine on short-haired ones as well.
How To Help With Shedding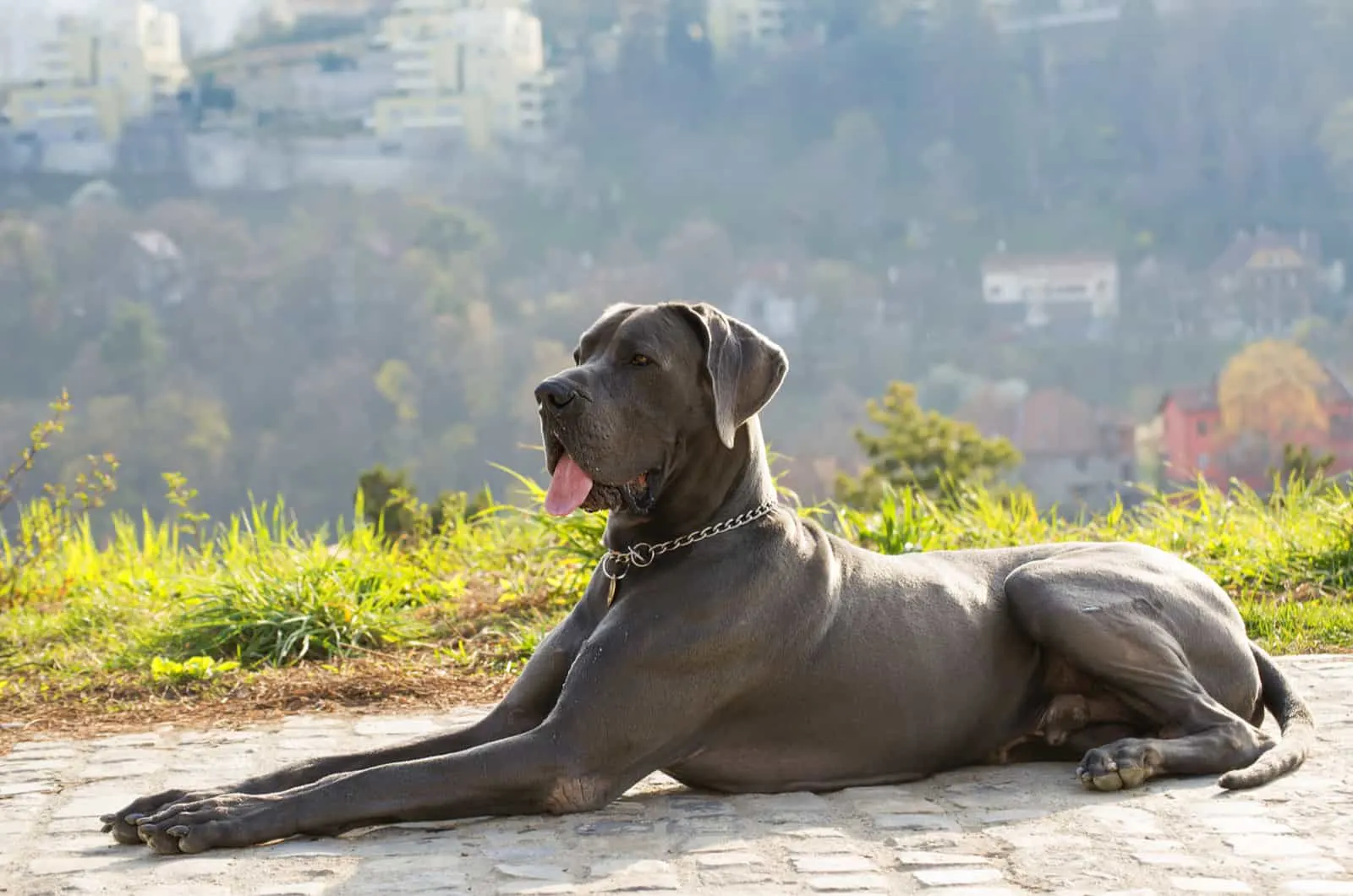 While Great Danes shed, fortunately, the amount is usually manageable. They have short coats that don't shed that much, but they can still make a mess.
However, with just a few steps, you can ensure that the amount of shedding is reduced significantly. Here's what you need to do:
Regular Brushing
Weekly brushing is the most useful thing you can do if you want to reduce the amount of shedding. This is just the right amount of brushing to get rid of all the loose hairs without irritating the dog's skin.
Keep in mind that Great Danes have one to two shedding seasons and that the amount of shedding can vary. During the transition from winter to spring, you can expect more loose hairs, so you should increase the amount of brushing.
A helpful tip is to include other grooming activities, such as nail trimming, ear cleaning, and teeth cleaning, when you're brushing your Great Dane. This way, you'll create a spa day for your pooch!
Bathing
Bathing can help reduce shedding, but you mustn't bathe them too frequently. This can worsen dry skin and cause irritation. Bathe them only when they get really dirty, or once every few months.
Bathing is a good way to get rid of loose hairs and any dirt and debris that gets into their coat.
Remember to use dog-friendly shampoos that help keep your Great Dane's skin in good condition. Never use shampoos made for humans, as they don't have the right pH balance your dog requires.
Tips For Proper Brushing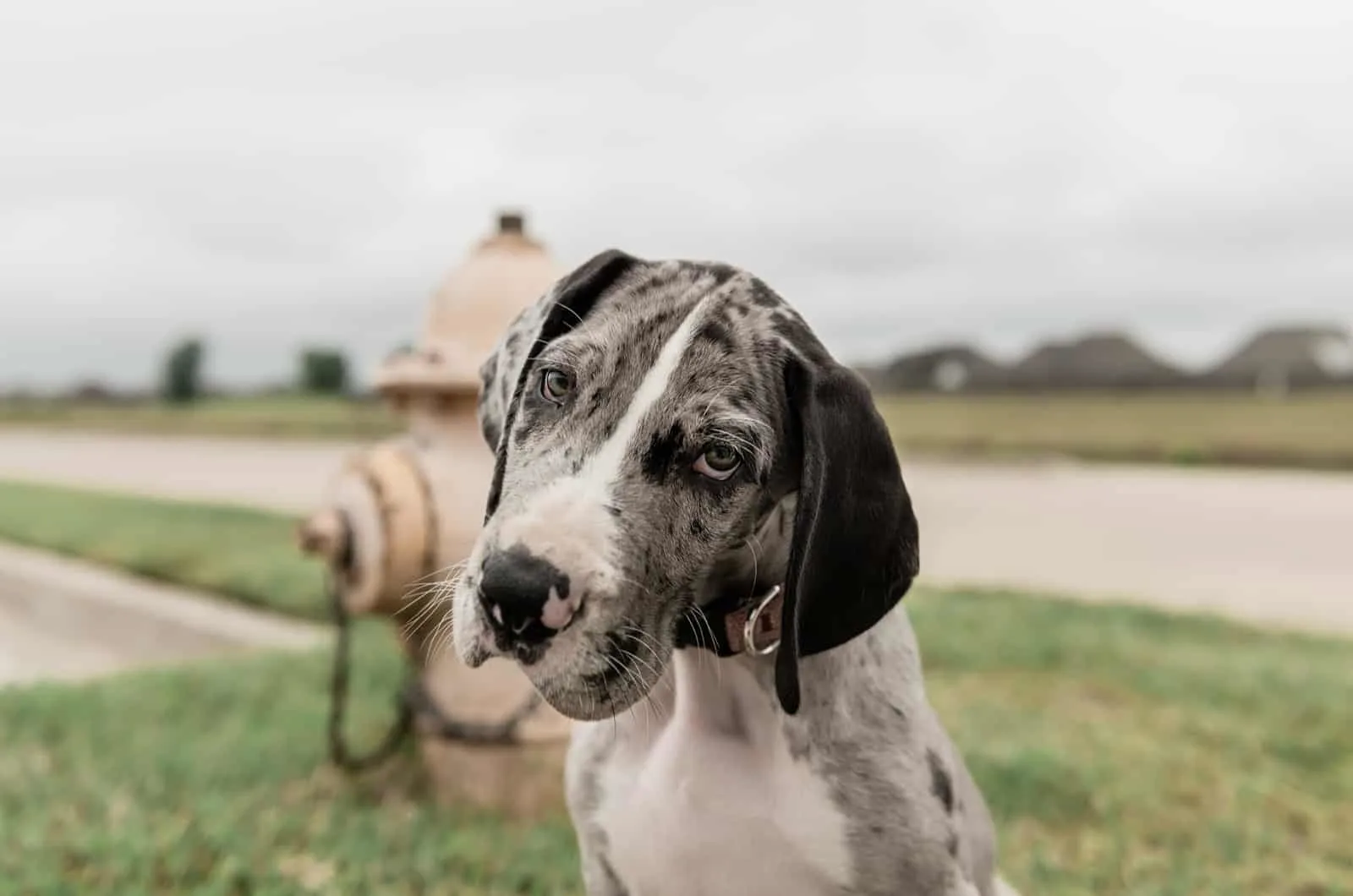 While brushing seems like one of the easiest tasks for Great Dane owners, you might still be doing it the wrong way. Here are a few brushing tips from professional groomers:
1. ​Great Danes don't have an undercoat, only a topcoat. Your priority would be to get a brush that is gentle. It isn't important that it can reach the undercoat.
2. To avoid irritation, brush in the direction of the hair growth.
3. Great Danes have sensitive skin that is prone to dryness. Brush them regularly, even in between baths. This will ensure the distribution of natural oils, making sure their skin is properly hydrated.
4. Don't bathe them as often as some other dog breeds. Instead, focus on brushing.
5. While a rubber brush might be the best brush, it is still good to have some other brushes that can help you with specific grooming tasks.
FAQs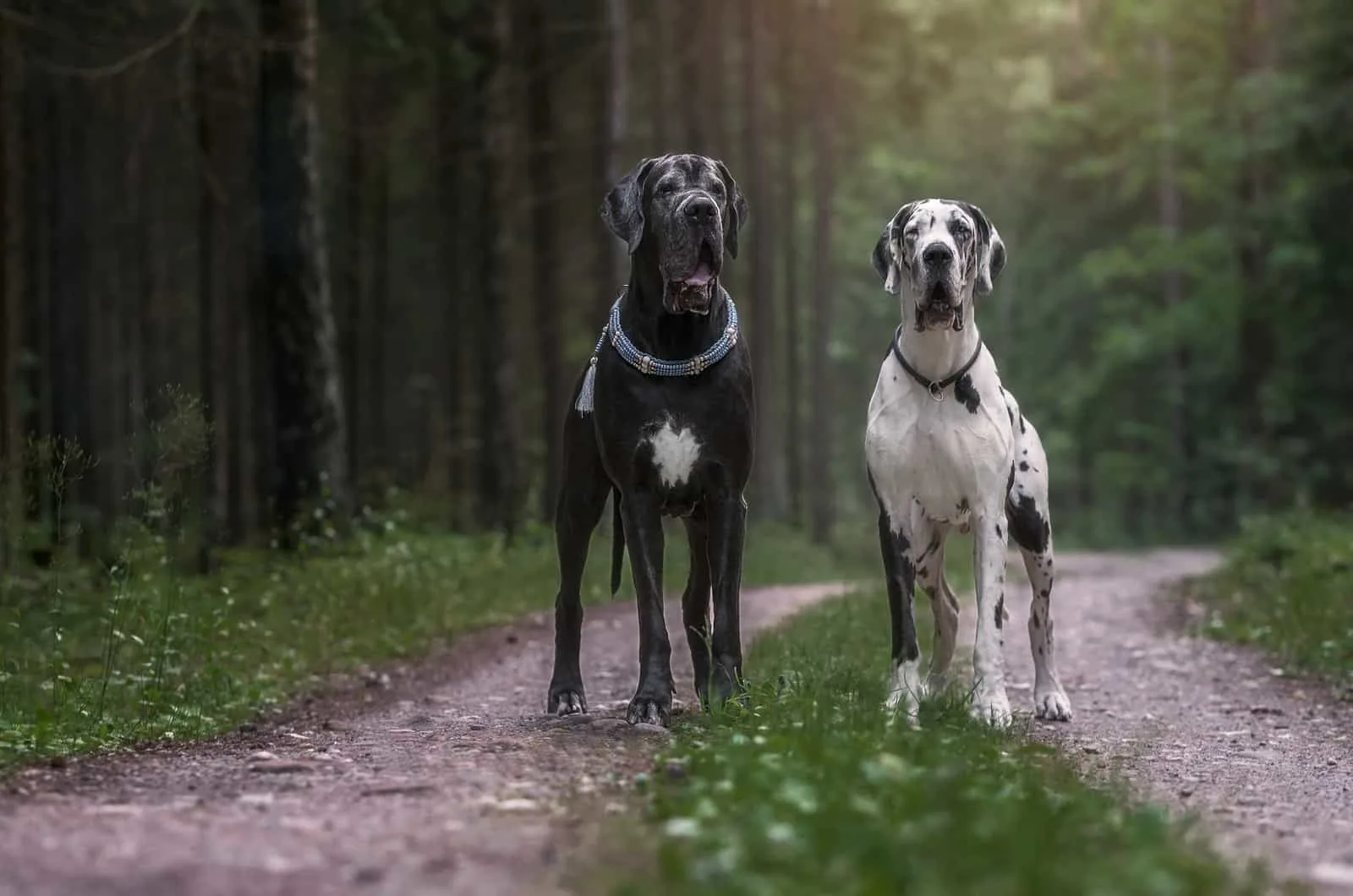 How Often Should You Brush Great Danes?
While your Great Dane has a short coat, you should still brush him at least once a week. This will help you reduce shedding and ensure your pup's coat is clean for a long period of time.
Great Danes don't have a double coat. However, because of their dry skin, brushing is a good way to ensure their hair is moisturized and healthy.
Do Great Danes Shed?
Great Danes are moderate shedders. While they shed about the same as other short-haired dogs, they are large dogs, so they have more hair. This will also result in more hair on your clothes, furniture, and floors.
Because of this, you might want to consider good deshedding brushes that will keep loose hairs at bay. Still, rubber brushes are a decent choice, as they can capture hairs as you're grooming your dog.
How Do You Choose The Best Dog Brushes For Great Danes?
​When picking the right type of brush for your dog, you need to consider several things. While price is an important factor, it shouldn't be the main thing you base your decision on.
Typically, brushes with long, metal pins (such as pin brushes or slicker brushes) help deal with tangles, while brushes with finer pins help distribute natural oils and usually serve as finishing brushes.
You need to know what you're looking for in a good brush, but also what your dog requires and what his grooming needs are.