This post contains affiliate links, and I will be compensated if you make a purchase after clicking on my links.
The first step for every new dog owner is to get all the necessary accessories for your new pooch. Unless you get a hairless breed, all dogs require a good grooming brush.
Fortunately, Doberman Pinschers are known as a low-maintenance breed. They have a short coat that doesn't shed a lot, so you won't have to deal with loose hairs and too much cleaning.
However, this doesn't mean Dobermans are free of any health issues. For example, they are rather prone to dry skin and dander (dead skin cells) that can also cause problems for people who suffer from dog allergies – because of that, keeping up with good hygiene is essential.
Also, Dobermans usually come in black and brown colors, so someone with light-colored furniture might have issues with dark hairs, no matter the amount of shedding.
Getting the best brush for your Doberman is one of the most important things for any Doberman owner. Choosing brushes from the many products available both in pet stores and online on sites such as Amazon or Chewy can be a challenge. To help you out, we have created a list of the top 12 best dog brushes for your Doberman needs.
If this is something that interests you – keep on reading.
The Best Brush for Doberman – Top 12 Picks
Dobermans have a short coat, but that doesn't mean that you should use the first dog brush you see. Bristle brushes are recommended for their coat type, and they are one of the most important grooming tools you should get.
While they shed a moderate amount, you might still want to get some de-shedding tools, especially if you have light furniture that will contrast dark hairs.
Here are 12 products you might want to include on your bucket list:
Editor's Pick
Hartz Combo Brush
Key Benefits:
Combo brush

Two-sided

Stainless steel pins

Nylon bristles

This is a dual-sided stainless steel brush that works equally well for both long-haired and short-haired dogs. It has a soft-bristle brush on one side and a pin brush on the other.
The pin brush can help with removing loose hairs and any possible tangles on the topcoat (although these are rare on short-haired Doberman dogs). As it's fairly large, you'll be able to brush your Doberman rather quickly, in fewer movements than with most other brushes.
This brush might be the best choice if you have other dogs in the house besides your Doberman, as this one brush will help you with all types of coats.
Despite its large size, it's lightweight and comfortable to hold. The pin side has safety tips to prevent skin irritations, while the bristle side works amazingly for Dobermans.
Somewhat uniquely for a brush, the Hartz Combo Brush offers a satisfaction guarantee that lasts a whole year. If you are unhappy with the product, you can get a refund or a replacement brush.
The Furminator
Key Benefits:
Stainless-steel, curved edge

Helps remove loose hairs

Great for shedding prevention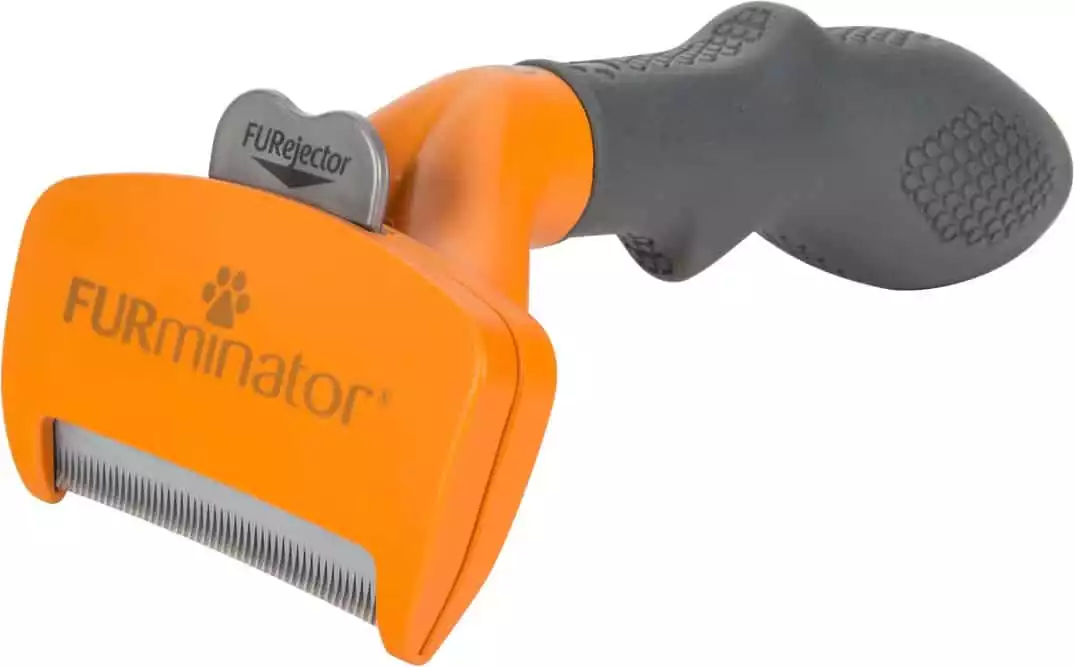 The Furminator isn't your usual product, but it's the best brush for a Doberman that has a bit of a shedding problem. It removes loose hairs and keeps shedding to a minimum. This makes it perfect to use during the shedding season.
The Furminator can help ensure a shiny coat, as long as you don't go overboard. With short-haired breeds and dogs that aren't large shedders, like Dobermans, this isn't an everyday brush. Instead, you should only use it when you notice the shedding is getting out of hand.
The stainless steel edge of this shedding brush is designed to reach through the topcoat to the undercoat, safely removing all the dead hairs before they can fall on your floor uncontrollably.
This brush has a special edge guard that protects the metal teeth and keeps you and your dog from getting hurt. And if you end up dissatisfied with the product, the manufacturer will offer a refund.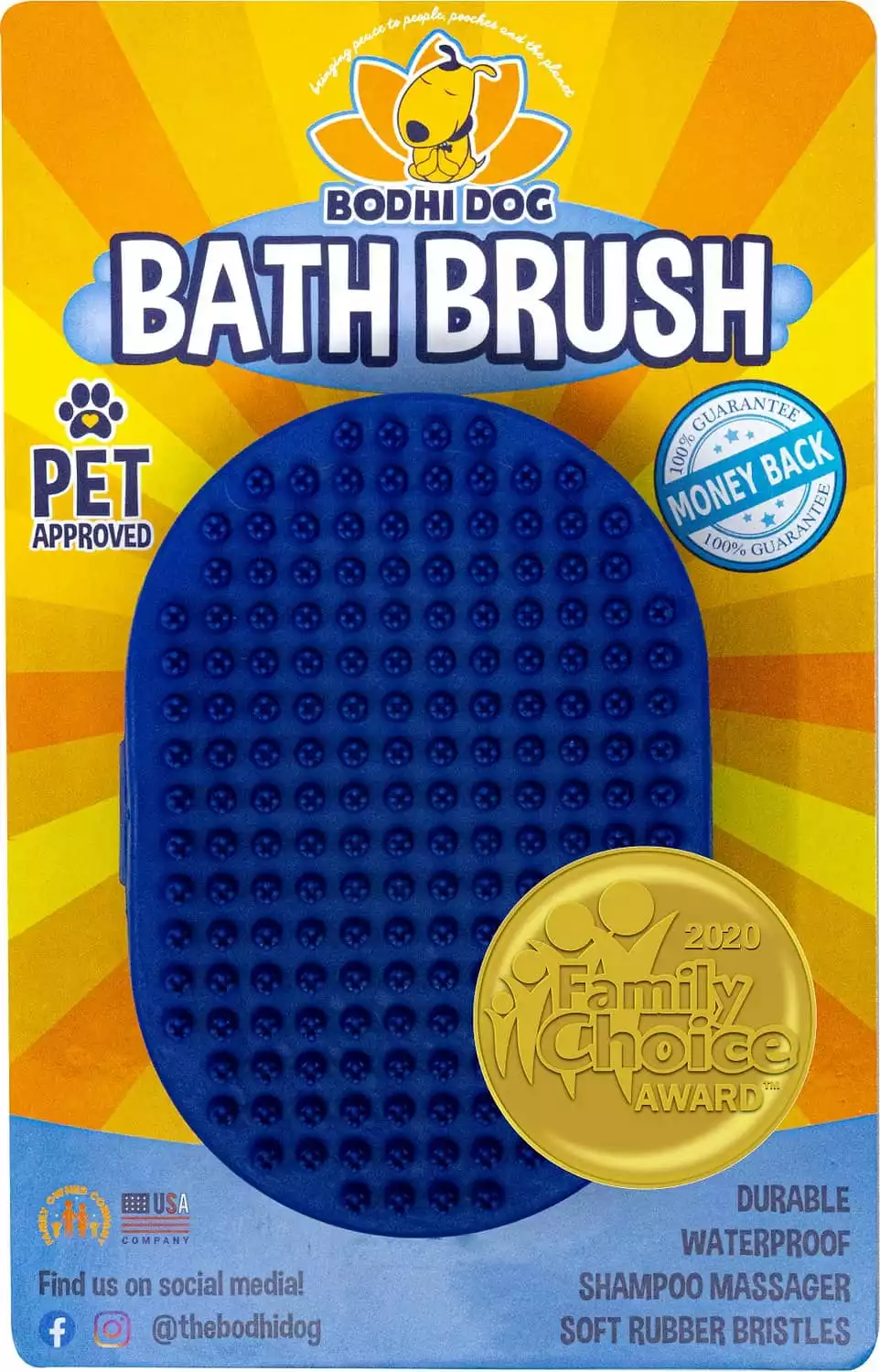 If you are looking for the best brush for a Doberman during bathtime, this might be the right brush for you. The Bodhi Dog Bath Brush is made from soft plastic with rubber bristles, so it certainly won't harm a Doberman's sensitive skin.
This brush can help you work the shampoo into your Doberman's coat, and the handy strap helps you hold it comfortably. At the same time, this rubber curry brush will massage your Dobie, making him feel better about bathtime.
You can use this product for regular brushing, even outside of the bath. It is gentle and soft and will keep your dog's hair in perfect condition. In fact, this curry brush was designed specifically for the coat care of short-haired dog breeds.
Overall, this might be the best brush for Doberman if you're looking to pamper your pooch a little bit during regular grooming sessions.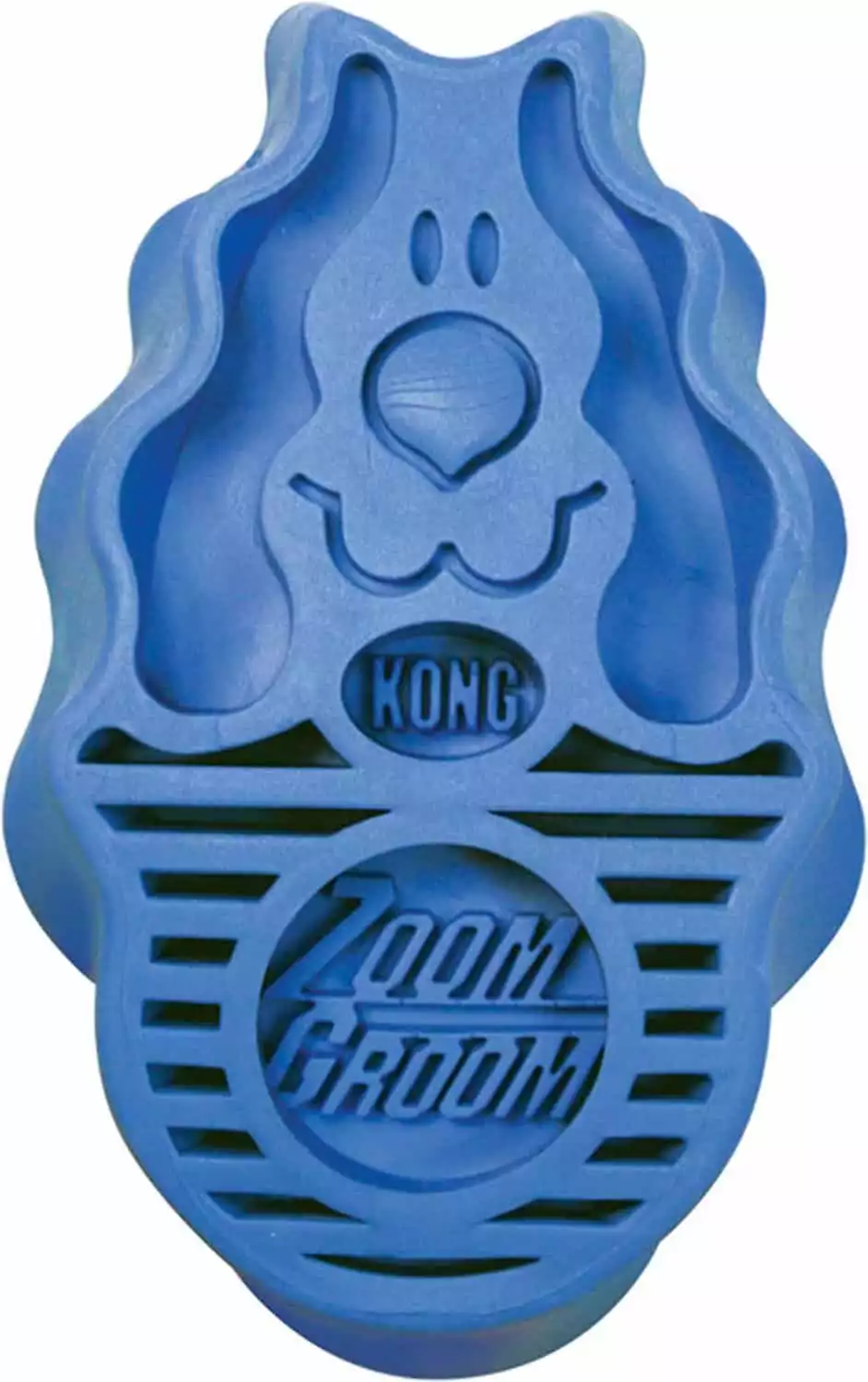 Yet another curry brush, the KONG ZoomGroom brush is an ideal choice for Doberman owners looking for a brush that can be used for several purposes.
The rubber bristles and silicone body make this KONG brush rather comfortable and soothing. Your dogs will love being brushed by it! This can help them feel pampered and loved during an activity many Dobermans don't really like.
As most of the brush is made out of silicone, it works like a hair magnet. It will attract any loose hairs and ensure they stay in place instead of flying around everywhere. At the same time, they'll stimulate the Doberman's skin, promoting the production of natural oils.
This brush can be used both as a dry brush and during bathtime, as it helps you lather shampoo. At the same time, it will scrub away any dirt, leaving your Doberman sparkling clean.
Editor's Pick
Bass Shine & Condition
Key Benefits:
Bristle brush

Gentle

Made from eco-friendly bamboo

Suitable for dogs, cats, and horses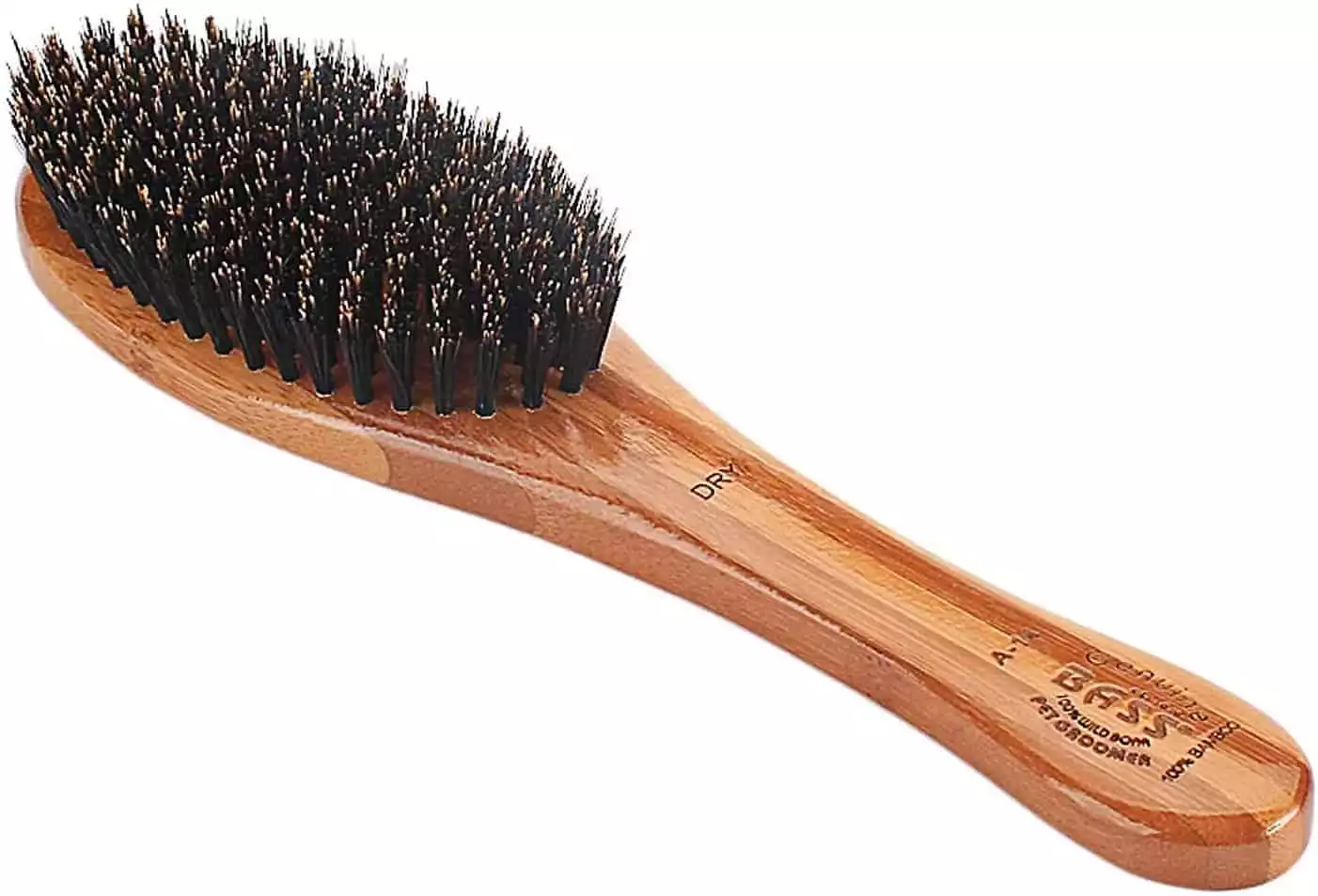 This might be the best brush for a Doberman for people who don't mind paying a premium price. In fact, this is an amazing brush for any short-haired animal, even for cats and horses!
The handle of this bristle brush is made from eco-friendly bamboo, so by purchasing it, you'll support natural products. The luxury grade finish gives everything a rich, one-of-a-kind look.
This brush is amazing for preventing your Doberman's hair from matting. While this isn't an issue for most Dobermans, the coat on their neck can get tangled sometimes, and many dog owners tend to overlook it. With this brush, tangles are a thing of the past.
It also removes dander and any dirt particles, all the while keeping your Doberman's coat clean and conditioned.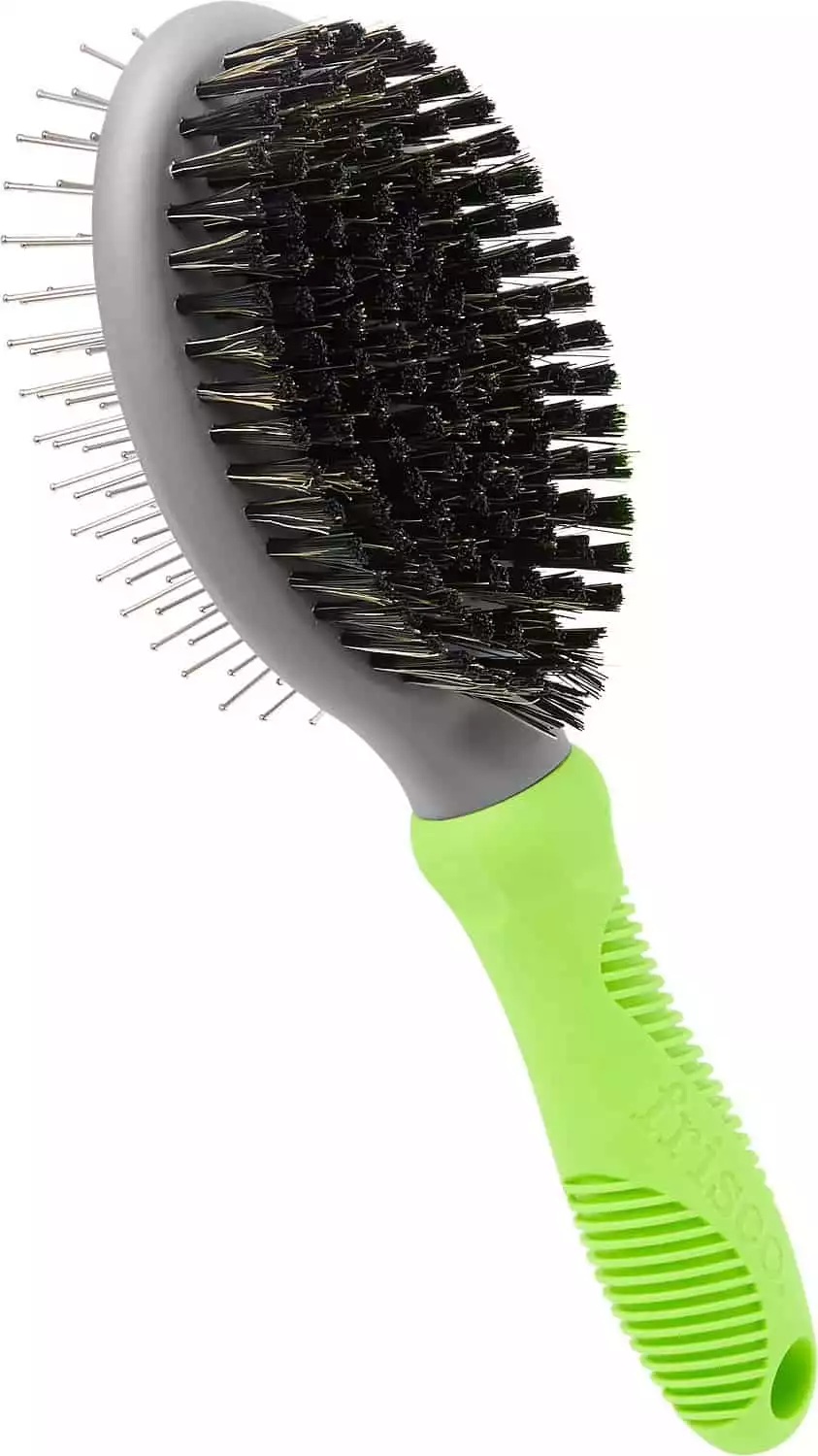 With this brush, it seems as if you're getting two products for the price of one. The Frisco brush comes with a bristle brush on one side and a pin brush on the other. A combo brush like this one is a great option for anyone who has more than one pet or prefers changing their brushes from time to time.
This might be the best brush for a Doberman that can help you get rid of any possible tangles, as well as keep your pooch safe from getting dry skin. Grooming is something that usually requires at least two brushes – and this is one product that has you covered.
The recommended way to use this brush is by first working your way through the Dobie's fur with the pin side. Don't worry, the pins are made of plastic, ensuring they're as gentle as possible. Then, you can flip the brush over and use the bristle side to go over everything you've done and condition the coat.
Thanks to its size, it's suitable for larger dogs. You can get your dog's grooming routine done in no time.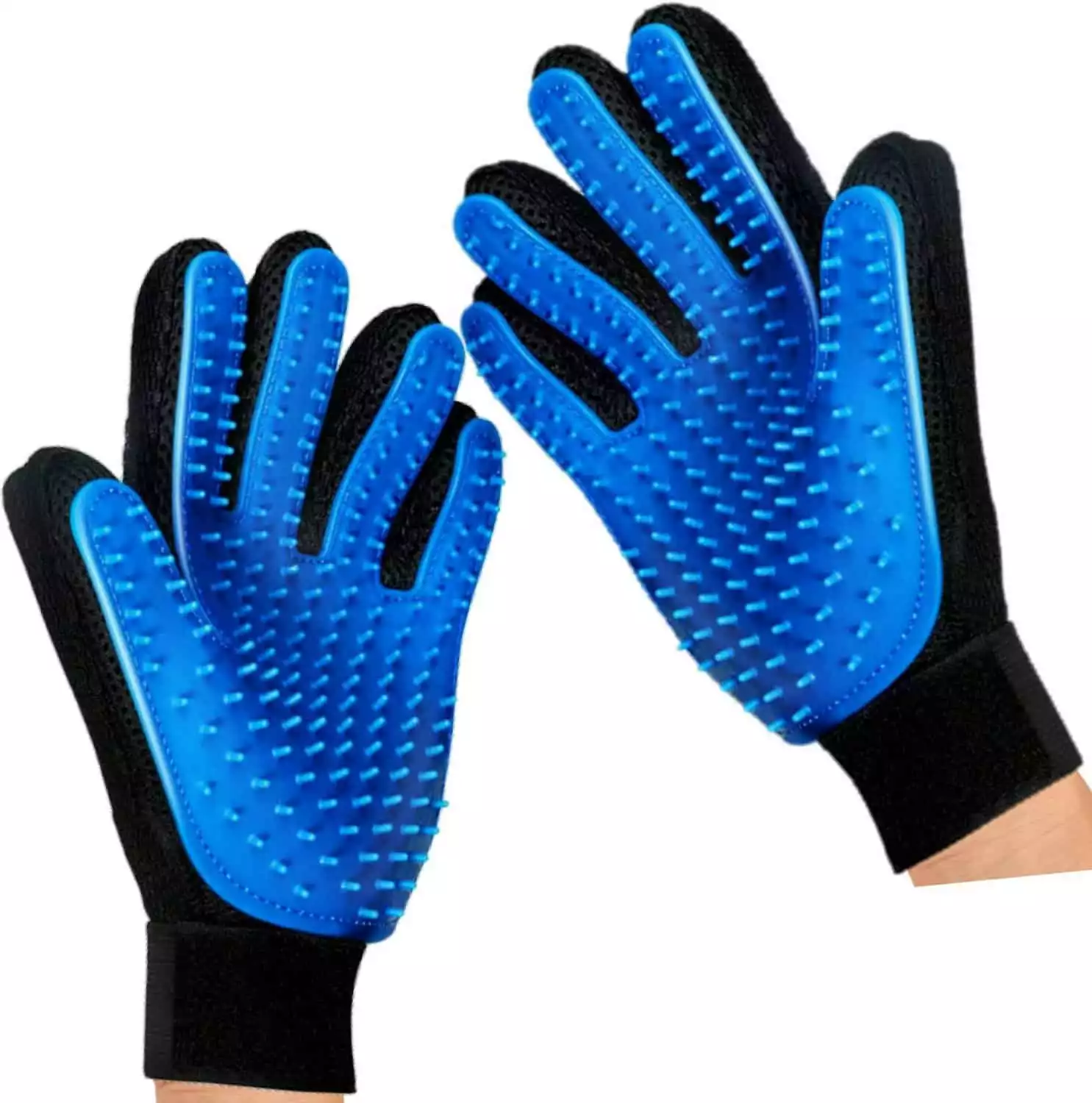 Just like most other grooming mitts, Mr. Peanut's Hand Gloves are amazing at keeping your short-coated Doberman from shedding all over your furniture, clothes, and house.
Shedding gloves keep the grooming session as comfortable as possible for both of you. You'll keep loose hairs at bay by simply petting your dog, which is the most natural movement and something your Dobie is likely used to.
The gloves have short, rubber pins that will attract any loose hairs, ensuring they stay on the brush. Once you're done, you can simply remove all the hairs from the glove, toss them away, and go on with your day.
The set comes with two gloves, making it perfect for large dogs. Sometimes, a single grooming mitt isn't enough, as it would make the brushing process too long. By providing you with two mitts, however, Mr. Peanut's Hand Gloves ensures you'll make your Doberman shiny in no time.

Usually, detangling combs are a big no-no for Dobermans. This dog breed has a short coat, and detangling brushes tend to ruin their skin and even cause injuries. However, PetBrush by WetBrush found a way to work around this, which isn't a surprise if we keep in mind that WetBrush has years of experience making brushes for humans.
The sharp, metal teeth that are usually on detangling combs have been replaced with plastic ones, ensuring everything is gentler. In fact, the comb has an all-plastic design that resembles human combs. This will ensure your Dobie's skin is safe from harm.
The non-slip handle allows for a comfortable grip. This is especially useful if you plan on brushing your Doberman after bathtime when both your hands and the brush are slippery.
While Dobermans aren't prone to matting, the wavy teeth can help with even the lightest of mats, making this comb a good choice for short-haired breeds as well.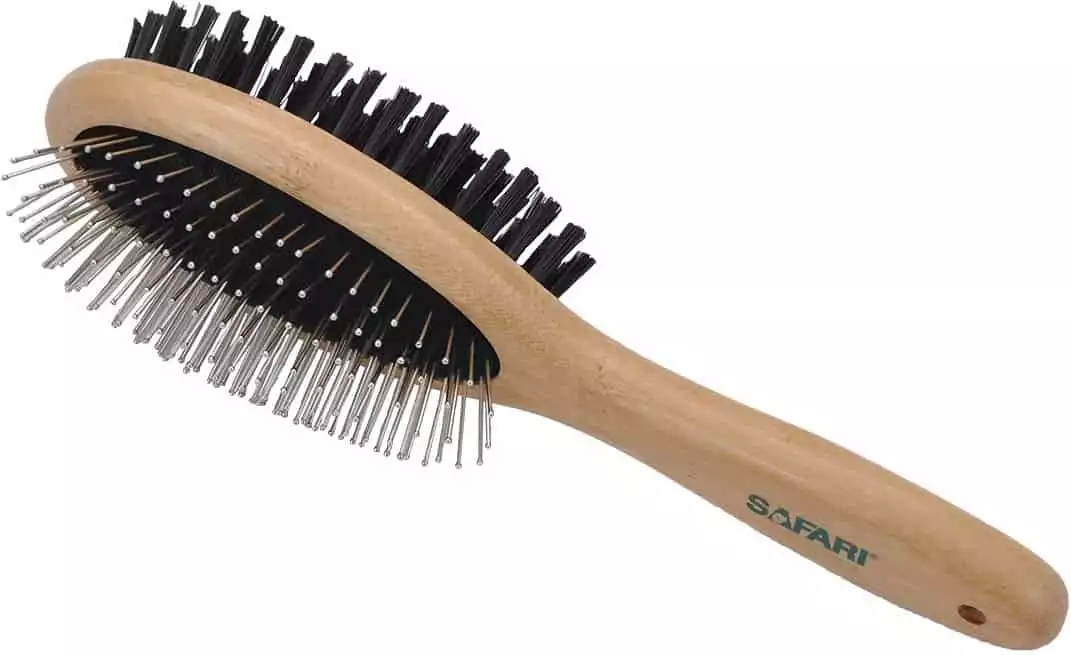 Yet another environmentally-friendly product, Safari Bamboo combo brush sports a 2-in-1 brush design. On one side, it features gentle bristles, and on the other, it comes with wire pins. This way, it can help both with detangling and encouraging a smooth coat.
While the wire pins are gentle enough not to hurt a Doberman's sensitive skin (but we'd still not recommend using that side every day), the bristle brush will make its coat shiny and beautiful while distributing natural oils evenly over the skin.
The bamboo handle is comfortable, and it will sit perfectly in your hand. This is especially useful after bathtime. At the same time, it's sturdy and collects lots of fur, reducing shedding to a minimum.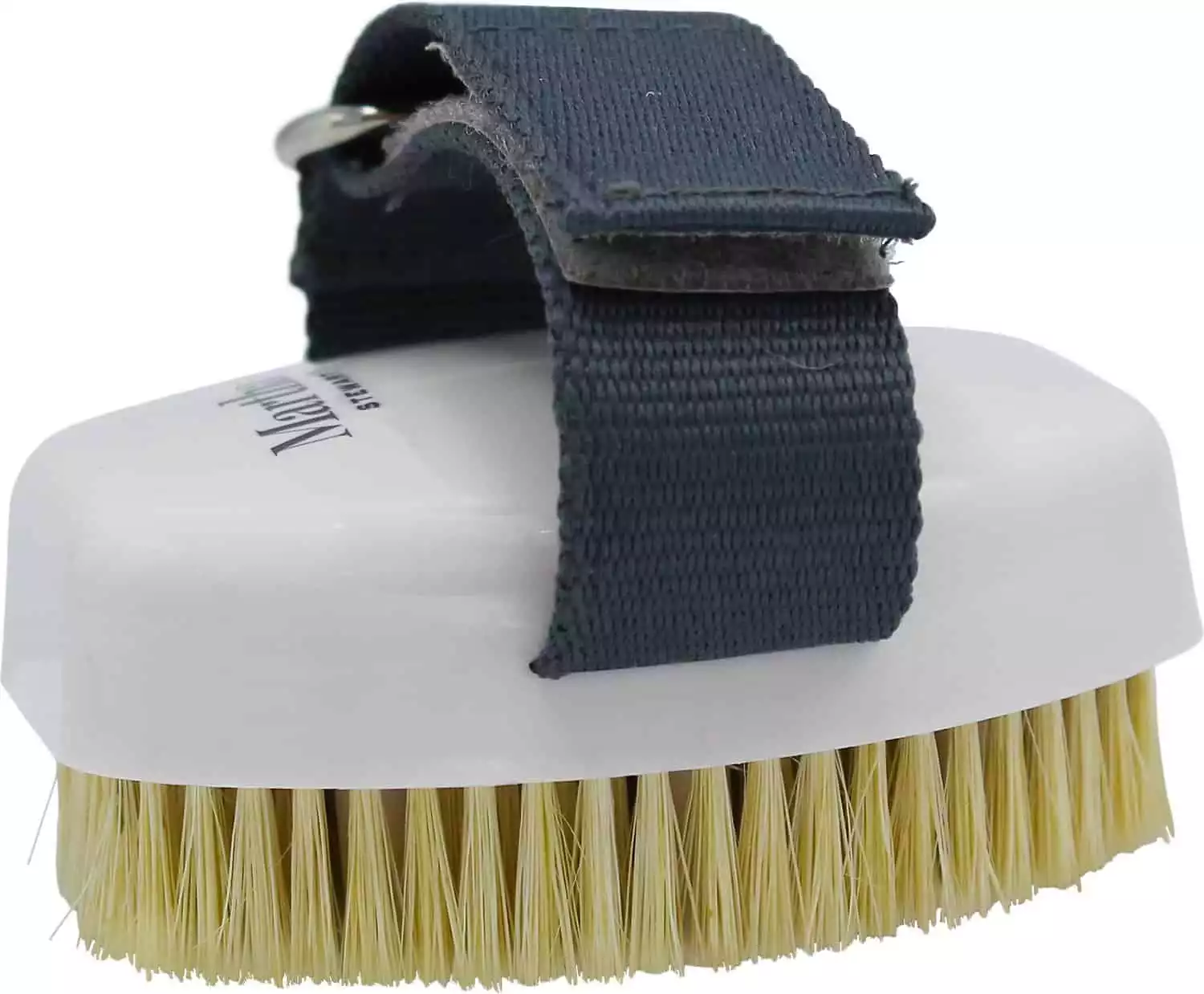 While this brush might not look like much, many dog owners swear this is the best brush for a Doberman by far. Don't let the appearance fool you – it has many more features than you might think.
The first thing most people notice is the adjustable hand strap. This is a great way to increase convenience. You can use it to fit onto any hand, so you can comfortably hold your brush no matter what's happening.
While this bristle brush contains natural bristles that are soft and gentle, it also comes with rubber nubs. This will not only provide your Dobie with a comfortable massage, but it will stimulate natural oil production.
All bristles are natural and as gentle as possible. This makes them perfectly safe for your pooch and will provide him with a smooth, lustrous coat.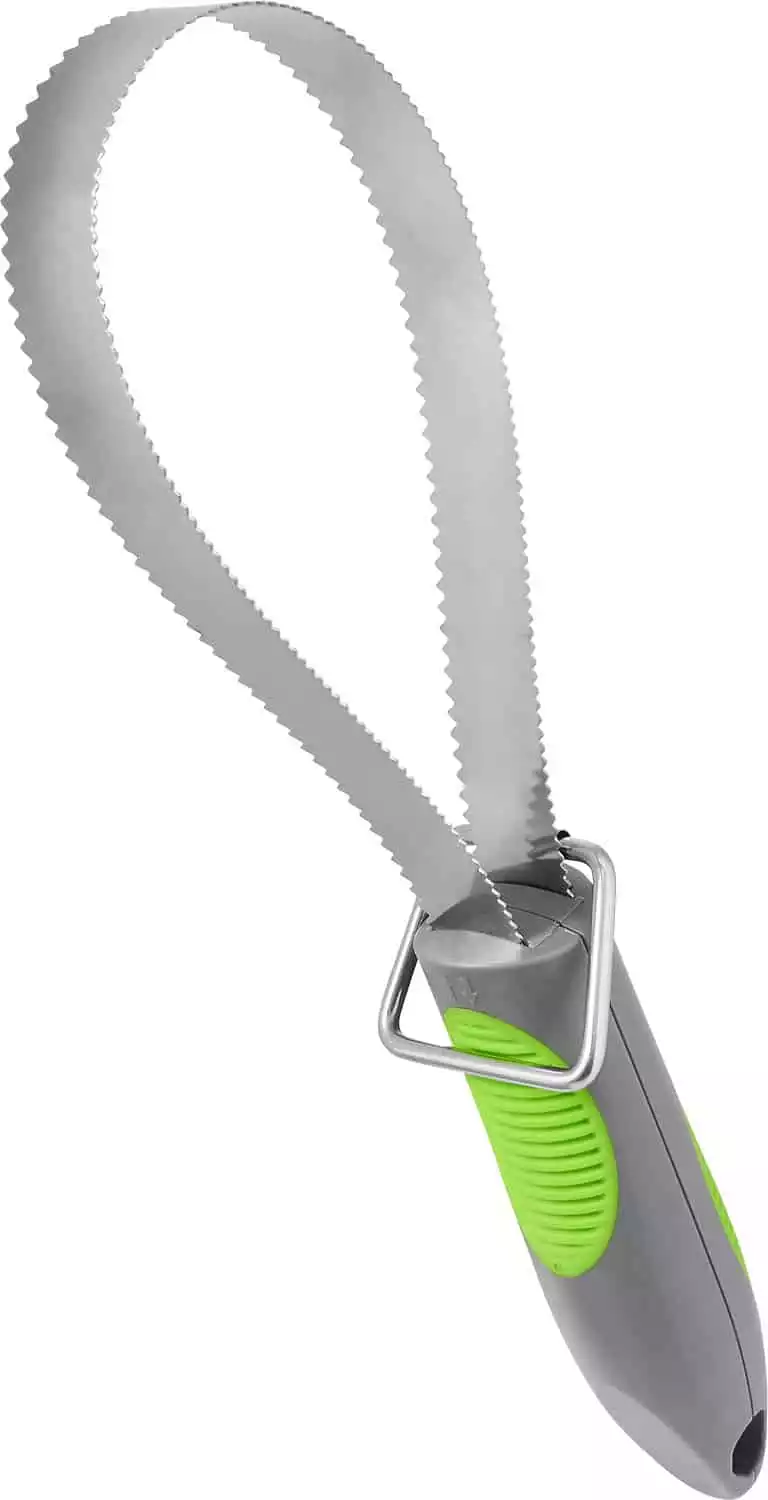 While Frisco's de-shedder might look like some torture device, it's actually a great brush for dogs with short and smooth coats. It has a dual-sided, stainless steel blade with fine teeth on one side and coarse teeth on the other.
You can use this brush either in the loop position, or you can unhook it and use it while it's flat. The finer, smaller side is intended to be used on either short hair or wet fur. On the other hand, the wider serrated side is great for removing loose hairs or if your Dobie's coat is on the thicker side.
The vinyl handle is comfortable and allows you to hold this brush without any problems. Despite the unique look of the brush, all you need to do is to run it over your pup's fur, just like you would with any other brush.
Keep in mind that you have to be gentle with this brush. Also, we'd recommend combing and brushing in the direction of the hair growth. This way, you'll ensure not only safety but the best coat appearance possible.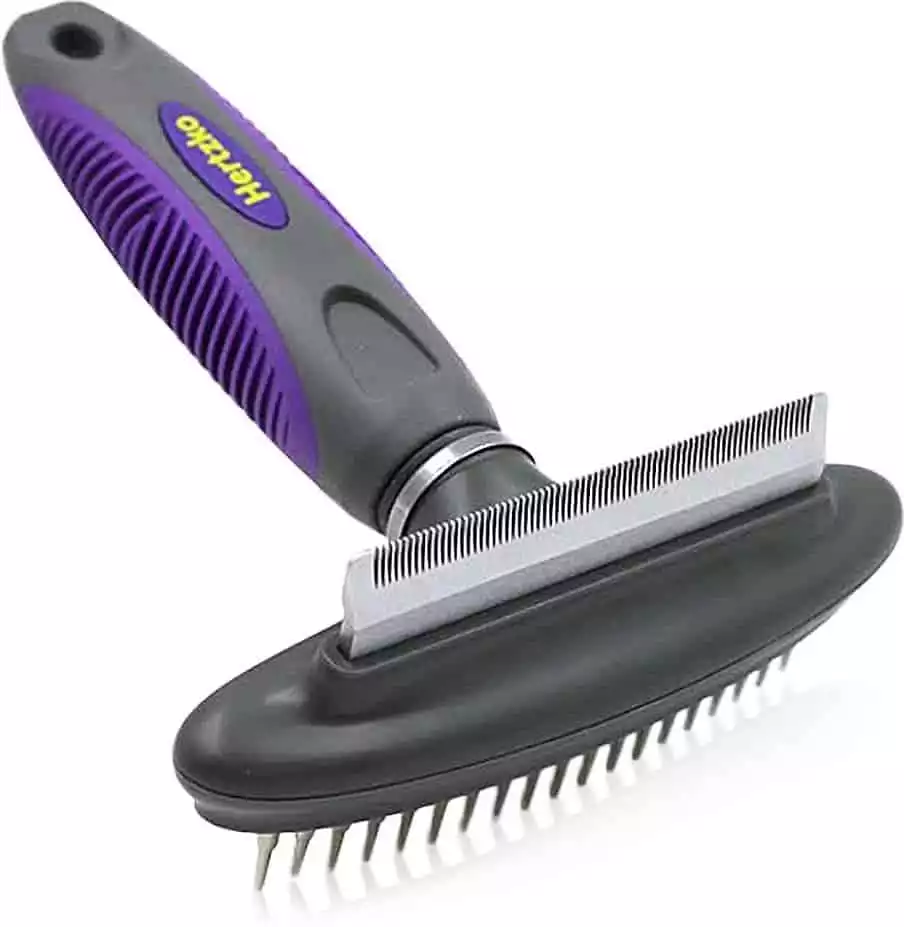 If you're looking for the best brush for a Doberman or any other short-haired pet, this might be the product worth looking at. It's suitable for both dogs and cats and will help you remove dander, loose hair, and dirt.
The brush is designed to get to the dog's undercoat easily and help you get rid of even the most stubborn mats and tangles.
What makes this brush unique is its edges. They are sharp enough to go through all coat types but gentle enough not to cause problems, even for the more sensitive Dobermans.
​The neck of the brush is flexible to reduce any unnecessary pressure. It will follow the contours of your pup's body with ease without hurting his skin. The comb itself has a massaging action, which will leave your Doberman feeling pampered and looking well-groomed.
Keep Up the Good Hygiene
As we've mentioned, Dobermans are low-maintenance dogs that don't require lots of taking care of, especially when compared to some other long-haired dog breeds. Still, some activities should be done on a schedule to make sure they have good hygiene.
The most important thing you need to do is to take care of your Dobie's teeth. Dobermans, just like all other dogs, are prone to dental issues, so try to brush their teeth every day. This will keep them safe from dental problems.
Dobies are clean dogs on their own, and with some minor care, they should be free of that dog smell. Their short hair is distributed in a single layer and is very easy to maintain. Brushing them a few times a week is all it takes to ensure their coat is healthy and shiny.
The biggest problem with Dobermans is their dry skin. Brushing can help with natural oil distribution, as it stimulates the skin and 'greases' it up a bit.
Unless they get extremely dirty, there is no need to bathe them more often than every six to eight weeks. Just make sure to use a high-quality moisturizing dog shampoo – and don't forget the conditioner!
If possible, find a good moisturizing spray that you can use in between baths. This will help keep the dog's skin silky smooth and free of flakes.
To ensure healthy skin and hair, try giving them some of the best dog foods for Doberman. By giving them food rich in omega-3 and omega-6 fatty acids, you'll keep their skin as healthy as possible. Consult your vet about adding tuna or fish sticks to their diet, as well.
Don't forget to clean your Doberman's ears every month, especially if they aren't cropped. Keep their nails trimmed and short to avoid paw injuries.
Proper Brushing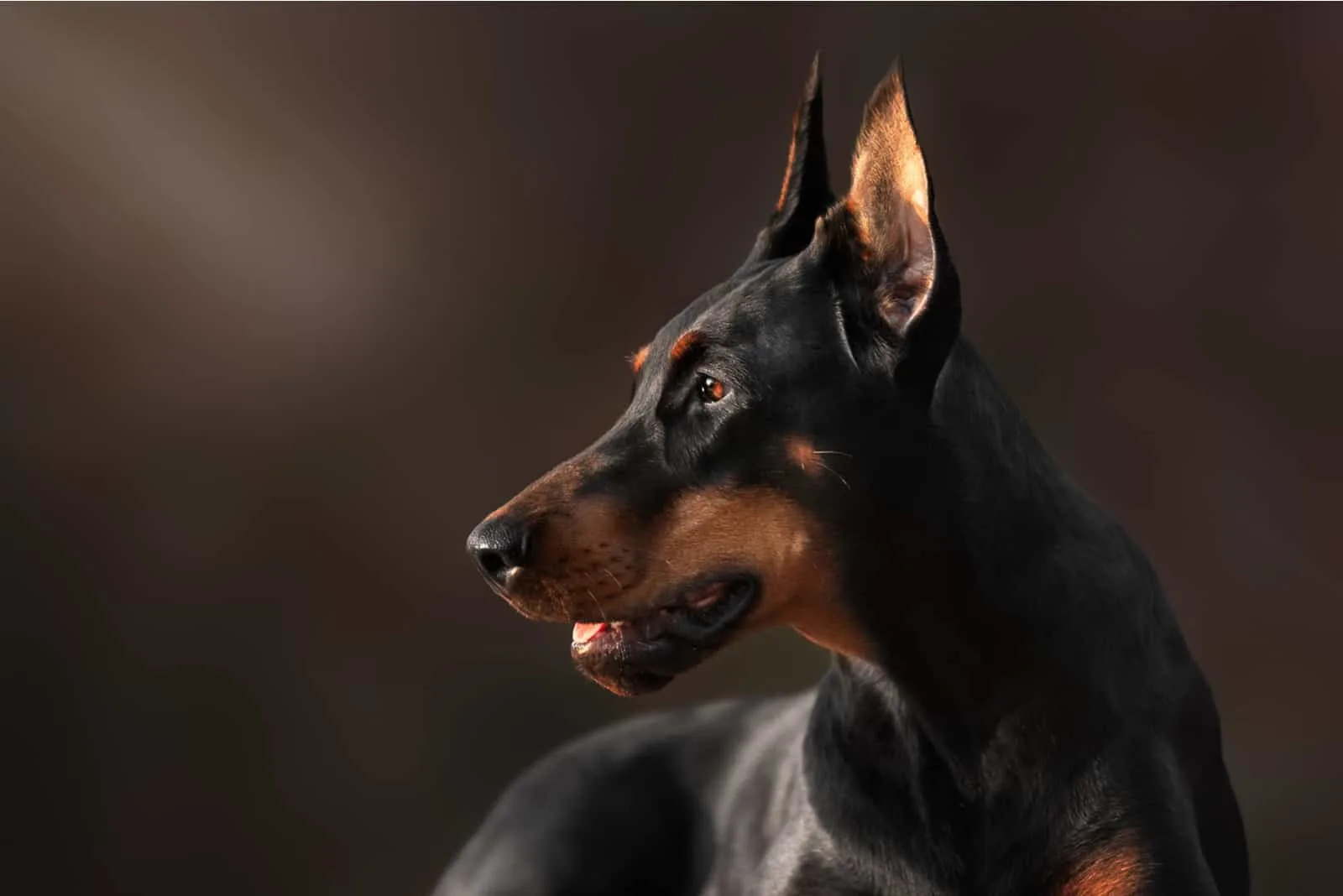 Getting the best brush for a Doberman is pointless unless you know how to brush his coat properly. Fortunately, this shouldn't be a huge chore. In fact, it will likely only take you five minutes.
When brushing your Dobie, go outdoors as indoor brushing can create a huge mess. Frequent brushing will keep their coats looking good, stimulate blood flow within the skin, help create an even distribution of natural oils on the coat, and it will keep them from having that 'dog smell.'
Brushing will also help remove dead skin cells while at the same time reduce shedding. This is incredibly useful if you or someone from your household suffers from dog allergies.
Before you start doing anything, make sure your brush is gentle. The best brush for a Doberman should never be too stiff, as it might irritate their sensitive skin – or even cause some damage.
If you own a grooming mitt or a curry brush, start with that. Go in small, circular motions starting from the bottom of the head, working your way throughout your Dobie's whole body. This will remove any dead hair and help spread the oils everywhere.
Then, grab your best brush for a Doberman or even de-shedding tool to remove any dead hair and skin that you've loosened in the previous step. Brush in a smooth motion and use light to medium pressure. Go in the direction of the fur growth to keep it smooth.
Once you're done, remove any built-up hair from the brush. This will make sure the brush continues to work properly and that it can keep the coat as clean as possible.
Bathing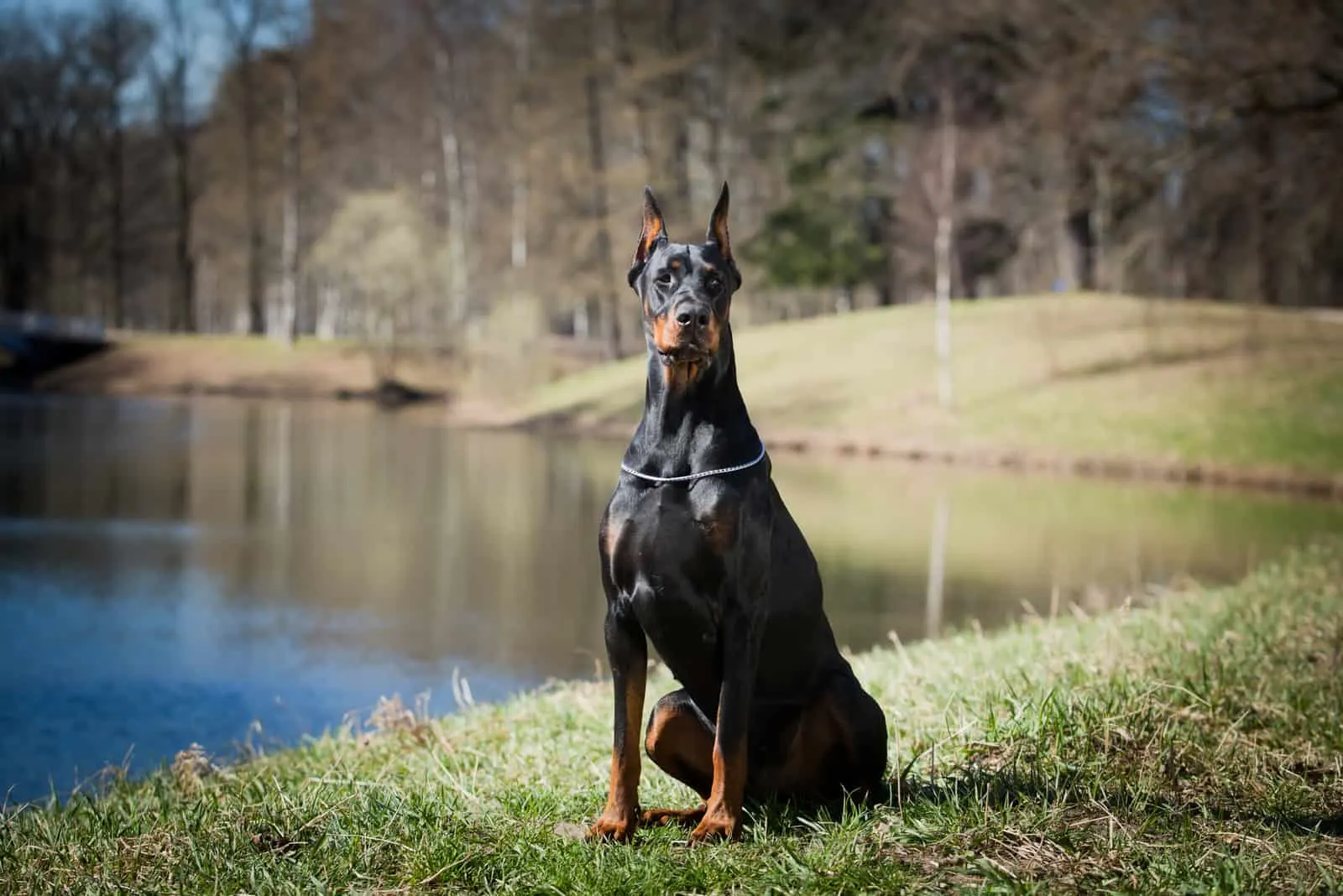 While bathing might take a bit longer than brushing, it's still rather easy and straightforward. It shouldn't take you more than 20 minutes, and you'll only be doing it every few weeks, so it shouldn't be a hassle.
Dobermans don't like to get dirty, so you shouldn't have too much work. Of course, if you own a young Doberman puppy or a very active dog, you might want to bathe him more frequently.
Make sure you don't go overboard with bathing. Water will dry his skin out and cause irritation. If your dog starts scratching, he might even create open wounds, and you don't want that.
Still, your bathing schedule should be consistent. This will also help with his skin and hair health and reduce the amount of shedding. Also, if you think it's necessary, you might want to use a flea or tick shampoo. Just make sure to follow the directions, as these shampoos can cause irritation.
Before you bathe your Doberman, you should brush him using the best brush for a Doberman by following the steps we've listed above. While this is an optional step, it will help if your pup is free of any dead skin and fur before bathtime.
If this is your first time bathing your Doberman, ask a friend or family member to help you. These are large, strong dogs that might react badly and try to escape. Don't worry, though. Once your Dobie gets used to it, you'll likely be able to handle him alone. Use a leash if you're worried that he will be hard to control.
Next, prepare the bathing area. You should have shampoo, conditioner, a water source, and a towel nearby. If you have a spray head attachment, that's what you should use.
If you're bathing your dog in the bathtub, put a towel on the floor of the tub to prevent slipping. As funny as it looks, if a dog slips, he could hurt himself, so you don't want to risk it.
If possible, use large cotton balls and plug your Dobe's ears. Not all dogs will like this, but it's worth trying. This way, you'll make sure the water doesn't get inside their ears. Also, you'd want to ensure the cotton balls are large enough so you can pull them out without any trouble.
Next, it's time to wet your dog. Make sure his coat is thoroughly wet using a gentle stream of room-temperature water. Don't go too hot or too warm, as you can hurt or stress out your Dobe.
Then, use dog shampoo and spread it out with your fingers. Don't get it inside their mouth, eyes, or ears. Be careful not to scratch your Doberman with your nails, as their skin is rather sensitive. Take extra care of their neck, as their coat is thicker here.
Once you're done shampooing, rinse off your Doberman. Keep the water out of their eyes, mouth, and ears, but make sure every last bit of shampoo is gone.
If you'd like, lather them with a mild-moisturizing conditioner. This isn't necessary, but it can help with their dry skin. Just make sure to rinse it out thoroughly later.
Finally, dry your Doberman with a towel. Don't use a blow dryer unless absolutely necessary. Go in the natural direction of the fur.
Keep in mind that even naturally clean Dobermans might run to roll in the mud as soon as you dry them. They'll do all they can to get rid of the clean smell.
In between baths, you might want to use a damp towel and wipe your Doberman from time to time, especially after walks. This is a good way to ensure your Dobe is clean.
Dental Hygiene And Ear Cleaning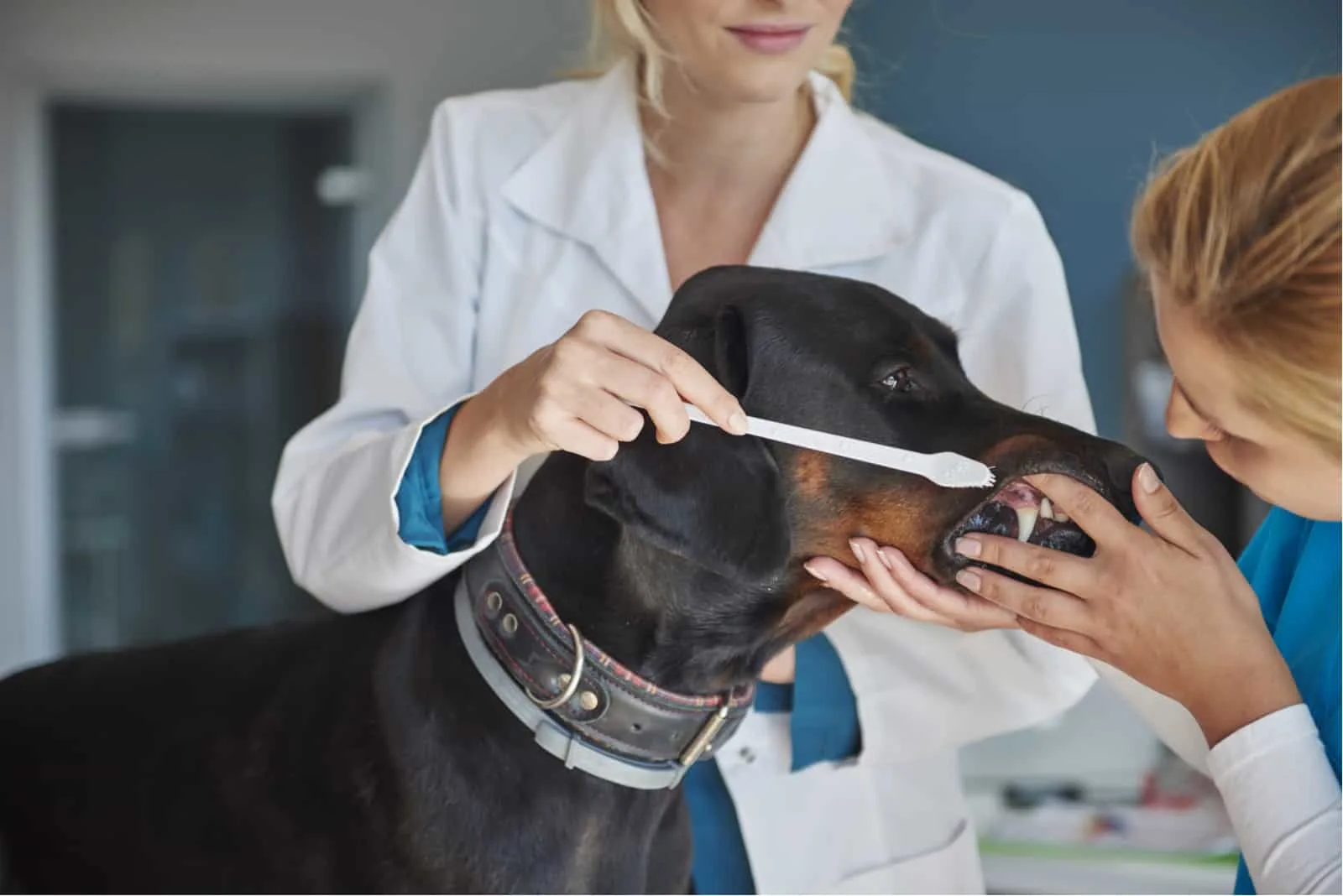 Another important thing many dog owners forget about is brushing your Doberman's teeth and cleaning his ears.
Dobes, just like most other canines, are fairly prone to gum disease and plaque buildup. Because of this, you might also want to get the best brush for a Doberman and his teeth. Finger brushes are a good choice, as this is likely the fastest method.
While teeth problems don't sound serious, they can cause many health concerns, including cancer or gastrointestinal disease if they get out of hand.
When it comes to ear cleaning, this is something you should do monthly. However, it would be a good idea to inspect their ears every night to know how they normally look.
If you spot anything unusual, such as wax buildup, an unusual odor, irritation, or redness, make sure to visit the vet. Untreated infections can damage your Doberman's hearing.
Make sure to trim their nails from time to time as well. This is an important part of dog grooming. It will make sure they don't hurt their paws over time.
FAQ
How Often Should I Brush My Doberman?
Dobermans have a short, single coat that theoretically doesn't require too much brushing – except around the neck, where they have an undercoat. However, try to brush as often as possible – a few times a week at least. This will decrease the amount of dead hairs.
At the same time, frequent brushing will help redistribute natural oils over the Doberman's coat and skin. This is excellent for ensuring his skin isn't dry and his coat is nice and shiny.
What If My Doberman Hates Brushing?
Not all dogs like brushing – some utterly hate it. However, finding the best brush for a Doberman can help make this process more pleasant. A good brush should feel gentle on the skin – test it out on your hand to make sure.
Give plenty of treats during brushing. If your dog gets stressed, stop brushing. You don't want to force anything. Several shorter sessions are much better than stressing your Doberman out entirely.
How Do I Know What Type of Brush Works the Best?
This will depend on the hair type. As mentioned before, Dobermans have short, smooth coats without a thick undercoat. Soft-bristle brushes will work the best for this coat type. On the other hand, slicker brushes and pin brushes might not be ideal as they are better for thick coats.
Since Dobermans tend to shed a bit, de-shedding tools can be used from time to time. Pet grooming gloves are also a good choice for them.
If you're still confused about any of this, contact your local groomer or veterinarian for advice. They will likely be able to provide you with precise information.
How Do I Care For My Best Brush For Doberman?
Most brushes are durable and don't require too much care. Still, if you want to keep them for as long as possible, there are a few quick and easy things you can do.
Make sure the brush is kept in a dry place and that you don't store it while wet. Also, you should clean out the hairs after each grooming session. If you cannot do this with your fingers, take a comb and slip it into the bristles from the base of the brush all the way up.