This post contains affiliate links, and I will be compensated if you make a purchase after clicking on my links.
Goldendoodles are one of the best mixed breeds out there with their incredibly lovely and thick fur and their adorable and playful demeanor.
However, to maintain that thick coat, one needs to have the right tools for grooming, especially clippers, but what are the best clippers for Goldendoodles?
The best clippers for Goldendoodle dogs are ones that have a good battery life and that won't cause your doggo any discomfort during operation.
The cheaper ones often tug at the dog's fur which can prove to be an uncomfortable or even painful experience depending on the quality.
Also, you'll preferably want a trimmer with a quiet motor as the noise can cause some discomfort too, plus it's really annoying for you too, not just your doodle friend.
Of course, it has to be affordable too while retaining good quality, you don't want to blow your budget on dog grooming expenses too hard considering all the other needs you need to satisfy for your canine and yourself.
If you end up buying ones that are too expensive, you may as well just send him for a trim at a professional groomer, but even then it'll cost a fortune.
With all of these restrictions in mind, one would think that there wouldn't be that many options left to pick from, however, it's the exact opposite as you get tons of choice.
Too much, in fact, but that's why I always have your back when it comes to any doggy product.
I'll do the hard work of browsing online marketplaces like Amazon and Chewy to find the best options for you and your dog, both budget and quality wise so you don't have to spend your precious time doing so.
So read on to find out what the best set of clippers for your Groodle is as well as answers to some commonly asked questions in regards to dog grooming in general and some others.
The 8 Best Clippers For Goldendoodle Dogs
Oneisall Low Noise Dog Shaver Clippers
Key Benefits:
Key Benefits:

Produces very little noise and doesn't tug on your dog's hair for the ultimate clipping experience

Has a rechargeable battery and functions as a cordless clipper but can also work while plugged in charger

6 Different guide combs for more options in hair length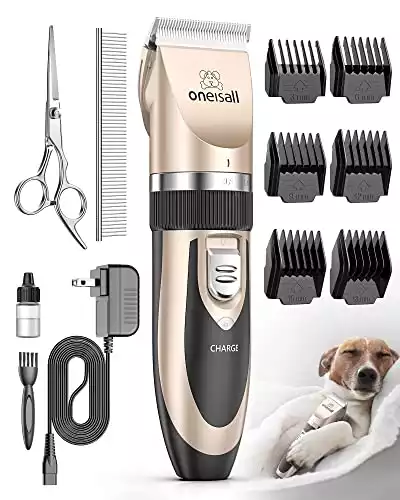 First up on the list is a pretty popular option over on Amazon, the Oneisall low noise clippers.
Cordless
While a good amount of clippers tend to have a cord, these can alternate between a cord that serves as a charger and fully cordless clippers to make it easier to maneuver around your Goldendoodle when giving him a shear.
Cordless, of course, means that the battery comes built into the device and comes with the purchase so you don't incur any extra expenses.
Makes Little To No Noise
It's a really quiet device too alongside a very low vibration level to not produce the signature buzz that electric trimmers are known for.
The overall noise ends up being a mere 50 db, which is about as loud as a relatively quiet conversation, meaning your pet will get startled a lot less and stay put, making the whole trimming process of your Goldendoodle's coat a lot easier.
The blade setup has a stainless steel fixed blade and a razor sharp ceramic moving blade to slice hairs off immediately and not end up tugging on any of them due to a blunt edge, startling him like some standard ones do.
The detachable guide combs are easy to attach and detach and come in 6 different sizes following increments of 3mm from 3 to 18 millimeters.
The dog clippers also come with part of a grooming kit attached to it consisting of a blade cleaning brush, blade oil, a pair of scissors and a comb.
The trimmer comes in 6 different color options to choose from at no extra cost too in case you wanted to personalize your furry friend's grooming ensemble.
Speaking of price, it's on the cheaper side, but you do get a really good quality product out of it that'll last you a long time.
It's worth noting, however, that you shouldn't use the clippers on hair that's too long. Give it a bit of a trim with the scissors to reduce hair length otherwise it may get tangled up and stop working, as some users have reported.
It's also been reported that it takes longer for the Oneisall to get the trim finished than some of the more expensive ones, but it's not the worst drawback one can have.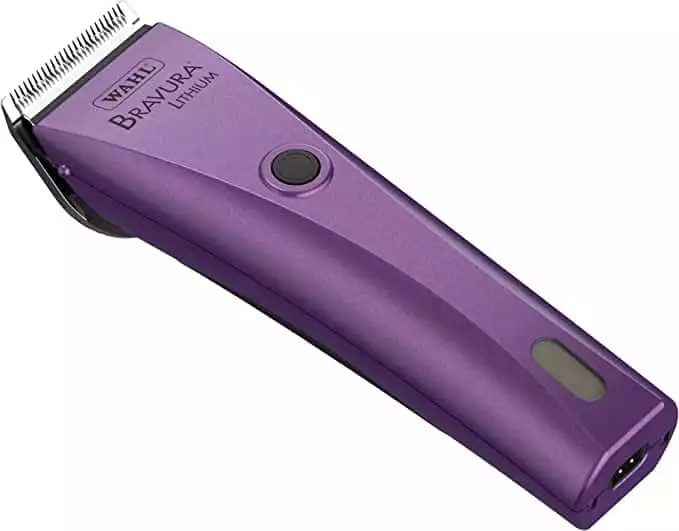 Next up we have a complete opposite, a luxury item made by Wahl intended for use with all sorts of pets and animals alike, even horses and cattle.
Long-lasting, Rechargeable Battery
It houses a standard, long lasting lithium ion battery that operates for about an hour and a half on a full charge, plenty of time to get the fur clipping job done.
It's a rechargeable battery too that can operate with or without the charger attached depending on your preference.
The charge only takes about 60 minutes to go from empty to full too, so you won't have to wait too long if you want to go cordless but come unprepared.
Makes Little To No Noise
The clippers are also pretty quiet and don't vibrate too fast so your doggo can enjoy a peaceful trimming session.
The other thing that makes using it easier is the fact that it's pretty lightweight making it easier to maneuver and use for longer periods of time if needed.
Precision Cutting
It's pretty precise too with 5 different cutting lengths to choose from all in one blade, though the higher ones are mostly intended for cattle, sheep and the like.
The Bravura clipper also comes with 6 guide combs of varying lengths to help line the fur up evenly to get a nice, clean trim on it.
Aside from that, you'll find a cleaning brush and blade oil with your purchase as well as a stand and the aforementioned charger that allows the clippers to function even when plugged in.
You'll also get an intuitive user manual that explains how to operate the clippers to begin with so you too can be a dog groomer all on your own, and all of that comes packed in a neat little storage case in case you need to travel.
Customizability
The clippers come in 4 different color options to choose from so you can personalize the tools you use to keep your dog looking clean and fancy to your tastes.
While it does have so many wonderful features, its price is astronomically high compared to the first option on the list.
It's intended for professional use or for use on farms with lots of sheep, horses and cattle among other things.
It's a pretty big investment for just one dog, but it'll definitely last you a long time and it does its job pretty quickly.
There's a reason why it's considered to be one of the "Amazon's Choice" products after all.
However, it's not without its flaws as many users report it getting real hot real fast, so do keep in mind that you'll need to let it cool down after a bit of use.
Oster A5 Clipmaster Grooming Clipping Machine
Key Benefits:
Key Benefits:

Universal trimmer that can fit a number of different guide combs

#10 CryogenX detachable blade sports unparalleled cutting power

Chew-proof cord and housing to prevent damage to the trimmer due to curious canines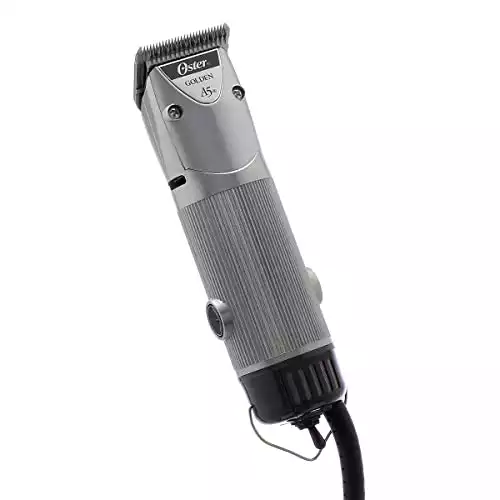 Next up we have a mainly wired option, the Oster Clipmaster, the middle-ground between the two.
It's a really potent machine that goes through fur like it's made of butter, meant for shearing even the most matted fur and thickest of hair.
Precise And Powerful Motor
The clipper uses a rotary motor that delivers over 2000 strokes a minute, delivering precision and efficiency in a really small package.
The detachable blade system was designed to replace blades on the fly without all the constant complicated steps some others take to change them out.
The Oster Clipmaster supports an array of different blades making it a solid universal choice that supports all sorts of preferences in regards to fur trimming.
Chew-Proof Cord
While most cord-exclusive clippers suffer from damaged cords due to the owner's dogs getting a bit too curious about its taste, this cord was made to be chew-proof as well as the housing itself.
This is done to prevent any damage to the product during a clipping session or in case you accidentally leave it out and your dog gets his maw on it.
The blade that comes with it is a #10 CryogenX blade made from stainless steel and treated under temperatures as low as -300 degrees Fahrenheit to provide an exceptionally sharp edge that won't dull for a good while.
Cost-wise, it comes out somewhere near the average expected price, but it's still a sizable investment that's justified with just how universal it is with comb attachment options that are compatible with it.
That said, it's not the most durable option out there as several users have reported it wearing out over the course of a year until it eventually just stopped cutting altogether.
It may have been a defective batch, but it's good to remain wary about these things.
Andis 22340 ProClip 2-Speed Detachable Blade Clipper
Key Benefits:
Key Benefits:

The 2-speed clipper works with almost any type of fur and with any dog breed

Extremely quiet rotary motor that maintains a steady level of cutting power throughout the clipping sessions

Shatter-proof housing with comfortable grip and heavy duty cord to prevent damage to the device from intrigued pets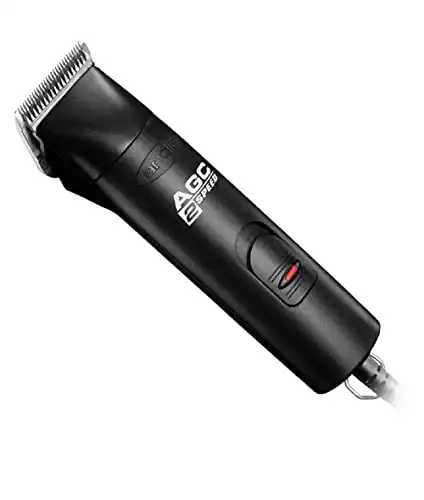 Next up is a professional dog clipper, the Andis Proclip.
It sports a nice detachable blade design to make removal, cleaning and sharpening a lot easier as well as replacement if needed.
Can Handle Any Mess Of Hair
It's universal in a sense that it can easily handle the tangled and matted hair of almost all coats from any dog breed, be they as big as golden retrievers or as small as poodles.
This pet clipper sports a two-speed rotary motor which helps the blades cut with precision and elegance, never tugging the hairs if the blade is sufficiently sharp.
Quiet Operation
The best part about it is that it's real quiet too and it doesn't heat up as easily as some of the other options out there do and it uses about 120 volts of electricity to run.
Durable Parts
The housing is shatter-proof meaning any accidental drops or similar shouldn't damage the product and it should still function just fine.
The cord itself is a nice, thick, 14 inch heavy duty one, made to withstand the bites of any curious animals so that they wouldn't end up damaging the device and hindering its functionality.
Price-wise, it definitely is one of the more expensive options, but with the comfort and reliability that the Andi provides and with a great recommendation by professional groomers nationwide, it's definitely an option worth considering.
Of course, not all of us are professional dog groomers that'll work on a wide array of different types of fur or dog breeds, so the price may not exactly be justified, plus the cord can get in the way sometimes compared to cordless clipper options.
Toning the price back down a bit, we have the Pet Union professional dog grooming kit, a package deal that includes most everything that an average dog owner needs to keep his doggo's fur nicely trimmed.
The first thing you'll notice is that the clipper is fully cordless, allowing you to easily work around your dog in any environment without the need for a socket for it to function.
And the battery's rechargeable too, not taking too much time to reach full capacity, though you can run it even when plugged.
Quiet Operation
And don't worry about any noise, these clippers have an extremely quiet motor that produces very low amounts of noise and vibration, providing a nice, calm, quiet and relaxing clipping session with each use.
Made With Canine Comfort In Mind
The grooming comb is contoured to the shape of the body so you don't need to press down too hard on your furry friend to get a nice, even cut, and the sharp titanium blades will always provide the precision necessary to facilitate it.
It'll also never cause any uncomfortable hair pulls that only add to the stress levels of your dog during this period where he has to stay put, making it more tolerable for him.
Aside from the actual dog clippers, you'll find some extra stuff packed in this grooming kit too.
Things like 4 different guard combs for added comfort during the grooming session, dog nail clippers, a nail file, 2 different pairs of scissors, a comb, blade cleaning brush and blade oil.
All of this for an extremely affordable double digit price, it's practically a steal.
However, with such a low price come a few drawbacks, namely the scissors that come with the package often seem to be really dull and the guards on the clippers appear to be of relatively low quality.
Also, while not a drawback, but simply the limitation of most clipper motors, don't use it on fur that's too thick as it'll likely just jam the clipper up and end up tugging at your dog's hair more often than not.
Trim your dog's fur with a set of scissors first, then tackle the shorter fur with it for a proper finish.

Next up is yet another fine option from Andis, the AGC2 UltraEdge clipper.
Fast, But Quiet Operation
This wonderful machine functions at well over double the strokes per minute of other popular clippers, clocking in astonishing speeds of around 4400 spm on the highest setting with 3400 on the lower option.
But even with such insane speeds, it still features a really quiet motor that stays cool for a while throughout its operating period so you don't need to take frequent breaks.
With such speeds it's adequate for any fur type and length regardless of dog breed making it a great universal purchase as it can go through mats and tangles alike with ease.
Chew-Proof Cord
Much like its friend mentioned prior, it features a 14 inch cord made to withstand dogs and other animals stepping on or chewing on it, keeping it safe from malfunctions or breaking.
The AGC2 UltraEdge also features a simple and intuitive detachable blade design for when you need to change, sharpen or clean it.
Due to its popularity and high ratings, it was made to be one of "Amazon's Choice" products in this category too which only further speaks for its high quality.
Personalization Options
The clipper comes with 5 different color options to choose from too if you want to match it to your style or the style of your dog.
In terms of cost, it's about as expensive as an Andi clipper would be given its popularity which may be a bad thing for a lot of you people out there with tighter budgets, but it's well worth the investment.
However, the whole staying cool bit seems to not be true for every copy of the product as some users have reported theirs heating up too quickly, albeit this is beginning to be a common trend with every dog clipper out there as of late.
HANSPROU Dog Shaver Clippers Key Benefits:
Key Benefits:
Key Benefits:

Low sound and vibration operation

Sharp and precise titanium alloy and ceramic blades that are easy to detach and clean

Affordable budget option with features similar to that of some of the more expensive options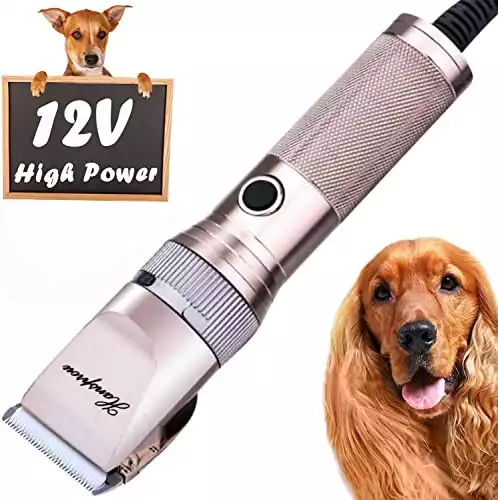 Right after we have another budget option, the HANSPROU clippers.
Quiet Operation
It has the key feature that every set of clippers should have, quiet operation both in terms of sound and vibration to not startle your furry friend during the grooming session.
Aside from that, it has two sharp and durable blades, the titanium alloy blade that stays in place and the ceramic moving blade, making cutting fur a cinch.
They're both detachable and really easy to clean because of it.
Safe And Durable
The housing is made of a sturdy aluminum alloy so it shouldn't break in case you accidentally drop it, but even if you do, the clipper has a 2 year warranty so you can easily replace it.
The clippers also come with a set of 4 guard combs of differing lengths to easily adjust your desired fur length, but it also has 2 modes of operation which allow further length tuning.
Precision Cuts
It gives you precise options of anywhere between 0.8 to 12mm.
They come in 5 different color variations at no extra cost so you can pick your favorite.
Speaking of cost, these clippers are on the cheaper side while still able to perform alongside some of its pricier competition.
Unfortunately, the narrower blades used for the HANSPROU do seem to make the clipping sessions take longer than usual, but it's not that big of a deal to spend a bit more time with your beloved pet.
Wahl Professional Animal Arco Pet
Key Benefits:
Key Benefits:

Cordless set of clippers with an operating time of 80 minutes and a 75 minute charge time

5 different levels of cutting length with 4 additional ones when using the provided plastic guide combs

30 day 100% satisfaction guarantee with a 1 year limited warranty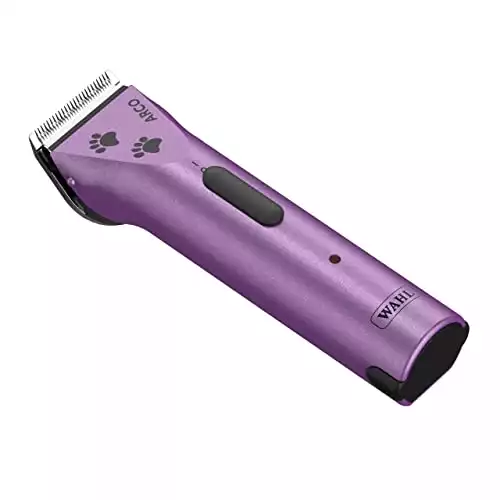 The final option on our list is the Wahl Professional Arco, a more affordable version of the beloved brand.
It's intended for use on small and medium dog breeds, making it an ideal option for doodles be it Labradoodles or our dear Goldendoodle.
Long-Lasting Operation
These cordless dog grooming clippers feature a rechargeable battery with an impressive 80 minute run time on full charge with a similar charge time of 70-ish minutes.
It has a 5-in-1 blade that gives you 5 different sizes to choose from in terms of cutting length, but it also provides you with 4 different guide combs of varying lengths for further fine tuning.
Aside from that, you get blade oil and a cleaning brush to go along with it as well as an extra battery pack for when the first one is charging, a charging stand and an intuitive instruction manual. The full clipper kit.
These Wahl pet grooming clippers are definitely one of the best options for those who want to handle a professional level of grooming but are strapped for cash for the more expensive options.
The price point is about average while the perks provided align with those of professional-tier dog clippers.
In case you don't like them for whatever reason, the people over at Wahl's offer a 30 day 100% satisfaction guarantee option, and you also get a 1 year limited warranty on the product itself.
The only real downside that I can see is that it can't handle any properly thick coats, but we only really need it to cut a Goldendoodle's hair so it's not the biggest issue.
Before You Buy: Things To Look For In A Set Of Good Dog Clippers
While these are all amazing products, I can't guarantee that all of you'll end up liking one of them simply because there are a lot of you readers out there with different dogs all with different needs.
For that reason, I like listing out a more generic list of things to be on the lookout for if you're willing to do your own research that are always net positives in a set of dog clippers.
These are:
1. Quiet Operation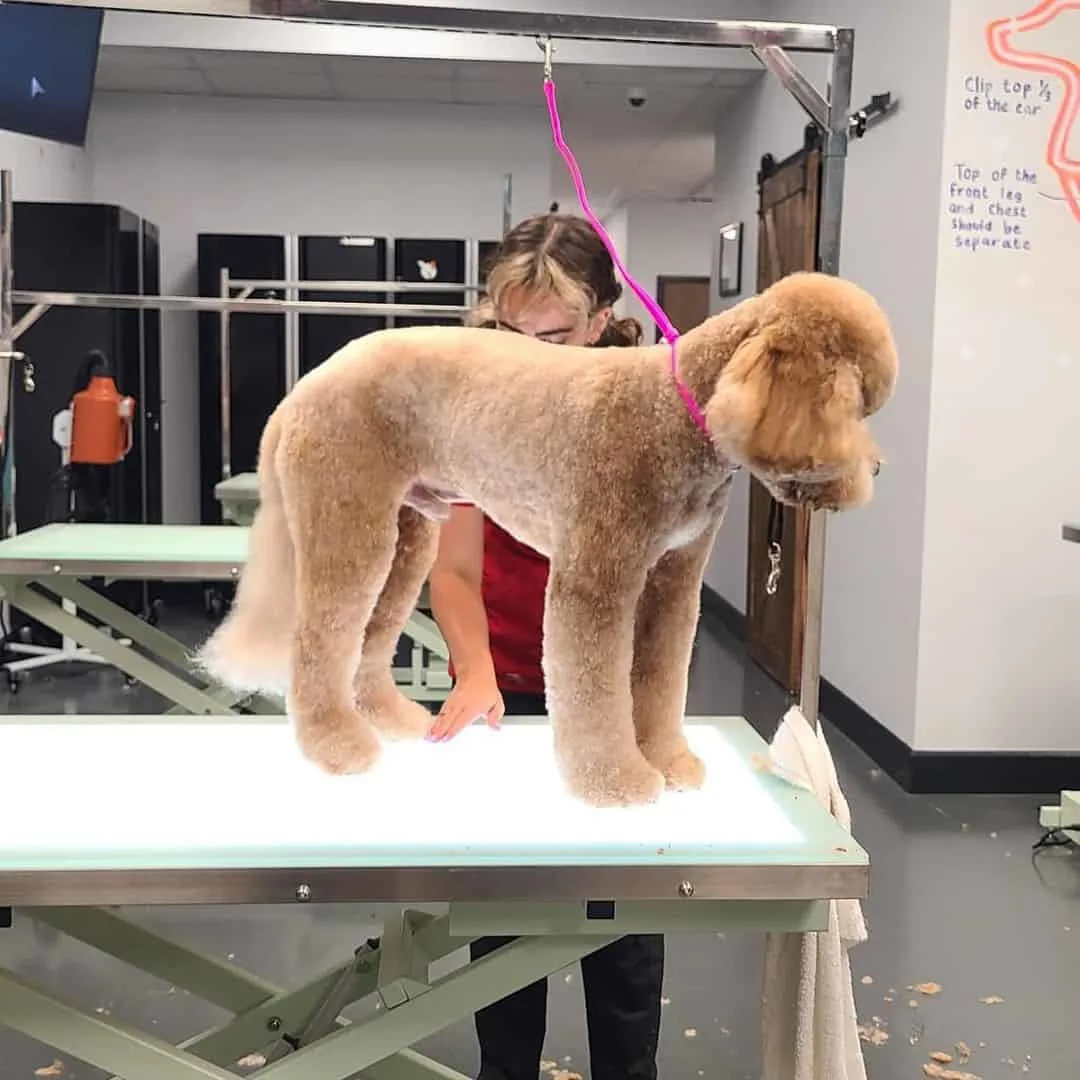 Photo from: @hannahgroomsdogz
There's nothing better than a motor with low noise and low vibration options. Our dogs get easily startled by machine noises as is, just look at most of them jump when the vacuum turns on.
So when you see a set of clippers with a quiet motor, take them because it'll help reduce your dog's levels of stress and anxiety during a clipping session by a lot.
It'll also make him more likely to stay in place for the whole duration of the process without the need of any restraints.
2. Sharp Blades That Don't Tug Hair
Another relatively large issue that needs to be addressed to make cutting your dog's hair an enjoyable experience for your canine companion.
A lot of the cheaper (but also some of the higher end) products tend to give out dull or inefficient blades, ones that, while they cut, they won't cut as quickly as needed.
This, in turn, results in you accidentally tugging on your dog's hair when trimming it which feels as painful as someone pulling on your own scalp and is likely to frighten him, leading to a tougher trimming session.
To avoid this, get sharper blades or make sure to sharpen them after a purchase to ensure they'll cut with greater efficiency and minimize the odds of hair tugging.
3. Get Cordless Clippers If Possible
While not an absolute must, it makes life a lot easier for a standard dog owner who may not have the luxury of an outlet to plug his clippers into where his dog can have a comfortable place to sit.
Not to mention the whole tangled mess a cord can become and how reliant the machine can be on it, only for your dog to bite through it because he was a little curious about the moving tail-like appendage.
Getting a cordless set of clippers will eliminate those problems as well as give you greater reach and mobility so you can have a peaceful grooming session. Plus, most cordless options can be used with the charger acting as the cord anyway if need be.
However, if one of your best options is a cord-exclusive clipper, then make sure it's a heavy duty, chew-proof cord at least to insulate it against your dog's inquisitive maw.
4. Make Sure They're Comfortable
One thing that people tend to neglect while looking out for their furry friend's comfort is their own.
Heavy clippers that heat up quickly aren't going to be great to handle and a lot of them tend to be one or the other, or even both.
Find a set of clippers that's either lightweight or doesn't heat up from just 15 minutes of use. While the latter is a lot harder to find, the former is relatively easy and will make grooming your dog a lot easier.
Plus, you won't make as many mistakes when there's not that much weight applying pressure on your hand.
If you can score a clipper that has both of these traits, then you've certainly struck gold, my friend.
5. The Product Should Have Added Content
While getting the clippers alone is nice, nowadays a set of clippers is expected to come with at least a pair of scissors, a comb, a cleaning brush and blade oil. Anything extra is greatly appreciated.
Sure you may likely have a lot of these already on hand, but extras are always useful to have so you don't have to buy them separately.
Don't go out of your way for it though in case the product that has them ends up being more expensive than the one without by a large margin.
6. Affordability
The one aspect of a product that's always relevant to some degree is its price. The amount of money it takes to maintain a dog isn't small by any means, but there are always places where cuts can be made without losing out on quality, not too much at least.
All it takes is a good eye to spot them, so always try looking for alternative options where you can, but also don't go too low as quality is important too.
FAQs
So What Are The Best Clippers For Goldendoodle Dogs?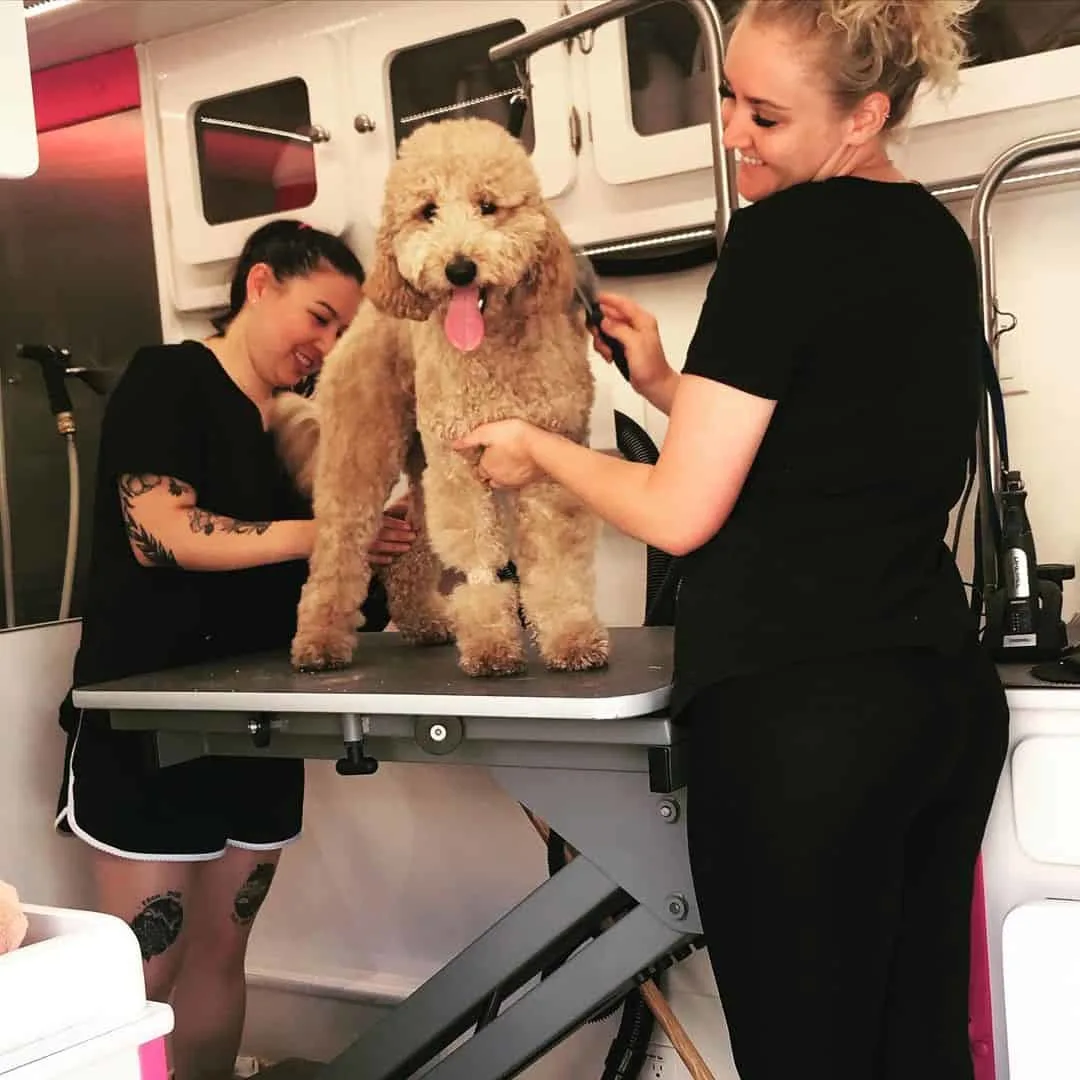 Photo from: @kaiandbyrdie
My personal pick would be the Oneisall as it offers most of what you need at a fraction of the cost with the only drawback being some extra clipping time which isn't all that bad since you get to spend it with your doggo.
What Clippers Do Dog Groomers Recommend?
Dog groomers seem to often recommend the Andis brand simply because it's flexible and can work with any dog's coat while having a really powerful motor.
That said, the Andis models are often really expensive so you may want to look at some of the cheaper options if you're strapped for cash. They're usually very similar in efficiency.
Is It Better To Use A Cord Or Go Cordless?
It doesn't make much of a difference for a lot of hair clippers, but cordless ones are safer since your dog can't bite through the cord as easily and it won't get tangled around him.
Corded ones also really need an outlet to function, so my personal choice would be cordless clippers if you can keep the battery up at all times.
In Conclusion
The best clippers for Goldendoodle coats are ones that are precise, operate quietly and ones that won't tug away at his beautiful fur.
Aside from that, you want ones that are easy to hold for a good amount of time as you get everything sorted.
Whatever the case may be, I'm sure you'll pick the ones that suit you and your Groodle the best. Until next time.
RELATED LINKS:
• Goldendoodle Feeding Chart: The Golden Feeding Guide
• The Top 8 Best Goldendoodle Breeders In The UK
• Goldendoodle Growth Chart: Different Sizes Of Goldendoodles
• 15 Best Goldendoodle Haircuts
• Best Brush For Goldendoodle: Top 12 Tools To Make That Doodle Coat Golden
• Goldendoodle Colors: Shades And Patterns Of This Popular Breed
• The Red Goldendoodle: 15 Things You Didn't Know About This Doodle