The Bernese Mountain Dog breed or Berner-Garde pups are truly remarkable dogs. They might be from Switzerland, but they found a furever home in the USA, some 100 years ago.
Today, Berners are beloved family pets and lovely additions to anyone's lifestyle.
If you're seeking a big buddy, then the Berner is the perfect puppy for you!
Here, I have compiled an incredible list of the 9 best Bernese Mountain Dog breeders in Ohio. Those of you who live in the area will be able to take full advantage of this list of breeders, only the most reliable breeders are on it.
Check them out for yourself! I'm pawsitive one of them is hiding your new furry family member!
Bernese Mountain Dog Puppies For Sale In Ohio
The State of Ohio is blessed with many AKC-approved breeders of the Berner Sennenhund. Here, you'll find only the finest breeding practices, giving the sweetest Berner puppies in the area!
1. Emerald Acres Bernese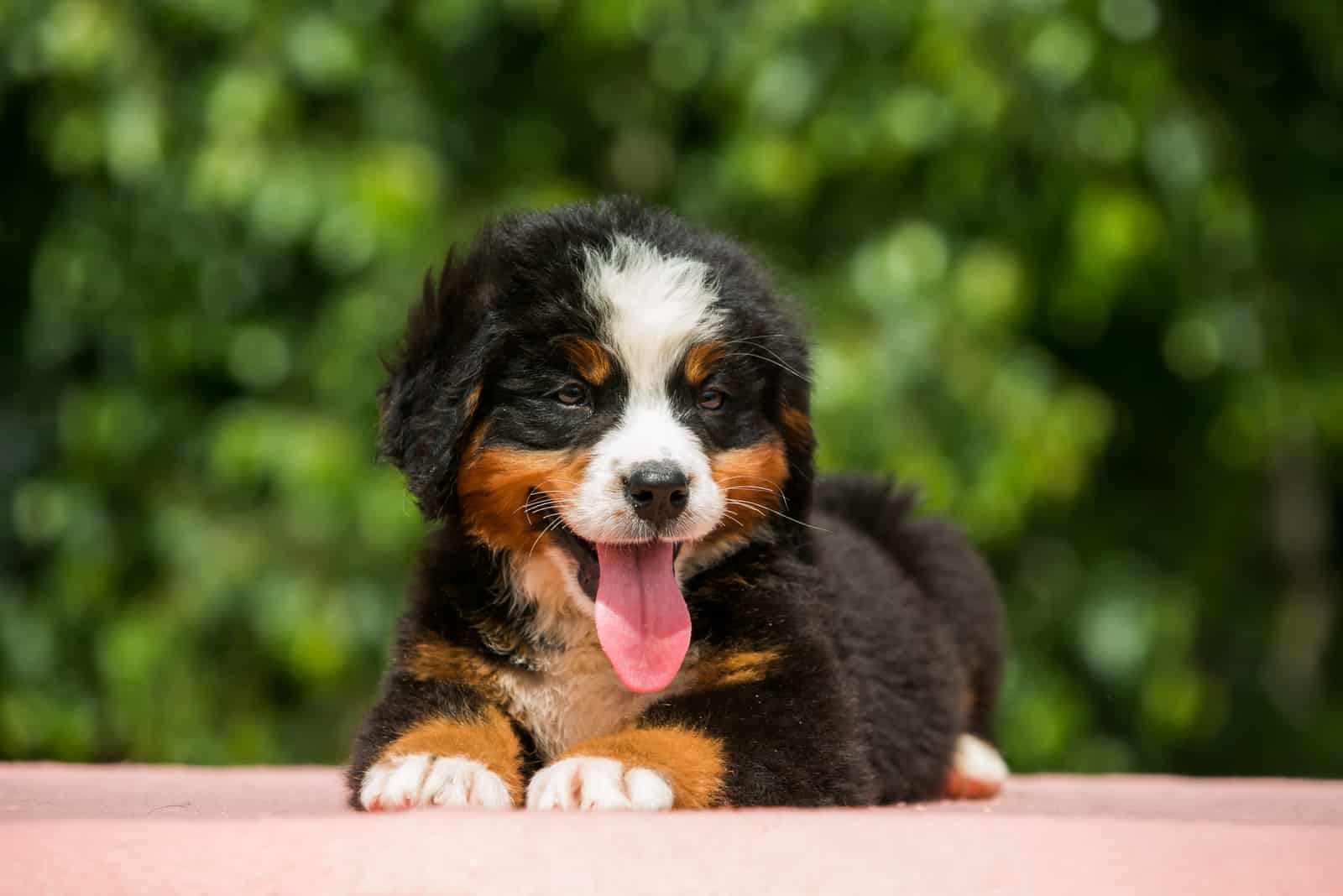 Meet a hobby breeder from Walnut Creek that will help you become nuts about their Berner puppies!
Emerald Acres Bernese, are a team of Berner lovers and hobby breeders that want the world to see how amazing these pups really are!
Emerald Berners live their best lives on a farm, surrounded by many animals, horses being their all-time favorites.
Each of these puppies will go to their new owner completely healthy, with health guarantees for one year. Also, the breeder will provide you with a lifetime of support because they want to stay in touch with their Berner puppies.
Their strong breeding stock of Berner pawrents from good bloodlines ensures that your new Berner puppy is the best pup you can get, not only in Walnut Creek, but also in the rest of Ohio! Check out Emerald Acres' website for more photos of the sweetest Berner family!
Breeder's details
Website: Emerald Acres
Address: 3000 CR 135, Walnut Creek, OH 44654
Phone: (330) 893-7045 or (330 763 3728
Email: [email protected] or [email protected]
2. Mountain Dog Companion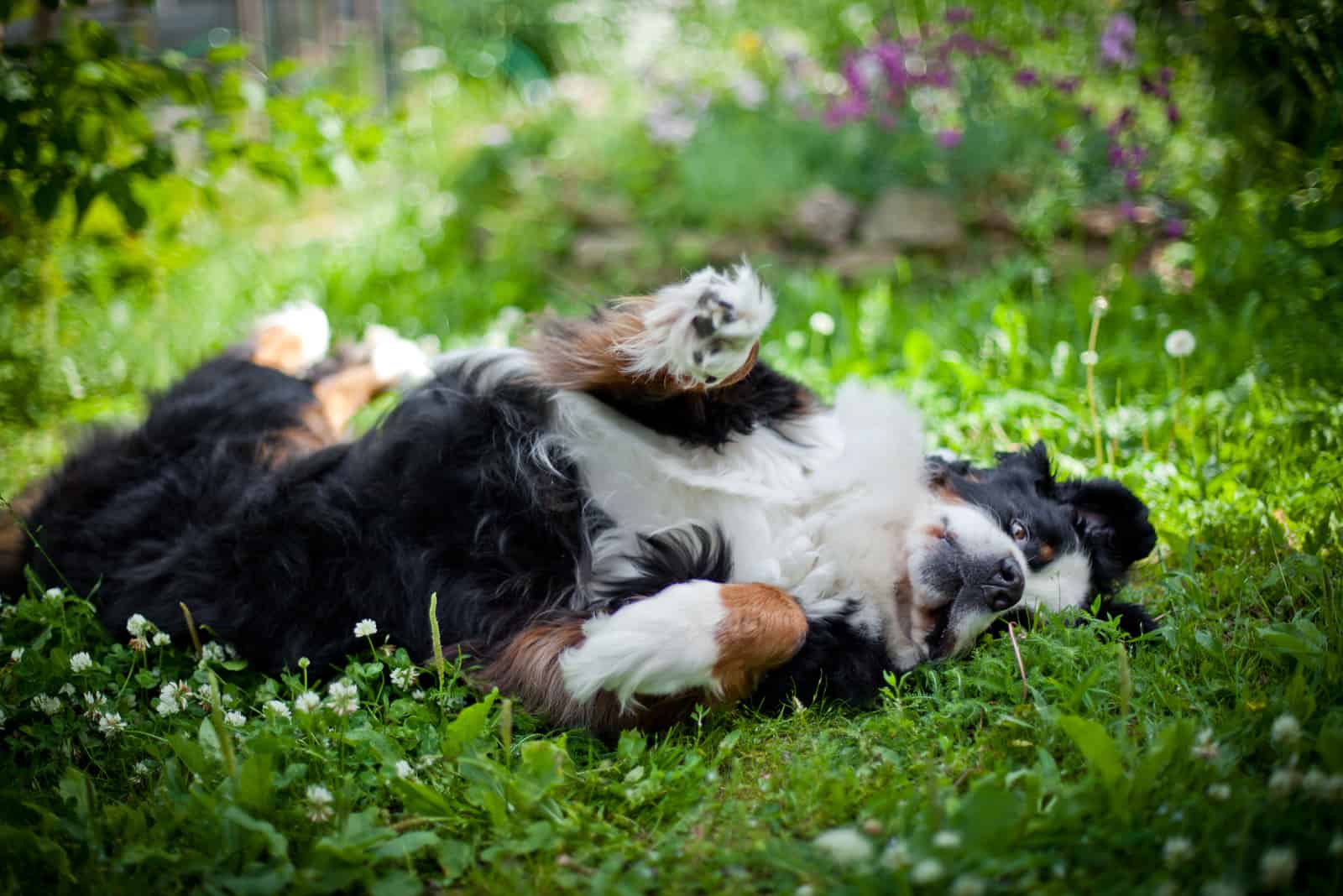 Mountain Dog Companion is the name of a breeder from Berlin, Ohio. They're focused on breeding only Standard Bernese Mountain Dogs. They support a breeding practice full of love and dedication, and they make sure that all their puppies are bred according to the highest breed standards for conformation.
Their pups have supreme health and are DNA tested for numerous diseases. They're covered with OFA testings for hip, patellar luxation, and eye conditions.
Mountain Dog Companion Berners are great companions, just like their name states. They're bred for their sweet temperaments here. The breeding crew behind MDC wants everyone to know that Berners are kind souls. They're not aggressive, they're playful and happy pups!
Don't worry if you can't come and pick up the puppies in person. MDC will arrange shipping for you, so your new BMD arrives safely to their new home!
Breeder's details
Website: Mountain Dog Companion
Phone: 330-234-0102
Email: [email protected]
Social media: Facebook and Instagram
3. Michetti's Mountain Dogs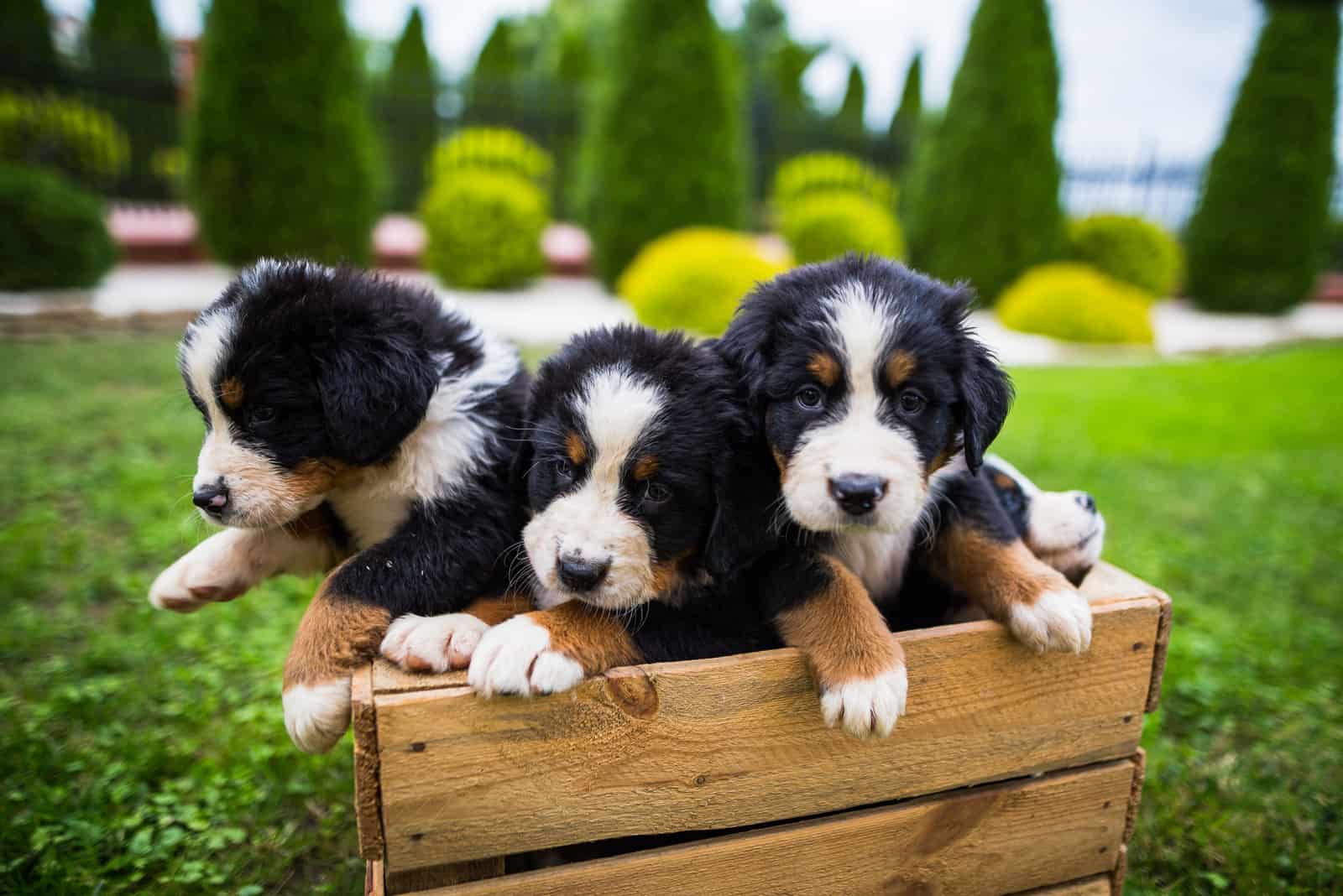 We could go on and on about Michetti's farm animals on their family ranch, but we cannot forget about their Bernese Mountain Dogs! This family of animal lovers is dedicated to bringing sound Berners into the world. They have happy pups who are kind souls and good friends with tiny critters, like bunnies and chickens!
Michetti Berners are more than just dogs. I'm sure you're a bit sick of hearing that everywhere, but it's the truth. The family breeds Berners because they truly appreciate the breed. In fact, they love them so much, they've decided carrying only Berners is not enough! Mini Bernedoodles have also entered the scene here.
Since they are not a serial breeder with puppies available constantly, you should contact them and see if they have a litter at the moment.
Sometimes they have only Bernedoodles, while other times they have both Doodles and purebred Berners. No matter which breed you choose, you'll fall in love on the first sniff!
Breeder's details
Website: Michetti's Mountain Dogs
Phone: 740-238-4488
Email: [email protected]
Social media: Facebook and Instagram
4. Loyal N Royal Berners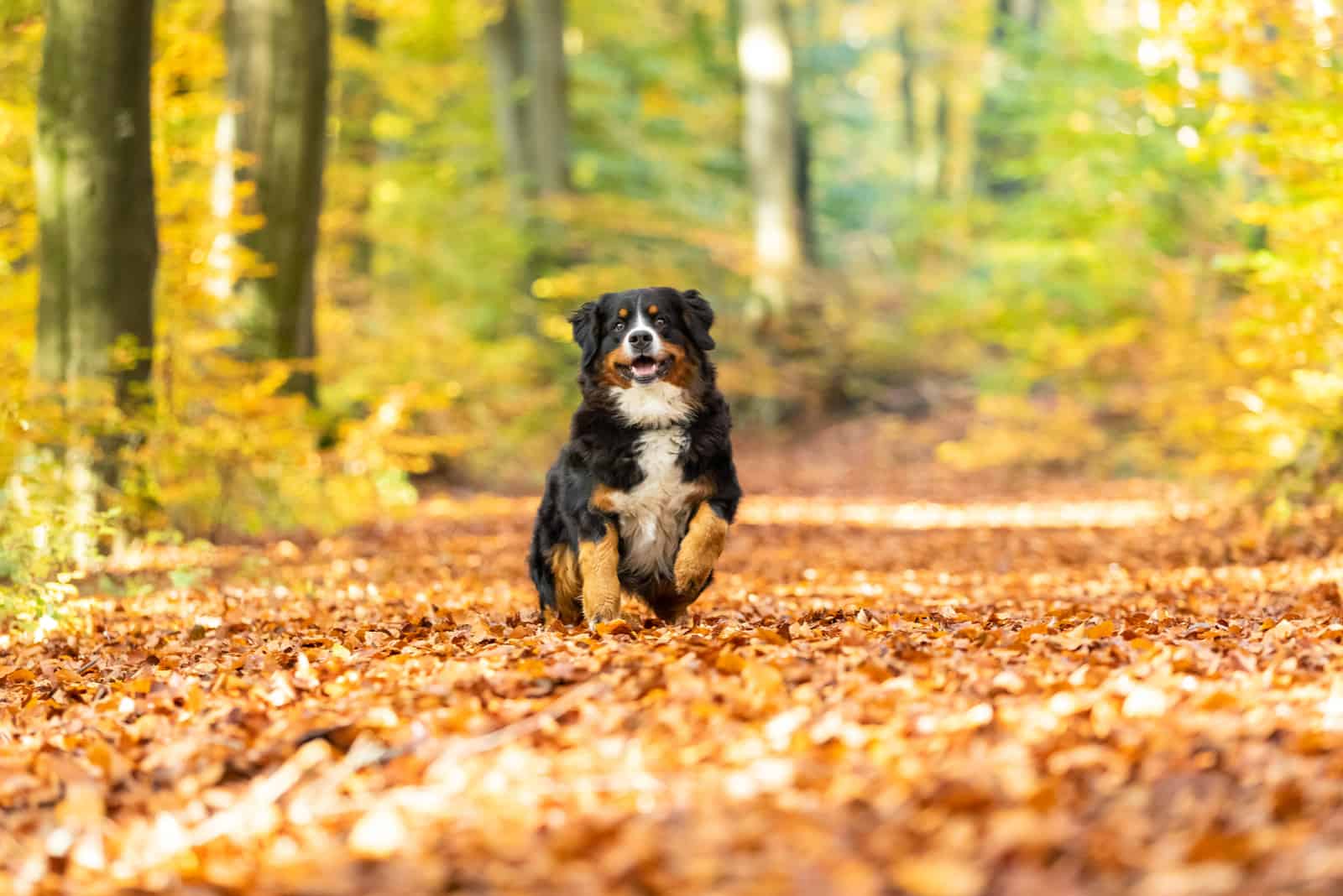 Ever since 2011, Loyal N Royal have been raising loyal Berners with a regal attitude. They're dogs that are absolutely true to their kennel's name.
The Loyal N Royal Berners are all healthy pups with great temperaments. They're calm, never too energetic, and seem to have a somewhat regal posture.
The two Berner girls that the ranch owns, Cindy and Bella, a mother-daughter duo, have brought so much joy to the Loyal N Royal family, as well as to Bernese lovers and buyers from all over the country. The girls produce extra-quality litters. The only thing the pups are missing is love from their future pawrents.
Loyal N Royal Berners come with a one year health warranty. Never buy a puppy with no warranty!
These pups will cost you $2,500, which is pretty standard considering their uniqueness.
Berners aren't very common pups, but luckily, the state of Ohio really loves them and has many wonderful breeders like the Loyal N Royal crew!
Breeder's details
Website: Loyal N Royal Berners
Address: Coshocton, OH
Phone: 330-2752-494
Email: [email protected]
5. Hidden Pines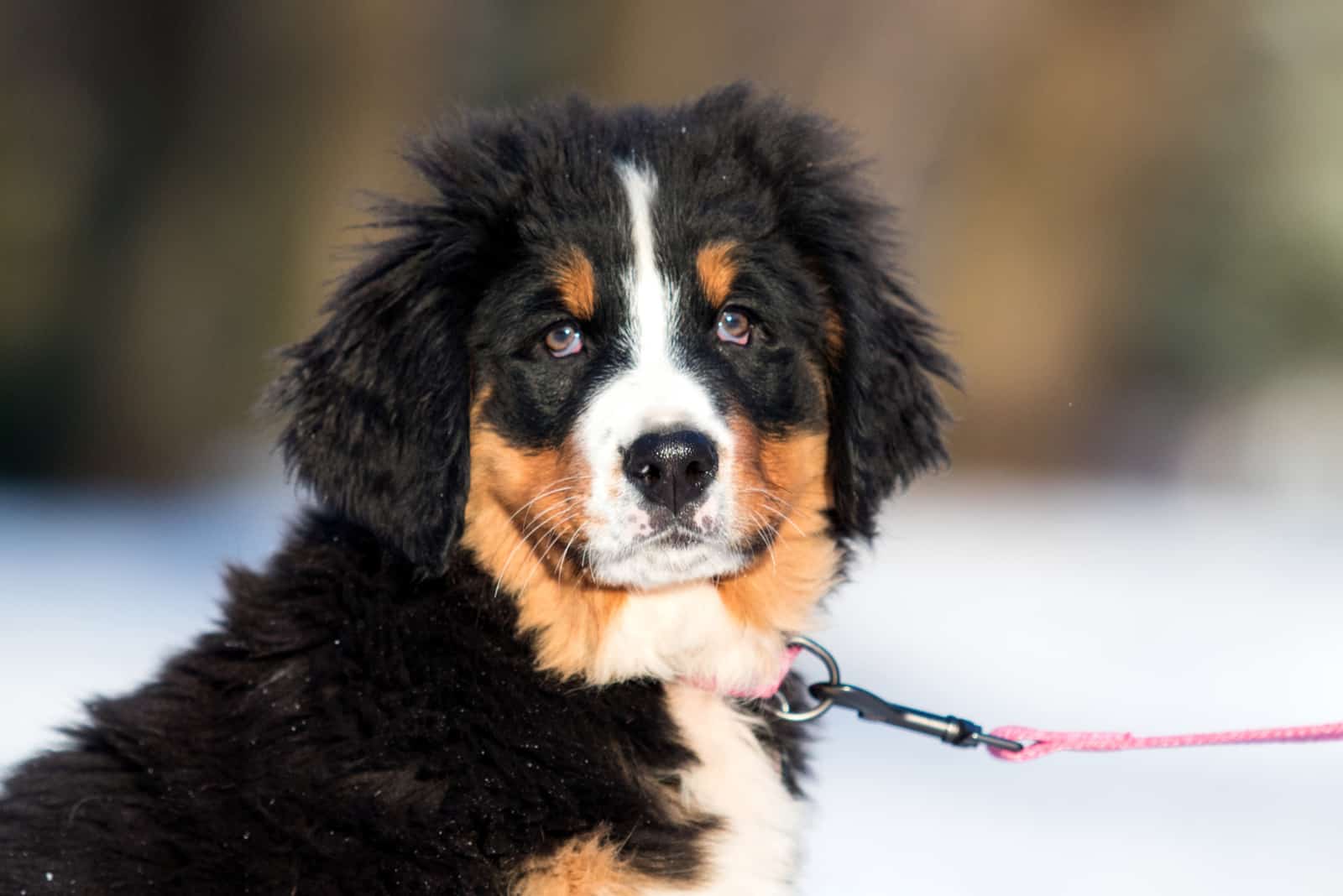 Hidden Pines, a place in Fredericksburg, raises Mini Bernedoodles and Bernese Mountain Dogs with perfect health and an even better temperament.
This is a family business, focused on sharing their love of puppies, not on producing litters and making money. Trust me, Hidden Pines could do that. They could easily get filthy rich by breeding Berners, but they've decided that their love for their pups is greater than anything.
And, that's a true characteristic of an honest breeder.
Hidden Pines Berners have a small breeding stock, but they are of good quality. Their doggos producef premium litters, which are perfect future best friends and companions.
The puppies are handled by people from day one. This ensures that they receive proper socialization and it prepares the dogs for their future life filled with new faces, scents, and situations.
If you want one of the Hidden Pines Berners, contact the breeder. They would love to meet you and get to know you better before they put you on their waiting list for a puppy!
Breeder's details
Website: Hidden Pines
Phone: 330 749 6266
Address: 564 Spencer Ln, Fredericksburg, OH 44627
Email: [email protected]
Social media: Facebook
6. Rossingham Berners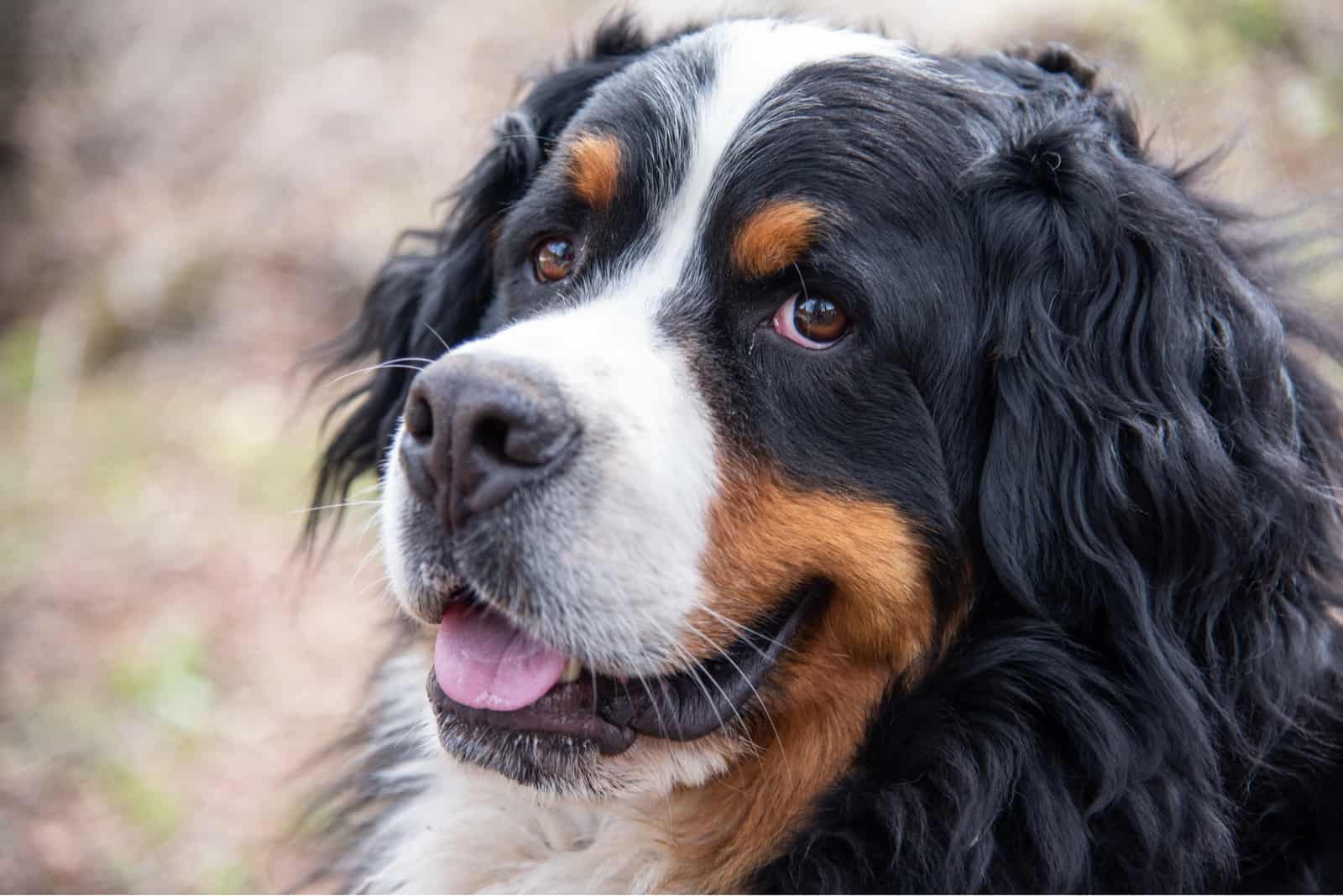 Proud to be the AKC's Breeder of Merit, Rossingham Berners are another excellent choice on our list.
Here, we have people that have turned their hobby into something spectacular: a breeding practice devoted to preserving the Bernese dog breed.
Preservation and improvement are two major focuses that most reliable breeders aim for. Some people breed dogs to simply bring more puppies into the world. Rossingham breeds to make a breed better, gaining puppies that are less prone to health issues and poor behavior patterns.
They feature champion line Berners, so expect nothing less than pawfection with this breeder!
Rossingham is also a proud member of the Berner-Garde Foundation. They're people who care more about their dogs' health than their own. To prove it, OFA hip and elbow certificates will be waiting for you.
Rossingham Berners have five adorable Berner dogs, which create a fine breeding stock for future litters. Make sure you check out their previous superstars and stay in touch with them for the upcoming pupsters!
Breeder's details
Website: Rossingham Berners
Address: Deerfield , Ohio 44411
Phone: 330-314-4849
Email: [email protected]
Social media: Facebook
7. Berns And Doodles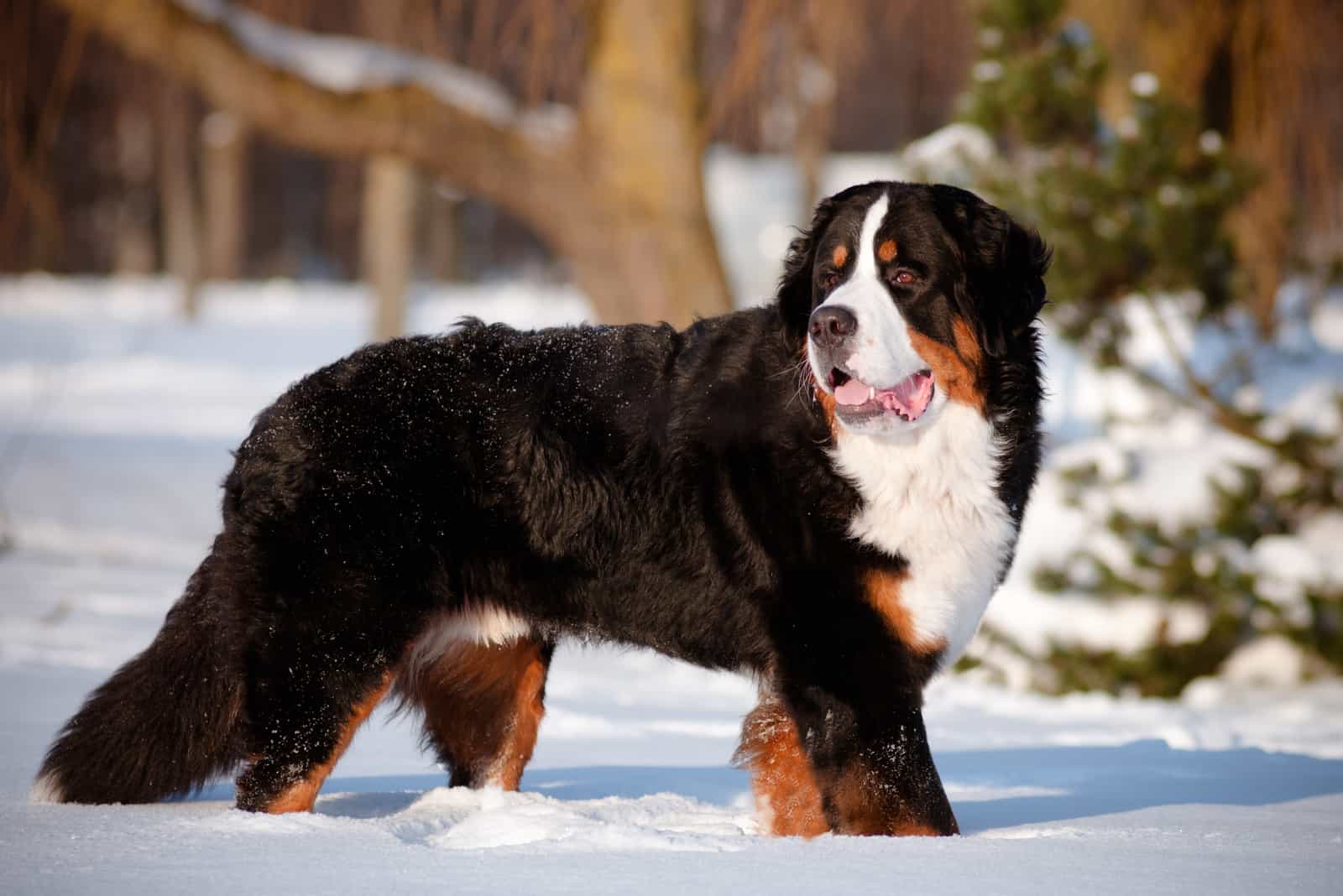 Another excellent Bernese and Bernedoodle breeder is on our list.
Meet Berns and Doodles , a breeder based in a place where you can make the decision of your life by adopting either sweet purebred Berners or crossbreed puppies.
Normally, I don't really recommend breeders of crossbreed dogs unless they're super popular, like these F1b medium Bernedoodle pups from Berns and Doodles.
But, I had to include the Schwartz family and their Berners. This family of Berner lovers breeds dogs with the utmost care. All their pups are handled daily. They're also trained for obedience and they love performing tasks for their first moms and dads.
Berns and Doodles' pups are cleared for one year from all sorts of genetic issues, including hip or elbow dysplasia. Any breeder that offers you this is someone you can trust.
Feel free to visit this lovely farm where both Berners and the adorable mixes are in charge. They will make you wish you could move there with them!
Breeder's details
Website: Berns And Doodles
Address: Wooster, Ohio 44691
Phone: +1 330-201-1117
Email: [email protected]
Social media: Facebook and Instagram
8. Willowbrook Bernese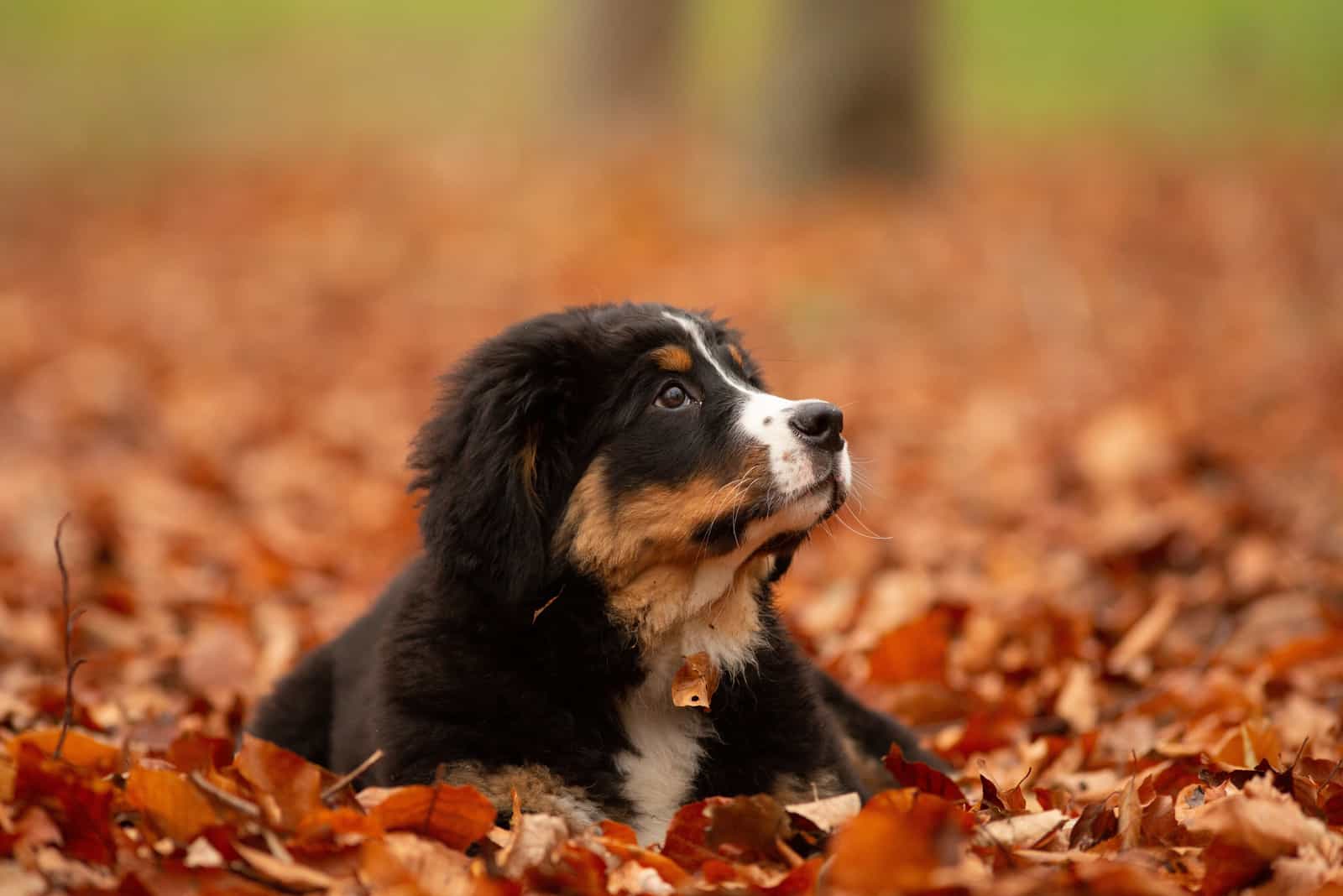 Breeding Bernese Mountain dogs has crawled into the DNA of this Sugarcreek-based family.
Twenty years ago, a family of three started Willowbrook Berners, a safe haven for Berner lovers and puppies. Soon enough, they became a synonym for good quality and sweet dogs that everyone loves!
Willowbrook Berners has a breeding stock that's been hand picked and selected specifically to breed puppies of top quality. They're dogs from good lines, with fine temperaments, exceptional beauty, and spectacular health.
Even though Berners have a short lifespan, the Willowbrook Berners have been proven as very healthy pups with a somewhat longer lifespan than usual. Sure, this doesn't mean these pups will live for twenty years. But, it does mean they will reach the maximum of their expected years.
Willowbrook Berners are all tested for health conditions. With each puppy, you'll get an incredible 30-days free health insurance, as well as American Kennel Club paperwork, and all their vet records showing their checkups and treatments.
The puppies also come microchipped and you'll even get some DVDs and free magazine subscriptions, so you can learn more about wonderful Berners!
Breeder's details
Website: Willowbrook Bernese
Address: 3354 Penrod Rd NW, Sugarcreek, OH 44681
Phone: (330) 852-0074
Other: Contact form
9. Angel Breeze Puppies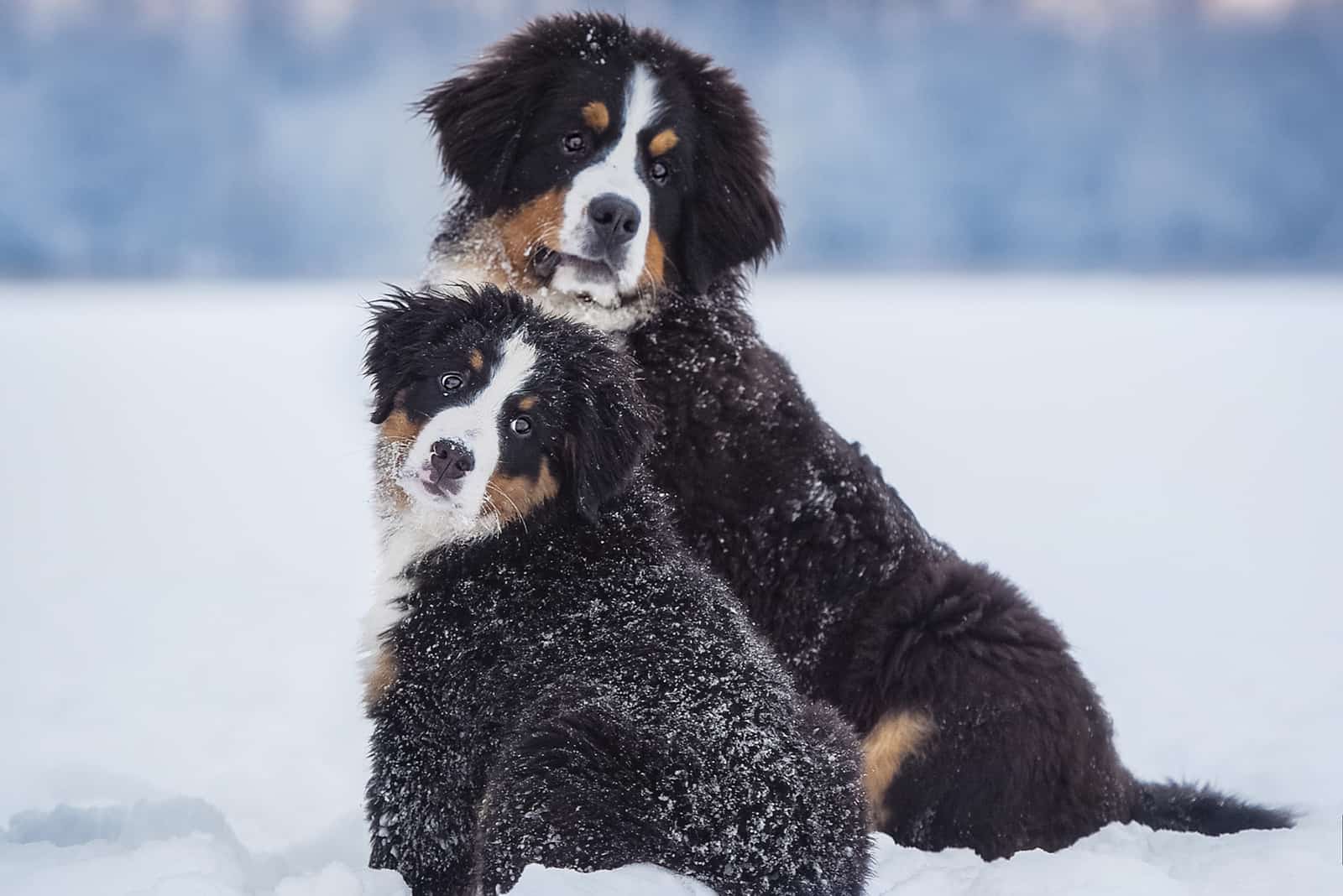 Do they breed little angels at the Angel Breeze farm?
No, they breed giant angels in the form of adorable Bernedoodles, to be precise!
Here, we have a top-notch, almost stellar Bernedoodle breeder from Fresno. You won't find better cuddle buddies than the Angel Breeze Puppies. Because, breeding Bernedoodles is easy for these people!
No wonder they've introduced Sheepadoodles to their breeding practices!
Now, I know this is technically a list of the best Bernese Mountain dog breeders in Ohio, but I had to include a breeder of Bernese crossbreeds for their exceptional work. Also, Bernedoodles are becoming quite popular. I feel like they're threatening to steal the Berner's spotlight!
For an Angel Breeze Bernedoodle, you will need to pay $3,500. Just imagine the quality of these pups! Just imagine how expensive their purebred Berners would be! That says a lot about the quality of their breeding program.
Breeder's details
Website: Angel Breeze Puppies
Address: Fresno, OH 43824
Phone: (330) 275-7623
Email: [email protected]
What Is The Average Price For A Bernese Mountain Dog In Ohio?
Berners are working dogs, and as such, they often come with pedigrees that date back several generations. This is only one of the reasons why Berners have a higher price than your typical dogs.
It's not simple or cheap to breed Bernese pups at all! From health checkups to buying enough food, it all costs money.
So, the next time you see a Bernese puppy listed for $2,500 or more, don't be surprised. That's their normal price, and some sell for even higher than that. The most important thing is to buy healthy puppies.
Being cheap and wishing for Berners listed as low as $500, is something you should not do.
To Sum Up…
These people are not puppy mills or poor kennels. They're professional Bernese Mountain Dog breeders in Ohio.
Their practices might be small and their litters only occasional, but this doesn't change the fact that they're at the top of the breeding game in Ohio.
The breeders we've listed above produce the best puppies. They all have health guarantees and have been submitted to testing.
All that's left for you to do is to pick the puppy you like the most and love them like crazy. I'm sure that's not something that's going to be hard, especially with adorable Berner puppies!
Read Next: 6 Best Bernese Mountain Dog Breeders In Ontario (2022)