This article is the best place to find the most trustworthy Bernedoodle breeders in Ohio, especially if you're looking for canines that are bred ethically and raised to become not only family pets, but also therapy and service puppies.
Bernedoodles are considered to be great family dogs because of their adorable personality, as well as the fact that they rarely shed, which is why they're considered hypoallergenic.
They come in all shapes and shades depending on which gene they pick up more of.
Bernedoodle Puppies For Sale
1. Sunset Family Farm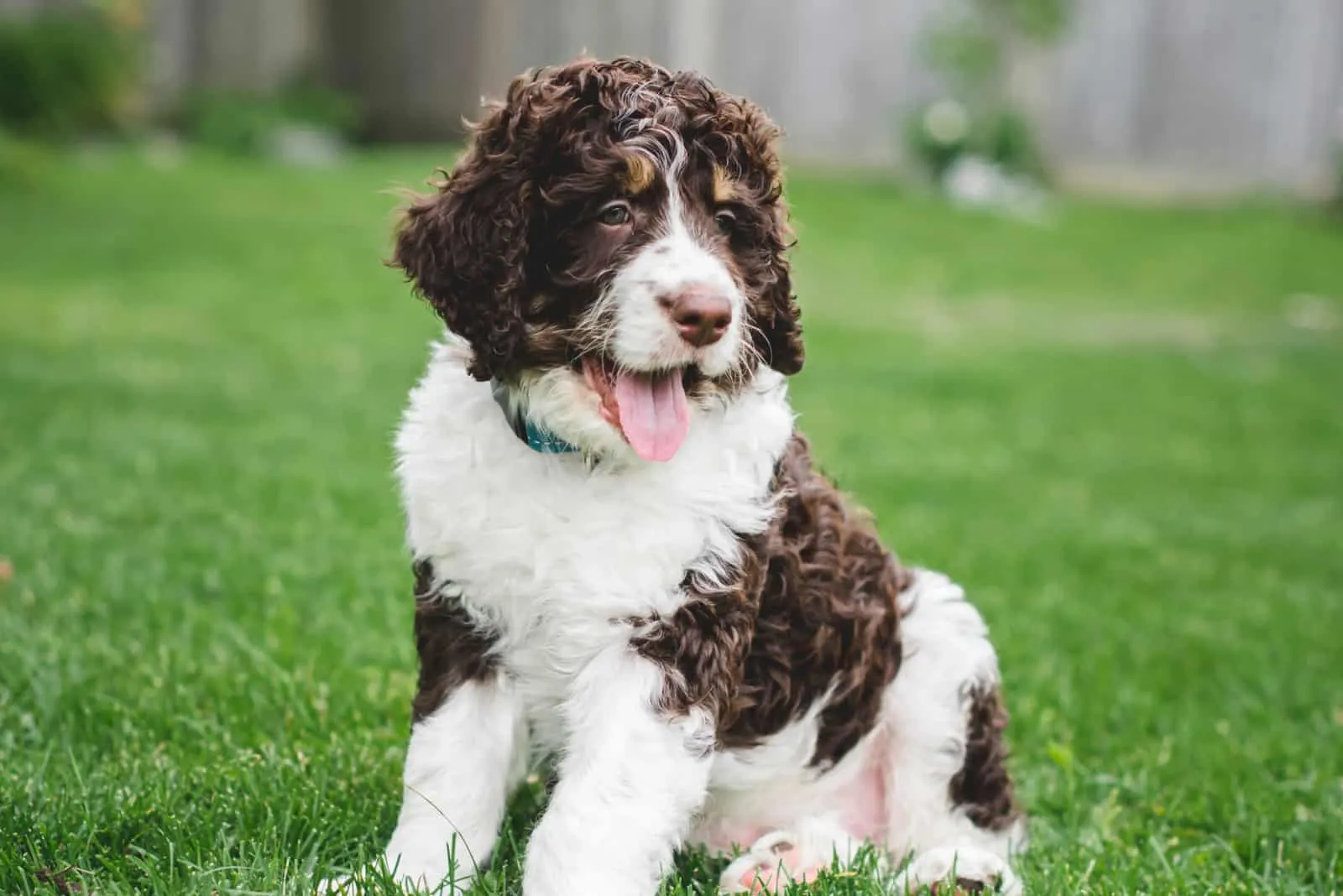 Small breeders like Sunset Family Farm are one of the main proofs that family-owned businesses can produce equally good and up-to-standard pups, just like big and popular kennels.
This family has almost a decade of experience in breeding Poodles and their mixes. Their pups are raised in the breeder's home, along with the whole family.
Good Dog has awarded them with the title of "Responsible Breeder" as they perform ethical breeding practices on their canines.
Puppy Quality
Bernedoodle puppies from Sunset Family Farm have great social skills because they spend a lot of time with humans and children from the first days of their life.
This Bernedoodle breeder states that all of their doggies are raised with great care and quality, without any major flaws or health issues.
To ensure that all of their statements are true, the breeder takes all their puppies for vet examination and vaccinations.
They breed and produce F1 and F1b Bernedoodles of great quality that come along with a 12-month health guarantee on genetic conditions.
The production of lovely companions that are both physically and mentally well is the breeder's primary goal in the breeding program.
All of their pups are trained from early puppyhood by using the "Puppy Culture" training method, which is popular among reputable breeders.
Crate, potty, clicker, and basic manner training are covered during the first two months of the puppies' life.
Purchasing Process And Pricing
To get a Bernedoodle from this dog breeder, you will be required to apply to them, and provide basic information about yourself and the expectations you have of the pup.
Once the breeder receives all the details and approves your application, you will need to make an advanced payment of $250.
Although the deposits are non-refundable, they're included in the final price of the pup.
F1 Bernedoodles usually cost $2250, but if you decide on an F1b Bernedoodle, you'll need to pay a bit more… $2500, to be exact.
The breeder is willing to help you choose the right pup for yourself and your family, so you can discuss all of this in detail after you apply.
Breeder Details:
Location: Garrettsville, Ohio
Email address: [email protected]
Official website: Sunset Family Farm
Contact number: 216 406 5387
2. Bernedoodle Buddies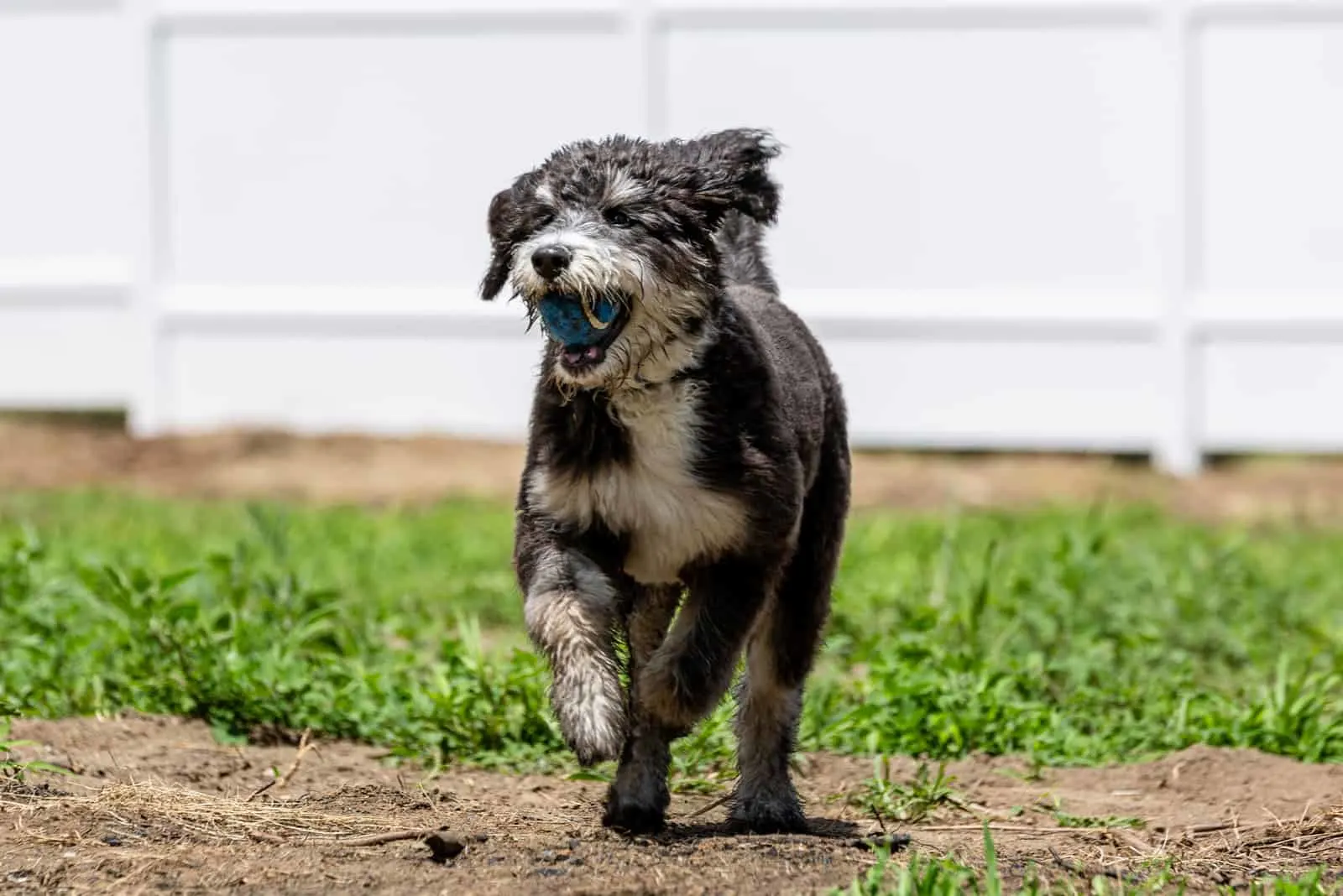 This breeder is dedicated to producing healthy Bernedoodles in standard size with a good temperament.
To ensure that their puppies have a stable foundation, they place strong emphasis on a wide variety of physical activities as well as early education.
This is a family-run business; thus, all of the puppies are raised in their house from birth.
They have great love and appreciation for Bernese Mountain Dogs, especially since they got Greta – a pup that became a family member to them.
Puppy Quality
This breeder believes that Bernedoodles are excellent hybrid dogs, and that they possess all of the best qualities of both Poodles and Bernese Mountain Dogs.
RELATED: Male Vs. Female Bernese Mountain Dog: Which One Should You Get?
Poodles are hypoallergenic, and so are the majority of Bernies (except if they inherit the coat gene from their Bernese parents).
These pups love to goof around, but they're also very affectionate and intelligent canines. Bernedoodles are great with children as well, which is why they're considered good family pets, and also therapy and service canines.
This breeder participates in both the Badass Breeder and the Puppy Culture training courses.
They teach the pups basic etiquette, including potty, crate, and clicker training. The dogs are also exposed to a wide variety of sights and noises.
At Bernedoodle Buddies, they also use a technique called Early Neurological Stimulation (ENS), which aids the pooches to become accustomed to frequent body touching and interaction with humans at a young age.
Purchasing Process And Pricing
The adoption procedure isn't any different than it is in the majority of reputable breeders as it includes filling out the application form and making a deposit to enter their waitlist.
The cost of the non-refundable advance payment is $500, which is paid after the breeder approves your application.
When it comes to the price of the Bernedoodles, it's $4000. This price is fixed for both F1 and F1b puppies.
All of the pups come with a spay/neuter agreement, health records, and a two-year health guarantee.
Breeder Details:
Location: Westerville, Ohio
Email address: [email protected]
Official website: Bernedoodle Buddies
Contact number: 317 695 6930
3. 3/17 Korte Bernedoodles, Ohio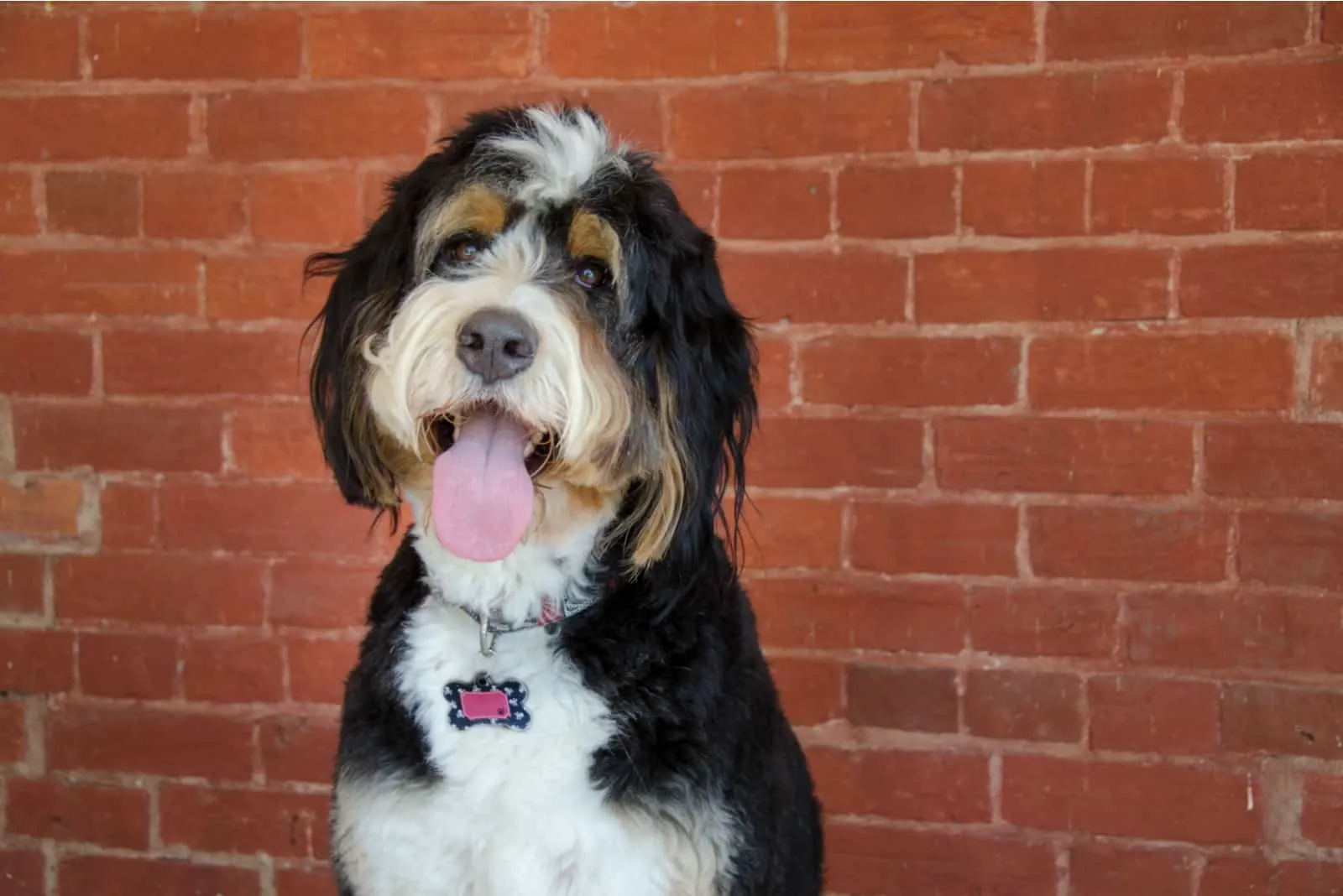 Here is another family-run breeding program that is mainly focused on raising Bernie doggies of great health and temperament.
They also make sure that every pooch gets lots of special care and affection; therefore, they prepare their pups for a life with families (especially those with younger children).
However, since they're a small breeder of this adorable designer breed, they have only a few litters available every year.
Puppy Quality
The breeder is focused on the production of F1 and F1b standard Bernedoodles in tricolored coat patterns.
What I love the most about this breeder is that they're heavily invested in training all new puppies to become the best representatives of their breed.
3/17 Korte Bernedoodles uses the puppy program developed by Badass Breeder, which places emphasis on primary socialization, acclimation to new environments (families), potty training, and crate practice.
All the parents of these wonderful puppies are health-tested by OFA standards, while the male adult canines are registered with the American Kennel Club (AKC).
The breeder is constantly trying to improve his methods of breeding and following the latest trends regarding puppy training, which is partly why they became puppy evaluators of the Badass training program.
All of their pups are vaccinated, dewormed, microchipped, and examined by a vet before they leave for their forever home. Also, each Doodle includes a two-year health warranty on genetic health issues.
Purchasing Process And Pricing
In order to adopt a Bernedoodle from this breeder, you need to complete the application form and wait until it's approved by the breeder as they take great care in placing pups into the right home that is up to their standards.
You will be notified once your application passes the initial procedure, so you can pay the deposit fee of $500 and enter their waiting list.
When it comes to puppy selection, it functions on the principle of the first who pay are the first who are served, meaning that you won't get a chance to choose between litters, but will be contacted once the litter your puppy is a part of comes into this world.
It's important to mention that this breeder allows you to pass on a litter two times, but after that, the deposit will no longer be valid.
Breeder Details:
Location: Lebanon, Ohio
Email address: [email protected]
Official website: 317 Korte Bernedoodles
Contact number: 801 633 6146
4. Celebration Poodles & Doodles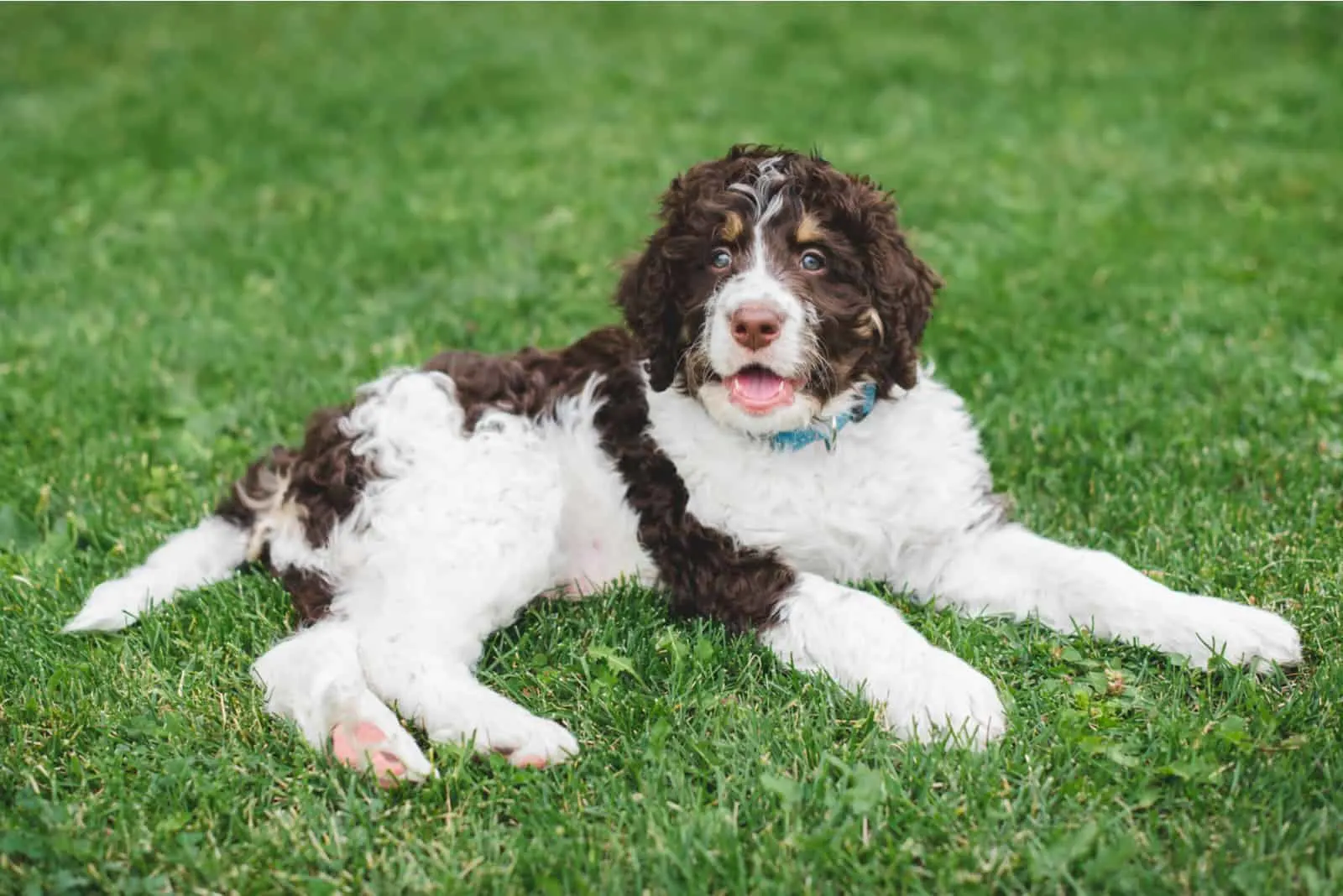 For more than a decade, this breeder has been producing and raising Poodle pups that are up to the AKC's breeding standards.
For the last five years, they have decided to include the Poodle crossbreeds – Goldendoodles and Bernedoodles – as a part of their offer.
They usually breed tri and bicolored Bernedoodles of standard and medium size, as well as English Teddy Goldies. However, this year, the breeder finally received the first litter of Mini Bernedoodles and Mini Goldendoodles, so they hope these pups will also become a part of their standard offer.
When it comes to Poodles, they're generally available in apricot, black, and English cream shades, as well as merle, parti, and phantom hue patterns.
Puppy Quality
The fact that the male parent (the Poodle) is carefully selected and bred with a healthy Bernese Mountain Dog is more than enough to prove that the Bernedoodles and all other canines from this breeding kennel are of the highest quality.
Poodles & Doodles ensures that all of their puppies can interact with people and other animals without any issue by raising them in their own home.
All doggies are vaccinated, health-checked, dewormed, and fully ready to go to their new home after they turn eight weeks of age.
According to the testimonials available on their website, there's a great number of happy clients who are enjoying their life with the puppies they got from Poodles & Doodles.
Purchasing Process And Pricing
If you'd like to be a new family to the adorable pups from this breeding program, all you need to do is fill out the puppy questionnaire, which will appear on their website, and wait for the breeder's response.
Once you speak to the breeder, you will receive all information related to the price, available pups, upcoming litters, the deposit, and any other information that you might find important.
The puppies are sold only in person, so there's no option for shipping, but they're within driving distance from many places, including Cleveland, Pennsylvania, Dayton, Louisville Kentucky, etc.
Also, they might be able to personally deliver pups to Illinois, but with an additional fee.
The upcoming litters include F1 tricolor Bernies, Mini Bernedoodles, and F1b standard pups, so you should probably hurry to get on their waitlist and get one of these pups as soon as possible.
Breeder Details:
Location: Columbus, Ohio
Email address: [email protected]
Official website: Celebration Poodles & Doodles
Contact number: 614 580 6004
5. Johnson's Doodles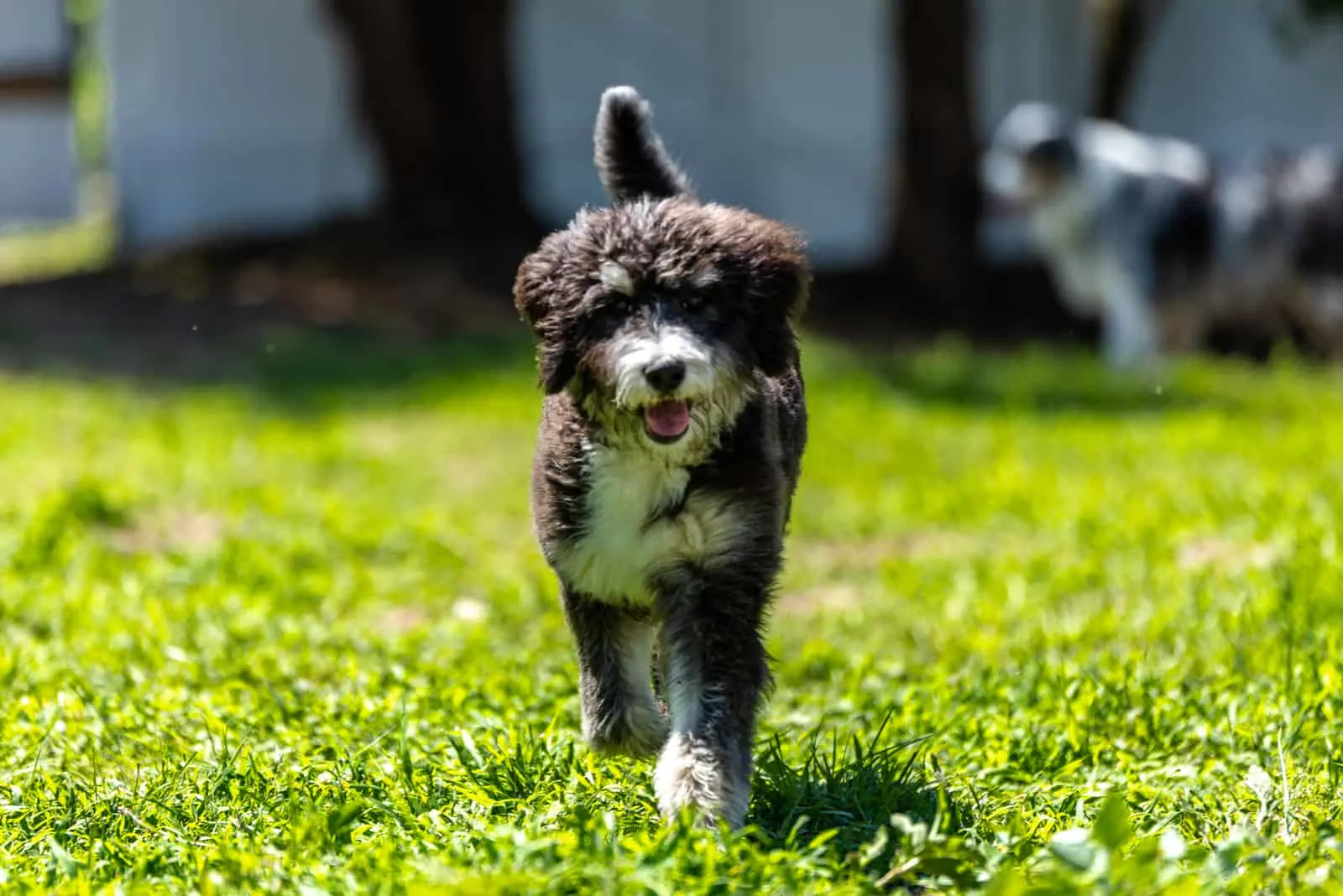 There are plenty of reasons why Johnson's Doodles has been recognized as one of the best Bernedoodle breeders, including their will to breed and raise happy and healthy Bernedoodle puppies for families and people who are in need of service or therapy canines.
The owner of this breeding kennel is Shannon Johnson, who describes herself as a mother of four children, a wife, and an occupational therapist.
She raises all pups with her family to provide them with socialization practices from early puppyhood.
Shannon is a reputable breeder who produces pups that will serve as great companion pups and loyal family pets to their owner.
Puppy Quality
Johnson's Doodles uses a variety of techniques derived from the Badass Breeder and Puppy Culture methods for the breeding and raising of their dogs.
In addition to this, the Early Neurological Stimulation technique is utilized beginning on the third day after delivery.
The pups are desensitized to the many sights and noises that are often found in homes, and they have already been given their first lessons in early potty and crate training, as well as in other training methods.
This breeder is considered a good breeder by the "Good Dog" website, and all of their doggies are registered with the Continental Kennel Club (CKC).
However, one of the things I love about this breeding place is that they include a "doggy spa", which is literally a room for grooming adorable Bernie pooches.
This way, they prepare the pups for grooming from a young age, so you won't have to chase your dog every time it sees a brush in your hand.
Purchasing Process And Pricing
Johnson's Doodles has standard requirements for applying for a pup, although they do have some special requirements that every potential buyer should fulfill if they want to own a pup from this kennel.
First of all, if you pass the application process, you'll be required to make a $500 deposit in order to be on their waiting list.
The waitlist usually consists of clients who are waiting for the public announcement of an upcoming litter, which means that you're not able to pick a pup (unless there are still some unsold or unreserved canines), but you must wait until they're born and raised up to the sixth week of life.
At this point, the breeder will organize a virtual event during which all available puppies will be transferred to their new owner.
The price of the doggies depends on the type of pup, so you might have to pay up to $3500 for a Mini F1 Bernedoodle or up to $4000 for a Micro Mini F1b Bernedoodle.
The breeder also produces Aussiedoodles, Goldendoodles, and Sheepadoodles, which cost the same as Bernies.
Breeder Details:
Location: North Royalton, Ohio
Email address: [email protected]
Official website: Johnson's Doodles
Contact number: 330 391 0362
6. Angel Breeze Puppies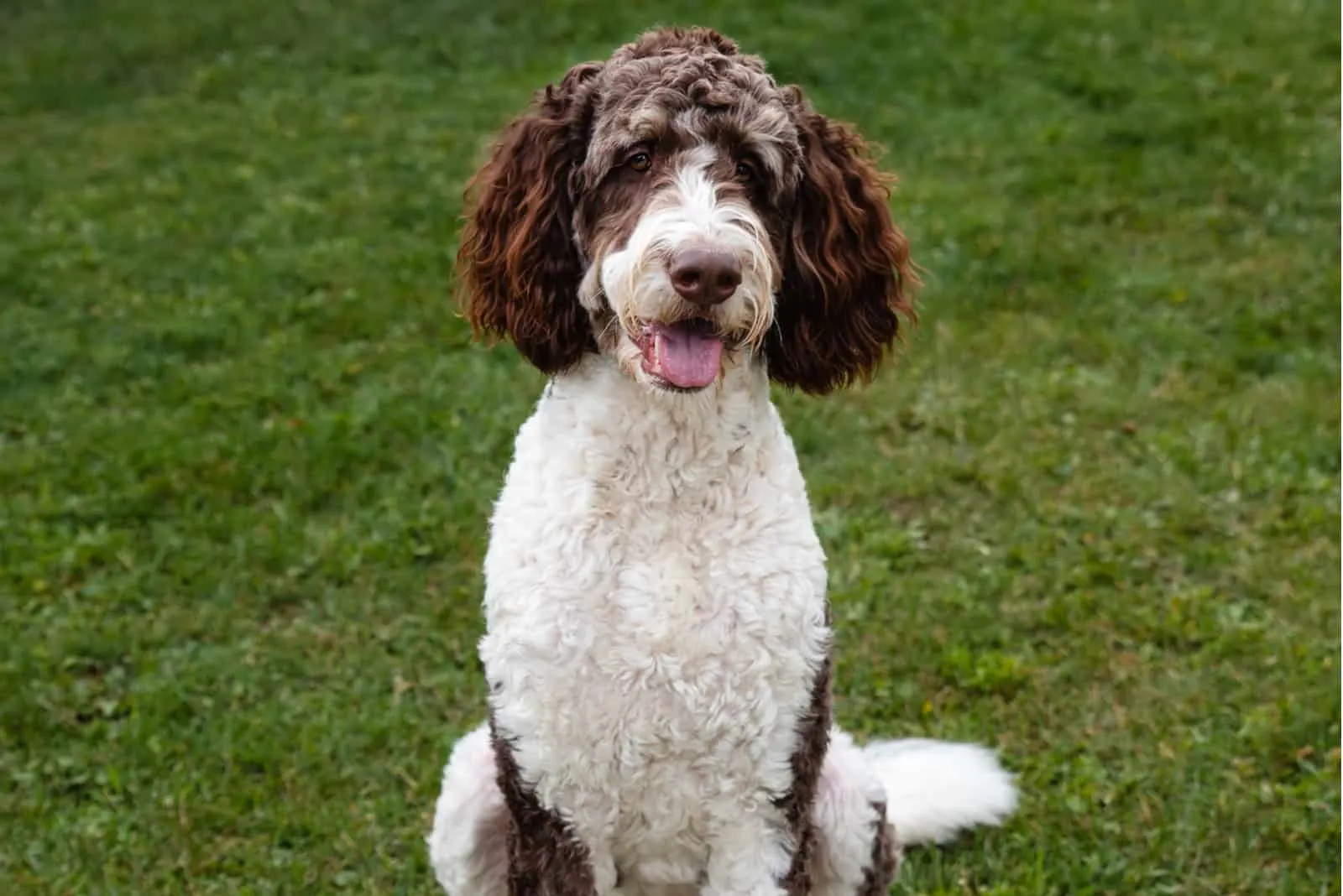 Family breeders seem to produce and raise the most joyful and affectionate pups of any breed, including Bernedoodles. This type of breeder, including Angel Breeze Puppies, is generally considered to be a reputable and ethical breeder of healthy puppies.
One of the main reasons is the fact that most of these breeding outfits raise their pups inside the breeder's home, where puppies are in close relationship with families and humans, in general.
This small breeder from Coshocton County treats their pets as members of their family, and showers them with adoration and care.
They understand the importance of bonding with other pets and humans as a way of developing into healthy adult dogs.
Puppy Quality
Angel Breeze Puppies prioritizes the welfare of their canine babies above anything else in their breeding program.
Even though the puppies are raised entirely inside the house, the owners have a secure yard that is surrounded by a fence, and that the puppies are not permitted to enter.
For almost twenty years, this breeder has been producing high-quality Doodle canines, such as Bernedoodles and Sheepadoodles.
All of their puppies are health tested after they reach the sixth week of their life, and they also receive all necessary shots during that time.
Each client is presented with a health contract, which states that the breeder takes responsibility for the pups during the first eight weeks of life, and that they're going to take each pup to the vet before they're supposed to go to their forever home.
In case there are any health issues (inherited or caused by the treatment of the breeder), the client will be able to switch to another healthy pup free of charge.
Purchasing Process And Pricing
The breeder states on their website that they don't do a thorough checkup on every client who's willing to take a pup from them, but they do require you to complete a short puppy questionnaire before making a deposit.
The advanced payment fee is usually $250, after which you're placed on their waiting list.
The price of the Bernedoodle puppies is $2500, which is quite a discount, considering that they cost $3500 just a year before.
If you have any other questions about the breeder, their puppies, or their facilities, you're more than welcome to contact the breeder, who'll gladly explain everything.
Breeder Details:
Location: Fresno, Ohio
Email address: [email protected]
Official website: Angel Breeze Puppies
Contact number: 330 275 7623
7. Buckeye Ridge Bernedoodles, Ohio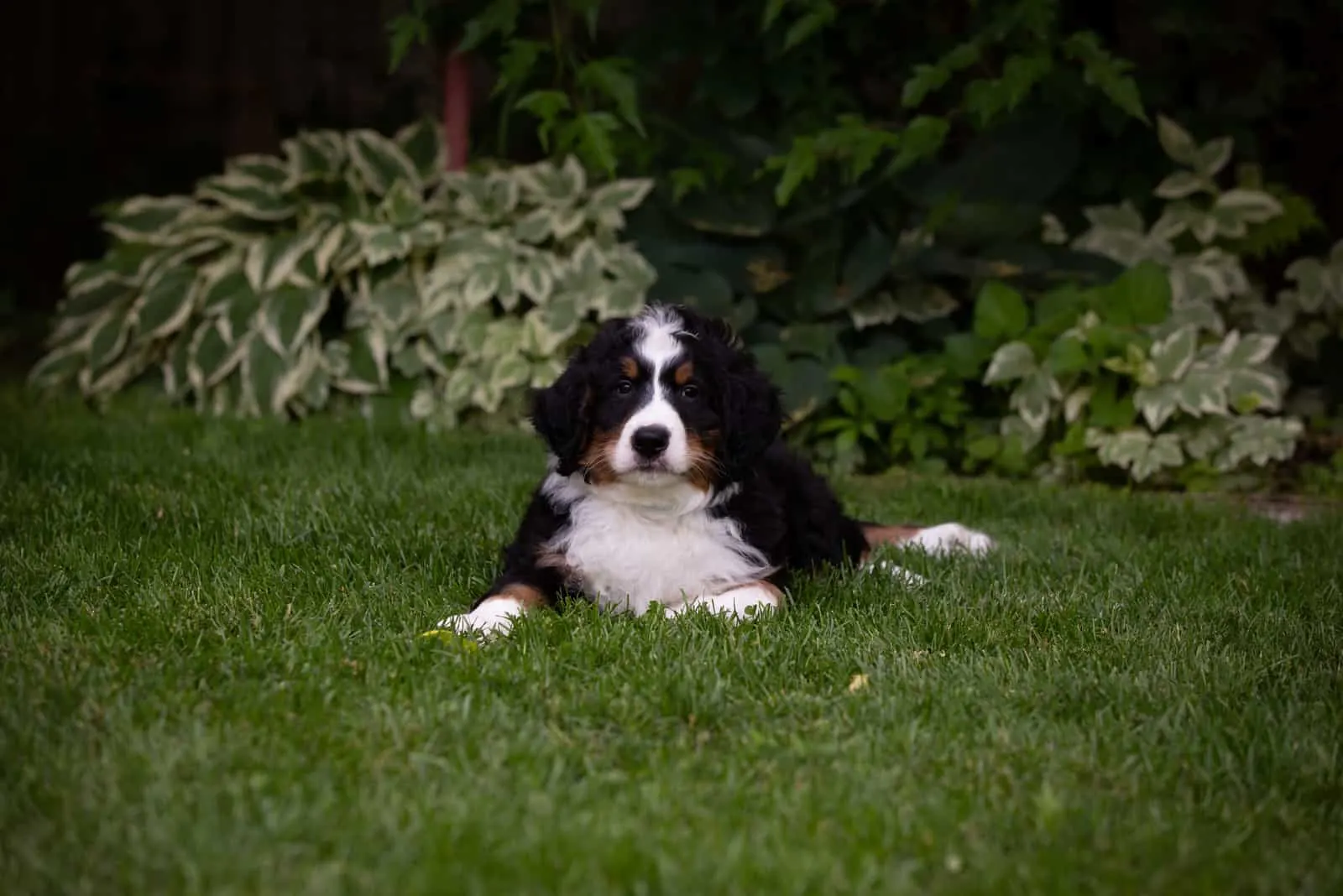 This is a breeding program with two locations: one is a beautiful property in Southeastern Ohio, and the other one is in Florida.
This breeder started the business almost two decades ago by breeding Australian Labradoodles. This continued until 2013, when they decided to include another Doodle breed – Bernedoodles.
All of their breeding canines are companion animals that either live with the breeder or are entrusted to the care of other devoted families.
They never put any of their puppies in a kennel, but instead raise them all in their house.
Puppy Quality
The primary objective of Buckeye Ridge Bernedoodles is to breed happy, healthy dogs with stable personalities.
They use Embark to do health examinations on all of their adult canines, and they continue to inform themselves of the most recent findings.
Bernedoodles are indeed one of the best hybrid canines, which is why they're high on the list as family pets and therapy dogs.
The breeder raises the pups either in their own home or in a guardian home, so they can socialize with people and other pets from the first days of their life.
All puppies are vaccinated, examined by a health professional, dewormed, and ready to leave the breeder and find their new home.
According to the sales contract, none of the puppies is supposed to compete in agility events, nor should they be subjected to any type of difficult physical training during the first year of their life, or else they might develop conditions, such as hip dysplasia.
Purchasing Process And Pricing
The breeder states that their primary concern is to breed healthy pups of solid temperament, regardless of the colors of their coat.
If you'd like to be put on their waitlist, you will need to fill out their questionnaire and pay a deposit fee of $500.
Once you manage all these details, you'll be able to sign the final contract, which will enable you to take your puppy home.
Although they're not able to guarantee the shade of any Bernedoodle before it's born, their prices are set on the individual price of puppies.
A bicolor Bernie is usually priced at $3500, while all other canines cost $4500 (merle, sable, and phantom shades).
There are plenty of details regarding the canines and the adoption process as well on the breeder's official website, but if you have any other inquiries, you can contact the breeder via email or phone.
Breeder Details:
Location: Glouster, Ohio
Email address: [email protected]
Official website: Buckeye Ridge Bernedoodles
Contact number: 740 856 7068
8. Doncie Doodles Ohio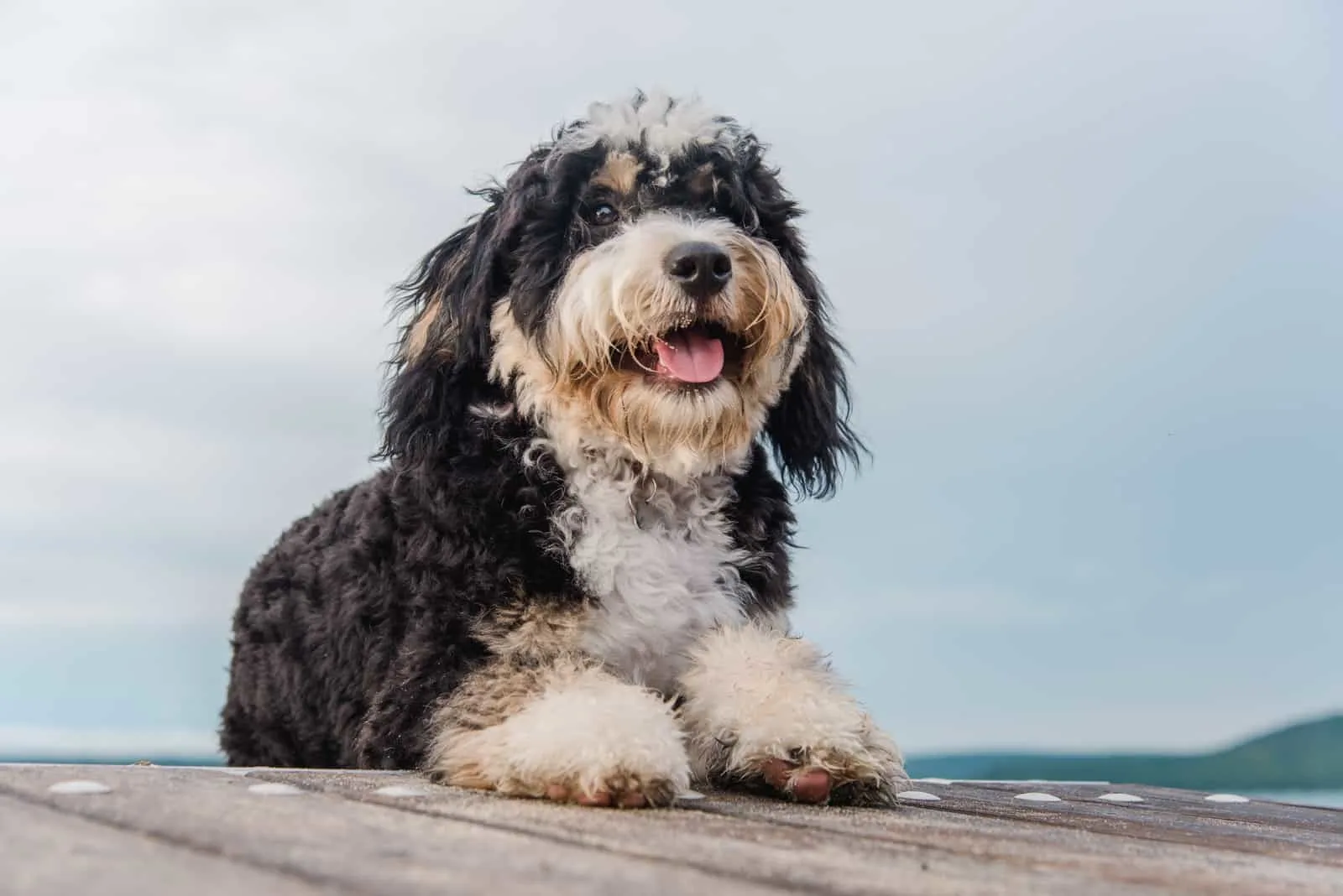 This breeder has been highly devoted to raising amazing Bernedoodles, Aussiedoodles, and St. Berdoodles.
All of their pups are born and raised on the breeder's farm, where they have plenty of room to run around and act like true pups.
The main focus of the breeder is to produce and raise pups that will be good family pets and have great health. For them, it's all about the careful selection of adult canines, which results in a healthy pup of excellent qualities.
Puppy Quality
The breeder is highly invested in the breeding process as they strive to produce the best family dogs that will be obedient and loyal to their families.
The breeder is trying to do their best in order to serve their clients with only the best representatives of the three types of Doodles.
They guarantee the health of their pups, at least when it comes to genetic conditions.
All of their puppies are vaccinated (they have taken their first shots), dewormed, microchipped, and ready to be taken home as soon as they turn eight weeks of age.
The coat shades of Bernedoodles can't be determined in advance because of the multiple possibilities that depend solely on the more dominant gene development in an individual pup.
Adoption Process And Pricing
Instead of the classic questionnaire that you need to fill out, this breeder prefers to have a short phone conversation and check all the information they need in order for you to make the deposit payment.
The deposit fee is $250, which is non-refundable, but it could be moved to another litter in case you're not able to get a pup from the current one.
The price of a Bernedoodle depends on its coat shade pattern, which means that tricolor and merle pups cost $3500, while all other shades and patterns cost a thousand less.
Keep in mind that the breeder sells these pups only as family pets, therapy canines, or service pups, which is why they don't allow further breeding, and are quite strict on their spay/neuter agreement.
Breeder Details:
Location: Batavia, Ohio
Email address: [email protected]
Official website: Doncie Doodle Bernedoodle Puppies
Contact number: 513 543 7475
9. Dreamland Bernedoodle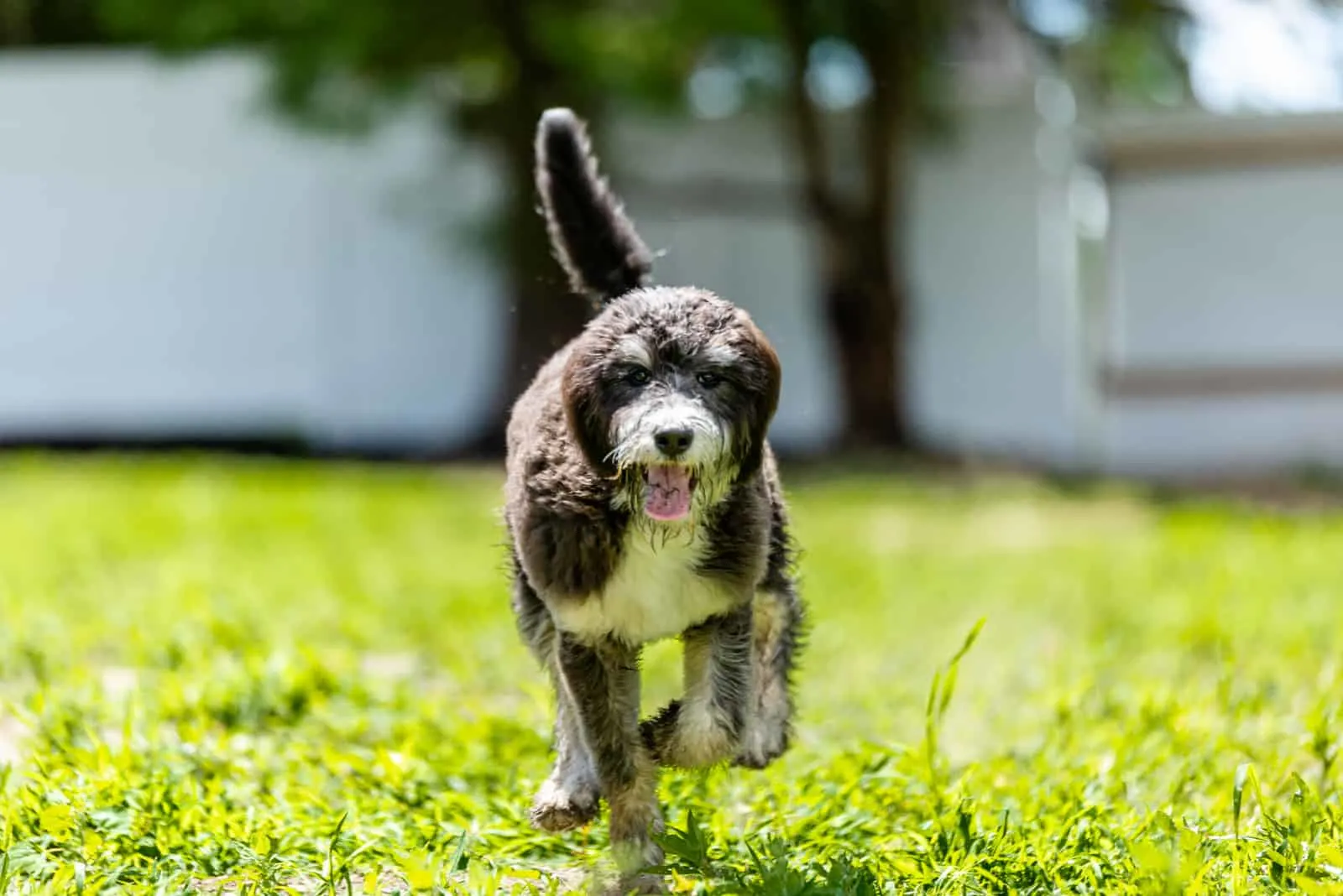 This is a highly reputable Bernedoodle breeder in the Buckeye State. Dreamland Bernedoodle started their breeding program about eight years ago, stemming from the owners' deep love and devotion to their charming and outgoing canine companions.
It is a privilege for them to provide not just pets, but also wonderful family members who will always be there to greet you when you return home each day.
They pour their heart, soul, and strength into making their program a success. The breeder only has two to three litters of puppies available each year due to the canines' natural cycle.
Puppy Quality
The breeder is set on the production of top-quality Bernedoodle and Poodle puppies, which is why they decided to keep the number of litters available at a lower level.
They select all of the adult canines carefully in order to breed only the best hybrid pups. However, they also include breeding of both male and female Poodles in order to provide their customers with good-quality dogs, and also to use some of them as new generations of breeding doggies.
All of the puppies receive their vaccines, deworming, and all other necessary things and procedures before they are able to leave for their new home.
Bernedoodles can appear in several shades, including black and white, tricolor, merle, and others.
Purchasing Process And Pricing
There isn't much information available on their website regarding the adoption procedure or the pricing of the canine.
However, the breeder is more than ready to answer all your questions, and explain the whole process of getting a new pup once you contact them.
Therefore, it would be best to either write them an email or call the breeder to get all the information you need.
Breeder Details:
Location: Jefferson, Ohio
Email address: Contact Form
Official website: Dreamland Bernedoodle
Contact number: 440 228 0614
Final Thoughts
Our list of Bernedoodle breeders in Ohio includes some of the best breeding programs that offer only high-quality pups of excellent health, pedigree, and solid temperament.
These three are the critical points that a good breeder should offer, and they are exactly what all of the breeders on this article care about as well.
You can't go wrong with a Bernedoodle, especially if you're looking for a family pet.
I hope you enjoyed this article, and that you found a breeder who meets all your needs and requirements!
READ NEXT:
Australian Bernedoodle: All There Is To Know About This Dog
Crunching The Numbers: How Much Does A Bernedoodle Cost?
15 Best Mini Bernedoodle Breeders In The United States