What might be better than Poodles? Bernedoodles! This adorable little hybrid dog is a crossbreed of a Bernese Mountain Dog and a purebred Poodle.
The Bernedoodle is a friendly and intelligent dog that can be everyone's best friend. In fact, it can be a great companion for each family member as their friendly nature makes them great companions for kids, adults, and other pets alike.
This is because Bernedoodles have a mixture of the Poodle's goofiness and intelligence, combined with the easy-going and friendly nature of a Bernese Mountain Dog. As a result, you'll end up with a cutie-pie that will adore human affection and love.
Since you're here, though, chances are you already know all of this and are just looking for the best Bernedoodle breeders in California. Don't worry – we've got you covered.
We've compiled a list of the best possible Bernedoodle breeders in California and in your area, and we'll also explain why it is so important to find breeders you can trust – especially when you want to buy a mixed dog, such as a Bernedoodle.
Let's get started:
Bernedoodle Puppies For Sale In California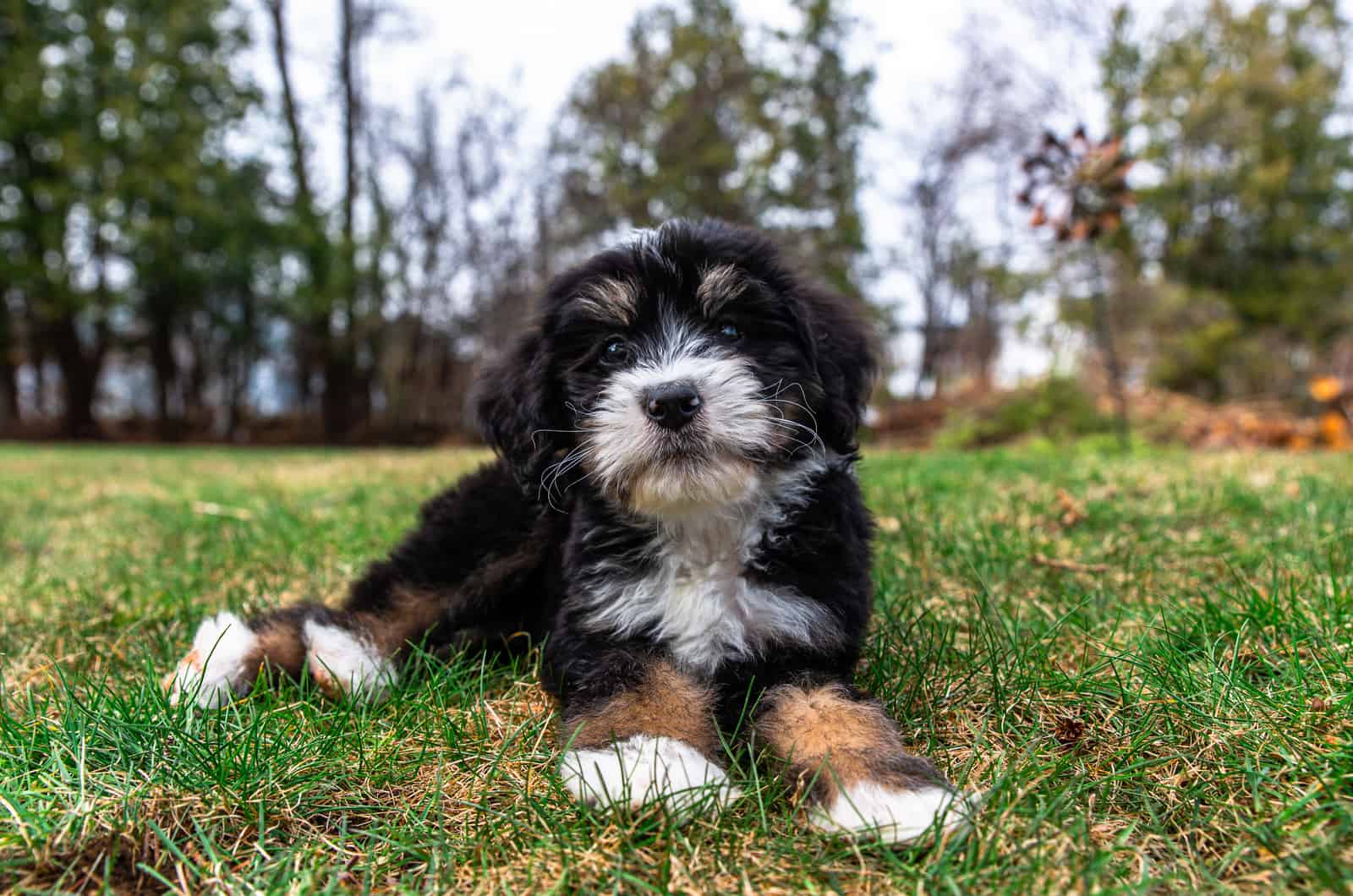 Bernedoodle breeders in California can produce puppies in more than one way. It all depends on the generation of dogs they want to produce.
Most breeders will focus on creating the first generation of Bernedoodle puppies. This is also known as F1 Bernedoodles. Despite what you might think, this generation is the easiest to control when it comes to genetics, and a breeder can, to an extent, predict how a puppy will end up looking.
There isn't a way anyone can entirely predict how a mixed breed puppy will look. However, when you combine two purebred dogs, you can have an idea of what your puppy will end up looking like.
When you combine two mixed breeds, like some Bernedoodle breeders in California do to get F2 or multi-generation Bernedoodles, things get a bit more confusing. Some recessive genes tend to stay hidden, so you can get surprised when dealing with F2 Bernedoodles.
This is why not many reputable breeders will breed two Bernedoodles together to get a multi-generation Bernedoodle. They just don't consider them worth the risk. Of course, there are exceptions, and many breeders will successfully produce F2 or even F3 and F1B Bernedoodles.
Without further ado, here are some of the best Bernedoodle breeders in California where you can find these adorable puppies for sale:
Bernedoodle Breeders In Northern California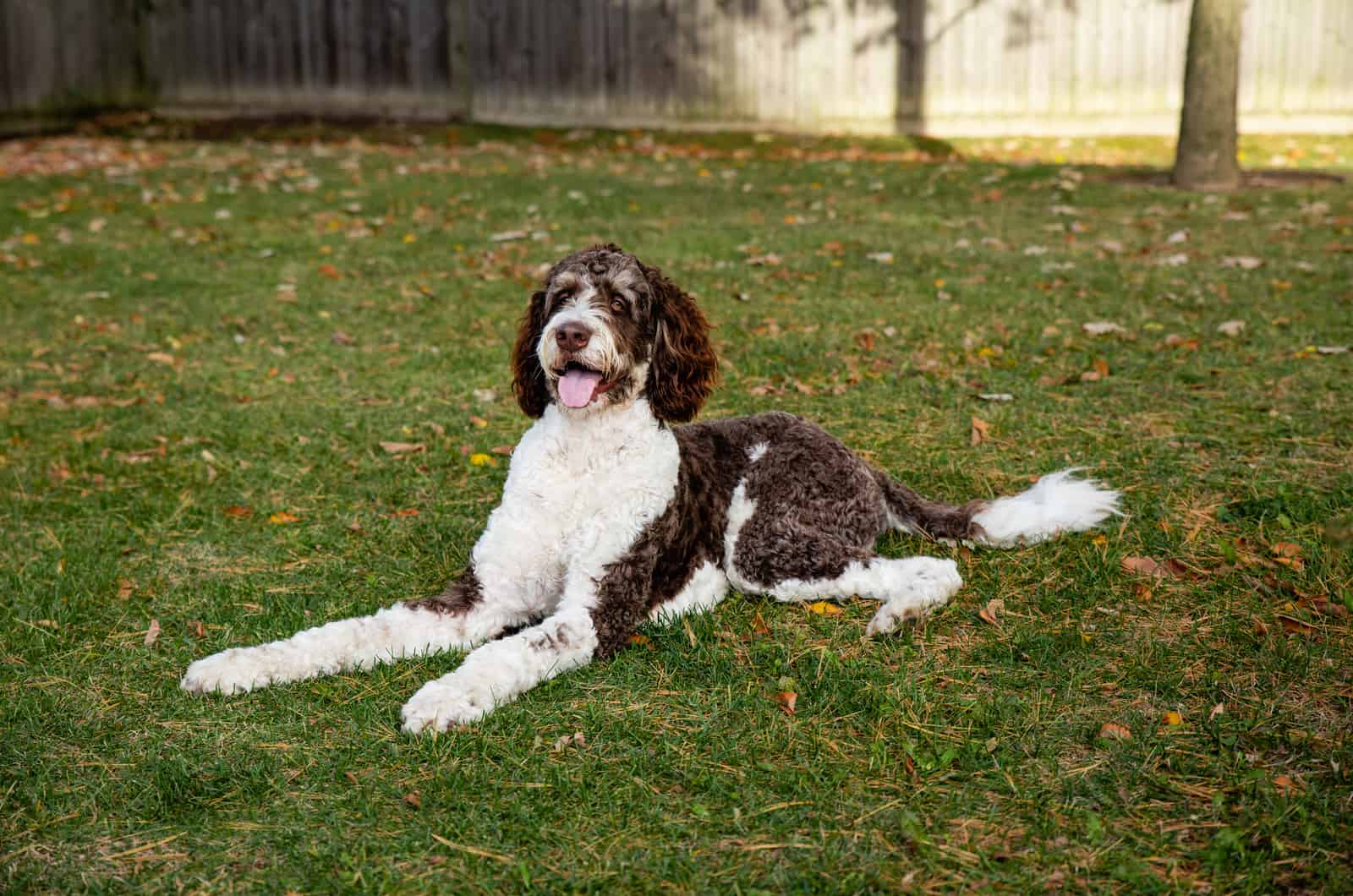 Northern California, as its name suggests, is the northern part of the state that spans the 48 counties – and dozens of Bernedoodle breeders.
Here are some names you can trust:
1. Cedar Creek Bernese Mountain Dogs And Bernedoodles.
This is one of the most popular Bernedoodle breeders in California. Located in Paradise, the breeder started reproducing Bernese Mountain Dogs in 2007. Soon after, they started crossbreeding with a Standard Poodle, and now they have several litters of Standard Bernedoodles sold already.
While they are small, they provide everyone with top-quality puppies that can be amazing family companion dogs for everyone.
All of their puppies are socialized and trained before they go to their new home. They are the perfect combination of good looks and great temperament, so you won't make a mistake if you contact them.
Website: Cedar Creek
Email: [email protected]
Social Media: Facebook
2. Sutter Butter Labradoodles.
While primarily breeding Labradoodles, Sutter Butter produces other Doodles as well. This includes Bernedoodles.
They refuse to work with kennels and puppy mills, and instead, only sell to individuals looking for a new family pet. They breed high-quality puppies with friendly temperaments, so they can be up to everyone's criteria.
They get their breeding stock from reputable breeders, and they look for pups with amazing pedigrees and top lineages. This takes a lot of time, but you can be certain their dogs will excel at anything.
If possible, they'll try to produce puppies in the coat color you'd like, so hit them up if you'd like a Bernedoodle in a specific shade.
Website: Sutter Butter Labradoodles
Email: [email protected]
Social Media: Facebook, Instagram
3. Riverdoodles California.
One of the best Bernedoodle breeders in California is located in Brea, in the northern part of the state. All of their dogs are raised on a 5-acre property where they are given enough space to run around and play.
All of their puppies are raised by the owner and his family, and as such, they have been properly socialized from the day they were born. This also means they have mild temperaments and know how to behave around family members of all ages.
Riverdoodles also gives their dogs the best veterinary care possible before they go to their new families. As parents have been tested negative for most genetic disorders, the breeder will give you a two-year health guarantee on their puppies.
Of course, high-quality dog food is a must, and this breeder will give you recommendations on what brands to use if this is something you're worried about.
Website: Riverdoodles California
Email: [email protected]
4. Sierra Springs.
This is a small, home-based Bernedoodle breeder in California. Next to Australian Bernedoodles, they also breed Australian Labradoodles and Australian Goldendoodles, so there is a nice variety of dogs you can buy from them.
They conduct various health tests on their dogs to make sure they are healthy. As proof, all future owners will get an insight into their dogs' medical history. This can reassure you that your Bernedoodle will live a long, happy life.
Website: Sierra Springs
Email: [email protected]
Social Media: Facebook, Instagram
5. Trinity Alps Bernedoodles.
This is yet another family-run Bernedoodle breeder in California with a long history of breeding and raising not just Bernedoodles, but also llamas and horses.
All of their dogs have been health-tested and socialized, so they'll be on their best behavior. As there are three family generations taking care of the dogs, their puppies will be used to all of your family members from the day they arrive at your home.
This breeder considers their dogs as part of their family. As such, they all go together on vacations and they watch TV in the evening – their dogs are a part of anything that's happening in their home! If you're interested in seeing how this goes, you can follow them on their social media site.
Website: Trinity Alps Bernedoodles
Social Media: Instagram
Bernedoodle Breeders in Southern California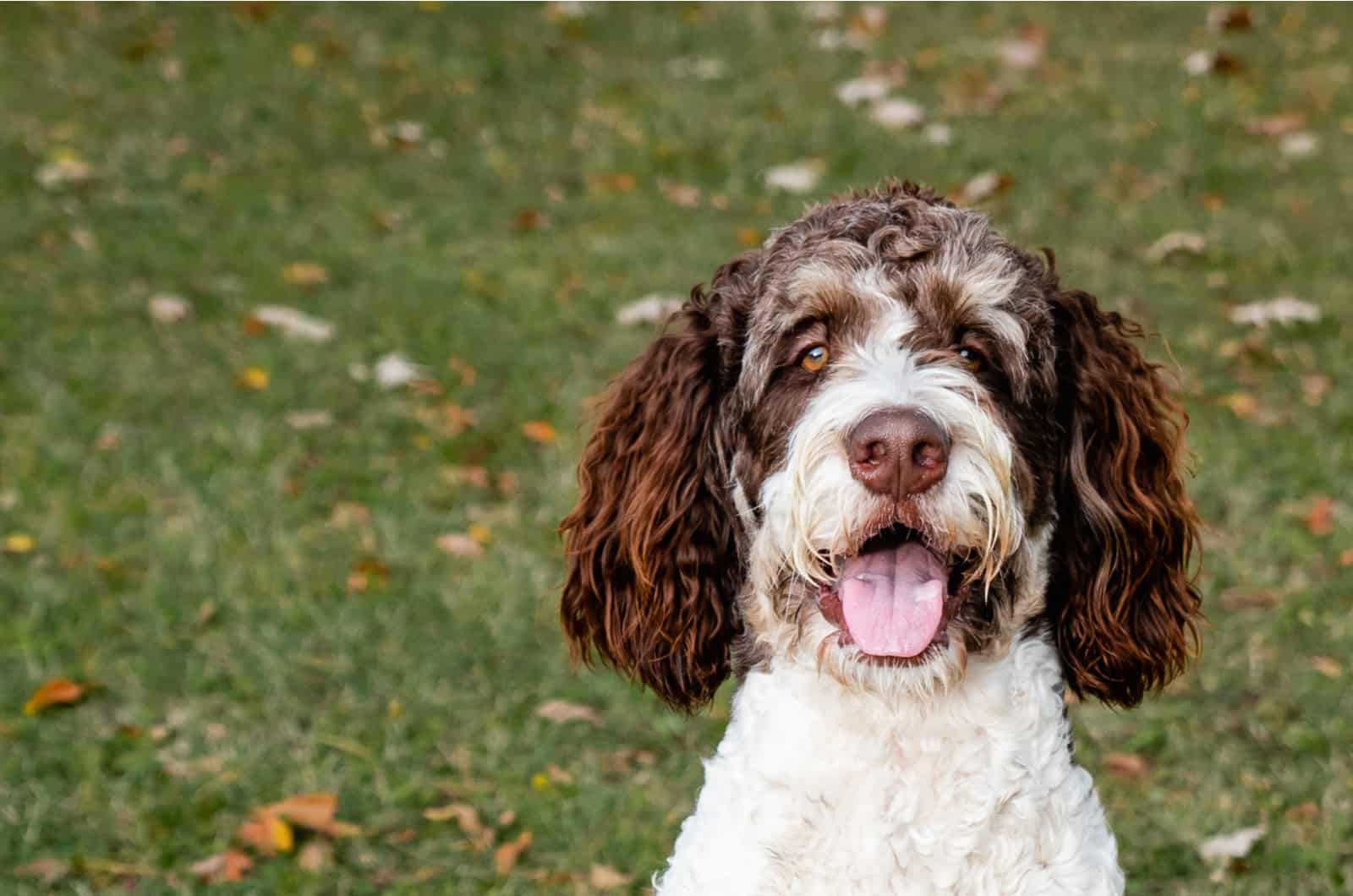 When you hear Southern California, you usually think about Los Angeles and Hollywood. However, another thing that you should think about is how many good Bernedoodle breeders are in this part of the state.
Here are some of them:
6. Woodcreek Ranch Bernedoodles.
This is a small Bernedoodle breeder who raises dogs from the comfort of their home. They combine purebred Poodles and Bernese Mountain Dogs to make sure their pups are of the highest quality possible.
Their adult dogs have been certified by the Orthopedic Foundation for Animals (OFA), so they aren't susceptible to hip dysplasia or elbow dysplasia. They have also undergone genetic testing for DM and VWB. As such, you can be certain they're as healthy as possible.
They are rather active on their social media site, so if you'd like to see more about the dogs they currently have or upcoming litters, you can always check them out online.
Website: Woodcreek Ranch Bernedoodles
Email: [email protected]
Social Media: Instagram
7. Julian Mountain Doodles.
This breeder is located in the San Diego mountains, giving their puppies the healthiest possible environment from day one. They own 13 acres of land on which they breed their dogs, making sure their pups get enough exercise all day long.
As the dogs are home-bred, they are properly socialized and used to the sounds from inside a house. They are rather family-friendly, and they'll love everyone they meet. This makes them a great choice for families with small children.
As their puppies are family members to them, they make sure they only sell to proper dog owners who will give them all the love in the world. This is why they might be a bit picky with their buyers, especially if many people are interested in the puppies available.
Website: Julian Mountain Doodles
Email: [email protected]
8. Teddy Bear Love Bernedoodles.
Who can resist a breeder with such a cute name? As all Doodles look like living teddy bears, it's no surprise that this San Jacinto Valley breeder decided to give this name to their business!
This is one of the oldest Bernedoodle breeders in California, with more than 25 years of experience. If you're looking for a breeder who knows what they're doing, this is certainly the one you should contact.
All of their dogs are up to date with vaccinations, and the parents have been tested for many genetic conditions. As proof, they'll give you an amazing five-year health guarantee on any dog you've purchased.
Socialization is very important to this breeder, so they make sure that all their dogs are raised at home where they have constant attention.
This way, they'll provide you with the best family companions possible.
Website: Teddy Bear Love Bernedoodles
Email: [email protected]
Social Media: Facebook
9. Blue Skye Doodles.
This is one of the Bernedoodle breeders in California that focuses on more than one dog breed. Next to Bernedoodles, they also breed Aussiedoodles, so you can have your pick.
They are located near San Diego, California, but they will gladly ship their dogs to any other California region, from Sacramento to San Francisco.
All of their puppies are given plenty of sound and sight stimuli, so they will be used to various environmental changes before they come to your home.
They breed Bernedoodles of all sizes, including Standard, Medium, and Mini Bernedoodles. Also, unlike most other breeders, they focus on multi-generation Bernedoodles, so you'll hardly find any purebred dog on their premises.
Website: Blue Skye Doodles
Email: [email protected]
10. Olive Branch Bernedoodles.
This breeder goes by its motto: Extraordinary Bernedoodles with a purpose! They breed mostly family pets, but they also train them to be working dogs if this is what the owner requires.
They are a small breeder that makes sure that all their puppies are given a proper home even before they go to their new owners. This means they are socialized and pampered, making them a great choice for both houses and apartments.
As there are children spending time with and caring for these Bernedoodles, they are used to kids, making them good for large families.
Not only are their parents tested for various genetic conditions, but the puppies are also given Early Neurological Stimulation to improve their health, temperament, and wits. They are even used to grooming!
Website: Olive Branch Bernedoodles
Email: [email protected]
The Importance of Bernedoodle Breeders In California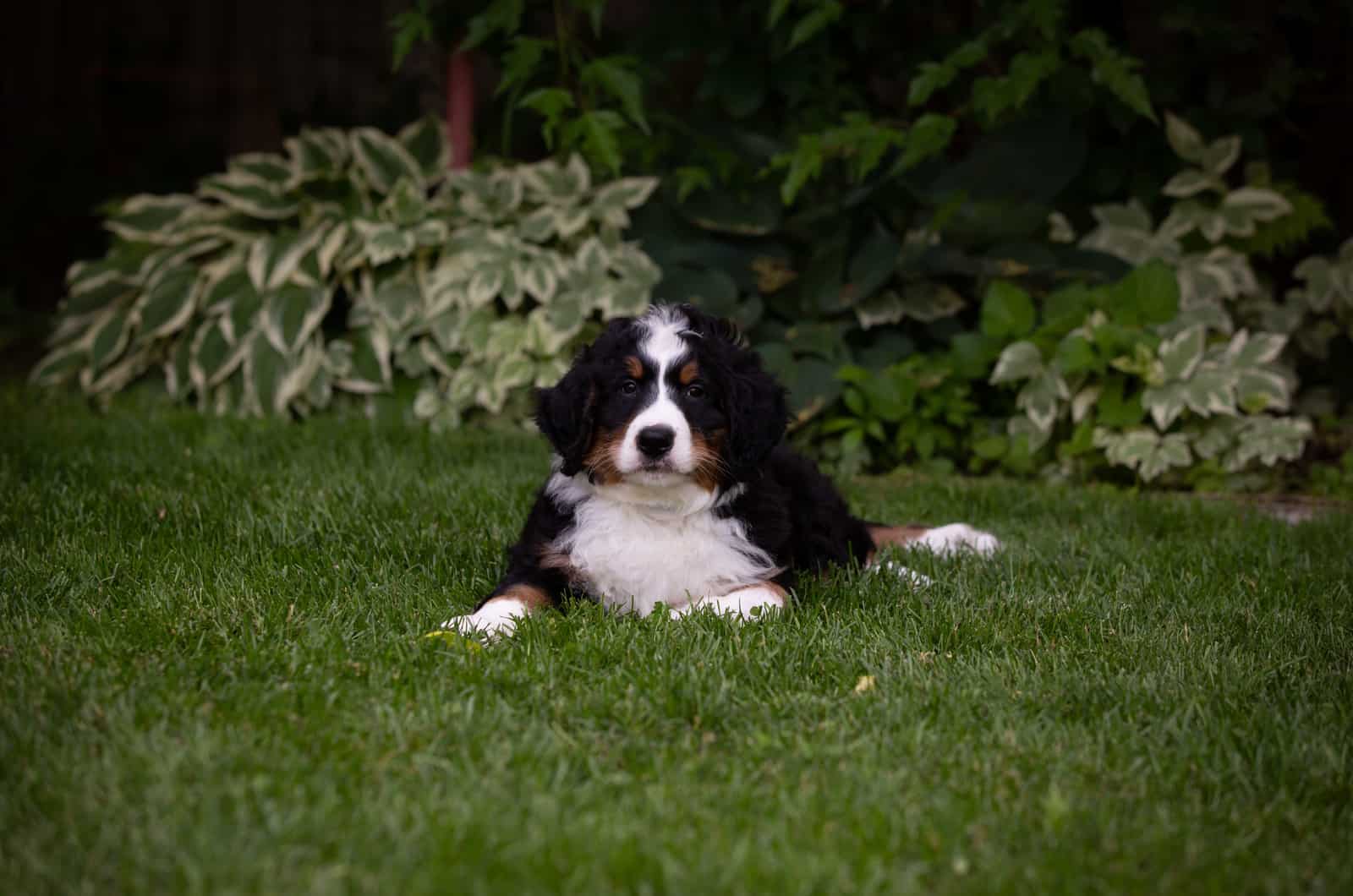 Many dog lovers don't trust breeders. They think that a dog breeder's only goal is to take your money and sell as many dogs as possible. This, in fact, is the end goal of puppy mills, not reputable breeders.
Sure, there are many Bernedoodle breeders in California that don't really have any experience or knowledge about breeding dogs. However, reputable Bernedoodle breeders are a whole other story.
In fact, responsible breeders can help improve the breed and help keep dogs off the streets!
Breeders are there because they respect the breed or the crossbreed they are helping to reproduce. Many have started as dog owners before deciding to venture into dog breeding.
A responsible breeder will help create healthy dogs by conducting various health tests in order to make sure their dogs are healthy. Sure, this will also help them gain the buyer's trust. However, the main goal is to try to eliminate certain genetic health issues from the bloodline.
By producing generations of healthy dogs, breeders help increase a breed's lifespan. They also help these pups stay up to the breed standard, and there is more than one reason why you'd want this.
A breed standard determines whether or not a dog can participate in conformation shows or be registered with a breed club. Still, there is more to this than just looks.
If a dog isn't up to the standard, this can ruin his purpose. For example, people buy Poodles because they are low shedding and as close to being hypoallergenic as they can be.
If a Poodle has a coat that isn't as curly, the loose hairs will fly everywhere, and the dog will lose his hypoallergenic properties. This can result in an owner with dog allergies abandoning him. No responsible breeder would ever want that.
At the same time, reputable breeders can educate aspiring dog owners on the breed they'd like to buy. This can help increase the number of knowledgeable dog owners out there.
In fact, many breeders will refuse to sell to people who don't have experience with a so-called dangerous breed, or they will refuse to sell if they don't think you'll be a good dog owner. All of this means better lives for their puppies.
Finally, a good breeder can directly prevent dogs from ending up on the streets or in a shelter. They'll be a part of many charitable events, and they'll collect money to help those in need.
Most importantly, a breeder will care for their dog even after they sell it. They wouldn't want a Bernedoodle they sold to ever end up on the streets. As such, they'll agree to take back dogs that owners no longer want and help them find a new home.
This way, they're making sure that no dog of theirs is ever truly abandoned or at risk of ending up in a kill shelter.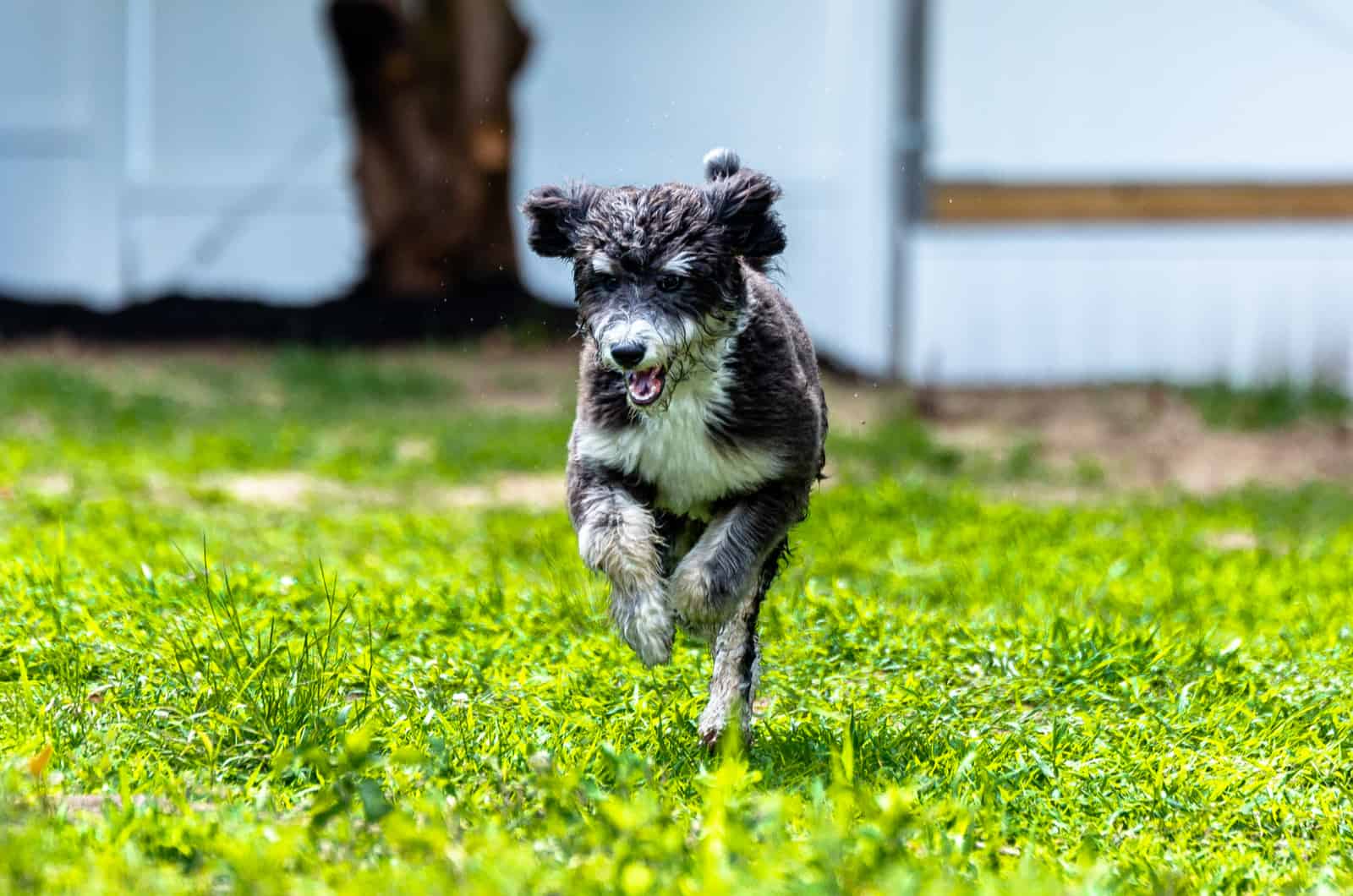 Some people would consider mixed breed dogs as being mutts they can get from the streets. However, Bernedoodle breeders in California take great detail into choosing dogs they will mate together, so these crossbreeds are carefully designed – hence, the name designer dogs.
Because of this, many hybrid breeds have a rather high price tag. Bernedoodles are not an exception. Quite the opposite – they are among the most expensive crossbreeds out there.
The main reason behind this price tag is that they can come in many coat colors and patterns while remaining mostly hypoallergenic and suitable for owners with mild dog allergies.
As such, the price of a Bernedoodle can vary anywhere between $500 and $5,000 depending on factors such as appearance, generation, demand, and the breed itself.
As designer breeds are rather popular in California, you can expect these pups to be on the higher end of the spectrum.
Of course, the expenses don't end there. You'll also have to buy your family pet toys, treats, a leash, and a brush, not to mention high-quality dog food you need to feed him!
It's important to consider all the costs of owning a dog before you decide on the initial purchase.
Are Hybrid Breeds Better Than Purebred Dogs?
The answer to this question entirely depends on what you expect from a dog.
Designer dogs aren't really considered dog breeds. As such, they are not recognized by most major kennel clubs, including the AKC, the UKC, or the FCI. They won't be able to participate in dog shows, and they won't come with standard papers.
Also, with purebred dogs, you can always know what to expect from a puppy. Crossbreeds can be rather unpredictable, both in appearance and in temperament. They can inherit more traits from one parent, and many puppies from the same litter look and behave nothing alike.
Because of this, many Bernedoodle breeders in California will never tell you what to expect from your future puppy. Unless both parents are rather similar when it comes to their temperament, size, and coat color, it's nearly impossible to tell what a future puppy will look like.
However, many dog lovers adore the unpredictability that comes with mixed breeds. They love how there are many versatile dogs in a litter, and how their puppy will likely look like no other.
Most importantly, though, crossbreeds have something that is called hybrid vigor. Hybrid vigor is a trait that mixed breed dogs share, which helps pups live a healthier life.
Essentially, when you combine two genetically different dogs, you pass an influx of fresh genes into the offspring. As a result, future litters will be much healthier than their parents.
Yes, theoretically, a Bernedoodle is susceptible to the health problems of both the Poodle and the Bernese Mountain Dog. However, the chances of these diseases occurring are much slimmer than in purebred dogs.
In the end, it is up to you to decide whether you'd like to get a mixed breed dog or stick with purebreds.
Why Choose Bernedoodles?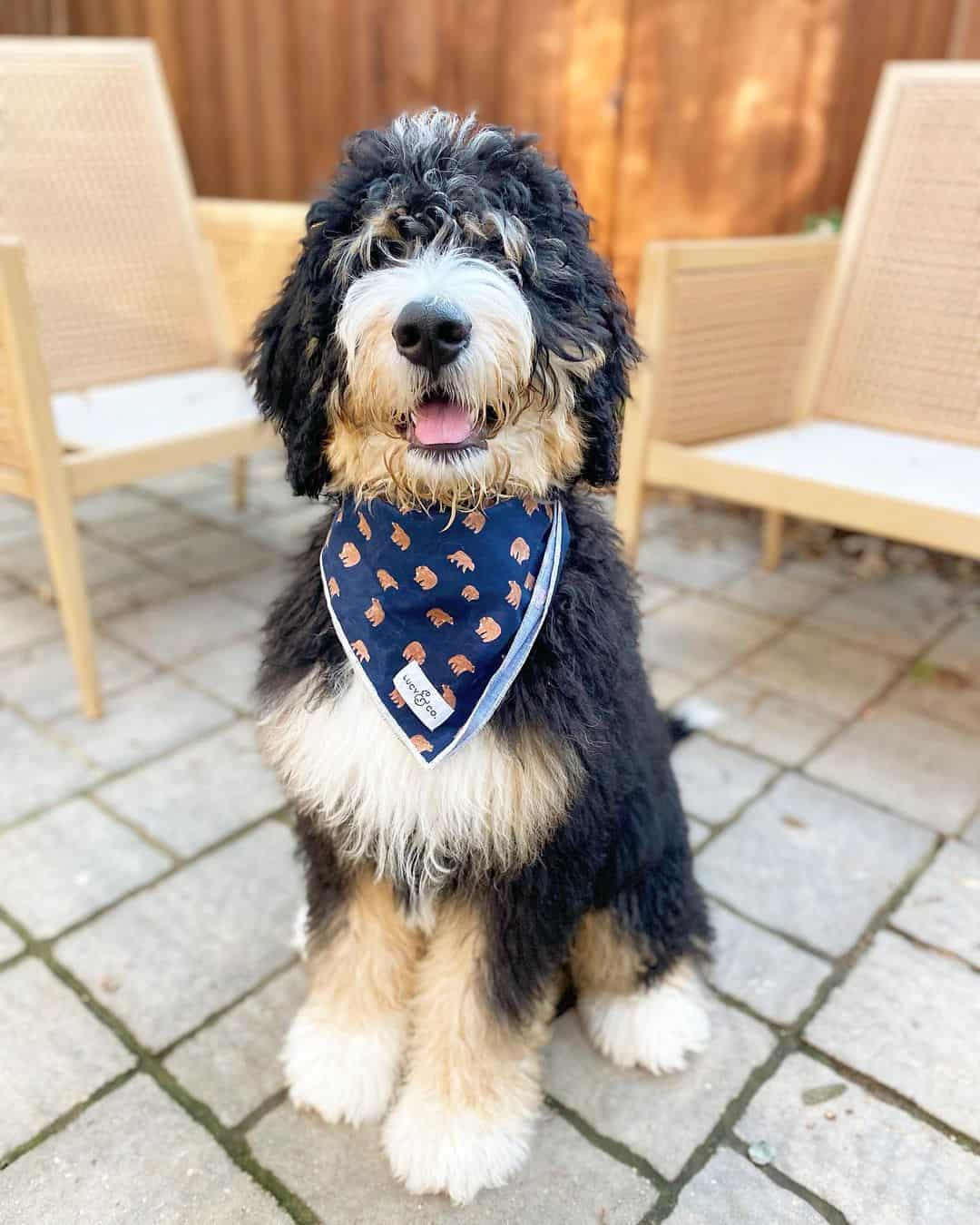 Photo from: @bowieandwilson
Bernedoodles have become quite popular lately. Many dog lovers have seen the benefits in choosing Doodles and buying from the best Bernedoodle breeders in California.
Bernedoodles are cute, adorable dogs. They can come in all shapes and sizes, not to mention the huge variety of colors they come in!
Read More: Bernedoodle Growth Chart
These dogs make amazing family pets. They are intelligent, yet calm and friendly, but loyal to their families. Depending on their temperament, some might even make good guard dogs; something that regular Poodles could never be due to their social behavior.
While not as hypoallergenic as Poodles, they will shed less hair than most dogs, especially if their coat is on the curlier side. This makes them suitable for many people who would otherwise have an allergic reaction around dogs.
Bernedoodle breeders in California play an important part in making the breed what it is today. While Bernedoodles aren't recognized by kennel clubs, thanks to good breeders, they have become a norm.
In the end, you are free to buy or adopt a dog from whichever breeder you'd like. However, know this: If you decide to save on a dog, you might end up paying much more in veterinary bills later on. This likely isn't something you or any other dog lover would like.
The most important thing is to know which breeder you can trust. All Bernedoodle breeders that we've listed from California have been thoroughly checked and approved, so you can be certain that they'll provide you with the best dogs possible.
Related Articles:
• Best Dog Breeders in California