One of the monumental moments of a person's life is getting a dog. This is why responsible future dog owners take time to do a lot of research on what breed is the best match for them and their families.
Since you are here, we can see you have made the fantastic decision to get an Akita. This dog is amazing in so many ways. Firstly, you can be sure that you are getting a loyal companion. They are one of the goofiest dog breeds out there too.
But, don't let that fool you, the Akita breed makes an amazing guard dog. Their loyalty is something you will never have seen before. They are large dogs that love to take care of their owners. You need to deserve their goofy side.
The Akita is not an aggressive breed but, if not trained properly, they can show signs of aggression. They sometimes tend to not get along well with other dogs in the house, but that is easily solvable with proper training.
Since they are extremely intelligent dogs, you will have no problem teaching your Akita anything that you want. Sometimes they aren't used to being the only dog in a household, but if you have big character and lots of patience, these dogs will be your forever guardians. All of these characteristics are valid for both male and female Akitas.
Now that we have given you a small summary about the breed, we are here to help you find the best breeder. This task is sometimes nerve-wracking, but don't worry. We have made a list of the best Akita breeders in the UK.
Akita Puppies For Sale In The UK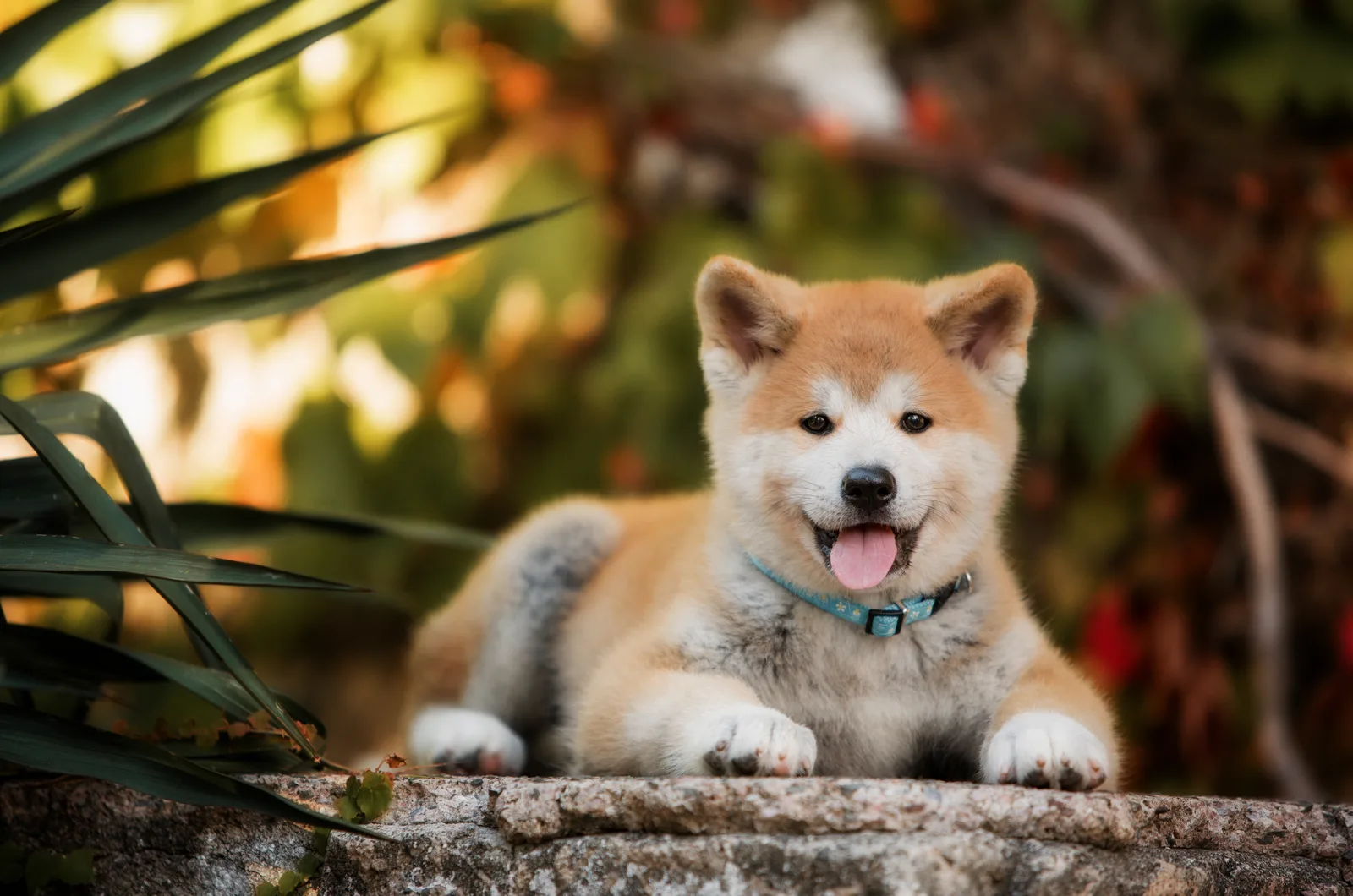 Before you start looking for breeders, we need to tell you that there is a difference between the American Akita and a Japanese Akita, aka. Akita Inu. There isn't much of a difference between them. Both of the breeds come in different colors, but the Japanese Akita comes in a more orangey and white color, while American Akitas come in darker colors, like black and brown.
Now that we've got that out of the way, even though we are sure you already knew about it, it is time to talk about reputable breeders. As we already mentioned, choosing a dog breed that is made just for you can be a difficult task.
Just a quick note, American Akita puppies are rarer than Japanese Akita puppies.
But the next step, finding a breeder that checks everything from the list, is sometimes an even harder task. We have all seen the movie Hachiko, and have probably shed a tear or two.. or a whole waterfall of tears.
Because of this movie, Akitas became popular. This is why it is really important to find a breeder that you can trust. There are a lot of people that sell these dogs just for profit and their popularity. Another place you should never buy your dog from, are puppy mills.
These places are extremely inhumane and the dogs are kept in the worst conditions. Before purchasing, you can always try to look at your local shelters to see if there is an Akita looking for a forever home.
Another thing that we need to mention is that Shiba Inus are not small Akitas. They are a different breed, even though they have some similar characteristics in a smaller package.
Now we can start with the list of the best Akita breeders in the UK.
1. Ryuukita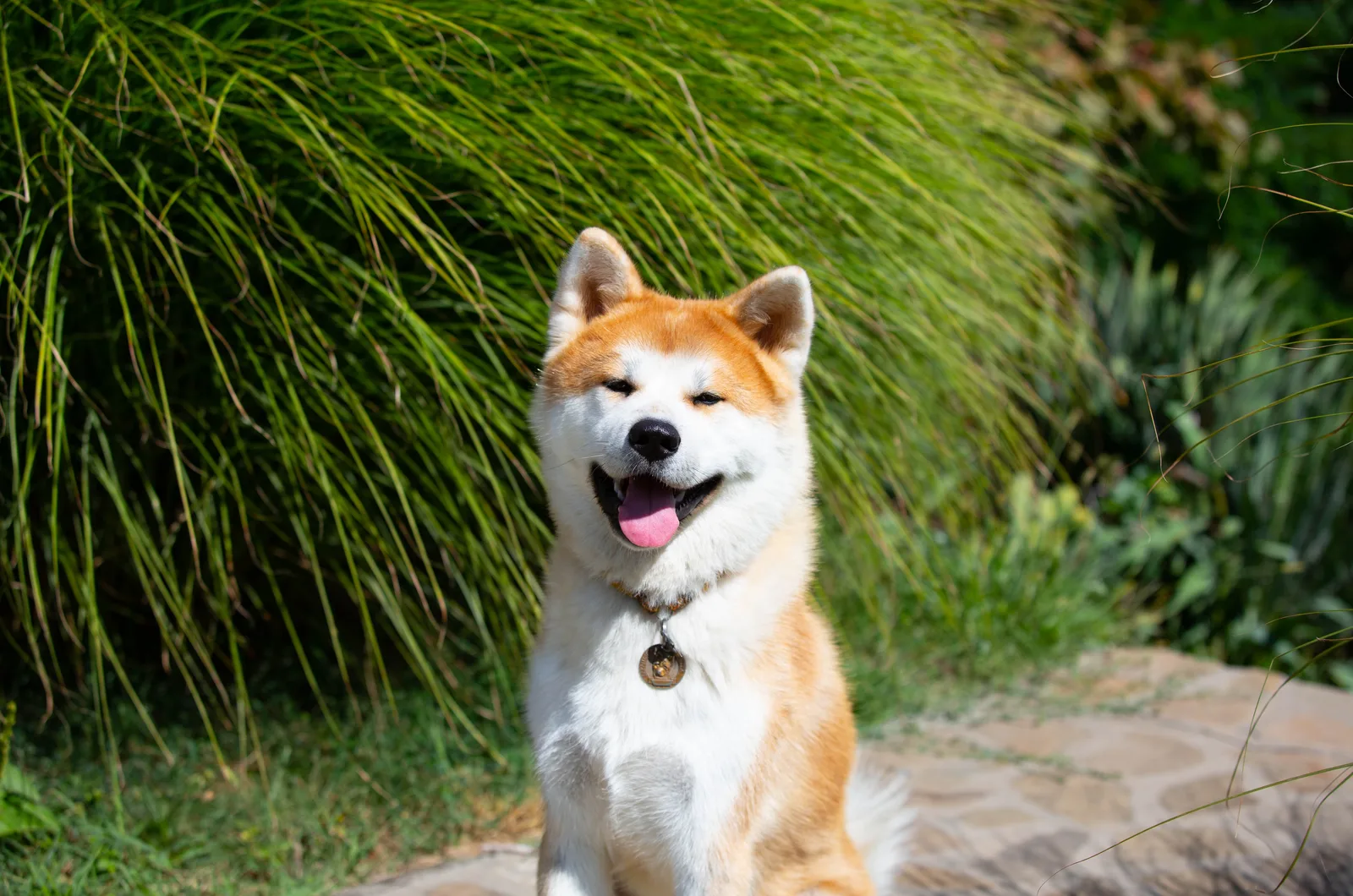 Ryuukita is a professional show kennel that is located in Northern Ireland. They are focused on the Japanese Akita Inu. Their Akita Inu puppies are amazing show dogs and amazing family pets. Their dogs are extremely socialized with people and other dogs.
Akitas can be great pets in any environment but, the best option is if you have a yard so your dog can run more freely. These breeders care a lot about where their puppies go and won't sell just anyone their puppies. They need to get to know you and see if you are a good fit for their puppy.
Health is a priority for them, so if you want to know more about the health details of your puppy and the Akita dogs that are the parents of your puppy, they encourage you to contact them.
Sometimes, they have a young or adult Akita dog for adoption. If you have an Akita that you can't take care of anymore, they encourage you to bring them to them so they can try and find them a new home.
We advise you to visit their site to see all the beautiful dogs that they have and to go through all the prizes they have won all around the world.
You can also read reviews of their previous happy customers, who have said that all of the team members were helpful, answered all their questions, and sent pictures of the puppies.
Ryuukita's Details
Website: Ryuukita
Phone: +44 7515 639 612
Location: 72 Crevinish Road, Rosscolban, Kesh, Enniskillen, BT93 1RF
Email: [email protected]
2. Overhill Kennels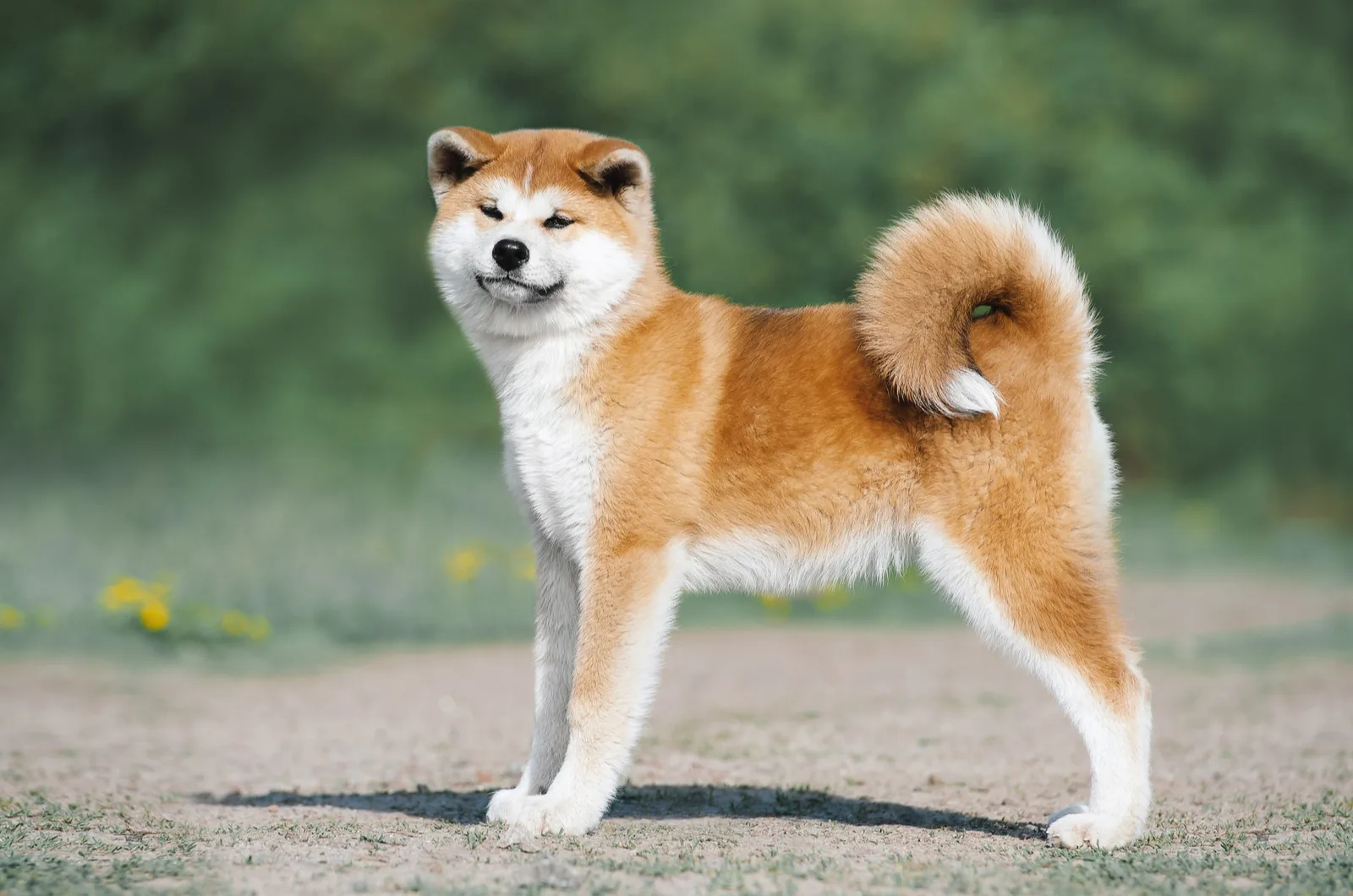 This kennel is most known for breeding German Shepherds but they have been breeding Akitas since 1983. You can clearly see that they really love working with dogs, since they have various services that you might find interesting.
Some of the services are their pet crematorium, they offer a lot of top-quality pet products, they offer embroidery of your dog breed on anything you want, they are a pet travel agency that will travel with your pet anywhere you need to take them, and they have boarding kennels.
You can be sure that your future Akita puppy will be in good hands until it gets to you. Their dogs are both family dogs and show dogs. The best thing to do is visit their website to see all the show dogs they have.
You can also find a lot more information about them. If you decide on them as the breeders of your future puppy, the best thing to do is contact them for any information you might want to know. They will be more than happy to provide you with anything you need.
Overhill Kennels' Details
Website: Overhill Kennels
Location: Norton Malreward, Pensford, Avon, Bristol BS39 4EY, United Kingdom
Phone: +44 1275 832 489
Email: [email protected]
3. Ounoki Kensha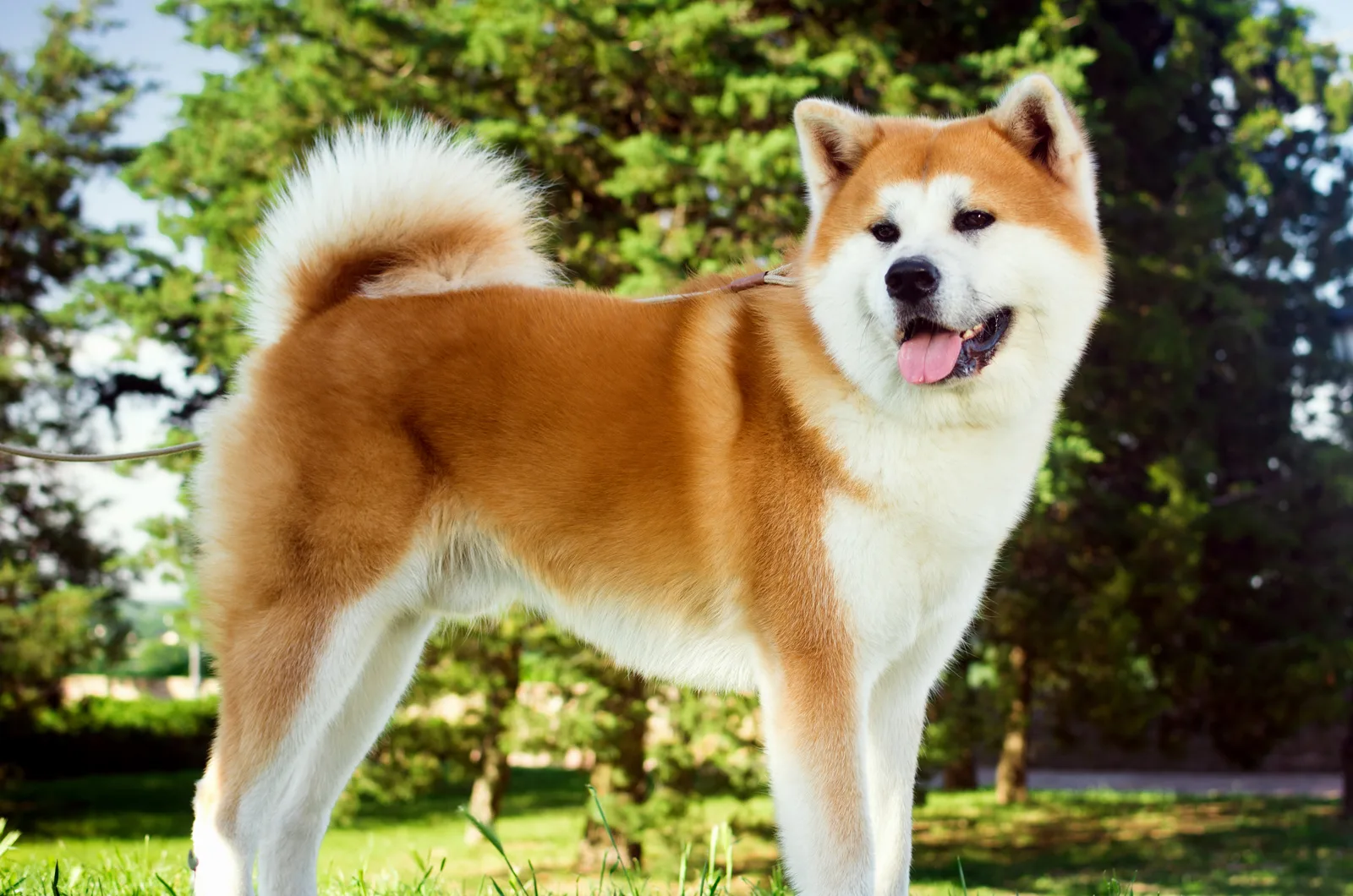 Before we start introducing them, you need to know that they breed Kai Ken dogs, which aren't Akitas but they have great similarities with them. We encourage you to look at this kennel and see the pictures of this breed, so you can see the resemblance.
They started the first Kai Ken breeding project within the UK. They are small, beginner breeders and their name means, The Tree of the King. They want this breed to be recognized by the United Kingdom Kennel Club.
They deeply care about the breed and have a goal of producing healthy, confident, active, and loyal family pets that you will love. All of their dogs are health tested with Embark, BVA, and OFA, and they aim to achieve CHIC on every dog they own and produce.
They hold an associate membership with the Irish Kennel Club, which means that all of their dogs are registered with FCI through the Irish Kennel Club.
We advise you to visit their website. It is full of interesting facts about the breed, pictures, and you can also see the availability of future litters. You can contact them via email or social media for any questions you may have.
Ounoki Kensha's Details
Website: Ounoki Kensha
Location: Shropshire, UK
Email: [email protected]
Facebook: Ounoki Facebook
4. Meiho Akitas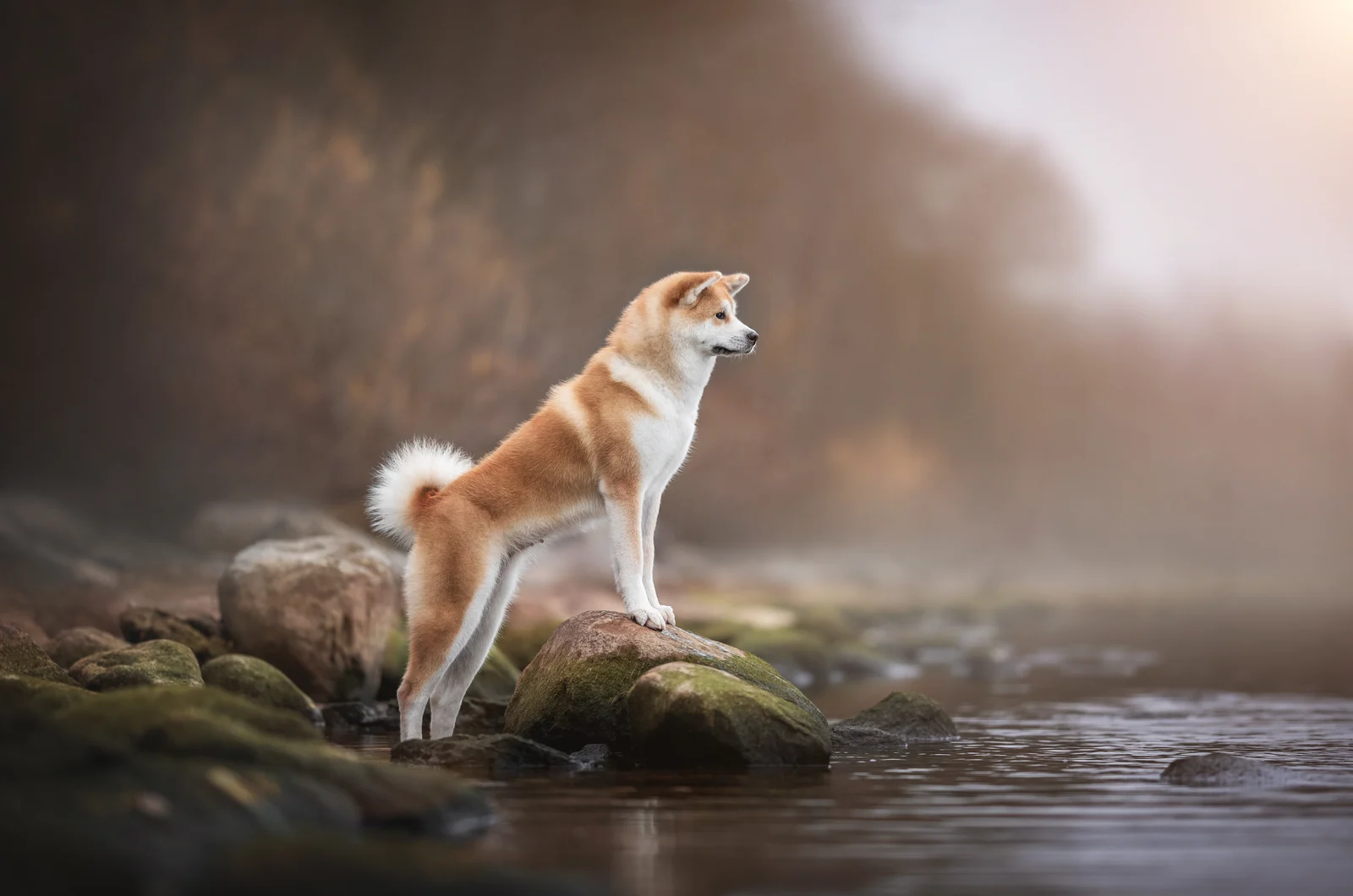 This is a show kennel that was established in 2006. They are experts in Japanese Akitas. They import their breeding dogs from Europe. Their dogs have won a lot of championships, you can see these on their website.
Their beautiful dogs make amazing show dogs, but if you decided not to take your Kita to shows, they make amazing family pets and life companions. They socialize your puppy before they get to you. The puppies get used to other dogs and people.
Health is the most important thing for them, so you can expect to be given all the information concerning their health when contacting them. For any further information, you should either call them or contact them via email.
Meiho Akitas' Details
Website: Meiho Akitas
Email: [email protected]
Location: North Shropshire, UK
5. Tsoyu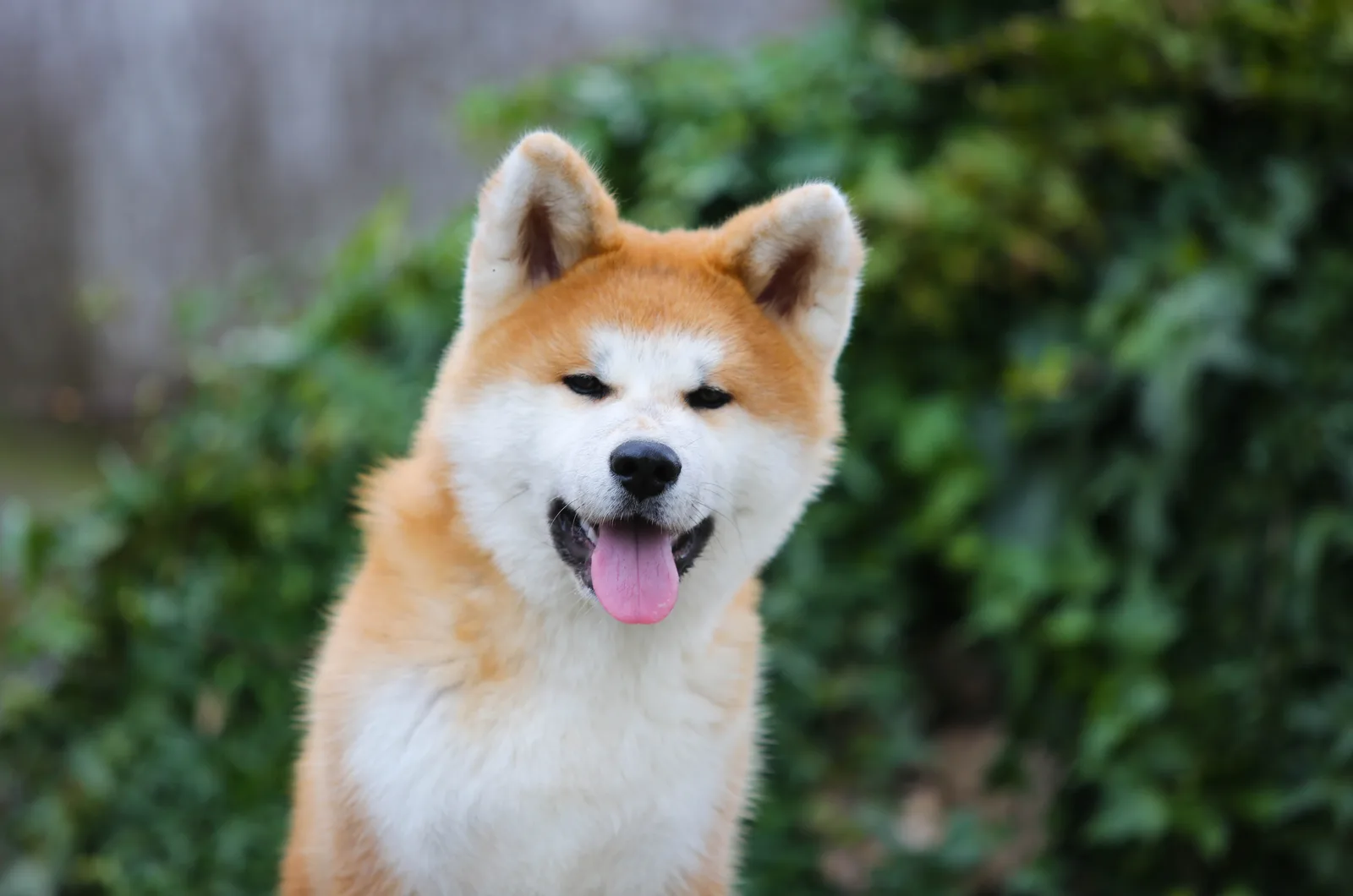 Tsoyu was established in 2008 by Maureen Thompson, Peter Chapman, and Alan and Cherry Wilkinson, and they specialize in breeding the Japanese Akita. They were the number one kennel in the UK from 2008-2016 and from 2018-2021. They are producing international champions and high-quality family dogs.
They have produced 2 generations of CRUFTS Best of Breed winners. They greatly care about their dogs. Socialization, health, and the right bloodline are some of the things they care about the most. You can expect your puppy to be very happy whilst they are waiting to come to their forever home.
Their website is very interesting because they have pictures of their retired dogs, all the males, and females that are the current team members of Tsoyu, and all their happy customers and their dogs.
They have a waiting list for future puppies, so the best way to become an owner of one of their pups is to contact them or apply on their website.
Tsoyu's Details
Website: Tsoyu
Phone: +44 1773 541 475
6. Snowbeach Akitas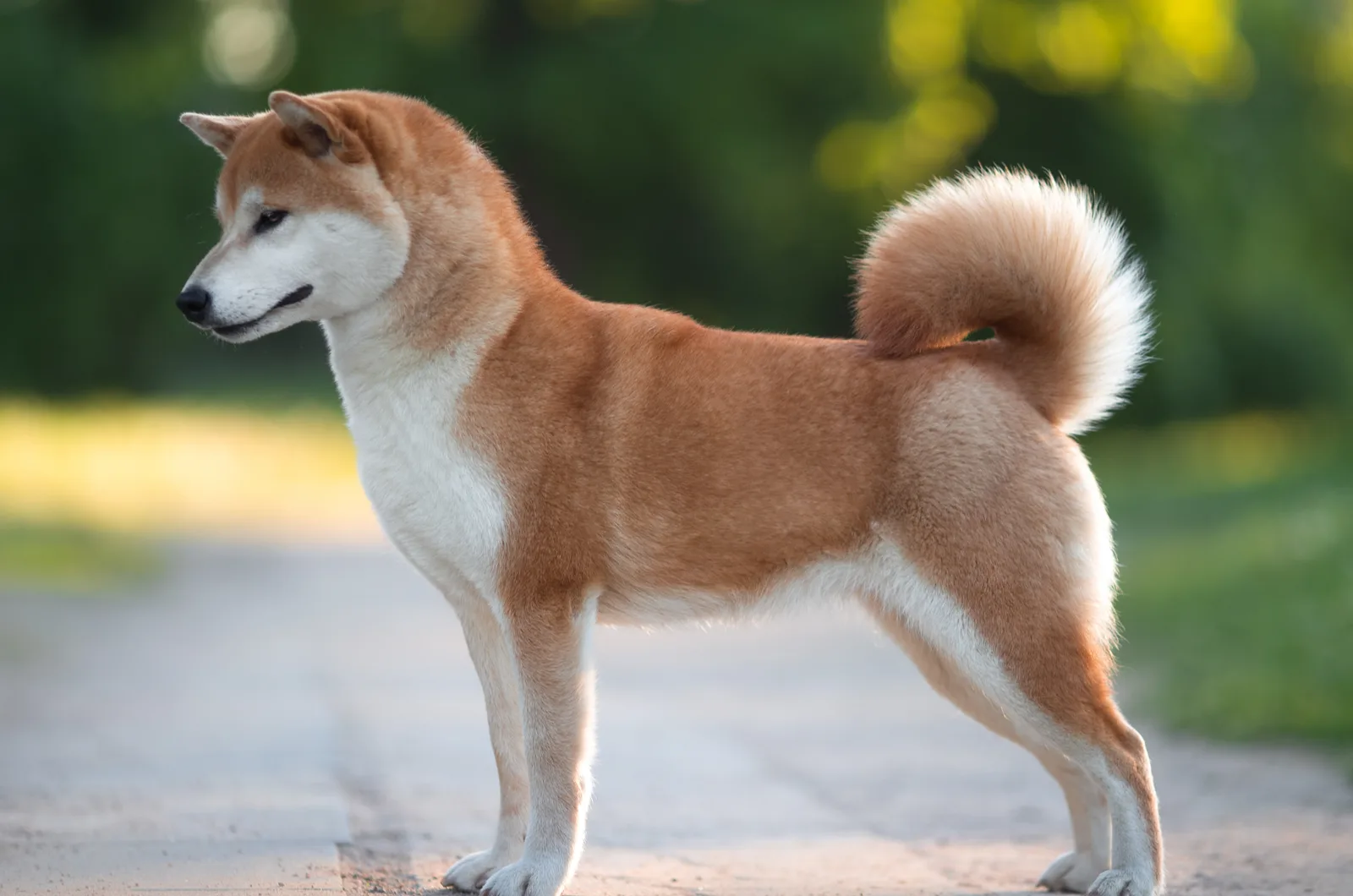 This kennel was founded by Ian and Claire Banks. In 2012 they got their first Akita, which was their show dog. After that, in 2015 they got 2 more Akitas and that is how their kennel was started. Their dogs won championships in the West Midlands and France.
Your puppy is KC registered, comes with a vaccine, 4 weeks of free pet insurance, a lifetime breeder support, vet checked, and microchipped. Your future Akita pup will be well taken care of.
You can visit their website to read about their journey when it comes to Akitas. From their first dog to the two litters they've had. You can also see any future litters and reserve your spot for the next puppy to be yours.
Snowbeach Akitas' Details
Website: Snowbeach Akitas
Location: West Yorkshire
Email: [email protected]
7. Danti Akitas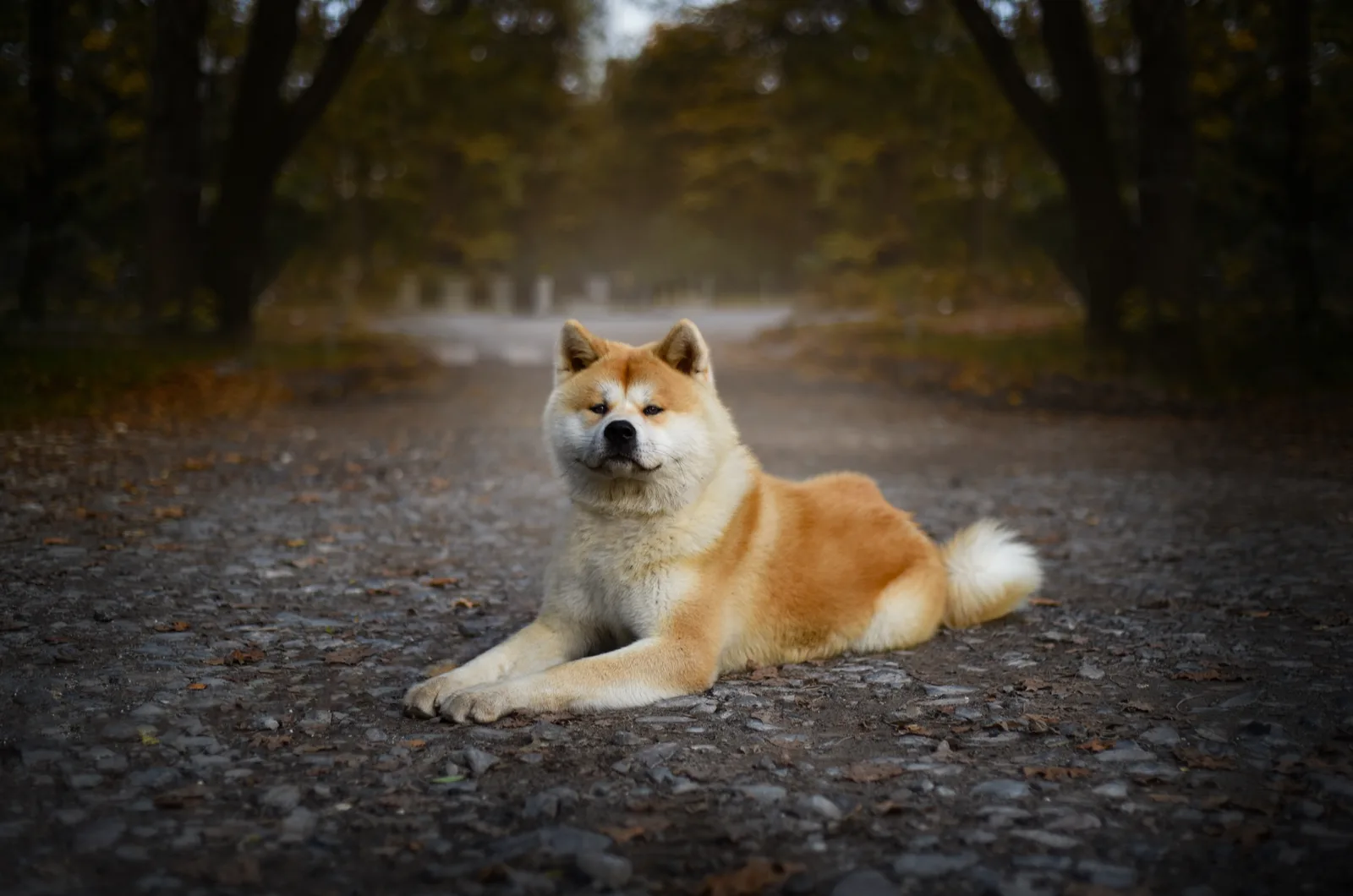 This kennel was established in 1999. They breed Akitas and Japanese Shiba Inus. They have a lot of championships behind them. You can read about all of them on their website. They usually sell their Akitas to people that will show them.
But, if you decide your Akita is to be a family pet and not a show dog, they are perfectly fine with that. Their puppies have the best vet care. They have a guest book on their site which you can sign before leaving.
They care about where their puppies are going, so they love to get to know you. Any further questions you may have, you can contact them and ask them. They will be more than happy to answer them.
Danti Akitas' Details
Website: Danti Akitas
Location: Wednesbury, West Midlands, UK
Phone: +44 7875 272 882
8. Whitewreath Kennels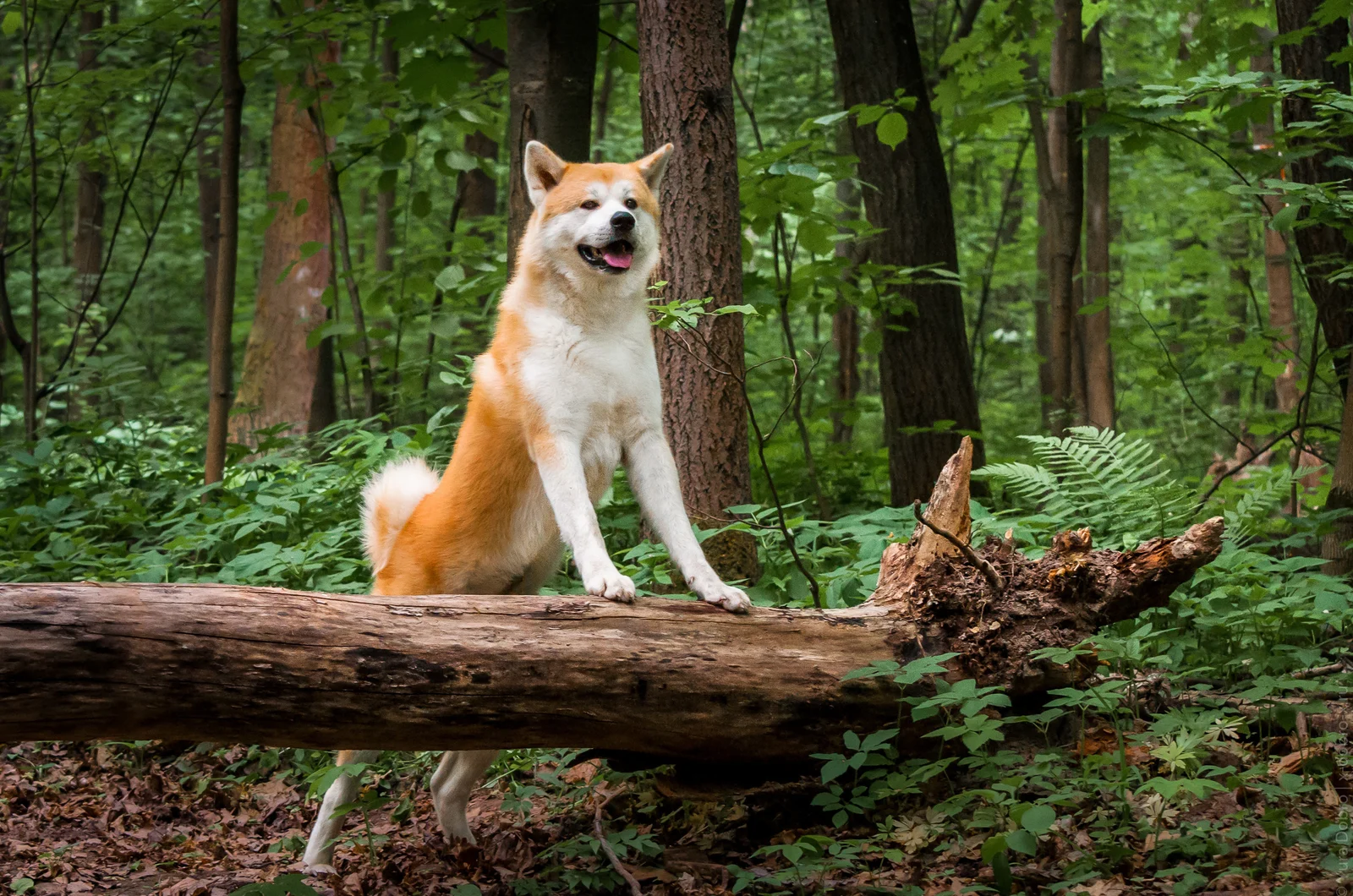 This kennel was founded in 2001 by 5-star breeders, Charlie and Geof Iason. You can see their impressive awards from various championships. They are a bit more private when it comes to sharing a lot of information on the internet.
If you want more information about their dogs and puppies, you are more than welcome to contact them. Be sure that they will provide you with everything you want to know.
So until then, you can stroll through their website and look at the pictures and read more about all the championships they attended.
Whitewreath Kennels' Details
Website: Whitewreath Kennels
Location: Doncaster, South Yorkshire, UK
Phone: +44 1302 247 647
9. Redwitch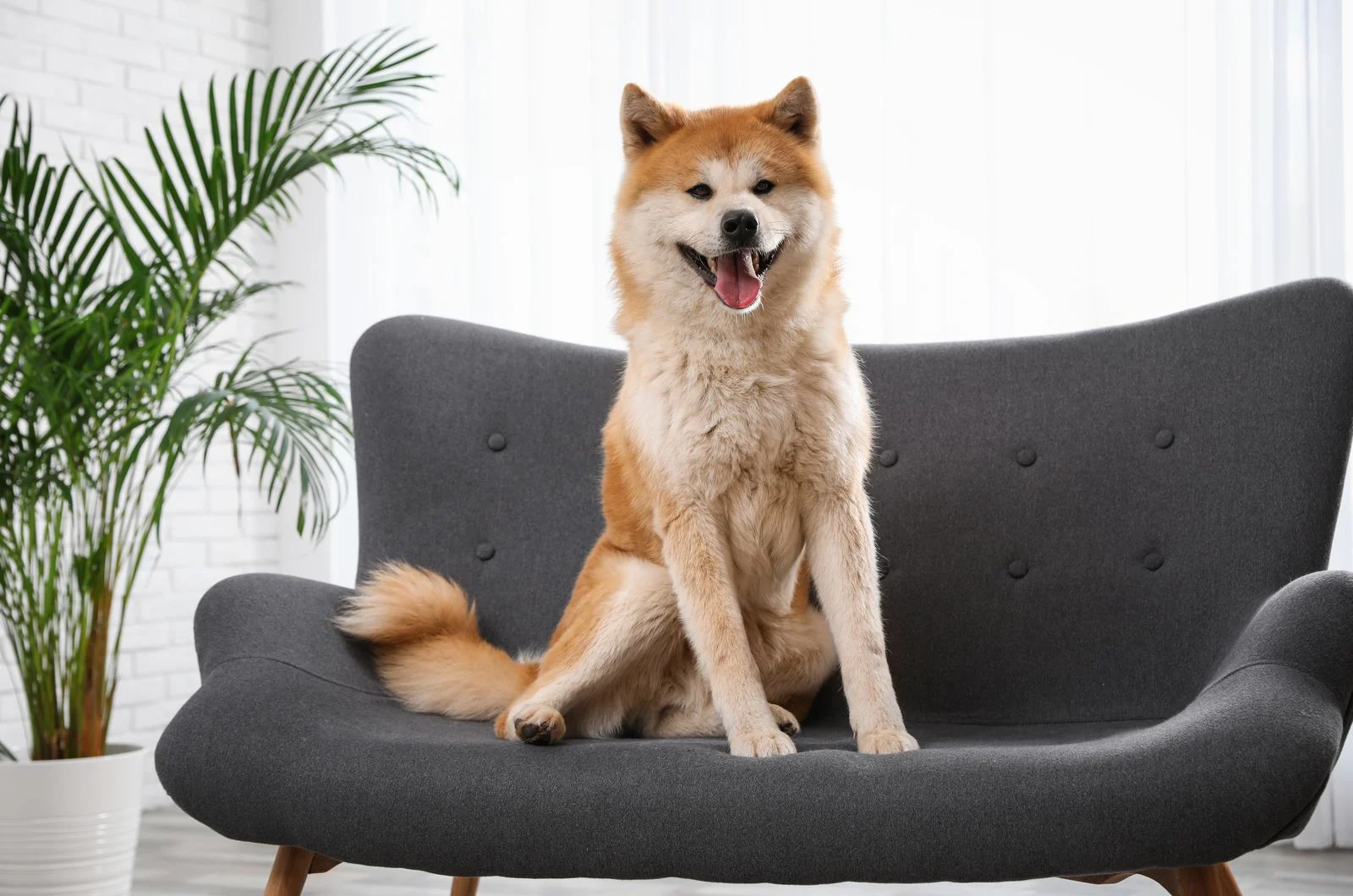 This is one of the most popular kennels in the UK. They are run by leading dog experts, Dave and Jenny Killilea. When you hear Redwitch Akitas, the only thought that you have is, champion Akitas.
The breeders have over 40 years of experience. Dave is a respected handler. He made champions in many breeds, like Bulldogs, Huskies, Rottweilers, Giant Schnauzers, etc. He is also an esteemed National and International Show Judge, officiating all over Europe and the USA.
You can expect your Akita puppy to be of the best quality there is. They will be taken care of. When two experts unitem you can bet that your dog will be the happiest puppy. Of course, this is only until they arrive at your home, there is no match for that and they will love their forever home with you.
For further information, you can always visit their website. You can read all the testimonies from their happy customers.
Redwitch's Details
Website: Redwitch
Location: Redwitch Feeds Ltd. 30 the Avenue Bessacarr Doncaster DN4 5LA
Email: [email protected]
10. Melodor Akitas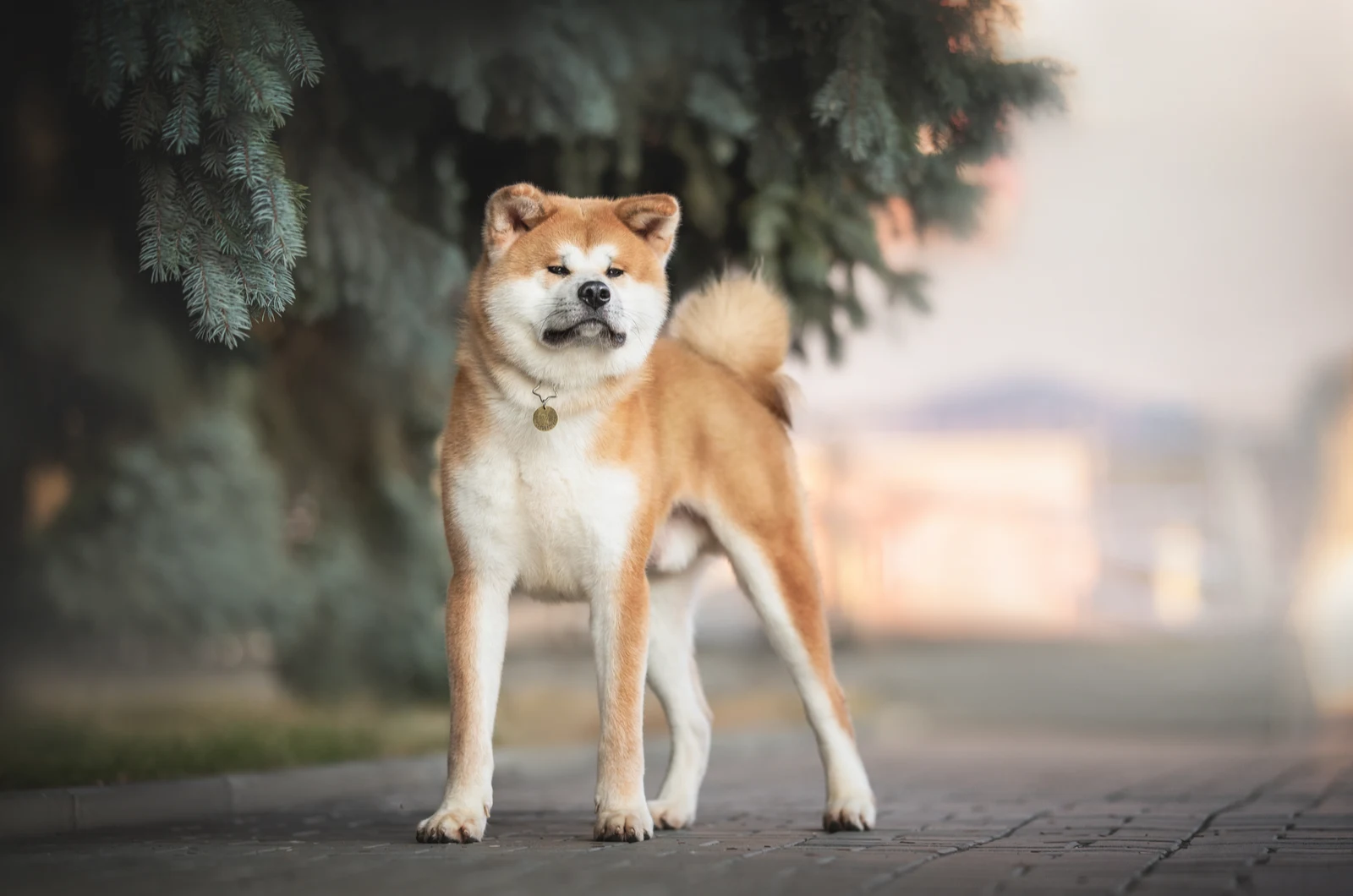 This kennel is owned by one of the most popular Akita breeders, Chris McLean. Even though she is the most famous breeder, she likes to keep her life private. You can always visit her website to go through her pictures.
But, what you can count on is that you are getting a top-quality Akita puppy. The dog's health is her top priority and you can bet that your puppy will get all the necessary vet checks. They will be fed with the best quality food.
For all other information, you can contact them either by phone or email.
Melodor's Details
Location: Glasgow, Scotland, England
Email: [email protected]
11. Nosferatu Akitas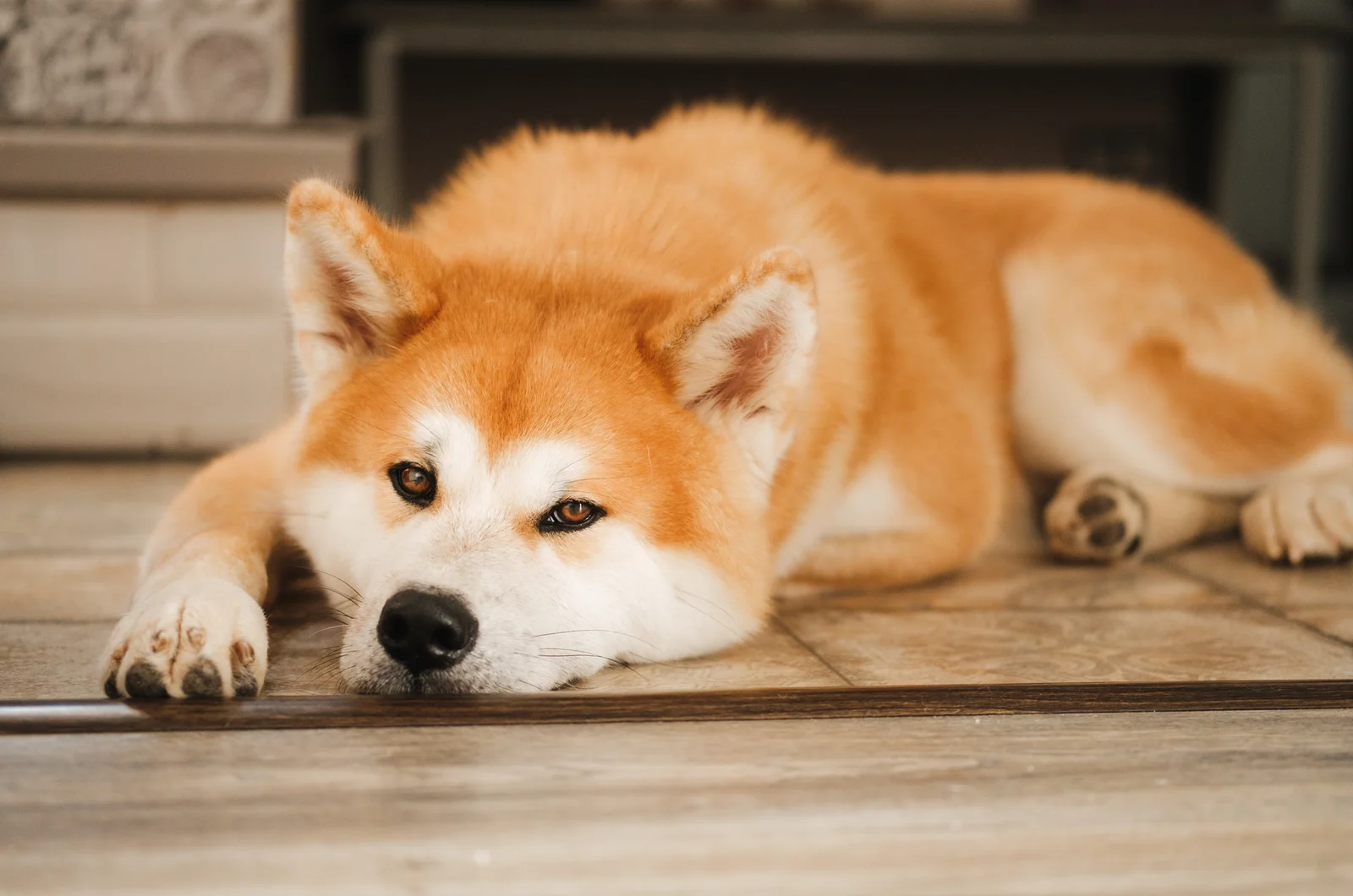 This kennel is owned by Chris and Tina Thomas. They are pioneers for American Akitas and Akita Inu. They have expertise in breeding, judging, and showing Akitas.
They breed their dog for the best temper and attributes of the breed type. They are passionate about their dogs. They live with them and they think socialization is very important for the puppy to have a happy and fulfilled life.
On their website, you can see the history of the breed, pictures of the puppies, a guest book, the kennel's history, and pictures of the male and female dogs.
Nosferatu Akitas' Details
Website: Nosferatu
Email: [email protected]
Phone: +44 1902 681 402
How Much Should You Pay For An Akita Puppy?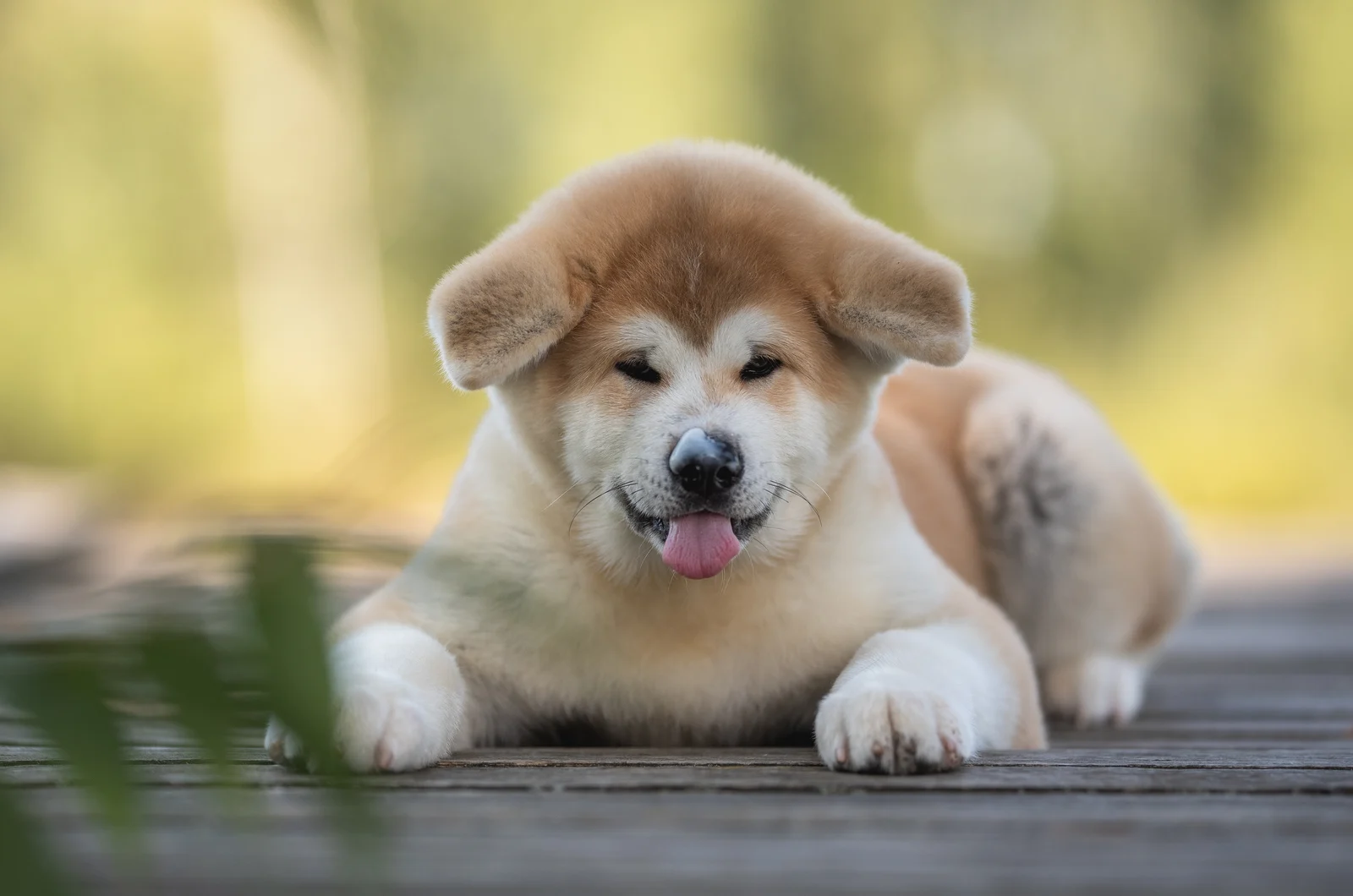 After your search for the breed and then the search for a reputable breeder, you are probably asking yourself, "how much will all of that cost me?"
Well, Akitas, sadly, aren't the cheapest breed out there. The average price of the Akita breed is $1,000 to $2,500. You need to know that Akita dogs are really popular and that reputable breeders need to invest a lot of time, money, and sweat to produce the best quality dogs.
Of course, you can find cheaper Akitas, but no dog should be less than $600. Anything below that is probably a scam.
Besides the price of the puppy, you need to know that you will have some other expenses, especially within the first year. Some of these costs include vet bills, a dog bed, toys, a leash, a collar, shampoo, grooming tools, quality food, etc.
Some other costs that will appear are grooming appointments or a potential professional trainer. The thing you shouldn't skimp on is their food. This is something that should be of top notch quality. If you are not sure what food will suit your dog, the best thing you can do is always ask your vet.
What Is Considered A Reputable Breeder?
Some of the things you should expect your breeder to fulfill are:
• Health certificates. If you ask your breeder to provide you with all the certificates you want to see, you should be given these. The dog's health is the most important aspect.
• Matching you with the puppy. Sometimes you aren't the perfect match for some breeders. They will ask you all the questions they need from you to know if you are a good fit.
• Your dog will be microchipped and dewormed.
• They will be available to answer all the questions you need. Whatever pops into your mind, ask, and you will receive an answer.
• They care about the breed standard and bloodline. You should see that they try their best to produce the best quality dogs. They usually import their breeding dogs from Europe.
• If you ask to visit their kennel or make a video call, they should be more than happy to show you around. They will also gladly meet you with the future parents of your puppy. This is very important. If they refuse to do so, you can assume that something is off.
Sites Where You Can Find Akita Puppies In The UK
The reason we listed all the things you need to know to tell you that you are dealing with a reputable breeder, is that there are a lot of people that might be selling puppies. Most of them aren't breeders and don't tend to become them, but have had a litter of Akitas that they care about.
Even if they don't do this professionally, they should fulfill almost everything from the list. Why are we mentioning all this? Well, because the sites we will mention may have some potential scams. These people only care about the profit and not about the well-being of the dog.
You also need to know that sometimes people that are trying to rehome their adult dog, list a small price, around $350. But, this sometimes isn't for the dog itself but for the papers they come with and potential toys and anything that the dog owns.
Some of these sites are:
The way these sites work is that you put the breed, like an Akita, and the location that you need, like Derbyshire, Liverpool, Warwickshire, etc. The available litters will then pop up and you will need to pick the one that you think suits you the best. We believe that you will now make the best choice.
We have listed our top choices of Akita breeders in the UK. If you are in the United States, check our chosen reputable Akita breeders in the US!
FAQ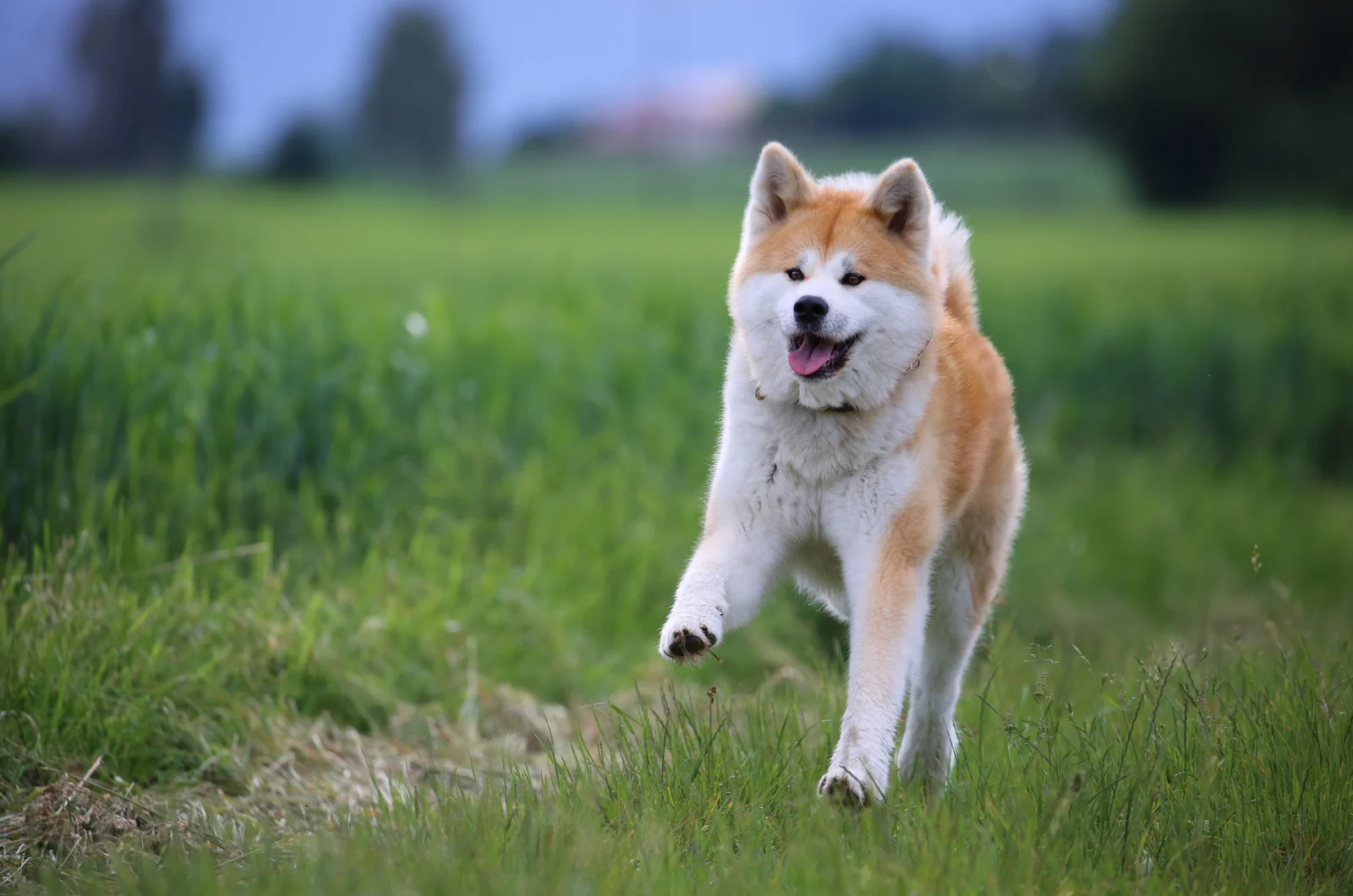 Is An Akita A Good House Dog?
Yes, an Akita is the perfect dog for a house, especially if it has a bigger garden. These dogs are large and they are not the most suitable for an apartment. They also shed quite a lot, so that is also an inconvenience for an apartment.
This doesn't mean that you can't own an Akita if you are living in an apartment but, then you need to make sure to provide them with a lot of exercise. And also, prepare for a lot of cleaning because that dog hair will be everywhere.
What Is The Standard Of Japanese Akitas?
General Appearance: Large, well-balanced, sturdily built dog of Spitz type. They are a bit longer than they are high.
Size: Height at withers: dogs 64-70 cm (25¼-27½ in); bitches 58-64 cms (22¾-25¼ in).
Head and Skull: When viewed from the front, the head appears rounded due to well-developed cheeks. Broad skull, flat and free from wrinkles. Defined stop and distinct furrow. The muzzle is straight and tapers gradually. Skull to muzzle proportions 3:2. The nose is large and black, except in white dogs where it is flesh-colored. Lips tight with dark pigment.
Temperament: Dignified and composed with a courageous character. They show dominance and guarding skills.
Eyes: Placed moderately apart, relatively small, almond-shaped, and dark brown. Eye rims are dark and tight.
Ears: Thick, triangular, and slightly hooded with rounded tips. Proportionately small, set moderately well apart, and inclining forward, closely following the line of the back of the neck.
Mouth: Strong jaws with a perfect, regular, and complete scissor bite. Upper teeth are closely overlapping lower teeth and set square to the jaws. Full dentition and well-developed teeth.
Neck: Thick, muscular, and of moderate length. Pronounced crest blending with the back of the skull.
Forequarters: Shoulders are moderately laid back with well-developed muscles. Elbows are set close to the chest. Forelegs are well boned and straight, especially when viewed from the front.
Body: Length from point of shoulder to point of the bum is slightly greater than height at withers, as 11:10. Females may be slightly longer. They are leveled back. The chest is deep with a developed forechest. Moderately sprung rib cage with well-defined tuck-up. Short coupled with broad and muscular loin.
Tail: Strong root. Set on high. Thick, full, and of good length. Tightly curled over the back, the uncurled tail is highly undesirable.
Hindquarters: Strong, muscular with moderate angulation. Well-developed thighs. Moderate turn of stifle. Strong hocks, well let down, turning neither in nor out.
Feet: Round, arched, and tight with thick pads. Turning neither in nor out. Well-knuckled pads and hard nails.
Coat: The outer coat is coarse, stand-off, and straight. Slightly longer at withers and rump. More profuse on the tail. The undercoat is soft and dense, with no ruff or feathering.
Color: Red-fawn; Sesame; Brindle; White. All the foregoing colors except white must have 'urajiro' markings, which may be less visible on the brindle, where it may be a grayish frosted overlay of the main coat color. The Urajiro markings must blend in gradually with the main coat color and not extend above the elbow or hock.
Faults: Any departure from the made points should be considered a fault. Some faults can have a toll on a dog's life and comfort, while others are more external faults.
In Conclusion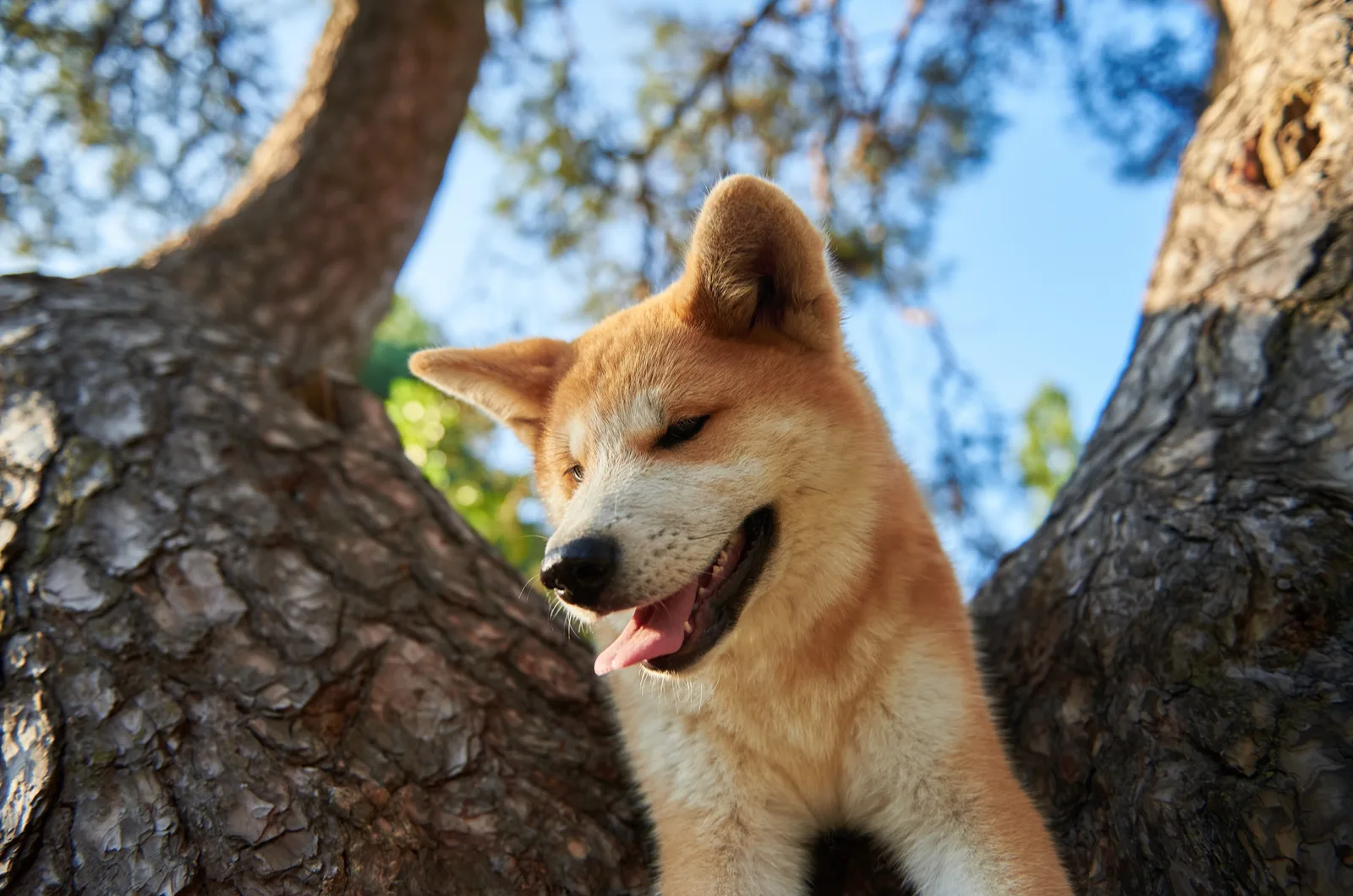 Getting a new dog, especially if it is your first dog, is never an easy thing to do. You want everything to go perfect but, at the same time, are eager to get your puppy to your home. But don't let the excitement overpower you.
You need to take all the time that is necessary to find the best breeder for your future puppy. If you decide on one, contact them and try to organize a meeting. Whether this means going to their kennel or undertaking a video call, this is a good way of meeting the parents of your future puppy and the breeders.
The most important thing is the health of the puppy, so every respectable breeder will provide you with any health certificates of the puppy and the parents that you want to see. If you feel that something is off, then turn your back and find another breeder.
We hope that our list of the best Akita breeders in the UK helped you and made the process easier for you. We wish you and your future puppy all the luck and love. We know you've got this and that your puppy will be with you in no time!
Read Next:
• 8 Most Reputable Bichon Frise Breeders In The UK (2022)
• 7 Small Dog Breeders In UK You Can Be Sure About
• Akita Pitbull Mix – A Powerful Dog For Experienced Owners