I adore all toy dog breeds, from Poodle Mixes to Maltese and Pomeranians to Poochons and Shih Tzus. I could name many more but it is not necessary. Among these breeds, a special place in my heart is reserved for the Bichon Frise. I love Bichon Frise colors, their fluffiness, and awesome temperament. They are too cute.
That was my motivation to find you the most reputable Bichon Frise breeders in the UK. So it would be easier for you to find one for yourself.
The Bichon Frise is an adorable dog. Some stories say that even Cleopatra had some. Many agree that these dogs originated from the west midlands in Spain. During the discovery of the new world, Spaniards took these dogs with them and on one occasion, they even ended up in Tenerife.
They were beloved dogs back in Spain. The royal family had them and you can find many paintings there that picture this cute dog.
Let's see where you can get one in the UK.
Bichon Frise Puppies For Sale In The UK
The choice of Bichon Frise breeders in the UK is not big, but there are a few quality breeders that are serious about their job or hobby.
You can find Bichon Frises in different parts of the UK. From Merseyside to Carmarthenshire. From Warrington to Northampton. Here are the most prominent breeders:
1. Kellys Kennels
First on the list of Bichon Frise breeders in the UK are Kellys Kennels – breeders who breed "puppies for families". They are located in Warrington in Cheshire. Come with me to visit and meet them.
A Few Words About The Breeders
This kennel is run by the Kellys family, though they do not sing. But, they do their job with the aim of achieving a high standard of breeding. And, they have been doing that for three generations. And, that is quite a lot of experience in breeding.
Besides fluffy the Bichon Frise, these breeders also offer beautiful Cavachons, unique Cavapoochons, superb Cavapoos, and beautiful Dachshunds. There are also cute F1 Cockapoos, fun Borkies, Yorkiepoo puppies, and robust Beagliers available here.
People who work with these dogs are hardworking and dedicated to their job. Their staff are led by a managing director with a Distinction Level Diploma in Animal Management and Husbandry, Mrs Kelly Fenney. This kennel is in constant contact with veterinarians.
They think of every little aspect for the process of raising an excellent dog. Transporting dogs to their new home is done by a DEFRA vehicle that has a trained driver and is equipped with all the necessary utensils.
Breeding Process
They promise that you will get a puppy that is healthy and of high quality. And, this level of standard is rare. They want to provide you with a pleasant companionship, both for you and your dog.
By the serious approach they take to breeding and the amount of energy they are investing in their relationships with their customers and potential customers – Kellys Kennels seem like assured breeders.
Every aspect of the breeding process is taken seriously here. All their dogs have a microchip, have been wormed and deflead, and have had their first vaccinations. This means that all the health checks are done before the dogs move to their forever homes.
One of the most important traits of a good breeder is for them to have all the relevant licenses. It is indicative if a breeder is a part of the Kennel club, which means being KC registered. KC reg means that breeders have to keep up with high breeding standards.
These breeders have excellent reviews from their customers. That is not a surprise, considering their mission of bringing joy, happiness, and companionship both to dogs and owners and their hope to raise awesome family pets.
How To Purchase
Feel free to contact them via one of their contact numbers. If you are not into communicating over the phone, then you can visit them. You can make an appointment or just ring the bell on mondays and fridays from 10:30 to 15:00. They are open seven days a week.
There is also an email option too. There are a lot of pictures and videos on their website and instagram page. I recommend visiting those pages. There is so much cuteness over there.
Besides buying one of these dog breeds as a puppy, there is also the option of re-homing previously purchased puppies. Part of their offer includes taking back previously purchased puppies if the owner is no longer able to take care of them. Ask them for help, do not leave them on the street.
If you want to purchase a dog from Kellys Kennels, then there are several terms and conditions you need to fulfill. You have to keep in mind that getting a dog is a commitment that may last for two decades.
The price for a particular dog will be listed on their page. If you want to purchase a dog, you will have to put down a deposit of 50% of the full price. You can find the full terms and conditions on their website.
Kellys Kennels Breeder Details:
Address: Brookside Farm, WA3 7AY, Croft, Warrington, Cheshire
Phone: +07807047619 or +01925765149 or +01925764222
Email: [email protected]
Website: Kellys Kennels
Instagram: Kellys Kennels
2. Manoir Bichons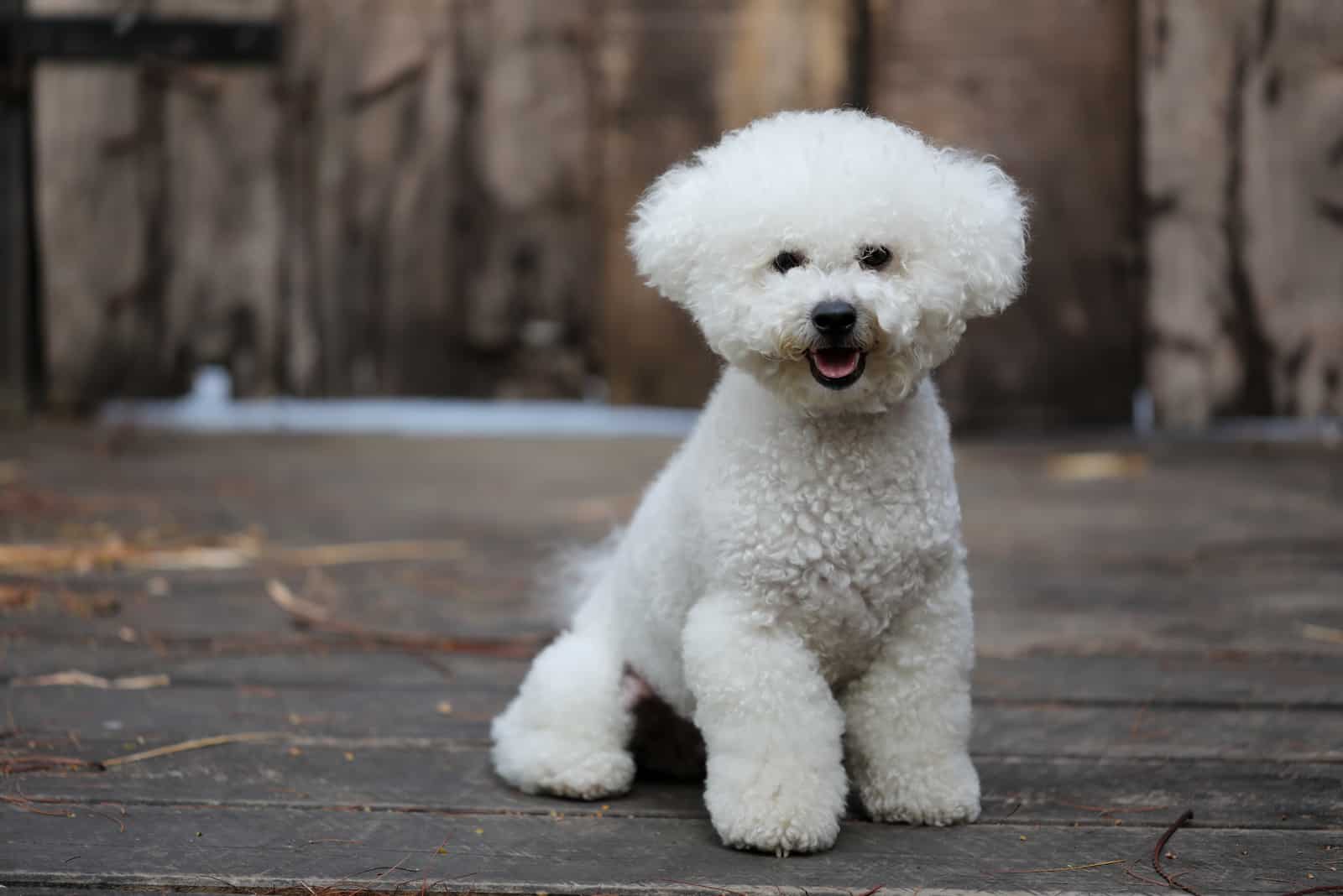 Bichons with manners are second on the list of the Bichon Frise breeders in the UK. They are Manoir Bichons by Pauline Johns!
A Few Words About The Breeders
Manoir Bichons is the home of Bichons that are healthy, have great temperaments, and are happy. And all these traits are the breeder's top priority. It all began back in 1990. It was love at first sight. Louis was his name. He was their first beautiful Bichon.
Louis was a show dog. It was their daughter who took Louis and helped him to be the best in show. Then, Loui got his first female companion, this was four years later. Her name was Rusmar Magic Rainbow. She was bred by Dawn Russell, a famous Bichon breeder.
I do not need to highlight the amount of butterflies present at their first meeting. Soon, there was a first litter. The rest is history.
There is also one more detail worthy of mentioning regarding the owner, Pauline. Besides being a member of all three breed clubs and a Life Member of Windsor and Richmond Dog Show Societies, she is also a licensed judge in dog shows. She can judge Open shows and CH shows.
Breeding Process And Purchasing
Pauline and her coworkers put a lot of effort into this breed of dog. They are breeding for improvement, which means they choose dogs according to their temperament and genetics. This means producing only purebred dogs that are within breed standards, all in order of achieving high quality.
They are doing their best to be on top of this task, but you must be too. They will not sell their precious dogs to anyone. You must be worthy. So, if you have any additional questions, there are contact numbers listed below or you can contact them via the email form on their website.
Manoir Bichons Breeder Details:
Address: 10 Towcester Road, Blisworth, Northampton, Northants, NN7 3BL
Phone: +01604 858809 or +07770 858988
Website: Manoir Bichons
3. Bobander Bichon Frise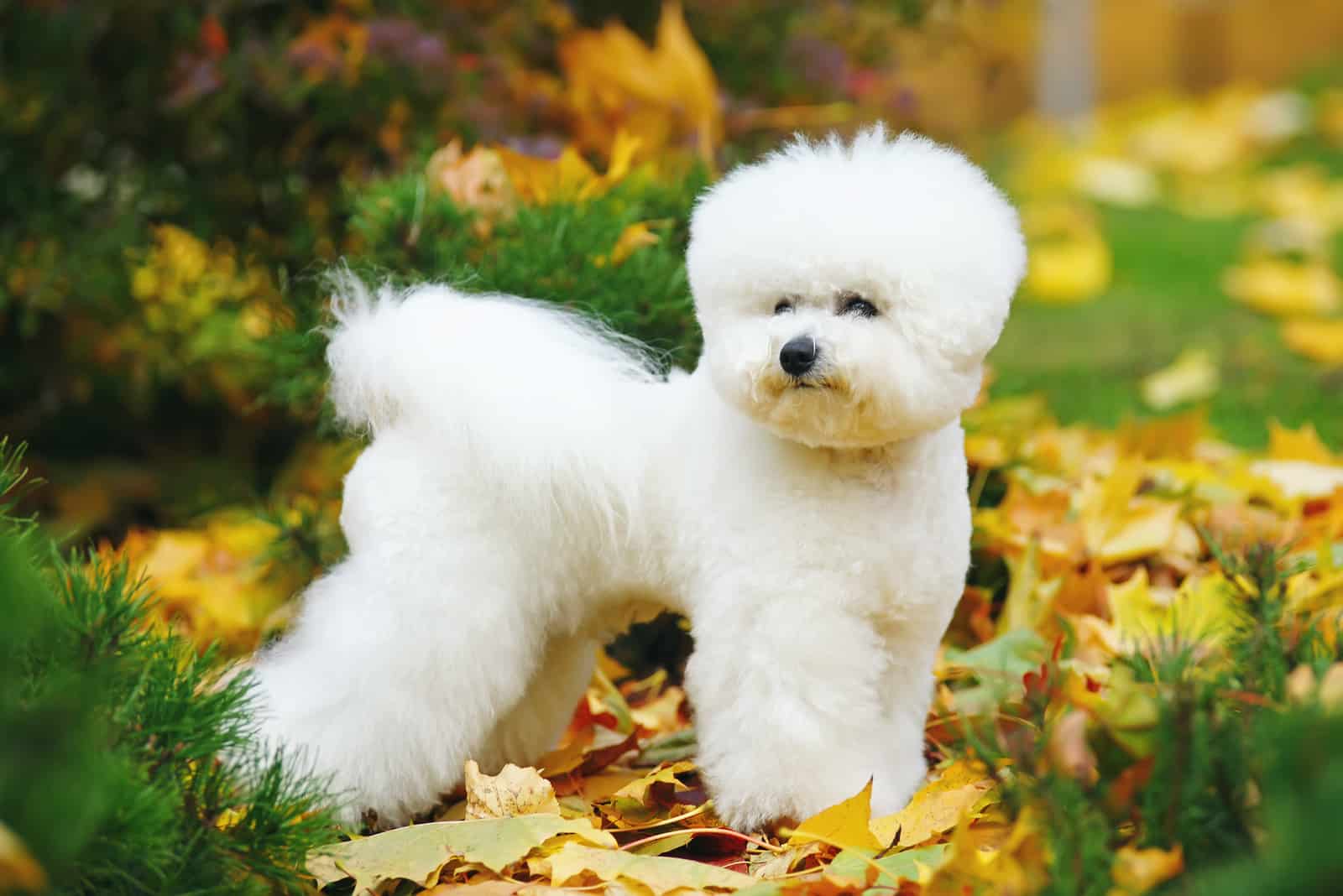 Third on our list among Bichon Frise breeders in the UK are Bobander Bichon Frise. They like to emphasize that they are the home of Champion Bichon Frise. And they are among few.
Few Words About Breeders
If you are in search of a stunning Bichon that is of top quality, then Bobander Bichon Frise is the place to go. They are breeding true Bichon "bombs". Their stud dogs have been highly successful in exhibitions for quite some time.
These Teddy bear-like dogs are utterly cute. Bobander Bichon Frise are distinctive among other similar specimens. They have exceptionally pretty heads. And, their temperament makes them delightful. They are very happy and cheerful dogs.
It is no wonder they are among the very successful Bichon Frise breeders of the UK, especially considering that they have been in the business for a long time. They have been breeding the Bichon Frise breed since 1985. Their first dog was The Muffin Man.
These breeders do this for a hobby. I must say that it is a very demanding hobby that requires a lot of time and effort. They are keeping their business small in order to keep their quality high.
With a huge amount of experience, Chris Wyatt was offered a deal to collect his knowledge in one place. Back in 1998, a book named Bichon Frise was published. At that time, there was not much literature on this breed, so this book was a treasure.
Breeding Process
When it comes to their breeding process, these breeders have quite a lot of prizes that are indicators of their quality. Believe it or not, they have over one hundred Challenge Certificates! Among these are ones for Best Puppy In Breed and the UK Top Breeder Award.
Bobander Bichon are part of the KC Assured Breeders Scheme and of course, they are rated excellent in this scheme. All these successes are not surprising because these breeders have decades of experience in this job.
If you feel that you need any kind of support or advice, you can feel free to contact these people. These breeders are very responsible and they take their breeding role seriously. All their dogs must pass BVA eye scheme tests regularly.
Besides eye tests, they check their dogs' patella luxation, plus the regular veterinary examinations. A specialty of these breeders, which distinguishes them from others, is their service of sending frozen semen from their champion dogs.
How To Purchase
I have already highlighted that these breeders are serious about their job. They are doing their best to achieve high standards in breeding. This means that they are also asking for a serious approach from their customers.
Having a dog is a commitment. When it comes to the Bichon Frise breed, this is a commitment that can last for 16 years. They are dogs that need attention and a lot of time. You must be sure that you will be able to provide this before purchasing one.
Also, it is important to be sure that the rest of the family is ok with you introducing a new member. Also, take some time to inform yourself on the breed. You should find out how much Bichon Frise cost before you make your decision. Besides, they are high maintenance dogs that require regular grooming. They don't get that fancy Bichon look without some effort!. They must spend a lot of time in the spa to achieve it.
Be sure you purchase a dog from a reputable breeder. In order to find out how to purchase from these breeders or how much a dog costs here, you will have to contact them directly.
Bobander Bichon Frise Breeder Details:
Address: 7 Perth Road, Gosport, Hants, PO130XX
Phone: +01329483903 or +7810640655
Email: [email protected]
Website: Bobander Bichon Frise
4. Magstarai Bichons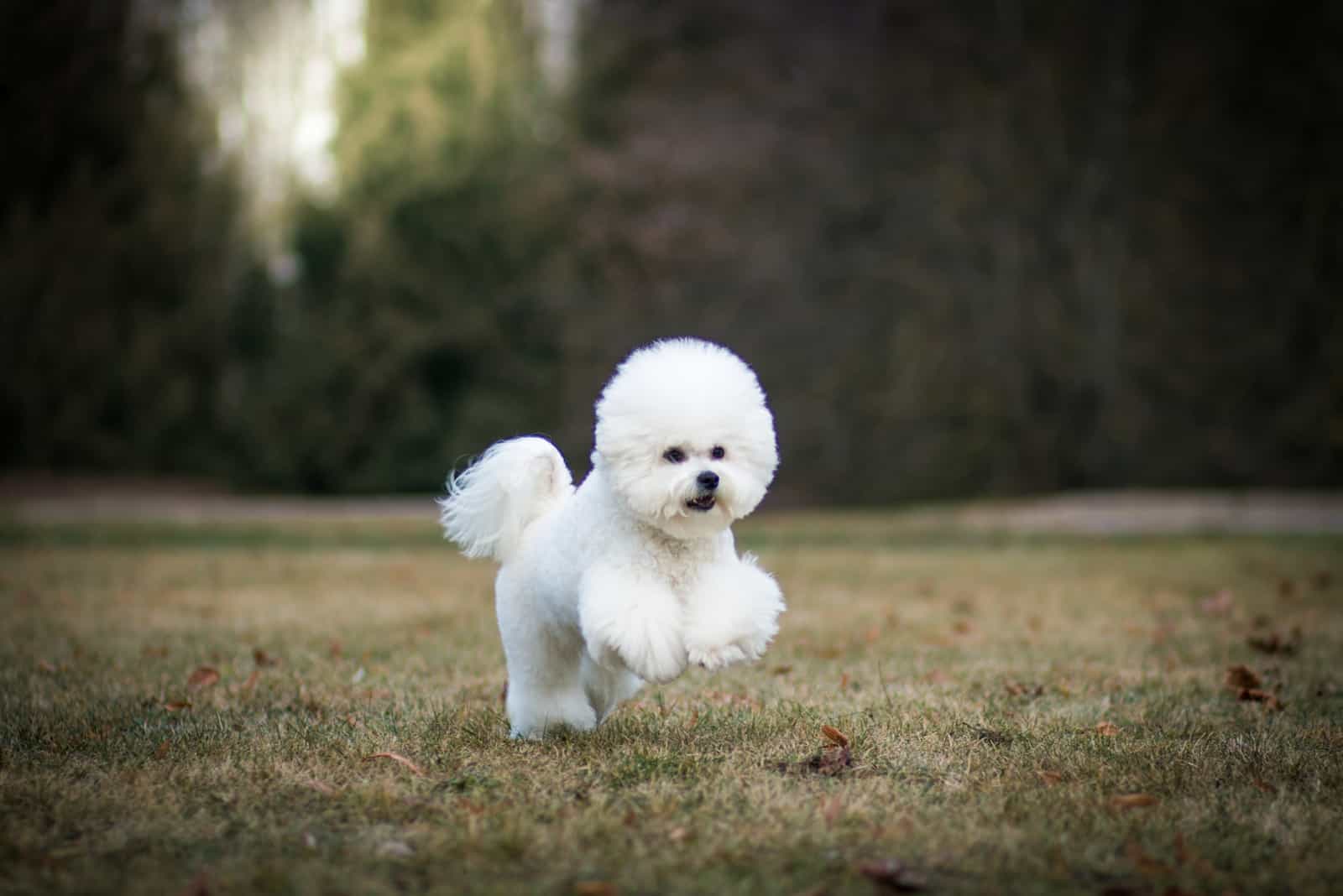 Fourth on our list of Bichon Frise breeders in the UK, are Magstrai Bichons. Let's get to know them.
A Few Words About The Breeders
Where does this interesting name, Magstrai, come from? Well, it is a combination of the names of the first puppies that this kennel started with. Their names were Magic, Starr ,and Raiyn – and that is, Magstarai. They have been operating under this name since 2006.
They are a small hobby kennel that produce litters occasionally. Despite that, they are very serious about breeding and finding suitable homes for their newborn puppies.
Breeding Process
Magstrai Bichons are official members of the Kennel Club Assured Breeder Scheme. This means that their main hobby is showing dogs. And, they are very successful.
Magstarai Bichons live in the house and they are free to do anything they want. Their owners say they are pets first, then show dogs. And, maybe a little bit spoiled. Their breeding goal is to produce a fine temperament in a family dog.
When the decision to produce a new dog is made, the first thing they do is take their female breeding dog to the vet. When the vet has checked her health and made sure that everything is ok, it is then ok for the breeder to proceed and find a suitable wooer.
For any additional questions about the cost and process of purchasing one of their dogs, you can ask directly via phone or email.
Magstarai Bichons Frise Breeder Details:
Address: Torquay, South Devon, TQ2 6DF
Phone: +01803613358
Email: [email protected] or [email protected]
Website: Magstarai Bichons
Worthy Of Mention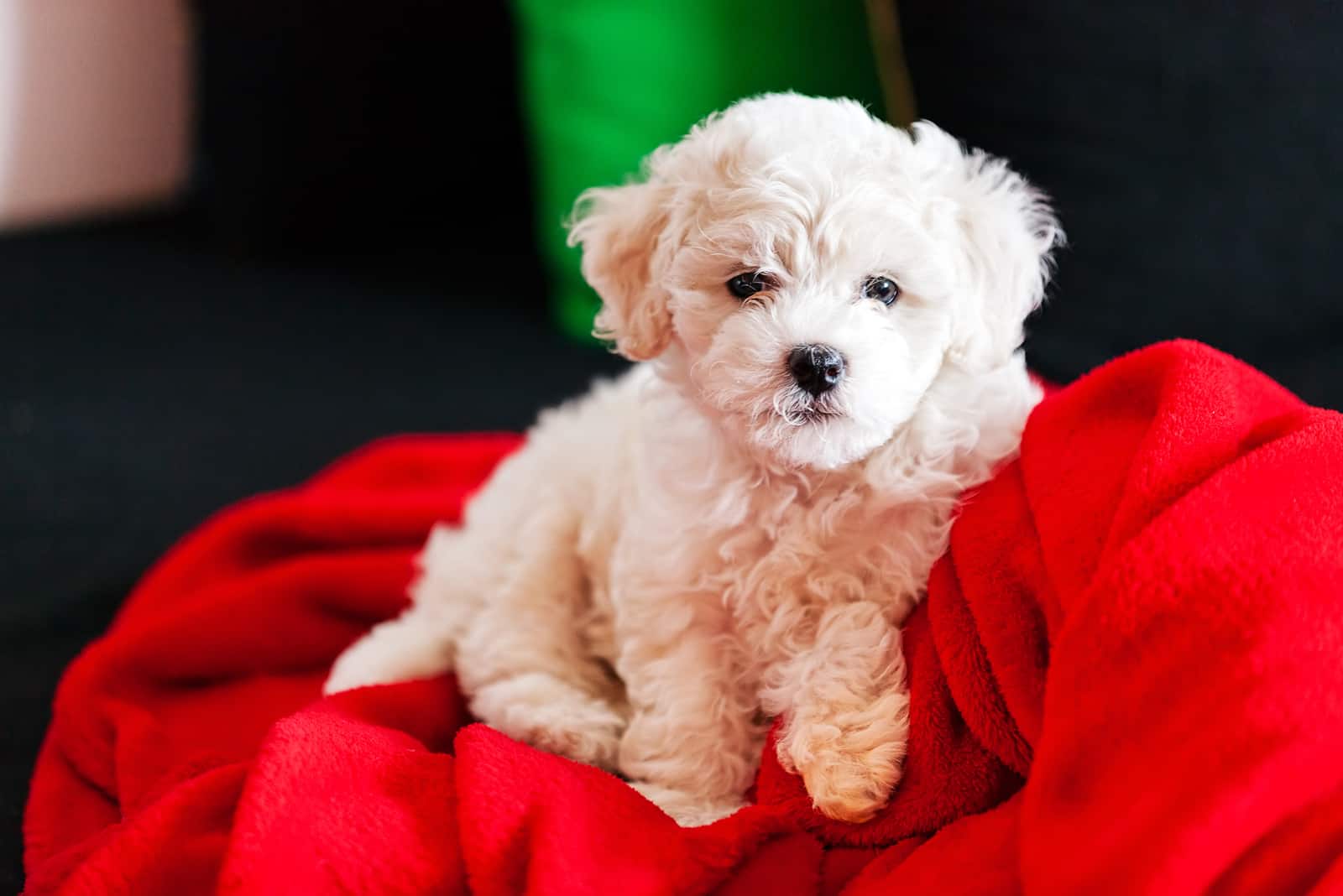 There are a few more breeders that have good recommendations and reviews but they do not have websites, only direct contact details. They are recommended by other breeders and their customers. Here is the info on them:
5. Ashmair
Owner: Ashling Connolly
Place: Ireland
Phone: +35314511480
Email: [email protected]
Owner: Maureen Reynolds
Place: Redditch, Worcestershire, UK
Phone: +01527517116
Email: [email protected]
7. Bichon Frise
Owner: Zoe Duffy
Place: West Yorkshire, UK
Phone: +01535680332 or +07768983253
Email: [email protected]
8. Chadson
Owner: Stella Chadwick
Place: Greater Manchester, UK
Email: [email protected]
To Wrap Up
When it comes to the Bichon Frise breeders in the UK, the choice is limited. There are only a few breeders of high quality. They display information about their business on their websites.
There are a few more breeders that do not advertise much, but they have good recommendations. That is why I have included them on this list too.
I believe that you can purchase a high quality dog from any of these breeders. Take your time to find the right information before you make a decision. I hope this list will help you out. Good luck!
READ NEXT:
Male Vs Female Bichon Frise: Should I Choose A Sire Or A Dame?
Best Bichon Frise Rescues For Adoption: Top 10 Places To Adopt