Finding reputable teacup Maltese breeders seems to be quite a challenge. That is why we created a list of breeders who are trusted by a great number of teacup puppy enthusiasts.
The tiny Maltese puppies that come from these breeders may not be from Malta, but they do originate from the same place as the standard-sized Maltese canines.
The popularity of these tiny pups has been on the rise for the past few decades to the point that even celebrities like Paris Hilton and Mariah Carey wanted to own them.
If you'd like to get one as well, make sure to check out the list of the trustworthy teacup Maltese breeders below, as well as a short guide on how to recognize a responsible breeder among scammers who are lurking for their next victim.
Teacup Maltese Puppies For Sale In The USA
1. Tea Cup Maltese Pups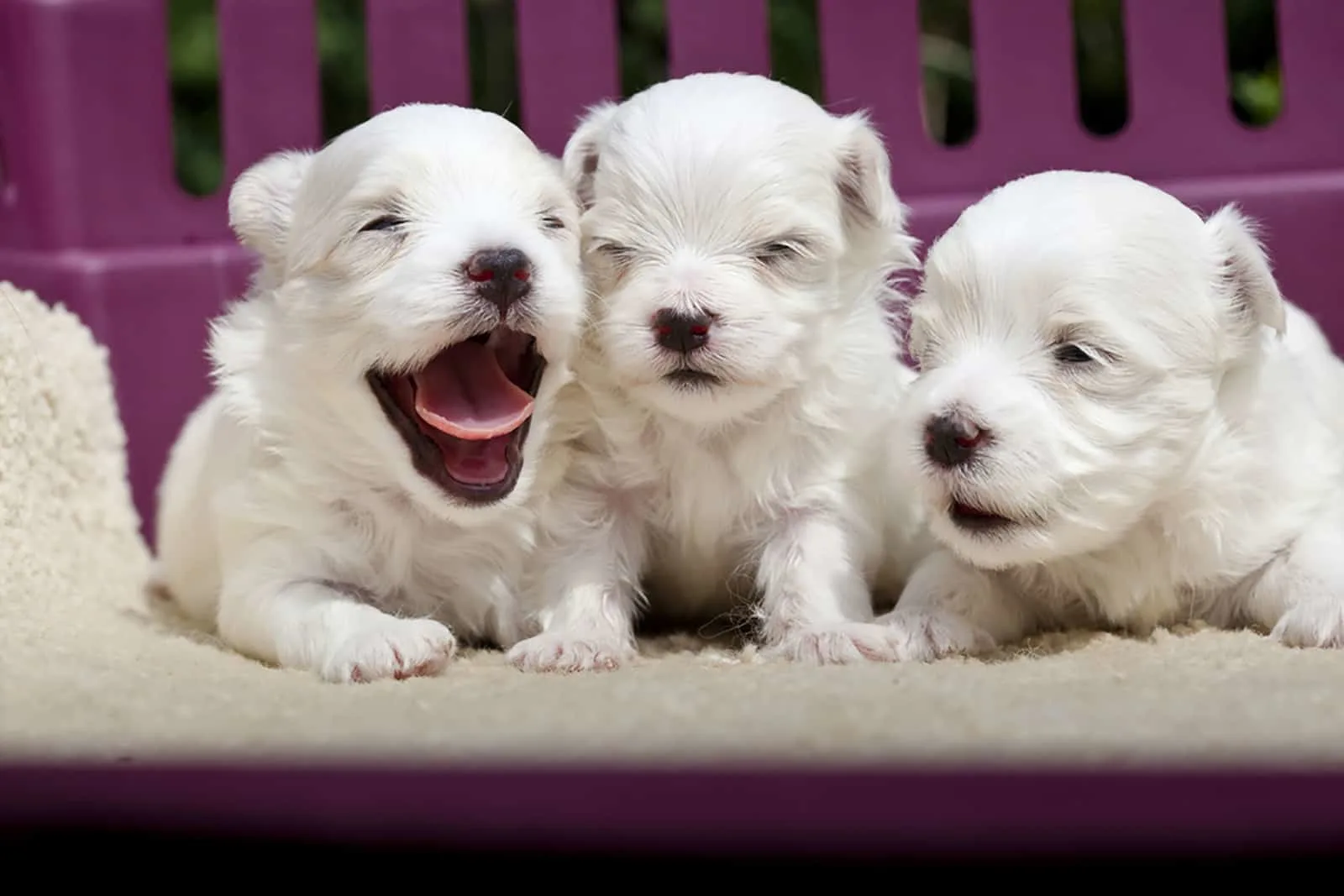 If you're looking for a reliable breeder of small-size Maltese canines, Tea Cup Maltese Pups might be just the right place for you.
Almost every miniature Maltese from this breeding program has been produced and raised on the breeder's property.
However, there are a few female Maltese puppies that were imported from South Korea and other countries in order to keep the lineage and authenticity of the teacup type of pups.
One of the best things about this breeding program is that you can visit the breeder in person, and meet these adorable white dogs that can't wait to go to their new home.
Puppy Quality
Unfortunately, teacup Maltese dogs aren't up to the breed standard of Maltese canines, nor are they acknowledged by the majority of organizations and associations.
One of the main reasons for that is the unacceptance of breed modification, along with the fear of possible health issues that might occur in modified pups.
However, the breeder has offered an explanation on their website regarding these small dogs and their health, which states that not all tiny pups are prone to serious health issues, but only those that inherit a certain condition genetically.
Therefore, the size of the pup shouldn't be related to health problems at all if a pup and its ancestors has had no known diseases.
At Tea Cup Maltese Pups, they take great care of the puppy's health, and provide plenty of breed information, so every potential owner can learn how to take proper care of their new puppy.
Purchasing Process And Pricing
When you visit the breeder's official website, you'll find a section called "Contract and health guarantee", where you can read all the details regarding the purchasing procedure.
This is also the way to apply for a teacup puppy. Unfortunately, there are no available puppies at the moment, which isn't a surprise considering that they breed a small number of high-quality toy Maltese puppies.
I'd recommend you apply now in order to get on their waiting list in time.
Keep in mind that this teacup Maltese breeder sells only family doggies, meaning that all puppies from this outfit have to be spayed/neutered.
All pups are vaccinated, dewormed, and examined by a vet, which can be proven with documents and clearances.
A health guarantee is also provided by the breeder, and it will be in effect on the day you receive your pup.
For other information, you can either visit the breeder's website or contact them directly via phone or email.
Breeder Details:
Address: Salt Lake City, Utah
Contact form: Tea Cup Maltese Contact Form
Official website: Tea Cup Maltese Pups
2. TeaCups, Puppies And Boutique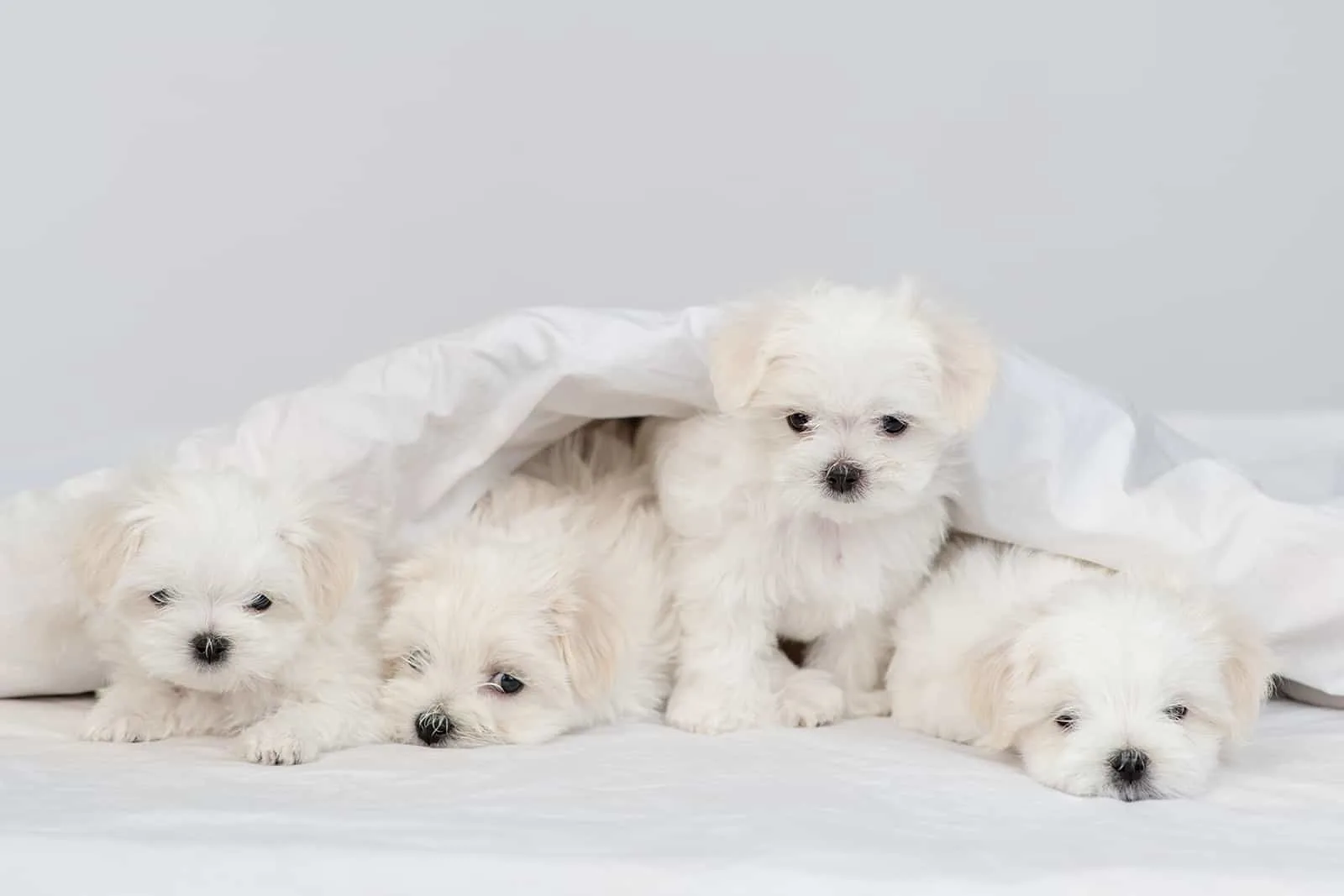 This is one of the oldest teacup boutiques, and it has been active for more than two decades.
During this time, they have not only sold, but also groomed a great number of lovely, tiny pups, including purebred toy Poodles, Chihuahuas, Frenchies, English Bulldogs, Pomeranians, Maltese, and Biewer Terriers.
However, they also offer hybrid tiny doggies such as Cavapoos, Morkies, Shorkies, Maltipoos, Goldendoodles, and other mixes that might appear occasionally.
The owner of this place does their best to make these adorable pooches as comfortable as possible, which is why they're never kept in a cage.
Puppy Quality
The boutique owner is completely devoted to taking great care of every pup that is held there, from their first day of life until the last day on their premises.
All teacup puppies are completely healthy, which is proven by regular vet checkups, necessary vaccinations, deworming, and other procedures that will ensure that all doggies are in the best condition possible.
The staff at the boutique is ready to hold a presentation to every new owner of their teacup pooches, so they can learn how to handle such delicate little beings.
The teacups are hypoallergenic just like the standard Maltese dogs, which means you don't have to worry too much about white hair being all over your house.
However, coat matting isn't excluded, especially since these pups have a long and thick white coat, which needs to be groomed regularly.
If you're not sure how to do this, you can always take your pup to the boutique as they offer grooming services as well.
Purchasing Process And Pricing
The price of the Maltese pups (both teacup and standard canines) vary between $3,000 and $9,000.
Teacups are usually about $3,500 to $6,000, while the standard ones might be anywhere from $5,000 to $9,000 depending on the bloodline, gender, and other factors.
Those who are interested in Teacup Puppies and Boutique's pooches can apply via phone. During the call, the owner of the boutique will let you know about the whole procedure, which includes a puppy contract and a health warranty.
When it comes to shipping, all pups can be shipped all over the United States, but the fees will be added to the final price of the pup.
It's important to mention that the pups are only delivered personally by a travel nanny, who is approved by the boutique owner.
This way, the safety of the pup will be held to the highest level, as it should be.
Breeding Details:
Address: Davie, Florida
Email address: [email protected]
Official website: TeaCups, Puppies And Boutiques
Contact number: 1 954 985 8848
3. Teacup And Toy Pets Boutique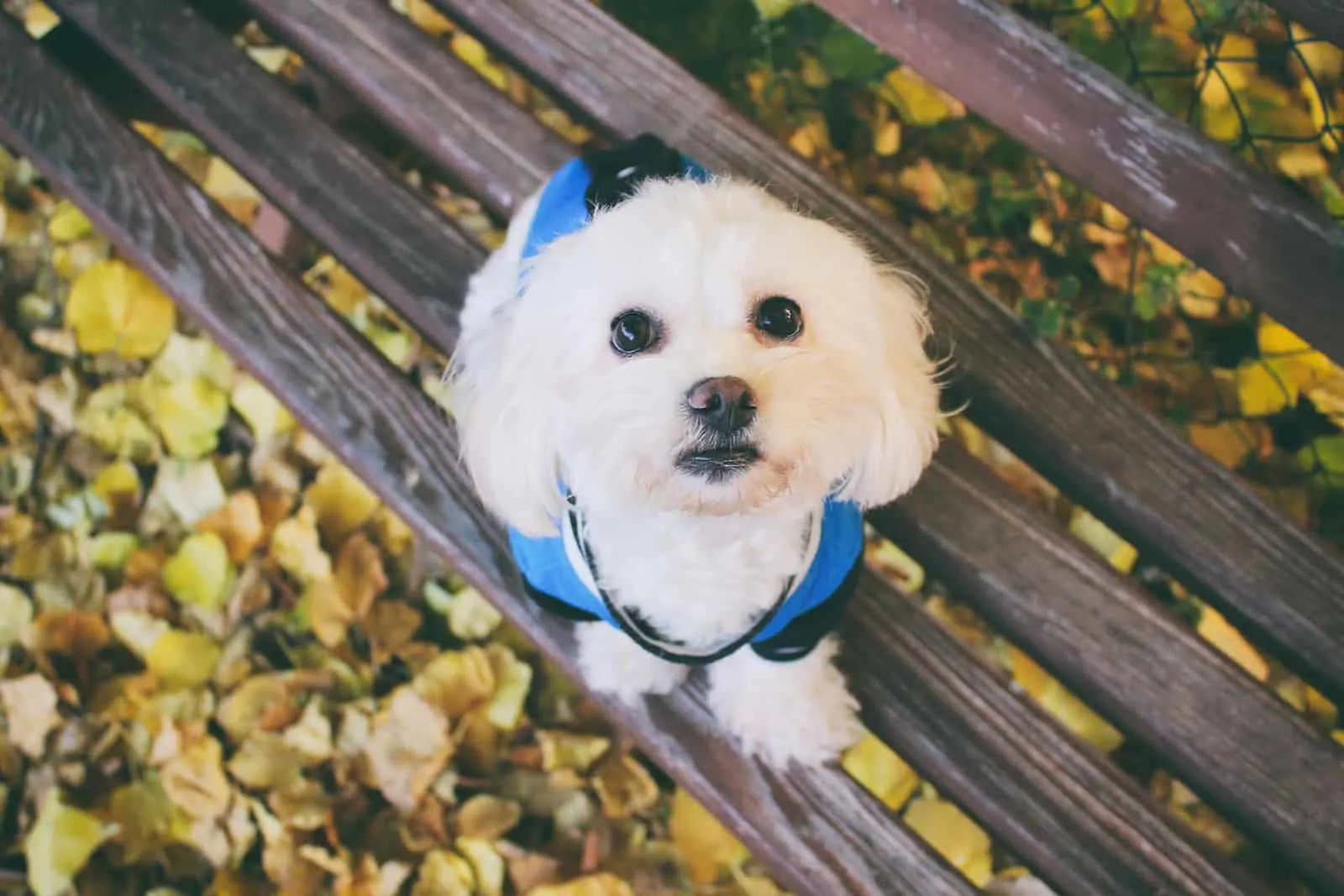 This is one of the most reputable teacup Maltese breeders not only in Texas, but also in the whole country.
They've been in the business for more than two decades, providing plenty of teacup dog enthusiasts with healthy toy canines.
This breeder has been praised by many people who have left positive reviews on social media and other websites.
One of their main focuses is to breed and raise tiny companion dogs that are of excellent health and possess great personality traits.
They don't produce only teacup Maltese pups, but also toy Shih Tzus, Yorkies, Maltipoos, Poodles, Malshis, Morkies, and other canines, both of mixed and purebred type.
RELATED: Black Toy Poodle: An Honest Guide To The Tiny Teddy Bear Dog
Puppy Quality
The breeder has been completely dedicated to breeding and taking good care of these adorable lap dogs.
They make sure that all of their teacup puppies are vaccinated, up-to-date, and fed with high-quality food filled with vitamins and nutrients essential for their development.
The non-shedding toy doggies are available only in white color, which is the official color of Maltese dogs in general.
The breeder is aware of the common health problems that Maltese canines, including the toy version, are prone to, which is why they test all their pups and carefully select them for breeding.
This way, they're trying to decrease the risk of puppies developing any genetic condition, including Luxating Patella, Progressive Retinal Atrophy, cardiovascular problems, etc.
Purchasing Process And Pricing
On their official website, you will find an option in the menu that explains how to buy a puppy from this breeding kennel.
Essentially, what you need to do is complete their application form. Puppies that are stated as available on their website can be picked up just hours after you finish the application, so be prepared to get your pup on time.
The price of the teacup Maltese canines varies greatly, and it can be anywhere from $5,000 to $10,000 depending on the size of the pup, as well as on its bloodline and gender.
The breeder offers certain discounts as well, but only under certain conditions, which can be found on their website.
Those who can't find all the information they need in this article or on their website are free to call or send an email.
Breeder Details:
Address: Wylie, Texas
Email address: [email protected]
Official website: Texas Teacups
Contact number: 972 442 4297 (call until 6pm)
4. Foufou Puppies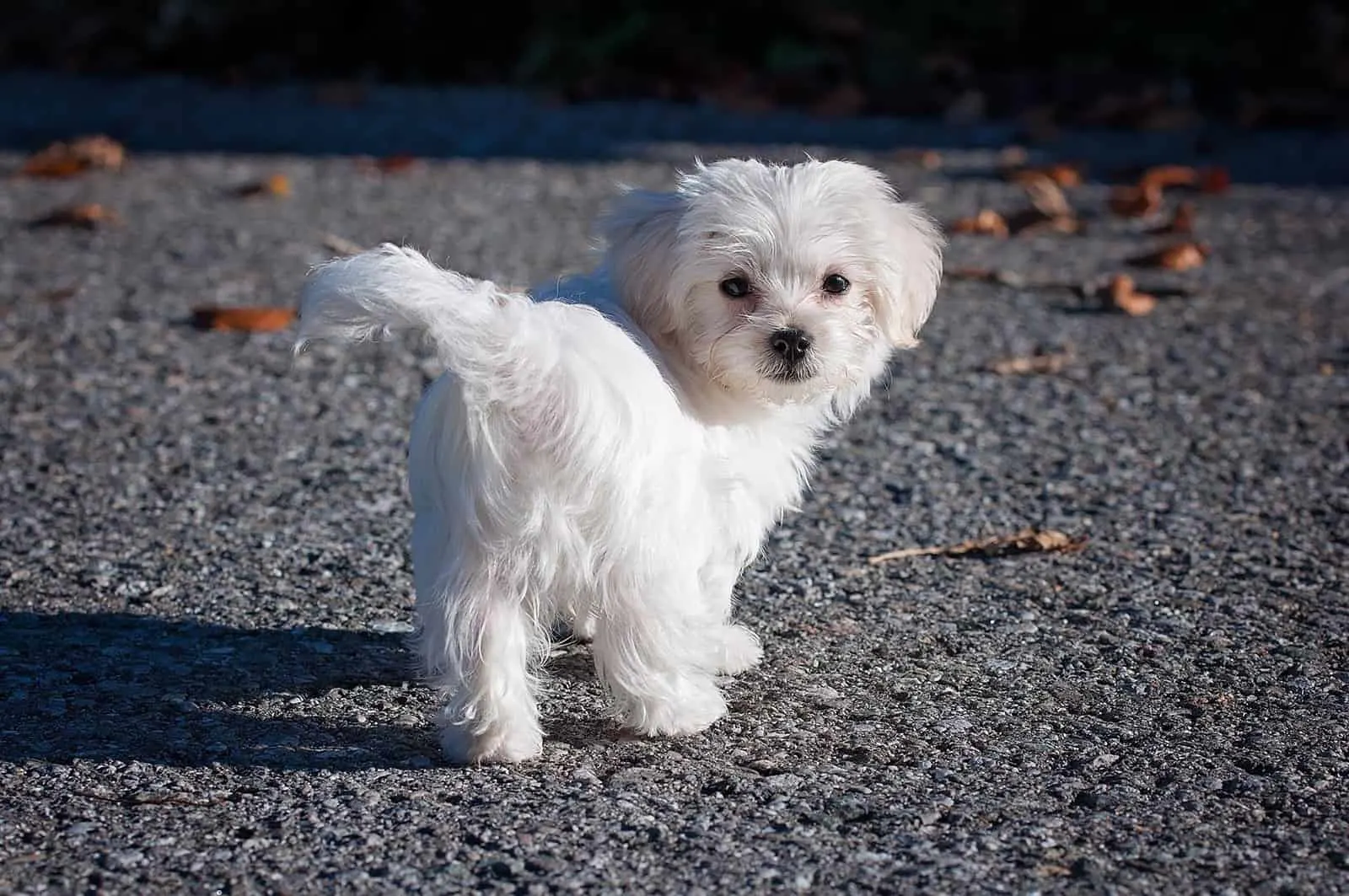 This breeding kennel has mixed reviews online as some might not consider them the most reliable breeders (due to the inability to see the pups before you buy them).
However, the breeder addressed this issue on their official website by stating that their offices are in Canada, while the pups are bred in South Korea and delivered to the USA once they're purchased.
Those who own a pup from this kennel are satisfied in most cases. If you're still not sure whether they're telling the truth or not, you can check out the reviews they receive on social media and their official website.
They also offer you a chance to contact them via video call to make sure that this teacup Maltese breeder is not a fraud.
Puppy Quality
Producing healthy canines with a solid temperament is the main concern of this breeder, along with maintaining the size of the pups that are born in their kennel.
The pups that come from this place are completely healthy and carefully bred in order to keep the genuine look the mini Maltese pups.
They take good care of them, and make sure that they fly safely by providing a travel nanny that will ensure the Maltese puppies get safely to their forever home.
Toy Maltese pooches have the same lifespan as the standard Maltese breed – up to 15 years.
Purchasing Procedure And Pricing
Many will agree that the puppies from this breeding kennel are pricier than standard Maltese pups from other breeding outfits.
However, the breeder states that their prices include all costs and expenses that might occur during the first three months of the teacup Maltese's life.
Most breeders sell their pups when they turn eight weeks of age, but Foufou delivers their canines when they turn at least three months of age.
They sell other toy breeds as well, including Pomeranians, Maltipoos, Pomskies, and Maltese.
The majority of the pups cost from $5,000 to $7,000 depending on the breed, gender, and lineage.
Teacup Maltese can usually be found from $6,000 to $6,500.
The price also includes a 12-month health guarantee. The purchasing process and other details are available upon request.
Breeder Details:
Address: Ontario, Canada
Email address: [email protected]
Official website: Foufou Puppies
Contact number: 1 833 368 3686 / 1 514 795 3687 (Whatsapp)
5. Bettys Teacup Puppies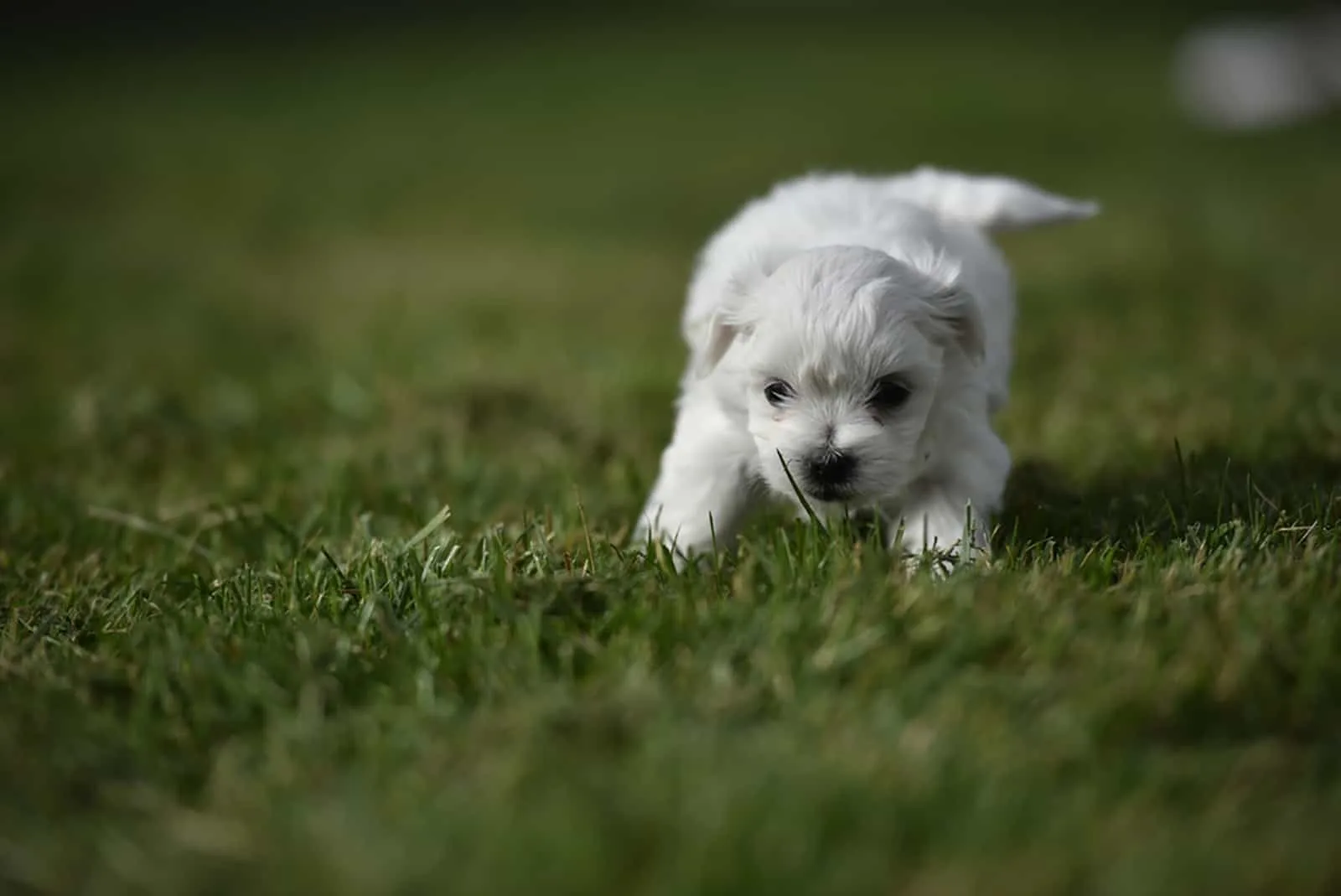 This is a breeder of teacup Maltese, Pomeranians, Poodles, French Bulldogs, Yorkies, and Pomskies. The owner of this breeding kennel states that they're among the best teacup Maltese breeders in the world.
Their office is located in Canada as well, while their puppies come mostly from South Korea, just like the pups at Foufou puppies.
One of the main reasons for that is the fact that it's almost impossible to find a reputable breeder of toy breeds in the U.S. or Canada.
The owner of the kennel, Joanna, claims that she was scammed several times over the years until she found a place where she could get her teacup puppies from.
Is This A Reliable Breeder?
According to the information that is available on their website and in the media, this breeder has sold teacup Maltese and other toy pups to a great number of famous people, including Paris Hilton, Mariah Carey, Elena Belle, and others.
There are mixed reviews on the internet, but one thing's for sure – they indeed sell toy Maltese and other micro dog breeds.
It's interesting to notice that they mention scammers on their website as well, and warn people not to buy pups that are suspiciously low-priced. They are usually quite expensive to breed and take care of.
Puppy Quality
According to the information online, these pups are bred and raised for at least three months before they're able to leave the kennel and go to their forever home.
One of the main reasons for a longer period of waiting is the delicacy of the puppy during the first few months of its life, which is why it's not recommended for them to travel on long-distance flights.
The breeder states that they sell only pups of excellent health and solid temperament.
However, since the American Kennel Club (AKC), along with other important institutions, doesn't recognize the term "teacup", it's not possible to register these micro teacup Maltese pups.
Purchasing Process And Pricing
If you want to purchase a tiny teacup Maltese from this breeder, all you need to do is contact them and choose the exact puppy that you want.
Before you sign the contract, you'll be required to pay a deposit fee to secure your reservation until it's time for the tiny dog to enter your home.
The majority of the teacup dogs from this breeder cost between $3,000 and $7,000, although some pups might cost up to $10,000.
The deposit is $1,000. It is non-refundable, but it's included in the final price of each toy dog.
All puppies, including the teacup Maltese, come with health certificates, which prove that the pups were regularly taken to the vet and have gone through health examinations.
All other details and additional information will be provided by the breeder once you contact them.
All puppies can be delivered to any place in the United States.
Breeder Details:
Address: Quebec, Canada
Email address: [email protected]
Official website: Bettys Teacup Puppies
Contact number: 1 438 874 7877
What Is Hypoglycemia?
When a canine's blood sugar level drops too low all of a sudden, a pup starts to twitch, have hunger attacks, become lethargic, tremble, or simply stare at nothing.
This occurrence is usually called hypoglycemia, and it mostly affects tiny pups, such as toy Maltese canines.
Most trustworthy breeders of teacup Maltese doggies will mention this as a possible health issue that many of these pups deal with.
It can be hereditary, which means that most Maltese puppy breeders can't do anything to prevent it from happening except monitor the health of the future parents and breed selectively.
Fortunately enough, it's curable, but only if the pup is taken to the vet in time before it turns too severe and damages other parts of their body.
What Should You Know Before You Get A Teacup Maltese?
Unfortunately, there are many scammers online who are capable of doing anything to trick people and get their money. This happens quite often nowadays, especially with false toy dog breeders who offer pups that they never deliver.
Puppy scams are quite successful with the teacup Maltese breed, as they offer unbelievably cheaper prices than all other reputable breeders.
A low price and a cute picture (which is usually stolen) are everything they need to trick hundreds of people around the U.S.
How Can You Recognize A Puppy Scam?
There are several ways to recognize a scammer, even though they're becoming better each day.
First of all, do your research. Don't forget that "Google is your friend," and if you type the name of the kennel that seems suspicious, you'll find all the information you need in just a few seconds.
People leave reviews today for everything, especially when they encounter an issue or a fraud. If you notice that there are too many complaints, continue your search.
Another great way is to ask for a video call. Every reputable breeder will find at least a couple of minutes of their time to speak to you and confirm their identity.
Follow your instincts. If you feel there's something suspicious about the breeder, there are high chances that something's just not right. Always do your research, and question everything until you're completely sure that the breeder is reliable.
Wrapping Up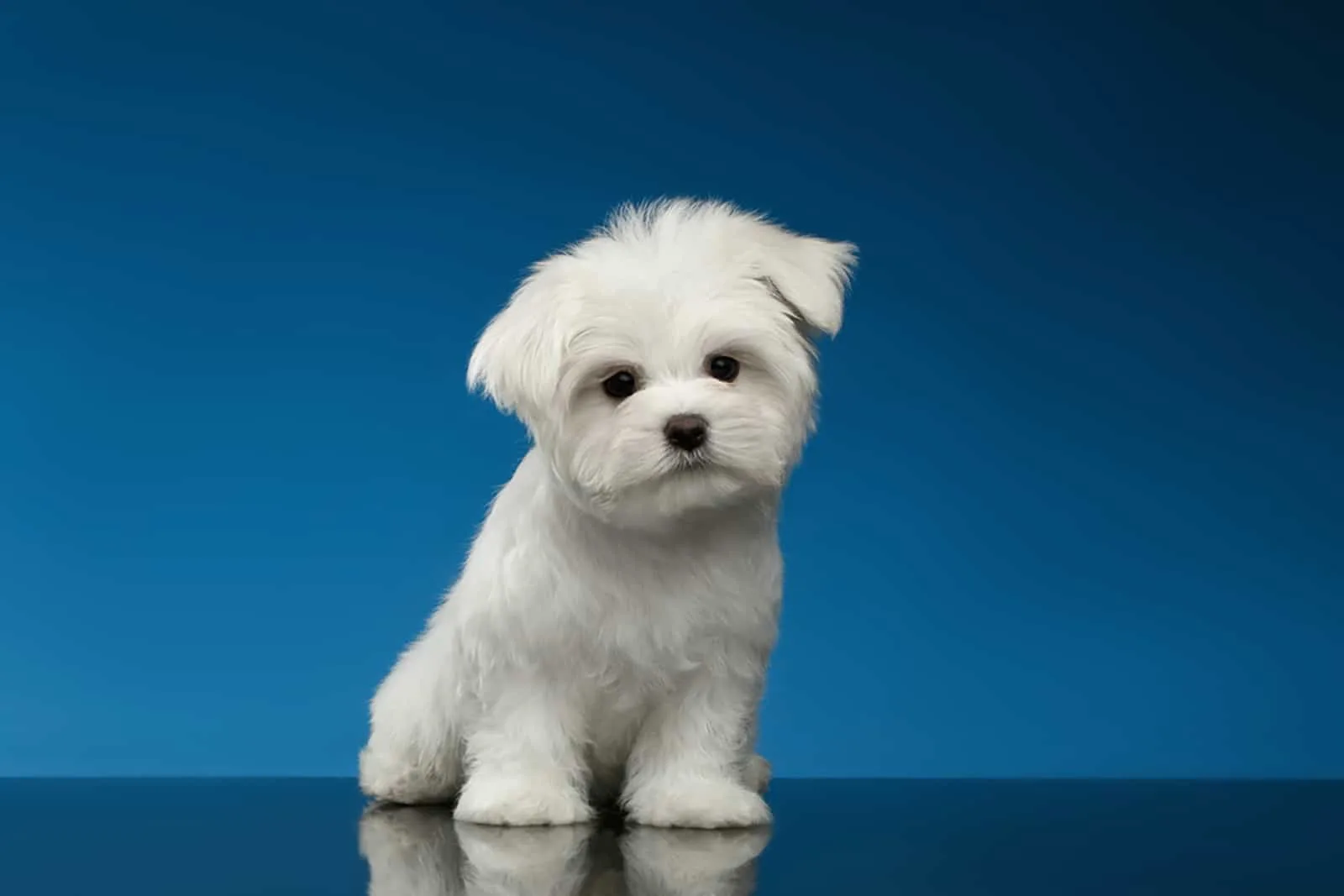 As you can see, there aren't many reputable teacup Maltese breeders in the United States, which isn't a surprise considering that these pups weren't so popular in the past.
Unfortunately, the number of scammers is much bigger than the number of reputable teacup Maltese breeding places.
I hope this article has helped you find a suitable breeder who fits all your needs and wishes.
Just keep in mind that the best way to check the breeder's reputation is to do research before you make the final decision.
Good luck!
READ NEXT:
Teacup Dog Breeds: Tiny Dogs With Big Hearts
Teacup Corgi: Why Is It So Small And Cute?